This Immune-Boosting Strawberry Banana Poppyseed Smoothie recipe is a delicious and simple way to enjoy a quick, easy breakfast while gaining awesome health benefits from these superfoods. Boasting of tropical flavors with a hint of spice from the cinnamon, nutmeg, and turmeric-black pepper combo, this smoothie is the perfect meal option for the entire family and comes naturally sweetened. All dairy-free + vegan.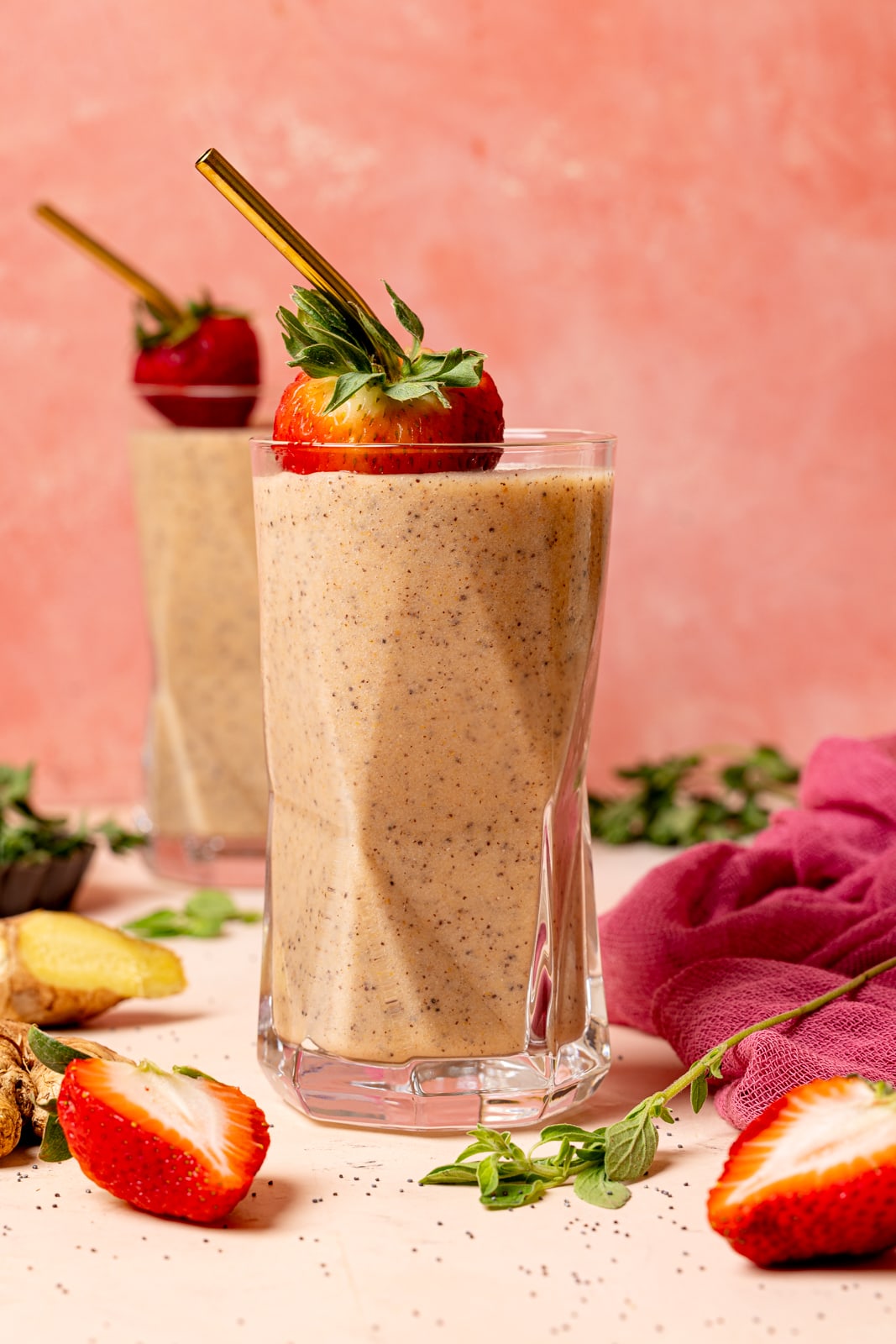 Disclaimer: This post contains affiliate links via Amazon for products that I wholeheartedly love and receive commission from.
Who doesn't love a good smoothie, right? I can attest to being a lover of smoothies, especially during the warm months where it's so easy to whip together a jam-packed meal without the headache of being over the stove in such heat. Of course, there are so many different ingredient combinations when it comes a smoothies, so that's another plus, right---but this Immune-Boosting Strawberry Banana Poppyseed Smoothie is one to try!
If you're a lover of healthy drink options, then this smoothie will be one that you'll love and so will those around you. It's a great way to ensure that everyone gets those fruits + veggies in without the fuss and it's so easy to whip together. And if you enjoy fruit flavors, then this Raspberry Sunrise Smoothie, Anti-Inflammatory Pineapple Citrus Smoothie, and Strawberry Mango Papaya Smoothie are worth the try next!
Overall, this Strawberry Banana Smoothie has it all: plenty of nutrients, bold fruity flavor, and a great texture! There's no going wrong with this packable, portable and creamy meal that works perfectly for breakfast, as a snack, or sweet dessert.
Are Smoothies Healthy?
Yes! At the beginning of the year, I chose to go on a detox using smoothies, and it was a refreshing experience. I believe that it's super important to detoxify your body ever so often and create an immune-boosting environment, especially with all the variety of things we tend to eat on a daily basis (good + bad). A little cleanse and "rest" for our digestive system does the body wonders, trust me! To see what smoothies I used, see the list of Healthy Detox Smoothies for the New Year.
When I make a smoothie, I only use healthy, plant-based whole foods that my family loves too! None of my smoothies have any kind of artificial sugar or sweetener added to them. Smoothies are such a great way to add more nutrients to your diet easily. Be sure to check the ingredients if you are buying smoothies when you are out. Sometimes they contain some nasty ingredients!
Jump to:
What Are the Benefits of Strawberry Banana Poppy Seed Smoothie?
Each element of this Immune-Boosting Strawberry Banana Poppyseed Smoothie has health benefits that work together greatly. In general, this smoothie's health benefits include:
Great source of antioxidants.
Packed with Vitamin C.
Anti-inflammatory properties.
Aides in digestion.
Rich in iron.
Helps improves blood sugar levels.
Cholesterol-lowering benefits.
Promotes optimal health in the heart + kidneys.
Many other benefits.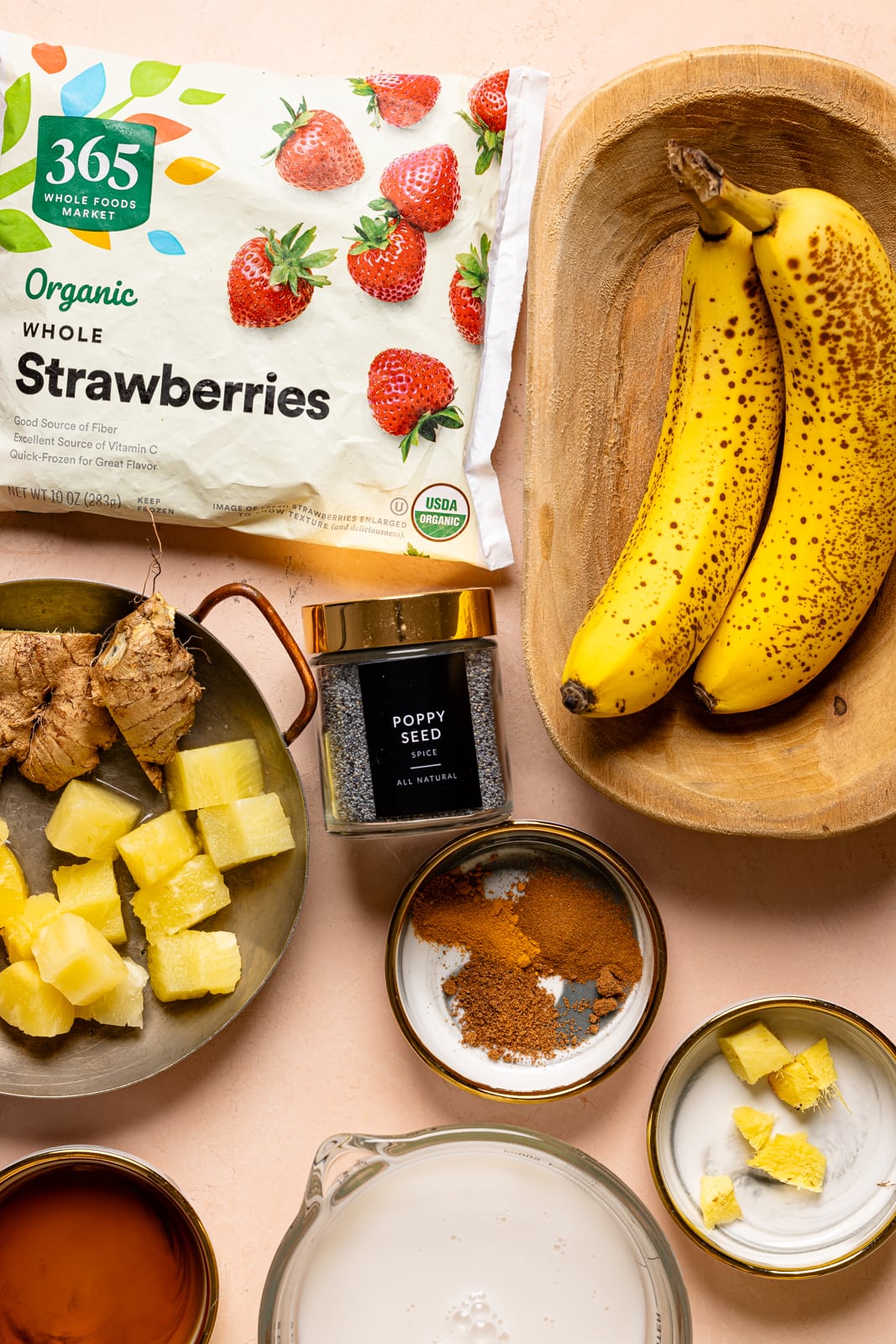 When it comes to making drinks, I truly enjoy experimenting with bold flavors and different combinations, as long as they taste great of course!
How to Make Strawberry Banana Smoothie
This Immune-Boosting Strawberry Banana Poppy Seed Smoothie is super easy to whip together and doesn't require anything special when it comes to ingredients. The only piece of kitchen equipment you'll need to whip this vibrant tropical smoothie up in minutes is a high-speed blender. This is a simple dump-and-go breakfast recipe that's ideal for busy weekday mornings or as a healthy snack.
Ingredients for this Immune-Boosting Smoothie
Once you have your blender out and ready, add the following ingredients to start making your smoothie:
Strawberries. The use of frozen or fresh organic strawberries with the stems cut off makes for a nice burst of fresh flavor, especially as garnish. Choose local if you can, they'll be more flavorful and have more nutrients.
Bananas. You'll want to use really ripe bananas for the densest, sweetest flavor.
Pineapple chunks. I like to purchase frozen pineapples or canned organic pineapple mostly, however, you can slice an actual pineapple into chunks and freeze it, if preferred.
Honey. You can use maple syrup or Medjool dates as a natural sweetener, if preferred.
Almond milk. You can use any plant-based milk, including a nut-free option like oat or soy milk. Feel free to make your own homemade Almond Milk [Without Soaking] for great ease.
Poppy seeds. These are usually sold in the spice or baking aisle of the grocery store. You can also substitute with chia seeds or flaxseed meal, if desired.
Turmeric powder. This golden spice adds a hint of earthy flavor to balance out the sweetness of the fruit. It also adds a brighter color and has natural antioxidant properties, thanks to the curcumin in turmeric. You can omit the turmeric if you don't have it on hand.
Black pepper. Just a pinch will do. This is often paired with turmeric for a powerful effect.
Ginger. I prefer fresh that gets minced, but you could substitute with ½ teaspoon ground ginger in a pinch.
Spices. I love to add cinnamon + nutmeg to the mix to help amplify the flavors in this smoothie.
What Thickens Smoothies?
When it comes to thickening a smoothie in general, there are several ways to do so, like:
Using milk (dairy, oat milk, or almond milk) instead of water or juice.
Handful of oats adds great texture.
Ingredients like chia seeds, poppy seeds, or flaxseed meal does the trick!
Using frozen fruit instead of fresh or adding ice when not.
Adding yogurt to the mix.
A tablespoon or two of nut butter.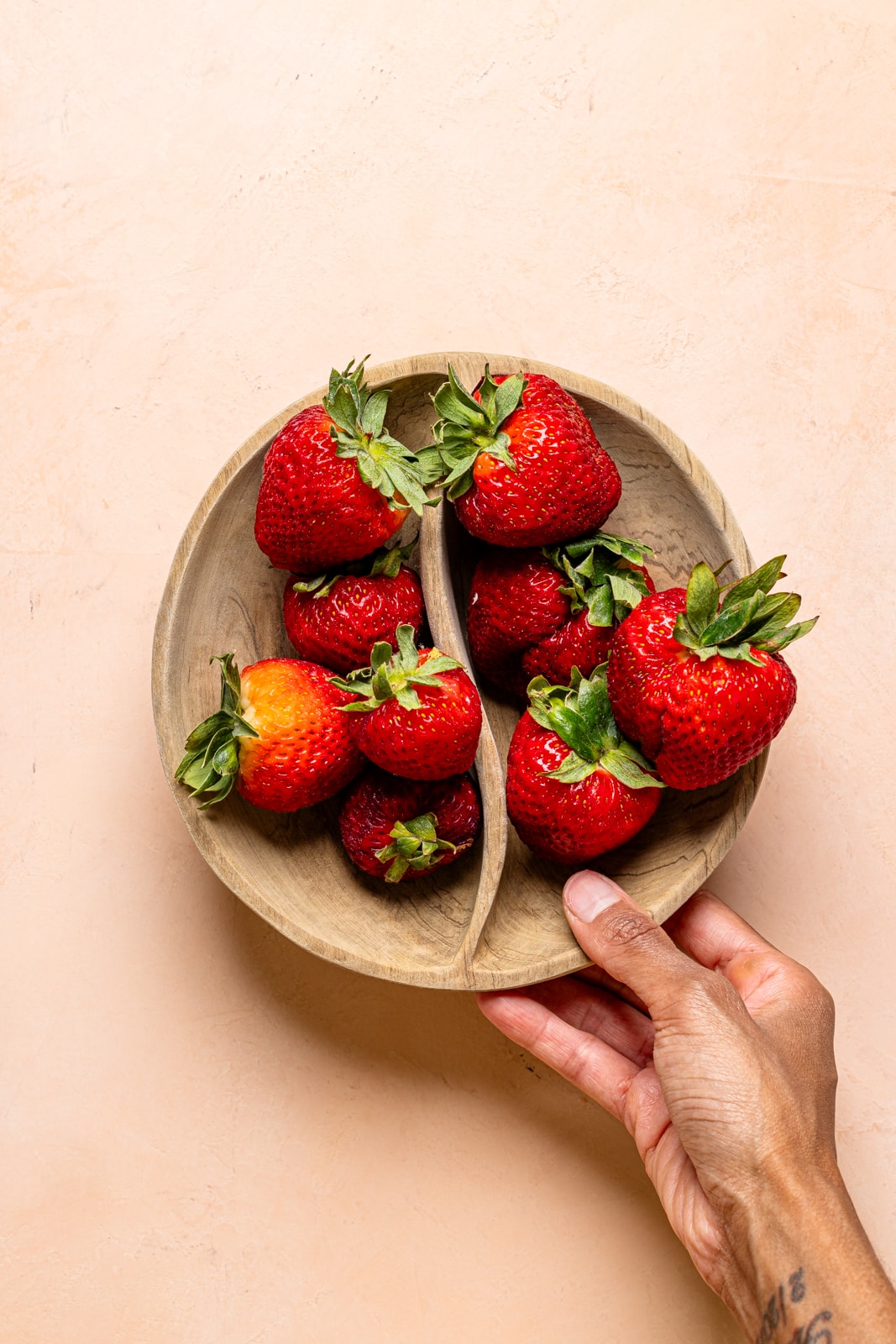 Health Benefits of Strawberries
It's strawberry season, which means it's time to celebrate! I'll share my all-time favorite strawberry recipes plus the benefits of enjoying strawberries. Known for their plump and juicy flavor, strawberries are a summer staple for good reason. I've always been a big strawberry fan so in honor of strawberry season, I wanted to answer some of the most asked questions about strawberries.
Do Strawberries Have to be Frozen for a Smoothie?
Not at all! A smoothie can definitely be made with both fresh or frozen strawberries, although this recipe specifically calls for frozen to ensure that the texture is a nice and thick. However, you only love using fresh strawberries or have those on hand, feel free to use them and add a cup or so of ice to the mix to help create a thicker texture.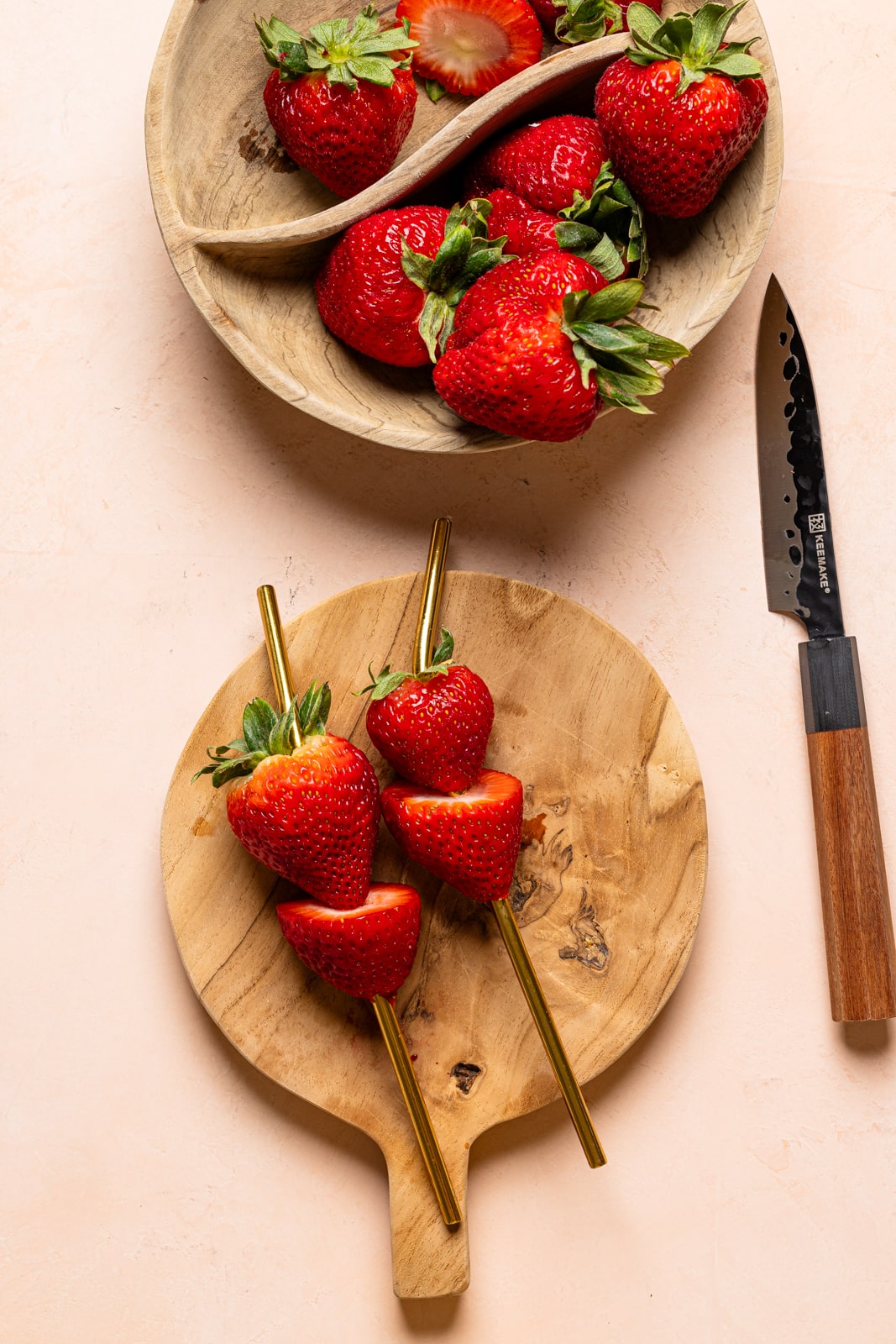 Why Add Turmeric to this Smoothie?
Believe me, adding turmeric to this smoothie doesn't change a thing in terms of compromising its taste. In fact, the slightly earthy flavor of this vibrant spice is delicious!
Turmeric has a compound called curcumin, which is a powerful source of anti-inflammatory antioxidants. However, the best way that our bodies can absorb all of these benefits is when we consume turmeric with black pepper. The compound in black pepper piperine is what helps us absorb curcumin, You can't taste the pepper much in this drink, but you get all of the health benefits.
In addition, piperine on its own can help relieve nausea and headaches and improve digestion.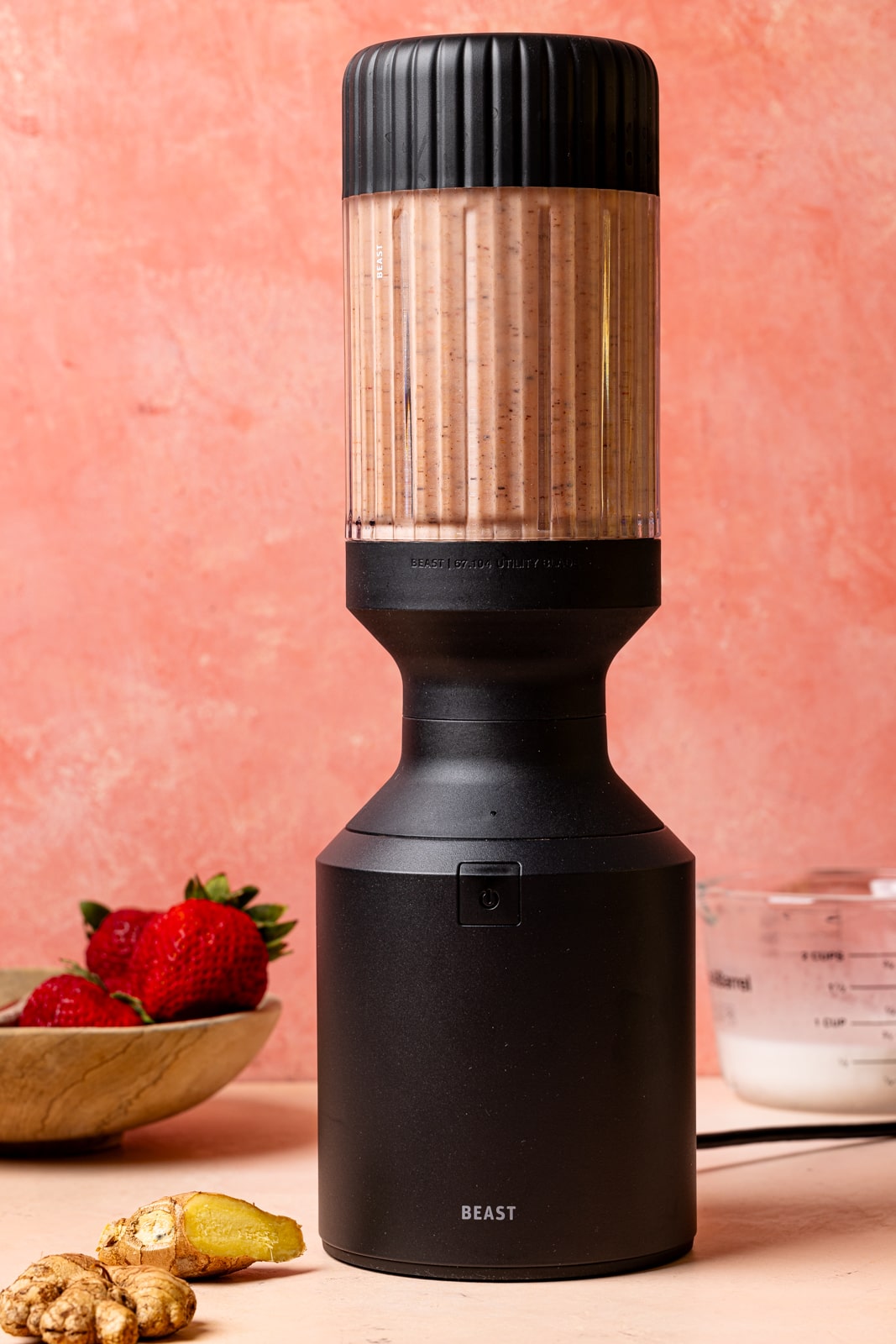 Sweetener Options? Vegan-friendly?
Absolutely! I like to add a bit of natural sweetener to most things that I drink, including this Strawberry Banana smoothie. Maple syrup is a great option because it's vegan and has antioxidants, much like honey which adds additional nutrients. However, you can try any healthy sweetener substitutions you like.
In fact, this post about The Best Healthy Sugar Alternatives + Substitutes is a great place to start!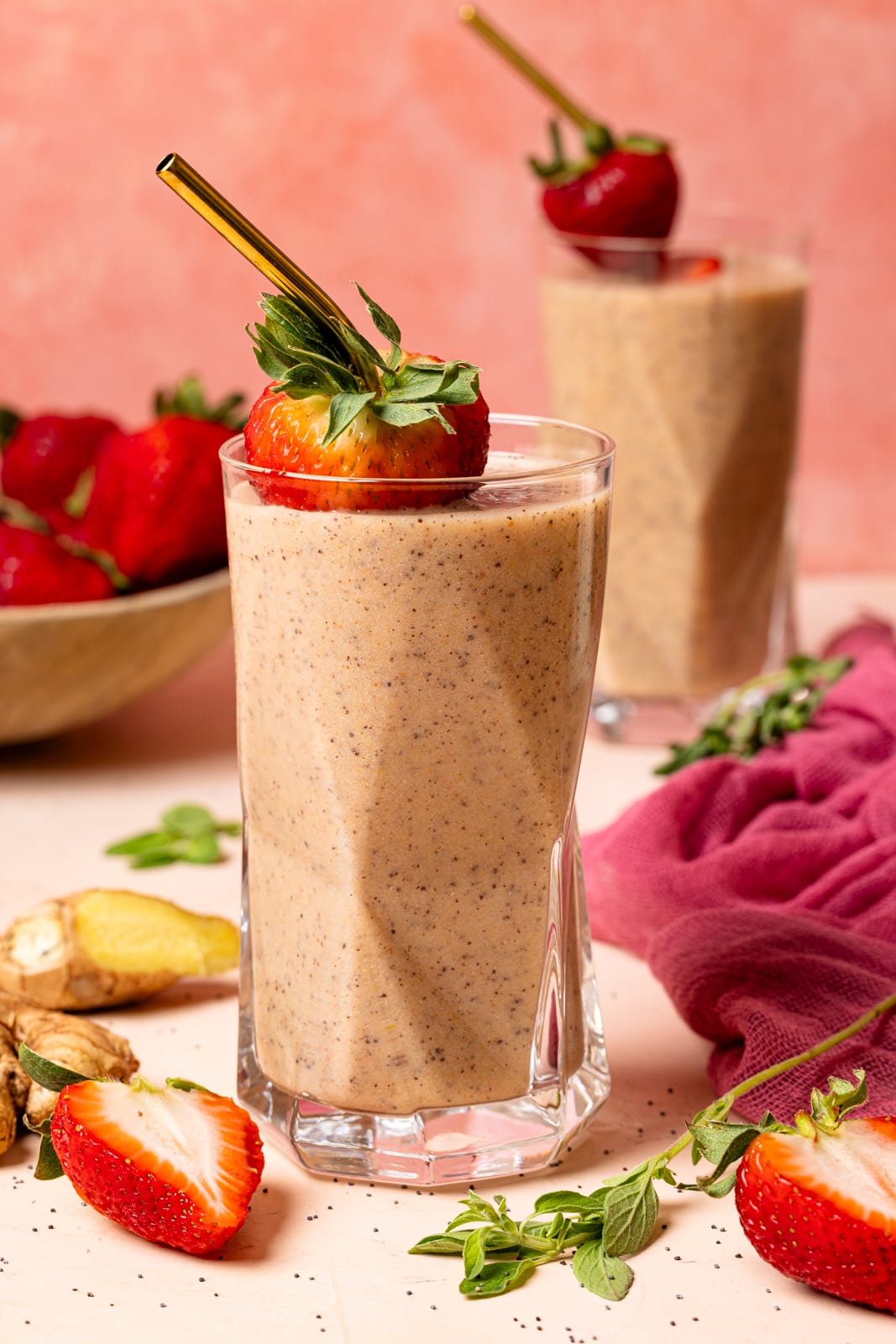 Common Q + A's for this Strawberry Banana Smoothie.
How to store leftovers?
Store any leftovers in the refrigerator, tightly sealed or in a covered mason jar, ensuring that you drink it within the same day for best taste and consistency.
Why add turmeric + black pepper together?
For health benefits of using turmeric, ensuring that it is paired with black pepper, helps to aid in curcumin absorption.
Can I use fresh pineapples?
Absolutely! If you're using freshly chopped pineapple, you can freeze them prior to adding them to this smoothie or just add ice for a thicker smoothie consistency. 
Do you use sliced or whole strawberries for smoothies?
Generally, roughly slicing your strawberries makes them more versatile in recipes, however if you just plan to use them in this smoothie, feel free to simply cut off the stem and add them to your blender whole.
Does adding ice to a smoothie make it thicker?
Regular ice cubes or frozen milk or even frozen coffee ice cubes all work wonderfully to thicken up a smoothie. You can use ½ to 1 cup of ice if using all fresh fruit. Again, frozen ingredients make the biggest difference in making a thick smoothie consistency.
What is the best base for a smoothie?
Generally speaking, banana is a great base flavor for any smoothie. It also creates a great creamy texture. Other fruits that work well are berries, mango, peaches, plums, oranges, apples, pears, and melon. You may have to add more fruit or liquid, depending on the type of fruit you choose and the desired consistency.
Do smoothies need milk?
Surprisingly, smoothies don't really require dairy milk or yogurt for a delicious creamy texture. However, I love using dairy-free milks which makes for great results without the dairy!
What milk is best for smoothies?
Unsweetened almond milk is an ideal base liquid since it pairs well with any add-ons without compromising the taste. However, the world of plant-based milk is constantly expanding, it's hard to keep up! From the classics like cashew milk, sesame milk, soy milk, and almond milk, we now have delicious options like oat milk and even potato and quinoa milk.
More Delicious Healthy Drinks to Try!
MADE OUR RECIPE(S)?
If you tried this Immune-Boosting Strawberry Banana Poppyseed Smoothie recipe or any other recipe on my website, please please leave a 🌟 star rating and let me know how you go in the 📝 comments below. I love hearing from you.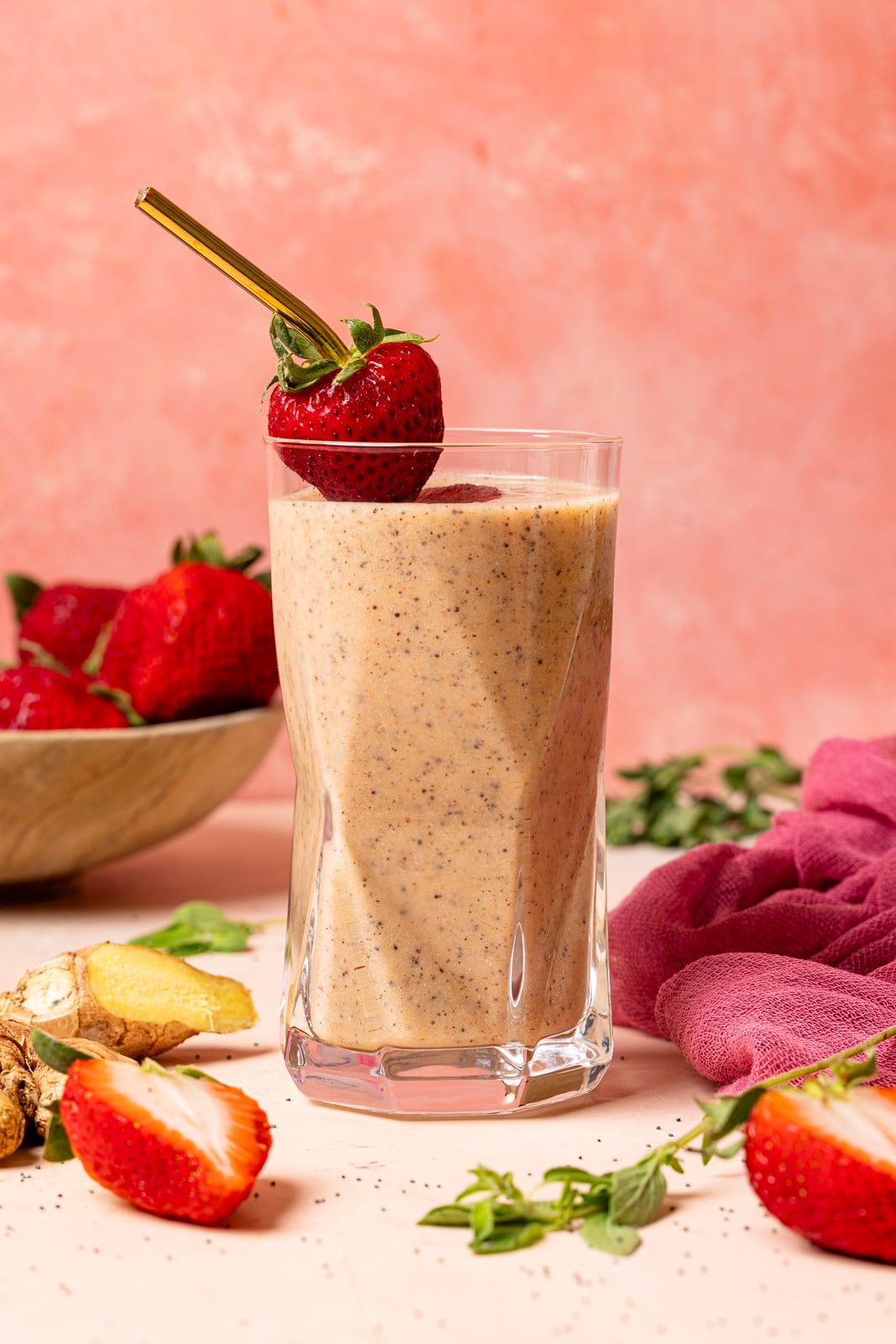 SMOOTHIE:
2

ripe

organic bananas

2

cups

frozen strawberries

1

cup

pineapple chunks, fresh or frozen

(See Notes!)

½

cup

Almond milk

(You can use your fave plant-based milk)

¼

cup

maple syrup or raw honey

1

tablespoon

poppy seeds

1

teaspoon

minced ginger

(If a sweetener is need!)

½

teaspoon

turmeric powder

(See Notes!)

½

teaspoon

ground cinnamon

¼

teaspoon

ground nutmeg

Pinch of

black pepper
TO MAKE THE SMOOTHIE:
Add all ingredients to a high-powered blender (adding the frozen pineapples + strawberries first, then the rest following) and blend until smooth.

Adjust the amount of milk (or add ice), depending on desired consistency, adding 1 tablespoon more at a time, if needed.

To serve—pour smoothie in your favorite glass and top with banana and/or strawberry slices and sprinkles of poppy seeds, if desired. NOTE: You can also make "strawberry straws" by adding whole strawberries as pictured.

Sip and enjoy!
STORAGE: Store any leftovers in the refrigerator, tightly sealed or in a covered mason jar, ensuring that you drink it within the same day for best taste and consistency.
TURMERIC: For health benefits of using turmeric, ensuring that it is paired with black pepper, helps to aid in curcumin absorption.
PINEAPPLES: If you're using freshly chopped pineapple, you can freeze them prior to adding them to this smoothie or just add ice for a "smoothie-like" consistency. 
Calories:
84
kcal
|
Carbohydrates:
14
g
|
Protein:
2
g
|
Fat:
3
g
|
Saturated Fat:
0.3
g
|
Polyunsaturated Fat:
2
g
|
Monounsaturated Fat:
1
g
|
Sodium:
84
mg
|
Potassium:
272
mg
|
Fiber:
4
g
|
Sugar:
7
g
|
Vitamin A:
19
IU
|
Vitamin C:
85
mg
|
Calcium:
169
mg
|
Iron:
1
mg