This Healthy Cashew Date Morning Shake recipe is the best 'pick me up' shake. This delicious shake is made from cashews, oats, dates, bananas, plant-based milk, pinches of warm spices, and comes completely naturally sweetened. It comes beautifully textured to create a smooth, creamy drinking experience and makes for the perfect post workout shake or meal replacer to kick start your day. All vegan + GF.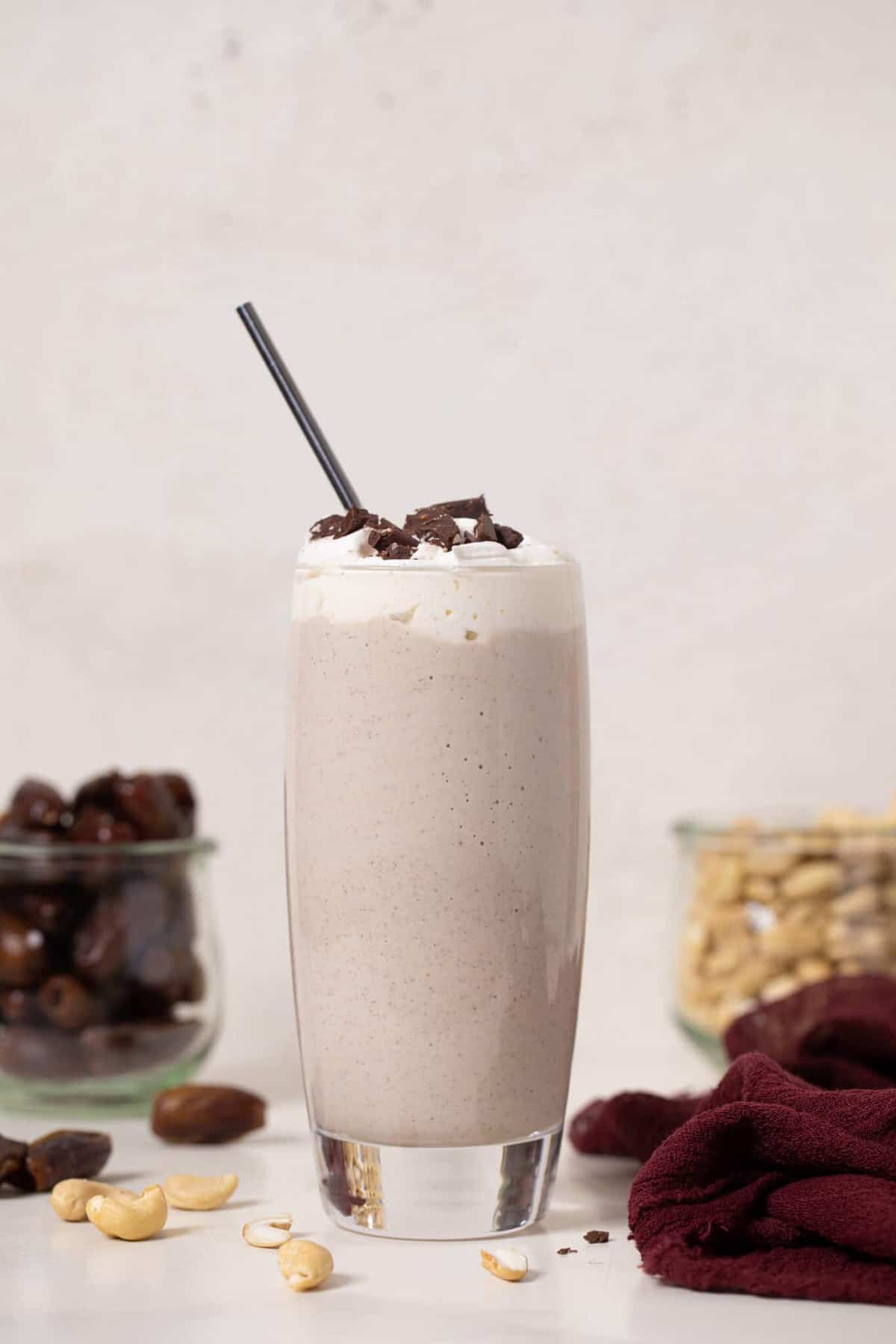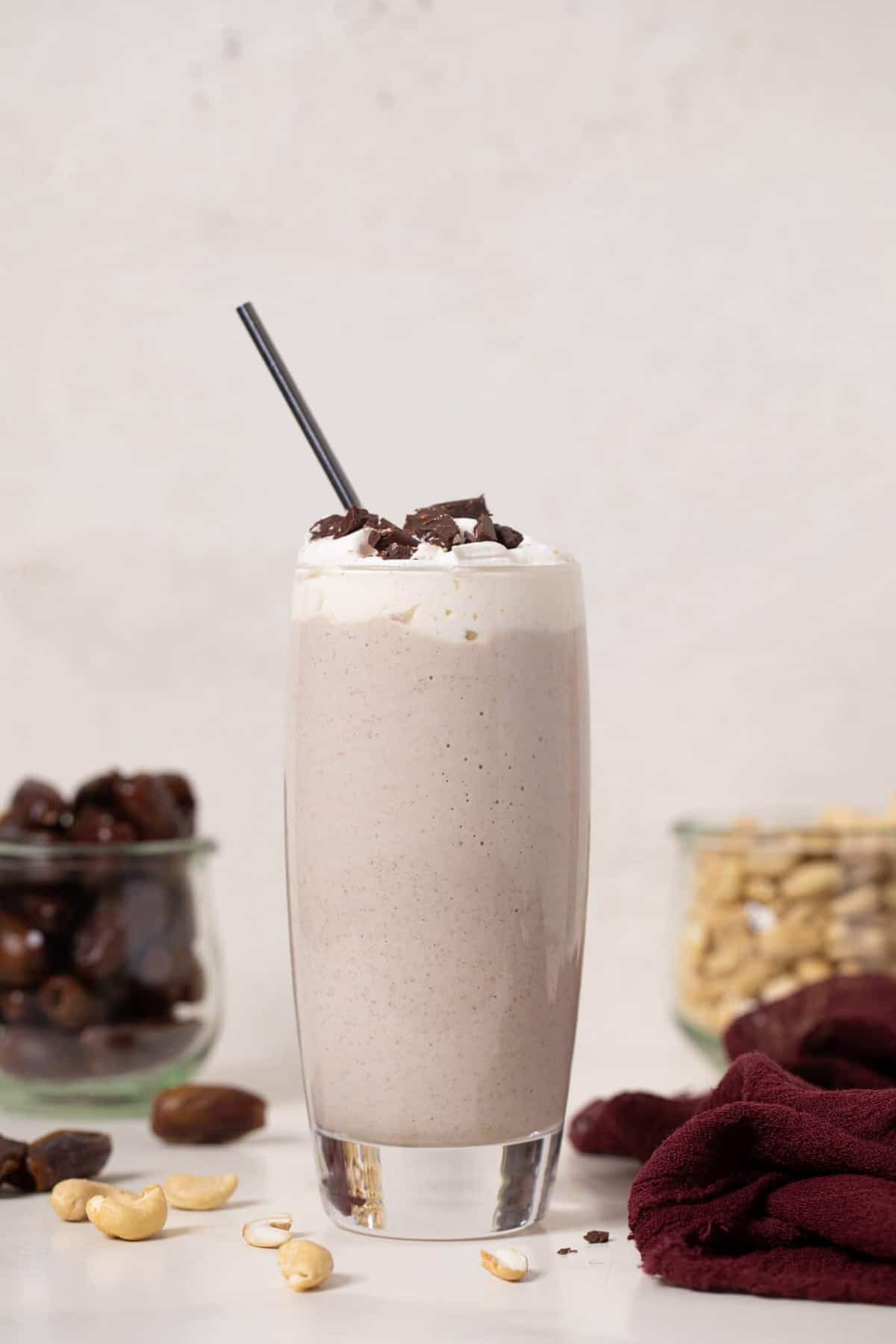 This Healthy Cashew Date Morning Shake is one of my go-to drinks and with good reason. If you're into smoothies or protein shakes, then this shake will be right up your alley!
Granted, I know that smoothies are everyone's go-to, however, if you try this Date shake, you're sure to love it. With this week's theme being Healthy Drink Week, I wanted to share a great, easy option that can be enjoyed by the entire family. Plus, I love that this shake is not only creamy, smooth, delicious, and uses simple ingredients, but it's also packed with nutrients that help you get through the day.
Oh and like many of my other recipes, this shake is completely customizable for an extra punch or kick of flavor or nutrients. Totally up to you.
What Makes this Vegan Shake Super Creamy?
When it comes to vegan shakes (or drinks), using cashews as the creaminess factor is the secret sauce to it all.
Yes, that's right—-cashews. If I'm honest, I use cashews A LOT in my recipes, especially in my vegan recipes. When soaked and blended, it adds a nice creamy texture to anything. It did the same for my Jamaican Carrot Juice and Vegan Eggnog.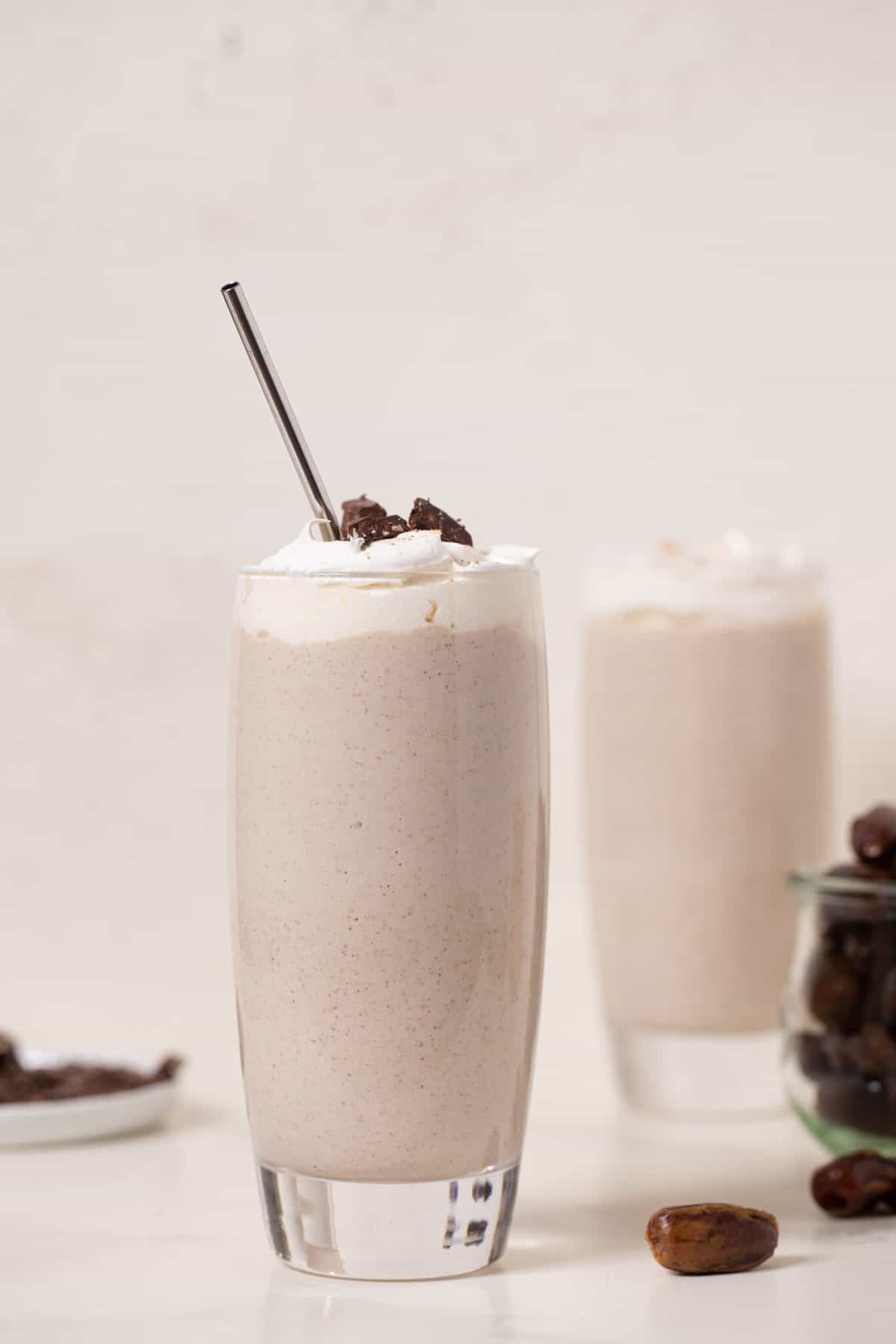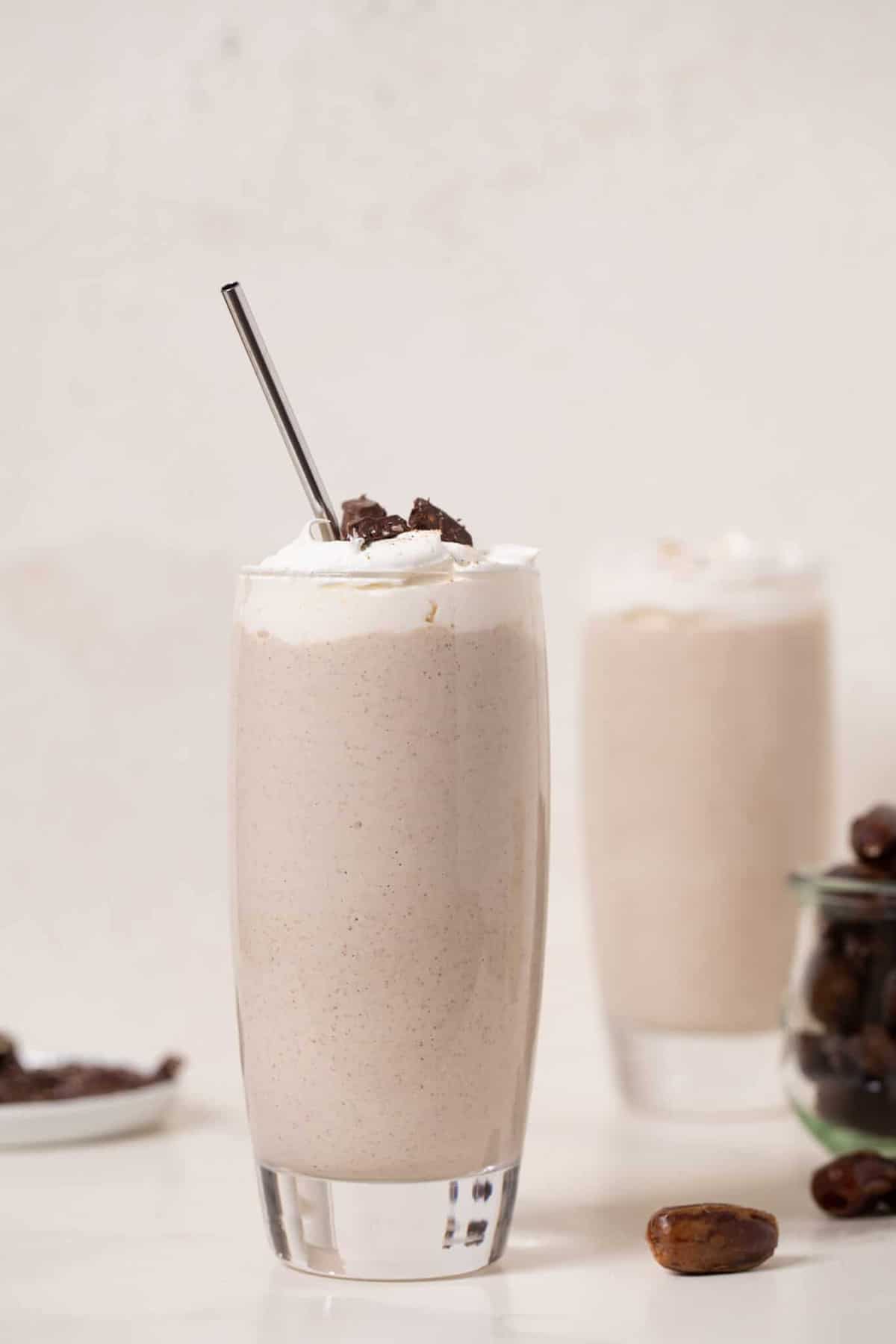 OK, so before we dig deeper into this shake, let's talk a bit about Mental health. During this Pandemic, there's been such a display of different emotions about a lot of things which if we're honest, can affect our Mental health. Personally, I've found myself remaining intentional about protecting my peace and creating boundaries on all ends to ensure that my state of mind remains solid.
So, if you're suffering with a bit of sadness, possible depression, anxiety, or just loads of stress, don't be afraid to talk to someone. ANYONE. That might mean that you utilize a listening ear that's close to you or seeking professional help, if needed.
Speaking of my best self, I'd recommend reading one of my previous posts on 8 Secrets to Being Your Best You. From doing the necessary work that is required to letting go of toxic relationships + environments to making minor tweaks to a healthier lifestyle; all 8 habits and practices are sure to help you be the best version of yourself that you possibly can.
Then there's the post on Ending Relationships: 5 Mindsets That Keep You Stuck, which outlines the red-flags that we often overlook because we might think that we're over-thinking or overreacting.
Why Dates? Health Benefits?
As you already may already know, dates are a high-powered nutrient ingredient and is actually very healthy for you, despite it's taste. As I've mentioned in my previous post on The Best Healthy Sugar Alternatives + Substitutes, dates are a great source of antioxidants and fiber, in addition to providing brain health, promoting natural labor (for pregnant women), bone health, and blood sugar control. Yup. So, dates are worth consuming!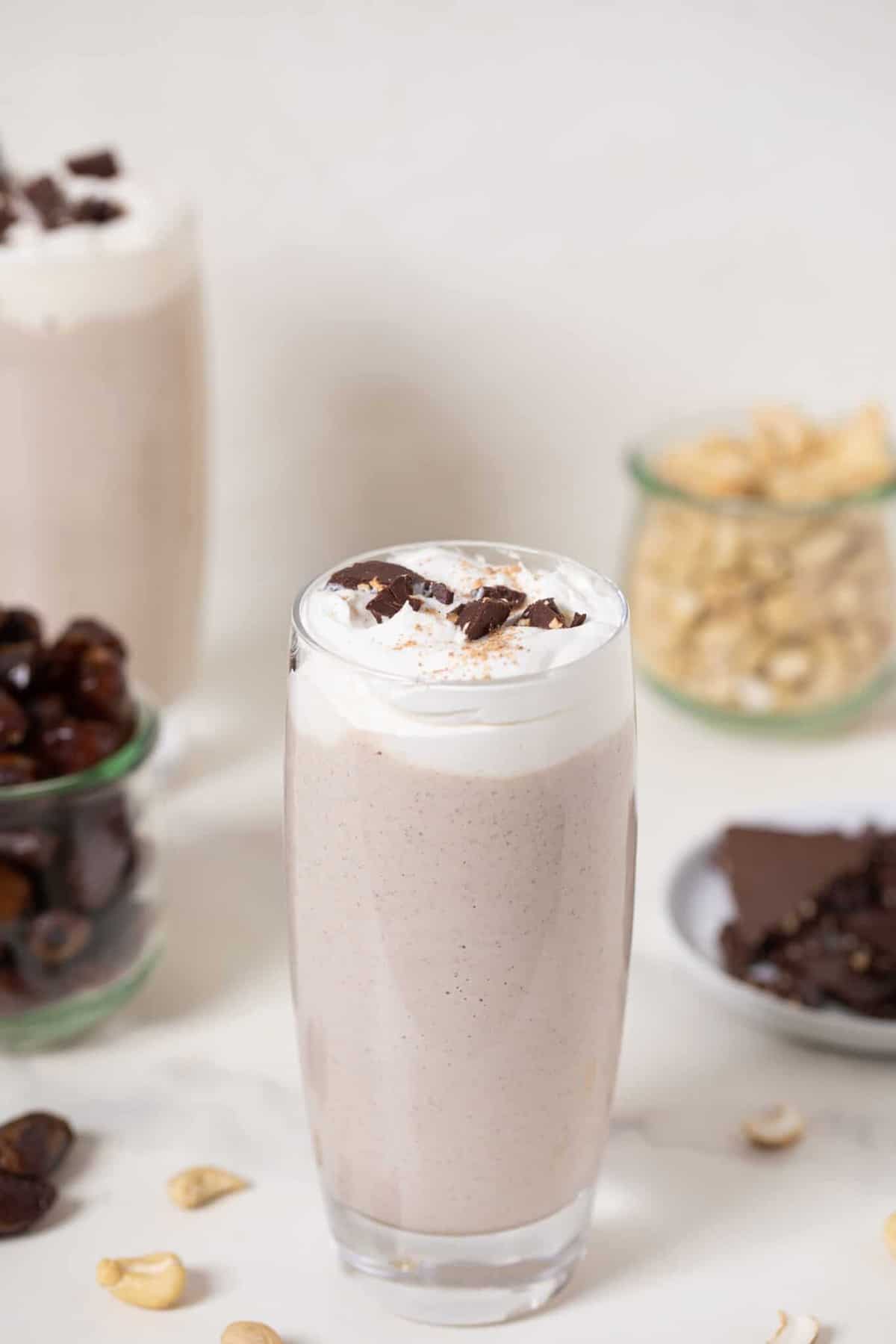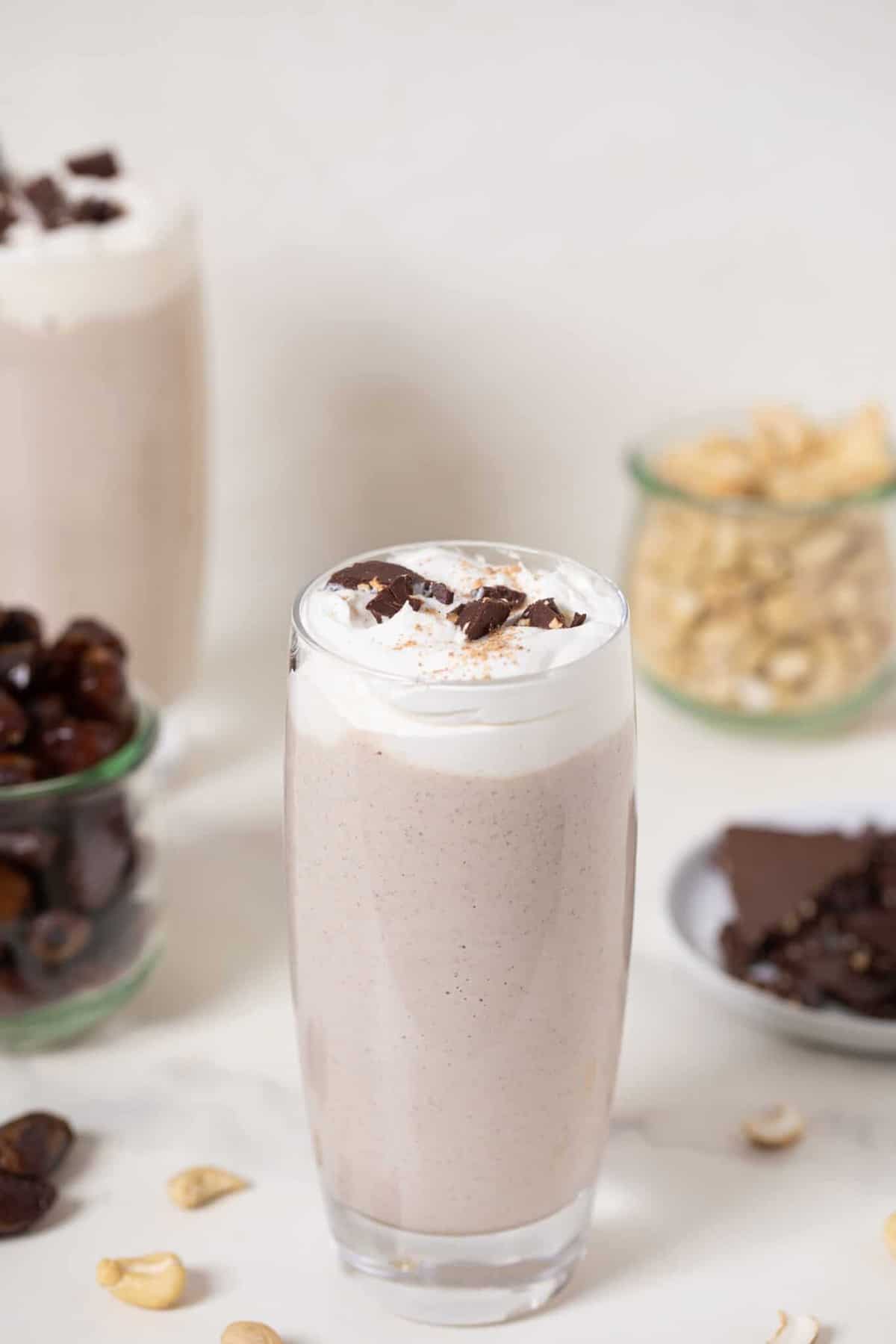 What You'll Love Most About This Vegan Cashew Date Shake.
Back to this recipe—-when it comes to this recipe, I'm super excited to share something so simple, yet highly delicious! If you're anything like me, then you're probably a lover of easy yet flavorful foods/drinks. If so, this is a must try!
Very easy to whip together and uses minimal main ingredients.
Ready in less than 5 minutes TOTAL.
Warm and comforting with every sip.
Add extra ingredients for an extra twist or added health benefits.
Loaded with delicious Fall/Winter spices.
A great meal replacer that keeps you full!
All dairy-free, vegan, + GF.
Makes for the perfect sweet treat for the entire family.
Awesome Vegan Drinks to Try this Season.
Luckily, I have a few great drink recipes that are just as easy, quick, packed with nutrients, and most of all—full of FLAVOR:
As you can see, there are a range of flavors, textures, and uses for the recipes above. It's definitely a list of drinks that you should try, even it's once.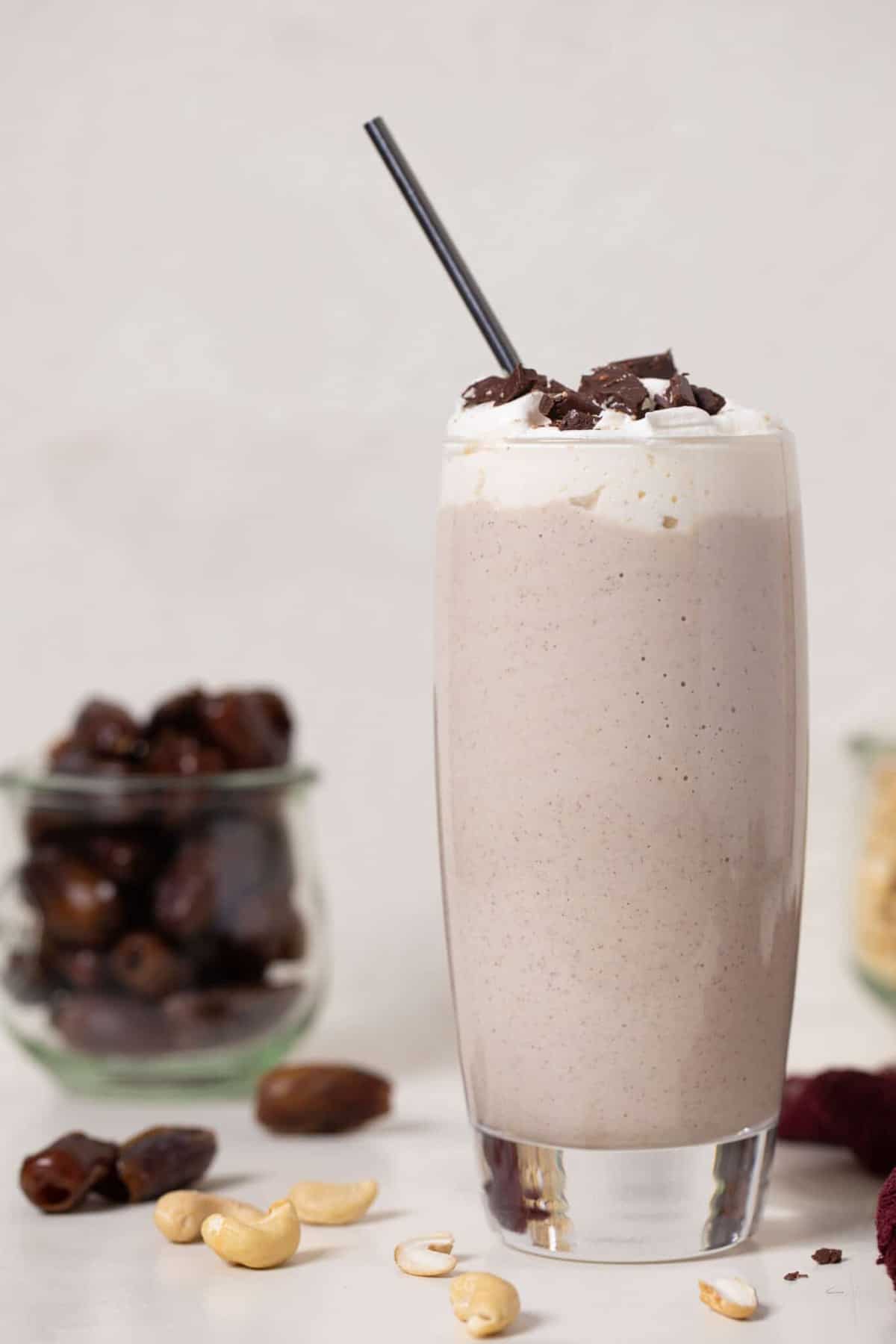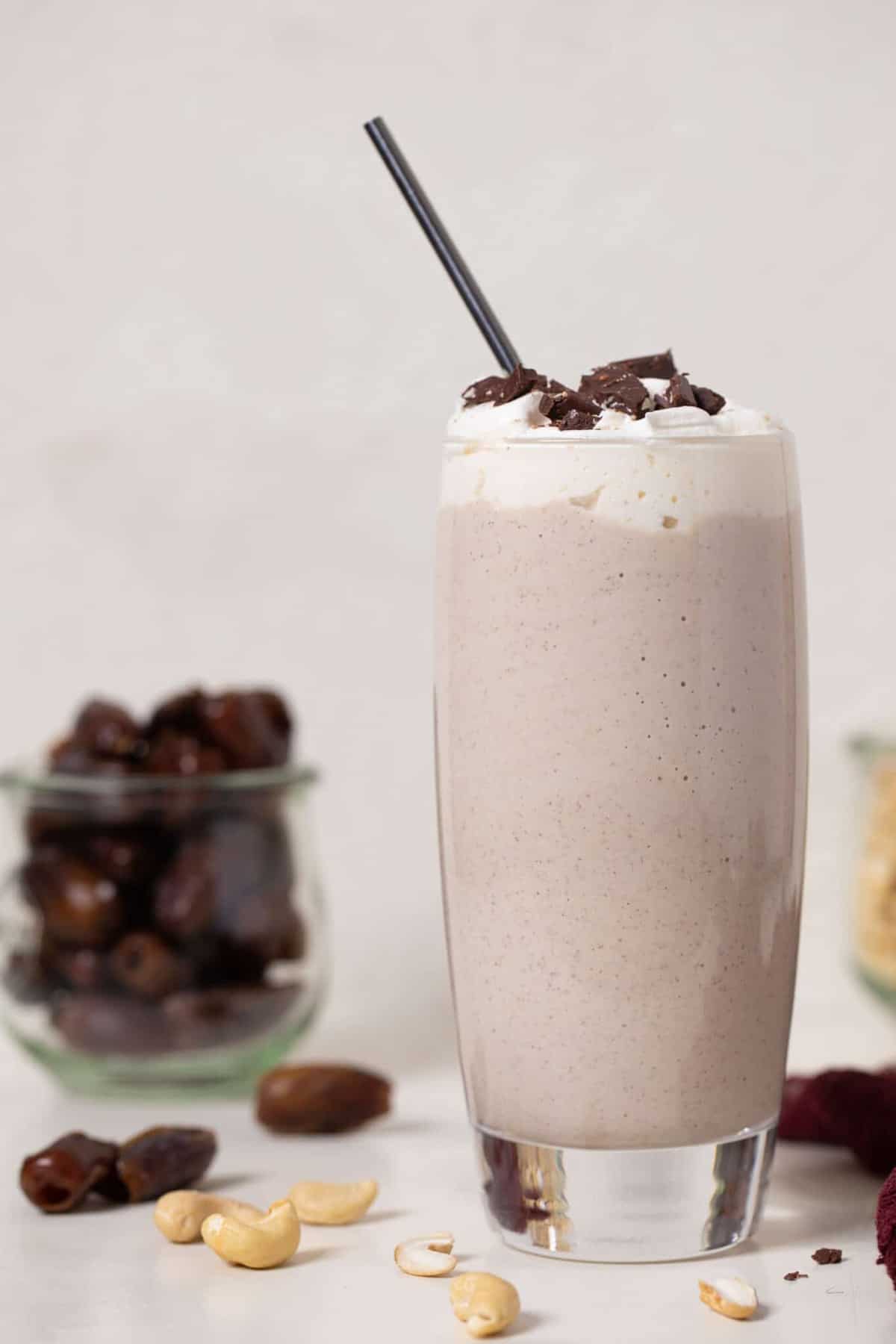 LOOKING FOR A HEALTHIER SWEETENER OPTION?
The Best Healthy Sugar Alternatives + Substitutes list is all about finding better ways to enjoy your favorite sweets without compromising your healthy lifestyle. For those who follow a vegetarian and/or vegan lifestyle, this lists offers a few great ideas to incorporate healthy sweeteners into your diet.
Why Cashews, Anyway?
Cashews in general have a buttery, sweet, and salty taste, which for many people, is considered absolutely delicious!
Raw Cashews are often used in vegan recipes and I can attest to using them often as well. Once easily soaked, cashews are so easy to incorporate and adds a nice texture to many dishes. When it comes to nutritional value, cashews are packed with vitamins, minerals, and antioxidants, which include Vitamins E, K, + B6, zinc, iron, magnesium, etc.
In addition, cashews offer the following benefits:
Heart-healthy properties
Optimizes blood health
Great for eye health
and more!
1 1/3

cups

cashews, soaked overnight

(See Notes!)

8

Medjool dates, pitted + soaked

(See Notes!)

1

medium

banana, peeled + sliced

1/3

cup

Rolled oats, Gluten-Free

(I use Bob's Red Mill)

1 1/4

cups

Almond milk

(You can use your fave plant-based milk!)

1

tsp

vanilla extract

1

tsp

ground cinnamon

1/4

tsp

ground nutmeg

pinch of

sea salt
Add all ingredients to a high-powered blender (adding the wet ingredients first, followed by the remaining ingredients) and blend until smooth, about 1-2 minutes. NOTE: If shake is too thick, simply add an additional 1/4 cup milk.

To serve, add shake to prepared glass(es) and top with CocoWhip and chopped chocolate, if desired.

Sip and enjoy!
STORAGE: Store any leftovers in the refrigerator, tightly sealed or in a covered mason jar, ensuring that you drink it within the same day for best taste and consistency.
SOAKED CASHEWS: To best soak cashews, add 1 cup of cashews to a bowl or measuring cup and cover with cold water, sealing the top with plastic wrap and leaving it out (at room temp.) overnight. When ready to use, drain and rinse. If not able to soak overnight, simply cover cashews with boiling water and let sit for 30 minutes, drain, + rinse.
DATES: To soak, add dates to a small bowl with fresh water for 10 minutes or so. This softens it and hydrates them.
WHAT PLANT-BASED MILKS ARE GOOD FOR THIS RECIPE?My go-to plant-based milk is Almond milk from Califia Farms. However, you can always use your fave or one of the following: coconut milk, oat milk (froths/foams VERY WELL), flax milk, etc.
ADDITIONAL OPTIONS: To create a kick of flavor or add nutrients to this shake, you can add any of the following: turmeric (about 1/4 tsp), your favorite nut butter, chia seeds, flaxseed meal, cacao powder (about 1 Tbsp), or an additional sweetener such as Agave or Maple syrup.