Make this decadent homemade Brown Butter Maple Cookie Latte with browned butter for a bold flavor, oat milk, vanilla, cookie butter, and cold brew coffee for a creamy and satisfying morning drink. Add whipped cream and crushed chocolate chip cookies to create a beautiful crunch for the final round of sips. Vegan option available.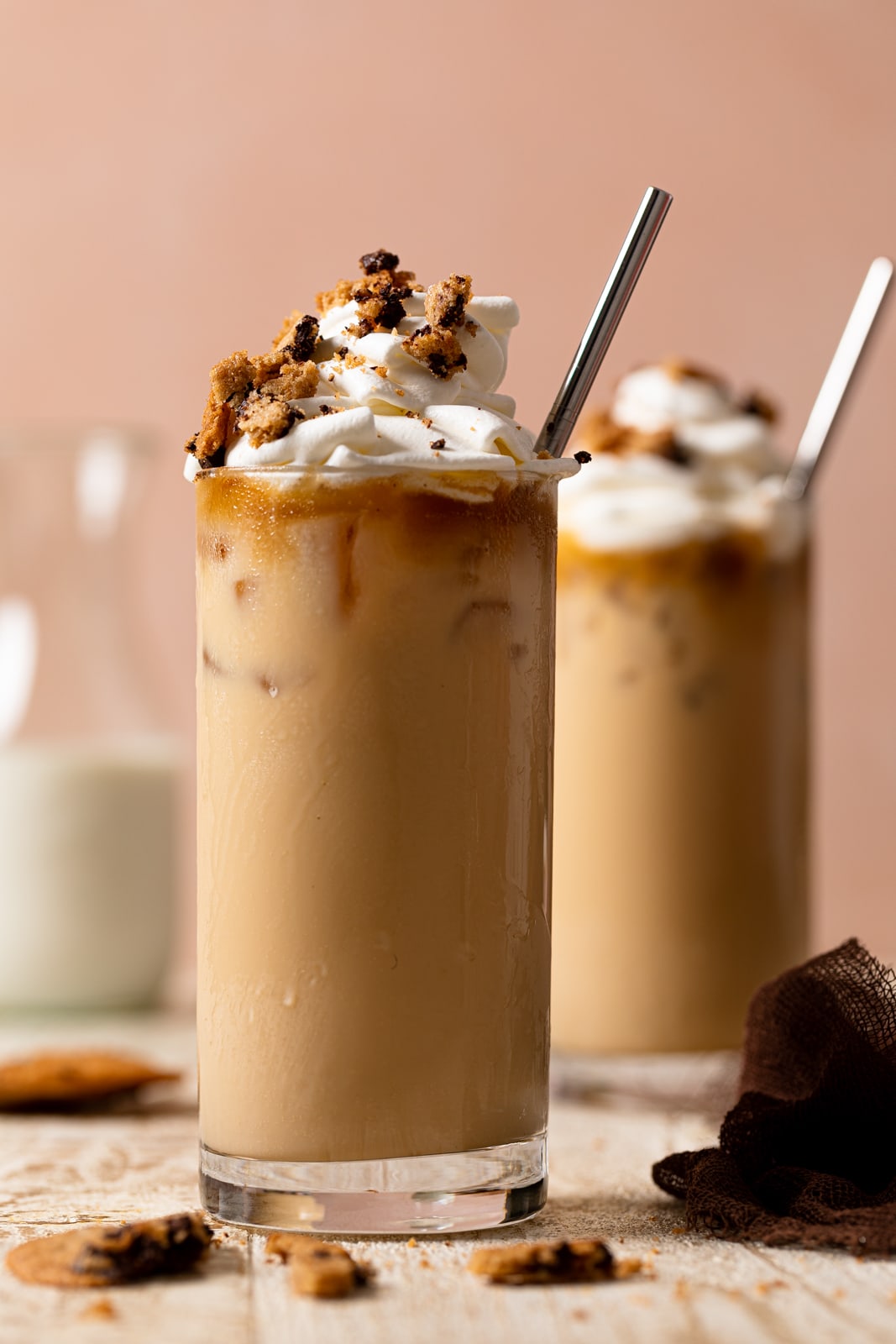 I'm such a lover of homemade lattes, seriously! Before making my own lattes at home, I was an avid Starbucks drinker---hello Frappuccinos. However, I can attest to how amazing it is to make your own coffee at home, especially when you get a chance to create so many delicious flavors from simple ingredients.
This Brown Butter Maple Cookie Latte is by far one of my top faves for the summer and it's such a fun drink for the entire family. You can either use store-bought cookies or make freshly baked chocolate chip cookies if you'd like!
What Cookies Work for this Brown Butter Maple Cookie Latte?
While you might chose to add store-bought cookies to this latte, the options for freshly baked homemade cookies aren't short. Your Brown Butter Maple Cookie Latte will taste amazing, whichever you use, however, here's a few great recipes that you can start from: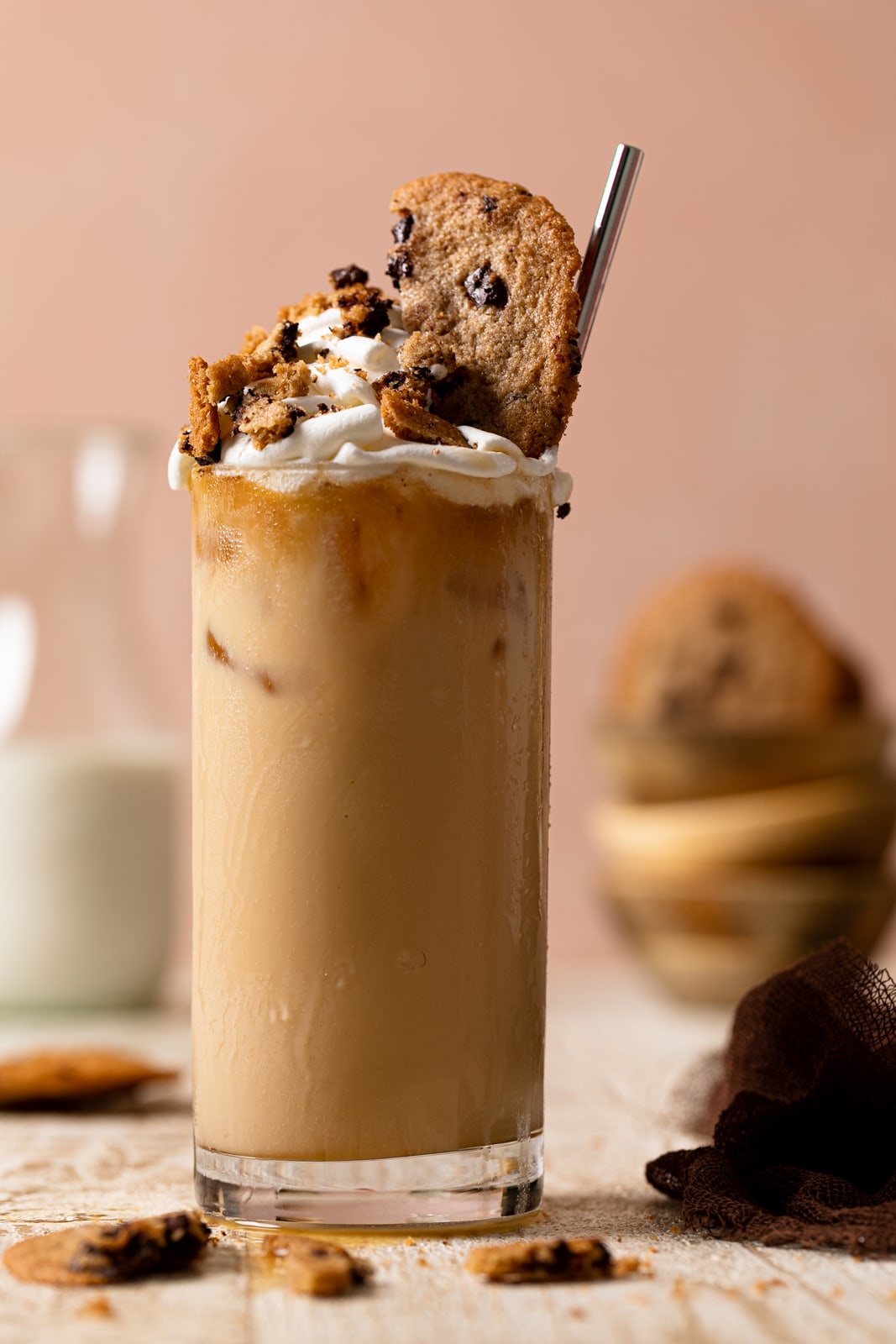 Brown Butter Maple Cookie Latte Ingredients
The main component in this simple homemade Brown Butter Maple Cookie flavor and the coffee. To make your lattes, you'll use:
Cold brew. You can also use chilled brewed coffee.
Oat milk. Make your own! Or use store-bought oat milk.
Extracts. I use vanilla extract to create a bolder cookie feel. However, you can add a bit of butter extract to the mix for a bolder flavor as well.
Maple syrup. You can always use Agave syrup instead as well.
Brown Butter. This rich butter flavor goes together nicely with the sweet flavors of this drink.
Crushed Chocolate Chip Cookies. The best highlight in this drink and is optional. Instead, you can add chocolate chips for a simpler feel, if you'd like.
Cookie butter. This is the highlight of the entire drink and can be store-bought or homemade.
Whipped cream. This is also easy to make with a chilled heavy cream.
To Make the Browned Butter
In a medium 10-inch skillet over medium-high heat, melt the butter, stirring occasionally and letting it cook for 3-4 minutes, until dark bits begin to form and the entire butter becomes fragrant and darker. Set aside and let cool completely.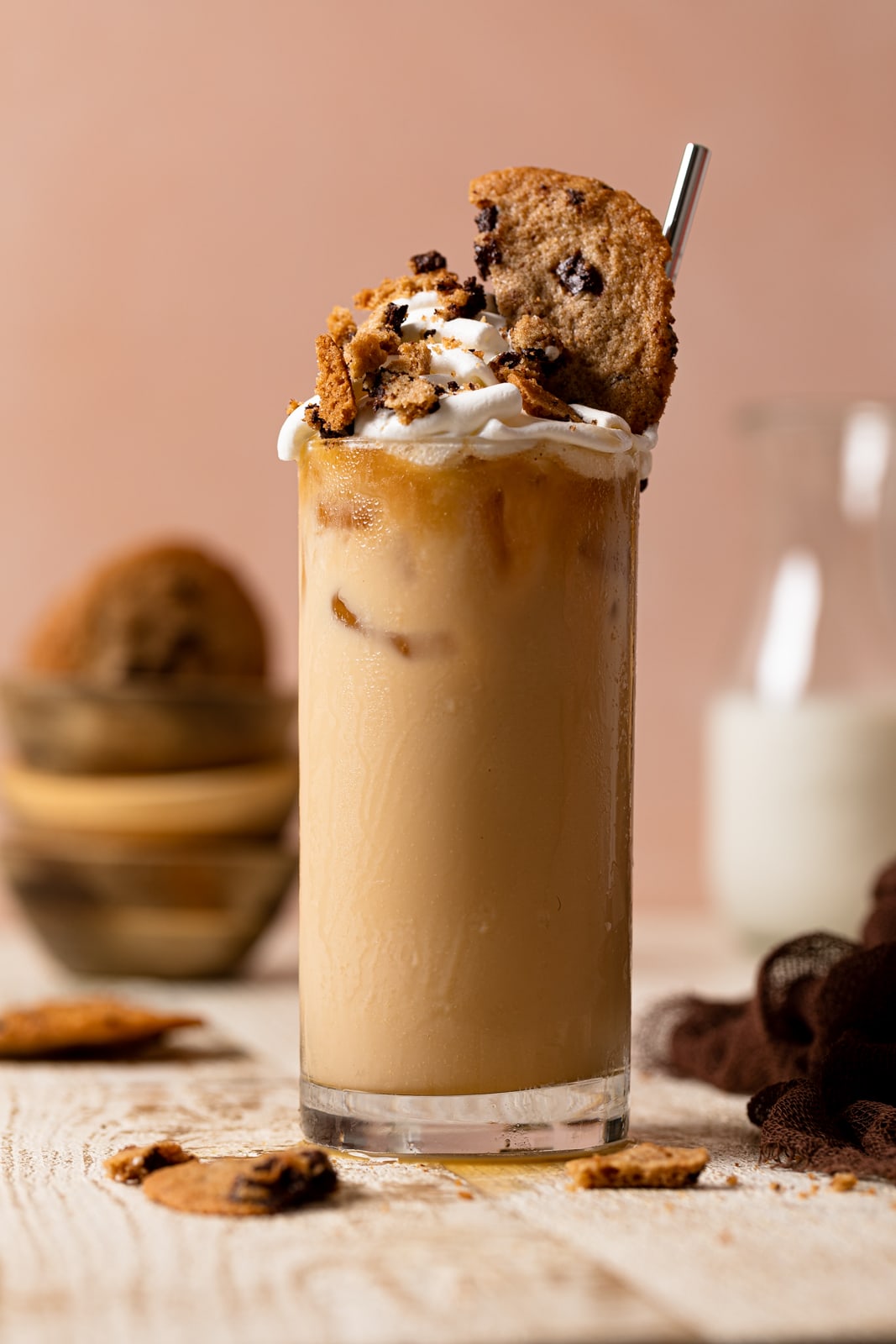 Is this Latte Dairy-Free?
Absolutely if you substitute the unsalted butter with vegan butter! In that case----everything in this latte is completely dairy-free and if you'd like to switch things up with the type of plant-based milk that you use—–that's totally fine! The world of plant-based milk is constantly expanding. From the classics like coconut milk, cashew milk, soy milk and almond milk, we now have delicious options like oat milk, and even potato and quinoa milk.
Can I Make this Latte Vegan?
Yes, of course! To make this latte vegan, simple substitute the butter with vegan butter, ensure that you use vegan chocolate chip cookies, include vegan-friendly cookie butter, and top with coconut whipped cream. Wallah!
Can I Serve this Hot or Cold?
Yes! You can definitely switch things up by serving this latte hot or cold whenever you chose to. To serve hot, simply warm all latte ingredients together in a small saucepan until heated through. Pour in a mug and top with whipped cream and crushed chocolate chip cookies.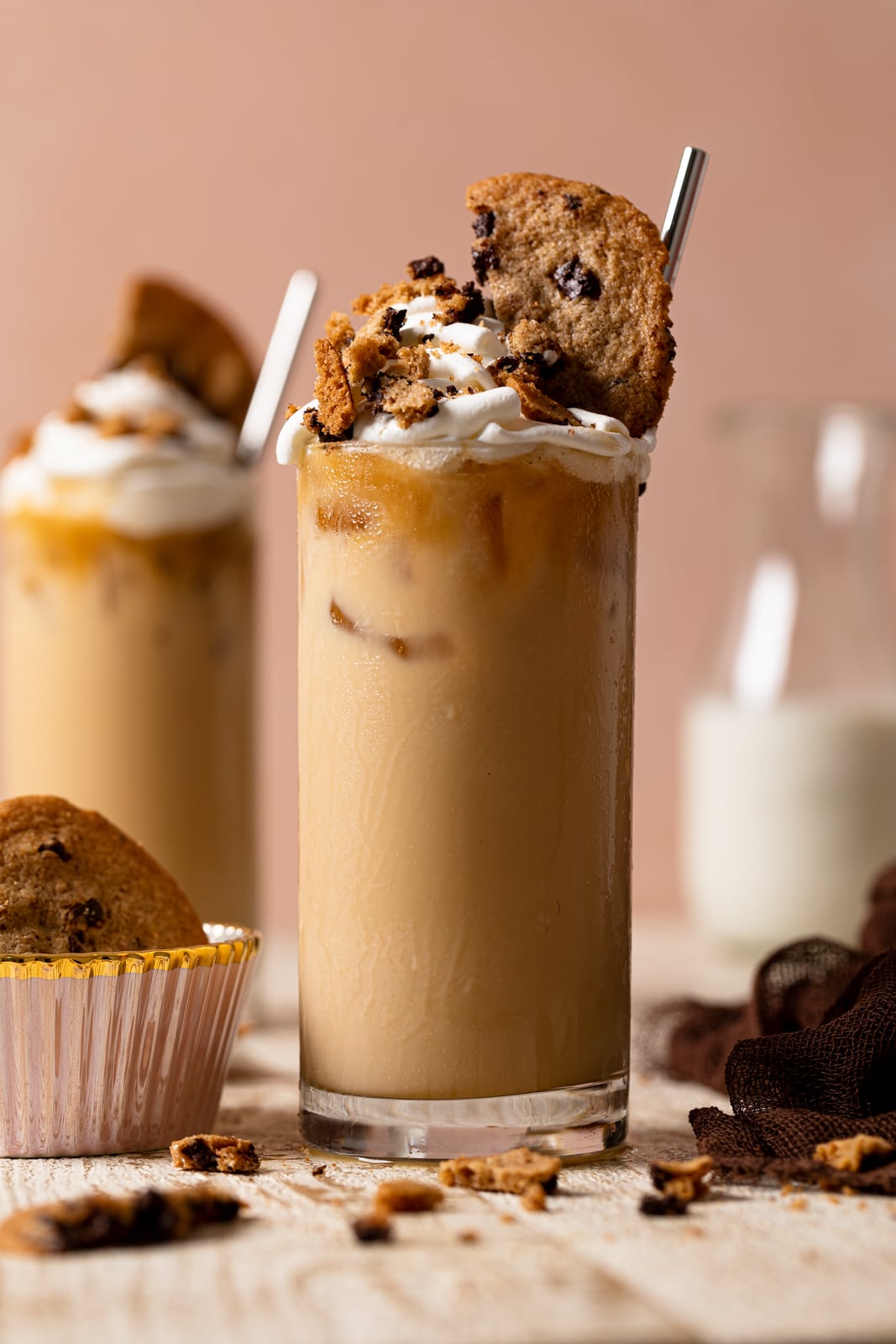 Caramel Coffee Ice Cubes: The Perfect Way to Avoid Waste
Making coffee throughout the week can sometimes mean that you won't always use up your coffee, especially when making coffee from ground coffee beans. Yes—you can add leftover coffee in other ways (i.e. baking, making a mocktail, etc.), why not just freeze them and re-create a new latte each day? Haha.
Plus, it's really simple to make, so there's that. Therefore, if you're like me and you're a homemade latte lover, then use these Caramel Coffee Ice Cubes for any flavored latte, including in this Brown Butter Maple Cookie Latte.
Make-Ahead Tips
If you want to drink this chilled Brown Butter Maple Cookie Latte every morning, it's helpful to have the chocolate chip cookies prepped and ready to go. Once you make them and cool them fully, you can store it in an airtight container or glass jar at room temperature for 3-4 days or in the refrigerator for longer.
If you're making the cookie butter from scratch, you can also prep this as well.
When you're ready to serve, stir the latte ingredients together and add your favorite toppings---whipped cream and crushed cookies. Enjoy!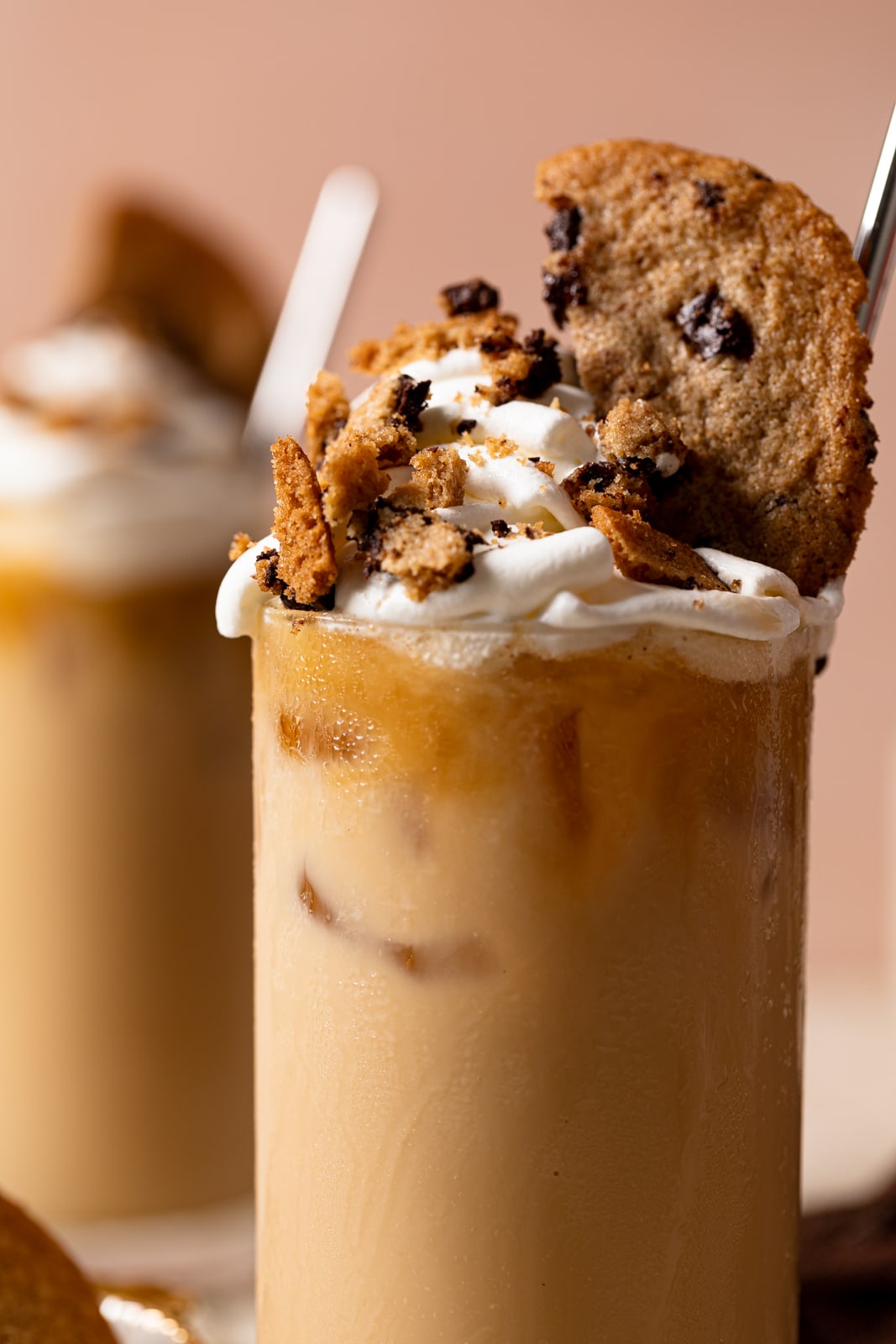 More Homemade Latte Recipes to Try
MADE OUR RECIPE(S)?
If you make this Brown Butter Maple Cookie Latte, tag @orchidsnsweettea_ on Instagram and hashtag it #orchidsandsweettea!
LATTE:
¼

cup

unsalted butter

1

tablespoon

cookie butter, softened or melted

2

Tbsps

pure maple syrup

½

cup

cold brew

1 ½

cups

oat milk, homemade or store-bought

(You can use your fave plant-based milk!)

1

teaspoon

vanilla extract

Pinch of

ground cinnamon

Crushed ice
GARNISH/TOPPINGS:
2-3

Chocolate chip cookies, crushed

(Homemade or Store-bought)

Whipped cream
TO MAKE THE BROWN BUTTER:
TO MAKE THE LATTE:
In a bowl, add together oat milk, cold brew, vanilla, maple syrup, cookie butter, cooled brown butter, and cinnamon, whisking everything together until combined.

To serve, fill ice into a 12 or 16-ounce glass and pour the latte mixture atop crushed ice until completely filled. Top with whipped cream and for extra fanciness----crushed chocolate chip cookies, if desired.

Sip and enjoy!
WHAT PLANT-BASED MILKS ARE GOOD FOR THIS RECIPE? My go-to plant-based brand for Oat milk when using store-bought is the Forager Project. However, you can always use your fave or one of the following: Almond, coconut milk, homemade oat milk (froths/foams VERY WELL), homemade cashew milk, flax milk, potato milk, quinoa milk, etc.
CHOCOLATE CHIP COOKIES: If you'd like to top your latte with freshly baked chocolate chip cookies, be sure to check out my recipe for these Big Bakery-Style Oatmeal Chocolate Chip Cookies. Just reduce size of cookies to fit glasses or crumble them on top.
SWEETENER: Instead of maple syrup, you can substitute with Agave syrup.
VEGAN OPTION: To make this latte vegan, simply substitute with vegan butter, coconut whipped cream, vegan-friendly cookie butter, and these Vegan chocolate chip cookies.
Calories:
881
kcal
|
Carbohydrates:
81
g
|
Protein:
8
g
|
Fat:
59
g
|
Saturated Fat:
32
g
|
Polyunsaturated Fat:
3
g
|
Monounsaturated Fat:
13
g
|
Trans Fat:
2
g
|
Cholesterol:
123
mg
|
Sodium:
235
mg
|
Potassium:
371
mg
|
Fiber:
3
g
|
Sugar:
62
g
|
Vitamin A:
2156
IU
|
Calcium:
577
mg
|
Iron:
3
mg
Brown Butter Maple Cookie Latte.