Make a delicious creamy Peanut Butter Caramel Iced Latte with a homemade vegan caramel sauce, oat milk, peanut butter, and cold brew coffee for a satisfying morning drink. Added coconut whipped cream and caramel drizzle creates a beautiful rendition of flavor for the final round of sips. All dairy-free and vegan.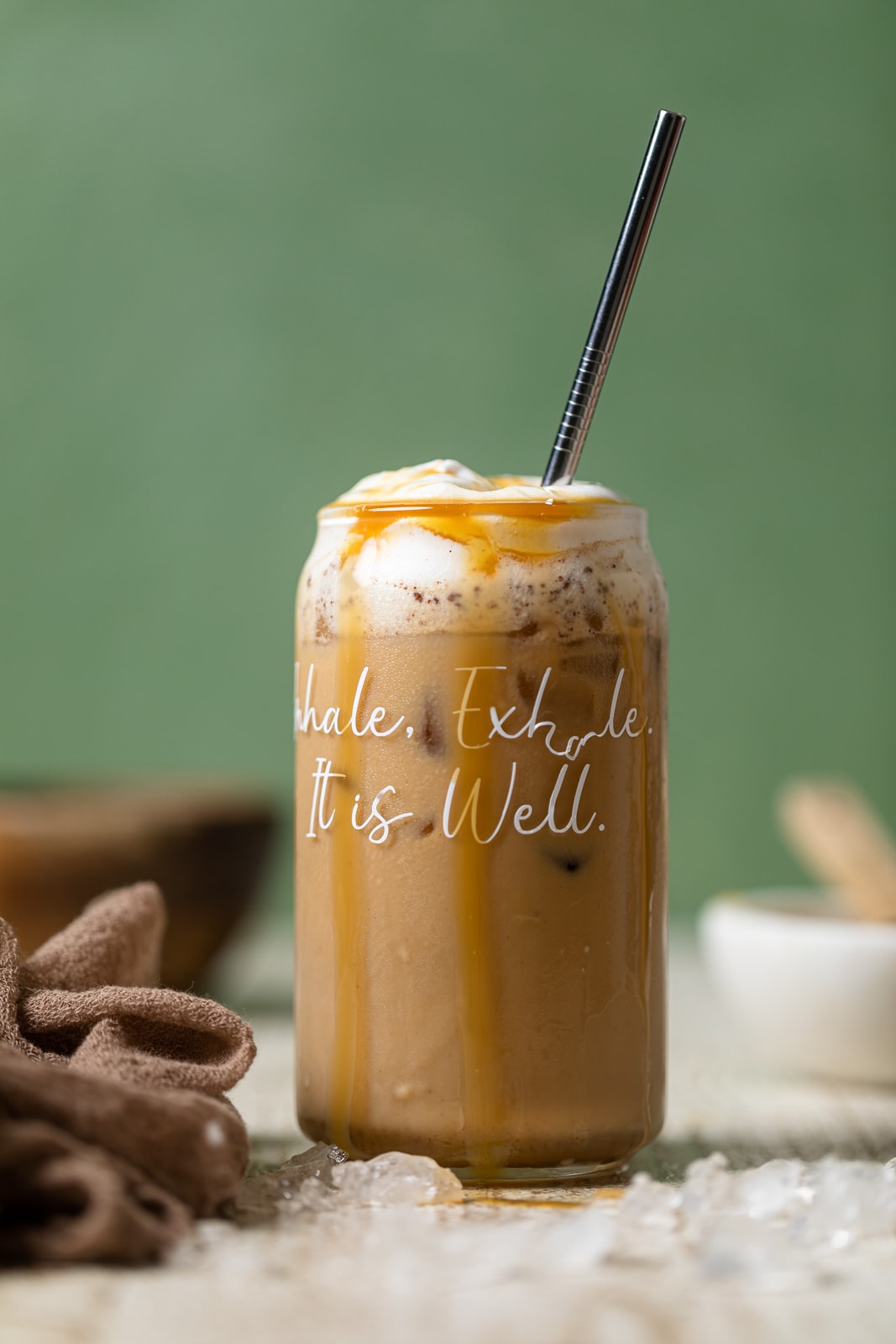 Disclaimer: This post contains affiliate links via Amazon for products that I wholeheartedly love.
Lately, I've been making my iced lattes at home very frequently and I often LOVE experimenting with new flavors and ingredients combos for a nice switch up.
As I've mentioned before, for the new year, one of my goals has been to make more of my coffee-based drinks at home as opposed to a retailer like Starbucks. To be honest, I've gotten frustrated with ordering a venti cup of coffee and always having to adjust it myself at home because it wasn't made perfect. So, why not just make the entire thing yourself—right? Right.
So, of course----being able to make my lattes perfectly and based on the right amount of ingredients/flavor, has been such a game-changer for me in the mornings!
When it comes to this Peanut Butter Caramel Iced Latte, I promise you that it'll be such a burst of amazing flavors and will definitely UP your latte game!
You're going to love this creamy oat milk drink (which of course---you can use your fave plant-based milk). It's made with cold brew for an extra caffeine kick, peanut butter which adds a beautiful nuttiness, and has a sweet homemade caramel sauce you can use to flavor your morning brew all week long without any need for an additional sweetener.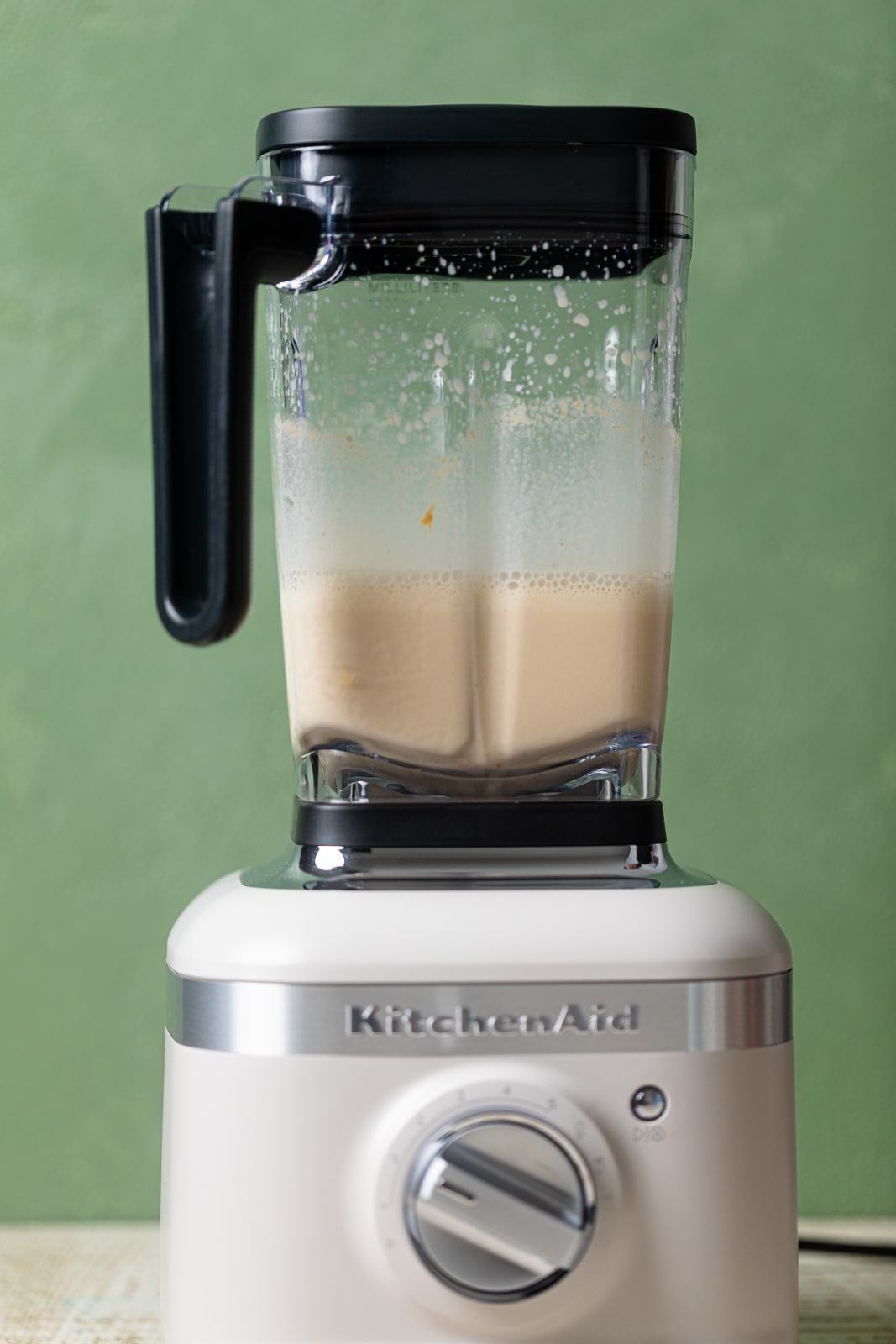 Peanut Butter Caramel Iced Latte Ingredients
The two components in this simple homemade latte are the homemade caramel sauce and the coffee. Here's what you need to make the sauce:
Brown sugar. I use organic to make sure it's vegan.
Vegan butter. I love using the brand Earth balance.
Full-fat coconut milk. You can also use the coconut cream version for a creamier texture.
To make your lattes, you'll use:
Cold brew. You can also use chilled brewed coffee.
Oat milk. Make your own or use store-bought oat milk. You can also substitute with your fave plant-based milk.
Coconut whipped cream. This is also easy to make with a chilled can of full-fat coconut cream.
Caramel sauce. This is the highlight of the entire drink and can be store-bought or homemade.
Peanut butter. Use organic, smooth peanut butter for this latte to ensure that it's vegan.
Caramel Coffee Ice Cubes: The Perfect Way to Avoid Waste
Making coffee throughout the week can sometimes mean that you won't always use up your coffee, especially when making coffee from ground coffee beans. Yes—you can add leftover coffee in other ways (i.e. baking, making a mocktail, etc.), why not just freeze them and re-create a new latte each day? Haha.
Plus, it's really simple to make, so there's that.
Making Your Latte Runs Simple and Fast
As I've mentioned, making these coffee ice cubes are for sure the easiest and fastest way to keep your latte/coffee runs smooth during the week. Simply make a large batch of these, add them to a glass in the mornings, pour your milk, and add an additional sweetener (if you please), and wallah. DONE!
What Ice Cube Trays Work Best
Honestly, I'm a big believer in using whichever type of ice cube tray molds you'd prefer. I chose to use these "crescent moon" shaped molds (which are standard ice trays), however, I also love using square cubes and any fun shapes for a more festive feel.
Personally, I've added some amazing options on my Amazon list and you can also purchase ice cube molds as large retailers such as Target, Walmart, etc. Of course, depending on the size and shape, you'll get a different amount of ice cubes per batch, so keep that in mind!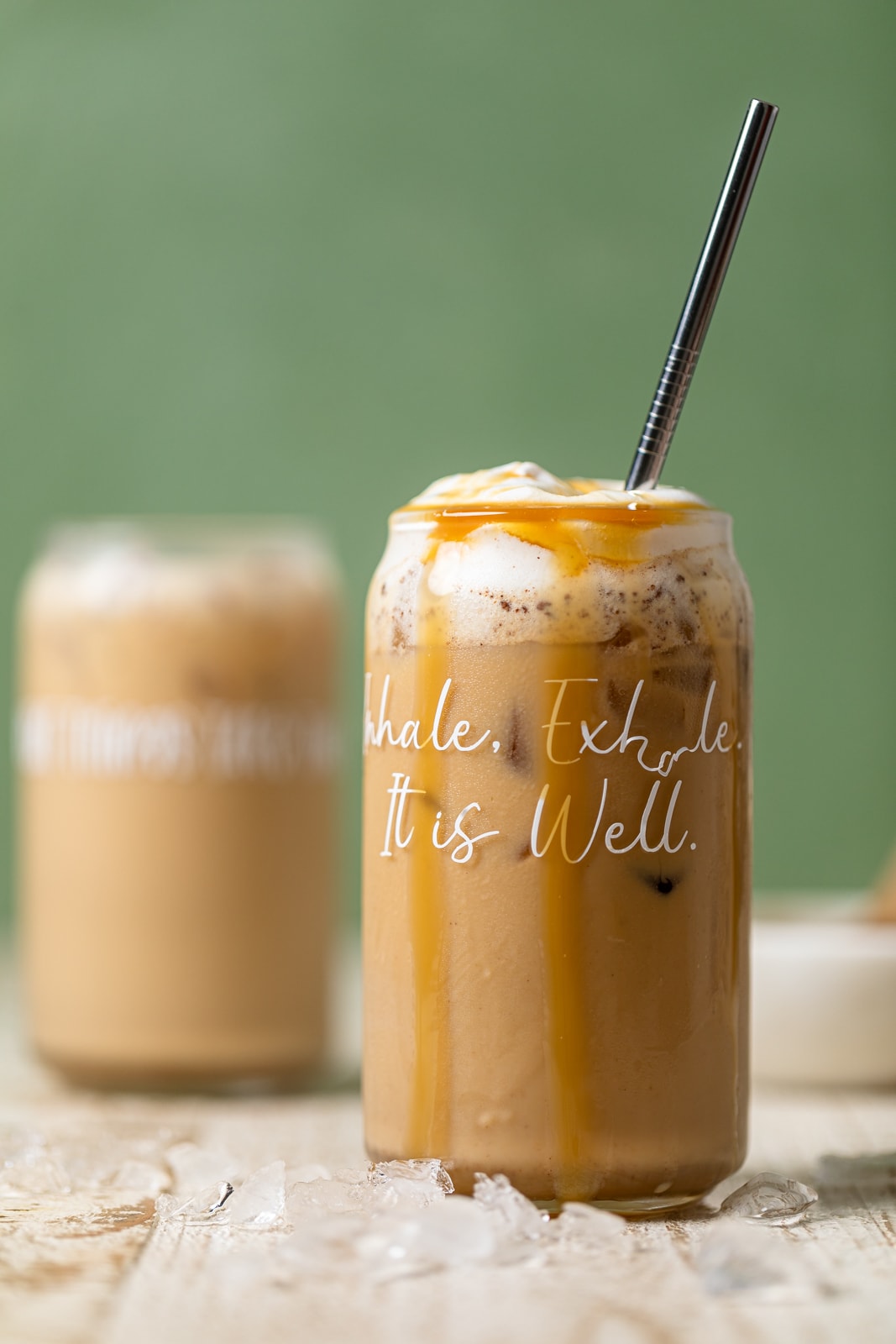 Make-Ahead Tips for Peanut Butter Caramel Iced Latte
If you want to drink this chilled peanut butter caramel latte every morning, it's helpful to have the caramel sauce prepped and ready to go. Once you make and cool the sauce fully, you can store it in an airtight container or glass jar in the fridge for up to two weeks.
When you're ready to serve, stir the homemade caramel sauce into your peanut butter-oat milk mixture, sweetener, pinch of cinnamon, coffee, and add your favorite toppings. Enjoy!
WAYS TO USE HOMEMADE CARAMEL SAUCE
Drizzle creamy caramel over oat milk, almond or coconut ice cream. Add a dollop to vegan brownies (yum!). You can even add homemade caramel sauce to your favorite desserts like vegan cheesecake, cake, cupcakes, etc. Also, add a bit of sweetness to your chia pudding, overnight oats, or french toast for a morning kick!
What Kind of Dairy-Free Milk is Best for Lattes?
You can use pretty much any kind of plant-based milk for this peanut butter caramel latte. I recommend making your own; it's easier than you think!
Here are some of my go-to milk recipes for dairy-free lattes: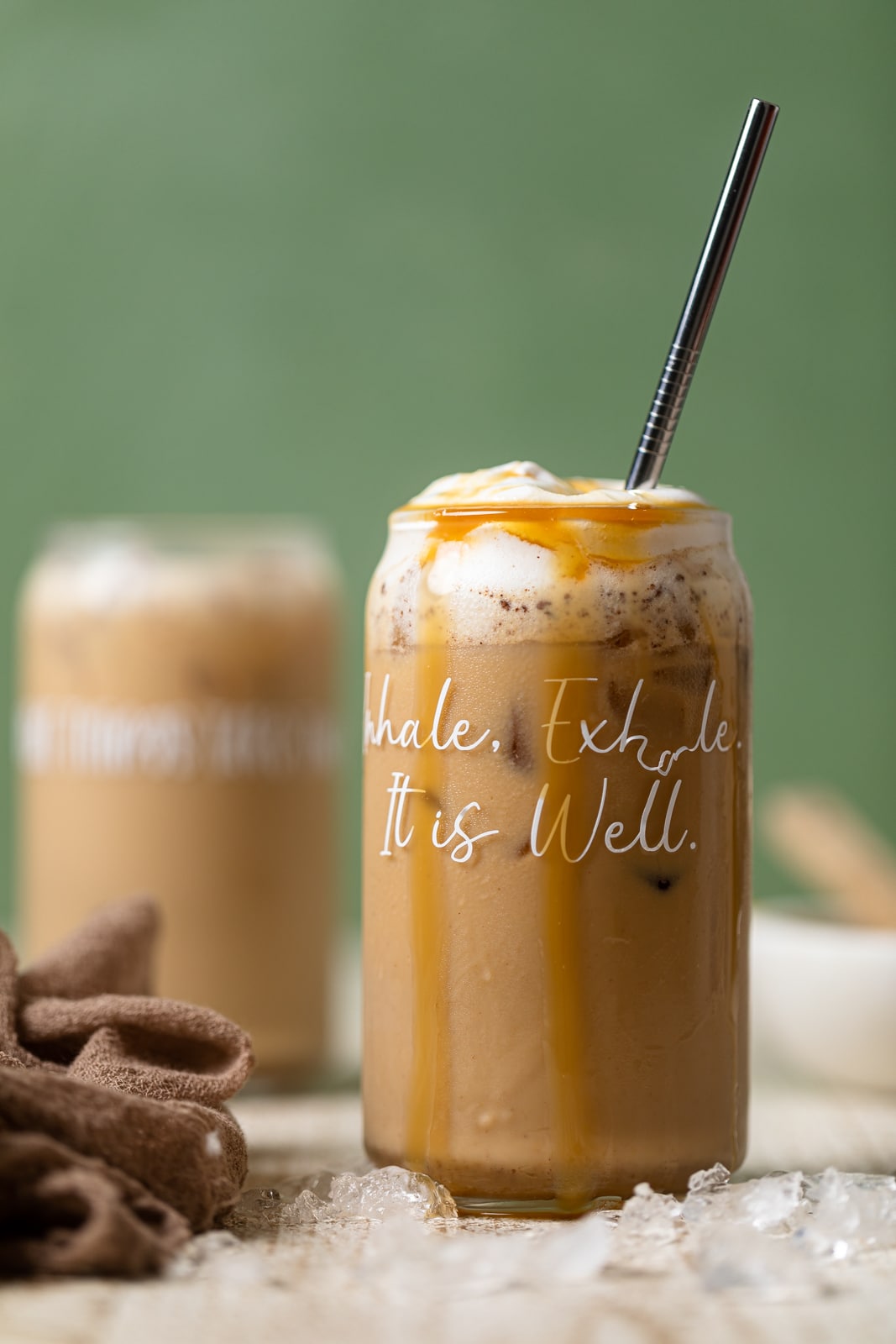 More Peanut Butter Recipes You'll Love!
More Homemade Latte Recipes to Try
MADE OUR RECIPE(S)?
If you make this Peanut Butter Caramel Iced Latte, tag @orchidsnsweettea_ on Instagram and hashtag it #orchidsandsweettea!
TOPPINGS:
Crushed ice cubes

Coconut whipped cream

Carmel, drizzle
TO MAKE THE HOMEMADE VEGAN CARAMEL SAUCE:
Heat the brown sugar in a medium skillet over medium-high heat and stir constantly using a rubber spatula until clumps are formed. Add vegan butter and continue to stir until everything has melted and become a dark 'amber-like' color. Continue to stir consistently until fully melted and bubbly, about 2-3 minutes.

Now, slowly whisk in the coconut milk and continue stirring until well incorporated and sauce has fully thickened. Remove from heat and allow to cool slightly before using. Set aside.
TO MAKE THE LATTE:
In a high-powered blender, add the milk and peanut butter together and blend on high-speed until creamy and combined.

In a bowl, add together all latte ingredients (including the peanut butter-milk mixture), mixing until combined.

To serve, fill ice into a 12 or 16-ounce glass and pour the latte mixture atop crushed ice until all the way filled. Top with coconut whipped cream and caramel drizzle.

Sip and enjoy!
WHAT PLANT-BASED MILKS ARE GOOD FOR THIS RECIPE? My go-to plant-based brand for Oat milk when using store-bought is the Forager Project. However, you can always use your fave or one of the following: Almond, coconut milk, homemade oat milk (froths/foams VERY WELL), homemade cashew milk, flax milk, potato milk, quinoa milk, etc.
SWEETENER: Instead of maple syrup, you can substitute with Agave syrup.
STORAGE (CARAMEL SAUCE): Leftover caramel sauce can be stored in a tightly sealed mason jar for up to two weeks. When ready to use, simply reheat sauce in the microwave at 15 second intervals until softened and at room temp.
NUT BUTTER: If preferred, you can always substitute peanut butter with Almond butter, SunButter (perfect for allergy-free needs!), Tahini (Sesame Seed Butter), Hazelnut Butter, etc.
Calories:
1115
kcal
|
Carbohydrates:
101
g
|
Protein:
36
g
|
Fat:
70
g
|
Saturated Fat:
13
g
|
Polyunsaturated Fat:
16
g
|
Monounsaturated Fat:
33
g
|
Sodium:
864
mg
|
Potassium:
1040
mg
|
Fiber:
9
g
|
Sugar:
77
g
|
Vitamin A:
774
IU
|
Vitamin C:
0.2
mg
|
Calcium:
625
mg
|
Iron:
5
mg