This Potato Milk is a delicious and creamy dairy-free option that fits perfectly in your coffee or atop your cereal or in a smoothie. All you need are cooked potatoes, water, a natural sweetener, vanilla, and a blender. Completely Nut-free, Dairy-free, and Vegan!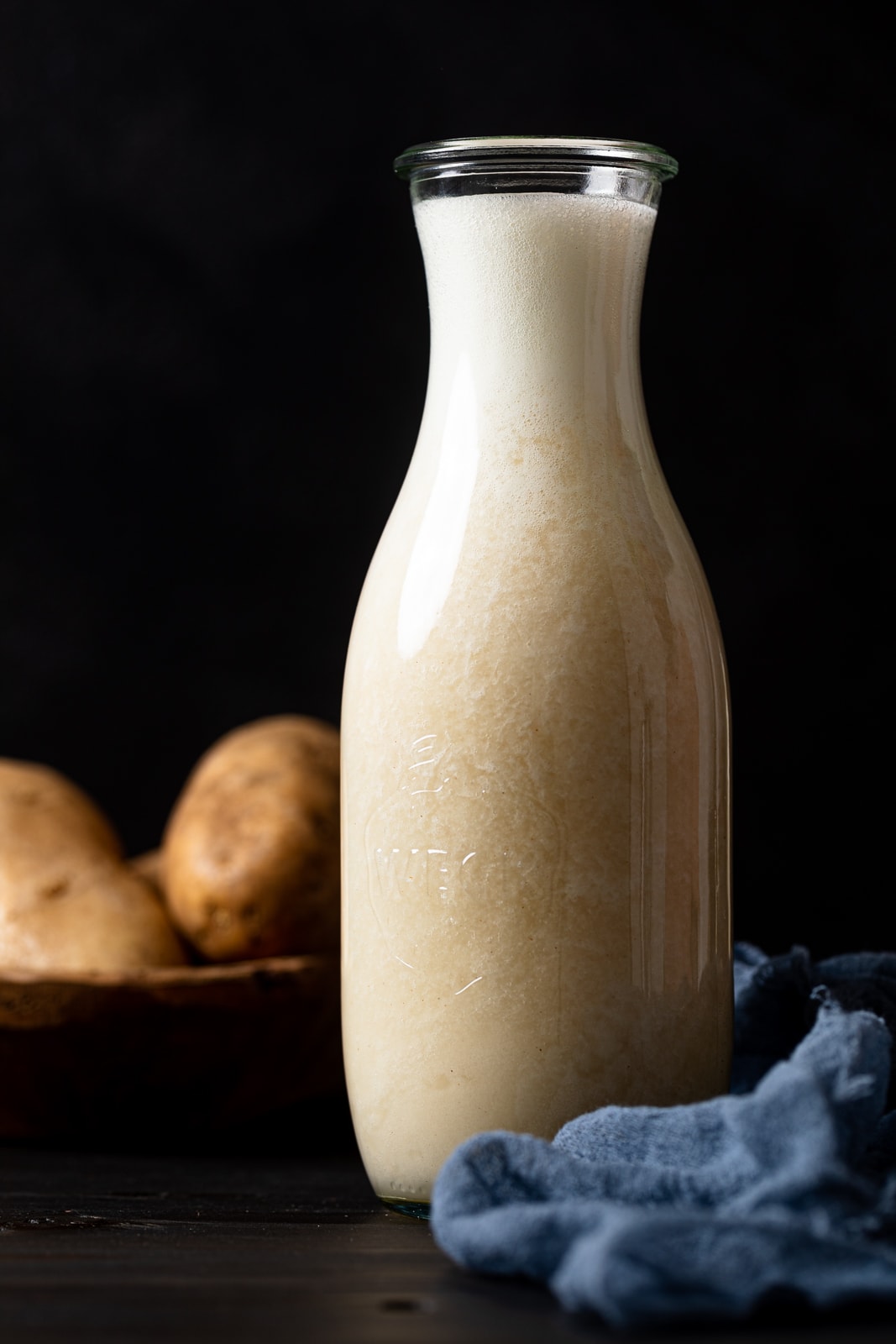 Disclaimer: We are a participant in affiliate advertising programs designed to provide a means for us to earn fees by linking to affiliated sites like Amazon. However, I use all of the products listed below and recommend them because they are companies that I have found helpful and trustworthy.
Potato Milk: The New Dairy-Free Milk
Although we have an array of dairy-free options today, it's time to make way for one of the latest new creations----- potato milk. Personally, my go-to dairy-free milks include oat milk, cashew milk, coconut milk, pea milk, and almond milk; however, I've also had my fair tries with macadamia milk and hemp milk, which are both pretty tasty.
But I must admit that learning about potato milk recently and then giving it a try myself---- I'm a big fan. Potato milk is just as milky, creamy, mild (neutral) in taste, and delicious as the others I've tasted. While I've read mixed reviews with store-bought version of potato milk, I can attest that making it homemade might be best.
Plus, potato milk is a great option for those with a nut-allergy or sensitivity and it's perfectly neutral and creamy to add to your coffee, cereal, smoothie, or anything else that you add milk to.
Health Benefits of Potato Milk
If you've been an avid potato fan prior to learning about this new milk alternative, then you're probably already aware of the health benefits that potatoes carry. Let's just say that this milk (due to the potatoes) has a great source of Vitamin C, fiber, magnesium, and potassium.
In addition, potatoes possess antioxidants, which are great at reducing chronic illness as well as starches which is great for digestion.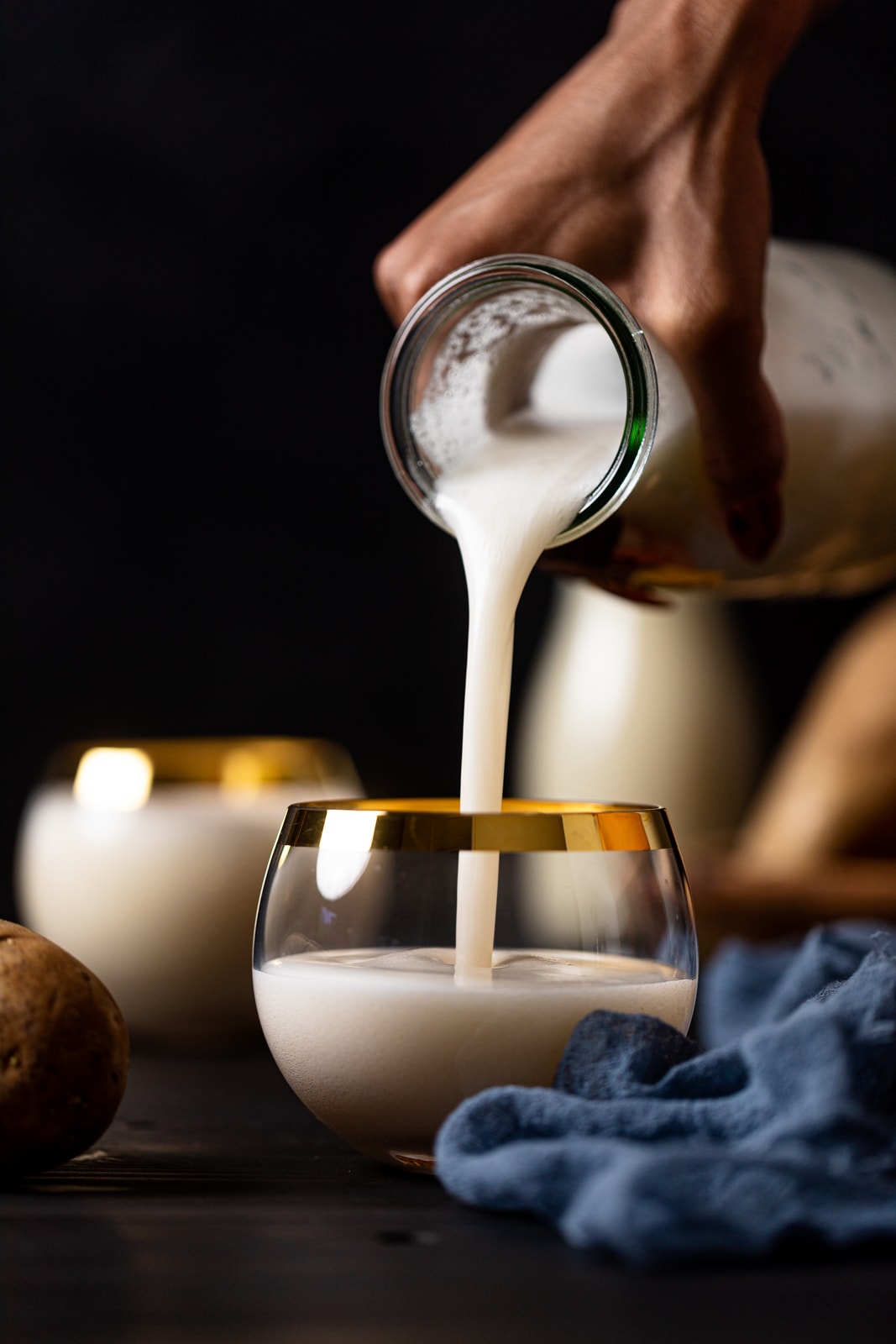 Potato Milk is Considered to Be Sustainable
If you're into keeping our environment healthy and sustainable, then using potato milk as an alternative allows you to achieve this at best! For one, potatoes are considered to be twice as more proficient to grow than something like oats. Also, it's estimated that over 50 times less water is needed to make this milk versus that of other milks like almond milk.
What You'll Need For This Potato Milk
Russet potatoes
Filtered water
Vanilla extract
Agave (optional)
The Best Types of Potatoes to Use
For this potato milk recipe, I used russet potatoes, but I do recommend testing out other types of potatoes! I do believe that white fleshed sweet potatoes would make for a great alternative as well as Yukon potatoes or any other white-fleshed potatoes, except for red potatoes since they tend to become more gluey in texture because of their waxiness.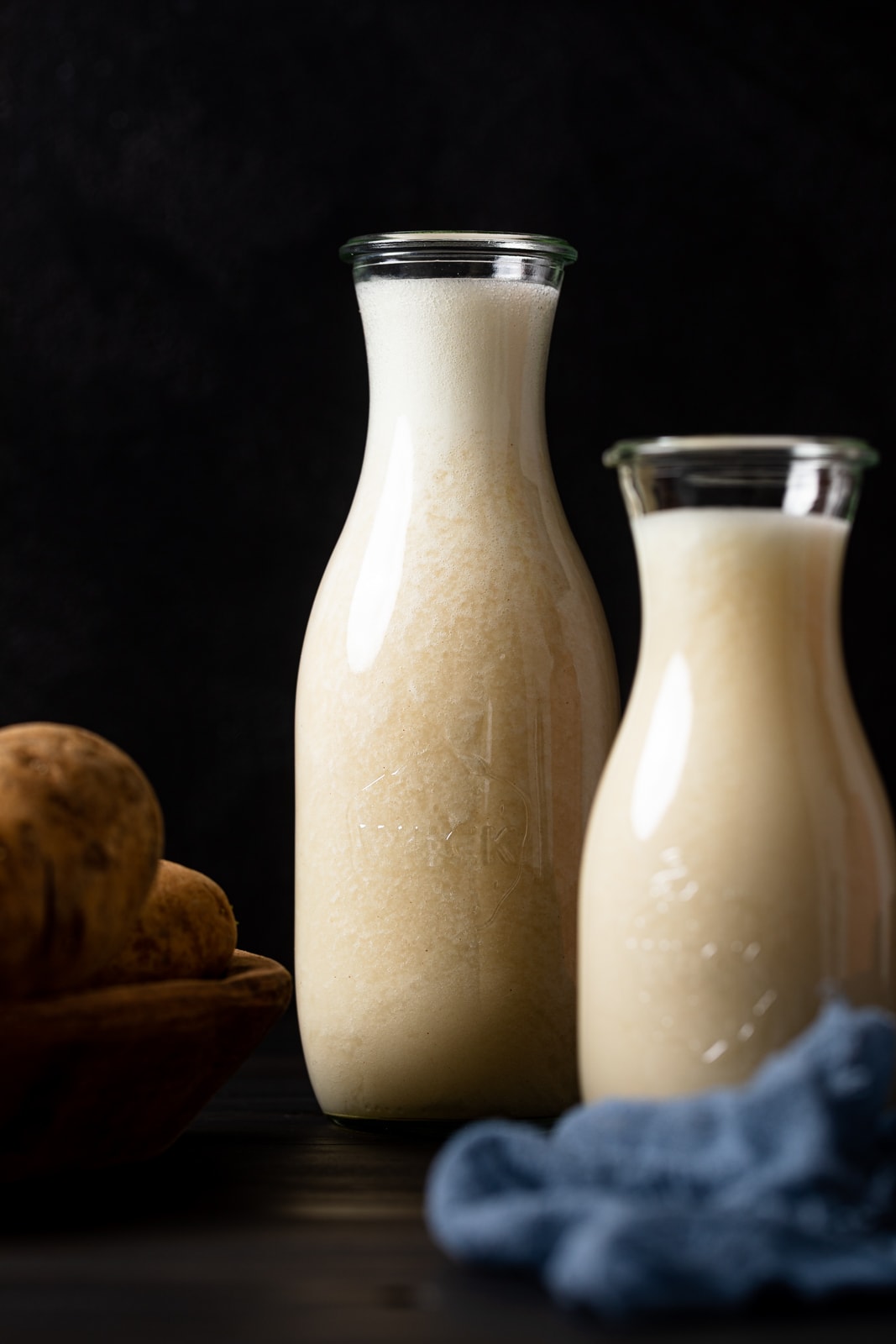 How to Make Potato Milk
The first step to making potato milk is to peel and cube the potatoes and then boiling them until tender.
Next, you'll put everything into a blender. A high-speed blender, such as a Vitamix, works best to really break everything down. Of course, you can do it with a regular blender, you may just need to blend a little longer. At this point, you can taste the milk and add extra sweetener or spices if desired.
The Best Milk Alternatives for Your Entire Household
How Long Can I Store Homemade Potato Milk?
Store your leftover potato milk in an airtight container or bottle. It will stay fresh for up a few days, but it's best within three days. Always stir or shake before use in case that anything settles to the bottom or separates.
How to Use Potato Milk
There are a few options that include Potato milk being used to it's fullest potential. You can definitely fun experimenting on these options and of course, switching things slightly by adding new flavors to your homemade Potato milk. Here are a few of my favorite ways to use it:
More Favorite Potato Recipes
MADE OUR RECIPE(S)?
If you make this Homemade Potato Milk recipe, tag @orchidsnsweettea_ on Instagram and hashtag it #orchidsandsweettea
BOIL THE POTATOES:
In a pot filled with water, add the cubed potatoes and boil until tender (fork can easily go through it), about 10-15 minutes. Drain and let cool.
BLEND EVERYTHING TOGETHER:
Next, add all ingredients (including cooled cooked potatoes) to a high-powered blender and blend on medium-high speed for about 30-45 SECONDS. NOTE: For a thinner consistency, add ½ cup more water until desired consistency is met.

Once done, slowly strain (using a cheesecloth) milk into a pitcher, squeezing the potato pulp to ensure that all milk is extracted. **NOTE: You may have to repeat this process until all oat milk has been fully strained by re-pouring milk on top of pulp to extract more milk, if needed.**

Refrigerate milk (best if tightly sealed/covered) for a few days. Stir before serving in case everything settles to the bottom.

Sip and Enjoy!
STORAGE: When properly stored in the refrigerator, potato milk lasts for a few days, at best. Usually, I like to consume my batch within the first 2-3 days.
SWEETENER: If Agave isn't desired, you can also use: pure maple syrup, or dates, instead if preferred.
USES: Potato milk's creamy consistency makes it perfect in lattes, cappuccinos, smoothies, creamy soups, and baked goods. Can also be used as regular milk for cereal, etc.
BEST POTATOES TO USE: For this recipe, I used russet potatoes, however, I encourage you to try other potatoes like white flesh sweet potatoes, Yukon potatoes, or any other white fleshed-potatoes that you enjoy.
Calories:
76
kcal
|
Carbohydrates:
18
g
|
Protein:
1
g
|
Fat:
0.1
g
|
Saturated Fat:
0.01
g
|
Polyunsaturated Fat:
0.02
g
|
Monounsaturated Fat:
0.001
g
|
Sodium:
11
mg
|
Potassium:
224
mg
|
Fiber:
1
g
|
Sugar:
8
g
|
Vitamin A:
1
IU
|
Vitamin C:
5
mg
|
Calcium:
13
mg
|
Iron:
0.5
mg
How to Make Potato Milk.