Making a plant-based breakfast no longer has to only consist of something sweet and or non-savory. My Vegan Breakfast Eggs + Potatoes is loaded with bold flavor with the likes of tomatoes, plant-based eggs, sautéed bell peppers, and pan seared potatoes for a well-rounded, hearty first meal! You can of course add additional veggies to add some bulk to this dish, which sends it over the top. Your whole family will love this simple, yet elegant savory breakfast delight!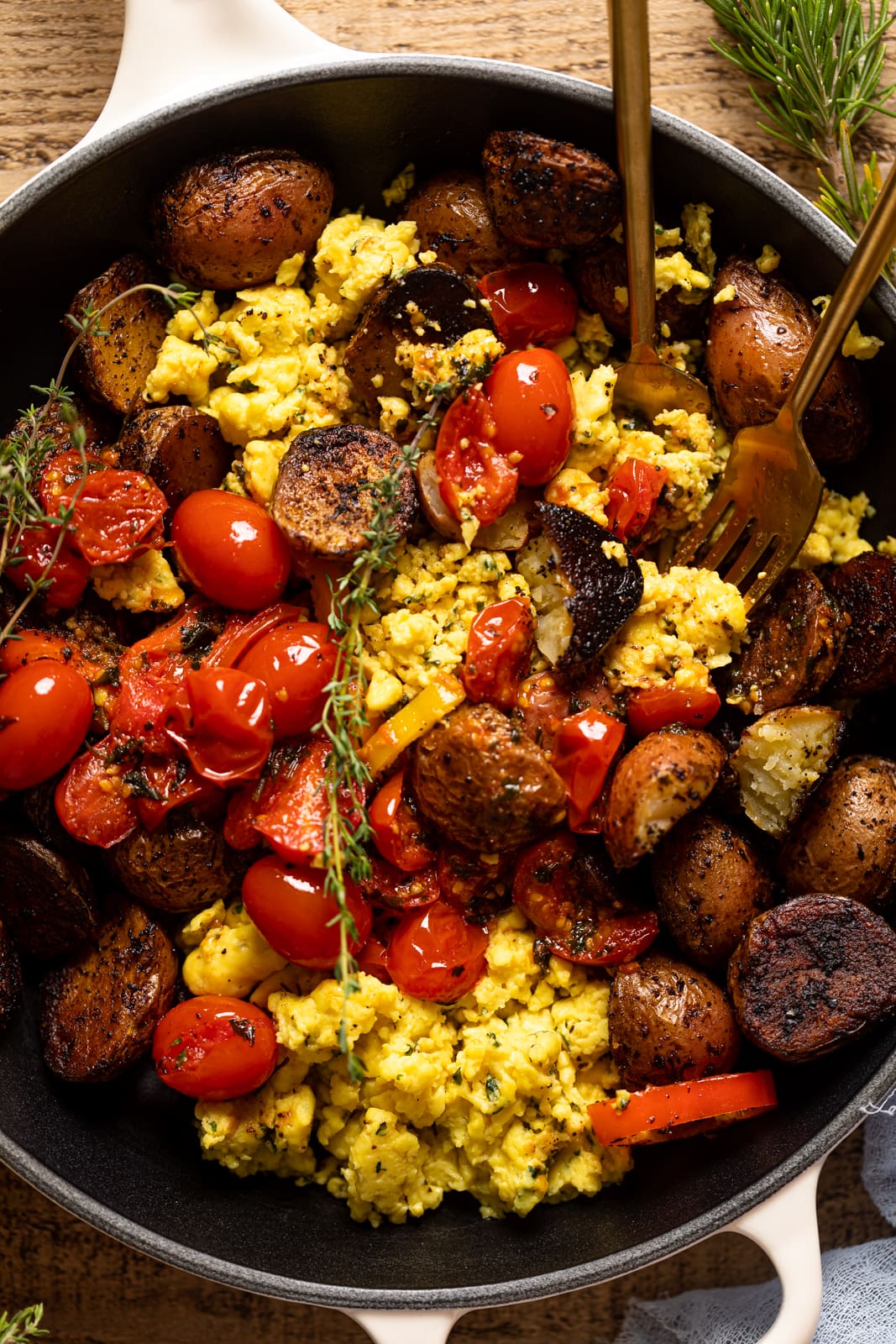 Honestly, I couldn't be more ecstatic to share this savory little number (Vegan Breakfast Eggs + Potatoes) with you guys! It took me awhile to jump on the Just Egg bandwagon when it came to eating plant-based 'eggs', but ya'll------it's really good!
I definitely love the option of being able to pay homage to breakfast fries or traditional eggs + potatoes with this dish without compromising the need to eat healthier or plant-based. The other amazing thing about this dish is that I chose to pan fry my potatoes as opposed to baking them, however, you can always bake yours and even make my Garlic Herb Smashed Potatoes as a great fun twist for additional flavor.
How Else to Use these Plant-based Eggs
Personally, I found that these plant-based eggs are not only great scrambled, but also made as an omelette and perfect for things like quiche, frittatas, stratas, etc. They truly are easy to make and incorporate into your favorite breakfast dishes.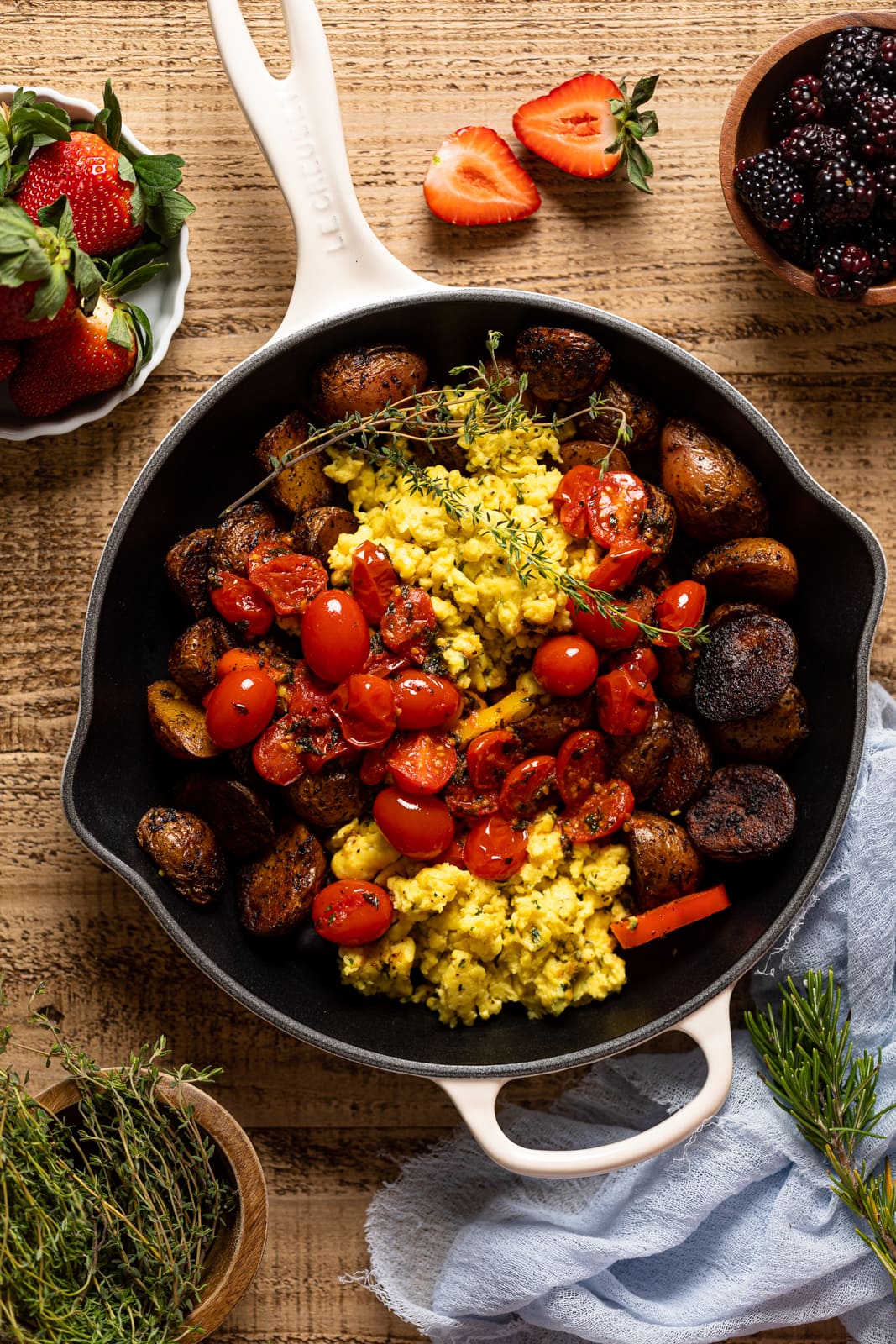 How to Make this Vegan Breakfast Eggs + Potatoes
This year, I'm all about eating to be free while keeping things healthy to ensure that I am the best version of myself. I know that many of you have voiced your needs as it relates to recipes and I am so happy that you align with my personal views on the types of food that I love and enjoy as well----especially when it comes to the need for more savory recipes.
The main THREE parts of this recipe include:
Making the JUST egg a.k.a. 'Plant-based eggs"
Pan frying those baby potatoes until golden brown and softened
Sautéing the tomatoes + bell peppers until tender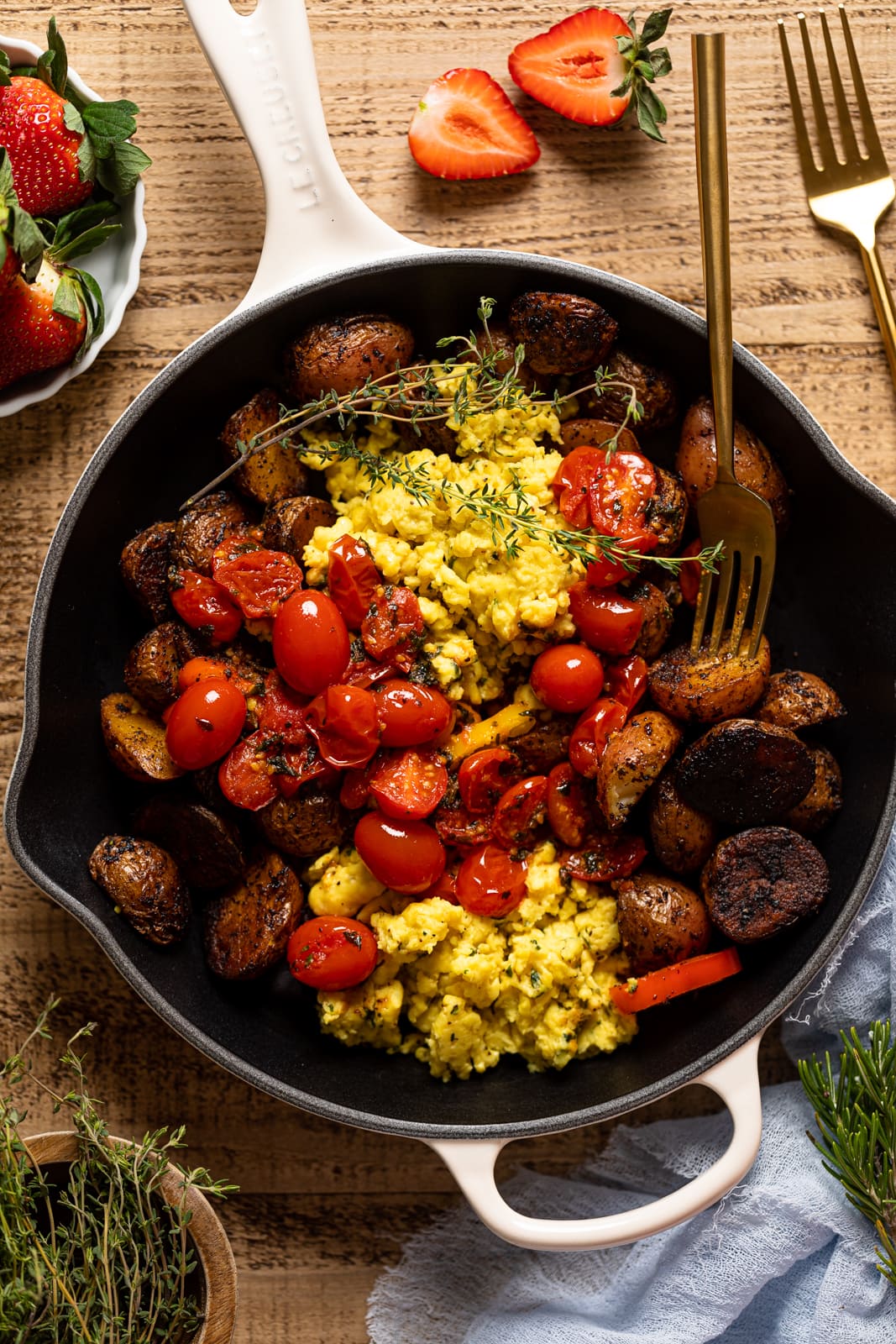 Ingredients in Vegan Egg
1 (12 oz) bottle JUST egg
sea salt
black pepper
dried parsley
Ingredients in Pan Fried Potatoes
¼ cup vegan butter
1-2 lbs. baby red or Yukon potatoes
1 teaspoon sea salt + black pepper
1 teaspoon dried oregano
1 teaspoon smoked paprika
1 teaspoon garlic powder
1 teaspoon onion powder
1 teaspoon dried parsley
½ teaspoon dried rosemary leaves
Pinch of red pepper flakes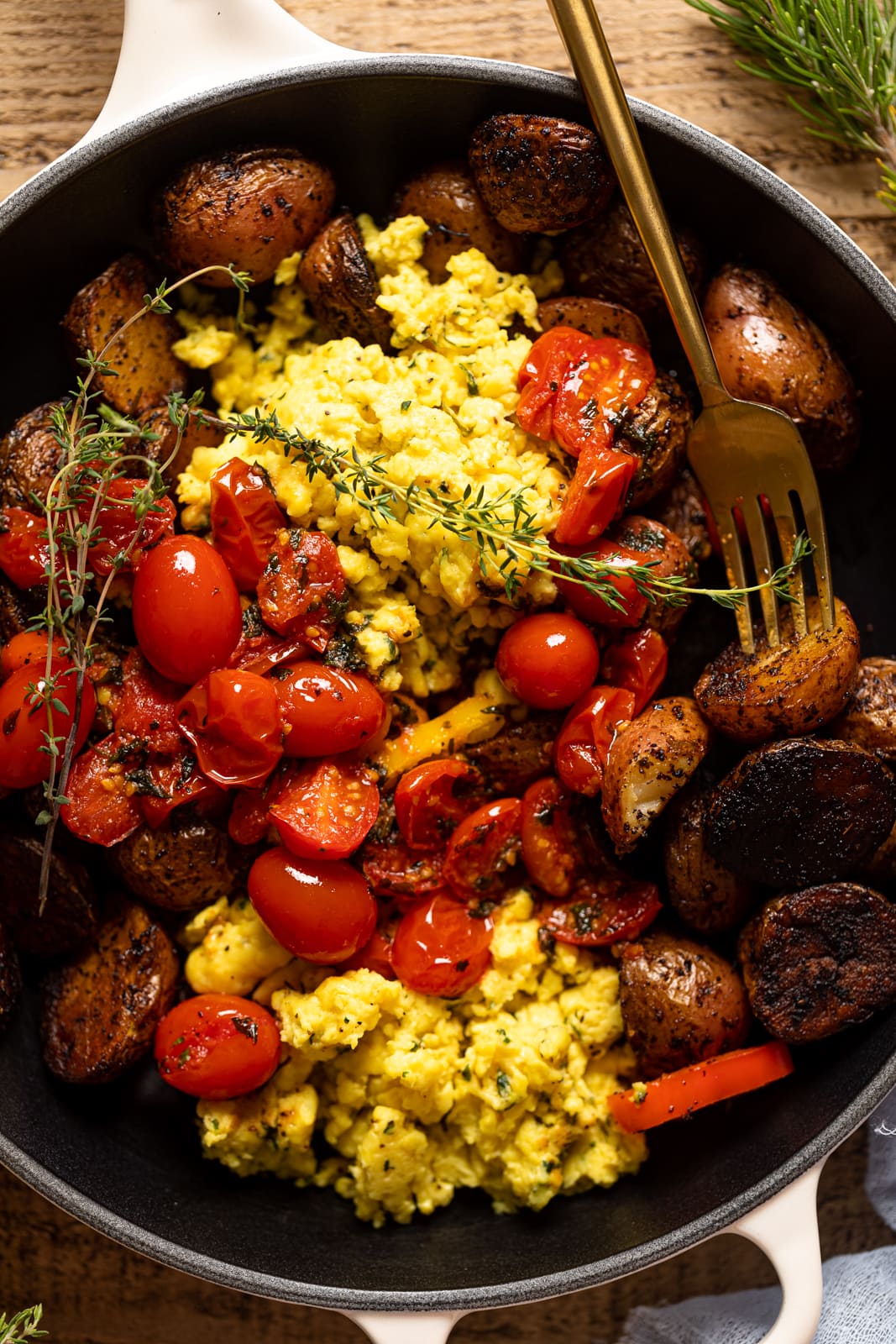 Tips for Cooking these Vegan Breakfast Eggs
Whether you ever tried making these plant-based eggs or not---I've come up with a few tips to ensure that they come out as fluffy and perfect as possible. And don't worry---they do take a little longer to come together than traditional eggs, but once they do---they're SO amazing and the texture is very similar to their traditional counterparts.
When making these plant-based eggs, I found that: having a non-stick pan works wonders and makes things easier, keep the temperature to medium-low so that they can cook through long enough without burning, wait for the edges to appear "dry" which means that they'll easily scramble better and begin to form.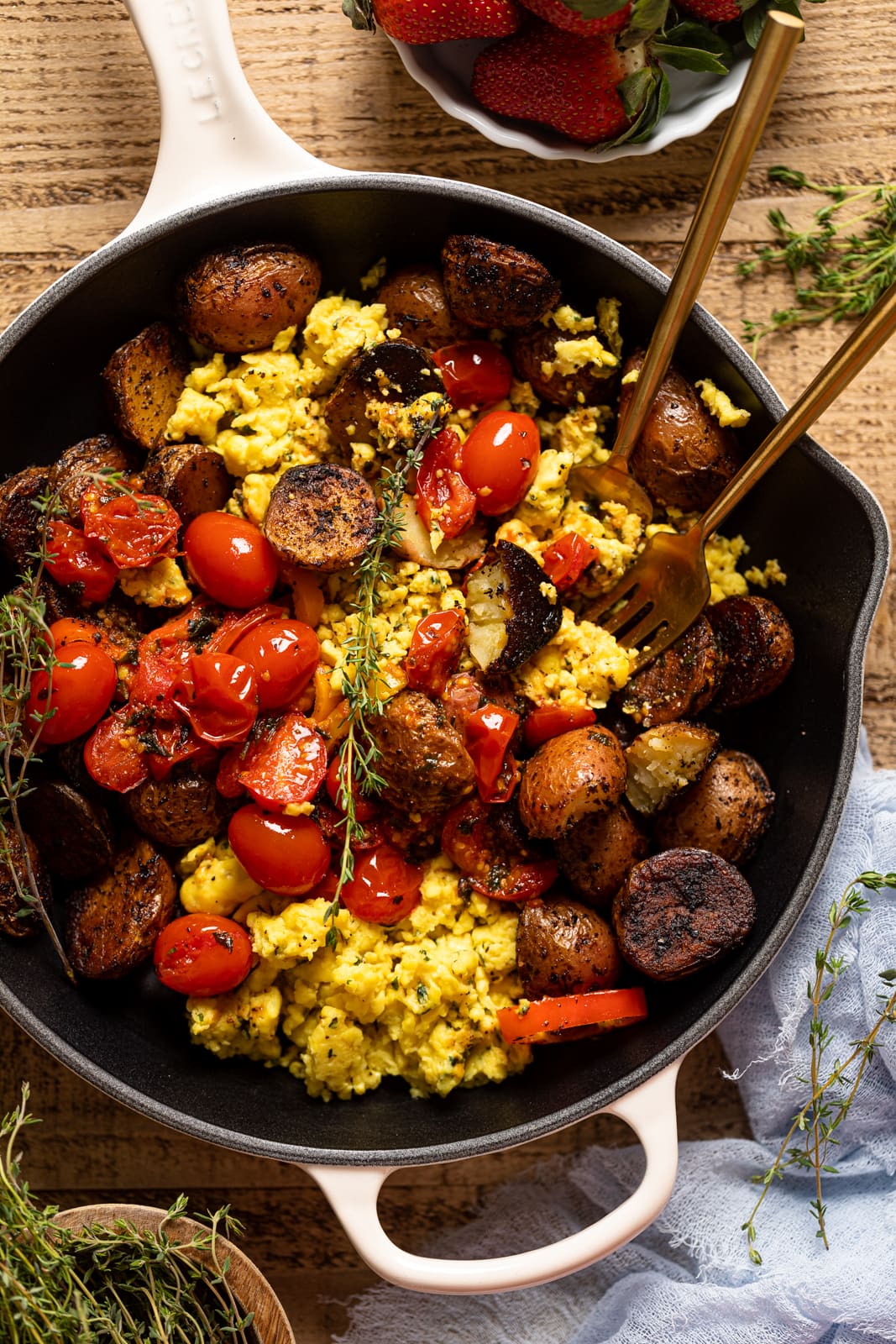 Option for Perfectly Roasted Potatoes
Knowing how to roast all vegetables (in general) perfectly is definitely a learned skill. All veggies are different and they all have vast cooking times.
The most common rule of thumb is to roast thicker vegetables at a higher temperature because they can handle the heat. For example, potatoes or sweet potatoes can roast at a higher temp because of their thickness. Broccoli, on the other hand, lends well to a lower heat when cut into florets.
The other common rule when roasting is to use lots of olive oil and a rimmed baking sheet. The oil flavors the veggies and prevents them from sticking to the pan. You can also use a heavy pinch of salt and pepper for perfectly seasoned vegetables. In this recipe, I chose to use melted vegan butter in place of oil.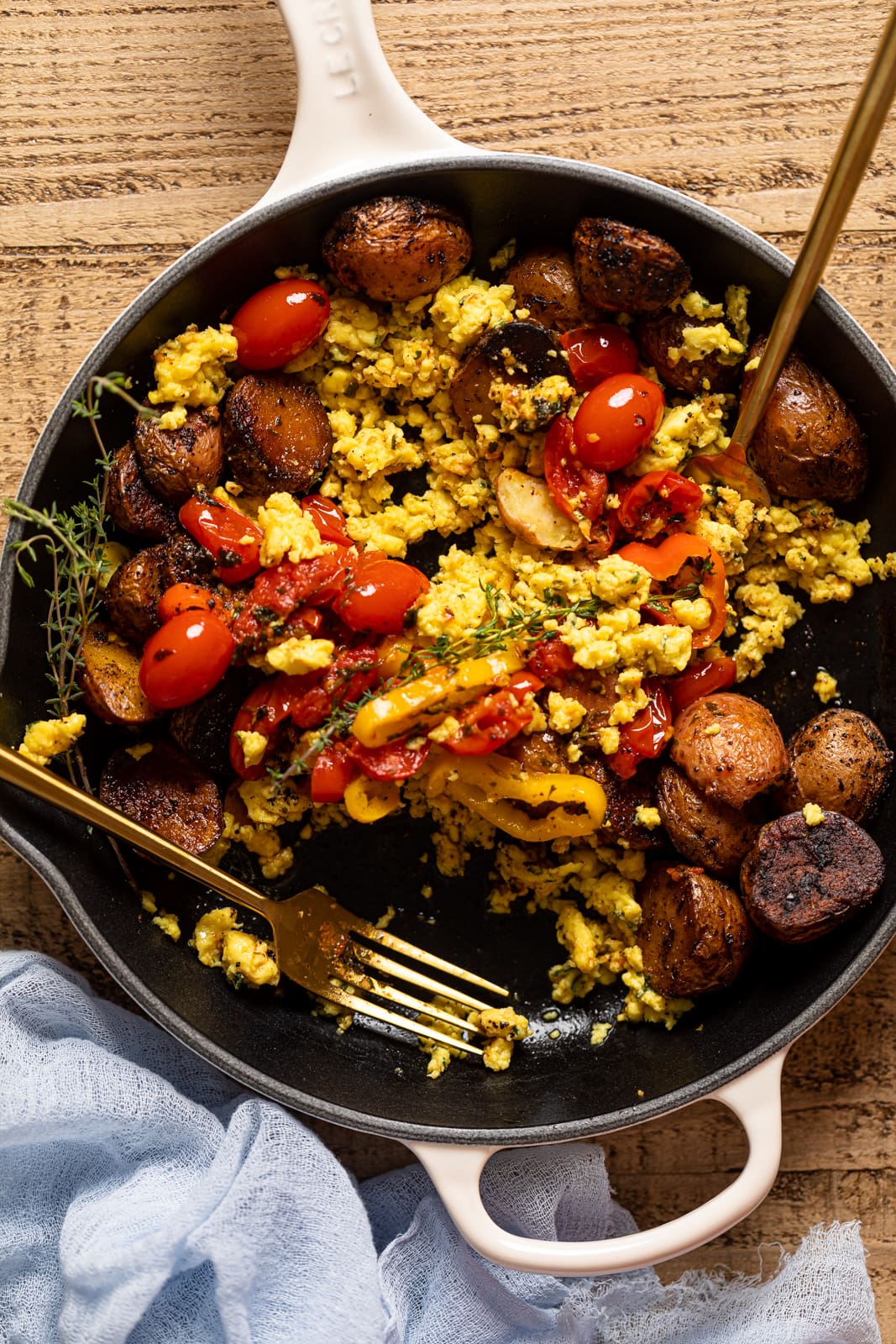 Other Breakfast Recipes You'll Love!
Fans of my Vegan Breakfast Eggs + Potatoes will also love these breakfast recipes:
MADE OUR RECIPE(S)?
If you choose to make these Vegan Breakfast Eggs + Potatoes or any other recipe from us, be sure to tag us on Instagram at #Orchidsandsweettea so that we can share the love, rate, comment below, + share!
PAN SEARED POTATOES:
1-2

lbs.

baby potatoes, halved

(See Notes!)

¼

cup

vegan butter

1

tablespoon

Extra virgin olive oil

1

teaspoon

sea salt

1

teaspoon

black pepper

1

teaspoon

dried oregano

1

teaspoon

smoked paprika

1

teaspoon

garlic powder

1

teaspoon

onion powder

1

teaspoon

dried parsley

½

teaspoon

dried rosemary leaves

Pinch of

red pepper flakes
PLANT-BASED EGGS:
1

(12 oz.) bottle

JUST egg

1

tablespoon

vegan butter

½

teaspoon

sea salt

½

teaspoon

black pepper

½

teaspoon

dried parsley
SAUTEED VEGGIES:
1

bell pepper, chopped

1

cup

grape tomatoes, halved

1

tablespoon

Extra virgin olive oil

1

teaspoon

sea salt

1

teaspoon

black pepper

1

teaspoon

garlic powder

1

teaspoon

dried parsley
TO PAN-FRY POTATOES:
In a bowl, add the rinsed (and pat dry) halved potatoes along with: olive oil, salt, black pepper, oregano, smoked paprika, garlic powder, onion powder, parsley, rosemary leaves, and red pepper flakes, stirring everything together until potatoes are well coated.

In a large 12-inch skillet over medium-low heat, add the vegan butter and let it melt. Add the coated potatoes (cut side down) and let them fry until they begin to become golden, about 3-4 minutes. Then add a pot lid to cover the skillet and let them cook for another 3-4 minutes before turning them over to their opposite sides to cook for another 10 minutes or until tender.

NOTE: If the potatoes begin to brown quickly, reduce the heat to low so that they can cook through. It's OK, if they get a little darker than golden.

In the meantime, cook your plant-based eggs.
TO MAKE YOUR PLANT-BASED EGGS:
In a medium 10-inch non-stick skillet over medium-low heat, add the vegan butter and let it melt. Once heated, pour in the plant-based eggs and season. Let it sit for 2-3 minutes or until the edges begin to look "dry" before you begin to scramble. Continue to scramble and let them cook until they become "solid" and form like traditional eggs, about 5-6 minutes or so. Remove from heat and set aside.
TO SAUTE VEGGIES:
In another skillet or sauce pan over medium-high heat, add olive oil and let it heat up. Add the bell peppers and halved tomatoes along with seasonings and sauté until slightly tender, about 2-3 minutes. Remove from heat.

To serve, add everything to a clean skillet or platter by adding the pan seared potatoes as the base followed by: the plant-based eggs + sautéed veggies.

Bon Appetit!
STORAGE: The batter (only) for the JUST eggs can be stored in the refrigerator for 1 week. Any leftovers of the potatoes or veggies can be stored in a tightly sealed container in the refrigerator for 3-4 days.
POTATOES: For an extra kick, you can always use Yukon potatoes, baby red potatoes, or sweet potatoes (sliced in rounds), etc.
OIL: If you'd like to use oil instead of butter, you can also use extra virgin olive oil, coconut oil, or grapeseed oil.
ADDITIONAL INGREDIENTS: While this recipe calls for simple ingredients, you can always add additional ingredients to spruce things up such as: spinach, kale, vegan bacon (i.e. mushrooms, carrot bacon, etc.), plant-based sausages, dairy-free parmesan, mozzarella, gouda, or other dairy-free cheeses if your heart desires. It's truly up to you!
Calories:
687
kcal
|
Carbohydrates:
57
g
|
Protein:
15
g
|
Fat:
46
g
|
Saturated Fat:
8
g
|
Polyunsaturated Fat:
13
g
|
Monounsaturated Fat:
24
g
|
Trans Fat:
5
g
|
Sodium:
3159
mg
|
Potassium:
1688
mg
|
Fiber:
9
g
|
Sugar:
9
g
|
Vitamin A:
3014
IU
|
Vitamin C:
132
mg
|
Calcium:
132
mg
|
Iron:
5
mg
Vegan Breakfast Eggs + Potatoes.