Hey, I'm Shanika!
Thanks so much for stopping by my little corner of the web!
WELCOME TO ORCHIDS + SWEET TEA!
I am a 30-year-old lover of all things creative, simple, YET with a medium sprinkle of elegance + sparkle. I'm a self-taught cook + baker, food stylist, recipe developer (including for many brands such as Navitas Organics, SunButter, Organic Valley, So Delicious Dairy-Free, + more), writer, and the all around 'creative eye' behind Orchids + Sweet Tea. More importantly, I'm a connoisseur of interior decorating (hence my passion for beautifully staged food photos—-it just oozes from my pores), a wife, Mama to a witty toddler, AND absolute Foodie + Sweets-Lover (although I'm currently working on reducing my sweet tooth in a healthier way—hence my newest recipe options!).
Besides priding myself in being a Wife + Mother, I am even more proud to have found my place in Christianity since the age of 13—-that's why I aim to inspire that way that I do.
Throughout most of my journey to 'My Happy Place', I've had the privilege of being loved by my two favorite guys (My Love + My Son). While the journey to happiness is in fact an individual effort, it is so important to have a great support system, especially on days when you feel like giving up or turning away from life's most challenging moments. Sometimes, it may not be an entire army or community, however, every little bit counts. I can attest to that!
Like many of you, I've been a survivor of some unpleasant things in my life, but my foundation in God, my small support system, and perseverance has brought me to a place that has transformed who I've become in so many amazing ways. My own personal journey has inspired me to create the other element of Orchids + Sweet Tea—-Wellness, which incorporates Mind, Body, + Soul and everything in between as it relates to segments such as Coffee + Good Vibes, Well-Being, Food News, and Food Hacks.
Whew! I know–I just described myself as a lot right? Whelp, that's my story…………and it continues.
See a list of my writing features and brand collaborations in which the list just keeps on growing!

On any given day, I'm the one who enjoys a daily dose of Caramel Frappuccino from Starbucks (that equates to a good glass of Wine in my head!). However, I've recently chosen to reduce my dairy consumption greatly (Mostly for Health reasons), so my NEWEST CRAZE is a Venti Chai Tea Latte from Starbucks!
While most of my college career was spent studying Psychology (Yes, I love learning about the science of the mind), blogging has been my biggest breakthrough yet! It has allowed me to be the most comfortable in my own skin—the ultimate creative realm and of course, I get a chance to share the things I truly care about with you on a regular basis!
Put that together with my innate ability to put things together when it comes to decor and my passion for ultimate 'wellness' and you've got yourself a Food Blogger who digs healthy eating and wants you to feel the same way!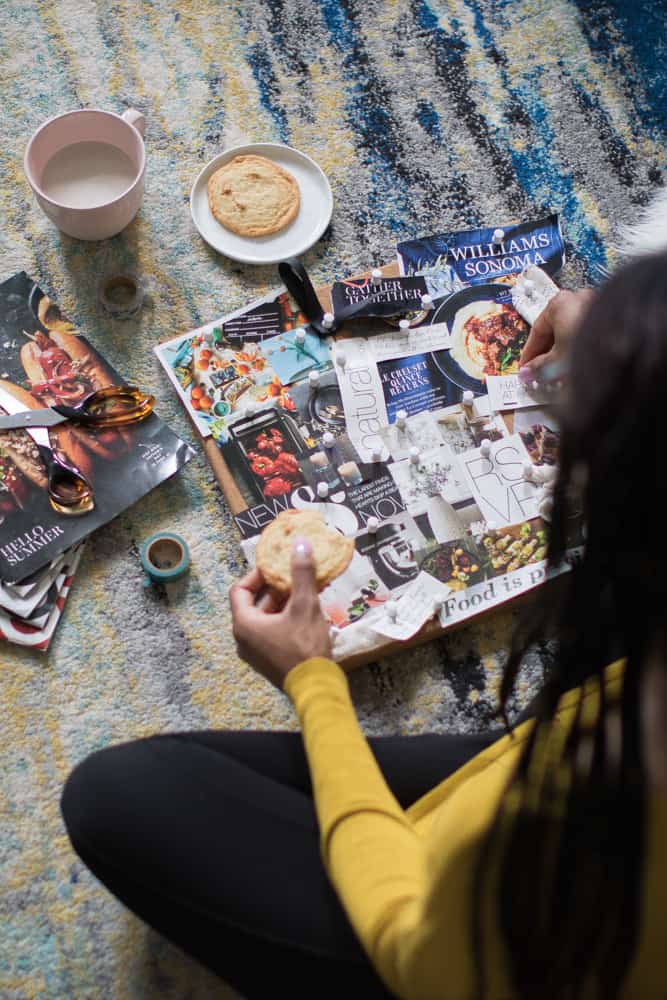 WHAT'S ON ORCHIDS + SWEET TEA?
Because of my Southern roots + Jamaican background, you'll find a lot of my old childhood favorites (a few which were made with a lot of love in the kitchen by my Grandma, Grandpa, Aunts + Uncles), along with many NEW FAVES that offer bold flavors and intricate combinations (often stumbled upon by trial, error, + a whole lot of grace!). That's why you'll find a ton of different options, which caters to my entire foodie community—Vegan Bites, Gluten-Free, Breakfast, Entrees, Sweets, Drinks, Appetizer, Snacks, Weeknight Meals. Take your pick! Haha.
But to get you started—I've included a few READER FAVORITE recipes below:
Delicious Homemade Classic Cinnamon Rolls
Crispy Buffalo Cauliflower Bites
Cucumber Ginger Lemon Detox Juice
Vegan Chocolate Chip Cookies
Homemade Blueberry Vegan Pop Tarts
To touch a bit on Wellness—-for me it's all about Mind, Body, + Spiritual wholeness. I've learned that oftentimes you have to lose to win! Whether that loss comes from eliminating certain things from your diet for optimal health or killing certain relationships to ensure that the positive aspects of yourself are secure and protected, or even setting aside time to cultivate your spiritual being through self-care or spiritual practices; whatever it looks like for you, rest assured that your losses will only bring forth new + fruitful gains if you choose to let them.
Check out a few of our MOST-LOVED Wellness posts:
8 Secrets to Being Your Best You
5 Surprising All-Natural Ingredients to Great Skin + Recipes
How to Best Transition into a Plant-Based or Vegan Diet
3 Detoxes That You Should Be Doing More Often
Jamaican Herbs That You Should Always Keep On Hand

HISTORY OF ORCHIDS + SWEET TEA:
"You don't have to cook fancy or complicate masterpieces–just GOOD food from fresh ingredients." -Julia Child
Orchids + Sweet Tea originally began in 2015 as a Lifestyle blog, but later officially relaunched into a full-fledged Food blog in July 2017 as a way to build a community for those who desired to use the 'little' that they had to make something great + magical—great food!
Shortly after, however, Orchids + Sweet Tea began to gain traction for it's Vegan desserts! But it doesn't stop there! Yet another transition happened and instead, using healthier ingredients AS A WHOLE (most of which are VEGAN + GLUTEN-FREE) became the MAIN THING!
All recipes on Orchids + Sweet Tea are inspired by old faves (and NEW faves!), all with a healthy twist and focus.
Today, Orchids + Sweet Tea is a place within the cyber community that holds true to helping others discover their love journey through Healthier Food and a better Lifestyle in overall Wellness; with a little Brooklyn Flavor + a touch of Jamaican flare, + a whole lot of Southern charm!
Sign up for our weekly Newsletter so that you NEVER MISS ANOTHER DELICIOUS RECIPE! Plus, you'll receive our Best Vegan Substitute Guide for FREE, straight to your inbox!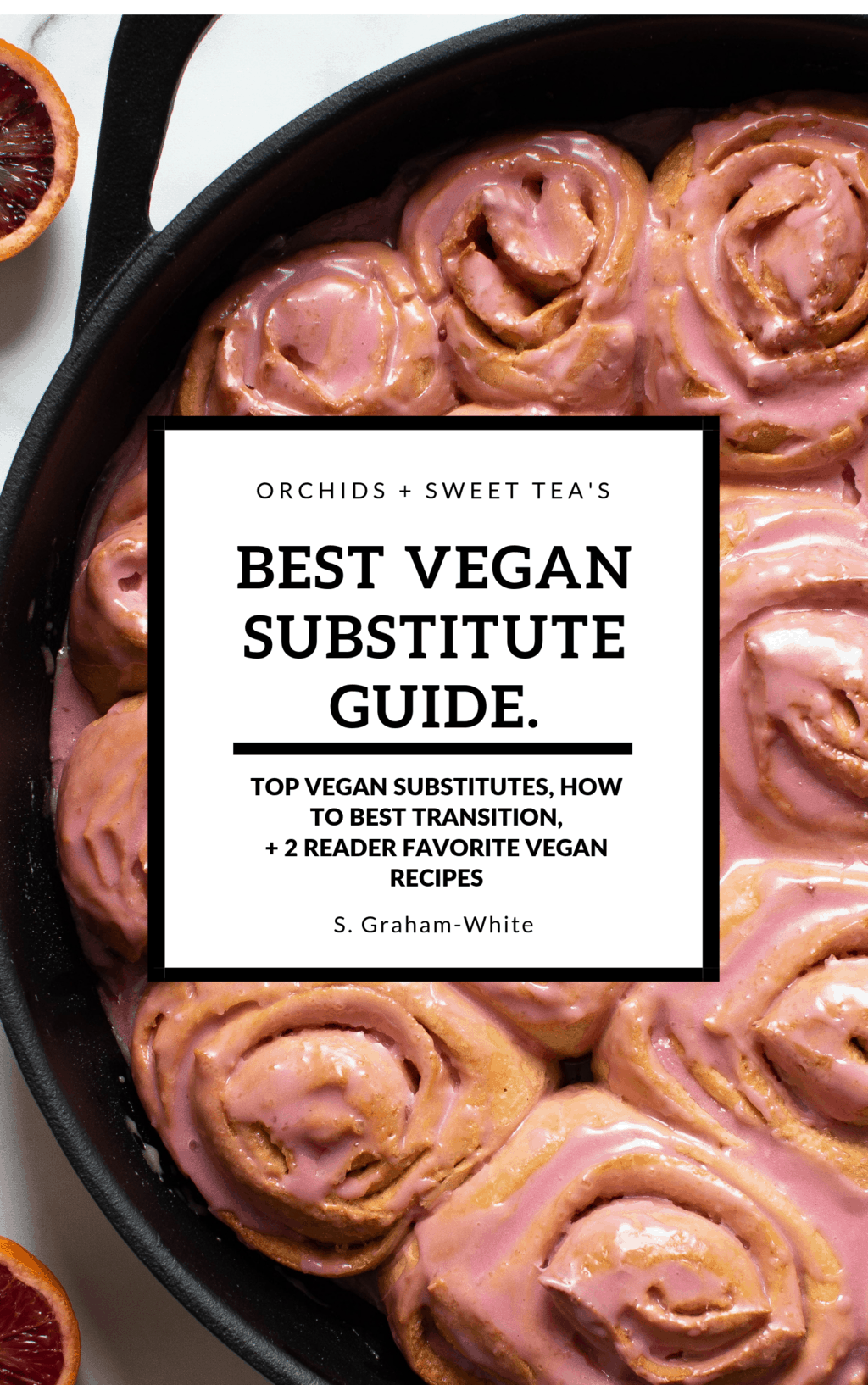 Full DisclaimerS:
The information contained on https://www.orchidsandsweettea.com/ website (the "Service") is for general information purposes only.
NUTRITIONAL INFORMATION DISCLOSURE: The recipes contained on this website have been created for the ingredients and techniques indicated. Orchids + Sweet Tea, LLC is not responsible for your specific health or allergy needs that may require supervision.
AMAZON AFFILIATION: We are a participant in the Amazon Services LLC Associates Program, an affiliate advertising program designed to provide a means for us to earn fees by linking to Amazon.com and affiliated sites.
Orchids and Sweet Tea, LLC assumes no responsibility for errors or omissions in the contents on the Service. In no event shall Orchids and Sweet Tea, LLC be liable for any special, direct, indirect, consequential, or incidental damages or any damages whatsoever, whether in an action of contract, negligence or other tort, arising out of or in connection with the use of the Service or the contents of the Service. Orchids and Sweet Tea, LLC reserves the right to make additions, deletions, or modification to the contents on the Service at any time without prior notice.
Orchids and Sweet Tea, LLC does not warrant that the Service is free of viruses or other harmful components.
For more information, visit our Privacy Policy.