What is Plant-Forward + Why It's The Next Best Thing. These days, words like vegetarian, vegan, plant-based, and plant-forward are thrown around pretty frequently—especially in the health and wellness world. My road to being plant-forward wasn't a simple trip from A to B, so I want to share some things I wish I had known about the benefits of being plant-forward. You'll also learn what being plant-forward really means and how it compares to other similar lifestyles.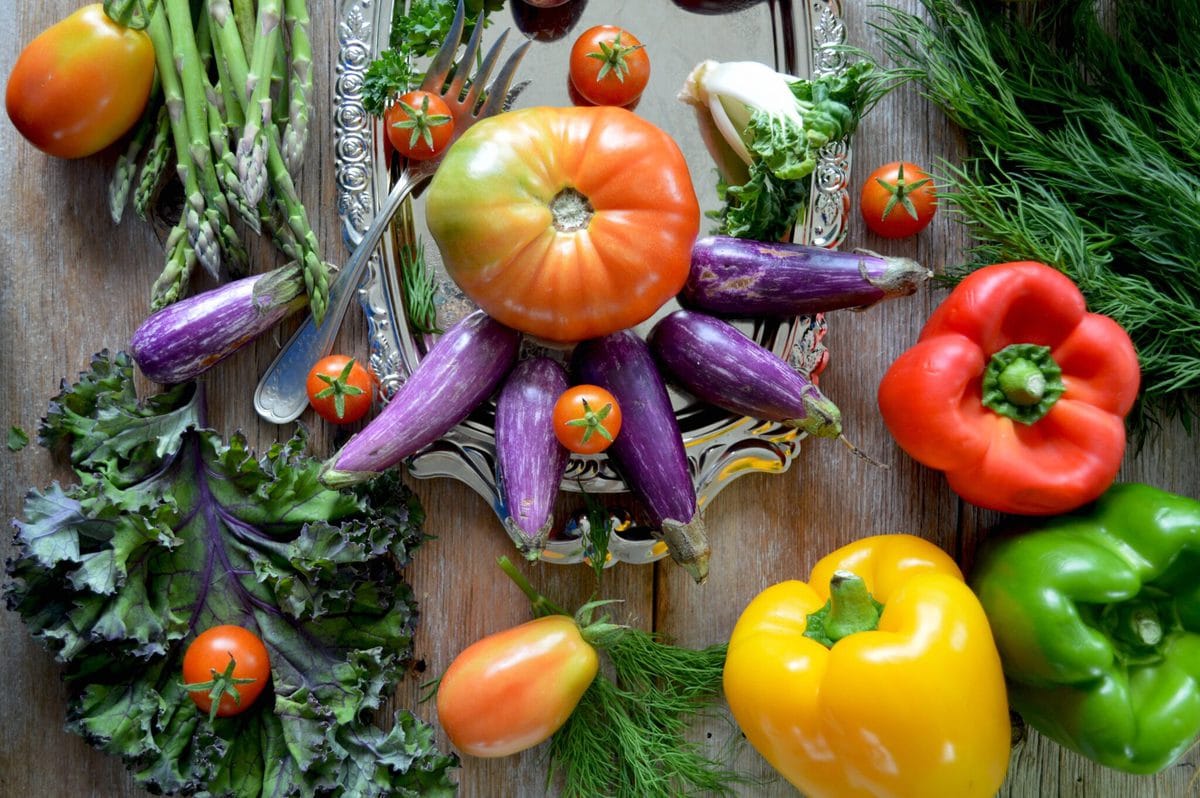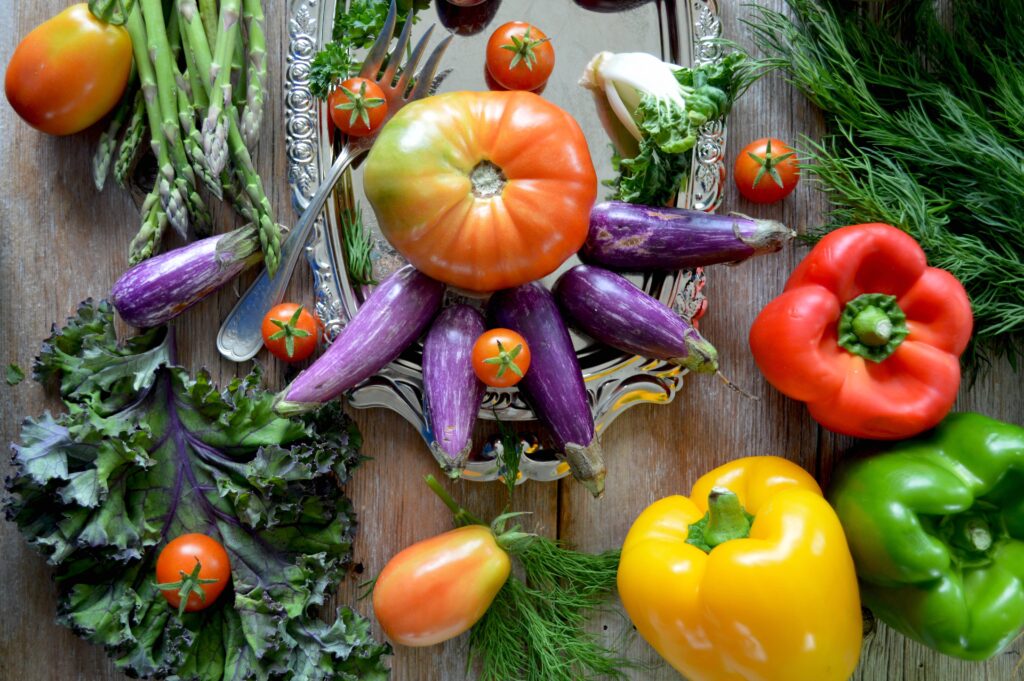 Plus, since you all know I'm a foodie, I'll be sharing some of my top plant-forward recipes from the past few years so that you can try the lifestyle out for yourself. For me, my journey toward being plant-forward didn't really begin until after I had my son. Things like gluten and dairy just did not sit well with me anymore (thank you hormones!), so I slowly started cutting them out of my diet.
Eventually, changing my diet was one of the key things that brought me healing. I started seeing the way eating whole, unprocessed, plant-based meals affected my energy, my hair, and my overall health. Eating well became one of my wellness rituals, along with things like prayer, aromatherapy, and staying active helped. When used together, all of these things helped push my journey to healing even further.
While I'm mostly going to focus on the diet side of things today, I do want to mention that mental and physical well-being go hand in hand. Things like healing essential oils, getting exercise throughout the week, and managing stress and anxiety naturally all had a huge impact on my overall well-being. With that being said, let's dive into the delicious plant-forward lifestyle.
What is Plant-Forward?
Plant-forward is a diet that focuses on fruits and vegetables, legumes, whole grains, and nuts and seeds, but is not limited to those things. Being plant-forward also emphasizes whole foods and unprocessed goods. The wonderful thing about being plant-forward is that you get a lot of the benefits of other plant-filled diets. But, you don't have to quit your favorite animal products cold turkey—no pun intended.
In the last few years, nearly one in four Americans have cut back on their meat consumption. And you probably won't be surprised to hear that 90% of the Americans who are cutting back on meat are doing it for health reasons. After health reasons, the second most important reason people are cutting back on how much meat they eat is the environment. Producing meat and dairy makes up for about 14.5% of all global greenhouse gas emissions. It might be hard to believe, but producing just one hamburger uses the same amount of water as the average person uses to shower over the course of two weeks.
This means that not only is being plant-forward great for your health, but it's also a win for the environment.
What are the health benefits of being plant-forward?
If you've already decided to adopt a more plant-forward diet, you probably know why Americans are cutting back on their meat consumption. But, if you're just starting to learn about being plant-forward you might be curious about what some of these health benefits are.
According to the American Heart Association, eating less meat has been shown to decrease your likelihood of developing things like heart disease, stroke, obesity, high blood pressure, high cholesterol, type 2 diabetes, and multiple types of cancer.
There is also evidence that eating fewer animal products can help you live longer. Over a decade ago, a researcher named Dan Buettner went out to find the areas around the world where people were living the longest. He ended up narrowing down 5 places around the world where people live the longest and he dubbed them Blue Zones. These places are Okinawa, Japan; Sardinia, Italy; Nicoya, Costa Rica; Ikaria, Greece, and Loma Linda, California.
All of the people in these zones eat meat and dairy products. But, in four out of the five zones meat is eaten sparingly and animal-based fats like butter are replaced with plant-based fats like olive oil. One study found that 30-year-old vegetarians from Loma Linda were likely to outlive their meat-eating counterparts by as many as eight years.
Buettner's suggestion is to eat about 95% plant-based and 5% animal-based. He found that replacing meat consumption with food like beans, nuts, and tofu was really beneficial. Besides that, cutting down on processed sugar, increasing whole grains, and drinking water also helped the Blue Zone population stay healthier.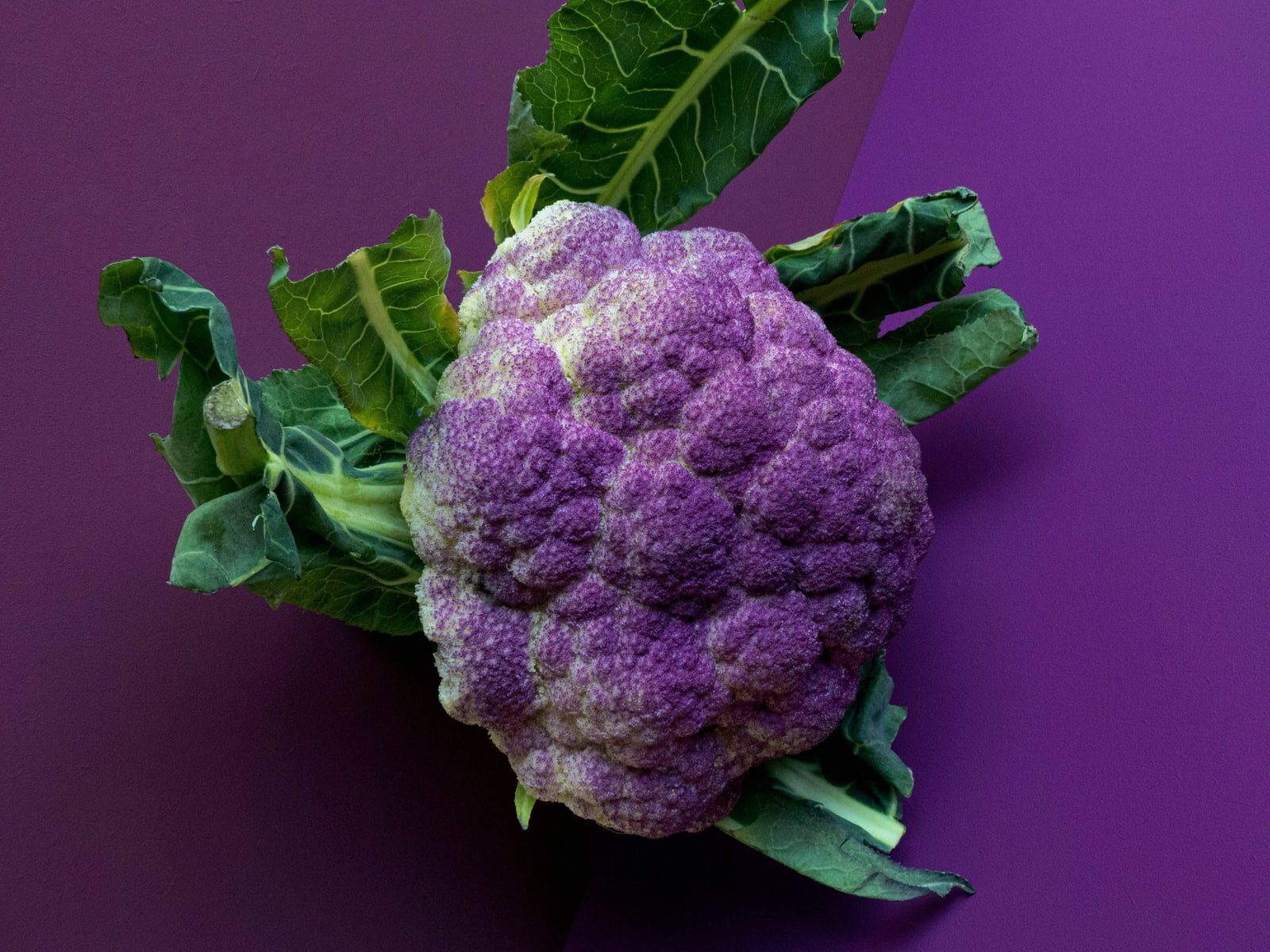 Plant-Forward vs. Plant-Based
It's easy to mix up plant-forward and plant-based diets since their names are so similar. In fact, some people consider plant-forward and plant-based diets to both be diets that include mostly food from plant sources. Most people, though, do differentiate between the two.
Whole food, plant-based diets contain absolutely no animal products and are free from processed foods. A plant-based diet is really similar to a vegan diet, but it places a greater emphasis on avoiding packaged and processed foods.
Plant-Forward vs. Vegetarian / Vegan
When you're vegetarian you avoid all meat and fish products. This doesn't just mean you don't eat things like steak and hamburgers, but you also have to avoid animal products like gelatin and rennet. Gelatin, made from animal collagen, is in a lot of gummy snacks and marshmallows. Rennet, which is an enzyme found in cow intestines, is in a lot of hard cheeses like parmesan.
When you're vegan, you don't just avoid all meat products, but all animal products too. Vegans don't eat meat, fish, dairy, eggs, and honey. But like I mentioned earlier when you're vegan you can still eat processed and packaged foods as long as they don't contain animal products.
When you're plant-forward you focus on plant-based foods like vegetables, fruits, legumes, whole grains, nuts, and seeds, but you aren't limited to them. You might eat meat a few times a month or enjoy dairy on special occasions. It's really similar to the Blue Zone diet that I shared earlier!
The Best Plant-Forward Recipes
Okay, you've made it! Now if someone asks you, "What is plant-forward?" you'll be able to answer without a second thought. You just took in a lot of info to get here and it's finally time for me to reward you with some of my most loved plant-forward recipes
Creamy Vegan Sweet Potato Pasta Skillet
If you can't seem to give up dairy because of its creamy goodness, I present to you this Creamy Vegan Sweet Potato Pasta Skillet. Made with sweet potato-coconut cream sauce, herbs, and a bit of spice this pasta dish is sure to have you coming back for seconds.
Vegan Chickpea + Broccoli Mashed Potato Bowl
This Vegan Chickpea and Broccoli Mashed Potato Bowl is loaded to the brim with plant-based goodness. Since it's fully loaded, it's super filling and is meal-prep friendly. Cajun seasoning, paprika, cumin, and a pinch of cayenne pepper all make a classic like mashed potatoes turn into something extra special (and extra flavorful!).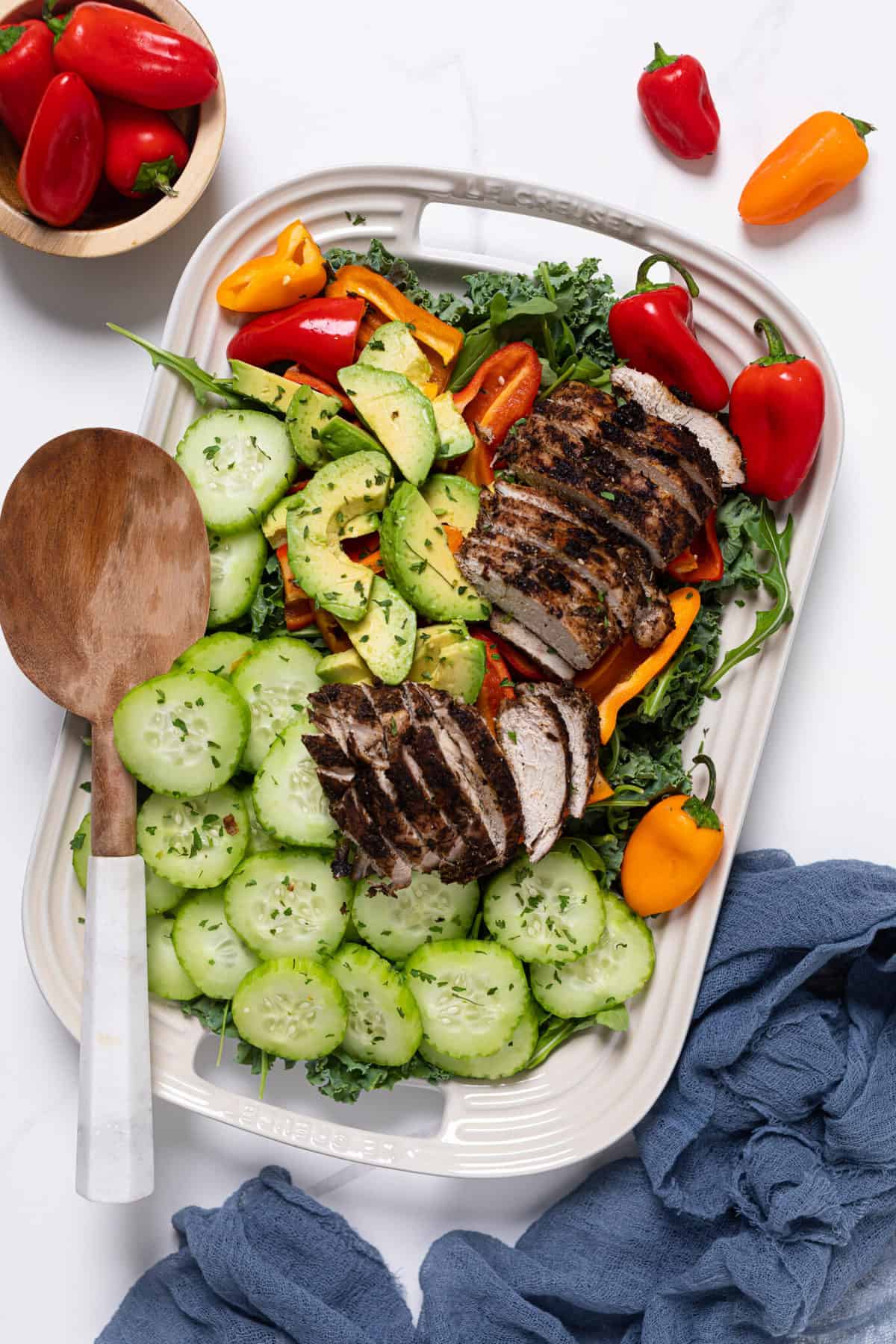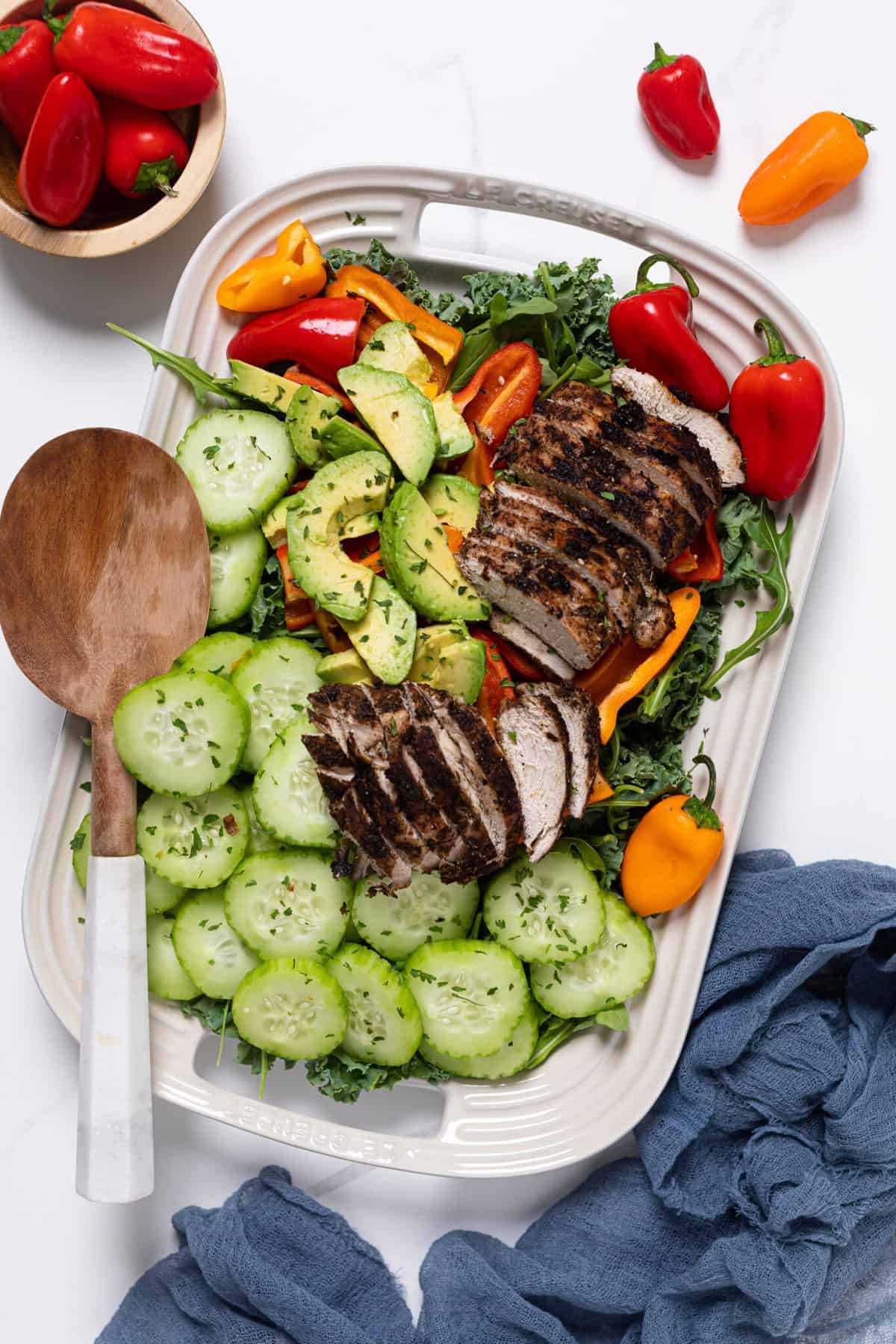 Baked Jamaican Jerk Chicken Salad
While this salad isn't vegetarian or vegan, my Baked Jerk Chicken Salad is filled with fresh produce like avocado, kale, spinach, cucumbers, bell pepper, and more. This recipe boasts EIGHT different types of vegetables plus some healthy lean protein in the form of a baked chicken breast.
Vegan Blueberry Donuts with Blueberry Glaze
These Vegan Blueberry Donuts might be one of my favorite vegan desserts. Not only do these babies take just 30 minutes to create, but ingredients like blueberry, agave, and apple cider vinegar make these even more healthy than regular donuts.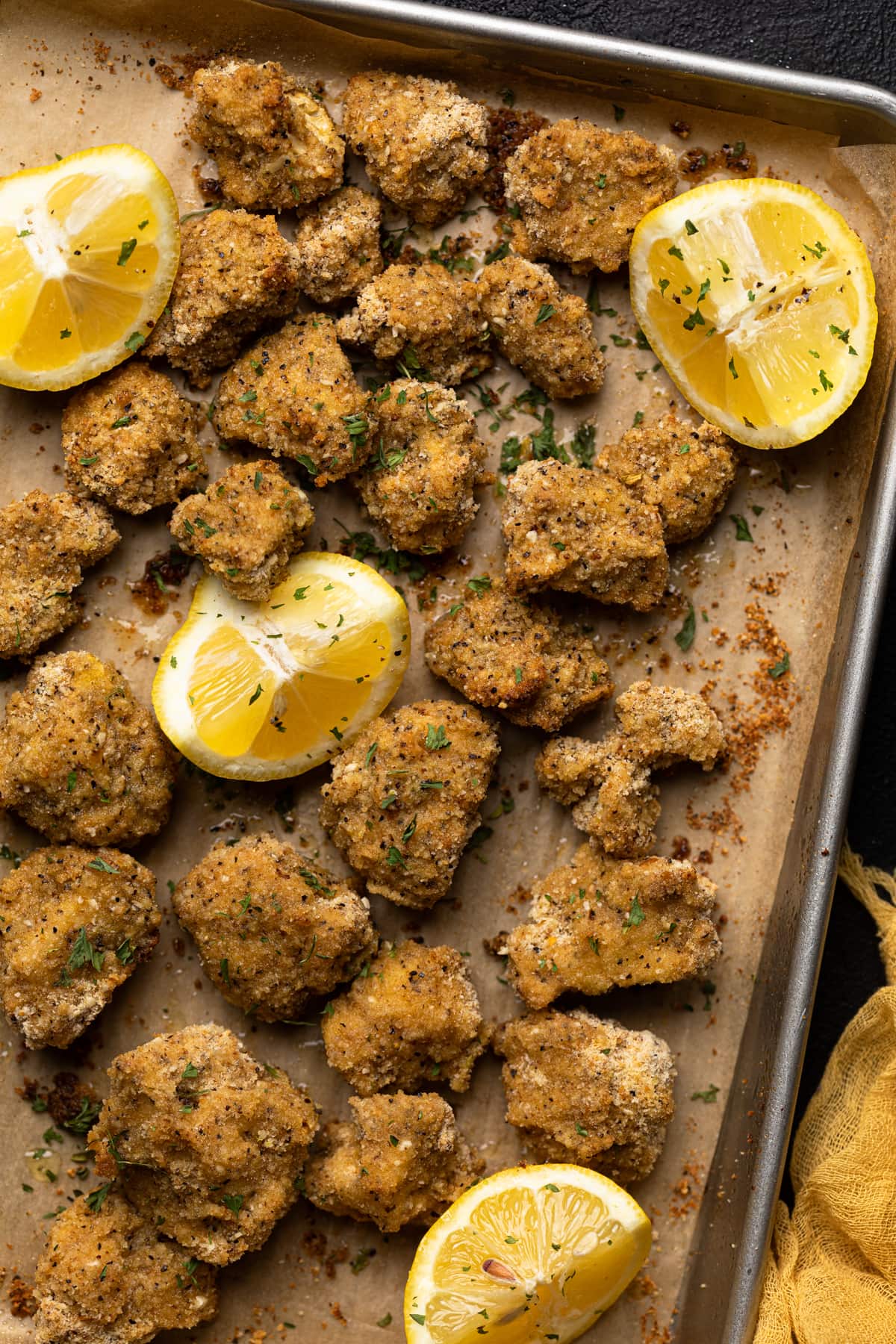 Lemon Pepper Cauliflower Bites
This bite-sized vegetarian recipe makes the perfect appetizer or snack. You might already know that I'm a big chicken wing fan. But, these Lemon Pepper Cauliflower Bites make a great replacement when I'm looking for something a little lighter. Plus, this recipe can be adapted to be both vegan and gluten-free so it's great whether you're plant-forward or something in between.
Vegan Bolognese Pasta with Plant-Based Meatballs
If you thought I was done with the pasta after the sweet potato pasta skillet, you thought wrong (😉). Pasta makes a great last-minute dish while still being incredibly delicious. Plus, it's easy to pack in the veggies when making a great red sauce. This Vegan Bolognese Pasta contains red bell pepper, garlic, red onion, tomato paste, and some yummy herbs and spices. It has a ton of great flavor so that you won't even miss the meat.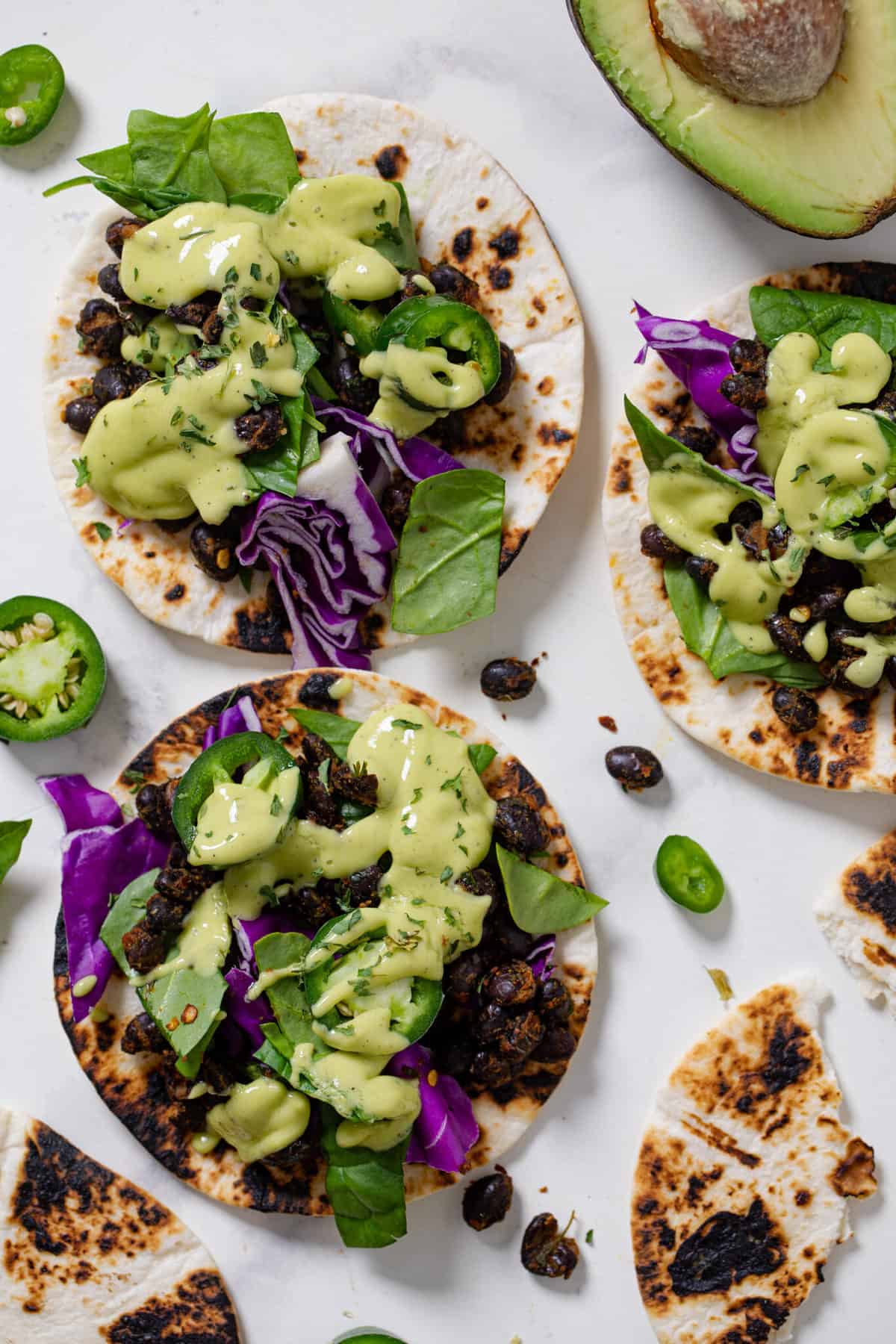 Vegan Black Bean Tacos with Avocado Dressing
This delicious Vegan Black Bean Taco recipe doesn't just need to be reserved for Taco Tuesday. It contains lots of plant-based protein in the form of beans that our friends in the Blue Zone would love. It's filled with some great veggies like red cabbage, tomatoes, spinach, and jalapeños. Plus, you can even get a serving of fruit because the sauce contains mango.
Easy Veggie Frittata
One of the best things about Veggie Frittata is that you can add in whatever vegetables you have lying around in your refrigerator. I packed mine with spinach, kale, onions, and tomatoes, but you can add whatever you like. While frittatas might typically be reserved for breakfast, this recipe is so satisfying that it can be enjoyed whenever.
Baked Sticky Orange Cauliflower + Quinoa
Orange chicken is a fan favorite at Chinese restaurants throughout the United States, but you don't have to give it up if you decide to go plant-forward. As you move towards eating more plant-forward meals you can still enjoy your favorite orange chicken every once in a while. But on the nights where you want to swap out the chicken for a plant-based option, this Baked Sticky Orange Cauliflower makes a great replacement.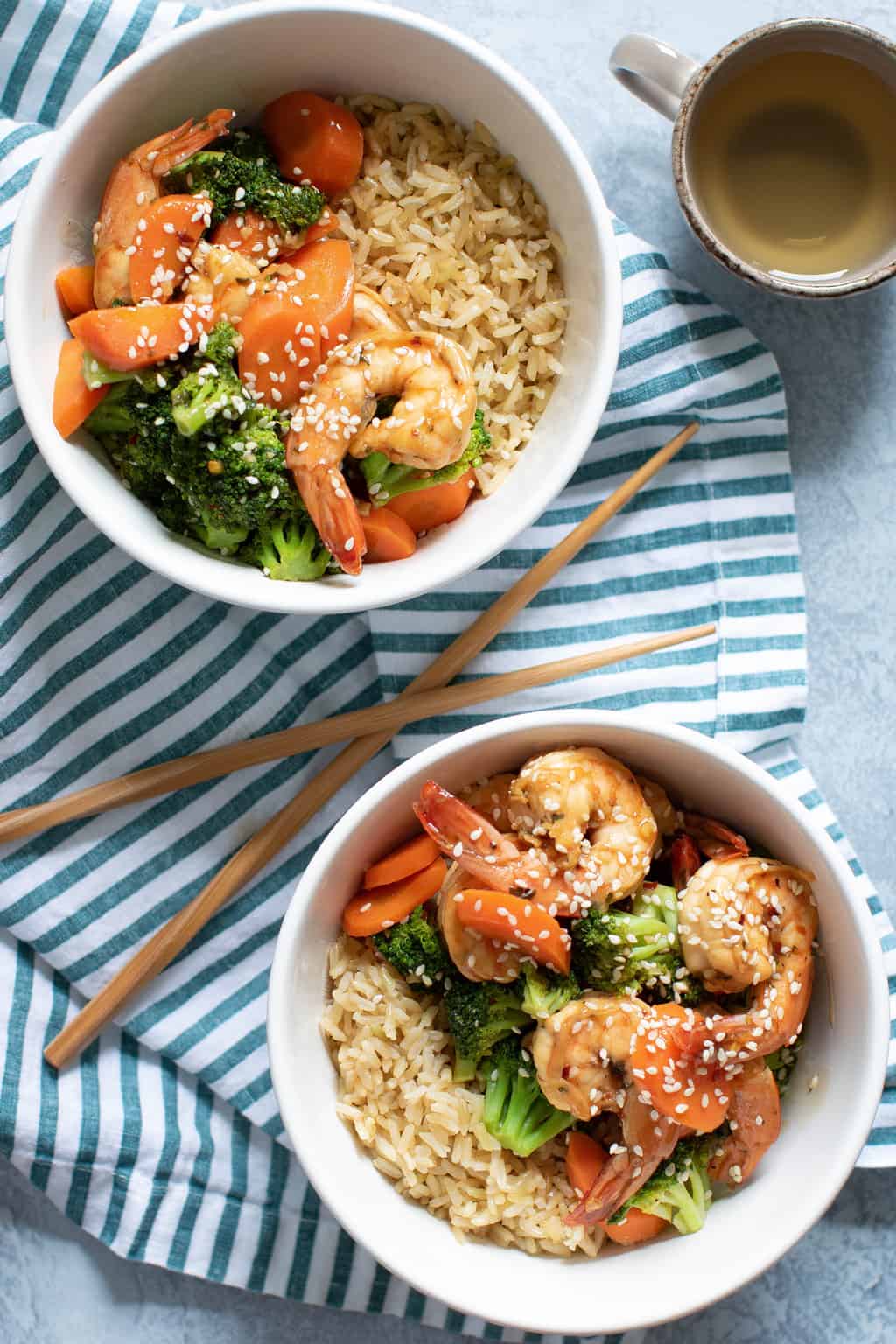 Honey Garlic Shrimp + Broccoli
This Honey Garlic Shrimp and Broccoli makes a wonderful lunch or dinner option for pescatarians and plant-forward eaters alike. Made in less than 30 minutes, this delicious dish is made with a delightful honey, garlic sauce that contains a touch of ginger.
Plant-Forward Overview
No matter if you decide to dive into being plant-forward or just play around with some plant-forward meals, I hope this guide was helpful. I know eating healthy doesn't always come easily, so finding recipes you really love can be a game-changer. If you want to learn even more plant-forward recipes, you might find what you're looking for in my new cookbook: Plant-Forward Recipes with Jamaican Flavor & Southern Charm.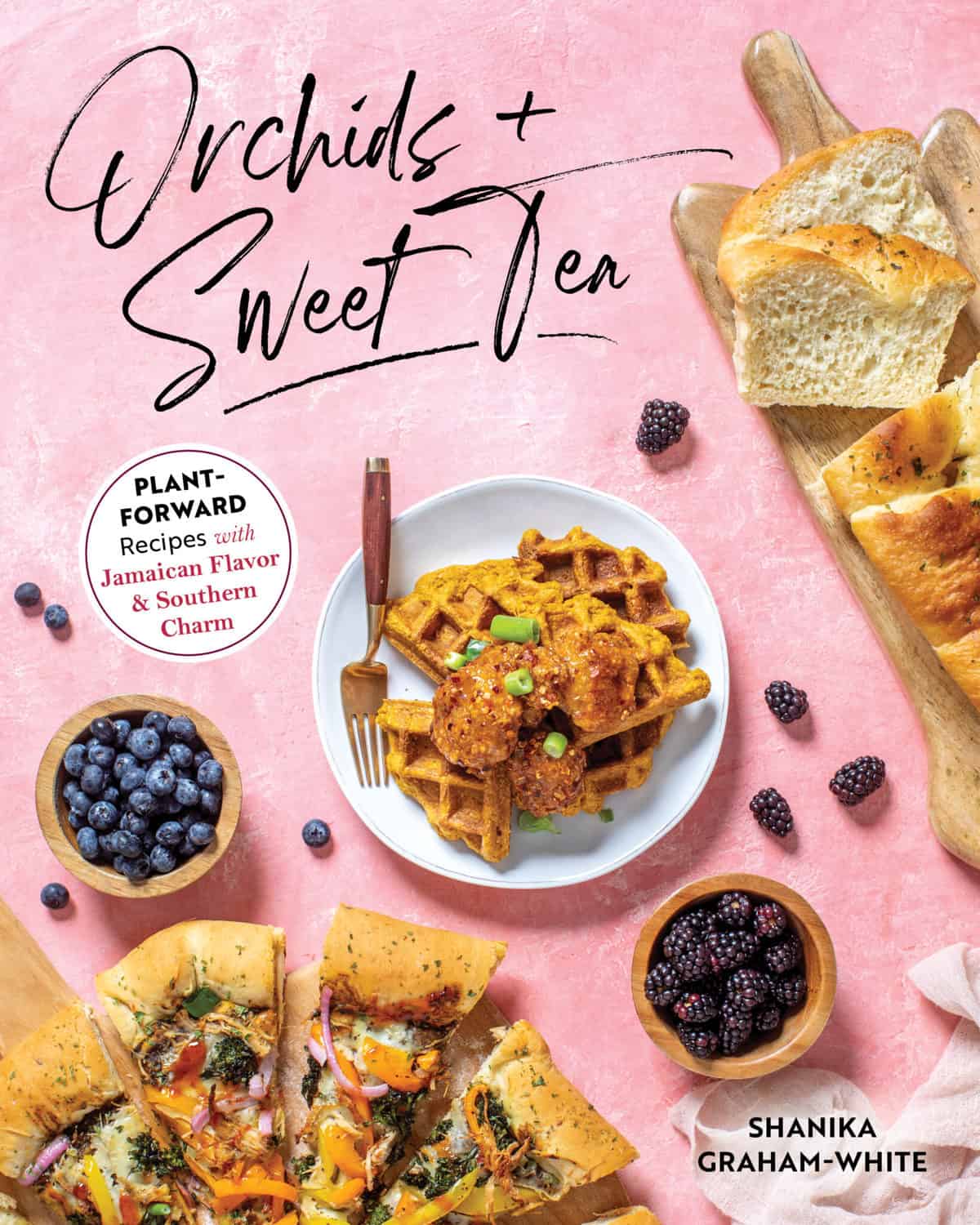 It won't be available until October 2021, but if you want to learn more being plant-forward it's available for pre-sale. Enjoy!