Treat yourself to a heavenly delight with this easy Healthy Vegan Blueberry Donuts recipe—a breeze to make and entirely plant-based! This vegan donut recipe makes fluffy, moist, oven-baked donuts that are completely dairy-free. The best part is that you can have freshly baked, warm-out-of-the-oven donuts ready in just 30 minutes that taste like they came from a bakery! They are the ideal healthy sweet treat for the entire family that you didn't even know you needed. Nobody will believe these are Plant-based and Vegan!
Why Healthy Vegan Blueberry Donuts?
Donuts are one of my go-to weekend breakfast recipes, along with pancakes like these Vegan Funfetti Pancakes , and don't even get me started on waffles, these Flourless Espresso Chocolate Waffles + Strawberries are my kryptonite. BUT donuts are my ultimate naughty breakfast treat--except these vegan donuts are HEALTHY, so it's a win-win. I find that homemade is so much better and more wholesome than store-bought!

These vegan plant-based donuts will keep you full + energized, not weighed down, and no crazy sugar highs for the kids. With this recipe, I love the fact that they are so easy to make, completed in a quick turnaround time, is all dairy-free, vegan, and with a gluten-free option, as well as the fact that they are perfect for breakfast, brunch, or dessert. Truly a win, in my opinion. The entire family will enjoy them.
Of course, if you're truly a donut lover, then I recommend trying my Vegan Vanilla Donuts with Sprinkles. These are a healthy dairy-free version of your childhood favorite treat. Colorful rainbow sprinkles and a sweet vanilla glaze make the perfect vegan treat + snack loved by kids and adults!

Jump to: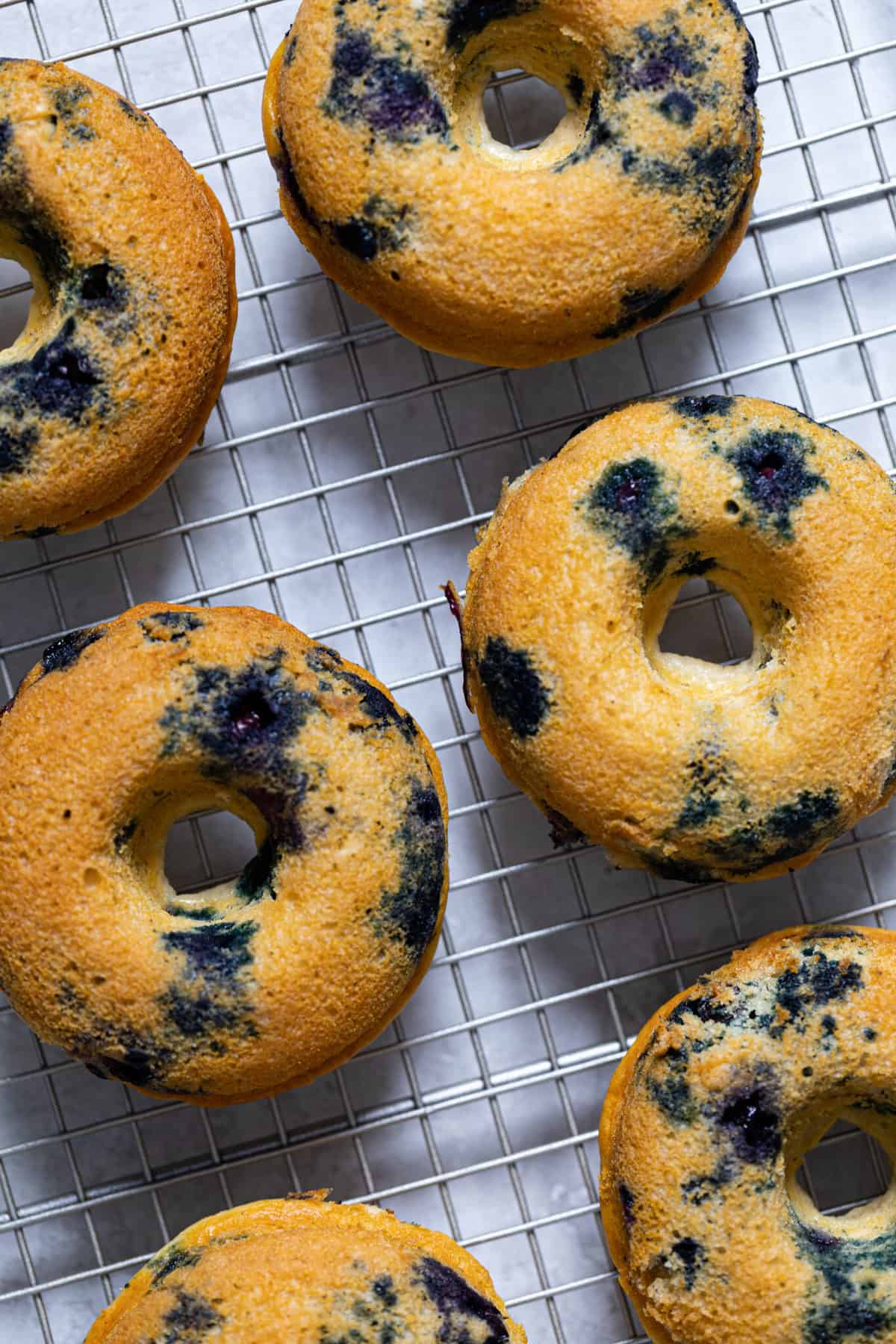 How to Make Vegan Blueberry Donuts
If this is your first time making homemade vegan donuts, you're in for a treat. They're easier to make than you think. You just need a handy donut pan and a few basic plant-based ingredients.
Ingredients
To make vegan blueberry donut batter, you'll need the following (mostly pantry staple) ingredients:
Blueberries. You can use frozen or fresh berries for this recipe.
All-purpose flour. I use Bob's Red Mill organic flour, which is certified vegan. If you want your donuts to be more of a 'cakey' texture, substitute 1 cup of All-purpose flour with Super-Fine Cake Flour.
Baking powder and baking soda. These lighten and aerate the donut batter while they bake for a light and fluffy texture.
Agave. You can substitute agave syrup with another vegan-friendly sweetener, such as maple syrup, cane or coconut sugar.
Almond milk. Choose unsweetened. You can use any of your favorite plant-based milk options.
Vanilla extract. Pure vanilla has the best flavor for these donuts.
Apple cider vinegar. I use Bragg's raw apple cider vinegar, which has probiotics. It adds the right amount of tang and acid to help the baking powder activate in the batter.
Vegan butter. I use Earth Balance Vegan Buttery Sticks. You can also substitute the butter with oil or melted coconut oil.
EQUIPMENT
The only unique piece of equipment you need to make homemade donuts is a donut pan. If you're a donut fan, I highly recommend adding one to your kitchen toolbox. You'll never have to go out for donuts again, and you can always customize the ingredients, flavors, and decorations of your breakfast pastries.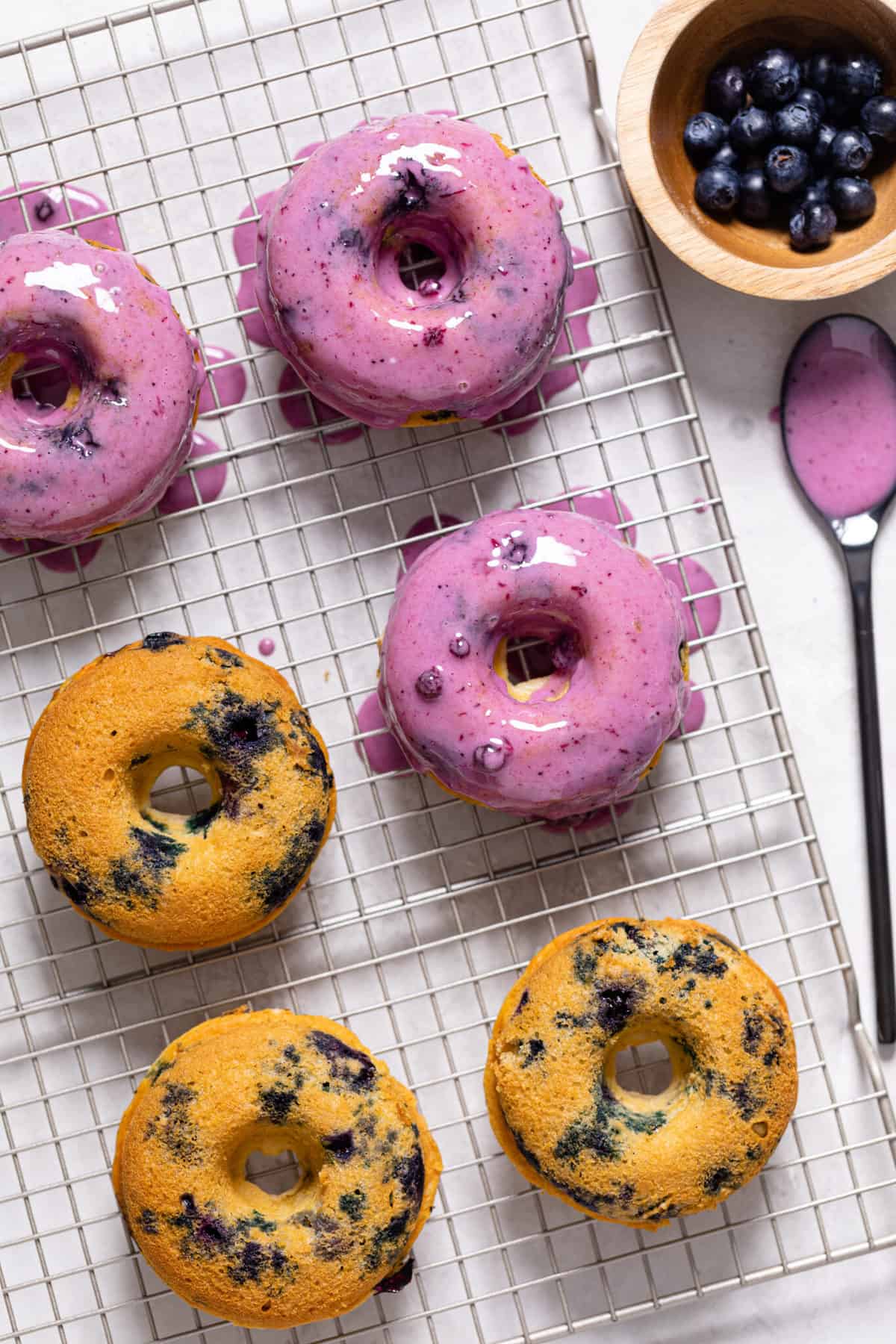 Donut vs. Doughnut
Donut vs. doughnut - It's the spelling dilemma that has perplexed people for ages. Some say "donut" is easier to spell and faster to say, while others argue "doughnut" is the more proper and sophisticated way to spell it.
Cake Flour vs. All-Purpose Flour.
When it comes to the main ingredient of this entire vegan donut recipe—-the flour, I enjoy using Bob's Red Mill Unbleached White All-Purpose Flour, which is ideal for all kinds of baking, including this one.
However, I do occasionally use Super-Fine Cake Flour which adds a nice airiness and fluffiness to your cakes or other baked goods as well.
How to Make Your Own Homemade Cake Flour
If you're in a pinch and you don't have any cake flour on hand, and you only have all-purpose flour---no worries! You can still achieve that extra fluffiness that cake flour would by simply adding 1 teaspoon of arrowroot or starch to your flour before whisking.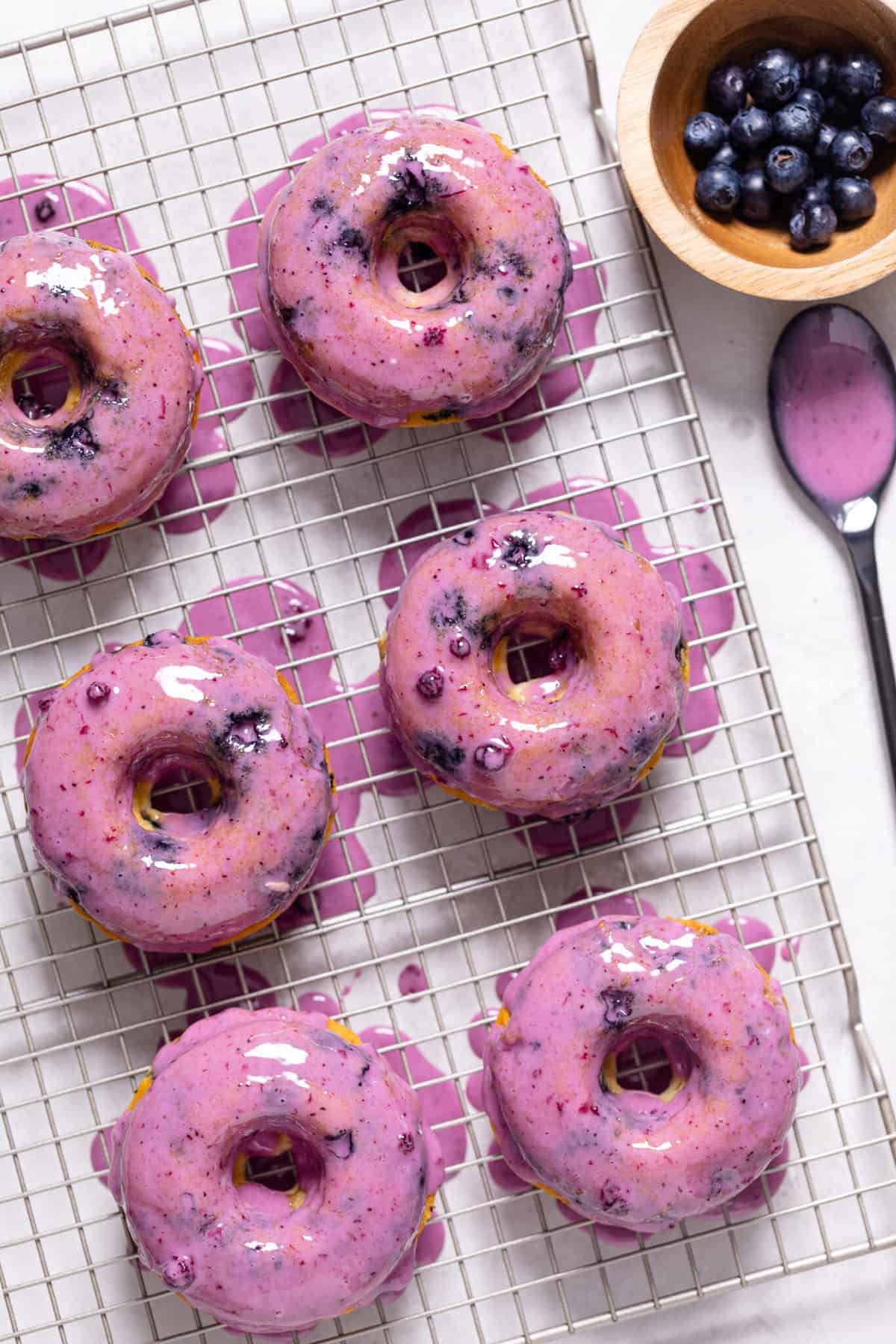 Making Blueberry Glaze for Donuts
The stunning purple glaze on these vegan blueberry plant-based donuts is made with three ingredients:
Powdered sugar. Choose organic to ensure it's vegan!
Blueberry preserves or jam.
Unsweetened almond milk. Or your favorite plant-based milk.
I like to make the glaze while the donuts cool. To do so, simply whisk together the powdered sugar, blueberry preserve, and 1 tablespoon of almond milk until smooth.
For a thicker glaze, add more powdered sugar (1 tablespoon at a time) until your desired consistency is met. For a thinner glaze, add milk (1 tablespoon at a time) until your desired consistency is met.
Glazing Vegan Blueberry Donuts
To glaze the fully cooled donuts, carefully dip each donut into the prepared blueberry glaze. Then set each one back onto the cooling rack, so the glaze hardens a bit. For easier clean-up, I recommend putting parchment paper under the wire rack to catch any drips.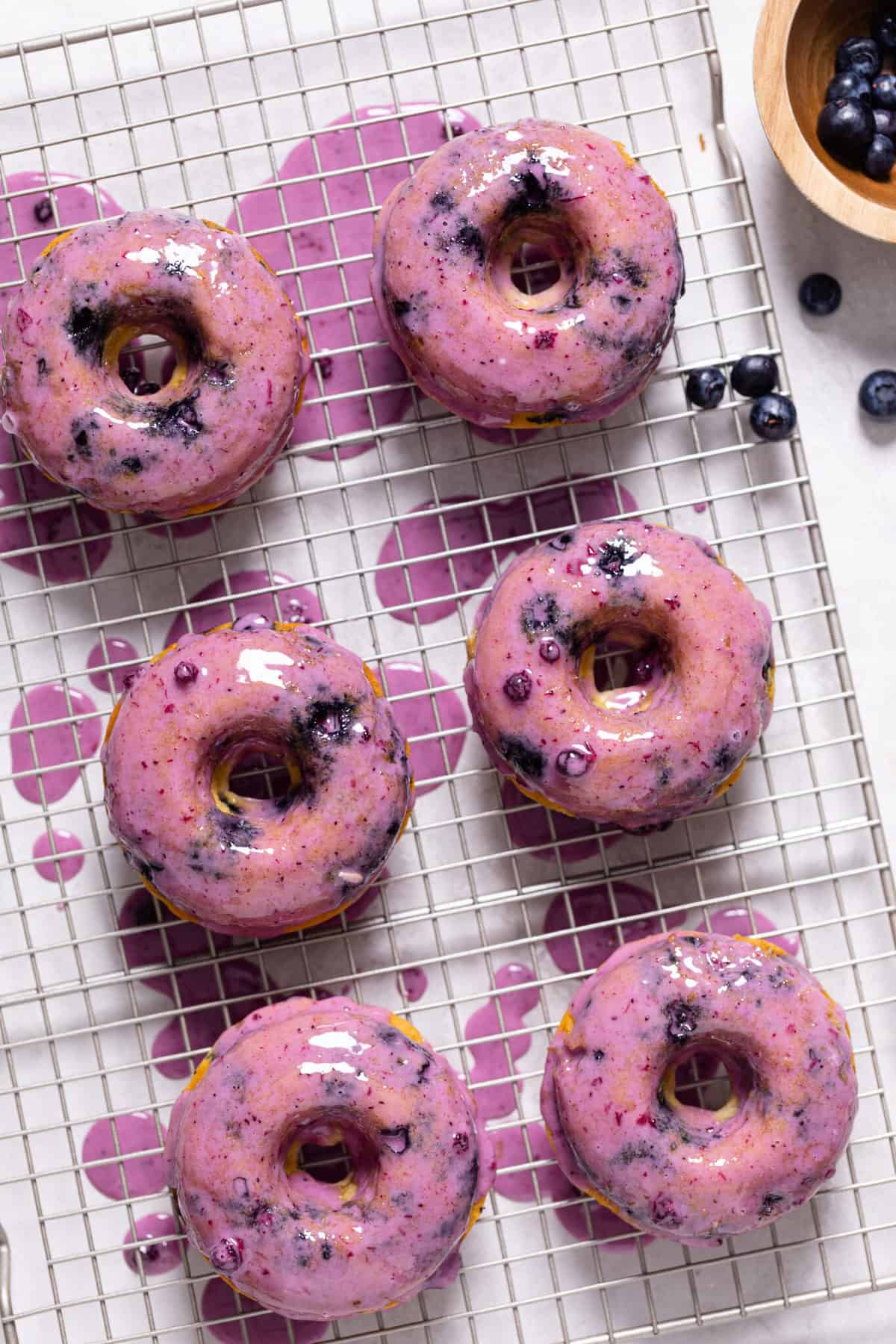 Baked vs Fried Doughnuts?
In case you are new to making your own doughnuts or you just didn't really understand the full difference between the two---I wanted to break down the real distinction between a baked doughnut or donut and a fried one. Granted, both types taste absolutely amazing; however, once you've tried both, you'll notice the difference while eating.
Baked Doughnuts: These types of fluffy doughnuts are generally whipped together in a bowl (generally without yeast) and are lighter in texture. They can also be "cakey" depending on the ingredients used.
Fried Doughnuts: These types of fluffy doughnuts are generally denser in texture and have a bit of a crunchiness (on the outside) from being deep-fried. They typically have a sweeter flavor and richer texture.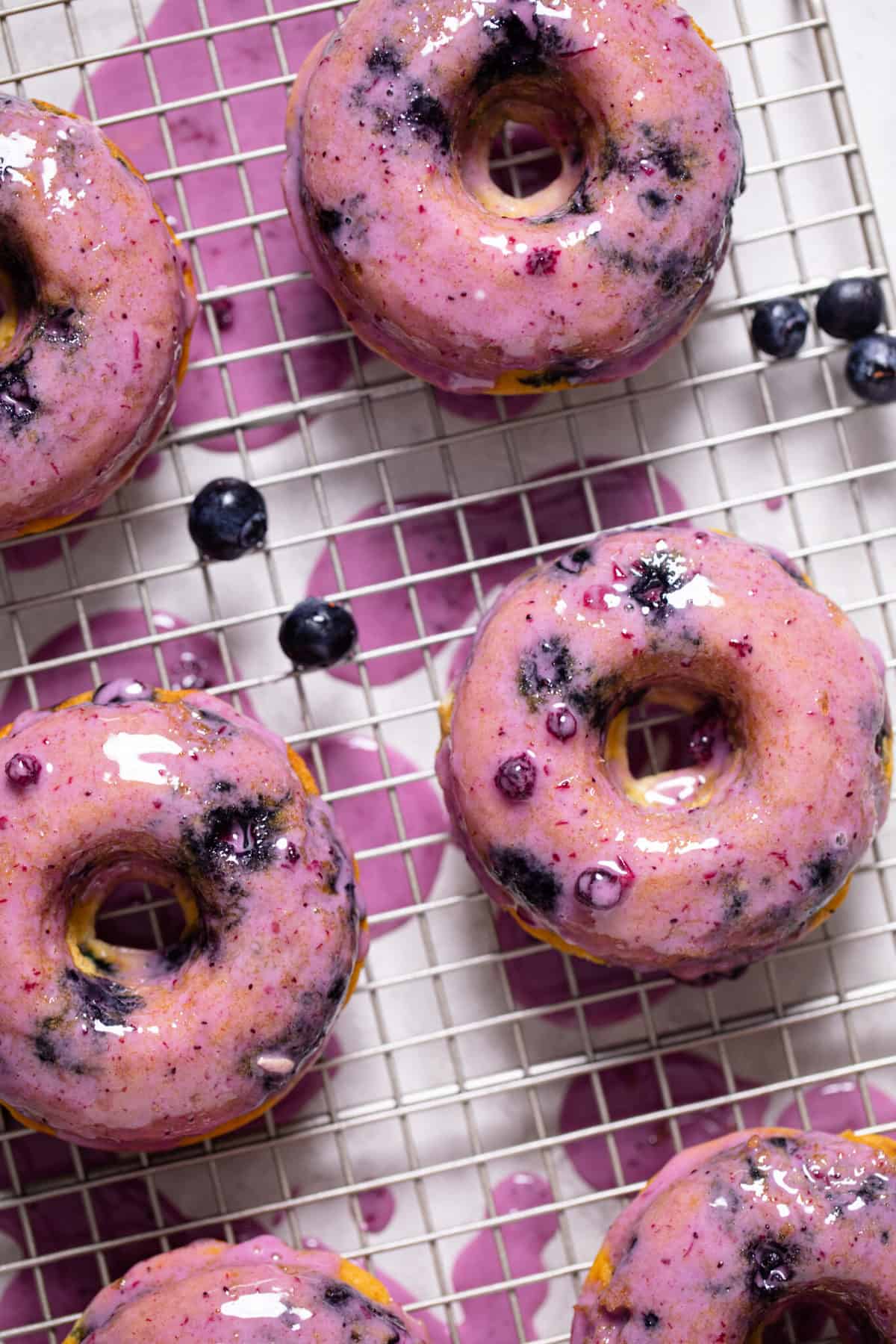 What You'll Love About These Vegan Blueberry Donuts -
Bursting with luscious blueberries.
100% vegan and plant-based.
Baked, not fried, for healthiness.
Irresistibly fluffy and moist texture.
Made with simple, wholesome ingredients.
Perfectly sweetened for guilt-free enjoyment.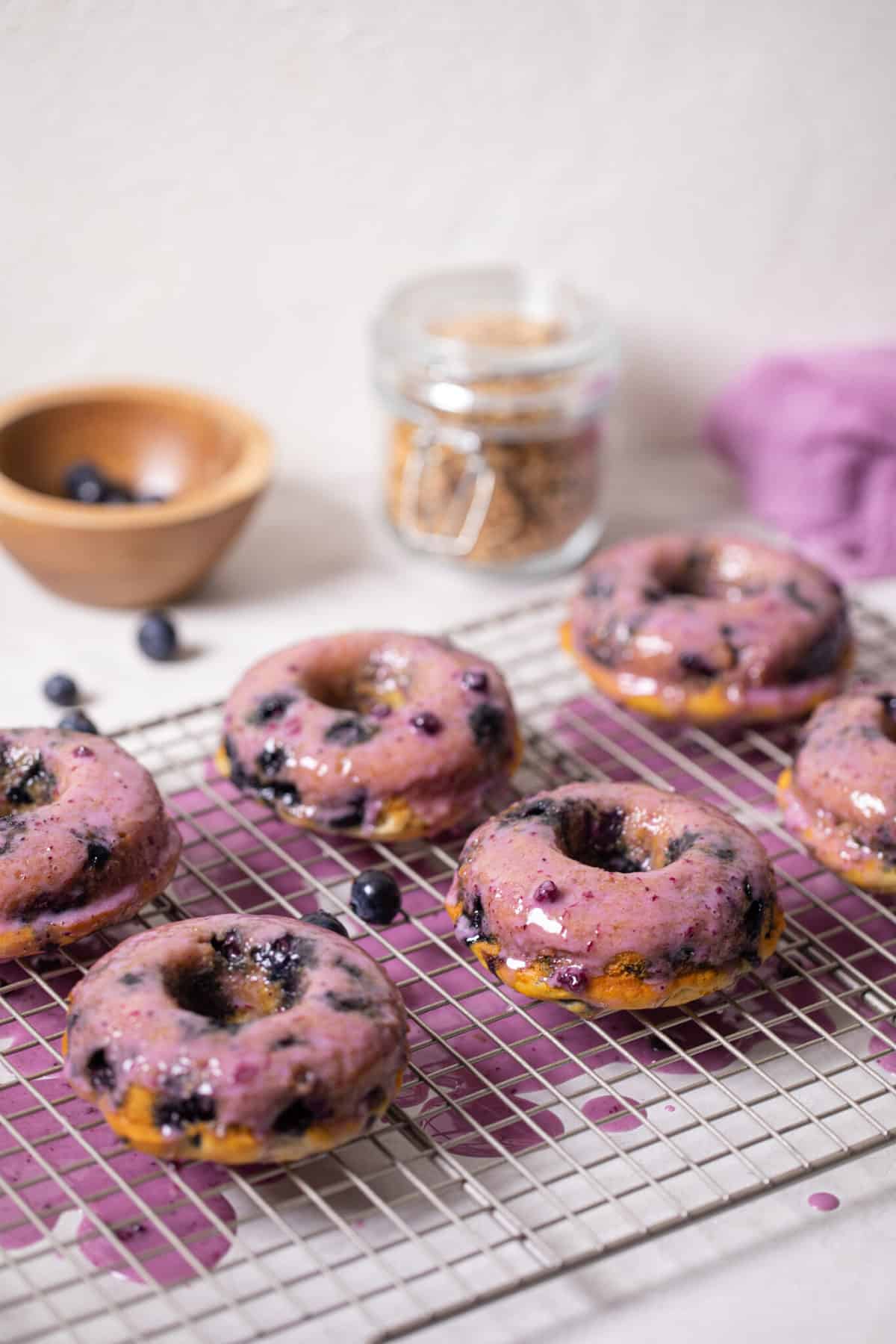 Perfect Occasions For Vegan Donuts
These events are a great excuse to eat these plant-based donuts!
Birthdays
Anniversaries
Barbecues
Potlucks
Kids Sleepovers
Holiday Gatherings
Graduations
Baby Showers
Dinner Parties
Actually, any time is a good time for a donut, right? Bake away for a little weekday pep-up!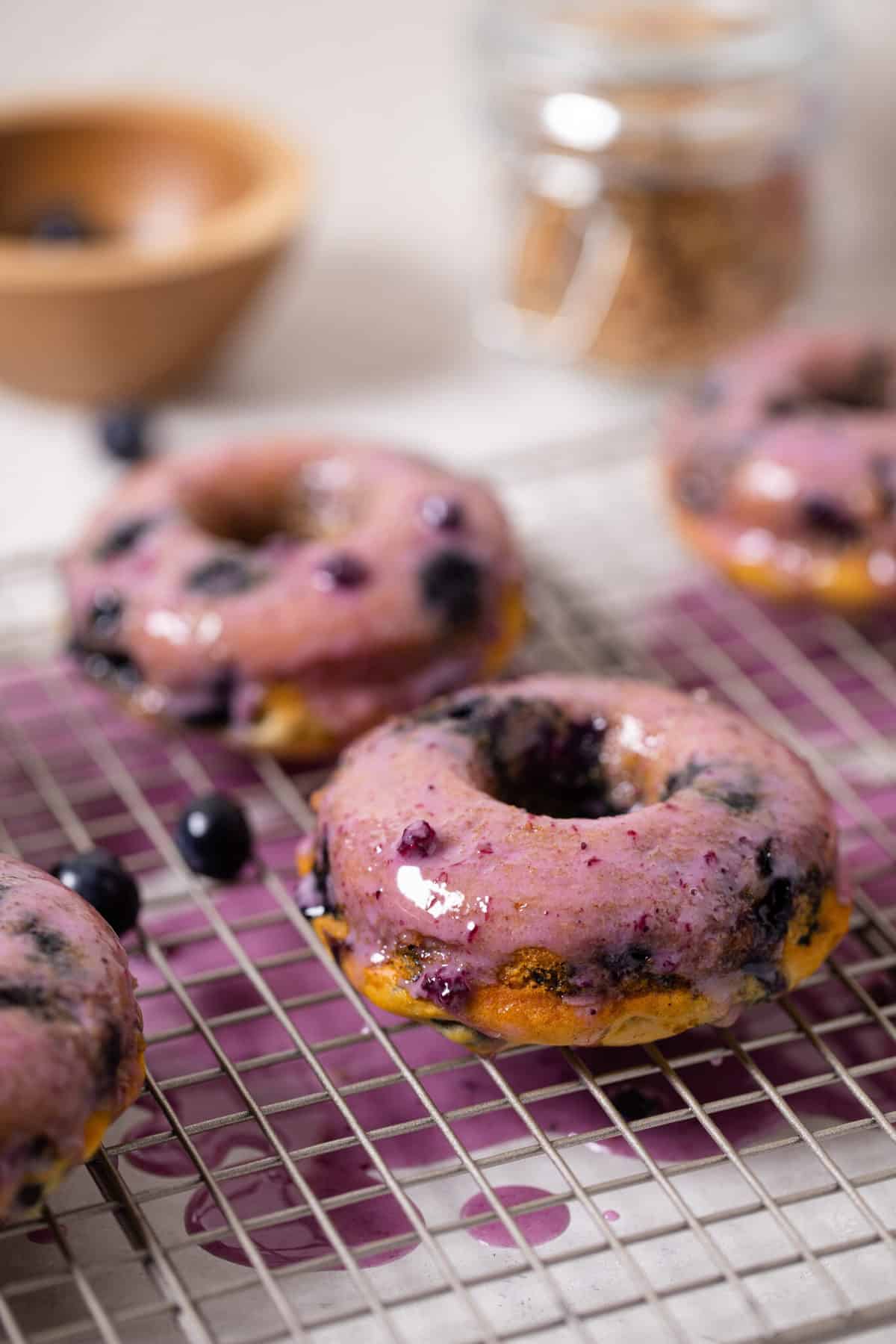 Healthy Vegan Blueberry Donuts Q + A's
Can I Use A Muffin Tin Instead?
Yes. Absolutely. If you don't have a donut tin, you can make this recipe as muffins. Instead, they will be just as delicious! But if you love donuts as much as I do, I recommend investing in a donut tin ASAP.
How To Store Vegan Baked Donuts
Store leftover donuts in an airtight container in the fridge for up to three days. You can warm a donut slightly in the microwave in 20-second increments if you like. 
Another option is to freeze your donuts in their own boxes to prevent their delicious glazing from touching each other and becoming a messy frozen disaster. Thaw at room temp the day before or heat them in the microwave once defrosted. 
Can I Freeze The Donuts For Longer?
Of course! For longer storage, freeze the donuts (uncoated) in an airtight container for up to three months. To serve, defrost the donuts on the counter for several hours. Add the sugar coating just before serving. 

Fresh vs. Frozen Blueberries
I like using frozen blueberries for baking projects like these plant-based donuts. The flavor is more concentrated, plus they're more affordable. 
However, note that if you're using frozen blueberries, lightly toss them in 1 tablespoon of flour or arrowroot starch before adding them to the batter. This helps absorb excess water and prevents the berries from sinking to the bottom of the donuts. 
More Delicious Vegan Donut Recipes
Now that you have your donut pan out, put it to good use with these other Vegan Donut Recipes:
MADE OUR RECIPE(S)?
If you choose to make these Healthy Blueberry Vegan Donuts or any other recipe from us, be sure to tag us on Instagram at #Orchidsandsweettea so that we can share the love, rate, comment below, + share!
1

cup

blueberries, frozen or fresh

(See Notes for frozen option!)

1 ½

cups

organic all-purpose flour 

(I use Bob's Red Mill)

2

tsps

baking powder

¼

teaspoon

baking soda

¼

teaspoon

sea salt

½

cup

Agave

(See Notes!)

¾

cup

Almond milk, unsweetened

(You can use your fave plant-based milk!)

1

teaspoon

vanilla extract

1

teaspoon

apple cider vinegar

(I use Bragg's)

3

Tbsps

vegan butter, melted

(I use Earth Balance; See Notes!)
Preheat oven to 375 degrees Fahrenheit and spray your donut baking pans that has 6-wells.

In a bowl, add the milk + apple cider vinegar, whisking together well and letting it sit aside for 2-3 minutes. Then add the melted butter, vanilla, Agave and whisk everything together.

In a separate bowl, sift together the flour, baking powder, baking soda, and sea salt. Finally, stir in the dry ingredients until just well combined and batter is thick and smooth, about 2-3 minutes. Fold in the blueberries.

Spoon the batter into a piping bag (or zip loc bag, cutting a medium hole at the corner) and pipe batter it into prepared donut pan wells, filling them about ¾ of the way.

Bake for 16-18 minutes or until toothpick inserted into donuts comes out clean.

Remove from oven and allow to cool for 5 minutes before releasing the donuts from their pan and unto a cooling rack to cool completely.
Blueberry Glaze:
Whisk together the powdered sugar, blueberry preserve, and Almond milk (1 Tbsp) until smooth and consistency is met. NOTE: For a thicker glaze, add additional powered sugar (1 tablespoon at a time) until consistency is met. For a desired thinner glaze, add additional milk (1 tablespoon at a time) until consistency is met.

Once fully cooled, dip each donut into the prepared blueberry glaze and set them back onto cooling rack so that glaze hardens a bit.

Bon Appetite!
Calories:
261
kcal
|
Carbohydrates:
88
g
|
Protein:
4
g
|
Fat:
7
g
|
Saturated Fat:
1
g
|
Polyunsaturated Fat:
2
g
|
Monounsaturated Fat:
3
g
|
Trans Fat:
1
g
|
Sodium:
377
mg
|
Potassium:
61
mg
|
Fiber:
2
g
|
Sugar:
18
g
|
Vitamin A:
14
IU
|
Vitamin C:
6
mg
|
Calcium:
127
mg
|
Iron:
2
mg