They always say that everything is better with sprinkles and these Vegan Vanilla Donuts with Sprinkles aren't an exception. Super fluffy, soft, moist, and completely dairy-free, these donuts truly are like the perfect sweet treat for adults and kids alike, especially during Easter.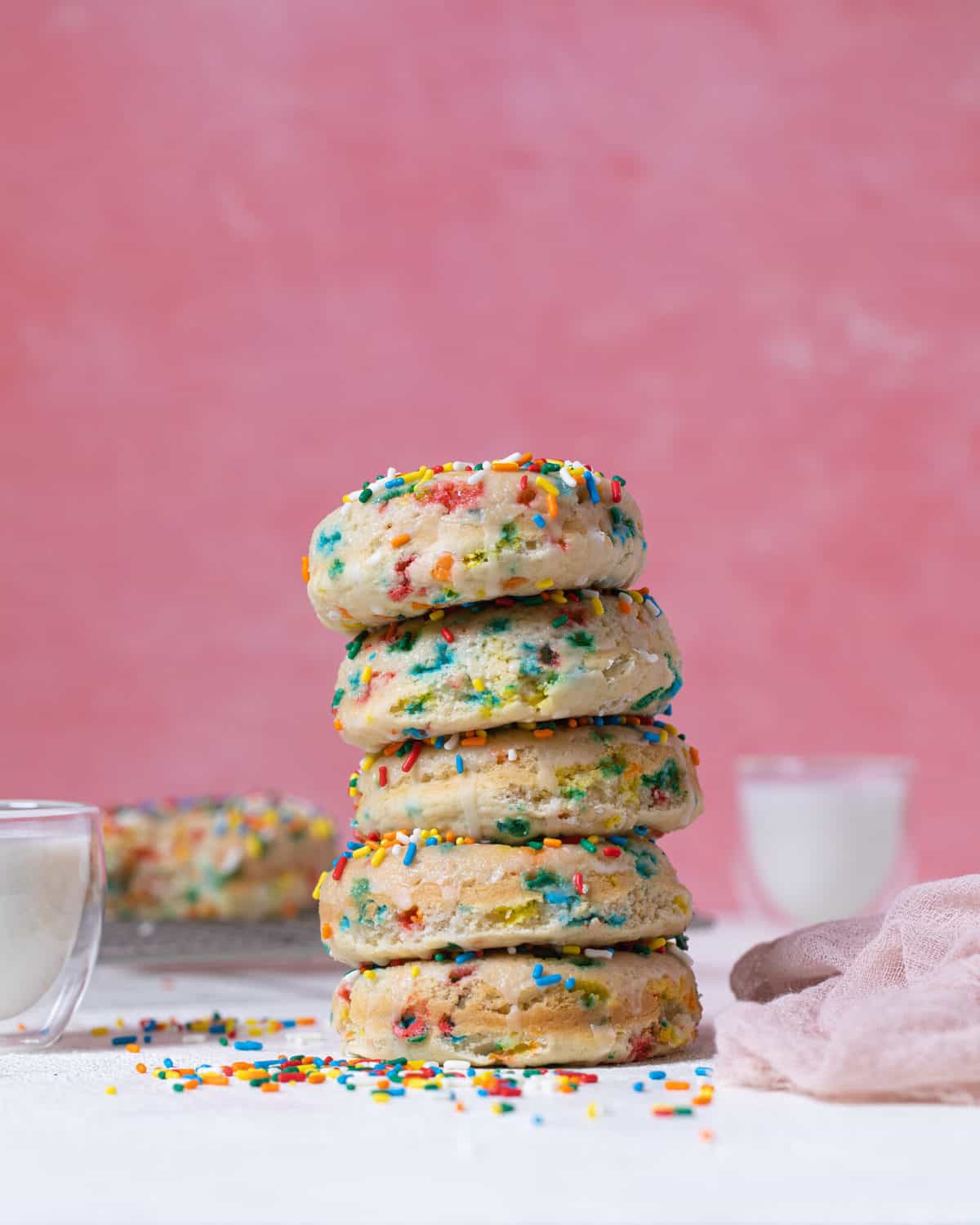 Growing up, I always LOVED. I mean really really loved them! I couldn't eat any form of ice cream (especially my favorite vanilla flavor) without sprinkles. They add the best texture, crunchy and, of course, an extra surgery hit that no kid can turn down.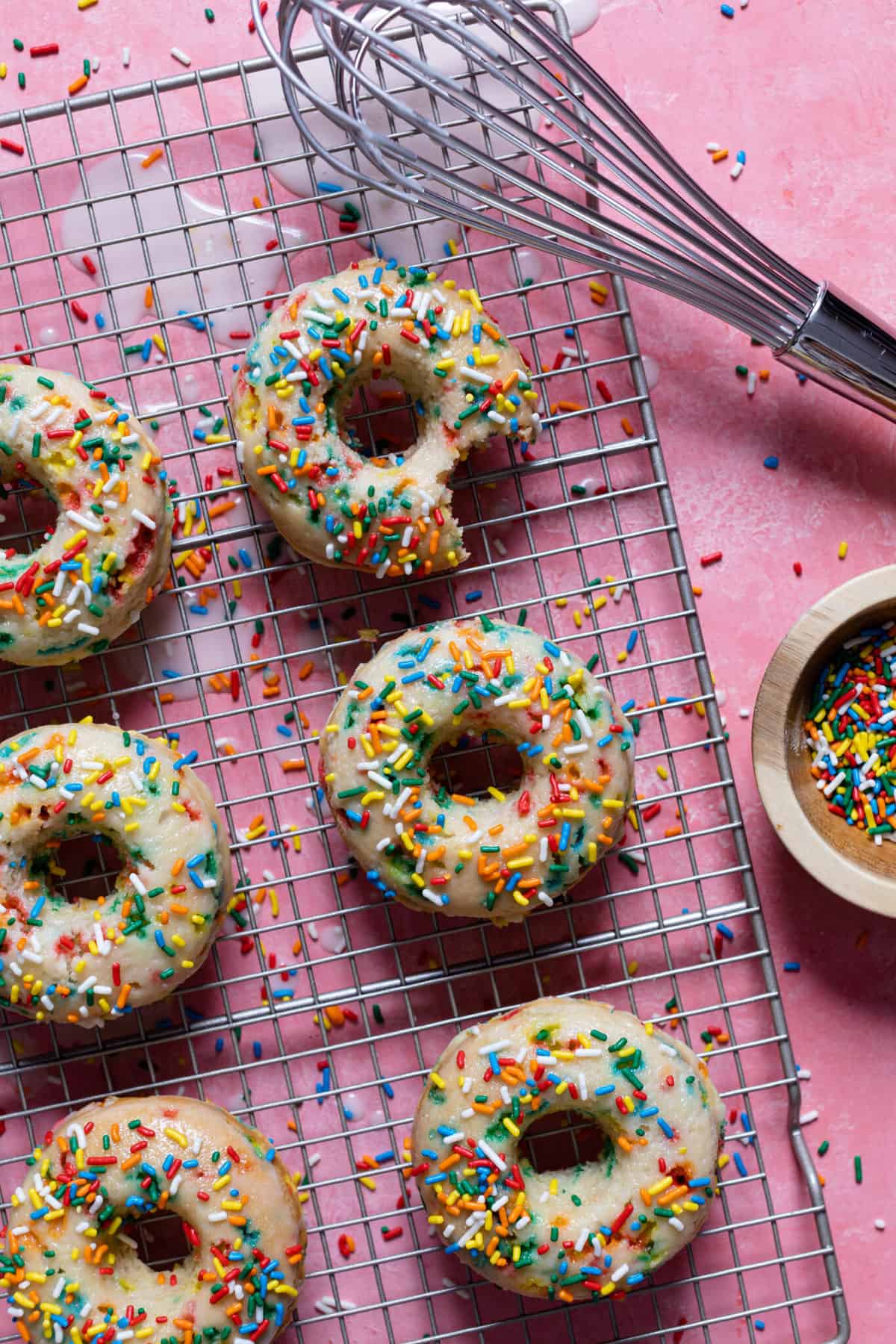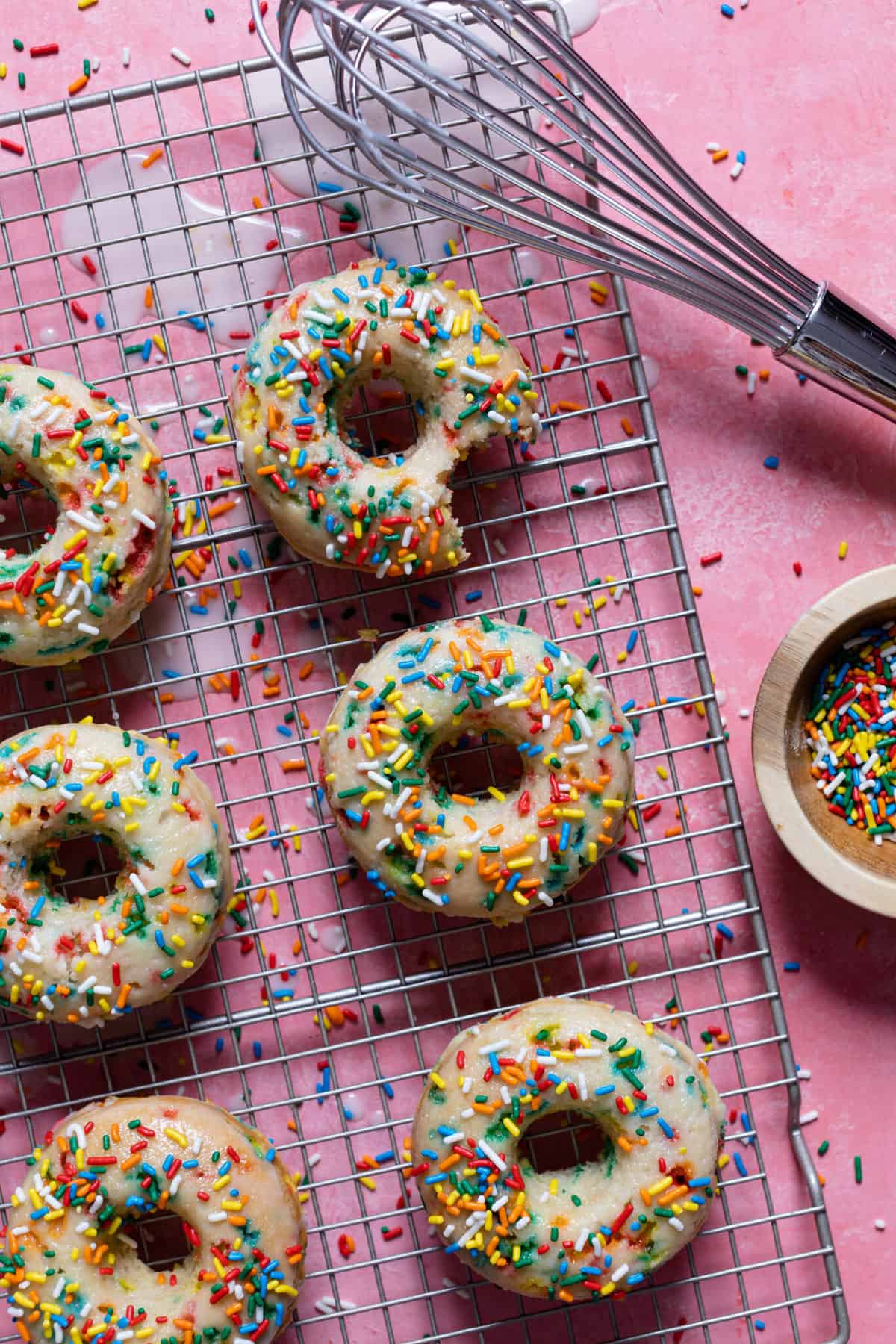 Now, although I aim to eat healthily and with more intention, ever so often I can't fight off a craving for a vanilla sprinkle donut from Dunkin Donuts. The last time the craving struck, I decided to answer it with a healthier dairy-free and vegan remake of my childhood favorite. And guess what? These vegan vanilla donuts with sprinkles are every bit as sweet-tooth-satisfying and delicious as anything you can buy at Dunkin.
And the best part is that this recipe is super easy, quick, and won't leave you feeling weighed down. However, the one drawback is you have to do the sprinkle clean up 🙂
If you have little helpers at home, this homemade donut recipe is the perfect opportunity to get them in the kitchen. This recipe is perfect for kids to practice their measuring and mixing skills. Not to mention decorating!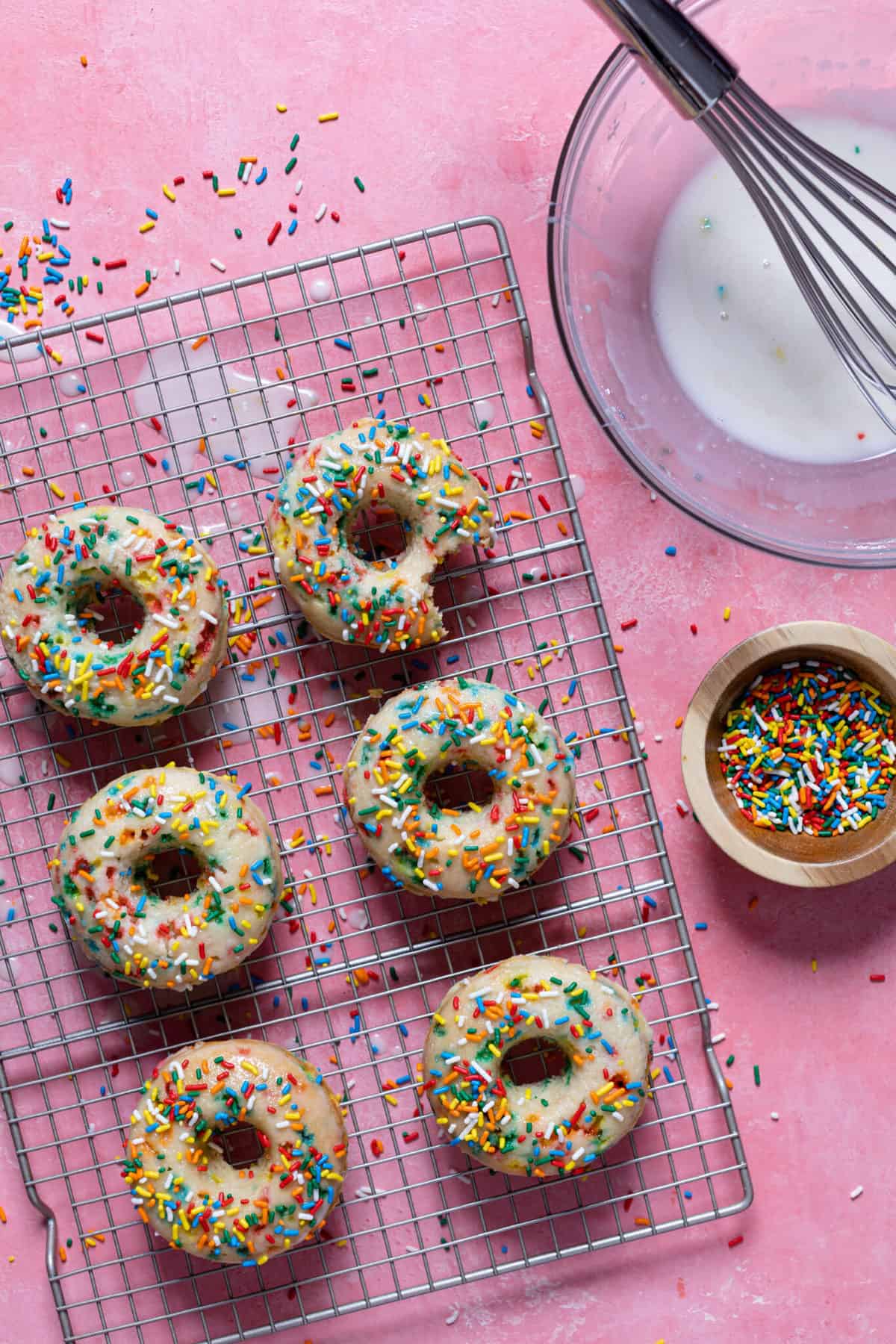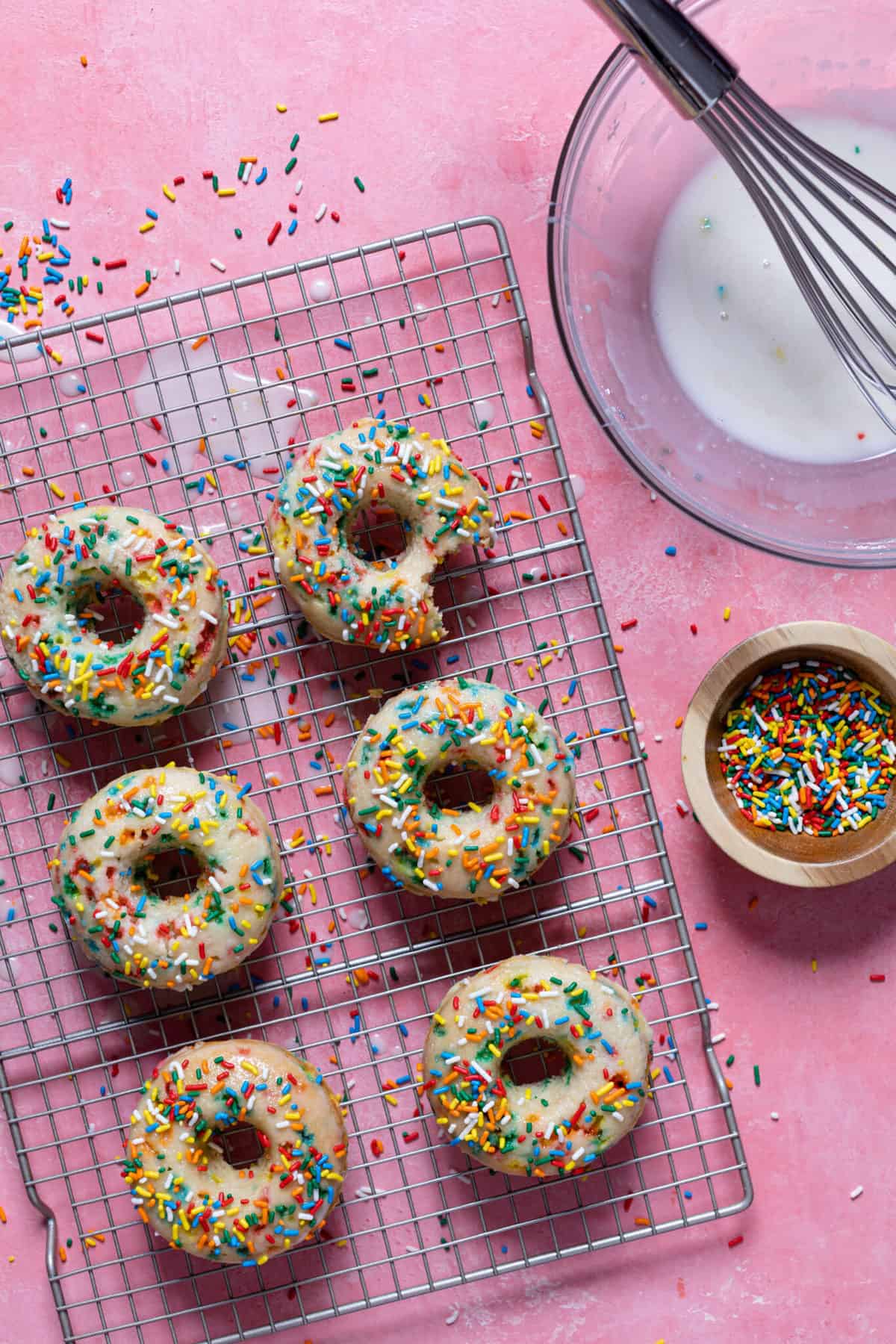 How to Make Vegan Vanilla Donuts with Sprinkles
While homemade donuts might sound like a project recipe, they actually come together quite easily. To make these sweet treats, you'll combine the dry ingredients in one bowl. In a separate bowl, combine the wet ingredients. Then combine the two and pipe the batter into a donut pan. Bake them up until golden and fully set. Finally, let the donuts cool before glazing them with your quick vanilla frosting and showering them in rainbow sprinkles.
Ingredients
Here's what you need to make easy dairy-free vanilla donuts:
All-purpose flour. Choose organic to ensure it's vegan. I like to use Bob's Red Mill brand.
Baking powder and baking soda. These lift and lighten your donut so they come out fluffy and airy, not dense or chewy.
Cane sugar. Again, choose organic for vegan!
Unsweetened coconut milk. I love to bake with So Delicious brand moil. you can also use another non-dairy milk, such as almond, oat, soy, or cashew. Choose unsweetened so you don't overdo the sugar in these healthier donuts.
Apple cider vinegar. This ingredient might surprise you, but a bit of acid heightens the other flavors in the donuts and helps activate the baking powder in the batter.
Coconut oil. This tenderizes the donut batter and ensures they stay moist.
Vanilla extract. We are making vanilla donuts, after all!
Vegan sprinkles. Most sprinkles are naturally plan-tased, but read the label to make sure.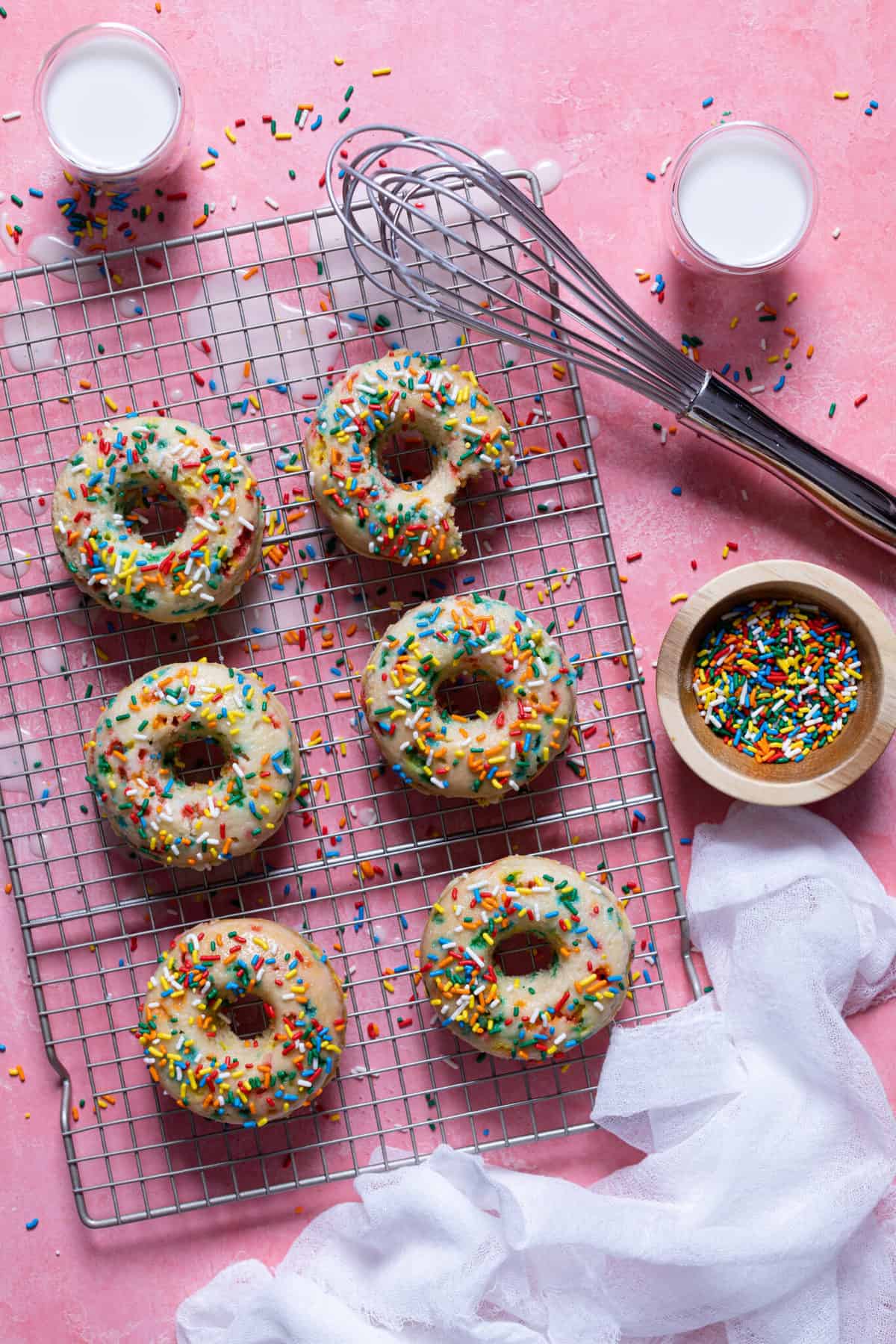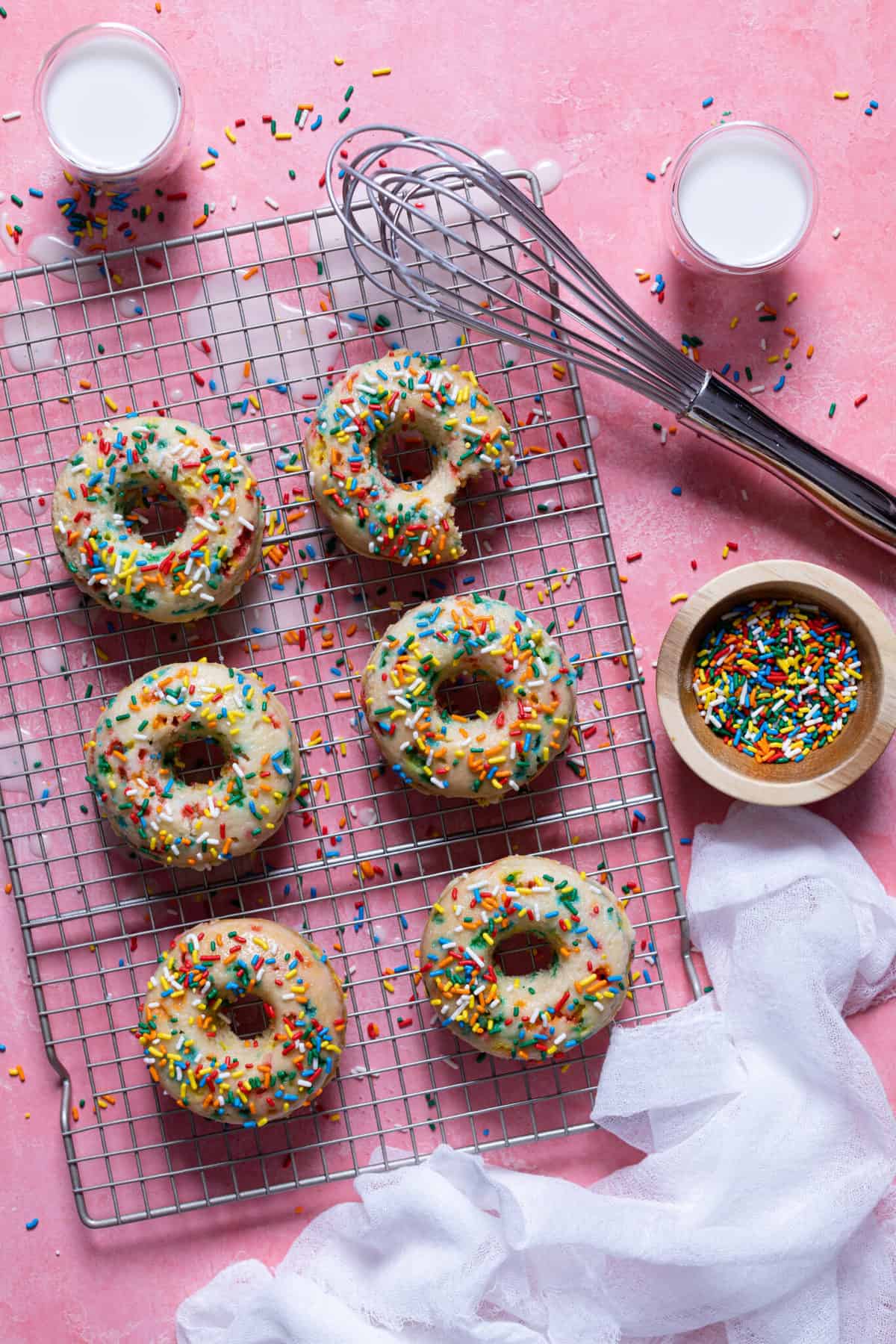 Equipment
The only unique piece of equipment you need to make homemade donuts is a donut pan. If you're a donut fan, I highly recommend adding one to your kitchen toolbox. You'll never have to go out for donuts again, and you can always customize the ingredients, flavors, and decorations of your breakfast pastries!
The easiest way to fill a donut pan without a major mess is to pipe the batter into the rings. You don't need a special pastry bag, however. A simple gallon-sized Ziploc bg will do the trick. Simply fill the bag with your batter (work in batches to avoid over-filling the bag), then snip off one corner. Aim for a ¾-inch hole to pipe the batter cleanly into the donut rings in the pan.
The last piece of equipment you'll need is a wire cooling rack. Ensure your donuts are fully cooled before glazing them. Waiting for these treats to cool is the hardest part of the whole recipe!
Simple Vanilla Glaze
A quick vanilla glaze adds shine, flavor, and extra sweetness to these vegan vanilla donuts. Plus, it helps the sprinkles stick better. To make a simple glaze while the donuts cool, you'll need:
2 cups of powdered sugar
1 teaspoon vanilla extract
1-2 tablespoons unsweetened coconut milk or other non-dairy milk
Simply mix all of the ingredients together in a medium bowl. Add more milk, 1 tablespoon at a time, or more powdered sugar, 1 teaspoon at a time, to reach your desired thickness. The glaze should be drizzle-able but not so runny that it runs off of the donuts.
This easy dairy-free glaze recipe is good to keep in your back pocket. It works just as well on donuts as it does on cupcakes and cookies. It's the perfect vegan icing for people who aren't fond of frosting.
How to Decorate Vegan Vanilla Donuts with Sprinkles
The quickest way to glaze and decorate your donuts is by dipping. Invert one donut at a time into the bowl of glaze, then place it back on the cooling rack. Immediately out of the glaze, while it's still wet and shiny, hit the donut with a handful of rainbow sprinkles. Yes, it can get messy, but that's part of the fun! For easier cleanup, place a piece of parchment paper under the wire rack.
Do Homemade Donuts Need to be Fried?
No! While many of the donuts you buy at places like Dunkin Donuts are deep-fried to get their golden crust and flaky layers, these vegan vanilla donuts are cooked fully in the oven. This makes them a much lighter option with little oil. In fact, this entire recipe only has three tablespoons of coconut oil to ensure your donuts stay moist and tender. There are no grease stains left behind by these homemade treats!
Serving & Storing Suggestions
Who doesn't like to start their day with a homemade donut? These are a perfect weekend breakfast treat, especially for special occasions like a birthday. Serve them with these easy Warm Apple Chai Lattes in the winter, or with refreshing Lemon Blackberry Mint Tea in warmer months.
These are also a great treat for Easter morning. The colorful sprinkles always remind me of springtime.
The donuts are best enjoyed the day they're made. If you have leftovers, however, you can store them in an airtight container at room temperature for up to four days. For longer storage, freeze the donuts in an airtight container for up to three months. To serve, defrost the donuts on the counter for several hours. You can also freeze the baked, undecorated donuts and add the glaze and sprinkles just before serving.
More Vegan Donut Recipes
For more popular dairy-free doughnut recipes, check out these: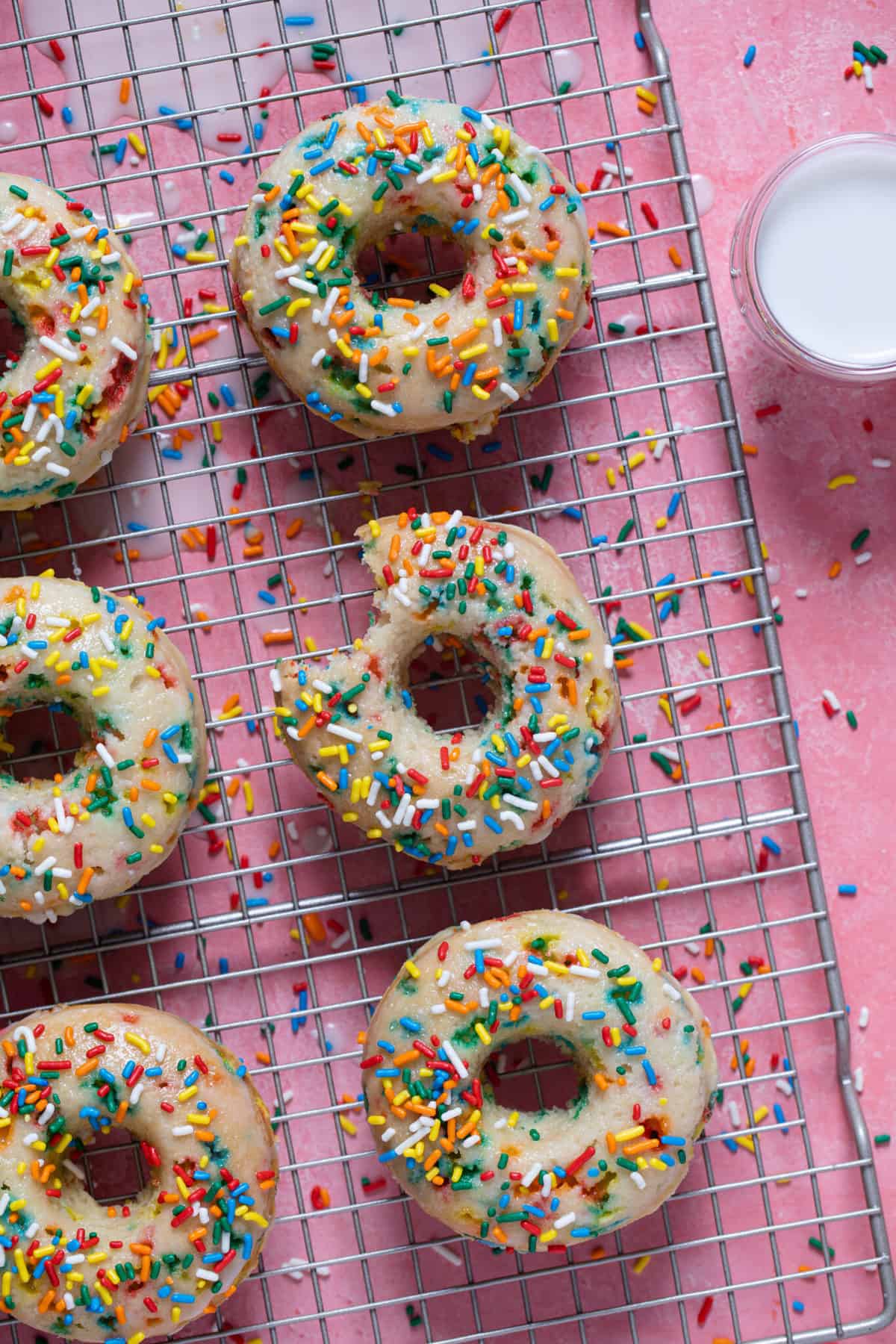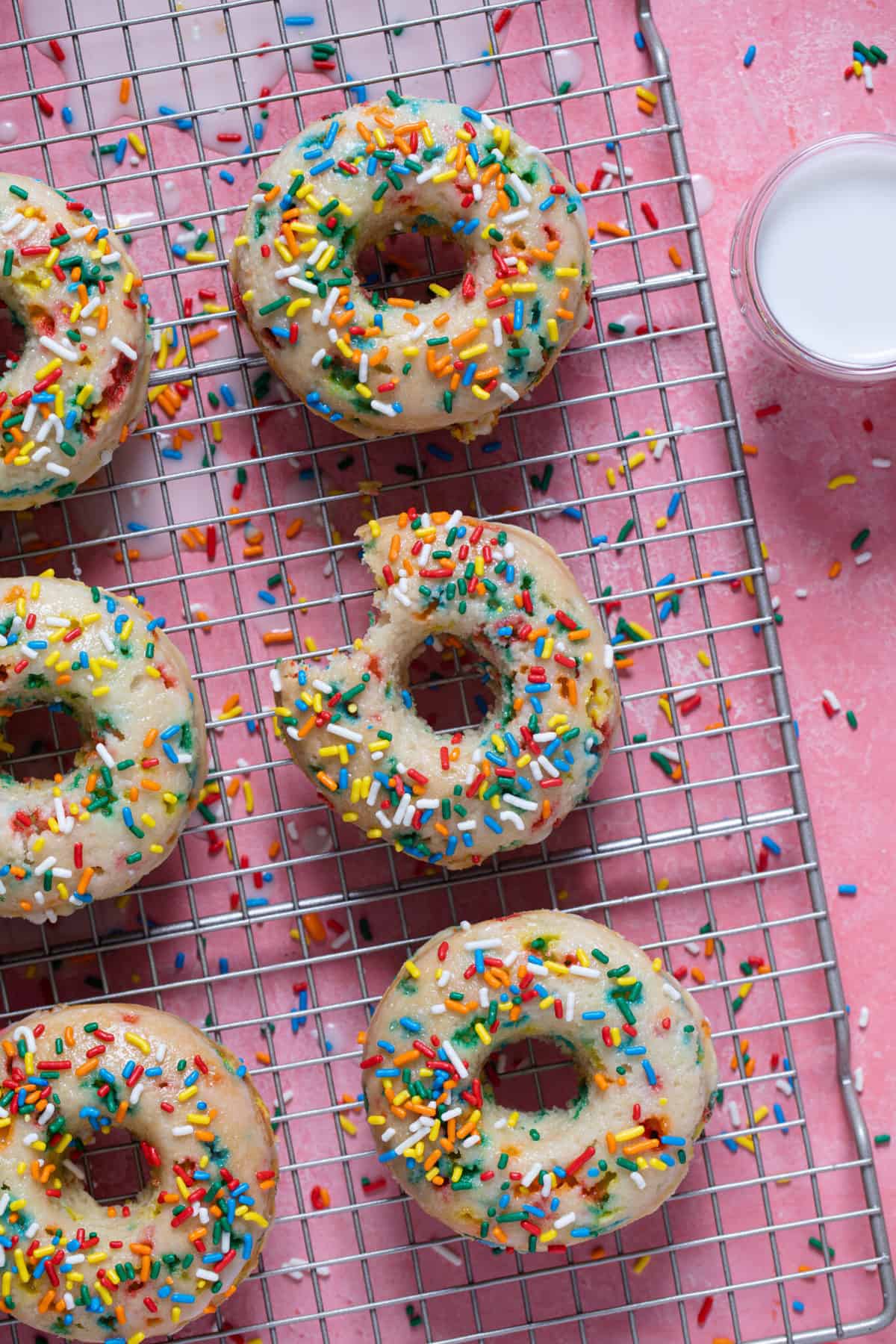 MADE OUR RECIPE(S)?
If you choose to make these Vegan Vanilla Donuts with Sprinkles or any other recipe from us, be sure to tag us on Instagram at #Orchidsandsweettea so that we can share the love!
Vegan Donuts
1 ½

cups

organic all-purpose flour

(I use Bob's Red Mill)

2

tsps

baking powder

¼

teaspoon

baking soda

¼

teaspoon

sea salt

½

cup

pure cane sugar

(I use Wholesome Sweet; See Notes!)

1

cup

Almond milk, unsweetened

(You can use your fave plant-based milk!)

1

teaspoon

apple cider vinegar

(I use Bragg's)

3

Tbsps

vegan butter, melted

(I use Earth Balance)

1

teaspoon

vanilla extract

1-2

cups

rainbow sprinkles, vegan-approved!
Preheat oven to 375 degrees Fahrenheit and spray your donut baking pans that has 6-wells.

In a bowl, add the milk + apple cider vinegar, whisking together well and letting it sit aside for 2-3 minutes. Then add the melted butter, vanilla, and whisk everything together.

In a separate bowl, sift together the flour, baking powder, baking soda, sugar and sea salt. Finally, stir in the dry ingredients until just well combined and batter is thick and smooth, about 2-3 minutes. Fold in funfetti sprinkles.

Spoon the batter into a piping bag and pipe batter it into prepared donut pan wells, filling them about ¾ of the way.

Bake for 10-13 minutes or until toothpick inserted into donuts comes out clean.

Remove from oven and allow to cool for 5 minutes before releasing the donuts from their pan and unto a cooling rack to cool completely.
Vanilla Glaze:
Whisk together the powdered sugar, Almond milk, and vanilla until smooth and consistency is met. NOTE: For a thicker glaze, add additional powered sugar (1 tablespoon at a time) until consistency is met. For a desired thinner glaze, add additional milk (1 tablespoon at a time) until consistency is met.

Once fully cooled, dip each donut into the prepared Vanilla Glaze and set them back onto cooling rack so that glaze hardens a bit. Top with Funfetti sprinkles onto all donuts. Repeat until all donuts are glazed and sprinkled.

Bon Appetite!
STORAGE: Can be stored in a tightly sealed container and best if placed in the refrigerator for up to 3 days for ultimate freshness. SWEETENER: If you choose to opt out of pure cane sugar, you can always substitute with coconut sugar, Agave, or pure maple syrup instead. For liquid sweeteners, just adjust the amount of milk used by reducing it by 2 Tbsps to start. FLOUR: If you want your donuts to be more of a 'cakey' texture, substitute 1 cup of All-purpose flour with Super-Fine Cake Flour. 
Calories:
352
kcal
|
Carbohydrates:
108
g
|
Protein:
3
g
|
Fat:
8
g
|
Saturated Fat:
2
g
|
Polyunsaturated Fat:
2
g
|
Monounsaturated Fat:
3
g
|
Trans Fat:
1
g
|
Sodium:
388
mg
|
Potassium:
38
mg
|
Fiber:
1
g
|
Sugar:
41
g
|
Vitamin A:
1
IU
|
Calcium:
137
mg
|
Iron:
2
mg
Vegan Vanilla Donuts with Sprinkles.