Make a delicious homemade Ultimate Fall Spice Latte made from a simple brown sugar syrup, Almond milk, coffee, and warm Fall spices like cinnamon, nutmeg, allspice, ginger, cloves, and coriander----for a creamy and satisfying morning drink. All dairy-free and vegan ingredients.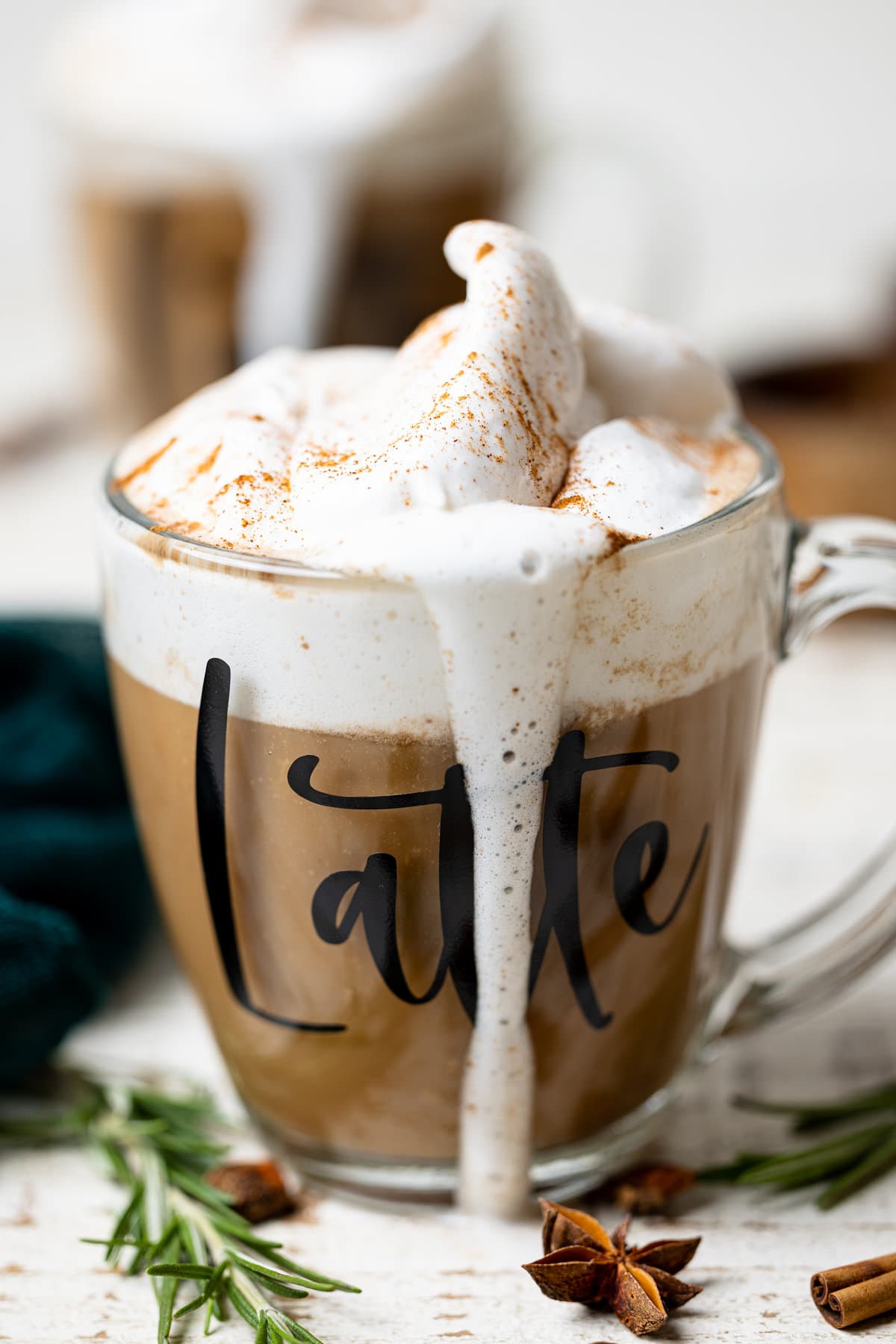 Disclaimer: This post contains affiliate links via Amazon for products that I wholeheartedly love.
Now that we're heading straight into the Fall season, I couldn't be more excited for the different comforting, cozy lattes that become available---whether hot or cold.
On a daily basis, I drink a lot more cold lattes, however warmer ones like this Ultimate Fall Spice Latte always have a special place in my heart. It's just so jam-packed with flavor and it's velvety texture is for sure a game-changer!
For the past few years, I've enjoyed making my own lattes at home and while I do enjoy an occasional store-bought latte, homemade ones are by far the best for two reasons: you save more money and you have better control over the ingredients in what your coffee.
Why You'll Love This Ultimate Fall Spice Latte
First and foremost, the flavors in this simple and easy drink is enough to convince anyone, however, here are a few more reasons why you'll love this recipe:
It's a nice twist to your everyday latte. I tried to make this Fall Spice Latte as easy, but unique as I could. Although there aren't any special ingredients used, the combination of an array of warm spices and the brown sugar syrup definitely adds a nice touch!
It's super easy to make! I literally love the fact that it's easy to make and only requires that you warm your ingredients together and wallah!
You save money! This by far is one of my biggest reasons for making my own coffee at home (minus the last point to come). You definitely save more money purchasing the ingredients and making your own servings at home.
It's healthier. Most of all, this is my biggest plus! I love when I am able to know what ingredients I use whenever making drinks, cooking, or baking. Making my own lattes and coffee at home has definitely allowed me to switch to healthier, organic ingredients which is a win, win!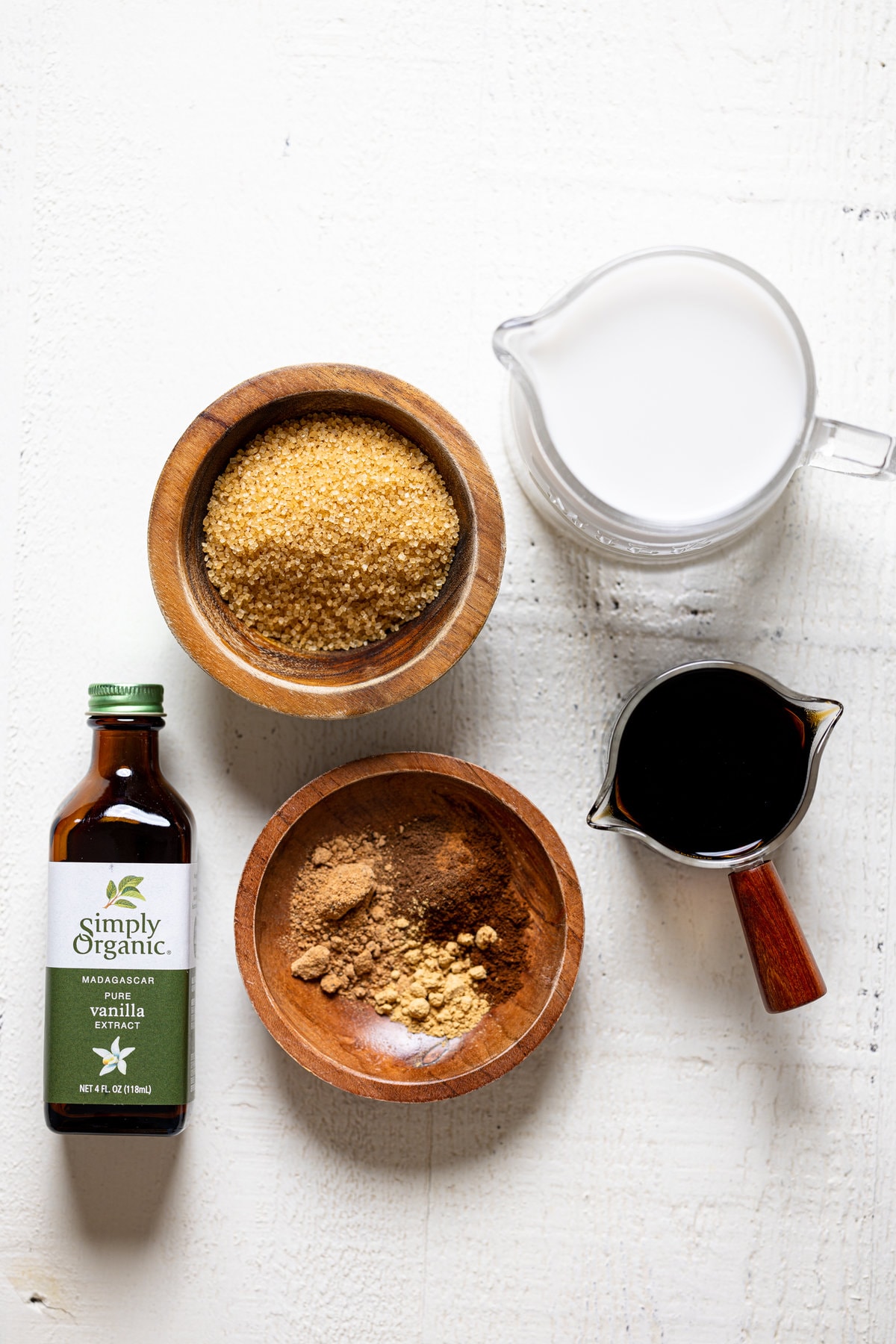 Ingredients for The Ultimate Fall Spice Latte
The main component in this simple homemade Ultimate Fall Spice Latte recipe is the creamy pumpkin flavor and the coffee. To make your drink, you'll use:
Coffee. You can also use chilled cold brew or espresso coffee or actual freshly brewed coffee.
Almond milk. Make your own! Or use store-bought Almond milk. You can also use other plant-based milk options.
Vanilla. Creates a nice addition of flavor.
Brown sugar. I use organic to make sure it's vegan.
Water. For boiling and creating of the syrup.
Fall spice blend. For a nice rich Fall spice flavor. Simply mix together cinnamon, nutmeg, ginger, allspice, coriander, and ground cloves.
Coconut whipped cream. For a nice smoothness after every sip, I like to top with coconut whipped cream. Make your own or use a store-bought version like So Delicious Dairy-Free.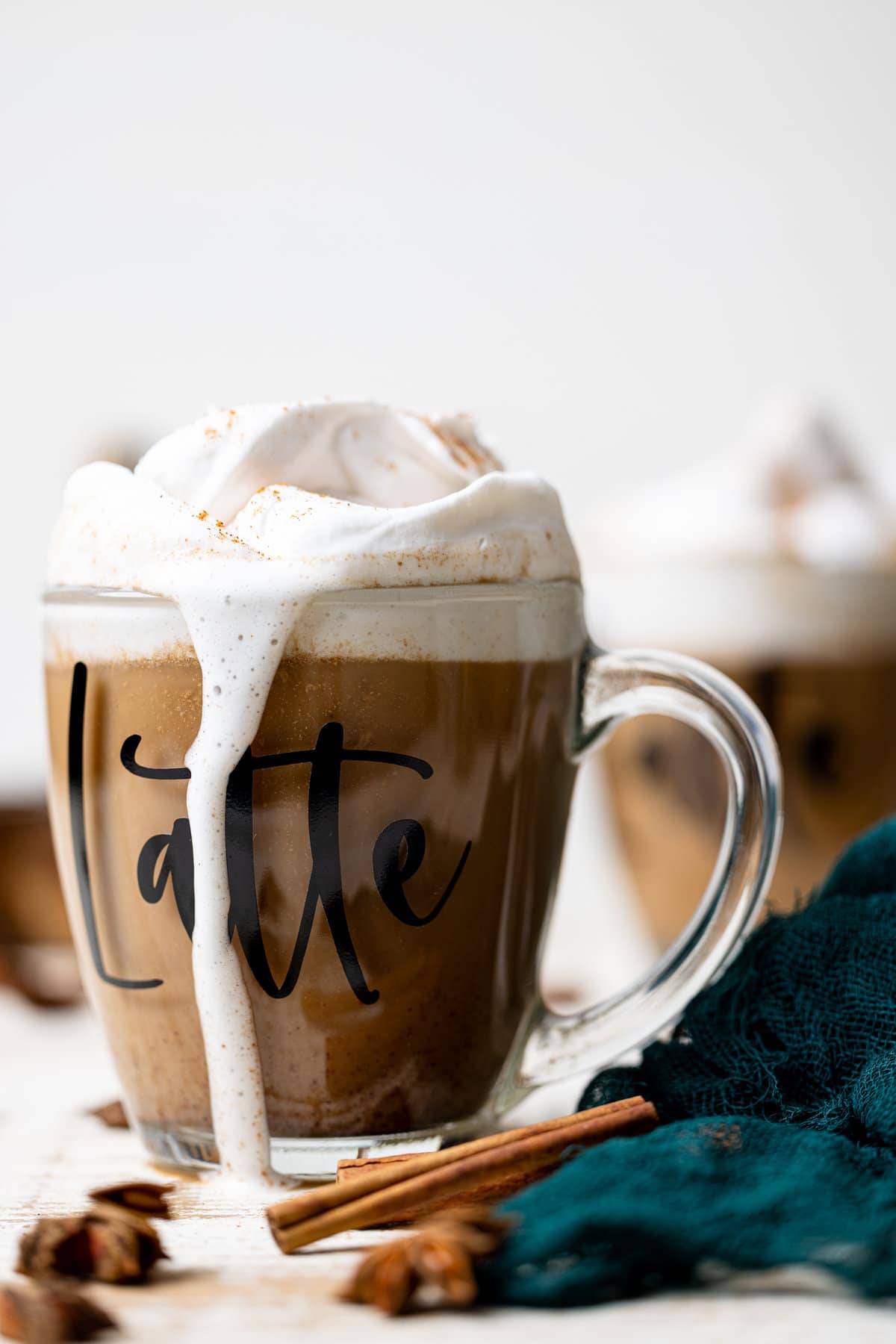 Can I Use Other Types of Milk?
Absolutely! If you'd like to switch things up with the type of plant-based milk that you use—–that's totally fine! The world of plant-based milk is constantly expanding. From the classics like coconut milk, cashew milk, soy milk and almond milk, we now have delicious options like oat milk, and even potato and quinoa milk.
SHOP MY FAVORITE DRINKWARE ITEMS AND ACCESSORIES!
Here, I've curated a list of drinkware and mocktail essentials that I use to achieve my favorite drinking experiences, especially with this Fall Spice Latte. Everything from my fave glassware, cocktail shakers, ice cube trays, and more. SEE THEM HERE!
Can I Serve this Hot or Cold?
Yes! You can definitely switch things up by serving this Fall Spice Latte hot or cold whenever you chose to. To serve cold, simply make the brown sugar syrup and let it cool completely.
Then add crushed ice in a glass followed by the Almond milk, coffee, brown sugar syrup, and spices, stirring it all together until combined. Top with coconut whipped cream and a few pinches of cinnamon (or Fall spices) and that's it!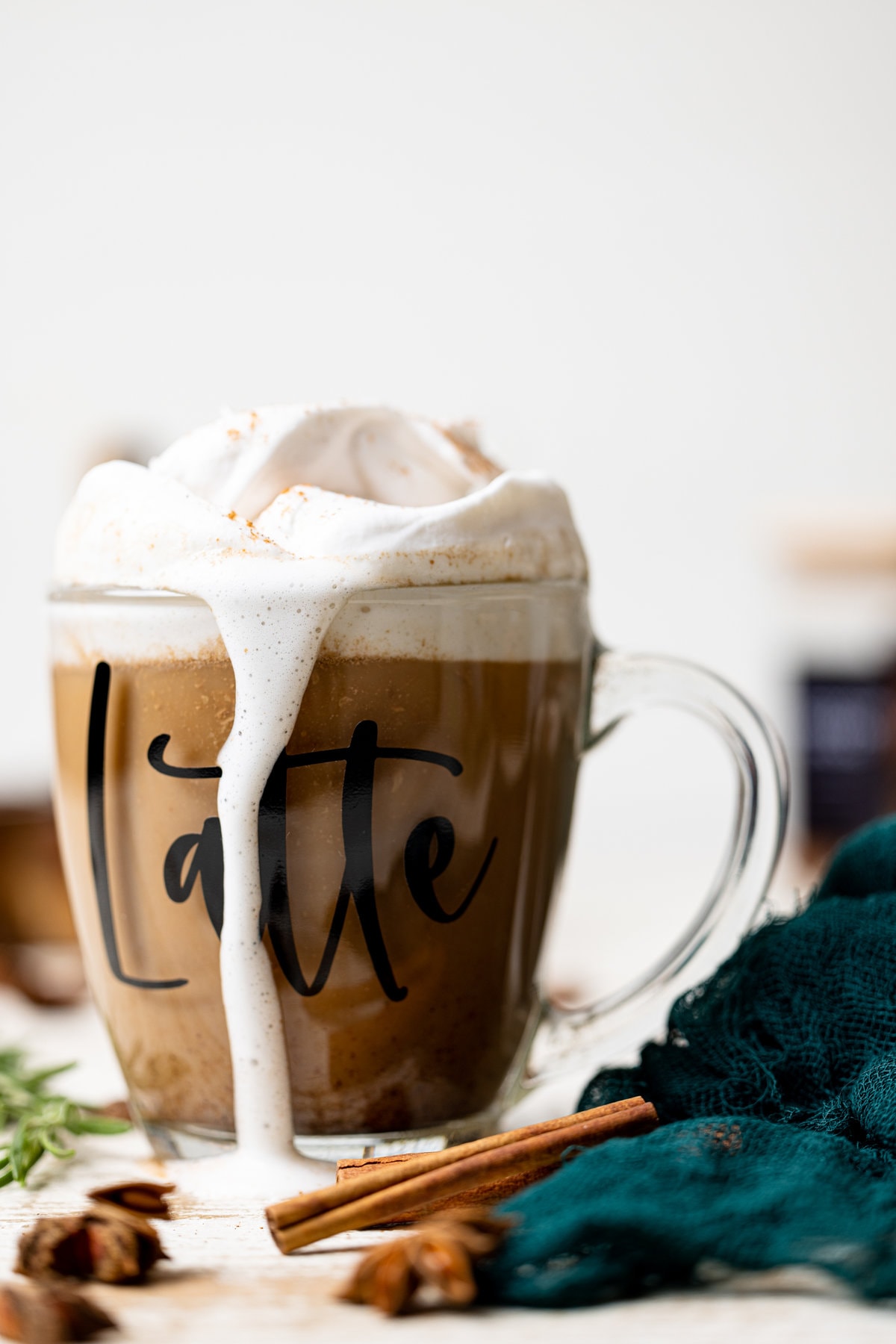 LOOKING FOR A HEALTHIER SWEETENER OPTION?
The Best Healthy Sugar Alternatives + Substitutes list is all about finding better ways to enjoy your favorite sweets without compromising your healthy lifestyle. For those who follow a vegetarian and/or vegan lifestyle, this lists offers a few great ideas to incorporate healthy sweeteners into your diet.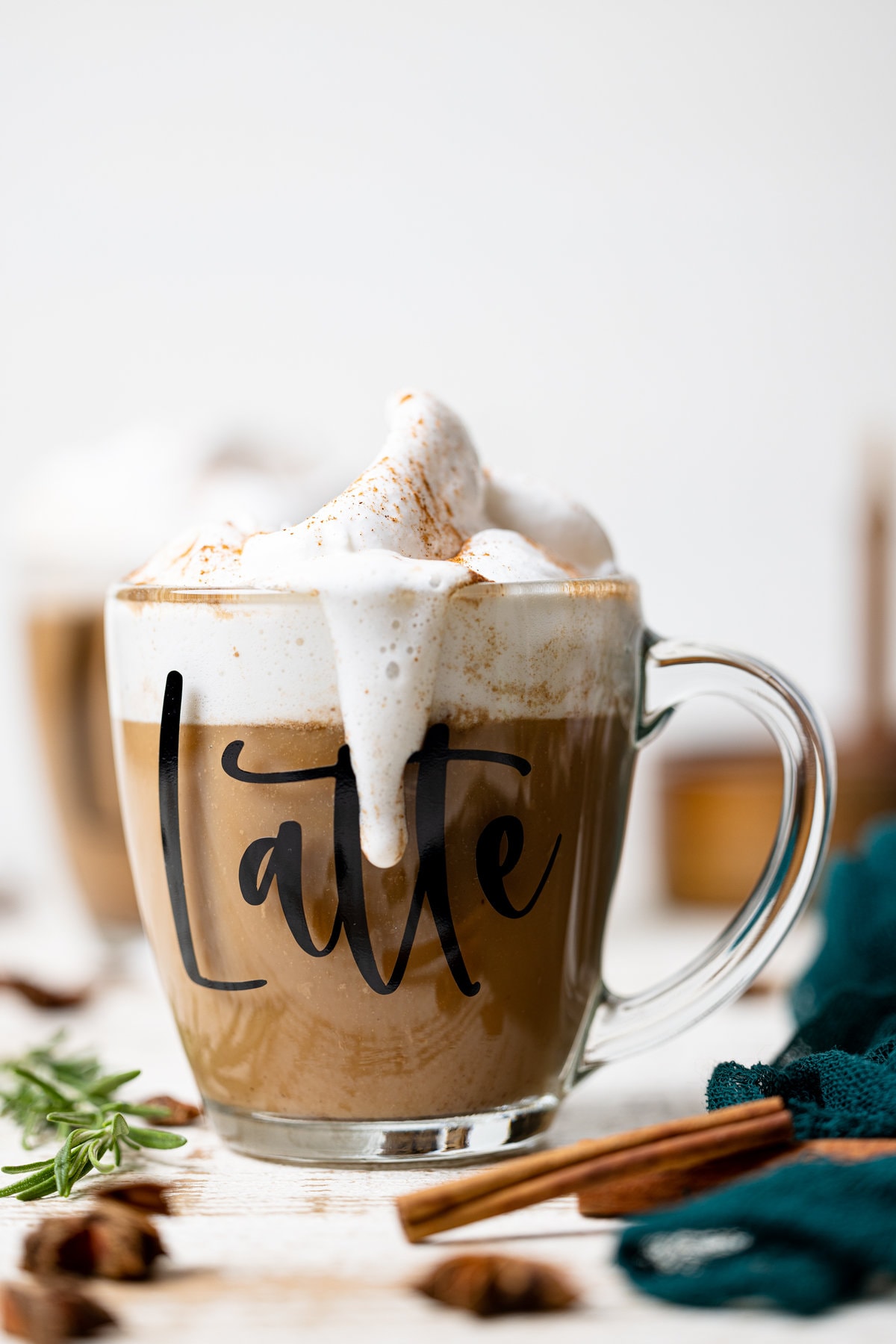 Common FAQs for this Fall Spice Latte
WHAT KIND OF COFFEE CAN I USE?
It's absolutely up to you! You can use chilled cold brew or espresso coffee or actual freshly brewed coffee.
WHAT IS THE CONSISTENCY OF THIS LATTE?
As mentioned before, this latte is so creamy and velvety. To create even more creaminess, you can always use a coffee creamer instead of a plant-based milk. Also, you can stir in your whipped cream topping into the latte for a bit more smoothness. Either way, this latte is SO Delish!
CAN I SUBSTITUTE THE COCONUT WHIPPED CREAM?
Definitely. For added pizzazz, feel free to added frothed milk to the top of your latte instead of CocoWhip or you can drink it without a topping. The possibilities are endless. Making your own coconut whipped cream is super easy as well. You'll need an electric stand-mixer and a few ingredients: full-fat coconut milk/cream (refrigerated overnight) and vanilla extract.
IS THERE OTHER METHODS TO MAKING THIS?
Yup. While I enjoy the slow and true cooking method of using my stovetop, you can make this latte within your blender. Some high-tech blenders like the Vitamix has a heating mode which allows you to blend and warm at the same time, which is one way to do it. Of course, if you're like me, then using your stovetop is just as easy.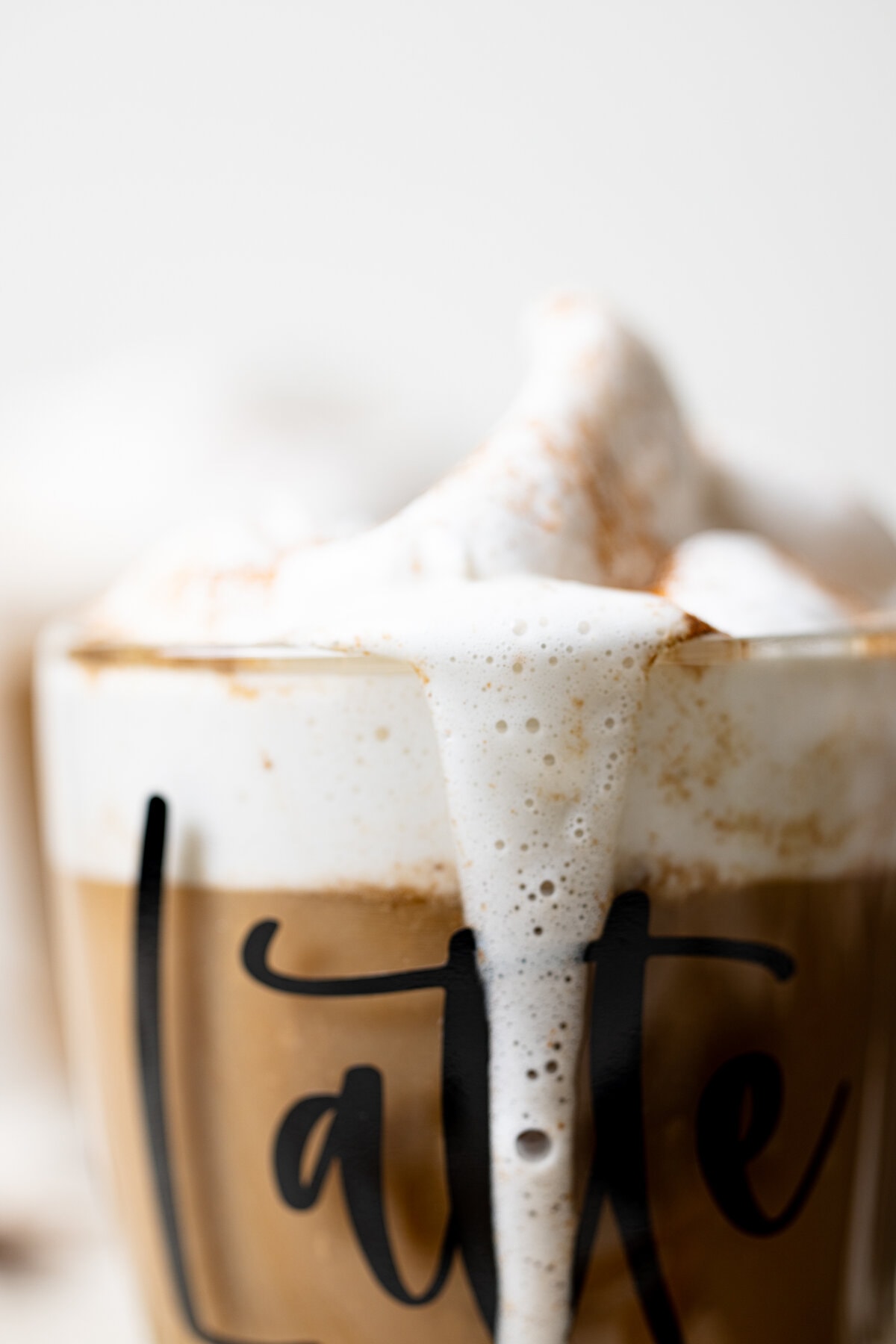 More Fall Ready Recipes to Try
MADE OUR RECIPE(S)?
If you make this The Ultimate Fall Spice Latte, tag @orchidsnsweettea_ on Instagram and hashtag it #orchidsandsweettea!
BROWN SUGAR SYRUP:
¼

cup

organic brown sugar

½

cup

water

1

teaspoon

vanilla extract
TOPPING:
Coconut whipped cream

Pinch of

ground cinnamon
TO MAKE THE BROWN SUGAR SYRUP:
In a saucepan over medium-high heat, add together all ingredients (whisking them to combine) and bring to a boil, about 1-2 minutes.

Reduce the heat to low and simmer for another 2-3 minutes. Remove from heat.
TO MAKE THE LATTE:
In a medium saucepan on medium-high heat, add the milk and bring to a boil for 1-2 minutes. Whisk in the coffee and reduce the heat to simmer before adding in the cinnamon, nutmeg, allspice, ginger, cloves, and coriander, whisking everything together until combined.
ASSEMBLY:
To serve, pour latte in prepared mug(s) followed by the brown sugar syrup, and top with Coconut whipped cream and sprinkle with cinnamon.

Sip and enjoy!