This Caramel Coffee Ice Cubes Latte is the epitome of never having boring lattes that are quick and tasty to kick start your day again! Make these little ice cubes to go with your favorite coffee drink (whether hot or cold) without watering it down. Made with cold brew, vegan caramel sauce, and naturally sweetened, these ice cubes are the perfect dairy-free + vegan option.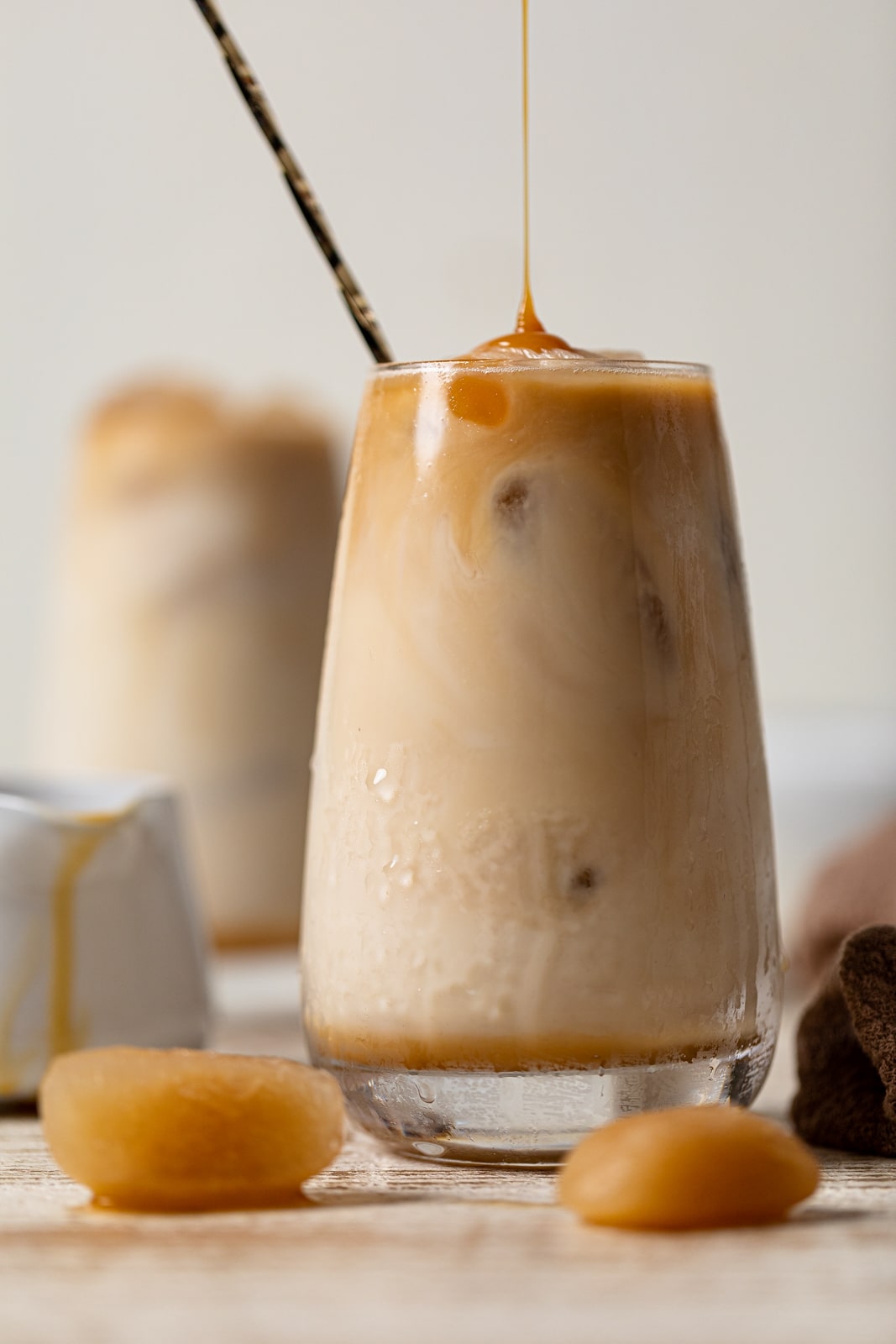 I recently came across the newest wave of turning your coffee into ice cubes and I must say that I'm hooked! These Caramel Coffee Ice Cubes are super easy to make and with this large batch of 28 ice cubes, they make for a great meal prep + make ahead option for the week.
When thinking about how much a latte has been a major part of my mornings, I'm definitely sold on doing these little ice cubs more often and the great part------you can totally change the flavors to keep things interesting.
Since the start of 2022, I've been super adamant on reducing my takeout spending, especially when it comes to a cup of coffee, therefore, I've been making my own lattes at home, which has been rather fun!
If you're into homemade lattes like I am, then I suggest making this Sugar Cookie Latte (Starbucks Copycat) for starters. SO good! I'll definitely be sharing more latte recipes further below.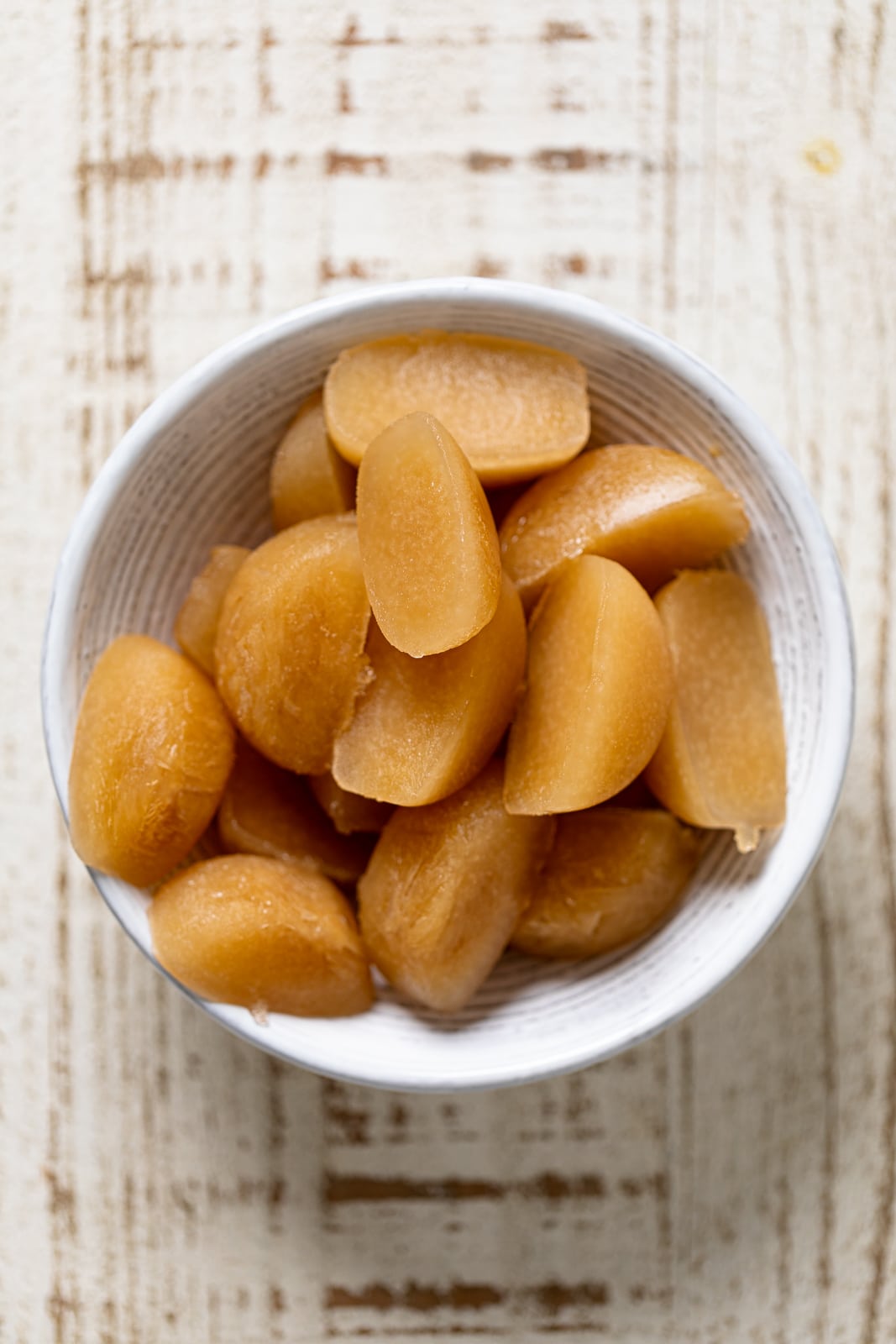 Caramel Coffee Ice Cubes: The Perfect Way to Avoid Waste
Making coffee throughout the week can sometimes mean that you won't always use up your coffee, especially when making coffee from ground coffee beans. Yes---you can add leftover coffee in other ways (i.e. baking, making a mocktail, etc.), why not just freeze them and re-create a new latte each day? Haha.
Plus, it's really simple to make, so there's that.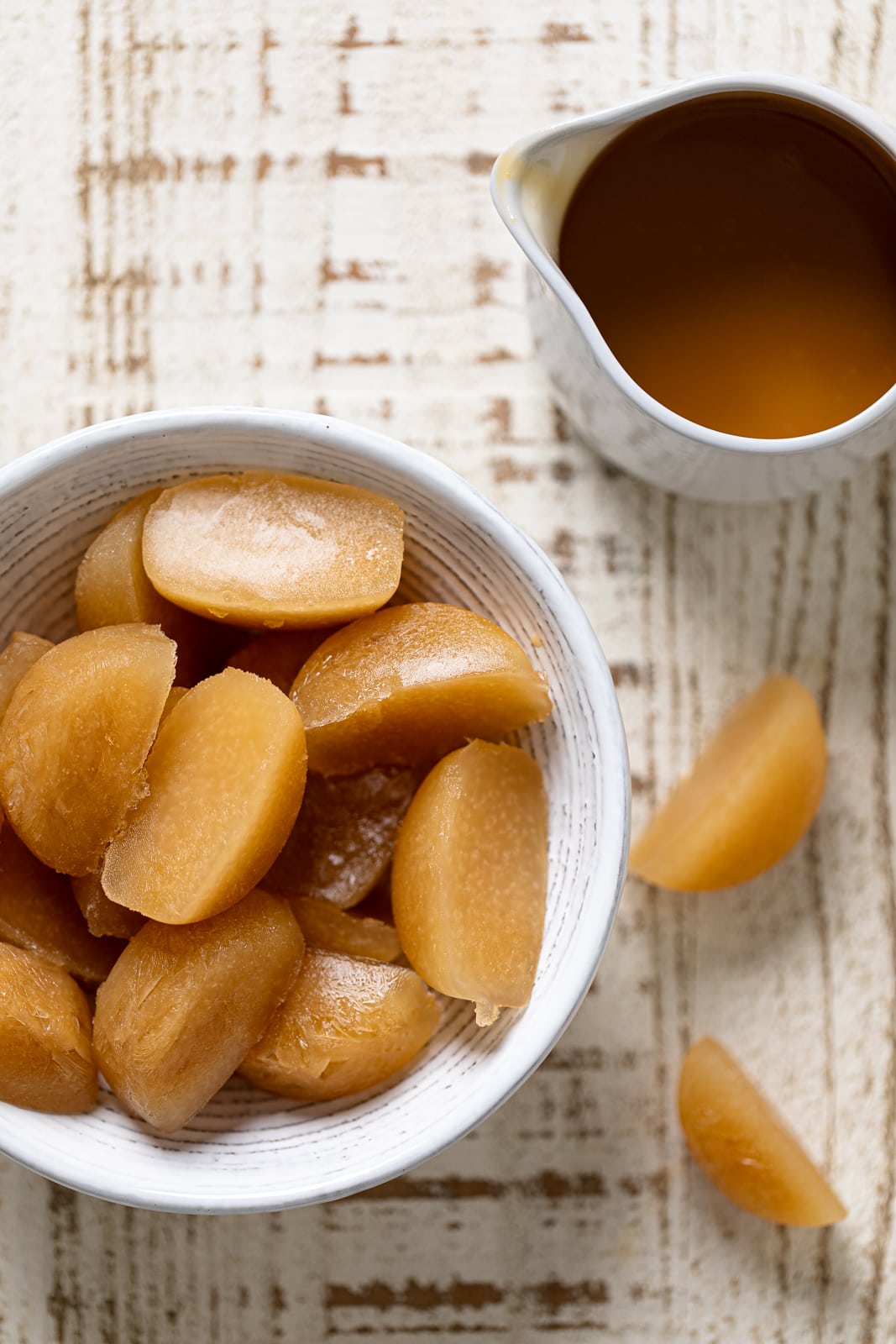 Making Your Latte Runs Simple and Fast
As I've mentioned, making these coffee ice cubes are for sure the easiest and fastest way to keep your latte/coffee runs smooth during the week. Simply make a large batch of these, add them to a glass in the mornings, pour your milk, and add an additional sweetener (if you please), and wallah. DONE!
I see that Iced Mocha Latte or Iced Maple Cinnamon Oat Latte being a breeze!
How to Best Use Caramel Coffee Ice Cubes
Usually, I love using these little ice cubes in my lattes, however, there are a few other ways to utilize them, especially when you want to switch things up. Elevate your next smoothie by making it coffee-infused or perhaps a nice mocktail like this Dairy-Free Espresso Martini with No Kahlua or this Caramel Oat Latte Mocktail.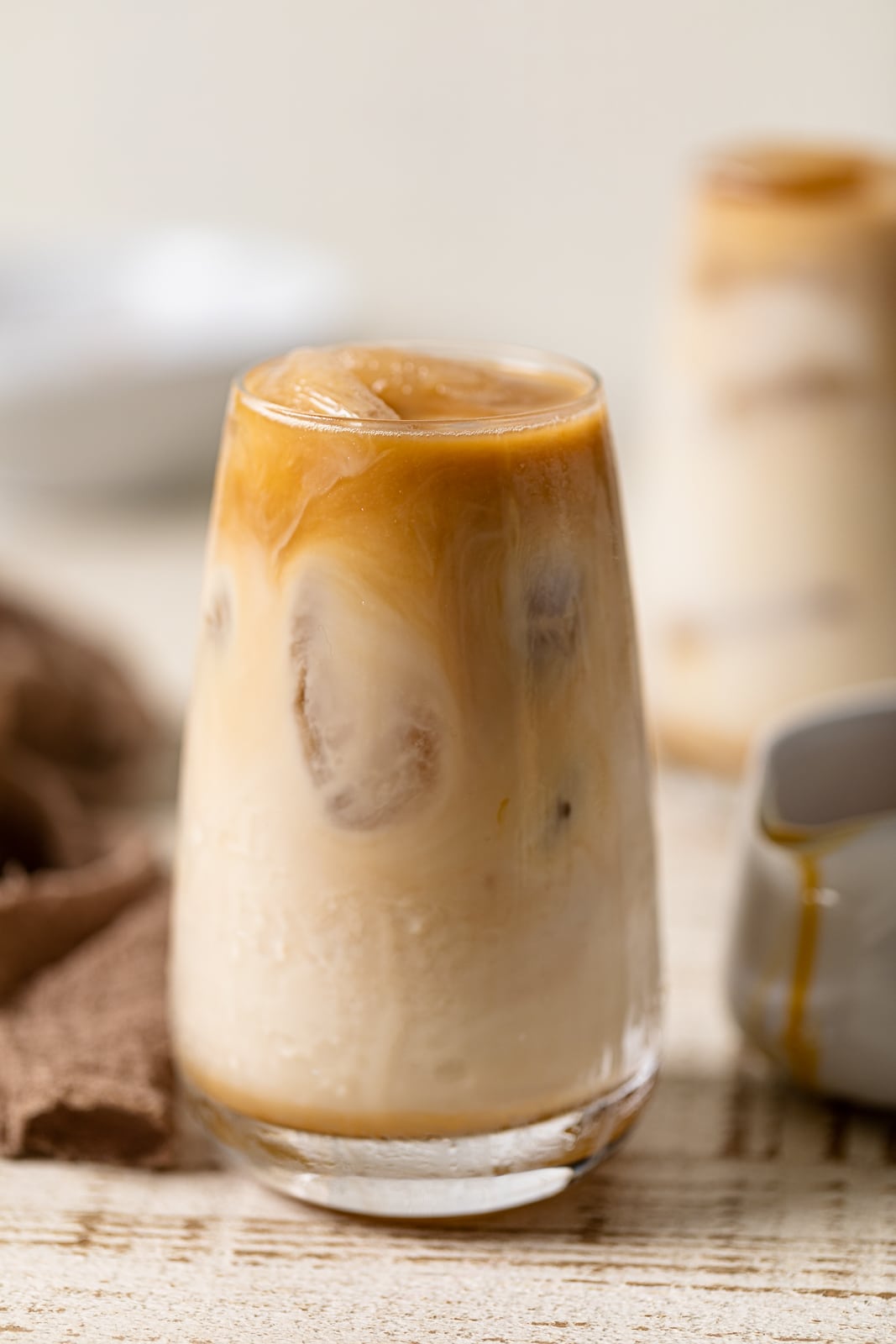 Ingredients for this Caramel Coffee Ice Cubes Latte
The three components in this simple homemade coffee ice cubes latte are the homemade caramel sauce, the coffee ice cubes, and the actual latte. Here's what you need to make the sauce:
Brown sugar. I use organic to make sure it's vegan.
Vegan butter. I love using the brand Earth balance.
Full-fat coconut milk. You can also use the coconut cream version for a creamier texture.
Sea salt. This creates a nice balance with the sweet and helps to heighten the flavor.
To make your coffee ice cubes, you'll use:
Cold brew. You can also use chilled brewed coffee.
Water. Filtered of course!
Vanilla. Adds nice additional flavor.
Caramel sauce. This is the highlight of the entire ice cube and can be store-bought or homemade.
Maple syrup. A great natural sweetener. Feel free to use Agave syrup or totally omit, if preferred.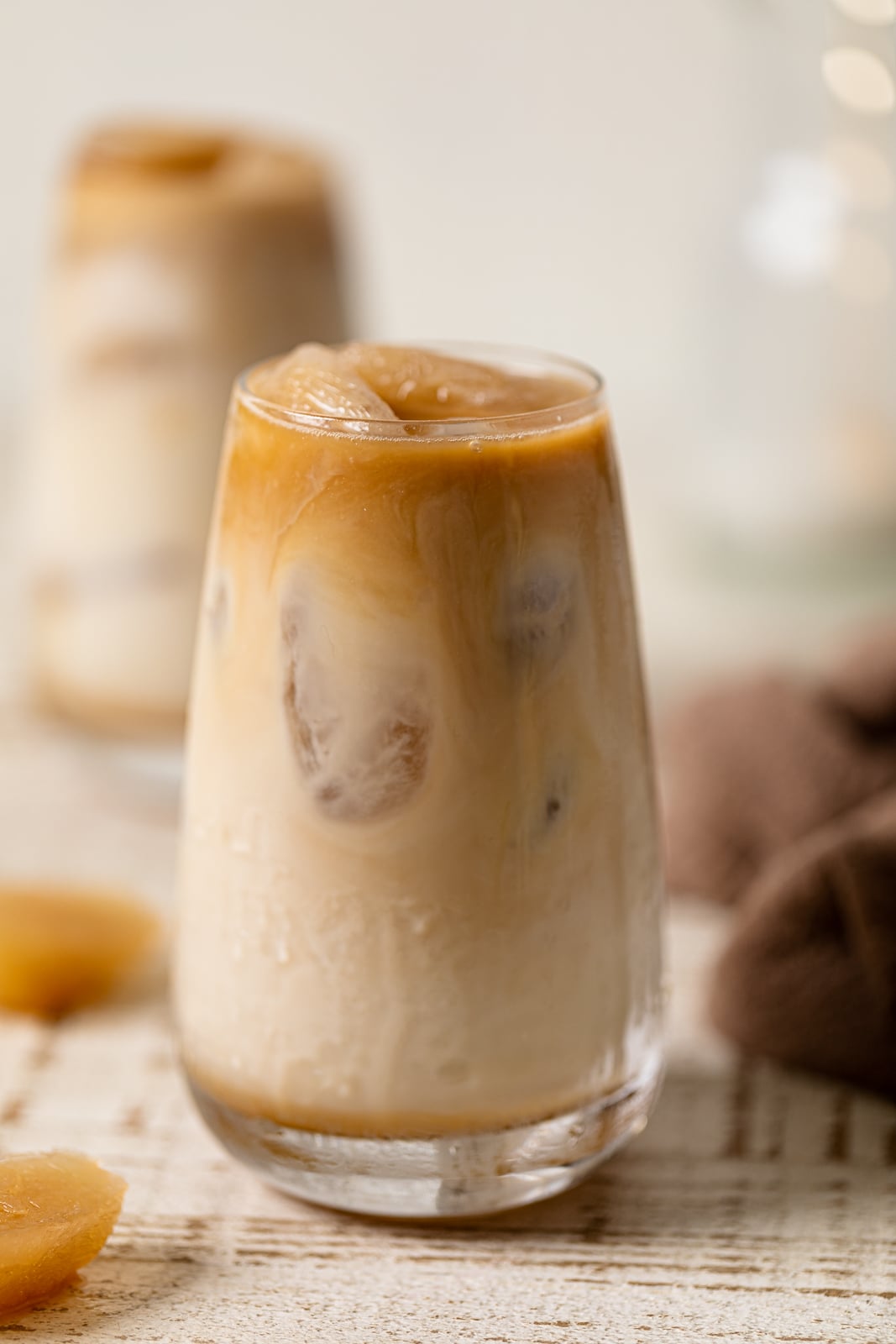 To make your latte, you'll use:
Your fave dairy-free milk. Make your own! Or use store-bought dairy-free milk will suffice!
Caramel sauce. Just for a drizzle. This is the highlight of the entire drink and can be store-bought or homemade.
Homemade Vegan Caramel Sauce
This creamy and sweet dairy-free caramel sauce is an all-purpose recipe to use on anything from baked desserts to smoothies to mocktails to your lattes.
Here's what you need to make it:
Brown sugar. Use organic sugar to make sure it's vegan.
Vegan butter. Any kind will work. I like Earth Balance vegan buttery sticks in particular.
Coconut milk. Use full-fat milk for the best flavor and thickest texture.
Sea salt. Everyone knows that salted caramel is a favorite flavor.
What Ice Cube Trays Work Best
Honestly, I'm a big believer in using whichever type of ice cube tray molds you'd prefer. I chose to use these "crescent moon" shaped molds (which are standard ice trays), however, I also love using square cubes and any fun shapes for a more festive feel.
Personally, Amazon has some amazing options and you can also purchase ice cube molds as large retailers such as Target, Walmart, etc. Of course, depending on the size and shape, you'll get a different amount of ice cubes per batch, so keep that in mind!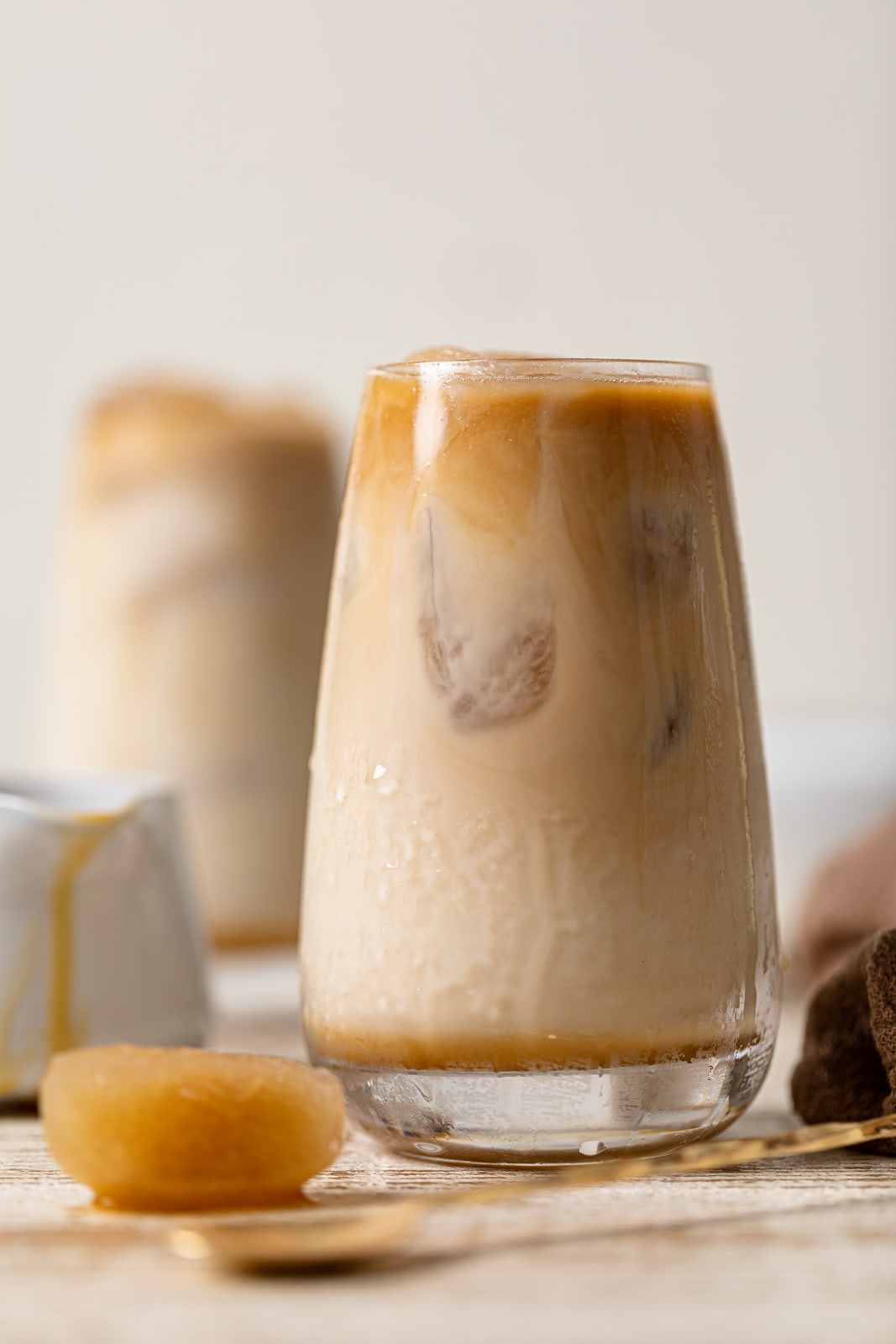 More Homemade Latte Recipes to Try
MADE OUR RECIPE(S)?
If you make this Caramel Coffee Ice Cubes Latte or just these Caramel Coffee Ice Cubes, tag @orchidsnsweettea_ on Instagram and hashtag it #orchidsandsweettea!
TO MAKE LATTE:
1 ½

cups

Your favorite dairy-free milk

(See Notes!)

Vegan caramel, for drizzle
TO MAKE THE COFFEE ICE CUBES:
In a bowl, add together the water, cold brew, caramel sauce, vanilla, and maple syrup, whisking until combined.

Pour coffee mixture into ice cube molds and freeze until solid, about 5 hours or so.
TO MAKE THE LATTE:
Add as many coffee ice cubes as you'd like and top with your favorite dairy-free milk and drizzles of caramel, stirring a bit to combine. As ice cubes sit in milk, the coffee will infuse in the drink.

Sip and enjoy!
WHAT PLANT-BASED MILKS ARE GOOD FOR THIS RECIPE? My go-to plant-based brand for Oat milk when using store-bought is the Forager Project. However, you can always use your fave or one of the following: Almond, coconut milk, homemade oat milk (froths/foams VERY WELL), homemade cashew milk, flax milk, potato milk, quinoa milk, etc.
SWEETENER: Instead of maple syrup, you can substitute with Agave syrup.
STORAGE (CARAMEL SAUCE): Leftover caramel sauce can be stored in a tightly sealed mason jar for up to two weeks. When ready to use, simply reheat sauce in the microwave at 15 second intervals until softened and at room temp.
Calories:
11
kcal
|
Carbohydrates:
2
g
|
Protein:
0.1
g
|
Fat:
0.2
g
|
Polyunsaturated Fat:
0.1
g
|
Monounsaturated Fat:
0.1
g
|
Sodium:
25
mg
|
Potassium:
9
mg
|
Fiber:
0.04
g
|
Sugar:
2
g
|
Vitamin A:
2
IU
|
Vitamin C:
0.01
mg
|
Calcium:
19
mg
|
Iron:
0.002
mg
Caramel Coffee Ice Cubes Latte.