Enjoy this Dirty Chai Espresso Martini [Mocktail] as a delicious coffee mocktail that comes rich in chai, maple, and espresso + coffee flavors and is incredibly smooth. Unlike the traditional version, this recipe is entirely dairy-free, full of warm spices, has no Kahlua (instead a nice substitute), and is the perfect balance between sweet, mild, and absolutely nutty + toasty in aroma. All dairy-free + vegan ingredients.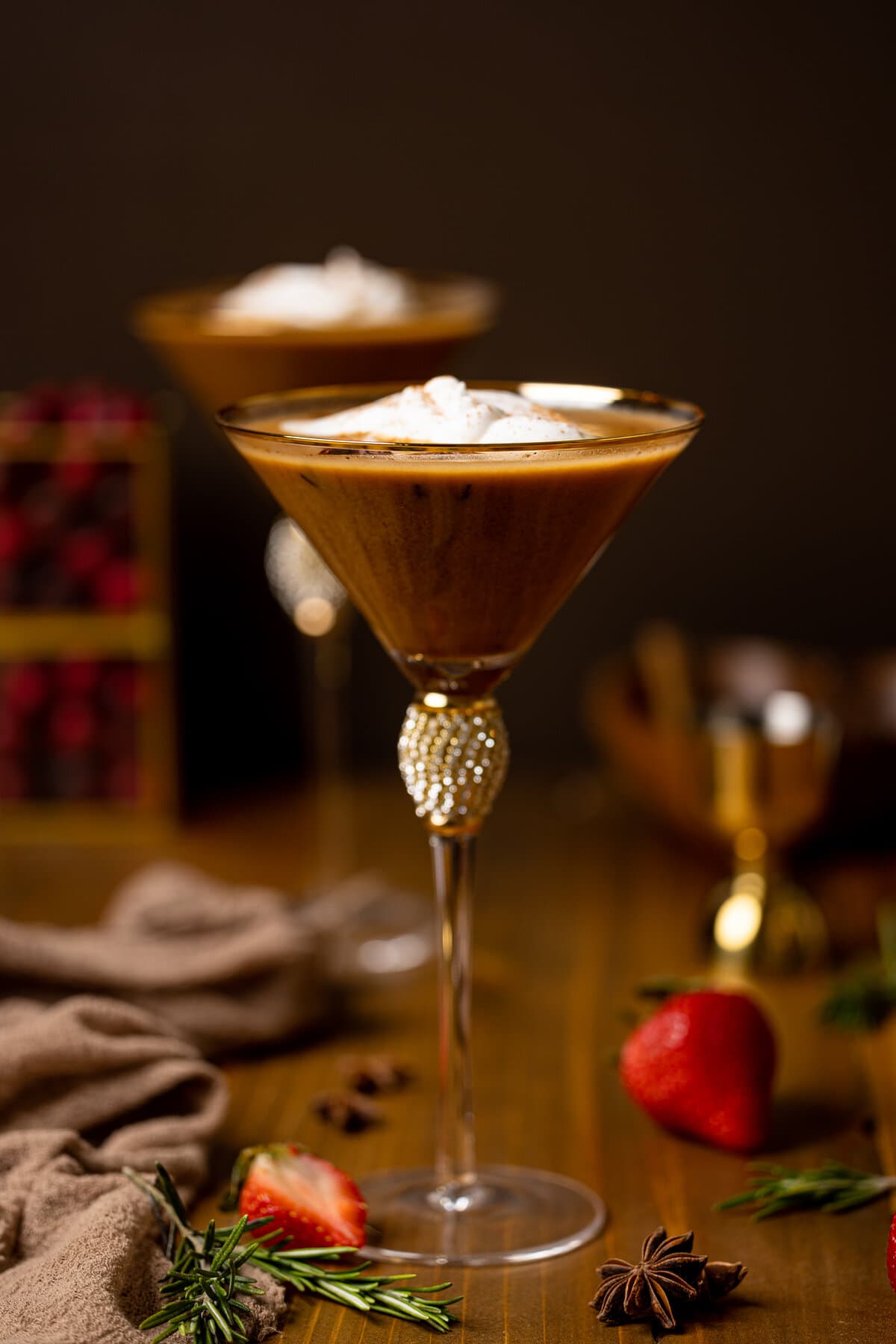 Disclaimer: This post contains affiliate links via Amazon for products that I wholeheartedly love.
It's officially the Day of Love [aka Valentine's Day] and I couldn't be more excited to share this delicious Dirty Chai Espresso Martini Mocktail recipe with ya'll! Last year, I made this Dairy-Free Espresso Martini with No Kahlua, therefore, I had to crank things up in the flavor department this year and this mocktail surely does the trick! Honestly, I'm all about creating an incredible experience even without the alcohol and so I believe that this drink will be the perfect option for the entire family.
Now that LOVE WEEK on Orchids + Sweet Tea has come to an end, Be sure to watch all recipes via IG Reels for a nice visual.
More recently, I decided to try the dirty version of chai tea because I realized that it was a thing and I'm so glad that I did. The Chai spices mixed in with the bold flavors of coffee is a delicious combo for sure and this martini boasts of both flavors so well!
However, if you're cutting out coffee or want a lower-caffeine drink to sip in the morning, you'll want to try my Iced Chai Tea Latte recipe ASAP. And while you're at it, make a big batch and keep it in the fridge to pour over ice all week long.
And much like my dairy-free espresso martini, my husband is in complete LOVE with this Dirty Chai Martini and I don't blame him one bit. Haha.
What is an Espresso Martini?
When it comes to a traditional espresso martini, it consists of three main things: vodka, espresso, + a coffee liqueur. That simple. Overall, it is strong, sweet, rich in flavor, and smooth, which explains why it's become so popular in the recent years!
How to Make Dirty Chai Espresso Martini Mocktail
Once you see how easy it is to make your own Dirty Chai Espresso Martini Mocktails at home, you'll never not have one again. You'll save money for sure. But your drinks will also taste just how you like them. It's a win-win.
This Dirty Chai Espresso Martini Mocktail recipe comes together in a saucepan on the stove for the chai maple syrup component and then stirred together with the remaining ingredients. It's full of classic chai spices and black tea. Then, you'll whip together your Kahlua substitute over the stovetop as well your your freshly-brewed espresso or coffee (I'm so obsessed with my Breville machine these days) and let everything cool completely for a nice smooth taste.
Finally, you'll shake everything together, garnish the martinis with your favorites and wallah! Sip and enjoy!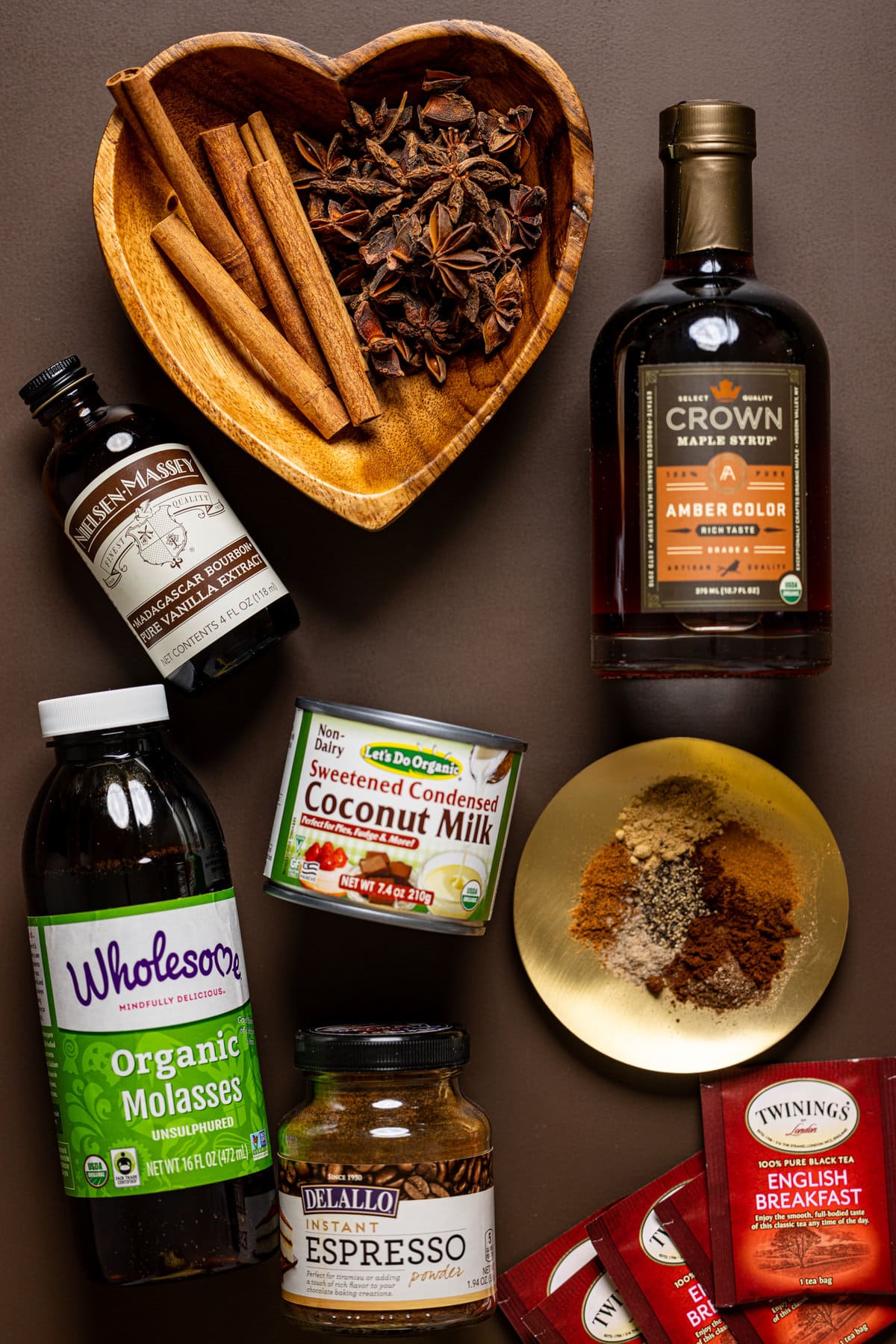 Ingredients for Alcohol-Free Kahlua Substitute
The tangy flavor in these drinks comes from a homemade Kahlua substitute. And guess what? You only need two ingredients (plus water) to make it.
Brown sugar. I use organic to make sure it's vegan
Instant coffee. Espresso powder also works.
Ingredients for Dirty Chai Espresso Martini Mocktail
The ingredients to flavor this dirty chai espresso martini is super simple and can be adjusted based on sweetness preference. Here's what you need to make them:
Coffee. For a sweeter, milder taste than espresso or strong coffee, you can use cold brew. However, I love the smoothness from a great quality medium roast coffee like Blk & Bold, a Black-Owned Brand. I also love using Kicking Horse Coffee or Peet's.
Khalua substitute. I recommend using instant coffee if you don't want to include any form of espresso in this drink.
Condensed milk. For this recipe, I used dairy-free condensed milk by Let's Do....Organic. Such a nice creamy substitute.
Almond milk. Adds a nice smoothness to drink. You can make your own or also use coconut, oat, or cashew milk or your fave plant-based milk.
Maple syrup. The best sweetener that I enjoy using. I like to use pure maple syrup that's premium and organic. Feel free to use organic raw honey also.
Vanilla. to balance the richness of coffee.
Black tea bags. You can use any plain black tea you like. Caffeine-free will also work if you avoid caffeine.
Chai spices. This mocktail is all about the spice blend, which includes cinnamon, nutmeg, ginger, allspice, cardamom, cloves, and black pepper.
Molasses. I like to use a premium molasses.
SHOP MY FAVORITE DRINKWARE ITEMS AND ACCESSORIES, ESPECIALLY FOR THESE MARTINIS!
Here, I've curated a list of drinkware and mocktail essentials that I use to achieve my favorite drinking experiences, especially with this Dirty Chai Espresso Martini Mocktail. Everything from my fave glassware, cocktail shakers, ice cube trays, and more. SEE THEM HERE!
Best Tips for Making the Perfect Martini
Making this Dirty Chai Espresso Martini [Mocktail] right is super easy to achieve, especially when you follow these tips that I can guarantee will help you get it right:
Cool your coffee completely so that you can have a chill drink.
Be sure to shake or stir the ingredients together very well to ensure that everything is smooth you can have a nice foam on top, if desired.
If you'd like a foam on top, be sure to pour the martini mixture into your glass swiftly.
Making your own simple syrup changes the game!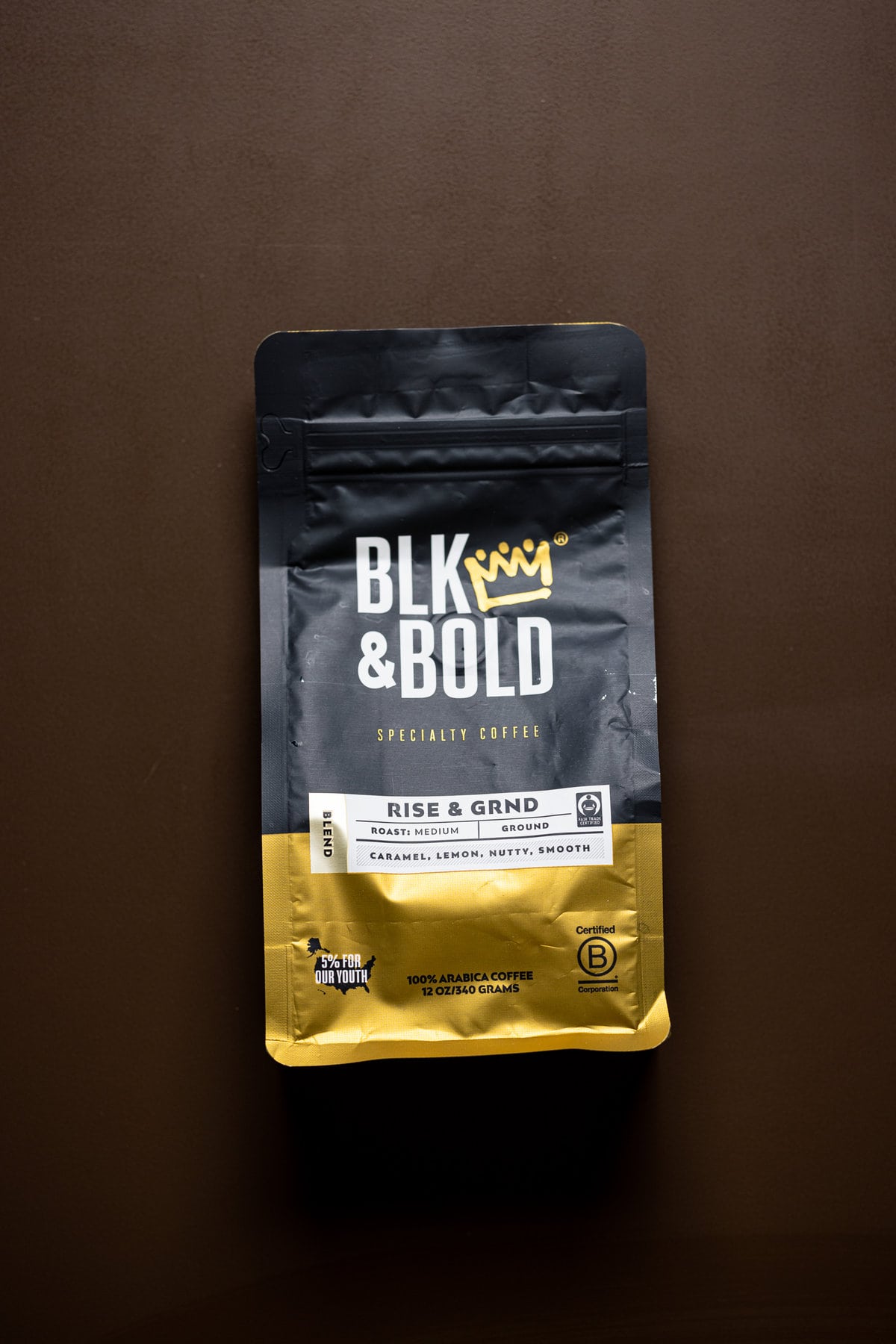 Why You'll Love This Dirty Chai Espresso Martini
First and foremost, the flavors in this simple and delicious dirty chai espresso martini is enough to convince anyone, however, here are a few more reasons why you'll love this recipe:
It's Very Similar to the real 'feel' of a martini. Yes, while this espresso martini doesn't have actual alcohol, I promise that it's just as smooth, warming, and tasty as the original----obviously with additional bold flavors from the chai and coffee.
It's super fun to make! I literally love the creation of the chai maple syrup as well as the Kahlua substitute and the shaking of all of the ingredients the cocktail shaker. Such a sweet aroma as they boil!
You save money! This by far is one of my biggest reasons for making my own coffee at home (minus the last point to come). You definitely save more money purchasing the ingredients and making your own servings at home.
It's healthier. Most of all, this is my biggest plus! I love when I am able to know what ingredients I use whenever making drinks, cooking, or baking. Making my own lattes, moacktails, and coffee at home has definitely allowed me to switch to healthier, organic ingredients which is a win, win!
Garnishes and Serving Dirty Chai Espresso Martini Mocktail
These dirty chai espresso martinis are sure to be a show-stopper, therefore, understanding how to best spruce them up for a special occasion is important. Before serving, you can dress them up even more with festive toppings like:
Coconut whipped cream. You can use regular dairy whipped cream if you aren't concerned with it being dairy-free.
Cinnamon stick. A stick of two of cinnamon adds a nice kick of flavor and makes for a simple garnish.
Shaved chocolate. These add a dramatic touch and I love using my vegetable peeler for fancy chocolate shavings.
Star anise. Another great spice option for additional warm spice flavor.
Can I Use Other Types of Milk?
Absolutely! If you'd like to switch things up with the type of plant-based milk that you use—–that's totally fine! The world of plant-based milk is constantly expanding. From the classics like coconut milk, cashew milk, soy milk and almond milk, we now have delicious options like oat milk, and even potato and quinoa milk.
Adding Alcohol
If you'd like to serve this as a cocktail, you can add 1 ounce of tequila, vodka or gin to each glass as well as the coffee liqueur known as Kahlua.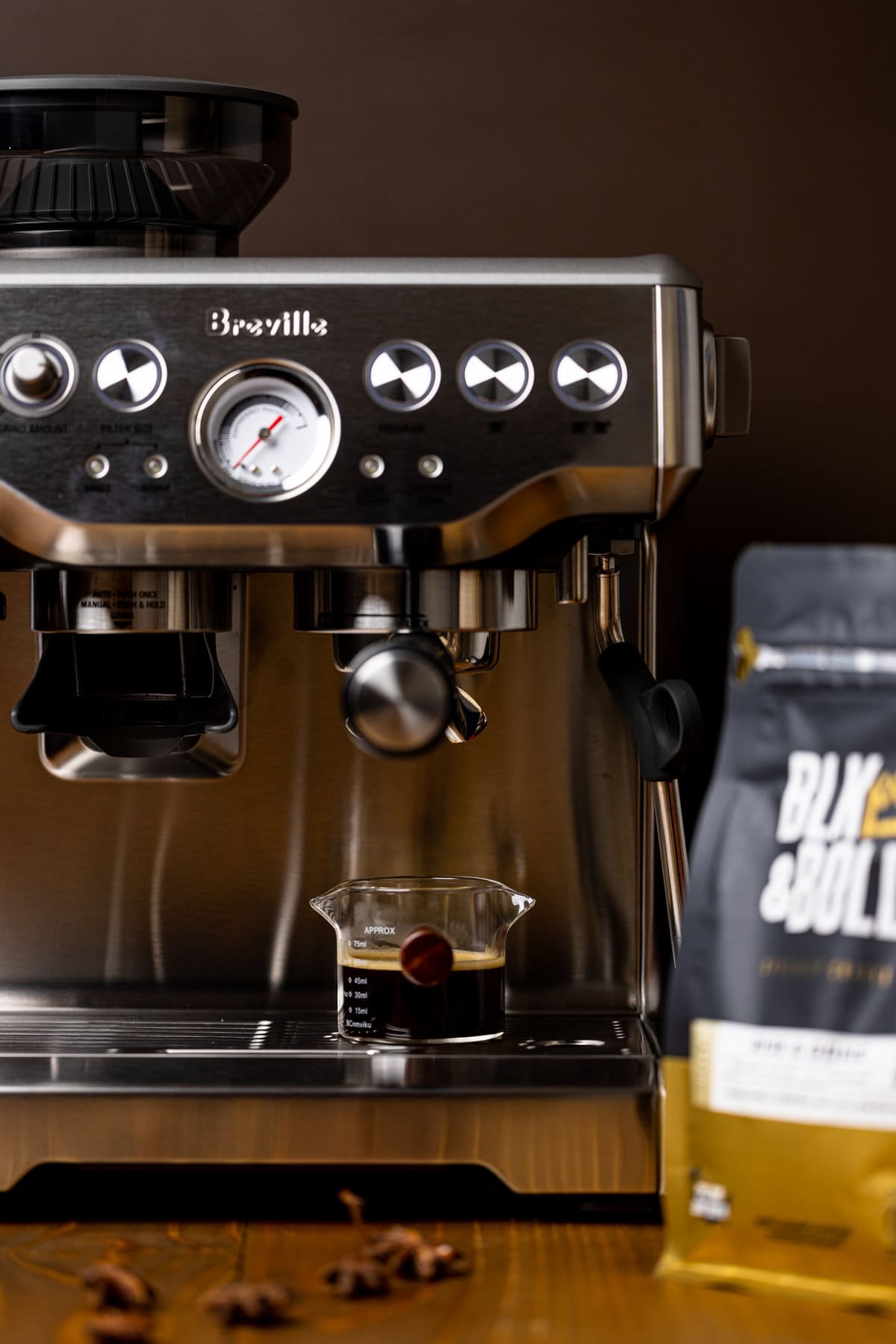 Need A Pick-Me-Up without Coffee?
I decided to do a bit of research and I found a few great healthy alternatives to coffee. Now, you'll be surprised to know that these options give you the same added boost that you need along with some other additional benefits, so be sure to give them a try when you get a chance.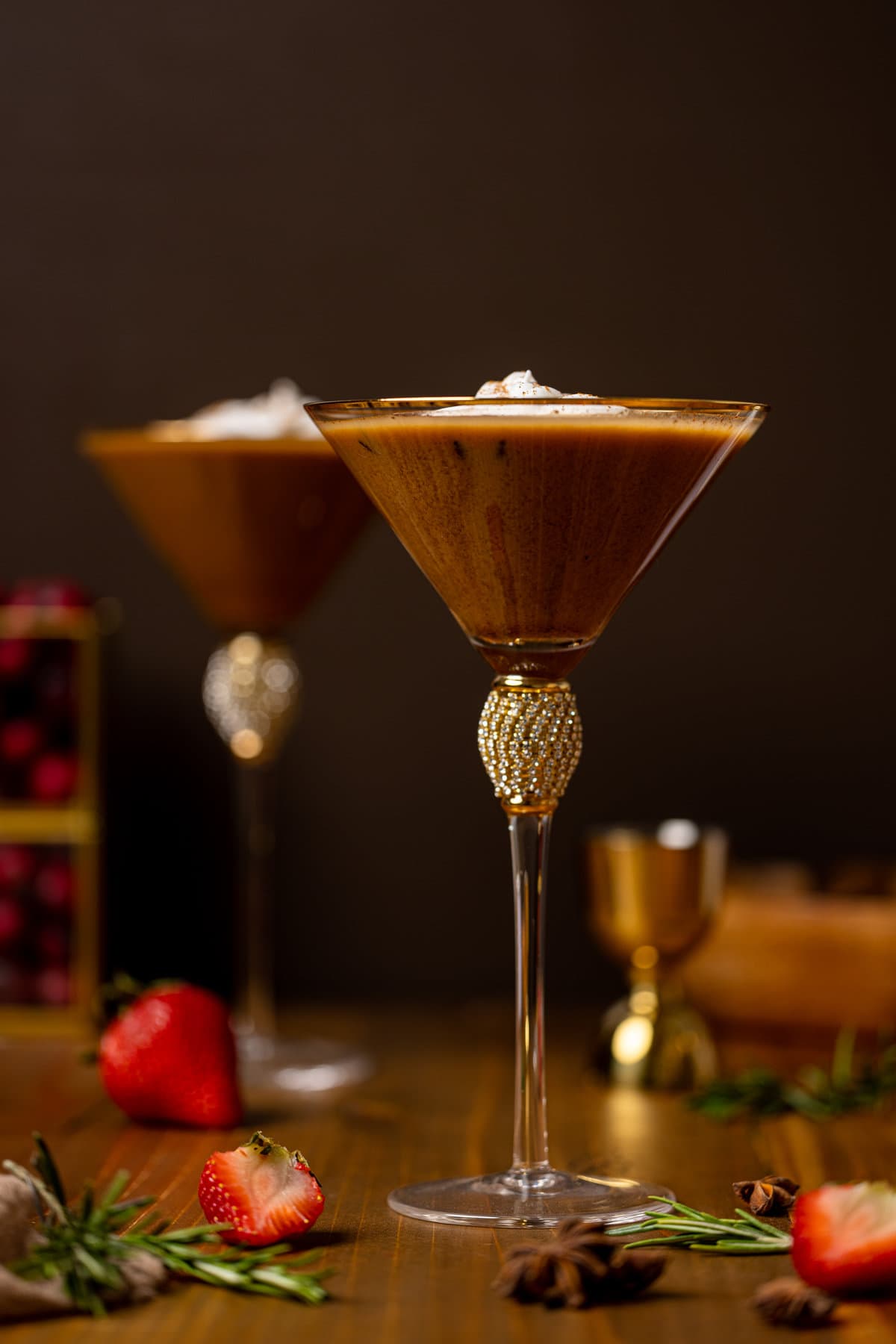 More Fancy Drink Recipes
MADE OUR RECIPE(S)?
If you make this Dirty Chai Espresso Martini [Mocktail], be sure to tag me on Instagram @orchidsandsweettea!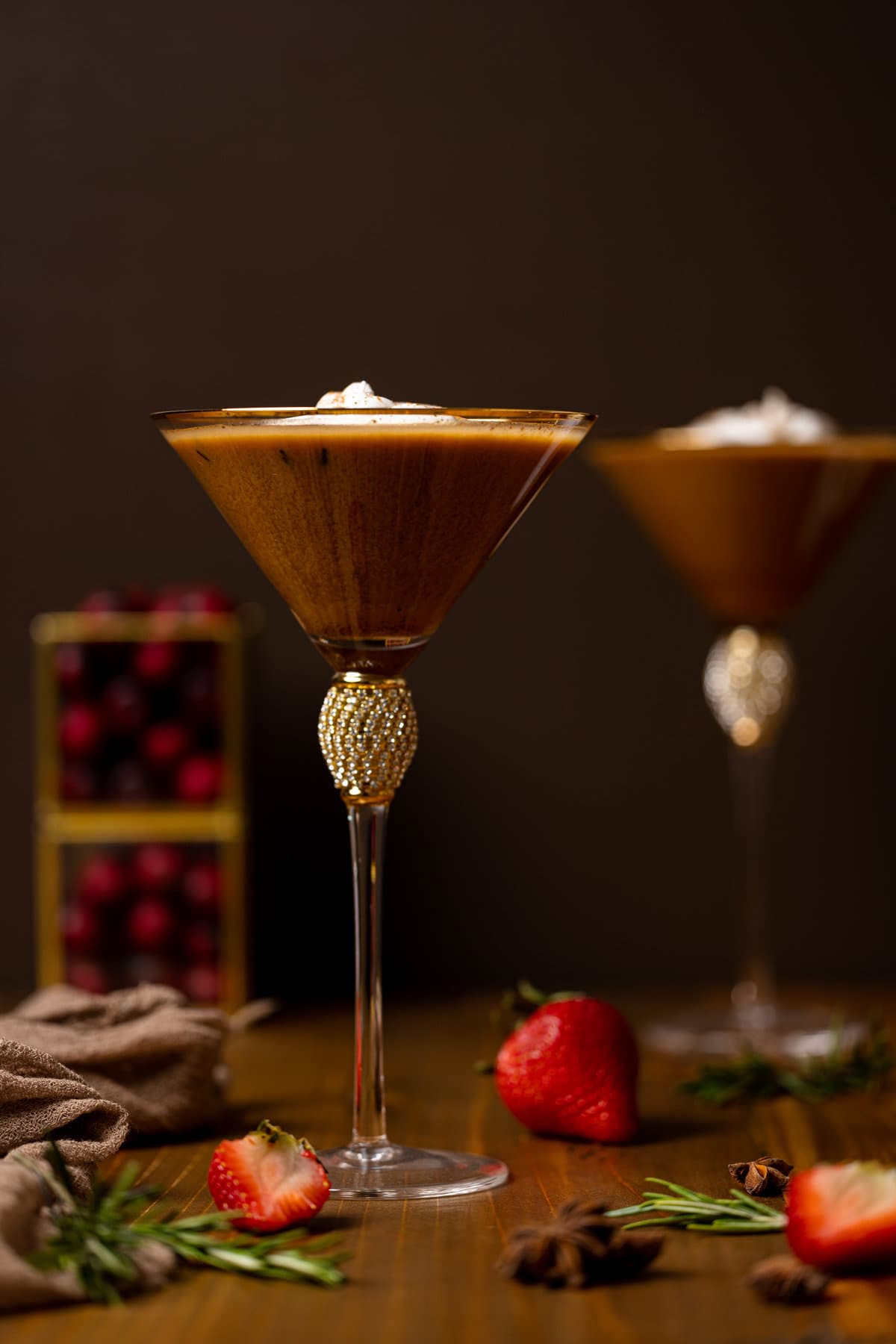 CHAI MAPLE SYRUP:
2

cups

Almond milk, unsweetened

(You can use your fave plant-based milk)

4

black tea bags, premium

(You can also use chai tea bags instead + omit the spice blend)

1

tablespoon

chai spice mix

(See Post for actual ingredients)

⅓

cup

pure maple syrup

(You can sub with honey also)

1

teaspoon

vanilla extract

1-2

cinnamon sticks
MOCKTAILS:
2

ounces

freshly-brewed espresso, cooled

(You can use decaf or caffenaited)

1

(7.4 oz) can

dairy-free condensed milk

(I love using Let's Do...Organic)

1

teaspoon

molasses

¼

cup

Kahlua substitute

1 ½

cups

chai maple syrup
TO MAKE THE CHAI MAPLE SYRUP:
In a medium saucepan on medium-high heat, add the milk and bring to a boil for 1-2 minutes. Add the tea bags and reduce heat to low and simmer for another 1-2 minutes. Remove from heat, add the chai spice mix, maple syrup, vanilla, and vanilla sticks, and let everything steep for 5-6 minutes. Let cool.
TO MAKE THE KAHLUA SUBSTITUTE:
In a saucepan over medium-high heat, add the water and brown sugar, stirring until sugar has dissolved completely, about 1-2 minutes. Remove from heat and whisk in the espresso powder until dissolved. Let cool.
TO MAKE THE MOCKTAILS:
Add all of the martini ingredients together in a cocktail shaker (including the Khalua sub), shaking well until combined.

Assemble the martinis: For each martini, grab a good cocktail or martini glass and fill it with the martini mocktail mixture until glass(es) is filled. Top with a spoonful of coconut whipped cream, star anise, cinnamon sticks, or your favorite garnish. NOTE: If using cinnamon sugar rim: add sugar-cinnamon mixture to a flat plate or board, then prior to pouring martinis, lightly wet the rim of glass(es) with water or milk and then turning your glass(es) upside down, twist rim into sugar mixture until coated.

Sip and Enjoy!
KAHLUA: Kahlúa coffee liqueur is one of the main ingredients in many of the world's favorite cocktails. Therefore, to make this recipe non-alcoholic----I created a great simple syrup substitute.
SWEETENER: You can adjust the amount of sweetener depending on how sweet or unsweet you'd like for your latte to be.
TEA BAG: You can also use a chai tea bag blend instead if preferred.
ALCOHOL: If you'd like to keep this recipe dairy-free, but want to spruce things up with alcohol, feel free to add 1 ounce of rum, vodka, etc.
SERVING: To make additional martinis, simply double or triple ingredients, depending on need.
Calories:
259
kcal
|
Carbohydrates:
56
g
|
Protein:
2
g
|
Fat:
3
g
|
Saturated Fat:
0.2
g
|
Polyunsaturated Fat:
2
g
|
Monounsaturated Fat:
2
g
|
Cholesterol:
0.2
mg
|
Sodium:
339
mg
|
Potassium:
238
mg
|
Fiber:
2
g
|
Sugar:
47
g
|
Vitamin A:
14
IU
|
Vitamin C:
1
mg
|
Calcium:
417
mg
|
Iron:
1
mg
Dirty Chai Espresso Martini [Mocktail].