This recipe for Vegan Caramel Eggnog is a sweet and creamy holiday mocktail spiced with cinnamon and swirled with homemade dairy-free caramel sauce.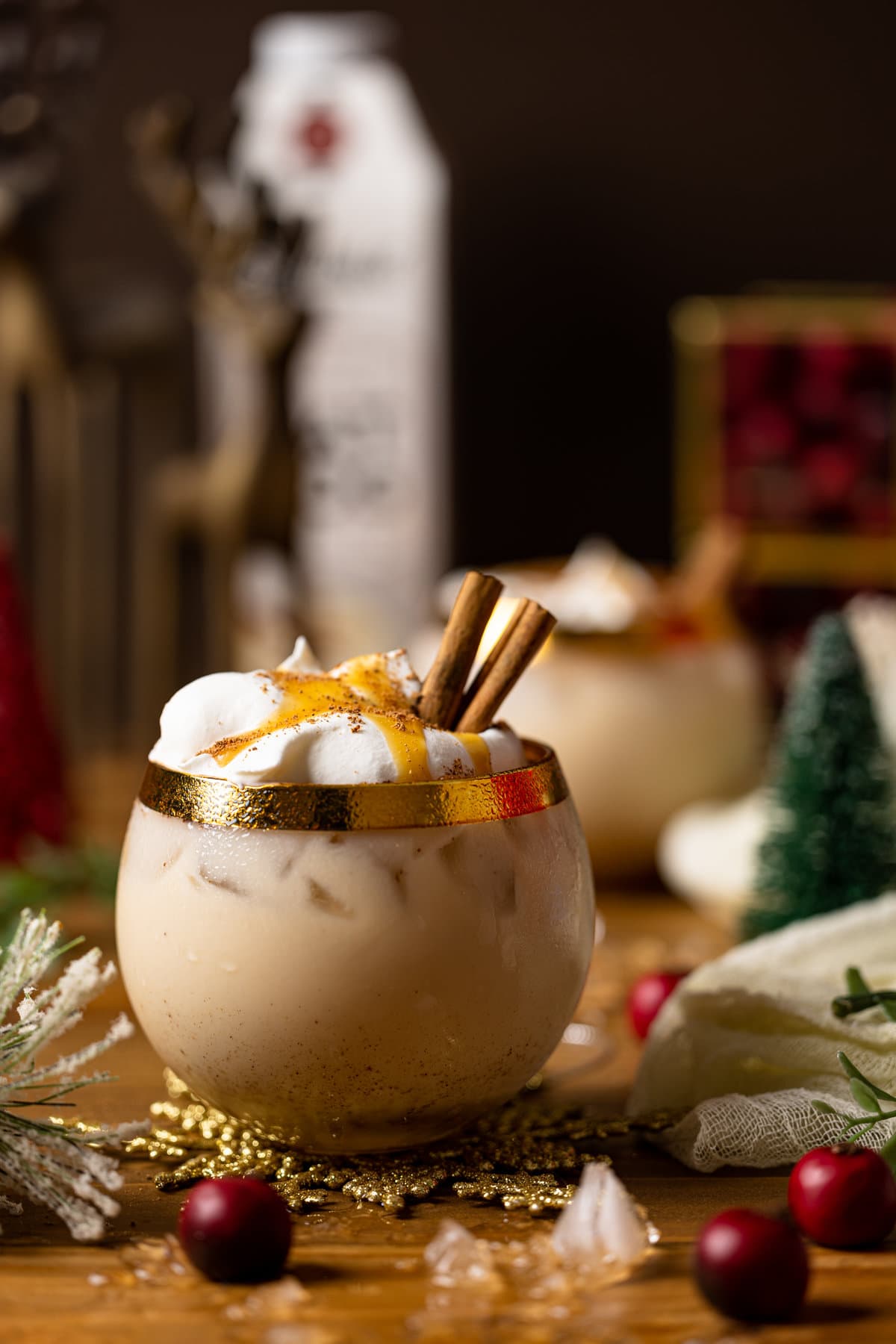 Disclaimer: This post contains affiliate links via Amazon for products that I wholeheartedly love.
During the holiday season, there are always sweets, decadent drinks and cocktails at every gathering. But if you're like me and don't drink or are trying to cut back on your alcohol consumption this time of year, this decadent This creamy dairy-free holiday Vegan Caramel Eggnog Mocktail has the perfect amount of sweetness from homemade caramel. is the perfect solution. It may not have any alcohol, but it does not disappoint when it comes to flavor, rich, decadent texture or cheer.
Kids and adults will agree that this dairy-free eggnog mocktail is a must at every holiday party! Plus, this Brown Sugar Peach Mint Julep Mocktail is such a refreshing twist on a classic also!
Plus, I'm a big believer in enjoying this mocktail with some sort of chocolate chip cookie, especially these Soft & Chewy Chocolate Chip Tahini Cookies or GF Oatmeal Chocolate Chip Cookies.
What is Eggnog?
In general, eggnog is an emulsion of milk and/or cream, sugar, and eggs. It is beverage often enjoyed during the Holidays and can include alcohol or be alcohol-free. Today, there are so many dairy-free and egg-free versions of eggnog and personally, I am a fan of the following: Elmhurst Oat Nog, So Delicious Dairy-Free Holiday Nog, and many others.
How to Make Vegan Caramel Eggnog Mocktail
I love creating foods and sweets with a healthy twist. If you've tried some of my other work, you'll know that I'm always rooting for real, organic stuff as ingredients. I'm also always trying to come up with dairy-free, gluten-free, and vegan versions of your favorite recipes! This Vegan Caramel Eggnog Mocktail is no different.
Simply make the vegan caramel sauce and let it cool. Then mix together your mocktail ingredients, top everything generously with garnish ingredients, and wallah! Cheers!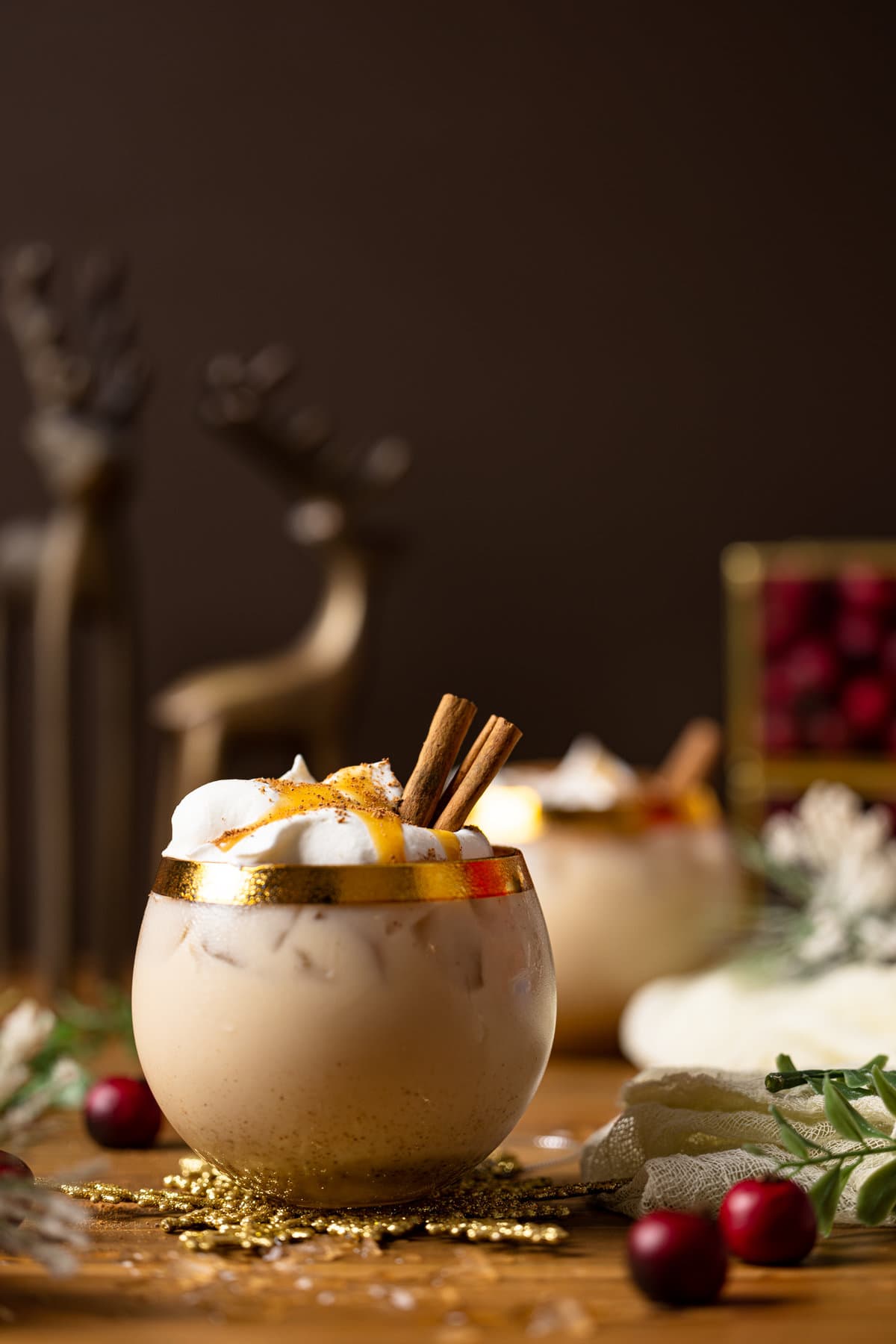 Ingredients for Vegan Caramel Eggnog Mocktail
Here's what you need to make vegan caramel eggnog:
Dairy-free eggnog. You can find this at many stores, but it's also easy to make your own like my Vegan Eggnog recipe!
Cinnamon. For that classic eggnog flavor.
Nutmeg. For an extra hint of warming spice
For the sweet and luscious caramel sauce, you'll need:
Brown sugar. Use organic sugar to ensure it's vegan.
Vegan butter. I like Earth Balance Vegan Buttery Sticks.
Coconut milk. Use canned full-fat coconut milk.
How to Prepare Caramel Sauce for Mocktail?
Here's a step-by-step guide to preparing your vegan caramel sauce:
Get a medium-sized skillet and toss in some brown sugar.
Keep the heat about medium-high and stir the sugar constantly using a rubber spatula or a basting brush.
Add vegan butter slice and continue to stir until the mixture has melted.
Once the mixture is bubbly, add coconut milk to the skillet.
Keep stirring until the sauce thickens.
Remove the pan from heat and allow it to cool.
You've now got your dairy-free, healthier, and delectable caramel sauce ready. Make sure to prepare it in excess so you can make your Vegan Caramel Eggnog Mocktail on the go later on!
Best Ways to Use Homemade Caramel Sauce
When it comes to using this vegan caramel sauce (or any leftovers), I've gathered a list of ways that you can best use it:
Drizzle creamy caramel over oat milk, almond or coconut ice cream.
Add a dollop to vegan brownies (yum!).
You can even add homemade caramel sauce to your favorite desserts like vegan cheesecake, cake, cupcakes, etc.
Also, add a bit of sweetness to your coffee/latte, chia pudding, overnight oats, or french toast for a morning kick!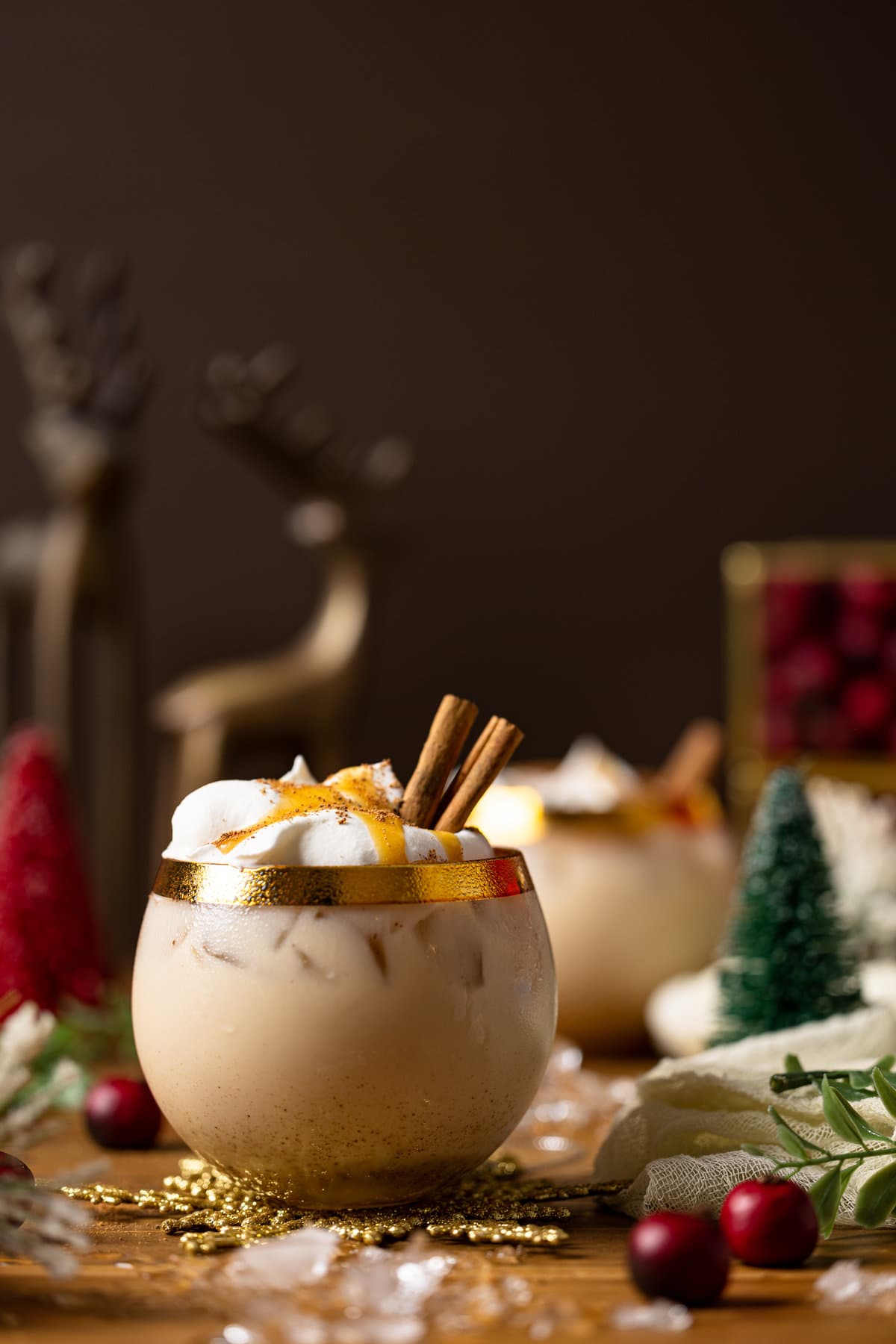 Toppings for Vegan Eggnog
To serve up warm mugs of your caramel eggnog mocktail, have fun with sweet and festive toppings like:
Coconut whipped cream. It's quick and easy to make this with a chilled can of coconut cream, but there are also plenty of store-bought options.
Ground nutmeg or cinnamon
Whole cinnamon sticks
A drizzle of maple syrup or caramel sauce
SHOP MY FAVORITE DRINKWARE ITEMS AND ACCESSORIES!
Here, I've curated a list of drinkware and mocktail essentials that I use to achieve my favorite drinking experiences, especially with this Vegan Caramel Eggnog Mocktail. Everything from my fave glassware, cocktail shakers, stirrers, and more. SEE THEM HERE!
Hot vs. Cold Eggnog
you can serve eggnog warm or cold! If you'd like a chilled version, simply pour the eggnog mocktail over crushed ice and add your toppings.
Or warm the eggnog in a pot on the stove and serve it in mugs.
More Decadent Drink Recipes
Once you've mastered this Vegan Caramel Eggnog Mocktail, try these other homemade sips should be next on your list:
MADE OUR RECIPE(S)?
If you make this Vegan Caramel Eggnog Mocktail, tag @orchidsnsweettea_ on Instagram and hashtag it #orchidsandsweettea!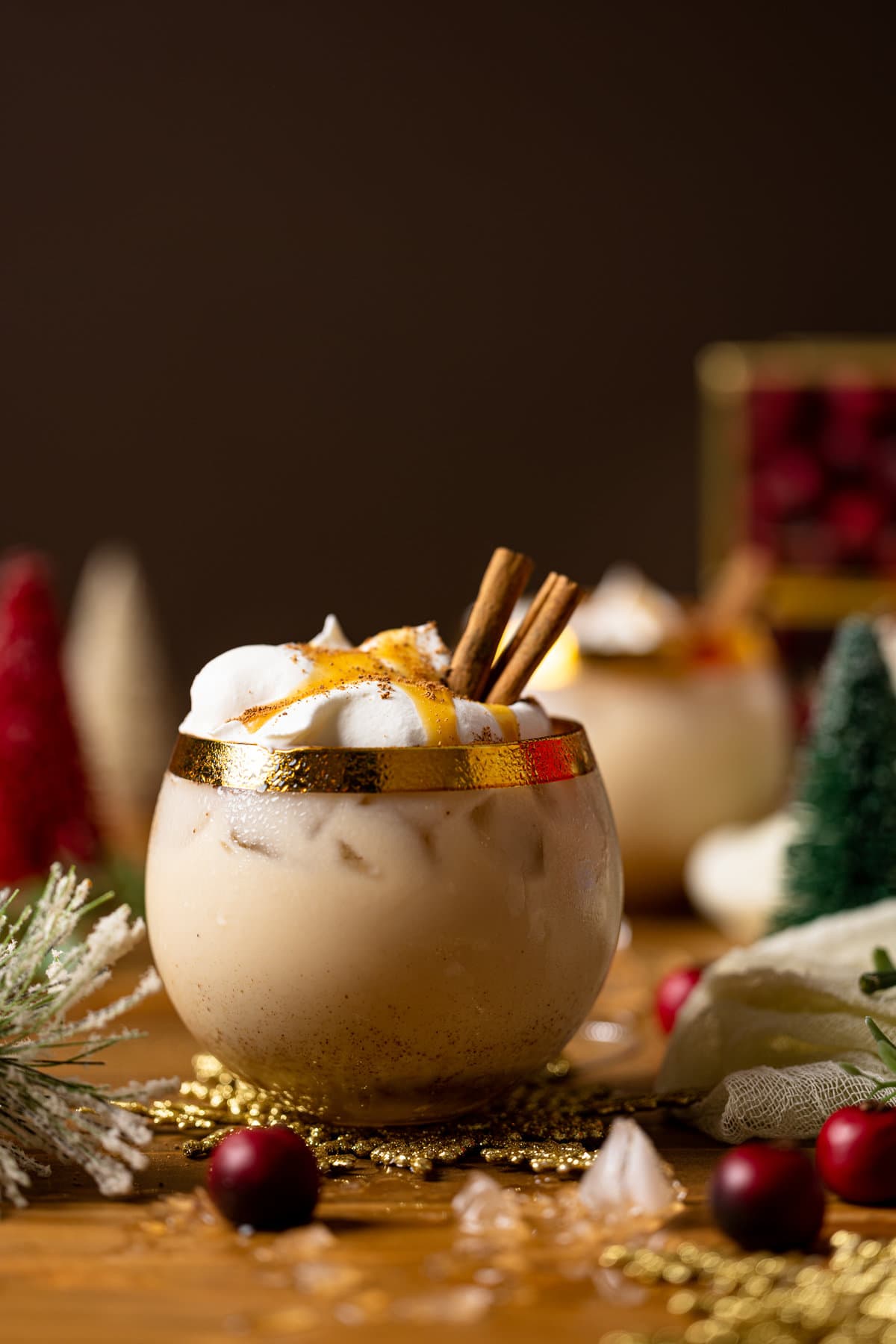 HOMEMADE VEGAN CARAMEL SAUCE:
HOMEMADE VEGAN CARAMEL SAUCE:
Heat the brown sugar in a medium skillet over medium-high heat and stir constantly using a rubber spatula until clumps are formed. Add vegan butter and continue to stir until everything has melted and become a dark 'amber-like' color. Continue to stir consistently until fully melted and bubbly, about 2-3 minutes.

Now, slowly whisk in the coconut milk and continue stirring until well incorporated and sauce has fully thickened. Remove from heat and allow to cool slightly before using. Set aside.
TO MAKE THE MOCKTAILS:
In a bowl, add together the eggnog, ½ cup cooled caramel sauce, cinnamon, and nutmeg, whisking together until combined and smooth.

Assemble the mocktails: For each drink, fill an 8-ounce glass halfway with crushed ice. Add the eggnog mixture, filling the glass almost to the top followed by piped coconut whipped cream, drizzle of vegan caramel sauce, sprinkles of nutmeg, and a cinnamon stick.

Sip and Enjoy!
STORAGE: Keep any leftovers in the refrigerator, tightly covered in your pitcher or in a sealed mason jar. Best if consumed within a day or two. 
EGGNOG: I love a cashew-oat milk store-bought version of eggnog by Elmhurst. However, if you'd like to make your own homemade version, check out my Vegan Eggnog recipe!
STORAGE (CARAMEL SAUCE): Leftover caramel sauce can be stored in a tightly sealed mason jar for up to two weeks. When ready to use, simply reheat sauce in the microwave at 15 second intervals until softened and at room temp.
SERVING SIZE: For larger batches, feel free to double or triple the ingredients as needed.
EQUIPMENT: Here, I've curated a list of drinkware and mocktail essentials that I use to achieve my favorite drinking experiences, especially with this Vegan Caramel Eggnog Mocktail. Everything from my fave glassware, cocktail shakers, stirrers, and more. SEE THEM HERE!
 
Calories:
1286
kcal
|
Carbohydrates:
152
g
|
Protein:
25
g
|
Fat:
68
g
|
Saturated Fat:
30
g
|
Polyunsaturated Fat:
11
g
|
Monounsaturated Fat:
23
g
|
Trans Fat:
6
g
|
Cholesterol:
300
mg
|
Sodium:
587
mg
|
Potassium:
1126
mg
|
Fiber:
1
g
|
Sugar:
148
g
|
Vitamin A:
1052
IU
|
Vitamin C:
8
mg
|
Calcium:
780
mg
|
Iron:
4
mg