'Tis the season to be jolly and there's no better way to indulge in great joy + lights than with this Creamy Homemade Vegan Eggnog. This delicious eggnog is made from cashews, plant-based milk, amazing warm spices, and comes completely naturally sweetened and with a pinch of turmeric for added nutritional value. The perfect Holiday drink made in just a few short minutes and is perfect for the entire family. All vegan + gluten-free. Nut-free option.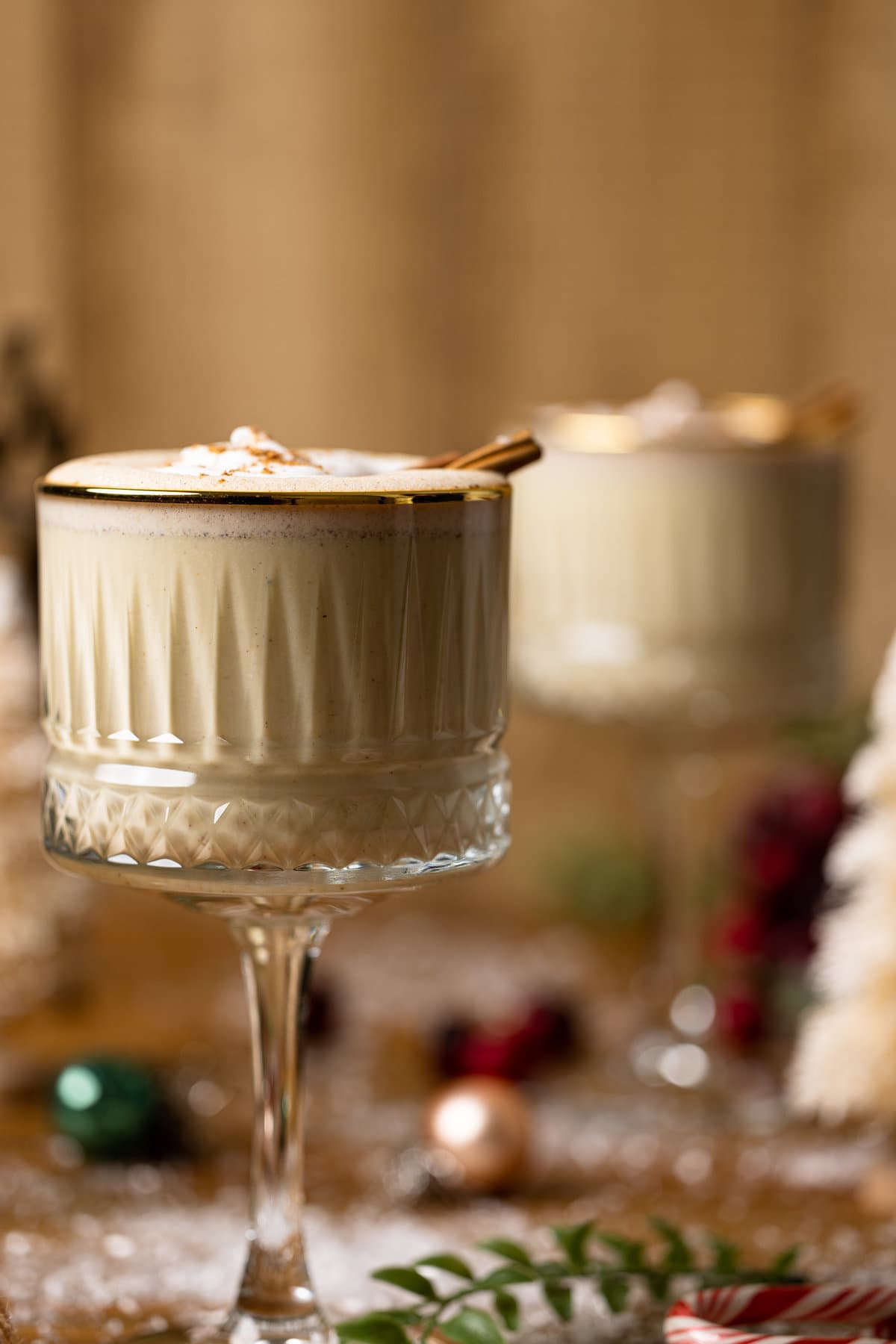 Disclaimer: This post contains affiliate links via Amazon for products that I wholeheartedly love.
Let's talk about this Creamy Homemade Vegan Eggnog, shall we? If you're anything like me, then you're probably a bit hesitant to drink a tall glass of eggnog because of the raw eggs situation! If not, then kudos to you! But, this recipe will surely be a lifesaver for those of us who aren't so excited about dairy or raw eggs in our drinks! Haha. And not to worry---you won't miss a thing with this version of homemade eggnog!
In fact, to be honest---I enjoyed this eggnog A WHOLE LOT BETTER than the traditional version. It's full of flavor, warm holiday spices, and the creaminess is UNBELIEVABLE! It just takes a few short steps and wallah. You've got yourself a cozy, comforting sip for your mornings, especially on Christmas. 
The Secret To Making this Vegan Eggnog Super Creamy
When it comes to vegan eggnog, using cashews as the creaminess factor is the secret sauce to it all. Yes, that's right—-cashews. If I'm honest, I use cashews A LOT in my recipes, especially in my vegan recipes. When soaked and blended, it adds a nice creamy texture to anything. A matter of fact, I recommend trying my Homemade Creamy Cashew Milk if you're a cashew fan! It's so easy to make from scratch! 
Why You'll Love this Homemade Vegan Eggnog
Very easy to whip together and uses minimal main ingredients.
Ready in just a few short minutes---under 10 minutes to be exact!
Warm and comforting with every sip.
Add a little alcohol for an extra twist or pizazz!
Loaded with delicious Fall/Winter spices.
A great eggless eggnog option!
All dairy-free, vegan, + GF.
Makes for the perfect sweet treat for the entire family---as long as there's no nut allergy present.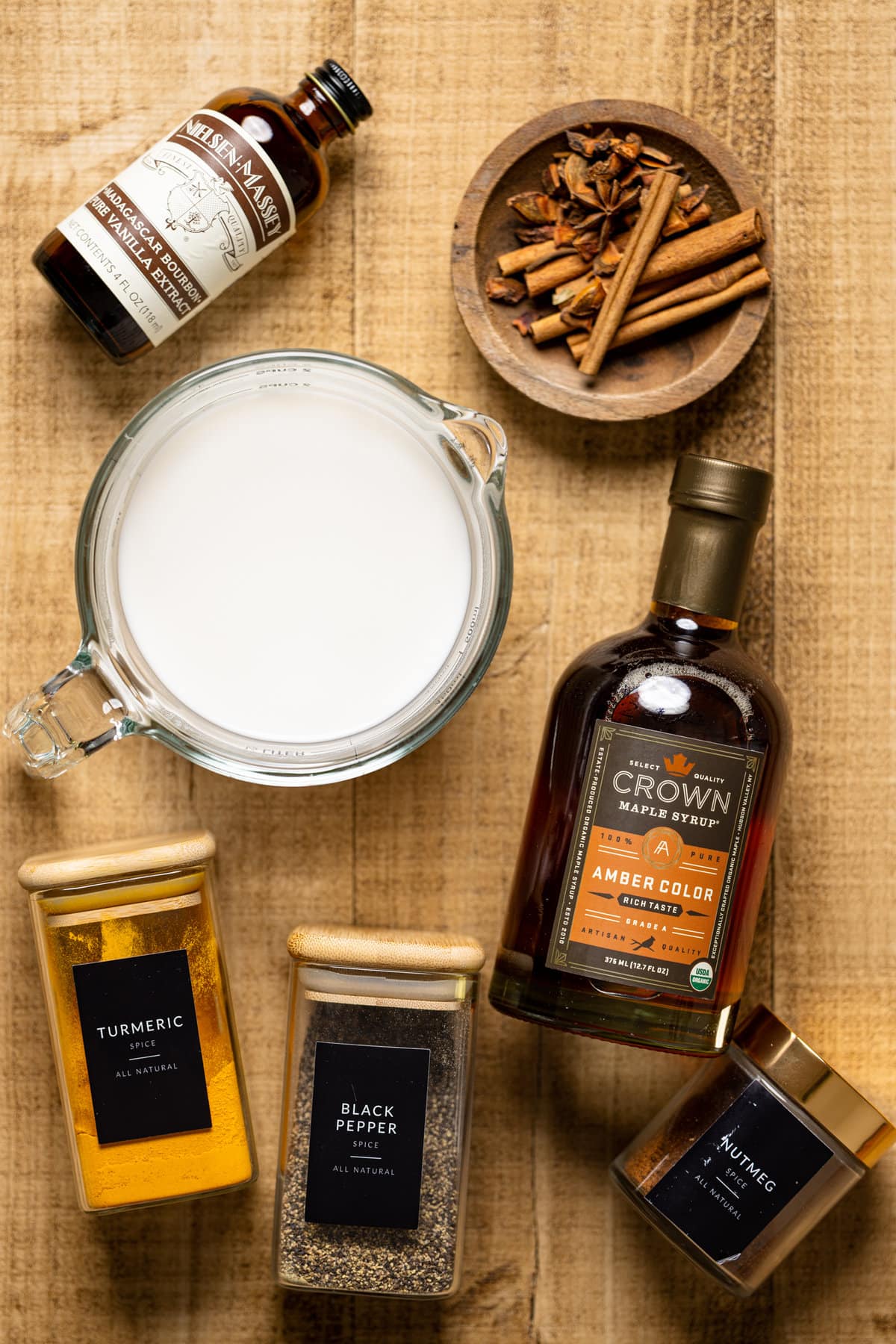 What is Eggnog?
In general, eggnog is an emulsion of milk and/or cream, sugar, and eggs. It is beverage often enjoyed during the Holidays and can include alcohol or be alcohol-free. Today, there are so many dairy-free and egg-free versions of eggnog and personally, I am a fan of the following: Elmhurst Oat Nog, So Delicious Dairy-Free Holiday Nog, and many others.
How to Make Creamy Homemade Vegan Eggnog
I love creating foods and sweets with a healthy twist, including my drinks. If you've tried some of my other work, you'll know that I'm always rooting for real, organic stuff as ingredients. I'm also always trying to come up with dairy-free, gluten-free, and vegan versions of your favorite recipes! This Creamy Homemade Vegan Eggnog is no different.
Simply soak your cashews in boiling water to soften them up and make them easier to blend. Then add all the ingredients (including the drained soaked cashews) to a high-speed blender and blend until smooth. Sweeten to your liking and then strain the mixture into a pitcher (or directly into your glass(es) and wallah! Cheers!
LOOKING FOR A HEALTHIER SWEETENER OPTION?
The Best Healthy Sugar Alternatives + Substitutes list is all about finding better ways to enjoy your favorite sweets without compromising your healthy lifestyle. For those who follow a vegetarian and/or vegan lifestyle, this lists offers a few great ideas to incorporate healthy sweeteners into your diet.
Can I Use Other Types of Milk?
Absolutely! If you'd like to switch things up with the type of plant-based milk that you use—–that's totally fine! The world of plant-based milk is constantly expanding. From the classics like coconut milk, cashew milk, sesame milk, soy milk and almond milk, we now have delicious options like oat milk, and even potato and quinoa milk. 
Ingredients for Creamy Homemade Vegan Eggnog
Here's what you need to make this creamy vegan eggnog:
Raw Cashews . You'll be soaking these overnight or quicker in a bowl of boiling water. Drain and rinse. 
Almond milk. Choose unsweetened. Feel free to use a different plant-based milk if you like. I recommend making easy 

homemade almond milk (my recipe doesn't require soaking!)

Spices. For an extra hint of warming spice, I like to use cinnamon, nutmeg, + allspice.
Vanilla extract. This complements the flavors. 
Maple syrup. This sweetens the eggnog. Best to get pure maple syrup which is organic and high-quality.
Turmeric. This orange spice is packed with antioxidant properties. Read more about the health benefits of turmeric here.
Black pepper. Adding a touch of black pepper will allow your body to absorb the turmeric better, and you won't taste it in the final drink.
Marshmallows. For extra pizazz, feel free to top your eggnog with marshmallows. I love using vegan marshmallows from Dandies Marshmallows, either mini or jumbo.
Coconut whipped cream. For a nice smoothness after every sip, I like to top with coconut whipped cream sometimes. Make your own or use a store-bought version like So Delicious Dairy-Free.
Cutting Down on Soak Time for Cashews
It is required that you soak your cashews for quite some time before blending. By soaking the cashews, you are softening them to prepare the nuts for blending. Without soaking your nuts, the nut milk would contain grit and a less pleasant texture. Soaking the nuts also creates a creamy texture that does not require straining the solids.
My preferred method of soaking my cashews is overnight at room temperature. I also cover the soaking container with plastic wrap so that everything stays really fresh. If you do not have all night or many hours to soak your cashews, you can instead use boiling water.
By using boiling water instead of room temperature, the nuts will soak much faster due to the presence of heat. Soak the nuts in the hot water for only 30 minutes before blending. While this is a great way of quickly soaking cashews, the overnight method produces the optimal texture and creaminess, in my opinion.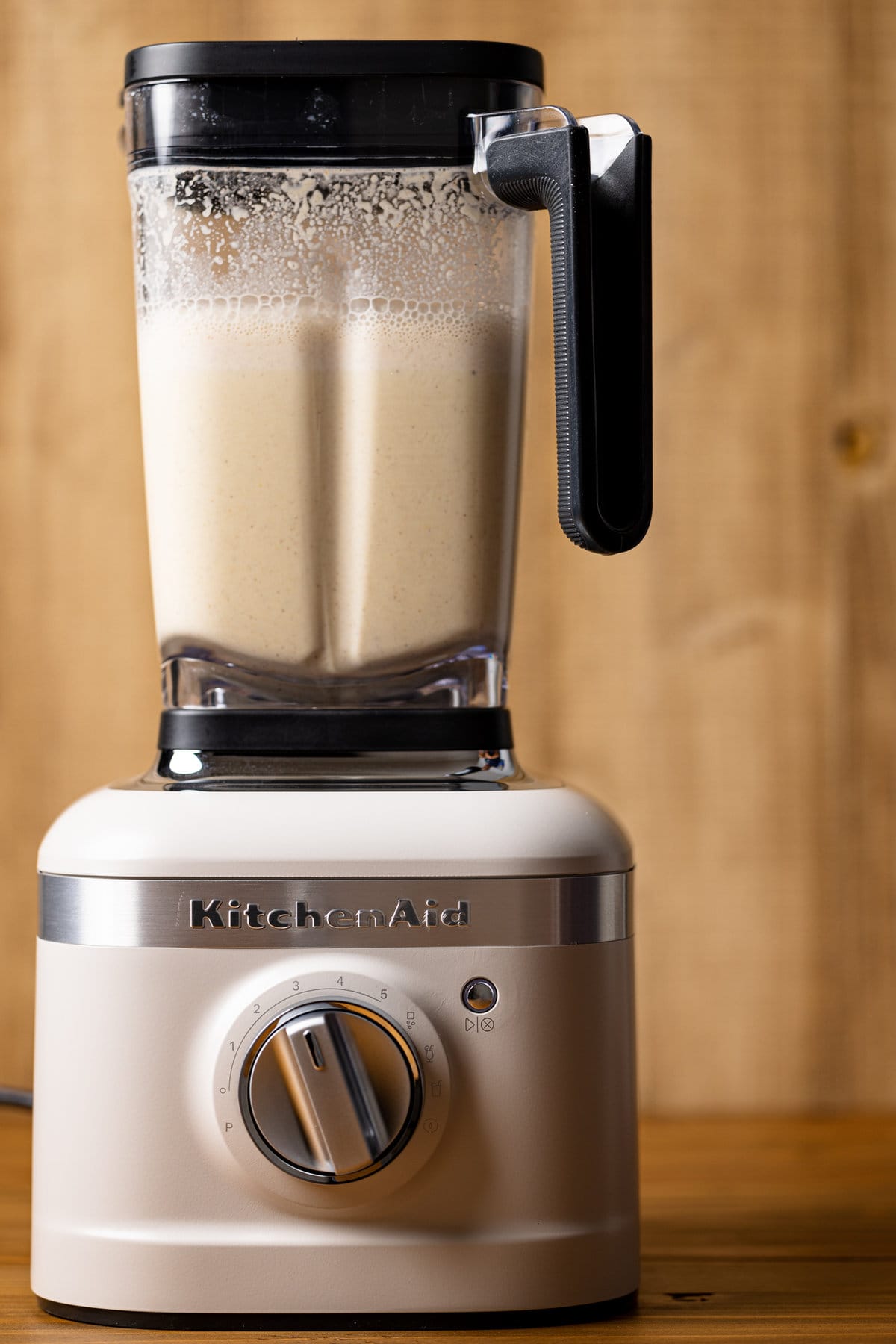 Why Add Turmeric? Health Benefits?
Usually, eggnog doesn't include turmeric (at all), however, I love adding turmeric to certain recipes because of it's nutritional value. Believe me, adding turmeric to this drink doesn't change a thing in terms of compromising it's taste. It's still REALLY GOOD. In case you weren't aware, in order to get the full benefit from turmeric, you have to add a tiny bit of black pepper.
But Why Turmeric + Black Pepper?
In case you weren't aware, Turmeric is an amazing ingredient to incorporate into your dishes. The health benefits that derive from this simple ingredient is so awesome. But if you're wondering, what is turmeric and where you can find it—no worries. Let's talk!
Turmeric is the spice that gives curry it's yellow hue. That's right—it creates that bright yellow color all on it's own. In addition, the main ingredient in turmeric—curcumin is where all the incredible benefits lie. It has powerful inflammatory effects and is a very strong antioxidant.
The only downside is that curcumin is present at a very low rate in turmeric, therefore, the best way to gain the full benefits of this ingredient is to take supplements with high contents of curcumin, specifically. OK, so where does black pepper come in? Whelp, black pepper's main ingredient–piperine actually helps the body to absorb curcumin (by large increases) which gives us the full effect of health benefits at work.
Piperine on it's own has it's own set of benefits which range from nausea relief to headaches to poor digestion. Therefore, the next time that you chose to add turmeric to your foods/drinks to add a few health benefits, don't forget to add the black pepper. And don't worry—it's not that much that is required either.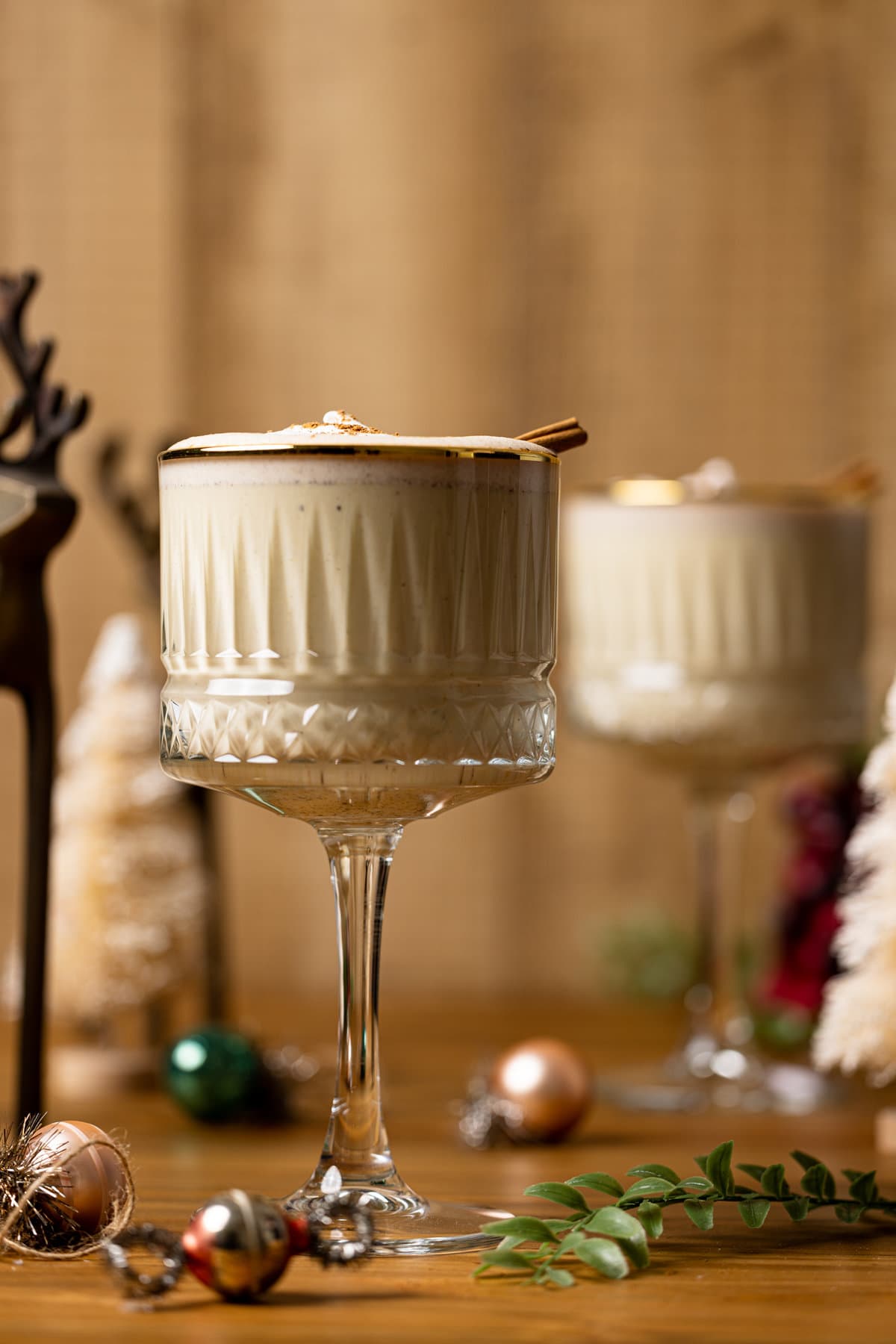 Simple Ways To Use Creamy Homemade Vegan Eggnog
Believe me, drinking this homemade vegan eggnog isn't the ONLY way that you can enjoy it, especially if you have any leftovers! Here are a few other ways to incorporate your vegan eggnog for a nice spruce up:
Adding Alcohol to this Creamy Homemade Vegan Eggnog
If you'd like to serve this eggnog with a bit of pizazz, you can add your favorite alcohol to the mixture. The best types of alcohols (just about 1 ounce or so) that work great with this nutty, warm spice flavor is:
Bourbon or Whiskey
Brandy
Rum
Cognac
Vodka
How To Store Leftover Vegan Eggnog
Keep leftover eggnog refrigerated + covered for 2-3 days for optimal freshness. Be sure to stir when ready to serve!
Can I Make This Vegan Eggnog Nut-Free?
Absolutely! To make this Creamy Homemade Vegan Eggnog nut-free, simply substitute the milk with your fave non-dairy milk like coconut milk, sesame milk, soy milk, oat milk, and even potato and quinoa milk. Instead of the cashews, simply use 1 (14 oz.) can of full-fat coconut cream or milk (refrigerated overnight) and for more thickness, add 1 cup of cooked white sweet potato (the inside flesh only). Wallah!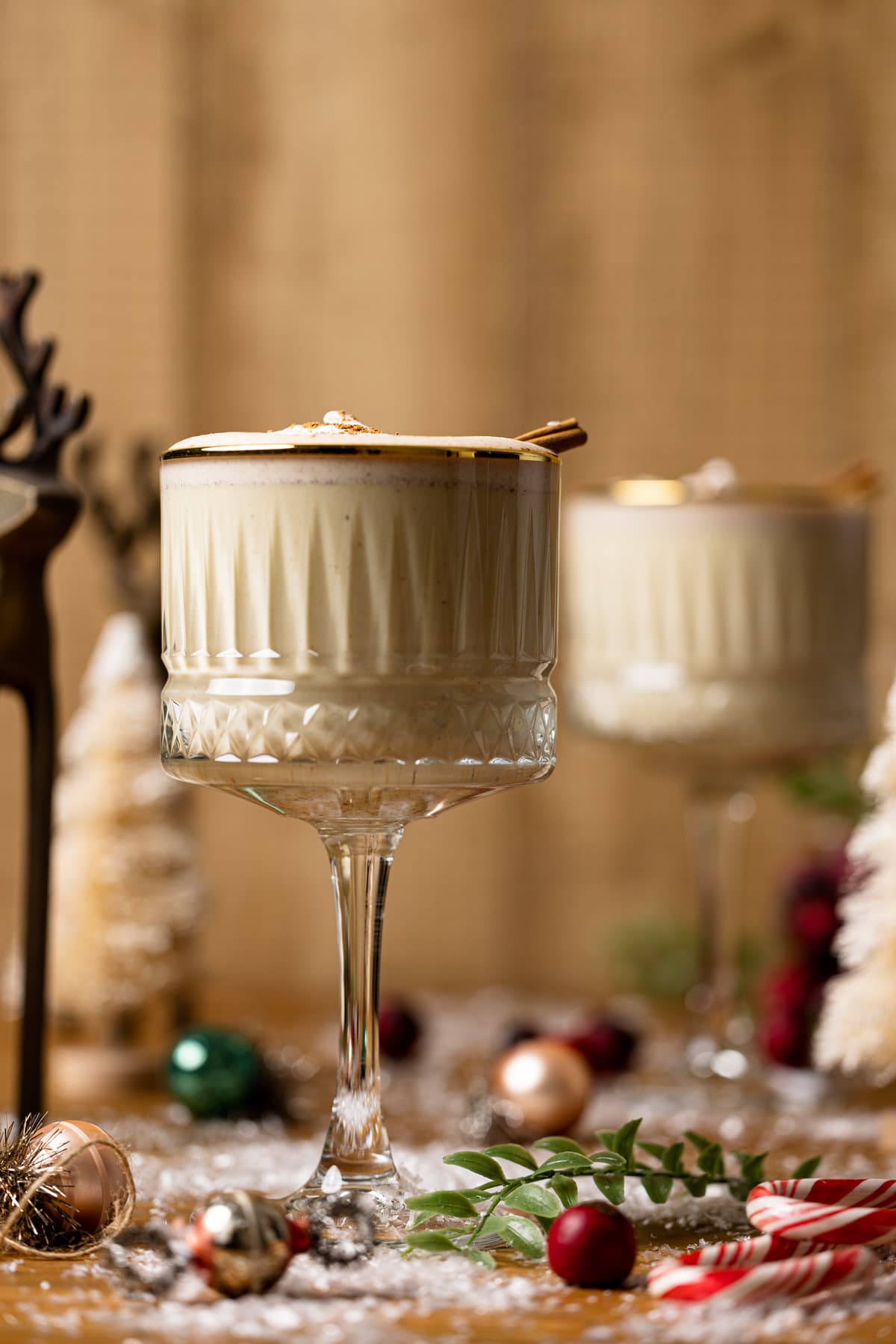 Awesome Drinks + Mocktails to Try this Season!
If you're loving this Creamy Homemade Vegan Eggnog, then you're sure to enjoy these other options during the holidays:
MADE OUR RECIPE(S)?
If you make this Creamy Homemade Vegan Eggnog, tag @orchidsnsweettea_ on Instagram and hashtag it #orchidsandsweettea!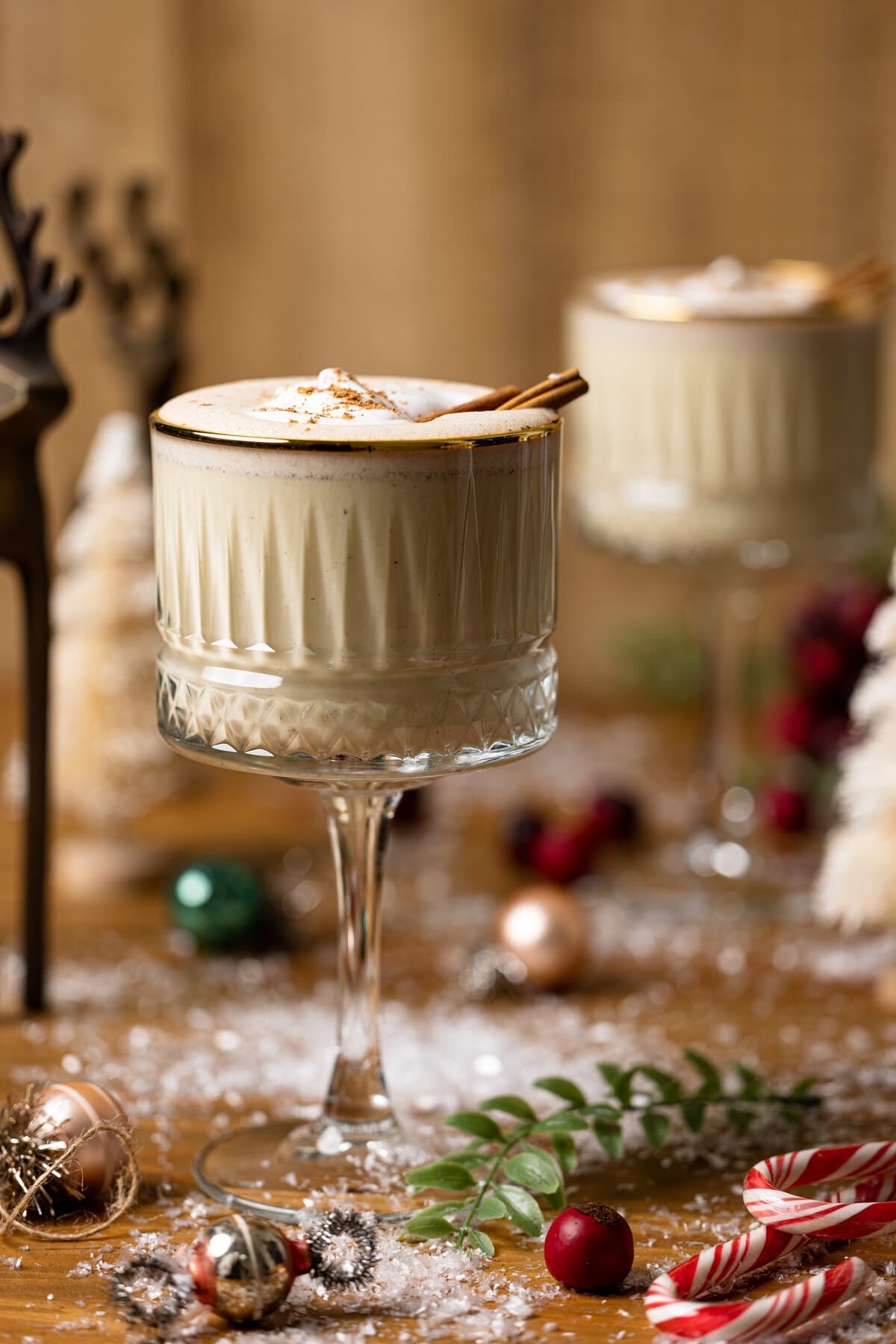 EGGNOG:
1

cup

Raw cashews, soaked, drained, + rinsed

(See Notes!)

2 ½

cups

Almond milk

(You can use your fave plant-based milk)

½

cup

pure maple syrup

(See Notes!)

1

teaspoon

vanilla extract

1

teaspoon

ground cinnamon

½

teaspoon

ground nutmeg

¼

teaspoon

ground allspice

¼

teaspoon

turmeric powder

pinch of

black pepper

1

ounce

premium alcohol, optional

(You can add a bit of alcohol for a little pizazz; See Post for Best options!)
OPTIONAL TOPPINGS:
Coconut whipped cream, store-bought or homemade

Vegan marshmallows

Cinnamon sticks or Anise star
TO MAKE THE EGGNOG:
Add the drained cashews, milk, maple syrup, vanilla, spices, turmeric, and black pepper to a high-powered blender and blend on high-speed until smooth, about 1-2 minutes. NOTE: If still too thick, add an additional ¼ cup of almond milk.
STRAIN THE MIXTURE:
Once done, slowly strain (using a cheesecloth or mesh strainer) eggnog into a pitcher or glass(es), squeezing the cashew pulp to ensure that all the mixture is extracted. NOTE: You may have to repeat this process until all eggnog has been fully strained by re-pouring eggnog from the blender on top of pulp to extract more eggnog, if needed.

NOTE: If using alcohol, you can stir it in after the mixture is strained right before refrigerating.

Be sure to refrigerate eggnog until ready to serve. Best once really chilled for at least 1 hour or so.

ASSEMBLY: Prepare your fave glass(es) then pour eggnog into glass until filled. For garnish, top with coconut whipped cream or vegan marshmallows along with cinnamon stick or anise star, if desired. Repeat for every serving. 

Sip and enjoy!
STORAGE: Keep leftover eggnog refrigerated + covered for 2-3 days for optimal freshness. Be sure to stir when ready to serve!
SOAKED CASHEWS: To best soak cashews, add 1 cup of cashews to a bowl or measuring cup and cover with cold water, sealing the top with plastic wrap and leaving it out (at room temp.) overnight. When ready to use, drain and rinse. If not able to soak overnight, simply cover cashews with boiling water and let sit for 30 minutes, drain, + rinse.
SWEETENER: You can always use Agave, Vegan honey, or dates as a substitute for maple syrup. 
NUT-FREE OPTION: To see the nut-free option, check out the post for more info!
ALCOHOL: If you'd like to spruce things up with alcohol, feel free to add 1 ounce of rum, vodka, etc. See Post for additional info!
SERVING: To make additional batches of eggnog, simply double or triple ingredients, depending on need.
Calories:
274
kcal
|
Carbohydrates:
57
g
|
Protein:
2
g
|
Fat:
4
g
|
Saturated Fat:
0.2
g
|
Polyunsaturated Fat:
2
g
|
Monounsaturated Fat:
2
g
|
Sodium:
414
mg
|
Potassium:
199
mg
|
Fiber:
2
g
|
Sugar:
49
g
|
Vitamin A:
5
IU
|
Vitamin C:
0.2
mg
|
Calcium:
476
mg
|
Iron:
0.3
mg
Creamy Homemade Vegan Eggnog.