Prepare to elevate your holiday celebrations with this Chocolate Peppermint Mocktail recipe-- The chocolatey delight that's perfect for everyone, sans the alcohol. It's like sipping on a sweet and spicy chocolate treat in a glass, with a generous dollop of fluffy whipped cream on top for that extra indulgence. Crafted with a homemade non-alcoholic Kahlua substitute, it's the ultimate holiday beverage to satisfy your festive cravings! Alcohol+ Dairy-free option.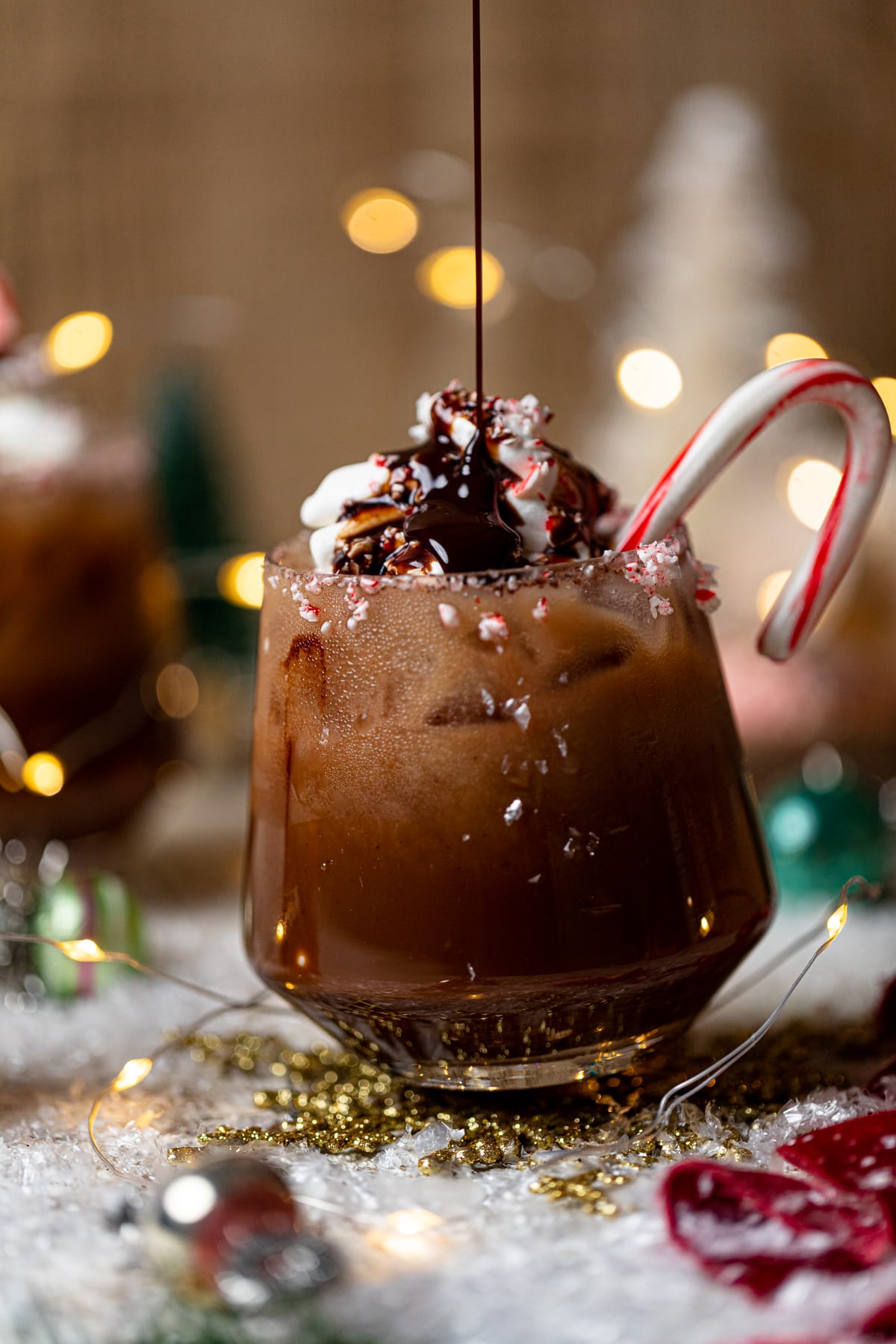 Y'all know I've got a thing for mocktails, especially the festive ones like the Gingerbread Eggnog Mocktail and the Ultimate Holiday Mocktail, but there's always room for a little more chocolate in life. So, this holiday season, if you're looking to dial down the alcohol without missing out on the fun, this Peppermint Chocolate Mocktail is here to save the day.
And if you're in the mood for more chocolatey goodness, why not pair it with The Best Vegan Chocolate Cake, some Big Bakery-Style Oatmeal Chocolate Chip Cookies, or follow it with a toasty Homemade Caramel Hot Chocolate!
This peppermint chocolate mocktail is a real crowd-pleaser, loved by both the young and young at heart. The best part? It's as easy to whip up, and you can even get a head start on your party prep by making it in advance. Plus, I like to make my own Kahlua syrup substitute to keep it alcohol-free and delicious!
Jump to: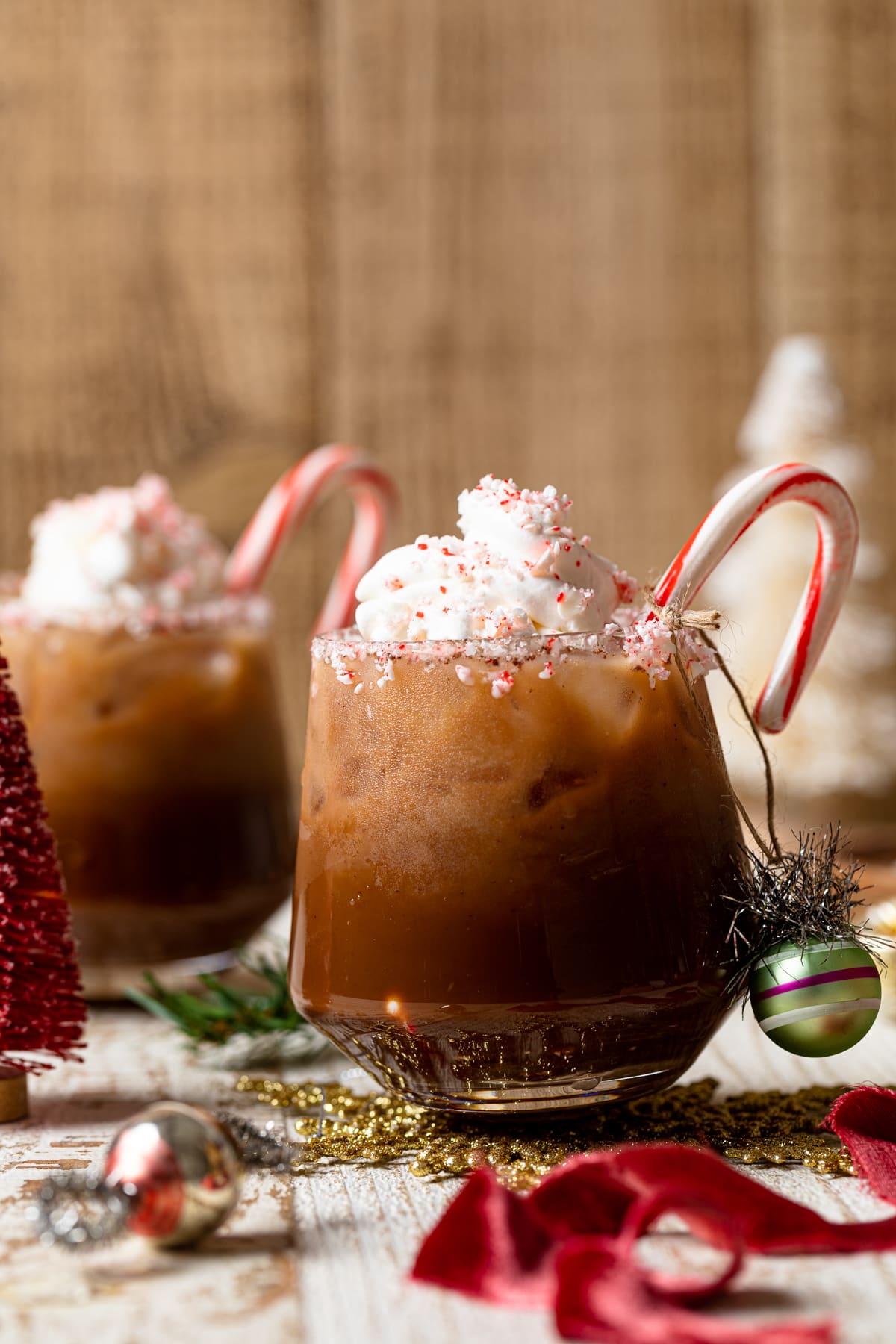 What is A Mocktail?
So if you're sitting here thinking, what is a mocktail? Let me explain. A mocktail is like a party in a glass, minus the hangover. It's a delicious and refreshing drink that's packed with all the flavor and complexity of a traditional cocktail but without any of the alcohol.
Whether you're a designated driver, a health-conscious human, or just someone who wants to enjoy a delicious drink without the buzz, mocktails are the perfect solution.
Are Mocktails Healthy?
Mocktails can be healthy, depending on the ingredients used-- Fresh juices, herbal teas, and natural sweeteners like honey can provide vitamins, minerals, and antioxidants. However, mocktails made with high-calorie syrups, sodas, and artificial flavors can be less healthy. Y'all know my mocktail menu for Orchirds & Sweet Tea I like to keep it natural and healthy. Even in this chocolate mocktail recipe, you'll enjoy the natural sweetener option.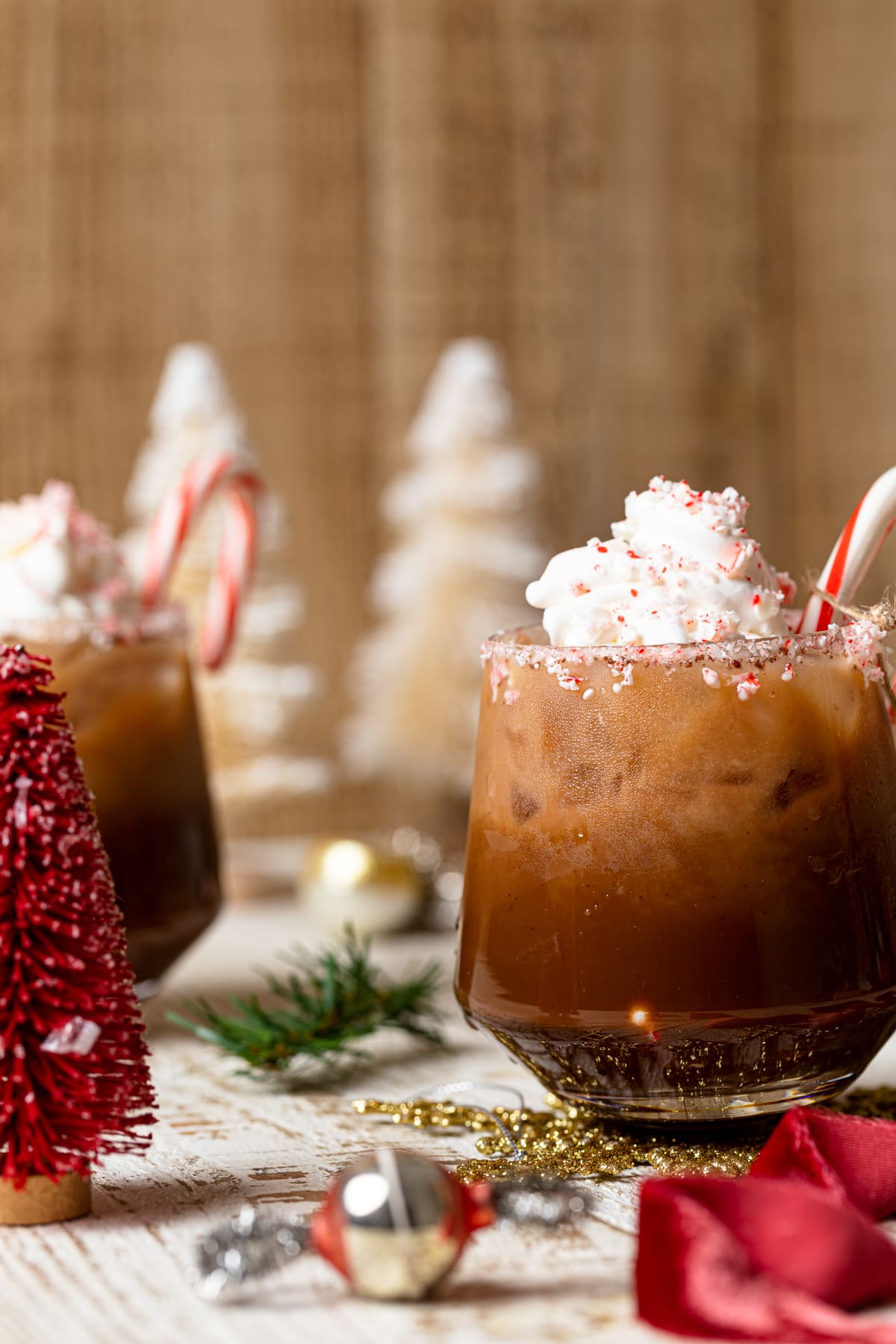 Chocolate Peppermint Mocktail Ingredients
The ingredients to flavor these mocktails are pure holiday joy. Here's what you need to make them:
Chocolate syrup. I recommend using high-quality chocolate syrup. Preferably dark chocolate for the boldest flavor.
Vanilla. to balance the richness of chocolate.
Molasses. For sweetness and caramel flavor.
Warming spices. Use cinnamon, ground ginger, and allspice.
Peppermint extract. Look for this in the baking aisle
Ingredients for Alcohol-Free Kahlua Substitute
The tangy flavor in these drinks comes from a homemade Kahlua substitute. And guess what? You only need two ingredients (plus water) to make it.
Brown sugar. I use organic to make sure it's vegan
Instant coffee. Espresso powder also works.
If you're feeling extra fancy, you can always opt for some non-alcoholic Kahlua alternatives like the ones from Lyre's spirits. They do a fantastic job capturing the essence without the alcohol kick. But hey, making your own is a breeze too—totally up to you and your mood
SHOP MY FAVORITE DRINKWARE ITEMS AND ACCESSORIES!
Here, I've curated a list of drinkware and mocktail essentials that I use to achieve my favorite drinking experiences, especially with this Chocolate Peppermint Mocktail recipe. Everything from my fave glassware, cocktail shakers, ice cubes trays, and more. SEE THEM HERE!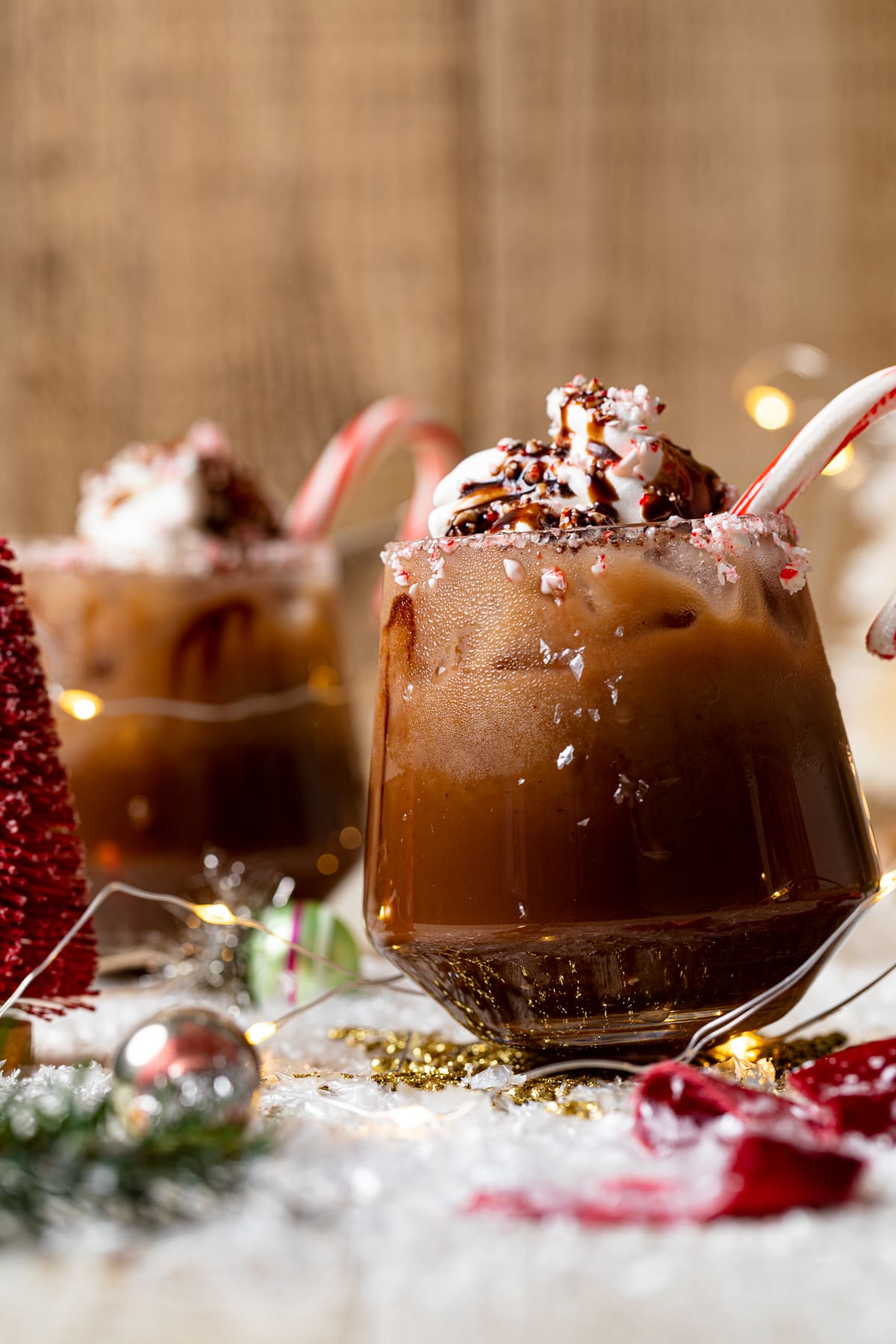 Why You'll Love This Chocolate Peppermint Mocktail
First and foremost, the flavors in this simple and easy Chocolate Peppermint Mocktail is enough to convince anyone, however, here are a few more reasons why you'll love this recipe:
It's very similar to the real 'feel' of a cocktail. Yes, while this mocktail doesn't have actual alcohol, I promise that it's just as complex in flavor-- with additional bold flavors from the chocolate + peppermint goodness. Of course, you can always add a nice alcohol-free cocktail option from Ritual Zero Proof.
It's super fun to make!
You save money! This by far is one of my biggest reasons for making my own drinks at home (minus the last point to come). You definitely save more money purchasing the ingredients and making your own servings at home.
It's healthier. Most of all, this is my biggest plus! I love when I am able to know what ingredients I use whenever making drinks, cooking, or baking. Making my mocktails and drinks in general at home has definitely allowed me to switch to healthier, organic ingredients which is a win, win!
Garnishes For Chocolate Peppermint Mocktails
These mocktails are already show-stoppers. Before serving, you can dress them up even more with festive toppings like:
Whipped cream. You can use regular dairy or make vegan whipped cream with cold coconut cream.
Candy canes or other peppermint candies
Shaved chocolate. These add a dramatic touch. Chocolate syrup also works well!
Grated Nutmeg or Cinnamon. Sprinkle a touch of freshly grated nutmeg or cinnamon for a warm and aromatic flavor.
Fresh mint leaves: A few fresh mint leaves add a pop of color!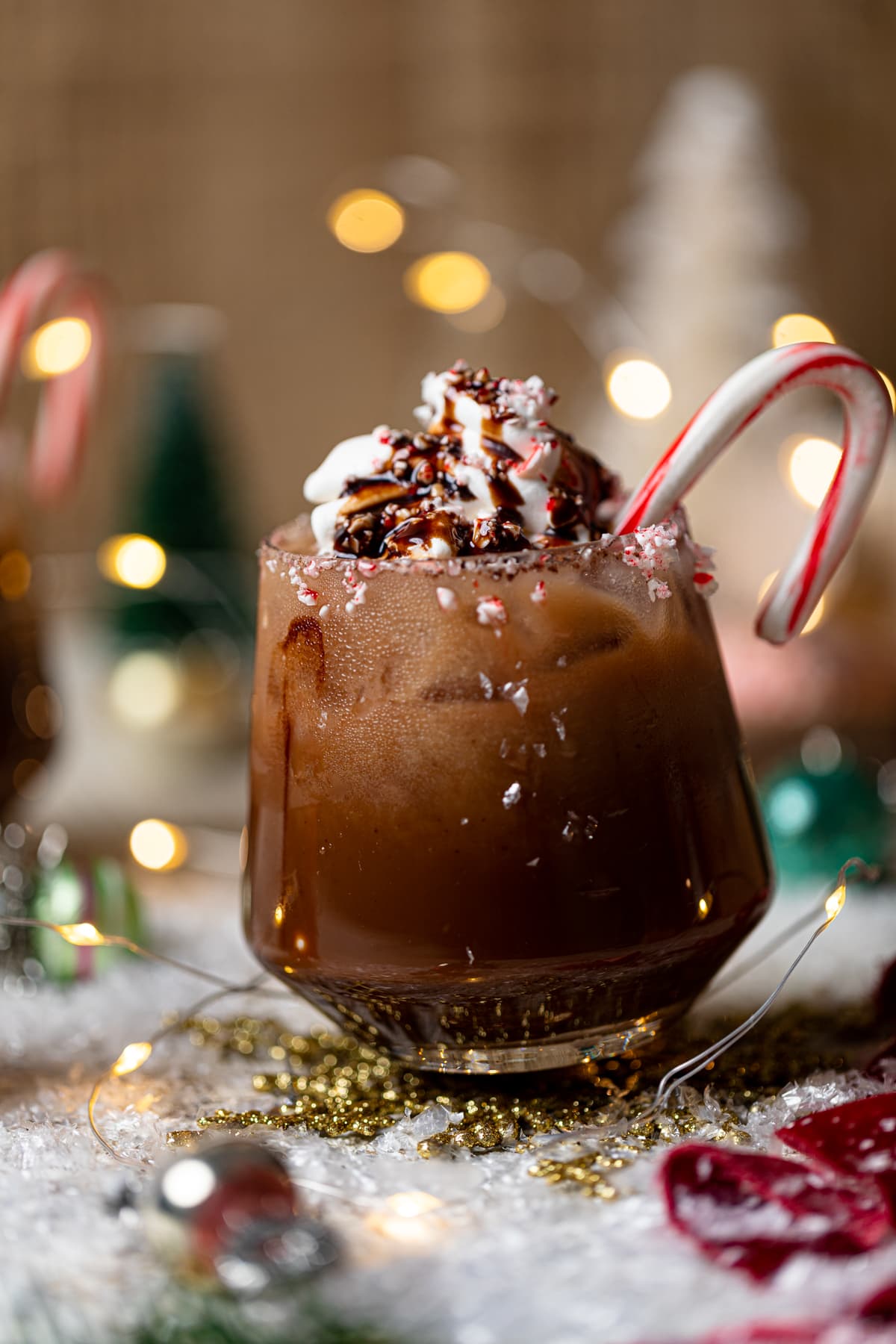 How Else to Use Alcohol-Free Kahlua Substitute Syrup?
Desserts: Drizzle it over fruit salads, vanilla ice cream, or yogurt for a burst of flavor.
Cheesecake Topping: Transform plain cheesecake into a gourmet delight by drizzling ginger mint syrup over each slice. The sweet and tangy syrup adds a burst of flavor to every bite.
Smoothies: Blend it into smoothies for a hint of sweetness and coffee goodness, it would go beautifully with this Cashew Date Morning Smoothie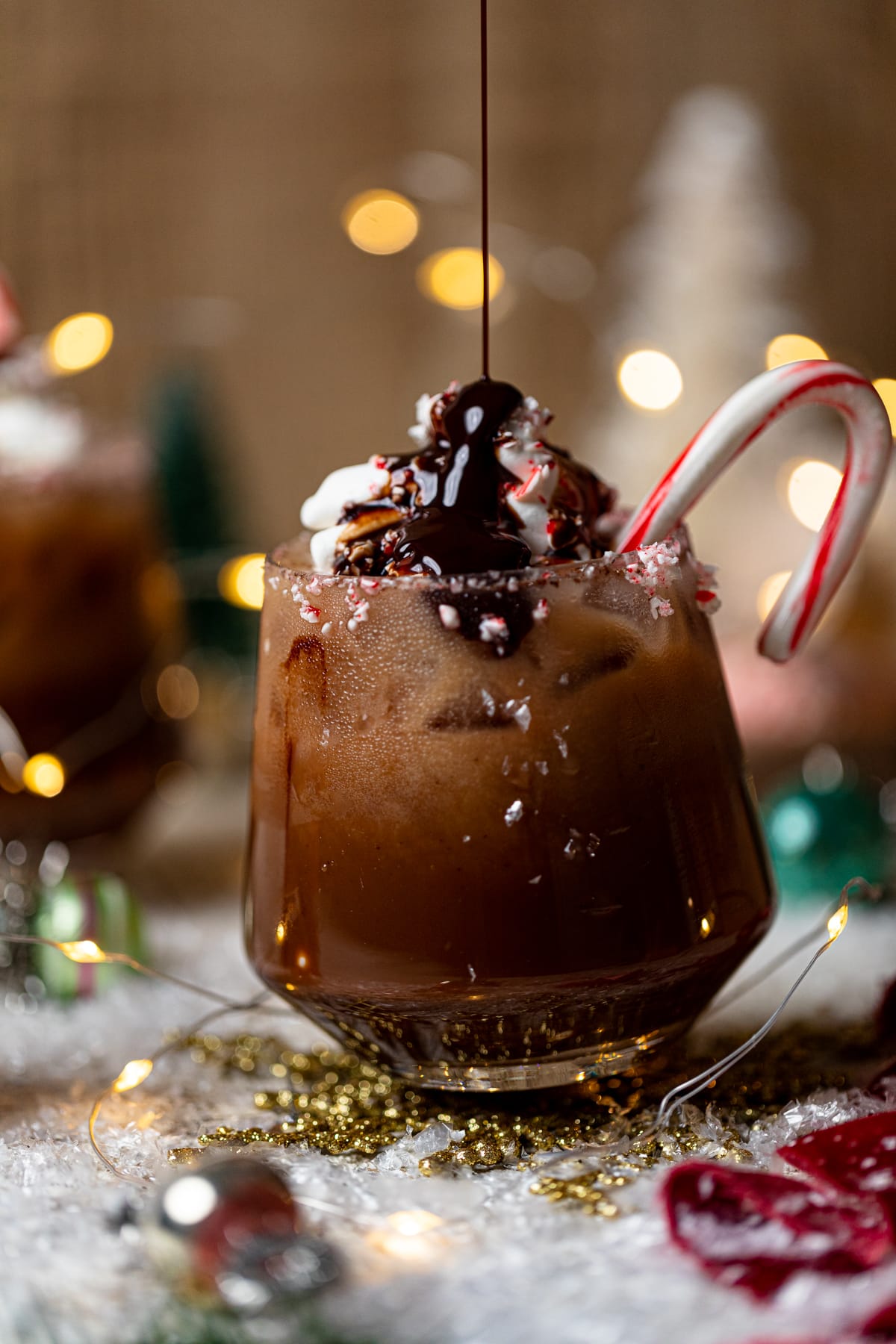 Chocolate Peppermint Mocktail Q + A's
Can I make this chocolate mocktail dairy-free?
Yes! To make this mocktail entirely dairy-free, simply substitute the whipped cream for coconut whipped cream and ensure that any store-bought chocolate syrup and/or chocolate if dairy-free or vegan-friendly. 
Can I add alcohol?
If some people at your party want to make a more traditional drink with alcohol, it's easy to do. Just add an ounce of vodka, rum, tequila, or your favorite alcohol to each glass.
Can I make the Kahlua substitute in advance?
Absolutely! The Kahlua substitute can be prepared in advance and stored in a sealed container in the refrigerator for convenience.

Can I make more chocolate mocktails?
Yes! This recipe makes 2 servings, however, to make additional mocktails, simply double or triple ingredients, depending on what you need.
More Holiday Mocktail Recipes
Once you've mastered this Chocolate Peppermint Mocktail recipe, try these other homemade sips next:
MADE OUR RECIPE(S)?
If you tried this Chocolate Peppermint Mocktail recipe or any other recipe on my website, please please leave a 🌟 star rating and let me know how you go in the 📝 comments below. And don't forget to tag @orchidsnsweettea_ on Instagram and hashtag it #orchidsandsweettea! I love hearing from you!
HOMEMADE CHOCOLATE SYRUP:
OPTIONAL TOPPINGS:
Whipped Cream

Candy Canes, crushed or whole

Shaved chocolate

(You can also use additional Chocolate syrup)
KAHLUA SUBSTITUTE SIMPLE SYRUP:
In a saucepan over medium-high heat, add the water and brown sugar, stirring until sugar has dissolved completely. Remove from heat and whisk in the espresso powder or instant coffee until dissolved.
TO MAKE THE HOMEMADE CHOCOLATE SYRUP:
In a saucepan over medium-high heat, add together all ingredients (whisking them to combine) and bring to a boil, about 1-2 minutes. Once fully combined and smooth, remove from heat and let cool.
TO MAKE MOCKTAIL:
In a bowl, add all of the mocktail ingredients (except for ice) together, whisking until combined.

Assemble the mocktails: Fill your favorite 8-ounce cocktail glass halfway with crushed ice. Add the mocktail mixture until glass(es) is filled. Top with whipped cream, candy canes (crushed or whole), and additional chocolate syrup or shaved chocolate, if desired. Repeat for all servings!

Sip and Enjoy!
KAHLUA: Kahlúa coffee liqueur is one of the main ingredients in many of the world's favorite cocktails. Therefore, to make this recipe non-alcoholic----I created a great simple syrup substitute.
DAIRY-FREE OPTION: To make this mocktail entirely dairy-free, simply substitute the whipped cream for coconut whipped cream and ensure that any store-bought chocolate syrup and/or chocolate if dairy-free or vegan-friendly. 
STORAGE (CHOCOLATE SYRUP): Leftover chocolate syrup can be stored in a tightly sealed mason jar for up to two weeks. When ready to use, simply reheat sauce in the microwave for a few seconds.
ALCOHOL VERSION: See FAQ for details!
Calories:
308
kcal
|
Carbohydrates:
84
g
|
Protein:
6
g
|
Fat:
4
g
|
Saturated Fat:
3
g
|
Polyunsaturated Fat:
0.1
g
|
Monounsaturated Fat:
1
g
|
Sodium:
19
mg
|
Potassium:
601
mg
|
Fiber:
12
g
|
Sugar:
65
g
|
Vitamin A:
2
IU
|
Vitamin C:
0.1
mg
|
Calcium:
70
mg
|
Iron:
5
mg