This Holiday Pomegranate Ginger Mocktail is a simple delicious mocktail that comes rich in bold pomegranate + ginger flavors and entirely jam-packed with hints of warm, cozy spices. Made with an easy homemade ginger syrup, freshly-squeezed lemon juice, and topped with your favorite bubbly, this mocktail is the best addition to any holiday table or weekend cheers! Vegan option.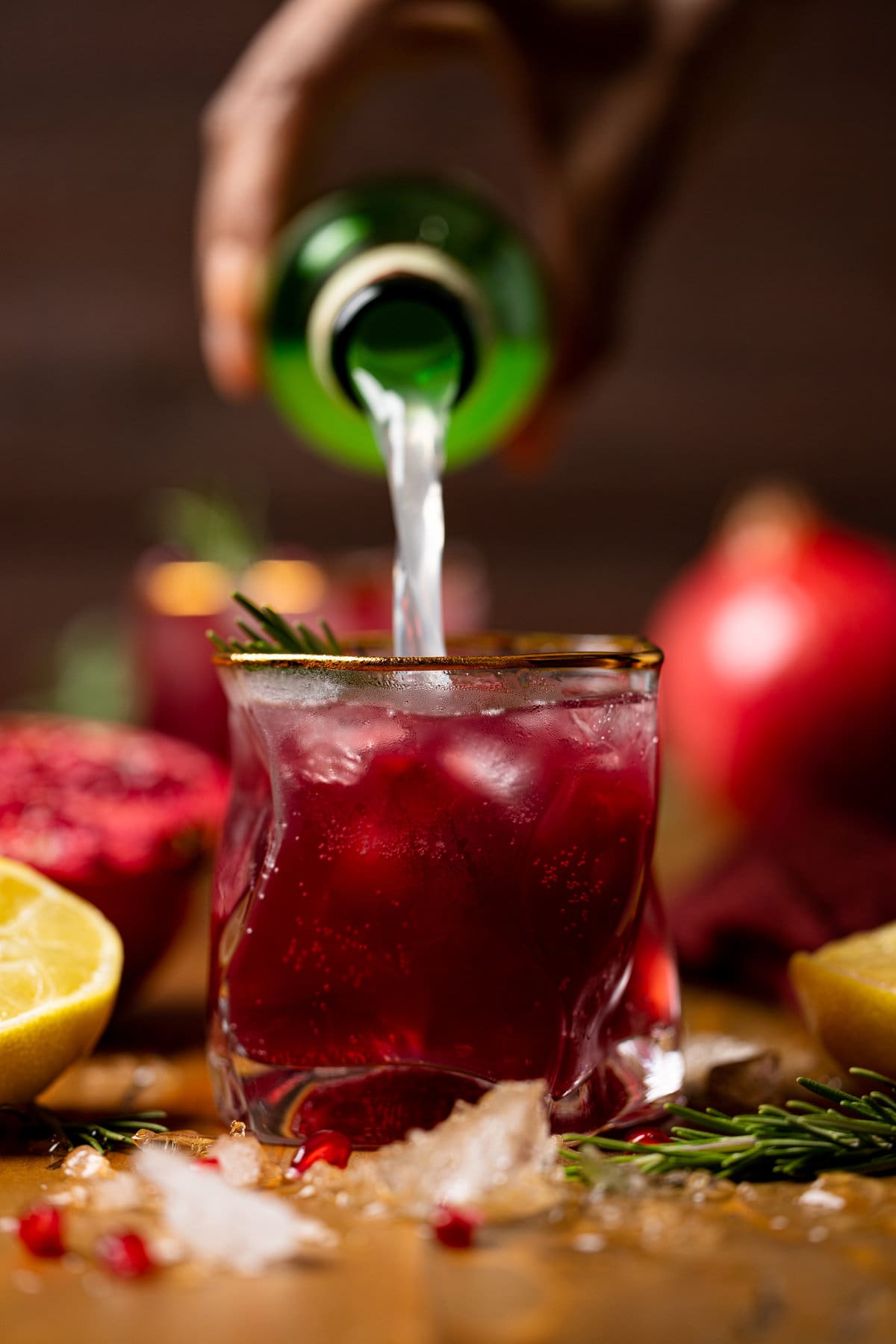 Disclaimer: This post contains affiliate links via Amazon for products that I wholeheartedly love.
I can't believe that we're officially in the countdown to Christmas---just a few short days away. Currently, it's been extremely cold in NYC and there's been talks about possible snow (and maybe a snow storm), so I'm crossing my fingers that we have a white Christmas this year! To ring things in, I'm definitely making this Holiday Pomegranate Ginger Mocktail because it's so easy and really festive for the times. I love pomegranate, so I was super excited to share this simple recipe with you all.
While I do have tons of mocktail recipes that you can try, especially this Vegan Caramel Eggnog which is perfect for the Holidays but is a bit more creamy and this Apple Cider Mocktail for a nice warm, cozy vibe when it comes to flavors. Of course, you can simply search 'mocktails' on my site for a lot more options that fit your tastebuds.
But if you're thinking about Christmas morning ideas for recipes, here's my faves to get started:
Red Velvet Pancakes + Pomegranate
Apple Cider Pumpkin Pancakes + Cranberries
Maple Cinnamon Oatmeal + Roasted Oranges
Southern Caprese Biscuit Breakfast Strata
Blackberry White Chocolate Oatmeal Scones
Why You'll Love This Holiday Pomegranate Ginger Mocktail
First and foremost, the flavors in this simple and easy Holiday Pomegranate Ginger Mocktail is enough to convince anyone, however, here are a few more reasons why you'll love this recipe:
It's Very Similar to the real 'feel' of a cocktail. Yes, while this mocktail doesn't have actual alcohol, I promise that it's just as complex in flavor, warming, and tasty as any cocktail----obviously with additional bold flavors from the pomegranate, ginger, and the nice fizz.
It's super fun to make! I literally love the creation of the ginger syrup and the shaking of all of the ingredients the cocktail shaker. Such a nice aroma as they boil!
You save money! This by far is one of my biggest reasons for making my own drinks at home (minus the last point to come). You definitely save more money purchasing the ingredients and making your own servings at home.
It's healthier. Most of all, this is my biggest plus! I love when I am able to know what ingredients I use whenever making drinks, cooking, or baking. Making my mocktails and drinks in general at home has definitely allowed me to switch to healthier, organic ingredients which is a win, win!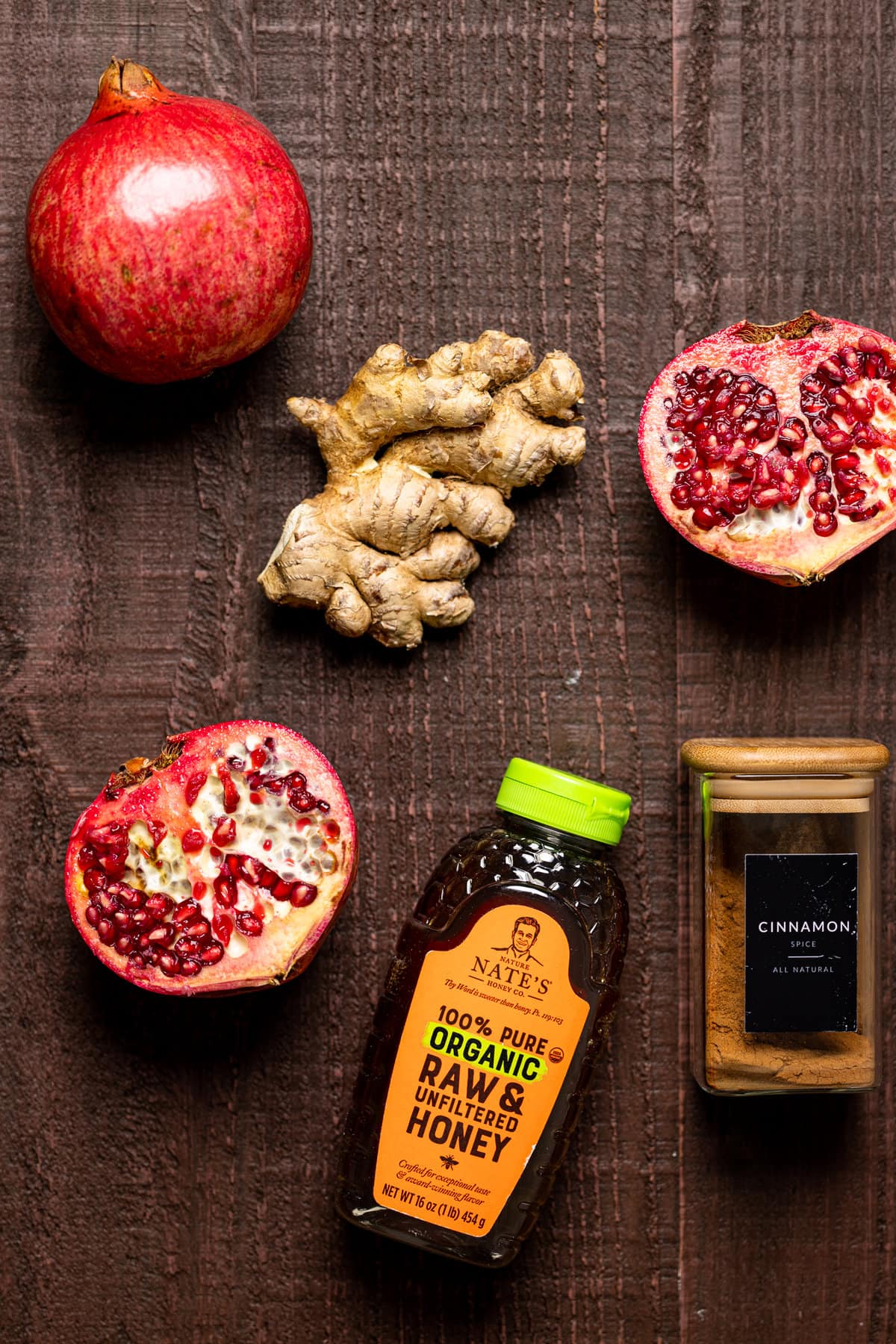 How to Make Holiday Pomegranate Ginger Mocktail
INGREDIENTS
The main component in this simple Holiday Pomegranate Ginger Mocktail recipe is the sweet pomegranate flavor and ginger flavor from the homemade syrup and infusion of other ingredients. To make your mocktail, you'll use:
Pomegranate juice. I love using 100% organic pomegranate juice for the best taste and to ensure that it's healthier.
Fresh ginger. You can use as little or as much ginger as you like. It adds spicy flavor to the drink, which some people love!
Honey. This adds natural sweetness with antioxidant properties. You can also substitute with Meedjol dates or maple syrup for a vegan-friendly option.
Lemon. Use a big, juicy lemon to add a tart pop of flavor.
Spices. This adds a warming spice profile to this mocktail. You'll need cinnamon and allspice.
Crushed or whole ice. The best highlight of this drink to keep things cold. Crush your ice or use a nice ice cub tray.
Pomegranate arils. I using these as garnish for extra pizzaz!
Water. For boiling and creating of the syrup.
Soda. You can use lemon soda or ginger beer to finish off the mocktails with some bubbles.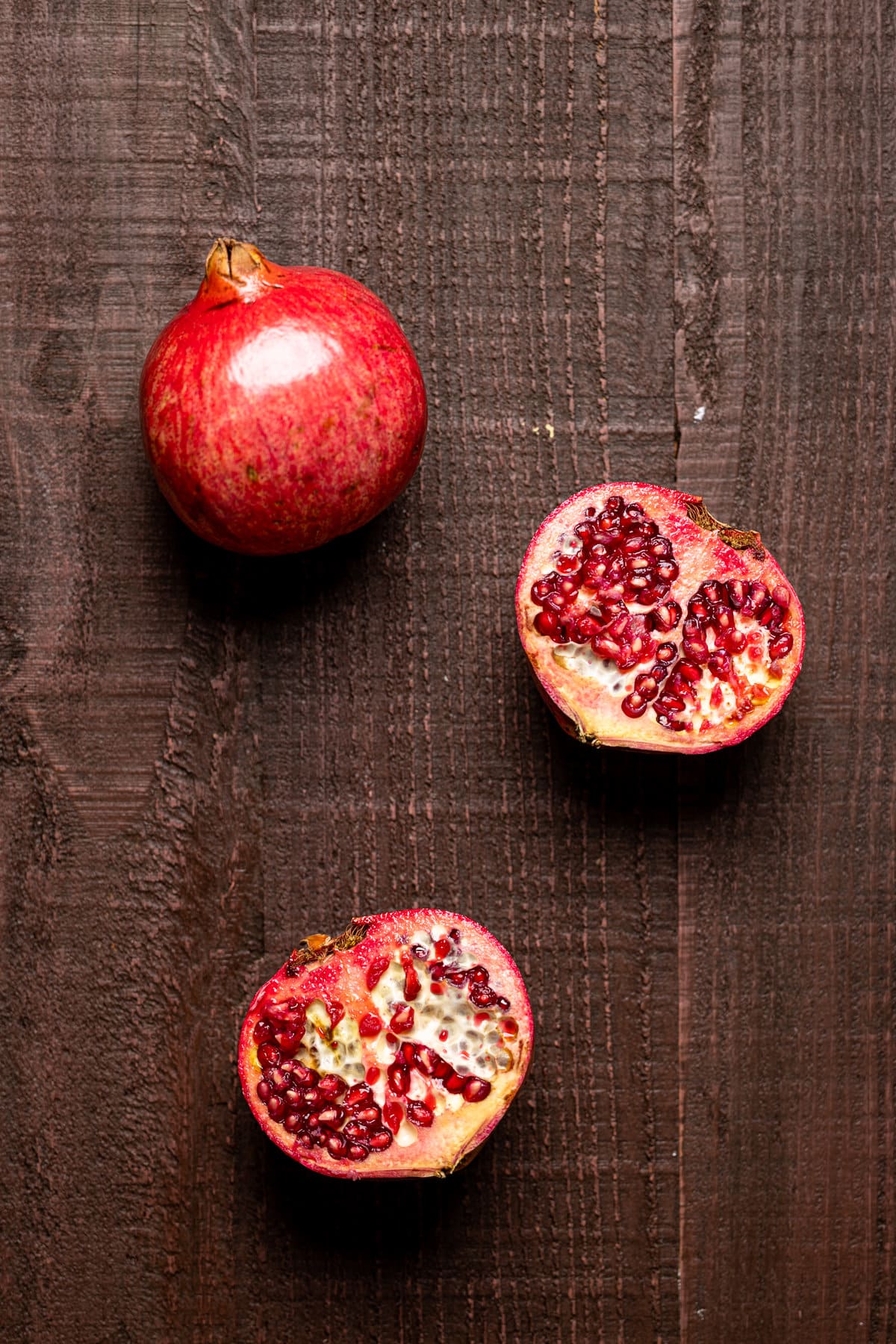 Top Pomegranate Health Benefits:
In case you weren't aware, pomegranate and pomegranate juice has some pretty good health benefits under their belt, which makes this mocktail that much more attractive in not only taste! Here's the top benefits:
Rich in antioxidants.
Good source of fiber.
Provides Vitamin C.
Help with inflammation.
May help improve heart health.
May help improve kidney health.
Spruce Up Your Mocktail with Lemonade Ice Cubes
Of course, you can always use regular ice cubes, however, if you're looking to take things up a notch with your Holiday Pomegranate Ginger Mocktail, I recommend making lemonade ice cubes----which are SUPER EASY! The first thing you need to make for these tasty drinks are the lemonade ice cubes. You literally stir together the ingredients, pour it in your favorite ice cube tray, set it and forget it for a minimum of 3-4 hours (or overnight) until ice cubes are formed.
Then, you whip together the sangria mocktail ingredients and assemble. To see How to Make Lemonade Ice Cubes, see my Cranberry Lemon Spritzer with Lemonade Ice Cubes recipe!
Garnishes For this Holiday Pomegranate Ginger Mocktail
I love filling my mocktail glasses with plenty of fresh fruit and herbs. It adds so much to the experience and tastes great too!
Try garnishing these Holiday Pomegranate Ginger Mocktails with:
Pomegranate arils
Sliced lemons
Cinnamon sticks
Star anise
Fresh rosemary. Thyme would also work well!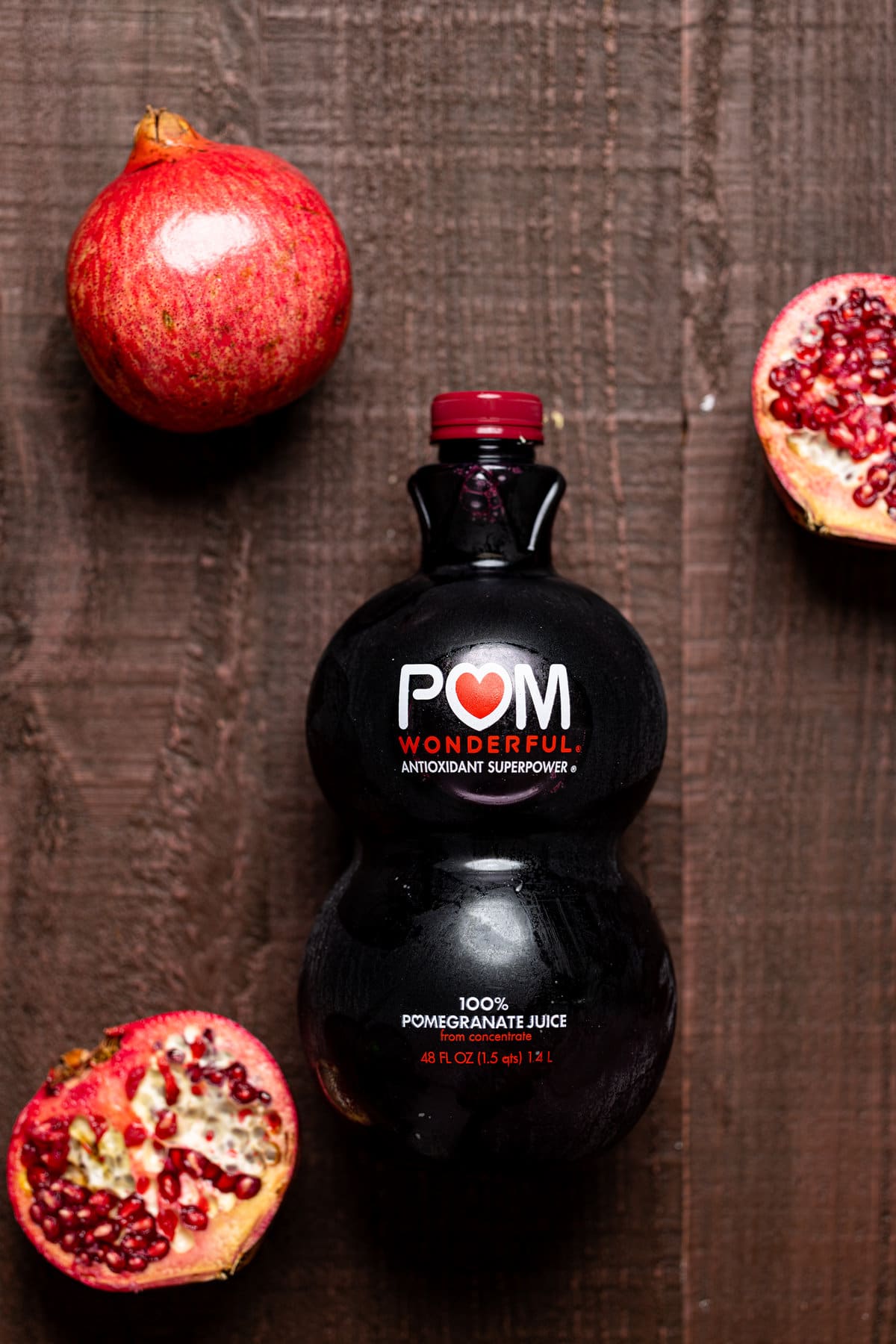 Why You Should Pair Lemon and Ginger Together:
There are some surprising health benefits from this refreshing Holiday Pomegranate Ginger Mocktail recipe. In fact, when you combine lemon and ginger together, you'll reap some major benefits, including:
IMPROVES COGNITIVE FUNCTION:
The superfood combination of lemon and ginger does wonders to our brains. Compounds in both plants help soothe specific nerves, reduce anxiety and improve our mood. As a result, we can think more clearly. In addition, both lemon and ginger are full of antioxidants. These help eliminate oxidative stress and may lower your risk of Alzheimers and dementia.
IMPROVES SKIN HEALTH:
Lemon and ginger both have skin health-promoting properties. The vitamins and antioxidants in both foods help calm skin inflammation and improve glow.
These foods also have antibacterial and antiviral properties, which can help prevent skin infection.
IMPROVES HAIR HEALTH
While each ingredient has been used individually to help your hair health, combining them actually provides a boost of vitamins A and C. These essential nutrients both promote hair growth.
In addition, lemon and ginger can reduce dry skin and dandruff naturally. So adding more of these ingredients to your diet is a great idea if you struggle with dry scalp.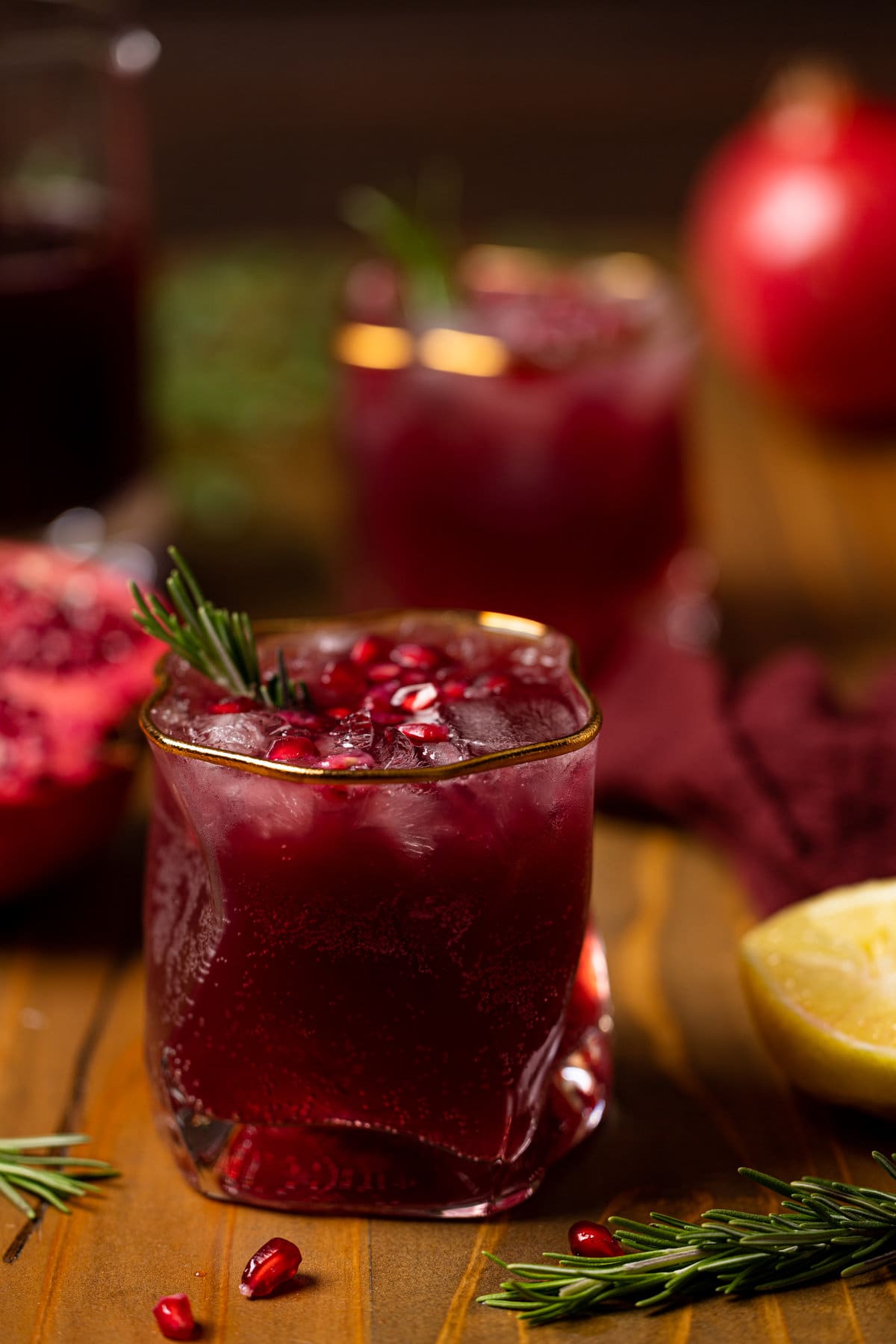 HELPS TO RELIEVE PAIN:
Ginger in particular has powerful anti-inflammatory properties. For this reason, the root can also act as a pain reliever. It can help your body recover from body pain, menstrual cramps, surgeries, and other illnesses.
So the next time you find yourself contemplating on whether to take another painkiller, try sipping ginger tea as a natural home remedy.
HELPS CONTROLS DIABETES:
Finally, studies suggest that ginger can help moderate your blood sugar levels, which is good for anyone who suffers from diabetes. However, research shows that lemon can also help to control diabetes as well.
The soluble fiber and Vitamin C in lemon helps limit spikes in blood sugar, as well as blood pressure and cholesterol.
Sweetener Options? Vegan-friendly?
Absolutely! I like to add a bit of natural sweetener to most things that I drink, including this Holiday Pomegranate Ginger Mocktail. Maple syrup is a great option because it's vegan and has antioxidants, much like honey which adds additional nutrients. However, you can try any healthy sweetener substitutions you like.
In fact, this post about The Best Healthy Sugar Alternatives + Substitutes is a great place to start! For example, you can use agave or maple syrup to sweeten your ice cubes in general when using other ingredients.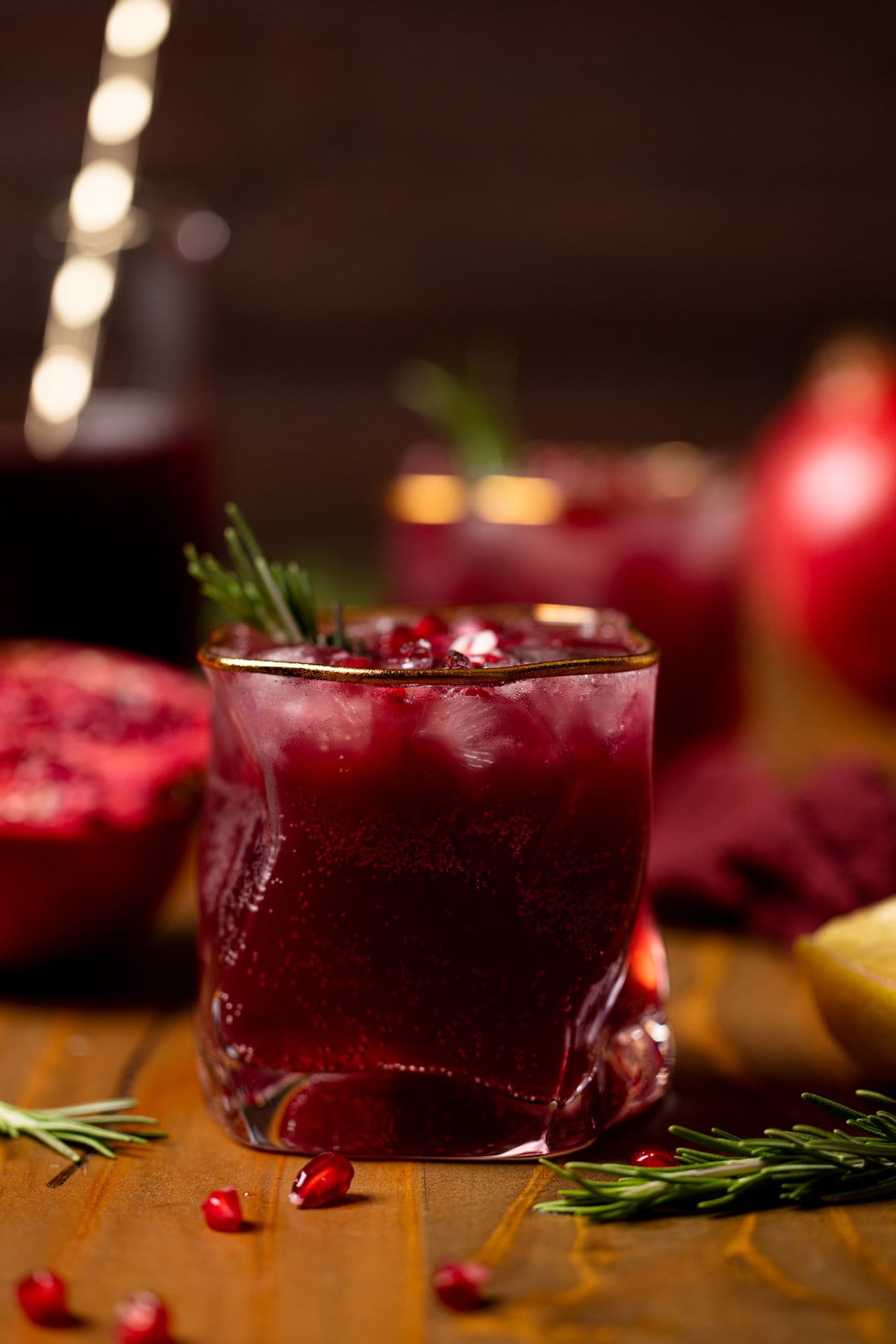 Doubling this Holiday Pomegranate Ginger Mocktail Recipe
This recipe serves about two. But you'll probably want more Holiday Pomegranate Ginger Mocktail, and I can't blame you! You can easily double or triple the recipe to serve a crowd.
Adding Alcohol
If you'd like to serve this as a cocktail, you can add your favorite alcohol to the mixture. The best types of alcohols (just about 1 ounce or so) that work great with this pomegranate-ginger flavor combo is:
Gin
Rum
Champagne
Tequila
Whiskey
Vodka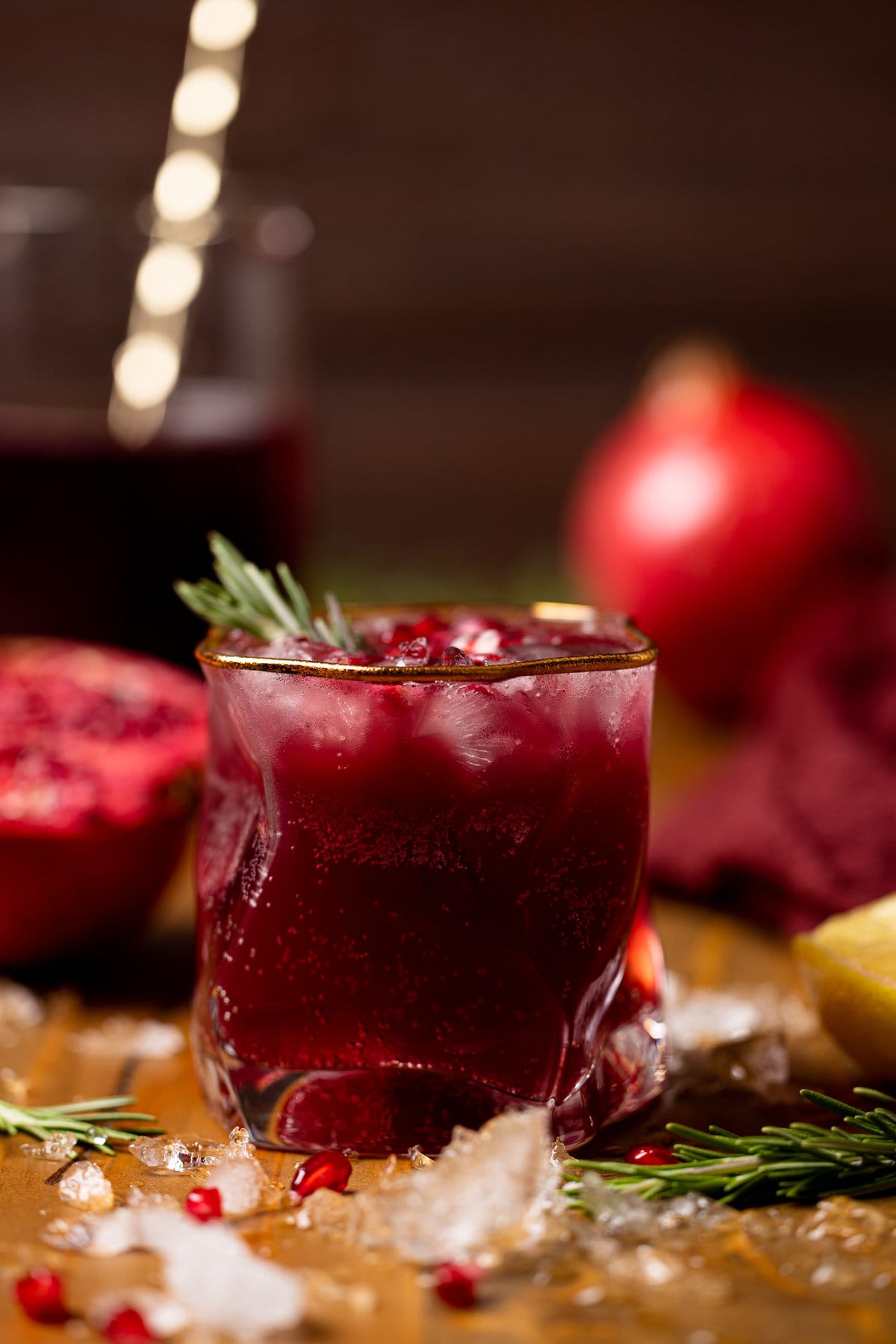 Awesome Drinks + Mocktails to Try this Holiday Season!
If you're loving this Holiday Pomegranate Ginger Mocktail, then you're sure to enjoy these other options during the holidays:
MADE OUR RECIPE(S)?
If you make this Holiday Pomegranate Ginger Mocktail, tag @orchidsnsweettea_ on Instagram and hashtag it #orchidsandsweettea!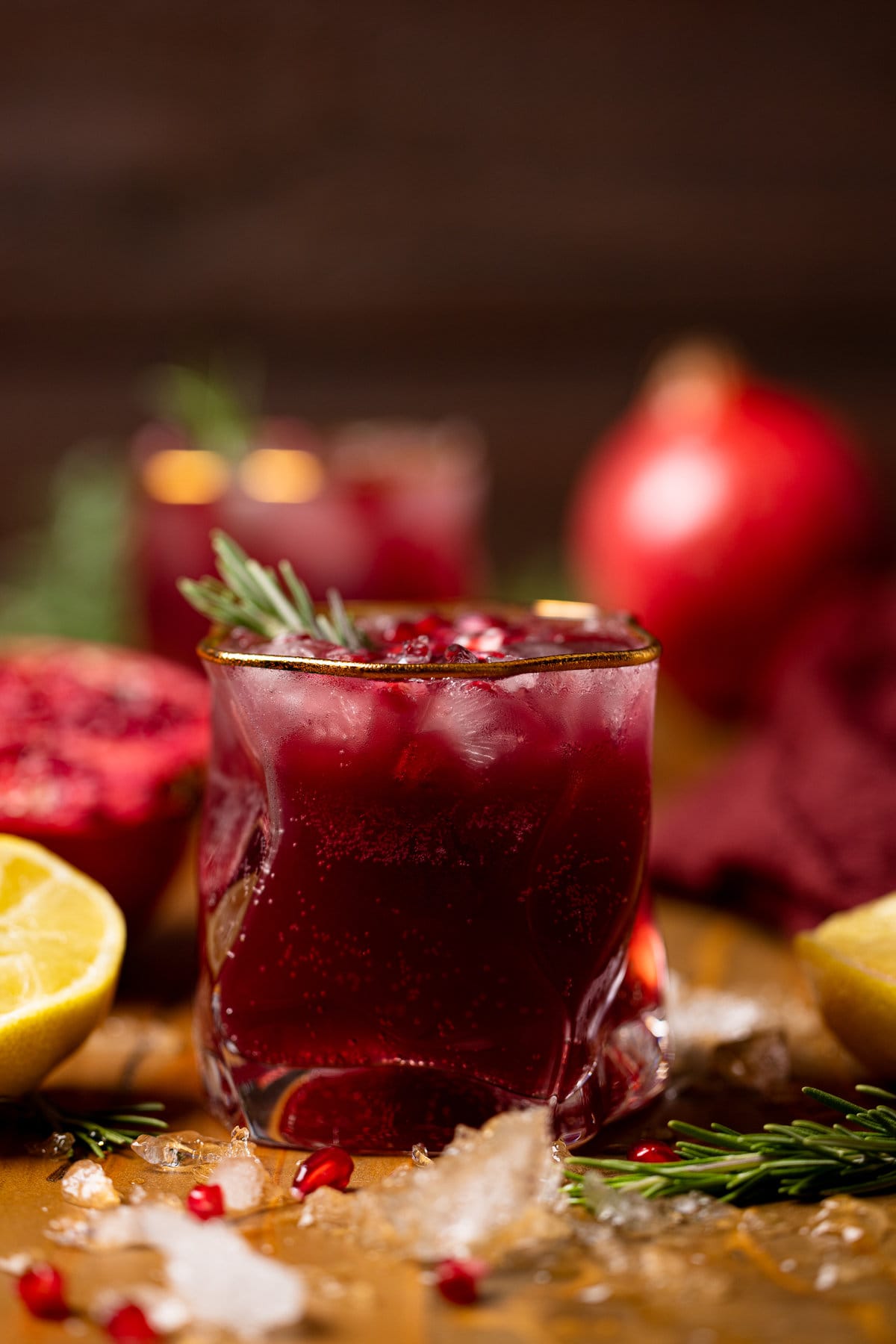 TO MAKE THE HOMEMADE GINGER SYRUP:
In a saucepan over medium-high heat, add together all ingredients, stirring to combine and bring to a boil, about 1-2 minutes. Reduce the heat to low and simmer for another 3-4 minutes. Remove from heat and let it cool completely.
TO MAKE THE MOCKTAILS:
In a mason jar or cocktail shaker, add a bit of crushed ice along with the pomegranate juice, lemon juice, and cooled ginger syrup, and shake for 1-2 minutes until combined.

Assemble the mocktail(s): For each mocktail, fill a good cocktail glass (11 oz. or so) halfway with crushed ice and pour half the amount of the mocktail mixture and top with your fave frizz (lemon soda or ginger beer) until glass(es) is ¾ filled. Garnish with pomegranate arils, rosemary or thyme sprigs, cinnamon sticks, or star anise, if desired.

Sip and Enjoy!
SERVING SIZE: To make additional mocktails, simply double or triple ingredients, depending on need.
ALCOHOL: If you'd like to keep this recipe dairy-free, but want to spruce things up with alcohol, feel free to add 1 ounce of rum, vodka, etc.
EQUIPMENT: Here, I've curated a list of drinkware and mocktail essentials that I use to achieve my favorite drinking experiences, especially with this Holiday Pomegranate Ginger Mocktail. Everything from my fave glassware, cocktail shakers, ice cube trays, and more. SEE THEM HERE!
SWEETENER OPTION: To learn more about the other sweetener options, especially for a vegan option, see post!
Calories:
9
kcal
|
Carbohydrates:
3
g
|
Protein:
0.3
g
|
Fat:
0.1
g
|
Saturated Fat:
0.01
g
|
Polyunsaturated Fat:
0.03
g
|
Monounsaturated Fat:
0.01
g
|
Sodium:
7
mg
|
Potassium:
41
mg
|
Fiber:
1
g
|
Sugar:
1
g
|
Vitamin A:
8
IU
|
Vitamin C:
14
mg
|
Calcium:
16
mg
|
Iron:
0.2
mg
Holiday Pomegranate Ginger Mocktail.