This zesty citrus and honey mocktail has a delicious herby note from fresh sage leaves, sweetness from honey, and plenty of brightness from mandarin and lemon juice. It's a refreshing and light sip any time of year.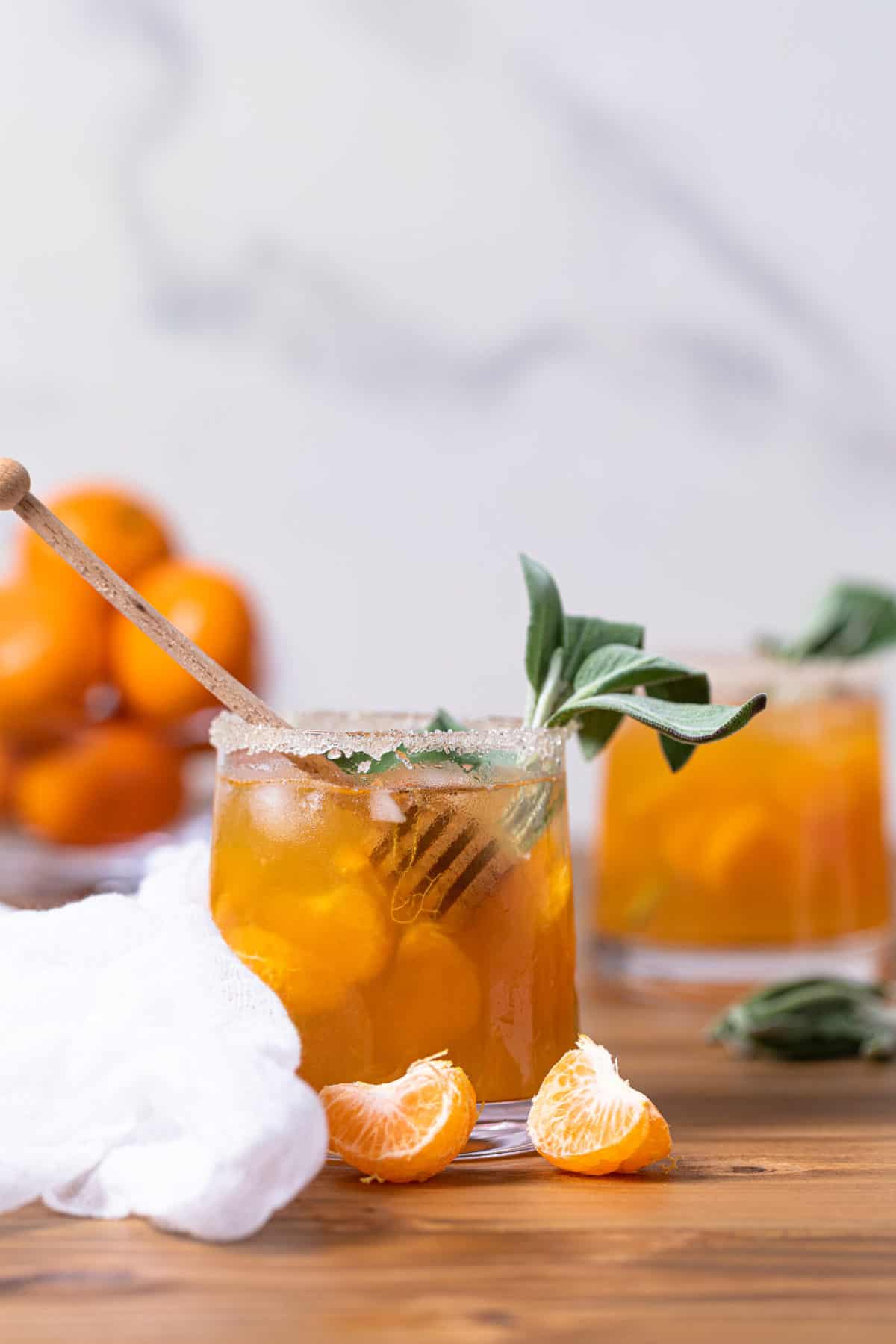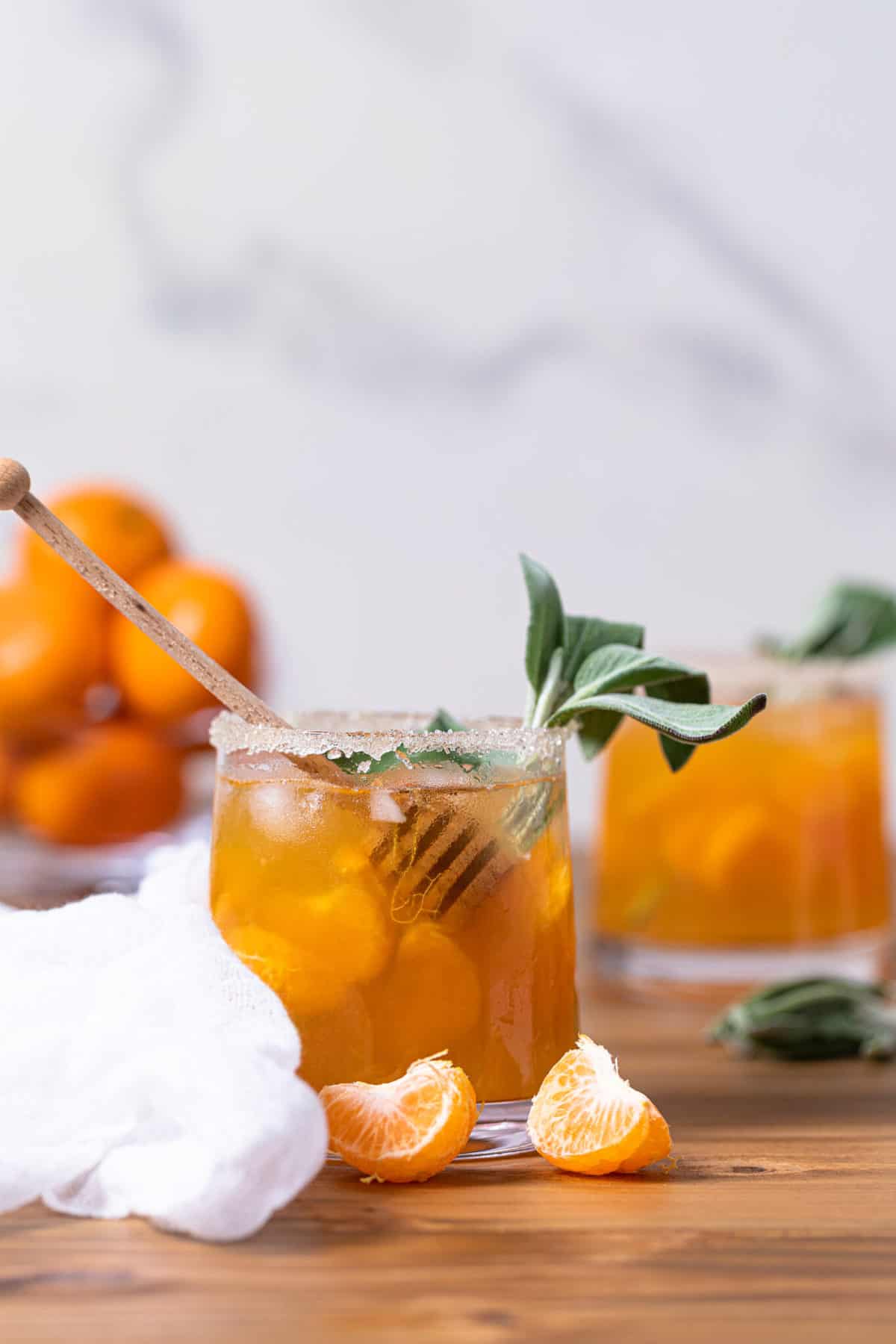 When citrus season is underway, I want to be eating as much of these juicy fruits as possible. And when I can't eat any more? It's time to drink my citrus! That's when I turn to this soothing and refreshing citrus and honey mocktail.
It's full of immune-boosting vitamin C from mandarins and lemon, plus antioxidants from honey. And because this is a healthy non-alcoholic drink, you can sip it from morning to night and reap the health benefits all day long.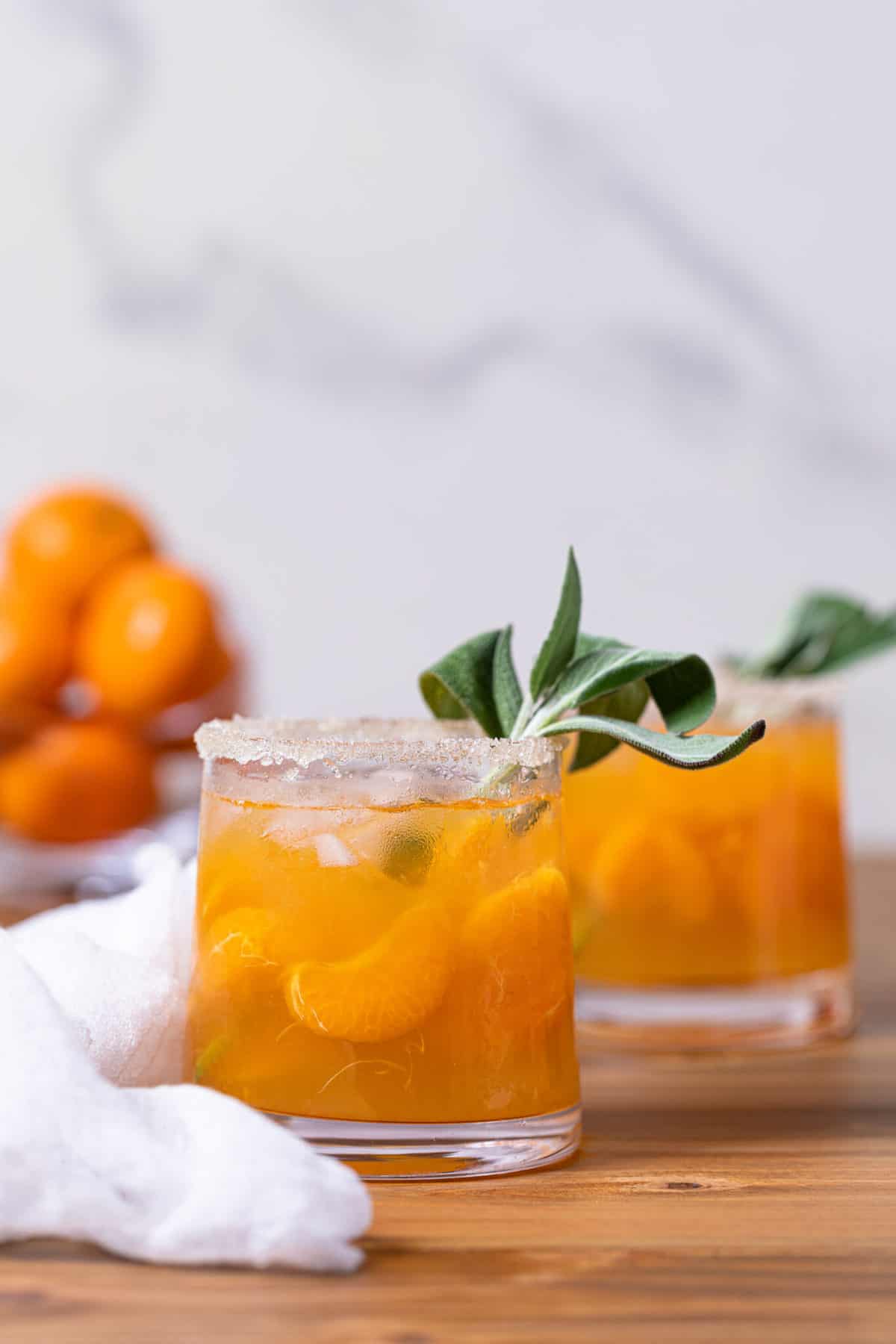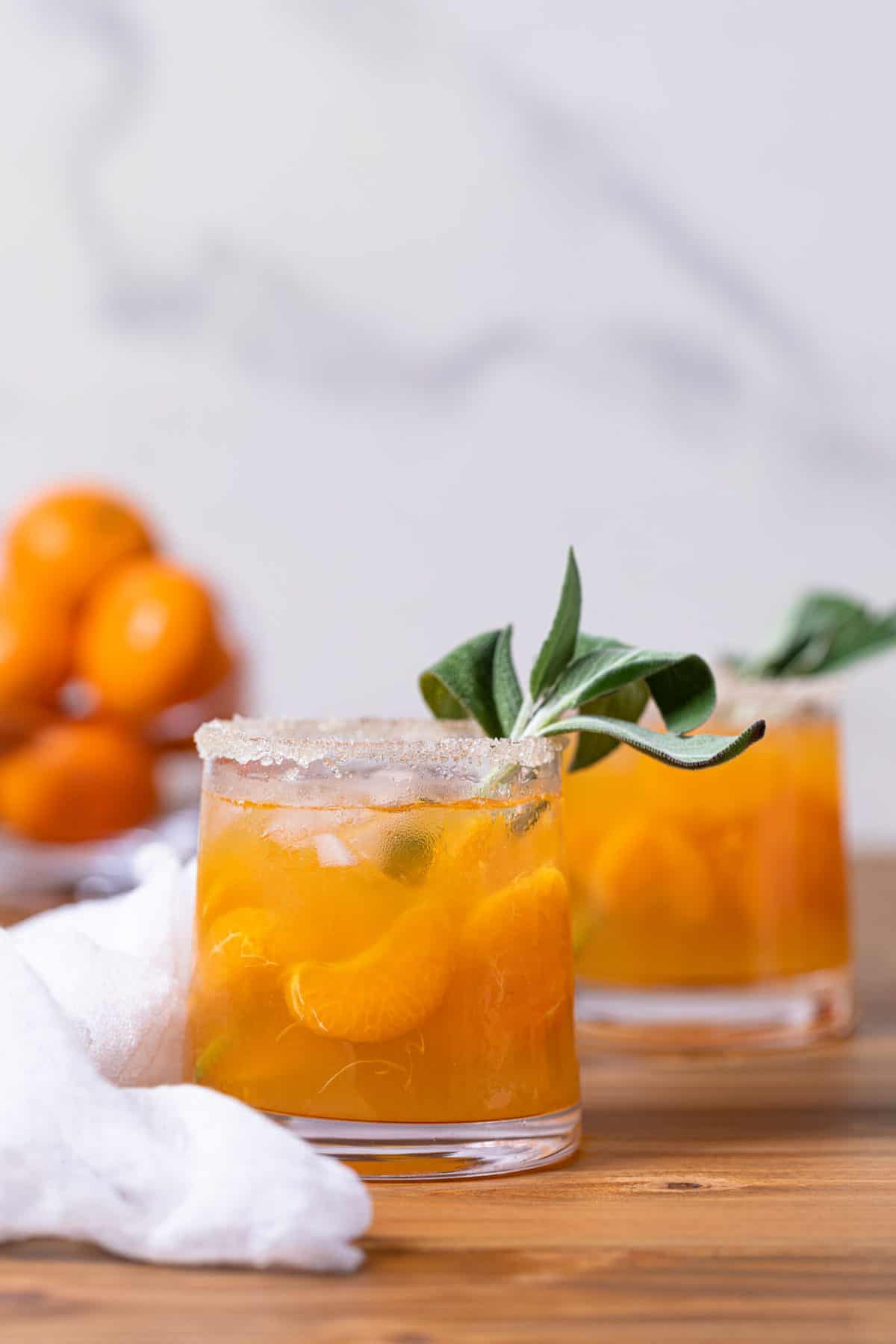 How to Make Citrus and Honey Mocktails
Making these sunny drinks is a simple matter of infusing water with fresh sage and balancing out the deep, herby flavor with fresh citrus juice. You'll need a medium saucepan and something to muddle everything together with in addition to a few simple ingredients.
Ingredients
Here's what to get out to start making these citrus and honey mocktails:
Honey. I recommend using local honey. It's naturally higher in anti-microbial and antioxidants. Plus, eating local honey may help you better acclimate to your local environment and can help reduce allergy reactions.
Fresh sage leaves. This herb has a unique flavor and a beautiful look and feel. Its fuzzy leaves are full of savory, aromatic flavors that pair perfectly with honey and citrus.
Fresh mandarin or tangerine juice. Choose your favorite orange citrus fruit. I like to use smaller mandarin or tangerines because I can easily fit the cute little orange segments into my glass as a garnish.
Fresh lemon juice. You can also use a zesty lime instead of lemon. This stronger citrus flavor adds a bright and sunny flavor to really make your cocktail come alive.
Agave syrup. You can also sweeten the drinks with pure cane sugar or maple syrup if you prefer.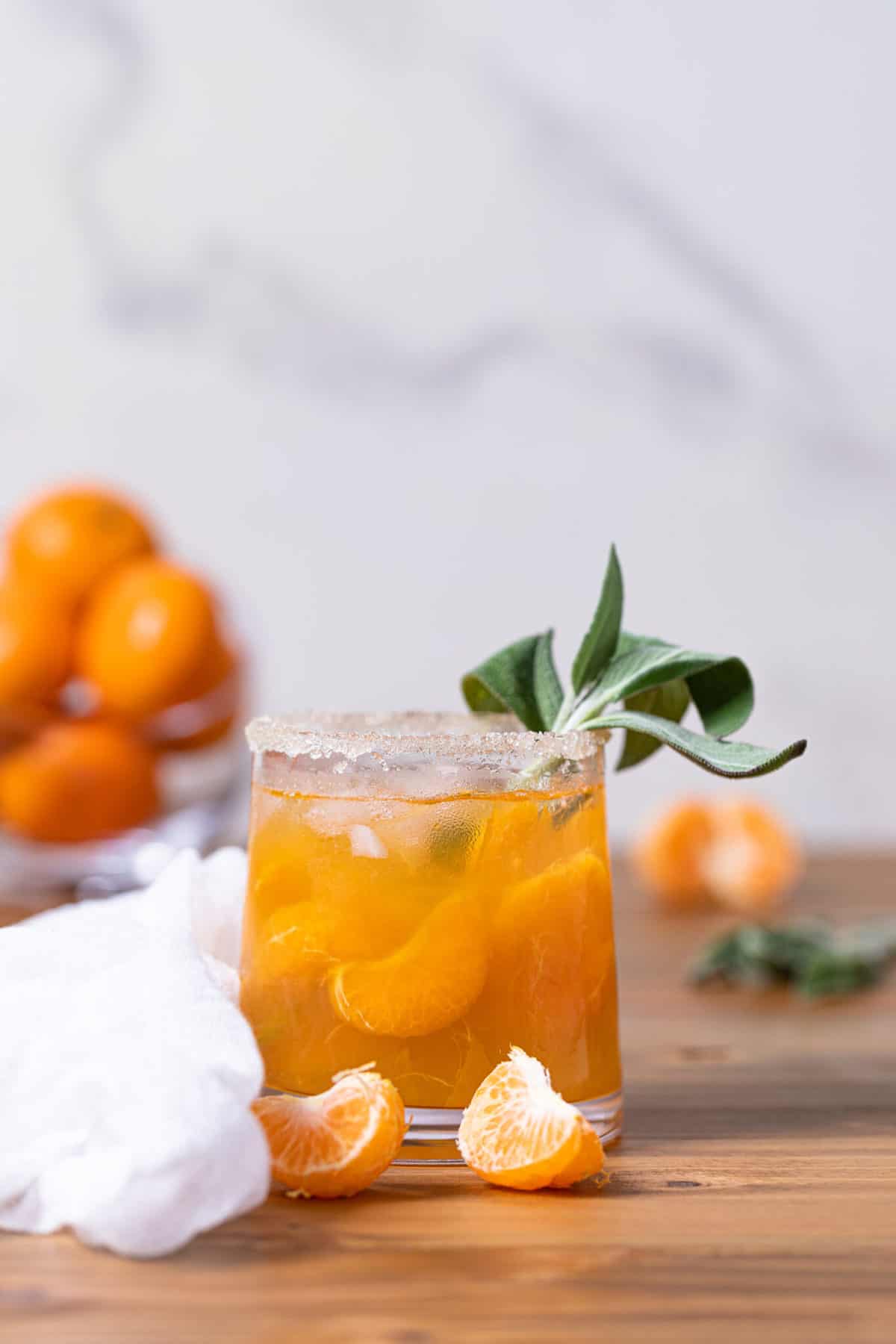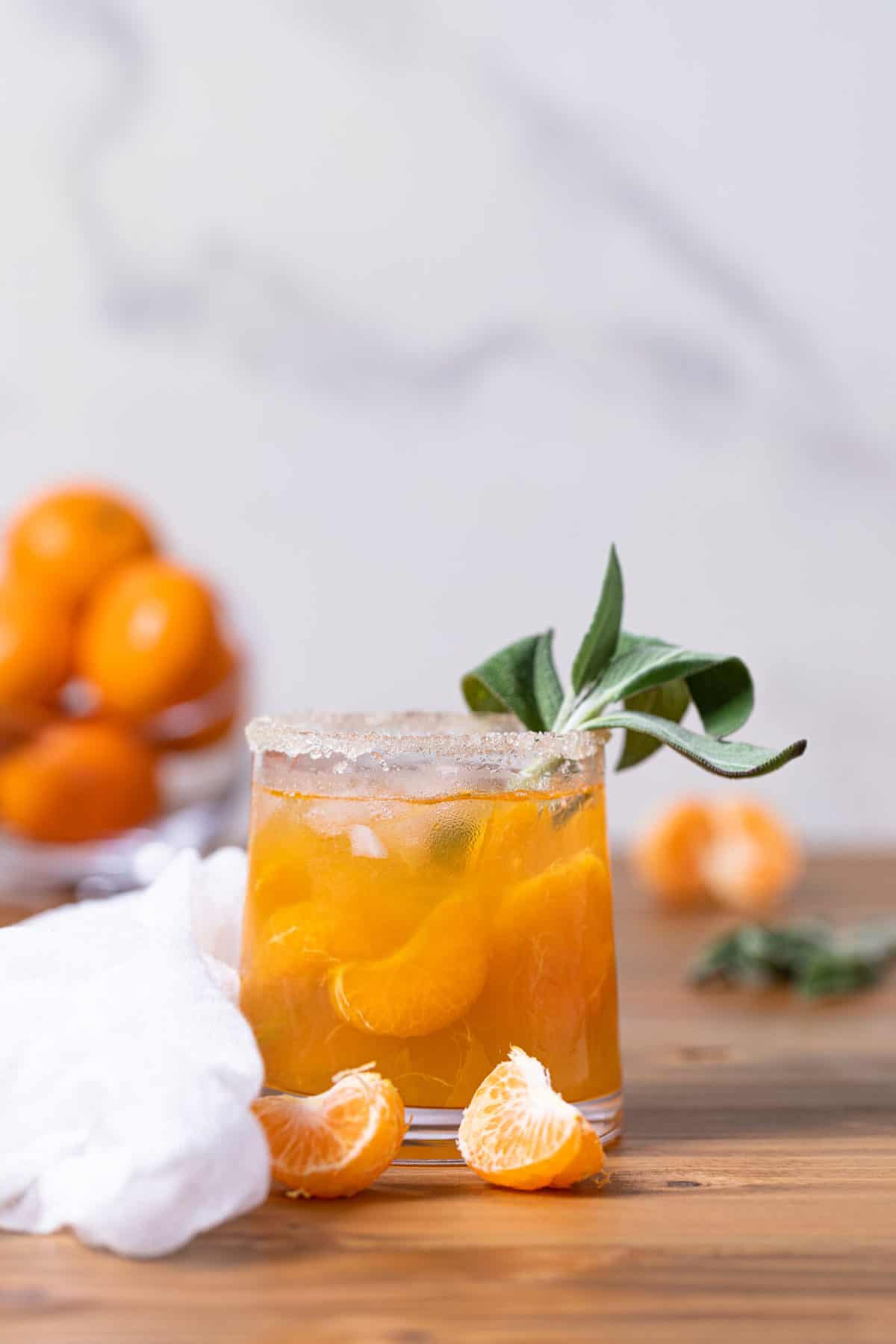 Instructions
When you have your ingredients assembled, here are the simple steps to mix up citrus and honey mocktails:
First, in a medium pot over medium-high heat, add bring the water to a boil. Once boiling, add the sage leaves and honey. Continue to boil for 2-3 minutes. Then turn off the heat and let the mixture steep, covered, for 5 minutes.
Meanwhile, in a bowl, combine the fresh mandarins or tangerines and lemon juice. Use a muddler or a fork to gently crush the fruit until the citrus is totally broken down. Add the agave and stir until combined.
When the sage is done steeping, remove the leaves from the honey syrup. Transfer the infused honey syrup to a pitcher.
To serve your mocktails, fill glasses with ice. Pour the honey-sage syrup to fill each glass halfway. Then fill the glass 1/3 with the citrus mixture. Finally, add mandarin or tangerine segments and fresh sage leaves for garnish, if desired.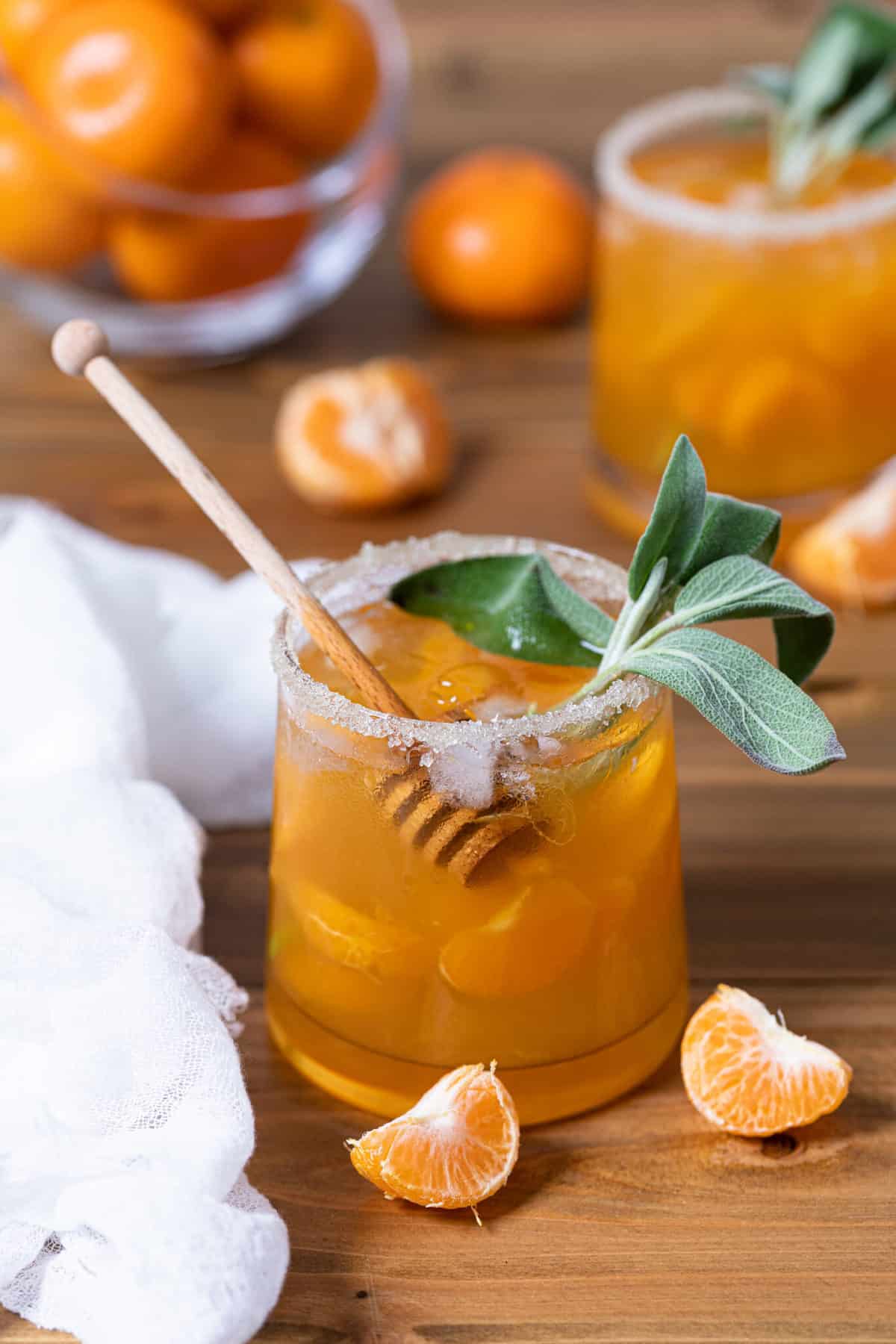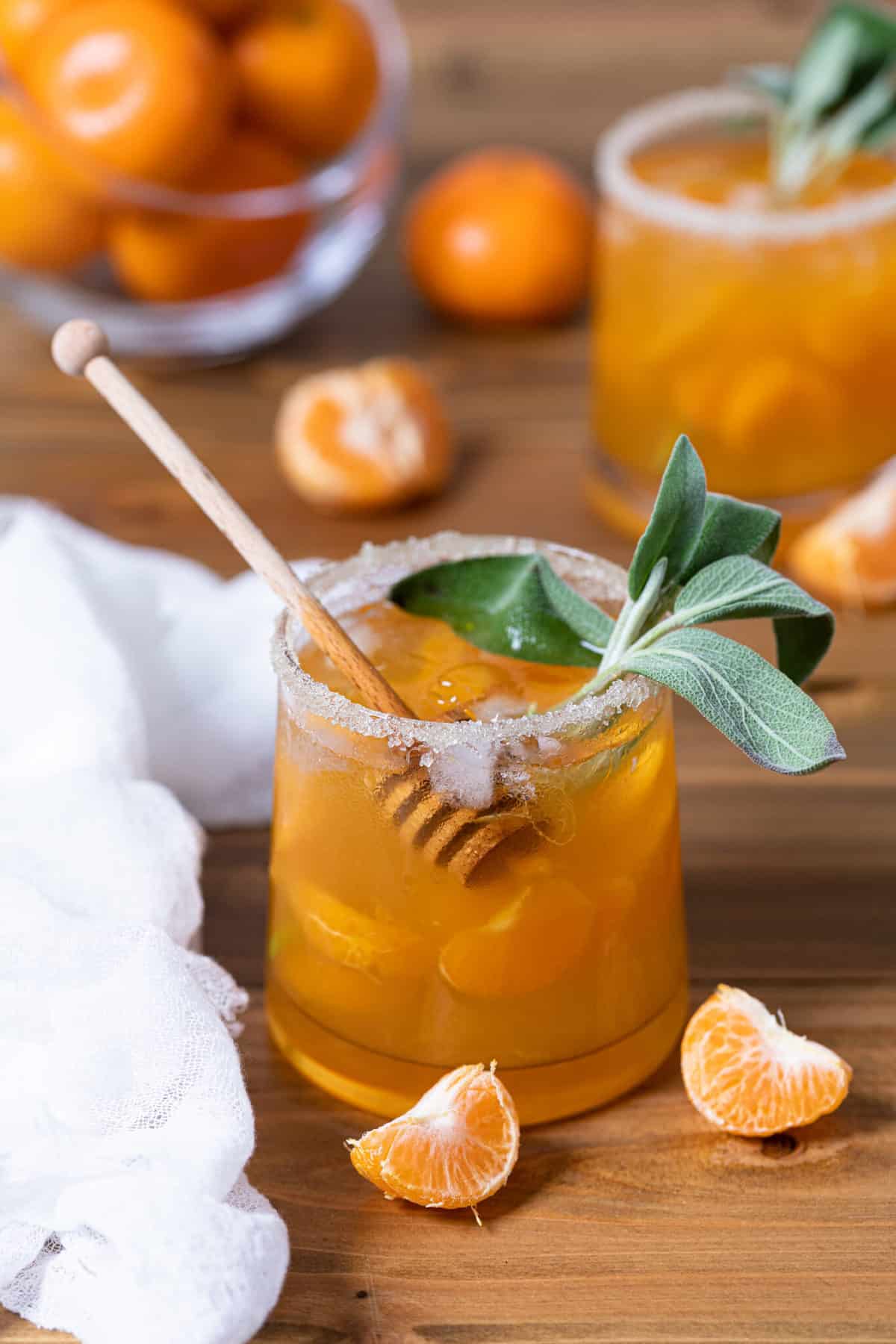 Storage Suggestions
You can store the honey-sage syrup in an airtight container in the fridge for up to one week. To use, you can stir the syrup into hot tea or water or make more chilled mocktails!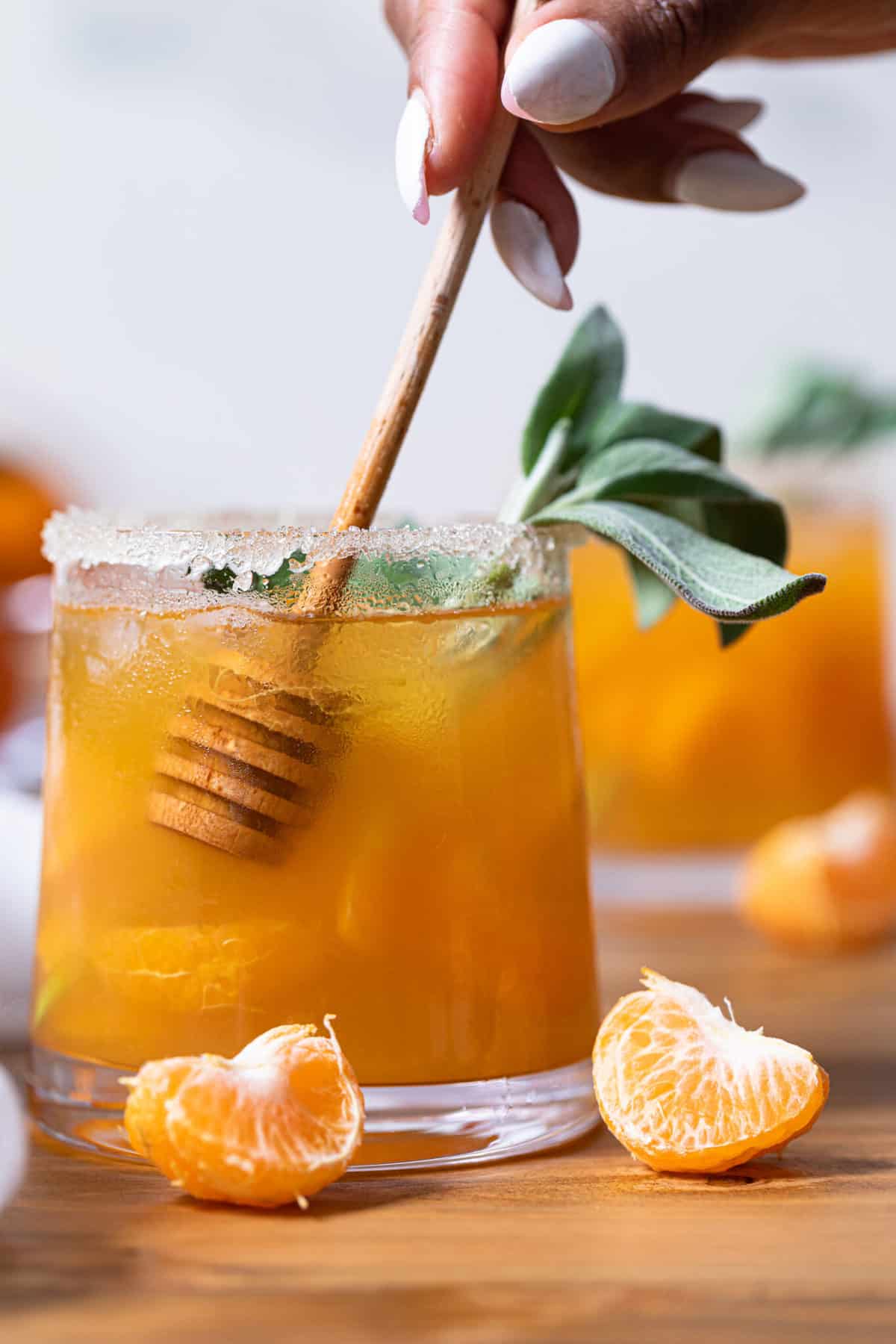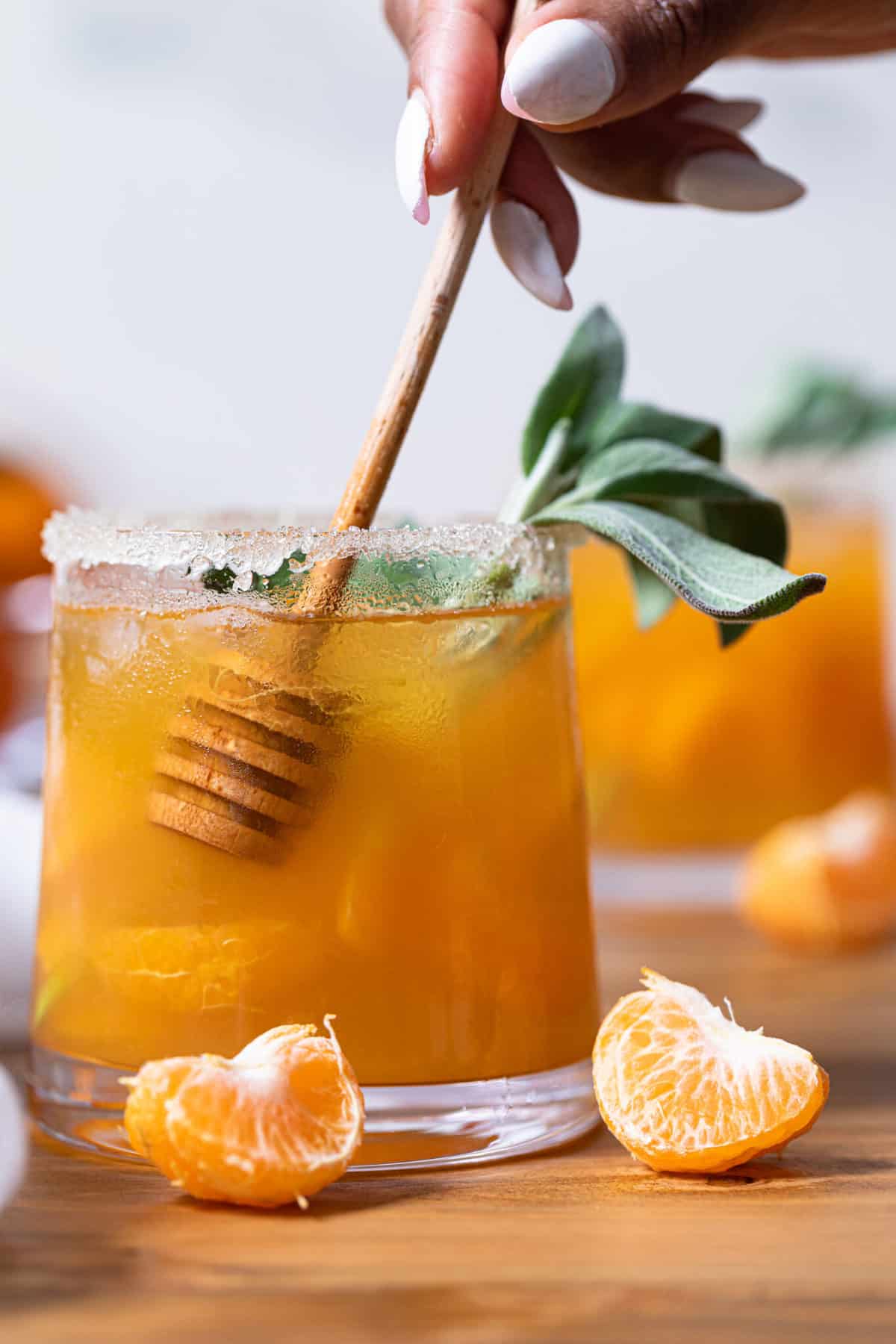 How to Use Honey-Sage Syrup
If you have a jar of homemade honey-sage syrup in your fridge, there are dozens of delicious and easy ways to use it. Here are some of my favorite ideas:
Stir it into brewed black or green tea for a sweet pick-me-up.
Add it to a chilled smoothie for a unique sweetener to replace agave, honey or maple syrup.
Use it in place of another liquid sweetener in baking or pancake recipes.
Drizzle a bit over your morning yogurt.
Make citrus and honey mocktails, of course!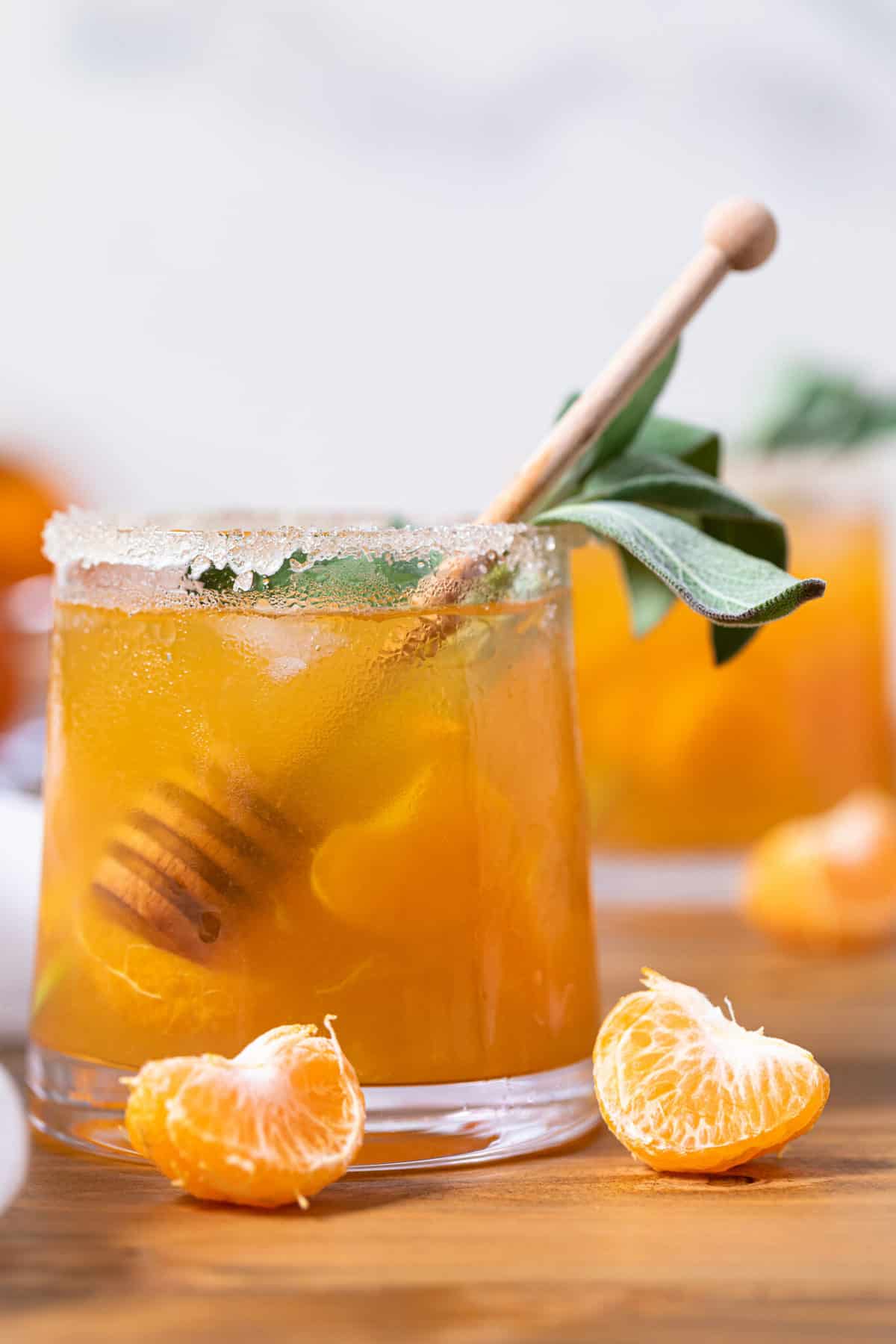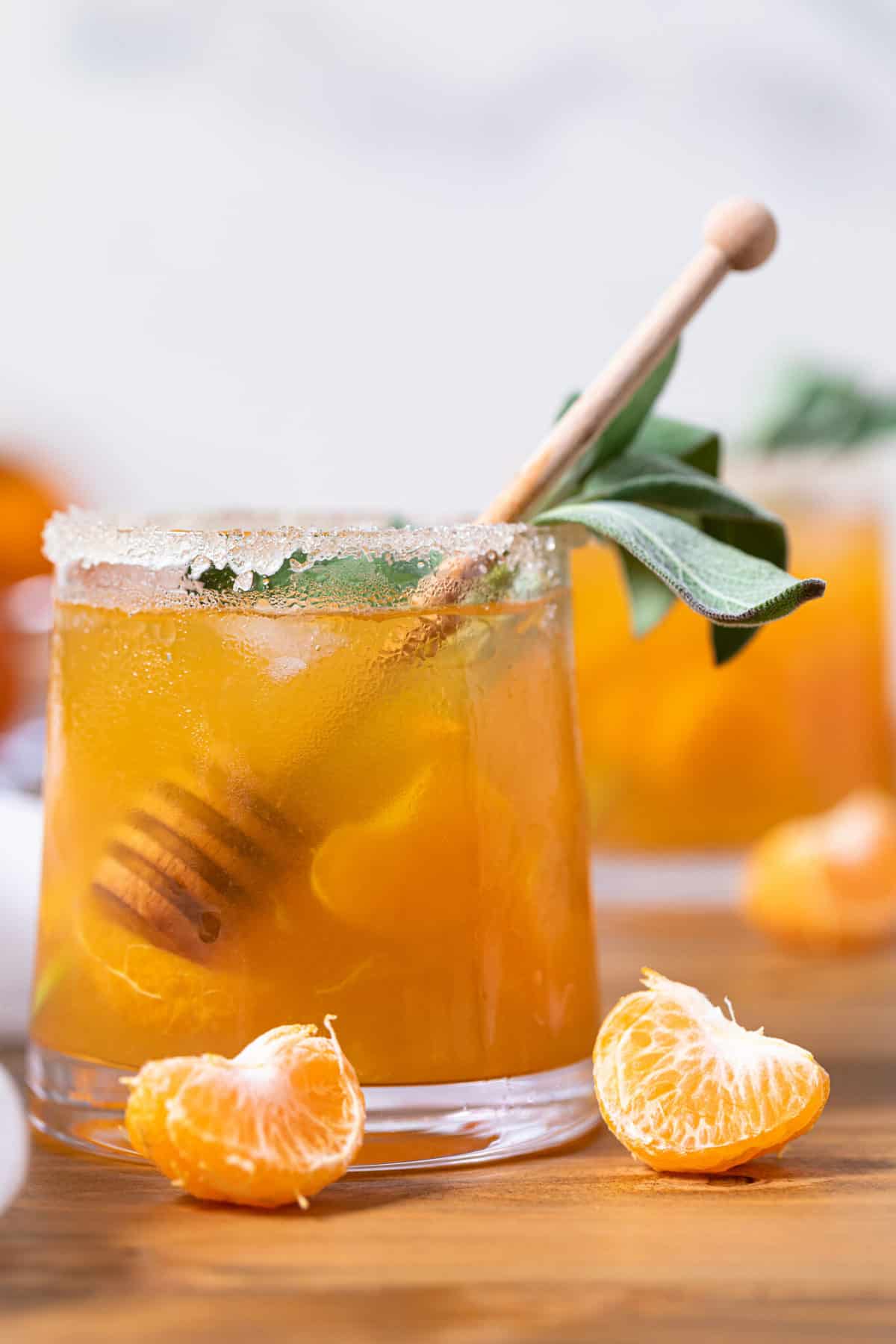 More Refreshing Mocktail Recipes
Looking for more colorful and fruity non-alcoholic drink recipes? Give these a try next:
To begin, In a medium pot over medium-high heat, add water and let it begin to boil. Once boiling, add the sage leaves and honey boil for 2-3 minutes before turning off heat and letting everything steep (while covered), about 5 minutes.

In a bowl, add together the fresh mandarins or tangerines and lemon juice, mulling (crushing) everything until fruit are fully broke down. Add Agave and stir until combined. Set aside.

Once fully steeped, remove sage leaves and pour mixture into a medium pitcher (or medium bowl that can be easily poured) and set aside.

To Make Mocktails: Add crushed ice to a glass, fill 1/2 of the glass with the Honey-Sage Syrup, then 1/3 of it with the citrus mixture and add sliced mandarin or tangerine and sage leaves inside the glasses as garnish, if desired. Repeat for every serving. 

Sip and Enjoy!
STORAGE: Honey-Sage syrup can be stored in the refrigerator in a tightly sealed jar for up to a week. **Can be made as a traditional Honey-Sage drink/tea (once warmed) with additional sage leaves OR enjoyed as this mocktail recipe.
SWEETENER: Instead of Agave, you can always use pure cane sugar or maple syrup to sweeten.
LEMON: Instead of using lemon juice, you can always use lime juice as a substitute.
Citrus and Honey Mocktail.