This Vegan Sweet Potato Maple Herb Cornbread recipe is the perfect skillet cornbread that you'll ever taste! This cornbread is the ultimate fluffy, crumbly, and airy side dish that fits right in with your other Thanksgiving dishes. Unlike traditional cornbread, this version boasts of delicious sweet potato, maple, and herb flavors, all of which creates a sweet + savory taste that will leave you wanting another slice. All vegan ingredients. Complete oil-free. Gluten-free option.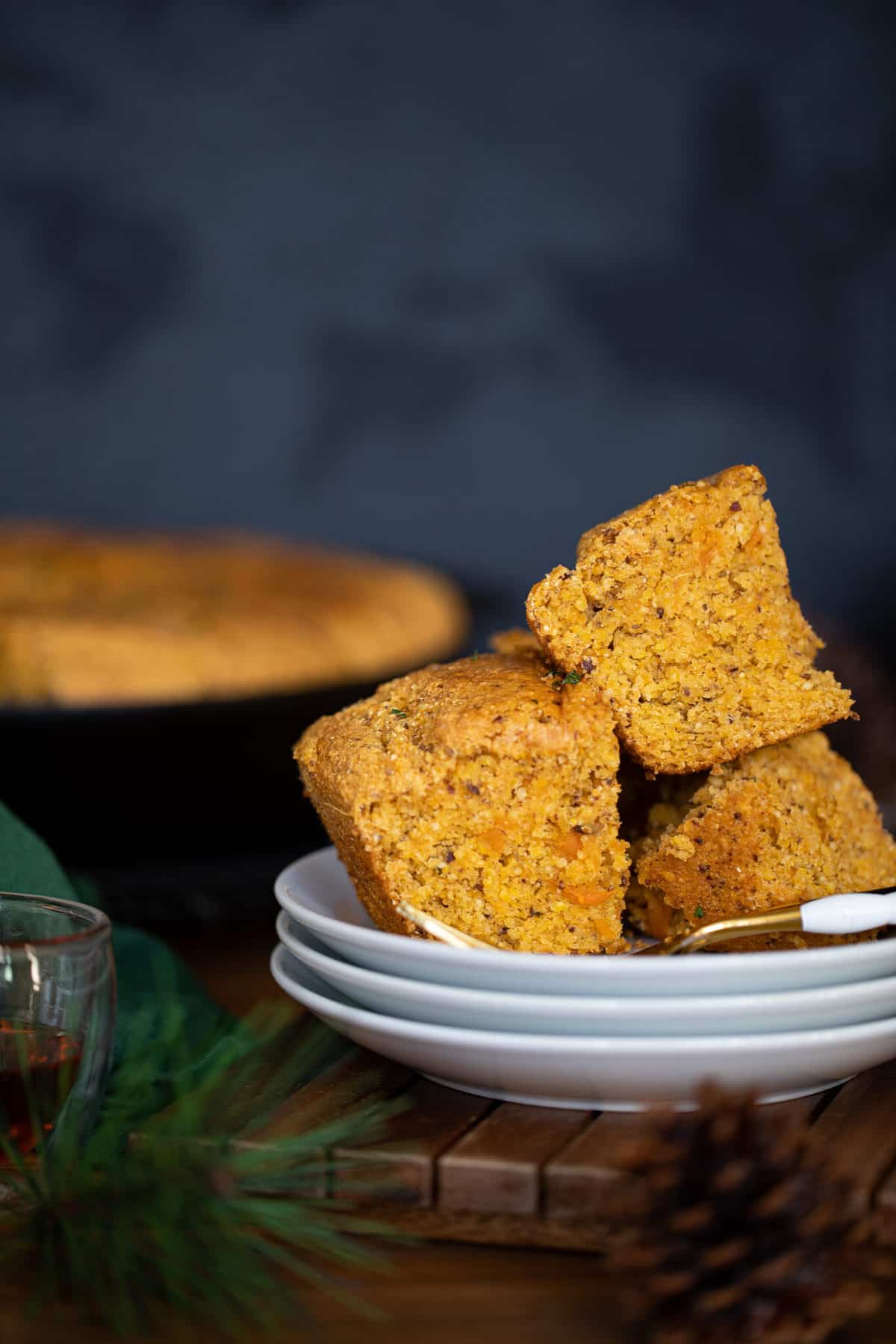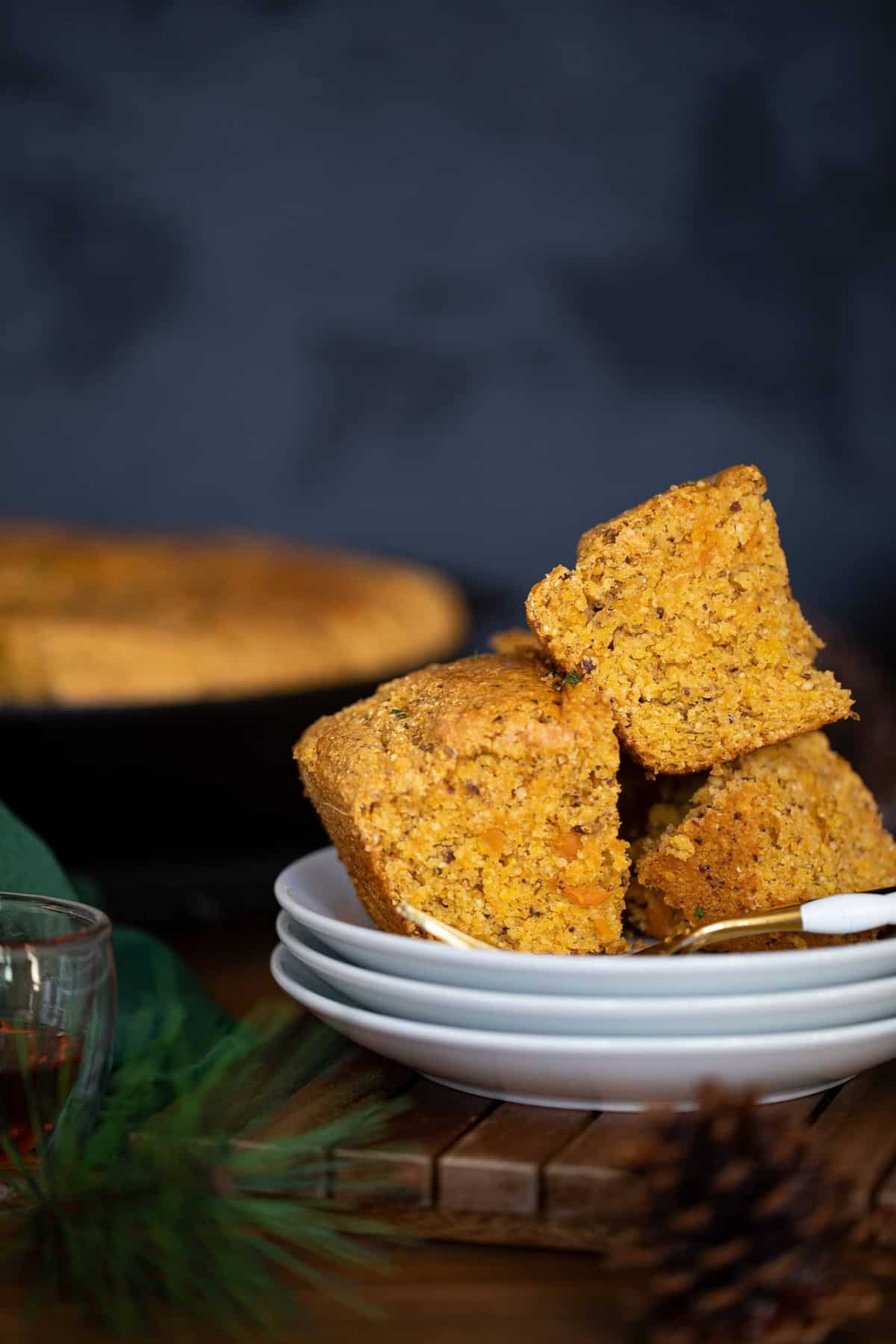 This Vegan Sweet Potato Maple Herb Cornbread is EVERYTHING! This is the first cornbread recipe featured on Orchids + Sweet Tea and I couldn't be more excited about it to be honest.
If you've been an avid reader of this blog, then you know that I'm a Southern Girl at heart---born and raised, so I'm always thrilled to share Southern-inspired foods. Haha.
Who Needs Regular Cornbread When You Have Sweet Potato.
This is literally my mantra. I'll never eat cornbread the same after trying it with sweet potato. It's just THAT GOOD!!
LOOKING FOR A HEALTHIER SWEETENER OPTION?
The Best Healthy Sugar Alternatives + Substitutes list is all about finding better ways to enjoy your favorite sweets without compromising your healthy lifestyle. For those who follow a vegetarian and/or vegan lifestyle, this lists offers a few great ideas to incorporate healthy sweeteners into your diet.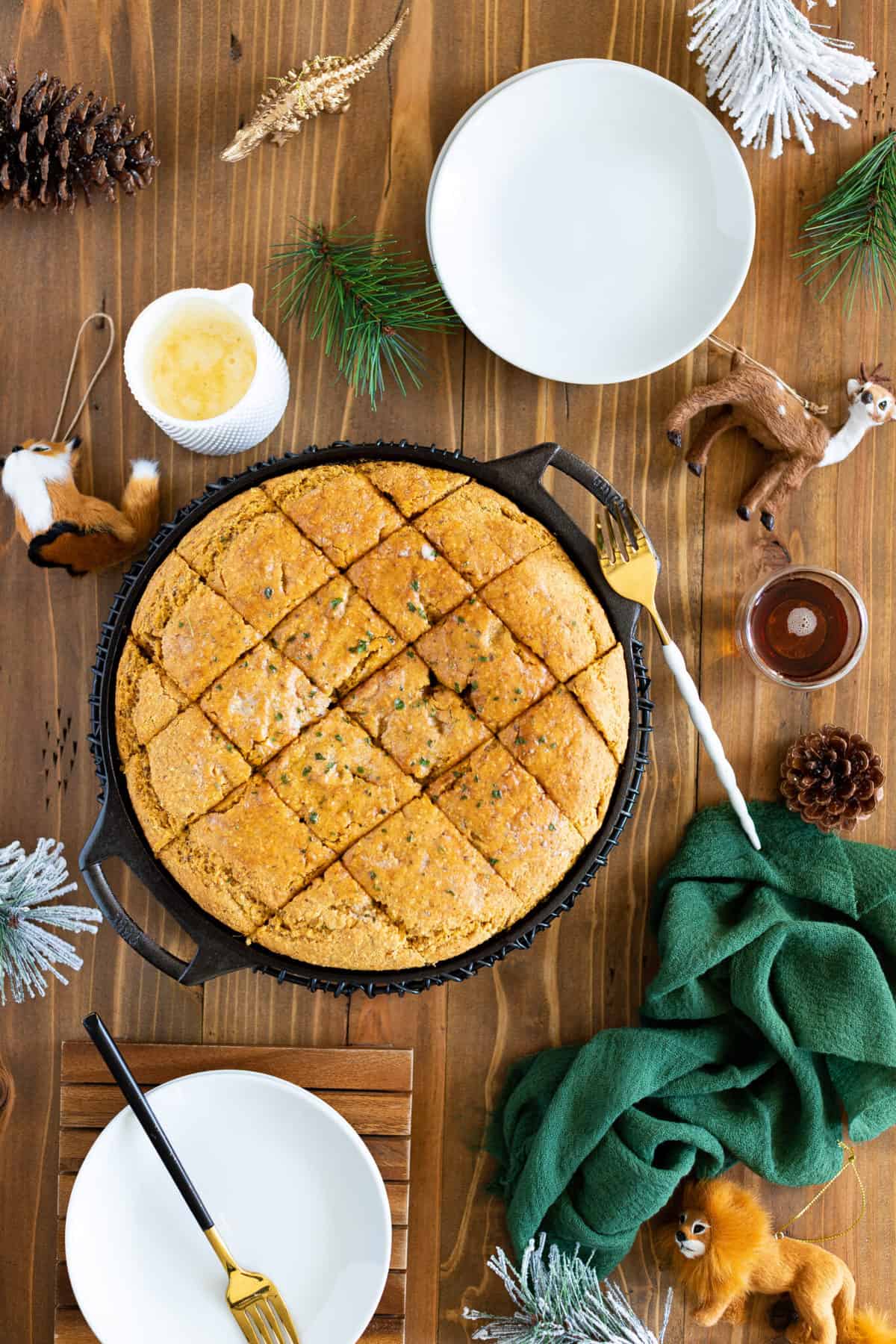 What You'll Need For This Cornbread?
Flour – Creates a nice airy, fluffiness to this cornbread, BUT can be substituted with GF flour if needed
Cornmeal – The important part of this cornbread. Adds great texture, BUT can be substituted with GF cornmeal if needed
Sweet Potatoes – Adds such a sweet, delicious flavor to this cornbread
Baking Powder — Very important leaveners
Almond Milk – Makes things nice + soft; Sub with your fave plant-based milk
Vegan Butter — The important element for tying in the flavor
Maple – A natural sweetener with bold sweet flavor
Spices – Cinnamon, All spice – the best combo of Fall flavors that also brings a lot of comfort
Herbs – Dried parsley, dried thyme -- creates a nice earthy flavor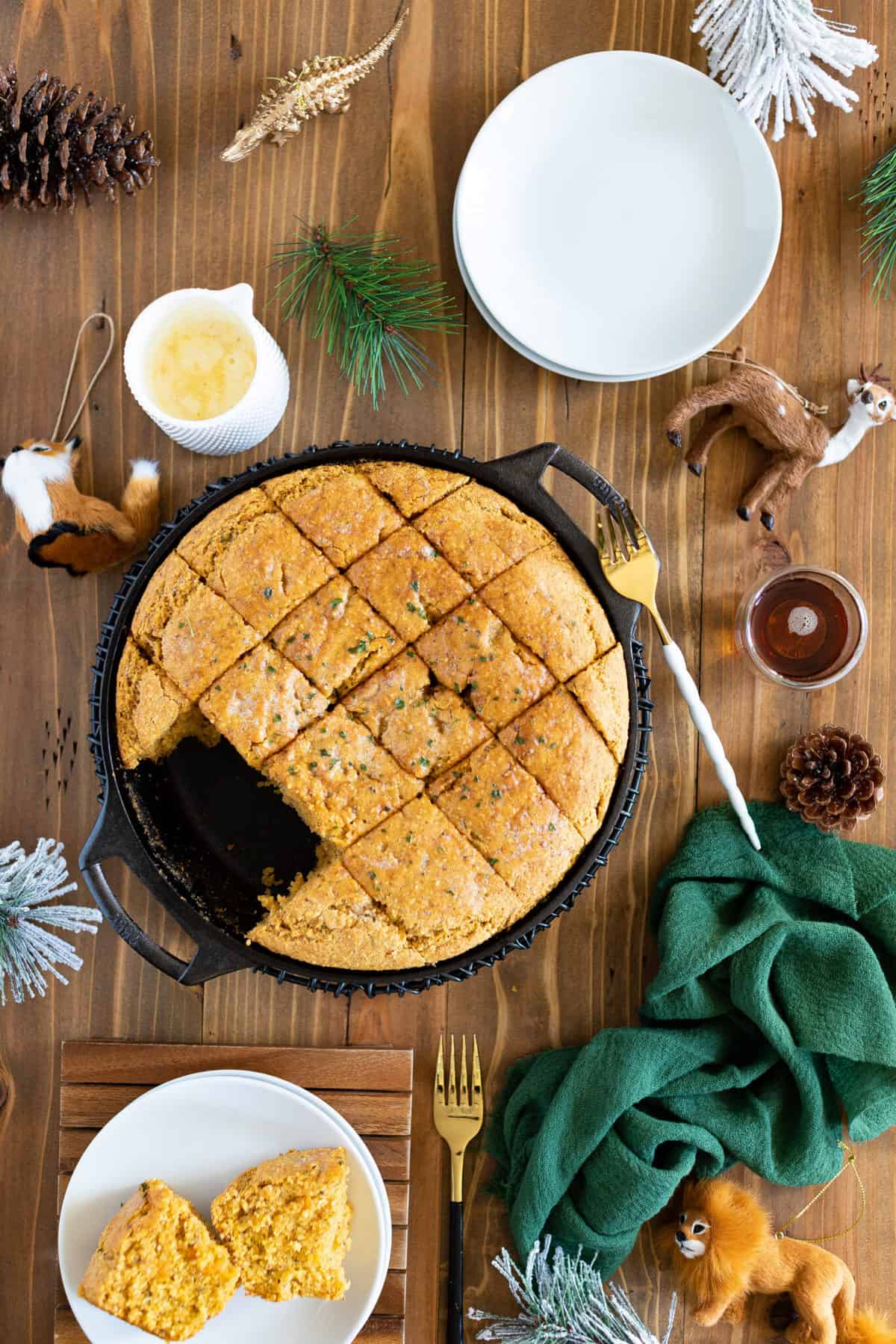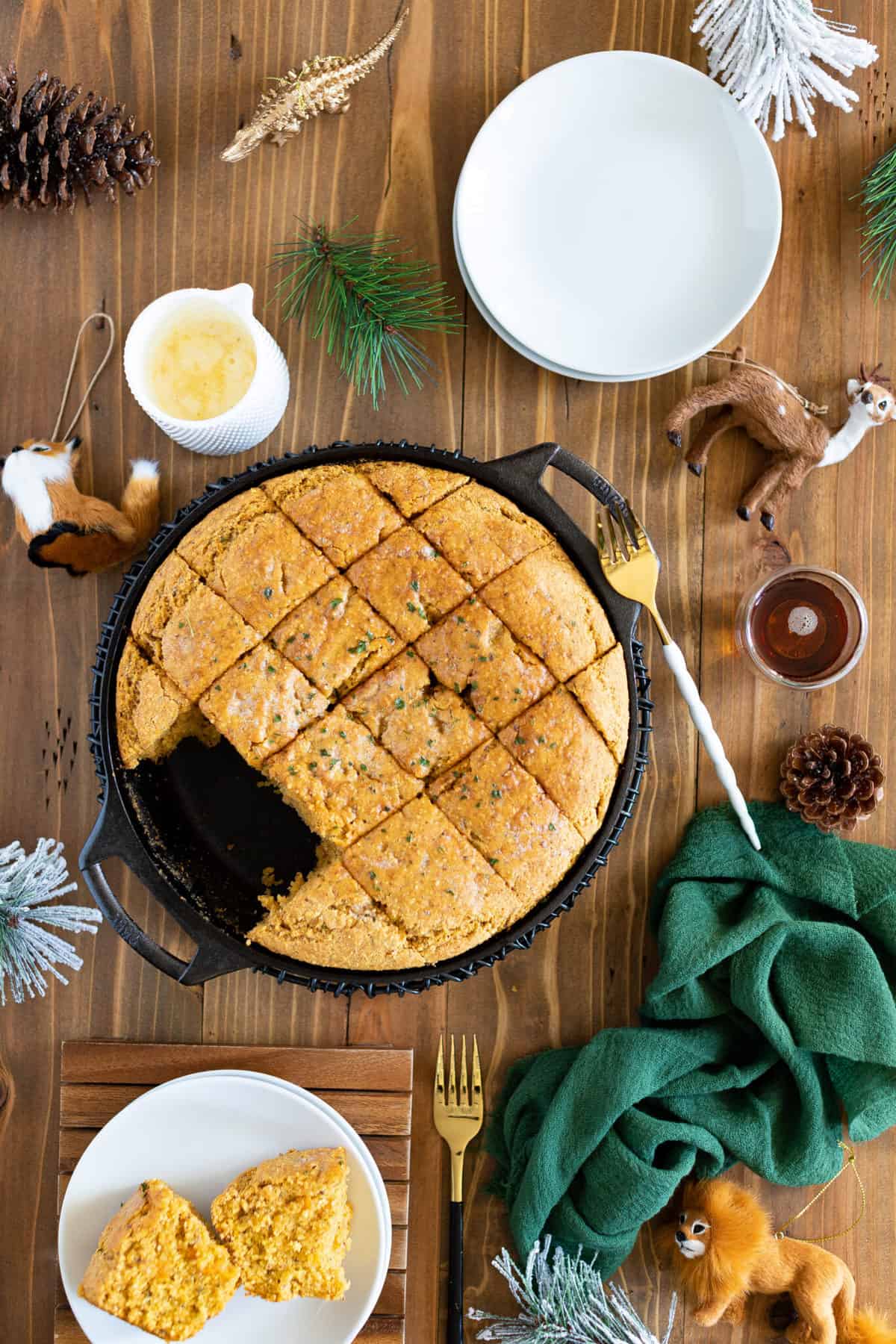 WHAT YOU'LL LOVE MOST ABOUT THIS RECIPE?
Super easy to make.
Totally vegan + oil-free. GF option available!
Whipped together in under 1 hour!
Sweetness is adjustable based on tastebud preferences.
Everything made in ONE BOWL. Yup. How can it get any easier?
Delicious Fall + herb flavors in every bite but also can be enjoyed during any season.
Did I mention that—THIS RECIPE IS AMAZING?!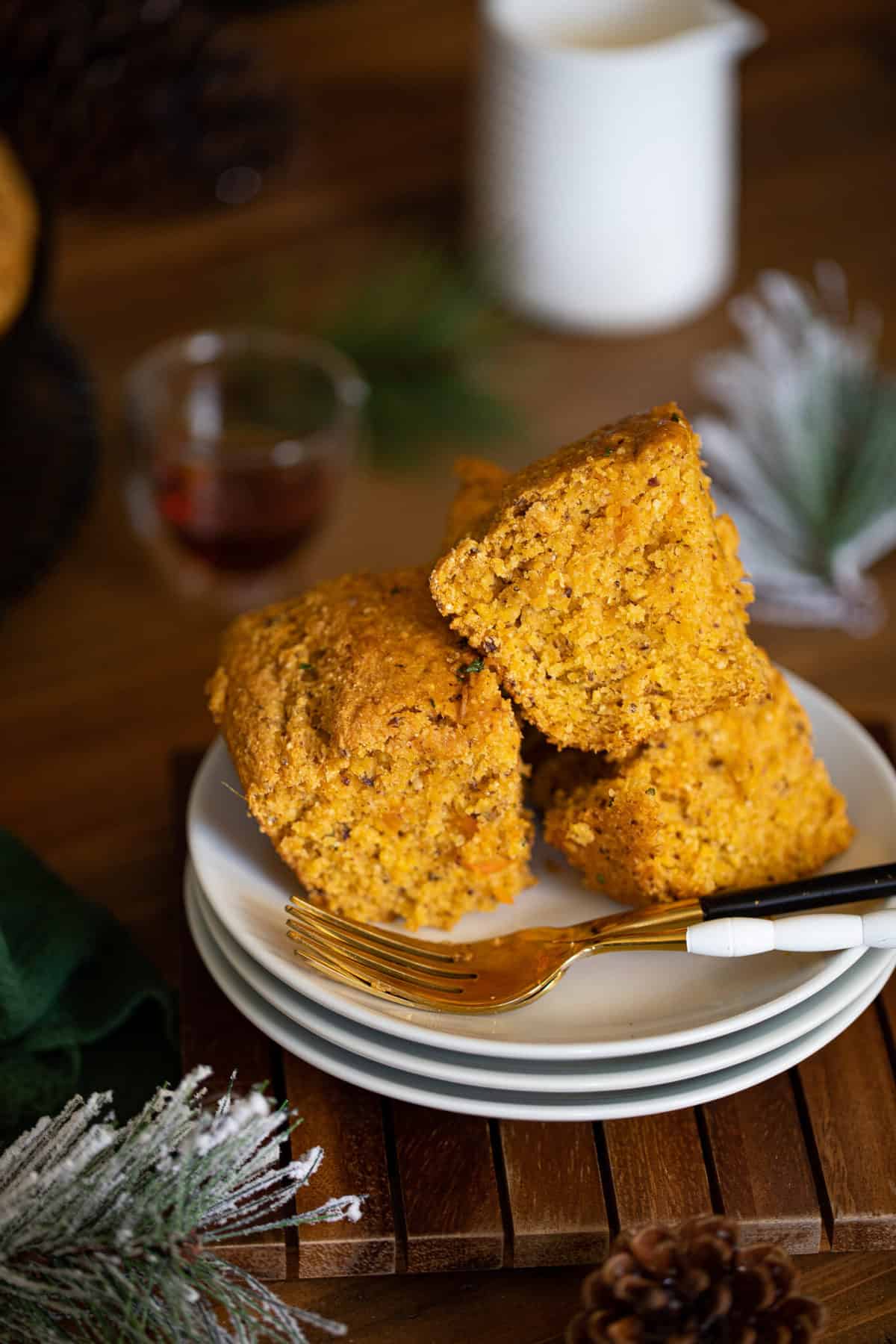 Besides the fact that sweet potatoes taste so good, they are also very healthy for you.
Health Benefits of Sweet Potato.
They actually contain more fiber than regular potatoes! Who knew? Plus, they are good sources of magnesium, which is what helps aid them in being a great facilitator in digestion.
Since they are rich in beta-carotone (a major antioxidant), they are awesome at defending your body from a wide variety of issues. In addition, they contain other great antioxidants which include: Vitamin C and B-complex, iron, and phosphorous.
Yes, that's right! Sweet Potatoes are great at soothing the stomach and intestines. The previous listed vitamins that help to boost your immune system also are great at curing stomach ulcers. Plus, the roughage in sweet potatoes help to combat constipation and acid formation, which both help to reduce the chances of ulcers.
Other Benefits: They help to treat inflammations, promote weight gain, treat bronchitis, reduce arthritis pain, and more.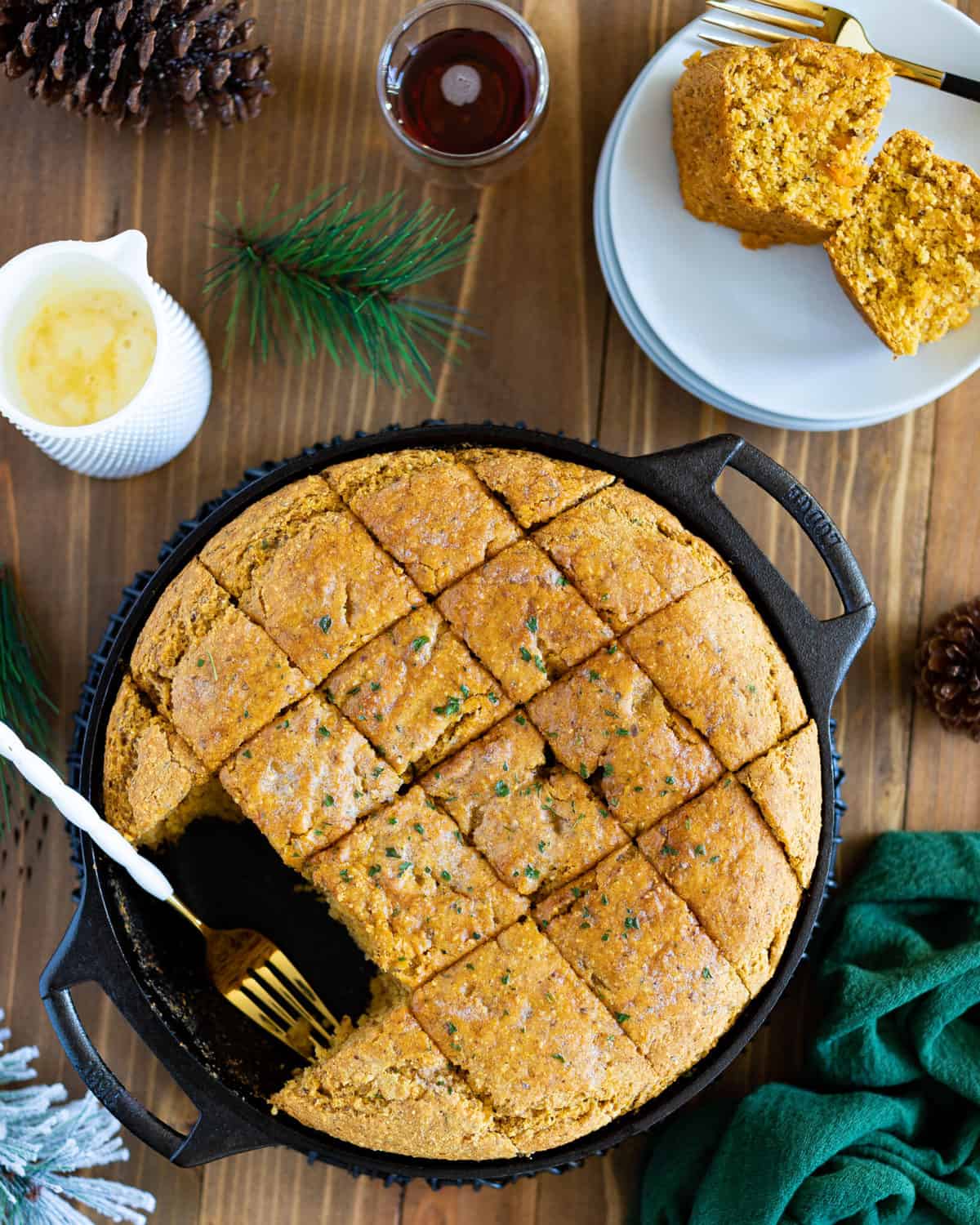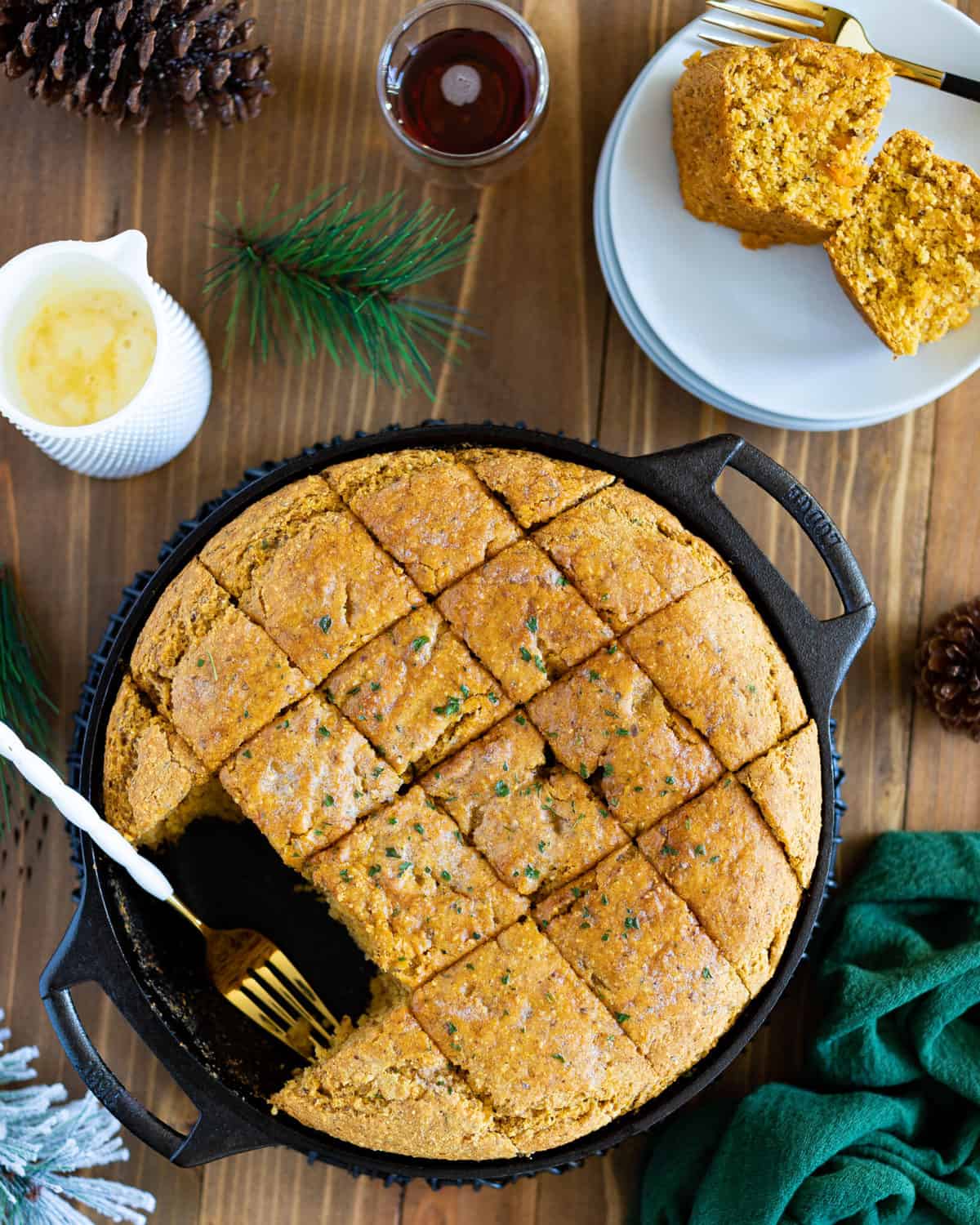 Looking For ALL Things Sweet Potato? Try These!
These Thick + Fluffy Sweet Potato Pancakes are healthy, dairy-free, and are the perfect way to kick-start your day. Whether you want an awesome seasonal flavor or just something sweetly homemade, this recipe makes for a great breakfast or brunch dish in just 25 minutes–total.
This Vegan Sweet Potato Pasta w/ Kale + Spinach is the perfect way to enjoy a good plate of creamy pasta much like the classic Alfredo version, without the dairy and cheese and of course with the amazing texture of Pappardelle noddles. This recipe is easy to make, light, bursting with 'cheesy flavor' from the use of nutritional yeast, dairy-free, and so healthy!
When it comes to this Vegan Sweet Potato Pie, it is smooth, velvety, naturally sweetened, full of sweet potato flavor and is housed with a buttery, flaky crust. This recipe is sure to please the crowd during the Holiday season, one slice and bite at a time. Made in a blender, super easy to make, gluten-free option available.
These Flourless Vegan Sweet Potato Oats Waffles are the best easiest gluten-free waffles for the entire family. Made right in a blender, these waffles are naturally sweetened, fluffy, thick, airy, and full of sweet potato + oat flavors. The perfect breakfast or brunch dish with the perfect taste for your mornings!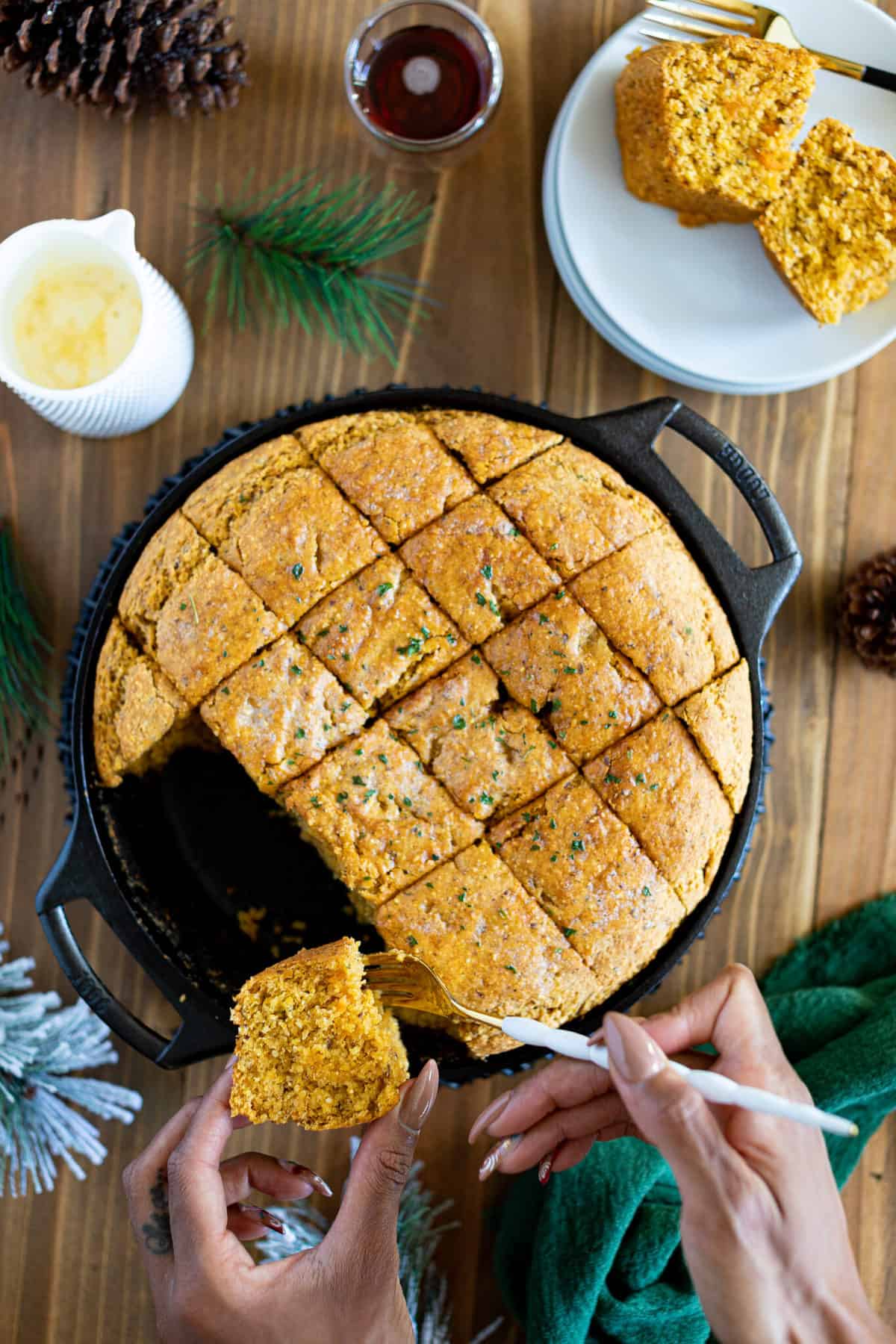 Now that Thanksgiving is quickly approaching, gathering your list of ingredients needed to ensure that your gathering (whether big or small) is seamless is so important.
Although this year's Thanksgiving will look different for many of us, it's definitely not impossible to make things special. I'm a big believer in using the little that you have left to create the greatest experiences and things.
HOW TO HOST THE PERFECT VEGAN FRIENDSGIVING.
Unlike traditional Thanksgiving dinner, Friendsgiving is the place where you get to enjoy good times with close friends and extended family. For many, Friendsgiving has become their new tradition and with more people wanting to maintain a healthier lifestyle, this list of How to Host the Perfect Vegan Friendsgiving comes in handy. It's all about creating simple ways to make this moment the most memorable.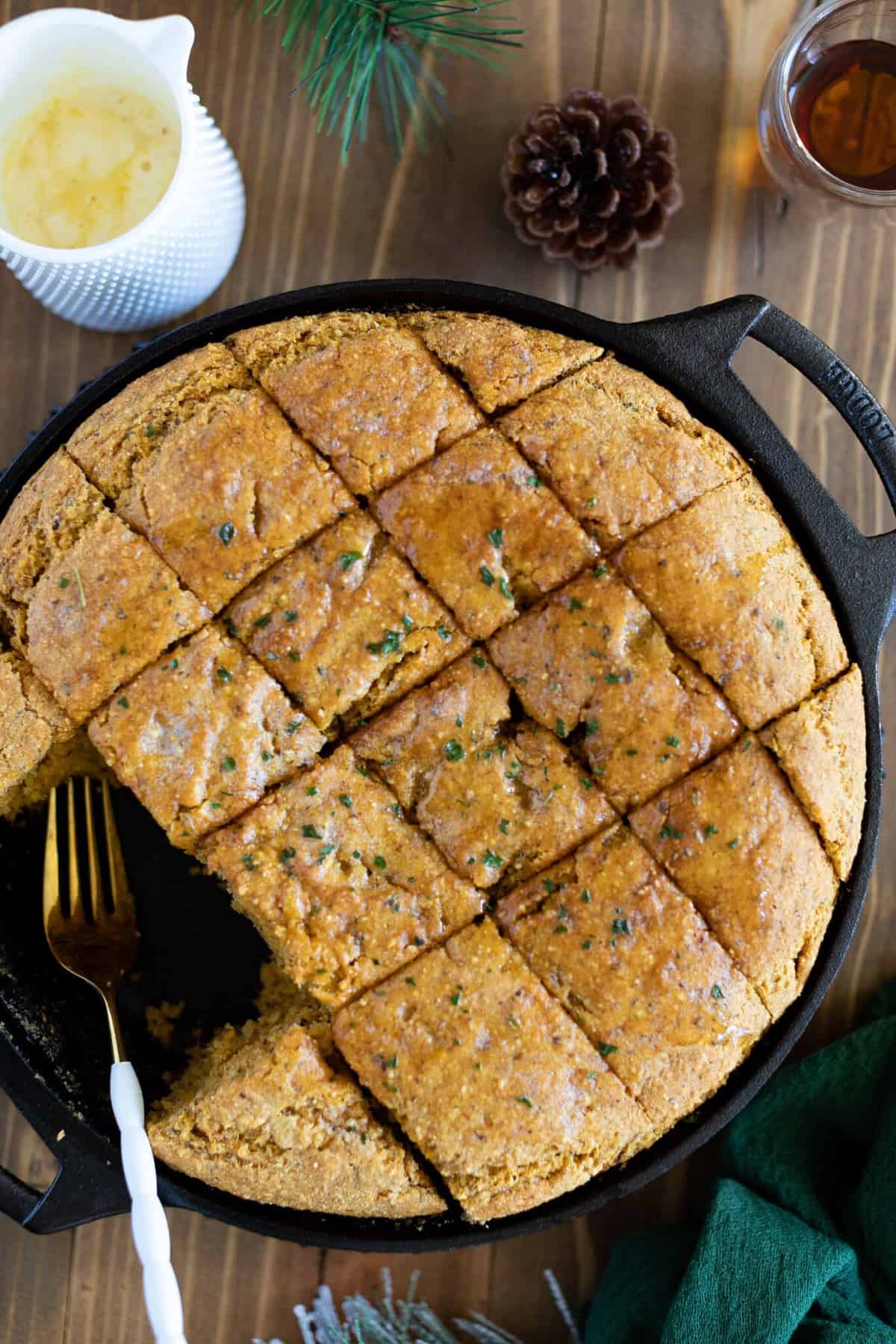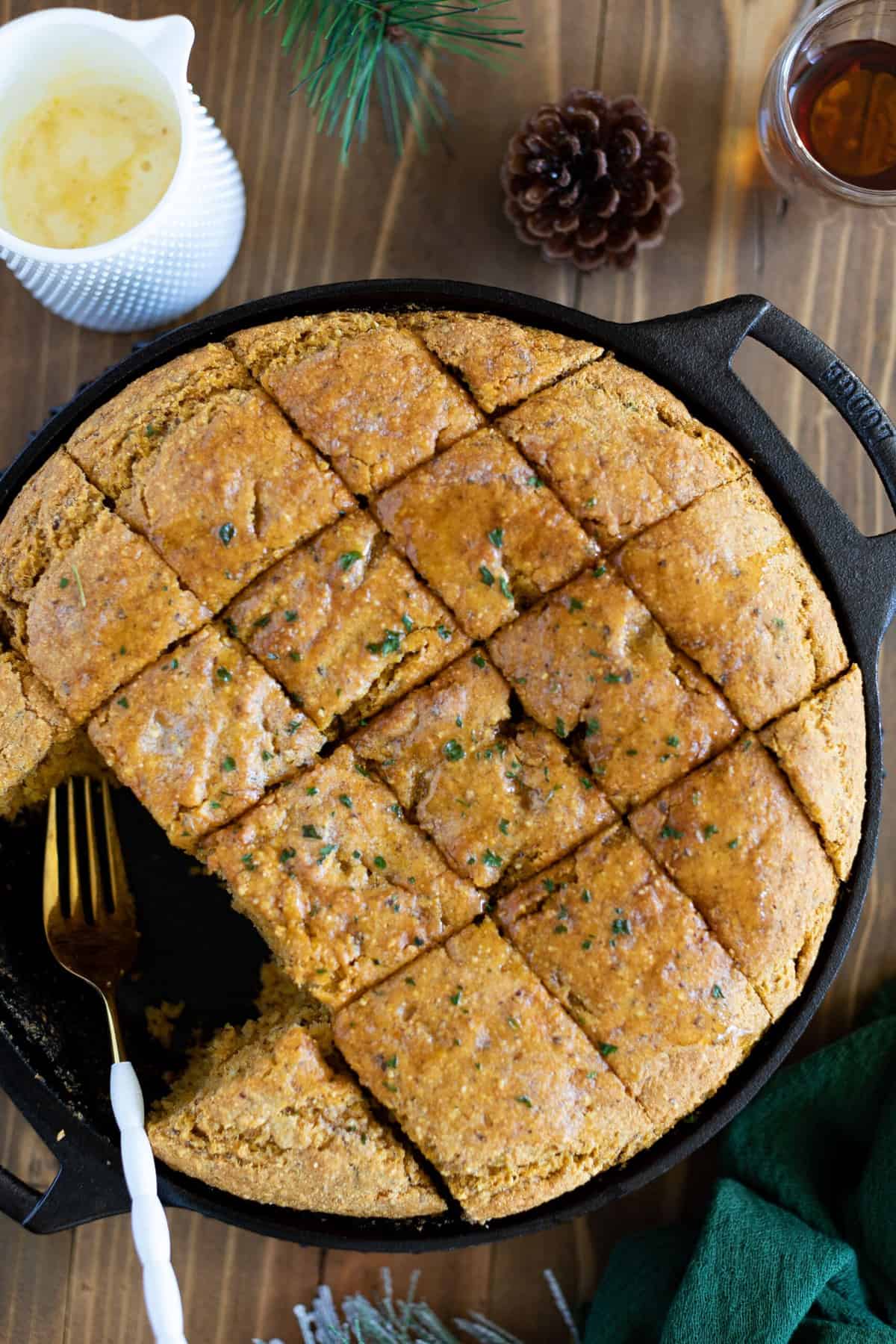 COMMON Q + A'S ABOUT THIS CORNBREAD.
HOW DO YOU STORE LEFTOVERS? CAN IT BE FROZEN?
You can store your leftover cornbread in an airtight container in the refrigerator for 2-3 days for optimal freshness. Simply reheat cornbread in the oven at 350 degrees Fahrenheit when ready to serve again. In addition, you can freeze leftovers for up to 3 months. Just thaw it overnight in the refrigerator and reheat in the oven when ready to serve.
CAN I TURN THESE INTO MUFFINS?
Absolutely! You can turn this recipe into 12 cornbread muffins and have a delicious handheld side dish. Perfect for kids!
CAN I MAKE THIS CORNBREAD GLUTEN-FREE?
Yup! Not only is this cornbread vegan, but it can be made gluten-free as well. Win, win!! Plus, turning this cornbread gluten-free doesn't change the texture or taste for the worst! What a relief. While I use GF cornmeal in this recipe, simply changing the flour to a GF baking flour (Bob's Red Mill is my fave!) ties the entire GF experience together.
IS THIS CORNBREAD OIL-FREE?
Definitely! Instead of oil, I chose to use vegan butter which adds a beautiful texture, nice flavor, and helps to bring everything together.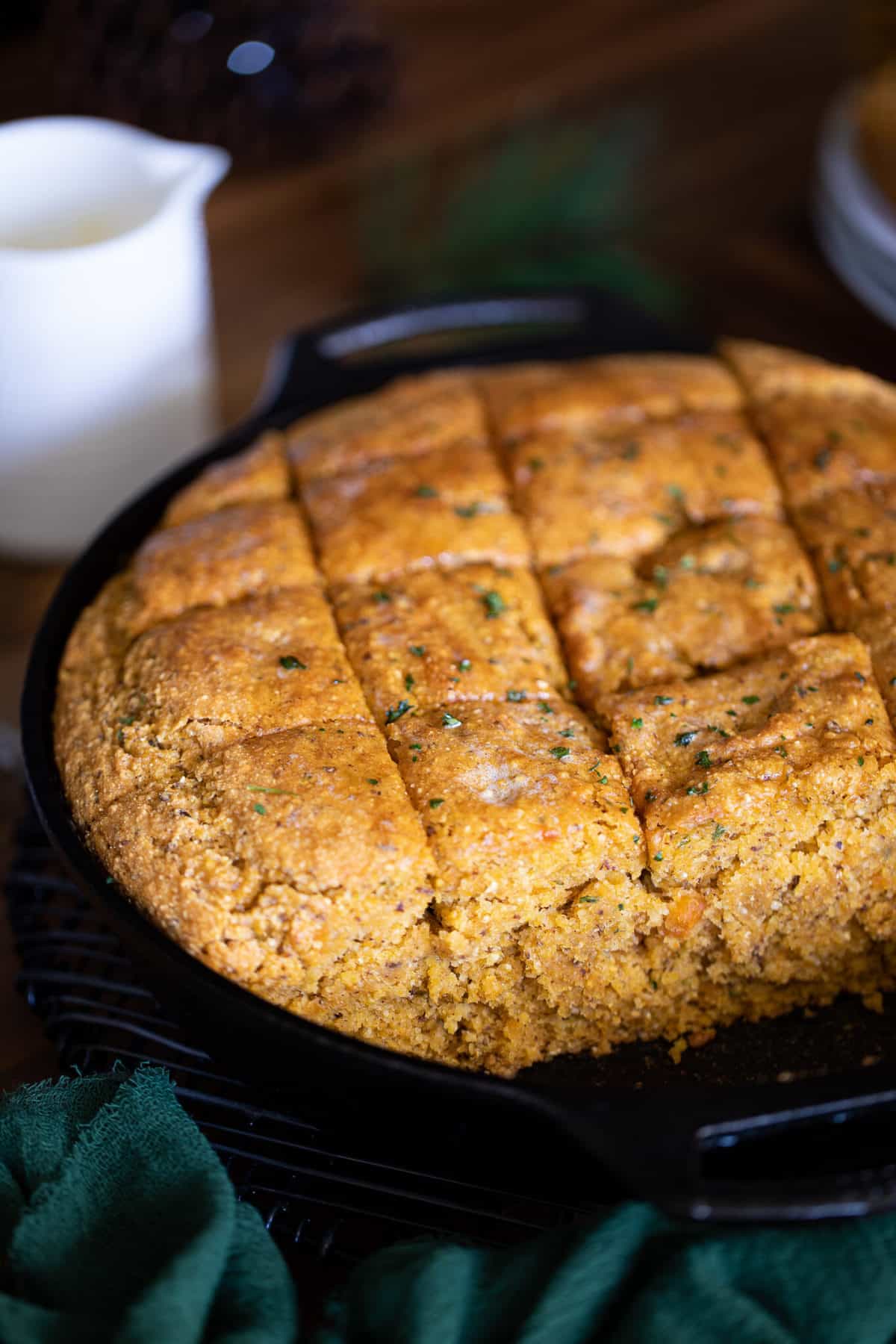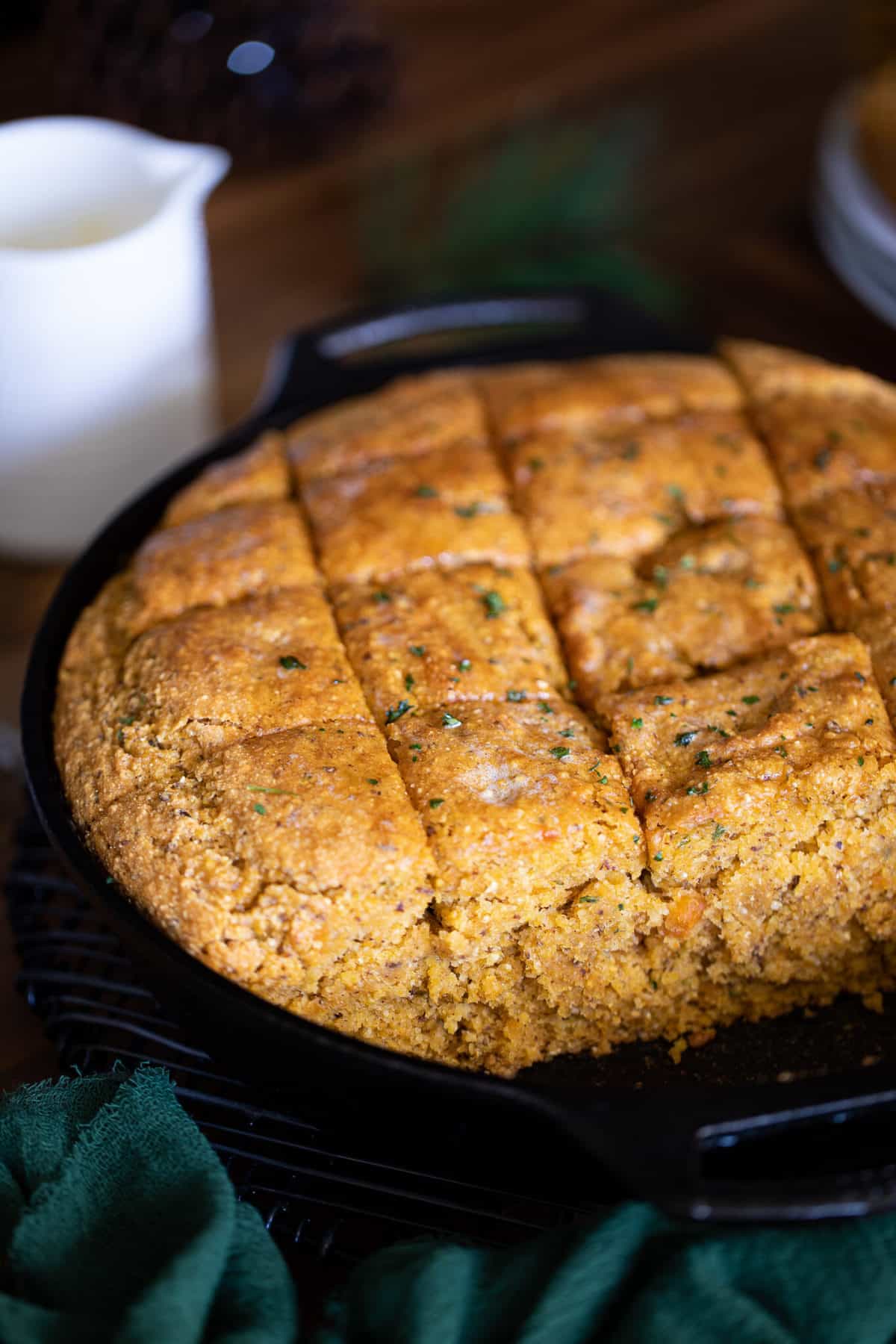 1 ½

cups

Yellow cornmeal, GF if needed!

(I use Bob Red Mills GF version)

1 ½

cups

organic all-purpose flour

(I use Bob's Red Mills; See Notes for GF version!)

1

tablespoon

baking powder

1

teaspoon

ground cinnamon

½

teaspoon

allspice

1

teaspoon

dried parsley

½

teaspoon

dried thyme

1

cup

sweet potato puree

(See Notes!)

1

cup

Almond milk

(You can use your fave plant-based milk!)

¼

cup

pure maple syrup

6

Tbsps

vegan butter, melted

(I use Earth Balance)
Preheat oven to 400 degrees Fahrenheit and generously grease your cast iron skillet and line the bottom with parchment paper. Set aside.

In a large mixing bowl, add the cornmeal, flour, baking powder, salt, cinnamon, allspice, parsley, and thyme, whisking them together until well combined.

Add the sweet potato puree, milk, maple syrup, and butter, stirring everything together using a rubber spatula until well incorporated and the batter becomes thick yet easy to stir.

Pour batter into prepared skillet and evenly spread around.

Bake for 25-30 minutes, or until the center is fully cooked through. NOTE: I usually check the middle after 25 minutes with a sharp knife to test how clean it comes out. Once fully done, the center will come out entirely clean.

Remove cornbread from oven and let it cool for 10-15 minutes before slicing and serving.

Bon Appetit!
STORAGE: You can store your leftover cornbread in an airtight container in the refrigerator for 2-3 days for optimal freshness. Simply reheat cornbread in the oven at 350 degrees Fahrenheit when ready to serve again. In addition, you can freeze leftovers for up to 3 months. Just thaw it overnight in the refrigerator and reheat in the oven when ready to serve.
SWEET POTATO PUREE: Preheat oven to 400 degrees. Thoroughly rinse the outside of your potatoes off with warm water and then pat dry. Lightly poke each potato with a few small holes (to ensure that the inside cooks more quickly + evenly) and coat them fully with extra virgin olive oil or grapeseed oil. Bake on a foil paper lined baking sheet for 25-30 minutes, until tender when pressed gently. Once done, cut open potatoes, scoop out insides and mash well to create the "puree".
INGREDIENT VARIATIONS: You can make your cornbread more savory by removing the maple syrup and adding other great ingredient options: jalapeños, chopped green chilies, corn kennels, spinach, kale, or additional herbs + seasonings.
Vegan Sweet Potato Maple Herb Cornbread.