This Vegan Sweet Potato Maple Herb Cornbread recipe is the most perfect skillet cornbread that you'll ever taste! This plant-based cornbread is the ultimate fluffy, crumbly, and airy side dish. A unique version of an old favorite, it's totally tender and delicious with sweet potato, maple, and herb flavors, all of which create a sweet + savory taste that will leave you drooling for another slice. Totally Dairy-free, Egg-free & Oil-free. Gluten-free option.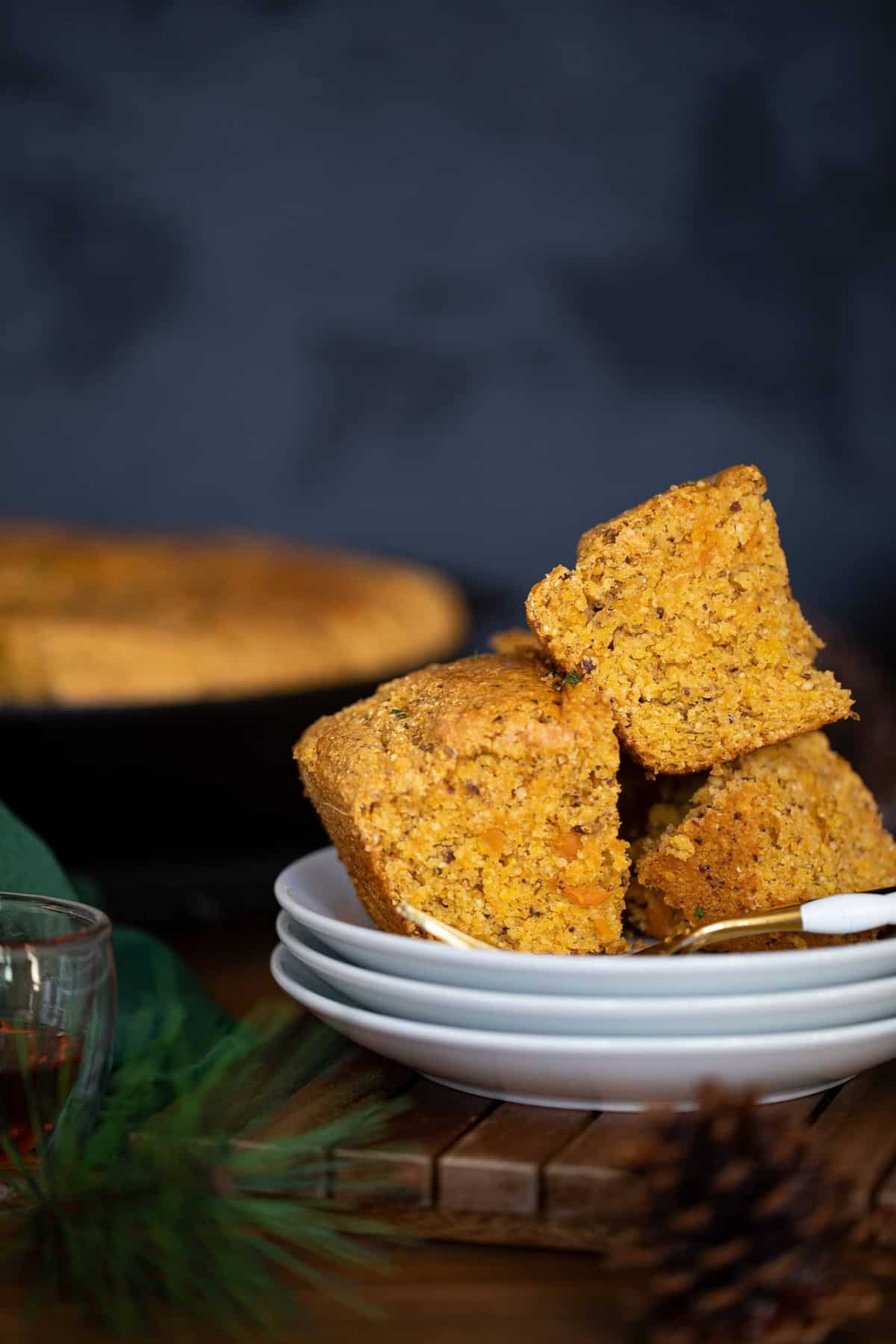 Disclaimer: This post contains affiliate links via Amazon for products that I wholeheartedly love.
This Vegan Sweet Potato Maple Herb Cornbread is EVERYTHING! I couldn't be more excited about it, to be honest.
If you've been an avid reader of this blog, then you know that I'm a Southern Girl at heart---born and raised, so I'm always thrilled to share healthy vegan twists on Southern-inspired foods. Haha.
​​Everyone needs the perfect cornbread recipe, whether it's to go with your fav soup, like this Creamy Roasted Garlic Tomato Soup or I personally LOVE it with a plant-based stew or Chili! So low and behold my friends, say hello to the BEST vegan cornbread!
Let's Talk Sweet Potatoes
Sweet potatoes are one of my favorite ingredients to work with in the kitchen. They're a great root vegetable that can be used in both sweet and savory dishes due to their vibrant orange color and mild sweetness.
Similar to pumpkin in texture and flavor, sweet potatoes pair well with the warming spices we all know and love. Compared to pumpkin, sweet potatoes are less watery and thicker, making them ideal for this egg-free Vegan Sweet Potato Maple Herb Cornbread recipe. Who needs regular cornbread when you have sweet potato?
This is literally my mantra. I'll never eat cornbread the same after trying it with sweet potato. It's just THAT GOOD!! Adding sweet potato to just about anything is always a good idea- -Hello creamy deliciousness!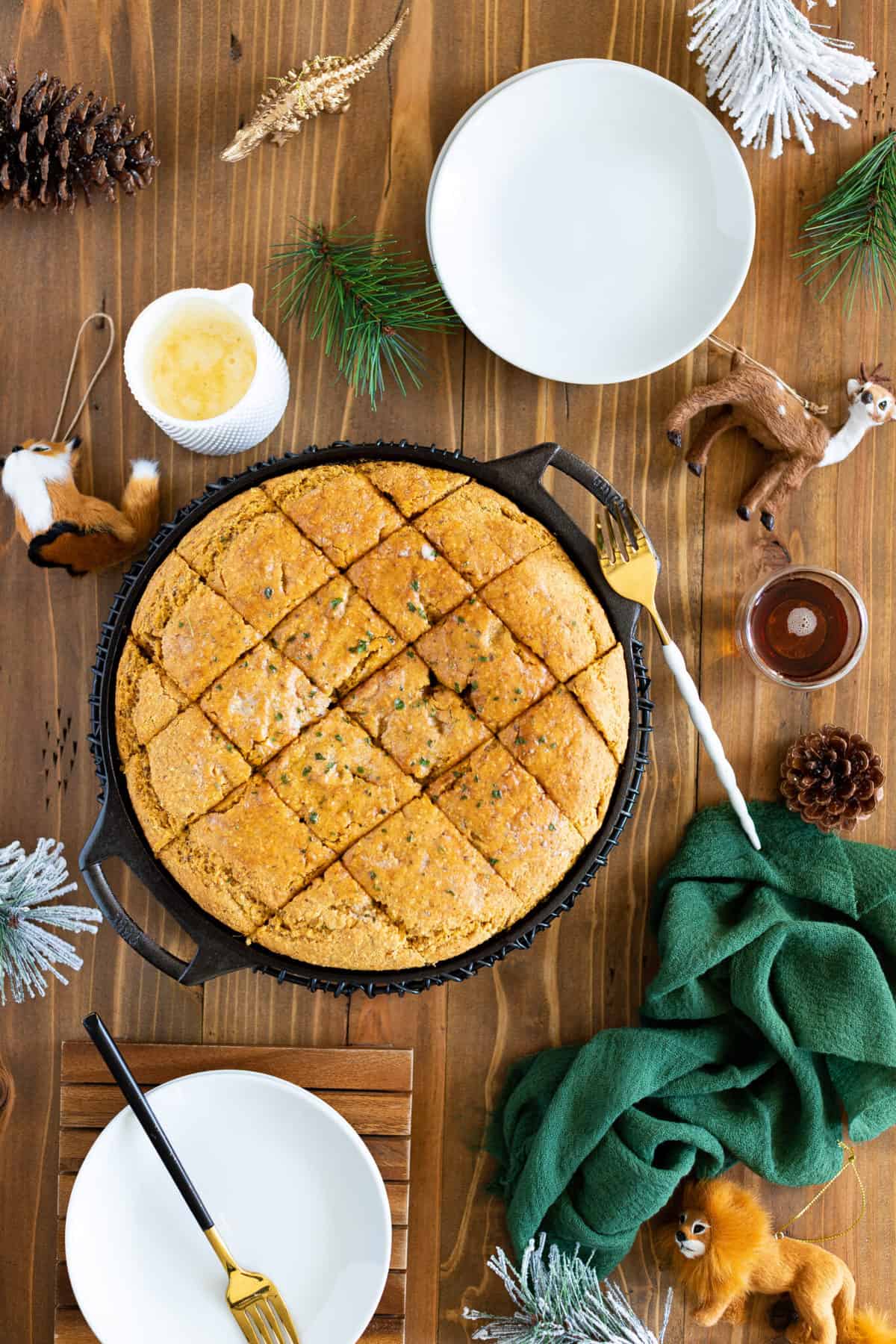 Ingredients For This EPIC VEGAN Sweet Potato Cornbread
Flour – Creates a nice airy, fluffiness to this cornbread, BUT can be substituted with GF flour if needed
Cornmeal – The important part of this cornbread. Adds great texture, BUT can be substituted with GF cornmeal if needed
Sweet Potatoes – Adds such a sweet, delicious flavor to this cornbread
Baking Powder — Very important leaveners
Almond Milk – Makes things nice + soft; Sub with your fave plant-based milk
Vegan Butter — The important element for tying in the flavor
Maple – A natural sweetener with bold sweet flavor
Spices – Cinnamon, All spice – the best combo of Fall flavors that also brings a lot of comfort
Herbs – Dried parsley, dried thyme -- creates a nice earthy flavor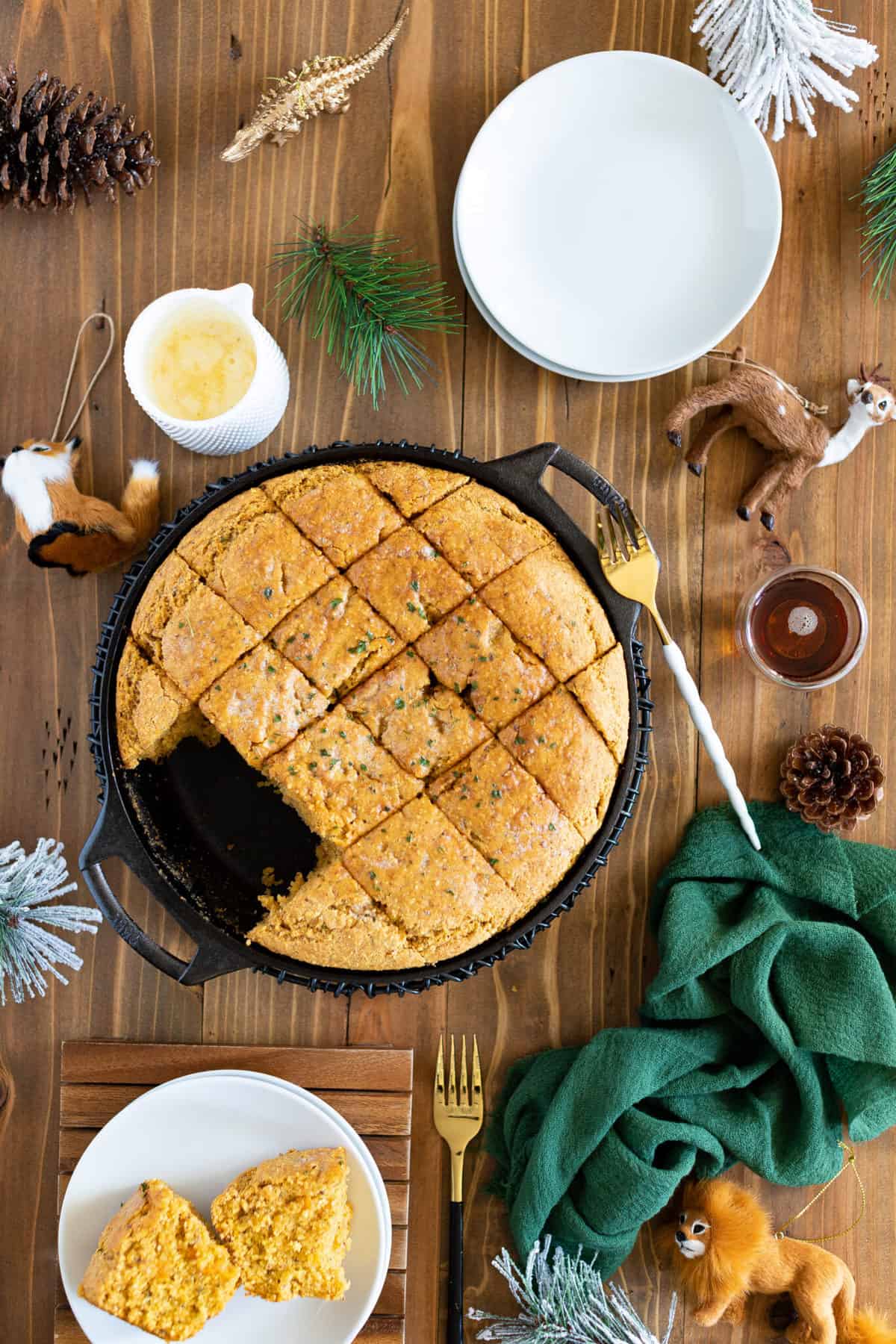 WHAT YOU'LL LOVE MOST ABOUT THIS PLANT-BASED RECIPE?
Super easy to make.
Totally vegan + oil-free.
GF option available!
Whipped together in under 1 hour!
Egg-free
Sweetness is adjustable based on tastebud preferences.
Everything made in ONE BOWL. Yup. How can it get any easier?
Delicious Fall + herb flavors in every bite but also can be enjoyed during any season.
Did I mention that—THIS RECIPE IS AMAZING & PLANT-BASED
Sweet Potato Health Benefits 
Besides the fact that sweet potatoes taste so good, they are also very healthy for you. Not to brag, but the humble sweet potato is kind of a health MVP. I enjoy eating sweet potatoes all year round, but in the fall, they take on a special allure since they make a hearty side dish and can be used as an ingredient in pies. Say hello to the Best Vegan Sweet Potato Pie recipe and other desserts like my Sweet Potato Caramel Cheesecake in addition to soups like this Fall Detox Sweet Potato Veggie Soup.
Ok, ok, enough bragging about my fellow starchy root veggie. These vibrant gems have some really great health benefits.
Here are a few
Good Source of Vitamins C and A (Just one sweet potato gives you 400% of the vitamin A you need each day)

Antioxidant Powerhouses

Anti-Inflammatory Properties

Improve blood sugar regulation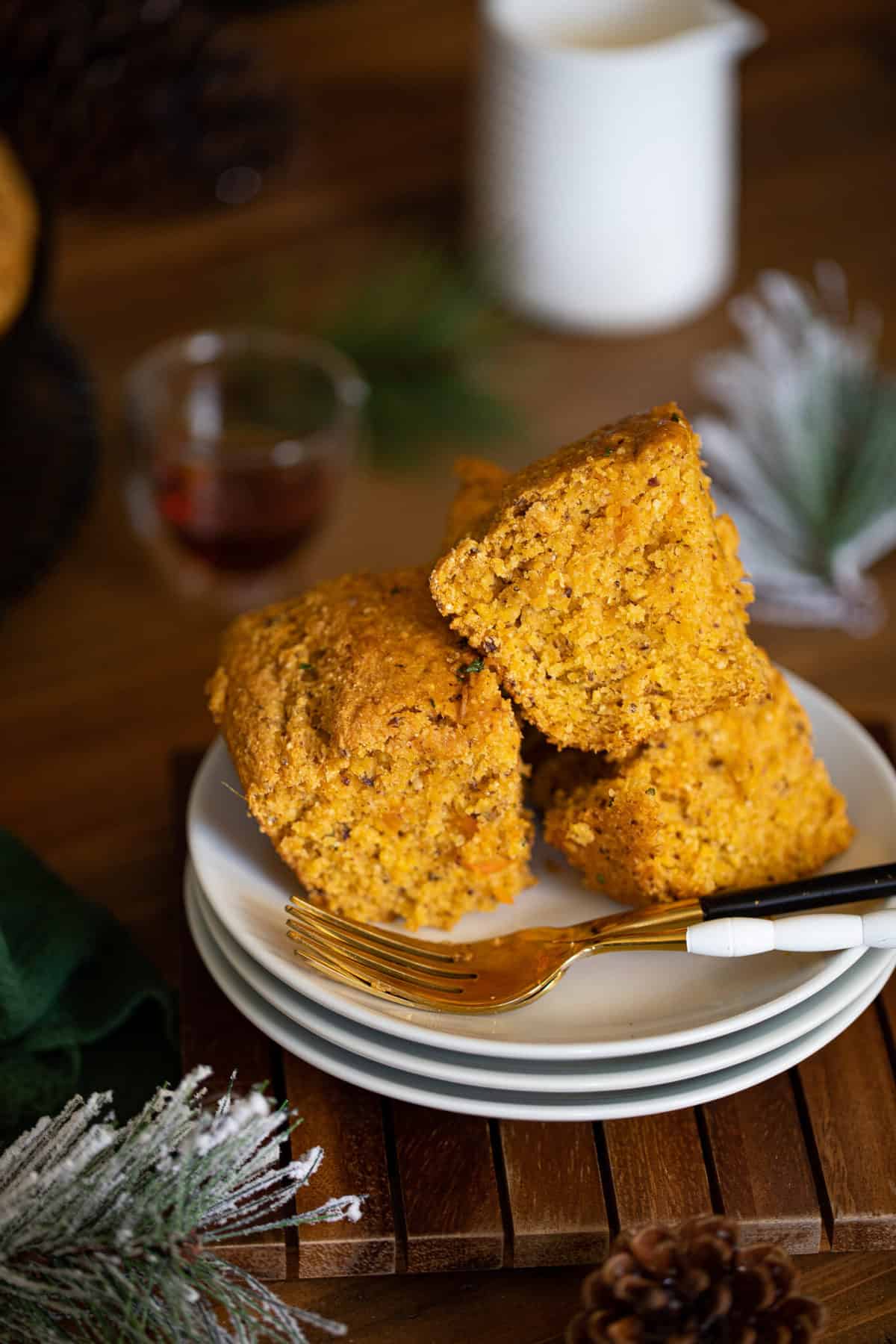 COMMON Q + A'S ABOUT THIS CORNBREAD.
HOW DO YOU STORE LEFTOVERS? CAN IT BE FROZEN?
You can store your leftover cornbread in an airtight container in the refrigerator for 2-3 days for optimal freshness. Simply reheat cornbread in the oven at 350 degrees Fahrenheit when ready to serve again. In addition, you can freeze leftovers for up to 3 months. Just thaw it overnight in the refrigerator and reheat in the oven when ready to serve.
CAN I TURN THESE INTO MUFFINS?
Absolutely! You can turn this recipe into 12 cornbread muffins and have a delicious handheld side dish. Perfect for kids!
CAN I MAKE THIS CORNBREAD GLUTEN-FREE?
Yup! Not only is this cornbread vegan, but it can be made gluten-free as well. Win, win!! Plus, turning this cornbread gluten-free doesn't change the texture or taste for the worst! What a relief. While I use GF cornmeal in this recipe, simply changing the flour to a GF baking flour (Bob's Red Mill is my fave!) ties the entire GF experience together.
IS THIS CORNBREAD OIL-FREE?
Definitely! Instead of oil, I chose to use vegan butter which adds a beautiful texture, nice flavor, and helps to bring everything together.
CAN I PREP THE POTATOES BEFOREHAND?
YUP. In fact, I recommend it. The best way to speed up your sweet potato cornbread is to roast the sweet potatoes ahead of time. Wrap whole, unpeeled sweet potatoes tightly in foil the night before or up to 2 days ahead and roast them in the oven for about 1 hour. When you pre-roast your sweet potatoes, it gives them time to cool before handling and mashing them so no burnt little hands in the kitchen!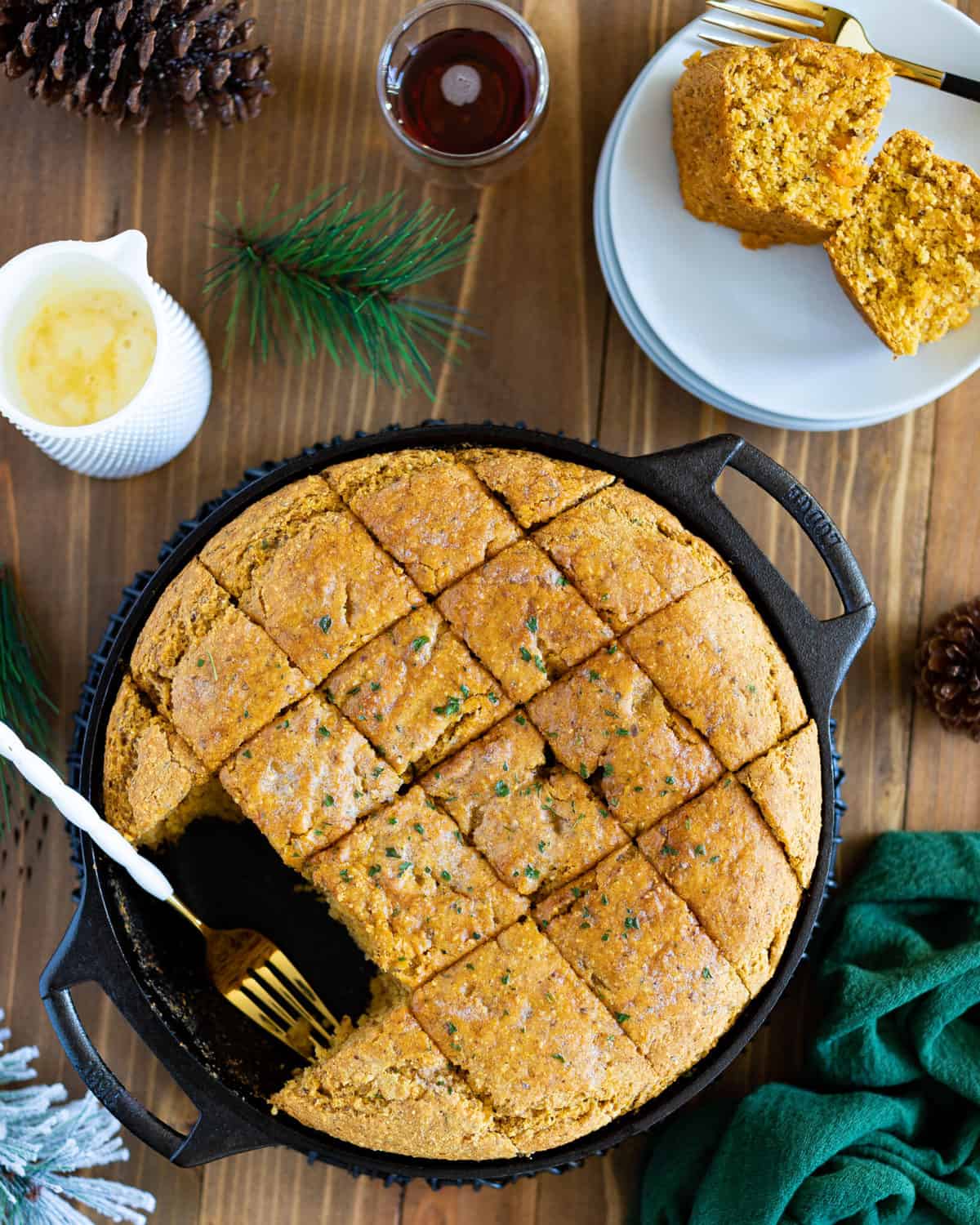 BUYING SWEET POTATOES
We all know the feeling of cutting open a sweet potato and it having icky brown patches. Choose whole sweet potatoes that are small to medium in size and have no soft spots, wrinkles, or bruises.
Larger potatoes are usually older and starchier, so sometimes bigger is not better. When you get home, keep your sweet potatoes in a cool, dry, and dark place. They will usually keep for at least a few weeks which gives you time to enjoy them in all the sweet potato recipes!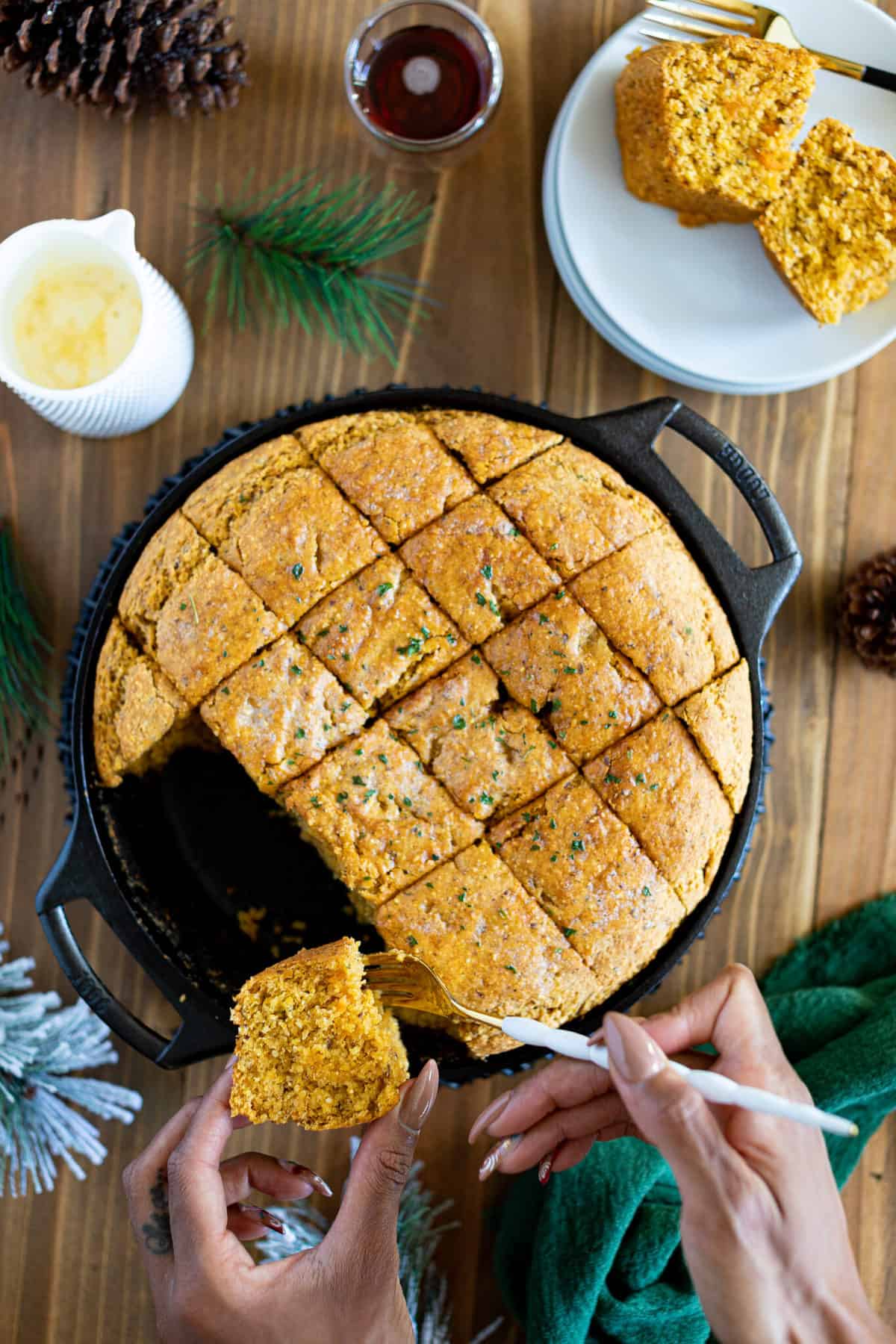 VEGAN SOUTHERN-STYLE SWEET POTATO RECIPES
Vegan Sweet Potato Crumble Bread - This bread is rich, moist, and crumbly in all the right places. Enjoy this delightfully warmly spiced egg-free bread any time of the year! Perfect breakfast, dessert, or a snack! 
Southern Maple Sweet Potato Casserole - This velvety and delicious recipe is a staple for any occasion or holiday, especially during Thanksgiving. Based with soft, chunky peeks of roasted sweet potatoes, maple syrup, brown sugar, raisins, spices, and marshmallows and topped with a crunchy maple-pecan topping; this casserole is a sure crowd-pleaser and show-stopper. 
Deconstructed Vegan Sweet Potato Bread Pudding - It is a great breakfast, brunch, or dessert recipe for a crowd, jam-packed with Fall flavors and spices that come inspired by Jamaican bread pudding flavors.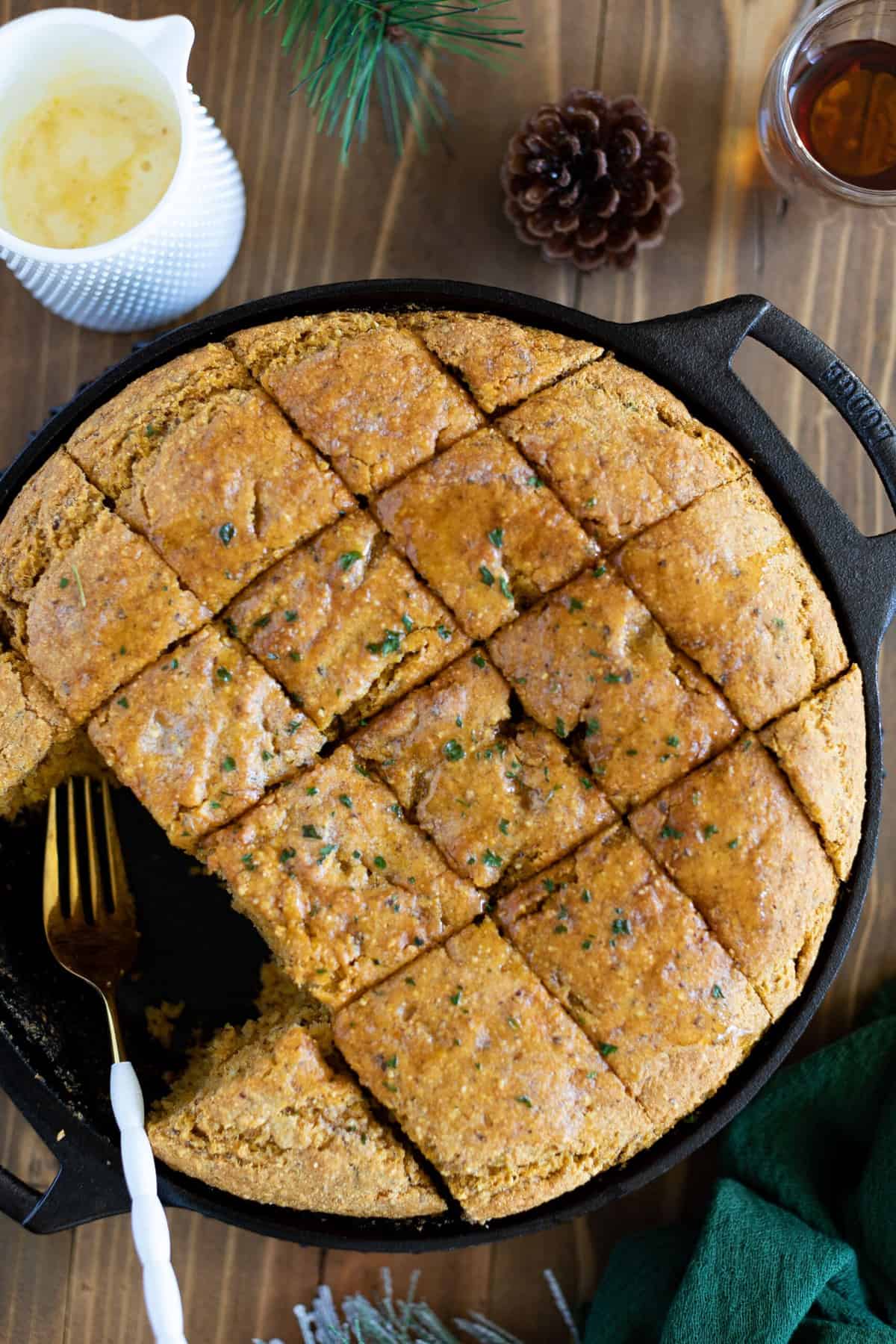 What To Serve Vegan Sweet Potato Cornbread with -
This plant-based cornbread recipe goes well with both sweet and savory toppings. It's delicious on its own, BUT it's also an awesome and versatile side dish.
Here are a few ideas -
Add a pat of melted butter on the warmed cornbread (vegan butter if dairy is not your thing) and enjoy the sweet + savory complexities of this simple delight.
Vegan Chili. Honestly, cornbread is one of the best sides to chili.
Hearty Stews of all varieties, like this Vegan Jamaican Stew, makes the perfect pairing!
Creamy Soups. Perfect for dipping, need I say more?
The perfect side at Thanksgiving or BBQs!
I think you all get the idea, this Vegan Cornbread can be a part of any occasion.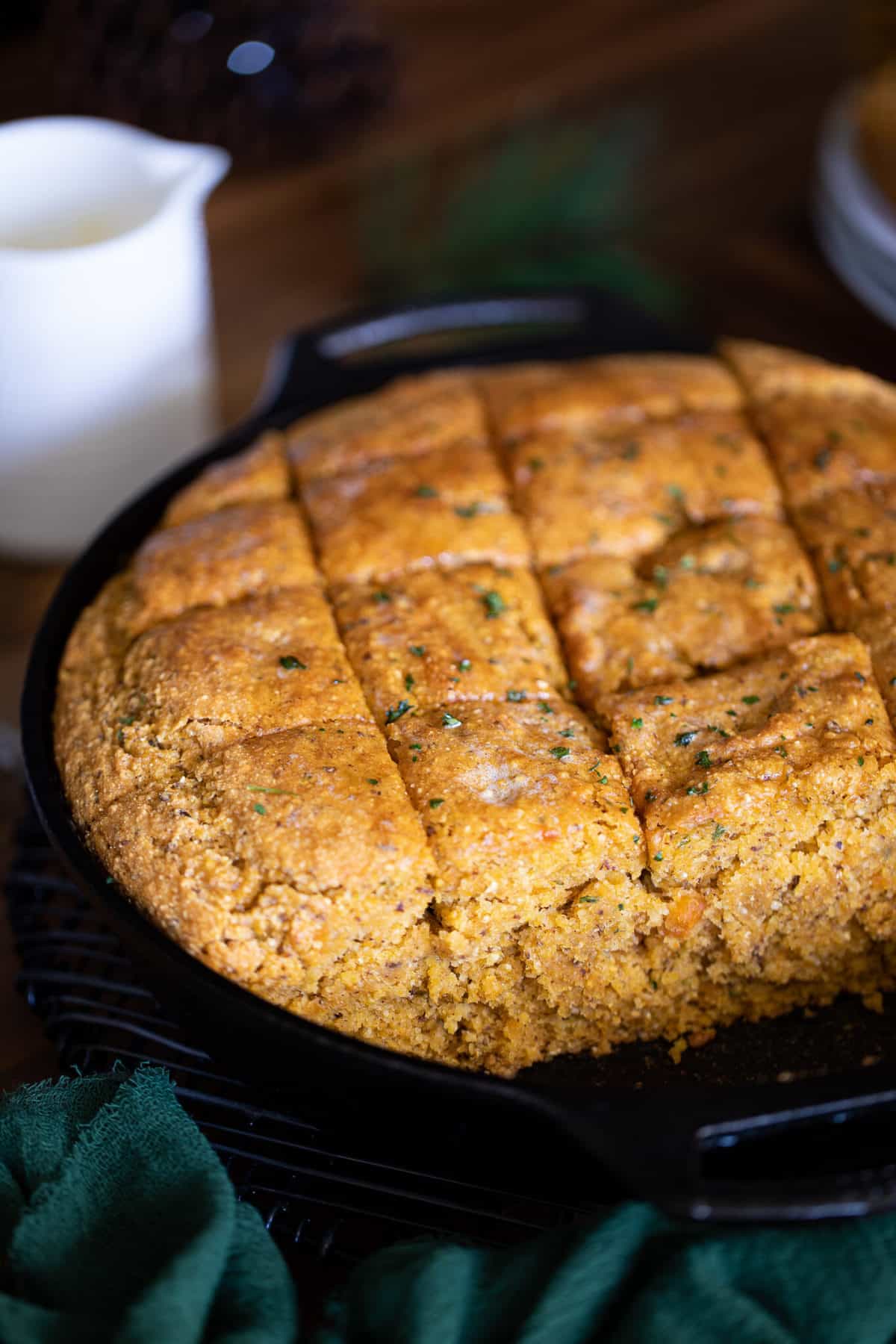 Want More Mouthwatering Bread-y Recipes?
MADE OUR RECIPE(S)?
If you choose to make this Vegan Sweet Potato Maple Herb Cornbread or any other recipe from us, be sure to tag us on Instagram at #Orchidsandsweettea so that we can share the love, rate, comment below, + share!
CORNBREAD:
1 ½

cups

Yellow cornmeal, GF if needed!

1 ½

cups

organic all-purpose flour

1

tablespoon

baking powder

1

teaspoon

sea salt

1

teaspoon

dried parsley

1

teaspoon

dried oregano

1

teaspoon

dried basil

1

teaspoon

ground cinnamon

½

teaspoon

allspice

½

teaspoon

dried thyme

½

teaspoon

garlic powder

½

teaspoon

smoked paprika

¼

teaspoon

cayenne pepper

1

cup

sweet potato puree

(About 1 lb. sweet potatoes; See Post for How To)

¾

cup

Almond milk

(You can use your fave plant-based milk!)

½

cup

pure maple syrup

6

Tbsps

vegan butter, melted
TO MAKE THE CORNBREAD:
Preheat oven to 400 degrees Fahrenheit and generously grease your cast iron skillet and set aside.

In a large mixing bowl, add the cornmeal, flour, baking powder, salt, parsley, thyme, garlic powder, smoked paprika, oregano, basil, cayenne pepper, cinnamon, and allspice, whisking them together until combined.

Add the milk, sweet potato puree, maple syrup, and melted butter, stirring everything together using a rubber spatula until combined and the batter becomes thick, smooth, yet easy to stir.

Scoop batter into prepared skillet and evenly spread around.

Bake for 25-30 minutes, or until the center is fully cooked through. NOTE: I usually check the middle after 25 minutes with a sharp knife to test how clean it comes out. Once fully done, the center will come out entirely clean.

Remove cornbread from oven and let it cool for 10-15 minutes before slicing and serving. Brush the top with melted vegan butter, if desired.

Bon Appetit!
STORAGE: You can store your leftover cornbread in an airtight container in the refrigerator for 2-3 days for optimal freshness. Simply reheat cornbread in the oven at 350 degrees Fahrenheit when ready to serve again. In addition, you can freeze leftovers for up to 3 months. Just thaw it overnight in the refrigerator and reheat in the oven when ready to serve.
GLUTEN-FREE OPTION: To make this cornbread entirely gluten-free, simply ensure that the cornmeal is GF-friendly as well as the flour. I like to use Bob's Red Mill GF 1-to-1 baking flour. 
EQUIPMENT: Here, I've 

curated a list of cooking + baking essentials

that I use to achieve my favorite baked goods or cooked meals, especially with this Vegan Sweet Potato Maple Herb Cornbread. Everything from my fave baking sheet, skillet, mixing bowls, high-powered blender, cooking utensils, and more. 

SEE THEM HERE!

SWEET POTATO PUREE: See post for more + how to make this!
INGREDIENT VARIATIONS: You can make your cornbread more savory by removing the maple syrup and adding other great ingredient options: jalapeños, chopped green chilies, corn kennels, spinach, kale, or additional herbs + seasonings.
Calories:
368
kcal
|
Carbohydrates:
62
g
|
Protein:
6
g
|
Fat:
11
g
|
Saturated Fat:
2
g
|
Polyunsaturated Fat:
4
g
|
Monounsaturated Fat:
5
g
|
Trans Fat:
2
g
|
Sodium:
565
mg
|
Potassium:
351
mg
|
Fiber:
5
g
|
Sugar:
15
g
|
Vitamin A:
6824
IU
|
Vitamin C:
7
mg
|
Calcium:
169
mg
|
Iron:
3
mg
Vegan Sweet Potato Maple Herb Cornbread.