This Vegan Chickpea + Broccoli Mashed Potato Buddha Bowl is a healthy option for a quick lunch, an easy weeknight meal, or even a Thanksgiving side dish. It comes packed with nutrients and works perfectly for meal prep. This bowl consists of a creamy garlicky mashed potatoes base, topped with well-seasoned roasted chickpeas and broccoli. This meal is a great Dairy-free + Vegan plant-based staple for the entire family.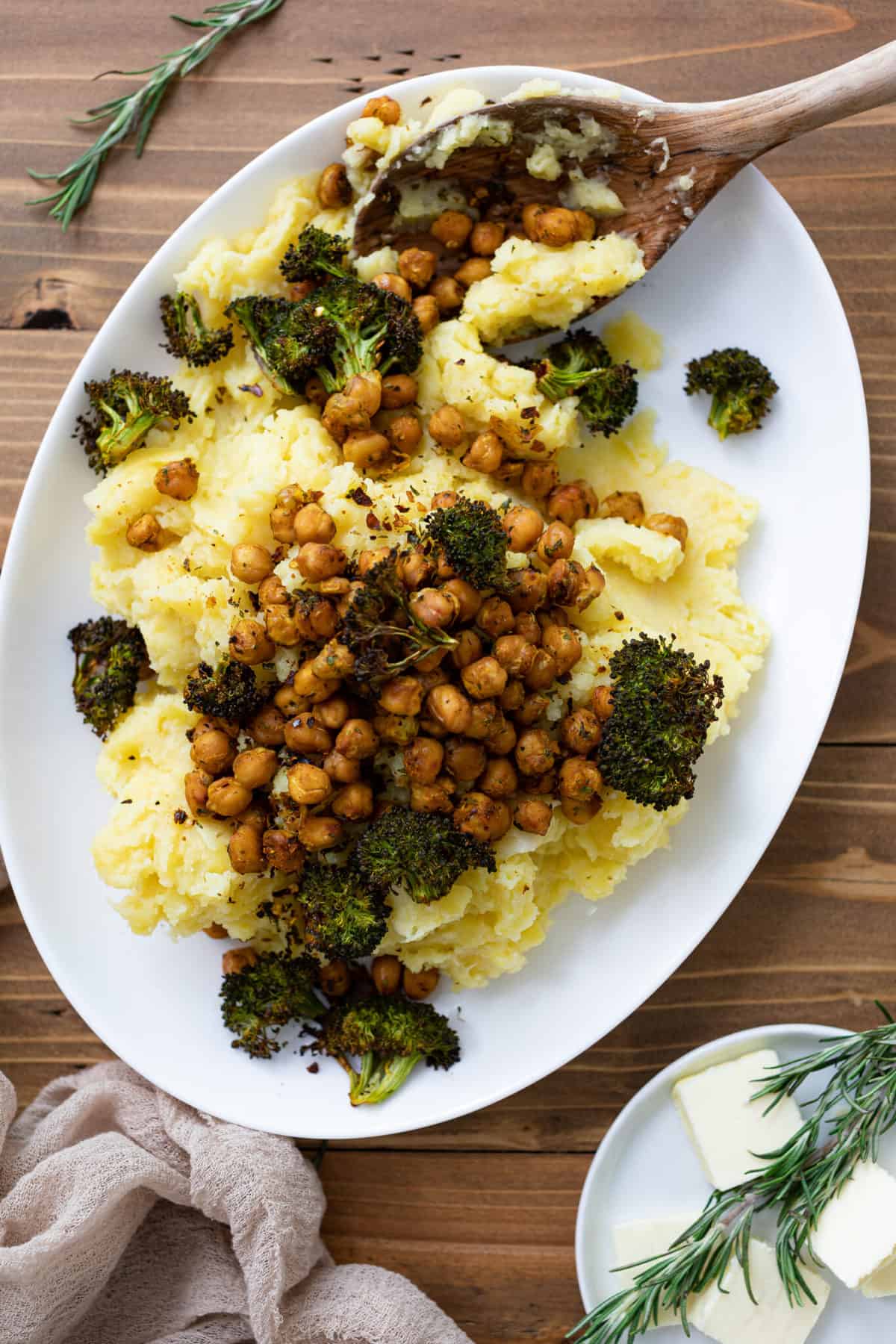 Vegan Chickpea + Broccoli Mashed Potato Buddha Bowl-------So, of course I had to share one of my favorite vegan dishes with you! This mashed potato bowl is oh-so delicious, trust me.
Lately, I've been asked for advice on keeping things interesting, especially when eating a plant-based or vegan diet. While I'm not a total Herbivore, my family and I make a commitment to eating most things that are Vegan.
Plant-based Goodness In A Bowl
And one of my favorite ways to keep things interesting is BUDDHA BOWLS.
Secondly, my best advice to anyone is EXPERIMENT, EXPERIMENT, EXPERIMENT! And yes, I had to type that in capital letters. Haha. Seriously, it's so important to try different ingredients and even different ways to make your favorite ones.
Granted, you won't always love everything that you try (I for one HATE dates and asparagus), however, you'll definitely stumble upon other great substitutes or you'll learn to mask the ones you hate with other favorites so that you don't even notice that you're eating it.
Overall, it's just about trials + errors. That simple.
Check out our article on How to Best Transition into a Plant-Based or Vegan Diet, which best explains how to keep your focus and continue on with eating healthy.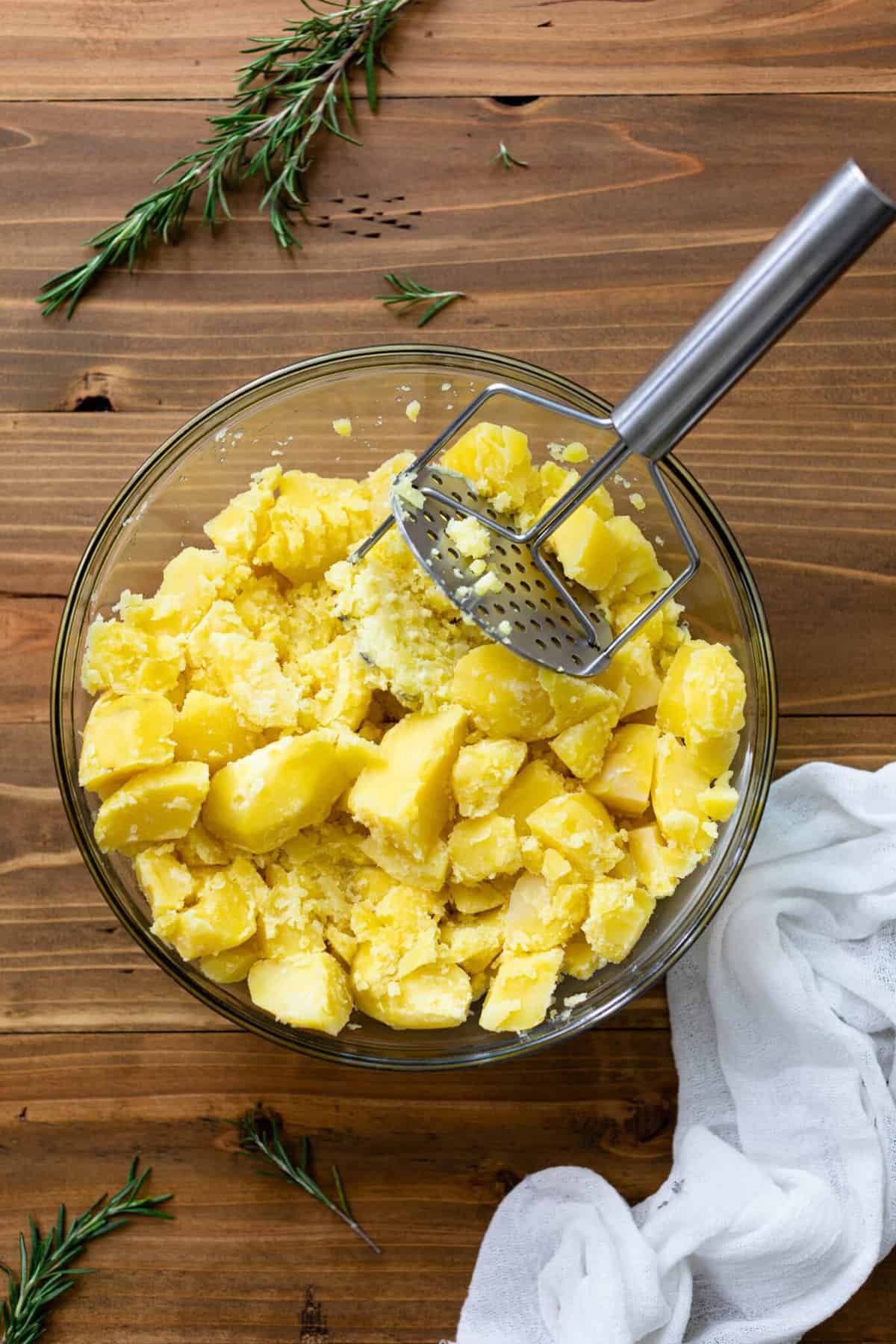 What is a Buddha Bowl?
A "Buddha Bowl," according to urban dictionary, is "a bowl which is packed so full that it has a rounded 'belly' appearance on the top much like the belly of a buddha." I'd say that's pretty on point Haha!
It's essentially a one-bowl meal that often contains grains, fresh veggies, roasted vegetables, plant-based protein, and some form of dressing. There are MANY varieties but they are generally plant-based and vegetarian or vegan. These nourishing bowls are packed full of flavor! This kind of bowl also goes by the label power bowl. grain bowl, hippie bowl, or nourish bowl.
I'm a big fan of one-stop bowl meals and buddha bowls happen to be one of my all-time favorites. With whole grains, plant protein, and lots of veggies they're the perfect vegan dish. This particular buddha bowl is packed with protein-filled chickpeas 
When it comes to using chickpeas, I'm a super fan! Not only is a can of chickpeas extremely convenient and inexpensive, but chickpeas are such a universal ingredient. I couldn't tell you the number of things that I've used chickpeas in.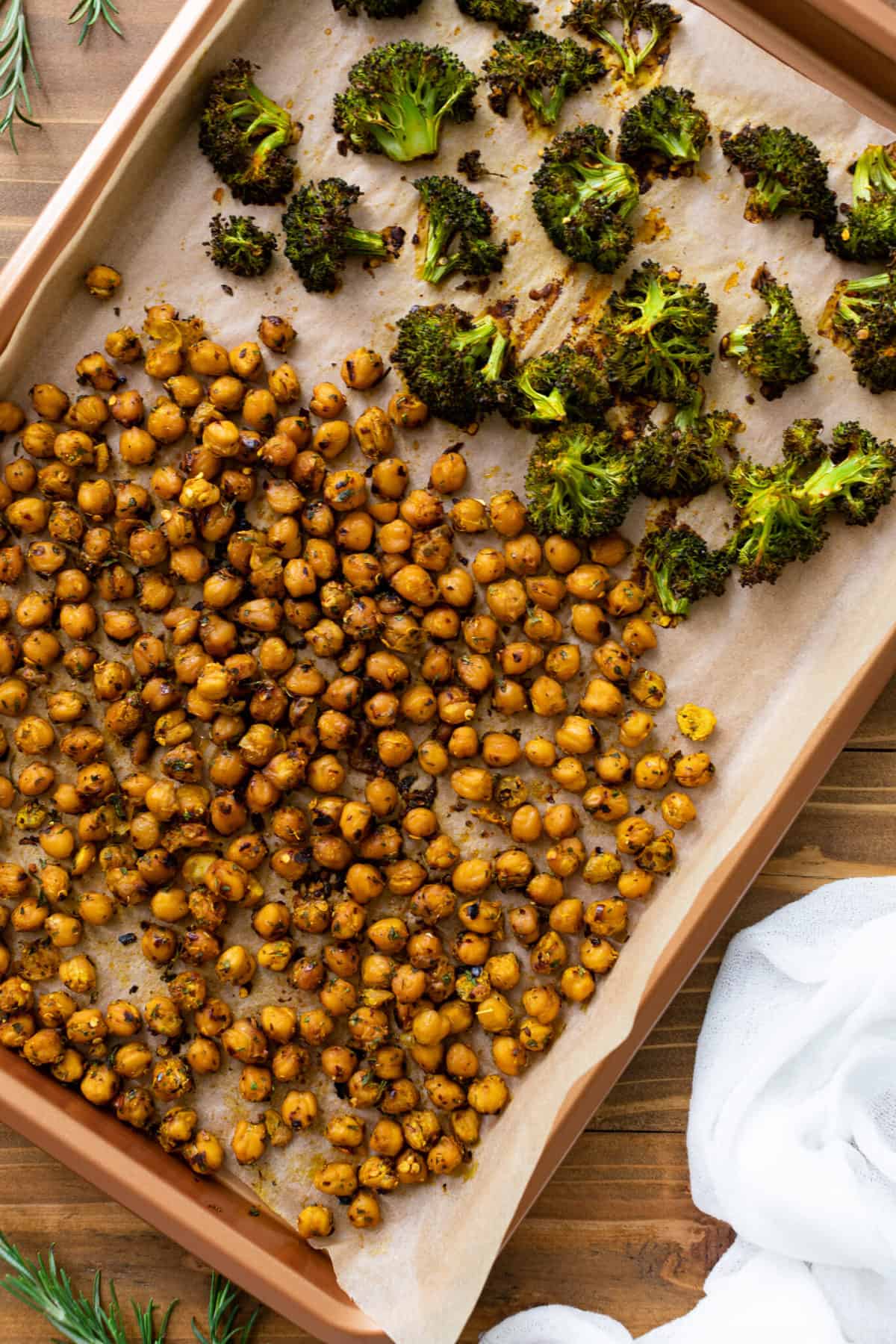 MY TOP PLANT-BASED BOWL RECIPES
Savory Chickpea Quinoa Buddha Bowl - This is a healthy option for a quick lunch or dinner and comes packed with nutrients and works perfectly for meal prep. This bowl consists of quinoa, mashed sweet potatoes, carrots, broccolini, roasted chickpea, and drizzled with a creamy cashew sauce. This Buddha-styled meal is a great vegan + gluten-free staple for the entire family.
Vegan Jamaican Power Bowl - This is the next best thing for the colder season! Absolutely comforting, easy to make, and the perfect dairy-free + meatless weeknight meal option that comes full of nutrients. Made with roasted Jerk butternut squash, brussels sprouts, baby potatoes, tomatoes, sweet peppers, along with quinoa and a quick stew red peas. 
Jerk Vegetable Farro Bowl with Maple Herb Apples - Absolutely comforting, easy to make, and the perfect dairy-free + meatless weeknight meal option. Topped with roasted Jerk sweet potatoes, broccoli, + chickpeas; and flavored with a homemade garlic dressing-----all that you can't go wrong with for dinner.
Healthy Pesto Veggie Bowl - This is the epitome of eating clean. Packed with a ton of flavor and boasting with gently roasted veggies, this bowl highlights red potatoes, broccoli, cauliflower, carrots, and dressed with our delicious Avocado Kale Spinach Pesto Sauce. The perfect healthy meal for dinner or lunch. Made in just one sheet pan! All Vegan.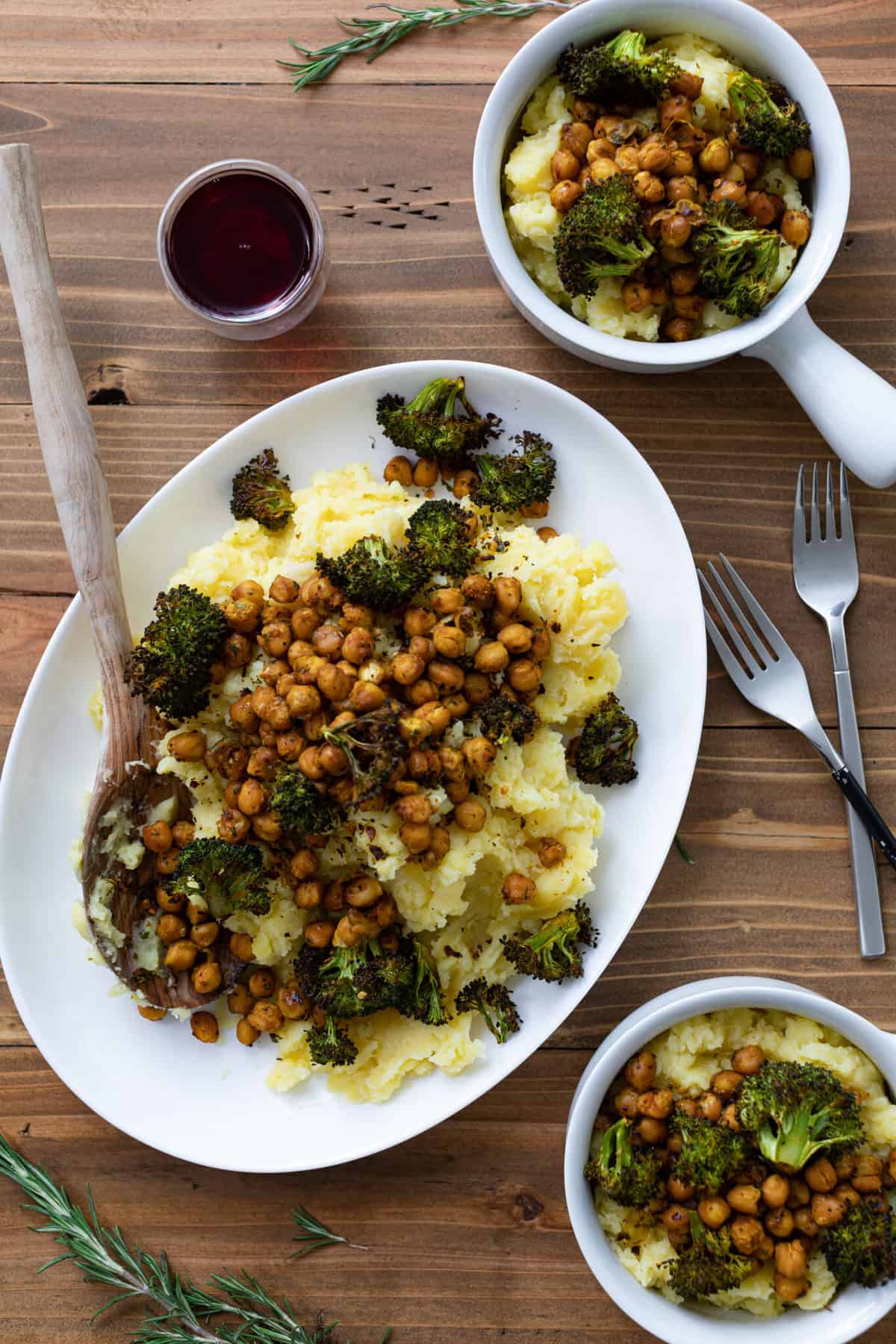 What Ingredients Are Used in this Bowl?
Here's the simple list of what you'll need when making this delicious Buddha Bowl:
Chickpeas- One of my faves! Chickpeas are packed with a host of vitamins, minerals, + fiber and offers a variety of health benefits. These can be cooked in advance.
Broccoli -  Nothing like deliciously roasted + seasoned broccoli. So easy to make and dice for a nice bite.
Mashed Potatoes - You can use any type of potatoes that your heart desires I love Yukon for its creaminess.
Do You Eat Buddha Bowls Hot or Cold?
Either way works! There is really no right or wrong way to have a buddha bowl, that is the beauty of them they are so versatile and can be changed to suit your preferences. This particular one I would recommend enjoying warm with the creamy potatoes but it would be just as nice cold straight out of the fridge!
The Humble Chickpea's Health Benefits
For those of you who aren't aware, another name for Chickpeas are Garbanzo Beans. Despite the most recent craze, chickpeas have been around for thousand of years and originate from the Middle East.
Chickpeas have such a great texture and nutty flavor, which allows them to successfully pair well with a lot of other ingredients, especially in vegan and/or vegetarian recipes.
When it comes to the health benefits of Chickpea, here a few awesome reasons why you should probably add this simple ingredient to your diet more often:
Packed with Nutrients + have a moderate amount of calories!
Rich in Plant-Based Proteins!
Support Blood Sugar Control.
Full of Fiber + might aide digestion.
May protect against Chronic Diseases (such as heart Disease, Cancer, Diabetes, etc.)
May Help keep your appetite under control (Think about how protein + fiber helps to slow down digestion, therefore keeping you full longer!).
How Are Plant Proteins Beneficial?
Nutritional research studies have found potential associations between a diet high in plant protein and the following beneficial effects:
Lower risk of allergies
Lower risk of heart disease and cancer mortality
Lower risk of Crohn's Disease
Lower blood pressure
Lower total Cholesterol
Among reductions in risks of other diseases, etc.
AWESOME MEAT SUBSTITUTES TO TRY THIS YEAR
This year is all about learning the best ways that you can substitute meat on those days when you just feel like giving your usual meat-eating habits a break or simply for those who follow a plant-based and/or vegan lifestyle. This list offers a few great alternatives to incorporate into your diet whenever you are looking for protein-based substitutes to meat.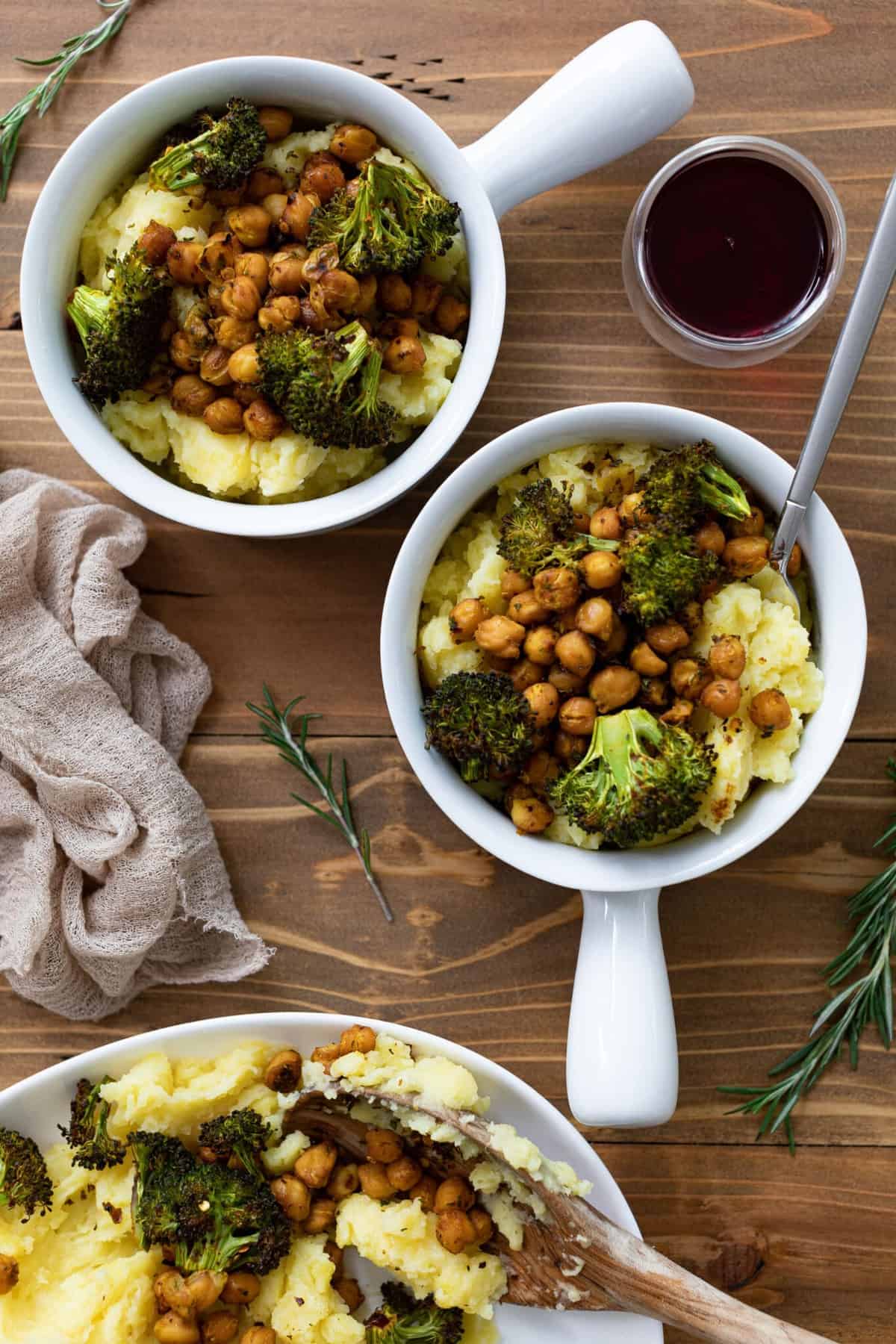 What You'll Love Most About This Chickpea Broccoli Buddha Bowl
Bold flavors
Easy to make.
Dairy-free
VEGAN + PLANT-BASED
Fully loaded and filling!!!
So many nutrients in one bowl.
Great for meal prepping
Great vegetarian option for everyone!
And just absolutely wholesome and perfect for any kind of weather.
More Easy Meatless Weeknight Meals
MADE OUR RECIPE(S)?
If you choose to make this Vegan Chickpea + Broccoli Mashed Potato Buddha Bowl or any other recipe from us, be sure to tag us on Instagram at #Orchidsandsweettea so that we can share the love!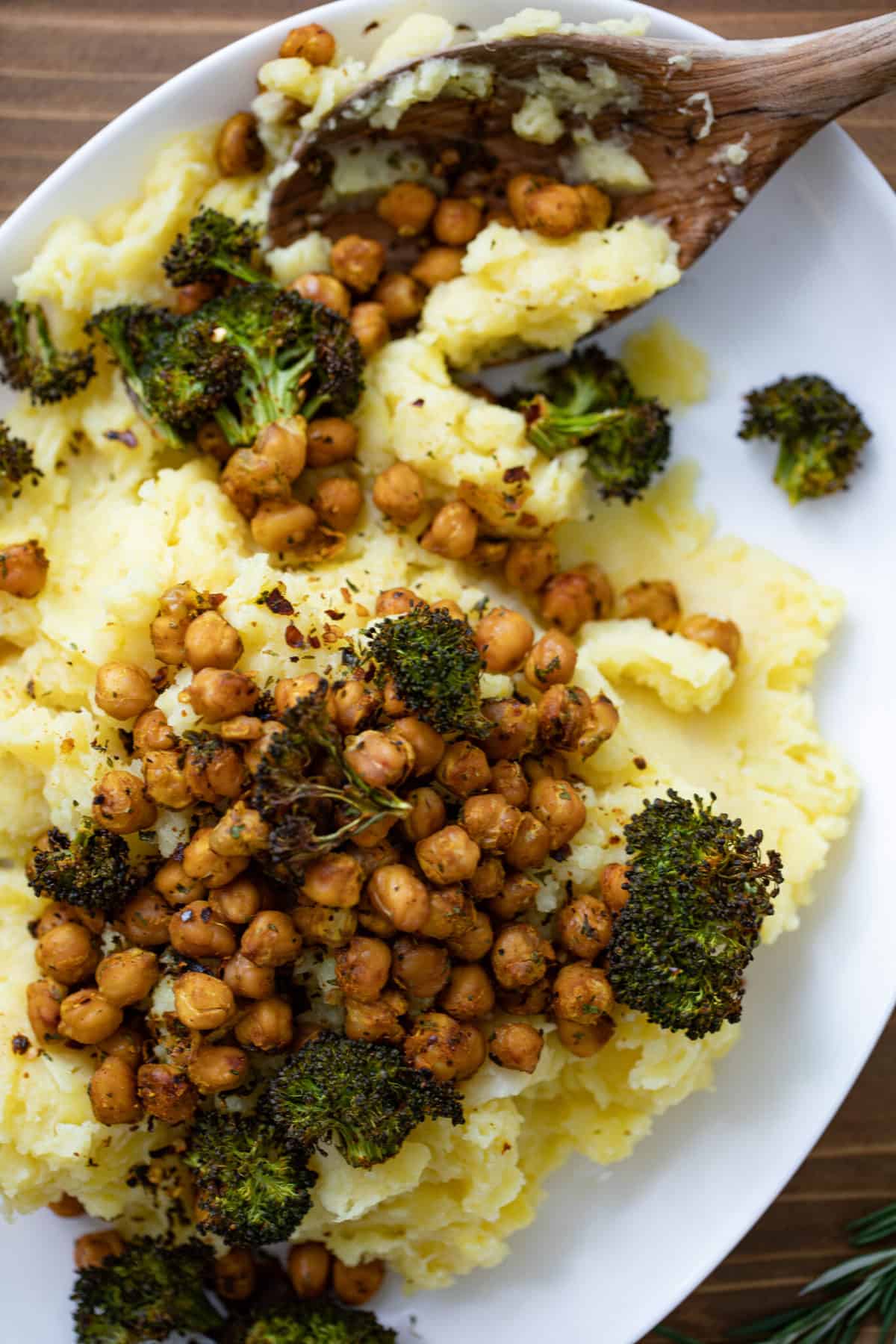 Roasted Chickpea + Broccoli:
1

(15 oz.) can

chickpeas, drained + rinsed

2

medium

broccoli heads, chopped in florets

1

tablespoon

Extra Virgin Olive Oil

(I use Primal Kitchen)

1

tablespoon

cajun seasoning

1

teaspoon

red pepper flakes

1

teaspoon

sea salt

1

teaspoon

black pepper

½

teaspoon

ground cumin

1

teaspoon

smoked paprika

1

tablespoon

dried parsley

pinch of

cayenne pepper
For Garlic Mashed Potatoes:
Preheat your oven to 400 degrees Fahrenheit.

Bring a large pot of water to a boil and add diced potatoes. Cook for about 30 minutes or so, until potatoes are soft + tender. NOTE: See Notes for Slow Cooker + No-Boil options.

In the meantime, prep your chickpea + broccoli.
For Roasted Chickpea + Broccoli:
Line a baking sheet with parchment paper. In a medium bowl, add chickpea, broccoli, and seasonings, stirring them together until well coated.

Add chickpea and broccoli to baking sheet and bake for 20-25 minutes, tossing them mid-way until golden brown and crisp. 

Remove from oven and set aside.

Once fully cooked, drain potatoes and add them to a large bowl, mashing them with a stainless steel potato masher (or fork) until fully broken down. NOTE: I also find it easier to add potatoes to the bowl of an electric mixer, which does wonders!

Once mashed, add milk, and vegan butter, stirring them together until potatoes become smooth and creamy.
Assembly:
To assemble, spoon mashed potatoes in your favorite bowl(s) and top with roasted chickpeas and broccoli. Garnish with dried parsley and red pepper flakes, if desired. Wallah.

Bon Appetit!
STORAGE: Leftovers can be kept in an air-tight container in the refrigerator for 3-4 days. Re-heat when ready to serve.
POTATOES: Instead of Yokun potatoes, you can also use baby red potatoes or russet potatoes.
MAKE AHEAD: All ingredients can be made and individually stored as meal prep and assembled + heated when ready to serve.
NO-BOIL MASHED POTATOES: To cook them alternatively without boiling---place red potatoes on a baking sheet (lined with parchment paper) and lightly dress them with olive oil. Bake in a 400 degree Fahrenheit oven for 25-30 minutes, until tender and knife goes through each potato smoothly. Once done, remove from oven and continue recipe.
SLOW COOKER OPTION (MASHED POTATOES): Just place the peeled + diced potatoes, veggie broth, and garlic powder into your slow cooker. Cook on high 3-4 hours or low 6-7 hours, stirring every hour or so or until tender. Then using a hand masher, mash potatoes until smooth and then stir in vegan butter and milk.
Calories:
375
kcal
|
Carbohydrates:
63
g
|
Protein:
14
g
|
Fat:
11
g
|
Saturated Fat:
2
g
|
Polyunsaturated Fat:
3
g
|
Monounsaturated Fat:
6
g
|
Trans Fat:
1
g
|
Sodium:
1345
mg
|
Potassium:
2016
mg
|
Fiber:
14
g
|
Sugar:
7
g
|
Vitamin A:
3172
IU
|
Vitamin C:
317
mg
|
Calcium:
199
mg
|
Iron:
5
mg
Vegan Chickpea + Broccoli Mashed Potato Buddha Bowl.