This Jerk Vegetable Farro Bowl with Maple Herb Apples are the next best thing for the cooler season! Absolutely comforting, easy to make, and the perfect dairy-free + meatless weeknight meal option. Topped with roasted Jerk sweet potatoes, broccoli, + chickpeas; and flavored with a homemade garlic dressing-----all that you can't go wrong with for dinner.
Sponsored Post: This post is sponsored by Bob's Red Mill but the content and opinions expressed are all based on my genuine love for this brand and are my own. Thanks so much for supporting the brands I love.
This farro bowl is the best thing created for lunch/dinner---trust me! If you're like me and you're a lover of quinoa, then you'll definitely enjoy farro, which is a great "super-grain" and is an awesome source of fiber.
The best part------farro is just as versatile and can be used in soups, casseroles, salads, and pilafs. Win, win!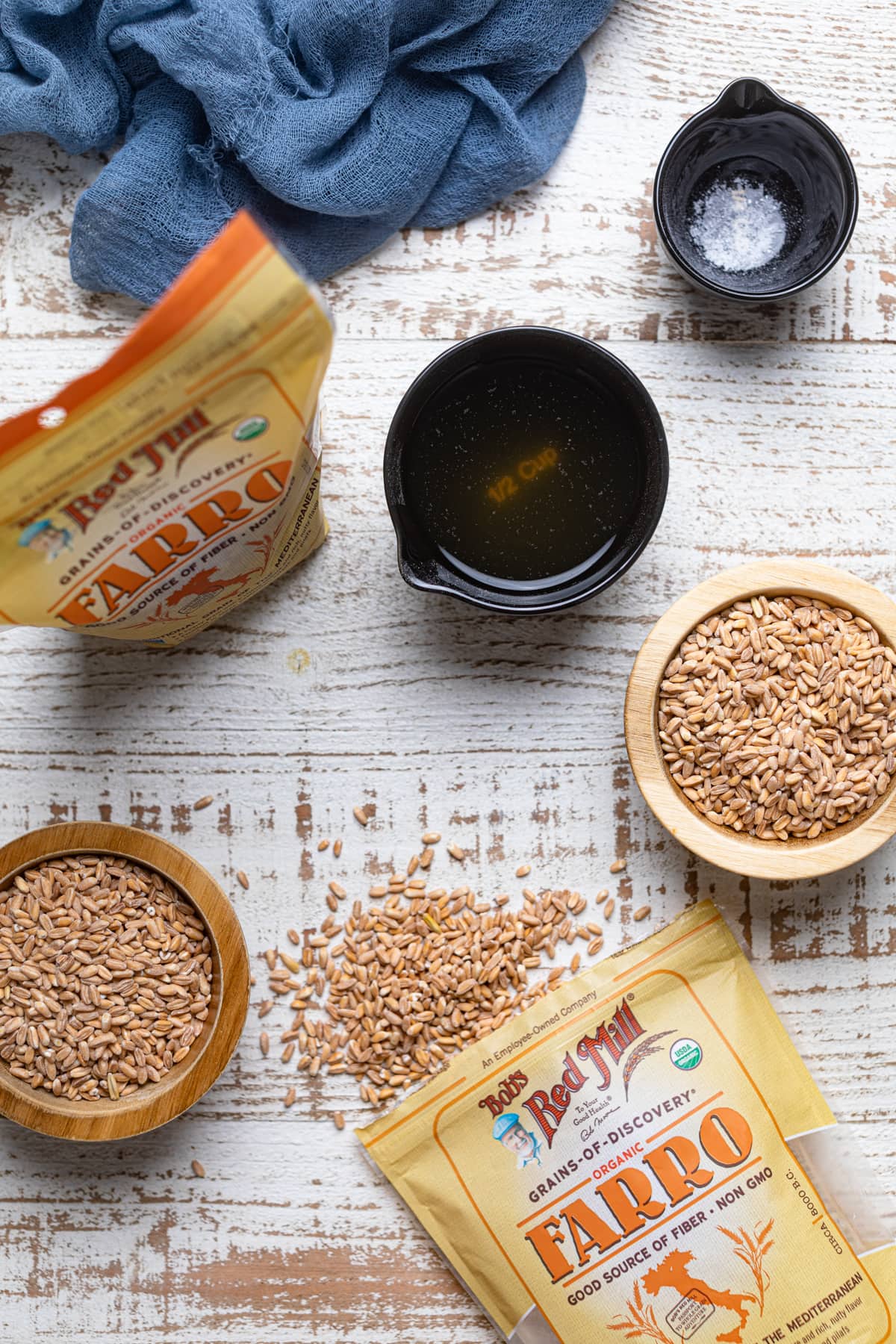 How to Best Make Farro
When it comes to making farro (my favorite go-to brand for this is Bob's Red Mill), I enjoy cooking it in some sort of stock (vegetable or chicken) to add additional flavor---much like my preference for cooking quinoa. However, if you choose to go down the traditional route, you can always cook farro in just water while seasoning it with salt.
If you aren't familiar with farro, it's rather similar to rice and quinoa in the cooking process which means that you first begin by rinsing it, then boiling it for around 20-25 minutes or until it swells and becomes tender. Usually, the amount of liquid reduces greatly and the remaining liquid that must be drained after it's cooked is pretty minimal.
That's the magic! Nothing major. Haha.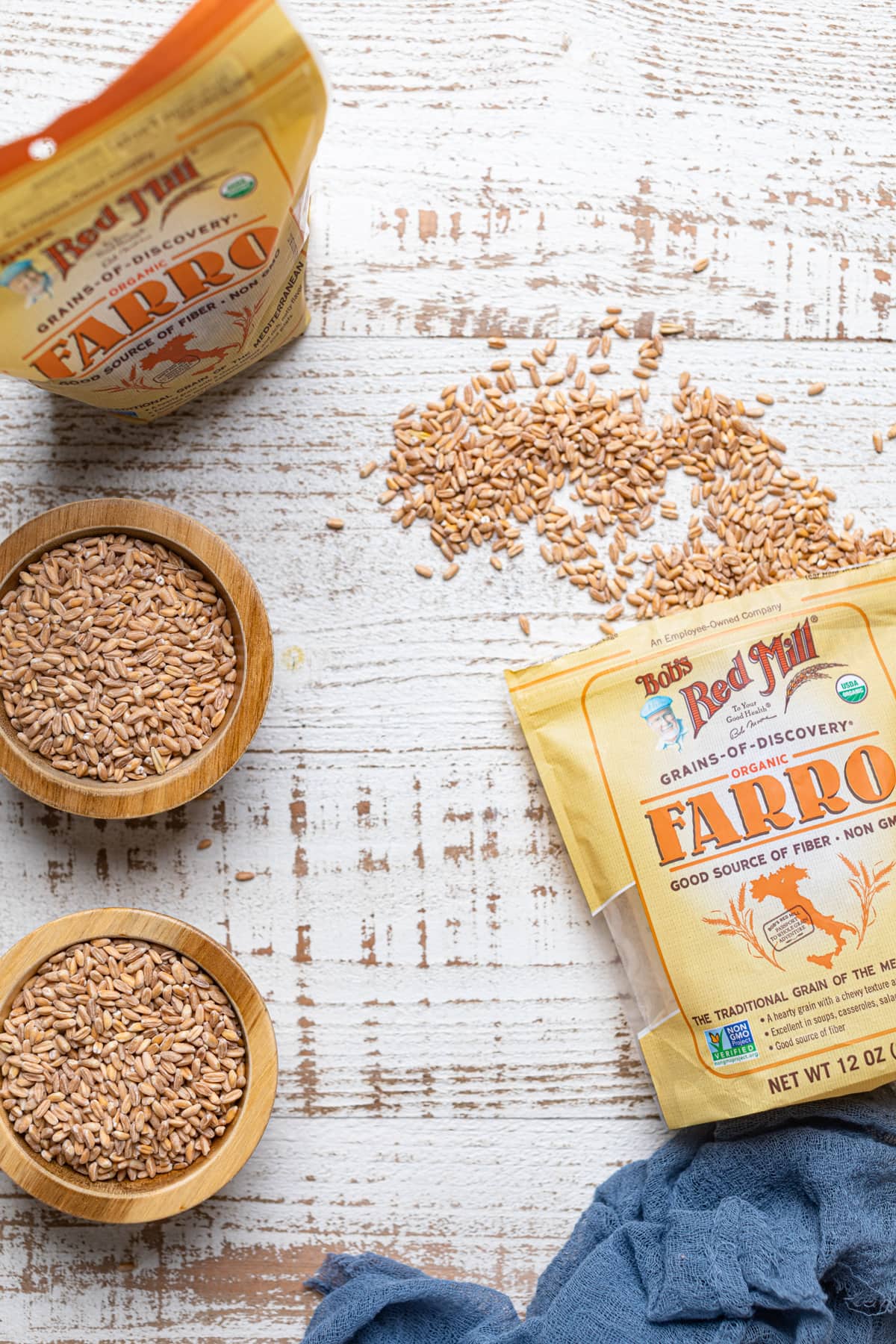 Awesome Cooking Methods for Farro
In case you didn't know, farro can be easily made several different ways such as:
Stovetop
This is the traditional way of cooking farro as I've mentioned above. Usually, the process starts over high-heat and then once boiling, you reduce the heat to medium-high and allow it to continue to cook, stirring occasionally.
Pre-Soak
If you're ever too busy or want to make the cooking process much quicker, like beans, you can soak the farro overnight (covered with water) and in the refrigerator. This brings down the stovetop cook time to a total of 10 minutes or so, instead.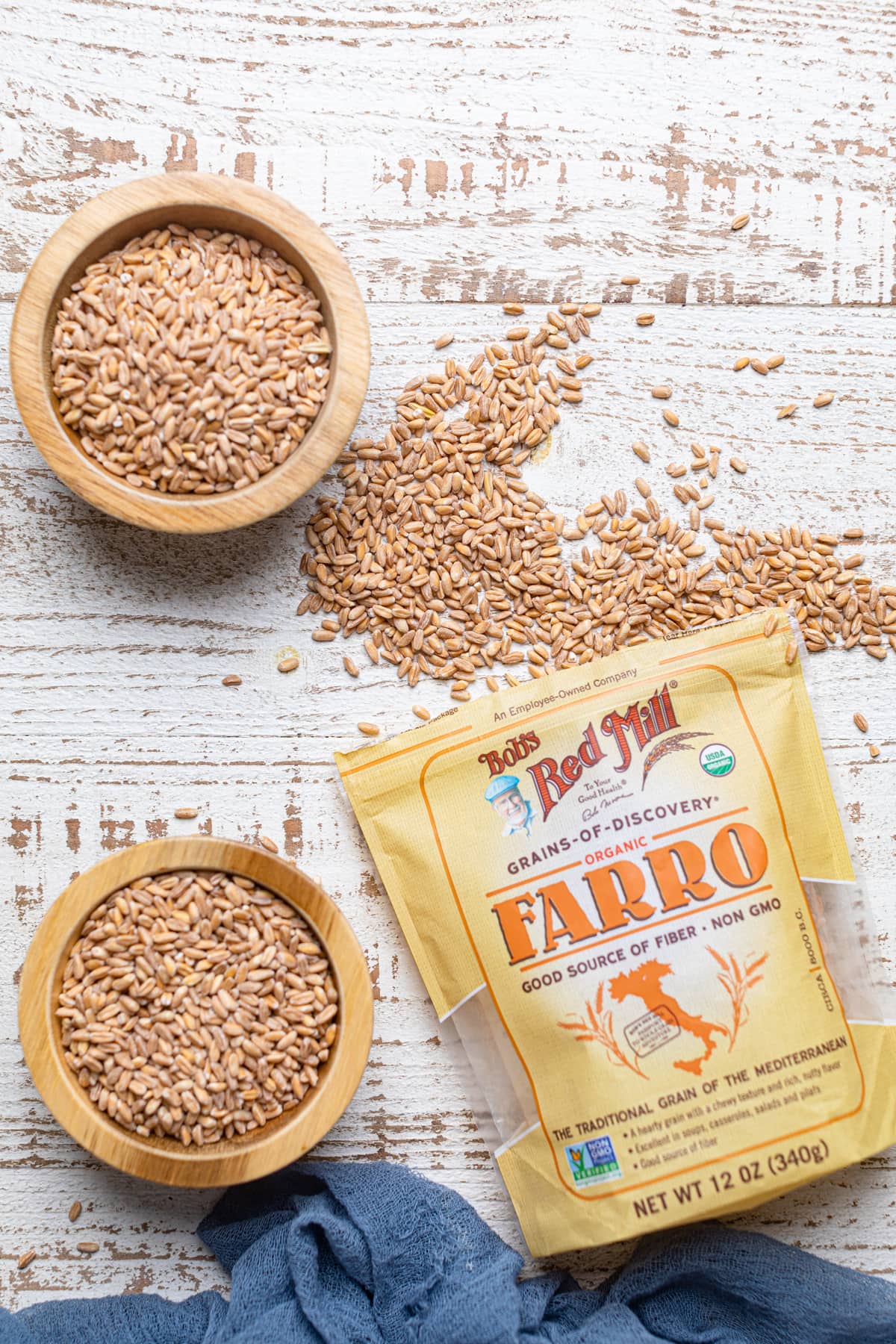 Slow Cooker
If you prefer more of a hand-off kind of process, cooking the farro in a slow cooker is an awesome choice! Add the amount of liquid (water or stock) according to the packaging and let it slowly cook for around 2-2 ½ hours. This way you don't have to watch it and you can get other important things done while the cooking magic happens.
Instant Pot
Another great quick way to cook the farro is in an Instant Pot or Multi-Cooker. Simply add the amount of liquid (water or stock) according to the packaging and cook with high pressure for 10-12 minutes and wallah!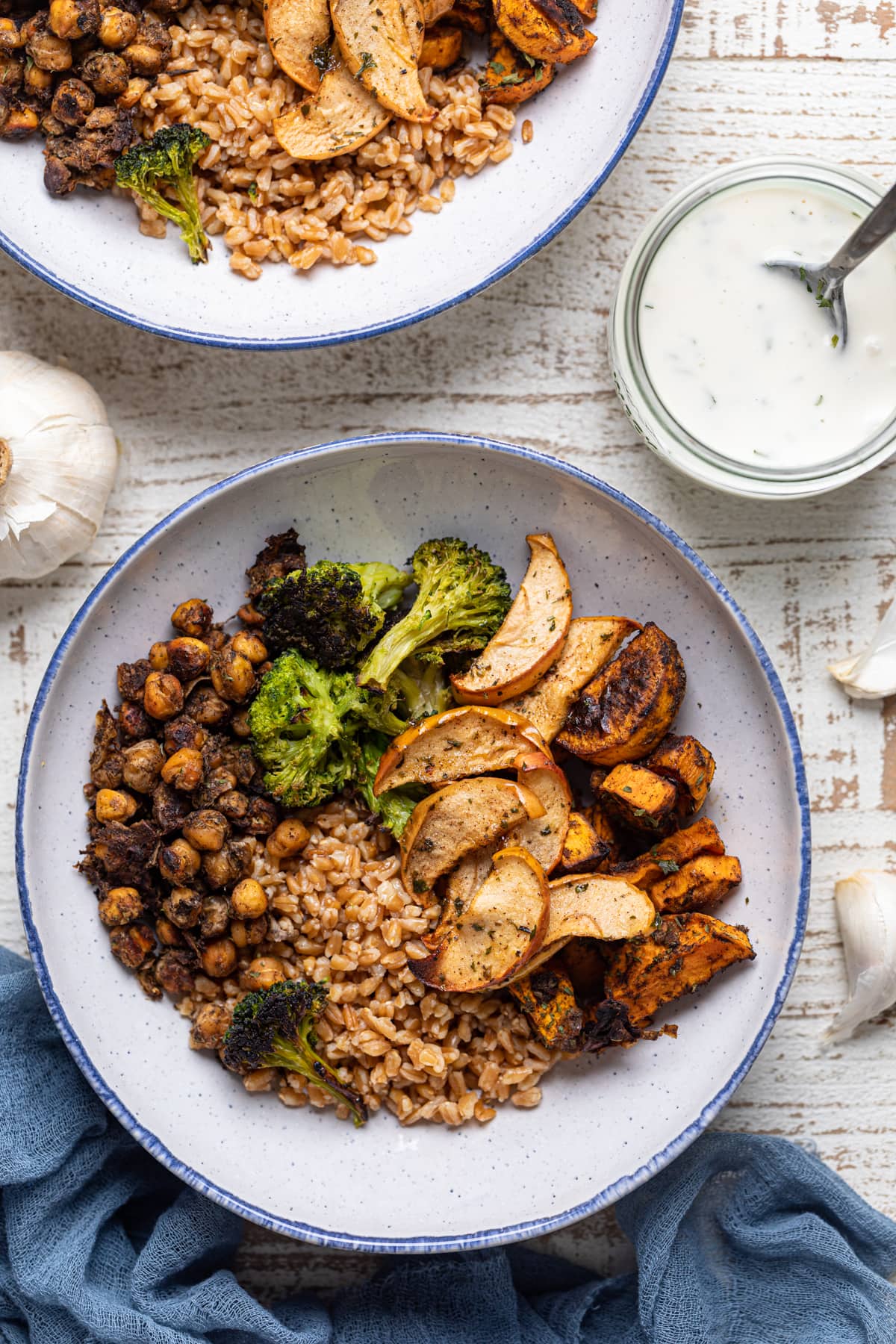 Delicious Roasted Maple Herb Apples
This is by far one of my favorite parts of this bowl that brings everything together, especially the spicy jerk flavors. Apples as we know are the best fall season ingredient to incorporate in any dish, however, I feel like adding them to savory dishes aren't shown as much.
Believe it or not, apples are absolutely delicious in savory dishes and these roasted apples are EVERYTHING!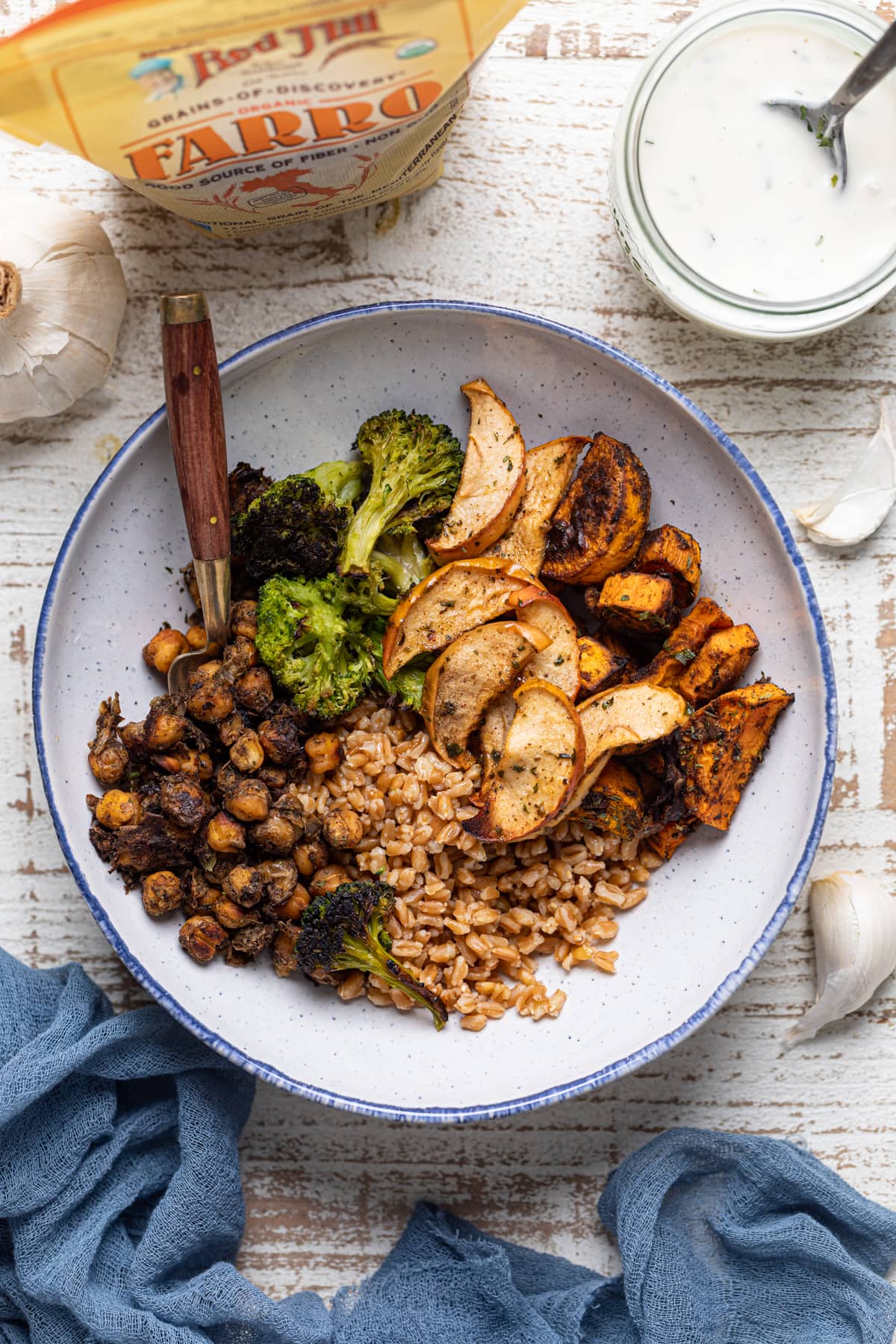 What You'll Need for Roasted Maple Herb Apples
2 Gala apples
1 tablespoon Extra virgin olive oil
¼ cup pure maple syrup
1 teaspoon dried oregano
1 teaspoon dried parsley
1 teaspoon dried basil
½ teaspoon ground cinnamon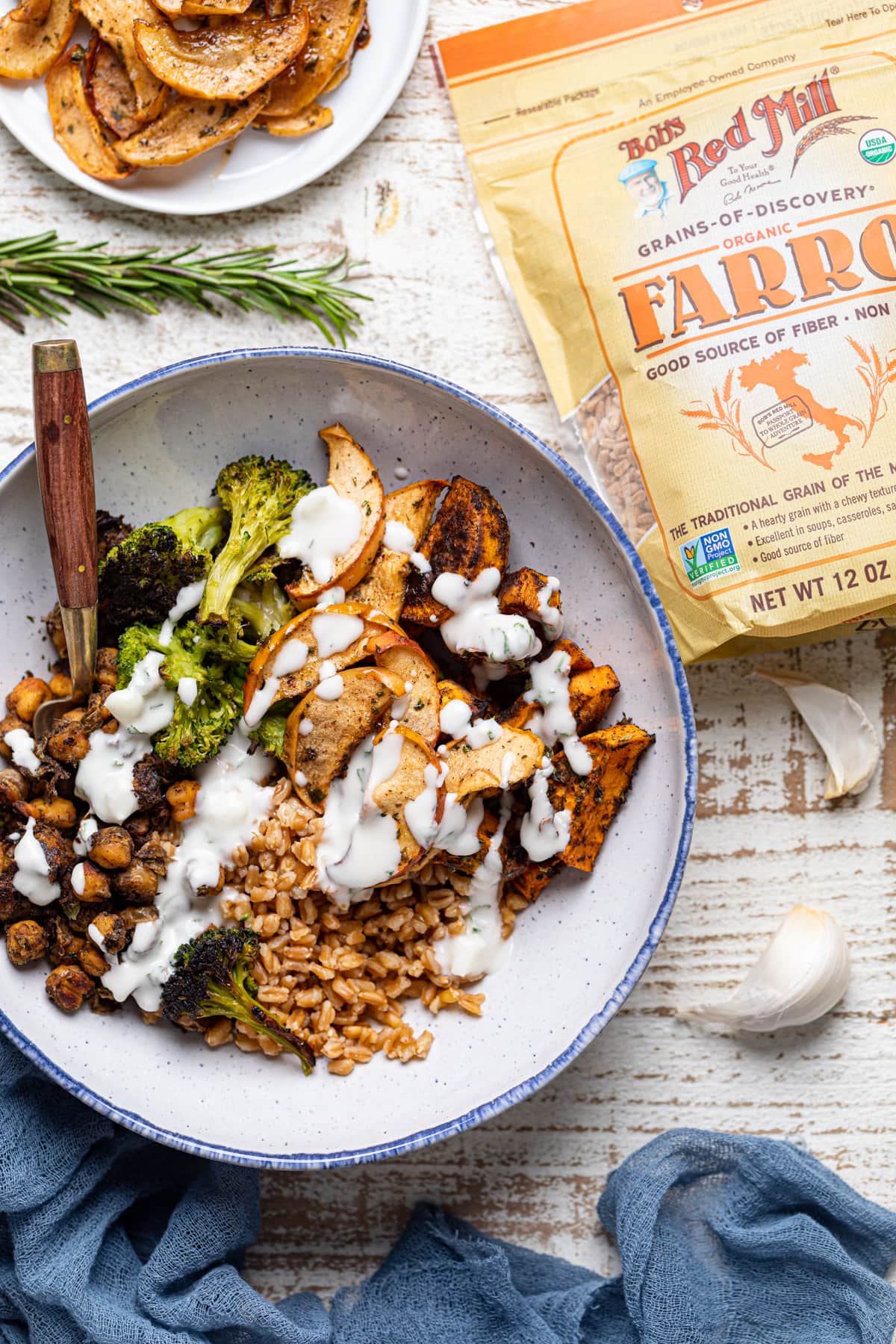 Homemade Jerk Seasoning/Marinade
You can certainly take a shortcut and use a store-bought jerk marinade for the chicken. I love the marinade from Grace brand.
Or, if you have the time, you can whip up a flavor-packed traditional Jamaican marinade for your chicken. It's easier than you might think!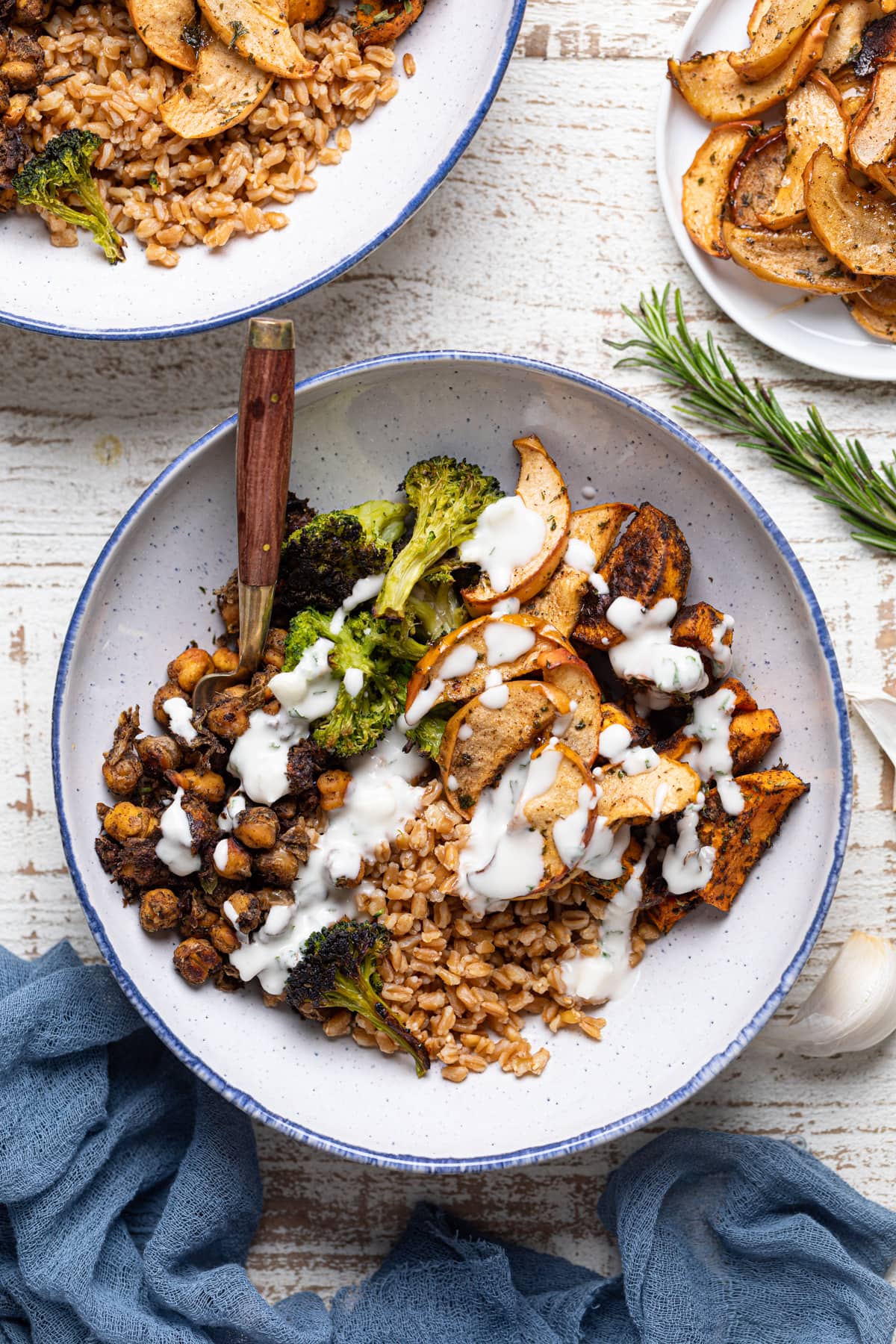 To Make Homemade Jerk Marinade
½ onion, coarsely chopped
4 medium green onion scallions, chopped
2-3 Tbsps of fresh thyme
1 ½ Tbsps fresh ginger, chopped
8 garlic cloves, chopped
1 tablespoon ground cinnamon
1 tablespoon allspice, coarsely ground
1 tablespoon coarsely ground white pepper
1 teaspoon grated nutmeg
2 Tbsps dark brown sugar
2 Tbsps honey
2 Tbsps of soy sauce
1 Tbsp bouillon powder
1 cup fresh mangos or pineapples (option)
1-2 scotch bonnet pepper (depending on how spicy you'd like it to be)
Instructions: In a food processor combine all the ingredients. Adjust for taste and heat level with more or fewer spices. Use what you need for the recipe and store the rest in the refrigerator, to use again.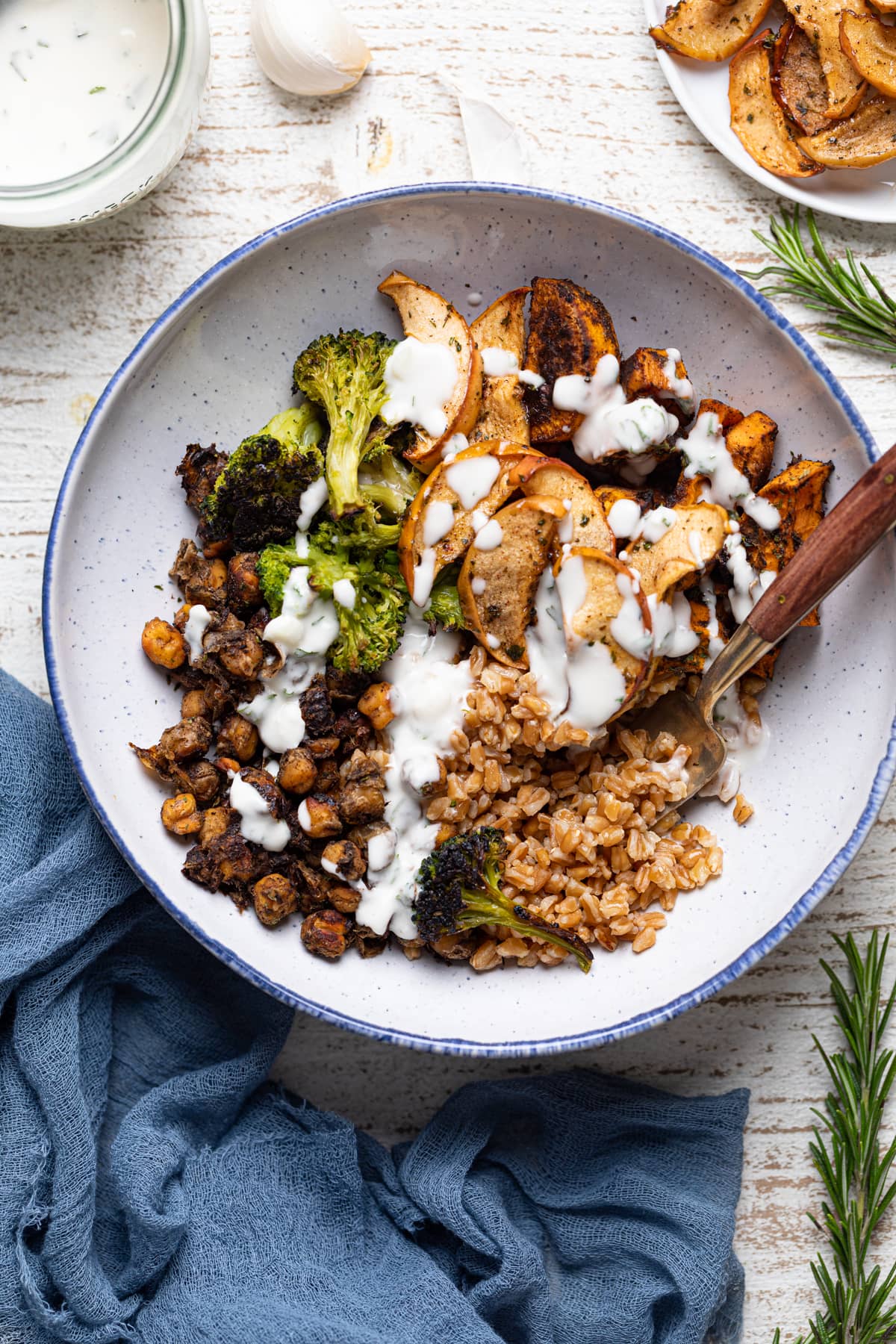 Top Reasons Why You'll Love This Bowl!
Can I be honest? Once you taste this farro bowl you'll fall in absolute love. Haha. More importantly, here are the reasons why you'll love it the most:
It's ALL Vegan + Plant-based.
Super easy to make and quick
So many nutrients in one bowl.
Full of warm Fall flavors, hints of sweetness/spiciness + savoriness (The best reason!)
Perfect for any time of day—Dinner, Lunch, Breakfast (if that's your thing), whatever!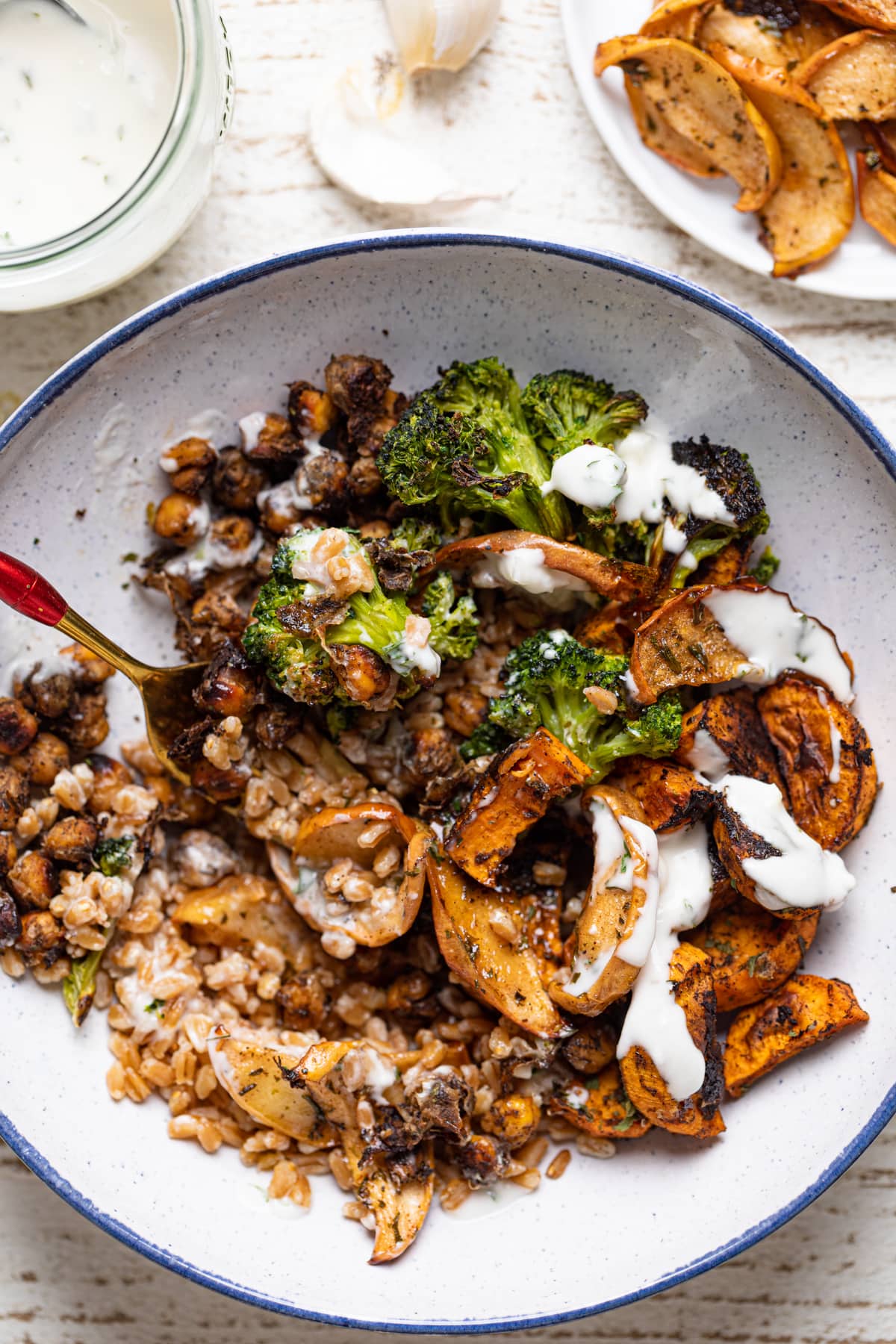 CRISPY ROASTED JERK CHICKPEAS + VEGGIES
The veggies add a nice crunch and source of protein in this farro bowl recipe. All you need is:
Canned chickpeas. Drain, rinse and dry the chickpeas well for the crispiest texture.
Sweet potatoes. Peeled, and chopped into cubes.
Broccoli florets. Chopped into small/medium pieces.
Olive oil
Jerk seasoning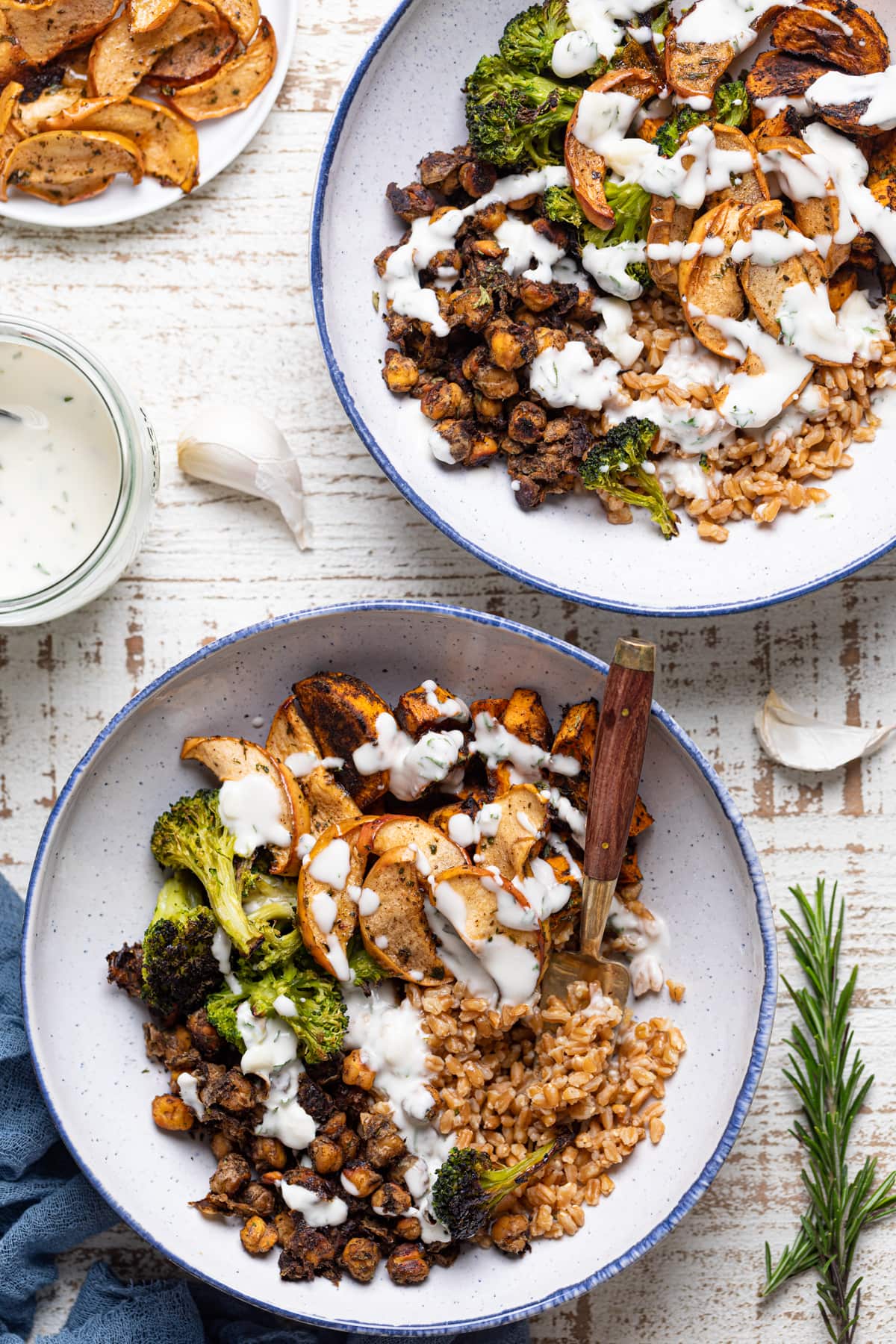 Optional Toppings for Bowl
Other excellent toppings for these tacos are:
Black beans
Lentils
Red beans
Green peas
Asparagus
Irish potatoes
Brussels sprouts
Cauliflower
Butternut squash
Broccolini
Carrots
Bell peppers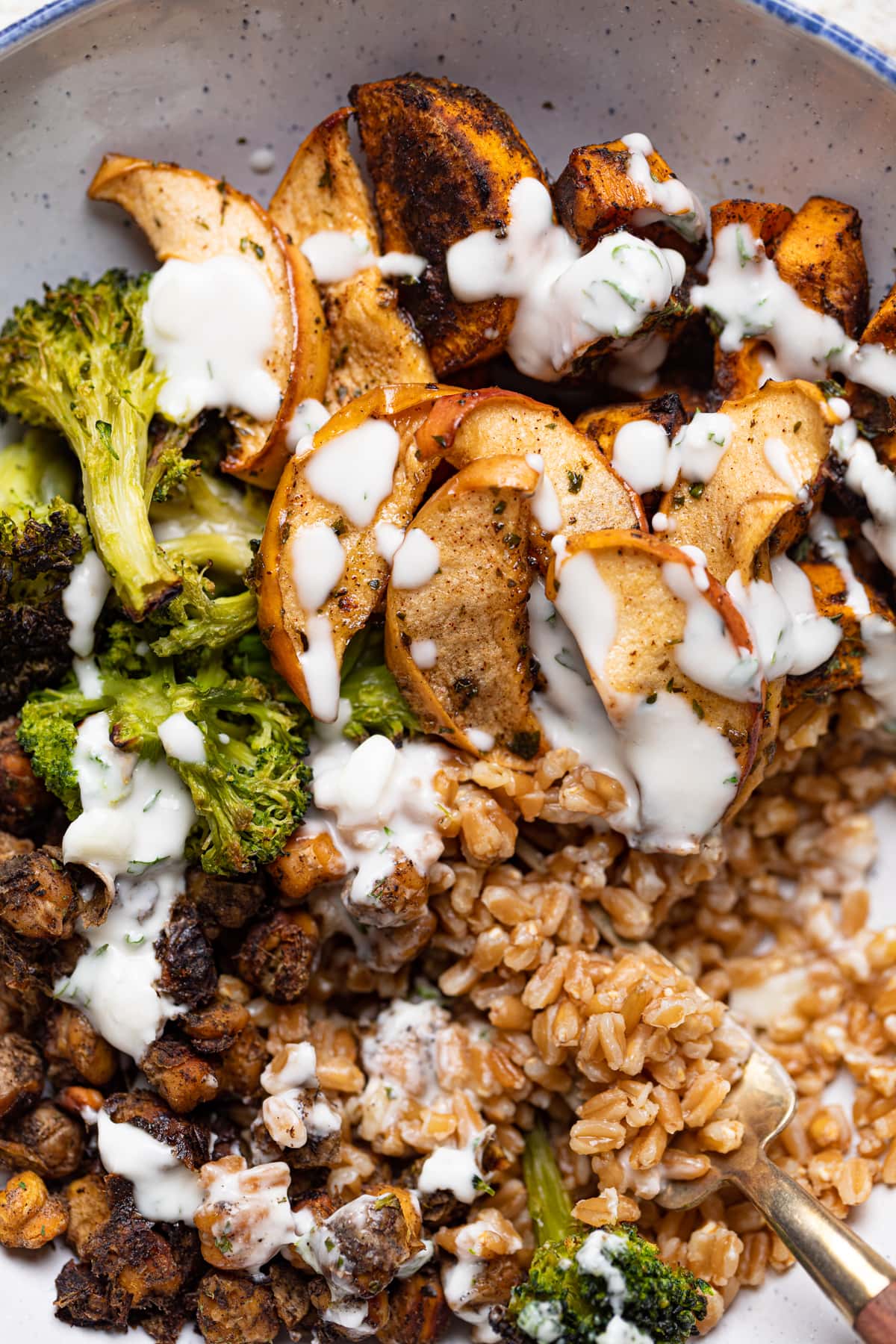 More Easy Meatless Weeknight Meals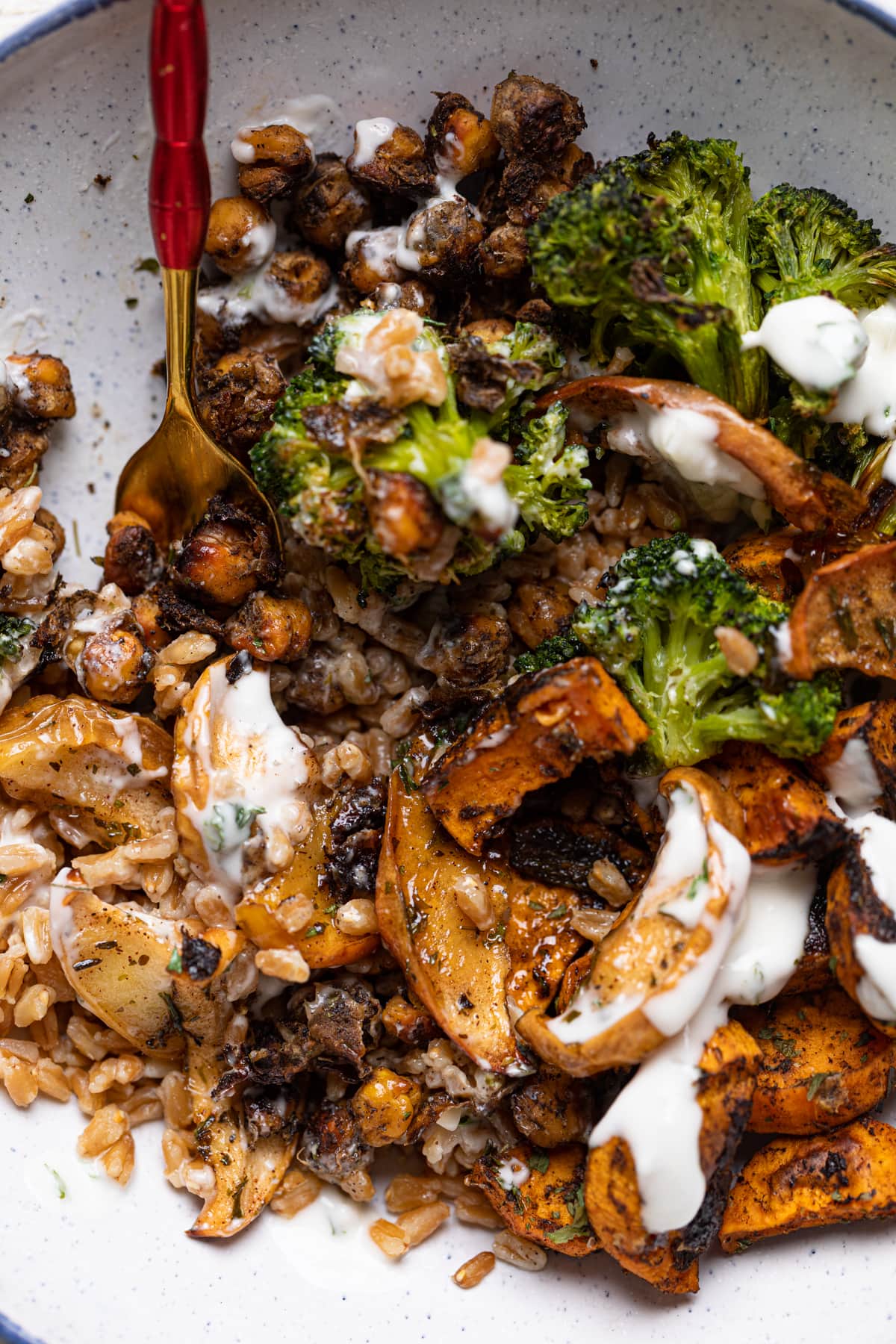 MADE OUR RECIPE(S)?
If you make this Jerk Vegetable Farro Bowl with Maple Herb Apples or any other recipe from us, be sure to tag us on Instagram at #Orchidsandsweettea so that we can share the love!
FARRO:
1

cup

Bob's Red Mill Organic Farro

(See Notes!)

3

cups

organic vegetable stock, low-sodium

1

teaspoon

sea salt
BOWL:
2

small

sweet potatoes, peeled + chopped

(About 1lb. each)

2

cups

broccoli florets

1

(15 oz.) can

chickpeas, drained + rinsed

(See Notes!)

2

Tbsps

jerk seasoning, homemade or store-bought

(See Notes!)

1 ½

Tbsps

Extra virgin olive oil
DAIRY-FREE GARLIC DRESSING:
ROASTED JERK VEGGIES:
Preheat your oven to 400 degrees Fahrenheit and prepare TWO baking sheets by lining them with parchment paper.

In a bowl, add the chopped sweet potatoes, broccoli, and chickpeas along with the olive oil and jerk seasoning, gently mixing everything together until veggies are fully coated.

Add the veggies unto the baking sheet (in a single layer) and and bake for 25-30 minutes or until veggies are charred, wilted, and crisp.
TO ROAST MAPLE HERB APPLES:
Add the sliced apples in a bowl with maple syrup + herb seasonings, mixing everything together until apples are fully coated. Place until the other prepared baking sheet and bake for 15-20 minutes or until apples are golden, wilted, and crisp.
TO COOK FARRO:
Begin by adding veggie stock + salt in a medium saucepan over high heat. Rinse the farro grains and add to pot, bringing mixture to a bowl. Reduce heat to medium-high heat and let it cook for about 30 minutes or until farro swells a bit and becomes soft. Once fully cooked, drain off excess liquid and set aside.
MAKE GARLIC DRESSING:
In a bowl, add together all ingredients and whisk everything together until combined and smooth. Dressing should be easy to drizzle in consistency.
TO MAKE BOWL:
Once done, remove roasted veggies + apples from the oven and set them aside.

To assemble: spoon farro into low bowl(s) or plate(s) evenly, followed by roasted jerk veggies (grouped side by side), maple herb apples, and top with drizzle of garlic dressing.

Bon Appetit!
FARRO: To learn about the best ways to cook Farro, see above post. To purchase it, visit Bob's Red Mill!
STORAGE: Any leftovers can be kept in a tightly sealed container and refrigerated for 3-4 days.
DRESSING (STORAGE): Any leftover dressing can be kept in a tightly sealed mason jar or container and refrigerated for 3-4 days.
SERVING: To make this dish for a bigger family, simply double (or triple) all ingredients.
MAKE AHEAD: All ingredients can be made and individually stored as meal prep and assembled when ready to serve.
BEANS: You can always spruce things up by substituting the chickpeas with other beans that work perfectly such as black beans, red beans, lentils, white beans, green peas. 
JERK SEASONING/MARINADE: To make your own homemade Jerk Seasoning/Marinade, visit my recipe here.
Calories:
1637
kcal
|
Carbohydrates:
182
g
|
Protein:
17
g
|
Fat:
93
g
|
Saturated Fat:
11
g
|
Polyunsaturated Fat:
4
g
|
Monounsaturated Fat:
14
g
|
Sodium:
3543
mg
|
Potassium:
1506
mg
|
Fiber:
30
g
|
Sugar:
55
g
|
Vitamin A:
22278
IU
|
Vitamin C:
94
mg
|
Calcium:
310
mg
|
Iron:
7
mg