Baked Jamaican Jerk Chicken Salad --When summer finally rolls around here in NYC, it's like the city comes alive. Everyone is spending as much time as possible outdoors soaking up the sun and enjoying some time with friends and family. For me, one of the best parts of this sunny time of year is the bounty of delicious and fresh local produce that pops up.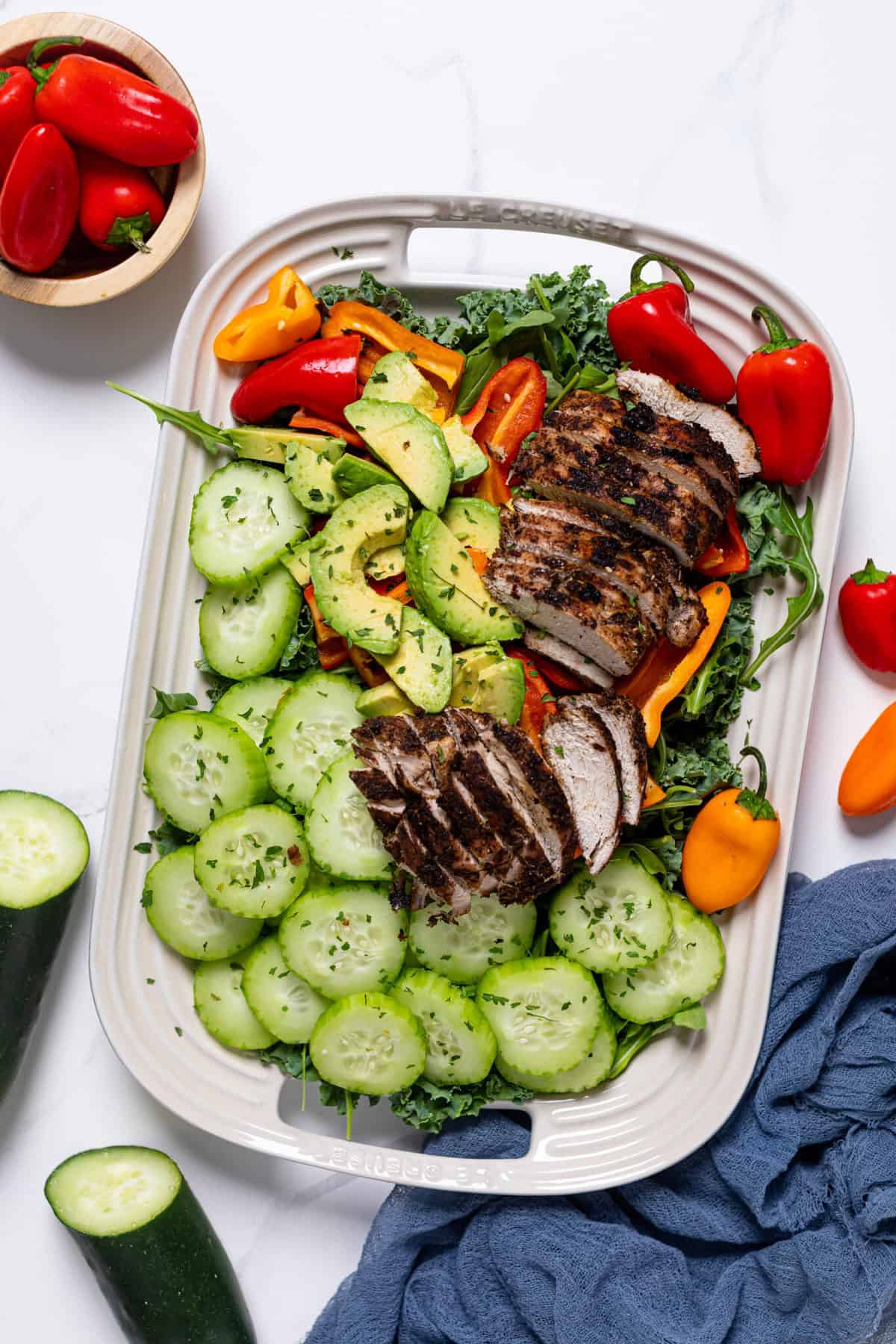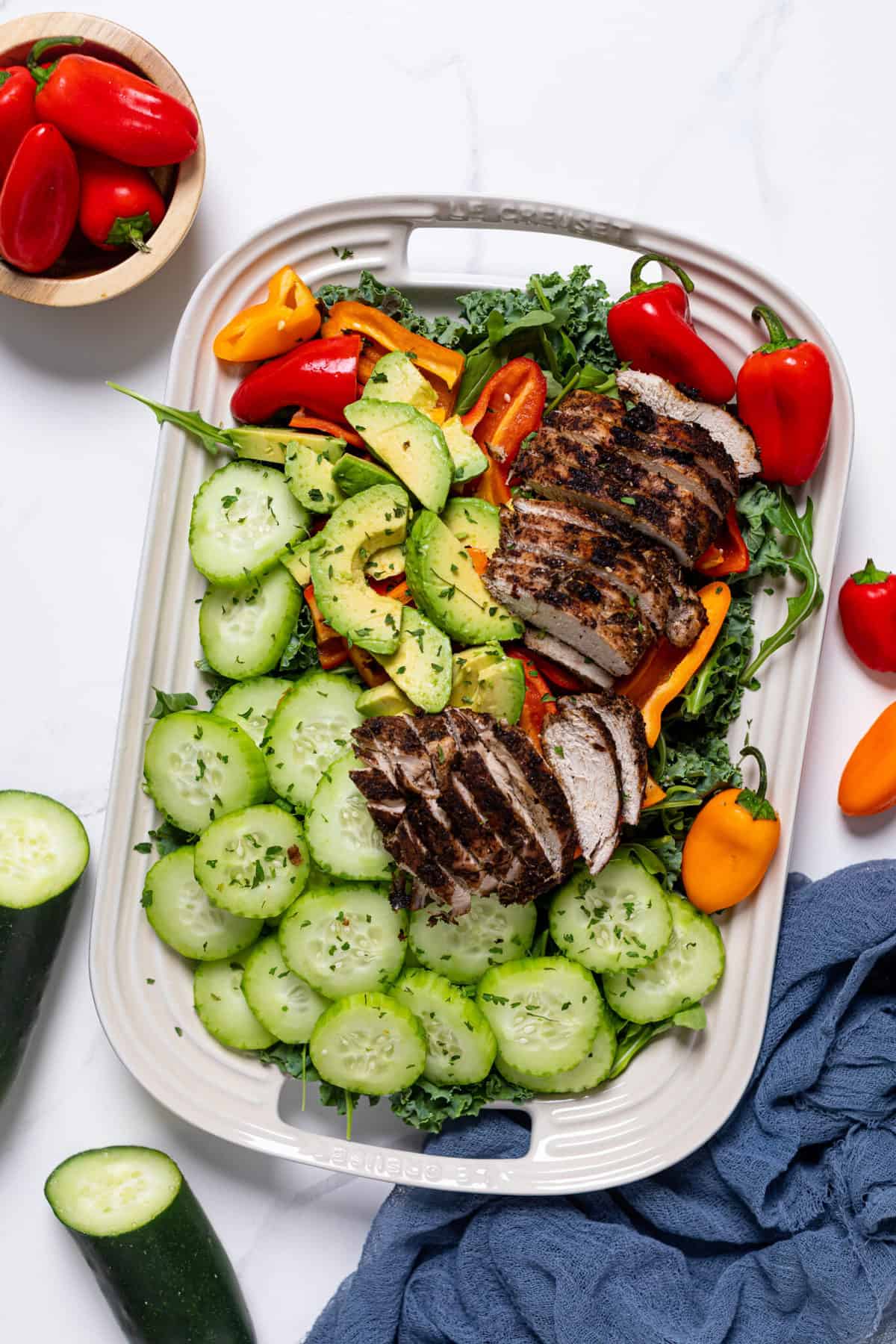 I love selecting whatever veggies and fruit call my name at the market and throwing everything together into a huge crunchy salad. And this recipe for Jamaican jerk chicken salad combines my love for fresh seasonal produce with spicy, robust flavors of Jamaican jerk seasoning. The jerk marinade is the perfect bold, spicy foundation for the crisp and refreshing veggies in this dish. You can enjoy it as a light lunch or dinner. It's a guaranteed crowd-pleaser every time!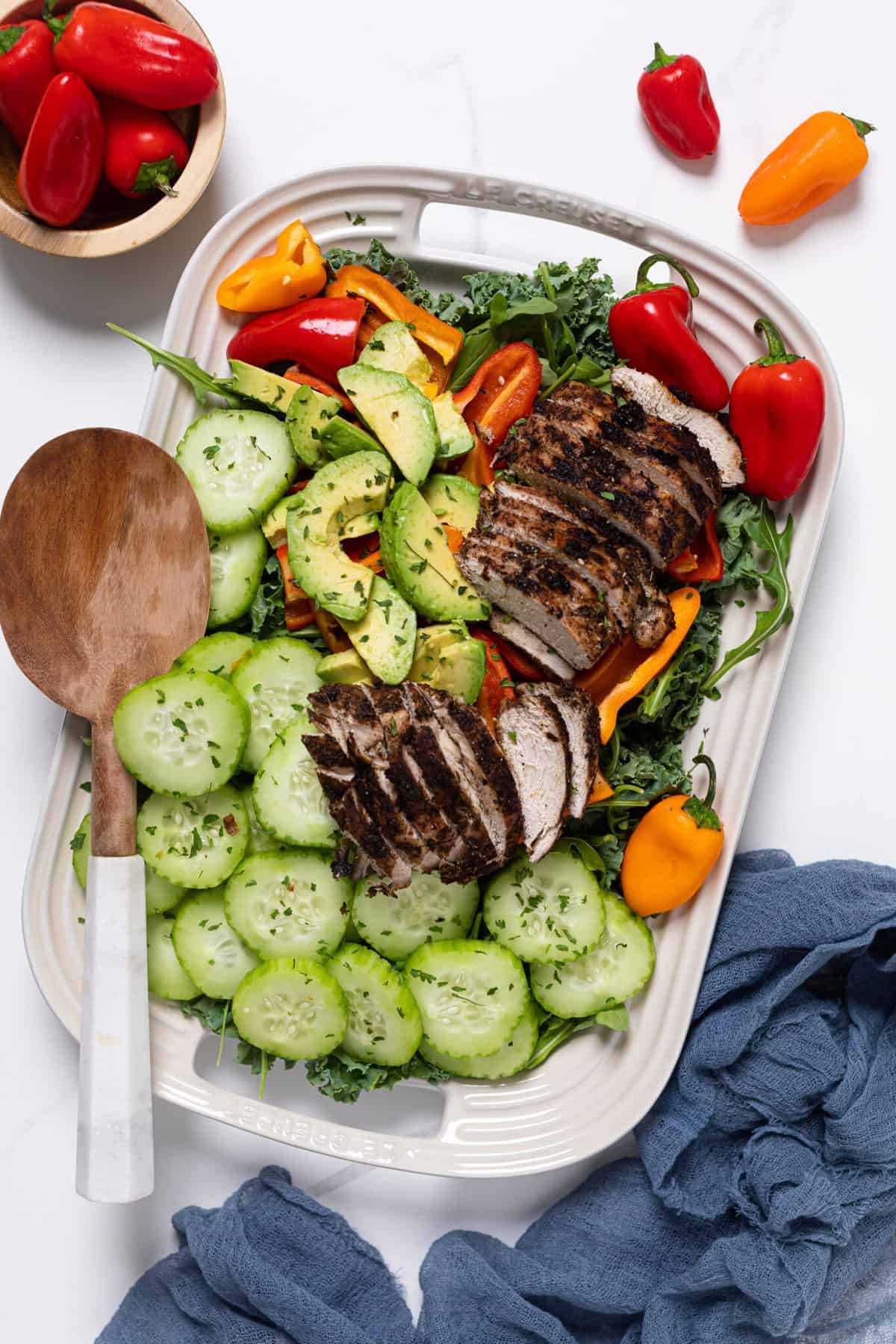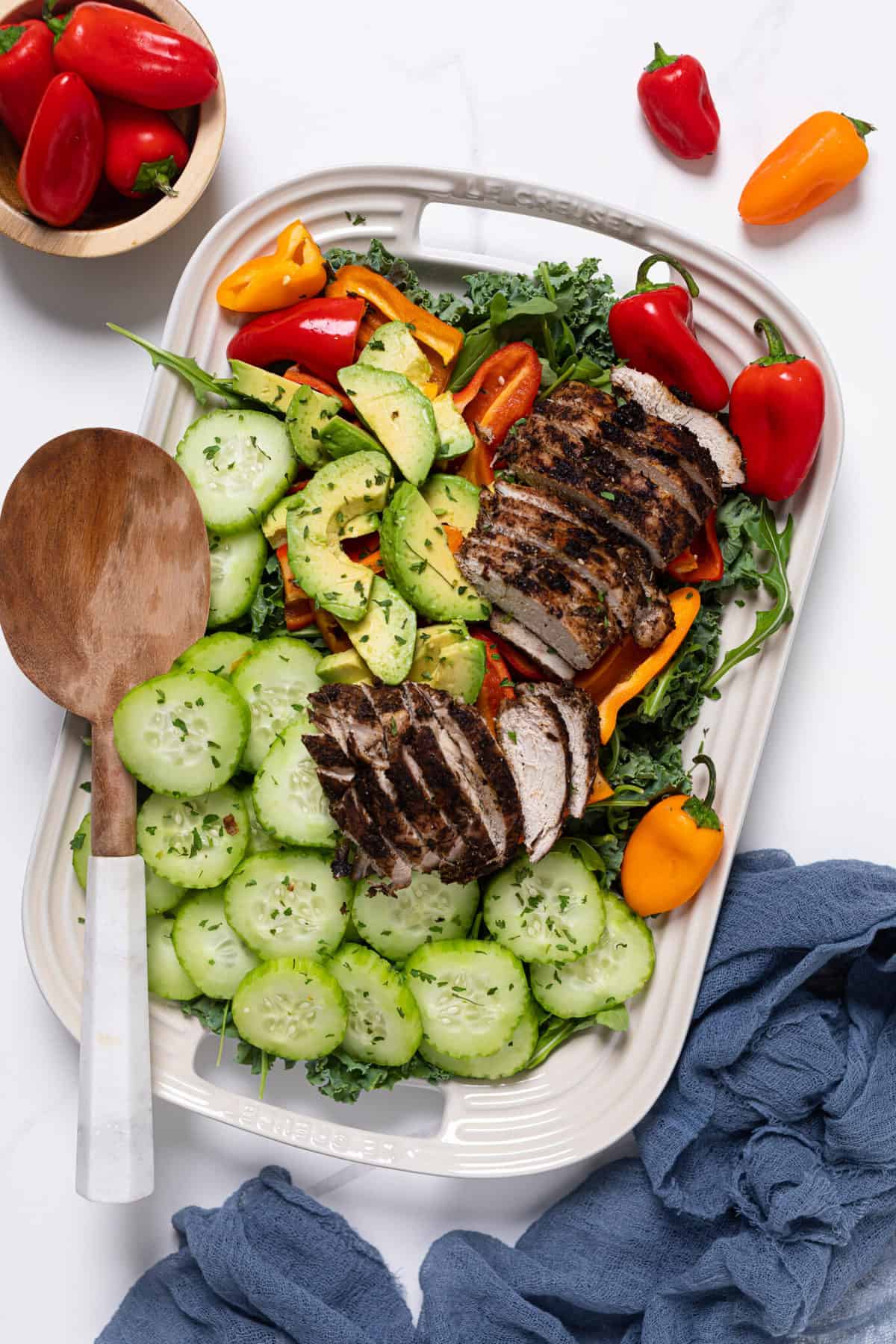 How to Make Baked Jamaican Jerk Chicken Salad
The awesome thing about this recipe is that most of the ingredients are household staples. Plus, it's easy to mix and match ingredients with whatever you have on hand, so there's no need to make an extra trip to the store. Instead, embrace the laid-back nature of this healthy meal.
Ingredients
Here's what I like to toss into my colorful summertime salad:
Chicken breasts. Choose organic chicken for this recipe. If you have time, I recommend marinating them overnight before you prepare the salad. You could also use chicken thighs for this recipe if you prefer dark meat.
Jerk marinade or seasoning. You can buy this or make your own using the recipe below!
Kale and spinach. I love the combination of crunchy kale and softer spinach. However, you can substitute the greens with another leafy salad base, such as arugula, romaine, Boston, or red leaf lettuce.
Bell pepper. I love the splash of color from red and yellow sweet mini peppers. Of course, you can use any color bell pepper you like. And larger peppers work just as well as the mini ones.
Avocado. This is a must-have addition if you ask me. It adds creaminess and healthy fats to round out this vegetable-packed baked chicken salad.
Tomatoes. In the summer, I can't get enough vine-ripe tomatoes, and this salad is the perfect opportunity to eat even more!
Cucumber. Freshly peeled cucumber adds refreshing crunch to this Jamaican jerk chicken salad.
Red onion. I like a bit of red onion to add a pop of bitey, acidic flavor to the salad. If you're not a fan of raw onion, you can omit it or soak the onion in water for about 10 minutes to remove some of its strong flavor.
Carrot. I like to add some grated carrot or the extra color, but you can skip this veggie if you're out.
Salad dressing. Feel free to use your favorite dressing on this salad. I highly recommend this recipe for Avocado Basil Mango dressing to pair with the spicy jerk chicken.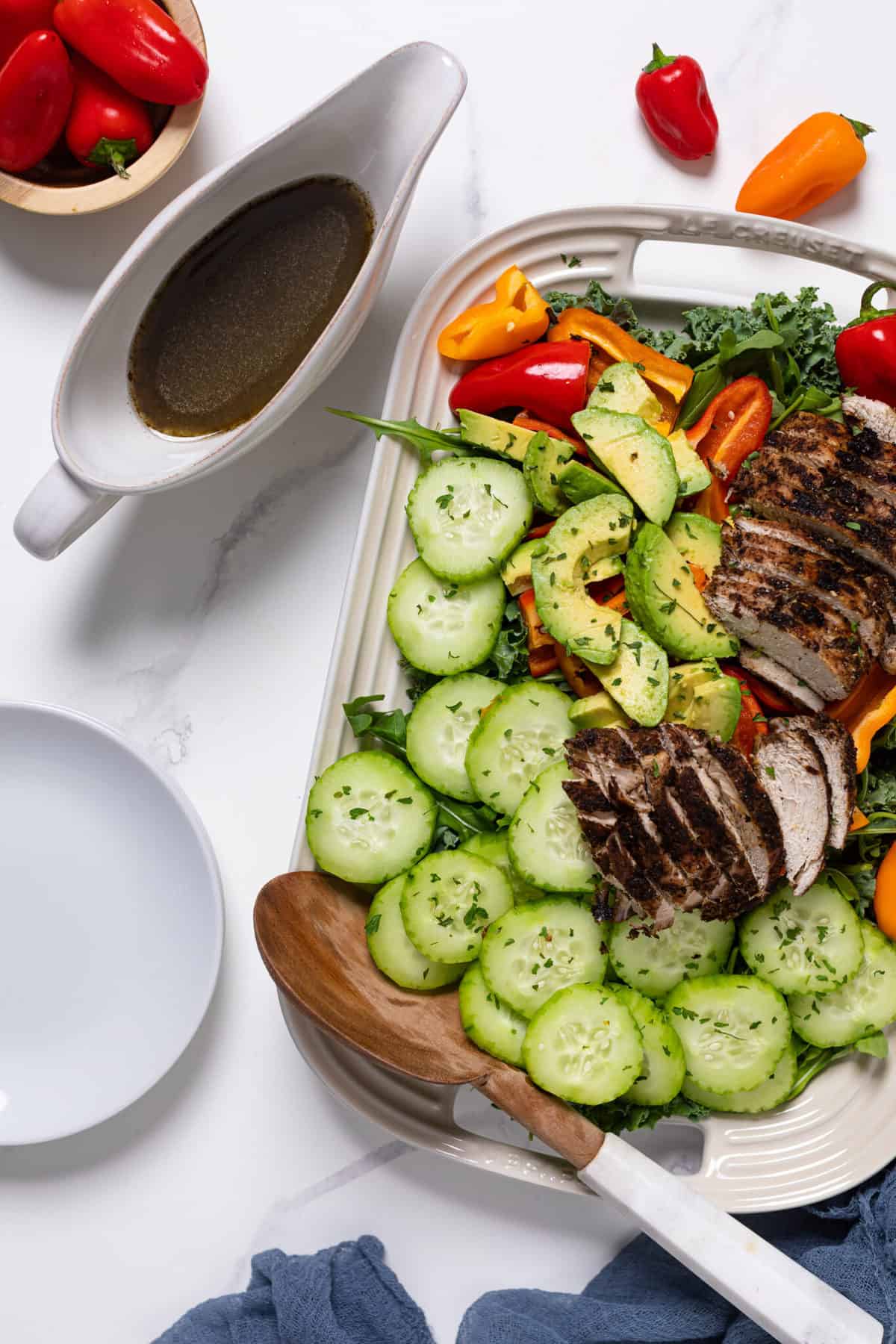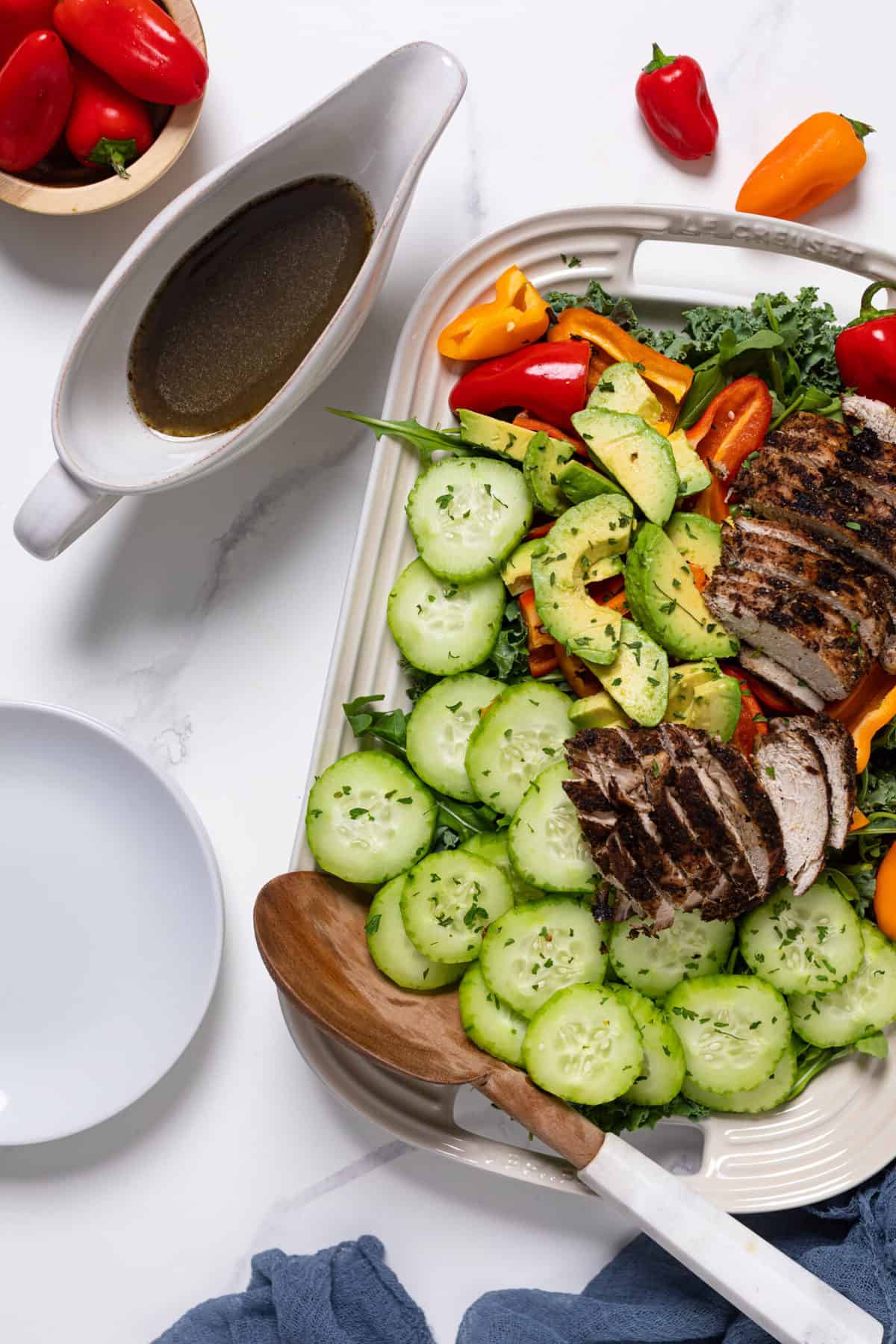 What is Jamaican Jerk Chicken?
If you've followed our blog, then you'll know that every so often, I like to create dishes inspired by my Jamaican roots. Jerk chicken is a staple and beloved dish in Jamaica. It's usually grilled until it's browned and crisped to perfection with a juicy interior. People often serve jerk chicken with a slice of hard dough bread drenched in jerk and BBQ sauces. YUM! I can smell and tastes this goodness now.
Unlike traditional grilled Jamaican jerk chicken, this recipe calls for roasting or baking the chicken breasts in the oven. This way, even without a grill, you can enjoy finger-licking good Jamaican flavors at home.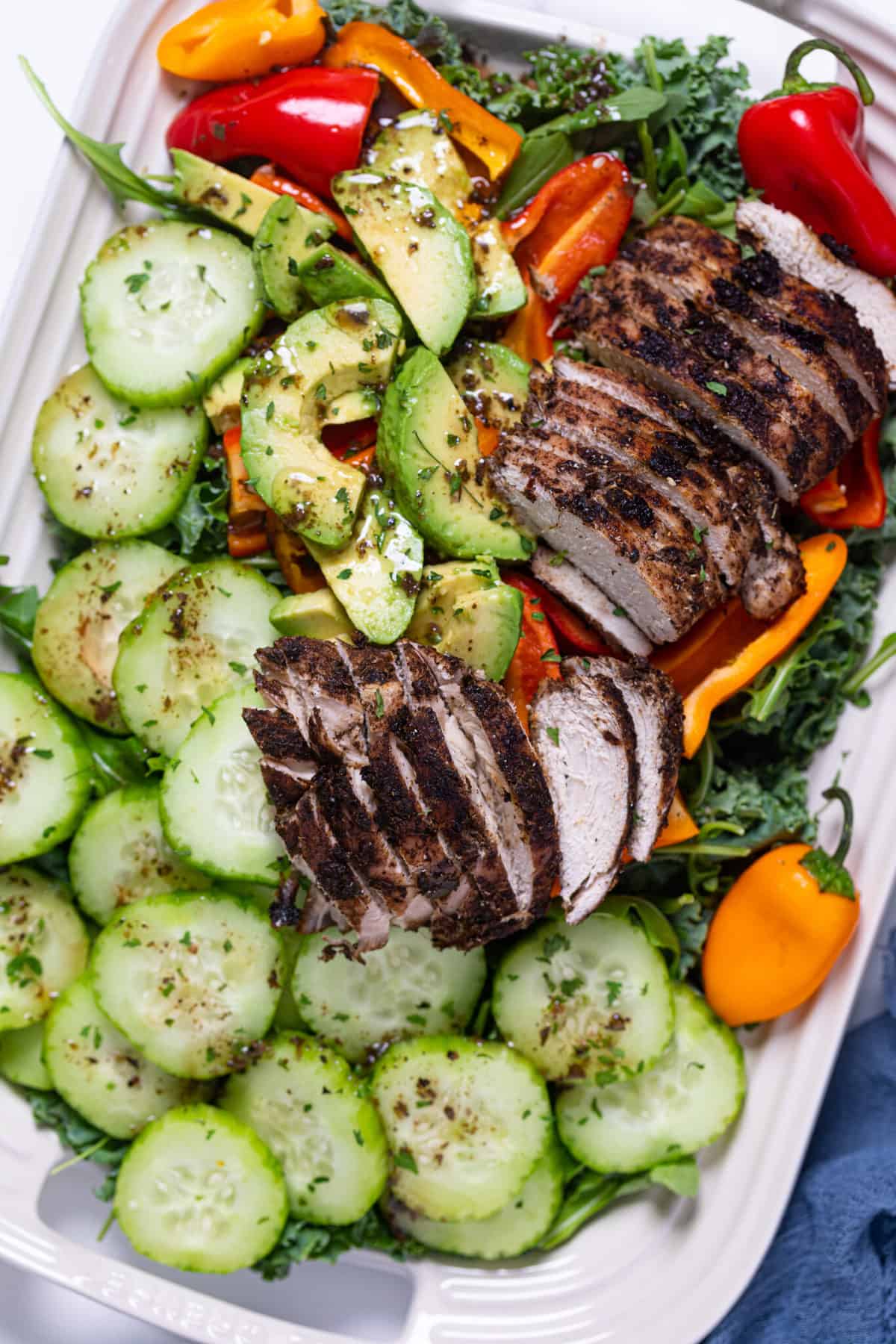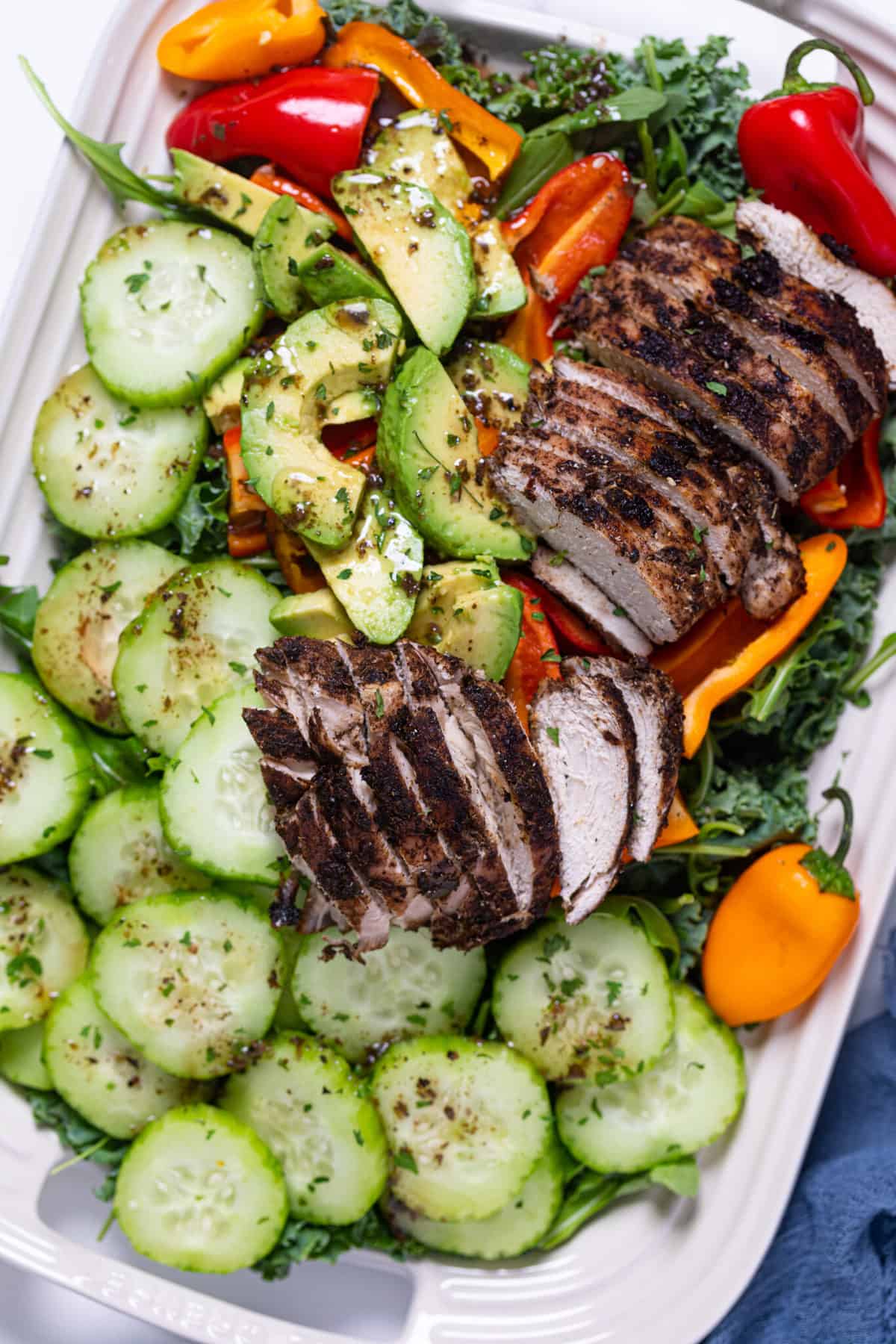 Homemade Jerk Marinade Recipe
You can certainly take a shortcut and use a store-bought jerk marinade for the chicken. I love the marinade from Grace brand.
Or, if you have the time, you can whip up a flavor-packed traditional Jamaican marinade for your chicken. It's easier than you might think!
Here's how to do it:
For Homemade Jerk Marinate:
½ onion, coarsely chopped
4 medium green onion scallions, chopped
2-3 Tbsps of fresh thyme
1 ½ Tbsps fresh ginger, chopped
8 garlic cloves, chopped
1 tablespoon ground cinnamon
1 tablespoon allspice, coarsely ground
1 tablespoon coarsely ground white pepper
1 teaspoon grated nutmeg
2 Tbsps dark brown sugar
2 Tbsps honey
2 Tbsps of soy sauce
1 tablespoon bouillon powder
1 cup fresh mangos or pineapples (option)
1-2 scotch bonnet pepper (depending on how spicy you'd like it to be)
Instructions: In a food processor combine all the ingredients. Adjust for taste and heat level with more or fewer spices. Use what you need for the recipe and store the rest in the refrigerator, to use again.
How Long to Marinate Jerk Chicken?
Whether you buy the marinade or make it, be sure to let the chicken breasts marinate for at least one hour before baking. If possible, I recommend marinating overnight for the most flavor.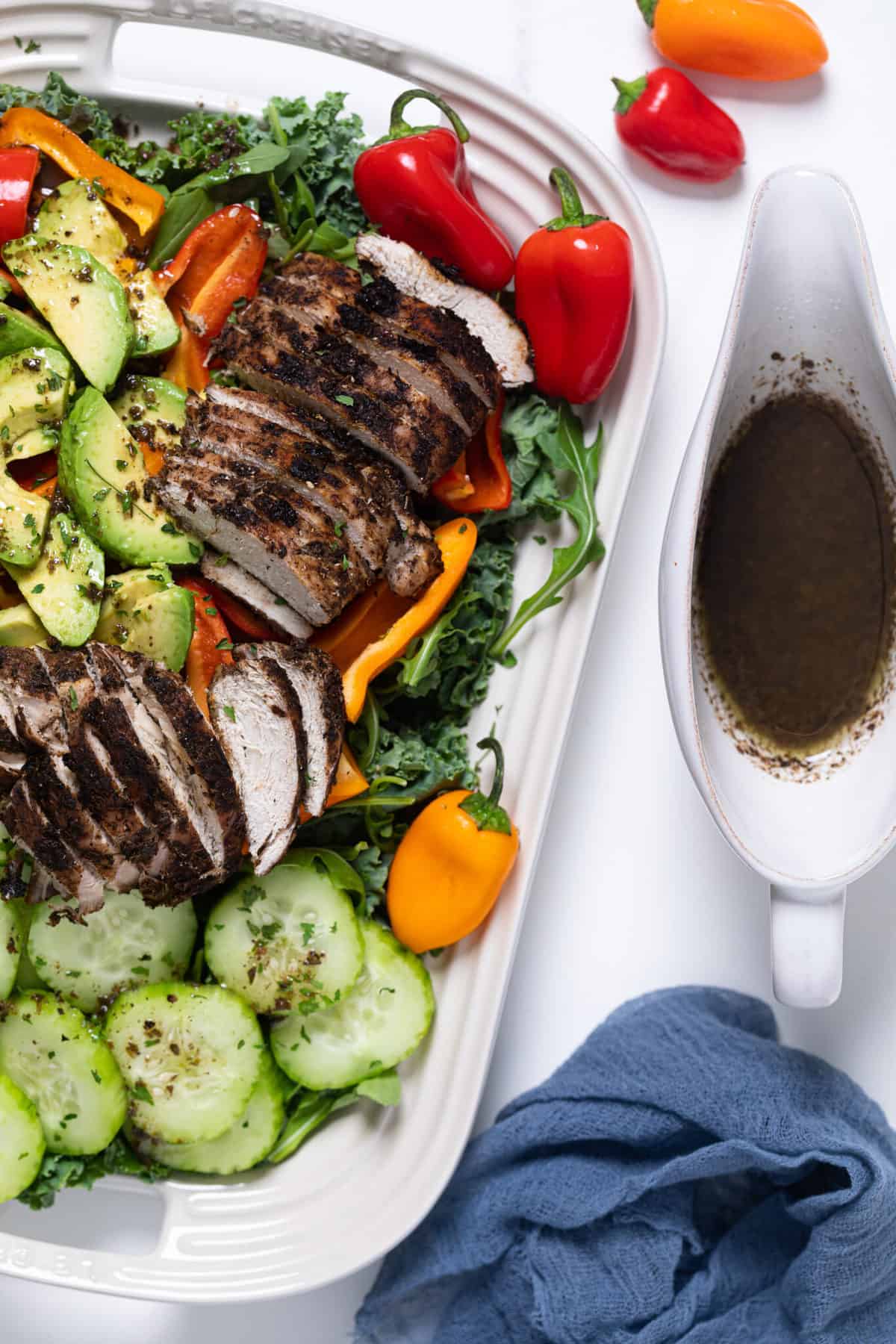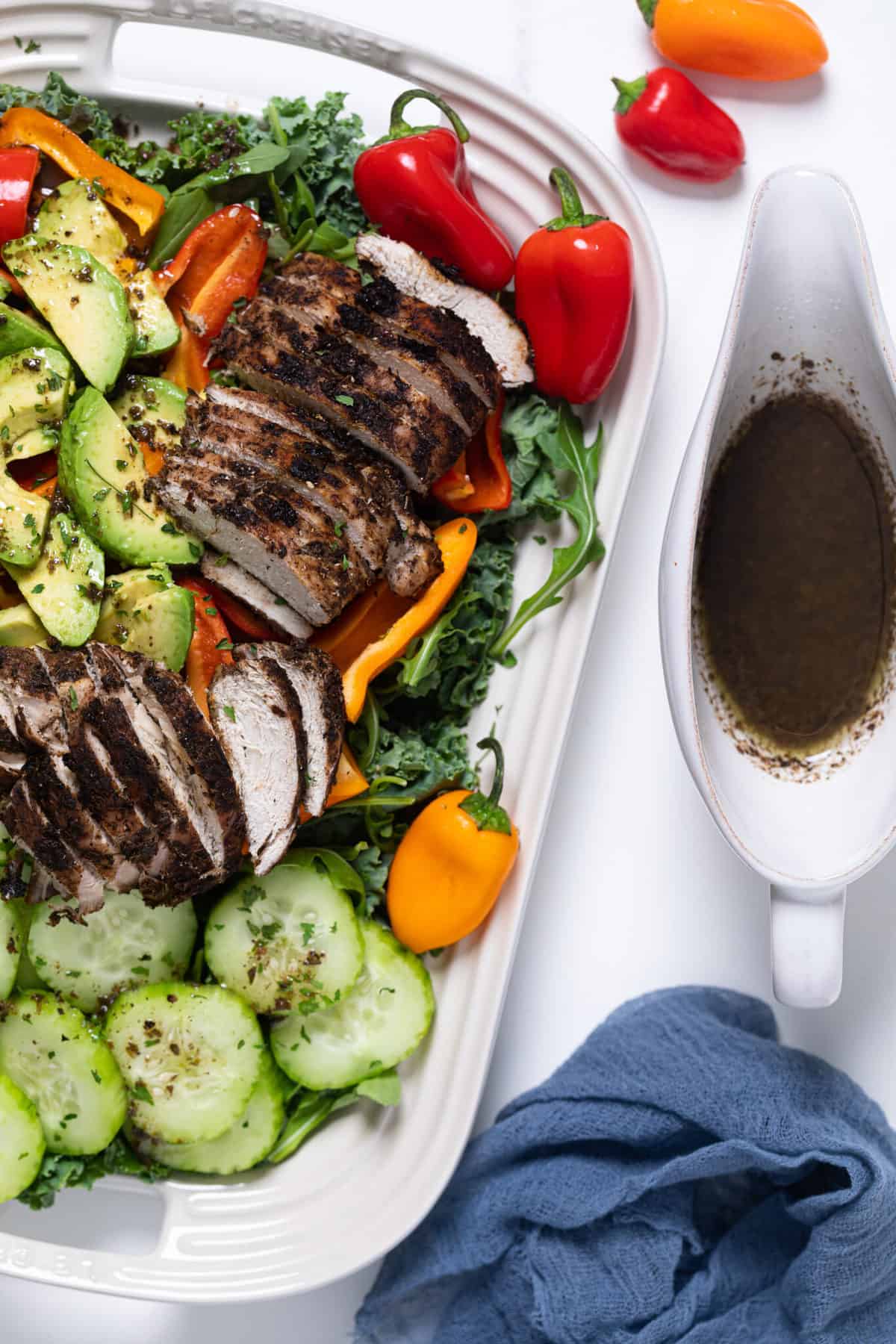 Storage Suggestions
You can store the undressed salad in an airtight container in the fridge for up to three days. So go ahead and make a big batch to meal prep a healthy lunch for the week! Dress the salad and add chicken just before serving.
More Jamaican-Inspired Recipes
Hot + Spicy 'Nine Mile' Buffalo Chicken Wings definitely live up to their name—HOT + SPICY! Drenched in hot buffalo sauce with a hint of BBQ sauce and maple syrup to balance the heat, these wings remain a spicy staple inspired by Bob Marley and the Jamaican culture with bold uses of red pepper flakes + scotch bonnet peppers.
Spicy Jamaican Mini Beef Pattiesaretake just 25 minutes and are FULL of flavor.
Shredded BBQ Jerk Chicken + Sweet Plantains have an island feel from the traditional combination of spicy and sweet! This recipe is inspired by the traditional Jamaican favorite–Jerk Chicken, with a modern feel and plenty of bold flavors. It's easy to make and doesn't require much time in the kitchen.
MADE OUR RECIPE(S)?
If you choose to make this Baked Jamaican Jerk Chicken Salad or any other recipe from us, be sure to tag us on Instagram at #Orchidsandsweettea so that we can share the love!
2

large

organic chicken breasts, marinated overnight

(about 1 lb. each)

2-3

Tbsps

Jerk marinade/seasoning, store-bought or homemade

(See Notes!)

4

cups

organic kale, roughly chopped

1

cup

organic spinach

1

medium

yellow bell pepper, diced

1

medium

red bell pepper, diced

1

ripe

hass avocado, peeled + sliced

2

medium

tomatoes, diced

1

medium

cucumber, peeled + sliced

½

medium

red onion, diced

1

large

carrot, grated

(optional)
To start, add the jerk chicken marinade to your chicken breasts in a ziplock bag and allow chicken to fully marinate for at least an hour in the refrigerator; best if marinated overnight.
BAKED JERK CHICKEN:
Pre-heat oven to 400 degrees Fahrenheit. Remove chicken from marinade and add to a medium non-stick skillet or parchment lined baking sheet, pouring marinade juices atop chicken.

Bake for 30-40 minutes, until chicken is fully cooked through and golden brown on the outside. Remove chicken from oven and let it rest for 5 minutes or so before slicing into strips.
SALAD:
Meanwhile, rinse and chop veggies for the salad and set aside.

To serve, arrange the veggies unto a platter (starting with the kale + spinach first) and top with sliced jerk chicken. Top with your favorite dressing or our Avocado Basil Mango Dressing (See Notes).
STORAGE: Leftovers are best kept in a tightly sealed container (without salad dressing) and refrigerated for up to 3 days.
AVOCADO BASIL MANGO DRESSING: Tap this link for recipe.
HOMEMADE JERK SEASONING: To make your own jerk seasoning, you'll need the following. Simply mix them together in a bowl and continue recipe: 1 tablespoon onion powder, 1 tablespoon garlic powder, 2 tsps cayenne pepper, 2 tsps salt + black pepper, 2 tsps dried thyme, 2 tsps brown sugar, 1 teaspoon ground allspice, 1 teaspoon dried parsley, 1 teaspoon paprika, ½ teaspoon red pepper flakes, ½ teaspoon ground cinnamon, ½ teaspoon ground nutmeg, ½ teaspoon ground clove, and ¼ teaspoon ground cumin.
Calories:
105
kcal
|
Carbohydrates:
8
g
|
Protein:
14
g
|
Fat:
2
g
|
Saturated Fat:
0.5
g
|
Polyunsaturated Fat:
1
g
|
Monounsaturated Fat:
1
g
|
Trans Fat:
0.01
g
|
Cholesterol:
36
mg
|
Sodium:
130
mg
|
Potassium:
574
mg
|
Fiber:
3
g
|
Sugar:
3
g
|
Vitamin A:
6358
IU
|
Vitamin C:
84
mg
|
Calcium:
118
mg
|
Iron:
2
mg
Oven Baked Jamaican Jerk Chicken Salad.