This delicious Jerk Whole Roast Chicken is a show-stopping whole bird that comes well seasoned + marinated and glazed with a sweet-spicy maple syrup jerk sauce. Serve this whole chicken for Thanksgiving, the holidays or any weeknight will be a real treat for everyone involved. Brine and make ahead options.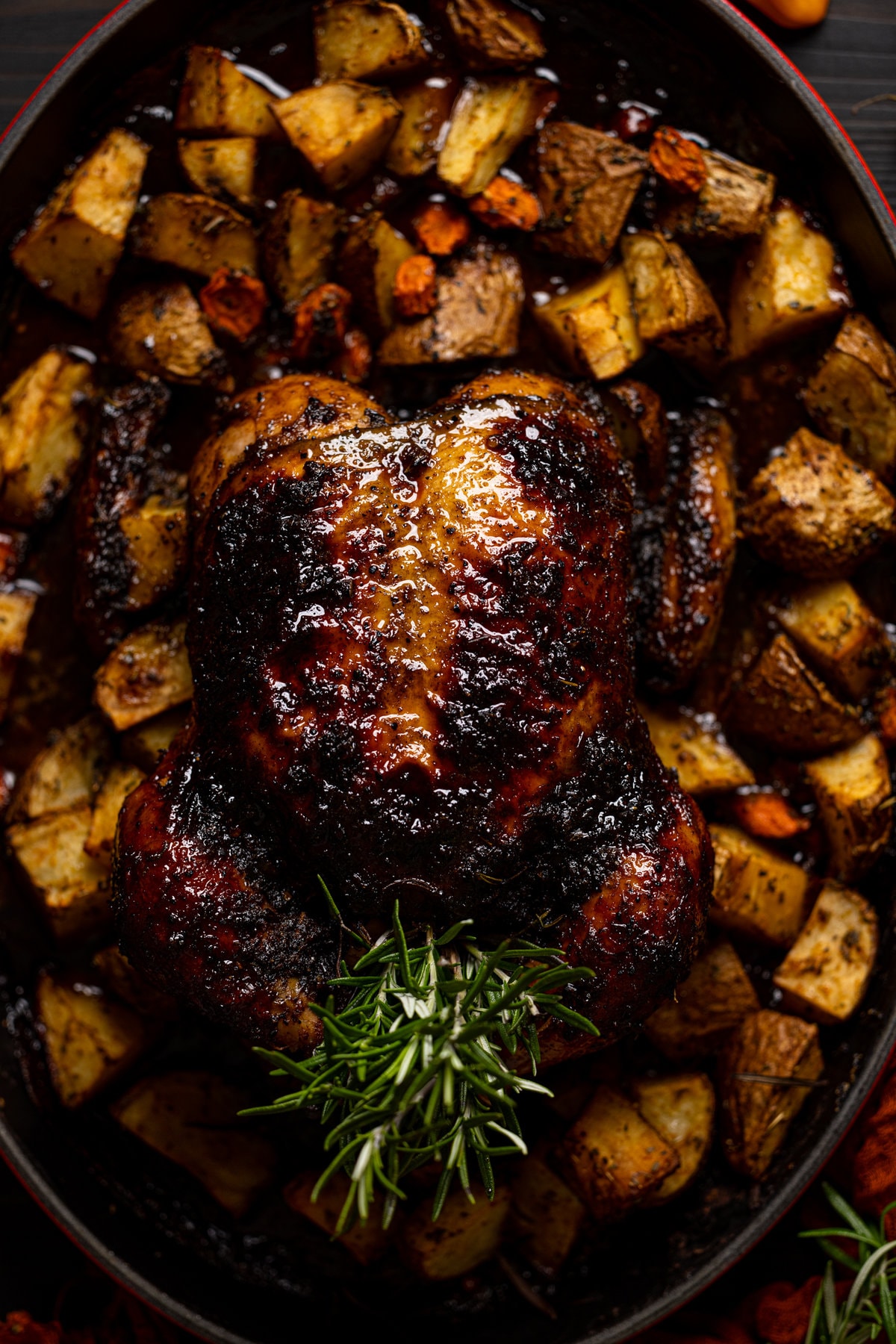 Disclaimer: This post contains affiliate links via Amazon for products that I wholeheartedly love.
I rarely get a chance to make a whole chicken, but when I do I'm always the most excited to share because it's such a process that's worth it every time. This Jerk Whole Roast Chicken is a beautiful spin on the usual her roasted chicken that's often centered on Holiday tables, but I promise you that it's AMAZING!
No need to worry about it being too spicy because the maple syrup seriously cuts down the spice and creates a nice savory feel to this poultry. Plus, I aimed to achieve the beautiful char look like traditional Jamaican Jerk Chicken for added character and flavor. SO good!
Besides, if you don't enjoy cooking whole chicken or want to make something a bit easier for weeknights, this Jamaican Pineapple Jerk Chicken is a recommend! The best part about this recipe is that it's literally my childhood wrapped up in one single serving because jerk flavors are such a staple in the Jamaican culture and it's enjoyed in so many variations.
Of course, I do have this Cranberry Maple Roast Chicken for a more traditional route with a sweeter undertone if you're into that more. Either way, your family is sure to enjoy whole roasted chicken as you should!
What is Jamaican Jerk Chicken? 
Traditionally, as I've mentioned, Jerk chicken is a staple Jamaican dish that is often enjoyed with hard-dough bread or sometimes rice and peas. The chicken is usually seasoned well with a jerk seasoning and marinade and is left to fully marinade 1-2 days (or overnight) so that everything soaks in and the chicken is nice and tender when cooked.
My favorite store-bought brand of jerk marinade is by Grace Foods, which is available to purchase at your local grocer or online via Amazon, however, when making your own sauce, it consists of blended spices and seasonings and the spiciness can be adjusted based on preference. I'll talk more about how to make your own marinade and seasoning blend further in this post.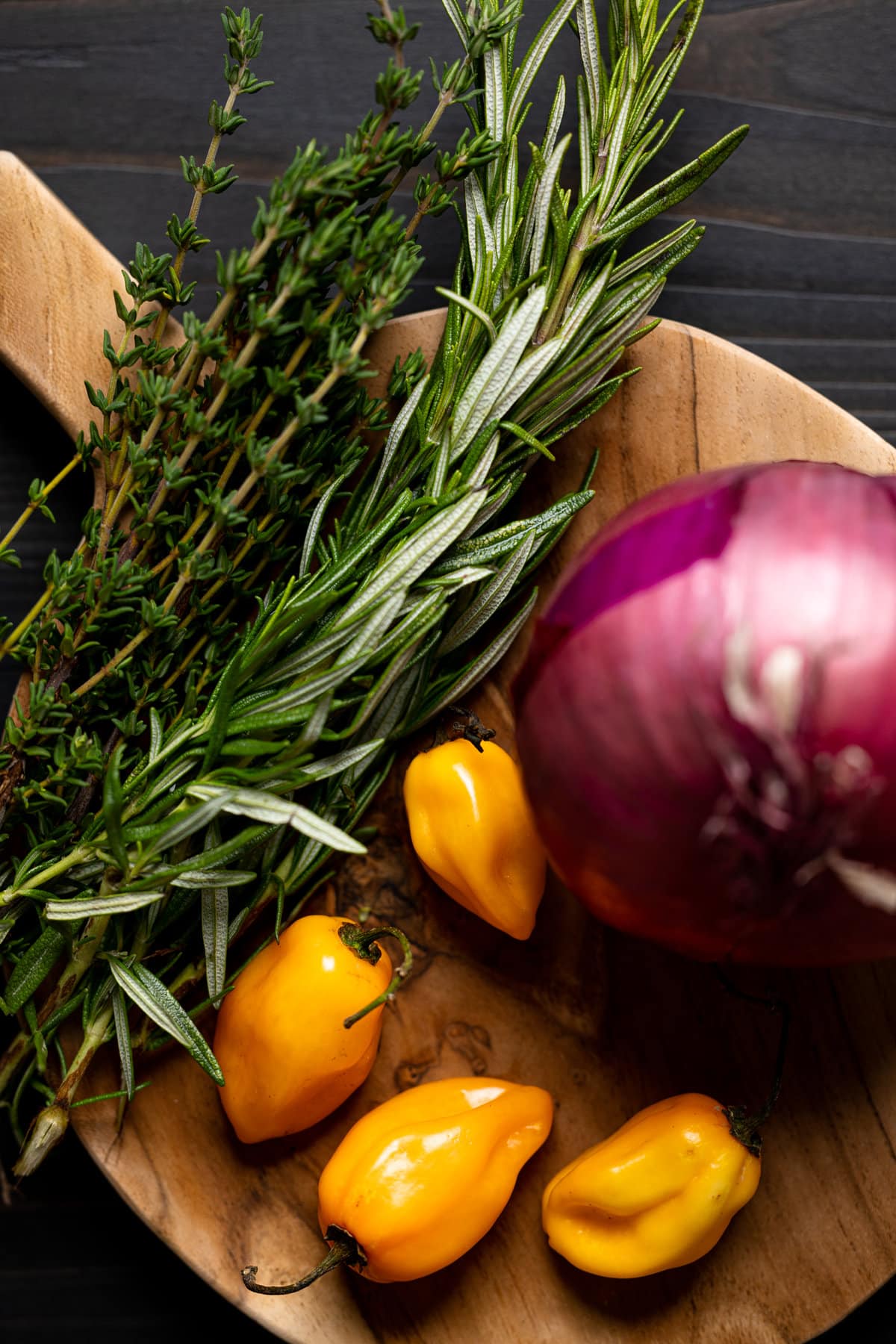 What are the 3 Main Ingredients in Jerk?
In jerk sauce or marinade, the 3 main ingredients that MUST be present are: scotch bonnet, thyme, and allspice (aka pimento seeds). You can't remove any of these ingredients or else it wouldn't be considered "jerk".
Ingredient Substitutes + Meat Alternatives for Jerk:
Making traditional jerk doesn't have to be left to only chicken. In Jamaica, it's also used for other types of meat and the possibility of switching things up with another meat or alternative is also a good idea:
Pork (often done in Jamaica as well. Perfect combination of grilling and jerk flavors)
Beef
Tofu
Chickpeas
Other beans (black beans, kidney beans, etc.)
Lamb
Fish (also done in Jamaica)
Other seafood (lobster, shrimp, etc.)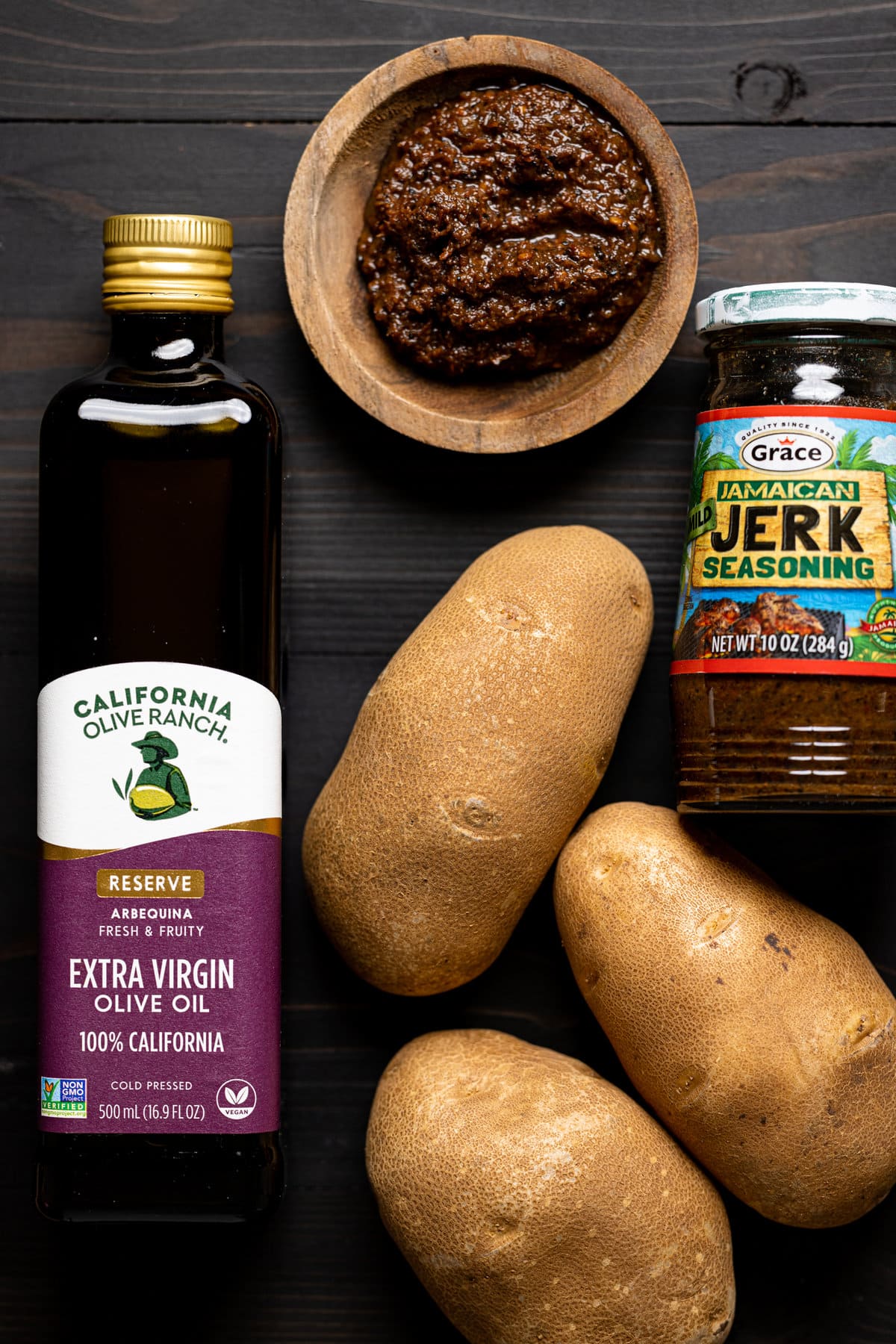 How to Make Jerk Whole Roast Chicken
The key to getting your Jerk Whole Roast Chicken to be super moist and flavorful throughout is to brine the bird ahead of time (if you're into doing this process) once it's clean and rinsed. A brine is a salty solution of water and flavoring agents (like herbs, spices and sugar) that you soak the chicken in for several days before roasting. The flavors and salt infuse into the meat, so the bird stays plump and juicy when it's roasted. This way, you avoid dried-out or bland meat.
Of course, brining is an extra step that takes some time. It's totally worth it, but if you're in a hurry, you can skip the brine and make delicious maple cranberry-glazed chicken.
The Brine is Optional.
For this particular recipe, I didn't brine my chicken, BUT I did season and marinate my chicken for 2 days, which is another way to get all of those flavors full infused. Then, you'll remove it from the fridge, let it sit at room temperature for 30 minutes or so and then begin rubbing the butter, maple syrup, and jerk marinade atop/inside the chicken and end it by stuffing the inside with the fresh herbs and chopped onions.
You can totally make the chicken with the potatoes and carrots or choose to omit everything and just cook the chicken alone. Let the oven do it's magic and wallah!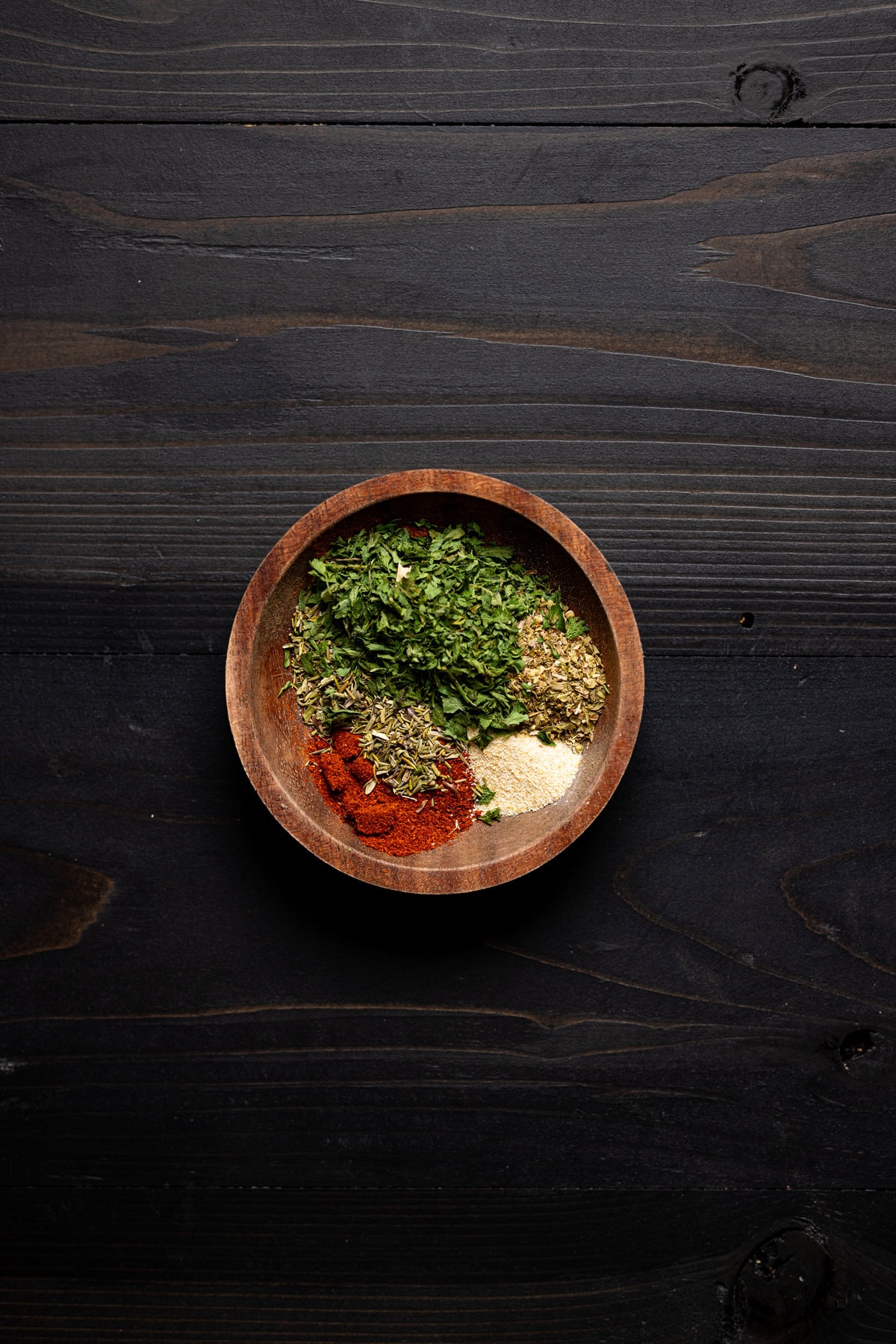 Ingredients for Jerk Whole Roast Chicken
Here's what you need to prepare this Jerk Whole Roast Chicken today:
Chicken. I like to use an organic whole chicken --- about a 5-10 lb. small chicken.
Jerk seasoning. I like two layers of seasoning for this dish. You can purchase a store-bought version or create a homemade blend using: onion powder, garlic powder, cayenne pepper, black pepper, dried thyme, brown sugar, ground allspice, dried parsley, smoked paprika, red pepper flakes, cinnamon, nutmeg, cloves, and cumin.
Maple syrup. The best sweetener that I enjoy using, especially to offset the heat of the jerk flavor. I like to use pure maple syrup that's premium and organic.
Herbs + Spices. I use salt, black pepper, smoked paprika, garlic powder, parsley, basil, and oregano for the veggies.
Thyme + Rosemary. I recommend fresh for stuffing them inside the chicken and for decor once it's done.
Scotch bonnet. If you don't like spice, use less of the peppers.
Butter. I recommend unsalted.
Olive oil. You can also use avocado oil  or Grapeseed oil, if you prefer.
Potatoes. Use Russet or Yukon gold potatoes for the best texture.
Red onion. Substitute with yellow or white if that's what you have.
Carrots. I love adding carrots. You'll be peeling + chopping them.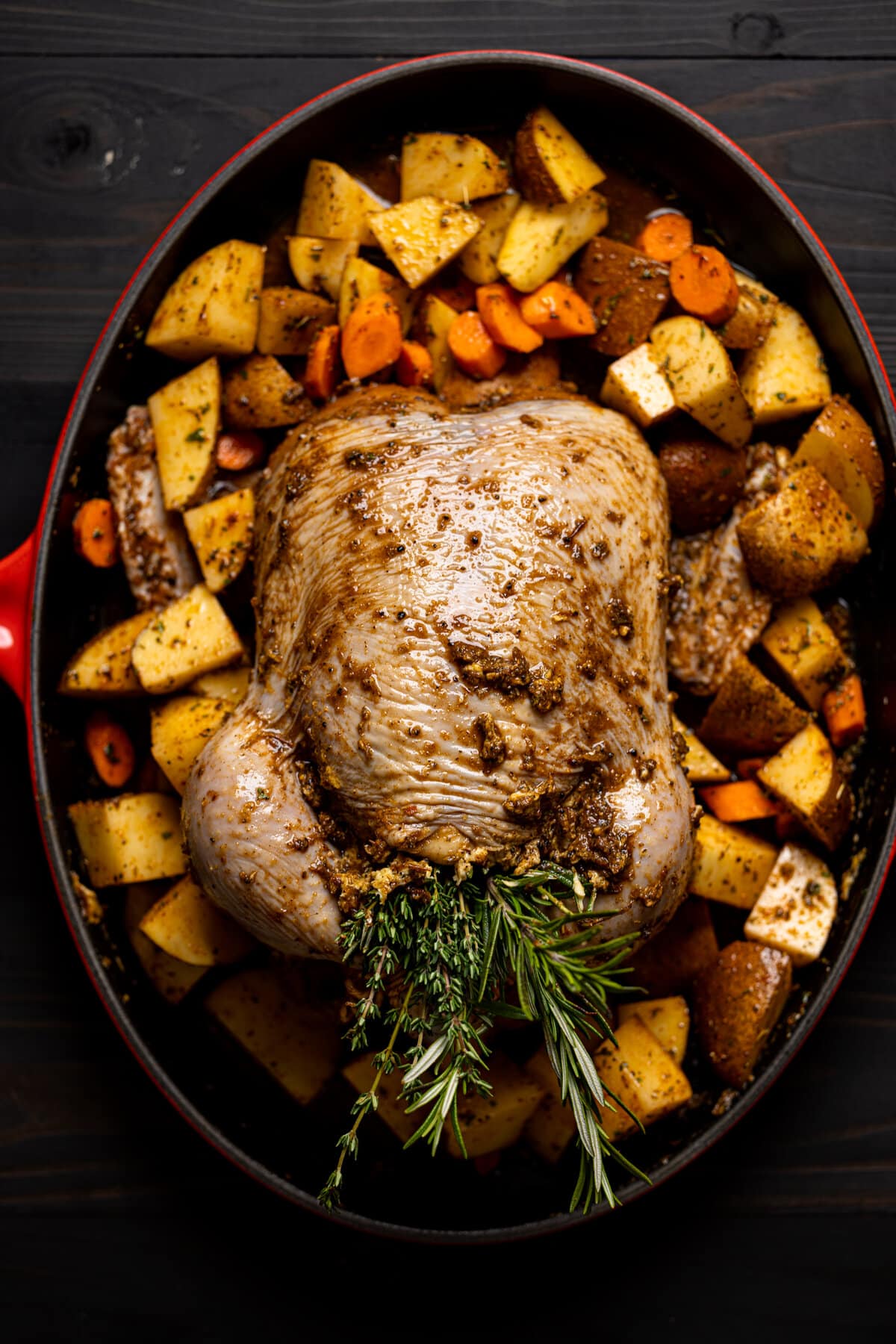 TIPS FOR BRINING CHICKEN
It's very important that the brine be cool before you add the chicken. If you add raw meat to warm liquid, you risk a food safety issue! So after you make the sugar and salt solution, be sure to add very cold water to finish the brine.
Be sure to remove the gizzards and neck from your bird before brining.
Use a thick food-safe brining bag or a large container (if you have one big enough for the chicken that will also fit in the fridge).
You can brine your bird for up to 24 hours, but I recommend a minimum of 8.
Letting the chicken air-dry before roasting helps get that beautiful crispy skin. If you're short on time, just make sure to pat the chicken very dry with paper towels.
To get the instructions on how to Brine the Chicken, see my Cranberry Maple Roast Chicken!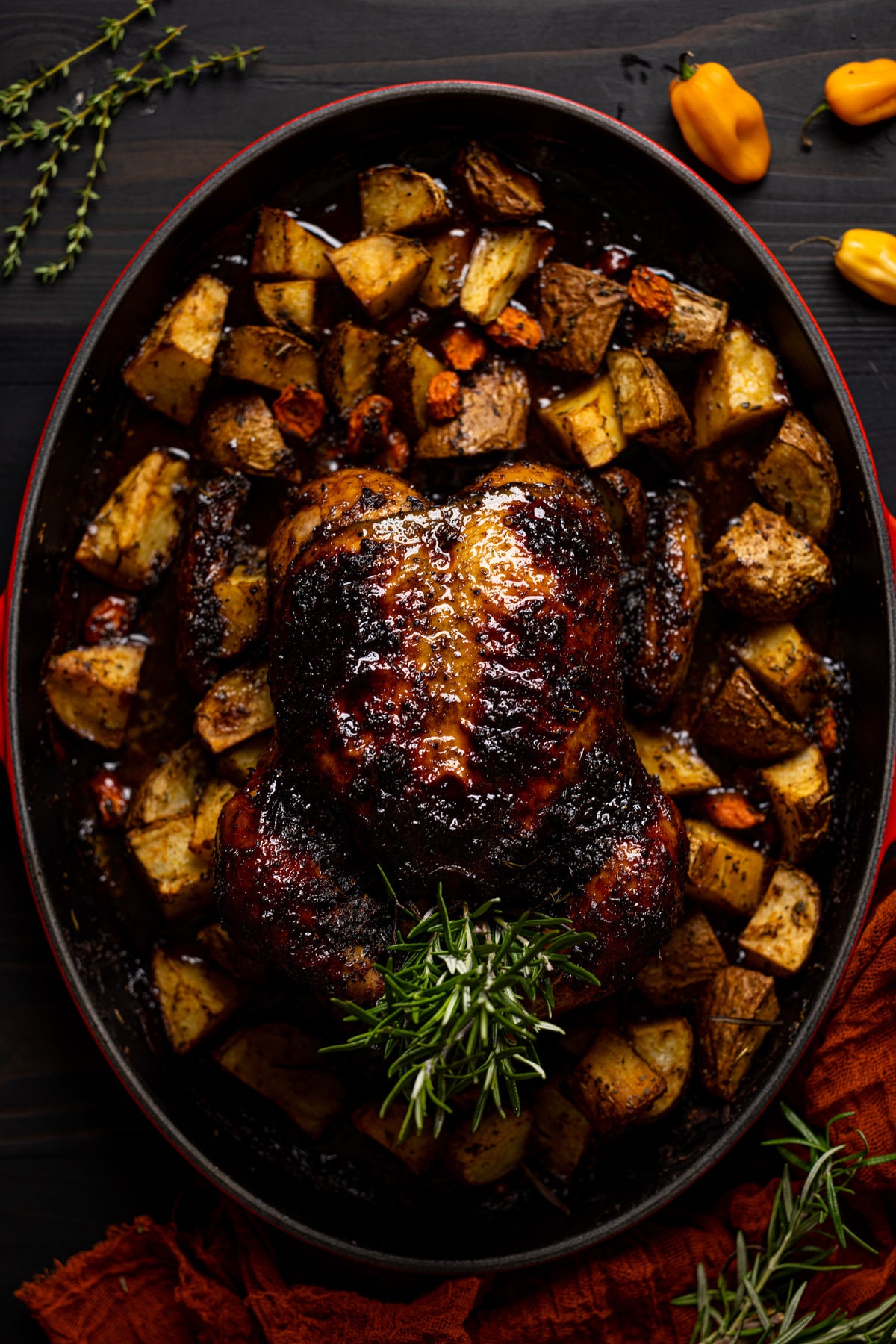 SHOP MY FAVORITE TOOLS FOR COOKING, ESPECIALLY FOR THIS CHICKEN!
Here, I've curated a list of cooking + baking essentials that I use to achieve my favorite baked goods or cooked meals, especially with this Jerk Whole Roast Chicken. Everything from my fave baking sheet, skillet, mixing bowls, cooking thongs, cooking utensils, and more. SEE THEM HERE!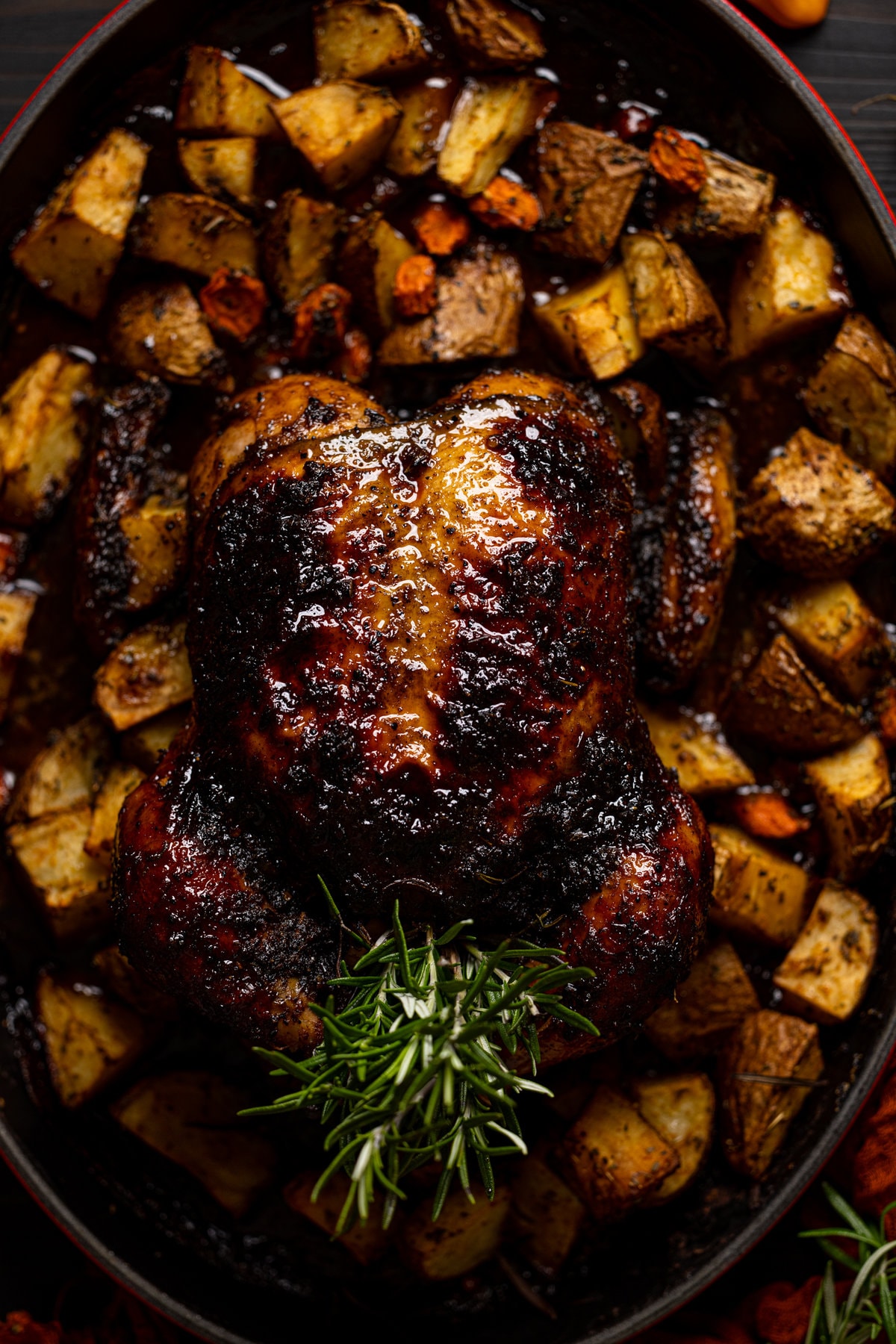 FOR THE HOMEMADE JERK SAUCE:
3 scotch bonnet peppers
½ red onion, chopped
4 garlic cloves
handful of scallions (aka green onions)
2 Tbsps white vinegar
1 teaspoon salt + black pepper
1 tablespoon minced fresh ginger
2 Tbsps brown sugar
1 carrot, peeled + chopped
¼ cup soy sauce
2 Tbsps pimento seeds (aka allspice)
¼ cup filtered water
Simply add all ingredients to a high-powered blender and blend until smooth.
FOR THE HOMEMADE JERK SEASONING (DRY RUB):
To make your own jerk seasoning dry rub, you'll need the following:
1 tablespoon onion powder
1 tablespoon garlic powder
2 teaspoons cayenne pepper
2 teaspoons sea salt
1 teaspoon dried parsley
2 teaspoons black pepper
2 teaspoons dried thyme
1 teaspoon smoked paprika
2 teaspoons brown sugar
1 teaspoon ground allspice
½ teaspoon red pepper flakes
½ teaspoon ground cinnamon
¼ teaspoon ground cumin
½ teaspoon ground nutmeg
½ teaspoon ground cloves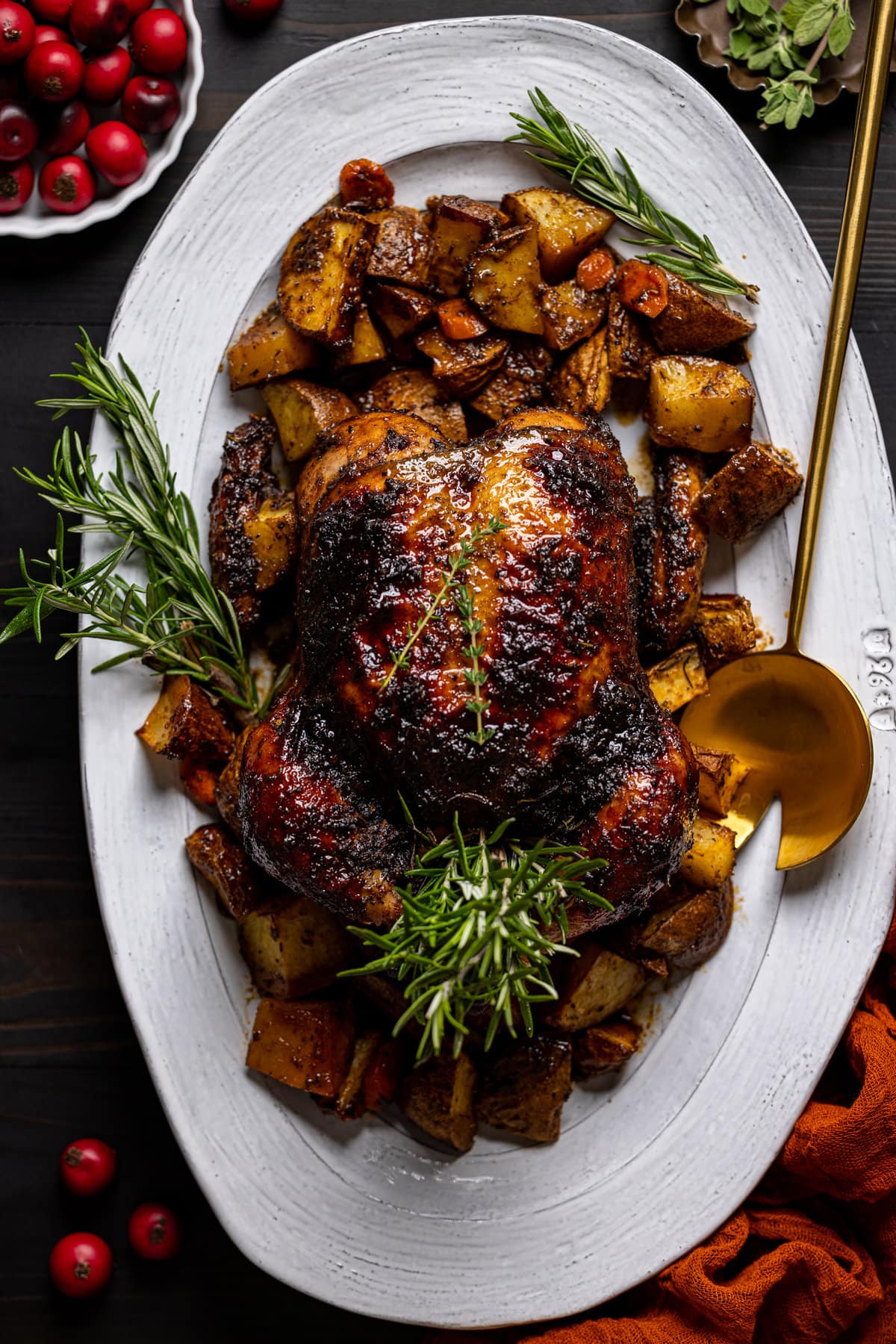 What to Serve with Jerk Whole Roast Chicken
You can serve this centerpiece-worthy Jerk Whole Roast Chicken as a holiday entree with your favorite seasonal sides. I'll be serving this whole chicken with family favorites like: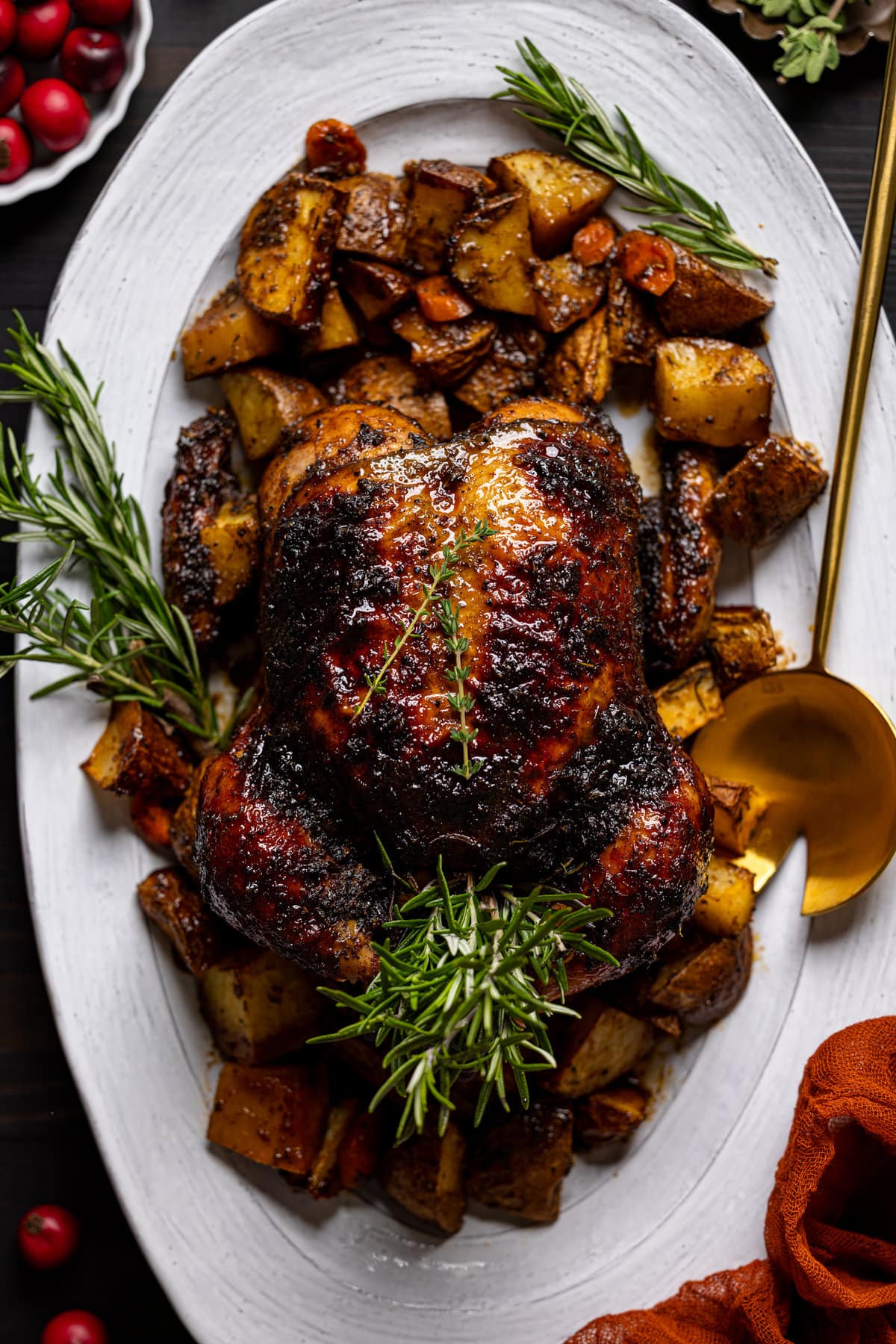 Awesome Holiday Drink Recipes to Try!
MADE OUR RECIPE(S)?
If you make this Jerk Whole Roast Chicken or any other recipe from us, be sure to tag us on Instagram at #Orchidsandsweettea so that we can share the love, rate, comment below, + share!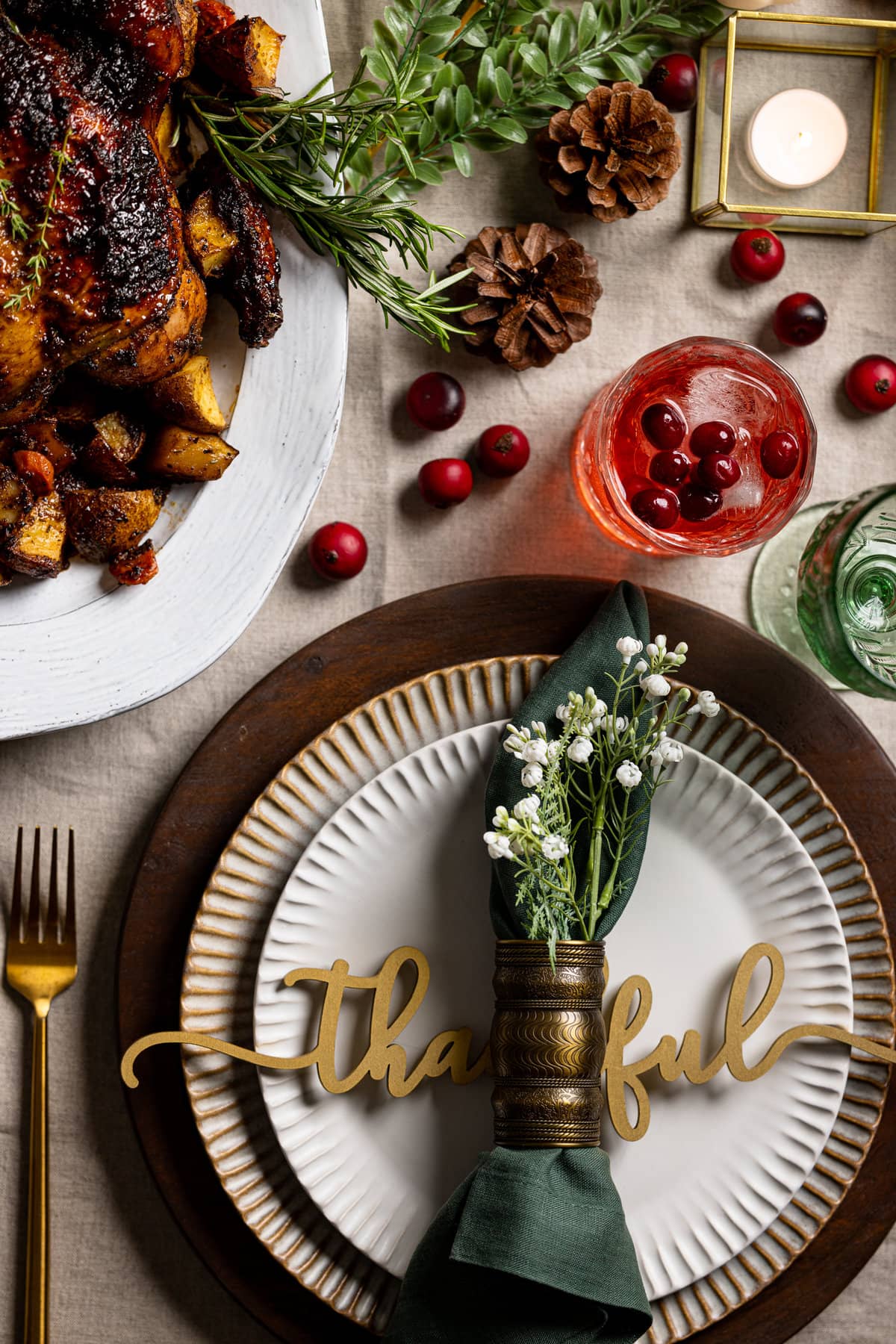 Cook Time:
1

hour
15

minutes
Total Time:
1

hour
40

minutes
CHICKEN:
Organic whole chicken

(I used a 5-10 lb. small chicken; See Notes!)

3-4

Tbsps

jerk seasoning, homemade or store-bought

(See Post for Notes!)

½

cup

jerk sauce/marinade, homemade or store-bought

(See Post for Notes!)

2

carrots, peeled + chopped

1

red onion, cut into quarters

3-4

Tbsps

unsalted butter, softened at room temp.

4

fresh thyme sprigs

4

fresh rosemary sprigs

2-3

scotch bonnet peppers

(You can also use habanero peppers)

2

Tbsps

pure maple syrup
CLEAN + MARINADE THE CHICKEN:
In a large bowl, add your freshly cleaned + rinsed whole chicken (pat dry) along with the jerk seasoning, rubbing everything together until chicken is fully coated. Let it sit for 10-15 minutes. NOTE: For best results, it's best to marinate chicken overnight in the refrigerator stored in a tightly sealed bag. When ready, remove the bag with the chicken from the refrigerator and allow it to come at room temperature for about 30 minutes.

Preheat oven to 400 degrees Fahrenheit and lightly grease an oven-safe cast iron essential oven pot or roasting pan.

Once at room temperature, using your fingers, dress chicken with butter ensuring that you get directly under the skin as well, etc. followed by the maple syrup, rubbing it over the tops and side of chicken. Stuff the inside of the chicken with onions, thyme, scotch bonnet peppers (optional), and rosemary sprigs----for extra flavor!
PREP THE POTATOES:
Add the chopped potatoes and carrots in a bowl and drizzle with olive oil and season with seasonings (1 teaspoon each: salt, black pepper, garlic powder, smoked paprika, oregano, basil, and parsley), tossing until fully coated. Set aside.
ASSEMBLY:
Add chicken to the prepared essential oven or dutch oven (breast side down with feet tied together with twine), along with the chopped potatoes and carrots.

Roast chicken for 45 minutes before adding glaze.
TO MAKE THE MAPLE JERK GLAZE:
In a bowl, mix together maple syrup and jerk sauce/marinade until combined.

Halfway through, brush half of the glaze unto the chicken all over the tops and sides. Continue roasting (for another 45 minutes or so) or until chicken becomes charred and the thickest part of the chicken reads 165 degrees Fahrenheit. Brush on remaining glaze.

Once done, remove from oven and let it rest for 15-30 minutes before slicing.

Bon Appetit!
STORAGE: To store any leftovers, cut the chicken into pieces and add it to an airtight container and refrigerate for 3-4 days. To reheat, add servings to an oven until  SIZE OF CHICKEN:I used a smaller whole chicken (b/n 5-10 lbs, however, if you choose to use a larger size----simply double ingredients for the marinade + glaze).  BEST COOKING TIP: I recommend cooking your chicken (regardless of size) for 20-25 minutes per pound. For much larger chickens, you can always "spatchcock" it, which flattens and opens it up for a better cook through. MAKE AHEAD: All ingredients can be made and individually stored as meal prep, including the marinade of the chicken and assembled and heated in the oven when ready to serve.
Calories:
105
kcal
|
Carbohydrates:
14
g
|
Protein:
1
g
|
Fat:
6
g
|
Saturated Fat:
2
g
|
Polyunsaturated Fat:
1
g
|
Monounsaturated Fat:
3
g
|
Trans Fat:
0.1
g
|
Cholesterol:
8
mg
|
Sodium:
236
mg
|
Potassium:
133
mg
|
Fiber:
1
g
|
Sugar:
11
g
|
Vitamin A:
2507
IU
|
Vitamin C:
4
mg
|
Calcium:
38
mg
|
Iron:
1
mg
Jerk Whole Roast Chicken.