This stunning Cranberry Maple Roast Chicken is a show-stopping whole bird brined in herby brine and glazed with a sweet-tart maple syrup sauce. Serve this whole chicken for Thanksgiving, the holidays or any weeknight.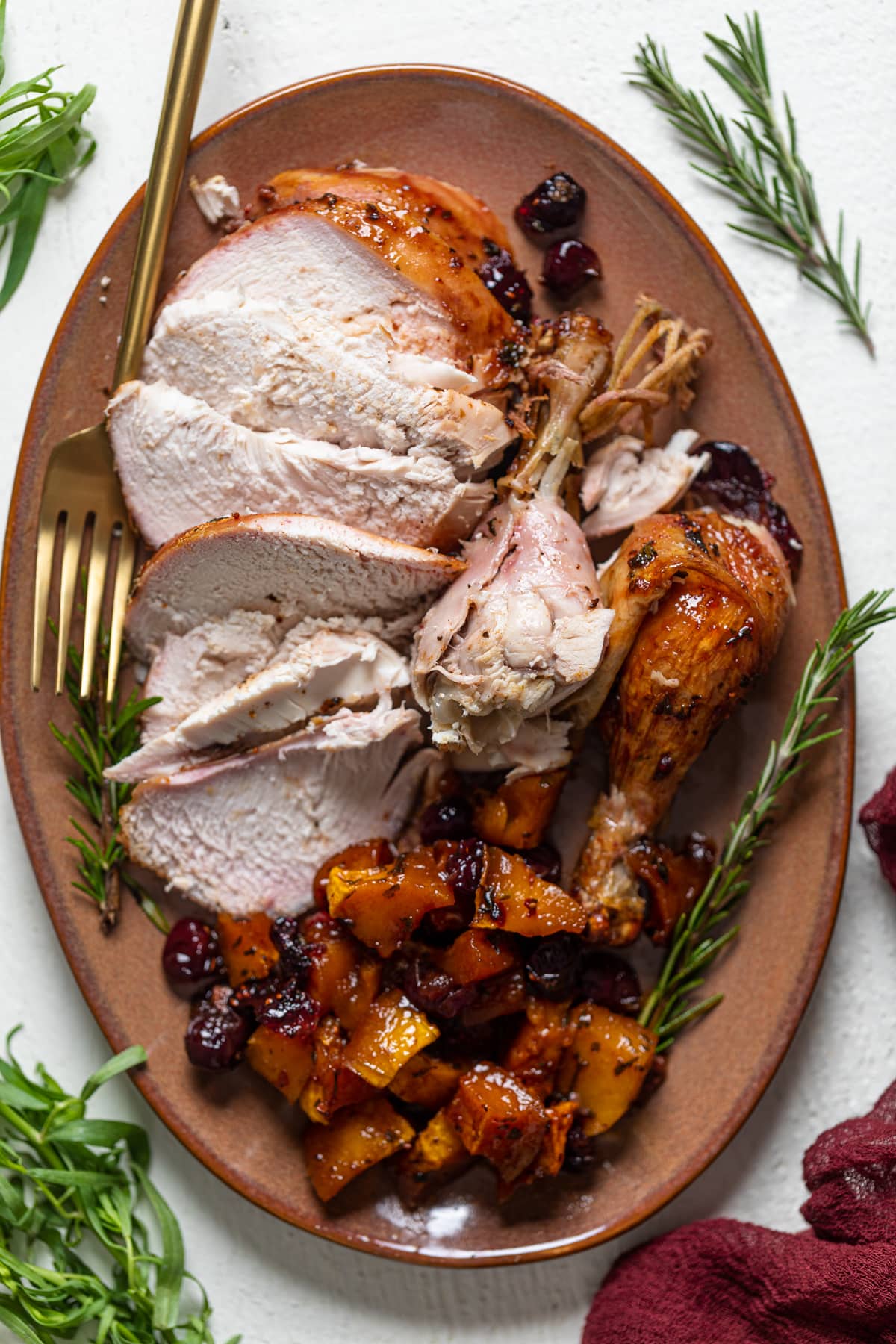 The holidays call for a few staples. Turkey on Thanksgiving, seeing friends and family, and once-a-year ingredients like fresh cranberries. It can be very hard to find whole cranberries the rest of the year that aren't dried, in juice or sauce. So I plan to take full advantage of this delicious time of year with recipes like this cranberry maple glazed chicken and Sparkling Cranberry Orange Ginger Mocktails.
If you love the sweet and tart red berry as much as I do, you're going to love this whole roast chicken recipe. It's good enough to replace turkey at your Thanksgiving dinner or to serve to guests for a dinner party. You can add any of your favorite seasonal sides and enjoy an impressive and comforting meal everyone will remember.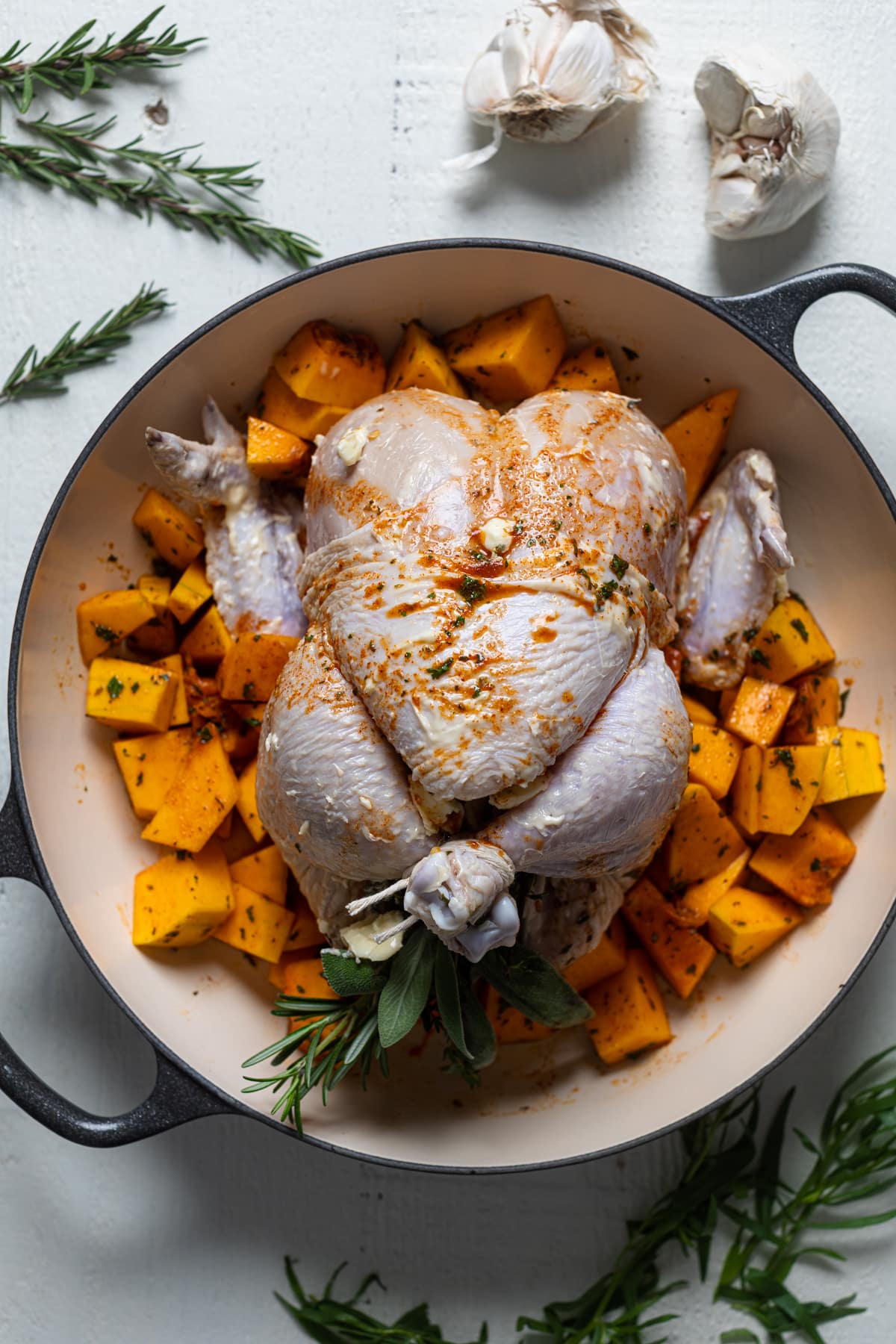 How to Make Cranberry Maple Roast Chicken
The key to getting your whole roaast chicken to be super moist and flavorful throughout is to brine the bird ahead of time. A brine is a salty solution of water and flavoring agents (like herbs, spices and sugar) that you soak the chicken in for several days before roasting. The flavors and salt infuse into the meat, so the bird stays plump and juicy when it's roasted. This way, you avoid dried-out or bland meat.
Of course, brining is an extra step that takes some time. It's totally worth it, but if you're in a hurry, you can skip the brine and make delicious maple cranberry-glazed chicken.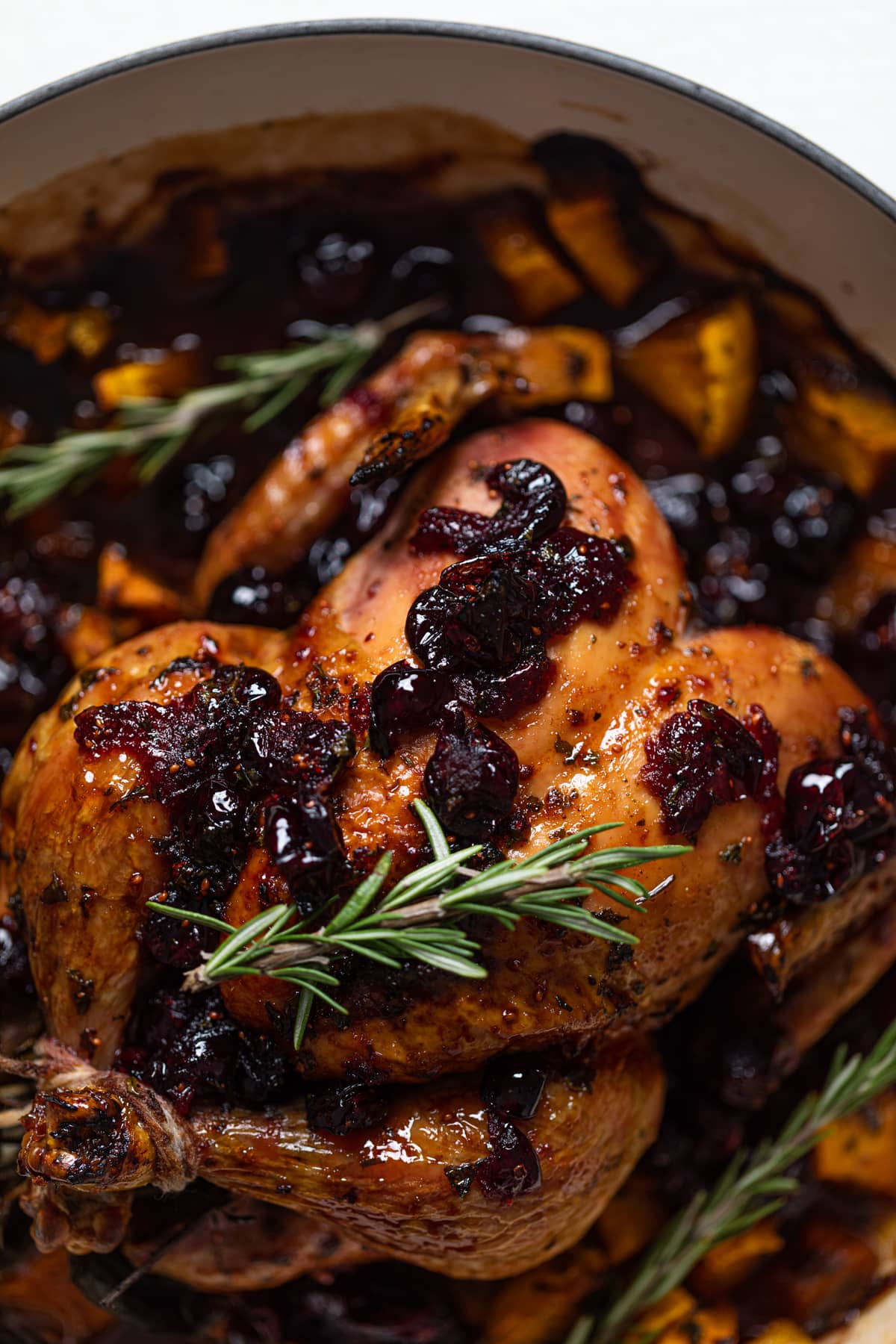 Herb Brine for Whole Chicken
To make the flavorful brining solution for this whole roast chicken, you'll need:
Sea salt. It's very important to have the right ratio of salt to water for a brine. This makes the solution that will keep your chicken safe and juicy.
Brown sugar. I use organic sugar.
Fresh herbs. I use thyme, rosemary and sage. These are hardy enough to maintain their texture and flavor in the salty solution.
Garlic. Use fresh cloves for your brine.
Black pepper
Dried oregano. Fresh oregano is too soft, but the dried herb will rehydrate and flavor your bird.
Smoked paprika
Red pepper flakes for a touch of heat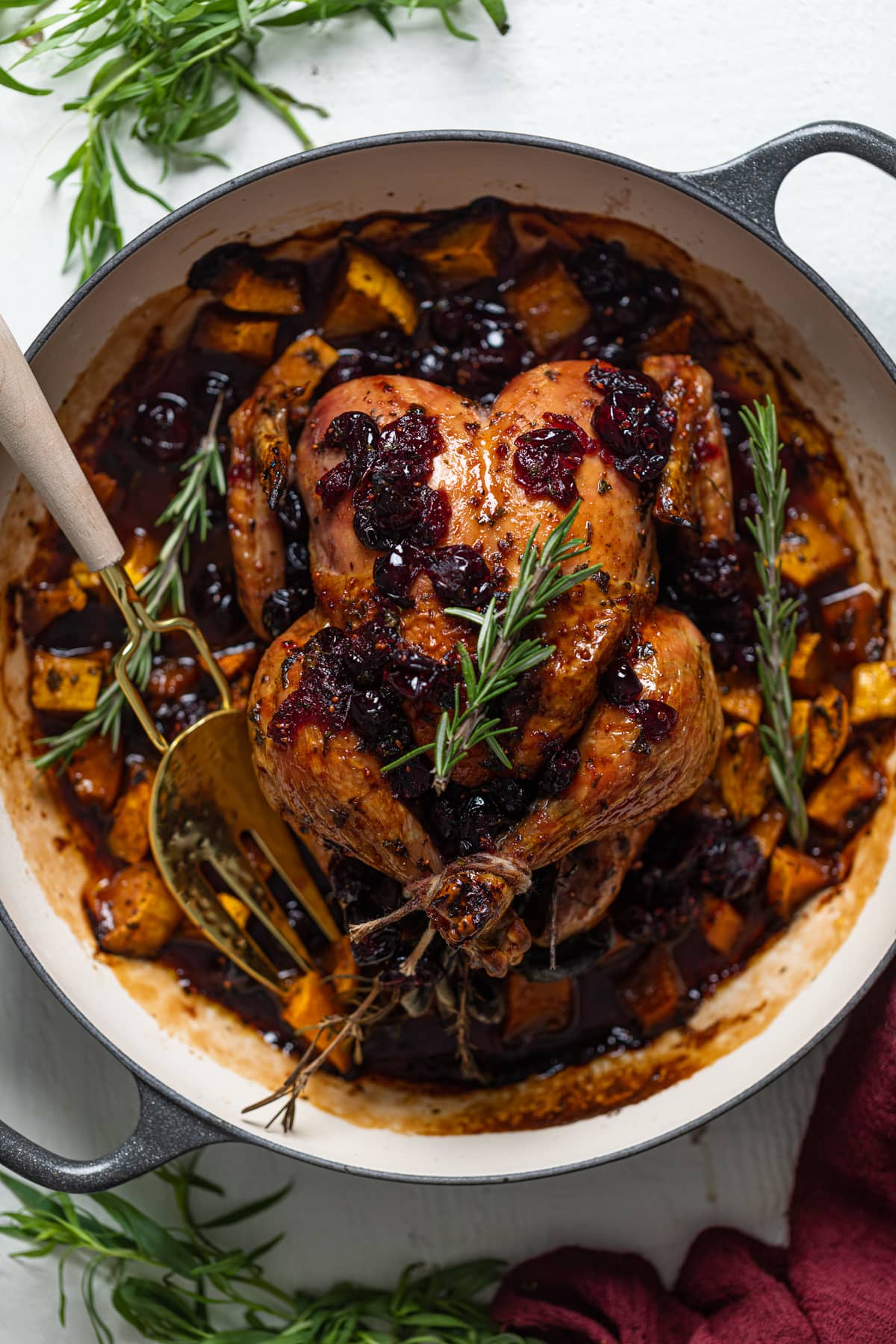 Tips for Brining Chicken
It's very important that the brine be cool before you add the chicken. If you add raw meat to warm liquid, you risk a food safety issue! So after you make the sugar and salt solution, be sure to add very cold water to finish the brine.
Be sure to remove the gizzards and neck from your bird before brining.
Use a thick food-safe brining bag or a large container (if you have one big enough for the chicken that will also fit in the fridge).
You can brine your bird for up to 24 hours, but I recommend a minimum of 8.
Letting the chicken air-dry before roasting helps get that beautiful crispy skin. If you're short on time, just make sure to pat the chicken very dry with paper towels.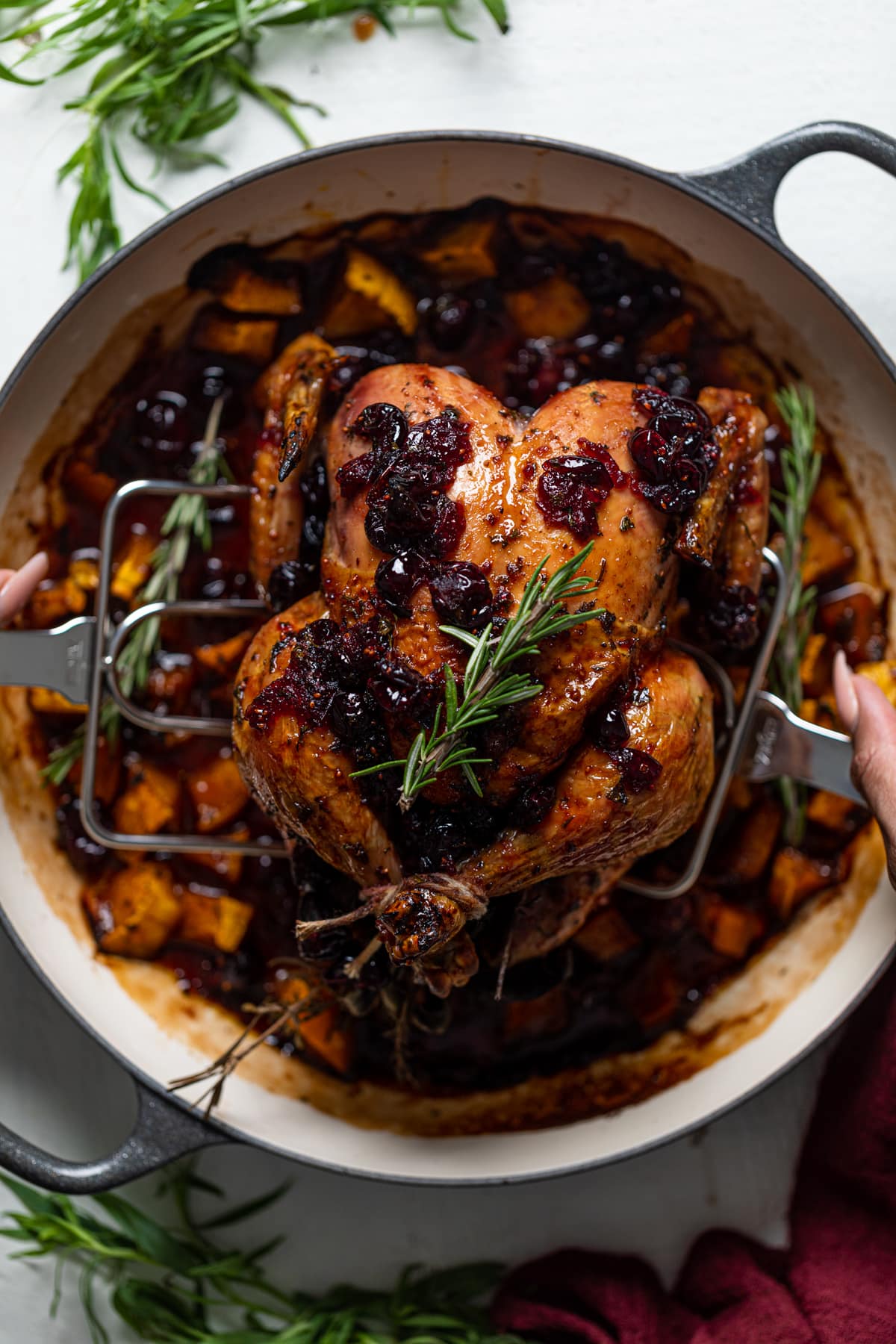 Cranberry Maple Glaze
The sweet-tart glaze on this bird gives it a stunning shine and a wonderful flavor. It's also quick and easy to make with:
Maple syrup. Make sure to use the real stuff, not imitation!
Cranberries. You can use fresh or frozen berries for the glaze.
Dried parsley. Thyme would also work.
Red pepper flakes. The glaze won't be spicy, but this adds a nice warmth.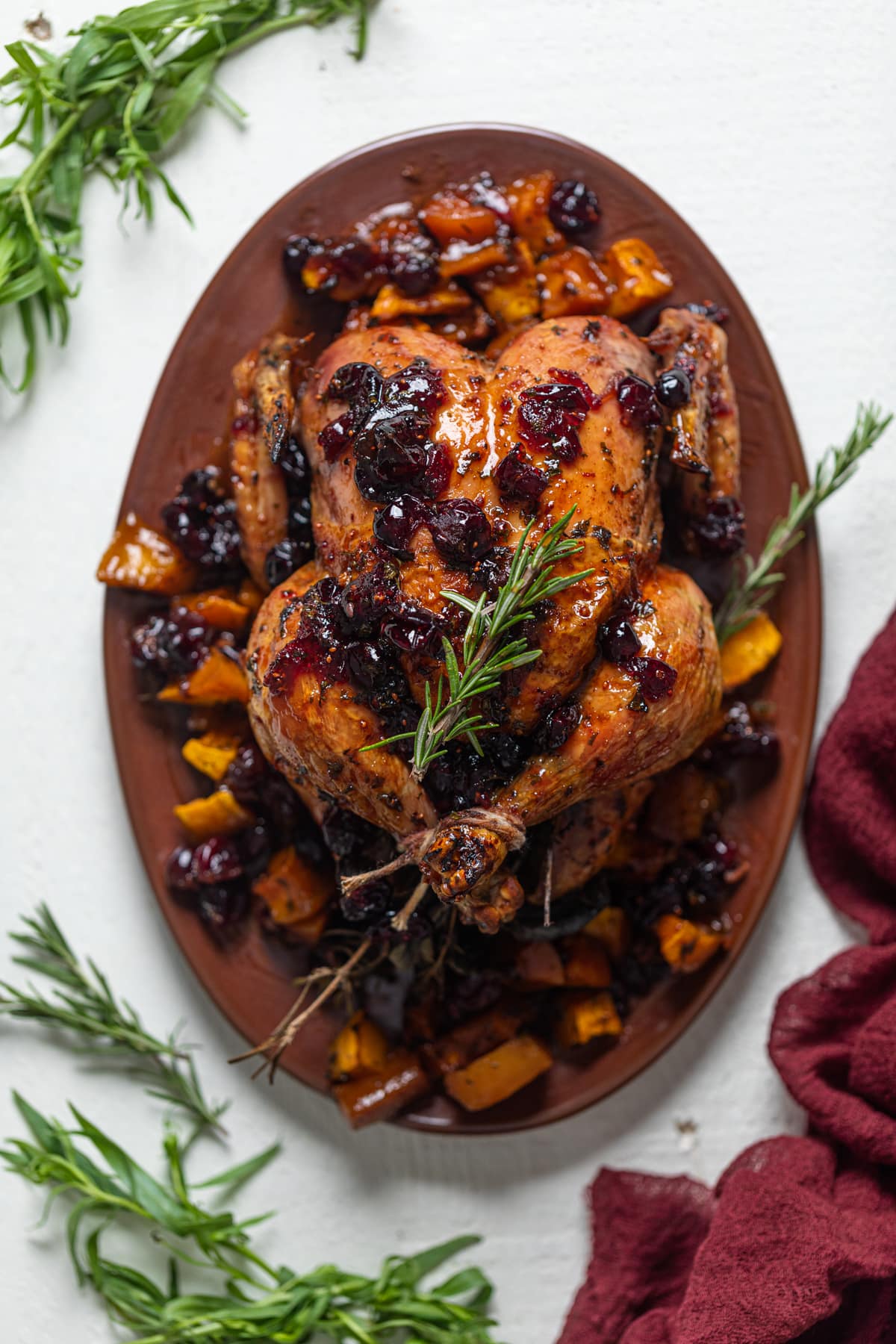 What to Serve with Maple-Glazed Chicken
You can serve this centerpiece-worthy chicken as a holiday entree with your favorite seasonal sides. I'll be serving my cranberry glazed chicken with family favorites like: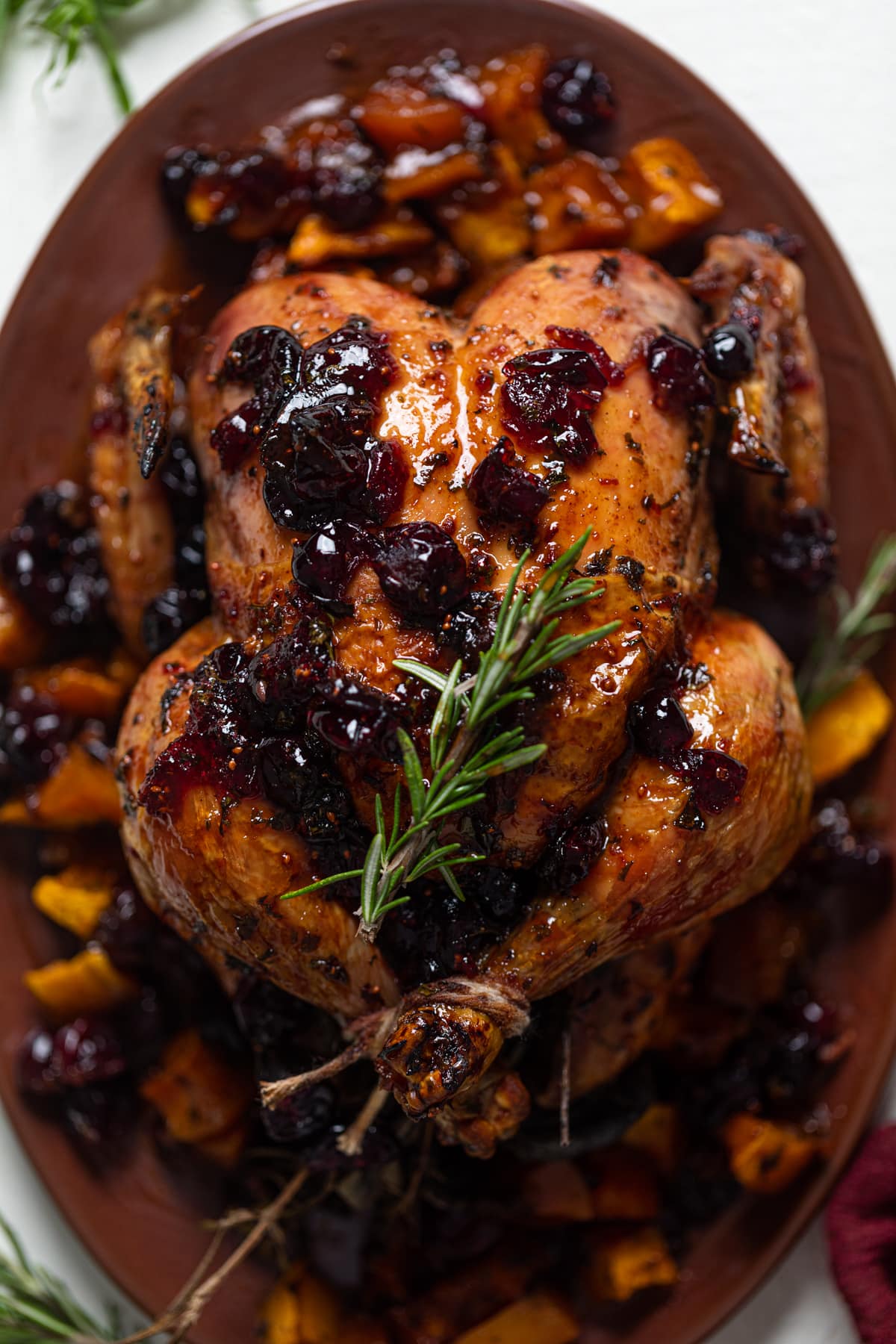 More Impressive Chicken Recipes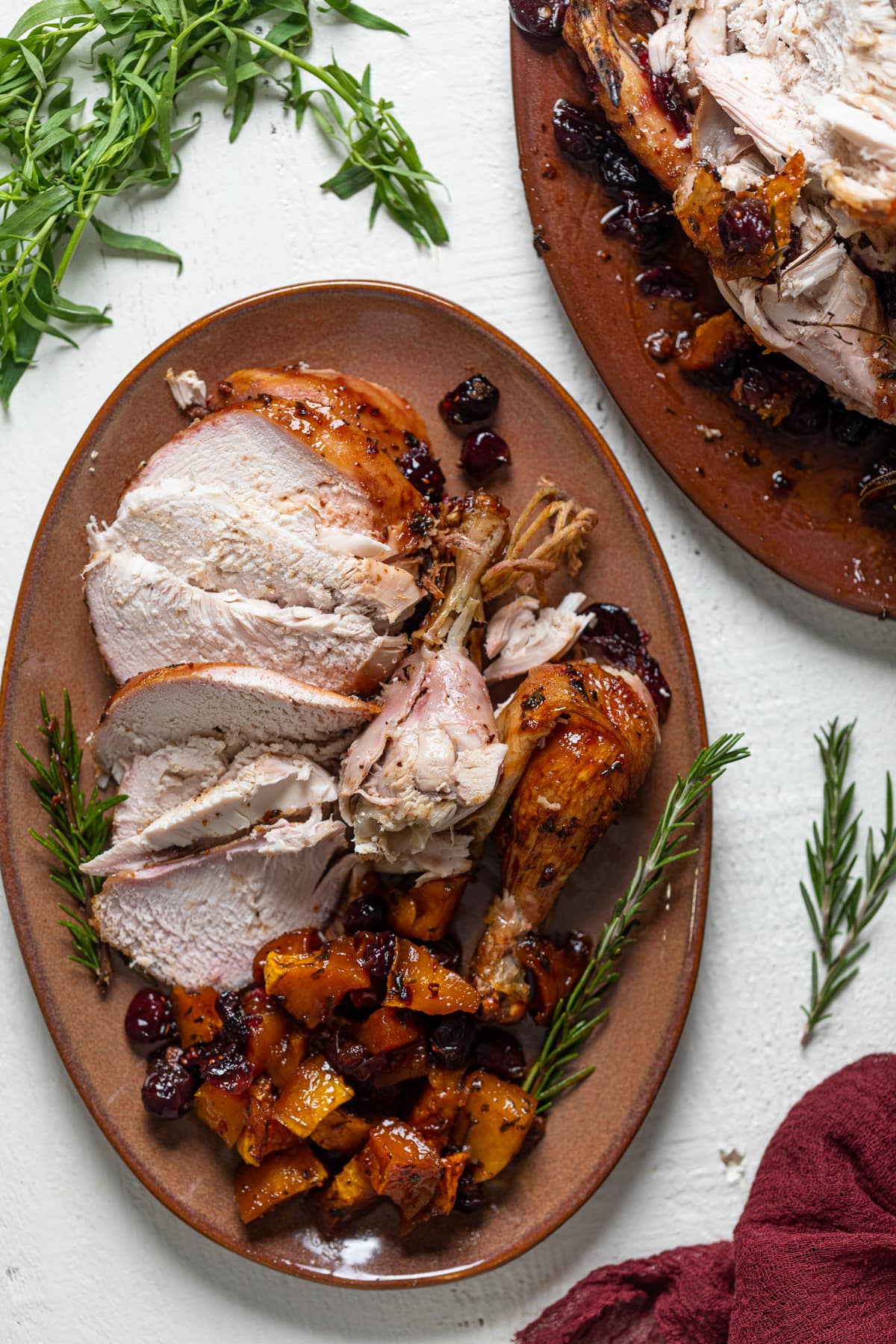 Made Our Recipes?
If you make this Cranberry Maple Roast Chicken, tag @orchidsnsweettea_ on Instagram and hashtag it #orchidsandsweettea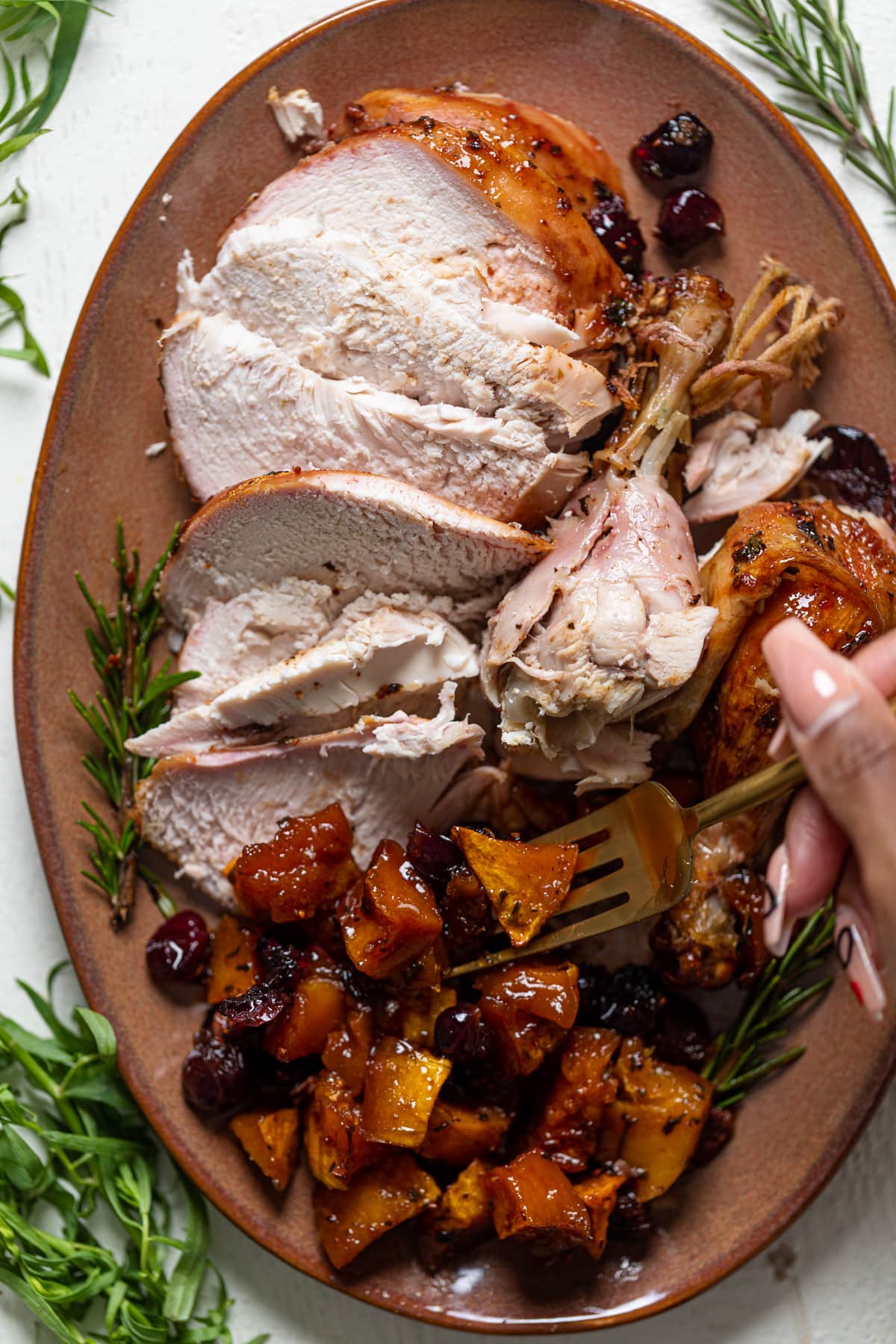 BRINING THE CHICKEN:
Combine 2 cups water, salt, and brown sugar in a large pot over medium-high heat, stirring until sugar has dissolved. Boil for about 5-6 minutes.

Remove from heat and add the remaining brining ingredients, including the remaining amount of water, stirring until combined. NOTE: Ensure that the brine is cool and if not----add additional cold water.

Clean your chicken by removing the neck and scooping out any excess tissue/fat from inside and right under the skin. Rinse chicken with water and squeeze a lemon as your rinse to fully cleanse.

Pat dry and place the chicken in the brining bag and pour the brine (including all herbs) atop chicken until full covered. Tightly seal bag and place in the refrigerator carefully for at least 8 hours or overnight.

When ready, remove the brining bag with the chicken from the refrigerator, pat the chicken dry and allow it to air-dry for about 30 minutes.

Preheat oven to 400 degrees Fahrenheit and lightly grease an oven-safe cast iron essential oven pot or roasting pan.

Once dry, using your fingers, dress chicken with butter ensuring that you get directly under the skin, etc.

Add chicken to the prepared essential oven or dutch oven (breast side down with feet tied together with twine), along with your choice of veggies (i.e. cubed butternut squash, potatoes, etc. NOTE: You can stuff chicken with additional sprigs of herbs for more flavor if desired.

Roast chicken for 45 minutes before adding glaze.
TO MAKE MAPLE CRANBERRY GLAZE:
In a saucepan, add together all ingredients over medium-high heat, stirring until combined. Once cranberries begin to pop, continue stirring until mixture begins to thicken a bit and cranberries are broken down. Remove from heat.

Halfway through, brush half of the glaze unto the chicken all over the tops and sides. Continue roasting (for another 45 minutes or so) or until chicken becomes golden and the thickest part of the chicken reads 165 degrees Fahrenheit. Brush on remaining glaze.

Once done, remove from oven and let it rest for 15-30 minutes before slicing.

Bon Appetit!
SIZE OF CHICKEN: I used a smaller whole chicken (b/n 5-10 lbs, however, if you choose to use a larger size----simply double ingredients for the brine + glaze). 
BEST COOKING TIP: I recommend cooking your chicken (regardless of size) for 20-25 minutes per pound. For much larger chickens, you can always "spatchcock" it, which flattens and opens it up for a better cook through. 
Calories:
137
kcal
|
Carbohydrates:
28
g
|
Protein:
2
g
|
Fat:
2
g
|
Saturated Fat:
0.5
g
|
Polyunsaturated Fat:
0.4
g
|
Monounsaturated Fat:
1
g
|
Trans Fat:
0.01
g
|
Cholesterol:
8
mg
|
Sodium:
61
mg
|
Potassium:
120
mg
|
Fiber:
0.3
g
|
Sugar:
24
g
|
Vitamin A:
45
IU
|
Vitamin C:
1
mg
|
Calcium:
46
mg
|
Iron:
0.2
mg
Cranberry Maple Roast Chicken