Indulge in the wholesome warmth of autumn with our Wild + Brown Rice Stuffed Butternut Squash. This delightful recipe effortlessly marries the rich, earthy notes of butternut squash with a medley of wild and brown rice, dried cranberries, walnuts, and kale, all beautifully roasted with garlic and herbs. It's the epitome of healthy, hearty, and vegetarian/vegan comfort food for the fall season. Bringing a medley of flavors and nutrients in a delightful, fuss-free dish! This stuffed squash recipe is a perfect Thanksgiving side or a hearty main dish. Completely Vegan, Dairy-free + Gluten-free! Make ahead option.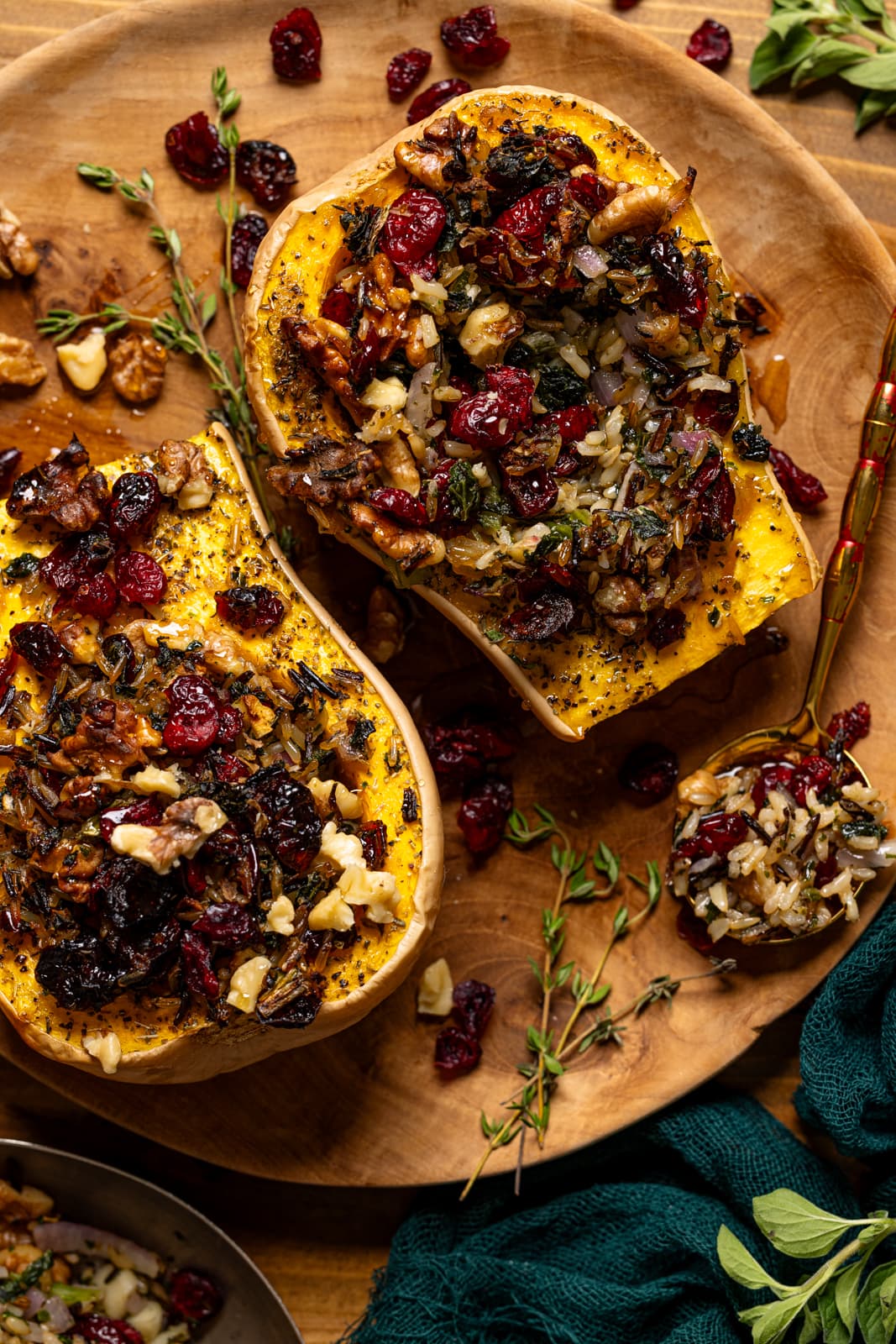 Why You Need This Wild + Brown Rice Stuffed Butternut Squash On Your Holiday Table!!
I've been on a serious squash kick lately, embracing the fantastic flavors of the season. You might remember my Maple Herb Roasted Butternut Squash – well, I couldn't resist taking it to the next level with this stuffed squash version, packed with all the good stuff. It's like a cozy, nutrient-packed surprise for your table this fall + winter.
Speaking of Thanksgiving, I'm all about offering a variety of gluten-free and vegan options to make everyone's taste buds happy. This dish fits the bill perfectly, and I've got other delights like my Vegan Butternut Squash Sweet Potato Shepherd's Pie and Maple Herb Glazed Carrots to complement your table beautifully! This Sautéed Lemon Garlic Herb Green Beans recipe is a simple, staple side dish that compliments any Thanksgiving table!
The beauty of this Wild + Brown Rice Stuffed Butternut Squash lies in its customizability. You can mix in your favorite ingredients, making it an ideal choice not only for Thanksgiving but whenever you're craving a delightful vegan-friendly main or side dish. Plus, the best part is it's ready in under an hour, and the taste is absolutely worth the wait! If you need some tips on how to cook your rice perfectly be sure to check out my guide on how to cook brown rice!
Jump to: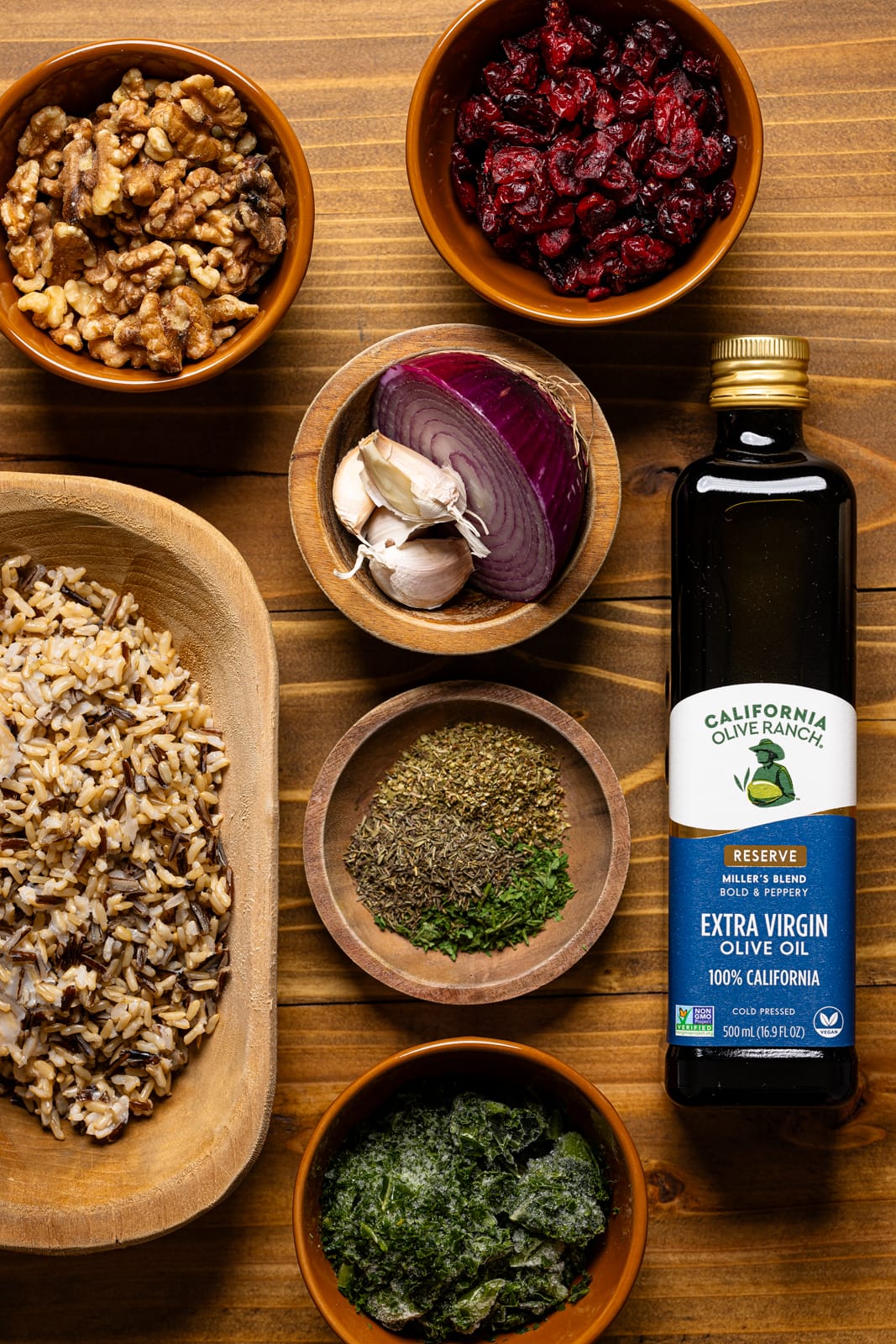 How To Make Stuffed Butternut Squash
While this recipe has a few steps, rest assured, they're all quite easy to follow. Start by cooking your brown and wild rice mix ahead of time. Next, prep and cut the butternut squash, then prepare the filling. Finally, stuff the butternut squash and pop it in the oven to bake to perfection!
Ingredients
Butternut Squash:
Organic Butternut squash - Try opting for a smaller one if possible!
Extra virgin olive oil - Helps to roast everything to perfection. I love using California Olive Ranch.
Sea salt + Black pepper - Elevates the seasoning and overall taste.
Spices + seasonings: Smoked paprika, garlic powder + dried thyme. Feel free to modify to suit your preferences!
Filling:
Wild rice blend + brown rice - (You can also use all wild rice if desired) Using both creates a chewy + fluffy filling.
Extra virgin olive oil - Helps to roast everything!
Red onion - Adds a touch of sweetness and a savory dimension to the filling.
Garlic cloves - Contribute aromatic, savory notes.
Dried cranberries - Bring a delightful sweetness and chewy texture.
Pecans or walnuts - Toasted to provide a nutty crunch and rich flavor.
Kale - Whether frozen or fresh, it offers a nutritious and earthy element to the filling.
Sea salt + black pepper - Balances the flavors and enhances the overall seasoning.
Herbs + seasonings: Dried oregano, basil, and parsley - Offer a medley of herbal and earthy notes.
Here, I've curated a list of baking essentials that I use to achieve my favorite baked goods, especially with this Wild + Brown Rice Stuffed Butternut Squash. Everything from my fave loaf pan, wooden spoons, parchment paper, and more. SEE THEM HERE!
What You Need to Roast Butternut Squash
Butternut squash can be roasted in different ways: halved, in slices, or cubed. The method you choose depends on your recipe. In this particular one, we'll be halving the squash.
To roast butternut squash, you'll need an oven, one or two baking sheets, or a baking dish, and a large sharp knife!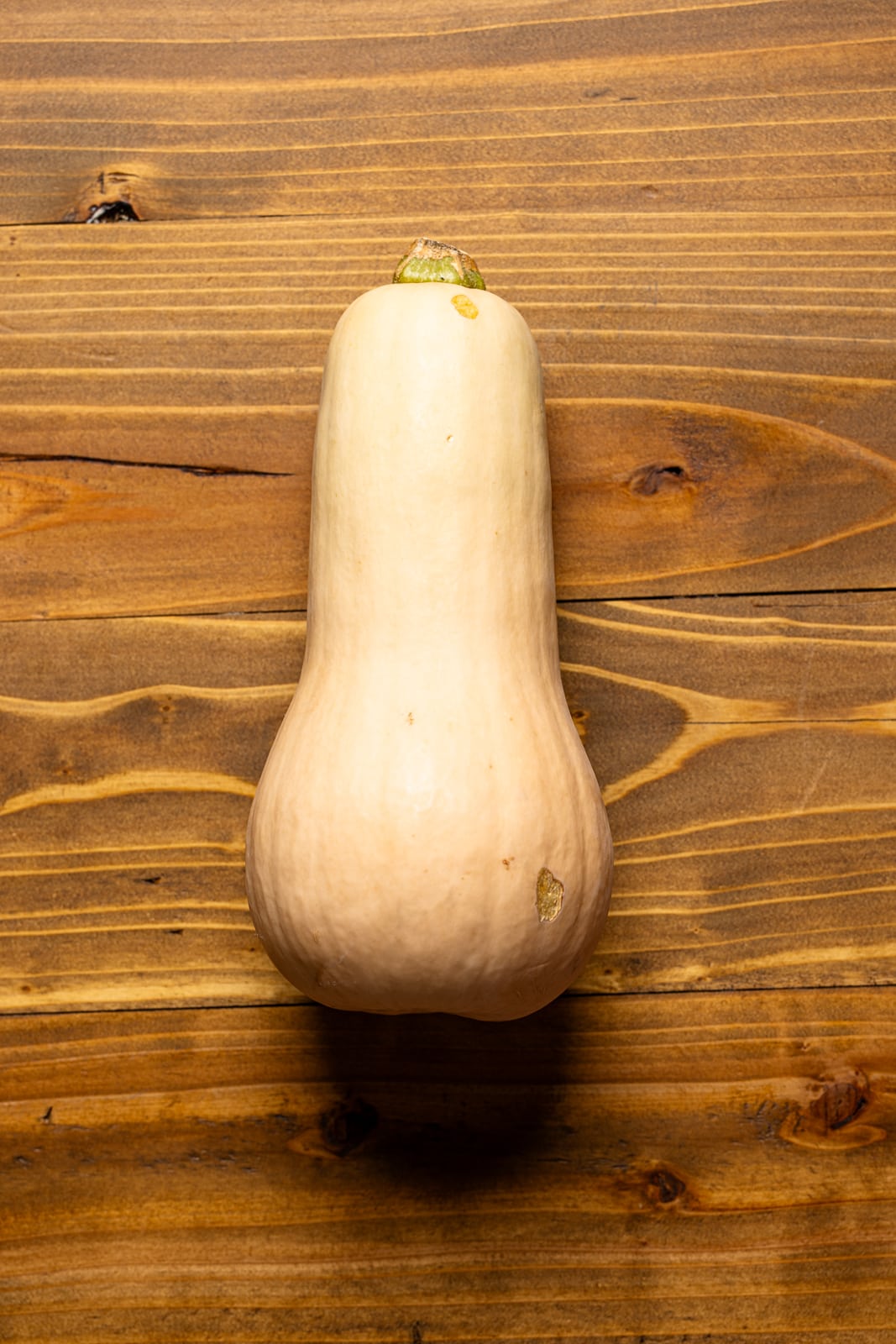 Why I LOVE Butternut Squash SO MUCH
Sweet + nutty flavor
Versatile in SO MANY recipes
Rich in vitamins and minerals
Perfect in both savory + sweet dishes
A fall & winter staple that great for sides or mains
Completely comforting + hearty
Adds pop of color on the plate
And of course, it's simply healthy + delicious.
How To Choose THE PERFECT Butternut Squash
Y'all after MANY years of cooking with butternut squash, I've honed the art of selecting the best ones. Here are 4 tips to help you choose the perfect butternut squash:
Skin quality-- Look for a squash with smooth, unblemished skin. Avoid any with cuts, bruises, or soft spots, as these can be indicators of spoilage or diminished flavor.
Color consistency--Opt for a butternut squash with a consistent, deep beige or tan color on its skin. While minor variations are normal, patches of green or excessive shine may suggest under-ripeness.
Heaviness matters: A heavy squash relative to its size indicates a higher flesh-to-seed ratio and ripeness. It's a good sign of a well-matured squash.
Stem + top inspection: Ensure the stem is intact and firmly attached. The top of the squash, opposite the stem, should be free from mold, decay, or any damage.
Why You'll Love This Wild + Brown Rice Stuffed Butternut Squash
Bold flavors—Savory + sweet marry so well together!
An IDEAL vegan Thanksgiving recipe!
Easy to make. Easy weeknight meal option.
Butternut squash is just so delicious as the main 'meaty' veggie!
Uses simple ingredients.
Completely meal-prep friendly!
Great vegan option for everyone!
And just absolutely wholesome + PERFECT for any kind of weather or occasion.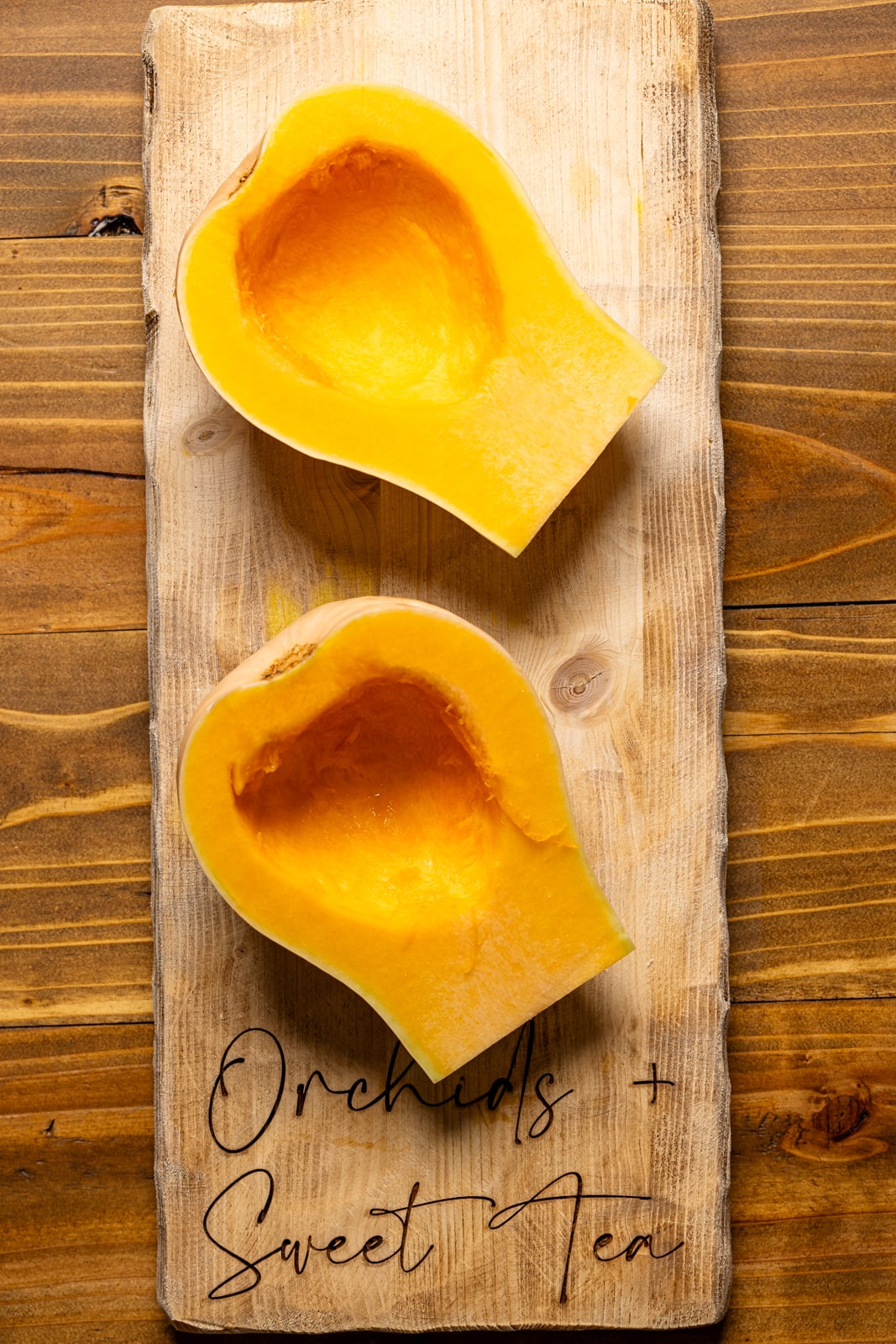 Best Topping Ideas for this Stuffed Butternut Squash
I like to add some extra texture to this stuffed squash recipe. Therefore, I wanted to share a few more ideas in case you make this stuffed butternut squash recipe more than once and want to switch things up!
Other topping ideas include:
Roasted veggies like cubed sweet potatoes, carrots, broccoli, or corn
Crispy bacon or candied bacon (if you're not plant-based, of course)
Roasted fruit like sliced apples, pears, etc.
Homemade cranberry sauce drizzled on top!
Crispy sage leaves
Roasted chickpeas
Pomegranate Seeds
What to Serve with Wild + Brown Rice Stuffed Butternut Squash?
This dish is a wonderful addition to your Thanksgiving table or any meal, really. It's a versatile side that pairs beautifully with a variety of dishes, like...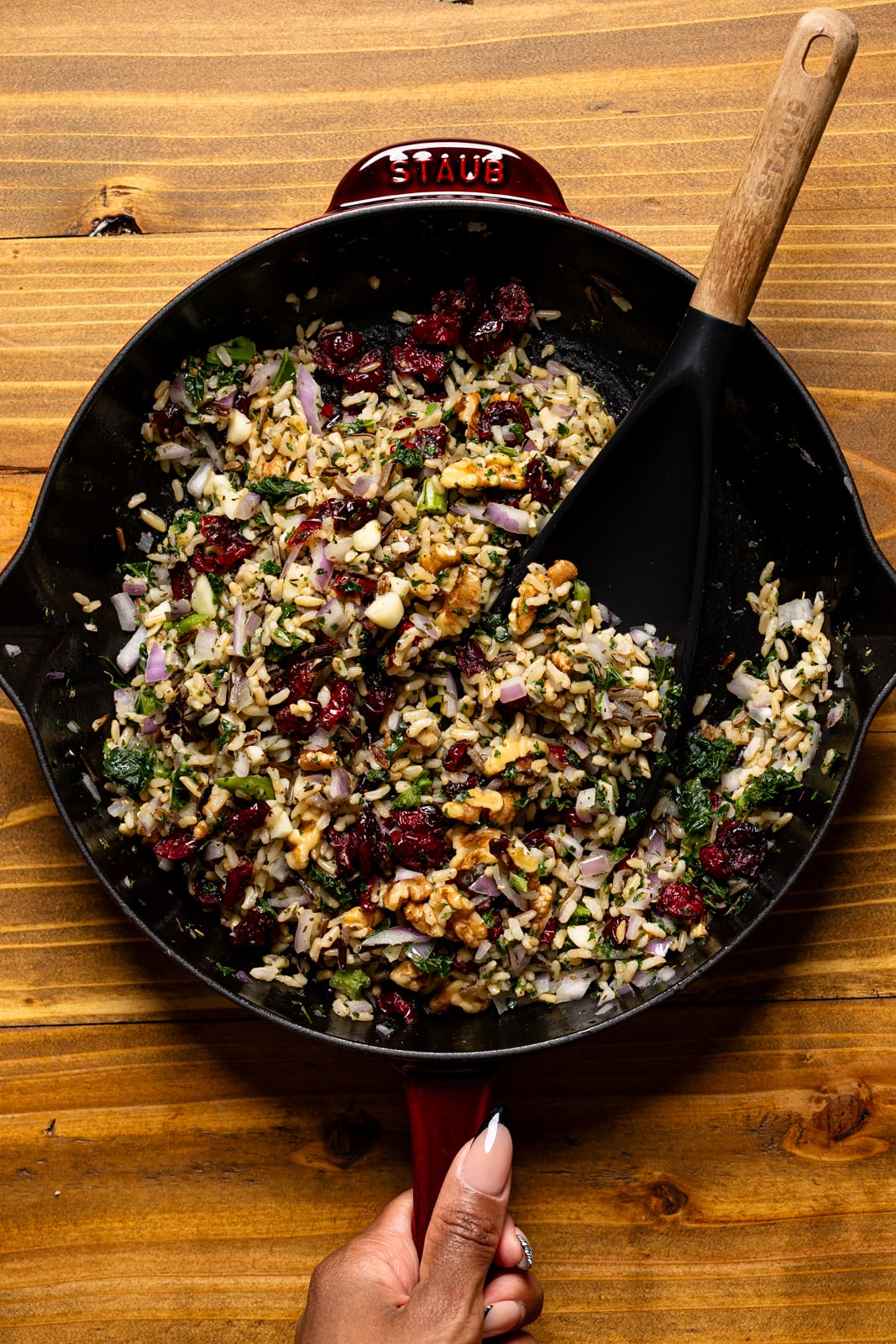 Is Butternut Squash Healthy?
Absolutely, this stuffed squash recipe is not only a delicious addition to your holiday table but also a healthy one. It's packed with essential vitamins and minerals, making it a fantastic choice! Plus, embracing seasonal eating with this butternut squash recipe means you're savoring the freshest flavors fall has to offer. Check out my guide to The Best Pantry Foods To Stock For Fall.
BUTTERNUT SQUASH HEALTH BENEFITS
Rich in vitamin A:--Butternut squash is loaded with vitamin A in the form of beta-carotene, promoting healthy skin and vision.
High in dietary fiber: Aids digestion + promotes a feeling of fullness!
A great source of vitamin C: An antioxidant that boosts the immune system and promotes healthy skin.
Essential minerals: Butternut squash provides important minerals like potassium, which helps regulate blood pressure and manganese, vital for bone health.
Antioxidant-rich: Packed with antioxidants, it helps combat oxidative stress and lowers the risk of chronic diseases.
Complex carbohydrates: Provides sustained energy and helps to stabilize blood sugar levels!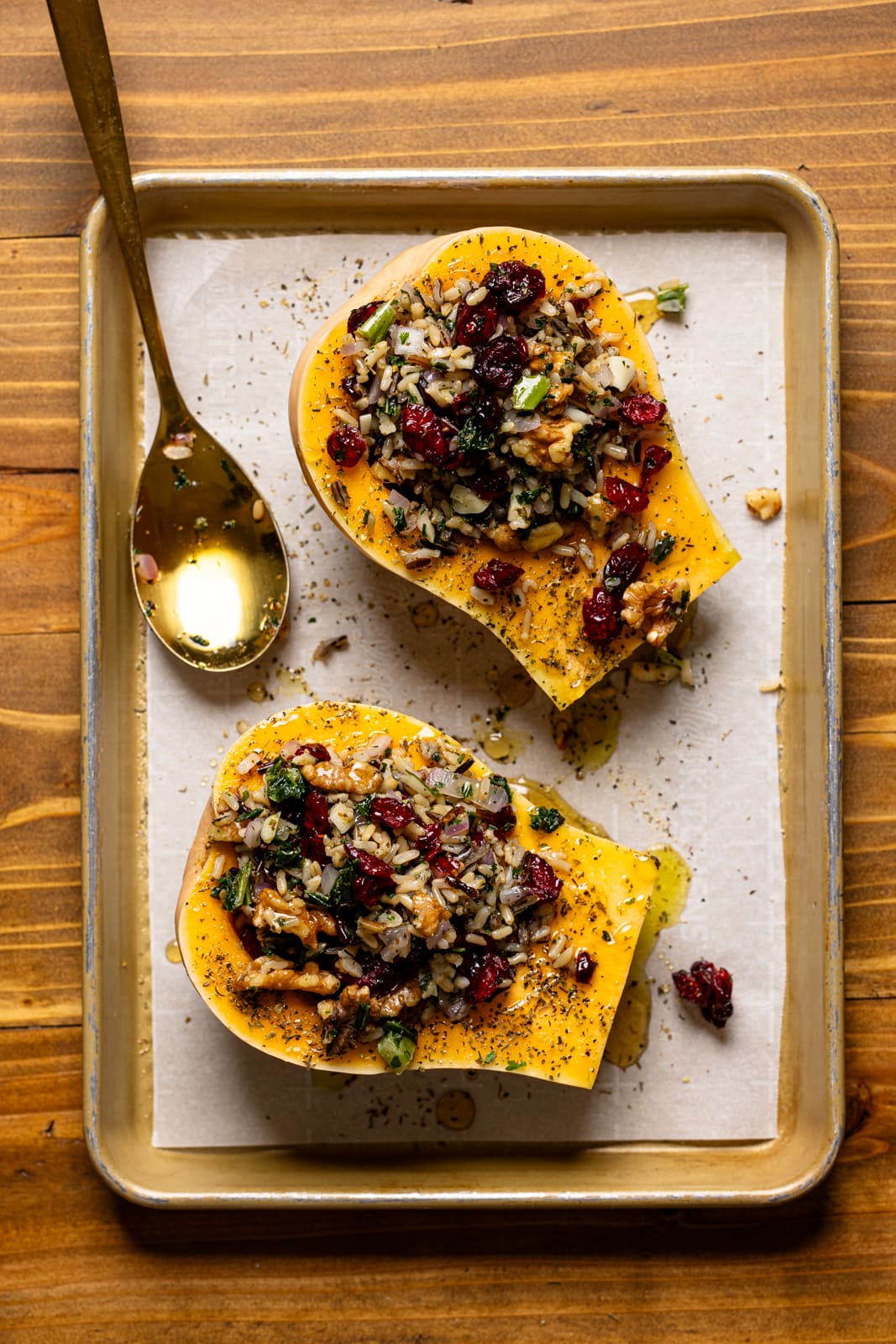 How To Use Leftover Roasted Butternut Squash?
Repurposing those leftovers from this butternut squash recipe is a true win. I recommend cutting it into cutes--Once you've got those golden chunks ready to go, a whole realm of tasty options opens up.
Here are some ideas to help you enjoy your leftover butternut squash to the fullest:
Creamy Soup: Try this Easy Roasted Butternut Squash Soup and feel free to top homemade croutons for extra flavor.
Pizza: Give pizza night a twist with this Pumpkin BBQ Chicken Pizza with Butternut Squash
Buddha Bowl: Create a nourishing Buddha bowl by layering your leftover squash with grains, roasted chickpeas, greens, and your favorite dressing. It would go perfectly with a Vegan Jamaican Power Bowl or this Vegan Fall Harvest Farro Bowl
Pasta: Toss your squash with cooked pasta like this Roasted Butternut Squash Pasta w/ Parmesan Garlic Sauce or Butternut Squash Stuffed Shells with Quinoa + Kale
Tacos: Spice things up by incorporating your leftover butternut squash into tacos. Chipotle BBQ Butternut Squash Tacos try alongside my homemade chipotle sauce
Thanksgiving Tips + Tricks
If you're gearing up to host a Thanksgiving feast that caters to all diets or searching for vegan Thanksgiving recipes for a traditional family gathering or a Friendsgiving celebration, I've got you covered! Check out these articles I've penned for some handy tips, tricks, and a deep dive into plant-based options to make your Thanksgiving day a breeze.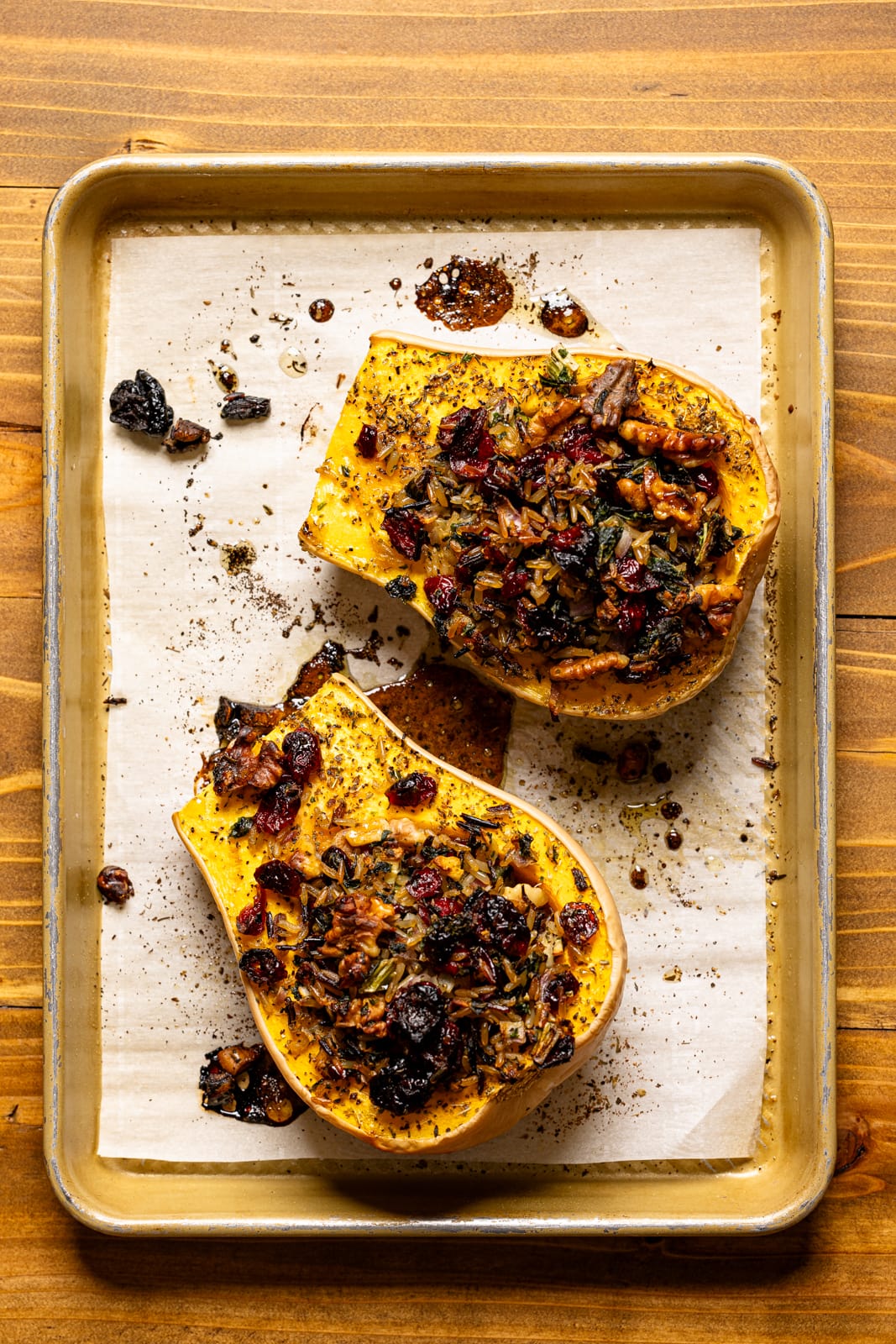 How To Cook Wild Rice PERFECTLY!
I understand how cooking rice can sometimes be a bit tricky. In fact, I've created guides on how to cook brown rice and how to cook basmati rice. And ever since perfecting my Vegan Wild Rice Stuffing recipe, I've become quite the pro at cooking wild rice!
Tips & Tricks For Making Wild Rice
Because wild rice is a special grain, it's super important to note that it takes longer to cook. Unlike other rice which is cooked within a few minutes, wild rice takes at least 45-60 minutes to be fully cooked.
I usually cook my wild rice with a spoon of butter and half water and half veggie stock (or all veggie or chicken stock---if not a vegan recipe) for added flavor.
Also, be sure to keep your cooked wild rice covered with a lid once the heat is turned off for another 10-15 minutes so that the rice soaks up all of the liquids and have a few minutes to rest.
Always "fluff" your rice with a fork when completely done before serving for the best texture
Is Wild Rice the Healthiest Rice?
In general, yes! Cooked wild rice has about 30% fewer calories than brown rice and about 40% more protein. In addition, wild rice contains a great source of fiber, potassium, and zinc. Plus, wild rice is a great gluten-free option to those who are sensitive to gluten or who suffer from celiac disease.
Is Wild Rice Anti-inflammatory?
Basically, wild rice to me is such an underrated superfood that has so many great benefits, including the fact that it's alkaline in nature. Alkaline foods helps to balance the body and reduce inflammation. Therefore, eating wild rice more often will aide in heart health and offers you a variety of nutrients and antioxidants that are great for your overall health.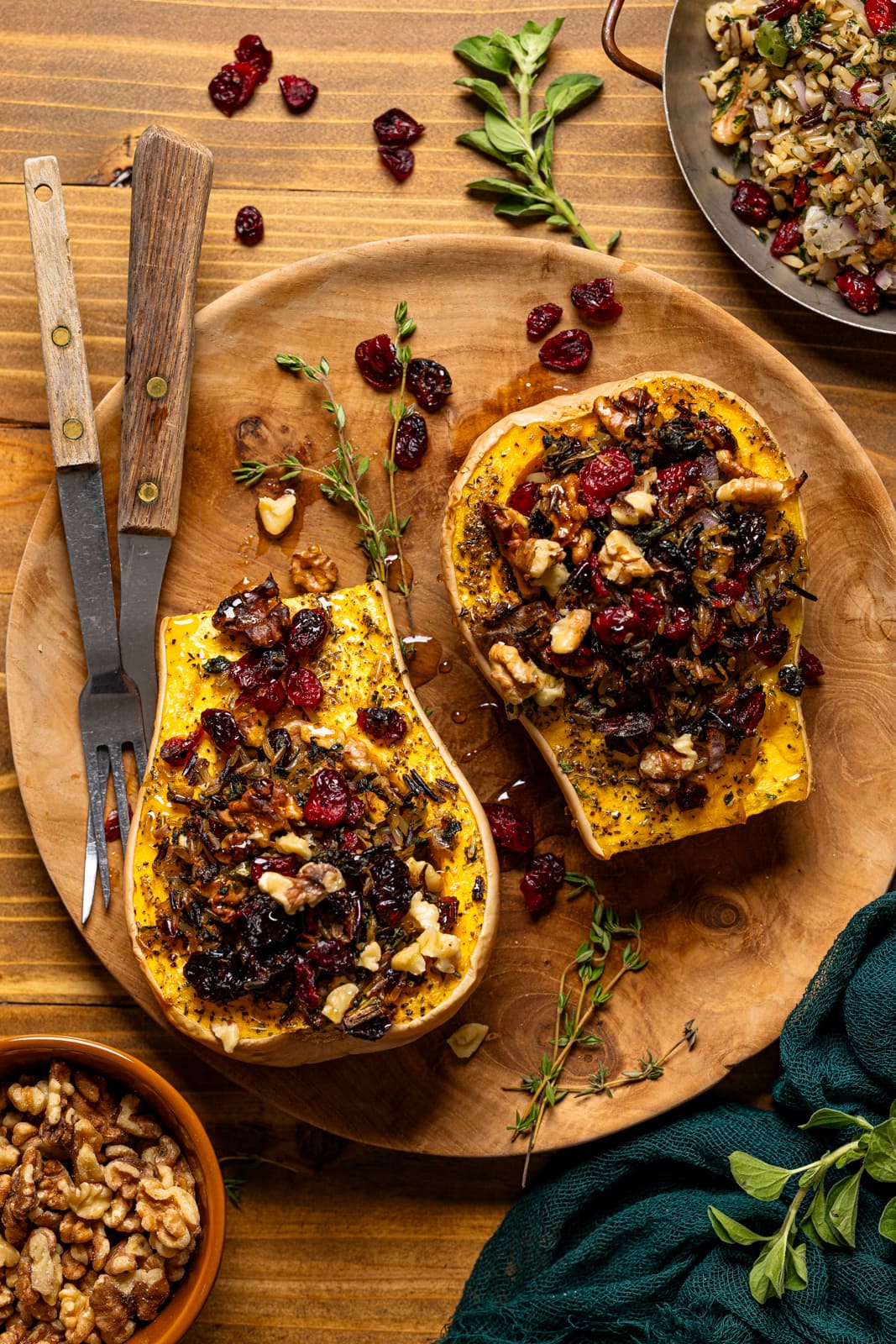 Wild + Brown Rice Stuffed Butternut Squash Q + A's
How to store stuffed squash?
Leftovers of this stuffed squash recipe can be stored in a tightly sealed container in the refrigerator for 3-4 days, for optimal freshness.
Is this Stuffed Squash recipe gluten-free?
Yes! To make this recipe gluten-free, ensure that the rice blend and all ingredients used, including any seasonings, are certified gluten-free. The recipe is already naturally gluten-free, so just check the rice for certification.
Can I use a different type of squash for this Stuffed Squash recipe?
While butternut squash is best for its sweet and nutty flavor, you can certainly use other types of squash like acorn, kabocha, or delicata. Just keep in mind that the flavor and texture may vary slightly.
Can I make this stuffed butternut squash ahead of time?
Yes, you can roast the butternut squash ahead of time and then reheat it in the oven before serving. This can help save time and streamline your Thanksgiving recipe meal preparation.
Can I add cheese to this butternut squash recipe if I don't need it to be vegan?
Absolutely! If you're not following a vegan diet, feel free to include your favorite cheese as a delicious and creamy addition to the stuffing.
Are there any other options to replace the dried cranberries in the filling?
If you prefer, you can substitute dried cranberries with raisins, chopped apricots, or other dried fruits for a different flavor profile.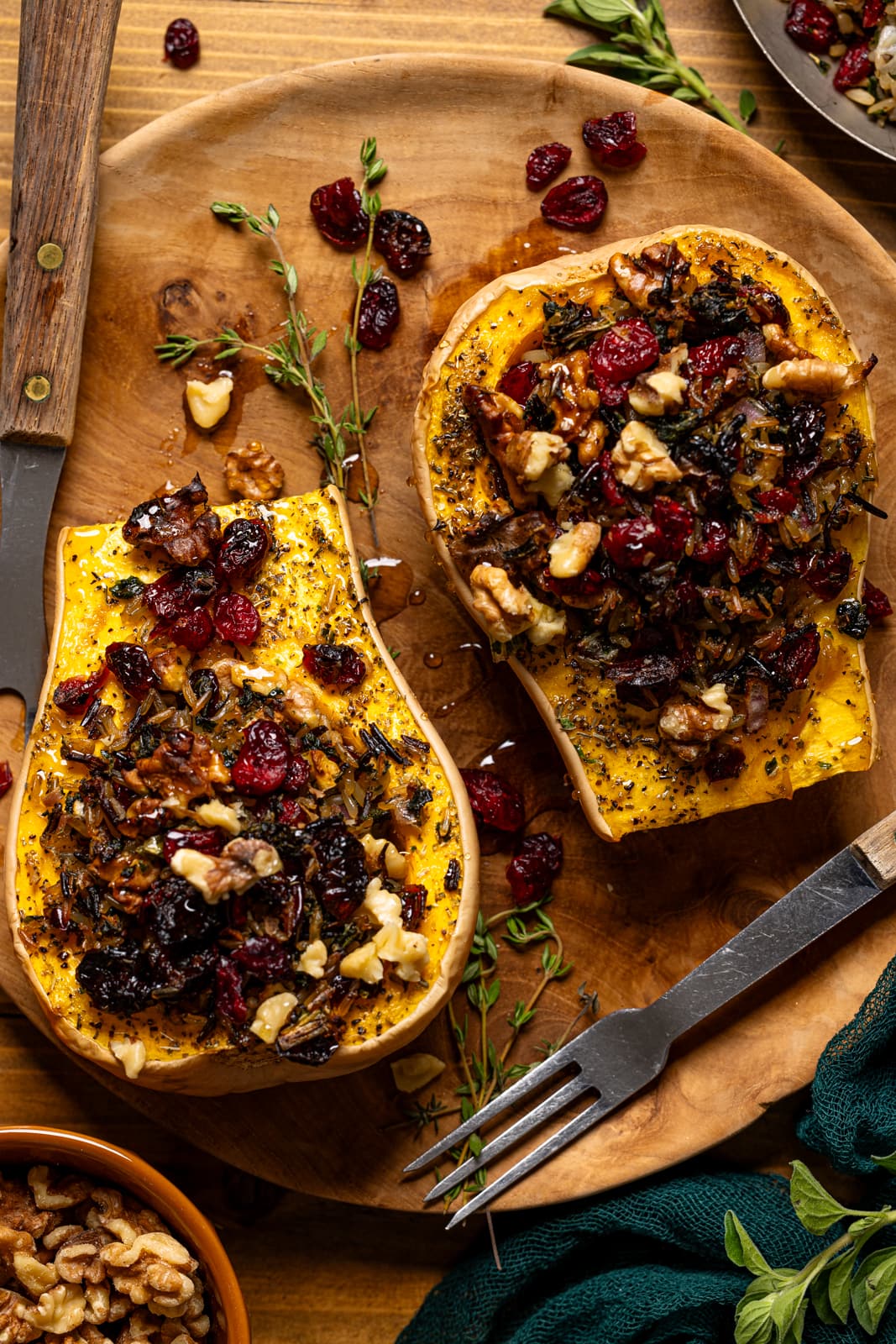 Need More Comforting Vegan Recipes? Try These!
If you are a fan of this butternut squash recipe, you have to try these satisfying vegan recipes next!
MADE OUR RECIPE(S)?
If you tried this Wild + Brown Rice Stuffed Butternut Squash recipe or any other recipe on my website, please please leave a 🌟 star rating and let me know how you go in the 📝 comments below. And don't forget to tag @orchidsnsweettea_ on Instagram and hashtag it #orchidsandsweettea! I love hearing from you!
FILLING:
1

cup

cooked wild rice blend

(You can also use all wild rice, if desired)

1

cup

cooked brown rice

1

tablespoon

Extra virgin olive oil

½

red onion, chopped

4

garlic cloves, minced

½

cup

dried cranberries

½

cup

pecans or walnuts, toasted

1

cup

chopped kale, frozen or fresh

1

teaspoon

sea salt

1

teaspoon

black pepper

1

teaspoon

dried oregano

1

teaspoon

dried basil

1

teaspoon

garlic powder

1

teaspoon

dried parsley
Preheat the oven to 400 degrees Fahrenheit and line a baking sheet with parchment paper.
PREP + CUT THE BUTTERNUT SQUASH:
Gently rinse your butternut squash using vinegar or apple cider vinegar and water, then pat it dry. On a cutting board, carefully cut the butternut squash in half lengthwise with a large knife, scooping out the seeds and pulp using a spoon and discarding them. NOTE: I like to cut off the long end of the squash, but you can definitely leave it.

Transfer each butternut squash, sliced (inside) side up, onto the prepared baking sheet and brush them with the olive oil on the tops and season with the salt, black pepper, smoked paprika, thyme, and garlic powder. Set aside.
MAKE THE FILLING:
In a medium-size 10-inch skillet over medium-high heat, add the olive oil. Once heated, add the chopped onions and garlic, sautéing until fragrant and slightly tender, about 1-2 minutes.

Add the seasonings: salt, black pepper, oregano, basil, garlic powder, and parsley, stirring to combine. Add in the cooked wild rice + brown rice followed by the cranberries, nuts, and chopped kale, stirring everything together until combined. Continue to stir until everything is heated through, about 2-3 minutes. Remove from heat.
STUFF THE BUTTERNUT SQUASH + BAKE:
Within each halved butternut squash, spoon the filling until filled. Then atop each squash, drizzle ¼ cup of maple syrup and bake (on the top rack to avoid burning) for 30-40 minutes or until softened and each butternut squash is golden and 'caramelized'.

Remove from oven and let them cool slightly before adding additional toppings: dried cranberries, chopped nuts, pumpkin seeds, drizzle of remaining maple syrup, etc.

Serve immediately with your favorite side.

Bon Appetit!
STORAGE: Leftovers can be stored in an air-tight container in the refrigerator for 3-4 days and reheated when ready to serve. To re-heat, add each serving to the oven, until warmed through. Drizzle with additional maple syrup, if needed.
EQUIPMENT: Here, I've curated a list of cooking + baking essentials that I use to achieve my favorite baked goods or cooked meals, especially with this Stuffed Butternut Squash Recipe. Everything from my fave baking sheets, wooden spoons, parchment paper, mixing bowls, and more.SEE THEM HERE!
ADDITIONAL TOPPINGS: If you'd like to spruce this stuffed butternut squash up a bit more, you can add other topping ingredients such as: chopped bacon (if not vegan), fresh parsley, hazelnuts, pistachios, apricots or cherries, sage, sautéed onions, etc.
WILD RICE BLEND: If you don't have a wild rice blend or don't feel like using it, just substitute with the regular wild rice.
Calories:
513
kcal
|
Carbohydrates:
64
g
|
Protein:
16
g
|
Fat:
23
g
|
Saturated Fat:
3
g
|
Polyunsaturated Fat:
3
g
|
Monounsaturated Fat:
16
g
|
Sodium:
2354
mg
|
Potassium:
1024
mg
|
Fiber:
18
g
|
Sugar:
2
g
|
Vitamin A:
3893
IU
|
Vitamin C:
36
mg
|
Calcium:
226
mg
|
Iron:
6
mg