This Vegan Chickpea Meatballs with Polenta recipe is loaded with savory, sweet flavors. The tender meatballs are made with chickpeas, quinoa, pecans and nutritional yeast for tons of flavor in every bite.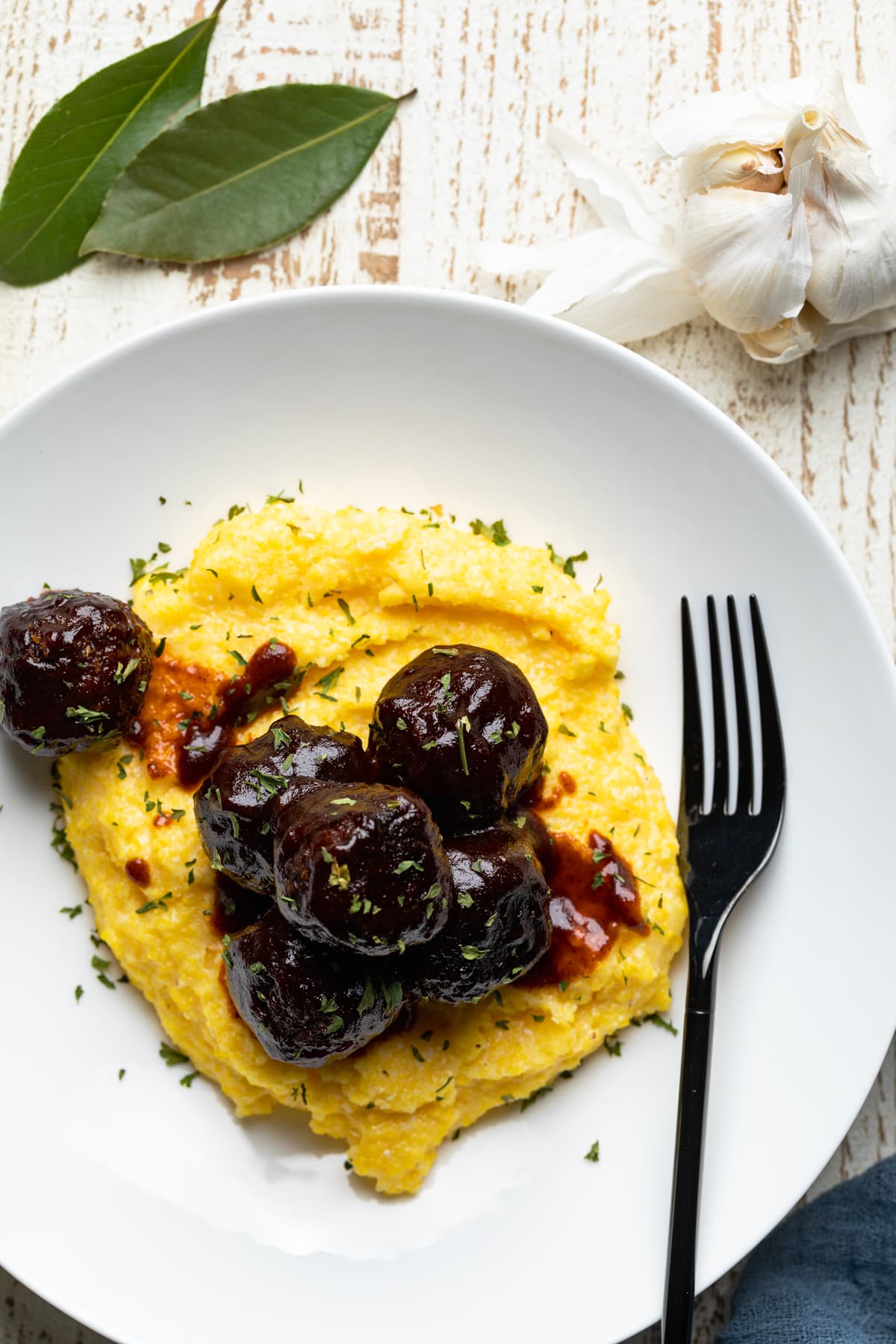 I've always loved meatballs. They're such an easy way to pack tons of flavor, spice, sweetness or whatever you like into a single perfect bite. And if you're eating less meat or no meat at all, you can have the same delicious experience with vegan ingredients too!
These chickpea meatballs are loaded with healthy plant-based ingredients, including spices and dried herbs, for a cheesy, savory and slightly sweet combination you'll love. Paired with creamy, smooth polenta, you have a well-rounded vegetarian dinner the whole family will enjoy.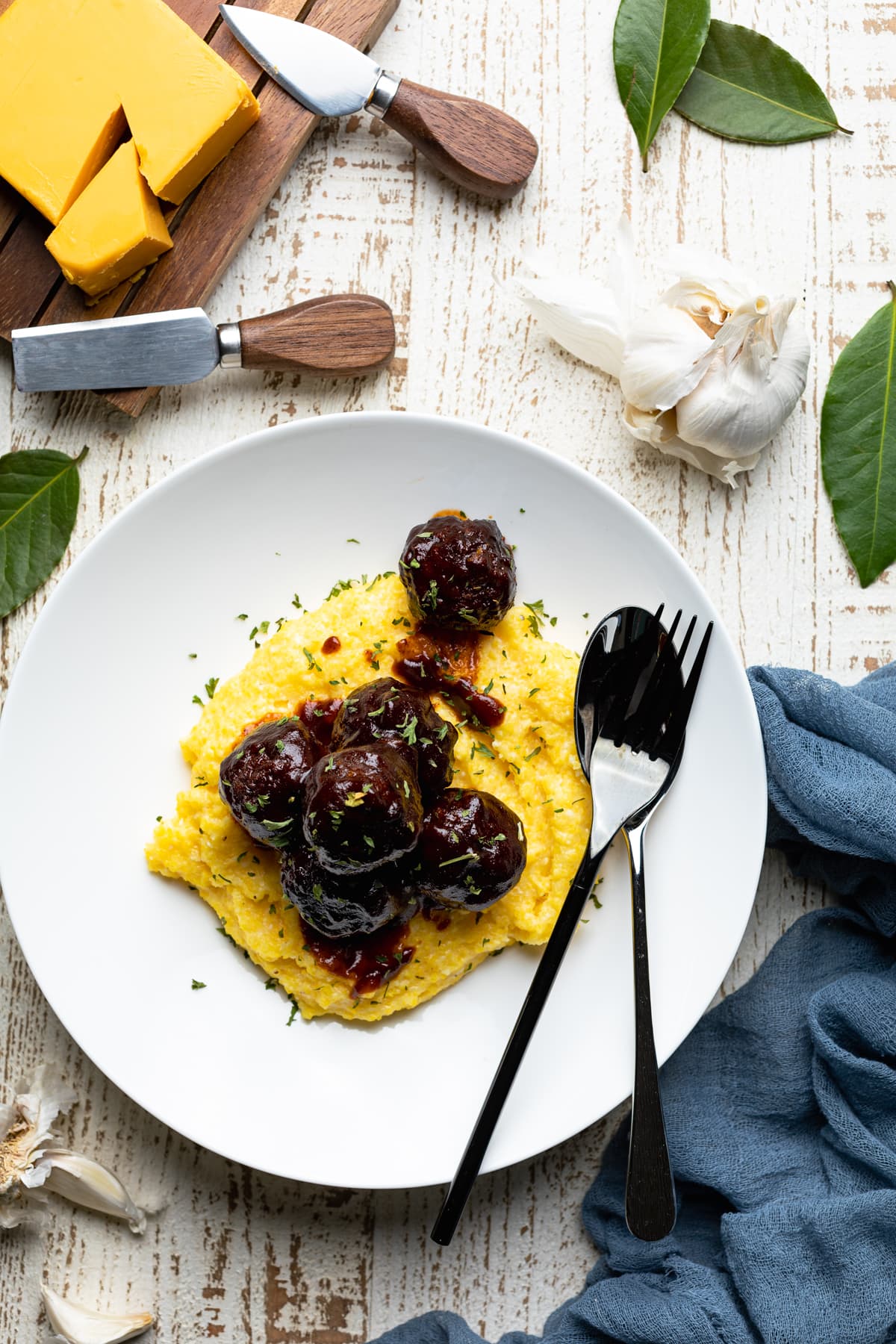 How to Make Chickpea Meatballs
To make the meatballs, you'll quickly sautíng onions and garlic. Then, you'll add the remaining ingredients until you have a nice thick dough. I like to use a scoop to shape evenly sized meatballs, but you can just as easily go by eyesight and use your hands to shape the cute little balls.
Then sear them until you have a beautiful golden-brown crust all over. Serve with your dreamy cornmeal polenta, and dinner is ready!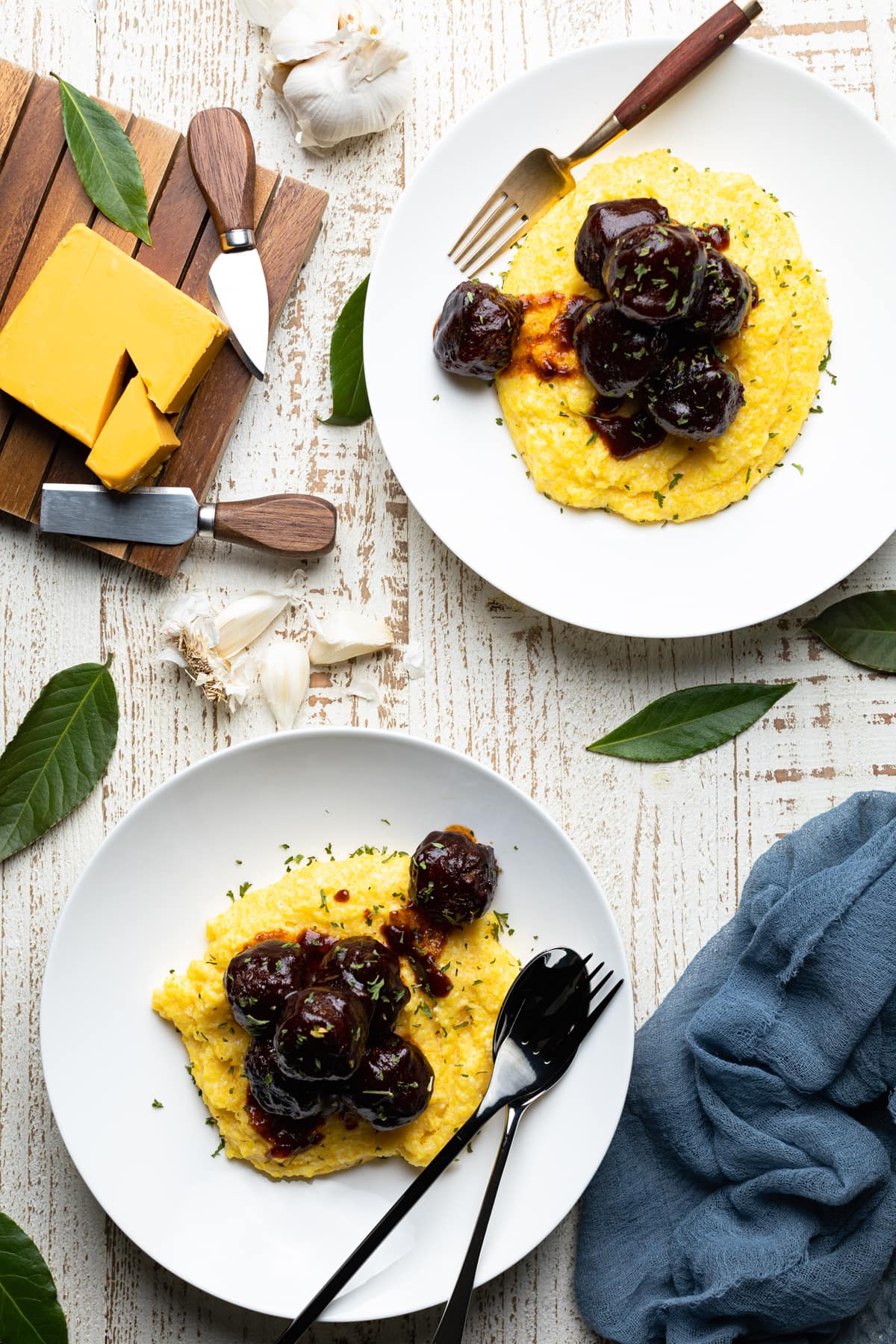 Ingredient Notes
Here are some notes to keep in mind about the chickpea meatball ingredients:
Pecans. You can use another soft nut like walnuts or cashews if you prefer. However, I find that pecans add a wonderfully buttery flavor to the dairy-free meatballs.
Nutritional yeast. This is a key vegan ingredient for cheesy flavor. If you haven't tried it yet, I strongly recommend it!
Parsely, oregano, and basil. These three Italian herbs make a great trio. But if you're missing one, you can easily substitute it with more of the other two spices.
BBQ sauce. Look for a vegan bbq sauce if you like. Otherwise, see the notes below the recipe to make your own easy vegan bbq sauce to coat your meatballs.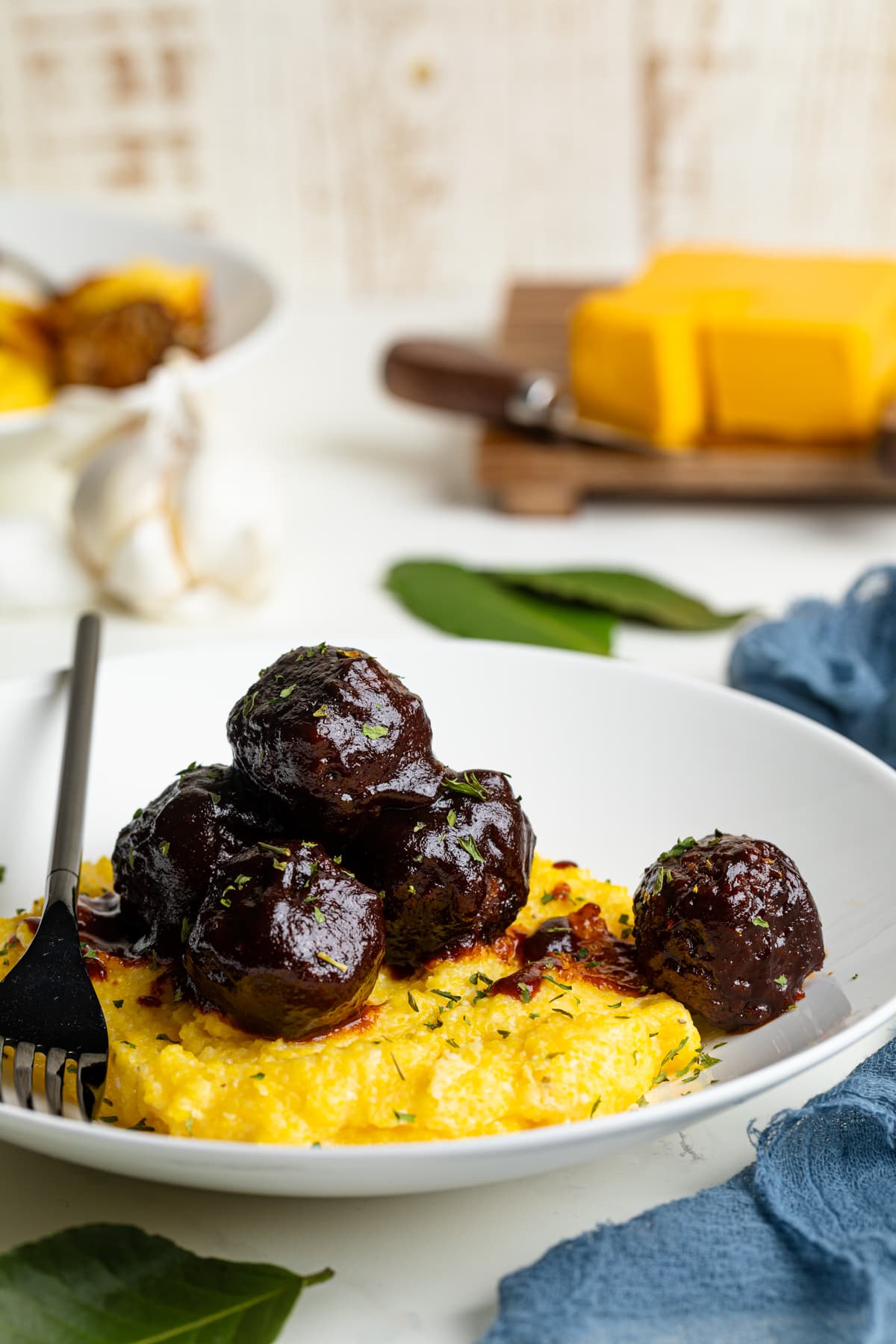 Creamy Vegan Polenta
This polenta is totally dairy-free but tastes just as cheesy and decadent as dairy-full polenta.
Here's what you'll need to make it:
Vegetable stock. You can also use water if you're out of stock, but you may need to season your polenta a bit more with salt.
Polenta. Use organic corn fo the best flavor.
Vegan butter. I like Earth Balance Vegan Buttery Sticks for cooking and baking.
Dairy-free mozzarella. I love So Delicious Dairy-Free cheese, which is coconut based and tastes great.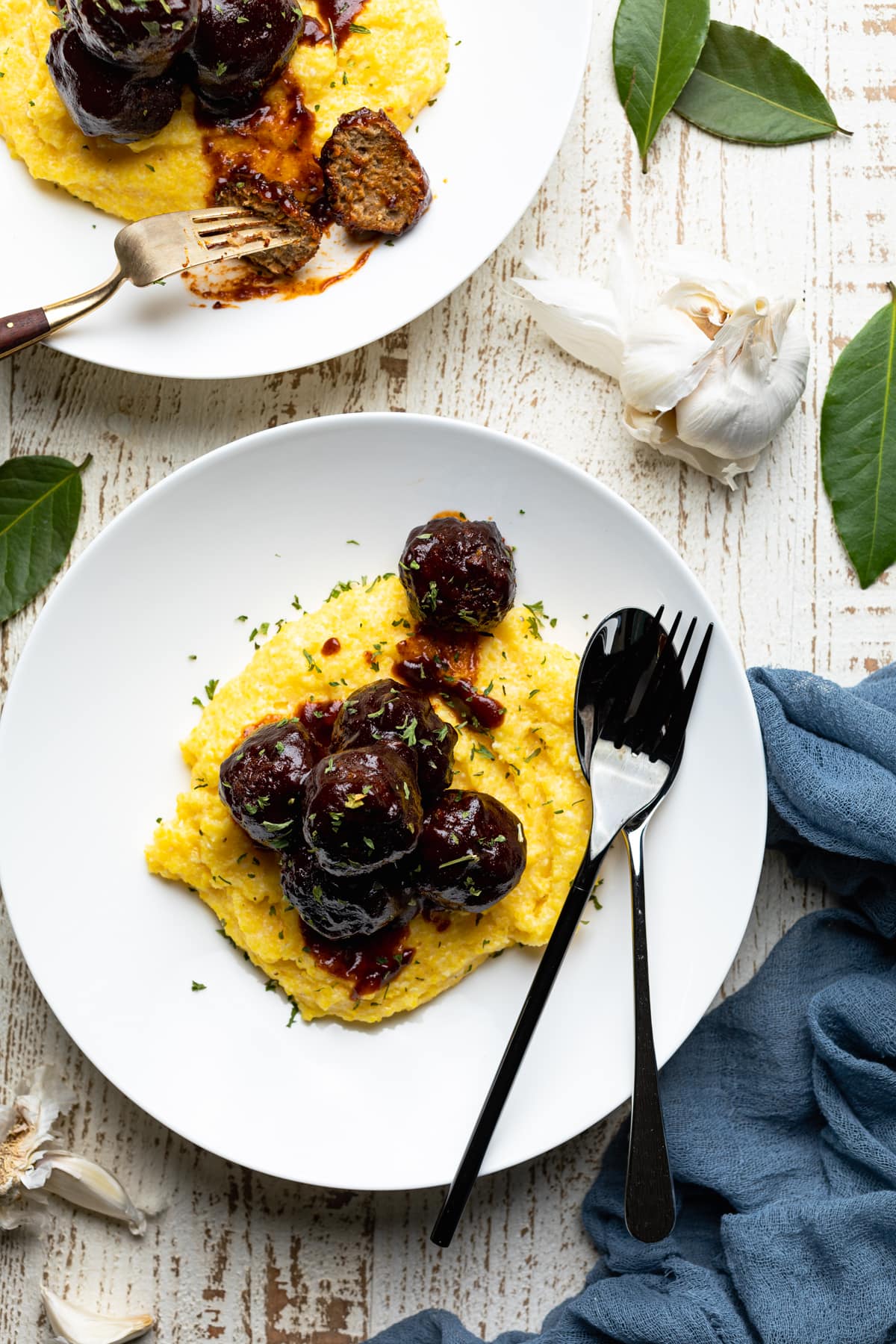 Storage
Store any leftover meatballs or polenta in an airtight container in the fridge for 3 to 4 days.
You can also freeze the meatballs for up to three months. Defrost them overnight in the fridge and reheat them on the stove or in the microwave to serve.
Other Serving Suggestions
You can have fun experimenting with serving your vegan chickpea meatballs with other sauces and starches. Instead of polenta, try gluten-free or regular pasta. Mashed potatoes or sweet potatoes are also delicious!
Instead of BBQ sauce, try one of these other tasty sauce ideas: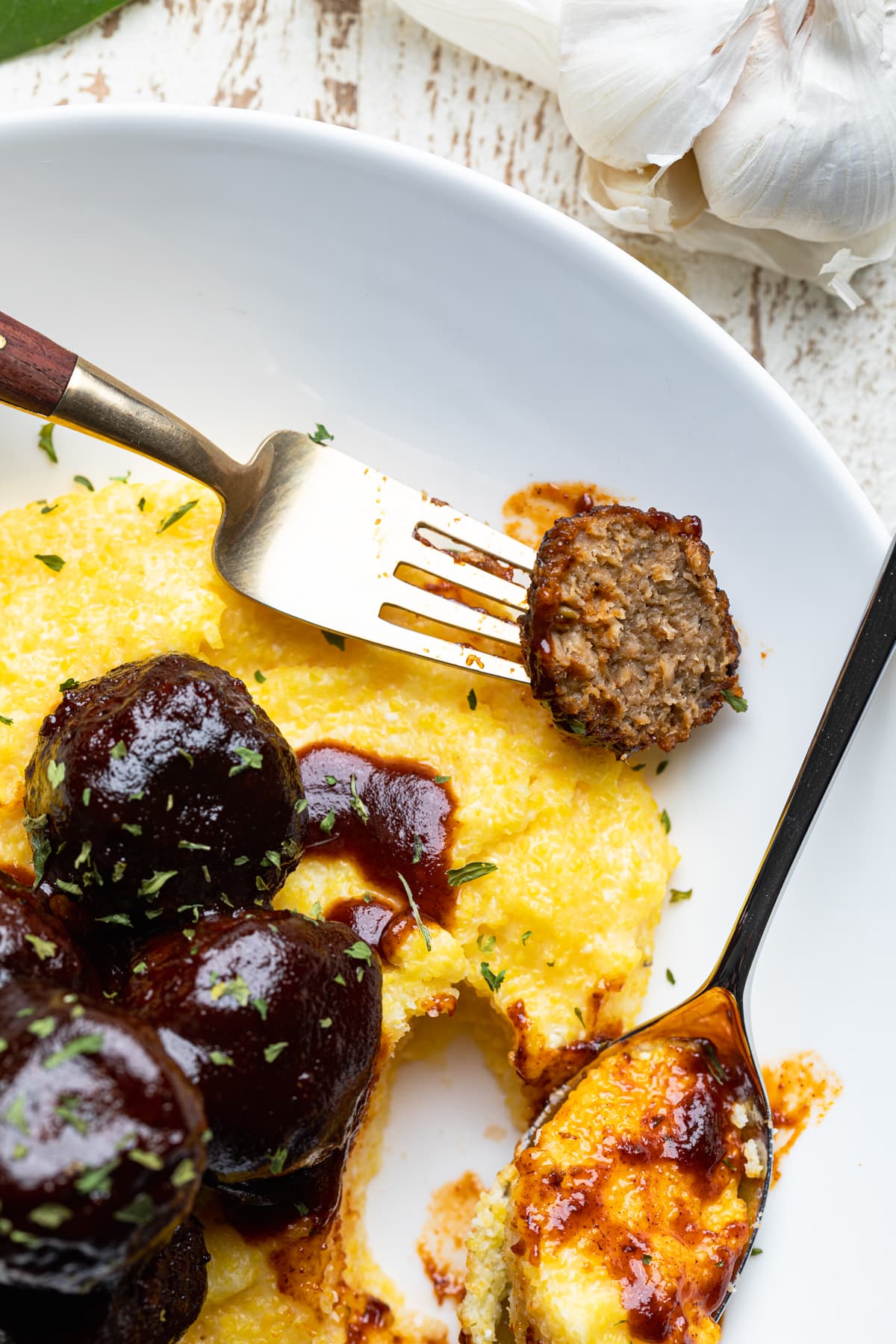 More Healthy Chickpea Recipes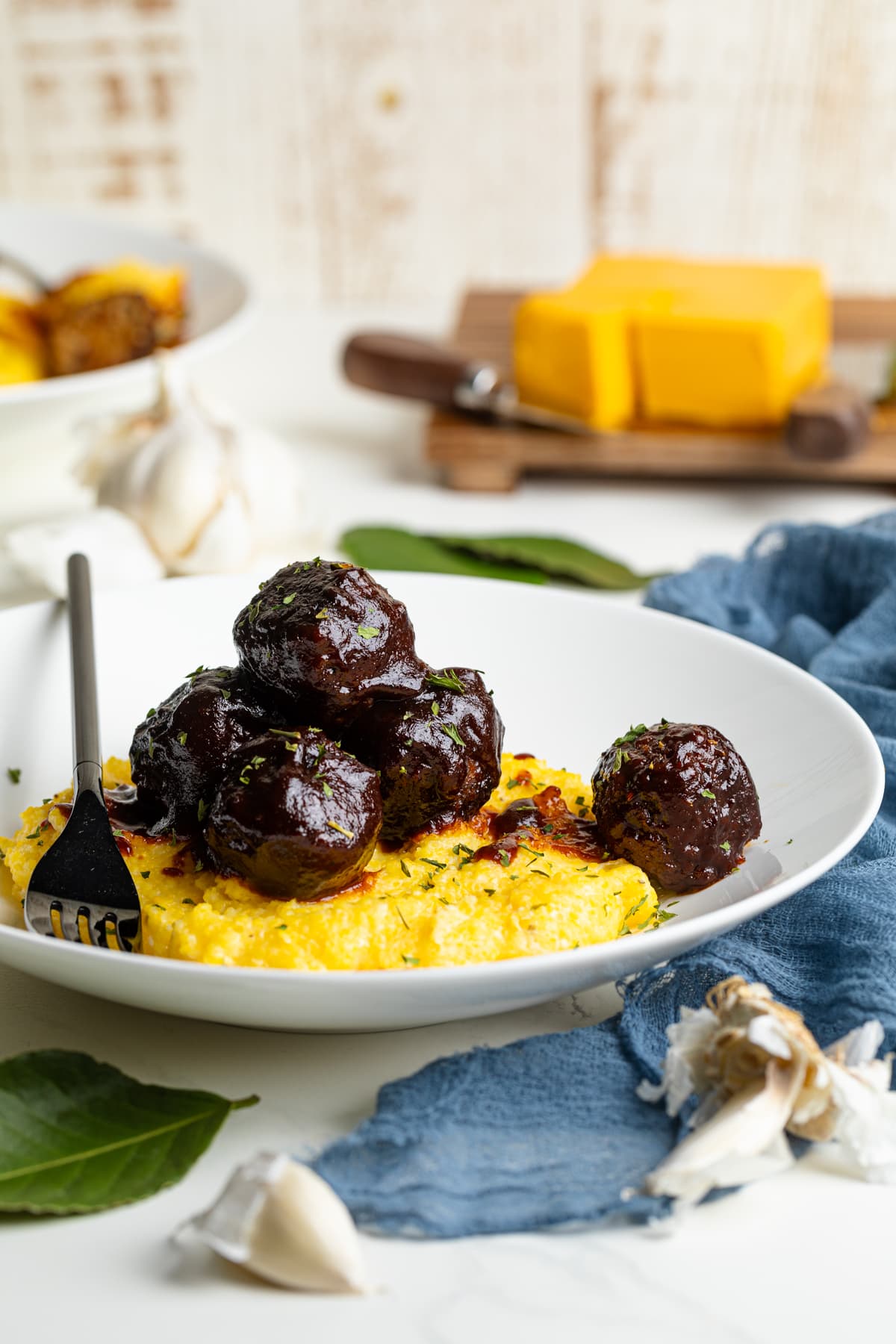 MADE OUR RECIPE(S)?
If you make Vegan Chickpea Meatballs with Polenta or any other recipe from us, be sure to tag us on Instagram at #Orchidsandsweettea so that we can share the love, rate, comment below, + share!
CREAMY POLENTA:
3

cups

organic vegetable stock

(You can also use water instead)

1

cup

organic polenta corn grits

1

tsp

finely-ground sea salt

2

Tbsps

vegan butter

1

cup

Dairy-free mozzarella style shreds

(I love using So Delicious Dairy-Free)
HOMEMADE VEGAN MEATBALLS:
1

(15 oz.) can

chickpeas, drained + rinsed

1

cup

cooked quinoa

(Cook according to packaging!)

1/2

cup

chopped pecans

1/2

cup

vegan bread crumbs

(See Notes for Homemade!)

1/4

cup

nutritional yeast

1/2

onion, chopped

3

garlic cloves, roughly chopped

1

Tbsp

dried parsley

1

Tbsp

smoked paprika

1

tsp

dried oregano

1

tsp

dried basil

1

tsp

red pepper flakes

1/2

tsp

sea salt + black pepper

1

Tbsp

Extra virgin olive oil, for cooking + 1 Tbsp!

2

cups

BBQ sauce, vegan-friendly

(See Notes!)
HOMEMADE VEGAN MEATBALLS:
Preheat the oven to 40 degrees Fahrenheit and line a large baking sheet with parchment paper.

Start by adding onions and garlic cloves to a heated skillet (with 1 Tbsp of extra virgin olive oil) and sautéing them until they are fragrant and translucent, about 2-3 minutes. Set aside skillet for later.

Add the cooked quinoa, pecans, and sautéed onions and garlic to a food processor and pulse for 1 minute or so. Add the chickpeas, nutritional yeast, olive oil, oregano, basil, red pepper flakes, smoked paprika, dried parsley, black pepper, sea salt, and bread crumbs, processing everything until it grounds into a thick mixture.

Using an ice cream scoop (or spoon), shape mixture into individual balls (further rounding them with your hands). Repeat until all meatballs are created.

Reheat previous skillet over medium-high heat (with all the bits left in it) and add additional olive oil if needed. Add meatballs to pan and sear until nicely golden on all sides. Remove each meatball and add them directly unto the baking sheet, spooning a generous amount of BBQ sauce atop each meatball. Bake for 10-15 minutes or until tender and BBQ sauce has been cooked unto meatballs. Remove from oven once done.
CREAMY POLENTA:
Bring 3 cups veggie stock and salt to a low boil in a large-size pot. Whisk in the polenta and cook 15-20 minutes until thickened. Stir in the butter and dairy-free mozzarella shreds until melted.

In serving bowls, spread the polenta into the bottoms of the bowls and top with meatballs and BBQ 'gravy' if desired. Sprinkle dried parsley (optional) atop meatballs and polenta and serve immediately.

Bon Appétit!
STORAGE: Any leftovers can be kept in a tightly sealed container and refrigerated for up to 3-4 days.
HOMEMADE BBQ SAUCE: 15 oz. can of tomato sauce, 3/4 cups water, 1/4 cup balsamic vinegar, 2 Tbsps sriracha sauce, 2 tsps ground mustard, 1/3 cup agave syrup, 2 Tbsps pure maple syrup, 1 tsp sea salt, 1 tsp onion powder, 1 Tbsp red pepper flakes, and 1 tsp smoked paprika. DIRECTIONS: Place all ingredients in a medium saucepan on medium-high heat and whisk together until it begins to boil. Reduce heat to low-medium and let everything simmer for about 15 minutes or so, stirring occasionally. Once thickened enough to desired consistency, remove from heat and let cool. Set aside until ready to use or store remainder in an airtight container and refrigerate for up to 2 weeks.
HOMEMADE BREADCRUMBS: To make your own breadcrumbs, simply grind 1-2 cups of cubed bread into a food processor until finely chopped. Place crumbs onto a parchment lined baking sheet and spread out evenly. Bake for 5-6 minutes in the oven set at 350 degrees Fahrenheit, stirring occasionally. Once brown + crisp, remove from oven and let cool. Continue recipe steps and store remaining breadcrumbs in a tightly sealed container. 
Vegan Chickpea Meatballs with Polenta.