This Vegan Tuscan Kale Chickpea Soup is the perfect comfort and flavorful bowl of goodness for those cold winter days. Filled with herbs and spices, kale or spinach, chickpea, cannellini beans, carrots, tomatoes, celery, garlic, and onions, this soup is quite the healthy meal and surely does warm things up nicely. Super easy to make and only requires only one pot. All vegan + gluten-free.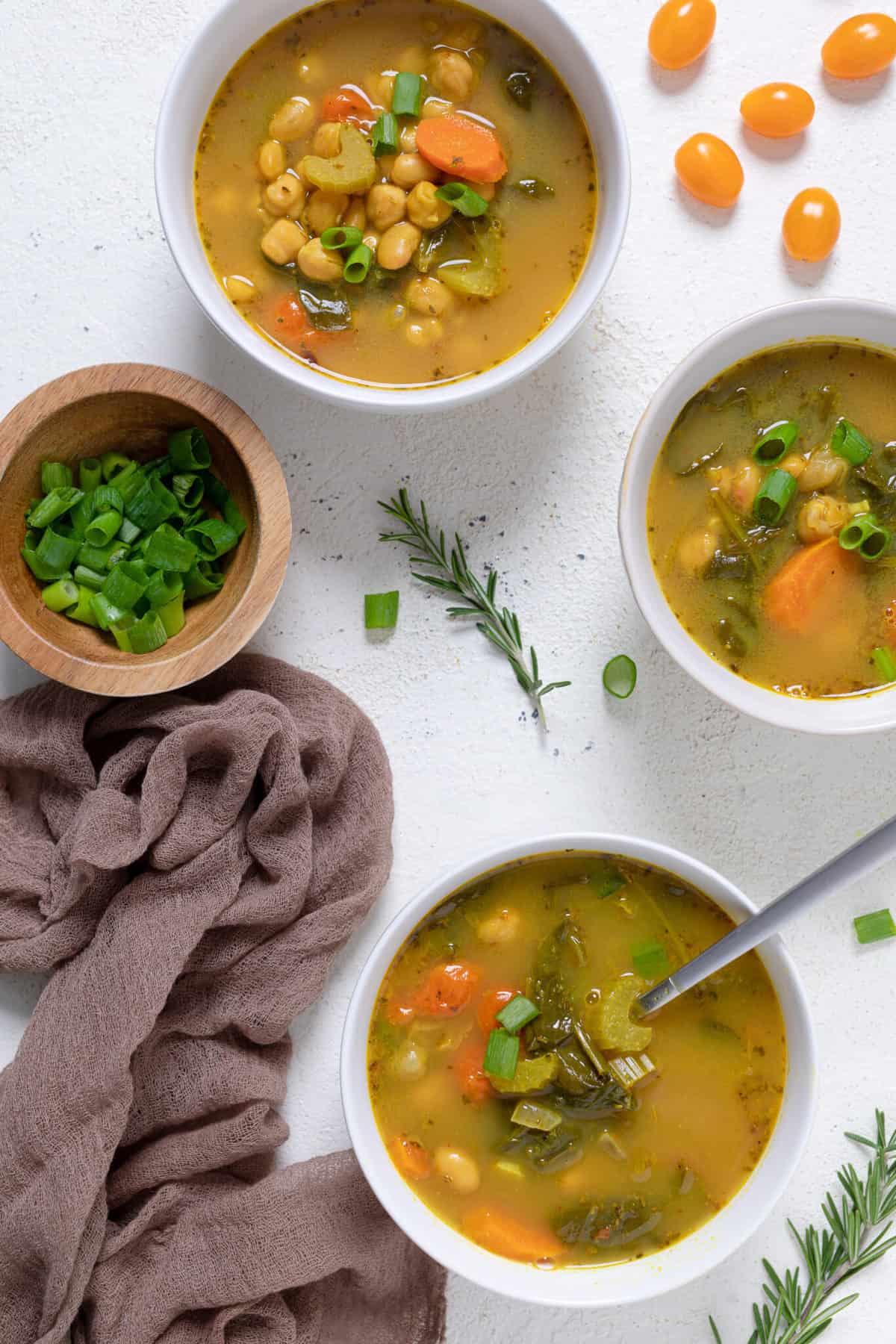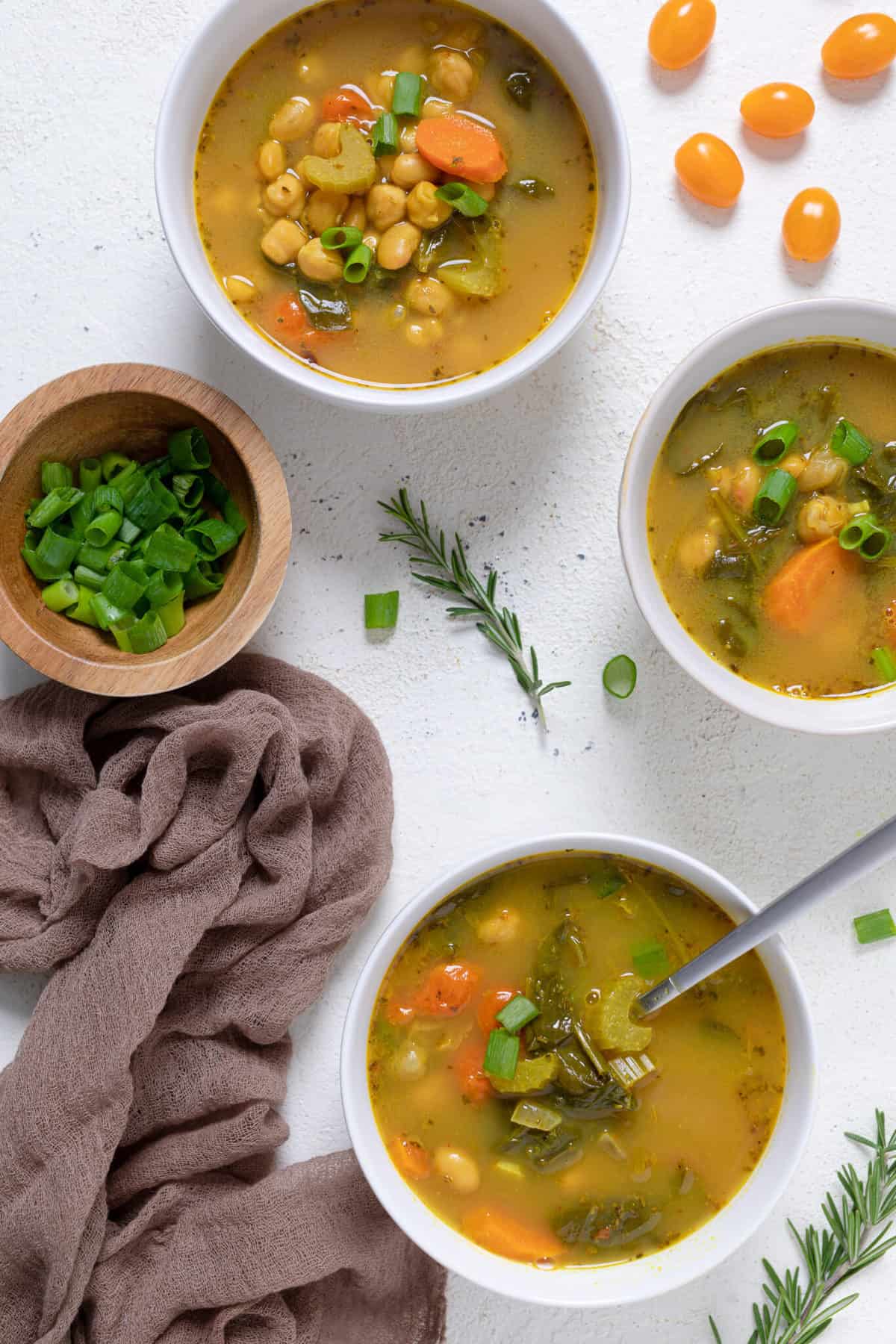 I'm so obsessed with this Vegan Tuscan Kale Chickpea Soup.
I'm such a HUGE fan of soup (or at least I use to eat soup almost daily some years ago), so of course, I am really excited to share this recipe with you all. There's nothing like a hearty veggie soup and this recipe is the epitome of that.
If you've been an avid reader of Orchids + Sweet Tea, then you're probably aware of this delicious soup options that are on our site. Honestly, this soup is just so irresistible and flavorful. I mean—-gosh! I don't know about you, but I love FLAVOR and COMFORT and this soup brings out all of that and MORE.
SOUP TIME is the absolute best time of the year! And while I enjoy soup year-round, the Fall/Winter months are the best times to eat the thicker and heartier soups.
Personally, it's all about using broths more than just fresh water, which adds a ton of extra flavor. My go-to brand for both chicken + veggies broths is Pacific Foods.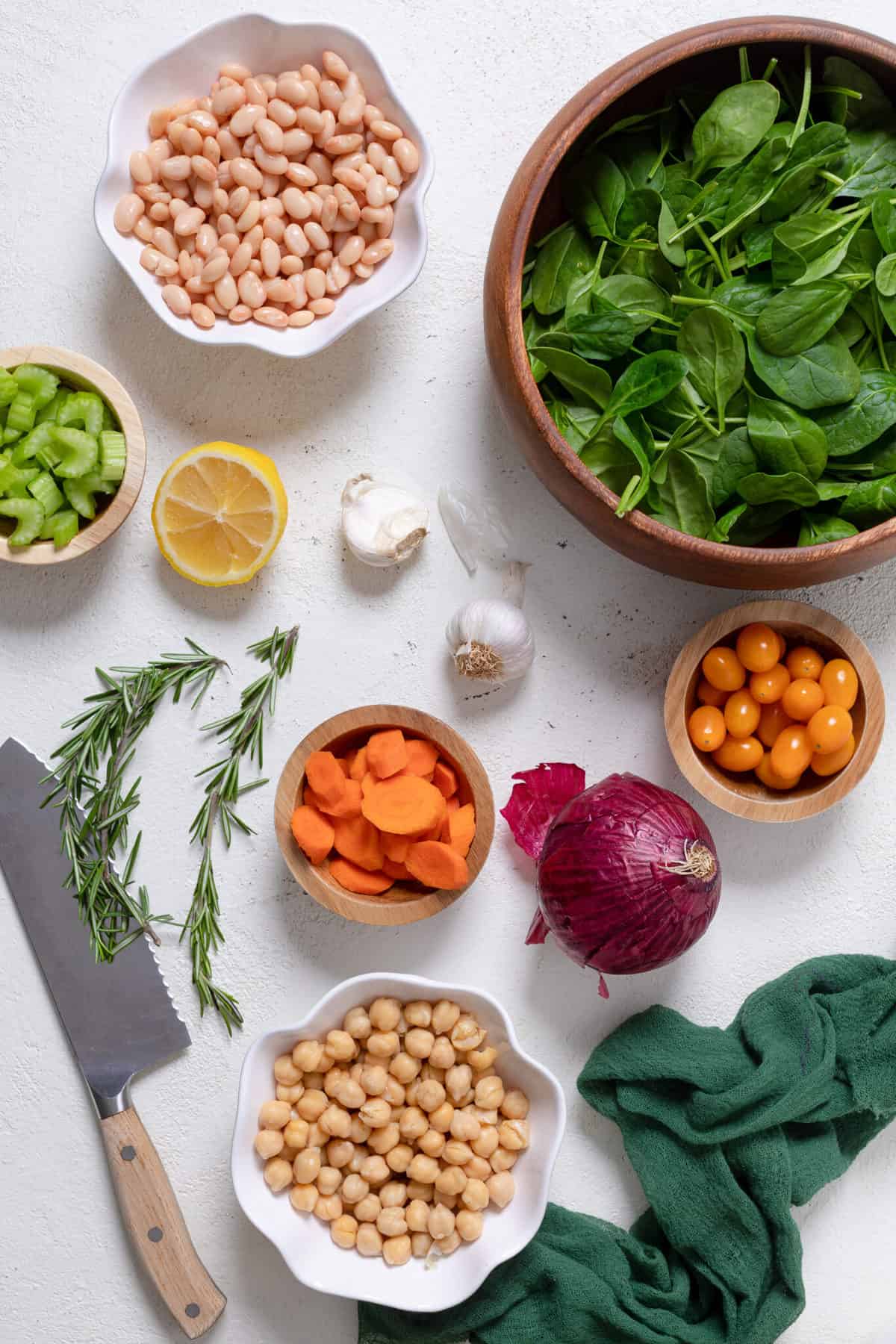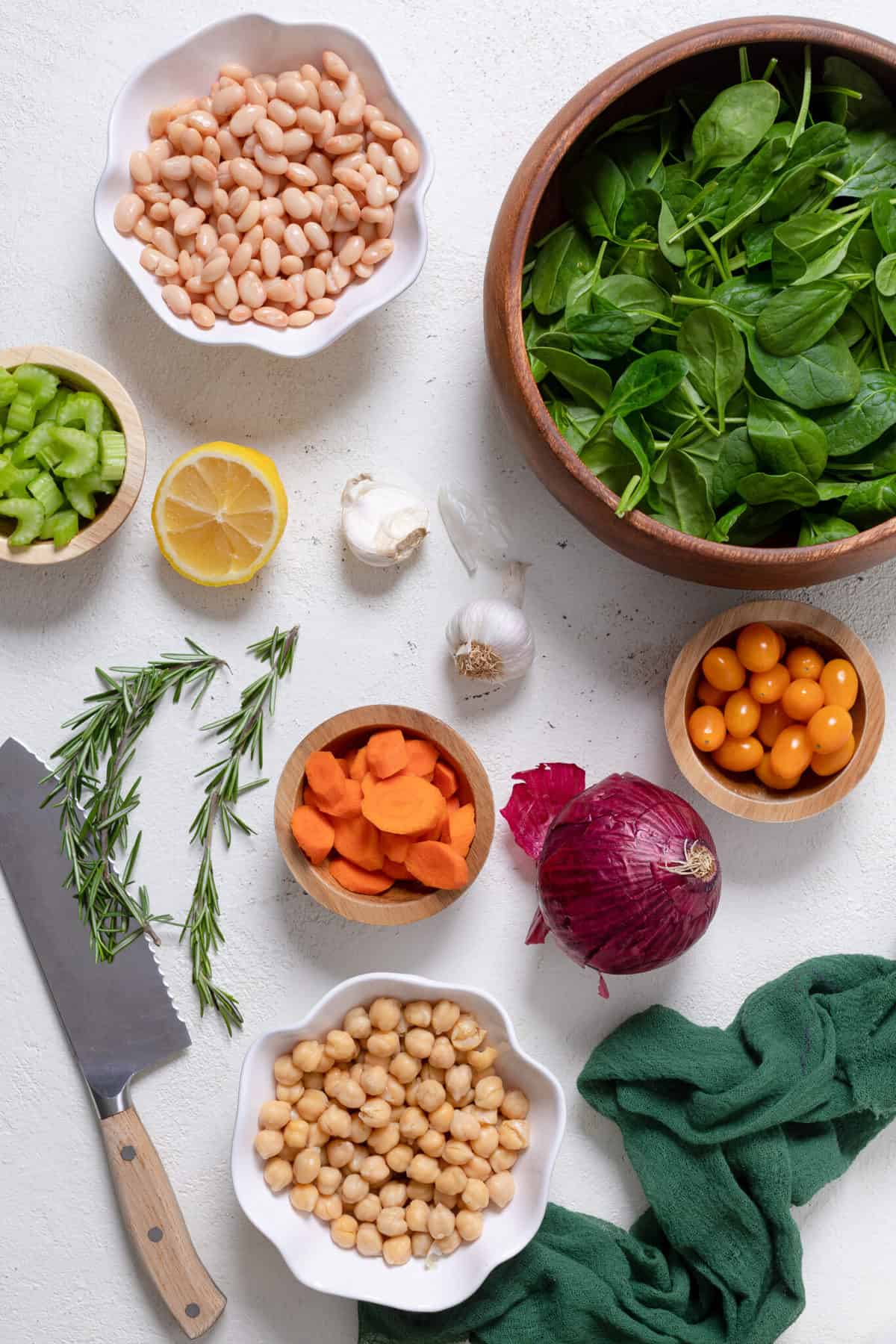 NEED EASY, DELICIOUS SOUP IDEAS? HERE'S MY TOP 5!
This Loaded Dairy-Free Broccoli Cheddar Soup recipe is something truly spectacular.
This Easy Roasted Butternut Squash Soup recipe is the warmth of great flavors and succulent taste of nuttiness from the topped roasted chickpeas which is beautifully paired with a creamy base that makes this bowl of goodness completely irresistible.
This Fall Detox Sweet Potato Veggie Soup is sure to keep you warm and comforted throughout the cooler months of the year.
This Slow Cooker Loaded Vegan Veggie Soup is the perfect bowl of heartiness for those cold winter days.
This Easy Flavorful Rigatoni Meatball Soup is sure to keep you warm and comforted throughout the cooler months of the year and your tastebuds will surely thank you for it.
How to Store Leftover Soup.
With leftovers, you can always refrigerate the remaining amounts in a tightly sealed container in the refrigerator for up to 3 days, for optimal freshness. Can also be frozen for 4-6 months. To defrost, simply place soup in the refrigerator overnight or at room temperature before re-heating on the stove top to serve.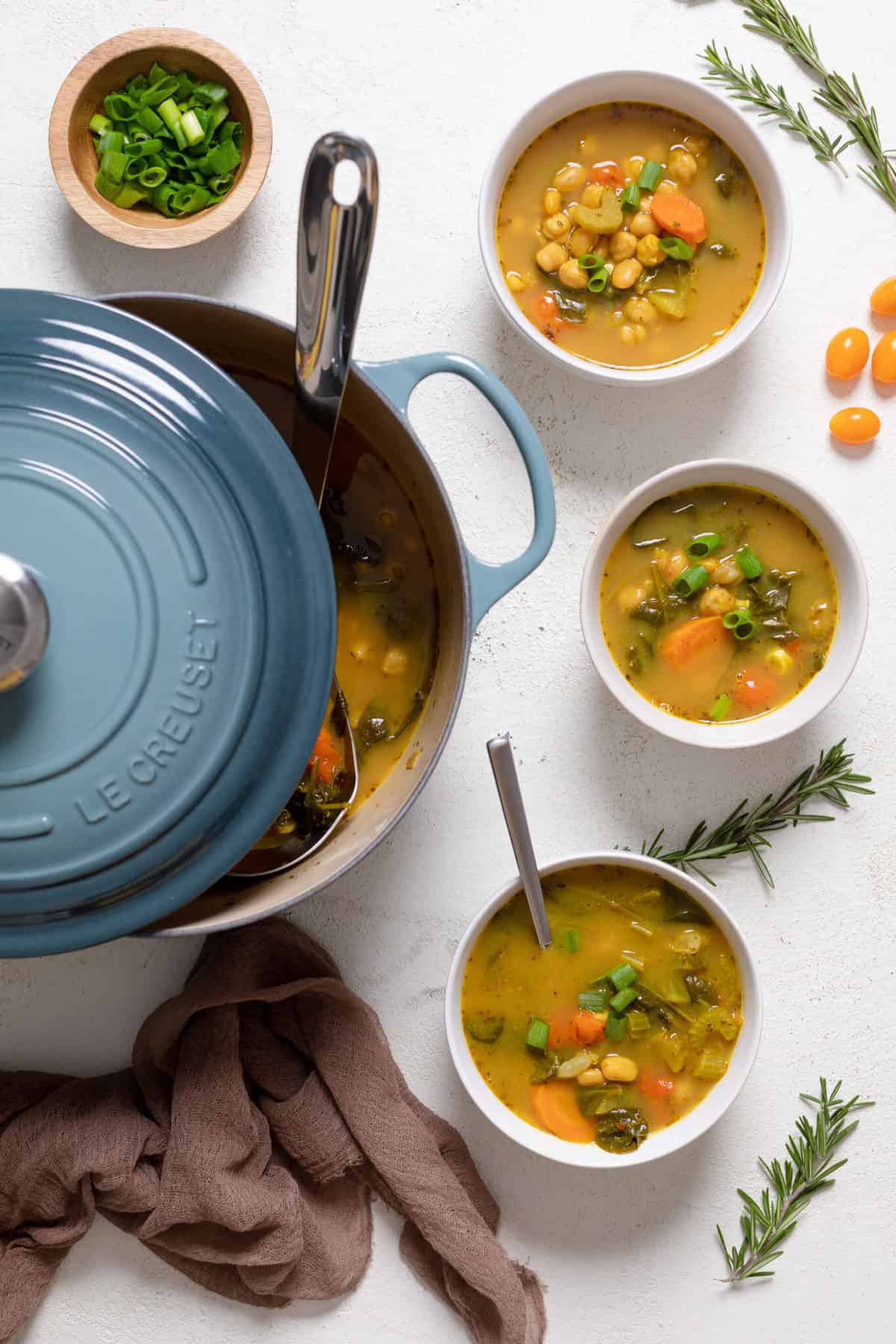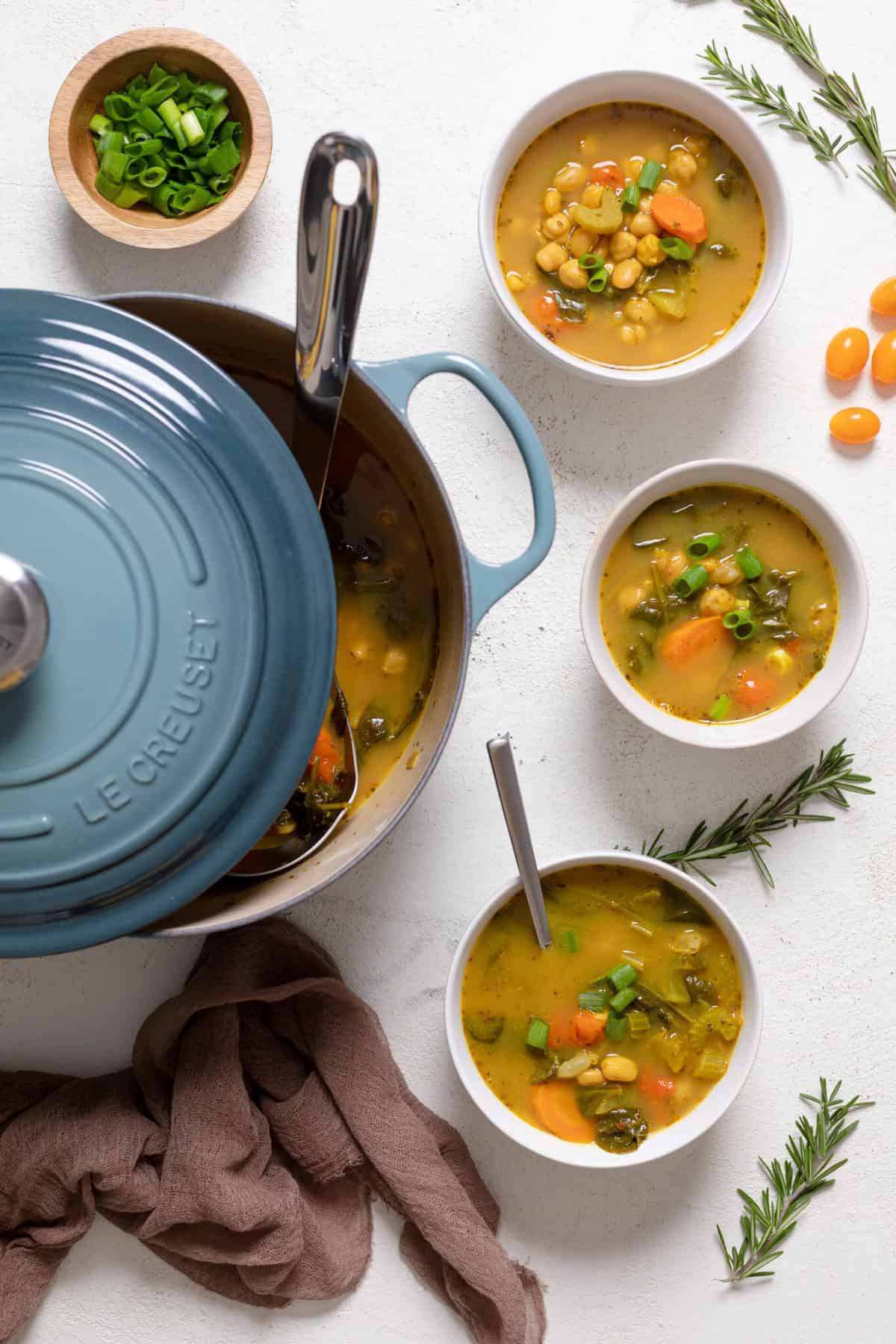 What You'll Love Most About This Soup.
It's super easy to make.
Simple set + forget it on the stovetop—-Simmer, Simmer, Simmer!
Done in just 30 minutes.
Only requires ONE pot.
Is completely dairy-free, vegan and gluten-free.
Super flavorful.
Perfect Fall + Winter vibes!
Jam-packed with nutrients.
Comes loaded with other great tasting veggies—like carrots, kale (or spinach), onions, and celery.
Did I mention that it's just TOO GOOD TO NOT GRAB A BOWL + ENJOY?
BUT WHY TURMERIC + BLACK PEPPER?
Turmeric is an amazing ingredient to incorporate into your dishes, especially in this soup. The health benefits that derive from this simple ingredient is so awesome. But if you're wondering, what is turmeric and where you can find it—no worries. Let's talk!
Turmeric is the spice that gives curry it's yellow hue. That's right—it creates that bright yellow color all on it's own.
In addition, the main ingredient in turmeric—curcumin is where all the incredible benefits lie. It has powerful inflammatory effects and is a very strong antioxidant.
The only downside is that curcumin is present at a very low rate in turmeric, therefore, the best way to gain the full benefits of this ingredient is to take supplements with high contents of curcumin, specifically. OK, so where does black pepper come in? Whelp, black pepper's main ingredient–piperine actually helps the body to absorb curcumin (by large increases) which gives us the full effect of health benefits at work. Piperine on it's own has it's own set of benefits which range from nausea relief to headaches to poor digestion.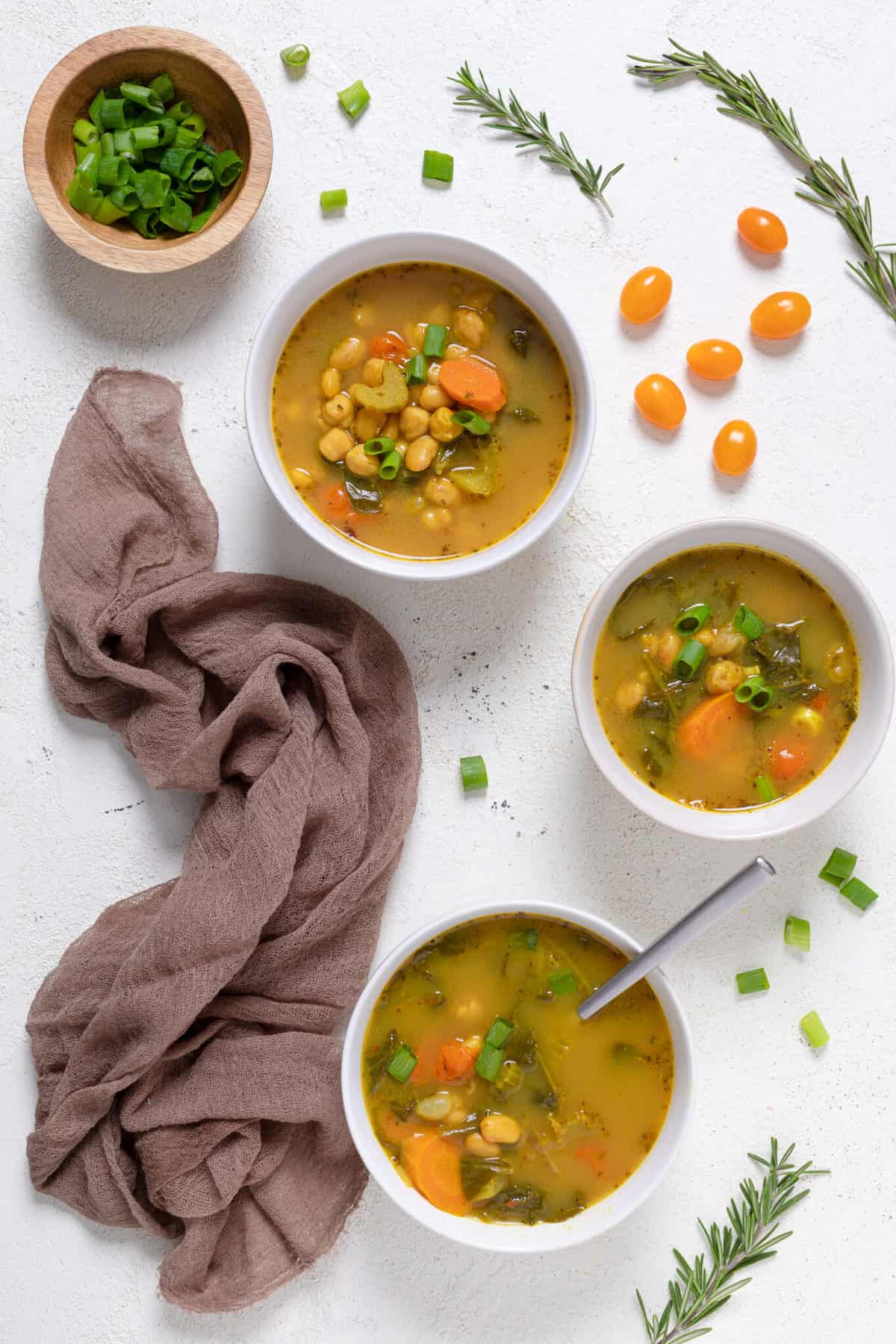 Lately, I've been doing a ton of planning, reflecting, and prepping for major changes not just for this blog, but personally as well.
2020 definitely is the start of a fresh decade for me and with that fresh new decade comes a lot of changes which will product growth in many ways. But if I'm honest, change is TOUGH! Man.
If you've ever gone through real changes, then you understand just how insane the process can feel at times. While our bodies/minds are capable of adapting and re-creating new ways to survive/thrive, it still doesn't negate the withdrawals that come with change.
BUT, I'm learning that both must exist for there to be real evidence of change. It's not a bad thing. So, I say this to encourage anyone who might be going through a personal change and/or detox, whether physically, mentally, or emotionally. Just hang in there.
Stick to that diet. Exercise consistently regardless. Let go of negativity. Walk on the journey to ultimate change, all the way through until you've reached your finish line. Of course, when it comes to Orchids + Sweet Tea, I've been planning on a few changes as well. Nothing that will change for the negative of course. All better ways of showcasing more delicious stuff! Haha.
Since we're coming around to our 3rd Year Anniversary for the blog, I'm super excited to see where the rest of this journey takes us all----a better Cannon and all.
WHY AM I SO OBSESSED WITH SOUP?
OK, back to soup now. I just love indulging in a good bowl of soup is my favorite pass time. I thoroughly enjoy eating all kinds of soup and this especially stems from my Jamaican background.
In the Jamaican culture, they often enjoy various soups such as chicken soup, stew peas soup, beef soup, chicken foot soup, fish soup, 'mannish water' (goat soup), pigeon peas soup, and the list goes on.
However, from time to time, I enjoy whipping together season-based soups that offer a burst of flavor that is undeniable, much like this Tuscan-inspired soup.
EVER WONDERED ABOUT OTHER GREAT HEALTHY GREENS OPTIONS?
When it comes to vegetables, there are so many benefits as we all know. While some veggies pack a greater punch when it comes to nutrients, we've curated a special list of our Our Top 12 Favorite Healthy Green Leafy Vegetables! Most of these are super popular while others are under utilized in many dishes. Lettuce Eat, Shall We?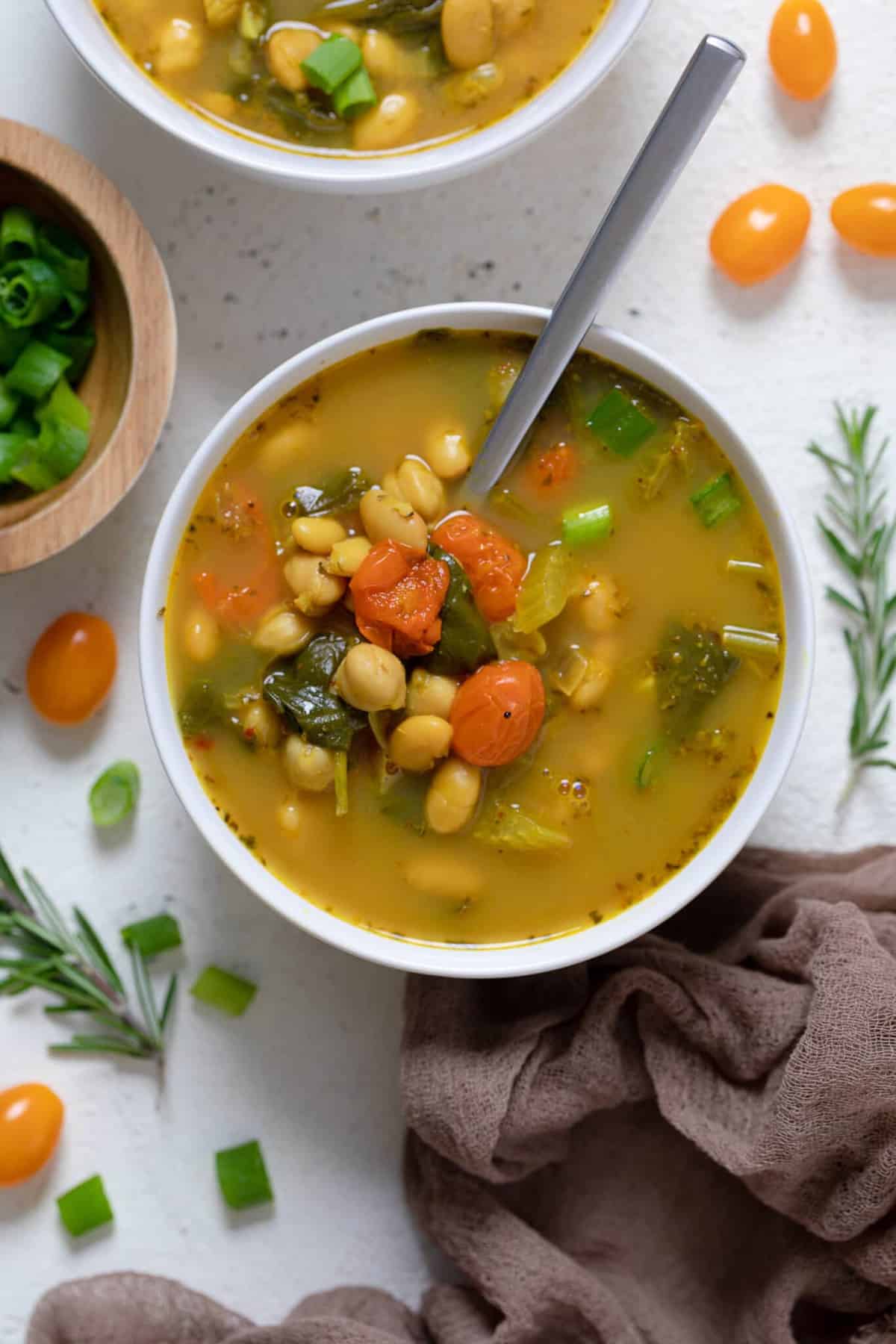 1

(15 oz.) can

chickpeas, drained + rinsed

1

(15 oz.) can

cannellini beans, drained and rinsed

3-4

cups

fresh kale, chopped 

(See Notes!)

2-3

garlic cloves, minced

1

medium

red onion, finely diced

1

large

carrot, peeled + diced

2

celery stalks, chopped

2

cups

grape tomatoes, halved

4

cups

organic vegetable broth

(I use Pacific Foods)

1

cup

fresh water

juice of ½ lemon

1-2

Tbsps

Extra virgin olive oil

(I use Primal Kitchen)
Spices + Herbs:
½

teaspoon

cumin

2

tsps

dried oregano

(I use McCormick Spice)

1

teaspoon

dried parsley

1

teaspoon

smoked paprika

1

teaspoon

black pepper

(I use McCormick Spice)

1

teaspoon

sea salt

(I use McCormick Spice)

2

tsps

dried basil

(I use McCormick Spice)

2

tsps

turmeric

1

teaspoon

red pepper flakes

(I use McCormick Spice)

2

tsps

garlic powder

(I use McCormick Spice)

2

Tbsps

Nutritional Yeast

1-2

bay leaves
Begin by adding 1-2 Tbsps of olive oil to a large dutch oven pot over medium-high heat.

Once heated, add the onions and garlic and Sauté for 1-2 minutes until translucent + fragrant. Add in celery, carrots, tomatoes, and spices + herbs, stirring everything together.

Add the vegetable broth, water, and juice of half a lemon, followed by the kale, chickpeas, cannellini beans and bay leaf, stirring until well combined and it begins to boil.

Once boiling, reduce the heat (after 5 minutes) and let simmer for 20-25 minutes or until veggies are tender.

Remove from heat and serve immediately into prepared bowl(s) and top additional nutritional yeast or diced jalapeños or chopped green onions. Enjoy with a homemade garlic bread or crackers!

Bon Appetit!
NUTRITIONAL YEAST: This is a highly nutritious vegan ingredient that has a ton of benefits. Jam packed with B-Vitamins, Folic Acid, Zinc, and Protein. Taste wise—nutritional yeast has a cheesy, nutty, savory, 'umami' flavor.

STORAGE: Leftovers can be stored in a tightly sealed container in the refrigerator for up to 3 days, for optimal freshness. Can also be frozen for 4-6 months. To defrost, simply place soup in the refrigerator overnight or at room temperature before re-heating on the stove top to serve. TURMERIC: While adding turmeric is optional, it definitely has benefits: powerful medicinal properties, natural anti-inflammatory ingredient, increases antioxidant activity in the body, and more. KALE: If preferred, you can always substitute Kale with Spinach, Bok Choy, or Collard Greens. SPICES/HERBS: If desired, you can reduce the amounts slightly. Please know that this recipe is bold in spice/herb flavor, so feel free to adjust based on your tastebuds.

HOMEMADE VEGAN GARLIC BREAD: INGREDIENTS: 1 full loaf of French Bread, 3-4 Tbsps vegan butter (melted), 1-2 Tbsps Extra virgin olive oil, 2 tablespoon chopped parsley (can also use dried parsley), pinch of sea salt, pinch of black pepper, 1-2 Tbsps mince garlic. DIRECTIONS: Preheat oven to 400 degrees Fahrenheit and line a baking sheet with parchment paper. Place sliced French Bread onto baking sheet (spaced out evenly) and add 1 tablespoon of garlic mixture on each sliced bread. Spread evenly using the spoon. Once all breads are topped, place baking sheet in the oven and bake for 10-15, or until full crisp and brown. Remove from oven and enjoy.
Vegan Tuscan Kale Chickpea Soup.