If you're look for a creamy soup with bold flavor, this Cajun Pumpkin Tortellini Soup is just the thing that you need. This recipe is the epitome of comfort, ease, and a quick addition to any weeknight or weekend meal for the entire family.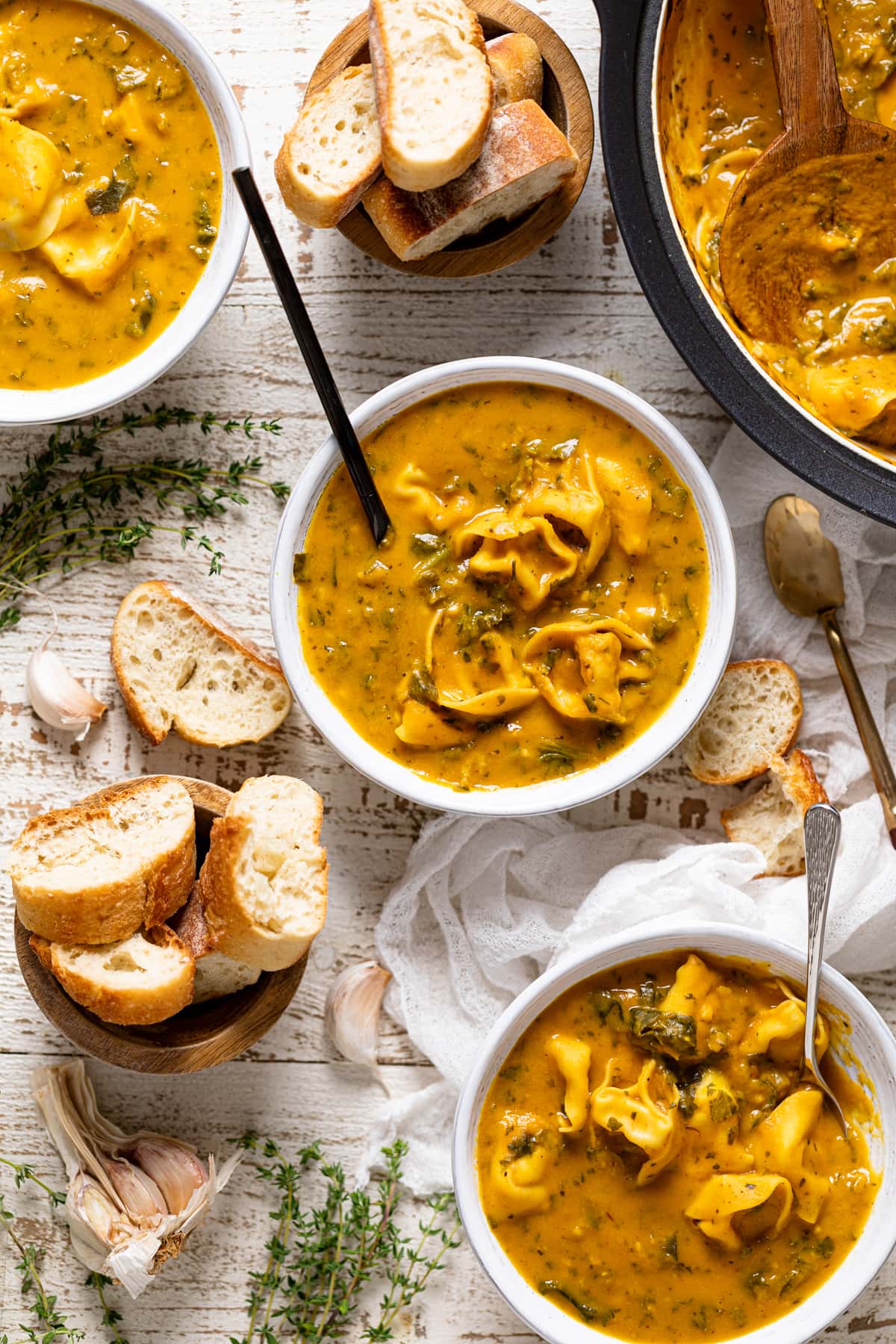 Whenever it's officially Fall, I'm always excited to get on the pumpkin spice or all things pumpkin train of trends. I know----it can feel pretty redundant year after year, however, I've been stretching my vision for adding pumpkin to my meals and this soup is one of my most proud soup recipes to date.
If you've been followingOrchids + Sweet Tea for some time, then you're probably already aware of my obsession with soup because of my childhood and coming from a Jamaican background. So, of course, I might be biased with my full rave for this soup. Haha.
Then again......you can try this one for yourself so that you can understand why I'm so excited to share it.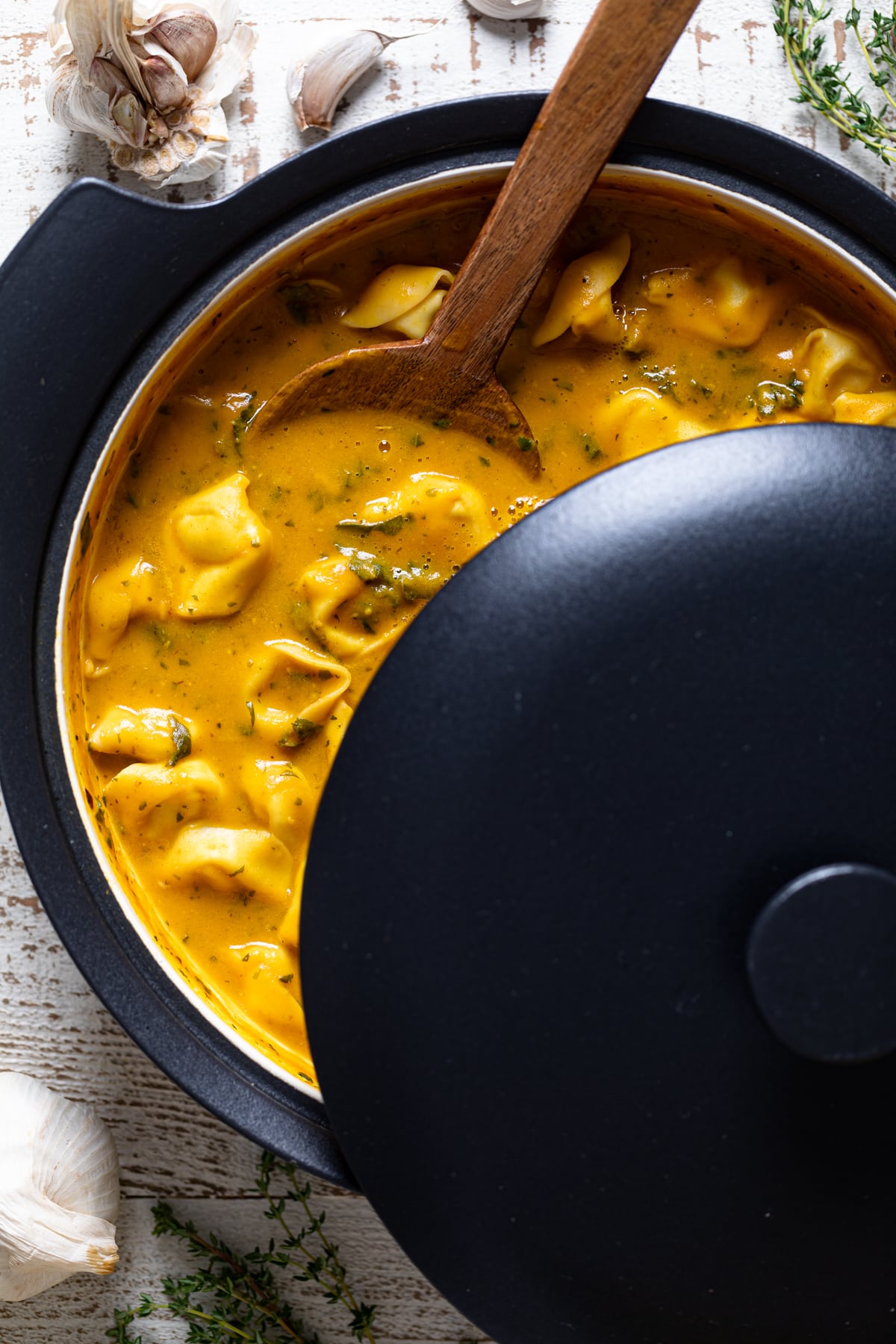 Why Tortellini Pasta?
OK, so I've become a big fan of tortellini pasta, especially in soups. While I do love a good creamy tortellini pasta dish, there's just something about this pasta that adds a nice meatiness to meatless soups. The awesome thing is that you don't always have to use cheese-filled tortellini pasta because there are so many other options.
BUT on a personal note, I've been struggling with balance + stability lately. If I'm honest, things have been pretty busy this year (such a good thing---i.e. cookbook creation, launch, brand partnerships, moving, etc.), however, with the highs there have been lows/challenges that have been present.
While I know that this is a part of life, I think that managing so many things including therapy and getting myself "thriving" both inwardly and outwardly has been EXHAUSTING.
Unfortunately, no one ever talks about the cost of success, regardless of whatever level you're on and so I feel like so many people struggle with managing it all once it's in process----leading them to either burnout, revert back to their past, or spiral into not so great behaviors.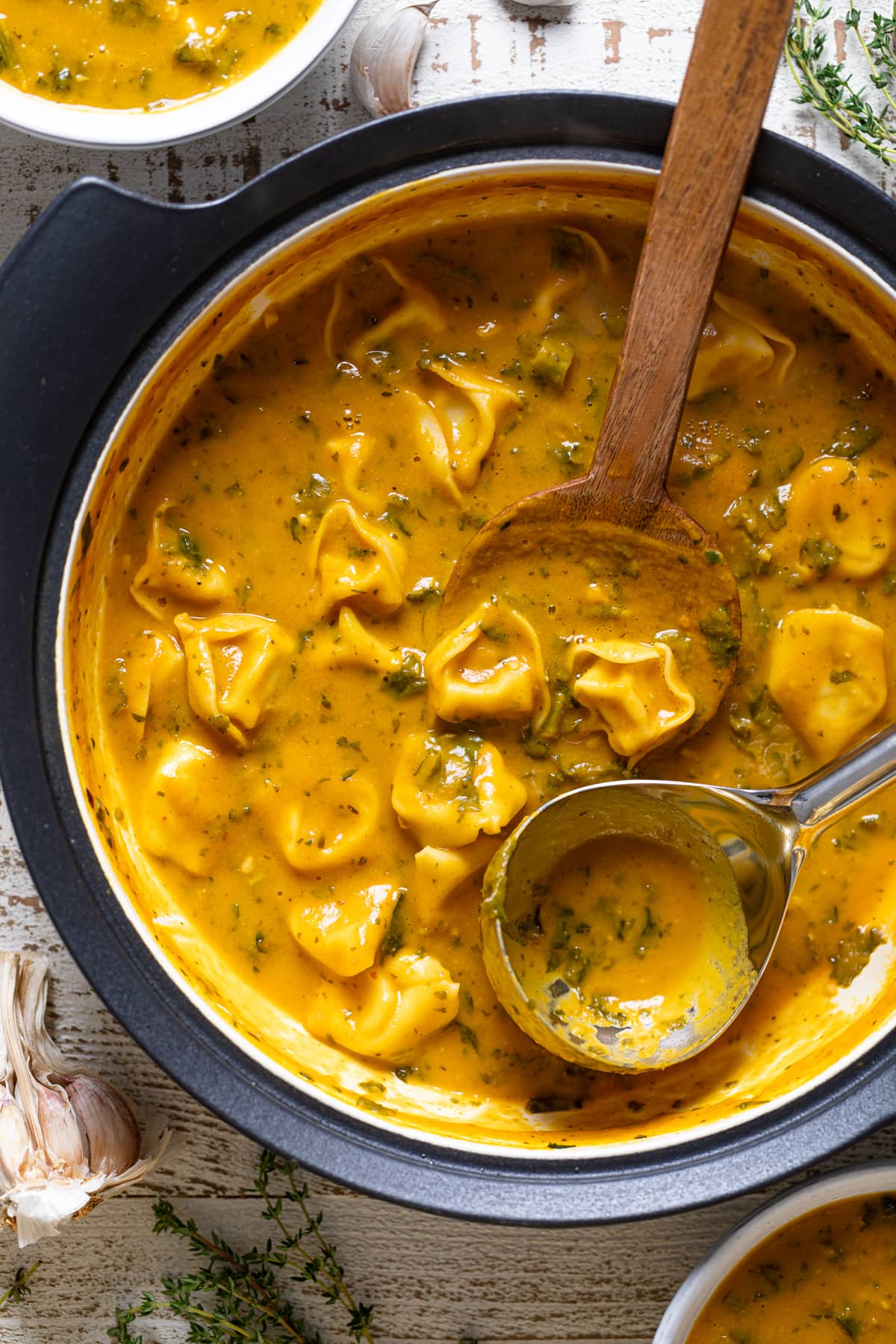 But one thing that I've learned along Life's journey is that once you have the opportunity to take on a new day, you have a purpose to fulfill. So, we can't waste time being plain ole' tired.
Granted, self-care is super important, so do give your body the TLC it needs, BUT once you've refueled, just know that it's time to get back out there AGAIN and overcome the effects of our "feelings" based on the work, process, and surroundings.
Hang in there, my friend! And if you need some inspiration for Wellness ideas, check out 9 Ways to Manage Stress + Anxiety and When Life Gives You Lemons, Make Some Sweet Tea, andMy Road to Healing + Wholeness.
Ingredients in Creamy Cajun Pumpkin Tortellini Soup
It's surprising that this creamy tortellini soup has such a short and sweet ingredient list, when you consider how flavor-packed it is. This is a great pantry recipe to whip up on a weeknight with the following ingredients:
Cheese tortellini. Pick these up in the refrigerated or freezer section of the grocery store.
Olive oil. You can also use Grapeseed oil or coconut oil as well.
Garlic. You'll want two whole bulbs for the rich garlic flavor in this soup.
Chicken stock. You can also use veggie stock to keep this dish vegetarian.
Coconut Milk. You can use either full-fat canned coconut milk or cream.
Kale. Any kind of kale will work!
Pumpkin. I use 100% organic pumpkin puree in the can, NOT pie filling. There's a difference!
Cajun seasoning. Use store-bought or homemade seasoning blend.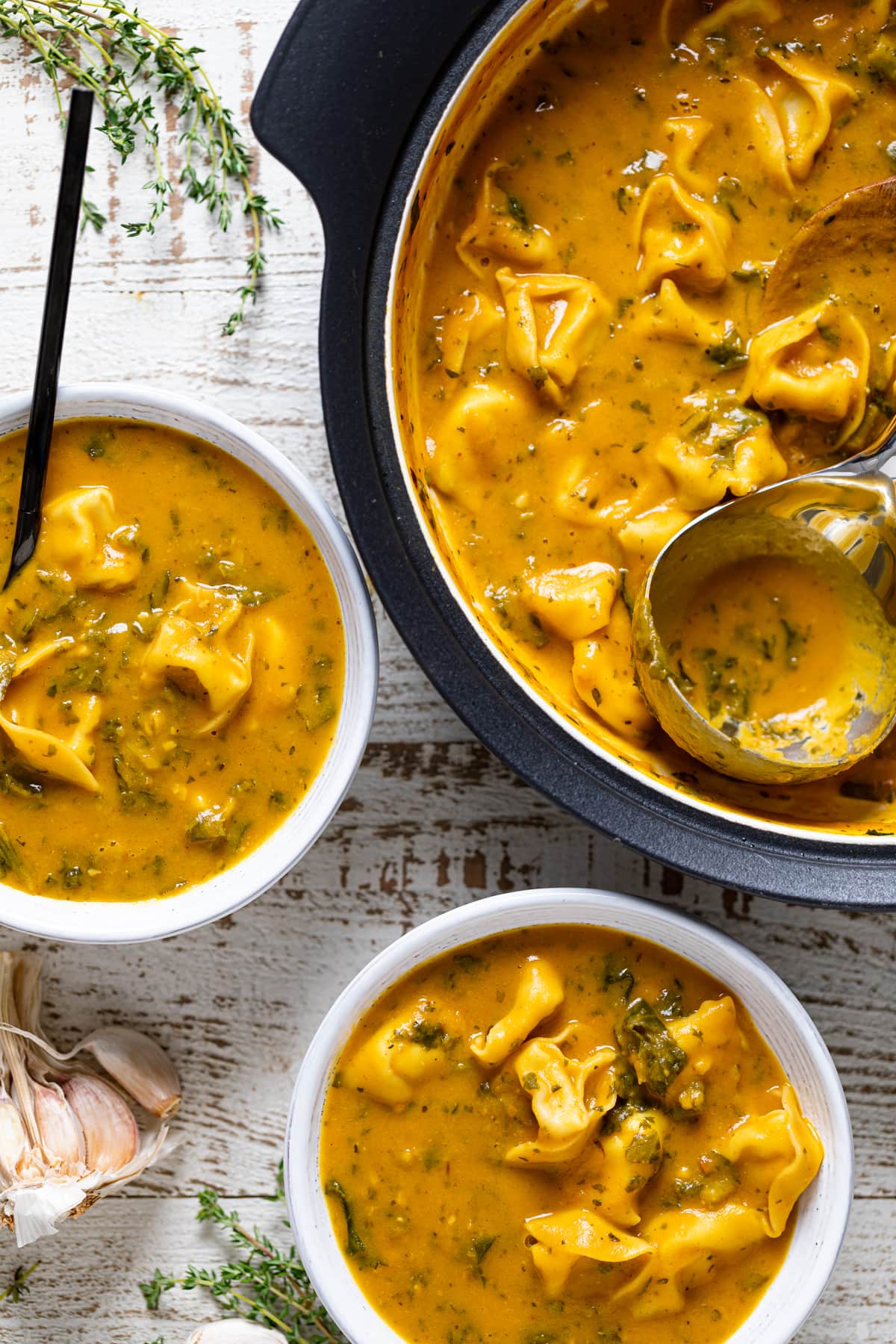 This Cajun Pumpkin Tortellini soup also stores well, which means you can make a big batch and be set for healthy lunches all week long. There's no going wrong when you have creamy Cajun Pumpkin Tortellini soup in your back pocket.
How to Make Homemade Cajun Seasoning.
Start this recipe by making the simple Cajun seasoning. This is a spice blend you'll want to keep on hand to season everything from One-Pot Cajun Pumpkin Alfredo Pasta to Cajun Sweet Potato Grits with Chickpeas. The ingredients are simple and you probably already have them at home.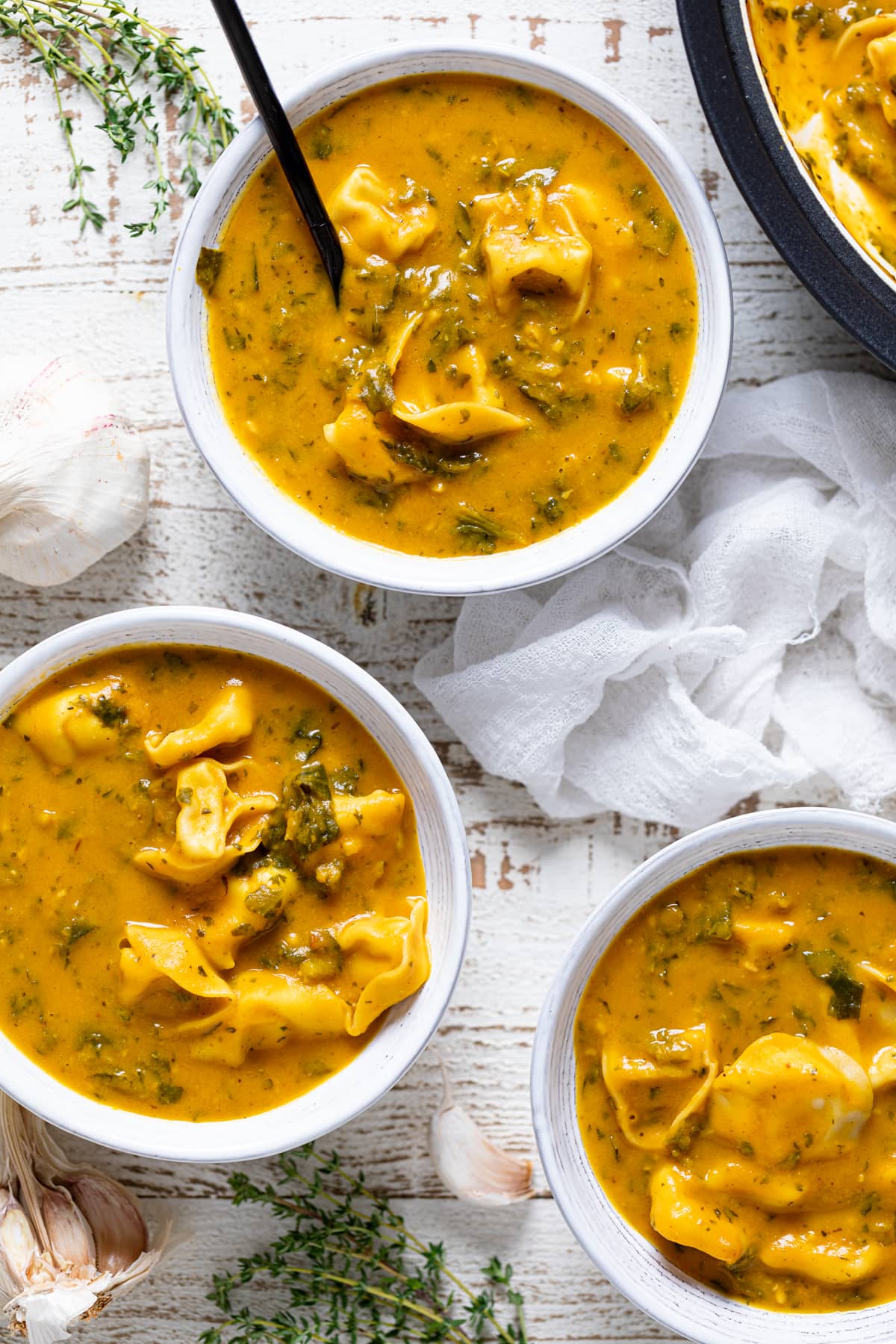 CAJUN SEASONING BLEND
To make your seasoning, combine:
Garlic powder
Italian seasoning
Smoked paprika
Sea salt
Black pepper
Cayenne
Dried thyme
Onion powder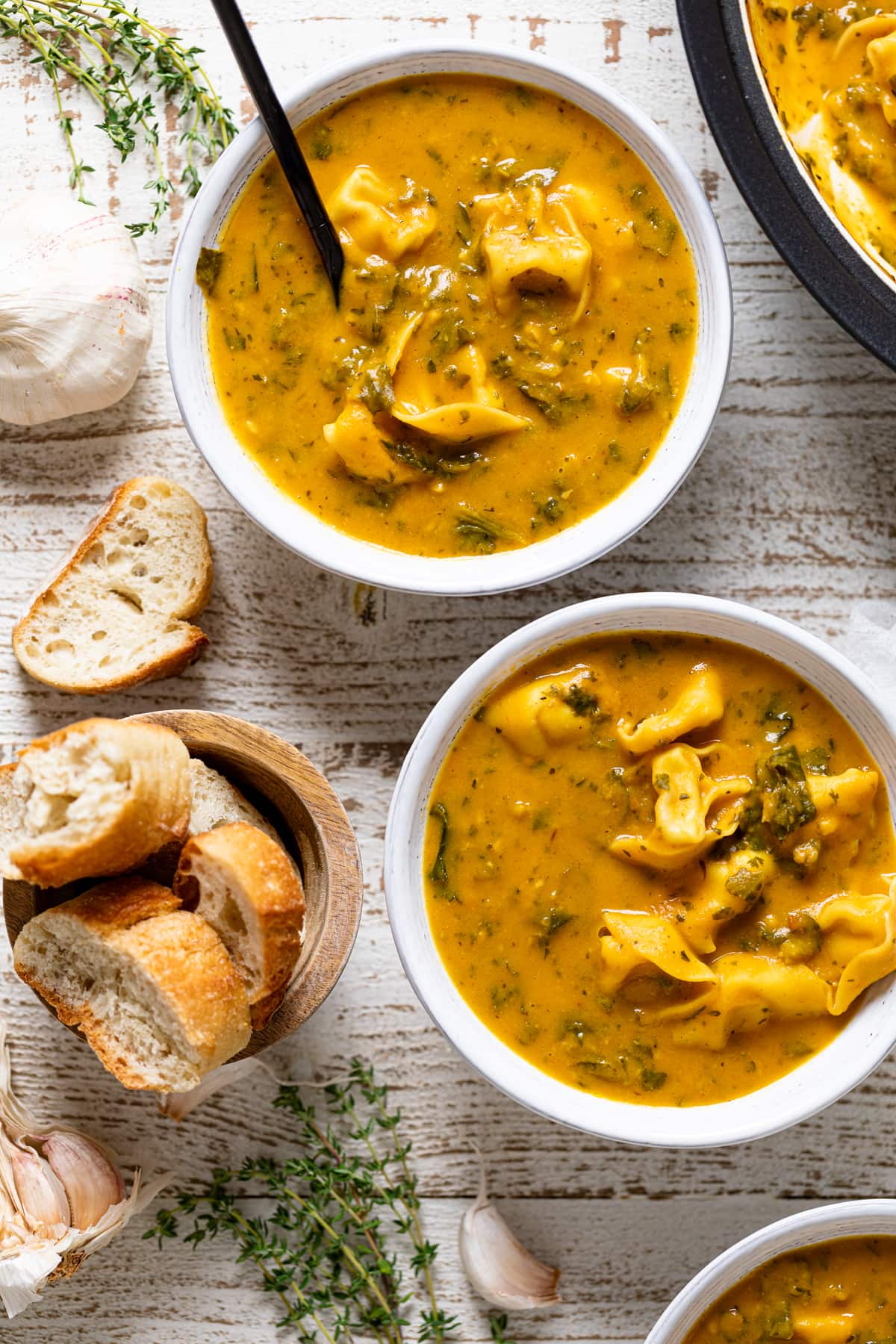 Together, these herbs and spices strike the perfect balance of savory and fresh with a bit of smoky heat.
Serving & Topping Suggestions
This Creamy Cajun Pumpkin Tortellini soup is delicious all on its own. I like to serve it with a big piece of crusty French bread to soak up the rich roasted garlic flavors. However, if you want to add a bit of extra flavor, crunch, and color, these are my favorite topping ideas:
Crispy bacon. Of course, this is for the meat eater. It adds extra smokiness and savory flavor to every bite.
Roasted chickpeas. An addicting snack, roasted chickpeas are perfectly crisp and almost like croutons on top of your soup.
Dried parsley. To add an extra pop of green and fresh flavor on top. You can also use fresh parsley if you like.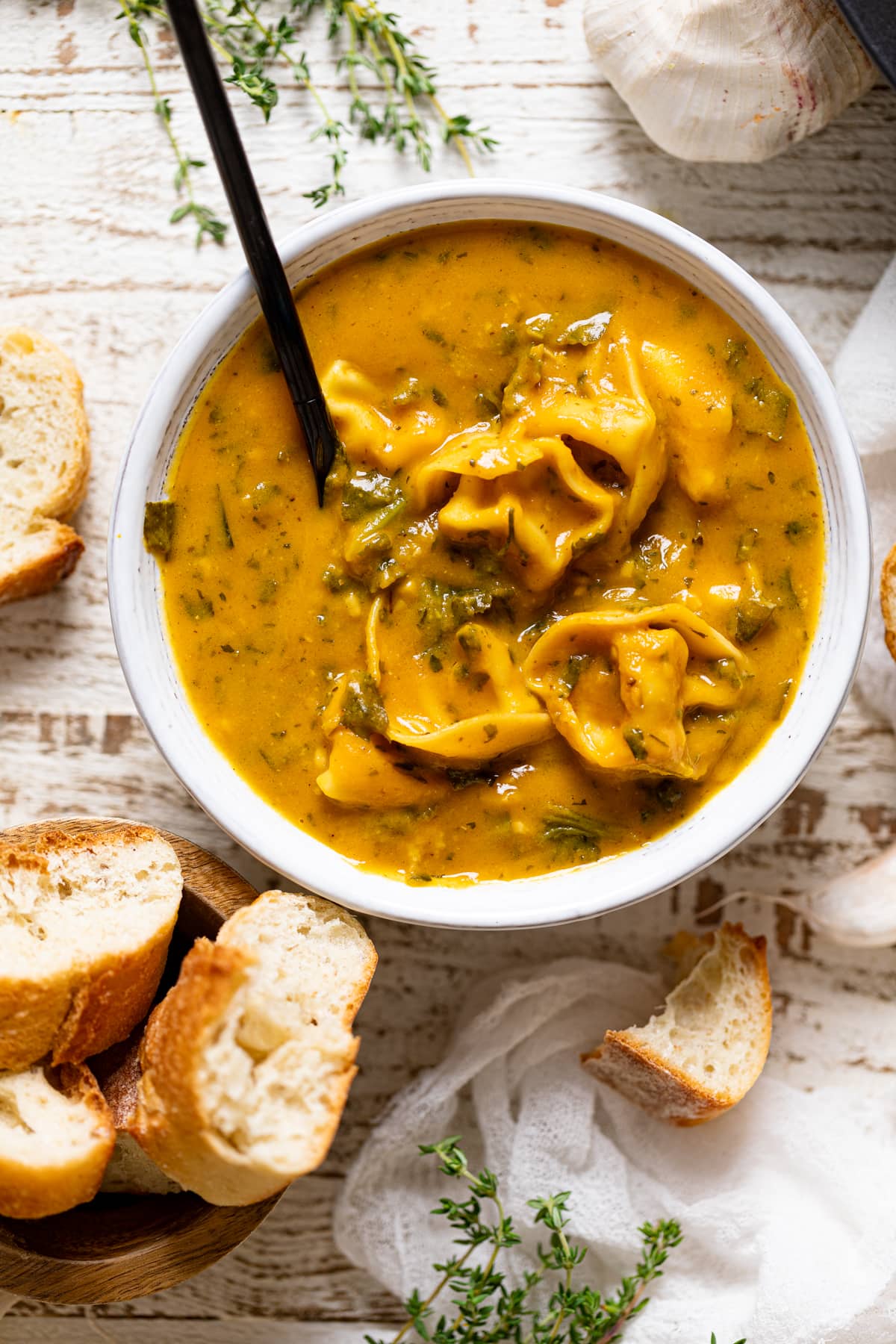 Storing Leftovers
If you end up with leftover cajun pumpkin tortellini soup, store them in an airtight container in the refrigerator for up to 3 days.
You can also free the soup for 4 to 6 months. To defrost, simply place soup in the refrigerator overnight or at room temperature before reheating on the stovetop to serve.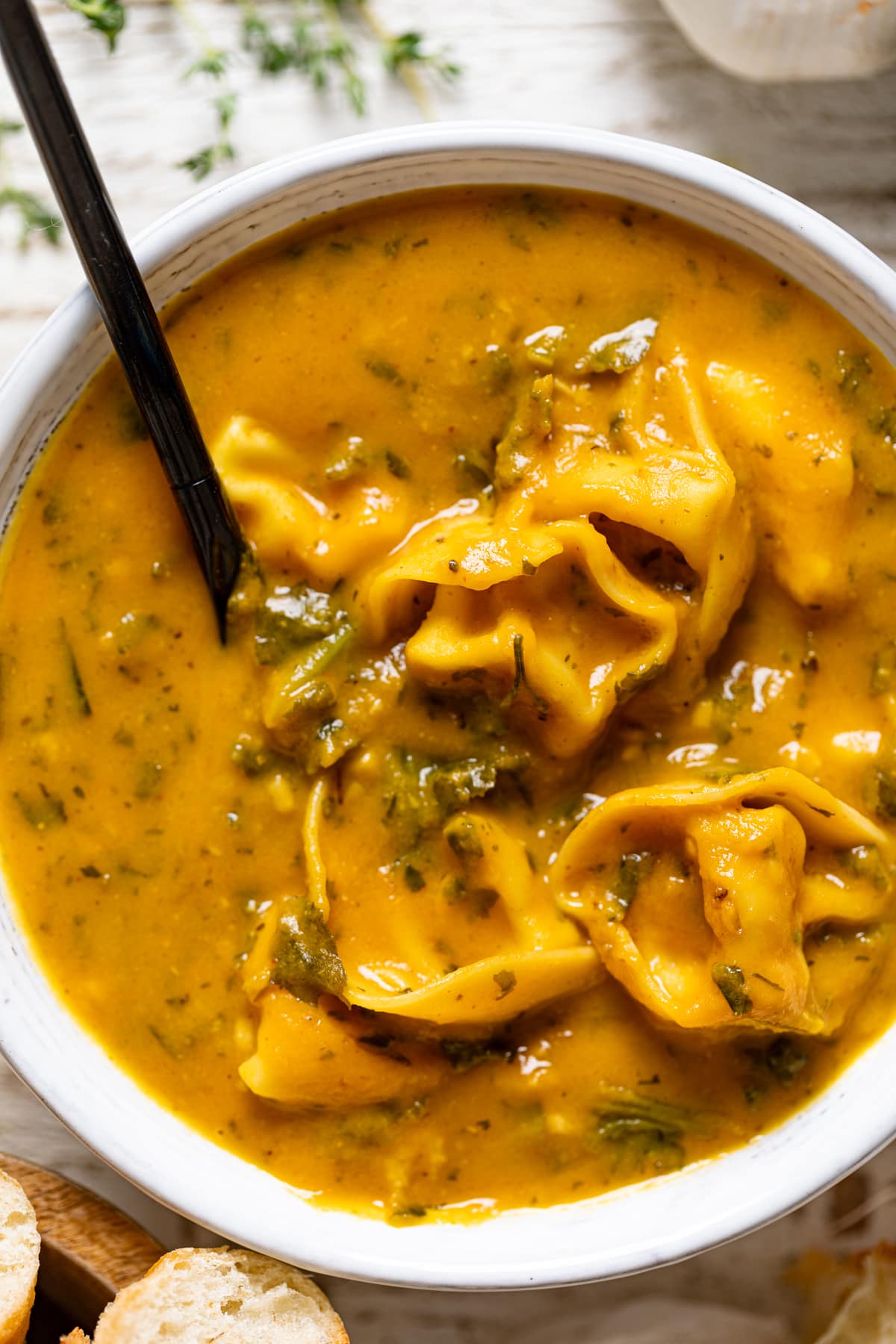 More Must-Try Soup Recipes for this Season
Once you've mastered this creamy Cajun Pumpkin Tortellini soup, add these other soup recipes to your list next:
Creamy Roasted Garlic Cauliflower Chickpea Soup
Vegan Tuscan Kale Chickpea Soup
Fall Detox Sweet Potato Veggie Soup
Easy Roasted Butternut Squash Soup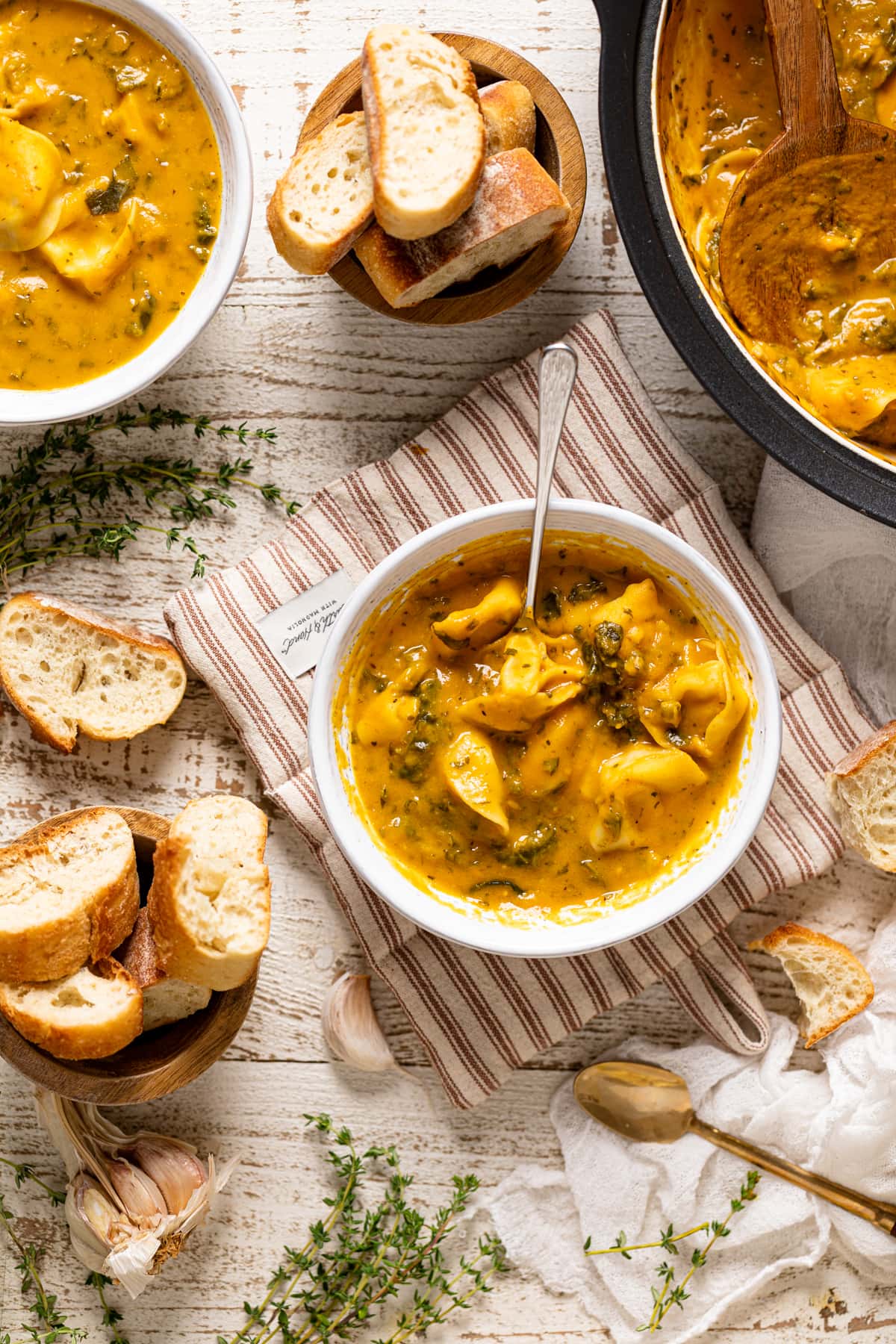 MADE OUR RECIPE(S)?
If you make this Creamy Cajun Pumpkin Tortellini Soup or any other recipe from us, be sure to tag us on Instagram at #Orchidsandsweettea so that we can share the love!
1

(8 oz.) package

organic cheese tortellini

1

tablespoon

Extra Virgin Olive Oil

3

garlic cloves, minced

2

cups

organic kale, de-stemmed + chopped

3

cups

organic chicken stock

(You can also use Veggie stock)

2

cups

organic 100% pumpkin puree

(NOT pie filling!)

1

(14 oz.) can

full-fat coconut cream/milk

2

Tbsps

Cajun seasoning, store-bought or homemade

(See Notes!)
Begin by cooking tortellini pasta according to the directions of the packaging (about 3-4 minutes) and drain. Set aside.

In a medium-size pot over medium high-heat, add olive oil. Once heated, add minced garlic and sauté until translucent + fragrant, about 1-2 minutes. Add cajun seasoning and mix together until combined.

Add in the chicken stock, coconut cream/milk, and pumpkin puree, stirring everything together until combined and smooth.

Let everything boil for 1-2 minutes and then reduce heat to low to allow a simmer. Add in the kale and cooked tortellini, stirring to combine. Continue to simmer for another 5 minutes.

At this point, the soup should be thickened, but if it's not to your desired consistency, add a bit of grated parmesan cheese and continue to stir.

Remove from heat and serve immediately into prepared bowl(s) and enjoy with a side of bread, if desired.

Bon Appetit!
STORAGE: Leftovers can be stored in a tightly sealed container in the refrigerator for 2-3 days, for optimal freshness. Can also be frozen for 4-6 months. To defrost, simply place soup in the refrigerator overnight or at room temperature before re-heating on the stove top to serve.
GREENS: If preferred, you can always add greens other than Kale, like Spinach or Collard Greens to soup for more richness.
COCONUT CREAM:I love using canned coconut cream from Thai Kitchen, however, you can always use canned coconut milk as well and refrigerate it overnight to cream more creaminess. 
HOMEMADE CAJUN SEASONING: To make your own cajun blend, see my recipe here.
Calories:
647
kcal
|
Carbohydrates:
51
g
|
Protein:
19
g
|
Fat:
44
g
|
Saturated Fat:
32
g
|
Polyunsaturated Fat:
2
g
|
Monounsaturated Fat:
5
g
|
Cholesterol:
27
mg
|
Sodium:
534
mg
|
Potassium:
951
mg
|
Fiber:
10
g
|
Sugar:
9
g
|
Vitamin A:
24141
IU
|
Vitamin C:
40
mg
|
Calcium:
225
mg
|
Iron:
7
mg
Creamy Cajun Pumpkin Tortellini Soup.