If you're look for a creamy soup with bold flavor, this Cajun Pumpkin Tortellini Soup is just the thing that you need. This recipe is the epitome of comfort, ease, and a quick addition to any weeknight or weekend meal for the entire family. Vegan + Gluten-Free options.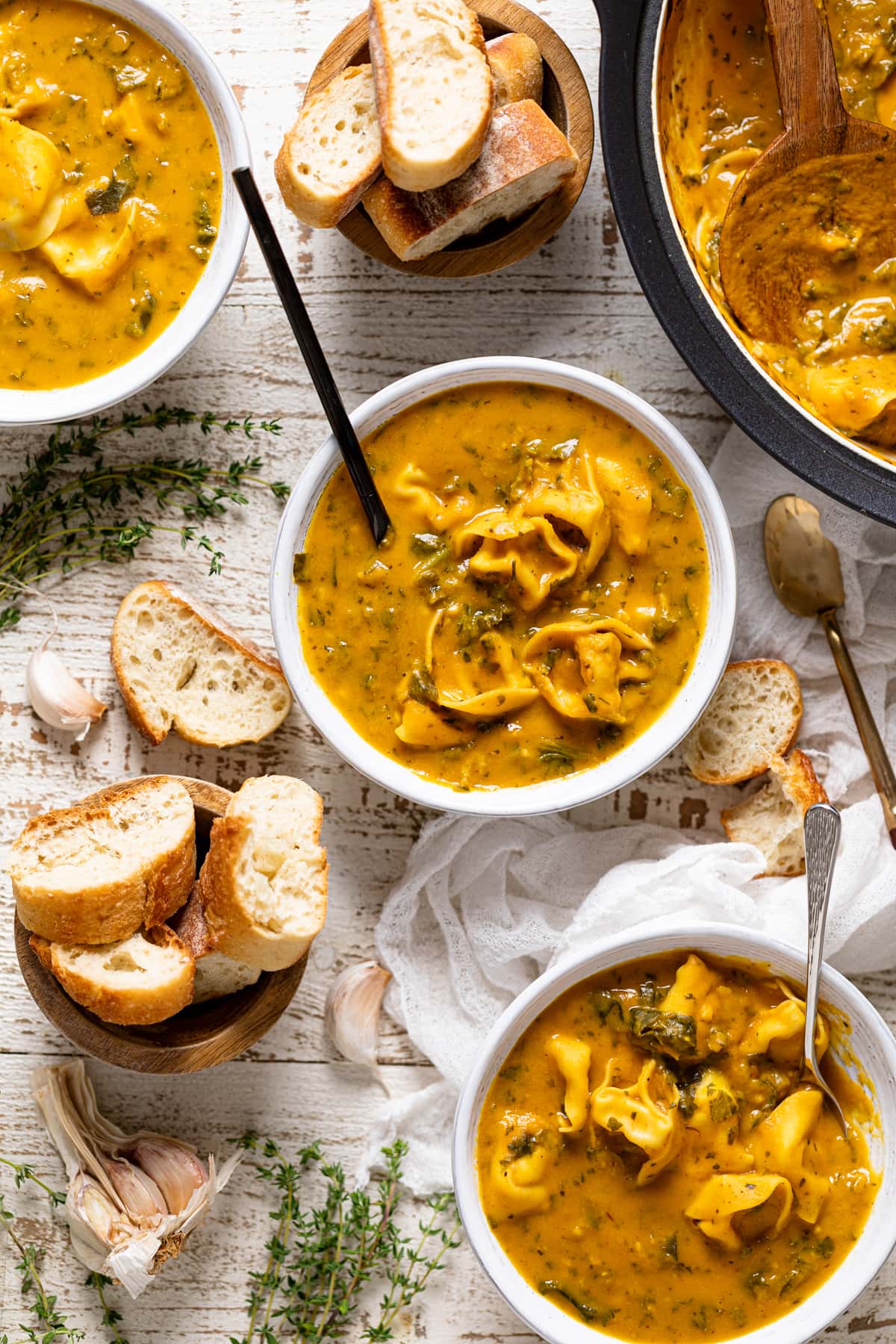 Whenever it's officially Fall, I'm always excited to get on the pumpkin spice or all things pumpkin train of trends. I know----it can feel pretty redundant year after year, however, I've been stretching my vision for adding pumpkin to my meals and this Creamy Cajun Pumpkin Tortellini Soup is one of my most proud soup recipes to date.
If you've been following Orchids + Sweet Tea for some time, then you're probably already aware of my obsession with soup because of my childhood and coming from a Jamaican background. So, of course, I might be biased with my full rave for this soup. Haha. But, if you're loving the idea of tortellini incorporated in soup, then you're sure to love this Creamy Tuscan Tortellini Soup, Creamy Roasted Garlic Tortellini Soup, and Creamy Lemon Broccoli Tortellini Soup. Then again......you can try this one for yourself so that you can understand why I'm so excited to share it.
This Creamy Tortellini Soup is super easy to make, only uses a few staple ingredients, ultra creamy, velvety, flavorful. Plus, it comes with a vegan + gluten-free option.
What is Tortellini?
Basically, tortellini are pasta which originated in the Italian region. Traditionally, they come stuffed with a mix of meat, cheese (ricotta or Parmigiano Reggiano), egg, and nutmeg, which is then served in capon broth.  
Unlike ravioli which comes square shaped and stuffed, tortellini are ring or navel-shaped (visually similar to a tiny wonton or croissant).
How Long to Cook Tortellini
Like with many other types of pasta, you bring a pot of water to a boil, add the tortellini along with olive oil or salt, and let it boil for 4-9 minutes, depending on the packaging and brand----shorter than most other pastas.
General rule of thumb: 2 to 3 minutes for refrigerated (soft) tortellini, 3 to 5 minutes for frozen tortellini, and 10 to 11 minutes for dried tortellini. Signs of doneness are when the pasta floats to the surface of the water, and has an internal temperature of 165 degrees.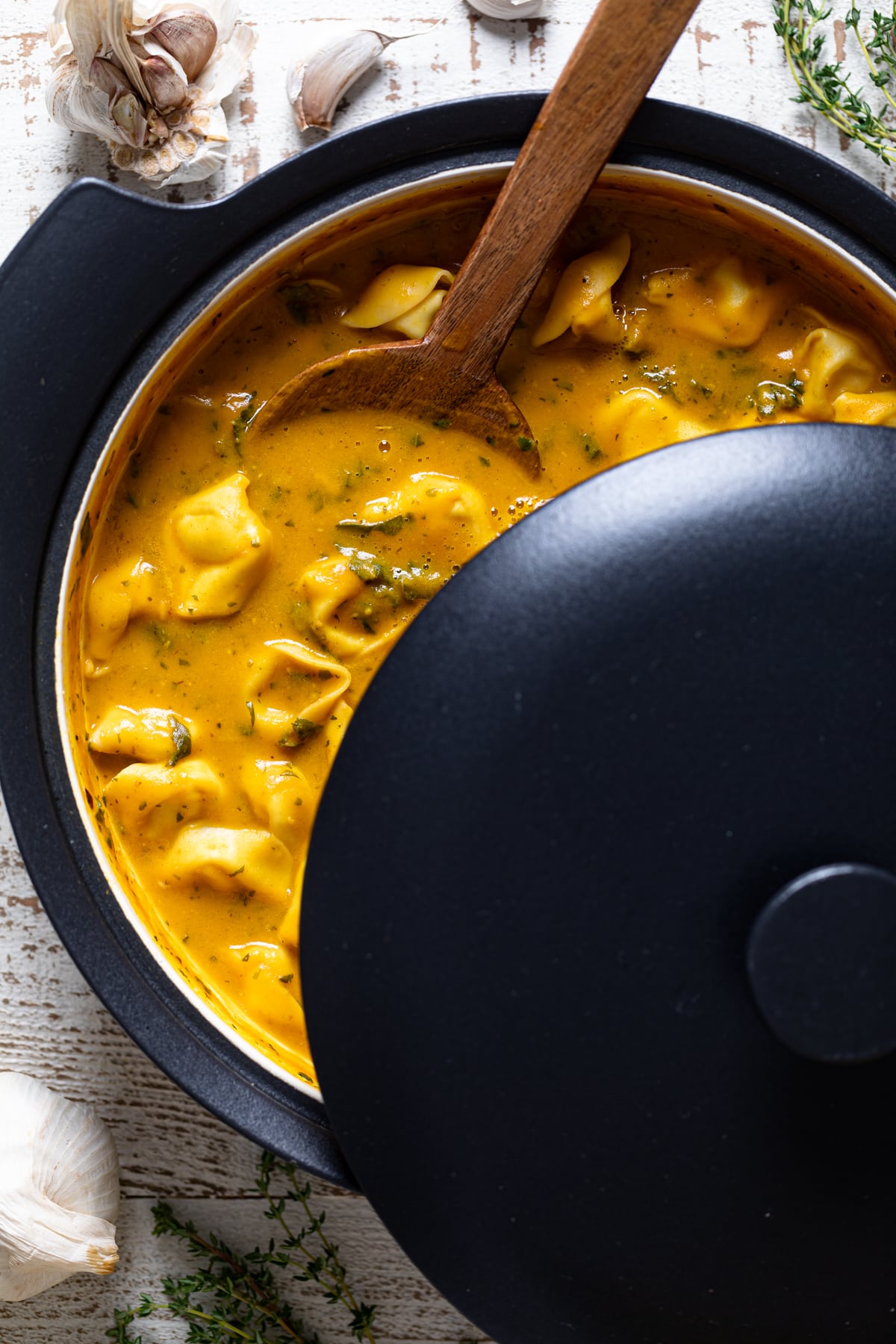 Homemade Tortellini vs. Store-bought
Usually, I like purchasing organic tortellini via Whole Foods, which has a great option by Artisola. However, making your own tortellini much like ravioli is something feasible as well!
Tortellini is generally made with either round pasta wrappers or square pasta wrappers. In either case, you'll just be sure to roll your dough as thin as possible. Overall, like most stuffed pasta, try to not over-stuff the centers, always keep the pasta dough covered to avoid drying, use ample flour, and take your time when assembling----al of which helps to make the perfect tortellini.
Regardless of whether you use homemade or not, this creamy soup recipe is sure to come out amazingly!
How to Make Creamy Cajun Pumpkin Tortellini Soup
To make this Creamy Cajun Pumpkin Tortellini Soup, you'll basically dive right into the recipe by sautéing the garlic over the stovetop in a dutch oven. Then you'll add in the cajun seasonings, and chicken stock, stirring until combined. Next, add in the pumpkin puree followed by the tortellini pasta along with the remaining ingredients go into the pot for the soup. Let it simmer a bit more and wallah! Nice creamy results.
Ingredients in Creamy Cajun Pumpkin Tortellini Soup
It's surprising that this creamy tortellini soup has such a short and sweet ingredient list, when you consider how flavor-packed it is. This is a great pantry recipe to whip up on a weeknight with the following ingredients:
Cheese tortellini. Pick these up in the refrigerated or freezer section of the grocery store.
Olive oil. You can also use Grapeseed oil or coconut oil as well.
Garlic. You'll want two whole bulbs for the rich garlic flavor in this soup.
Vegetable stock. You can also use chicken stock or chicken bone broth to make the dish healthier.
Coconut Milk. You can use either full-fat canned coconut milk or cream.
Kale. Any kind of kale will work!
Pumpkin. I use 100% organic pumpkin puree in the can, NOT pie filling. There's a difference! See further below for homemade puree option.
Cajun seasoning. Use store-bought or homemade seasoning blend.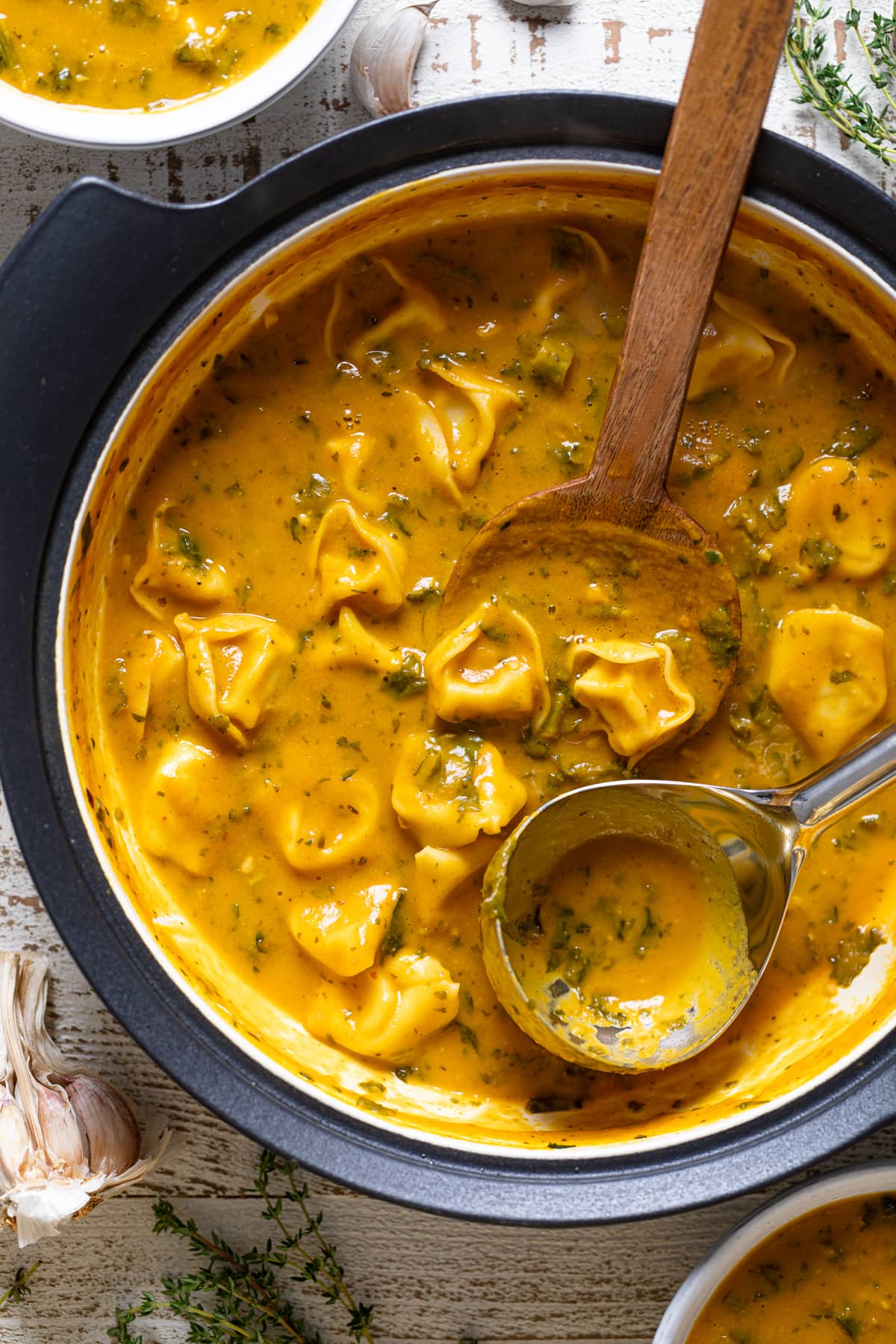 This Pumpkin Tortellini soup also stores well, which means you can make a big batch and be set for healthy lunches all week long. There's no going wrong when you have creamy Cajun Pumpkin Tortellini soup in your back pocket.
REASONS WHY YOU'LL LOVE THIS PUMPKIN TORTELLINI SOUP!
First and foremost, the flavors in this simple and Creamy Cajun Pumpkin Tortellini Soup is enough to convince anyone, however, here are a few more reasons why you'll love this soup for dinner:
It's absolutely delicious—-creamy + velvety. I always try to ensure that my creamy soups are just that----creamy! So, using cream-based ingredients like a high-quality coconut milk helps to achieve this best!
Super easy to make and quick! I literally love making the most delicious weeknight meals that don't take a ton of time and effort and this recipe is it! Plus, no crazy clean-up! Can we say–Everything in a pot?
Full of flavor + well seasoned! (The best reason). This by far is one of my biggest reasons for making this soup. I enjoy adding cajun seasonings to create a bold flavor, kick of heat profile that works.
Perfect for any time of day—Dinner, Lunch, Breakfast (if that's your thing), whatever! Most of all, this is my biggest plus! I love soup during anytime of the day, especially whenever there are leftovers. The good thing is that this soup reheats nicely once done over the stovetop---slow and warmed through and you can add a bit of coconut milk or veggie stock if it's not creamy enough.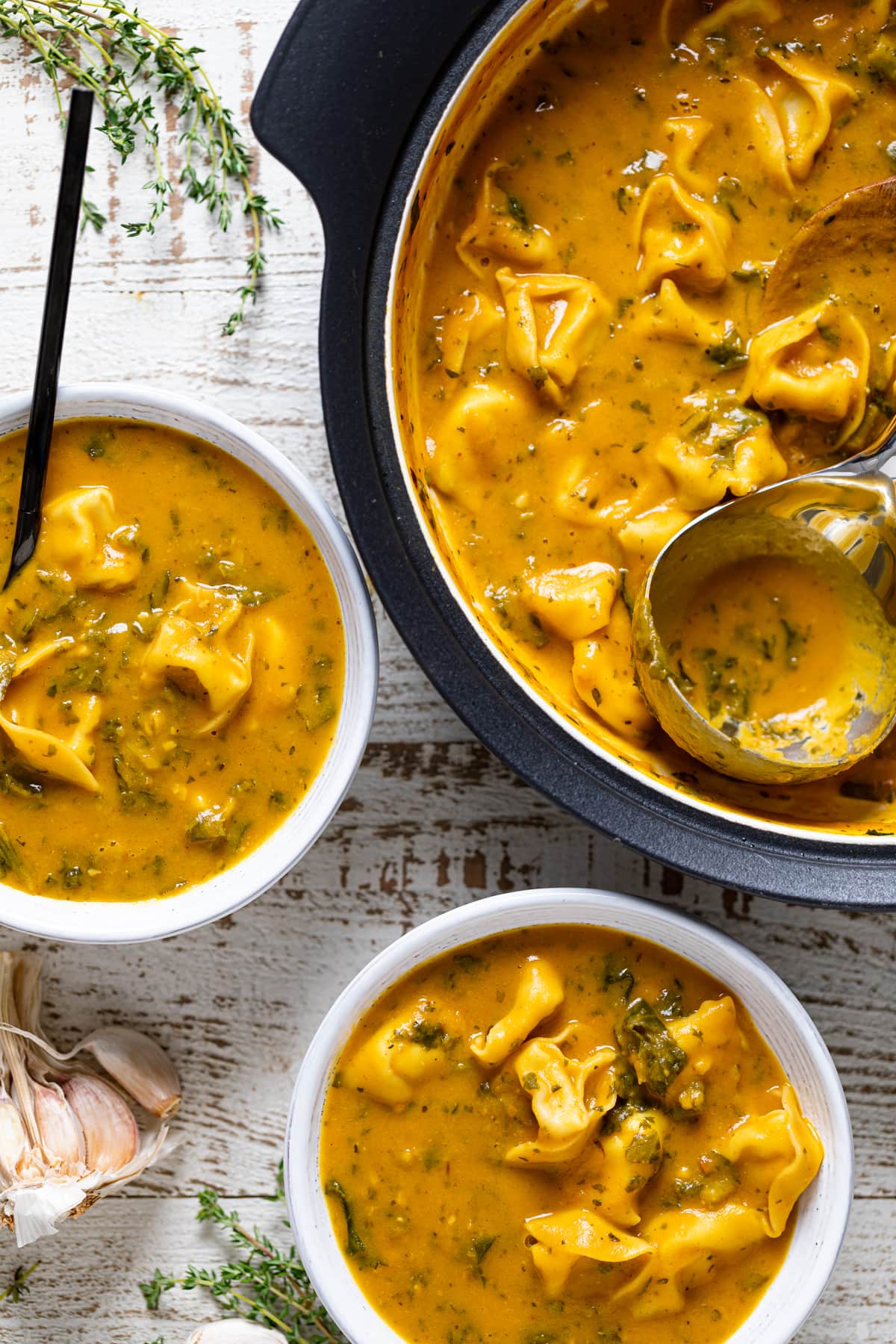 How to Make Your Own Pumpkin Puree
If you're thinking about making your own pumpkin puree instead of using a store-bought canned version, then you'll be happy to know that it is rather simple:
Step 1: Cut your pumpkins in half and scoop out the seeds. Be sure to save the seeds for another time because you can definitely use those!
Step 2: Feel free to cube the pumpkins into medium-large chunks and then place them unto a baking sheet lined with parchment paper. NOTE: ensure that the skin of pumpkin are peeled off at this point.
Step 3: Always season your pumpkin pieces (salt, black pepper, + smoked paprika) and lightly grease with olive oil until coated.
Step 4: Roast in the oven at 375 degrees Fahrenheit for about 40-45 minutes or until the edges are golden and they become super tender once tested with a fork or knife.
Step 5: Using a food processor or blender, puree your pumpkin along with water or veggie stock, until smooth. You can either use this immediately in whatever pumpkin recipe you'd like, store it in the freezer for later use.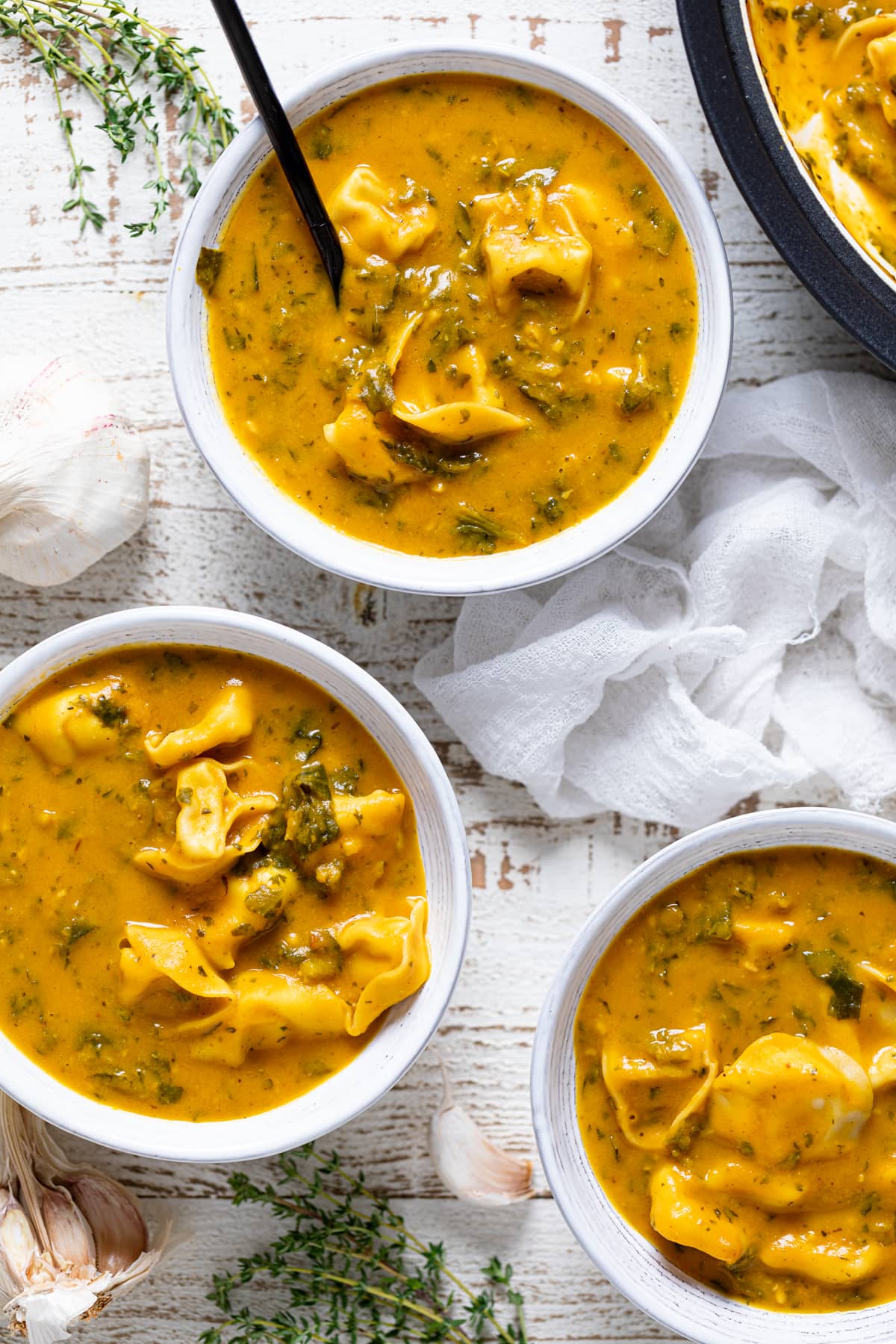 CAJUN SEASONING BLEND
To make your own homemade seasoning blend, combine:
Garlic powder
Italian seasoning
Smoked paprika
Sea salt
Black pepper
Cayenne
Dried thyme
Onion powder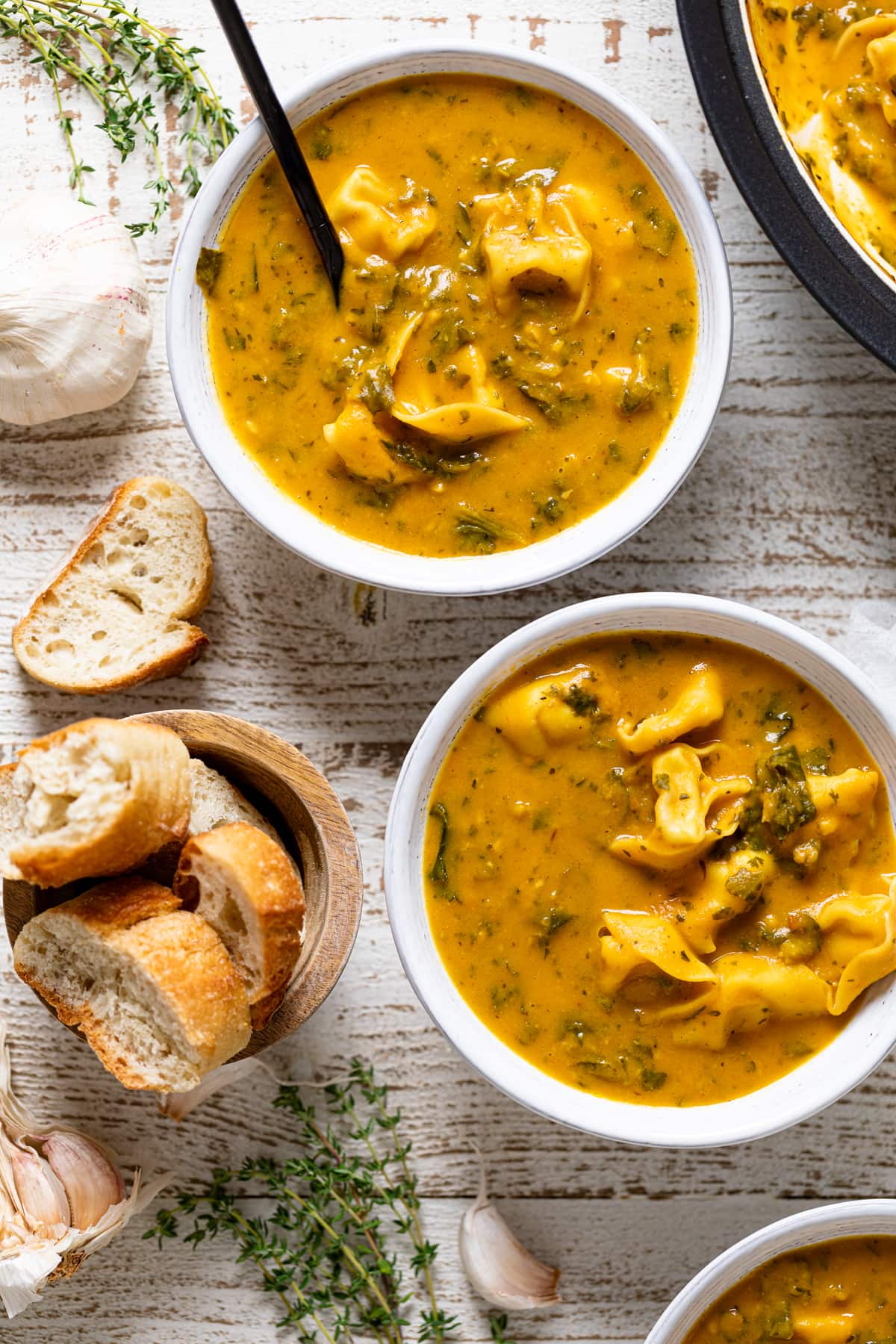 Together, these herbs and spices strike the perfect balance of savory and fresh with a bit of smoky heat.
Serving & Topping Suggestions
I like to add some extra texture to creamy soups like this Creamy Pumpkin Tortellini Soup. While the ingredients in this creamy soup is perfect as is, I wanted to share a few more ideas of ingredients that you can add incase you make this soup more than once and want to switch things up!
Other ingredient ideas include:
Roasted broccolini or broccoli instead of kale
Crispy bacon (if you're not plant-based, of course)
Grated cheese like Parmesan, mozzarella, pecorino romano, etc. (vegan or regular if you're not vegan!)
Crispy sage leaves (for the topping)
Roasted chickpeas
Beans (White beans, etc.)
Seafood (like shrimp, lobster, etc.)
Sausage
What Are Delicious Foods to Pair This Creamy Soup With?
When it comes to most soup dishes, I often enjoy them with a side of bread of some sort. Most times, I make my own homemade Garlic Bread, however, you can choose to spruce things up with many other options such as:
A delicious Salad
Sautéed Greens
Grilled Veggies
Toasted Bread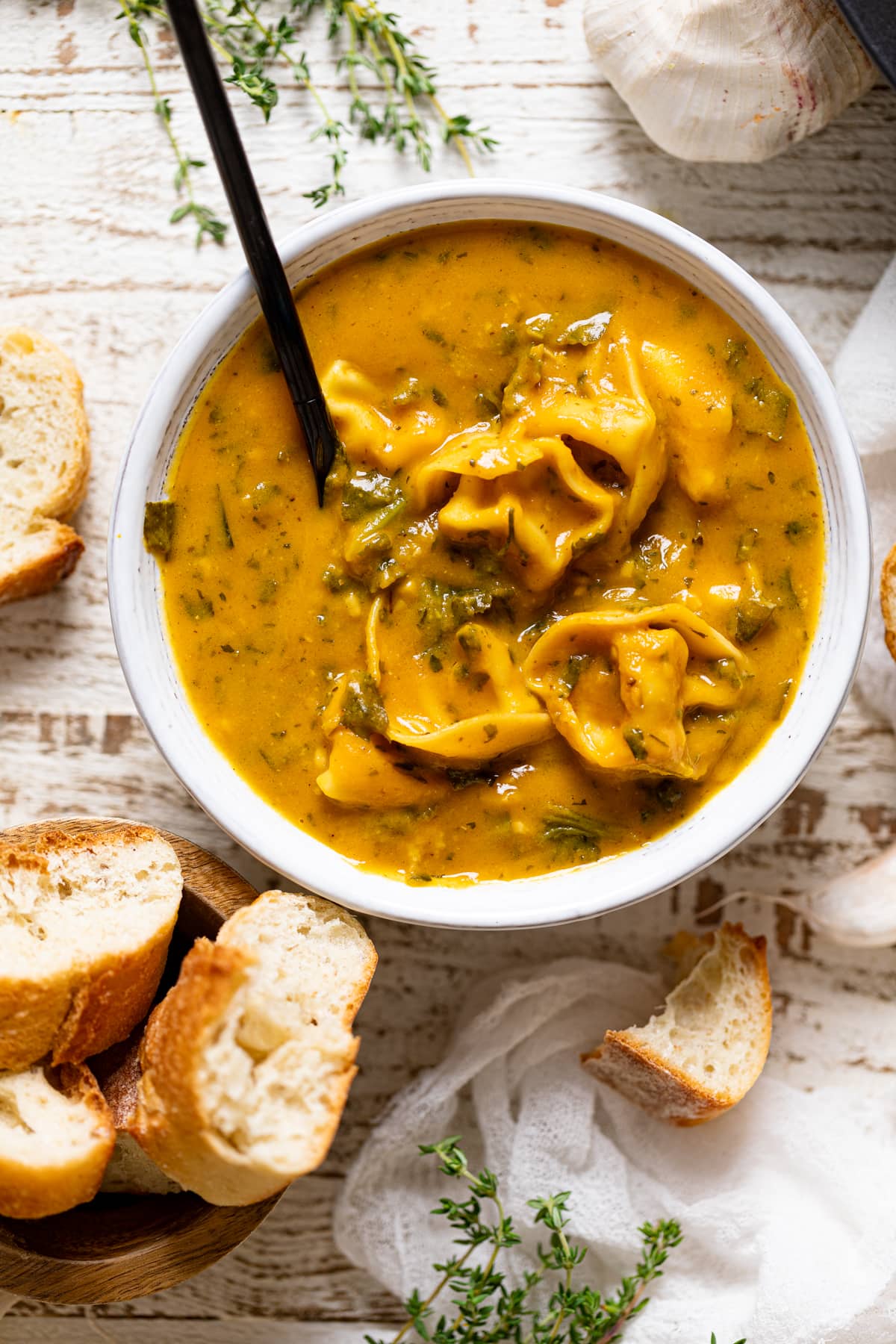 How to Store + Reheat Leftover Creamy Pumpkin Tortellini Soup
Leftovers can be stored in a tightly sealed container in the refrigerator for 2-3 days, for optimal freshness. Can also be frozen for 4-6 months. To defrost, simply place soup in the refrigerator overnight or at room temperature before re-heating on the stove top to serve. NOTE: If the soup becomes too thick, add a bit of heavy cream or stock to make creamy again.
Can I Make this Creamy Cajun Pumpkin Tortellini Soup in a Slow Cooker?
To make this soup in the slow cooker, simply sauté garlic before adding everything (including tortellini) into your slow cooker and cooking on a low setting for 6-8 hours, stirring occasionally.
Can I Make this Pumpkin Tortellini Soup Entirely Vegan + Gluten-Free?
Yes! Of course. To make this soup vegan, be sure to substitute the tortellini with a vegan-friendly version, ensure that you use full-fat coconut cream/milk, chicken stock with veggie stock, and cheese with nutritional yeast and/or quality dairy-free cheese shreds.
To make this soup GF-friendly, simply substitute the tortellini with a gluten-free version (or other pasta) and ensure that other ingredients are GF-friendly and you use GF bread on the side, if using.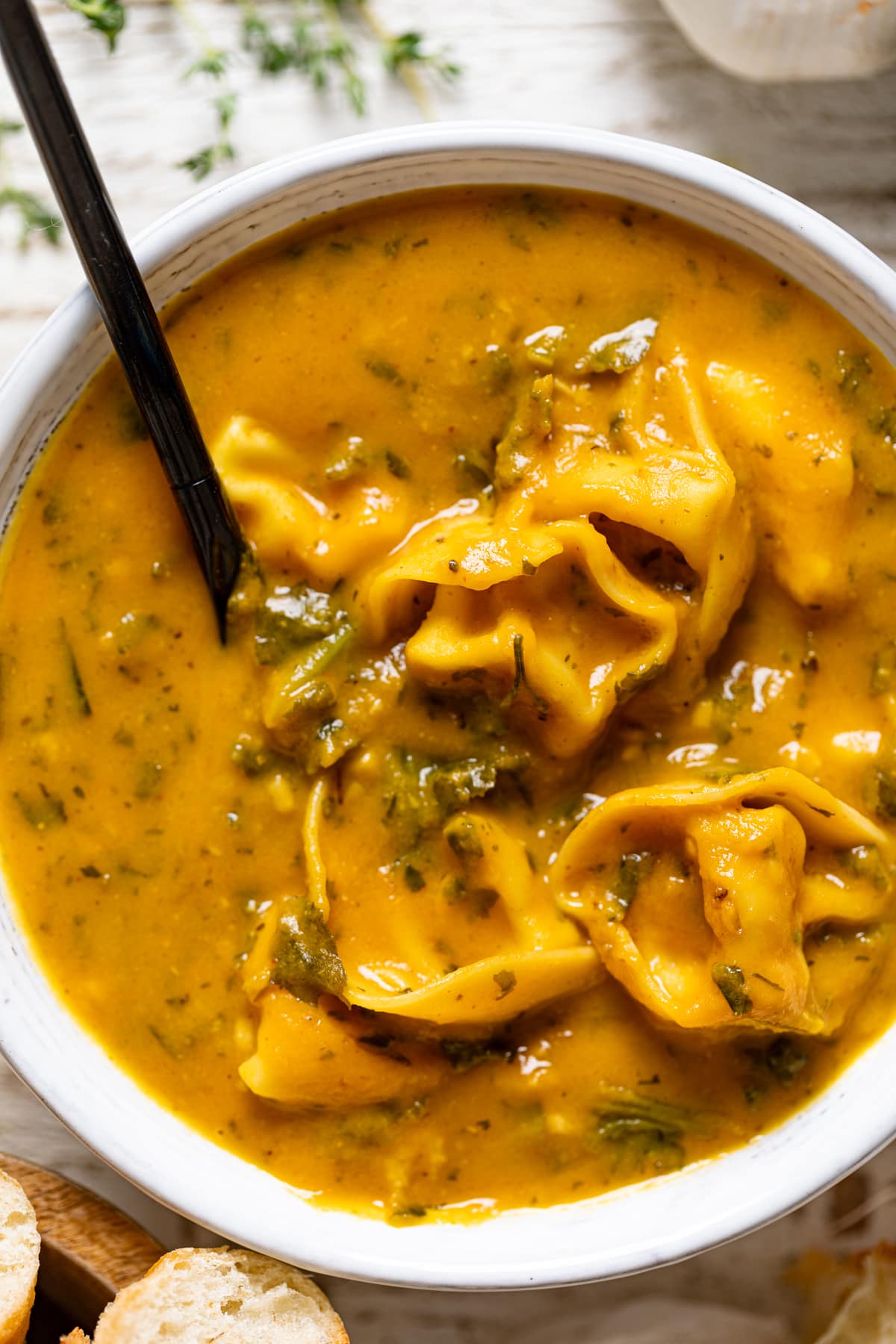 More Must-Try Soup Recipes for this Season!
Once you've mastered this creamy Cajun Pumpkin Tortellini soup, add these other soup recipes to your list next:
MADE OUR RECIPE(S)?
If you tried this Creamy Cajun Pumpkin Tortellini Soup recipe or any other recipe on my website, please please leave a 🌟 star rating and let me know how you go in the 📝 comments below. I love hearing from you.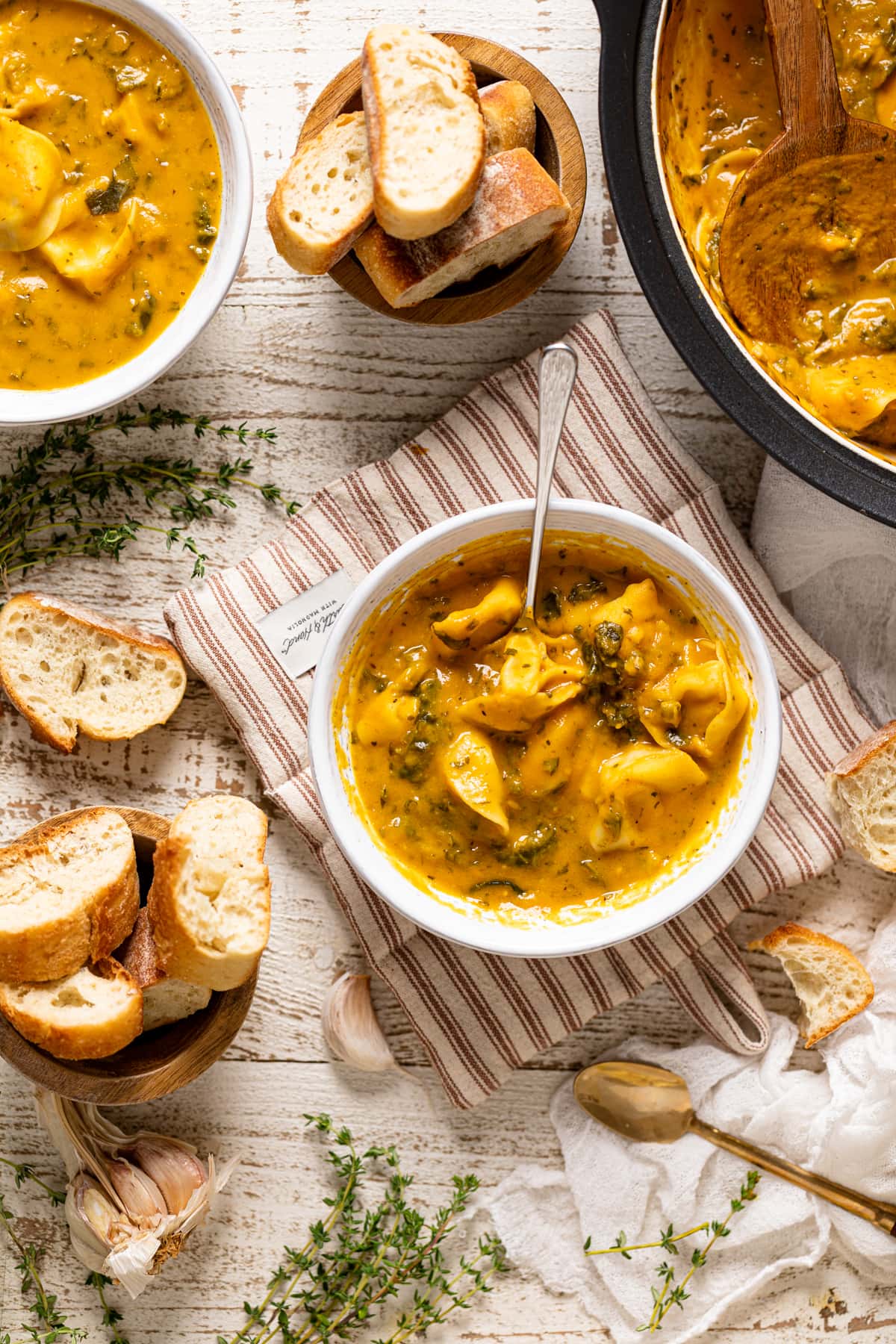 SOUP:
1

(8 oz.) package

organic cheese tortellini

1

tablespoon

Extra virgin olive oil

4

Tbsps

organic all-purpose flour

3

garlic cloves, minced

1

(14 oz.) can

full-fat coconut cream/milk

(You can also use organic heavy cream, if desired)

3

cups

organic vegetable stock

(You can also use chicken stock; if desired)

1 ½

cups

organic 100% pumpkin puree

(NOT pie filling; See post for Homemade option!)

2

cups

organic kale, de-stemmed + chopped

1-2

Tbsps

Cajun seasoning, store-bought or homemade
TO MAKE THE SOUP:
In a medium-size pot over medium high-heat, add olive oil. Once heated, add minced garlic and sauté until translucent + fragrant, about 1-2 minutes. Add the flour and cajun seasoning and mix together until combined.

Add in the veggie stock, coconut cream/milk, and pumpkin puree, stirring everything together until combined and smooth.

Let everything boil for 1-2 minutes and then reduce heat to low to allow a simmer. Add in the kale and tortellini, stirring to combine. Continue to simmer for another 5-8 minutes.

At this point, the soup should be thickened and smooth. Lastly, add the freshly-grated parmesan cheese and continue to stir to incorporate.

Remove from heat and serve immediately into prepared bowl(s) and enjoy with a side of bread or your fave toppings, if desired.

Bon Appetit!
STORAGE: Leftovers can be stored in a tightly sealed container in the refrigerator for 2-3 days, for optimal freshness. Can also be frozen for 4-6 months. To defrost, simply place soup in the refrigerator overnight or at room temperature before re-heating on the stove top to serve.
GREENS: If preferred, you can always add greens other than Kale, like Spinach or Collard Greens to soup for more richness.
COCONUT CREAM:I love using canned coconut cream from Edwards & Sons or Thai Kitchen, however, you can always use canned coconut milk as well and refrigerate it overnight to cream more creaminess. 
SPICES/HERBS: If desired, you can reduce the amounts slightly. Please know that this recipe is bold in spice/herb flavor, so feel free to adjust based on your tastebuds.
VEGAN/GLUTEN-FREE OPTIONS: See within the post for both options!
Calories:
647
kcal
|
Carbohydrates:
51
g
|
Protein:
19
g
|
Fat:
44
g
|
Saturated Fat:
32
g
|
Polyunsaturated Fat:
2
g
|
Monounsaturated Fat:
5
g
|
Cholesterol:
27
mg
|
Sodium:
534
mg
|
Potassium:
951
mg
|
Fiber:
10
g
|
Sugar:
9
g
|
Vitamin A:
24141
IU
|
Vitamin C:
40
mg
|
Calcium:
225
mg
|
Iron:
7
mg