Creamy Roasted Garlic Cauliflower Chickpea Soup is a vegan's dream. A silky smooth texture and rich umami flavor makes this the perfect vegetarian soup for chilly winter nights or for meal prepping lunches!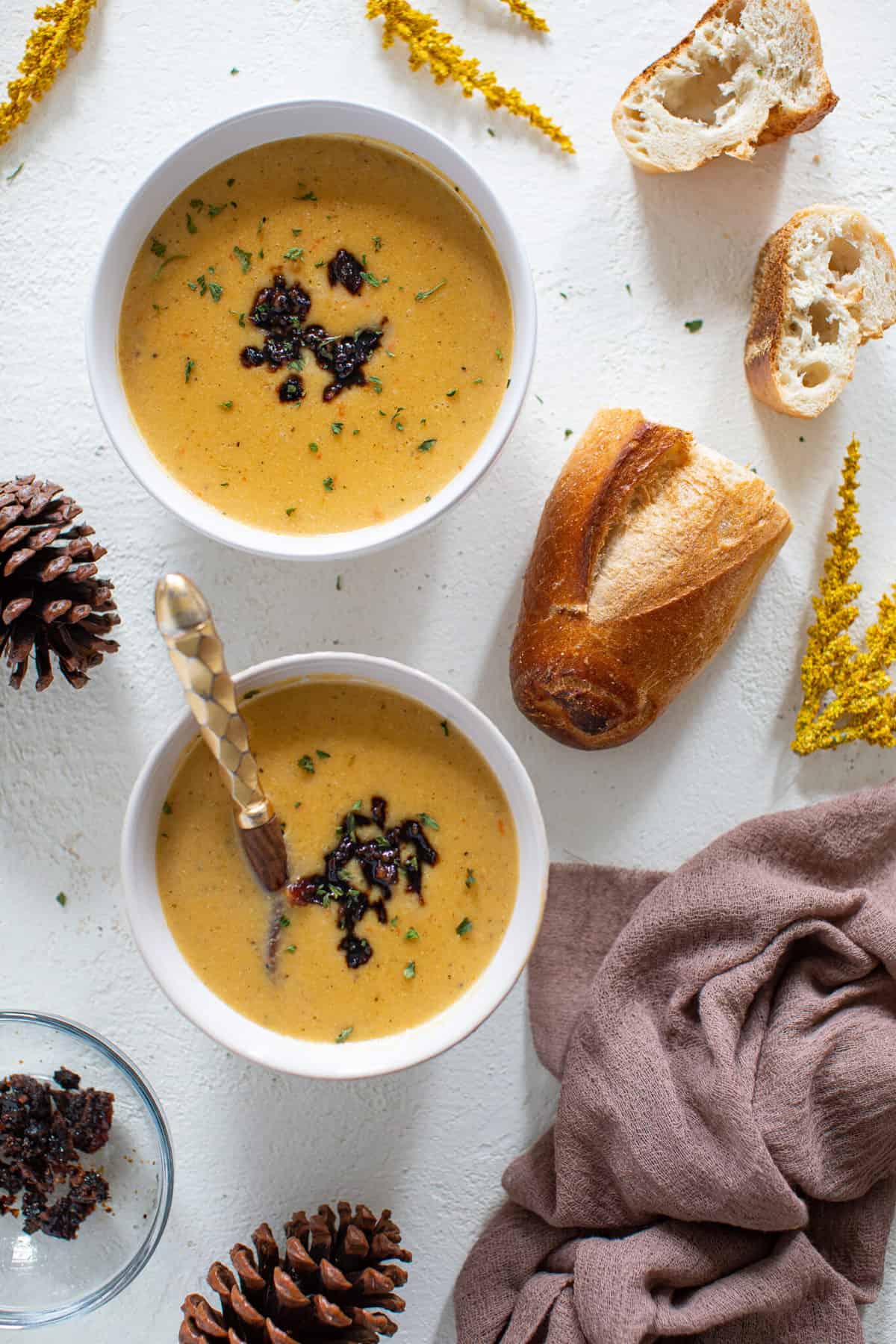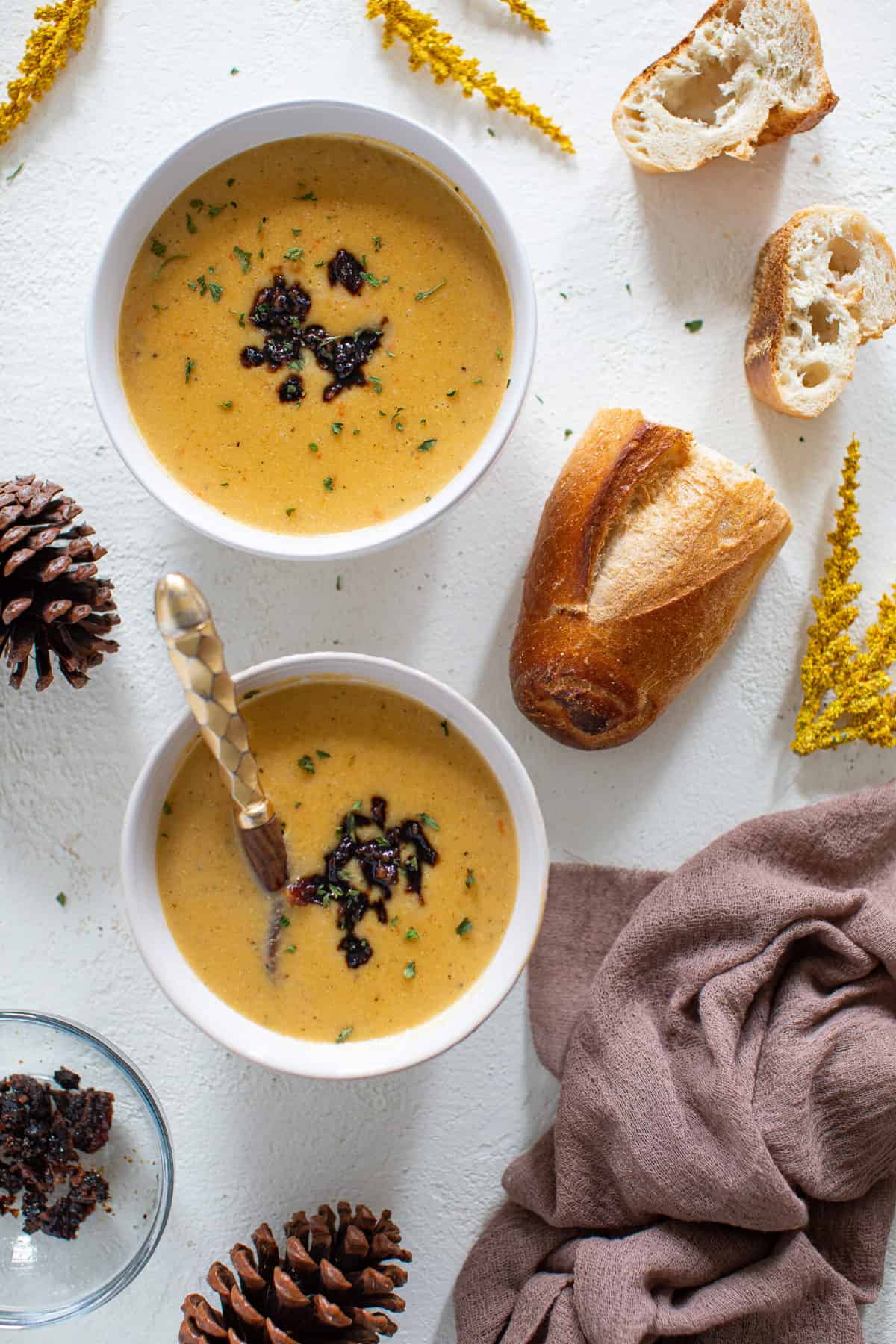 If you love a rich, creamy, cheesy soup but don't want to be weighed down by all the melted cheese and cream, then you're going to love this cauliflower soup. It has tons of body and real decadent creaminess, but none of the dairy. Made with coconut milk and thickened with chickpeas, this plant-based soup is also gluten-free and high in protein. This is the perfect recipe if you're looking for a comforting but easy dinner recipe this winter.
This garlic, chickpea, and cauliflower soup also stores well, which means you can make a big batch and be set for healthy lunches all week long. There's no going wrong when you have creamy roasted garlic cauliflower chickpea soup in your back pocket.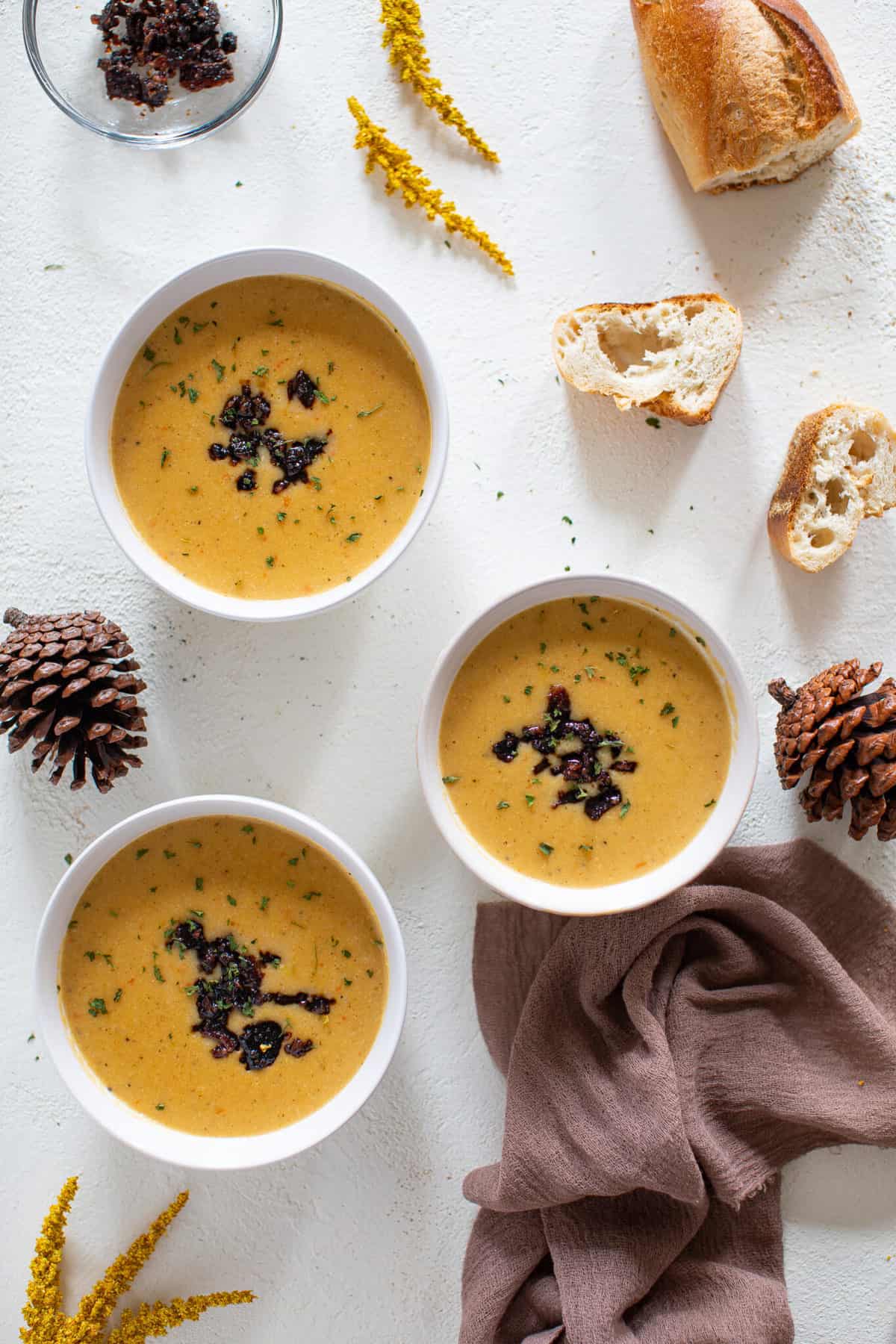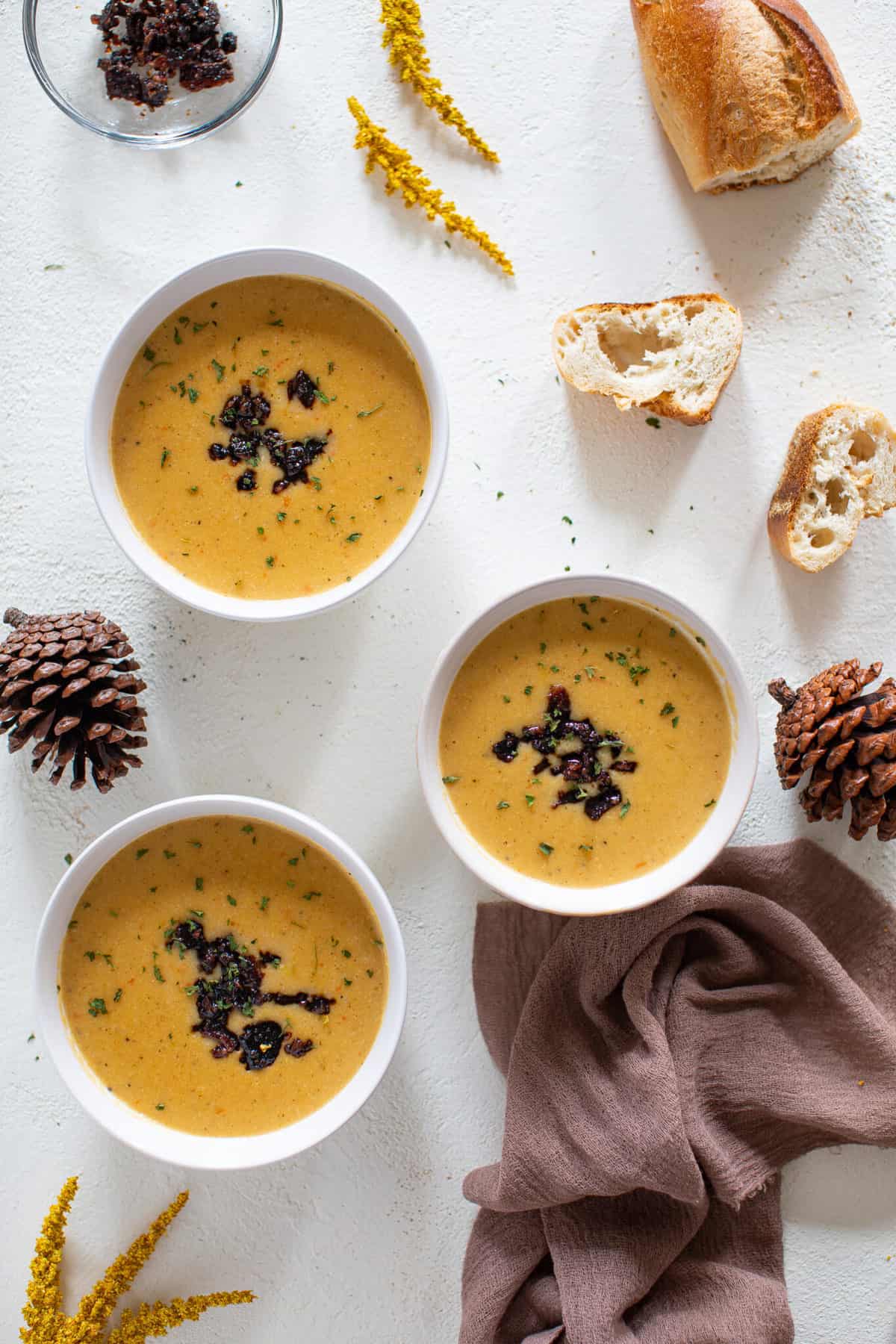 How to Make Creamy Roasted Garlic Chickpea Soup
If your mouth is already watering, let's not delay any longer! Let's dive into everything you need to know to make this dreamy and creamy cauliflower chickpea soup ASAP!
Ingredients
Cauliflower. Cauliflower is the perfect base for this soup. It has a slightly sweet, mild flavor that doesn't overpower the dish. Plus it blends up beautifully to add extra creaminess without added thickeners or dairy. Choose a big head of cauliflower for this soup.
Chickpeas. These add a subtly nutty flavor and extra body to the soup, not to mention plant-based protein.
Garlic. Go all-in on the delicious roasted garlic flavor by using a whole head. It might sound like a lot, but you'll be so glad you added it when you try the finished product. In fact, you may even want to use two heads!
Onion. This adds another extra level of allium flavor.
Olive oil. I use Primal Kitchen unrefinred extra-virgin olive oil.
Vegetable broth. Choose low-sodium broth so you can control the seasonings in your soup.
Coconut cream. You can find coconut cream next to the cans of coconut milk at the grocery store. It's luxurious without being too heavy. If you already have a can of coconut milk, you can use the cream from that. simply refrigerate the can of milk overnight. Then scrape off just the creamy top layer and add it to your soup.
Nutritional yeast. This is a vegan must-have ingredient to add a hint of cheesy flavor and umami without any dairy.
Cumin. A bit of cumin adds a nice toasty taste to complement the nutty chickpeas.
Red pepper flakes. For just the right amount of spice, without overwhelming the soup.
Parsley. Adds a hint of fresh herby flavor.
Smoked paprika. This spice enhances the slightly smokey flavor of your cauliflower chickpea soup.
Turmeric. Adds a boost of color for a golden-hued soup, plus earthy flavor and anti-inflammatory health benefits. You can also omit the turmeric if you don't have any on hand.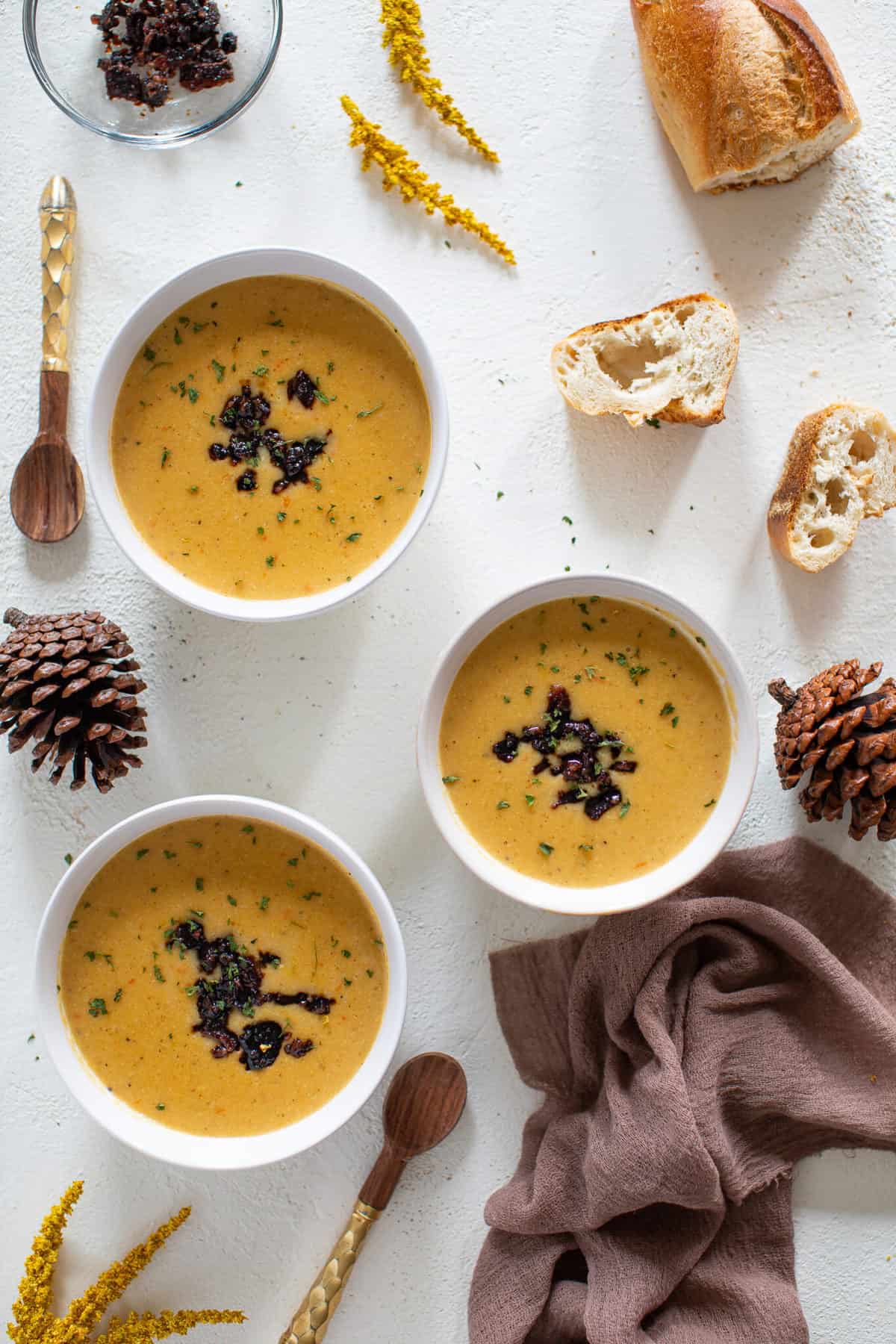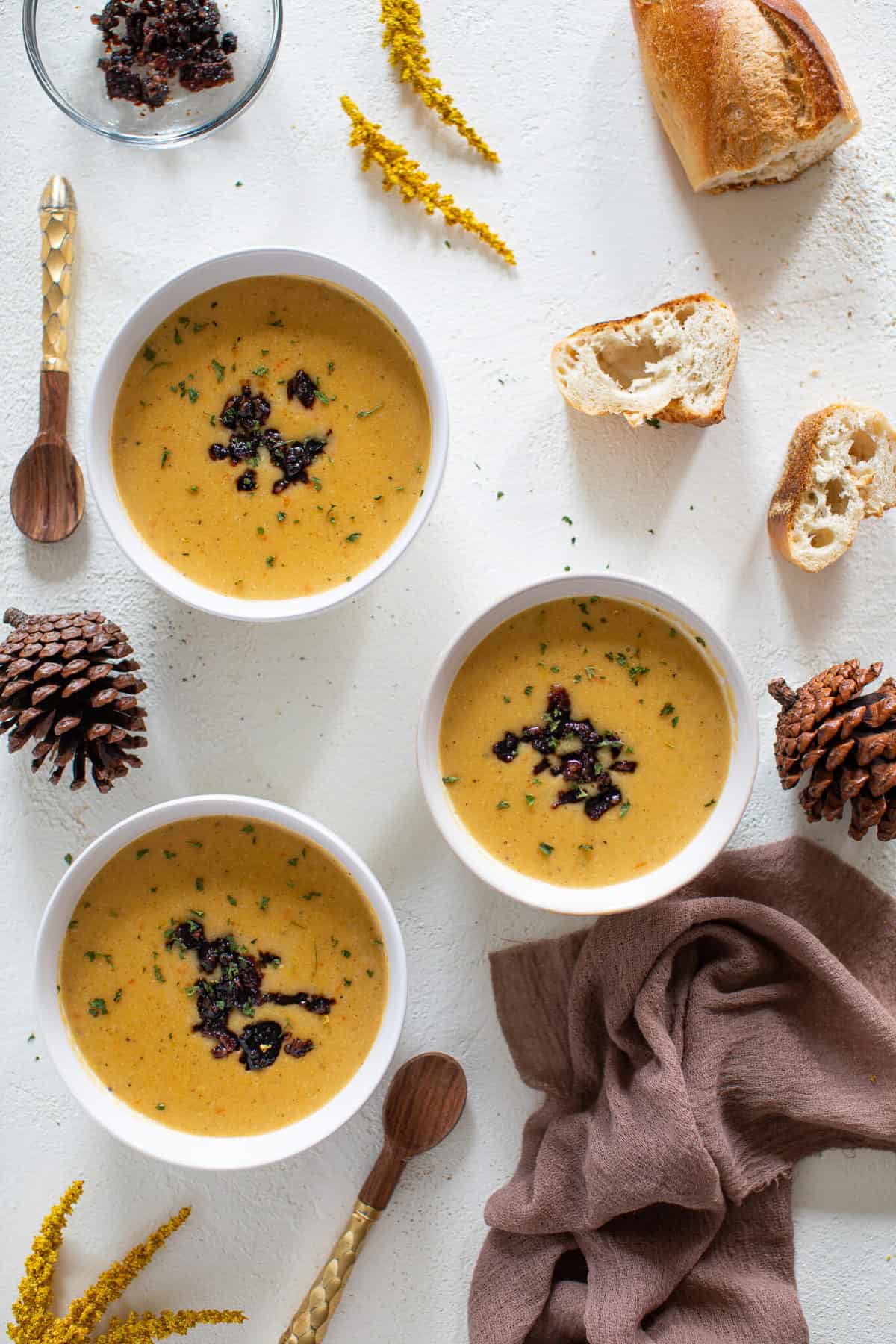 Creamy Cauliflower Chickpea Soup Recipe Steps
Once you've assembled your ingredients, let's start preparing this delicious vegan soup. Here's how to do it:
First, Preheat the oven to 450°F.

Meanwhile, season the cauliflower florets, chickpea, onions, and garlic with sea salt, black pepper, and smoked paprika

Then roast up your veggies until they're caramelized, tender and fragrant.

Transfer your roasted veggies to a high-powered blender along with the veggie stock and carefully blend until smooth. Remember to let the veggies cool a bit before blending to avoid explosions.

Next, bring everything to a simmer in a big stockpot with the remaining veggie broth, coconut milk, and seasonings. You only need to simmer the soup for 4 or 5 minutes to ensure it's perfectly warmed and the flavors are well developed.

Finally, serve your soup with your favorite toppings.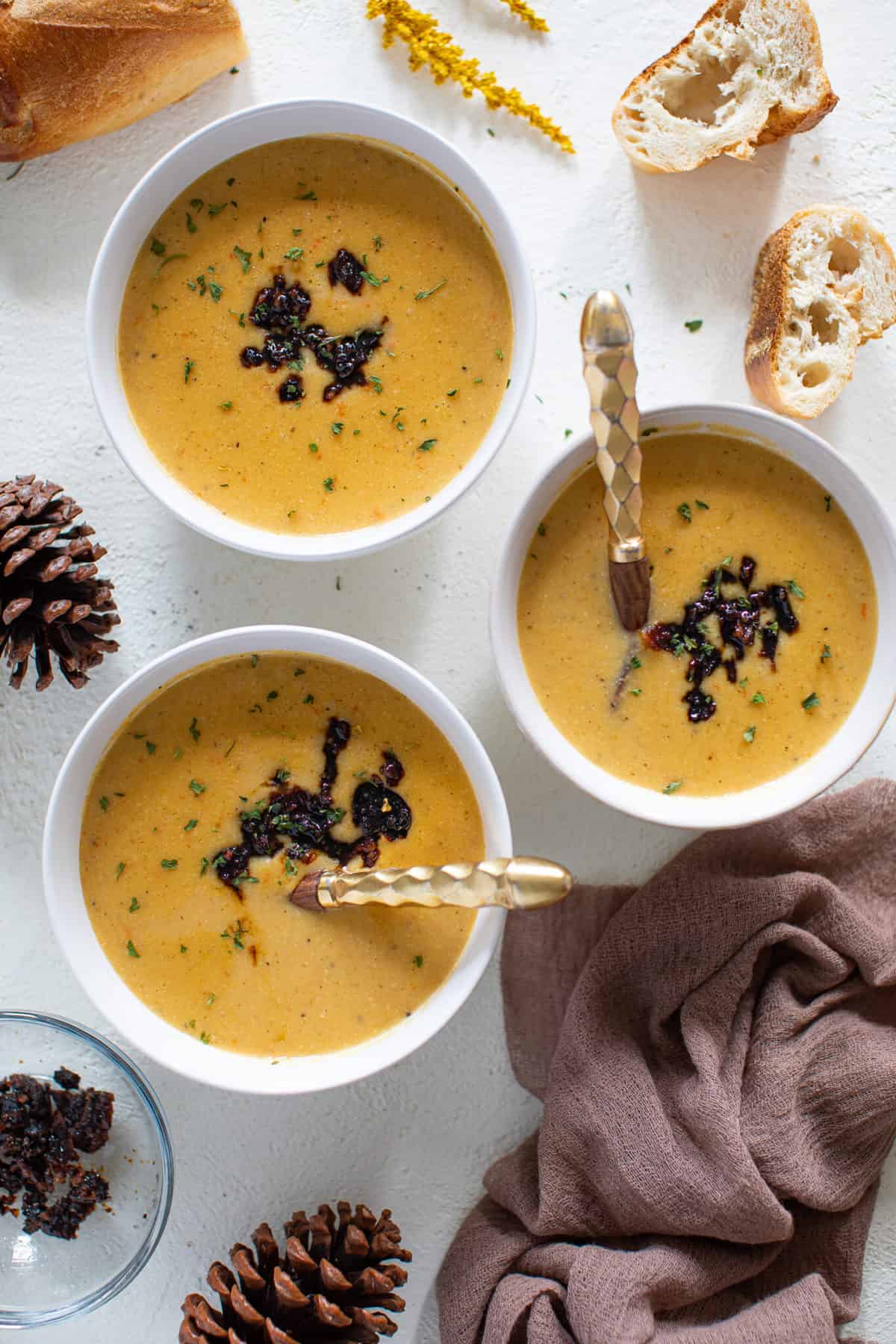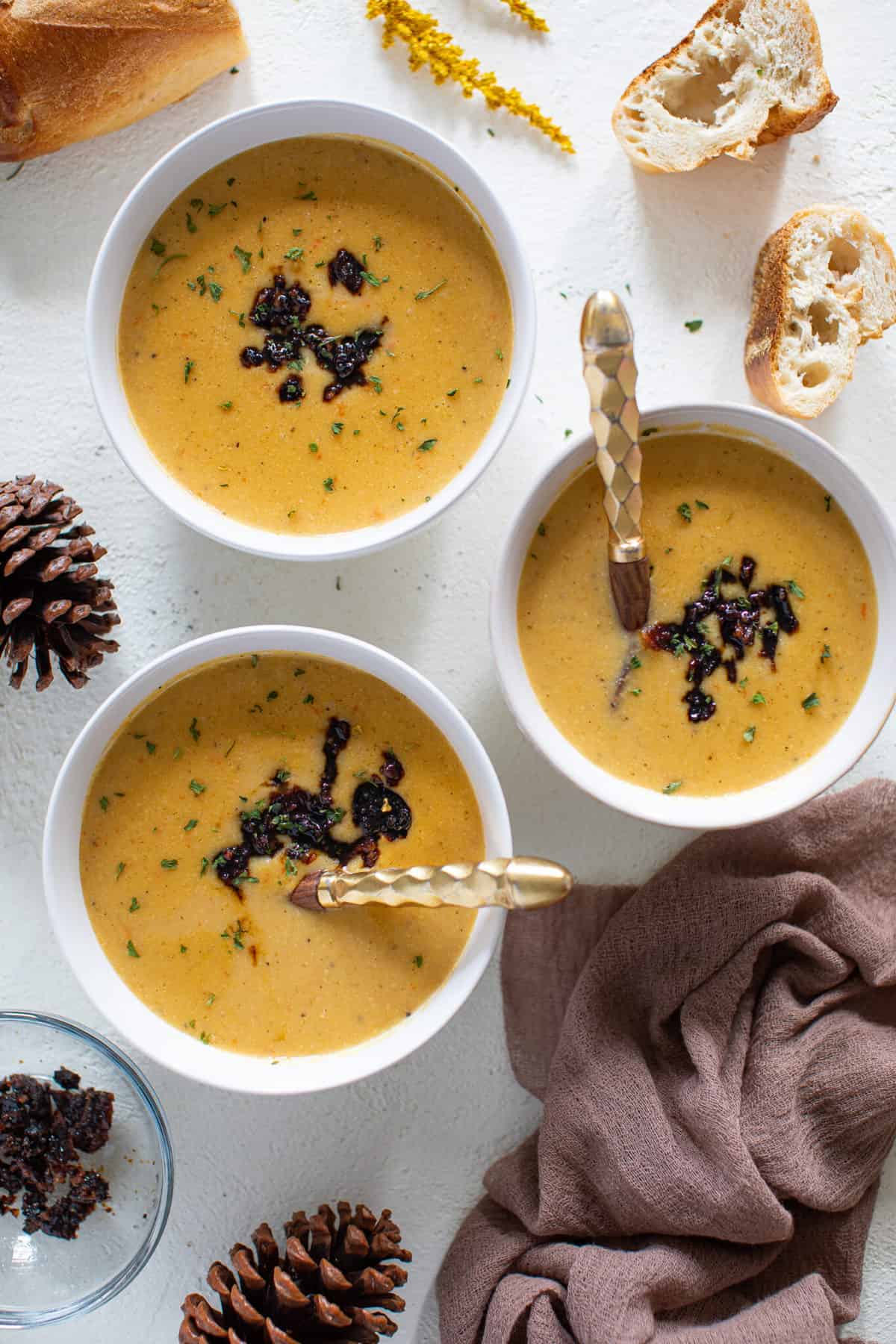 Serving & Topping Suggestions
This creamy chickpea, garlic, and cauliflower soup is delicious all on its own. I like to serve it with a big piece of crusty French bread to soak up the rich roasted garlic flavors. However, if you want to add a bit of extra flavor, crunch, and color, these are my favorite topping ideas:
Crispy bacon. Of course, this is for the non-vegan. It adds extra smokiness and savory flavor to every bite.
Roasted chickpeas. An addicting snack, roasted chickpeas are perfectly crisp and almost like croutons on top of your soup.
Dried parsley. To add an extra pop of green and fresh flavor on top. You can also use fresh parsley if you like.
What are your favorite soup toppings? Be sure to leave me a note in the comments section, I can't wait to try them!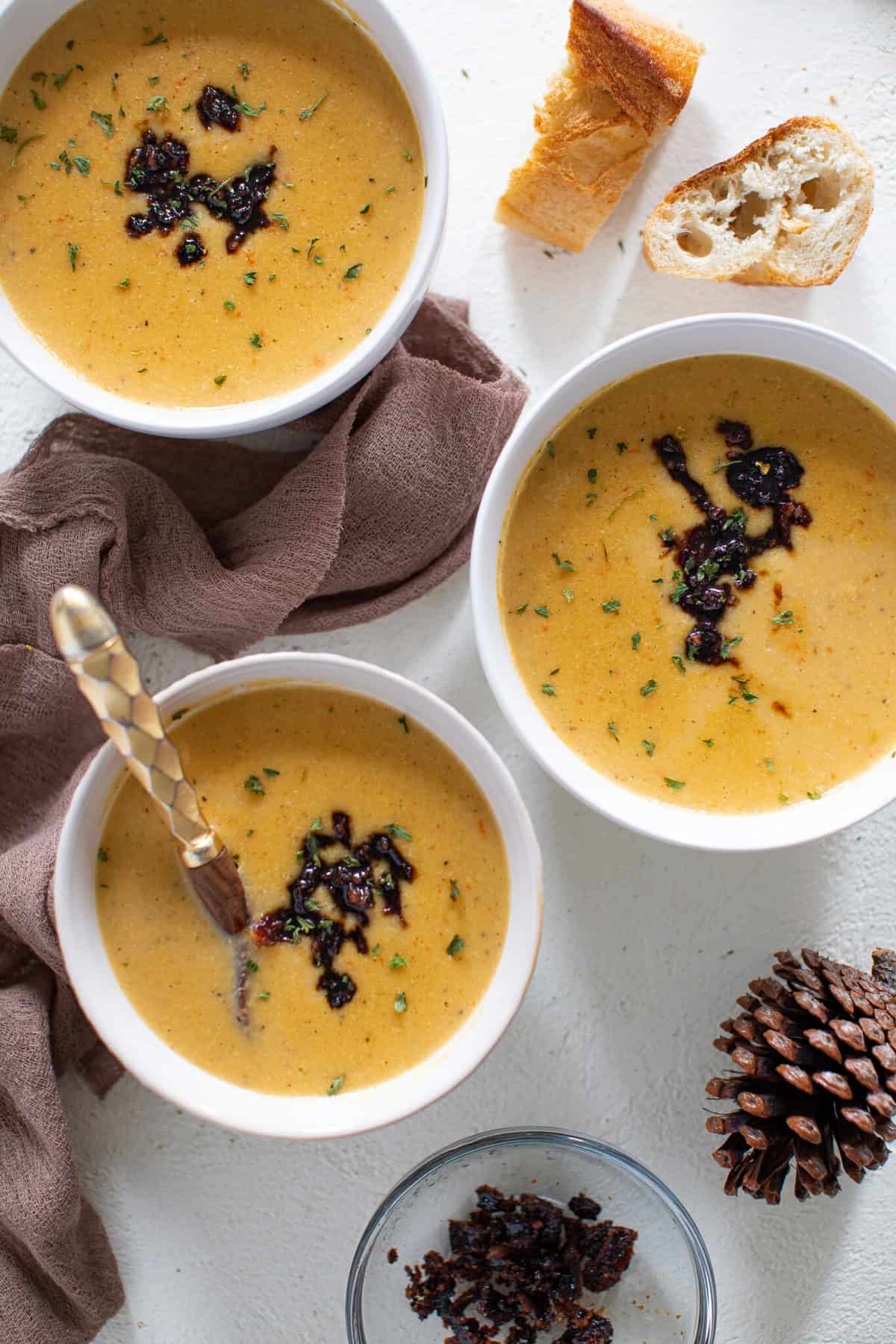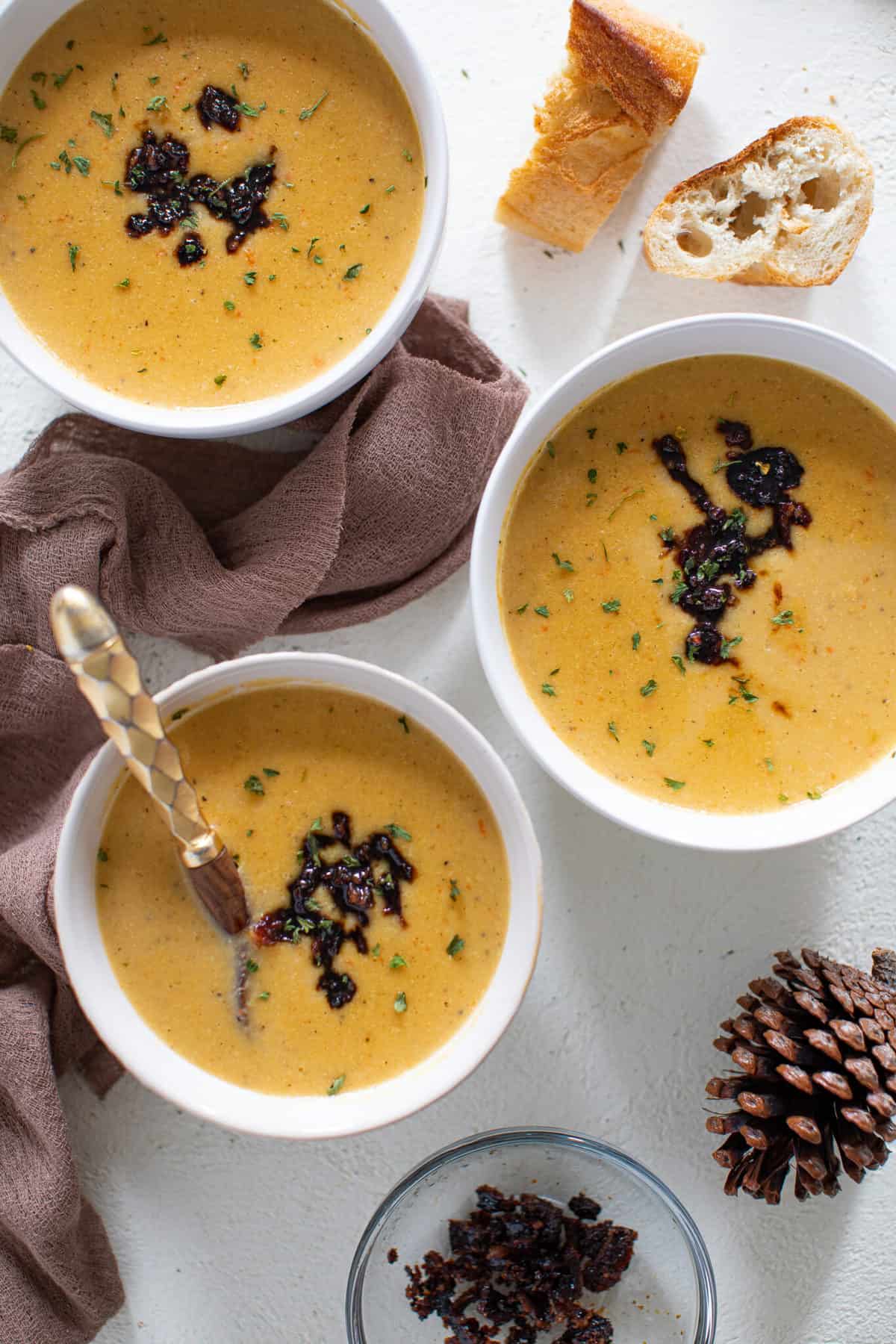 Storing Leftovers
If you end up with leftover chickpea cauliflower soup, store them in an airtight container in the refrigerator fup up to 3 days.
You can also free the soup for 4 to 6 months. To defrost, simply place soup in the refrigerator overnight or at room temperature before reheating on the stovetop to serve.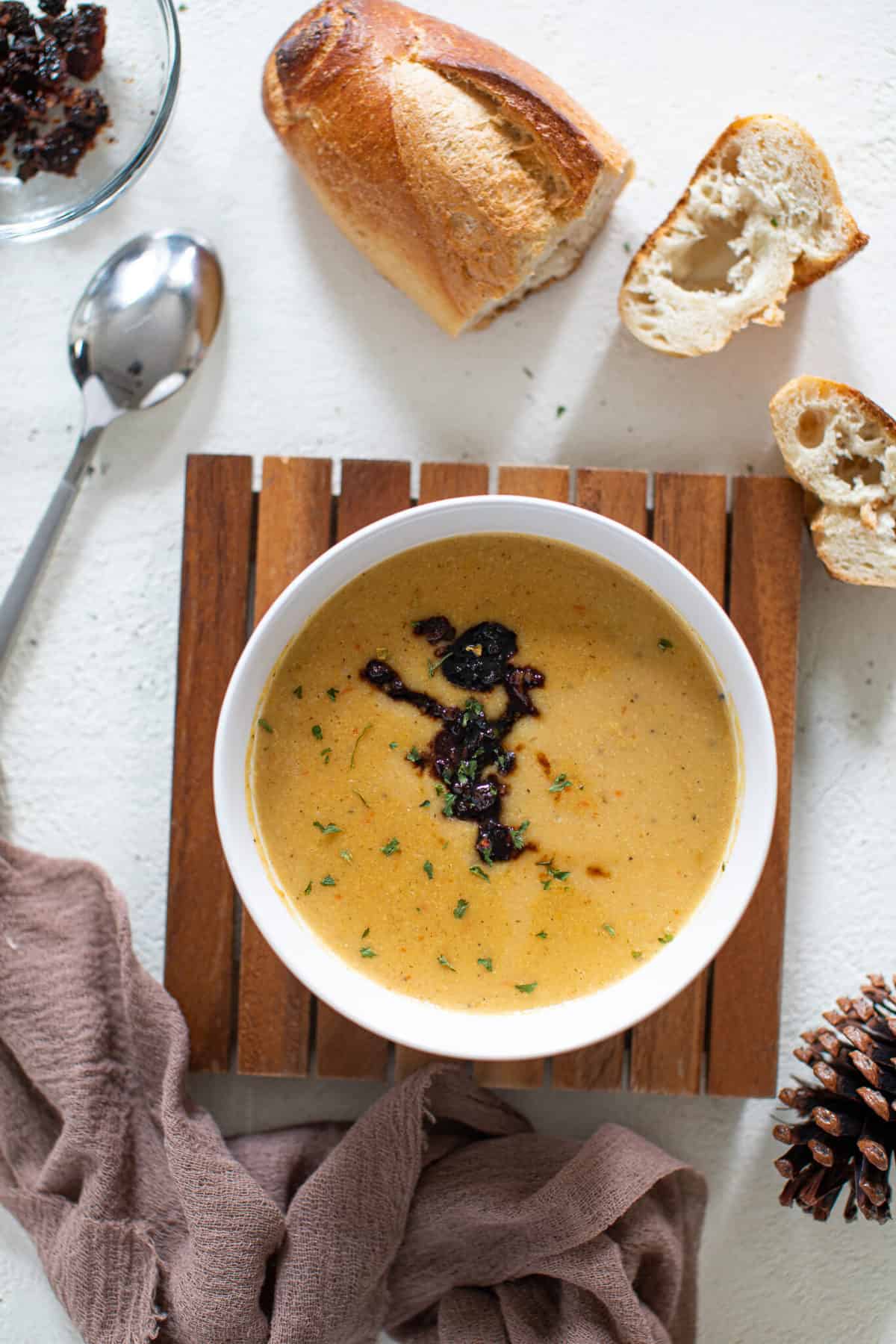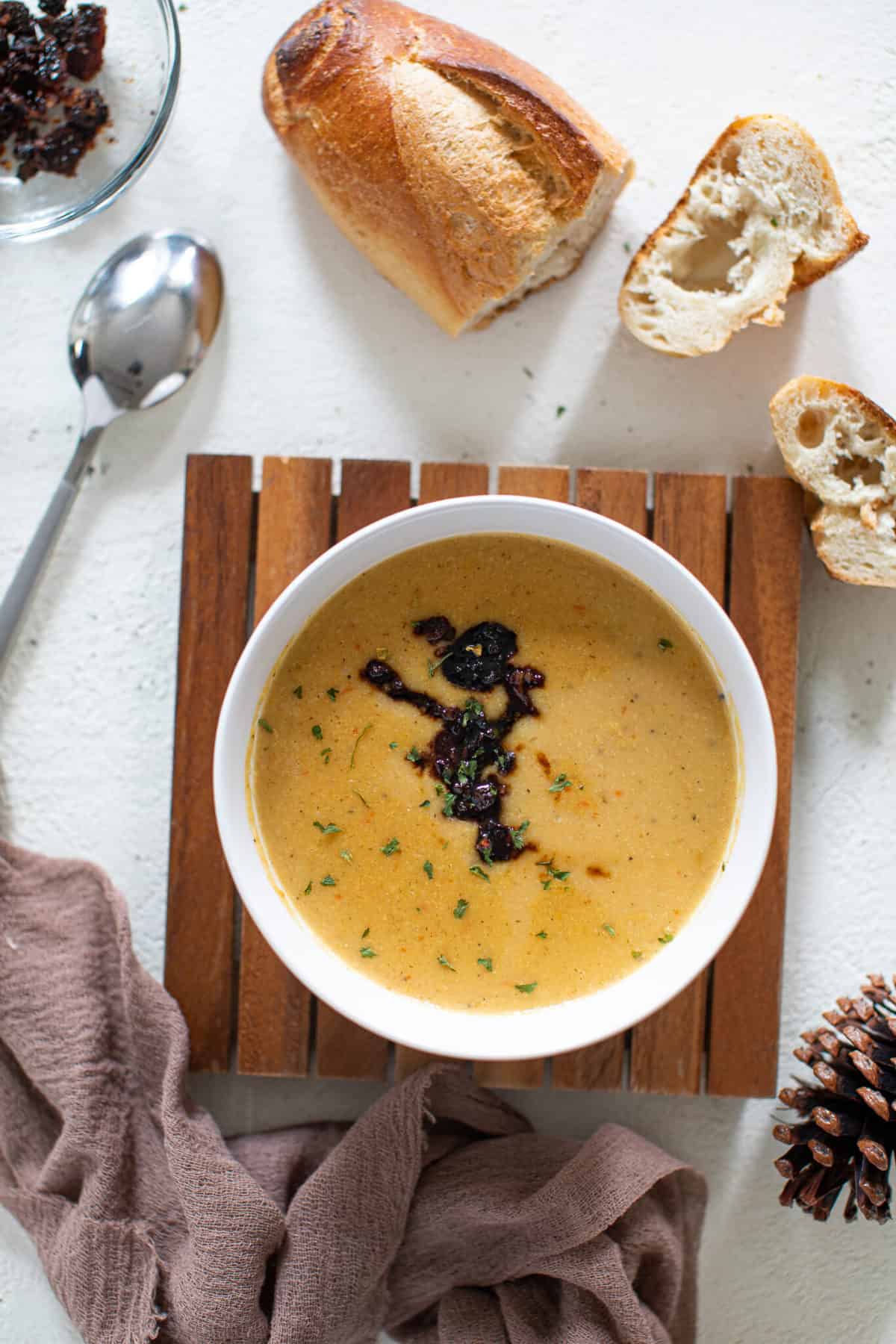 More Must-Try Vegan Soup Recipes
Once you've mastered this creamy roasted garlic cauliflower chickpea soup, add these plant-based recipes to your list next:
Easy Vegan Black Bean Soup
And for dessert? Vegan Strawberry Cake with Oatmeal of course!
1

large

head of cauliflower, cut into florets

1

(15 oz.) can

chickpea, drained + rinsed

1

medium

garlic bulb

(See Notes!)

1

medium

onion, chopped

1-2

Tbsps

Extra virgin olive oil

(I use Primal Kitchen)

4

cups

vegetable broth, low-sodium

1

cup

canned coconut cream or milk

(See Notes!)

sea salt + black pepper, to taste

3

Tbsps

nutritional yeast

1

tsp

cumin

1

tsp

red pepper flakes

1

tsp

dried parsley

1

tsp

smoked paprika

1/2

tsp

turmeric powder
Optional Toppings:
Bacon, roughly chopped

Roasted chickpeas

Dried parsley
Begin by preheating your oven to 450 degrees Fahrenheit and adding the cauliflower florets along with the chickpea, onions and garlic to a large bowl.

Lightly coat veggies with olive oil and sprinkle with sea salt, black pepper, and smoked paprika, tossing everything together until well seasoned. Place coated veggies onto a large baking sheet lined with parchment paper.

Bake for 30 minutes or until veggies are cooked and super fragrant, tender, and browned on the edges.

Once done, remove from oven and let cool for 5 minutes or so.

Add roasted veggies into a high-powered blender along with 2 cups veggie stock and carefully, blend until smooth, about 2-3 minutes.

Remove roasted veggie mixture from the blender and add to a medium dutch pot on medium-high heat. Add remaining veggie broth, coconut milk, and seasonings, stirring until well combined and it begins to boil. Reduce the heat and let simmer for 4-5 minutes. NOTE: If soup is a little too thick, add additional veggie stock, 1/2 cup at a time.

Remove from heat and serve immediately into prepared bowl(s) and top with bacon or dried parsley, if desired.

Bon Appetit!
STORAGE: Leftovers can be stored in a tightly sealed container in the refrigerator for 3-4 days, for optimal freshness. Can also be frozen for 4-6 months. To defrost, simply place soup in the refrigerator overnight or at room temperature before re-heating on the stove top to serve.
TURMERIC: While adding turmeric is optional, it definitely has benefits: powerful medicinal properties, natural anti-inflammatory ingredient, increases antioxidant activity in the body, and more.
GREENS: If preferred, you can always add greens like Kale, Spinach or Collard Greens to soup for more richness.
GARLIC: If you're a fan of garlic flavor, you can add up to 2 bulbs of garlic for bolder flavor.
COCONUT CREAM: I love using canned coconut cream from Thai Kitchen, however, you can always use canned coconut milk as well and refrigerate it overnight to cream more creaminess.