This Easy Flavorful Rigatoni Meatball Soup is sure to keep you warm and comforted throughout the cooler months of the year and your tastebuds will surely thank you for it. A great vegetarian option as a delicious weeknight meal or weekend addition, this soup boasts of it's major flavor factor and comes loaded with rigatoni pasta, vegan meatballs, seasonings, and a tomato base.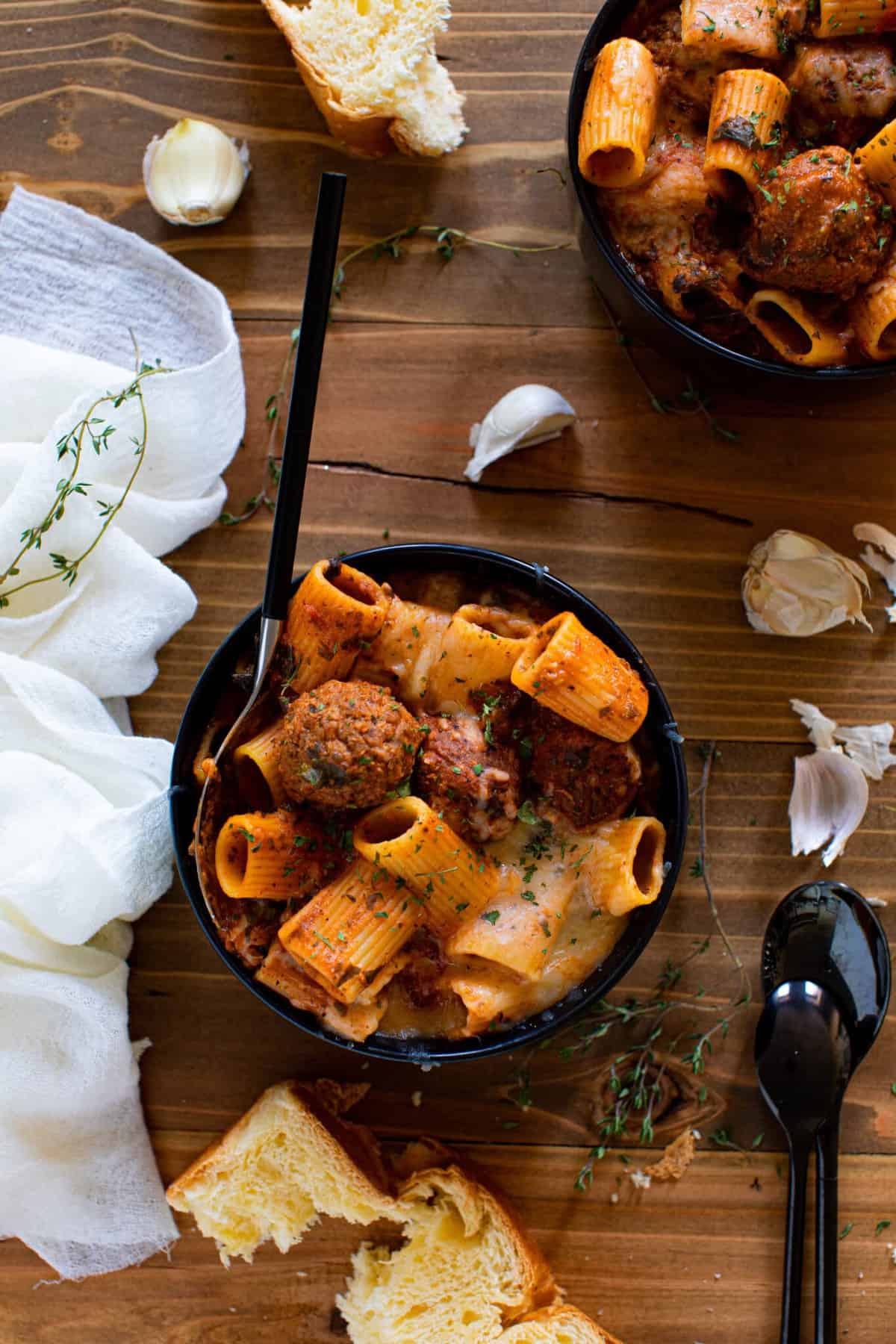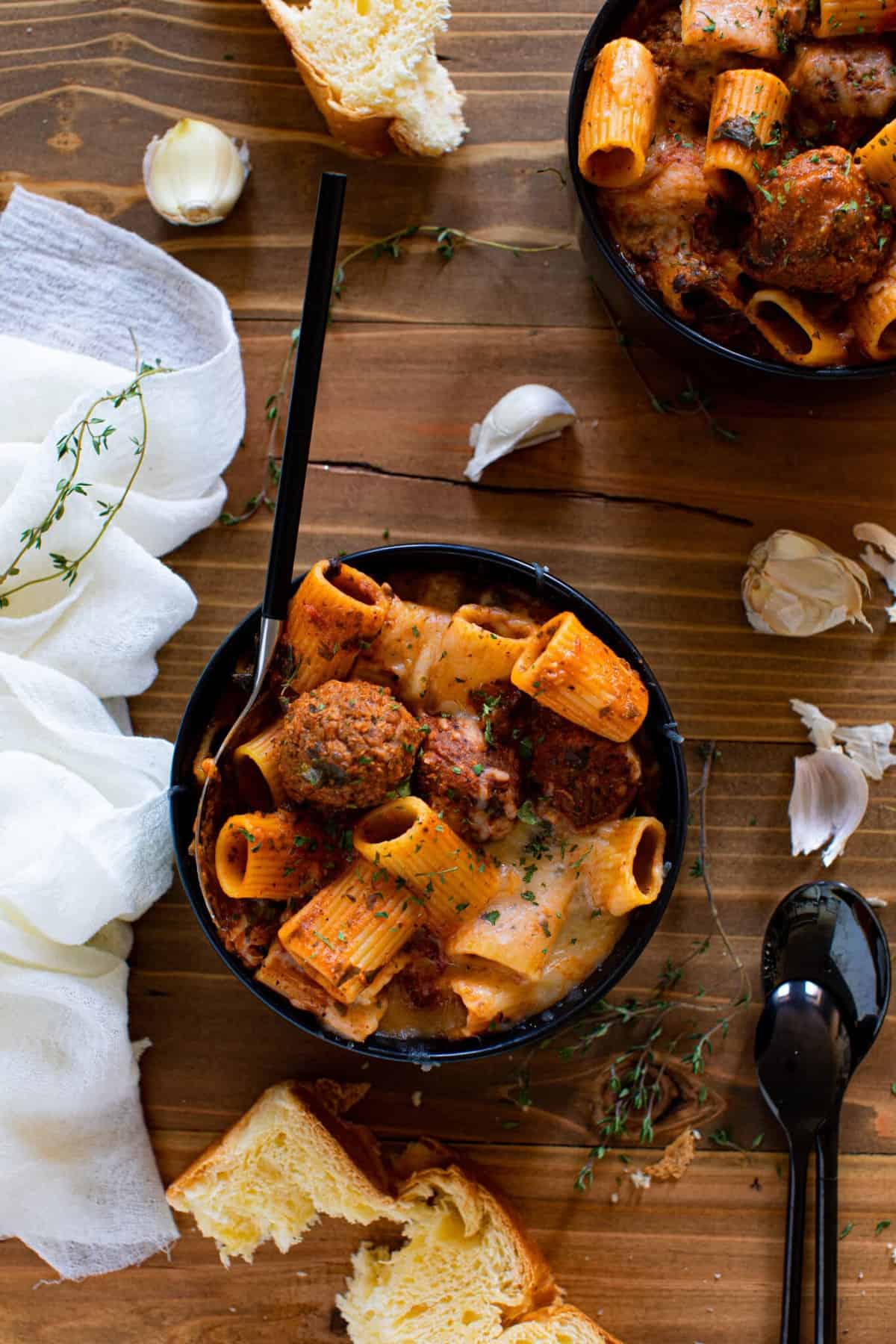 This Easy Flavorful Rigatoni Meatball Soup brings such warmth and soul to your body with every spoonful, trust me ya'll. Honestly, I'm so excited to finally share this recipe with you all after the New Year.
If you've been an avid follower of Orchids + Sweet Tea, then you're aware that soup is my ultimate favorite thing! SOUP TIME is the absolute best time of the year! And while I enjoy soup year-round, the Fall/Winter months are the best times to eat the thicker and heartier soups.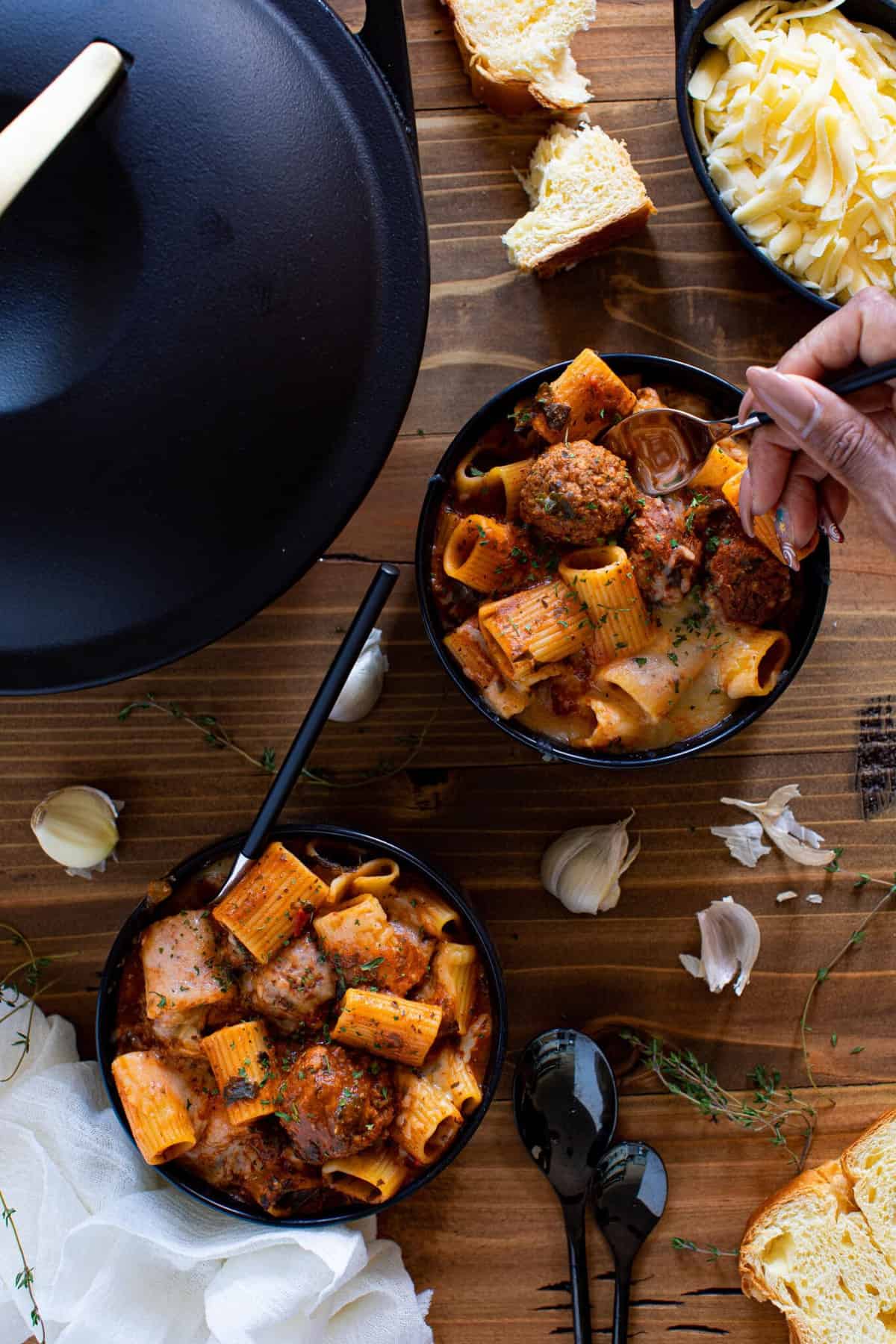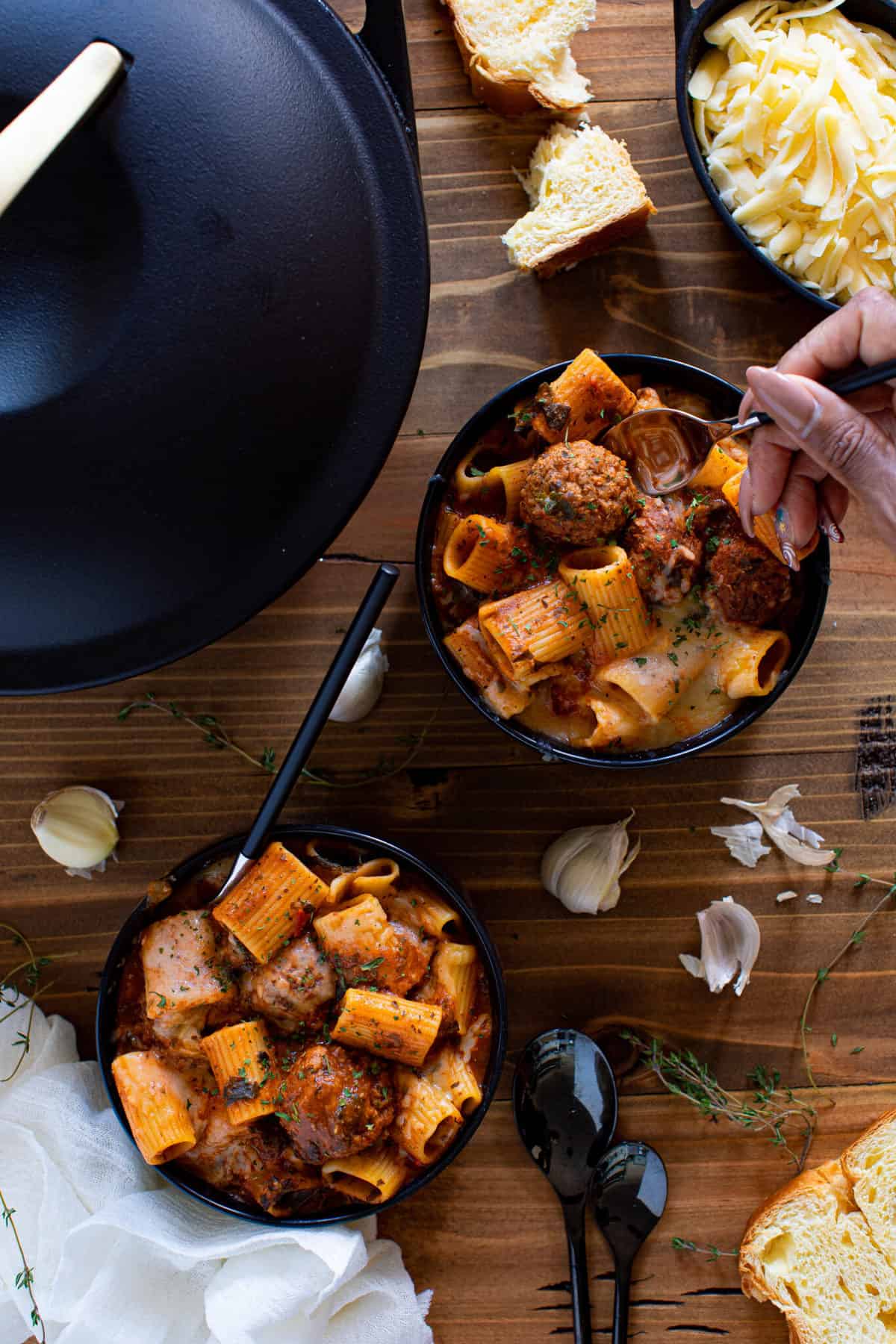 How to Make Rigatoni Meatball Soup.
OK, so of course, the biggest question for those who have never made this kind of soup is, how do you make it anyway? Well, it's super easy! Personally, it's all about using broths more than just fresh water, which adds a ton of extra flavor. My go-to brand for both chicken + veggies broths is Pacific Foods.
The process to making this soup is broken down into a few short steps:
Pan sear your meatballs for a nice crust. Set aside.
Sauté your onions and garlic then season. Add in liquids and other ingredients and let simmer.
Hand blend soup to create a nice thick smooth puree.
Add meatballs and let simmer some more. Season more to taste.
Serve soup in prepped bowls, top with cheese and enjoy!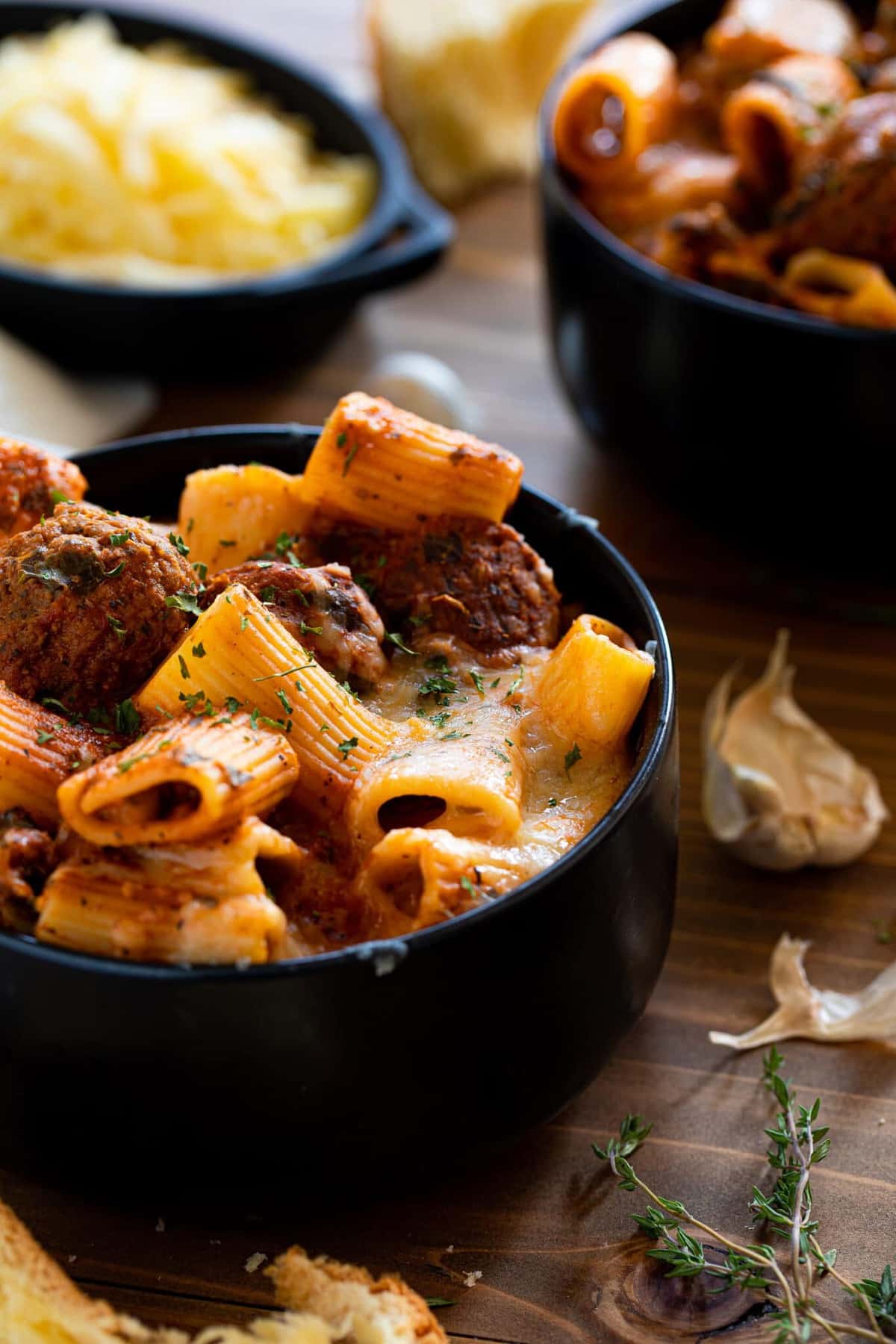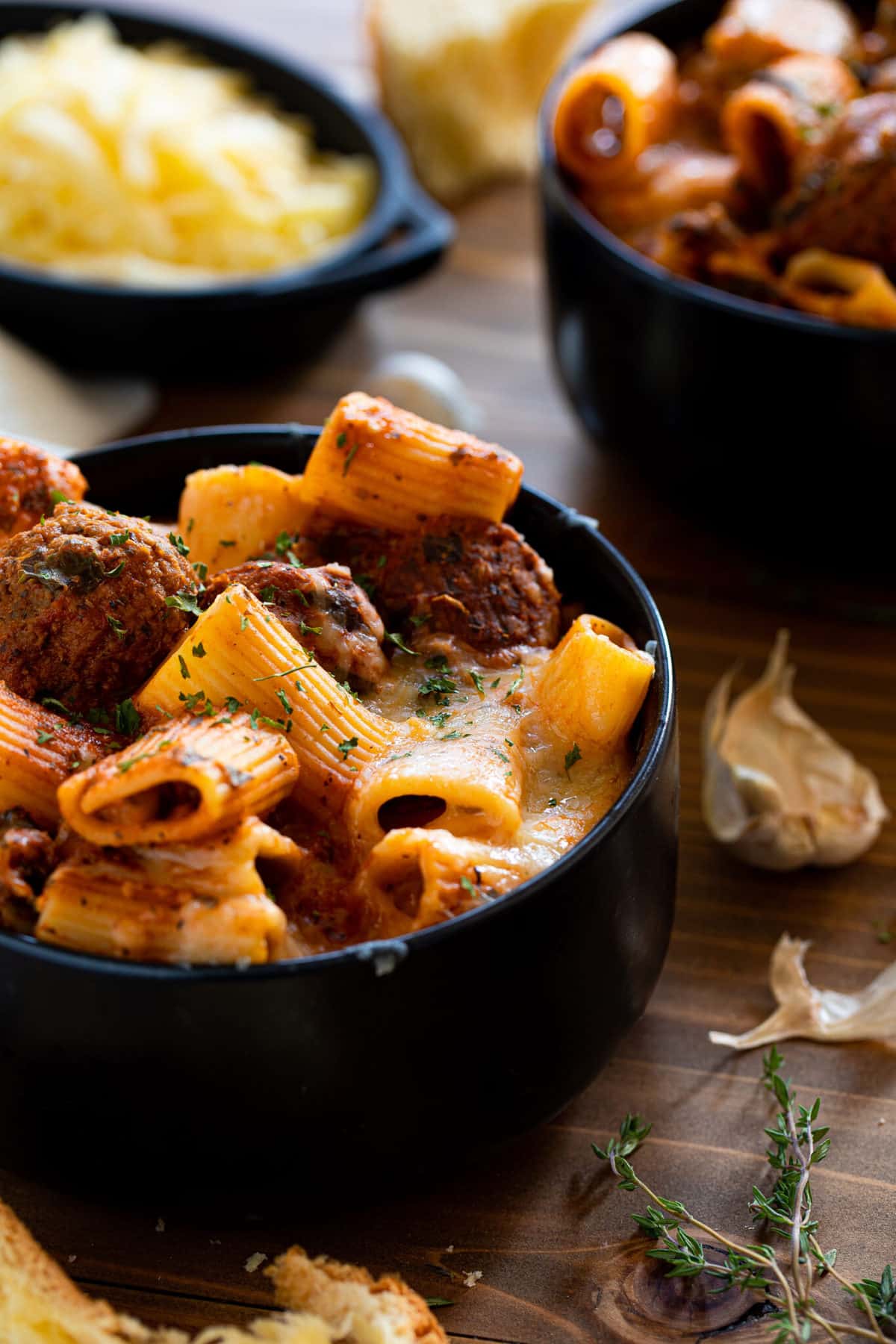 How Do I Thicken this Rigatoni Meatball Soup or Any Soup?
When it comes to thickening your soup, it can be done in various ways. Many recipes use yogurt, arrowroot starch, potatoes, or other starches. For this soup I chose to use a few of the meatballs (using an immersion blender) as my thickener, which adds a nice texture while not being extremely thick. You can use canned coconut milk as well, however, you would need to refrigerate it for 24 hours so that it thickens and becomes cream-like as well.
How to Store Leftover Soup.
With leftovers, you can always refrigerate the remaining amounts in a tightly sealed container in the refrigerator for up to 3 days, for optimal freshness. Can also be frozen for 4-6 months by adding completely cooled soup to a freezer safe container or bag and labeling them to ensure that you keep track of the time frozen. To defrost, simply place soup in the refrigerator overnight or at room temperature before re-heating on the stove top to serve.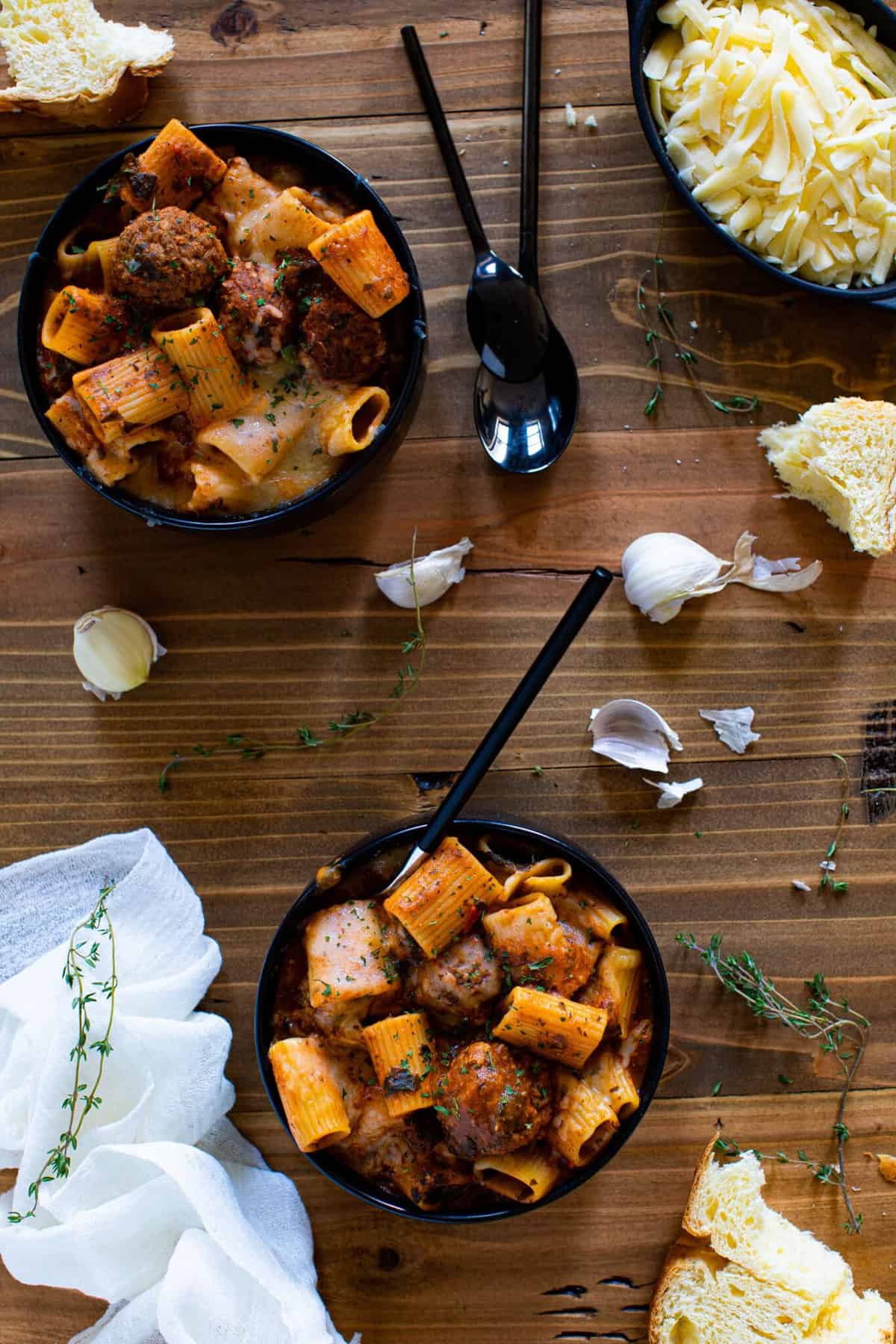 Homemade Meatballs vs. Store-bought!
I'm hardly one who leans towards store-bought frozen versions of food, especially when it comes to vegetarian and vegan options.
However, I love making my own meatballs. For most of my meatball dishes, I use quinoa and chickpeas. I know. It sounds a bit crazy since most people like to use zucchini or mushrooms or something else, but I find using both ingredients super easy.
When making my meatballs from scratch, I often love using quinoa and chickpea. From time to time, I'll use black beans or another veggie, but these Vegan Chickpea + Quinoa 'Meatballs' are my go-to!
Need Other Warm + Comforting Soup Ideas?
Let's take this Loaded Dairy-Free Broccoli Cheddar Soup recipe for instance. It's truly something spectacular.
This Slow Cooker Quinoa Veggie Soup recipe is truly a delicious meal for those not so warm days. The warmth of great flavors and succulent taste of the individual veggies marrying together, makes this bowl of goodness completely irresistible.
For more soup ideas, simply search "soup" on our site!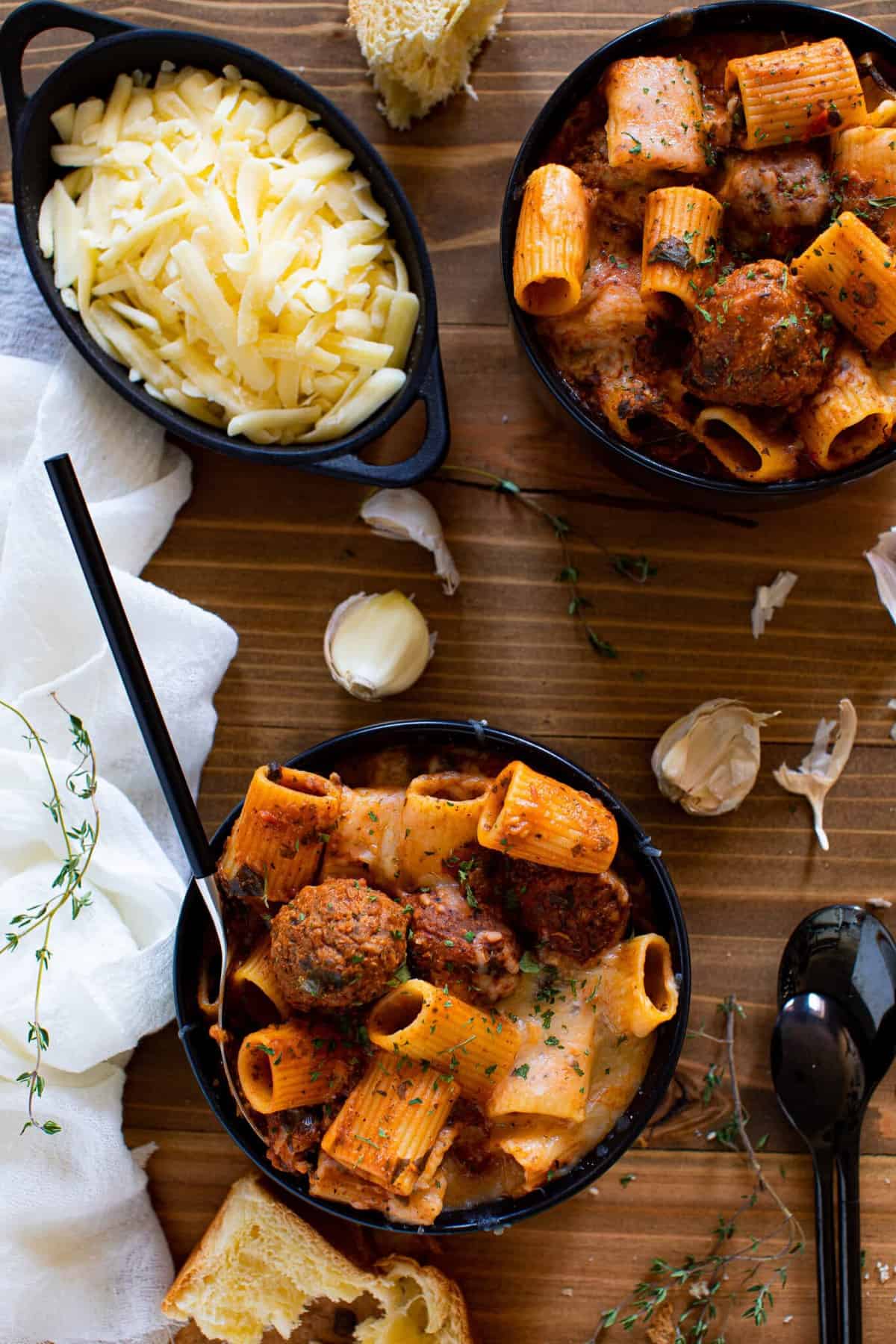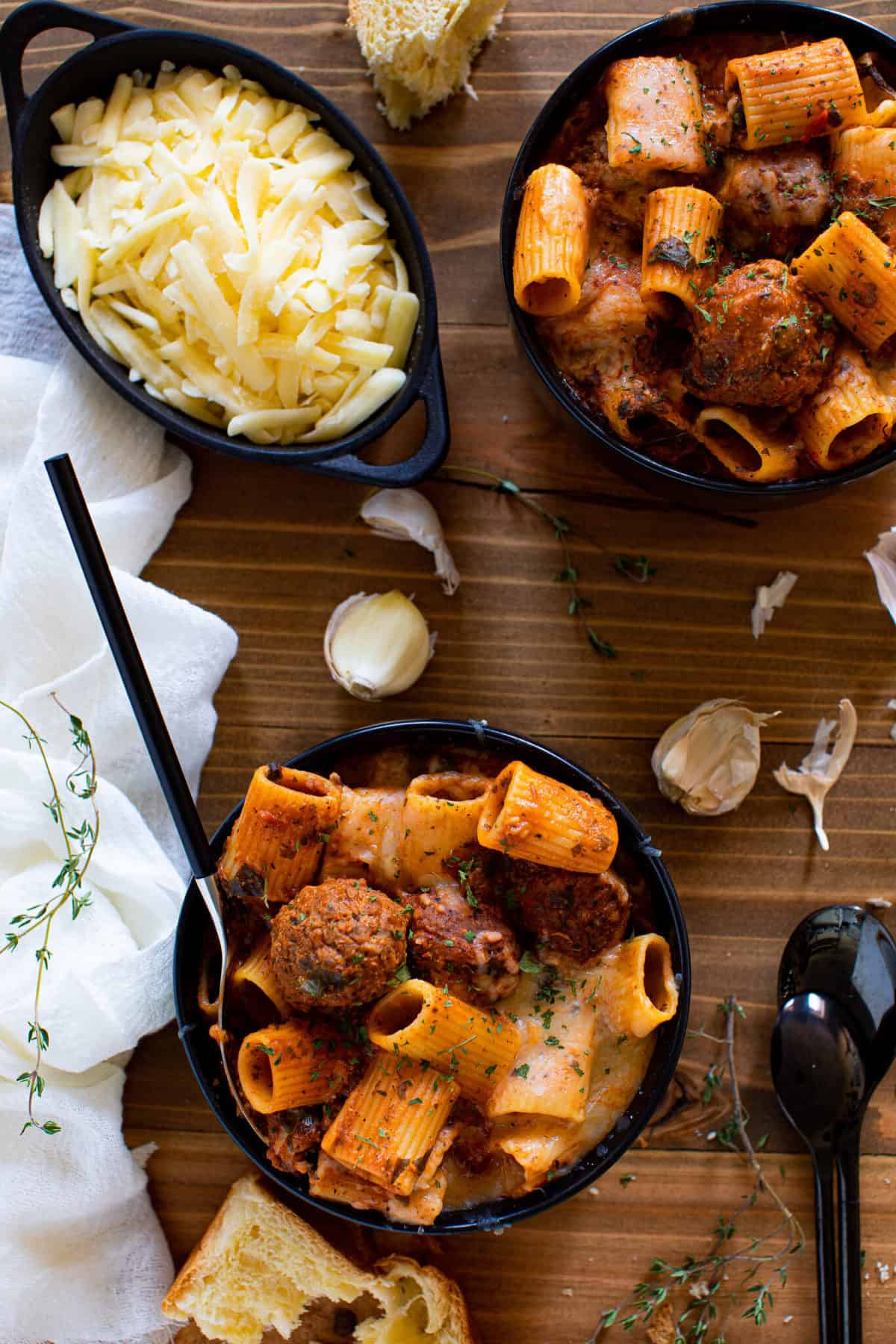 What You'll Love Most About This Rigatoni Meatball Soup.
It's super easy to make.
Simple set + forget it—-Simmer, Simmer, Simmer! There's even a slow-cooker option!
Only requires ONE pot + a blender.
Makes for a great vegetarian weeknight meal option.
Super creamy + comforting, all at the same times.
Super flavorful.
Perfect Fall + Winter vibes!
Did I mention, it's just delicious?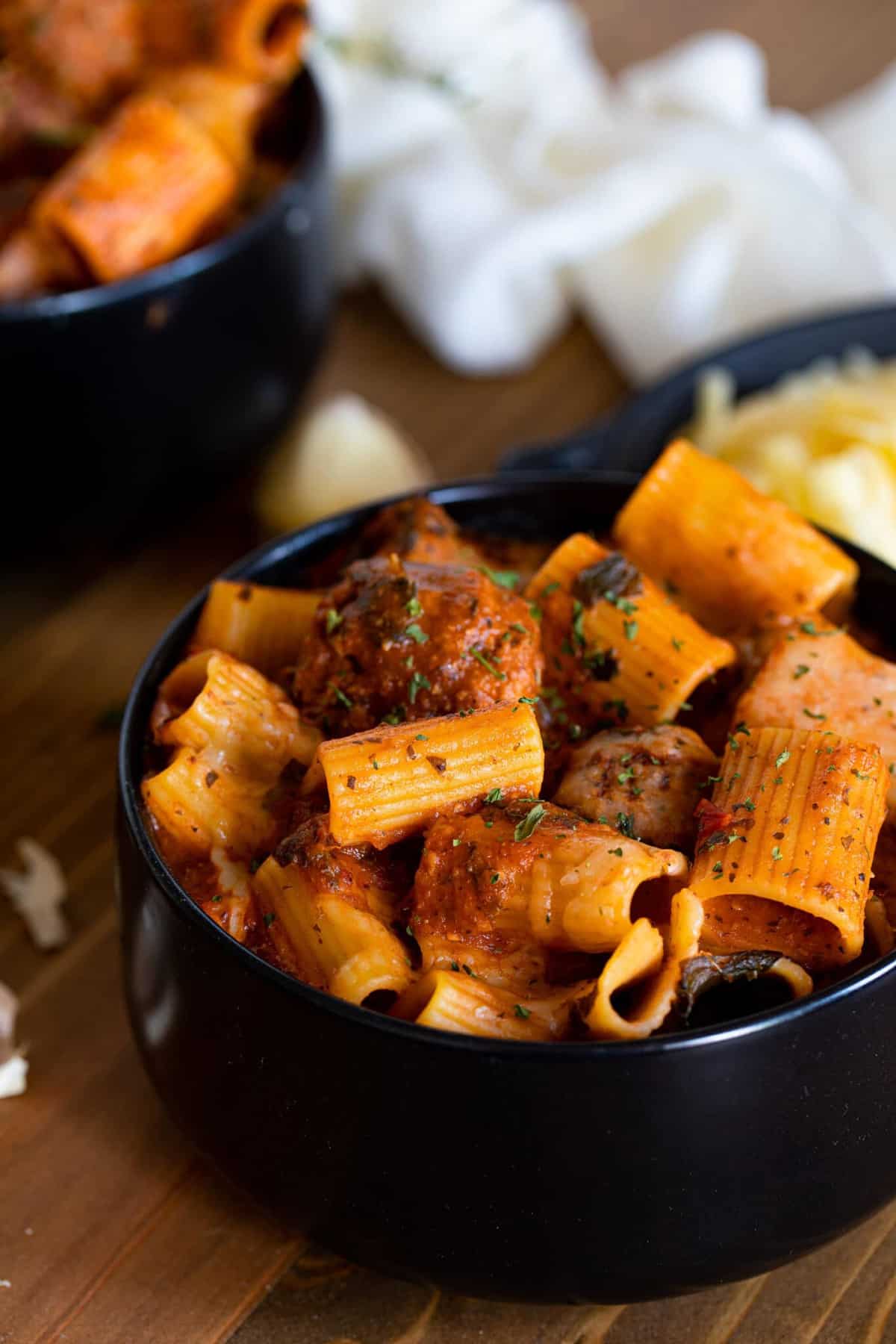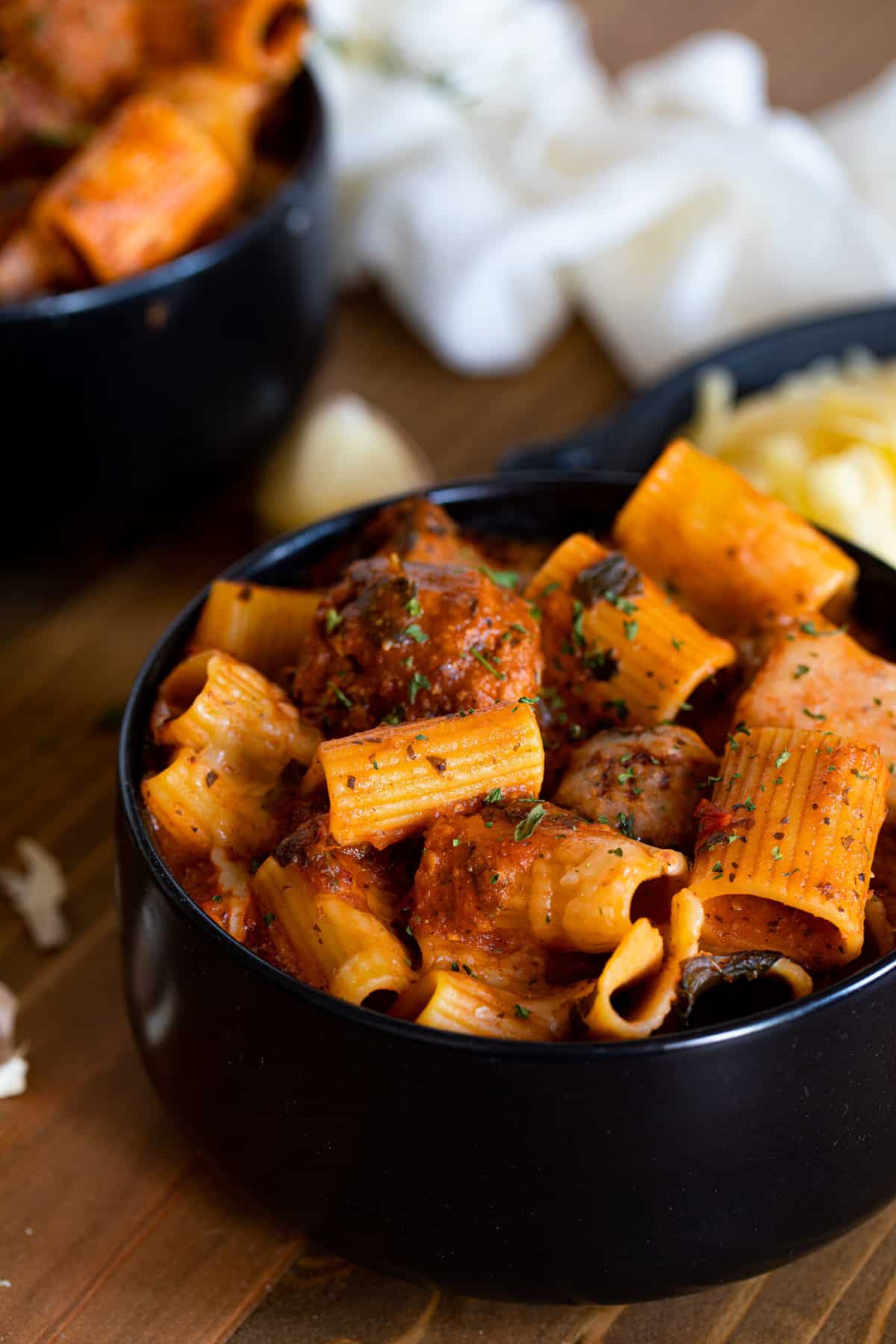 Homemade Vegan Meatballs:
1

cup

cooked quinoa

(Cook according to packaging!)

½

cup

pecans

1

(15 oz.) can

chickpeas, drained + rinsed

2

garlic cloves, minced

½

purple onion, chopped

¼

cup

nutritional yeast

1

tablespoon

Extra virgin olive oil 

1

teaspoon

dried oregano

1

teaspoon

dried basil

1

teaspoon

red pepper flakes

1

teaspoon

smoked paprika

1

teaspoon

dried parsley

½

teaspoon

sea salt

pinch of

black pepper

¼

cup

bread crumbs 
Topping:
2

cups

grated mozzarella cheese

1

cup

grated parmesan cheese
Homemade Vegan Meatballs:
Start by adding onions and garlic cloves to a heated skillet (with 1 tablespoon of extra virgin olive oil) and sautéing them until they are fragrant and translucent, about 2-3 minutes. Set aside skillet for later.

Add the cooked quinoa, pecans, and sautéed onions and garlic to a food processor and pulse for 1 minute or so. Add the chickpeas, nutritional yeast, olive oil, oregano, basil, red pepper flakes, smoked paprika, dried parsley, black pepper, sea salt, and bread crumbs, processing everything until it grounds into a thick mixture.

Using an ice cream scoop, shape mixture into individual balls (further rounding them with your hands). Repeat until all meatballs are created.

Reheat previous skillet over medium-high heat (with all the bits left in it) and add additional olive oil if needed. Add meatballs to pan and sear until nicely golden on all sides. Remove and set aside.
Soup:
Add 1-2 Tbsps of olive oil to a large dutch pot on medium-high heat. Add in the garlic and onions, and Sauté for 1-2 minutes until slightly softened and fragrant.

Add the tomatoes, seasonings, cooking wine, tomato paste, and veggie broth and bring to a boil. Once it begins to boil, reduce heat to low. Add in only TWO meatballs.

Using a hand blender, blend everything until fully smooth, leaving a few chunks apparent. **NOTE: if you don't have a hand blender, carefully add the cooked veggies (along with 1 cup of the veggie stock and 2 meatballs from the pot) into a high-powered blender, blending until smooth and creamy.**

Now, add in rigatoni pasta and remaining meatballs, stirring together until well incorporated.

Let simmer for 30-40 minutes. Add additional sea salt + black pepper, to taste.

Once meatballs are fully cooked through and pasta is tender, remove from heat and serve immediately.

To serve, add soup in prepared bowl(s) and top with grated cheeses, which should melt right away.

Bon Appétit!
STORAGE: Leftovers can be stored in a tightly sealed container in the refrigerator for up to 3 days, for optimal freshness. Can also be frozen for 4-6 months. To defrost, simply place soup in the refrigerator overnight or at room temperature before re-heating on the stove top to serve.
SLOW COOKER OPTION: To make this soup in the slow cooker, simply sauté garlic and onions before adding everything (including sautéed meatballs) into your slow cooker and cooking on the low setting for 6-8 hours, stirring occasionally. 
MEATBALLS: If you don't want to make Homemade Vegan Meatballs, you can always use store-bought ones. Gardein has a great option!
Easy Flavorful Rigatoni Meatball Soup.