Make the creamiest Spicy Brown Butter Pumpkin Rigatoni made with a pumpkin-cream sauce, herbs + spices, brown butter, chopped kale, parmesan, and a bit of spice for dinner tonight. Dairy-Free and Gluten-free options available.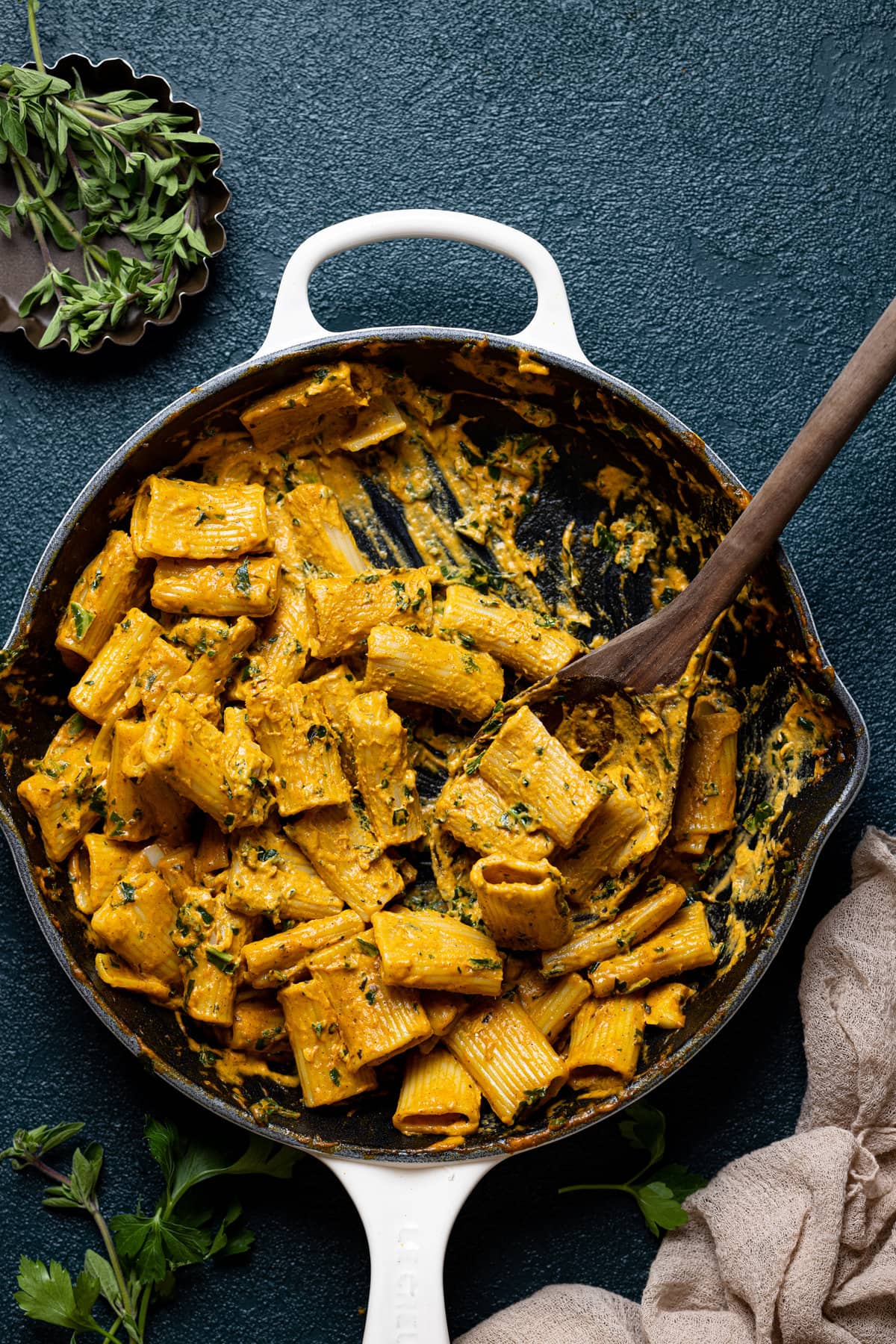 I'm always here for pasta. There's literally nothing better in this world to me than one full of pasta. Haha. 
But more importantly, creamy pasta is really where it's at and this Spicy Brown Butter Pumpkin Rigatoni is the ultimate creaminess and marriage of flavor that makes it a great option this Fall season, especially during PSL season.
Pumpkin-infused pasta is truly something delicious and shouldn't be passed up on if you ever get the option to try it. This vegetarian option pasta is truly amazing. Nothing short of flavor and it's even perfect once reheated!
So, these quick, easy meals come in real handy, especially on those days!
Of course, you can always search 'weeknight meals' on our site for more deliciousness.
How to Make Spicy Brown Butter Pumpkin Rigatoni
Start making this recipe by boiling your pasta. In the meantime, you make your creamy sauce by sautéing a few garlic cloves, and then adding in the seasoning, heavy cream, veggie stock, white cooking wine, pumpkin puree, and parmesan.
Next, toss in your chopped kale, finish things off with freshly-grated parmesan cheese and wallah.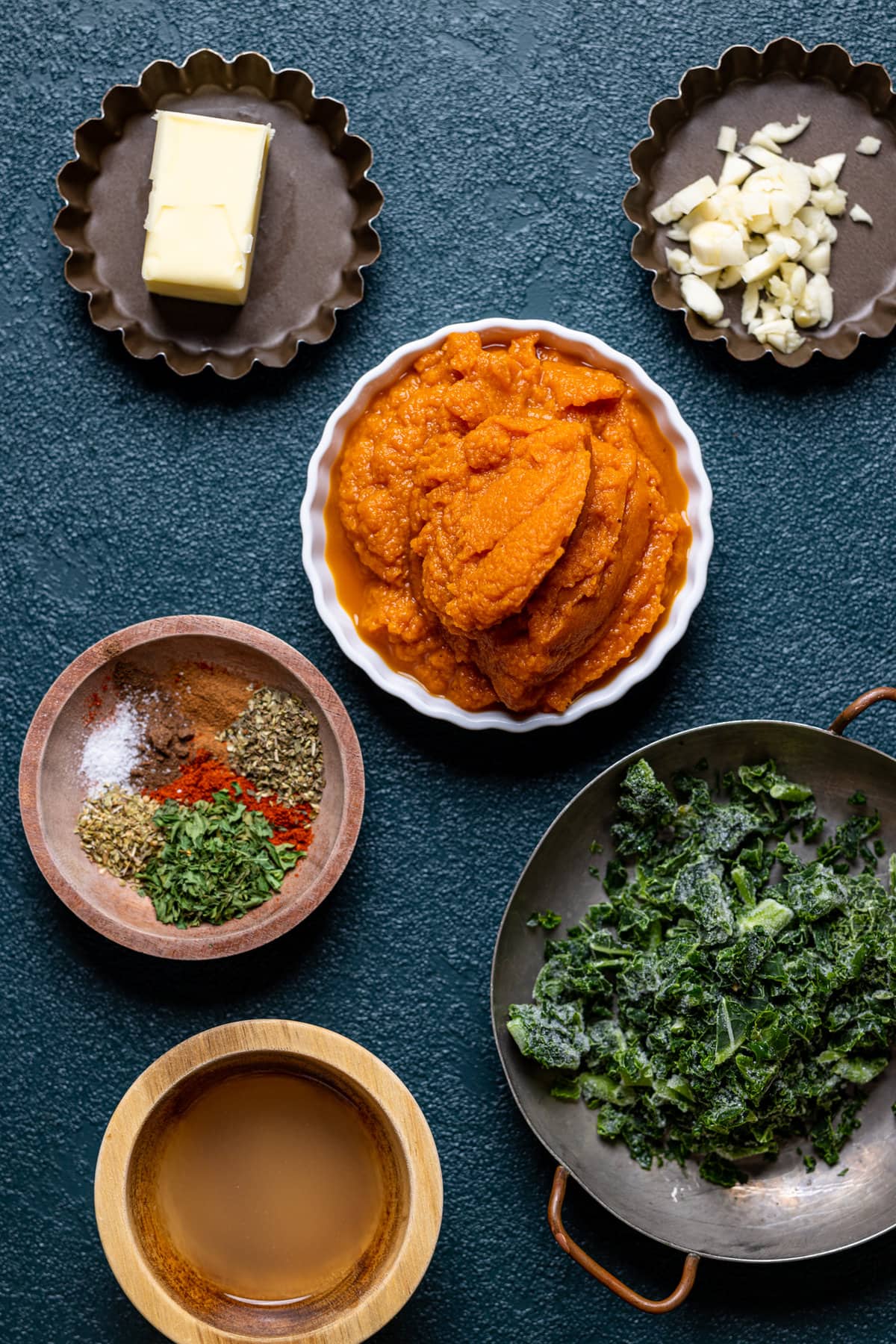 REASONS WHY YOU'LL LOVE THIS PUMPKIN PASTA!
First and foremost, the flavors in this simple and creamy pumpkin pasta is enough to convince anyone, however, here are a few more reasons why you'll love this pasta dinner:
It's absolutely delicious—-creamy + velvety. I always try to ensure that my creamy pastas are just that----creamy! So, using cream-based ingredients like a high-quality heavy creamy and freshly-grated parmesan helps to achieve this best!
Super easy to make and quick! I literally love making the most delicious weeknight meals that don't take a ton of time and effort and this recipe is it! Plus, no crazy clean-up! Can we say–Everything in a pot and skillet?
Full of flavor + well seasoned! (The best reason). This by far is one of my biggest reasons for making this pasta. I enjoy adding spices + herbs to create a bold flavor profile that works with pumpkin. Even a pinch of cinnamon + allspice adds a beautiful touch!
Perfect for any time of day—Dinner, Lunch, Breakfast (if that's your thing), whatever! Most of all, this is my biggest plus! I love pasta during anytime of the day, especially whenever there are leftovers. The good thing is that this pasta reheats nicely once done over the stovetop---slow and warmed through.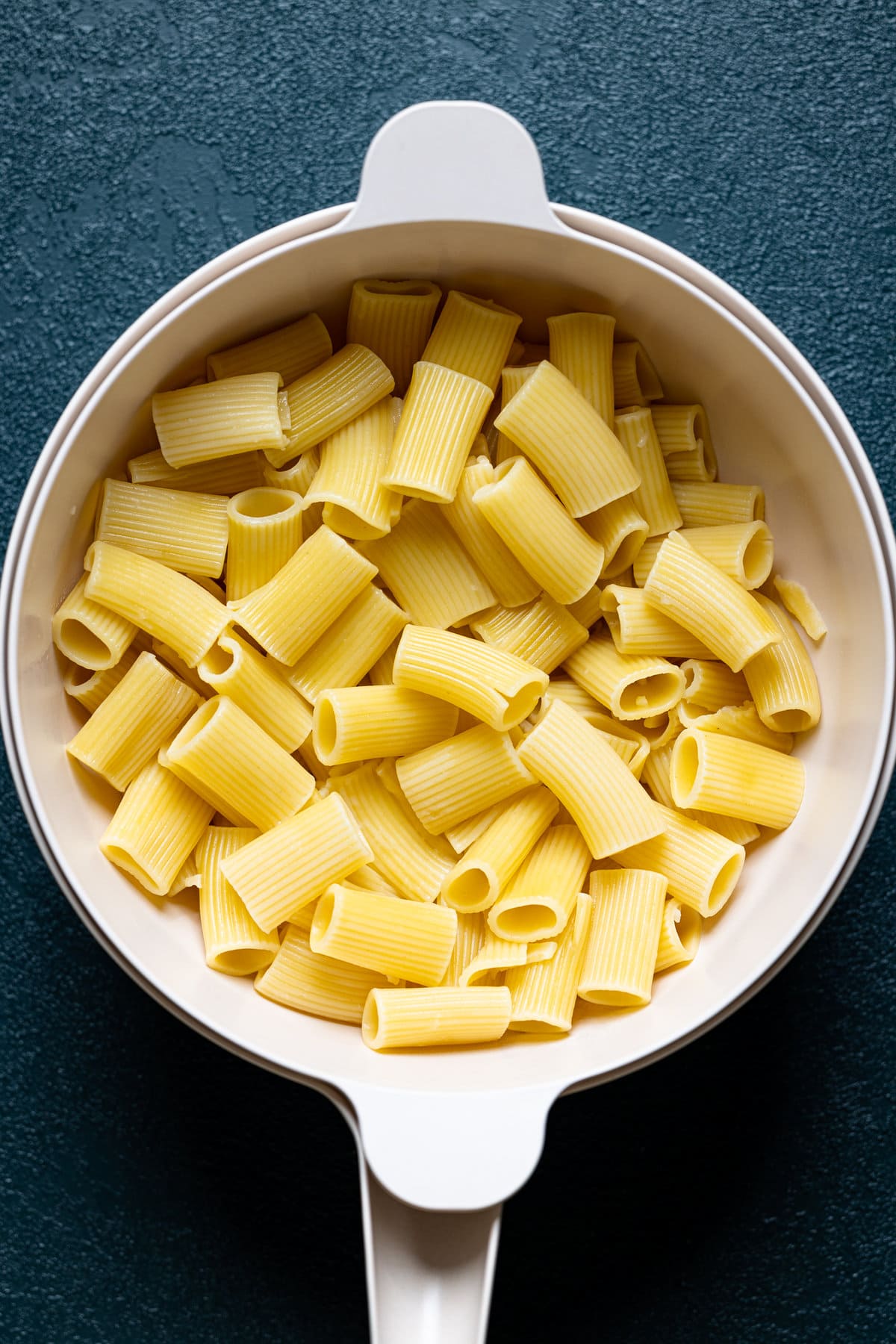 Ingredients For Spicy Brown Butter Pumpkin Rigatoni
This is a very simple recipe, but it does have THREE components: the brown butter, creamy pumpkin sauce and the rigatoni itself.
Creamy Sauce Ingredients
Here's what you need to make this fast creamy pasta dinner recipe:
Unsalted butter. No need to have the butter at room temperature. You can take it right out the fridge if needed because you'll be melting it in a skillet until darkened and fragrant.
Garlic. I recommend fresh, but you could use ½ teaspoon granulated garlic.
Heavy cream. I recommend organic–always!
White wine. Choose a dry wine that you like the taste of.
Herbs + Seasonings – A great addition of flavor. Adds such savoriness nice + a beautiful kick of spice including with a pinch of cinnamon and allspice.
Pumpkin. I use 100% organic pumpkin puree in the can, NOT pie filling. There's a difference!
Parmesan cheese. You could also use pecorino romano.
Kale. Use fresh for best results, but frozen also works! Ensure that it's chopped.
Veggie Stock– Helps to add extra flavor and creaminess. Use low-sodium store-bought or make your own.
Health Benefits of Pumpkin
It must be noted that this recipe (and most sweet or savory pumpkin recipes) calls for 100% pumpkin puree, NOT pumpkin pie filling! Pumpkin pie filling is quite literally the sweet pumpkin custard that you find in traditional pumpkin pie. It already contains sugar, cinnamon, clove, and other ingredients that make a pie filling.
Adding pumpkin pie filling to a dish that calls for 100% pumpkin puree will add an unwelcomed sweetness, essentially ruining the dish. Even if you are unsure of what type of pumpkin a recipe is calling for, go for the 100% pumpkin puree.
How to Brown Butter
Once you get the hang of browning butter, the process becomes second nature. At first, however, it might be a challenge to perfect the technique on your first try. Butter can burn quickly and easily, so you cannot step away during this process!
First, melt your butter in a skillet over medium to medium-low heat.
Once the butter has melted completely, allow it to begin bubbling. If the butter spatters, the heat source is too hot!
Allow the butter to cook for 3-4 minutes until you begin to see toasted bits at the bottom. This is the milk solids browning!
Once a rich brown color has been achieved and the butter smells nutty, it is ready. Remove the butter from the heat immediately.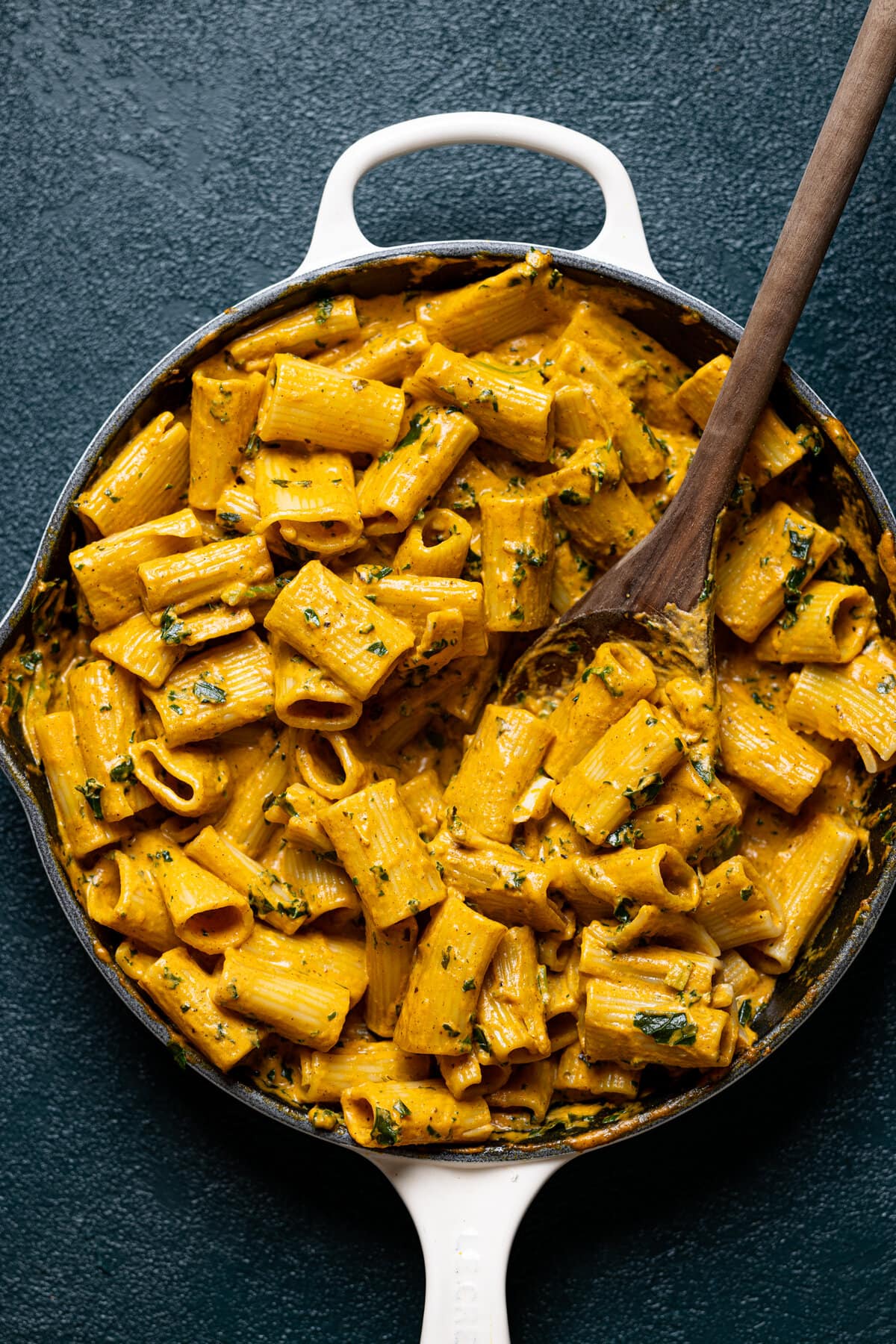 How To Make Your Pumpkin Sauce More Flavorful?
It's all about the seasoning! Whether you choose to keep things simple or a bit more complex, adding seasoning to your sauce is KEY! Adding flavor to the base of your sauce with garlic and seasonings will add more depth to your creamy pasta and allow everything else to marry together well.
Just let it all simmer together and slowly bubble as the seasonings infuse deeply.
Begin by cooking ziti pasta according to the directions of the packaging (about 8-10 minutes) and drain (leaving aside 2-3 Tbsps of pasta water for later).
Topping Ideas for Spicy Brown Butter Pumpkin Rigatoni
While I love this creamy pumpkin pasta dinner as-is, straight from the pan, you can dress it up with toppings if you like.
I usually just add kale, but for extra spice, color and texture, you can try:
Chopped nuts, such as toasted pecans or walnuts
Sun-dried tomatoes
Black olives
Sliced jalapeños for a bit more heat
Toasted bread crumbs
If you discover a new favorite topping idea, be sure to let me know in the comments section below!
What Are Delicious Foods to Pair This Pasta With?
When it comes to most pasta dishes, I often enjoy them with a side of bread of some sort. Most times, I make my own homemade Garlic Bread, however, you can choose to spruce things up with many other options such as:
A delicious Salad
Sautéed Greens
Grilled Veggies
Toasted Bread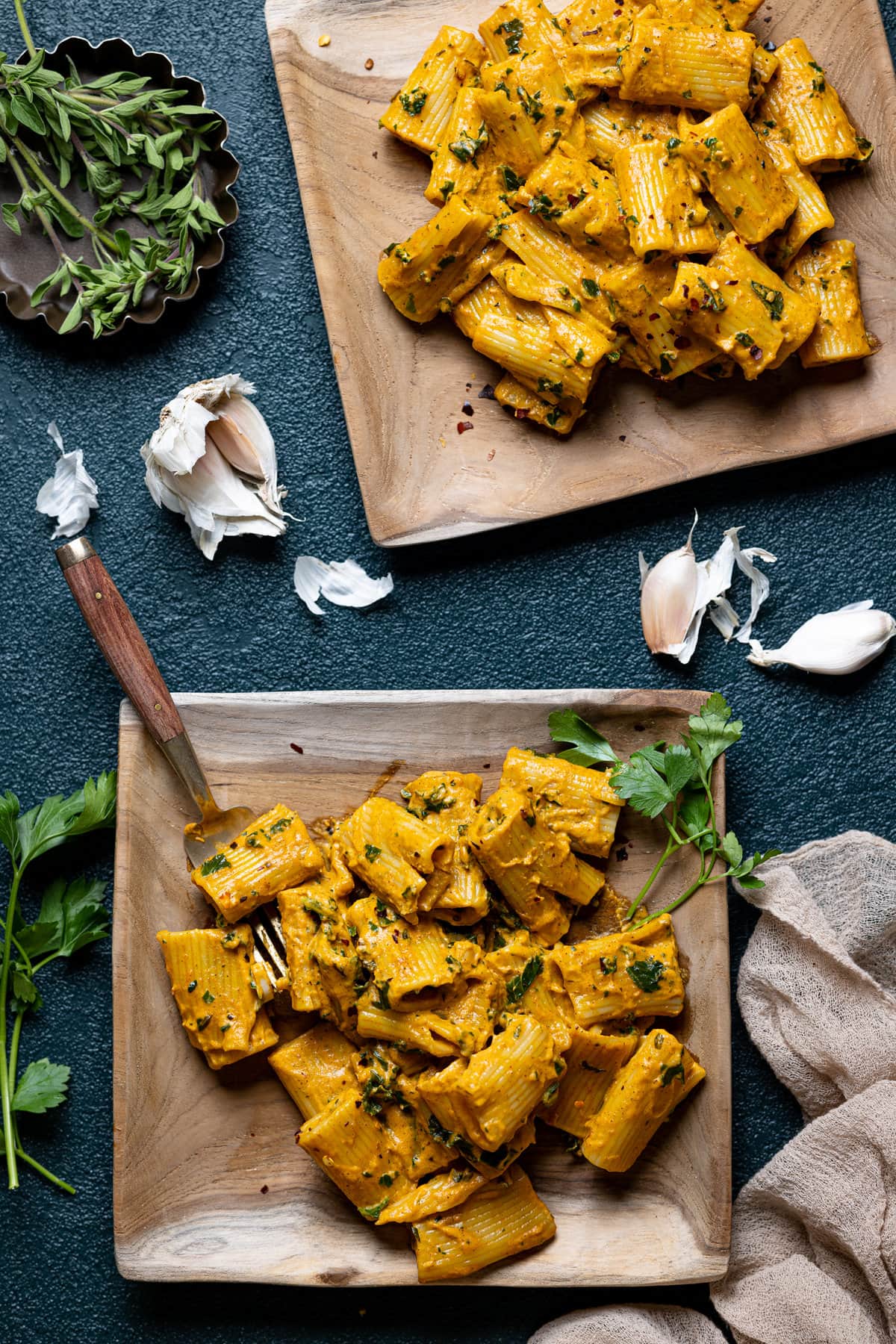 Can I Make Dairy-Free Spicy Brown Butter Pumpkin Rigatoni?
Yes! To make this sauce dairy-free, simply use vegan butter instead of the regular butter. Then swap the cream with full-fat coconut milk or coconut cream. And use your favorite dairy-free shredded cheese or nutritional yeast instead of parmesan.
When it comes to most of my vegan pasta dishes, I usually use cashews as a base to making the entire dish creamy. However, with the pumpkin flavored pasta, I didn't need to use cashews due to the pumpkin puree acting as a creamy base when paired with canned coconut milk and veggie stock.
Once you have the sauce simmering on the stovetop, the MOST IMPORTANT thing is to ensure that you whisk constantly. This prevents any clumping together and keeps everything smooth as the sauce thickens.
Can I Make Gluten-Free Pumpkin Rigatoni?
Absolutely! To make this creamy pumpkin rigatoni gluten-free, simply substitute the pasta for a gluten-friendly version of rigatoni or any other shape that you like.
Also, ensure that the heavy cream and other ingredients are GF-friendly.
Storing Leftover Pasta
Store leftovers in an airtight container in the fridge for up to four days. This makes a great meal prep recipe for a satisfying lunch! Reheat in the microwave or on the stove to serve.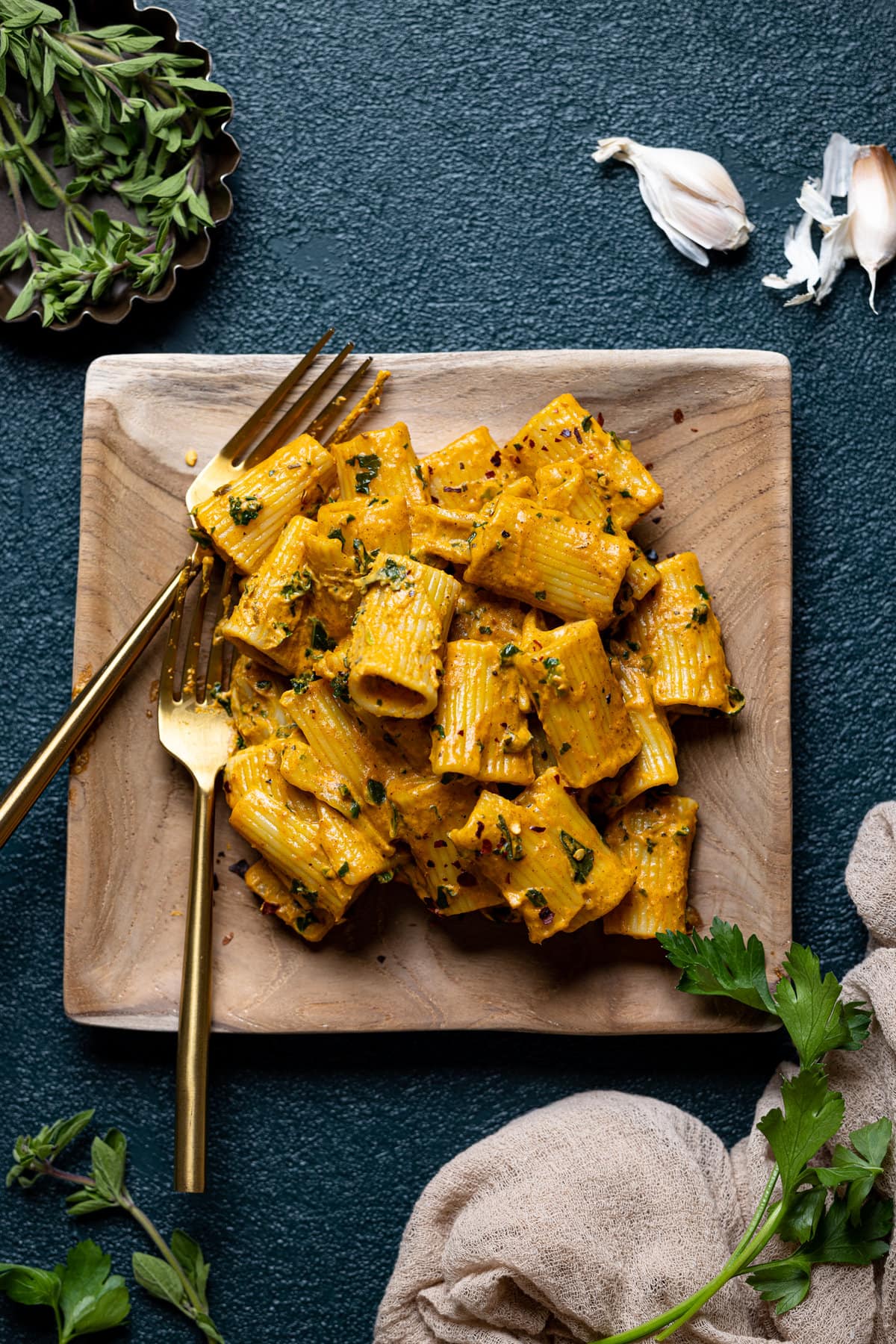 My Top Fave Meatless Comfort Food Recipes
MADE OUR RECIPE(S)?
If you make this Spicy Brown Butter Pumpkin Rigatoni, be sure to tag me on Instagram @orchidsandsweettea!
SAUCE:
4

Tbsps

unsalted butter

3

garlic cloves, minced

1

cup

organic heavy cream

¼

cup

vegetable stock

2

Tbsps

white cooking wine

1

teaspoon

red pepper flakes

(Plus, more if needed)

1

teaspoon

sea salt

Pinch of

ground cinnamon

Pinch of

ground Allspice

½

teaspoon

dried basil

½

teaspoon

dried oregano

½

teaspoon

smoked paprika

1

cup

kale, chopped

1

cup

100% pumpkin puree

(Not pie filling!)

½

cup

grated parmesan
BOIL THE PASTA:
To begin, cook pasta according to packaging. NOTE: rigatoni pasta doesn't take a long time to cook, usually 8-10 minutes (however, you should cook at 6-8 minutes or so—'al dente').
TO MAKE THE BROWN BUTTER:
TO MAKE THE SAUCE:
In the same skillet, add the minced garlic, sautéing until fragrant, about 1-2 minutes. Add the salt, cinnamon, basil, oregano, red pepper flakes, smoked paprika, and allspice, stirring everything together. Whisk in the heavy cream, veggie stock, white cooking wine, and pumpkin puree, until everything thickens and becomes smooth with no lumps visible. Stir in the chopped kale.

Reduce the heat to low and let the sauce simmer for 3-4 minutes until it thickens more and the kale has wilted and cooked. Stir in the grated parmesan until it has melted and the sauce is even more creamy.

Add in the cooked pasta and stir until everything is well coated.

Remove from heat and serve immediately with your favorite side or on it's own.

Bon Appetit!
STORAGE: Any leftovers can be kept in a tightly sealed container and refrigerated for up to 3-4 days.
SPICES/HERBS: If desired, you can reduce the amounts slightly. Please know that this recipe is bold in flavor, so feel free to adjust based on your tastebuds.
GLUTEN-FREE OPTION: To make this dish GF, simply use Gluten-Free pasta and ensure that all other ingredients are GF-friendly. 
DAIRY-FREE OPTION: To make this sauce dairy-free, simply use vegan butter instead of the regular butter. Then swap the cream with full-fat coconut milk or coconut cream. And use your favorite dairy-free shredded cheese or nutritional yeast instead of parmesan. 
PASTA: You can use Jumbo shells or long pastas like 

Pappardelle, Fettuccine, etc. if desired, however, I would recommend tossing with tongs to ensure that pasta is fully manageable and fully coated. Otherwise, the traditional penne or rigatoni pasta works perfe

ctly too!