Make The BEST Southern Baked Mac and Cheese that's gooey and melty in the center and crisp on the top. Also known as soul food Mac and Cheese, it is the epitome of comfort. Creamy, rich, ooey-gooey, and overflowing with cheese, with irresistible crispy browned breadcrumbed edges.
We have options for our plant-based friends that want to enjoy all the goodness without the dairy too! Enjoy my family-friendly Vegan + Gluten-Free options that meet everyone's dietary needs while remaining just as delicious as the classic version.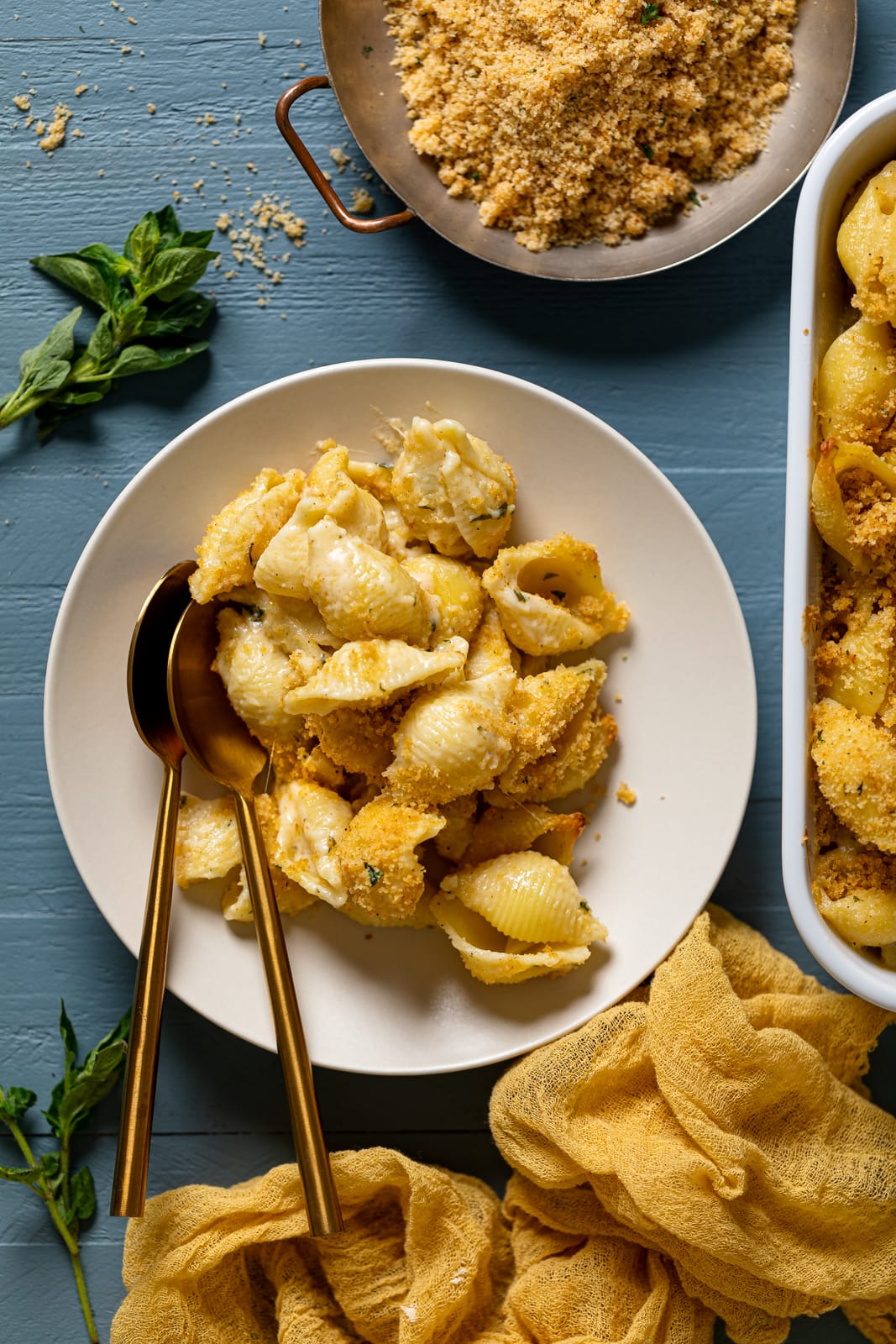 As you may know, I'm a southern girl at heart. Some of my favorite memories from growing up included eating my grandma's classic southern cooking, including mac and cheese. But as you also know, I love to experiment with plant-based spins on classic recipes. So this recipe has options to make it vegan and gluten-free if you like.
I've expressed my love for creamy, soft mac and cheese before with recipes like Easy Vegan Pumpkin Mac + Cheese and Baked Vegan Buffalo Mac + Cheese. But today's recipe is a classic, with a crisp coating of bread crumbs on top.
This is a favorite southern soul dinner recipe that everyone can get behind. It's a crowd-pleasing and easy-to-make casserole with melty cheese, savory garlic flavor, and soft, springy macaroni.
Speaking of delicious southern soul comfort food, here are some of my favorite dishes and drinks that everyone will be sure to love.
Southern Recipes You Will LOVE!
Southern-Style Cajun Pasta with Pecan Breadcrumbs - This plant-based pasta is topped with buttery pecan breadcrumbs and a creamy dairy-free + vegan cajun-infused parmesan sauce. And easy, quick, family-friendly meal for any night of the week. Gluten-free + Nut-free options.
Southern Hot Honey Fried Chicken - Made completely in the oven with chicken thighs and drumsticks, coated with cornflakes and breadcrumbs for an extra crunch, and drenched in a deliciously sweet + spicy hot honey sauce makes for the perfect meal addition. You won't believe how flavor-packed and CRISPY this chicken is! Gluten-free, Air Fryer, + Make Ahead options.
Traditional Southern Iced Sweet Tea - This tea is a refreshing home-brewed sweet tea made from black tea and boasts of great hints of lemon and a whole lot of sweetness---just like they like it down south! The perfect drink for the sunniest of days, regardless of the season! A true Southern staple, where conversations cannot exist without a good glass of sweet tea.
Vegan Southern Peach Cobbler - This recipe is a beautiful rendition of a classic cobbler. It has a true Southern touch and is entirely Vegan and Dairy-free. Sweet cinnamon biscuits are the perfect buttery topping to serve with dairy-free ice cream for a delightful summer dessert. Gluten-Free option available.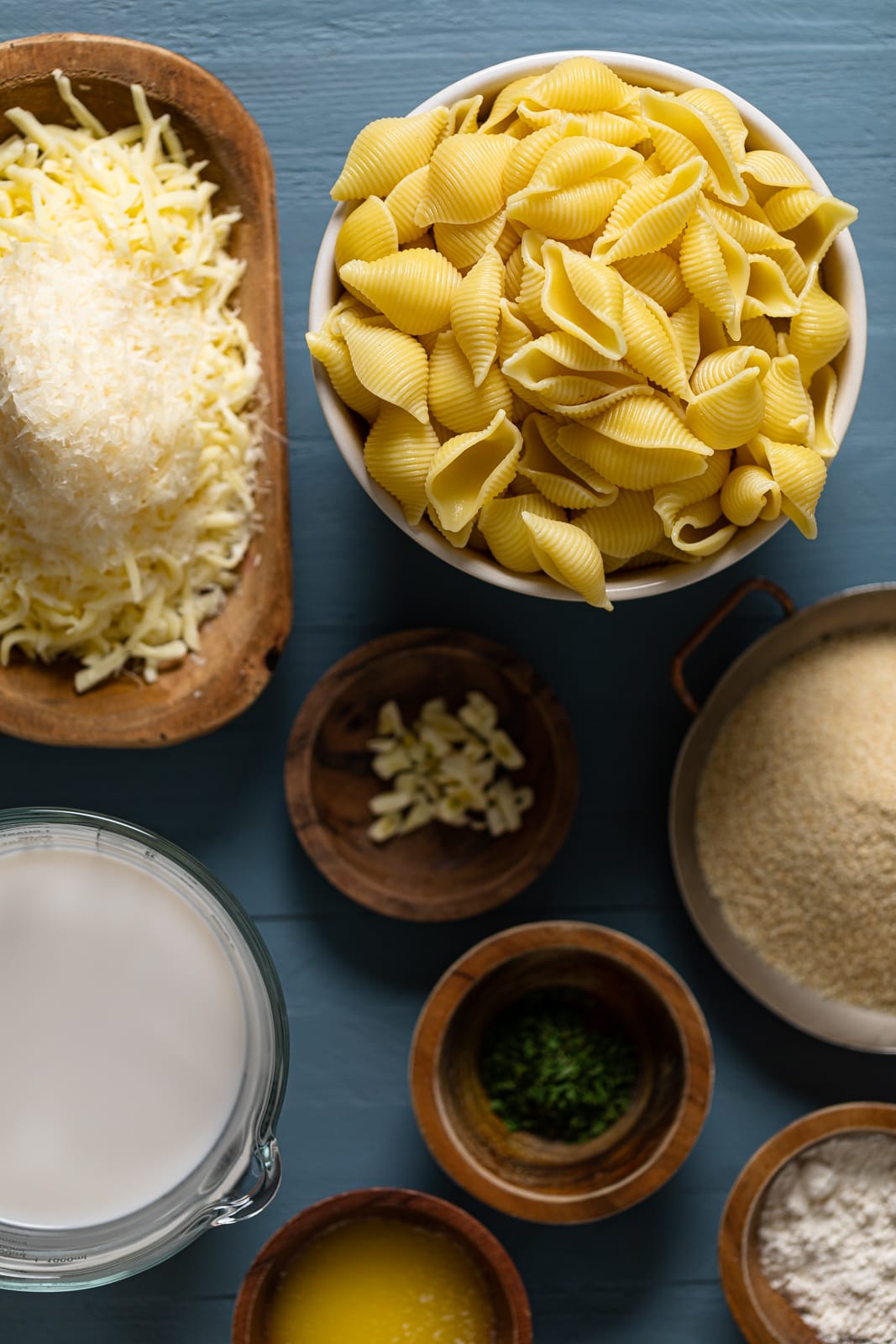 How to Make Southern-Style Mac and Cheese
If you're used to making mac and cheese on the stovetop, this recipe may be a bit different from what you're used to. It's baked in the oven and has a breadcrumb topping that turns golden brown and crunchy in the oven.
Ingredient Notes
The ingredients for this mac and cheese are pretty standard, and you may have most of them at home right now!
Shells or Elbow pasta. You can use a different short noodle if you like also.
Almond. I am avoiding too much dairy, so I like to use dairy-free milk in this southern mac and cheese. However, regular cow's milk will also work well.
Gouda cheese. I love the smoky flavor from smoked gouda, but regular will work too.
Mozzarella + mild cheddar + parmesan. It's important to use several different varieties of cheese for the best flavor and texture in your dish.
Smoked paprika. This adds just a hint of spice and color to the dish.
Ground mustard. This is also mostly for its bright yellow color. You can omit the mustard powder if you don't have it or substitute with regular dijon mustard.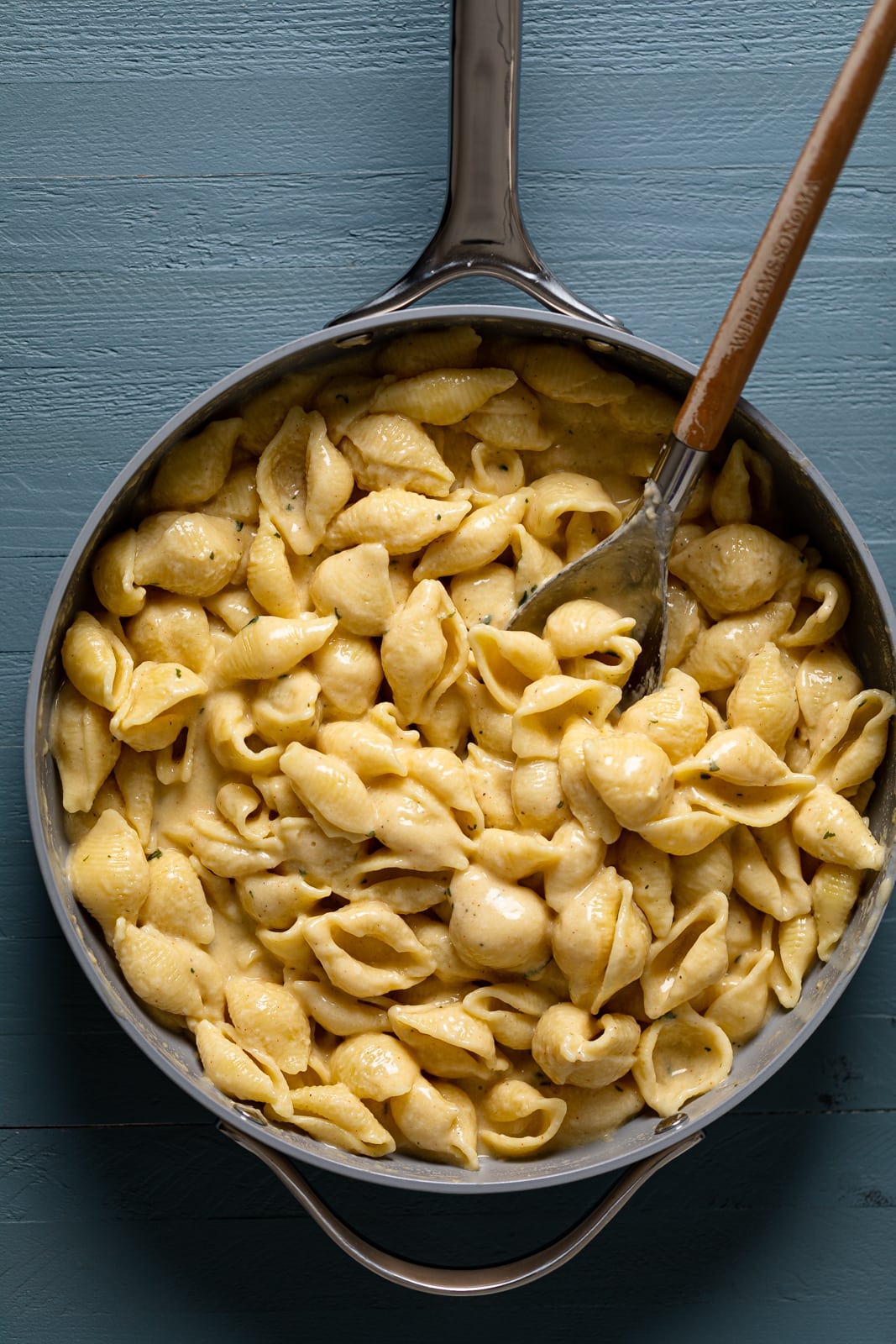 Making Homemade Breadcrumbs
Store-bought breadcrumbs will work just fine on your baked mac and cheese. But it's also very easy to make your own!
Here's how I make breadcrumbs at home:
Preheat the oven to 350°F.
Grind 1-2 cups of cubed bread into a food processor until finely chopped.
Place crumbs onto a parchment-lined baking sheet and spread out evenly. Bake for 5-6 minutes, stirring occasionally. Once brown + crisp, remove from oven and let cool.
You can store leftover breadcrumbs in a tightly sealed container at room temperature.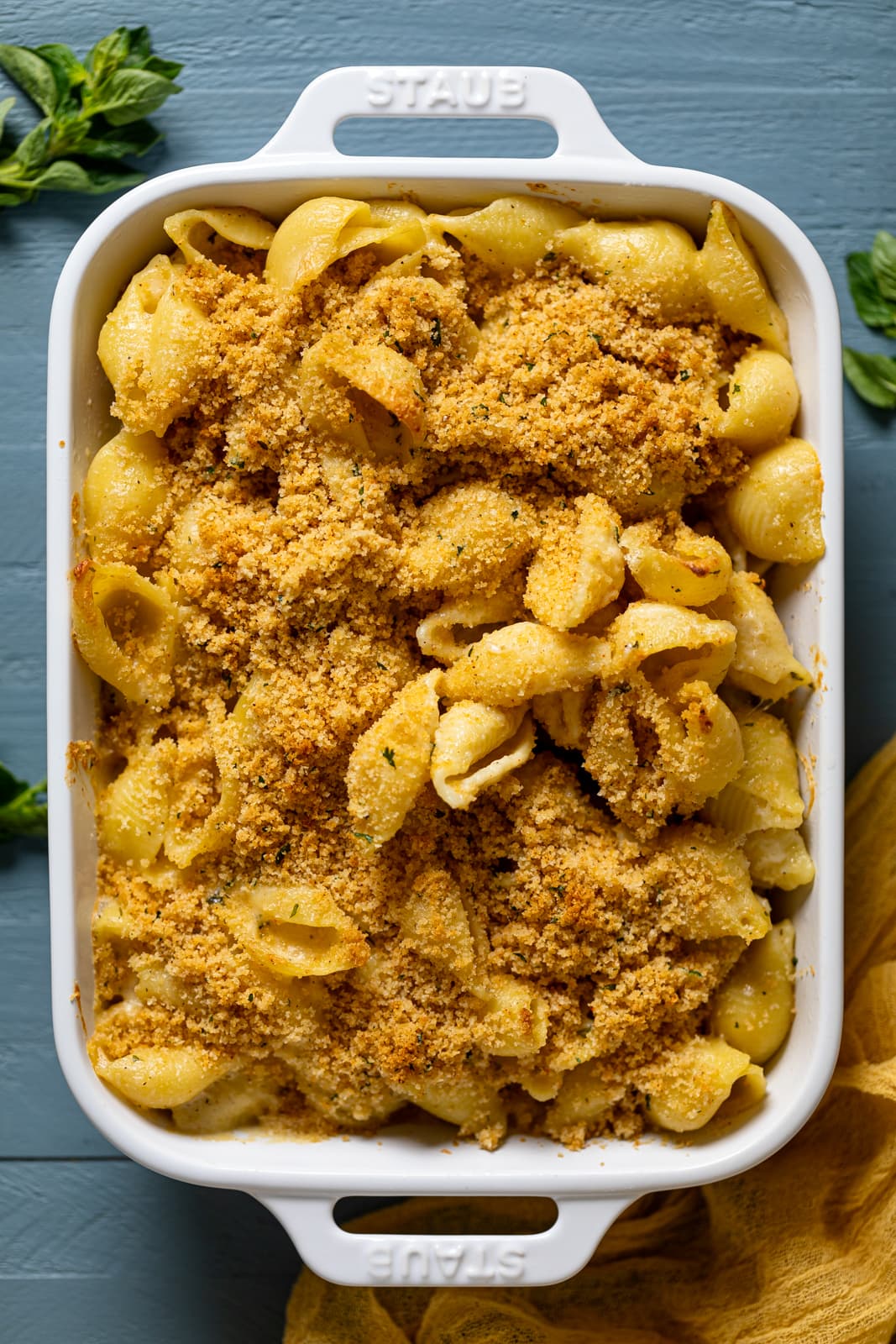 Why Should You Make The BEST Southern Baked Mac and Cheese?
Super creamy & tasty
Kid-approved
The perfect side or main meal
Cheesy & Crispy
Super easy and extremely satisfying
Suits everyone with Dairy-free, Gluten-free, and Vegan options!
Totally utterly one of the tastiest meals imaginable.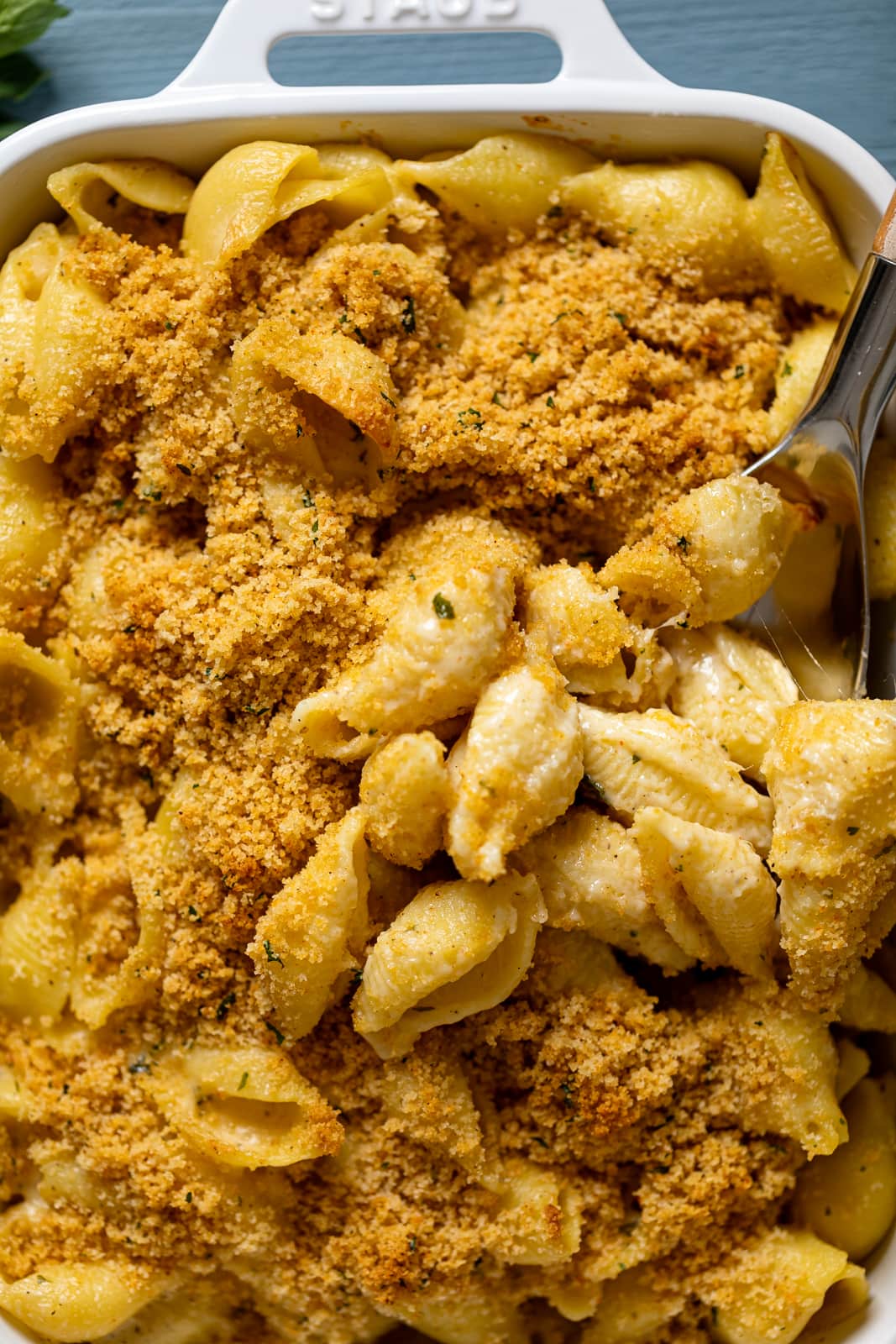 Southern Baked Mac and Cheese Q+A's
Can this recipe be made gluten-free?
To make this recipe gluten-free, use gluten-free shells or elbow pasta, flour, and gluten-free breadcrumbs. Or make your own with gluten-free bread.
How can I make this recipe plant-based/vegan?
To make this Mac + Cheese vegan and dairy-free, simply substitute cheeses with dairy-free shreds and use vegan butter. Also, check out my Vegan Mac + Cheese recipe.
How long does it keep?
Leftovers can be stored in an air-tight container in the refrigerator for 3-4 days and reheated when ready to serve.
Can you freeze Southern Baked Mac and Cheese?
You sure can! Preheat the oven to 350°F (180°C). Put the mac and cheese in an oven-safe dish. Bake for 10 minutes, covered with foil. Remove the foil, top with additional cheese if you fancy, and bake for another 5 minutes. You may also microwave it if you don't mind losing the crunchy crispy-ness.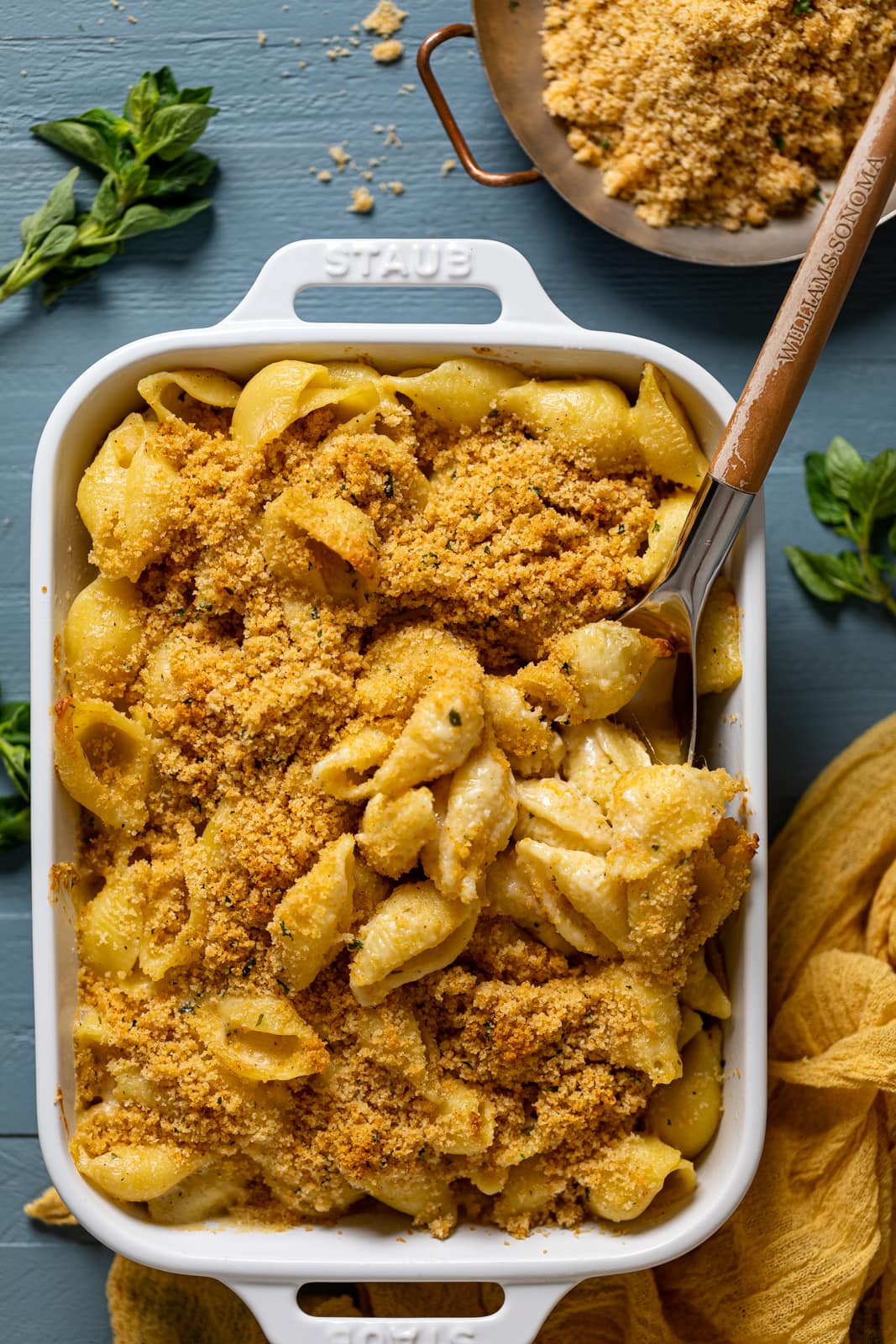 What to Serve with Southern Mac and Cheese
You can serve this baked pasta as an entree all on its own (with a tall glass of Traditional Southern Iced Sweet Tea) or treat it like a side dish. It's great with Shredded BBQ Jerk Chicken and Quick + Easy Blood Orange Kale Salad.
Additions to Southern Mac and Cheese
Add veggies
Roasted garlic
Kale
Broccoli
Cauliflower
Mushrooms
Add animal protein
Add plant protein
Tofu
Tempeh
Chickpeas
Faux Meat Alternative
Add Spice!
Cayenne pepper powder
Extra smoked paprika
Chopped jalapenos
Fresh chilies on top
Chilli Oil
More Classic Southern Recipes
And be sure to check out this round-up of my favorite Southern Comfort Foods.
MADE OUR RECIPE(S)?
If you make The BEST Southern Baked Mac and Cheese or any other recipe from us, be sure to tag us on Instagram at #Orchidsandsweettea so that we can share the love, rate, comment below, + share!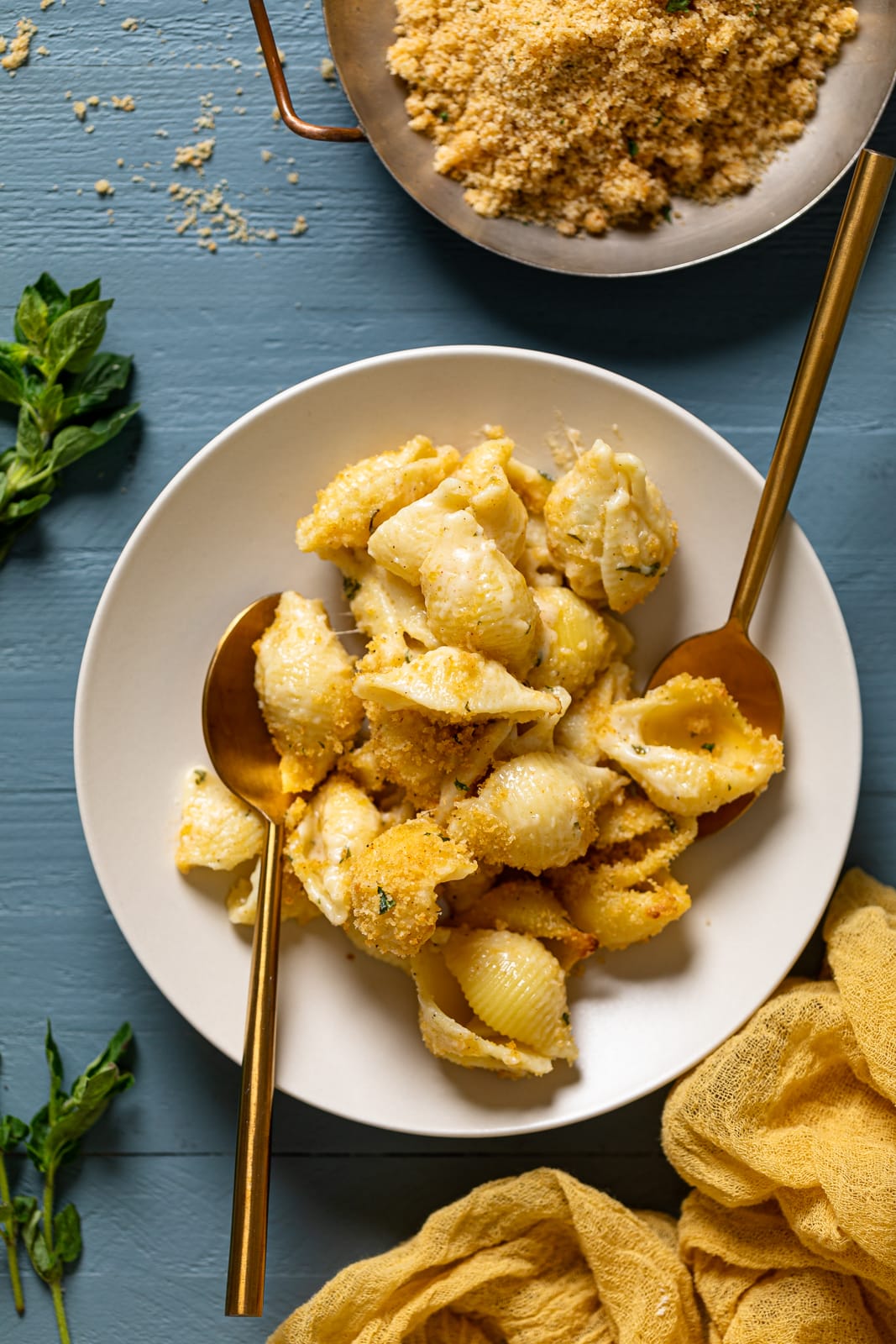 The BEST Southern Baked Mac and Cheese.