This One Pot Creamy Vegan Tuscan Kale Pasta recipe is a delicious weeknight meal option for everyone. Packed with bold, savory flavors, this recipe is the perfect vegan and dairy-free option that is made with a creamy based made from cashews and filled with a nice velvety texture from the cooked penne, kale and roasted tomatoes. Your entire family is sure to love this meatless option! Super easy to make and complete in under 30 minutes.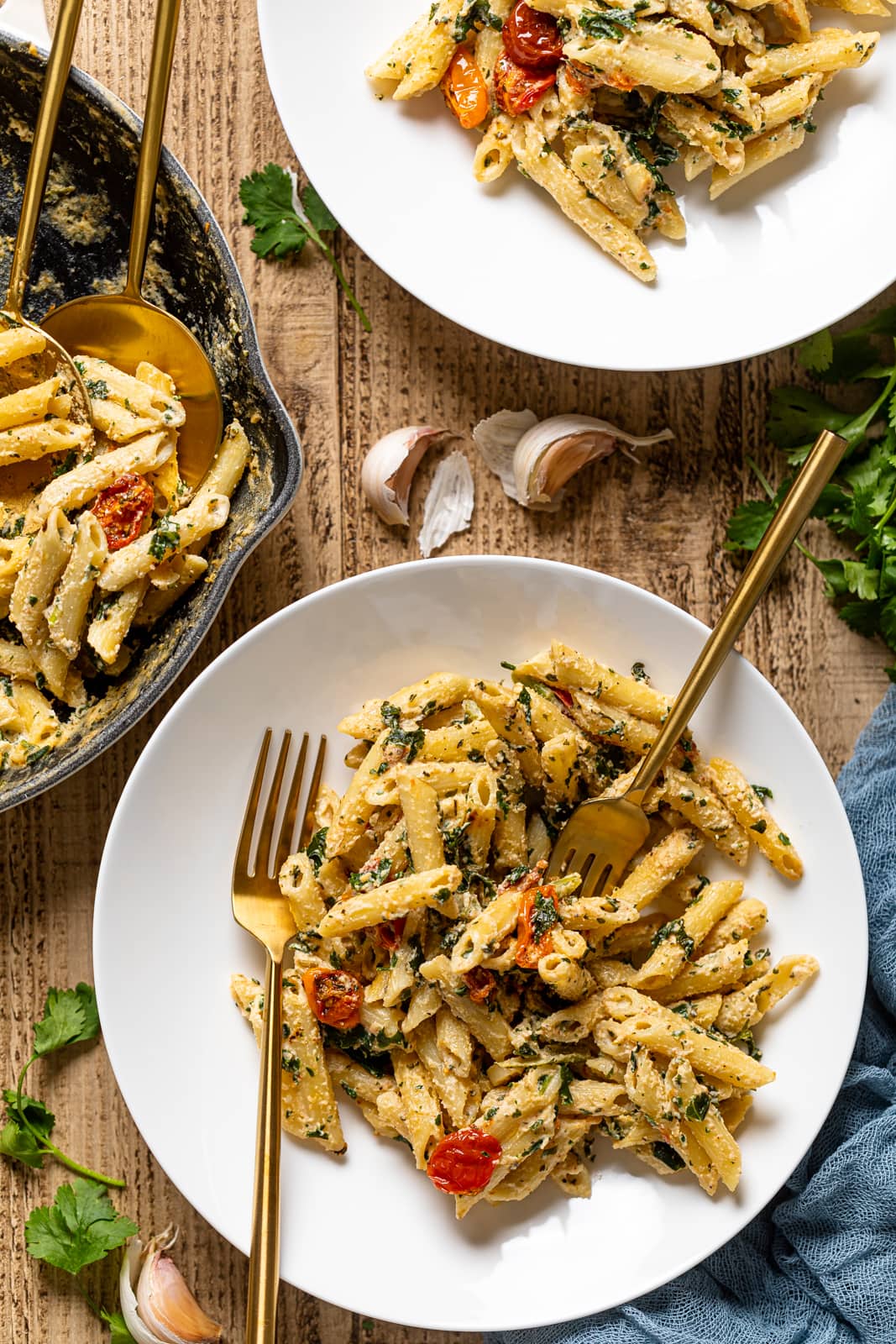 When it comes to weeknight meals or just meals in general, I am a huge believer in making things easy in the kitchen and creating confidence in the kitchen regardless of your skill level. Pasta dishes are one of my faves to make, especially when I can fully enjoy them because they are dairy-free or vegan.
I'm so excited to be sharing this dish with you guys because many of you have been loving my pasta dishes and have been wanting more. Haha. Hey, I don't blame you.
This particular dish was very much inspired by my Vegan Tuscan Kale Chickpea Soup, which has been my go-to recipe in the beginning of this pandemic.
It's just so rich in flavor, entirely meatless, BUT HEARTY, much like this One Pot Vegan Tuscan Kale Pasta.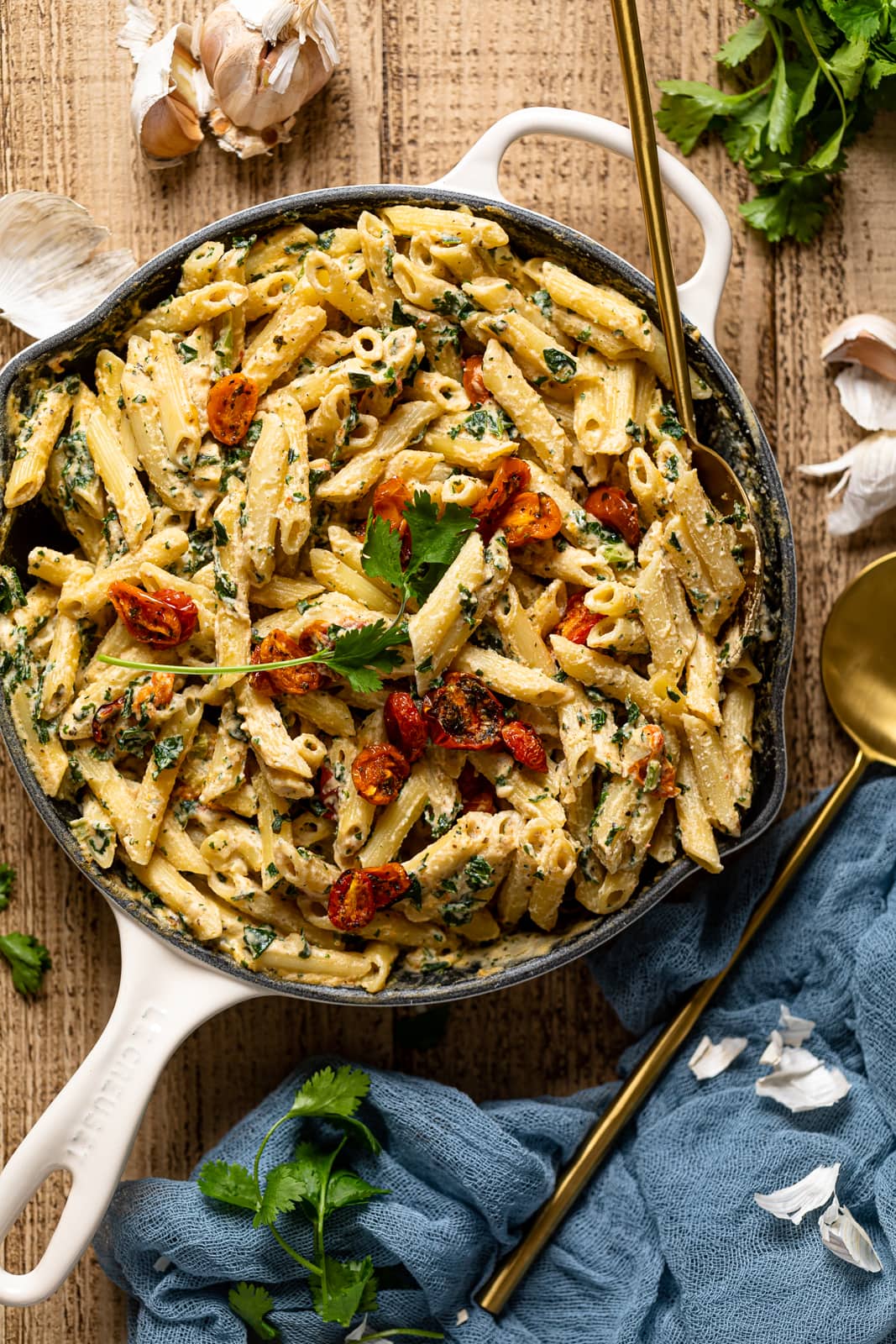 6 REASONS WHY YOU'LL LOVE THIS PASTA!
It's Vegan + Plant-based.
Super easy to make and quick (plus, no crazy clean-up! Can we say–Everything in a blender and one pot?)
Full of flavor + so creamy! (The best reason!)
Very kid-friendly (as long as there isn't an allergy to nuts)
Done in just 30 minutes.
Perfect for any time of day—Dinner, Lunch, Breakfast (if that's your thing), whatever!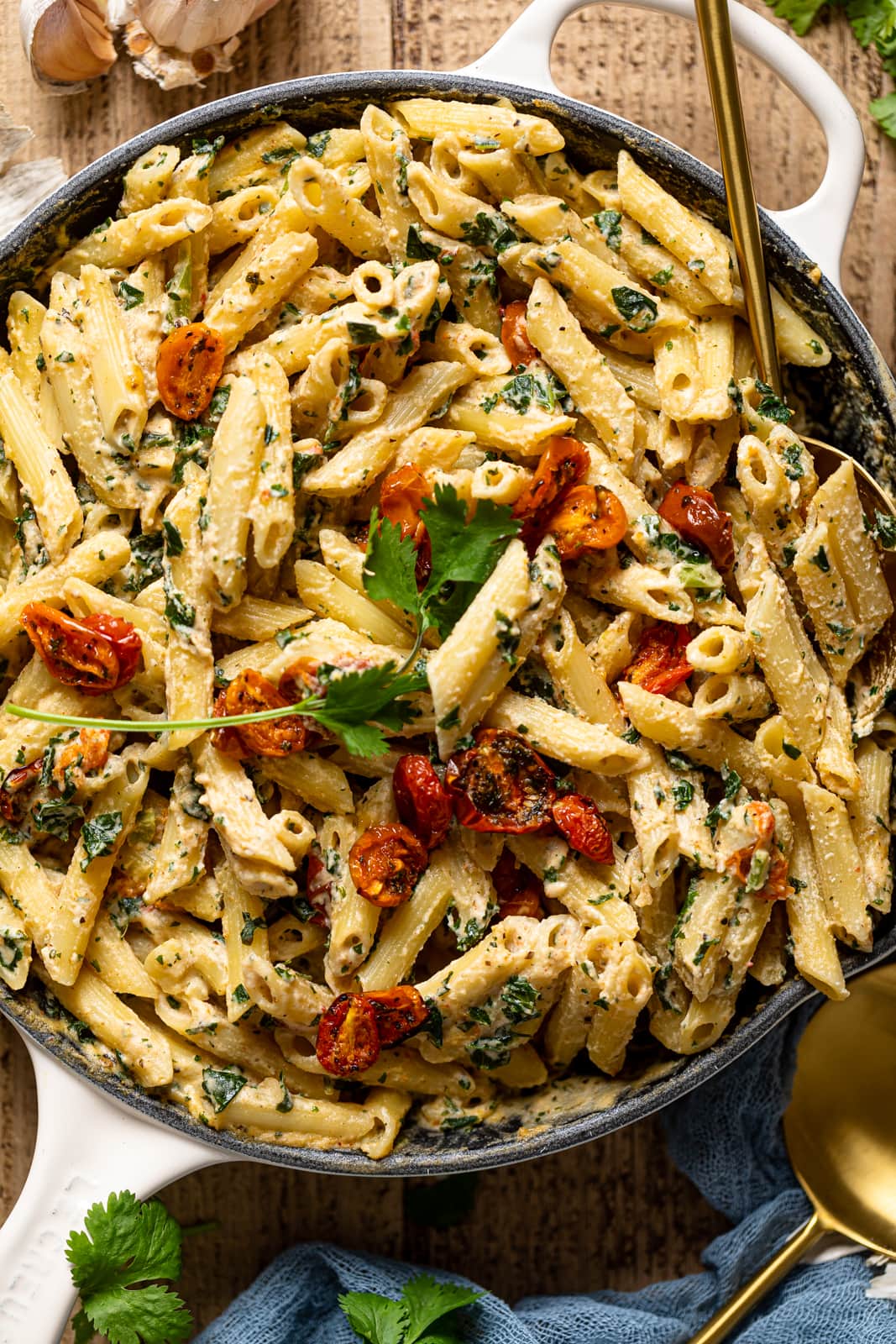 If you've been an avid follower of Orchids + Sweet Tea, then you know that I've shared many vegan recipes on this blog.
Lately, I've been asked for advice on keeping things interesting, especially when eating a plant-based or vegan diet. While I'm not a total Herbivore, my family and I make a commitment to eating most things that are Vegan.
To start, I'd recommend reading our latest article, How to Best Transition into a Plant-Based or Vegan Diet, which best explains how to keep your focus and continue on with eating healthy. Secondly, my best advice for anyone is EXPERIMENT, EXPERIMENT, EXPERIMENT!
And yes, I had to type that in capital letters. Haha. Seriously, it's so important to try different ingredients and even different ways to make your favorite ones.
This Easy Vegan Broccoli Alfredo Pasta is the perfect easy weekday meal or perhaps something simple for a laid-back weekend. Based with a creamy, flavorful Alfredo sauce made from cauliflower and cashews; and tossed with delicious broccoli. Completely dairy-free and vegan. Made in just 25 minutes!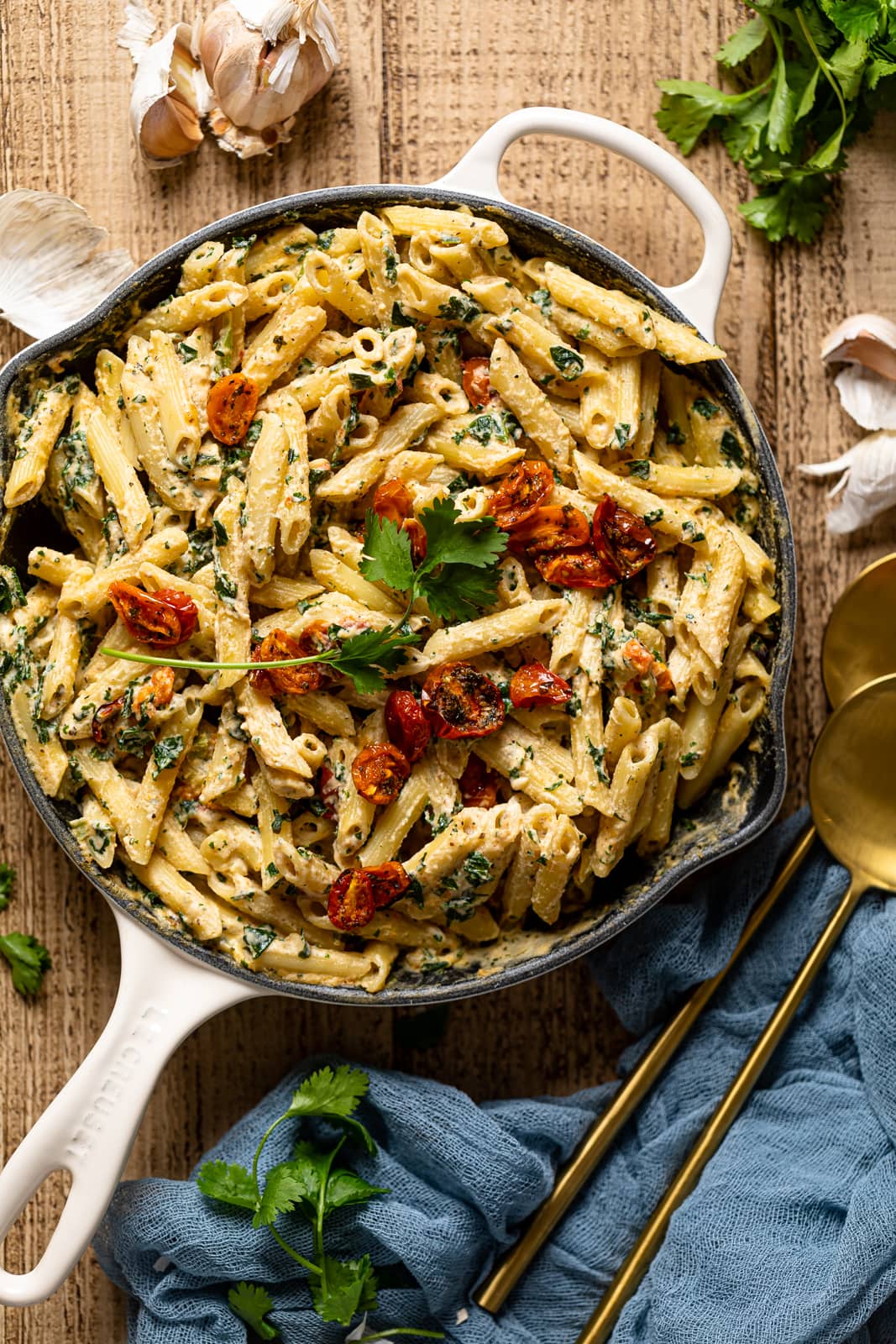 One Pot Creamy Vegan Tuscan Kale Pasta
Herb Roasted Tomatoes
The herb-roasted tomatoes offer a delicious umami-packed flavor foundation for the creamy chicken dish. 
You can make them ahead of time in the oven, then keep the tomatoes in the fridge unit you're ready to make the chicken. They'll stay fresh for up to three days in an airtight container.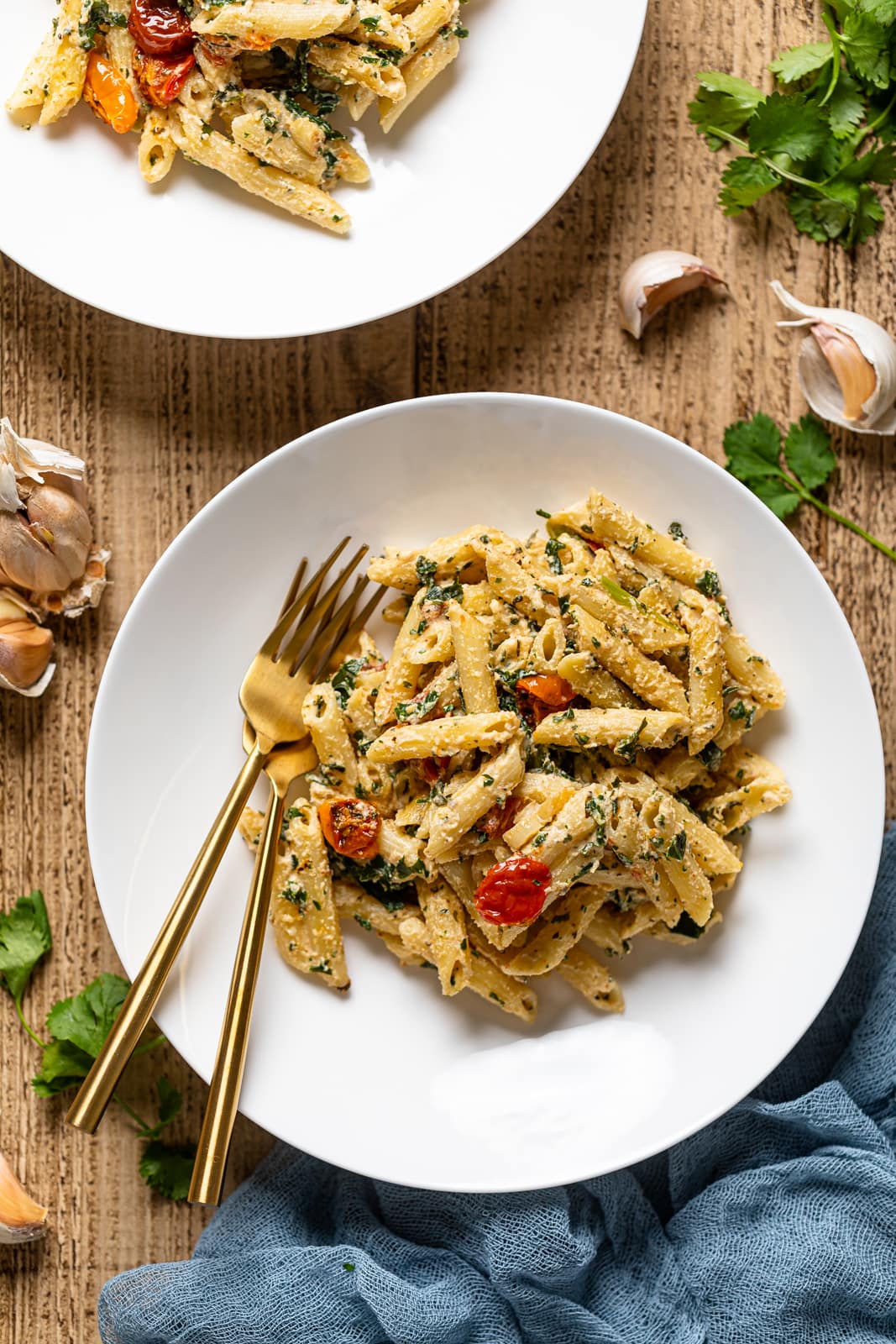 Need Ideas For Healthy Green Options?
When it comes to vegetables, there are so many benefits as we all know. While some veggies pack a greater punch when it comes to nutrients, we've curated a special list of our Our Top 12 Favorite Healthy Green Leafy Vegetables! Most of these are super popular while others are under utilized in many dishes. Lettuce Eat, Shall We?
What Are Foods to Pair This Vegan Tuscan Kale Pasta With?
When it comes to most pasta dishes, I often enjoy them with a side of bread of some sort. Most times, I make my own homemade Garlic Bread, however, you can choose to spruce things up with many other options such as:
A delicious Salad
Sautéed Greens
Grilled Veggies
Toasted Bread
I found a great article at The Kitchn which includes a few delicious examples of these!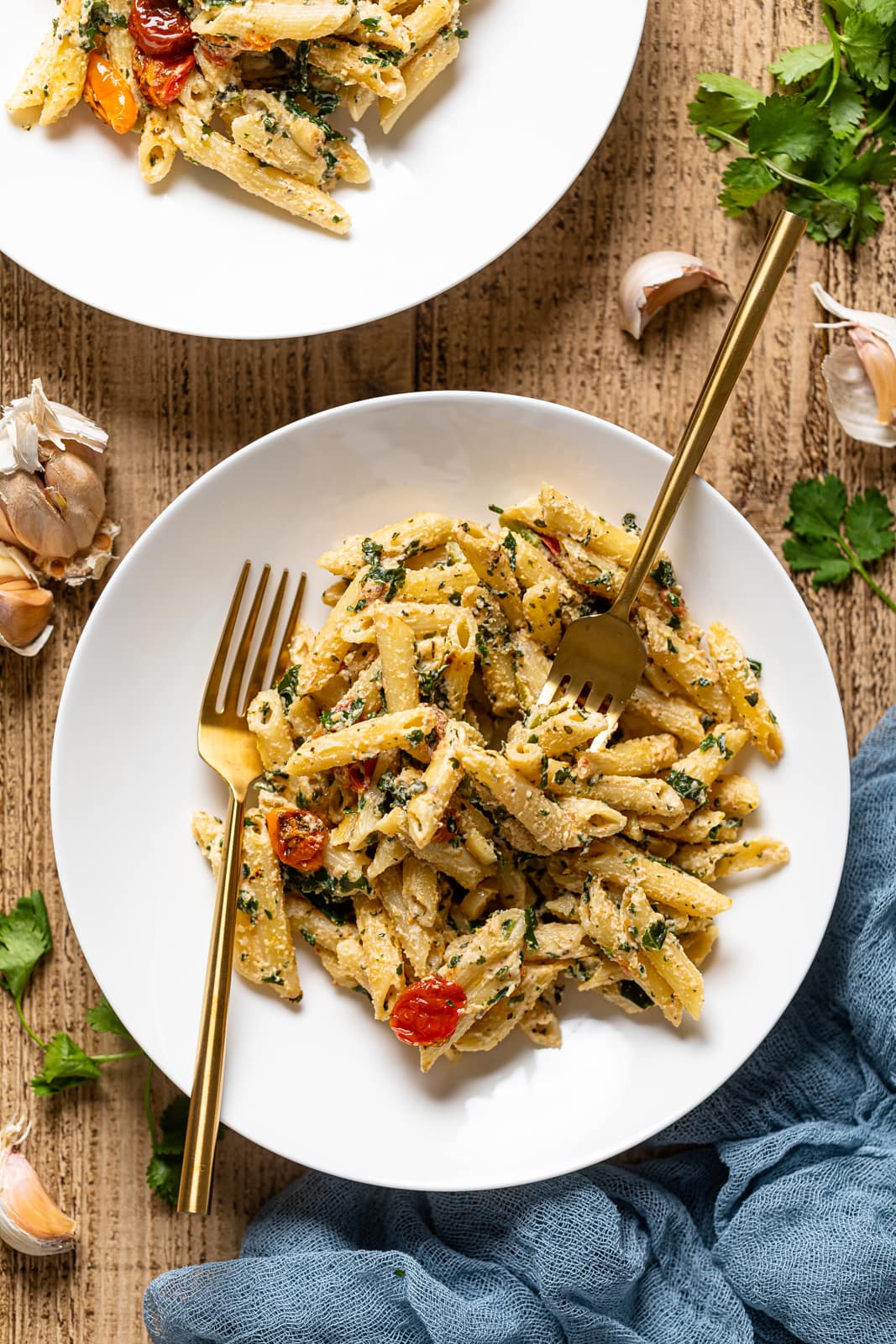 WHAT GOES INSIDE THIS VEGAN TUSCAN PASTA EXACTLY?
Ok, so when it comes to making this Vegan Tuscan Pasta dish, I chose to keep ingredients minimal for ease.
For starters, you need your favorite dry pasta (I used Organic Penne Pasta). Of course, the sauce is the 'star' of this dish, therefore, the following ingredients are super important: raw cashews, vegetable broth, nutritional yeast, lemon juice, garlic cloves, white wine, and seasonings.
Lastly, you add your kale and tomatoes and BAM! You're good to go!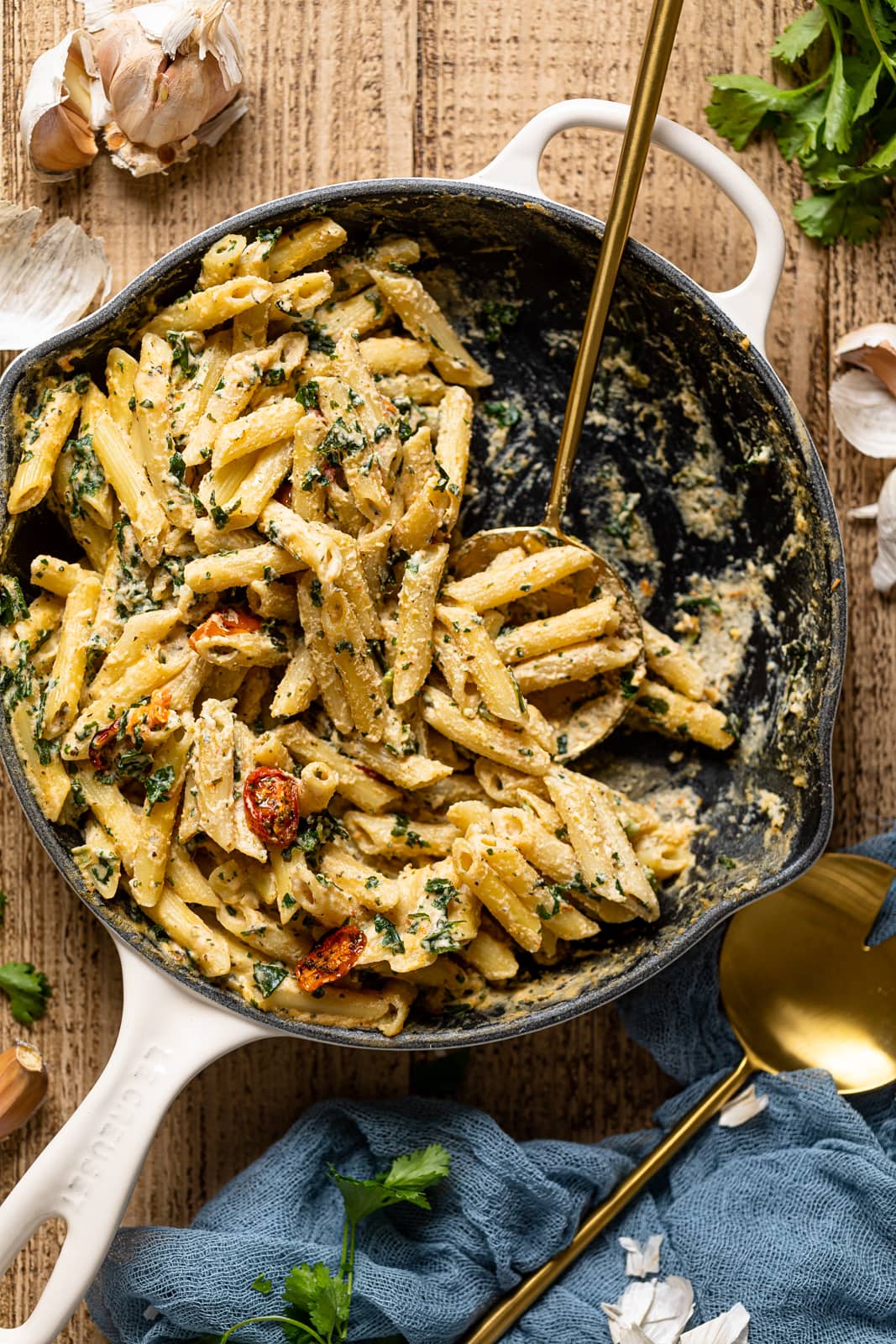 Super Easy Vegan Dishes For Dinner
Of course, you can always search our Vegan Lunch/Dinner archives for more deliciousness!
MADE OUR RECIPE(S)?
If you make this One Pot Creamy Vegan Tuscan Kale Pasta or any other recipe from us, be sure to tag us on Instagram at #Orchidsandsweettea so that we can share the love!
PASTA:
1

(16 oz.) package

Penne pasta

(Vegan-approved! See Notes!)

1

tablespoon

Extra virgin olive oil

2

cups

chopped kale, fresh or frozen

2

cups

Roasted Herb Tomatoes
SAUCE:
2

Tbsps

vegan butter

1

cup

Raw cashews, soaked overnight 

(See Notes!)

3

garlic cloves, minced

1 ½

cups

vegetable stock, low-sodium, divided

3

Tbsps

white cooking wine

1

teaspoon

freshly-squeezed lemon juice

2

Tbsps

nutritional yeast 
HOMEMADE TUSCAN BLEND:
1

teaspoon

dried thyme

1

tablespoon

smoked paprika 

2

tsps

dried parsley

2

tsps

dried basil

2

tsps

dried oregano

1

teaspoon

garlic powder 

½

teaspoon

dried rosemary

Pinch of

sea salt + black pepper
BOIL THE PASTA:
Cook pasta according to packaging. NOTE: penne pasta doesn't take a long time to cook, usually 8-10 minutes (however, you should cook at 6-8 minutes or so—'al dente').
MAKE THE SAUCE:
In a high-powered blender, add the soaked cashews, 1 cup of vegetable stock, and nutritional yeast, blending on high-speed until smooth, about 2-3 minutes. NOTE: If it doesn't become smooth enough, add another ¼ cup of liquid (water or stock) and blend again.

In a large 12-inch skillet, melt the 2 Tbsps of butter and add minced garlic sauté frequently about 1-2 minutes until translucent and fragrant.

Add in the tuscan seasoning blend and whisk together until well combined. Add in the cashew sauce, remaining ½ cup of vegetable stock, white cooking wine, and lemon juice, whisking until combined and it begins to bubble, about 1-2 minutes. Stir in the kale and continue to cook for another minute or two.

Reduce the heat to low and add in the cooked pasta and roasted tomatoes and stir until everything is well coated.

 Remove from heat and serve immediately with your favorite side.

Bon Appetit!
STORAGE: Any leftovers can be kept in a tightly sealed container and refrigerated for up to 3-4 days.
GLUTEN-FREE: To make this dish GF, simply use Gluten-Free pasta and ensure that other ingredients are GF-friendly. 
SOAKED CASHEWS: Add cashews to a bowl or measuring cup, cover with fresh cold water and cover with plastic wrap and let sit at room temp overnight. For a quick soak-----add cashews to measuring cup and cover with boiling water for 30 minutes instead.
VEGGIES: If preferred, you can always add other greens to the mix for additional flavor such as Spinach or Collard Greens.
SPICES/HERBS: If desired, you can reduce the amounts slightly. Please know that this recipe is bold in flavor, so feel free to adjust based on your tastebuds.
PASTA: You can use long pastas like 

Pappardelle, Fettuccine, etc. if desired, however, I would recommend tossing with tongs to ensure that pasta is fully manageable and fully coated. Otherwise, the traditional penne or rigatoni pasta works perfe

ctly!
Calories:
354
kcal
|
Carbohydrates:
27
g
|
Protein:
12
g
|
Fat:
25
g
|
Saturated Fat:
4
g
|
Polyunsaturated Fat:
5
g
|
Monounsaturated Fat:
13
g
|
Trans Fat:
1
g
|
Sodium:
583
mg
|
Potassium:
857
mg
|
Fiber:
7
g
|
Sugar:
9
g
|
Vitamin A:
4688
IU
|
Vitamin C:
44
mg
|
Calcium:
181
mg
|
Iron:
6
mg
One Pot Creamy Vegan Tuscan Kale Pasta.