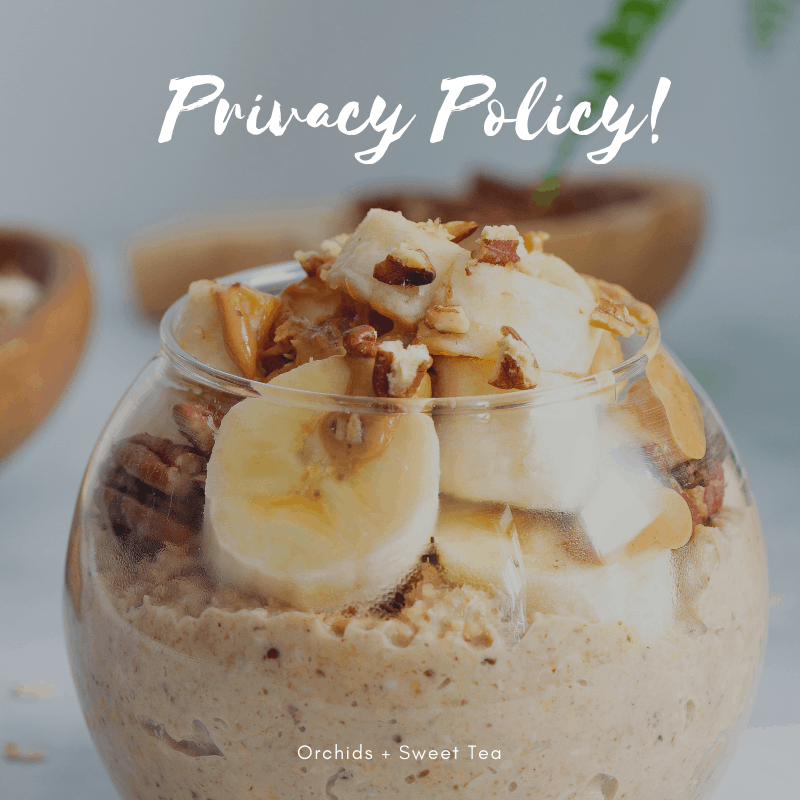 Orchids + Sweet Tea found at https://www.Orchidsandsweettea.com/ ("Website") is governed by the following privacy policy ("Privacy Policy").
We respect your privacy and are committed to protecting it. Therefore, the purpose of this Privacy Policy is to inform you about the personally identifiable information that we may collect and how it may be used. This statement only applies to this Website.
WHAT INFORMATION DO WE COLLECT AND HOW IS IT USED?
Information You Voluntarily Submit to the Website: We may collect personal information from you such as your name or email address. For example, you may voluntarily submit information to the Website by leaving a comment, subscribing to a newsletter, or submitting a contact form. Also, when leaving a comment on our website we collect your name, email address and (optionally) your website address. This enables us to connect to the Gravatar service to pull through your profile picture, and create a hyperlink to your website (see 'Comments' section below).
Where your Information is Stored: We are committed to ensuring that your information is secure. In order to prevent unauthorized access or disclosure, we have put in place suitable procedures to safeguard and secure the information we collect online. Personal information provided when leaving a comment is stored on our web servers. We use Siteground as our web hosting company who have industry standard security in place which you can read more about here: https://www.siteground.com/kb/how_does_siteground_protect_my_website/
Automatically-Collected Information: We automatically collect certain information about you and the device with which you access the Website. For example, when you use the Website, we will log your IP address, operating system type, browser type, referring website, pages you viewed, and the dates/times when you accessed the Website. We may also collect information about actions you take when using the Website, such as links clicked.
Cookies: We may log information using cookies, which are small data files stored on your browser by the Website. Once you agree, the file is added and the cookie helps analyze web traffic or lets you know when you visit a particular site. Cookies allows web applications to respond to you as an individual. The web application can tailor its operations to your needs, likes and dislikes by gathering and remembering information about your preferences.
We use traffic log cookies to identify which pages are being used. This helps us analyze data about web page traffic and improve our website in order to tailor it to customer needs. We only use this information for statistical analysis purposes and then the data is removed from the system.
If you leave a comment on our site, you may opt-in to saving your name, email address and website in cookies. These are for your convenience so that you do not have to fill in your details again when you leave another comment. These cookies will last for one year.
You can choose to accept or decline cookies. Most web browsers automatically accept cookies, but you can usually modify your browser setting to decline cookies if you prefer. This may prevent you from taking full advantage of the website.
Embedded Content from Other Websites: Other websites's content that are embedded on our site may collect data about you, use cookies, embed additional third-party tracking, and monitor your interaction with that embedded content, including tracking your interaction with the embedded content if you have an account and are logged in to that website.
Google Analytics: We use Google Analytics to track more details about how our website is being used. We can analyze the IP address, type of browser, date/time, pages visited, amount of clicks, referring pages, exit pages, and other information that is completely anonymous.
Mail Chimp – this service is used for delivery of email updates and newsletters. We store your name and email address for purposes of delivering such communications.  Please refer to Mail Chimp's privacy policy for further information.
Amazon Affiliate Links: We are a participant in the Amazon Services LLC Associates Program, an affiliate advertising program designed to provide a means for sites to earn advertising fees by advertising and linking to Amazon.com. Amazon offers a small commission on products sold through their affiliate links. Each of your purchases via our Amazon affiliation links supports our cause at no additional cost to you.
We reserve the right to update or change this privacy policy at any time. Any such change, modification, or addition to the privacy policy on Orchids + Sweet Tea will become effective immediately upon posting on the site.
*****Last updated: June 5, 2019.******
Except when required by law, we will not sell, distribute, or reveal your email addresses or other personal information without your consent; however, we may disclose or transfer personal information collected through the Website to third parties who acquire all or a portion of our business, which may be the result of a merger, consolidation, or purchase of all or a portion of our assets, or in connection with any bankruptcy or reorganization proceeding brought by or against us.
Ads: Some of our advertisers occasionally serve you cookies as well. We do not have control over cookies placed by advertisers. The Website uses Mediavine to manage all third-party advertising on the Website. Mediavine serves content and advertisements when you visit the Website, which may use cookies. Mediavine may collect IP addresses and location to serve personalized ads.  If you would like more information about this practice and to know your choices to opt-in or opt-out of this data collection, please visit http://www.networkadvertising.org/managing/opt_out.asp.
Affiliate Programs: The Website may engage in affiliate marketing, which is done by embedding tracking links into the Website. If you click on a link for an affiliate partnership, a cookie will be placed on your browser to track any sales for purposes of commissions. Orchids and Sweet Tea, LLC is a participant in the Amazon Services LLC Associates Program, an affiliate advertising program designed to provide a means for sites to earn advertising fees by advertising and linking to Amazon.com. Amazon offers a small commission on products sold through their affiliate links. Each of your purchases via our Amazon affiliation links supports our cause at no additional cost to you.
The information contained on https://www.orchidsandsweettea.com/ website (the "Service") is for general information purposes only.
Social Media Services: You can choose to access certain third party social media websites and services (such as Facebook) through our site. When you do so, you are sharing information with those sites and the information you share will be governed by their privacy policies (including that the site may share information with us). You may be able to modify your privacy settings with these third party social media websites. Please refer to the relevant provider policies for more information.
The 'Help portion' of the toolbar on most browsers will tell you how to prevent your browser from accepting new cookies, how to have the browser notify you when you receive a new cookie, or how to disable cookies altogether. Please note that if you refuse to accept cookies from Umami Girl, you may not be able to access portions of our site.
What are Your Rights?
Opt-out – You may opt-out of future email communications by following the unsubscribe links in our emails. You may also notify us at [email protected] to be removed from our mailing list.
Access – You may access the personal information we have about you by submitting a request to [email protected]
Amend – You may contact us at [email protected] to amend or update your personal information.
Forget – In certain situations, you may request that we erase or forget your personal data. To do so, please submit a request to [email protected]
Please note that we may need to retain certain information for record-keeping purposes or to complete transactions, or when required by law.
Contact Us!
At any time, please contact us at [email protected] for questions related to this Privacy Policy.
Disclosure:
NUTRITIONAL INFORMATION DISCLOSURE: The recipes contained on this website have been created for the ingredients and techniques indicated. Orchids + Sweet Tea, LLC is not responsible for your specific health or allergy needs that may require supervision.
Orchids and Sweet Tea, LLC assumes no responsibility for errors or omissions in the contents on the Service. In no event shall Orchids and Sweet Tea, LLC be liable for any special, direct, indirect, consequential, or incidental damages or any damages whatsoever, whether in an action of contract, negligence or other tort, arising out of or in connection with the use of the Service or the contents of the Service. Orchids and Sweet Tea, LLC reserves the right to make additions, deletions, or modification to the contents on the Service at any time without prior notice.
Orchids and Sweet Tea, LLC does not warrant that the Service is free of viruses or other harmful components.