This Southern-Style Cajun Pasta is topped with buttery pecan breadcrumbs and a creamy parmesan sauce. A family-friendly meal for any night of the week.
This creamy veggie-packed pasta has it all. The sauce is silky smooth and coats the rigatoni pasta like a dream. It's full of warm Cajun flavor and the buttery pecan breadcrumbs add just the right amount of texture and crunch in every bite.
If you're looking for a wow-worthy pasta recipe for entertaining, this Southern-style recipe is just what you need.
Ingredients for Southern-Style Cajun Pasta
To make this delicious pasta recipe, you'll need to roast some sweet bell peppers, make the creamy Cajun cheese sauce, and whip up simple pecan breadcrumbs.
And cook the pasta, of course. I recommend starting the pasta water first.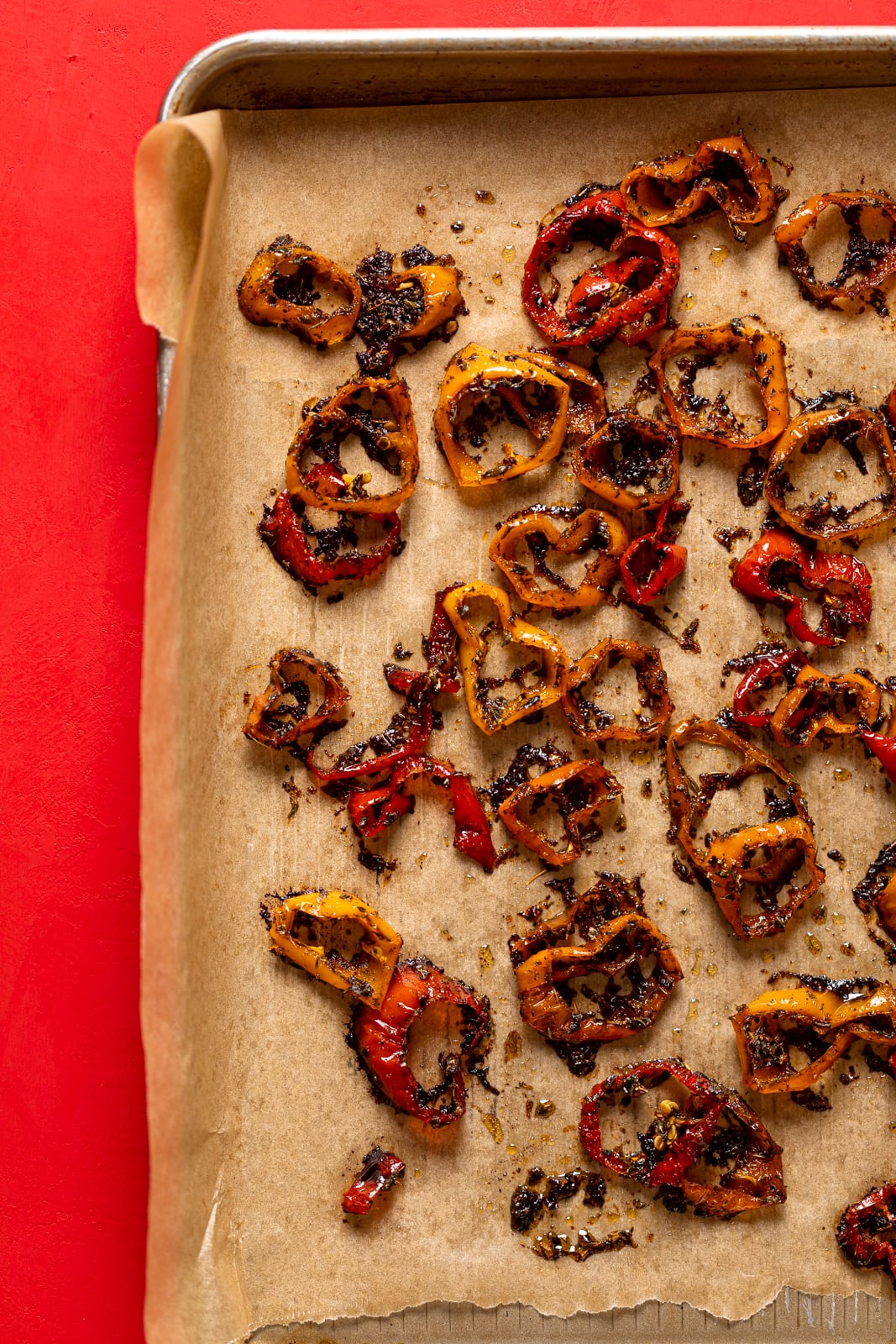 To Make the Roasted Bell Peppers, you'll need:
Sweet bell peppers. I love the baby bell peppers. They're so sweet! But regular peppers will work too.
Dried parsley. You could swap in another favorite dried herb if you like.
Seasonings. Infuse your pasta with flavor from smoked paprika, garlic powder, dried oregano, dried basil, and dried thyme.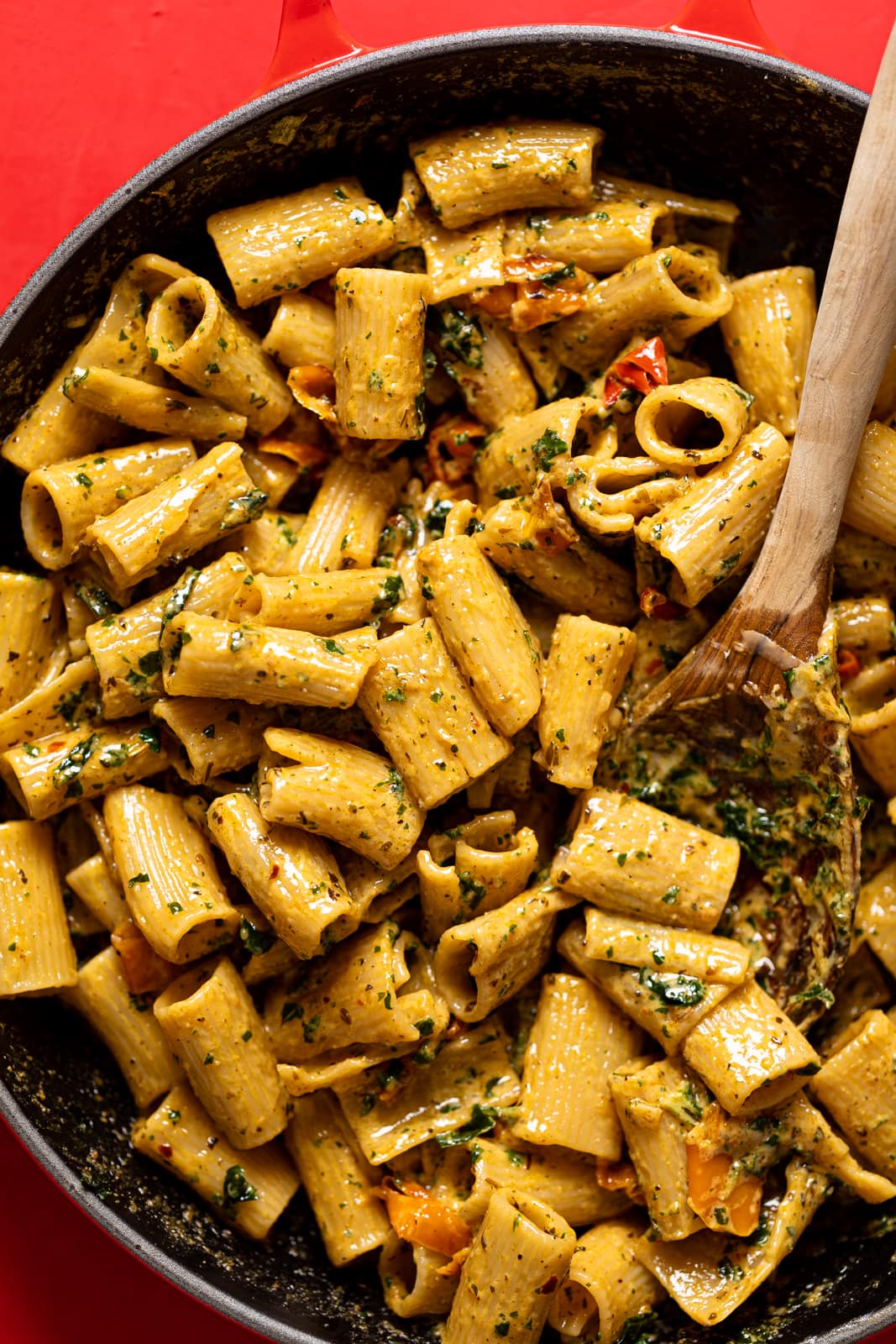 Next, make the cream Cajun Pasta Sauce. You'll need:
Butter. Use unsalted.
Garlic. If you don't have fresh, substitute with ½ teaspoon of powdered garlic.
Heavy cream. see below for a dairy-free option.
Vegetable stock. Chicken stock will also work.
White wine. Use your favorite dry white.
Parmesan cheese. Grana Padano would also work.
Cajun seasoning. Use store-bought or homemade seasoning blend.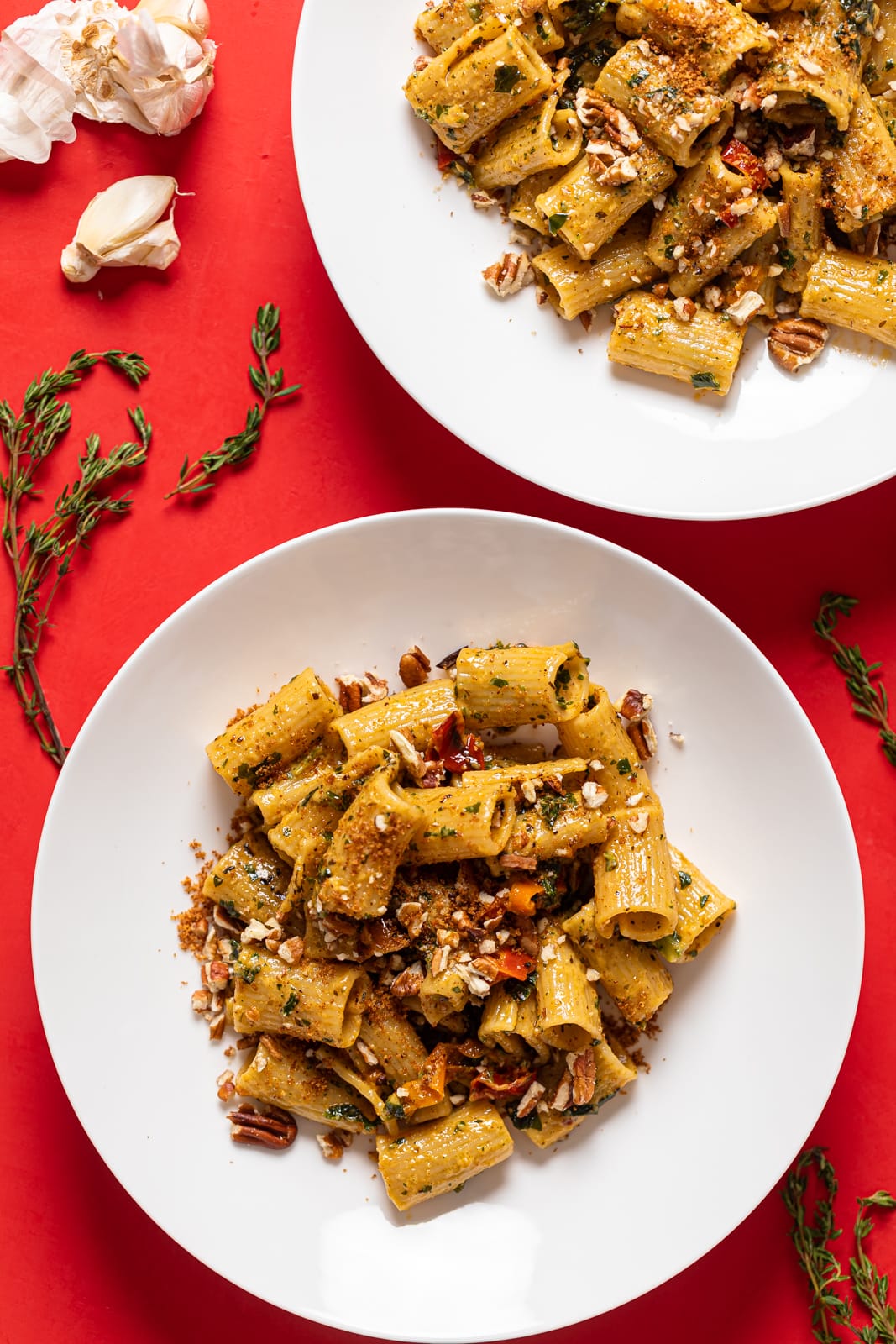 How to Make Pecan Breadcrumbs
Do not skip these toasted nutty breadcrumbs. Here's what you need to make them:
Pecans. Use pre-chopped to skip a step!
Breadcrumbs. You can use panko or Italian-style
Cinnamon. To add a touch of warming spice to the Cajun pasta.
Can I Make Dairy-Free Cajun Pasta?
Yes! To make this sauce dairy-free, simply use vegan butter instead of the regular butter. Then swap the cream with full-fat coconut milk or coconut cream. And use your favorite dairy-free shredded cheese or nutritional yeast instead of parmesan.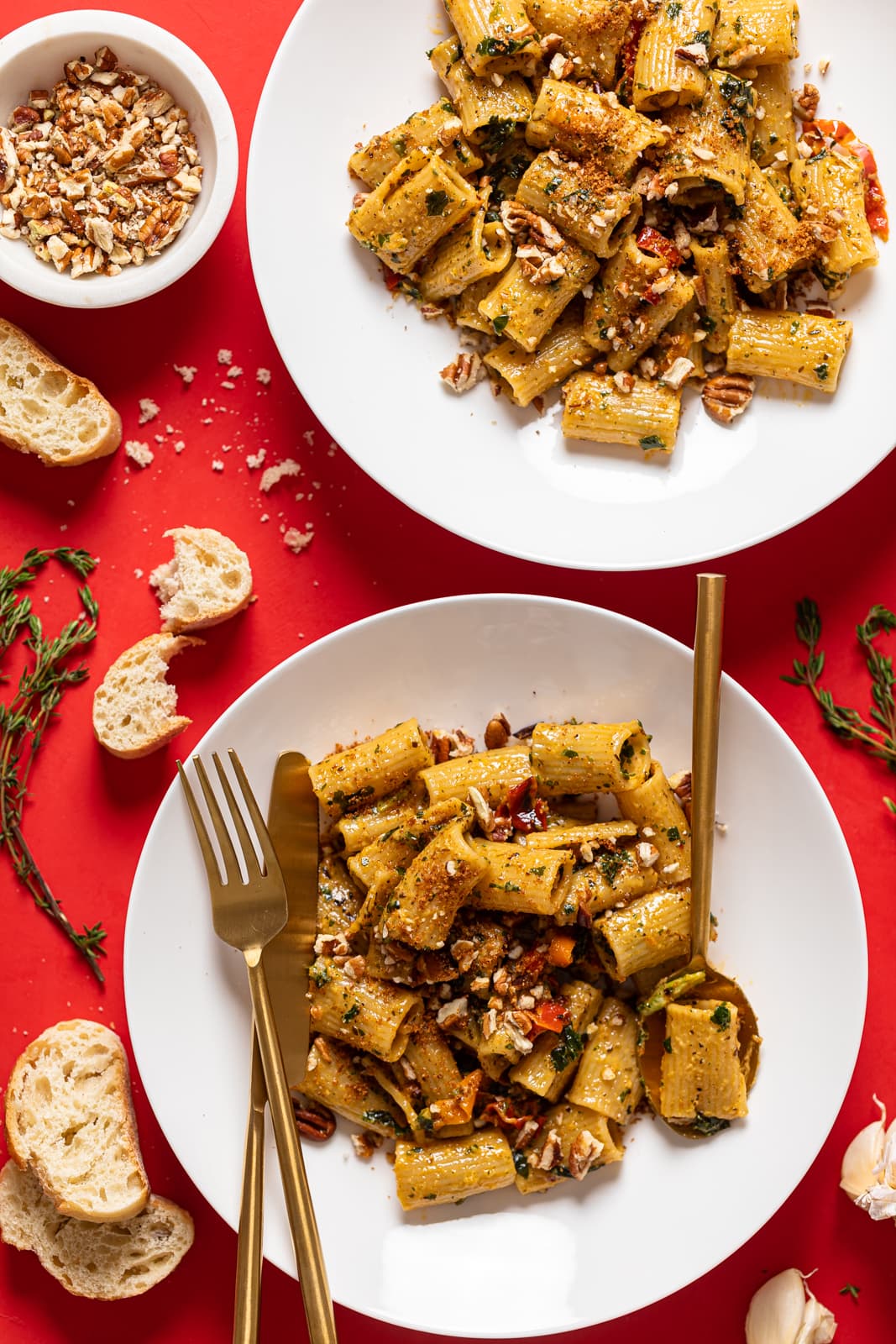 What about Gluten-Free?
To make this recipe gluten-free, simply use your favorite gluten-free pasta. I recommend a short pasta to toss with the roasted bell peppers and creamy sauce.
Storing Leftover Pasta
Store leftovers in an airtight container in the fridge for up to four days. This makes a great meal prep recipe for a satisfying lunch! Reheat in the microwave or on the stove to serve.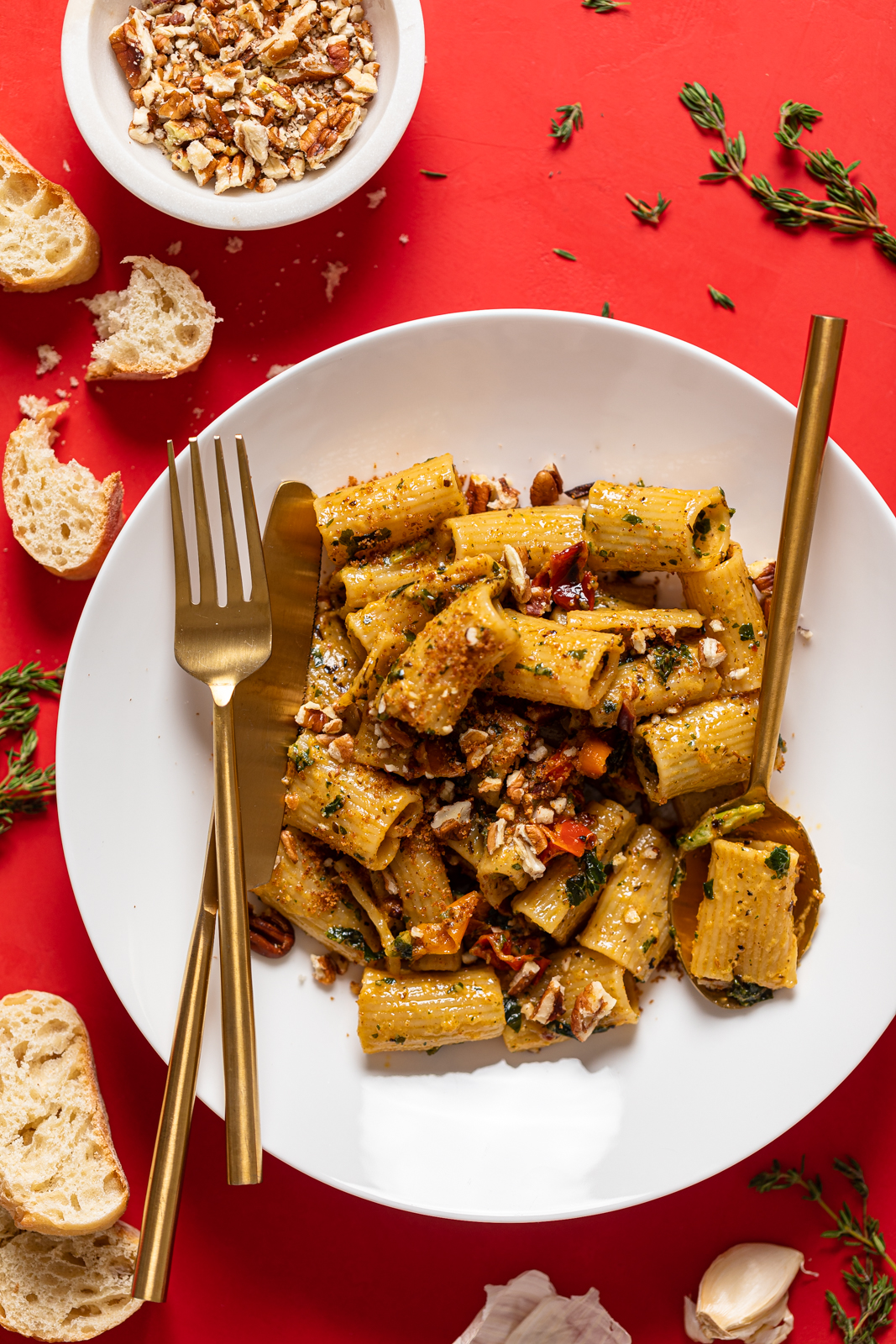 More Easy Pasta Recipes
MADE THIS RECIPE?
If you make this creamy Cajun Pasta with Pecan Breadcrumbs, be sure to tag me on Instagram @orchidsandsweettea!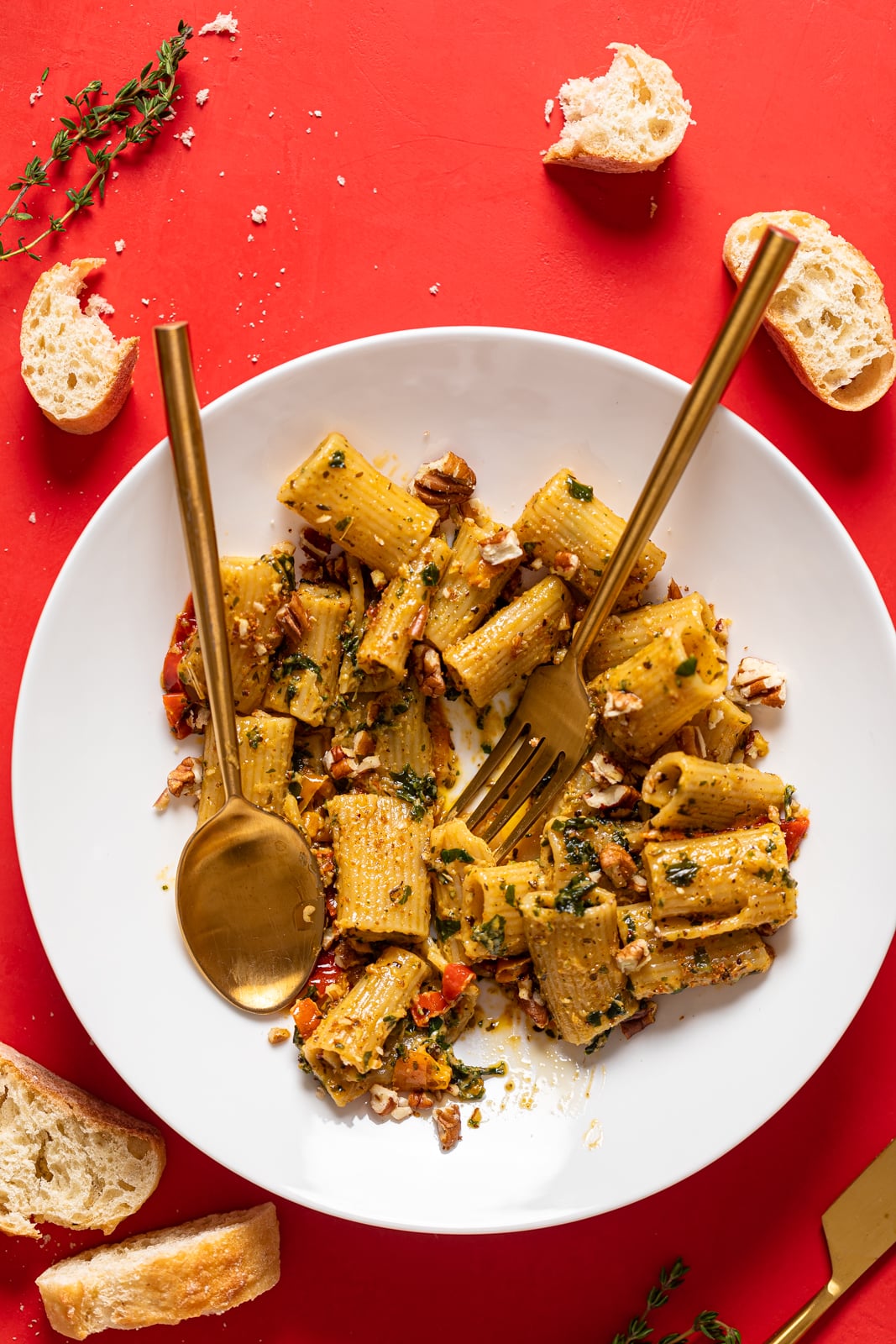 PASTA:
1

(16 oz.) package

rigatoni pasta 

1

tablespoon

Extra virgin olive oil
ROASTED BELL PEPPERS:
2

cups

baby bell/sweet peppers, sliced thin

1

tablespoon

Extra virgin olive oil

1

tablespoon

dried parsley

1

teaspoon

sea salt + black pepper, each

1

teaspoon

smoked paprika

1

teaspoon

garlic powder

1

teaspoon

dried oregano

1

teaspoon

dried basil

½

teaspoon

dried thyme
PECAN BREADCRUMBS:
½

cup

chopped pecans

½

cup

breadcrumbs

1

teaspoon

Extra virgin olive oil

(See Notes!)

Pinch of

ground cinnamon
ROAST THE BELL PEPPERS:
Preheat oven to 400 degrees Fahrenheit and line a baking sheet with parchment paper.

Add the sliced bell peppers unto the baking sheet (in a single layer) and drizzle with olive oil and season with seasonings (salt, black pepper, garlic powder, oregano, basil, smoked paprika, thyme, and parsley) and bake for 20-25 minutes or until peppers are charred, wilted, and tender. Remove and let cool slightly.
COOK THE PASTA:
Begin by cooking rigatoni pasta according to the directions of the packaging in boiling water with olive oil (about 8-9 minutes for al' dente) and drain. Set aside.
MAKE THE PECAN BREADCRUMBS:
Prepare another baking sheet with parchment paper.

In a bowl, add the chopped pecans, breadcrumbs, cinnamon, and olive oil together, mixing until combined. Add mixture unto prepared baking sheet and bake for 8-10 minutes or until crumbs are golden. Remove and let cool.
MAKE THE SAUCE + ASSEMBLE:
Over medium-high heat in a large 12-inch skillet, add the olive oil and butter.

Once heated and the butter has melted, add the minced garlic and saute until fragrant, about 2-3 minutes. Add the cajun seasoning, stirring until combined.

Add the heavy cream, veggie stock, white cooking wine, and grated parmesan, letting everything boil + bubble for 1-2 minutes before reducing the heat to medium-low.

Add in the drained rigantoni and roasted bell peppers, stirring until everything is coated, the sauce becomes thickened, and everything is combined. Remove from heat.

Serve immediately into prepared bowl(s) or plate(s) and top with pecan breadcrumsb. Enjoy with a side of bread or salad, if desired.

Bon Appetit!
STORAGE: Place any leftovers in a tightly sealed container in the refrigerator for up to 3-4 days.
GREENS: If preferred, you can always add greens like Kale, Spinach or Collard Greens to this pasta dish for added flavor. 
CAJUN SEASONING (STORAGE): Any leftover cajun seasoning mix can be stored in a ziplock bag for later use or used as garnish. 
DAIRY-FREE OPTION: To make this pasta dish entirely dairy-free, just substitute the unsalted butter with vegan butter, the heavy cream with full-fat coconut cream/milk,  and the cheese with dairy-free shreds or nutritional yeast.
Southern-Style Cajun Pasta with Pecan Breadcrumbs.