It's hard to believe how comforting, creamy and flavorful these Spicy Southern Shrimp + Grits are. Topped with spicy sautéed shrimp and based with a beautifully creamy cheesy blanket of Southern grits, this easy meal is sure to please to be a major crowd-pleaser! Dairy-free options available.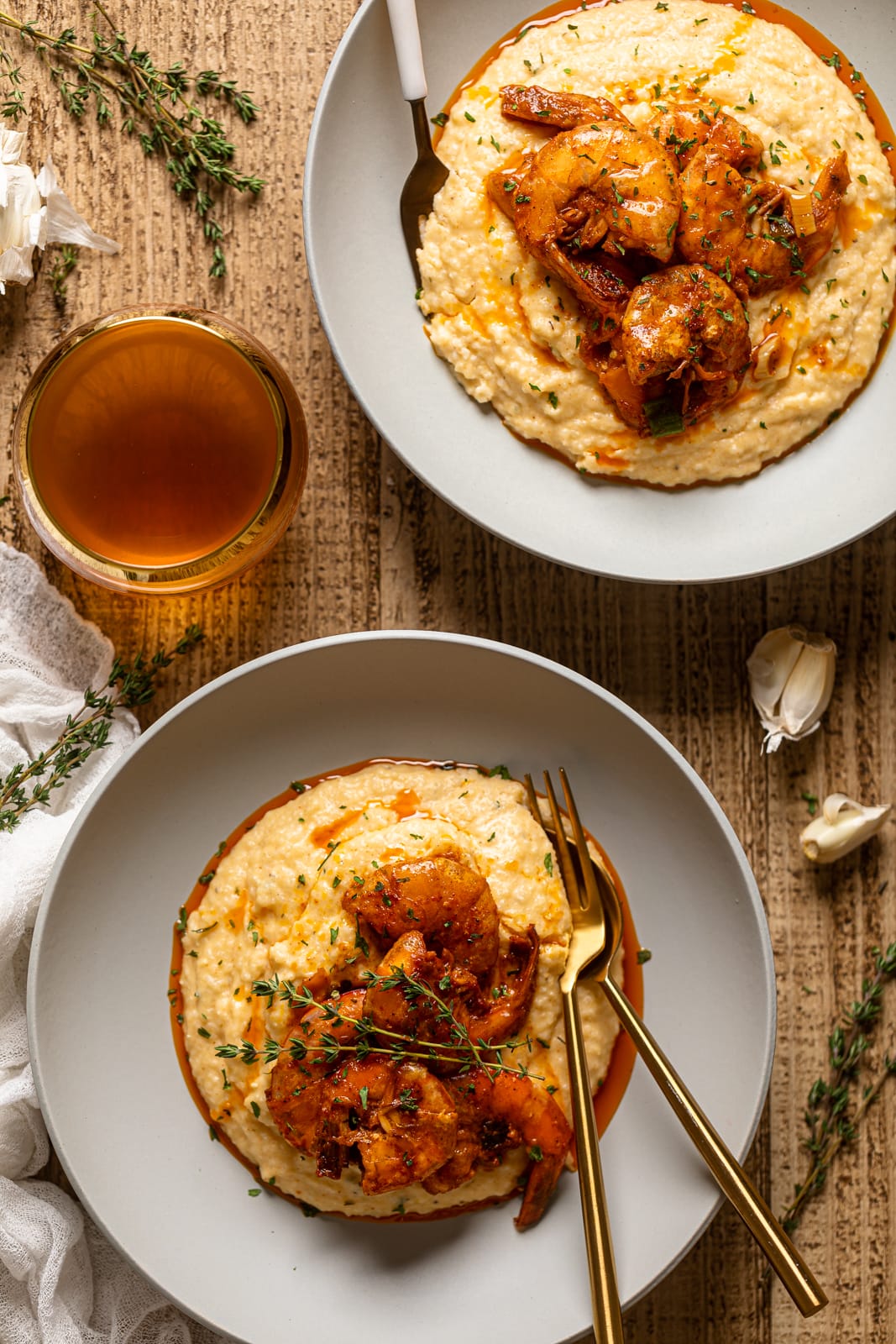 I can never eat Southern food and not include creamy grits in the mix, whether it be for breakfast, lunch, or dinner. Grits are a staple at most Southern family tables and I remember vividly watching my aunt whip together the whole works for breakfast---including grits, eggs, bacon, sausage, and whatever else her hands could grab to make the meal that much more DELICIOUS! But this Spicy Southern Shrimp + Grits dish is truly one for the books and comes loaded with a ton of flavor.
While there are dozens of ways to cook grits, this Southern-style version is my family's go-to. I think you'll love it as much as I do and when topped with these spicy cajun shrimp, you'll be licking all ten fingers and toes. Haha.
If you're a fan of Southern-style breakfast and brunch meals, then these staples are sure to be your next rotational favorites like this Creamy Southern Sweet Potato Grits with Chickpeas, Southern-Style Carrot Cake Cinnamon Rolls, and Southern Chicken and Waffles!
My top Five Tips for Perfect Grits
#1: Heat + Soak Grits: Much like cashews, this allows grits to soften, cook faster, and become more creamy.
#2: Boil grits for 20-30 minutes uncovered, but make sure to stir regularly to avoid lumps.
#3: It's all about adding milk, water, + heavy cream with cheese for the ultimate creaminess.
#4: Don't be afraid to season your girts. It amplifies the flavors more.
#5: Low + slow is always best. This allows the grits to slowly release their starches for a decadent, silky texture.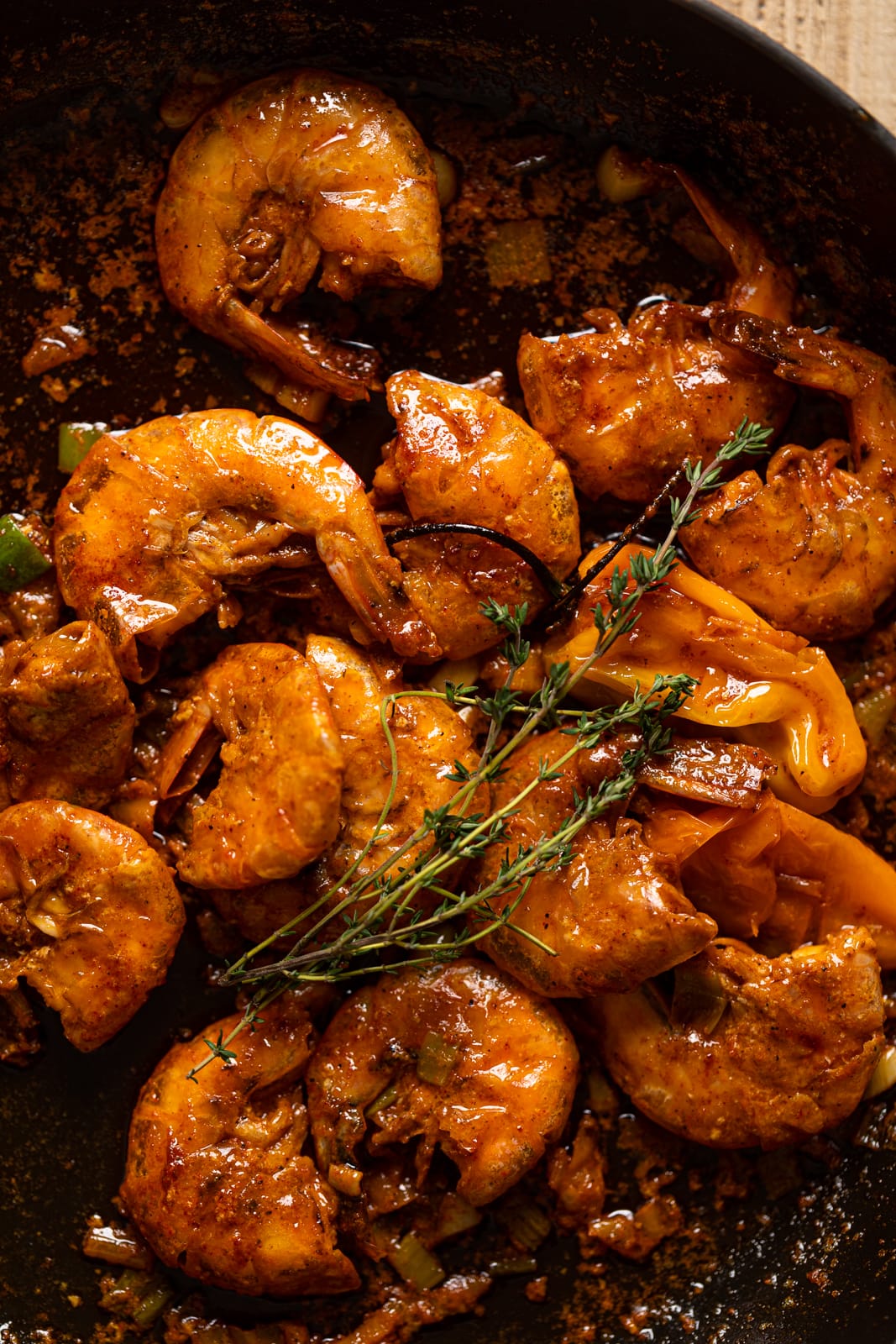 How to Make Spicy Southern Shrimp + Grits
Start this recipe by making the simple Cajun seasoning. This is a spice blend you'll want to keep on hand to season everything from One-Pot Cajun Pumpkin Alfredo Pasta to Cajun Veggie Pumpkin Pizza. The ingredients are simple and you probably already have them at home.
Ingredients for Shrimp
Here's what you need for this spicy cajun shrimp:
Shrimp. I use jumbo, which are the biggest and sweetest.
Cajun seasoning. Use store-bought or my homemade seasoning blend.
Butter. I recommend unsalted. For a dairy-free option, use vegan butter.
Garlic. If you don't have fresh, substitute with ½ teaspoon of powdered garlic.
Scotch bonnet. You can find these in specialty Caribbean stores, however, if needed---you can use habanero peppers.
Ingredients for Cheesy Southern Grits
Here's what you need to make these creamy, rich grits at home:
White corn grits. You can find these at most well-stocked grocery stores, often in the grains aisle.
Almond milk. You can use regular milk or another non-dairy version. Just make sure it's unsweetened. Making your own is also a good idea! I love 

Easy Homemade Creamy Cashew Milk 

or 

Almond Milk Without Soaking.

Heavy cream. I like to use organic dairy.
Seasonings. I spice my grits with smoked paprika and Cajun seasoning.
Butter. Use unsalted to better control the seasoning of your grits.
Cheddar cheese. I like to use mild, but if you like a stronger flavor, use sharp or extra-sharp.
How to Make Vegan Southern Grits
To make this recipe dairy-free, use these swaps:
Use vegan butter instead of unsalted butter
Swap the cream for coconut milk (full-fat)
Use vegan cheese instead of cheddar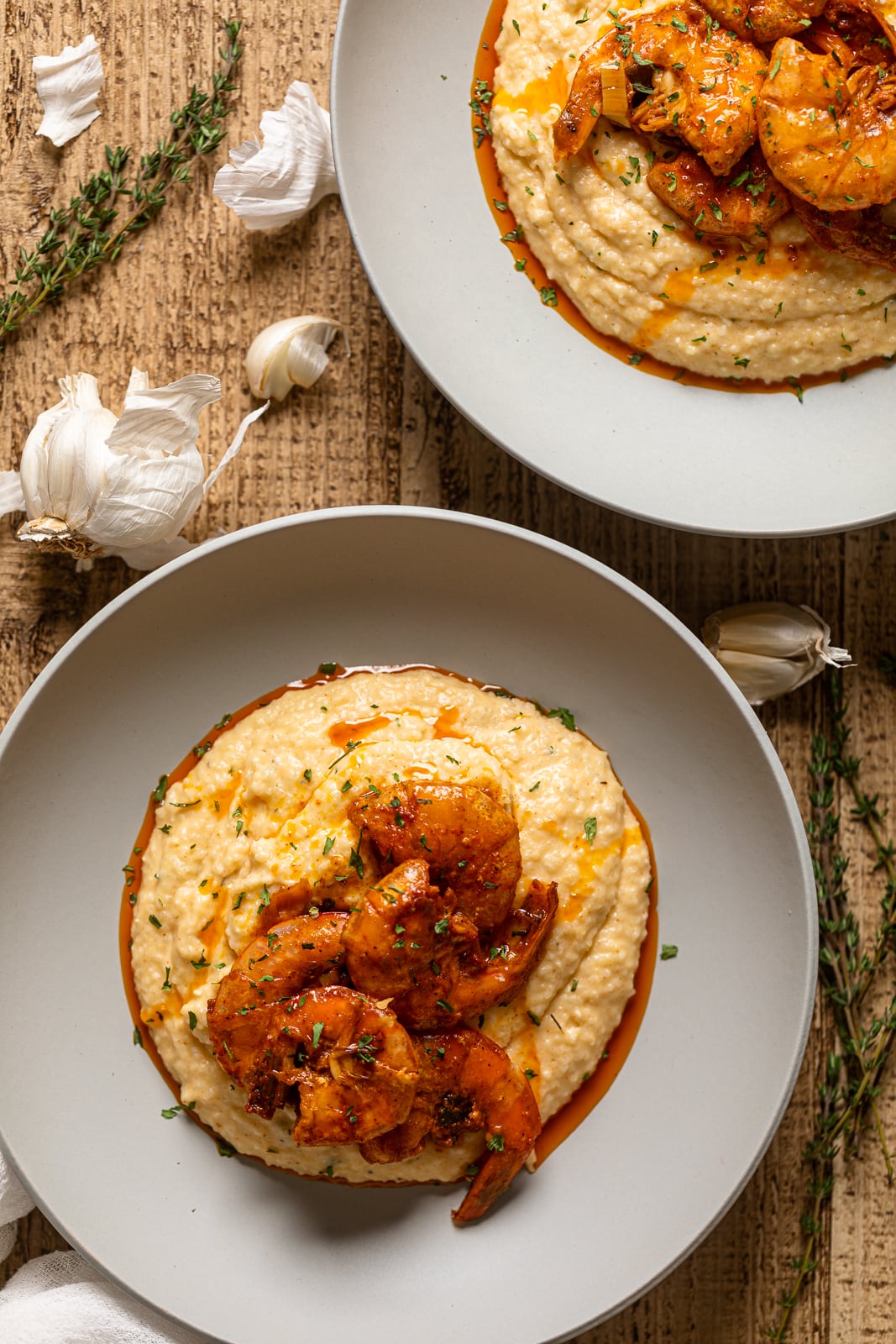 Do You Eat the Skin on Shrimp?
Yes, you can if desired! The shrimp shells are cooked until tender and is infused with seasonings and spice, which make it truly easy and delicious to eat as a whole. Of course, if preferred, you can always remove the shells.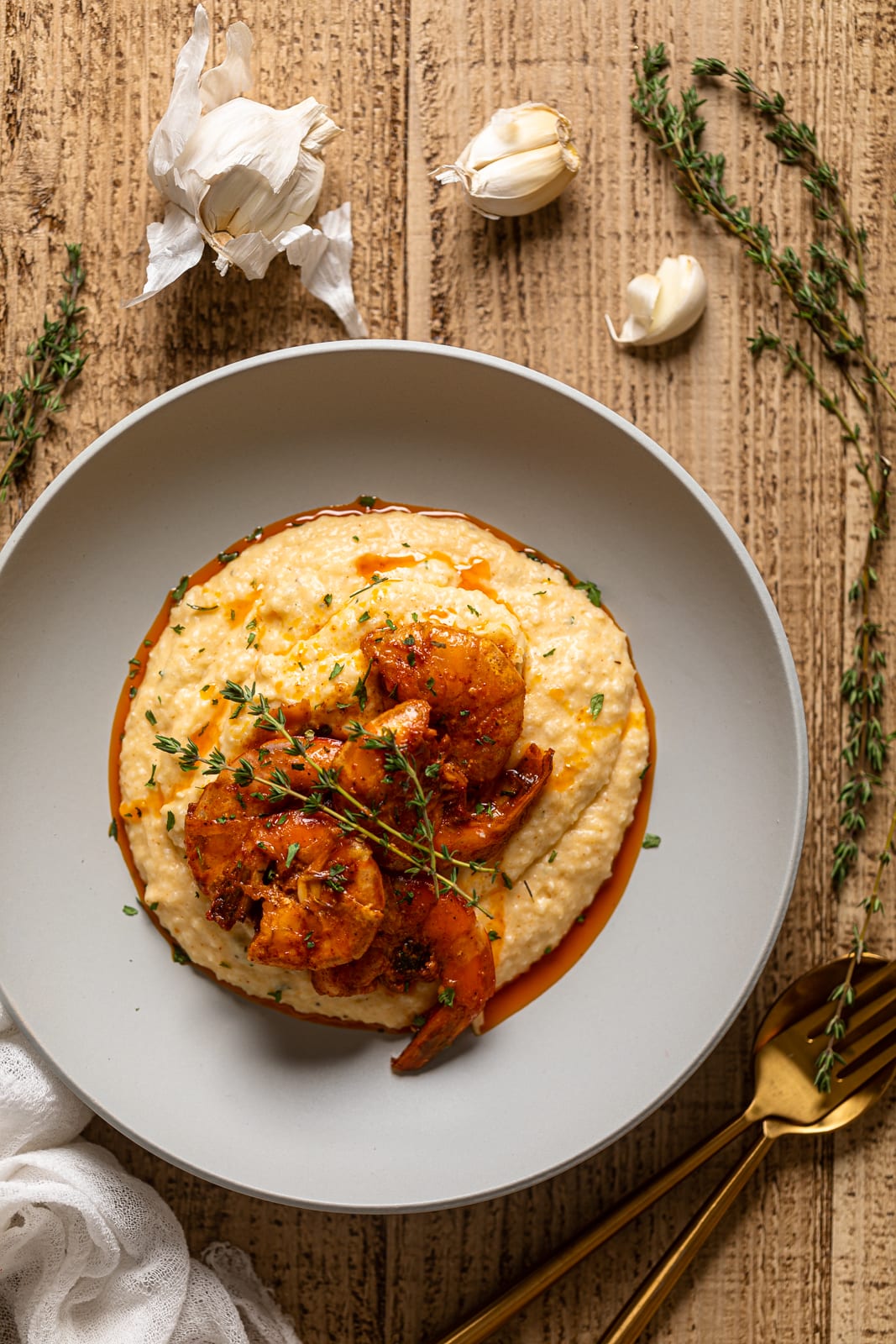 Homemade Cajun Seasoning Blend
Sure, you can find pre-made seasoning blends at the grocery store. But there's nothing like the fresh, customized flavor you get by making your own blend. The herbs and spices in the cajun spice mix for this recipe are inspired by the fresh herbs that work so beautifully together to create a bold, spicy flavor (from the cayenne + paprika).
You can Store the seasoning blend in an airtight container at room temperature for up to six months. Use it on anything from simple roasted vegetables to salad dressing to herb oil for dipping bread.
CAJUN SEASONING BLEND
To make your seasoning, combine:
Garlic powder
Italian seasoning
Smoked paprika
Sea salt
Black pepper
Cayenne
Dried thyme
Onion powder
Together, these herbs and spices strike the perfect balance of savory and fresh with a bit of smoky heat.
What You'll Love About This Shrimp + Grits
It's easy to make.
Full of flavor.
Ultra Creamy!
Minimal ingredients required.
Easy to store leftovers and re-purpose.
The epitome of comfort food for ANY season.
Did I mention absolutely delicious?!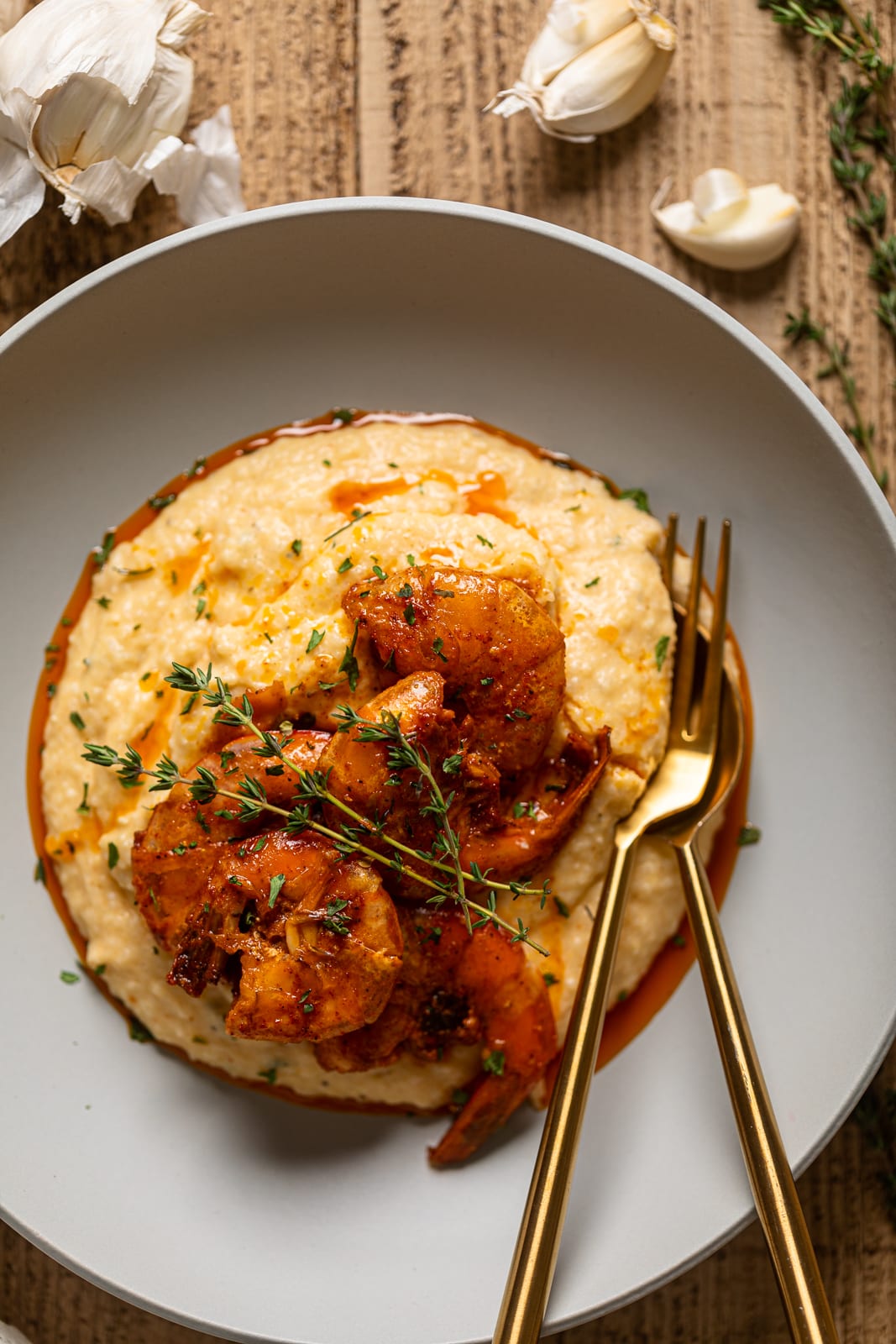 Adding Greens
If you want to add some greens to these shrimp + grits, you certainly can. My article, Our Top 12 Favorite Healthy Green Leafy Vegetables shares a list of great greens! Off the top—-kale, spinach, or collard greens make great additions. Also, roasted broccolini is one of my faves to add.
Storage Suggestions
Grits are at their best when they're hot and soft. However, you can store leftovers in an airtight container in the fridge for up to four days. To serve, reheat the grits on the stove or in the microwave in 30-second intervals until soft. If necessary, add a dash more milk, cream, or water to help loosen them up. You can store leftover shrimp in an airtight container for 3 to 4 days.
More Brunch-inspired Recipes to Try Next!
MADE OUR RECIPES(S)?
If you make these Spicy Southern Shrimp + Grits, tag @orchidsnsweettea_ on Instagram and hashtag it #orchidsandsweettea
CAJUN SHRIMP:
1

lb.

wild-caught jumbo shrimp, deveined

3

Tbsps

unsalted butter

2

garlic cloves, minced

1-2

Tbsps

cajun seasoning

1

scotch bonnet pepper, optional

(You can also use habanero pepper)

Pinch of

red pepper flakes
HOMEMADE CAJUN SEASONING:
2

Tbsps

garlic powder

2

Tbsps

Italian seasoning

2

Tbsps

smoked paprika

1

teaspoon

sea salt

1

teaspoon

black pepper

1

tablespoon

cayenne pepper

1

tablespoon

dried thyme

1

tablespoon

onion powder
TO MAKE HOMEMADE CAJUN SEASONING:
Mix all cajun seasoning ingredients together in a bowl and set aside until ready to use.
TO MAKE THE CREAMY SOUTHERN GRITS:
SAUTE THE SHRIMP:
In a large 12-inch skillet over medium-high heat, add 2 Tbsps of butter until melted. Add in the minced garlic to sauté frequently about 1-2 minutes until fragrant. Next, add in the shrimp (seasoned w/ 2 Tbsps of cajun seasoning) and cook on both sides (about 3-4 minutes), until pink and cook through. Add remaining 1 tablespoon of butter (along with the 1 scotch bonnet) and let everything simmer for another minute until shrimp are coated with a light sauce/gravy from the butter and seasonings.

In serving bowls, spread the grits into the bottoms of the bowls and top with sautéed shrimp. Sprinkle red pepper flakes (optional) atop and serve immediately.

Bon Appétit!
STORAGE: Leftovers can be kept in an air-tight container in the refrigerator for 3-4 days. Re-heat when ready to serve.
SPICES/HERBS: If desired, you can reduce the amounts slightly. Please know that this recipe is bold in flavor, so feel free to adjust based on your tastebuds.
CAJUN SEASONING (STORAGE): Any leftover cajun seasoning mix can be stored in a ziplock bag for later use or used as garnish. 
DAIRY-FREE OPTION:To make these shrimp + grits entirely dairy-free, just substitute the unsalted butter with vegan butter, the heavy cream with full-fat coconut cream/milk,  and the cheese with dairy-free shreds or nutritional yeast.
Calories:
243
kcal
|
Carbohydrates:
19
g
|
Protein:
17
g
|
Fat:
10
g
|
Saturated Fat:
6
g
|
Polyunsaturated Fat:
1
g
|
Monounsaturated Fat:
2
g
|
Trans Fat:
0.4
g
|
Cholesterol:
165
mg
|
Sodium:
647
mg
|
Potassium:
211
mg
|
Fiber:
2
g
|
Sugar:
0.4
g
|
Vitamin A:
1352
IU
|
Vitamin C:
4
mg
|
Calcium:
72
mg
|
Iron:
1
mg