How To Make the Best Charcuterie Board is the ultimate mini guide on how to create the most beautiful spread for any occasion. I believe that variety is key along with easy tips for the best cheese board possible! Use this for the Fall season, holidays, Spring, or Summer.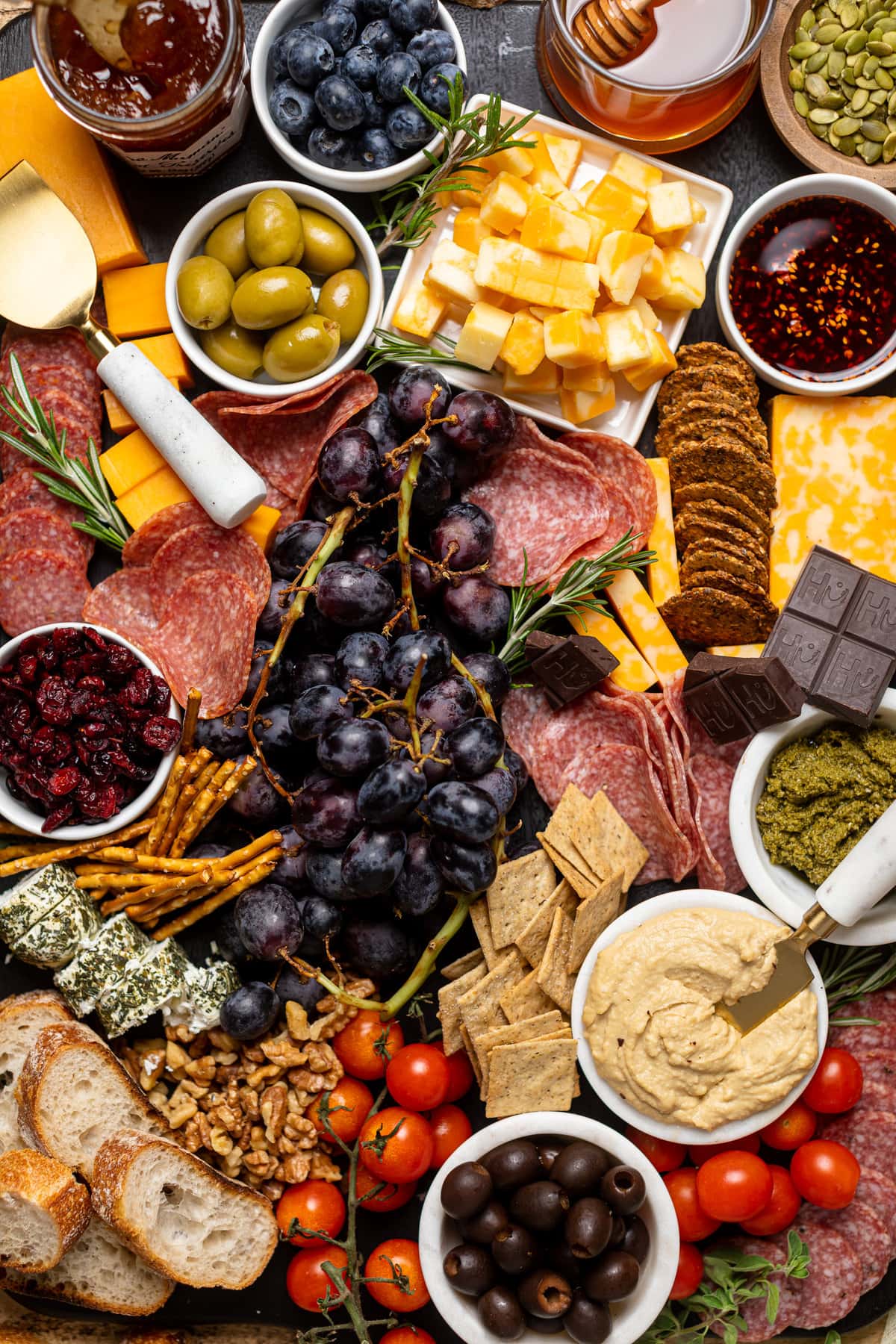 Disclaimer: This post contains affiliate links via Amazon for products that I wholeheartedly love.
I'm truly in love with charcuterie boards and whenever I see one, my eyes literally light up with how gorgeous they can be. They are the latest trend to say the least and while you've probably seen them all over TikTok and Instagram, they are definitely one to give a try if you haven't already! This post on How To Make the Best Charcuterie Board should surely help you create the best board from start to finish.
Now I know that the latest Butter board is the new craze, but charcuterie boards will forever be timeless and a classic go-to for any occasion, in my opinion. Do you agree? While this post will discuss How To Make the Best Charcuterie Board in general, I did create this How To Build a Vegan Brunch Charcuterie Board which is perfect for any of my plant-based peeps who want specific ideas on a board for morning eats. Either way, you're sure to find some great tips with how to make a beautiful board no matter the size or ingredients chosen.
Be sure to follow Orchids + Sweet Tea on my Instagram to see a lot of my recipes come to life via video, especially this charcuterie board.
What is a Charcuterie Board?
Basically, a Charcuterie Board (aka Cheese board) is a delicious spread that includes a variety of ingredients all towered unto a board or your favorite platter or serving plate. It's like having a roundup of handheld foods that your guest can enjoy. My favorite part about doing cheese and Charcuterie Boards is that it's entirely DIY and totally up to you when it comes to the ingredients that you choose to add.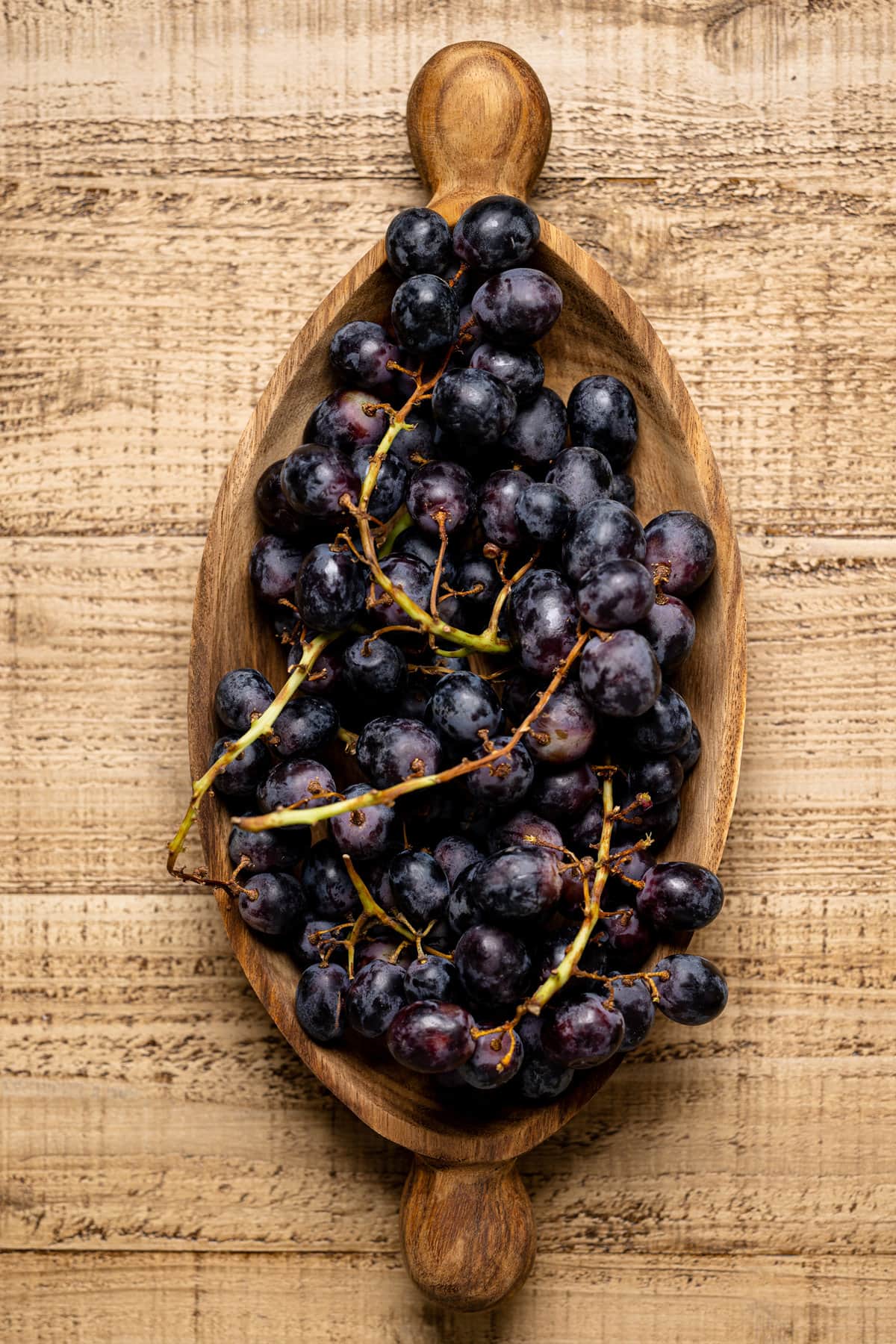 How is Charcuterie Pronounced?
If you're anything like me then you've probably butchered the name "charcuterie" board a ton of times. Haha. However, I have since properly learned how pronounce charcuterie and how to properly "say" charcuterie. It's pronounced "shahr-kyu-tuh-ree." Wallah!
What Kind of Wood is Best to Make a Charcuterie Board?
OK, so I might be going off a ledge here, but if you've got the DIY gene and you enjoy making your own things, then making a charcuterie could definitely be your next project. If so, the best type of wood to use is a non-porous hardwood wood.
Woods such as teak, hard maple, American Cherry, Olive, and acacia are ideal. Other materials that make the best charcuterie boards include kitchen slate, marble & bamboo.
But if you're not one who cares to make your own charcuterie board, then I've made a great list of my faves in my Amazon Storefront, in various shapes and sizes.
And if you want to get fancy or want extremely large boards, I recommend looking for handmade ones from Etsy or great ones from Crate & Barrel---both my personal faves!
How To Make a Charcuterie Board
When it comes to making the best charcuterie or cheese board in particular, it all starts with the actual board being used. For one, I like to choose the right size that meets the needs of how many people I'll be entertaining and then comes to the color choice, which sets the "mood" for the occasion (i.e. darker woods give a more Fall or holiday mood, marble is classy, black wood creates a nice mature mood and also great for Fall and winter months, etc.).
For this board, I choose a pretty large one with the following dimensions (Width: 28", Depth: 16", Height: 0.75"), but again---you can find boards of all shapes and sizes to best fit your needs.
This particular board is from Crate & Barrel and is called the Tondo Ebonized Rectangle Serving Board.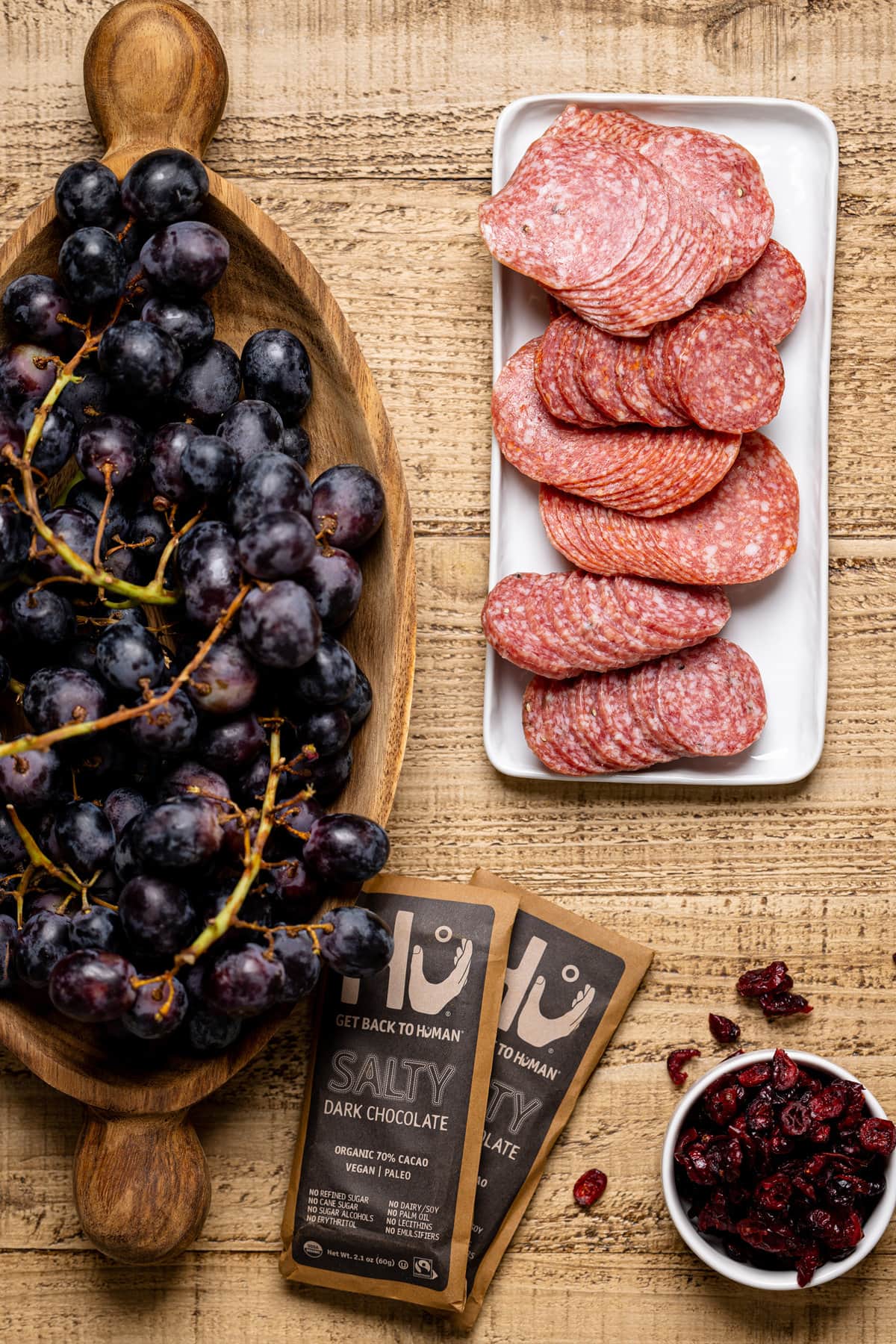 Once you've figured out the board, then the next few things you'll need are:
Cheese slicer
Cheese knives + servers
Meat carver
Cheese labels
Small prep bowls
Mini (appetizer) plates
Small jam or condiment spoon(s)
Honey pot & stick
Napkins
Small utensils for serving or eating
Here, I've curated a list of Charcuterie Board Must-Haves that I use to achieve the best charcuterie experience. Everything from my fave boards, cheese knives, honey pots, prep bowls, cheese labels, and more.SEE THEM HERE!
Once you have those mini plates and bowls, you start by adding them to the board after the cheese as a guide in your styling. So easy!
Making Your Charcuterie Board Vegan
With the many ingredient choices in the grocery store these days, creating an entirely dairy-free or vegan charcuterie board isn't so far fetched. The great thing is that many of the ingredients used for a board is already vegan-friendly (i.e. nuts, dried fruit, fruit, seeds, veggies, that sort of thing.
For the more specialty ingredients like jams, cheeses, breads, crackers, etc.---just ensure that they are vegan-friendly. There are so many types of vegan cheeses in different shapes & sizes from some of my faves like Violife, So Delicious Dairy-Free, Treeline, Kite Hill, Follow Your Heart, and a few others.
Instead of using honey, be sure to use an alternative like maple syrup, date syrup, etc. Meats can be subbed with plant-based meats or meatballs or just additional veggies and fruits. Other things like hummus, pesto, etc. that are vegan-friendly are great fillers also.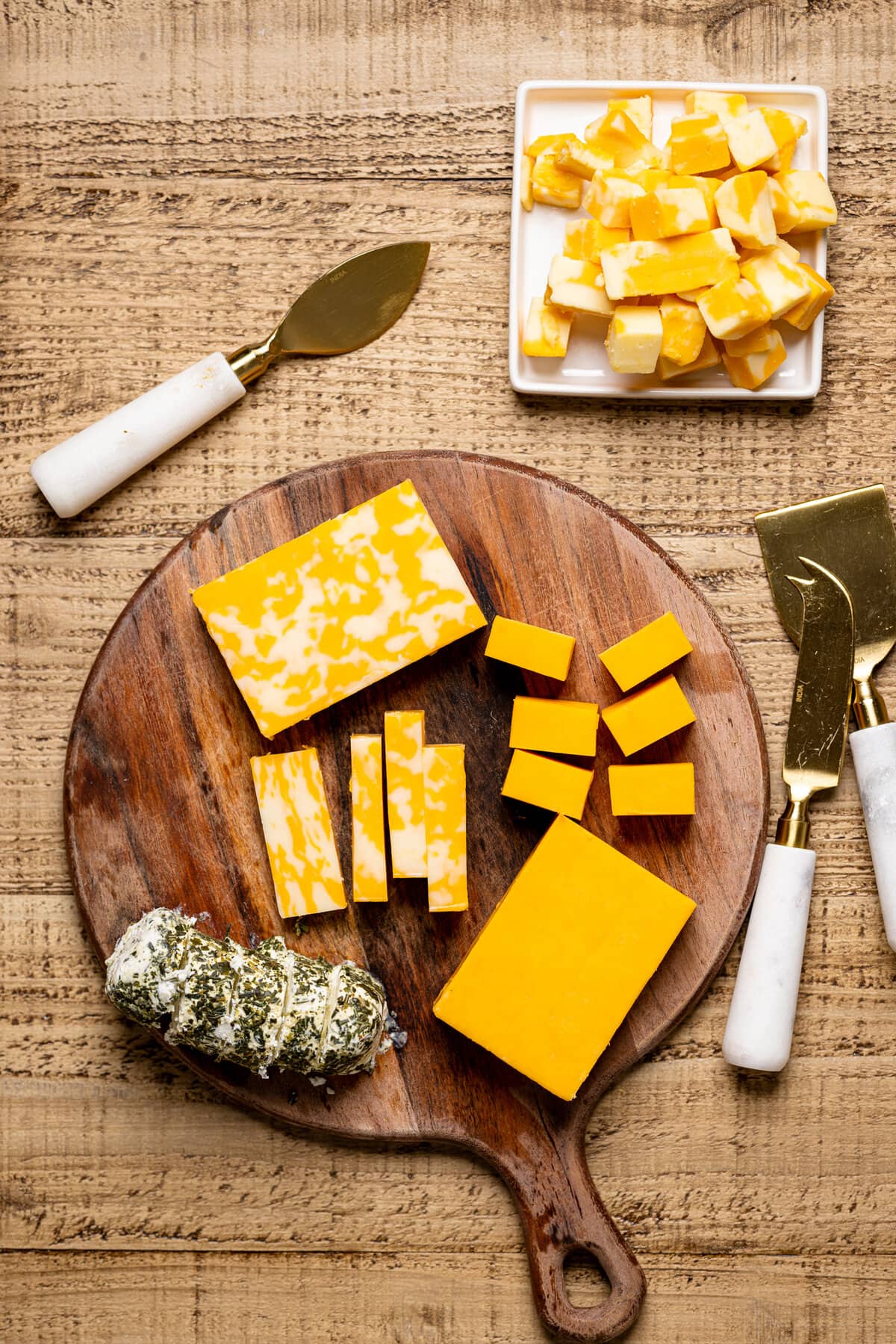 What is Typically on a Charcuterie Board?
As I've stated in the recipe card, your charcuterie board can consist of any of your favorite ingredients, however, for a general rule of thumb here are a few different options:
A variety of cheeses
Cured meats
Fresh fruit
Dried fruit
Crackers
Breads
Nuts
Seeds
Preserves (jelly or jam)
Olives, etc.
Of course, it just depends on how fancy you'll like to get with your charcuterie or cheese board. I definitely recommend planning your list ahead of time, writing the ingredients needed down, and then going to the grocery for those items to avoid re-visits.
PICK YOUR THEME
As you're filling in your ingredients for your Charcuterie board, be sure to pick the perfect theme and "feel" that you hope to bring. Let your props and other accessories tie in with that theme (i.e. cheese knives, bowls, plates to board color coordination) so that everything becomes a compliment.
Understand the colors needed for your theme----whether it's bright colors and Springy/Summery or more darker, bold colors for the Fall/Winter; understand which direction that you'd like to take this.
Once decided, you can even add extra touches things like flowers, plant leaves, fresh herbs (rosemary, thyme, sage, etc.), cloth napkins, holiday decor ----you name it. This all brings the complete look together.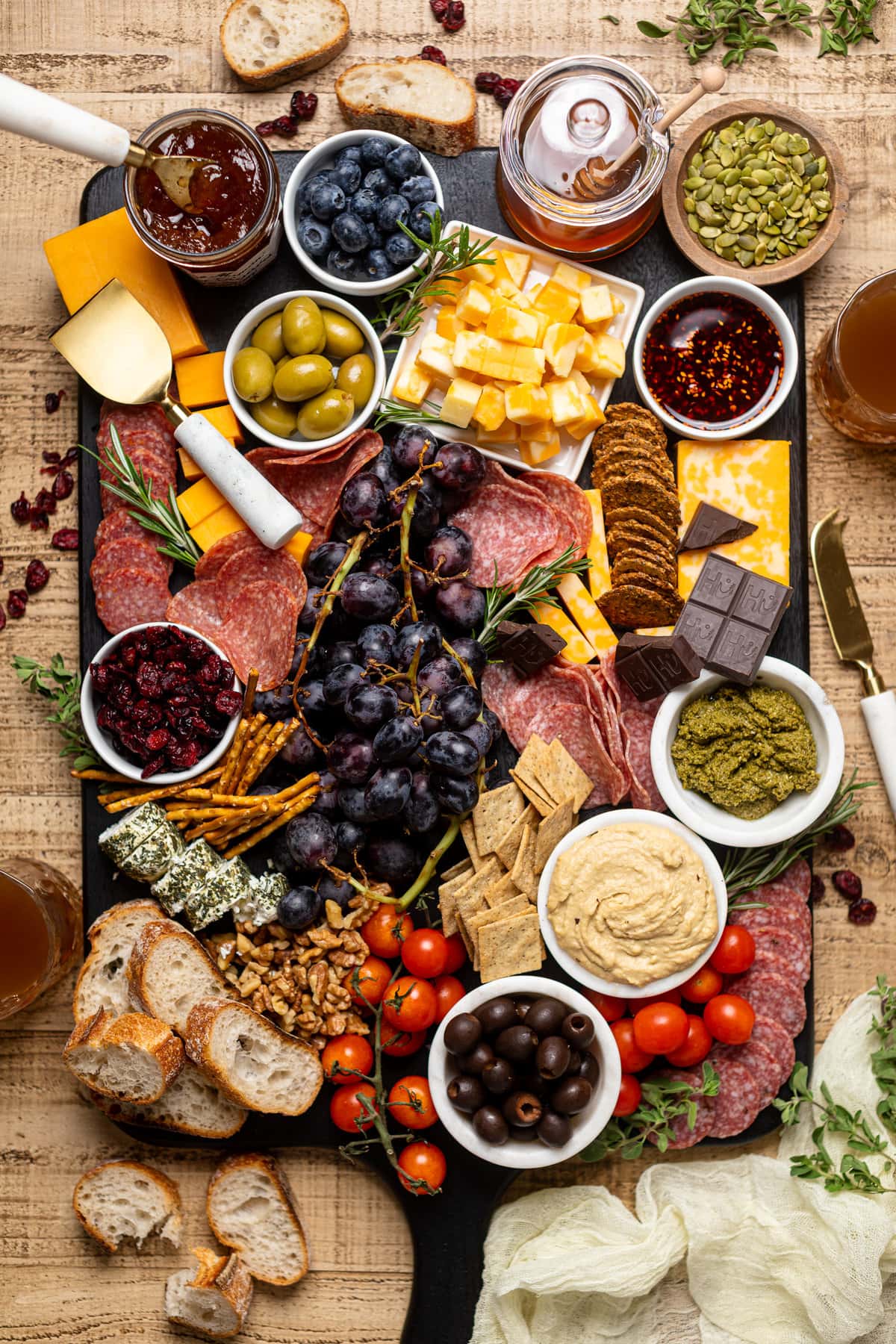 How to Make a Small Charcuterie Board or For Two?
Making a smaller charcuterie board or one that only serves for two people is super easy! Again, it goes back to the size of your board, which in this case would make sense to have a small one. Once you've chosen your board, simply purchase a small quantity of all of the ingredients you'd like to use and layout things out in the same and steps as a larger one.
In this case, I definitely recommend not having more than two different options for each ingredient type (i.e. two types of cheese, meats, crackers, fruit, etc.) to avoid over-crowding or running out of space.
The Best Cheeses to Use
First things first-----the cheese. Personally, love to use different flavors and textures of cheese when it comes to decorating my charcuterie or cheese board. You can choose your favorite flavor or variation and slice them and/or add them as a whole brick onto the board.
There aren't any cheeses that you can't add necessarily, however, my rule of thumb is when creating a decent size baord, always have roughly 4 or so different variety of cheeses. For my board, I used goat cheese, colby jack, sharp cheddar, and parmesan. In addition, you can also use ones like gouda, mozzarella, blue cheese, romano, brie, etc.
What Kind of Meats to Use
The same notion goes for the meat as it relates to introducing a variety. Of course, if you aren't a fan of meats like pepperoni, salame, prosciutto, and so on----no worries! I've literally been extra creative with my charcuterie boards by adding other meats like different flavored chicken wings, appetizer meatballs, cauliflower bites, bacon strips, cocktail sized seafood like shrimp, etc.
The sky is the limit and honestly, the best board comes from your own personal preference and tase buds.
As for the fancy way of adding your meats to your board, there are so many ways to do so. You can either do a beautiful "meat rose", quarter fold, half-fold, or just plain flat. It all depends on how you'd like your board to appear visually.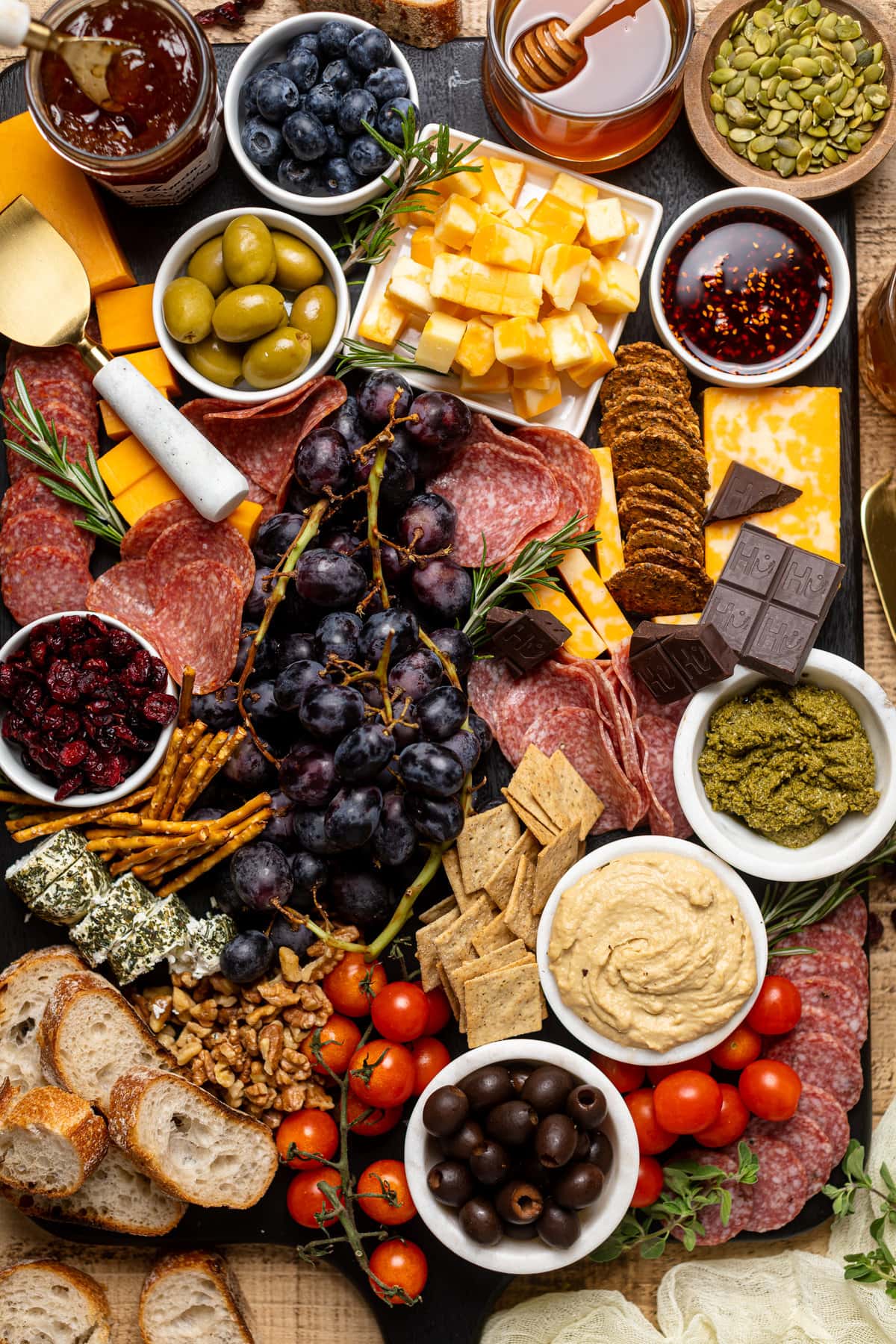 Best Fruit to Add
Another great ingredient to use to your charcuterie or cheese board is the fruit. I love using an array of seasonal fresh fruit like oranges, kiwi, strawberries, blueberries, blackberries, grapes, raspberries, and so on. It just depends again on your preference and which fruit are in season.
You can definitely slice them up or keep them whole or both for a nice look.
Fill in the Spaces with Seeds, Dried Fruit, Nuts, and More
Depending on how large your board is, you might have a lot of space to fill in once your mains like the cheese, meat, and fruit are on the board. This is where adding your favorite nuts, fried fruit, seeds, jams, honey, sauces, etc. come in. So easy!
What Crackers Should I Use? An Alternative?
Just like many of the other ingredients, I'm definitely a believer in personal preference. I like to choose crackers on the healthier side and of different shapes and colors. In my board, I chose superseed crackers by Mary's Gone and rosemary & sea salt crackers.
If you're not that much into crackers or just want something different, I would recommend adding sliced french bread to make crostinis with or any of the following:
Tortilla chips
Kale chips
Roasted chickpeas
Popcorn
Cucumber or carrot slices
Granola
Again, the best charcuterie board will only be possible once you only add YOUR FAVORITE things to eat. Because after it's all beautiful, you want to be able to enjoy the things on it---right? Exactly.
So, regardless of whether you're making the perfect charcuterie or cheese board "just because", for a special occasion, the holidays, or date-night----you'll be able to achieve the best version with these tips and steps.
Don't Forget the Drinks!
Of course, you have to serve the best drink(s) with your beautiful hand-held eats and if you're looking for something a bit more fun than wine or you're in a need of an alcohol-free drink, then I have you covered with the perfect Mocktails. Just remember that you can add alcohol if you'd like! Here are a few of my top faves:
Frozen Cucumber Watermelon Strawberry Mocktails
Dairy-Free Espresso Martini with No Kahlua
Pear Ginger Lemon + Thyme Drink
Need Help with Creating a Vegan Gathering for the Holidays?
This article on How to Host the Perfect Vegan Friendsgiving comes in handy for many events and occasions besides Thanksgiving or Friendsgiving. It's all about creating simple ways to make this moment the most memorable. In this article, you'll better understand the importance of budgeting, creating a list, having a vision for your decor, and more.
Tips + Tricks to Hosting Thanksgiving
Whether you're hosting your first ever Thanksgiving or you're a Thanksgiving pro, preparing for Thanksgiving is a big task. Between organizing the get-together, running errands, and whipping up the most delicious Thanksgiving recipes, if you come into Thanksgiving week unprepared it can be a little bit overwhelming.
Luckily, I'm just a little Thanksgiving obsessed so I have about a million tips and tricks to hosting Thanksgiving that I have learned over the years and want to share with you.
MADE OUR RECIPE(S)?
If you love this How To Make the Best Charcuterie Board post, tag @orchidsnsweettea_ on Instagram and hashtag it #orchidsandsweettea!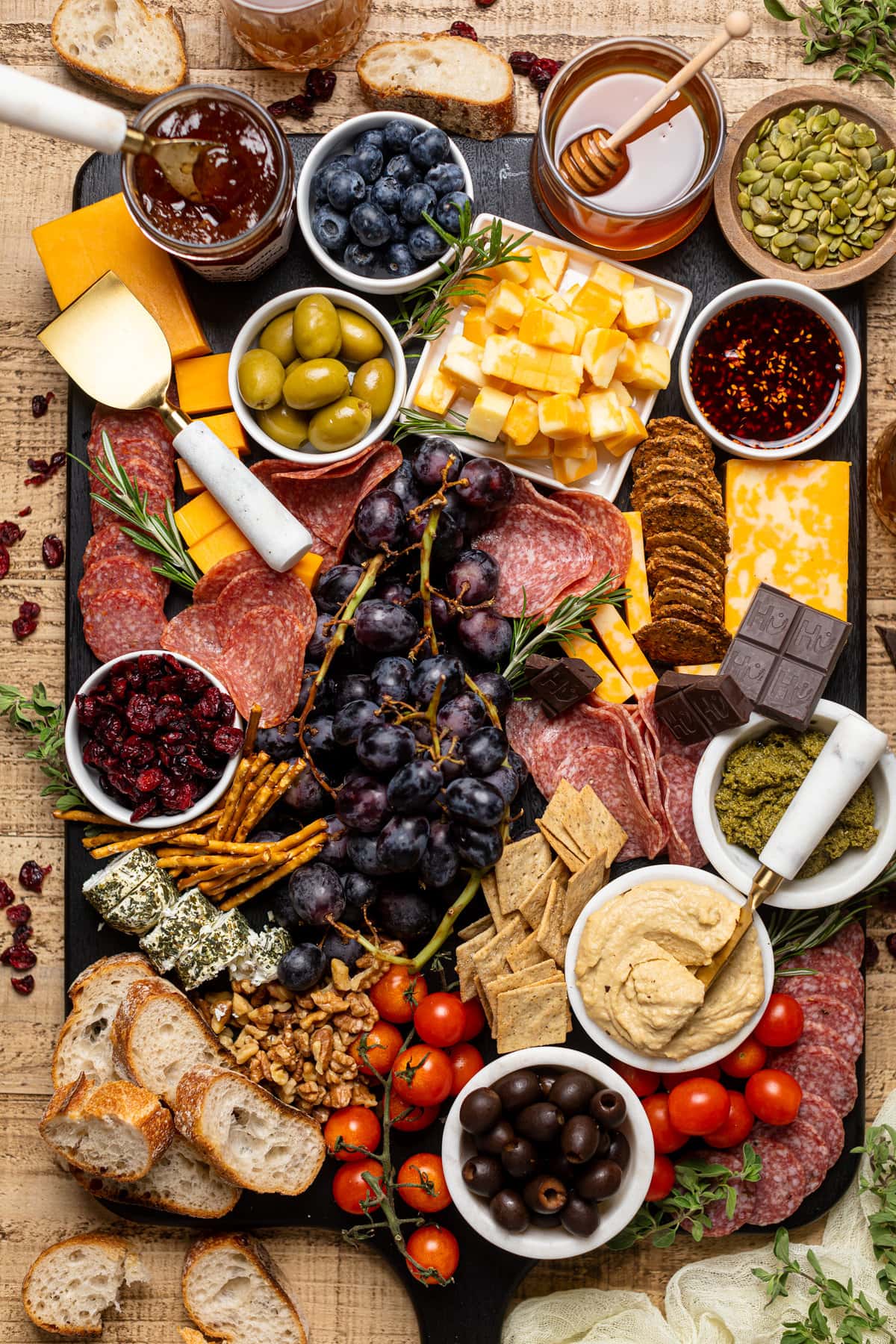 CHEESES:
Goat cheese

Colby jack cheese

Sharp cheddar cheese

Parmesan cheese
MEAT:
Calabrese salame

Genoa salame

Italian dry salame

Sopressata salame
OTHERS:
1

bottle

Olives

(Black or green work!)

handful

cherry tomatoes

(Roasted or not)

dried cranberries

chopped nuts

(pecans, walnuts, etc.)

Seeds

(pumpkin seeds, etc.)

Hummus

Preserves or Jams

(Any flavor works!)

Chili crunch, optional

(It's a paste-like sauce similar to pesto)

Grapes

(black, red, or green based on preference)

Pesto

sliced french bread

Other fruit

(blueberries, raspberries, blackberries, strawberries, etc.)

Raw honey, organic

Chocolate bars, chopped or whole
To start, select your board size, which will give you the best idea of how much ingredients to purchase for your charcuterie board. 
TO MAKE THE CHARCUTERIE BOARD:
Place your cheeses around the board with a couple cheese knives. Next, add a few small plates and bowls in vacant spaces to help guide you in styling your board. NOTE: I like to space out my plates and bowls or group them a bit based on similarity.

Now, start adding the meat unto the board by slightly folding some, leaving some flat, and fanning out others to help create visual variety.

Add some berries, hummus or other dips, and seeds to the bowls and plates that you've placed on the board. You can also add olives and a few cheeses (that are cubed) as well.

At this point, you'll begin to fill in any spaces on the board with crackers, seeds, nuts, pretzels, chocolate, french bread slices, etc.

Be sure to add any honey, preserves/jam, pesto, etc. to also fill in a few spaces, mostly around the bread or crackers.

NOTE: The ingredients that I chose were based on preference. Please feel free to choose your most favorite ingredients and have fun!

Bon Appetit!
TIPS + BOARD IDEAS: To see tips and other ideas for assembling the perfect board, be sure to check out the information within the post!
MAKE AHEAD: You can always prep + and make your ingredients ahead of time. be sure to check out the post for details.
EQUIPMENT: Here, I've curated a list of Charcuterie Board Must-Haves that I use to achieve the best charcuterie experience. Everything from my fave boards, cheese knives, honey pots, prep bowls, cheese labels, and more.SEE THEM HERE!
ROASTED TOMATOES: If you're thinking of adding tomatoes to your board and would love to roast them for an enhanced flavor profile, check out my Herb Roasted Tomatoes recipe.
How To Make the Best Charcuterie Board.