If you haven't indulged in traditional Jamaican jerk, then you're truly missing out and this Baked Jamaican Jerk Chicken Wings recipe is a guaranteed crowd-pleaser. Made with an easy garnish sauce mixture that helps to cool down the spices in the jerk flavor, these wings are seasoned to perfection, and boast of a nicely juicy center. The perfect appetizer or main meat that can be served with your favorite sides---whether during lunch, dinner or a savory snack. Dairy-free option.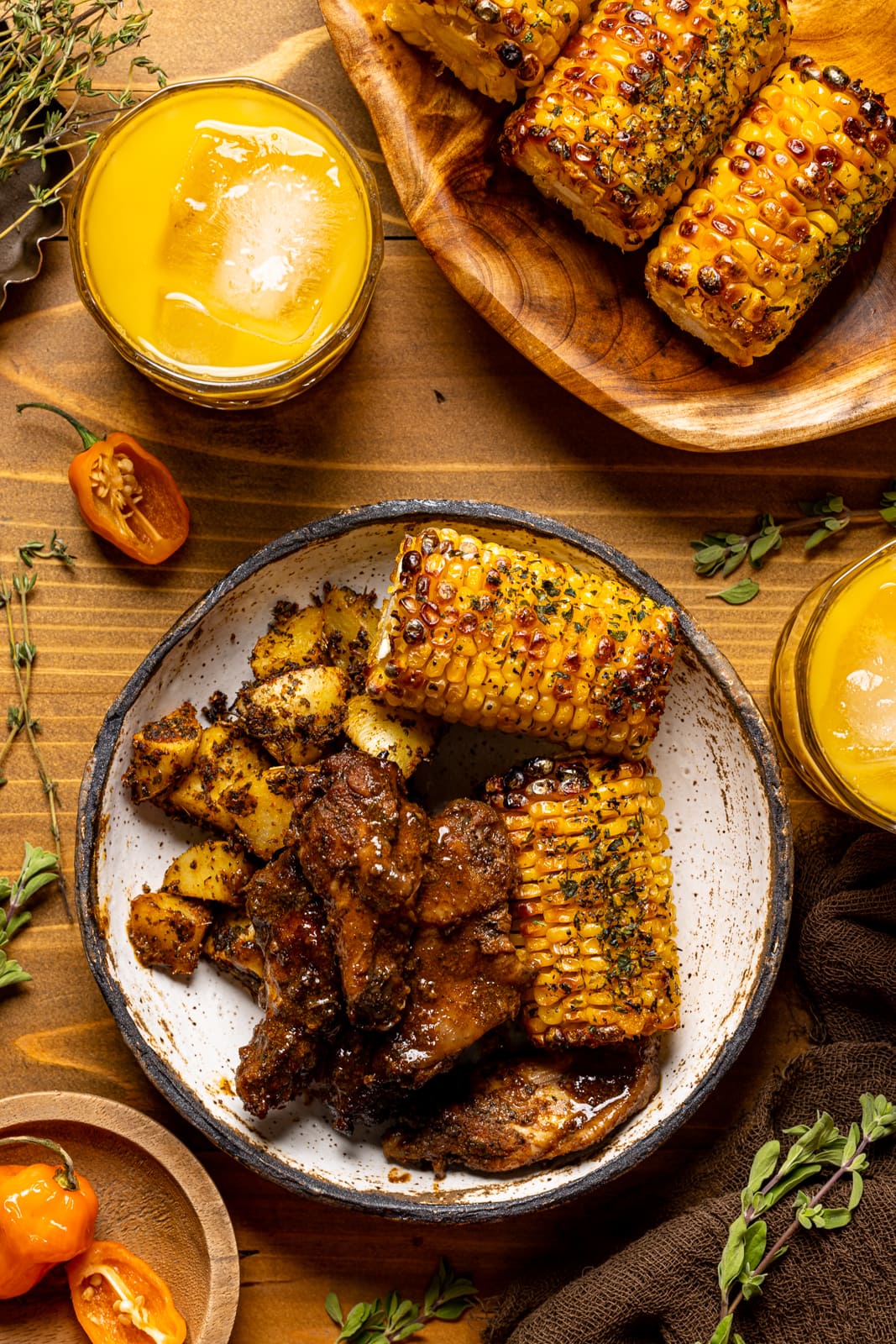 Disclaimer: This post contains affiliate links via Amazon for products that I wholeheartedly love and receive commission from.
When it comes to chicken wings, I'm such an avid lover. Growing up, chicken wings were one of the few things that I would eat constantly to the point that my childhood nickname growing up was "chicken wing"---haha! This Baked Jamaican Jerk Chicken Wings recipe is the perfect rendition of classic jerk chicken and wings despite not being grilled and charred as it's traditionally done.
Believe it or not, oven baked wings truly can be absolutely delicious and they will remain juicy on the inside and nicely crispy on the outside with just a few tweaks. The best part is that you can also use whole pieces of chicken for this recipe if you aren't the best fans of wings, so it's a win-win. Plus, this Baked Jamaican Pineapple Jerk Chicken recipe is the next thing that you need to try because it's AMAZING! Besides, wings are super versatile and you can create the most delicious flavors like Classic Oven Baked Buffalo Wings, Sticky Peach Chicken Wings, Sticky Gochujang Chicken Wings, and Sticky Orange Chicken Popcorn Chicken.
This chicken recipe is overall super easy to make, the perfect balance between spicy, sweet, and savory, can be done in both the oven or air-fryer, and is the best addition to so many meal ideas.
What is Jerk Wings Made of?
This jerk wings recipe is made of homemade dry rub jerk seasoning as the marinade and an easy BBQ jerk sauce consisting of BBQ sauce, juices from the baked wings, chicken stock, jerk seasoning paste, and cornstarch.
Jump to: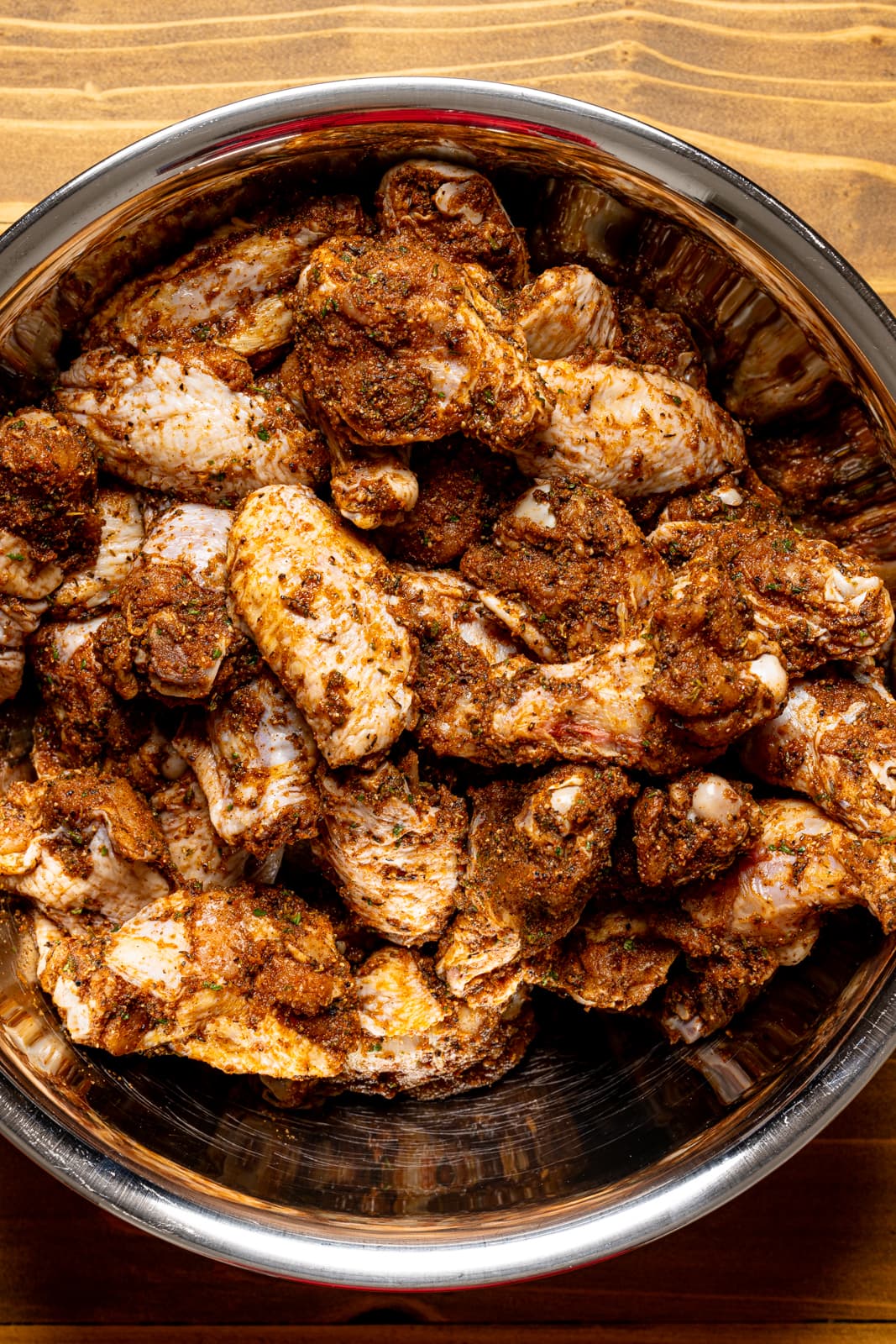 What is Jamaican Jerk Chicken?
Traditionally, Jerk chicken is a staple Jamaican dish that is often enjoyed with hard-dough bread or sometimes rice and peas. The chicken is usually seasoned well with a jerk seasoning and marinade and is left to fully marinade 1-2 days (or overnight) so that everything soaks in and the chicken is nice and tender when cooked.
My favorite store-bought brand of jerk marinade is by Grace Foods, which is available to purchase at your local grocer or online via Amazon, however, when making your own sauce, it consists of blended spices and seasonings and the spiciness can be adjusted based on preference.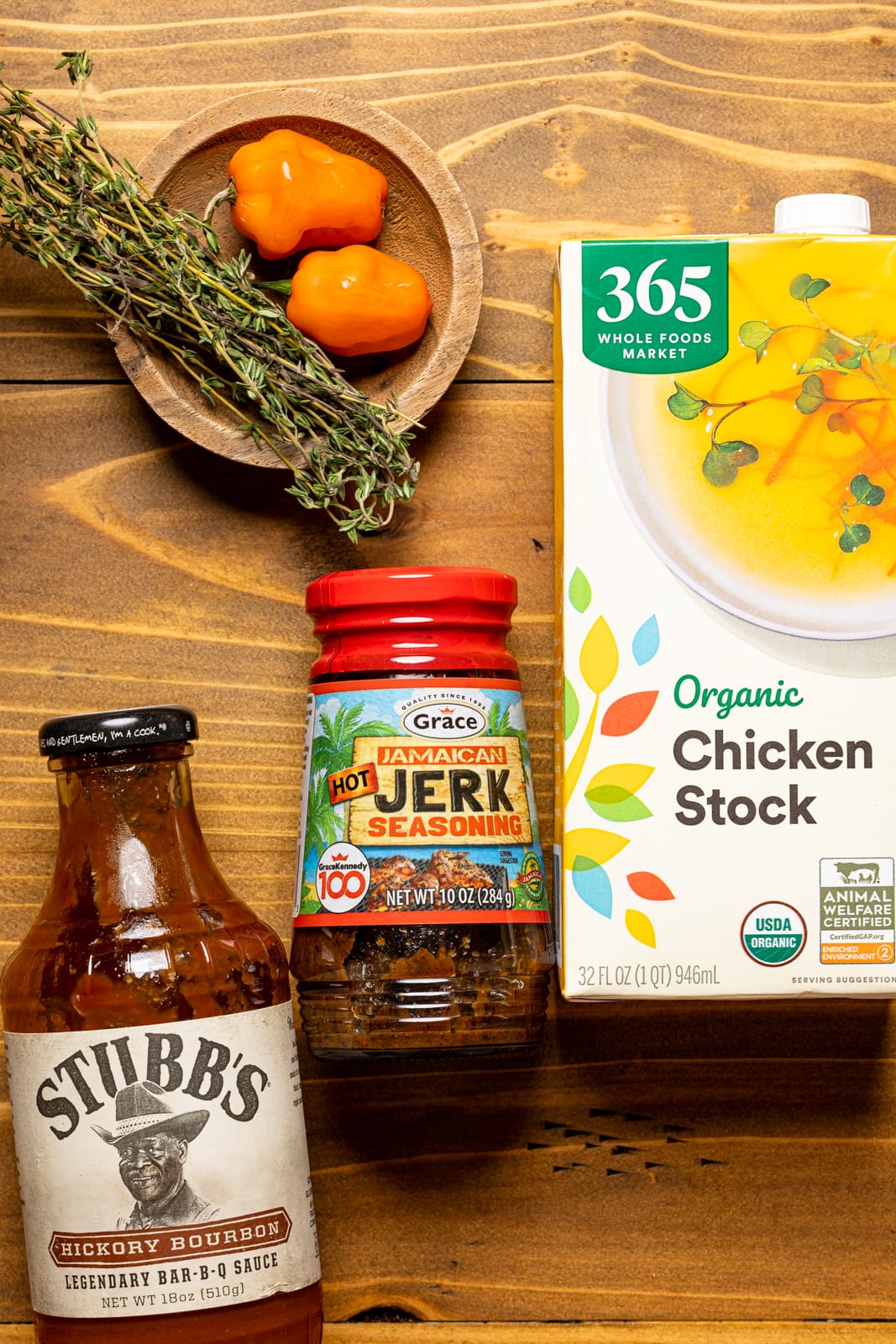 How to Make Jamaican Jerk Chicken Wings
The THREE parts of these JerkWings are the chicken wings, jerk seasoning, and the homemade BBQ jerk sauce.
The best part about any wing is the crispy coating that is formed without an "actual coating". And these jerk chicken wings do not disappoint. I talk more about tips to making these wings nice and crispy, but let's talk about this delicious recipe, especially the marinade and the sauce.
Ingredients
Here's what you need for these delicious Jerk Chicken Wings:
Chicken wings. I like to use organic wings that are disjointed (comes in two pieces) for a better cook. You can also use whole pieces of chicken (i.e. drumsticks, thighs, etc.) if preferred.
Jerk seasoning. I like two layers of seasoning for this dish. You can purchase a store-bought version or create a homemade blend using: onion powder, garlic powder, cayenne pepper, black pepper, dried thyme, brown sugar, ground allspice, dried parsley, smoked paprika, red pepper flakes, cinnamon, nutmeg, cloves, and cumin.
Thyme. I recommend fresh, but if you only have dried, use a half teaspoon.
Scotch bonnet. If you don't like spice, use less of the peppers. You can also sub with habanero peppers.
BBQ sauce. Make your own or use a premium store-bought sauce.
Unsalted butter. This adds additional flavor to the sauce. For a dairy-free option, feel free to use vegan butter.
Chicken stock. I like to use organic chicken stock, you can also use veggie stock if preferred.
Jerk seasoning paste. I love using a store-bought paste from Grace foods, however, you can always make your own homemade seasoning.
Cornstarch. Used for the thickening of BBQ jerk sauce. You can sub with arrowroot starch, flour, tapioca flour, etc.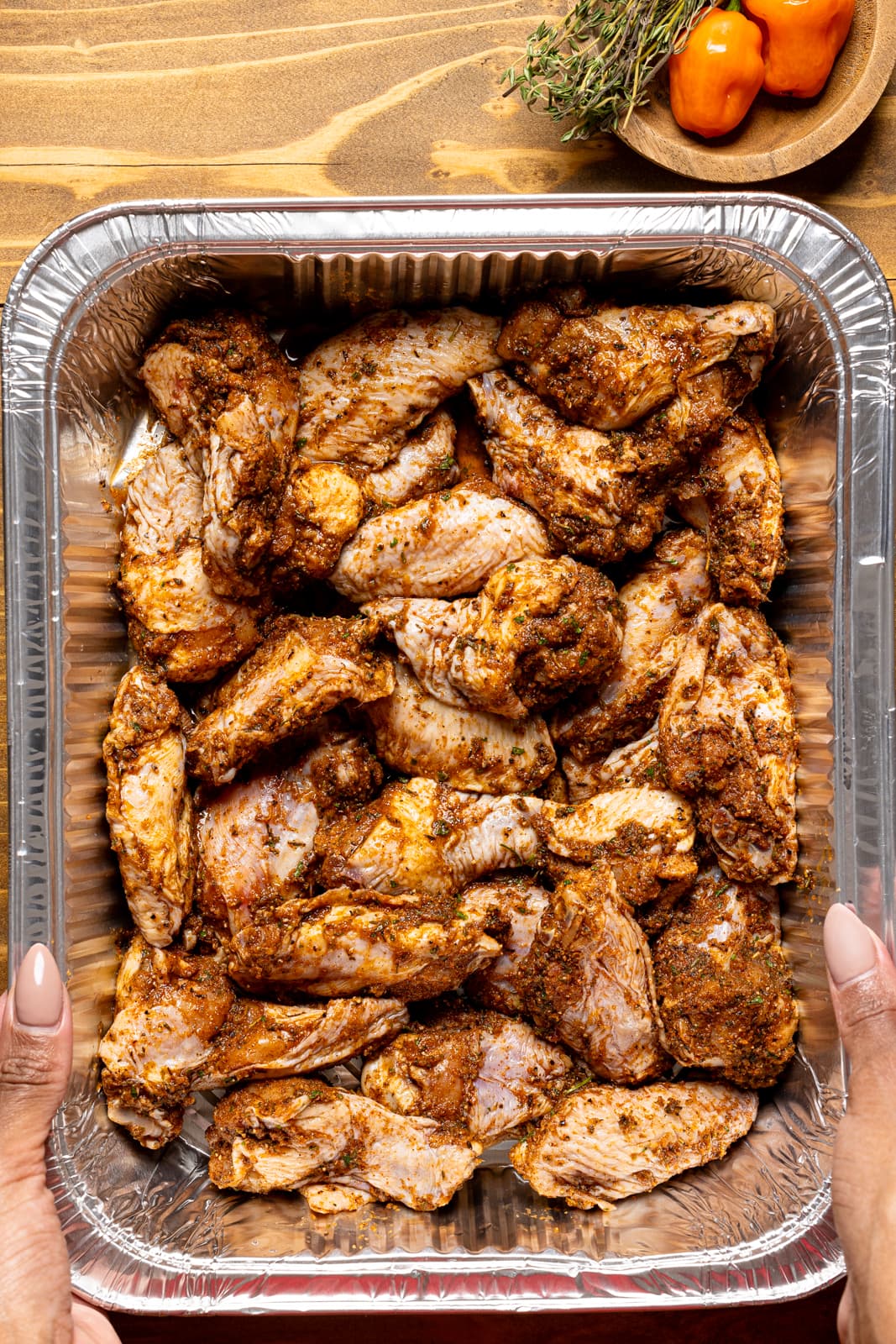 What are the Two Types of Wings?
When it comes to wings, there are two types: Drums (a.k.a. drumettes) and flats (a.k.a. wingettes). The drums actually look like miniature chicken legs and have one single bone in the middle surrounded by meat, whereas the flats are "flat" and contain two smaller bones that runs the length of the wing.
What are the 3 Main Ingredients in Jerk?
In jerk sauce or marinade, the 3 main ingredients that MUST be present are: scotch bonnet, thyme, and allspice (aka pimento seeds). You can't remove any of these ingredients or else it wouldn't be considered "jerk".
For Homemade Jerk Seasoning Paste
To make your own jerk seasoning paste instead of using a store-bought version, you'll need to add all of the following ingredients in a high-powdered blender or food processor until completely broken down and smooth:
3 scotch bonnet peppers
½ red onion, chopped
4 garlic cloves
handful of scallions (aka green onions)
2 Tbsps white vinegar
1 teaspoon salt + black pepper
1 tablespoon minced fresh ginger
¼ cup pineapple chunks
2 Tbsps brown sugar
1 carrot, peeled + chopped
¼ cup soy sauce
2 Tbsps pimento seeds (aka allspice)
¼ cup filtered water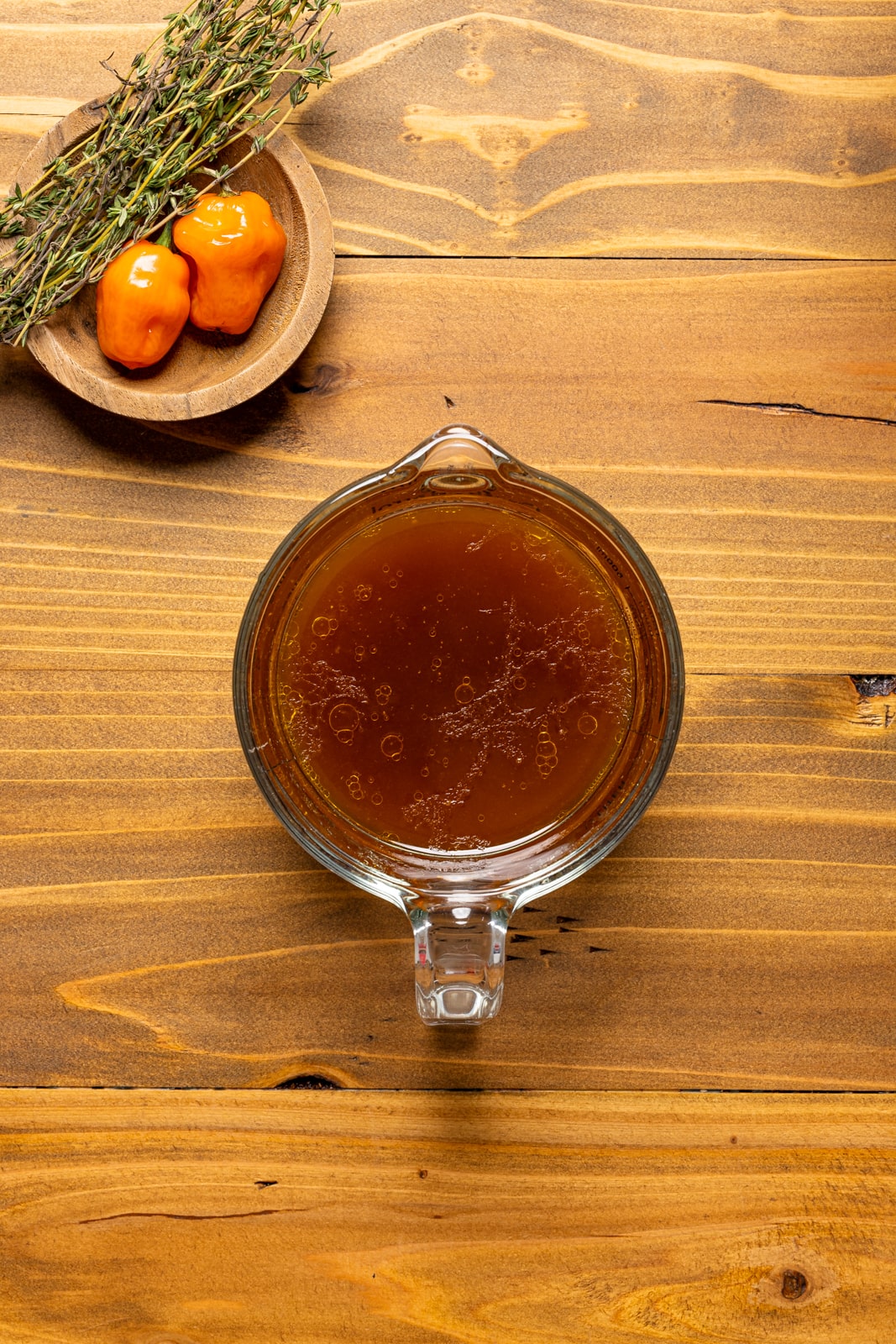 How to Prep + Season Jerk Wings
Baking Jamaican Jerk Chicken Wings are generally an easy process—in total about 1 hour due to the process of cooking the chicken wings and "drying out" of the sauce. You first start by cleaning and washing your chicken pieces to ensure that they are clean and ready to be seasoned. I like to wash my chicken wings with both vinegar and lemon to help keep things clean and sanitized.
Once your chicken wings are clean, then it's seasoning time! I'm all about seasoning every "layer" of my food, therefore, the chicken gets direct seasoning and so does the sauce. Let everything marinate for 10-15 minutes or 1-2 days (or overnight tightly wrapped in the refrigerator) for the best results.
What Does Jamaican Jerk Wings Taste Like?
Basically, Jamaican jerk wings super packed with flavor that is spicy and sweet with a smoky, char taste if made on a grill. Overall, jerk seasoning has warm, complex, and salt undertones, which makes it the perfect flavor for any taste buds.
Is Jerk Chicken or Wings Very Spicy?
These wings are spicy, but not overly hot. When it comes to making jerk anything, the amount of spicy and hot flavors would depend on the amount of scotch bonnets you add to both your marinade and sauce. You can always adjust the amount of peppers based on your personal preference.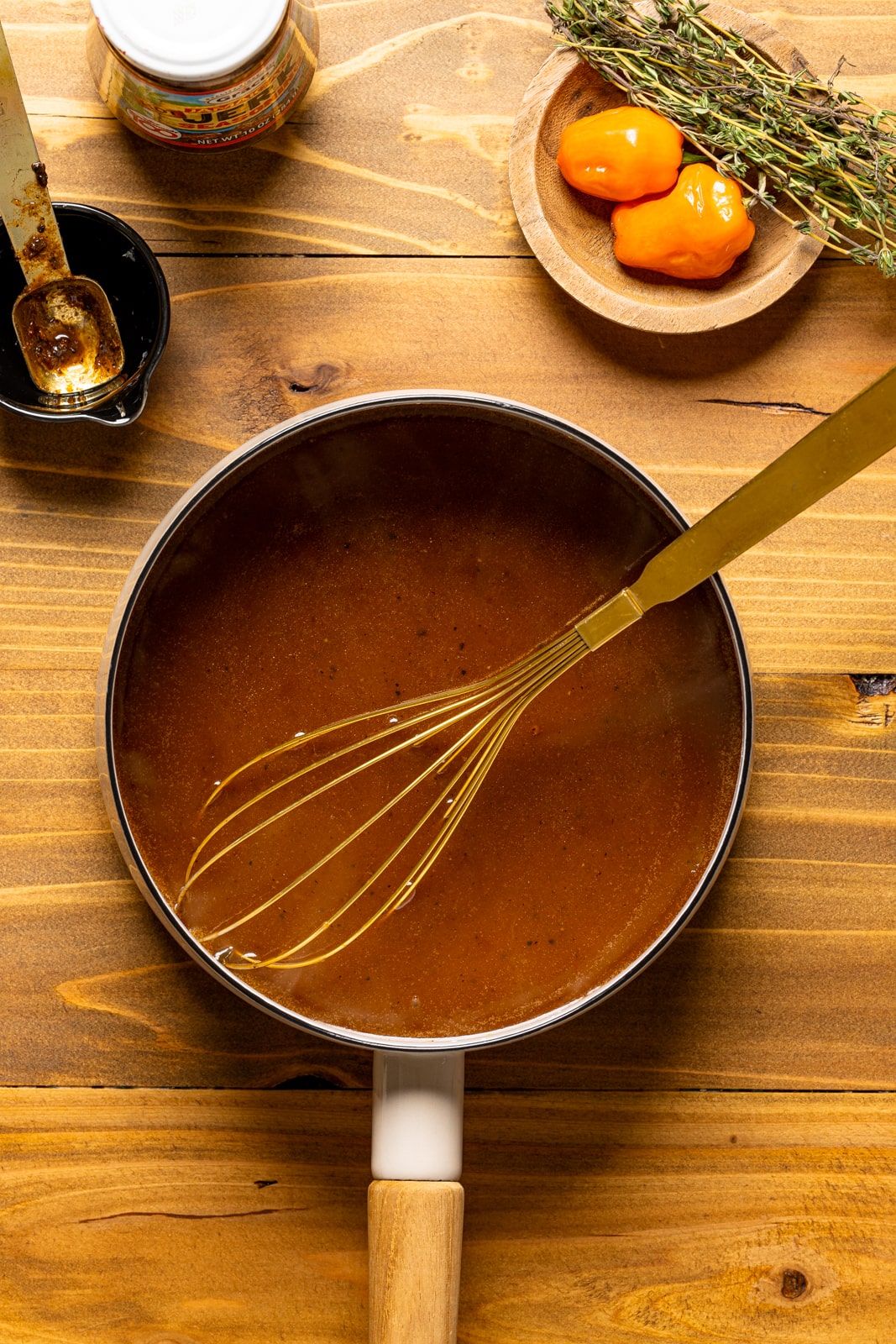 Baked Chicken Wings versus Air-Fried
Of course, both methods of making these jerk chicken wings are effective. However, if you're wondering whether you'd be able to also make these wings in an air-fryer—-then yes! Absolutely!
Simply do all steps the same (minus the sauce) and cook them in your air-fryer for the amount of time needed (somewhere between 10-15 minutes I believe). Once crisp, make the BBQ jerk sauce in the saucepan, brush or spoon on the sauce unto the wings and cook again for 2-3 minutes.
As you know, this recipe is for baked wings and honestly, they're just as crispy as using them in the airy-fryer (especially when you broil them in the last round), so the choice is yours!
Tips + Tricks for The Crispiest Chicken Wings
To make sure your chicken wings get as crispy as possible without needing an actual "coating", follow these simple tips:
After rinsing your wings, be sure to pat dry completely until they are as dry as possible before marinating them.
Make sure each wing has plenty of space on the baking sheet or baking dish. The airflow helps things crisp up.
When using a baking sheet, add a wire rack atop the parchment paper so that wings can crisp up nicely on all sides.
Cook wings until crisp prior to adding sauce so that they have minimal liquid.
Broiling your wings for about 5 minutes or so helps to get them nice and crispy without burning.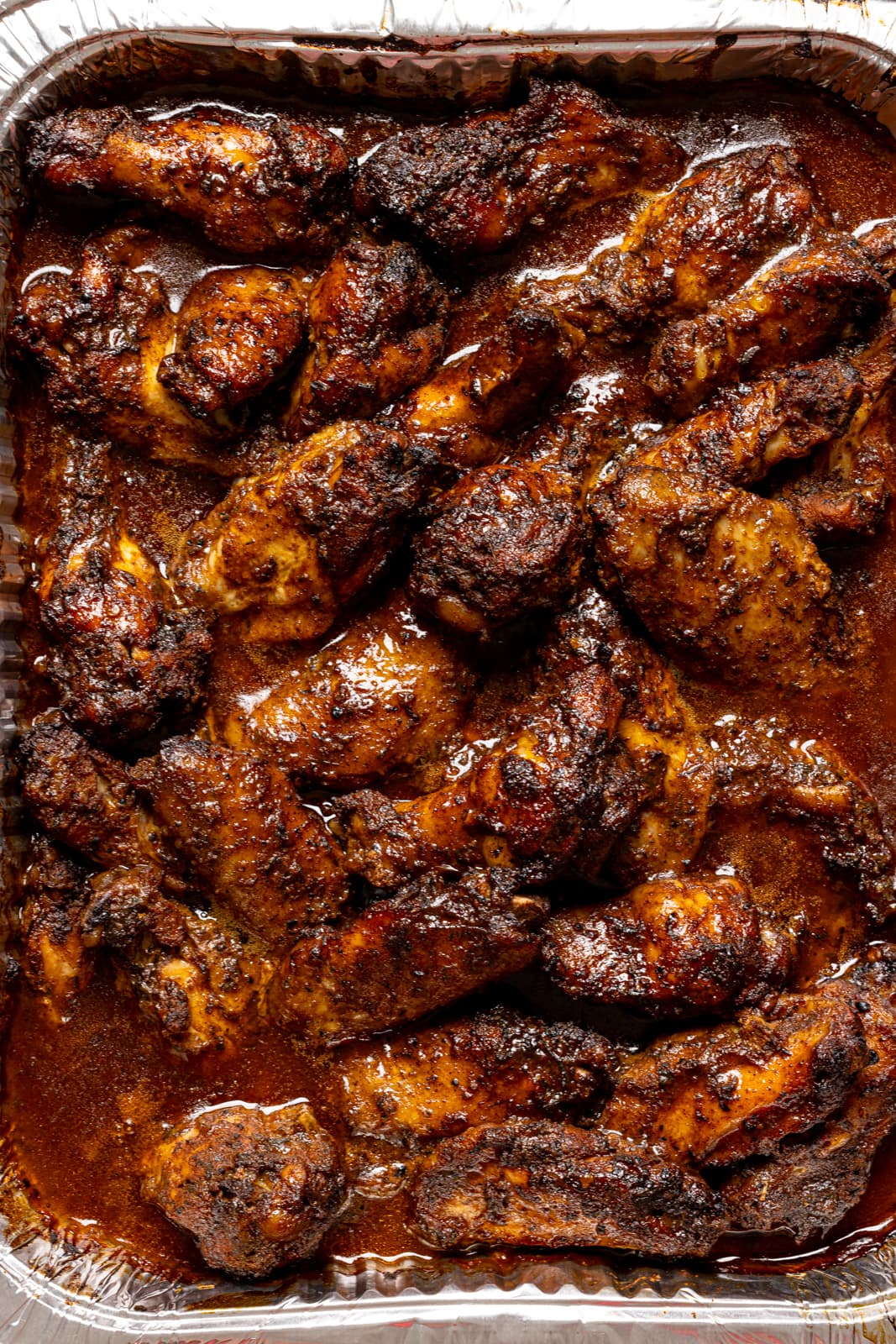 What Meat is the Best to Jerk?
Making traditional jerk doesn't have to be left to only chicken or chicken wings. In Jamaica, it's also used for other types of meat and the possibility of switching things up with another meat or alternative is also a good idea:
Pork (often done in Jamaica as well. Perfect combination of grilling and jerk flavors)
Beef
Tofu
Chickpeas
Other beans (black beans, kidney beans, etc.)
Lamb
Fish (also done in Jamaica)
Other seafood (lobster, shrimp, etc.)
How to Serve Jamaican Jerk Wings
You can eat these Jerk chicken wings hot out of the oven dipped in your favorite creamy sauce as a standalone food. I like ranch. To keep things more traditional, jerk chicken is often served with sliced hard-dough bread, which thoroughly soaks up the sauce and cools the heat factor from the chicken itself.
However, if you're thinking about serving these jerk wings with something to create a complete, full meal, then I recommend trying my favorite ways to incorporate them: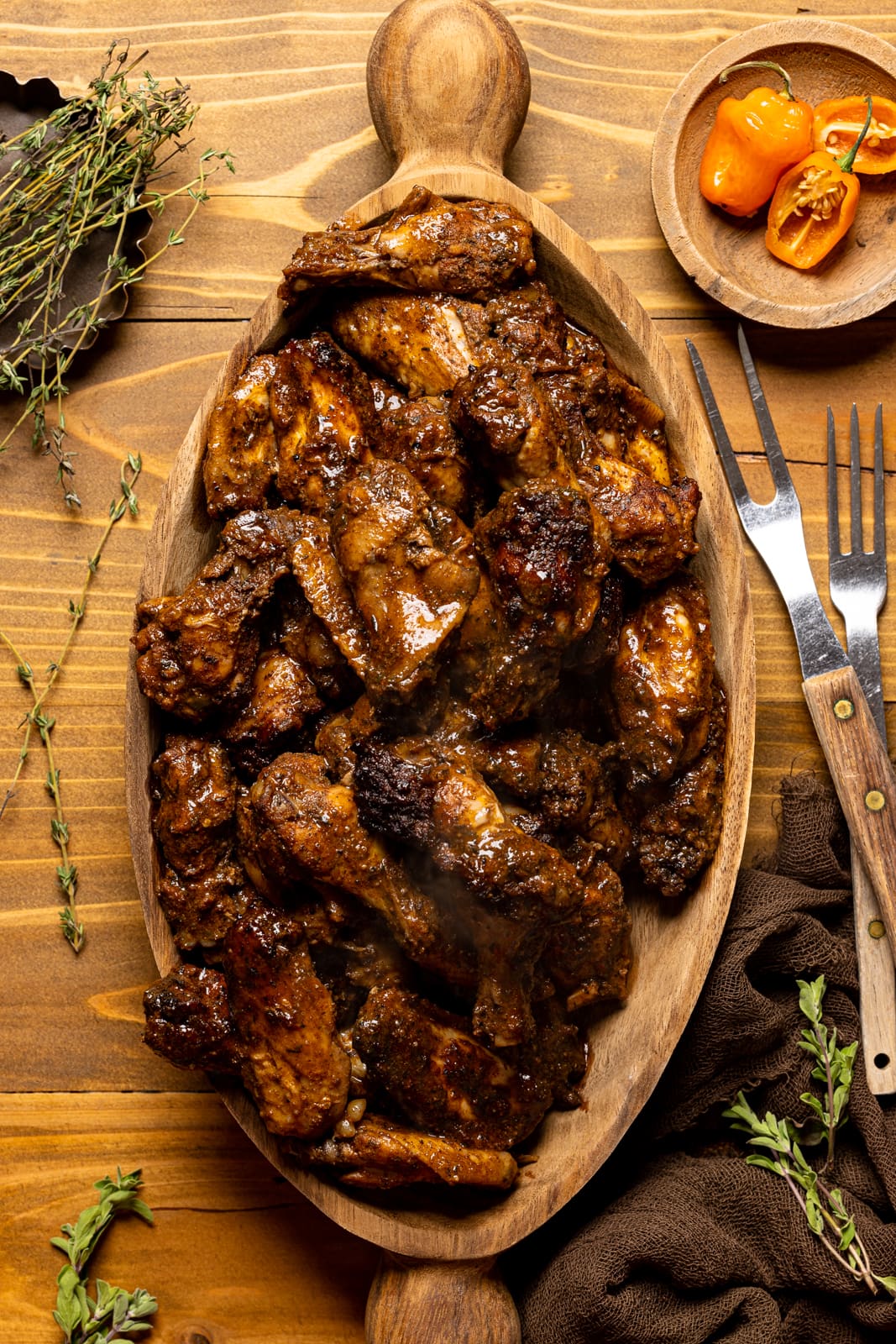 Common Q + A's for these Jerk Wings
How to store leftover chicken wings?
Any leftovers can be kept in a tightly sealed container and refrigerated for up to 3-4 days.
How to thicken sauce?
While many sauces are thickened for texture, what you use as a thickening agent is solely up to you. All in all, it depends on how you like it! Use 1 tablespoon at a time mixed with 1-2 tablespoons of water to dilute. Then pour the mixture into the sauce, simmering for an additional few minutes to activate the thickener. Some thickening agents you can use are:
Cornstarch (GF)
Arrowroot starch (GF)
Potato starch (GF)
All-purpose flour
Is jerk chicken really salty?
It depends. When making your own jerk seasoning and marinade, you definitely have more control over the amount of salt that you use. However, for store-bought seasonings + pastes, you might find it more salty in taste.
Is jerk chicken wet or dry?
Traditionally in Jamaica, jerk chicken is dry. To start, the chicken is marinated with spicy sauces and cooked over smoky wood fire which gives it a beautifully crispy, dry outside and juicy inside.
What is the difference between jerk marinade (paste) and jerk sauce?
Basically, Jerk seasoning is a dry spice blend and a jerk marinade comes in a liquid-y, paste-like form. The dry seasoning blend is meant to be rubbed into your meat and left in the fridge overnight before grilling or baking. While, the marinade is a quicker version of the spice blend and can also be used as a rub on your meat.
Should you poke holes in chicken to marinate?
While I only poke holes with whole pieces of chicken like the drumstick, breasts, thighs, etc., with these wings you don't have to. The marinade penetrates the meat as deeply as possible once it's marinated overnight or for up to 2 days, resulting in a more moist meat.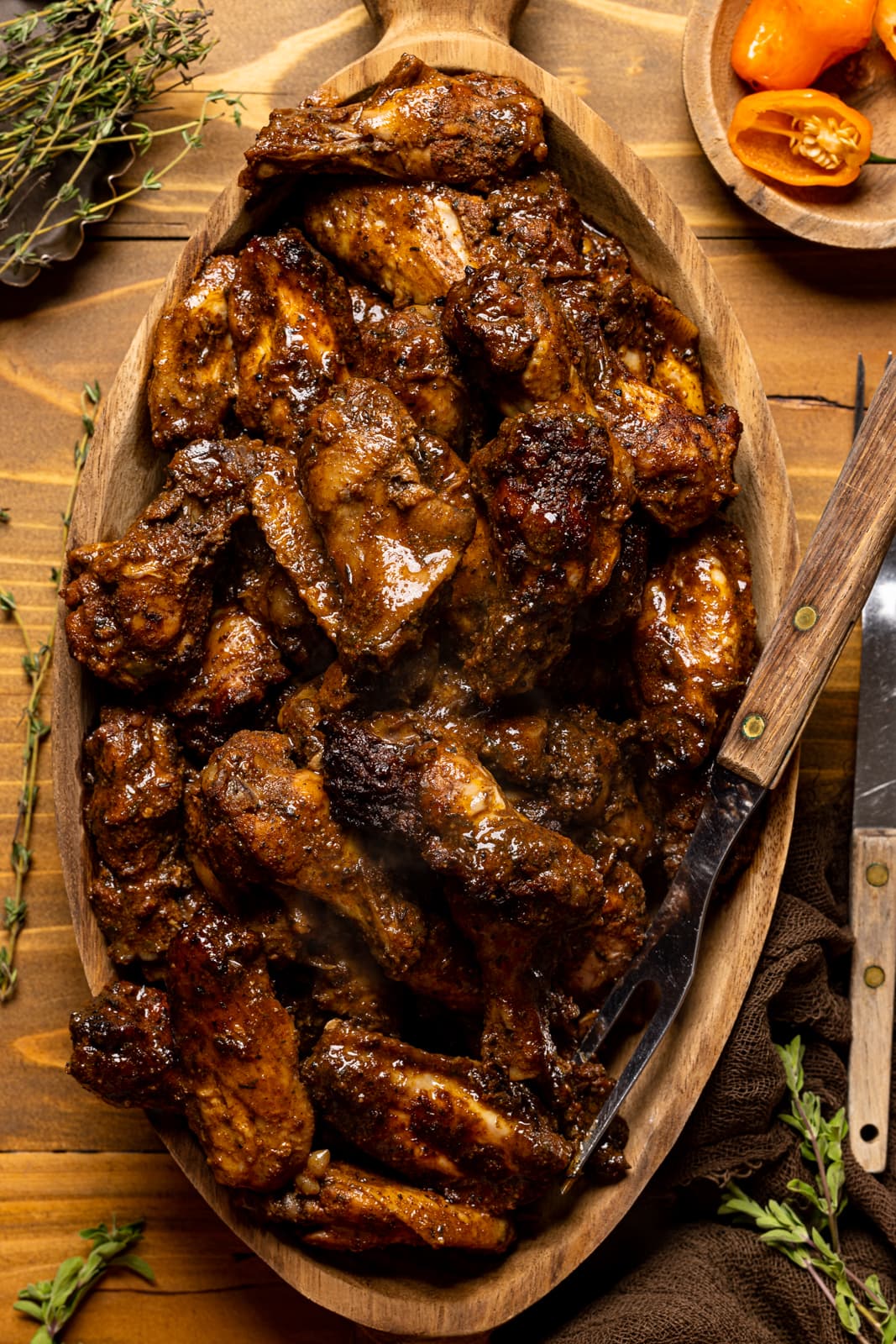 New to Jamaican Cuisine? Try these Next!
Now that you're on a Jerk flavor kick with this Jamaican Jerk Chicken Wings recipe, give these other Jamaican recipes that your entire family will love a try next:
MADE OUR RECIPE(S)?
If you tried these Baked Jamaican Jerk Chicken Wings or any other recipe on my website, please please leave a 🌟 star rating and let me know how you go in the 📝 comments below. I love hearing from you.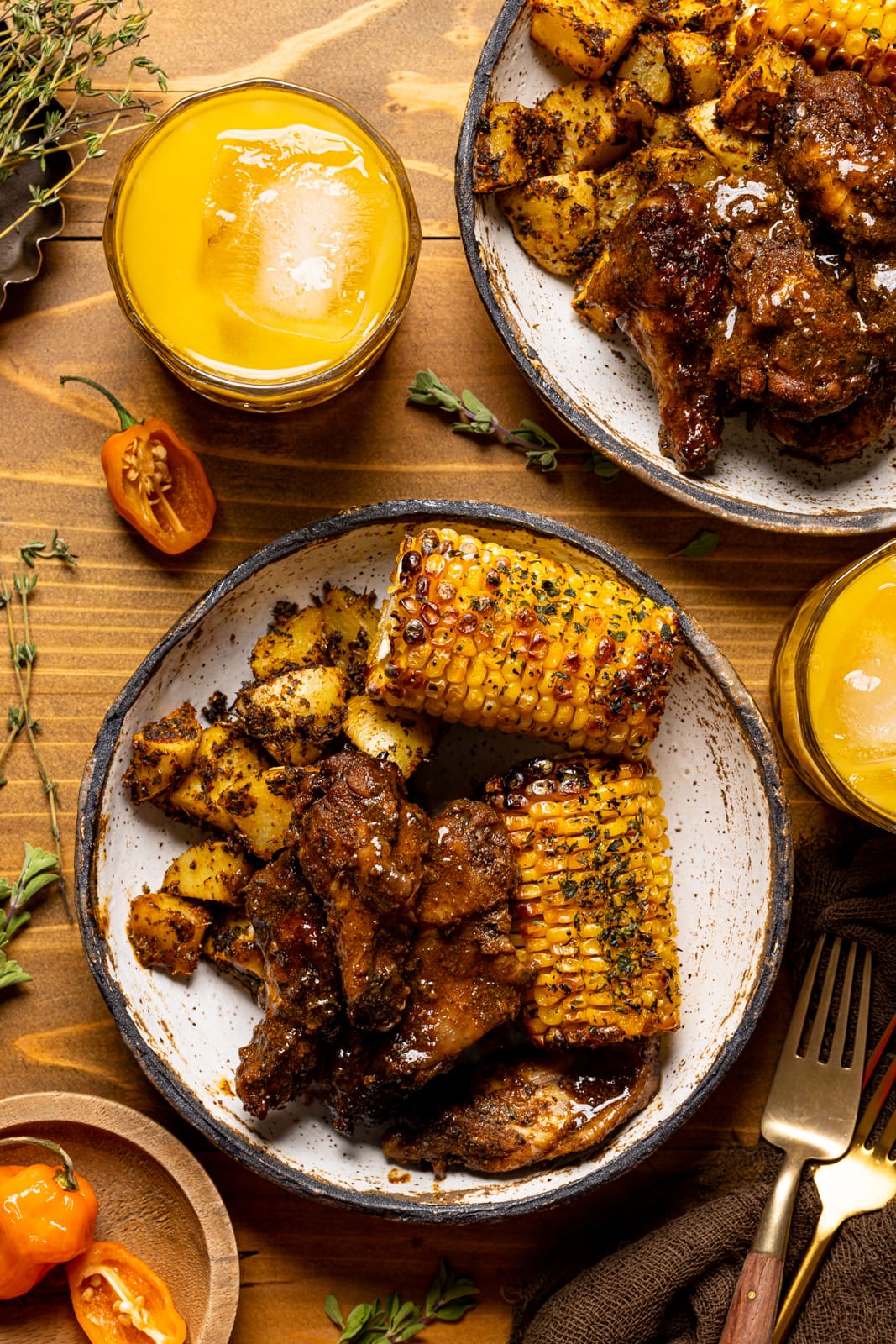 Total Time:
1

hour
25

minutes
CHICKEN:
3

lbs.

organic chicken wings, disjointed

2

scotch bonnet peppers, chopped
HOMEMADE JERK SEASONING:
1

tablespoon

onion powder

1

tablespoon

garlic powder

2

tsps

cayenne pepper

2

tsps

black pepper

2

tsps

dried thyme

2

tsps

organic brown sugar

1

teaspoon

gorund allspice

1

teaspoon

dried parsley

1

teaspoon

smoked paprika

½

teaspoon

red pepper flakes

½

teaspoon

ground cinnamon

½

teaspoon

ground nutmeg

½

teaspoon

ground cloves

¼

teaspoon

cumin powder
BBQ JERK SAUCE:
2

Tbsps

unsalted butter

2

cups

BBQ sauce, premium

broth from baked jerk chicken

(See instructions on how to retrieve chicken broth from cooked wings)

2

thyme sprigs

½

cup

organic chicken stock

1-2

Tbsps

jerk seasoning paste

(I love using the Grace brand)

1-2

Tbsps

cornstarch

(Be sure to mix with 3-6 Tbsps warm water)
MARINATE THE CHICKEN WINGS:
In a large bowl, add your freshly cleaned + rinsed chicken wings along with the chopped scotch bonnet pepper and onion powder, garlic powder, cayenne peppers, black pepper, thyme, brown sugar, allspice, parsley, smoked paprika, red pepper flakes, cinnamon, nutmeg, cloves, and cumin, mixing everything together until chicken is fully coated. Let it sit for 10-15 minutes. NOTE: For best results, it's best to marinate chicken overnight in the refrigerator or for up to 2 days.

Preheat the oven to 400 degrees Fahrenheit and lightly grease a standard 9x13 baking dish or a large foil baking pan. Set aside.
BAKE THE CHICKEN:
Add the chicken to the prepared baking dish, spreading them out side by side, and tightly cover the top with foil paper. Bake for 30-35 minutes or until chicken wings are mostly cooked through. Carefully, drain the jerk sauce "liquid (aka jerk broth)" from the chicken into a bowl and set aside. Return the chicken wings back to the oven and bake for another 5-10 minutes or until they appear more "dry".
MAKE THE JERK BBQ SAUCE:
In a saucepan over medium-high heat, add the butter and let it melt. Add the BBQ sauce, jerk "liquid" broth, jerk seasoning, chicken stock, and mix together until combined. Let everything boil for 2-3 minutes. Reduce the heat to medium-low and add in the cornstarch mixture and thyme sprigs, stirring the sauce until it thickens.
COMBINE + BAKE AGAIN:
Generously brush (or spoon) the BBQ jerk sauce atop chicken wings just until fully coated and bake (without foil) for another 10-15 minutes for until the sauce has "Baked unto" chicken wings. NOTE: I like to broil the wings for the final 10-15 minutes for the best results. Just be sure to keep an eye on them to avoid burning. Remove from oven.

To serve, enjoy your jerk wings with a side of bread (hard-dough bread is traditionally used) or with your favorite side (i.e. grilled corn, potatoes, rice, veggies, etc.).

Bon Appétit!
STORAGE: Any leftovers can be kept in a tightly sealed container and refrigerated for up to 3-4 days.
JERK SAUCE/MARINADE: Store any leftover sauce in an airtight jar or container and refrigerate for up to 1 week.
SCOTCH BONNET PEPPER: If you'd like, you can increase the amount of scotch bonnet peppers used in the jerk sauce and/or marinade to as much as 4 total, if you love extra spice!
JERK SEASONING PASTE: If you can't find this at your local grocer, see post for homemade ingredients.
DAIRY-FREE OPTION: To make this recipe entirely dairy-free, be sure to sub butter with vegan butter. Also, ensure that other ingredients are DF.
Calories:
735
kcal
|
Carbohydrates:
46
g
|
Protein:
44
g
|
Fat:
41
g
|
Saturated Fat:
13
g
|
Polyunsaturated Fat:
8
g
|
Monounsaturated Fat:
16
g
|
Trans Fat:
1
g
|
Cholesterol:
185
mg
|
Sodium:
1183
mg
|
Potassium:
667
mg
|
Fiber:
2
g
|
Sugar:
34
g
|
Vitamin A:
1174
IU
|
Vitamin C:
3
mg
|
Calcium:
83
mg
|
Iron:
4
mg