If you have ever had Jamaican food in general, you know it's all about flavor + spice! Embrace the heat with my Baked Jamaican Pineapple Jerk Chicken, cooked in a beautifully spicy homemade jerk sauce along with sweet pineapple chunks, and a nice BBQ jerk sauce topping for a delicious marriage of flavor. A real nostalgic comfort food dish for many Jamaicans. No need for a grill with the recipe while keeping the same amazing results.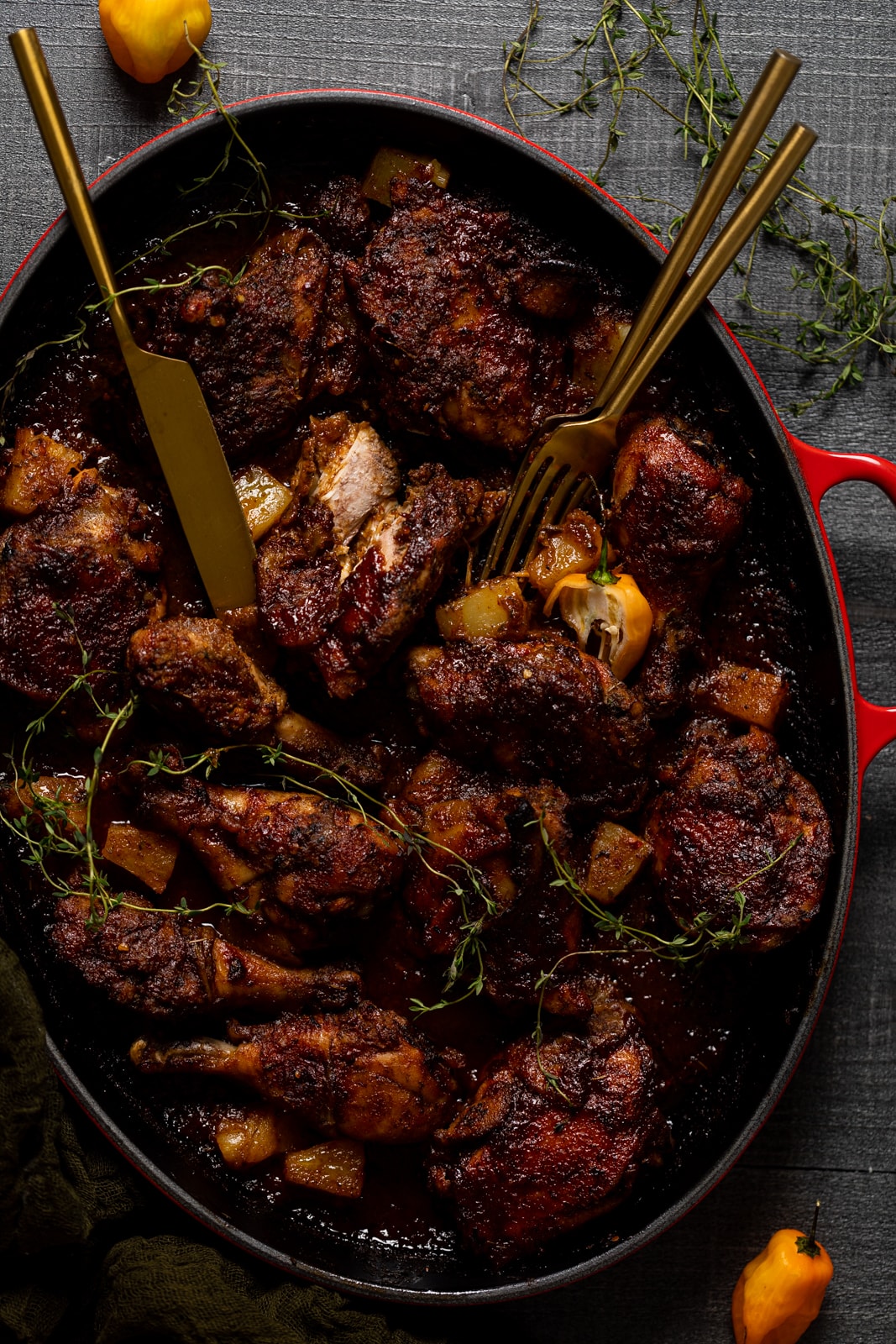 When it comes to Jamaican jerk chicken, there's a special place in my heart. I grew up eating perfectly charred jerk chicken on a grill that were often chopped into the most perfect bites from a machete (large butcher knife) and served with hard-dough bread and generous squirts of BBQ sauce and jerk sauce.
Honestly, this has to be one of my top favorite Jamaican food to eat, especially since chicken in general is a MUST for me. Haha.
Although, I still enjoy a good authentic dish of Jamaican jerk chicken from the grill when eating out in Brooklyn, unfortunately, the fact that I don't have a grill has lead me to create this Baked Jamaican Pineapple Jerk Chicken. There's still a way to enjoy delicious jerk chicken without the use of a grill and I hope that you love this recipe as much as my family and I do.
What is Jamaican Jerk Chicken? Why Pineapples?
Traditionally, as I've mentioned, Jerk chicken is a staple Jamaican dish that is often enjoyed with hard-dough bread or sometimes rice and peas. The chicken is usually seasoned well with a jerk seasoning and marinade and is left to fully marinade 1-2 days (or overnight) so that everything soaks in and the chicken is nice and tender when cooked.
My favorite store-bought brand of jerk marinade is by Grace Foods, which is available to purchase at your local grocer or online via Amazon, however, when making your own sauce, it consists of blended spices and seasonings and the spiciness can be adjusted based on preference.
In the most recent years, another trend in Jamaica has been the addition of pineapple to staple flavors such as jerk, ginger beer, etc.-----which is why I chose to make pineapple jerk chicken as opposed to the tradition version.
Believe me when I say that adding pineapple is a nice offset to the spice AND it's such a killer combo, ya'll. SO good!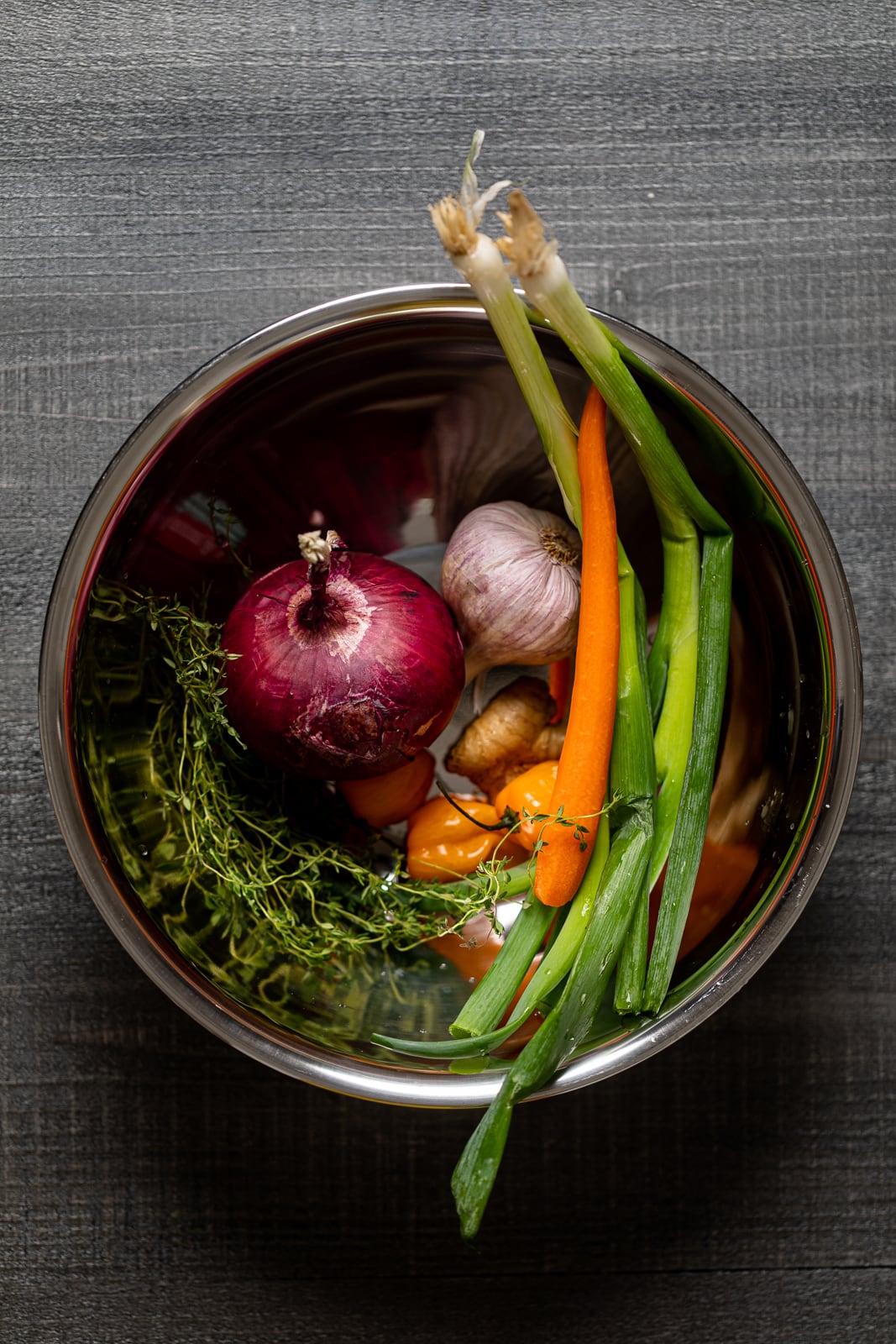 What are the 3 Main Ingredients in Jerk?
In jerk sauce or marinade, the 3 main ingredients that MUST be present are: scotch bonnet, thyme, and allspice (aka pimento seeds). You can't remove any of these ingredients or else it wouldn't be considered "jerk".
Ingredients in Baked Jamaican Pineapple Jerk Chicken
FOR THE HOMEMADE PINEAPPLE JERK SAUCE:
3 scotch bonnet peppers
½ red onion, chopped
4 garlic cloves
handful of scallions (aka green onions)
2 Tbsps white vinegar
1 teaspoon salt + black pepper
1 tablespoon minced fresh ginger
¼ cup pineapple chunks
2 Tbsps brown sugar
1 carrot, peeled + chopped
¼ cup soy sauce
2 Tbsps pimento seeds (aka allspice)
¼ cup filtered water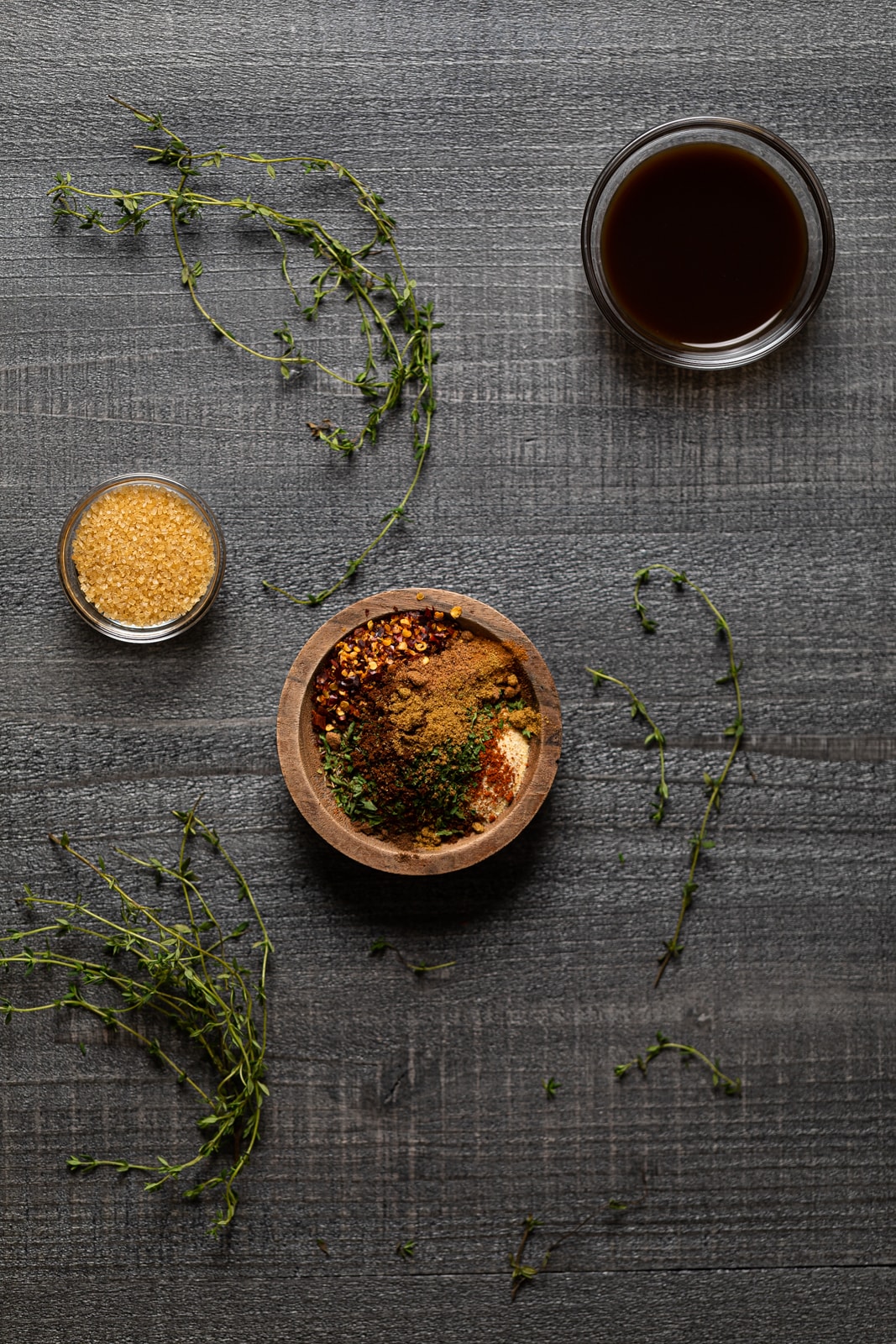 FOR THE CHICKEN + GARNISH:
Chicken. You can use a mixture of thighs, wings, and drumsticks, just remove the skin first.
Jerk seasoning. I like two layers of seasoning for this dish. You can purchase a store-bought version or create a homemade blend using: onion powder, garlic powder, cayenne pepper, black pepper, dried thyme, brown sugar, ground allspice, dried parsley, smoked paprika, red pepper flakes, cinnamon, nutmeg, cloves, and cumin.
Scallions. Don't skimp on these!
Thyme. I recommend fresh, but if you only have dried, use a half teaspoon.
Scotch bonnet. If you don't like spice, use less of the peppers.
BBQ sauce. Make your own or use a premium store-bought sauce.
Pineapple chunks. You can cut a fresh pineapple into chunks or purchase organic canned chunks.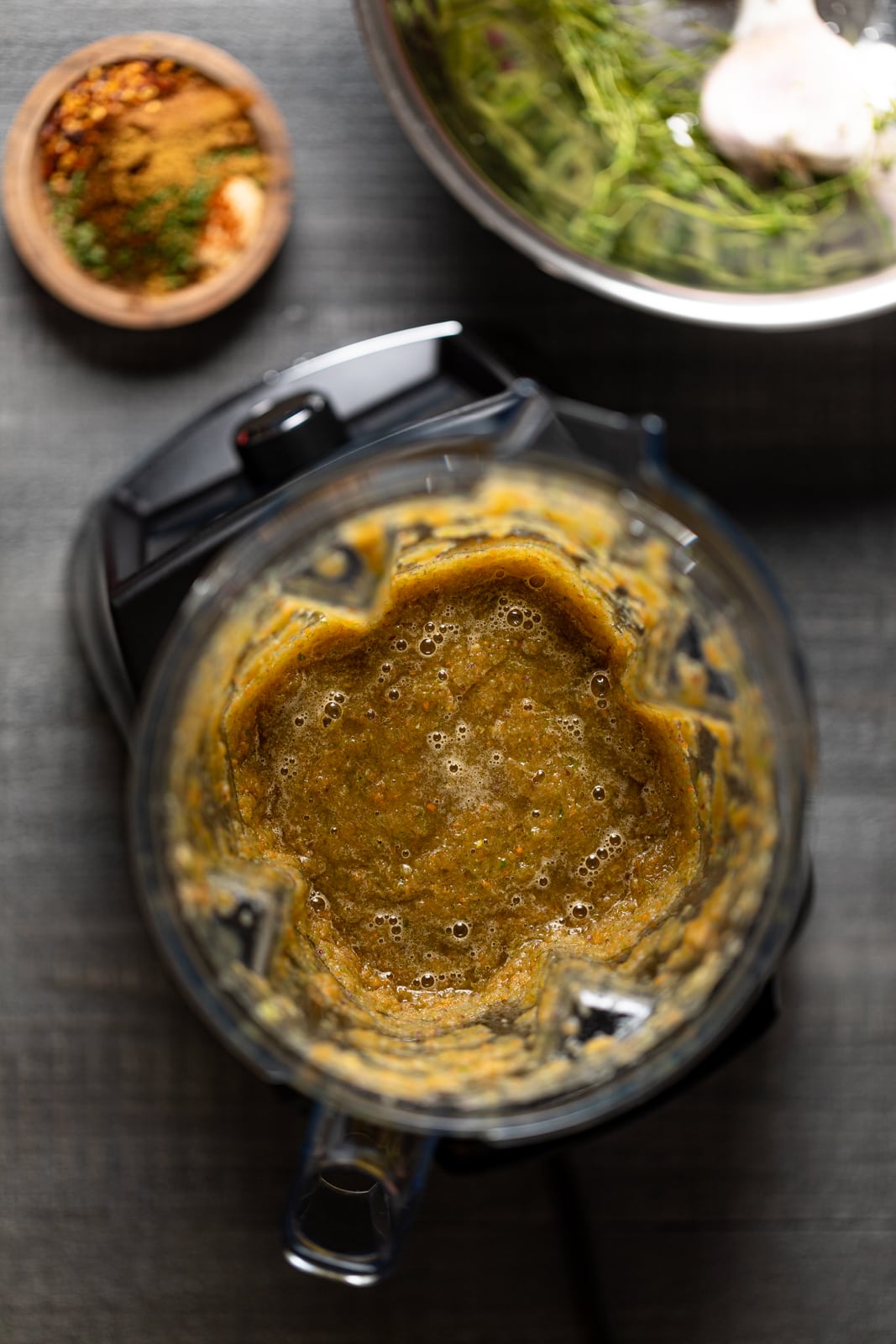 How to Prep + Season Jamaican Pineapple Jerk Chicken
Baking Jamaican Pineapple Jerk Chicken is generally an easy process—in total about 1 hour due to the process of cooking the chicken and "drying out" of the sauce. You first start by cleaning and washing your chicken pieces to ensure that they are clean and ready to be seasoned. I like to wash my chicken with both vinegar and lemon to help keep things clean and sanitized.
Once your chicken is clean, then it's seasoning time! I'm all about seasoning every "layer" of my food, therefore, the chicken gets direct seasoning and so does the sauce. Let everything marinate for 10-15 minutes or 1-2 days (or overnight tightly wrapped in the refrigerator) for the best results.
Blend your pineapple jerk sauce ingredients and massage unto seasoned chicken and let the cooking process begin.
Homemade Jerk Seasoning
To make your own jerk seasoning dry rub, you'll need the following:
1 tablespoon onion powder
1 tablespoon garlic powder
2 teaspoons cayenne pepper
2 teaspoons sea salt
1 teaspoon dried parsley
2 teaspoons black pepper
2 teaspoons dried thyme
1 teaspoon smoked paprika
2 teaspoons brown sugar
1 teaspoon ground allspice
½ teaspoon red pepper flakes
½ teaspoon ground cinnamon
¼ teaspoon ground cumin
½ teaspoon ground nutmeg
½ teaspoon ground cloves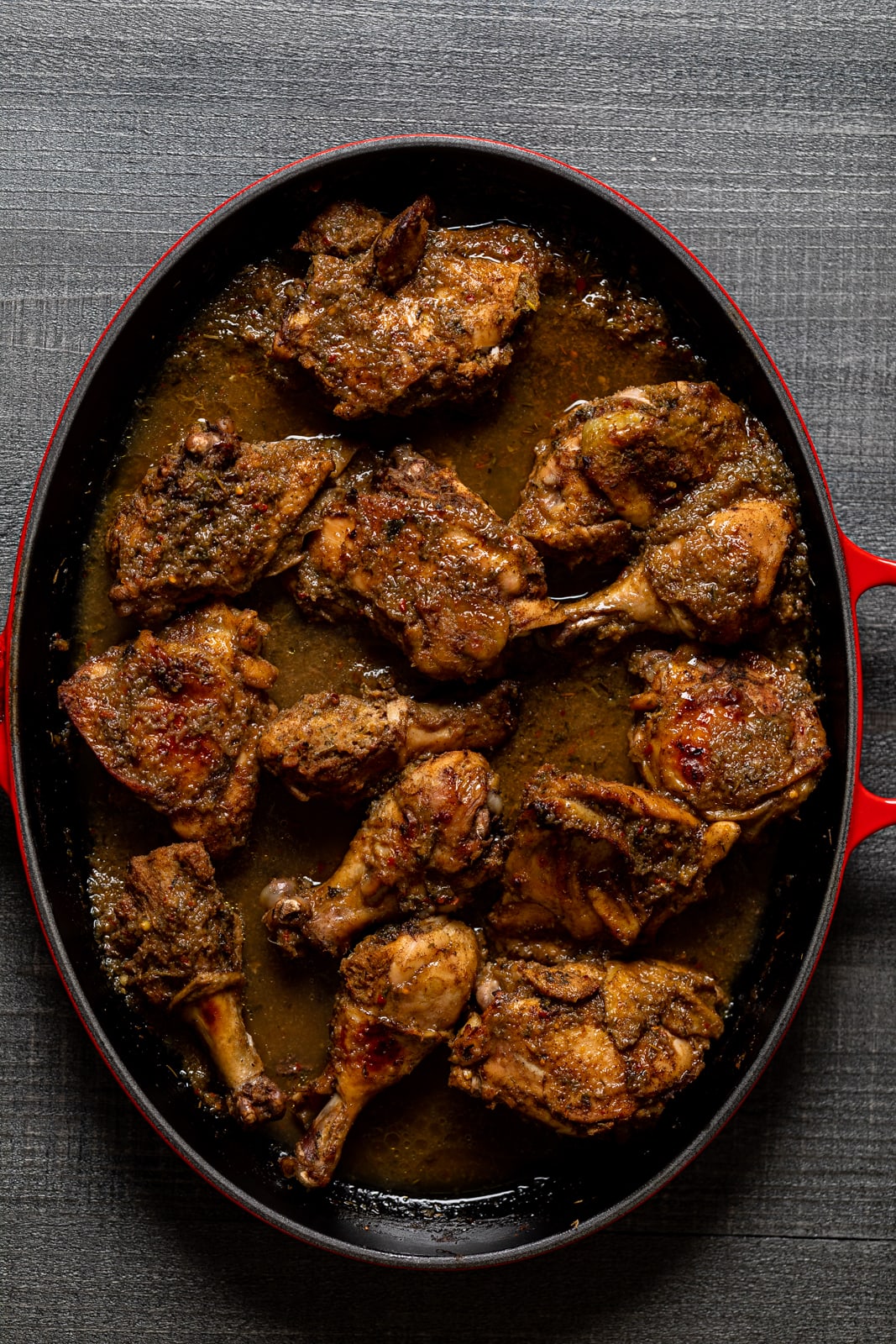 Ingredient Substitutes + Meat Alternatives for Jerk:
Making traditional jerk or pineapple jerk doesn't have to be left to only chicken. In Jamaica, it's also used for other types of meat and the possibility of switching things up with another meat or alternative is also a good idea:
Pork (often done in Jamaica as well. Perfect combination of grilling and jerk flavors)
Beef
Tofu
Chickpeas
Other beans (black beans, kidney beans, etc.)
Lamb
Fish (also done in Jamaica)
Other seafood (lobster, shrimp, etc.)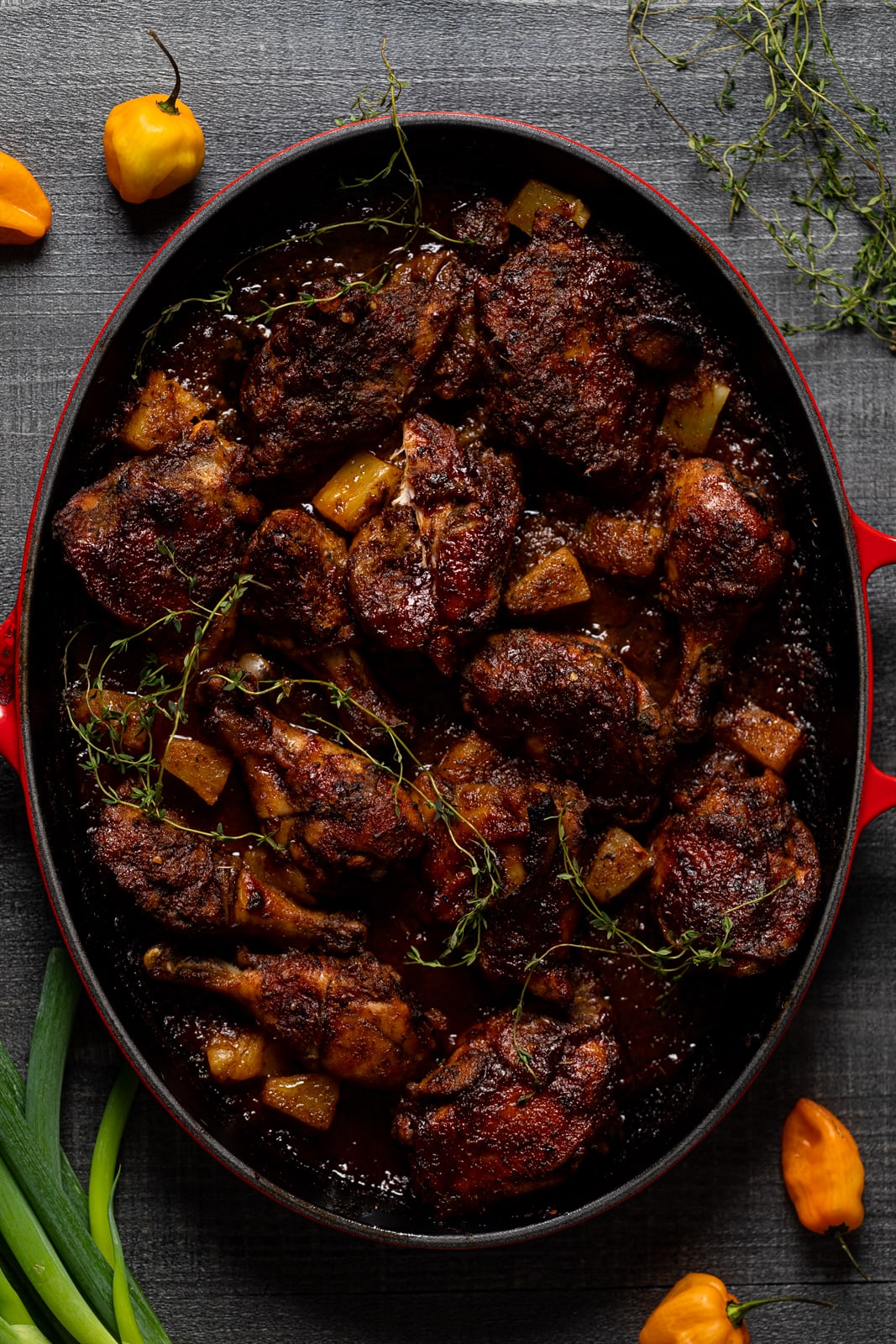 Make Ahead Option
You can easily make this dish ahead by making the homemade pineapple jerk sauce/marinade a few days in advance and storing it tightly in a sealed jar or container and refrigerated for up to 1 week.
In addition, you can season and marinade your clean chicken for 1-2 days prior to making this recipe as well.
Once ready to cook, let the chicken sit at room temperature for 20-25 minutes before combining the homemade sauce and chicken and then baking.
How to Serve Baked Jamaican Pineapple Jerk Chicken
You can serve this pineapple jerk chicken as-is. Also, enjoy this pineapple jerk chicken with a side of bread (hard-dough bread is traditionally used in Jamaica) or with your favorite side (i.e. rice and peas, brown or white rice, veggies, salad, etc.).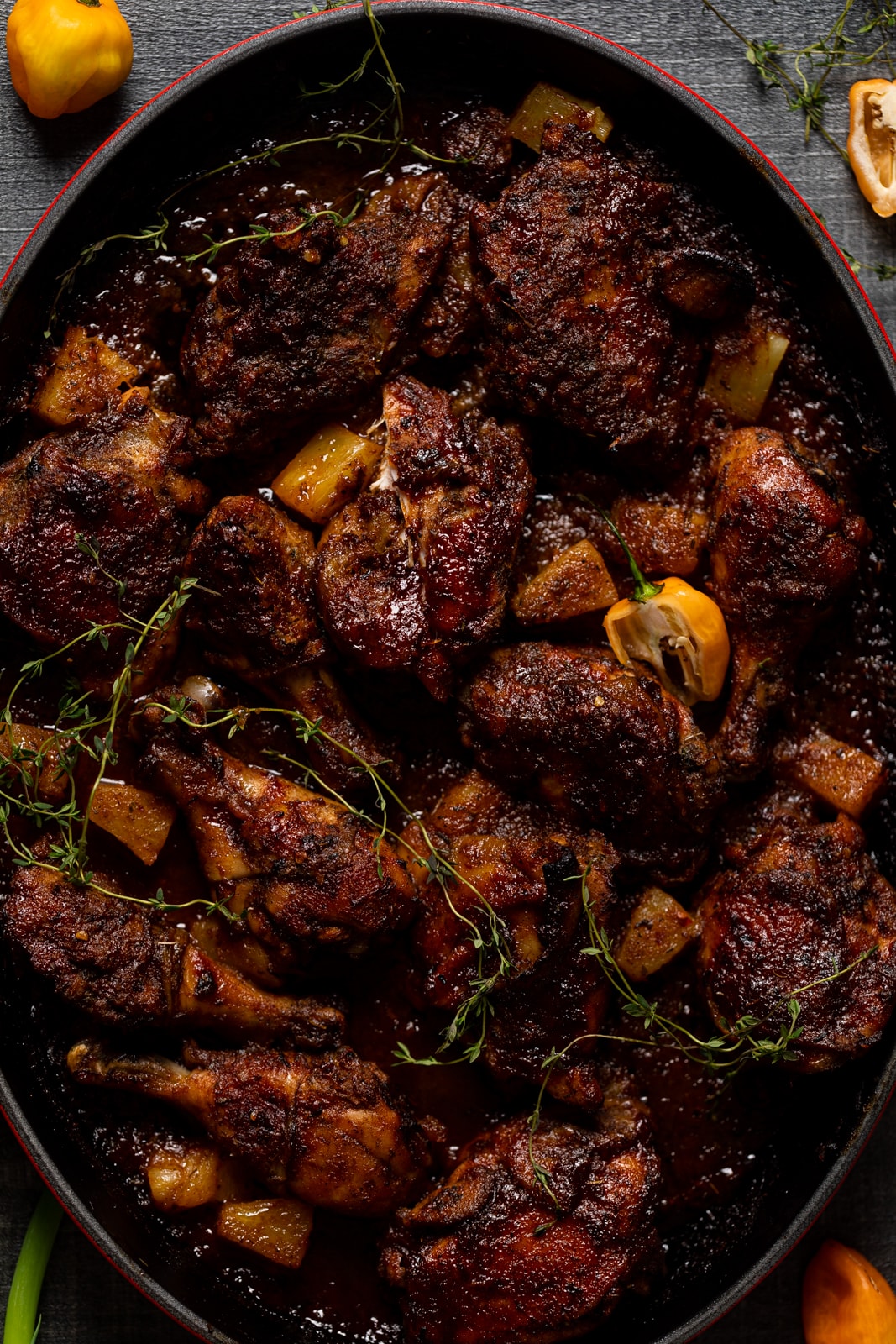 Storage Suggestions
Store leftovers in an airtight container in the fridge for up to four days. Reheat servings in the microwave or in the oven to serve.
You can also freeze leftover chicken for up to six months. Then defrost in the fridge overnight and reheat to enjoy.
Is Jamaican Pineapple Jerk Chicken Spicy?
Because I love spicy flavors and whenever making anything Jamaican, I'm always inclined to add scotch bonnet peppers—–this specific pineapple jerk chicken is spicy. However, just know that the pineapples and BBQ sauce helps to offset the heat a bit. If you'd like, you can increase the amount of scotch bonnet peppers used in the jerk sauce to as much as 6 total, if you love extra spice!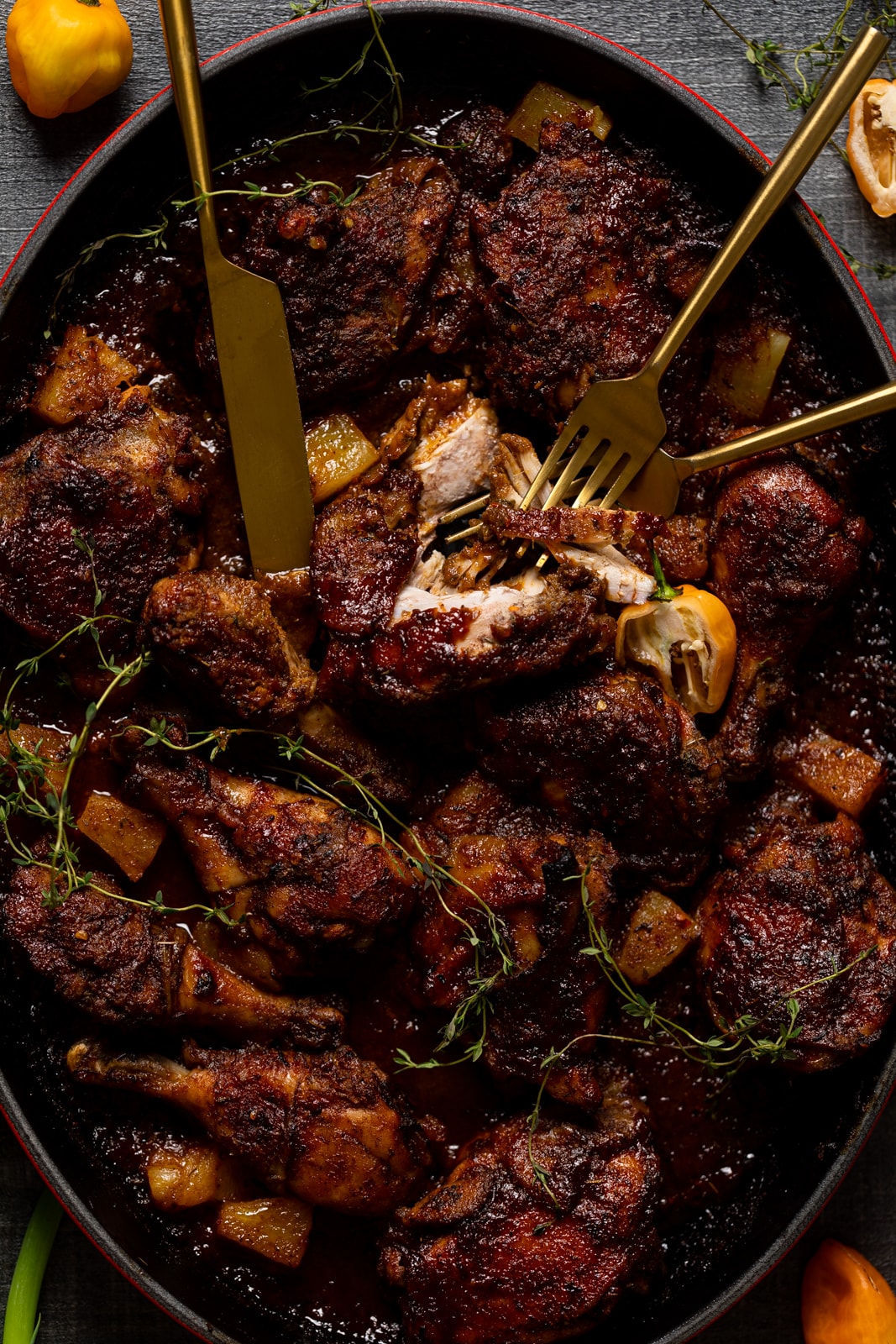 More Jamaican Recipes to Try
MADE OUR RECIPE(S)?
If you make this Jamaican Brown Stew Chicken, be sure to tag me on Instagram with your photos @orchidsandsweettea!
PINEAPPLE JERK SAUCE:
3

Scotch bonnet peppers

½

red onion, chopped

4

garlic cloves

handful of

scallions

(aka green onions)

2

Tbsps

white vinegar

1

teaspoon

sea salt

1

teaspoon

black pepper

1

tablespoon

minced fresh ginger

¼

cup

pineapple chunks

¼

cup

soy sauce, low-sodium

¼

cup

filtered water

2

Tbsps

organic brown sugar

1

carrot, peeled + chopped

2

Tbsps

pimento seeds
GARNISH:
Pineapple chunks

BBQ sauce, premium

Fresh thyme sprigs

Chopped scallion

(aka green onions)

Lime wedges, optional
MARINATE THE CHICKEN:
In a large bowl, add your freshly cleaned + rinsed chicken along with onion powder, garlic powder, cayenne peppers, black pepper, thyme, brown sugar, allspice, parsley, smoked paprika, red pepper flakes, cinnamon, nutmeg, cloves, and cumin, mixing everything together until chicken is fully coated. Let it sit for 10-15 minutes. NOTE: For best results, it's best to marinate chicken overnight in the refrigerator.

Preheat the oven to 375 degrees Fahrenheit and lightly grease a standard 9x13 baking dish. Set aside.
MAKE THE PINEAPPLE JERK SAUCE:
In a high-powdered blender, add the scotch bonnet pepper, red onion, garlic cloves, scallions, vinegar, salt, black pepper, ginger, pineapple chunks, brown sugar, chopped carrots, soy sauce, pimento seeds, and water, blending until smooth and combined.
COMBINE THE SAUCE + CHICKEN:
Add the pineapple jerk sauce to the chicken and massage together until all chicken pieces are coated in sauce.
BAKE THE CHICKEN:
Add the chicken to the prepared baking dish, spreading them out side by side, and tightly cover the top with foil paper. Bake for 40-45 minutes or until chicken is mostly cooked through. Carefully, drain the jerk sauce "liquid" from the chicken into a bowl and set aside. Return the chicken back to the oven and bake for another 5 minutes.

Add the BBQ sauce to the jerk sauce liquid and mix together until combined. Generously brush (or spoon) the BBQ jerk sauce atop chicken, add additional pineapple chunks around chicken pieces and bake (without foil) for another 10-15 minutes for until the sauce has "Baked unto" chicken.

For a fancy look, garnish with fresh thyme sprigs, chopped scallions, and lime wedges along with chicken on a platter.

To serve, enjoy the pineapple jerk chicken by itself or with a side of bread (hard-dough bread is traditionally used) or with your favorite side (i.e. rice, veggies, etc.).

Bon Appétit!
STORAGE: Any leftovers can be kept in a tightly sealed container and refrigerated for up to 3-4 days.
JERK SAUCE/MARINADE: Store any leftover sauce in an airtight jar or container and refrigerate for up to 1 week.
SCOTCH BONNET PEPPER: If you'd like, you can increase the amount of scotch bonnet peppers used in the jerk sauce to as much as 6 total, if you love extra spice!
Calories:
554
kcal
|
Carbohydrates:
15
g
|
Protein:
44
g
|
Fat:
35
g
|
Saturated Fat:
10
g
|
Polyunsaturated Fat:
8
g
|
Monounsaturated Fat:
14
g
|
Trans Fat:
0.2
g
|
Cholesterol:
170
mg
|
Sodium:
1104
mg
|
Potassium:
631
mg
|
Fiber:
2
g
|
Sugar:
8
g
|
Vitamin A:
2715
IU
|
Vitamin C:
20
mg
|
Calcium:
69
mg
|
Iron:
4
mg
Baked Jamaican Pineapple Jerk Chicken.