This Spicy Vegan Jamaican Stew Peas recipe is a great homage to the traditional popular Jamaican dish—Stew Peas. Made with a flavorful dairy-free coconut milk base, packed with handmade dumplings, loaded with red kidney beans and bell peppers, carrots, and seasoned with traditional Caribbean spices, this bowl of goodness is completely creamy and savory, and has a kick of heat for those who enjoy a bit of spiciness—thanks to traditional scotch bonnet peppers. Served with white, brown or basmati rice or alone as a soup/stew. Entirely vegan + GF.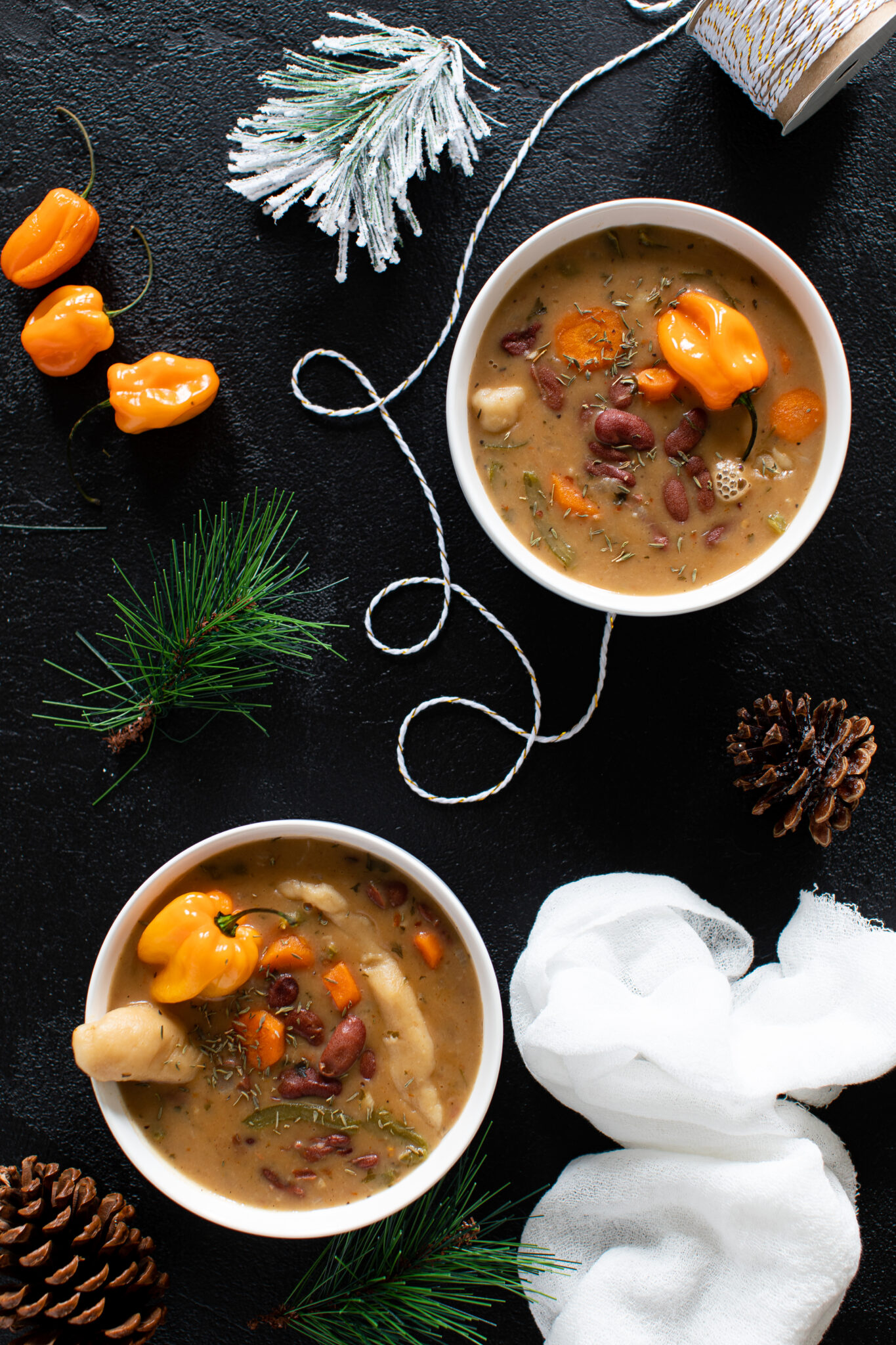 This Spicy Vegan Jamaican Stew Peas recipe is a staple in the Jamaican culture. If you've been following Orchids + Sweet Tea for sometime, then you're aware of how excited I get whenever I am able to showcase my Jamaican background in recipe form.
That being said, most of my recipes are inspired by both things and this particular dish is no exception.
My Jamaican Background: Food + Culture.
Growing up around Jamaicans meant that you would enjoy Stew Peas, Curried Goat (My Fave!), Goat Soup, Salt fish + Ackee, and so many other flavorful dishes pretty often.
While I no longer eat most of these dishes on a daily basis, I do enjoy a nice plate (or bowl) full every once in a while.
Originally, I made this recipe in 2018, which was great, however, since bettering my cooking skills (I'm self-taught so it's been a learning curve), I've decided to re-attempt this recipe and a few others recently and I must say that I've DONE IT!
Making minor tweaks, I've re-created this recipe into a much creamier, savory, and flavorful dish and I do hope that many of you enjoy this! Plus, the spicy flavor is more pronounced.
I must admit that this blog has come such a long way from when I started and in such a short period of time (although it felt like FOREVER in real life. Haha!). So of course, I have to ensure that I create even bigger goals so that the challenge remains!
However, I've been thinking a lot about this journey and realized that sometimes I've been so focused on getting to the next step that I haven't turned around to see how many steps I've actually climbed in the process.
OK, now back to this Stew Peas recipe.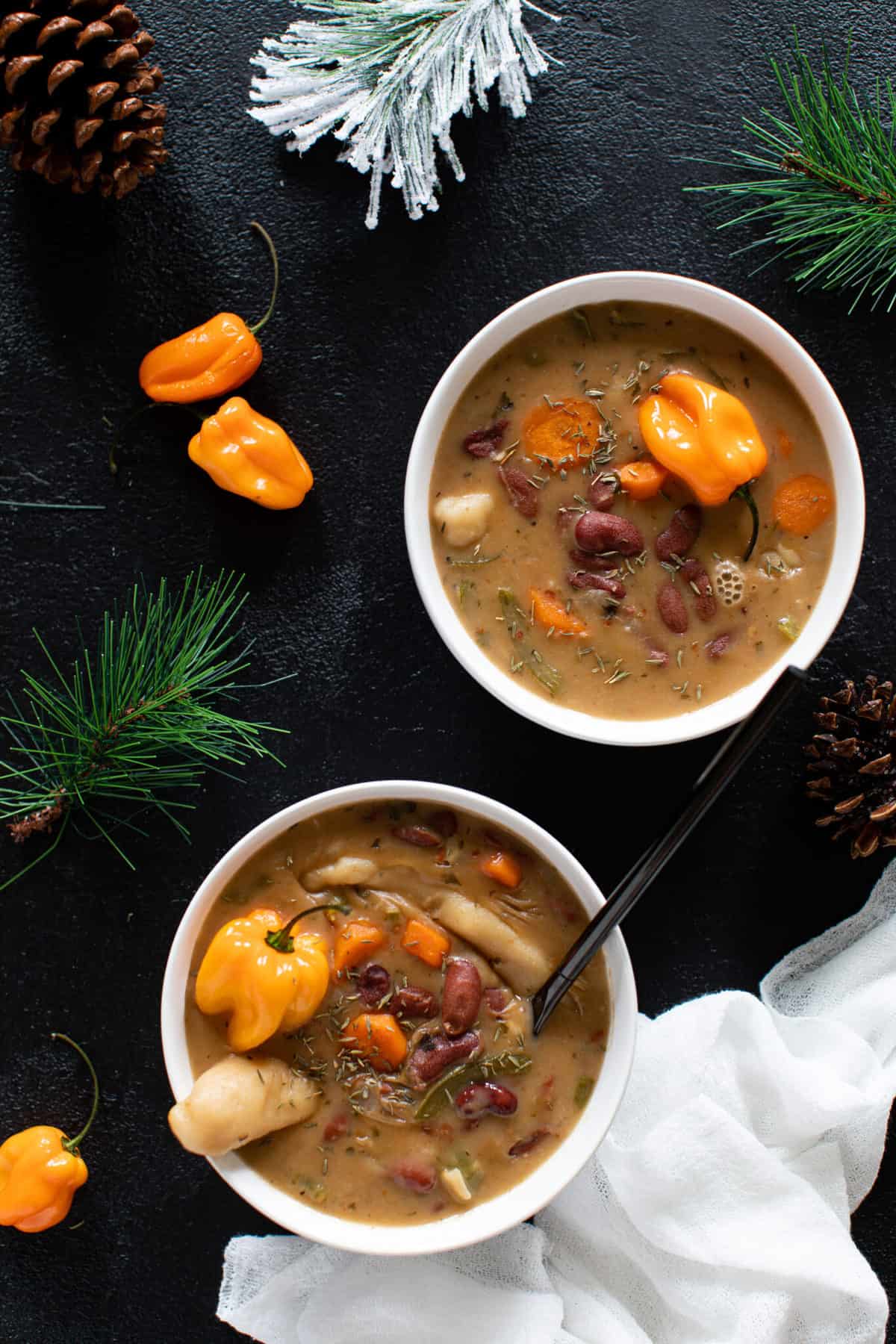 Best Tips + Recommendations for This Creamy Stew Peas.
Whipping together a creamy soup/stew isn't hard at all, however, it can be tricky when trying to figure out the right ingredients to use for both the perfect flavor + texture. This soup is no exception. Therefore, I've rounded up a few tips + recommendations to help with understanding how to best make this soup, serve it, and everything in between.
Best Ingredients to Thicken Stew Peas.
When it comes to thickening your vegan soups/stews in general, it can be done in various ways. Many recipes use yogurt, arrowroot starch, potatoes, or other starches. However, I chose to use coconut cream which adds a nice texture. You can use canned coconut milk as well, however, you would need to refrigerate it for 24 hours so that it thickens and becomes cream-like as well.
How to Store Leftover Stew Peas.
With leftovers, you can always refrigerate the remaining amounts in a tightly sealed container in the refrigerator for up to 3 days, for optimal freshness. Can also be frozen for 4-6 months. To defrost, simply place stew peas in the refrigerator overnight or at room temperature before re-heating on the stove top to serve.
What Do I Serve Stew Peas With?
Much like the original dish, this Vegan Stew Peas dish can be served with white rice, brown rice, or basmati rice. However, if you're not in the mood for any rice at all, feel free to eat this by itself as a soup, especially since there are dumplings and veggies included.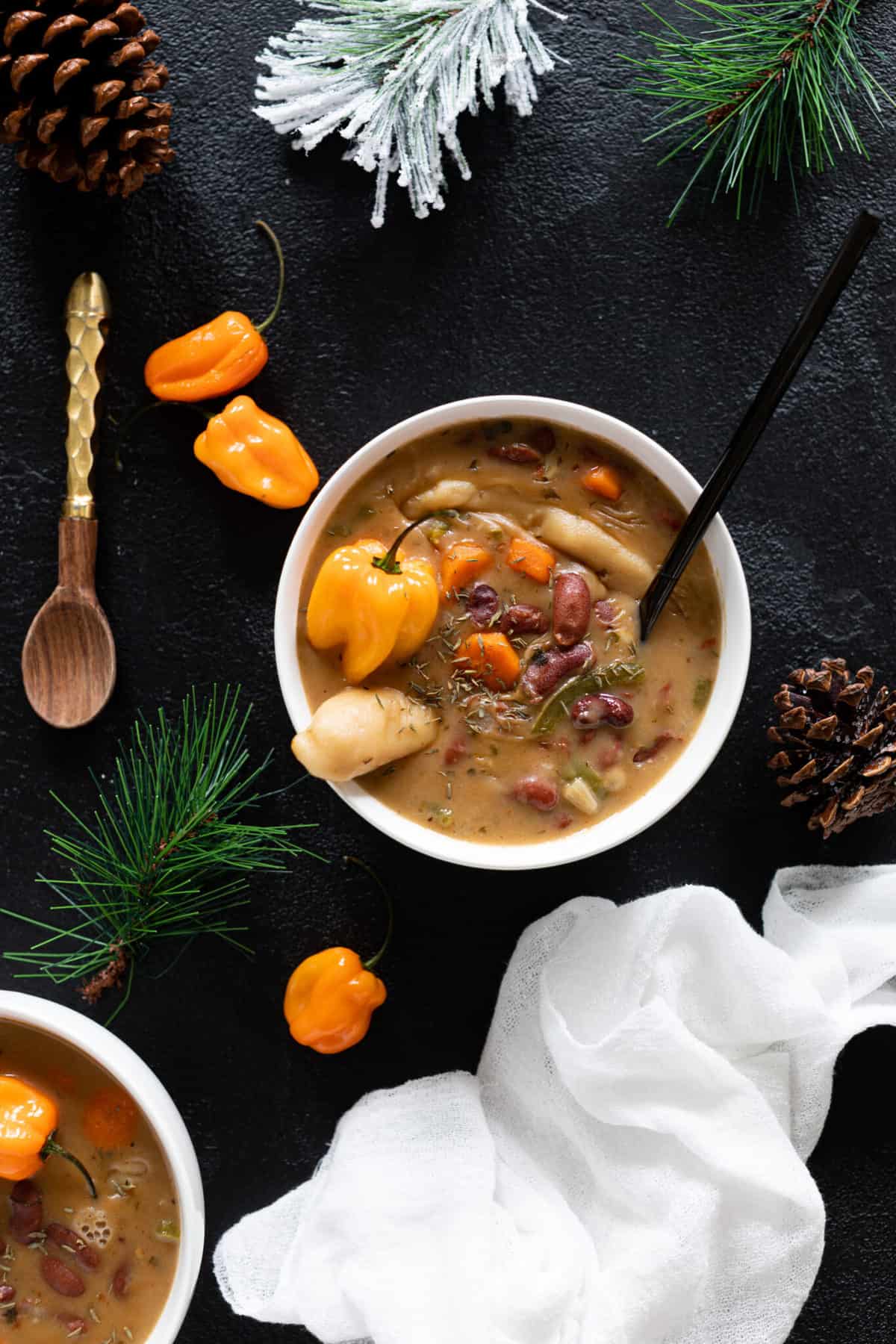 Delicious Vegan Jamaican Recipes to Try this Season.
This Creamy Jamaican-Inspired Vegan Carrot Juice recipe is a healthy take on the delicious traditional Jamaican Carrot Juice which includes bold flavors and is beautifully textured.
This Creamy Jamaican Cornmeal Porridge recipe is a healthier take on the delicious traditional Jamaican Cornmeal Porridge which includes boldly sweet flavor and is beautifully textured.
These Spicy Jamaican Lentil + Quinoa Vegan Patties are truly something amazing! Wrapped in a nice parsley-infused, flaky crust, and stuffed entirely with curried lentil, quinoa, veggies, and nutritional yeast, these patties will leave you forgetting that it's totally meat-less and convinced that vegan patties are the new 'foodie' favorite!
Original Stew Peas Dish.
As for this dish—-Stew Peas is a great staple in the Jamaican culture. In addition, this dish has a counterpart—-Stew Peas soup, which is very similar but of course, is served with additional veggies (potatoes, pumpkin, etc.) and isn't eaten with white rice like this dish. I thoroughly enjoy the soup version as well since I love soup.
Traditionally, this dish is cooked with salted beef or pigtails, but since it's a Vegan version, I chose to add a bit of sweetness—-sweet potatoes and an additional veggies—green bell peppers and onions to keep things hearty.
Believe me, you won't miss the meat one bit. Yum!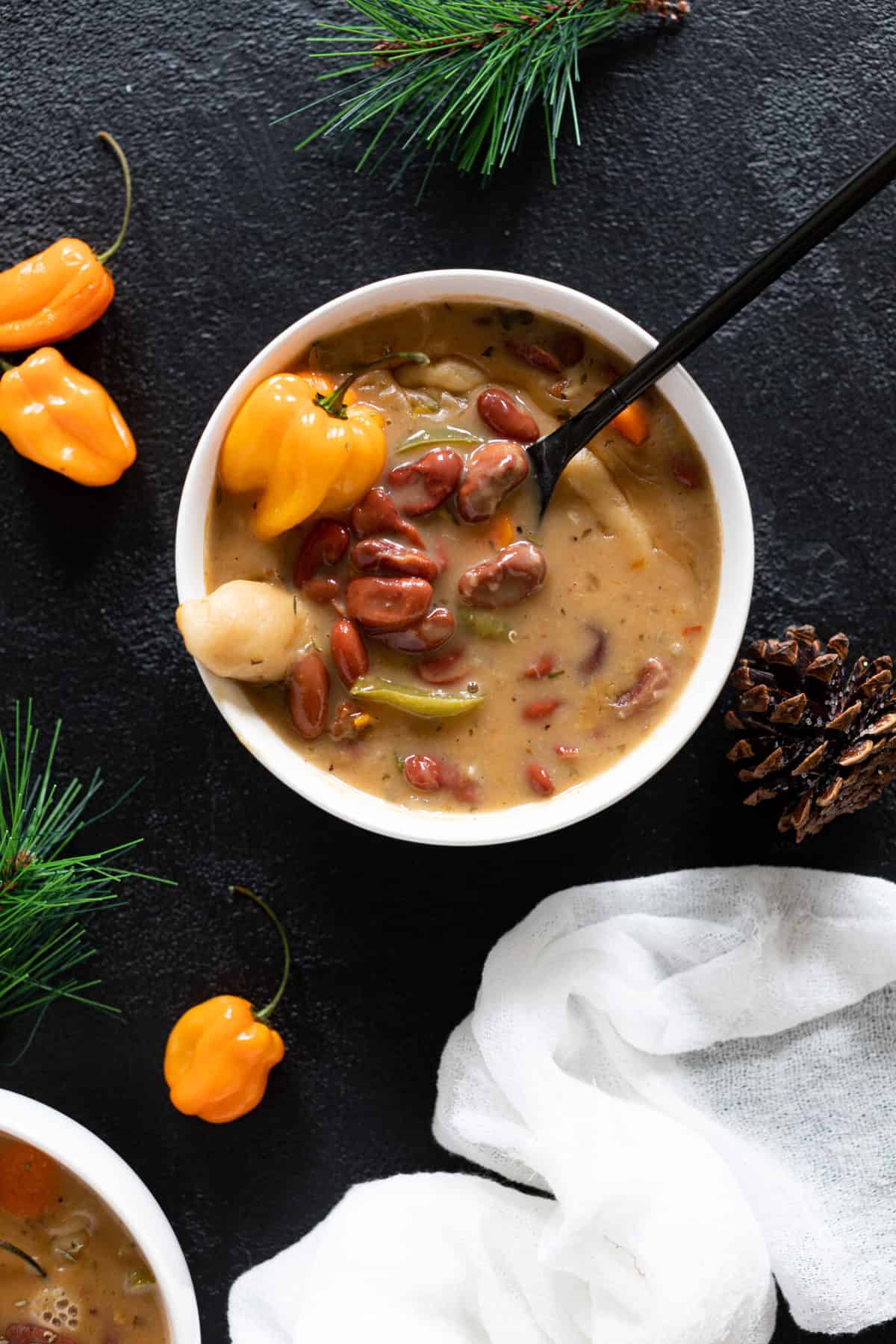 2

(15 oz.) cans

kidney beans, drained + rinsed

(See Notes for Dried Beans option!)

3

cups

organic vegetable broth

1

cup

fresh water

1

(14 oz.) can

full-fat coconut cream

(I used Thai Kitchen; See Notes!)

2

garlic cloves, minced

1

medium

red onion, diced

1

medium

green bell pepper, diced

1

medium

red bell pepper, diced

2

medium

carrots, peeled + chopped

2-3

scotch bonnet peppers, left whole!

1 1/2

tsps

sea salt

pinch of

black pepper

1

Tbsp

dried parsley

1

tsp

dried thyme

1/2

tsp

smoked paprika

1/4

tsp

ground all-spice

1

Tbsp

Extra Virgin Olive Oil

2

Tbsps

Arrowroot + 6 Tbsps WARM water

(Thickening agent; See Notes!)
Stew Peas:
Add 1-2 Tbsps of olive oil to the dutch pot on medium-high heat.

Add in the garlic and onions, and Sauté for 1-2 minutes until slightly softened and fragrant.

Add the bell peppers, carrots, and seasonings, stirring until everything is well combined and veggies are fully coated with seasonings. Let cook for 2-3 minutes until slightly softened.

Next, add the beans, water, veggie broth, and coconut cream, stirring everything together and bringing it all to a boil. Once it begins to boil, reduce heat to low and let simmer for 8-10 minutes. Meanwhile, make your dumplings.
Gluten-Free Dumplings:
Start by adding the flour, salt, and black pepper to a Medium bowl and whisk everything together. Slowly add the cold water and gently knead together until a stiff dough is formed. NOTE: Do NOT ADD ALL THE WATER AT ONCE; DON'T MAKE THE DOUGH TOO MOIST!

Pinch off small pieces of dough and gently roll dough into the palms of both of your hands together until a long, round-like dumpling is formed. Repeat until all dumplings are made.

Add in dumplings, one at a time while creating little spaces for each one to not touch each other. Lastly, add in scotch bonnet peppers, pushing them inward into the stew to be cooked along with everything.

Cover your dutch pot with a lid and continue simmering for 20-25 minutes or until veggies are all tender and dumplings are fully cooked through and soft. To thicken stew, add 2 Tbsps of arrowroot and 6 Tbsps water to a small bowl, mixing it together well until it's fully smooth and "milk-like", then add it to the stew while stirring it in gently until it begins to thicken. Continue to simmer for another 5 minutes.

Once fully thick and cooked, remove from heat and serve immediately.

To serve----Add spoonfuls of stew to prepared bowl(s) and a side of freshly cooked white, brown or basmati rice if desired. Feel free to add in scotch bonnet peppers to your bowl(s) if you enjoy spice!

Bon Appetite.
STORAGE: Leftovers can be stored in a tightly sealed container in the refrigerator for up to 3 days, for optimal freshness. Can also be frozen for 4-6 months. To defrost, simply place stew in the refrigerator overnight or at room temperature before re-heating on the stove top to serve.
DRIED KIDNEY BEANS: When using dried beans, be sure to soak about 3-4 cups of red kidney beans in a pot or bowl covered with water overnight. To begin cooking, rinse the soaked beans and add fresh water to a pot along with beans. Boil for the first 10 minutes and then reduce the heat and let simmer for 50-60 minutes or until kidney beans are tender.
ARROWROOT: If you don't have arrowroot starch, feel free to substitute with regular starch, tapioca flour, or GF all-purpose flour, which both act as a thickening agent.
COCONUT MILK:  Makes things nice + creamy; If using the canned coconut milk instead of canned coconut cream, be sure to refrigerate overnight to make it thick.
Spicy Vegan Jamaican Stew Peas.