Make a healthy and nourishing Jamaican Chicken Soup with plenty of vegetables, hot peppers, turmeric, and other spices for a dish that will warm you from the inside out.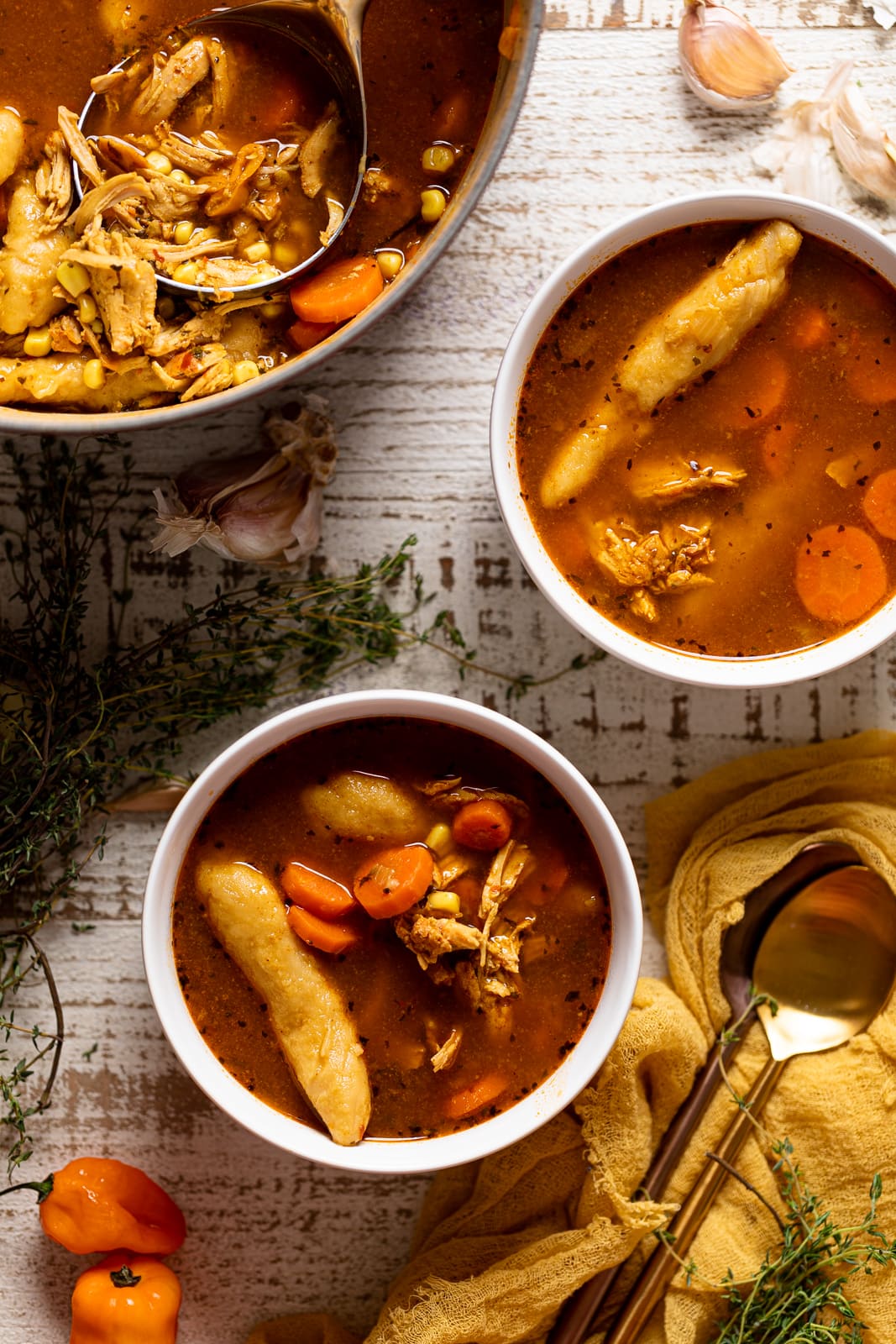 I love to go back to my Jamaican roots when I'm craving comfort food. But comfort food doesn't have to be all about Mac and Cheese and Donuts (of course, there's always a time and place for those!).
Today, I'm sharing one of my favorite healthy and nourishing meals for a chilly night. This chicken soup is spiced with Jamaican flavors for a new spin on a classic you may be familiar with. I think you'll love it as much as I do, and I can't wait to hear what you think!
Why You'll Love This Jamaican Chicken Soup
Here are just a few reasons that you'll be making this hearty chicken soup on repeat:
It's full of flavor, thanks to dried spices and veggies
It offers essential vitamins and minerals, plus protein and fiber
You can make it ahead of time (it's even better the next day)
It's fully kid-approved for a family meal!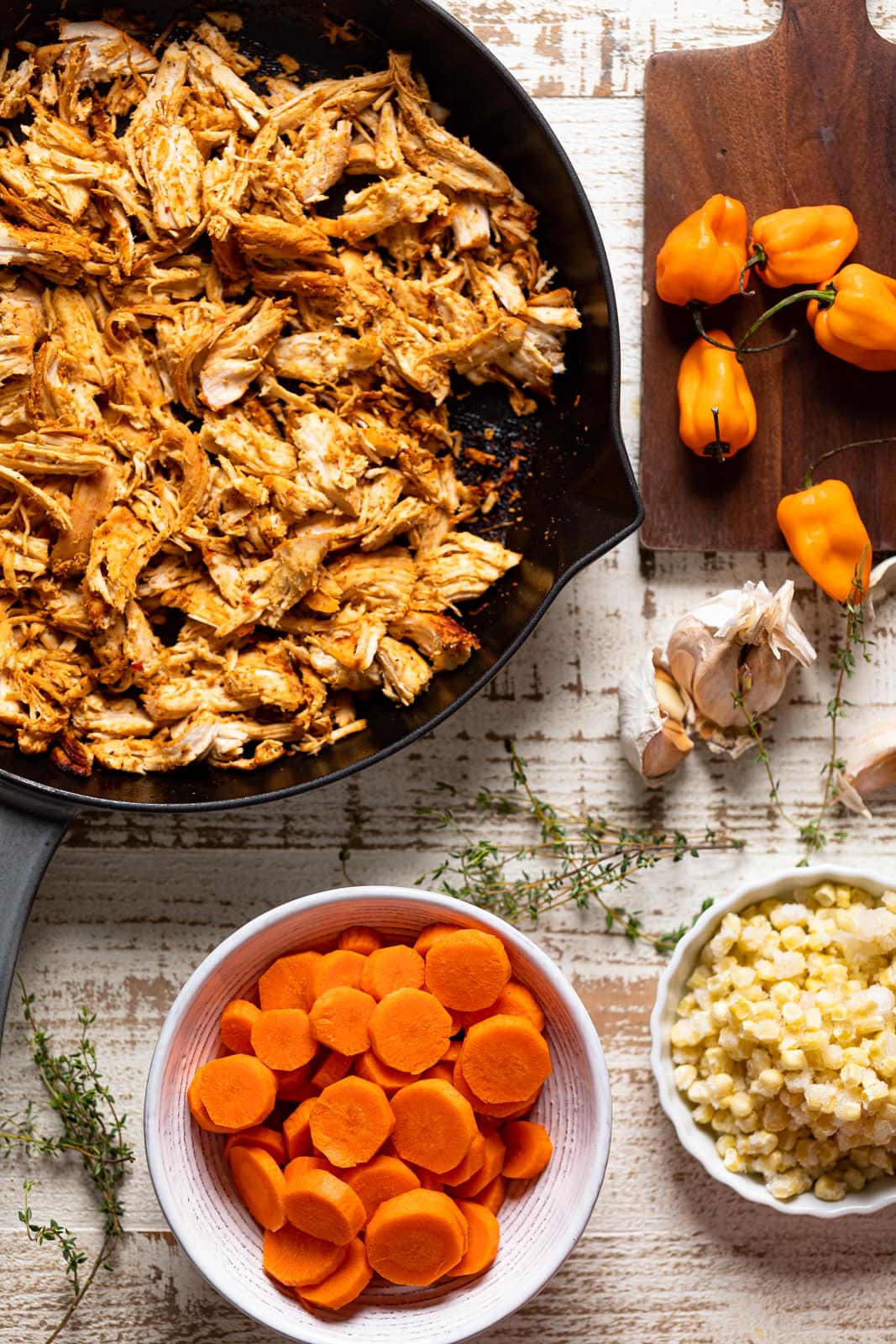 Ingredients for Jamaican Chicken Soup
Here's what you need to make this Jamaican chicken soup.
First, to cook the chicken, you'll need oil, salt, pepper, and:
Chicken pieces. I like a combination of drumsticks, breasts, and thighs.
Smoked paprika and garlic powder for flavor foundation.
The first step is to sear the chicken. This helps add caramelized, complex flavor to the soup that you don't get when the chicken is cooked in broth.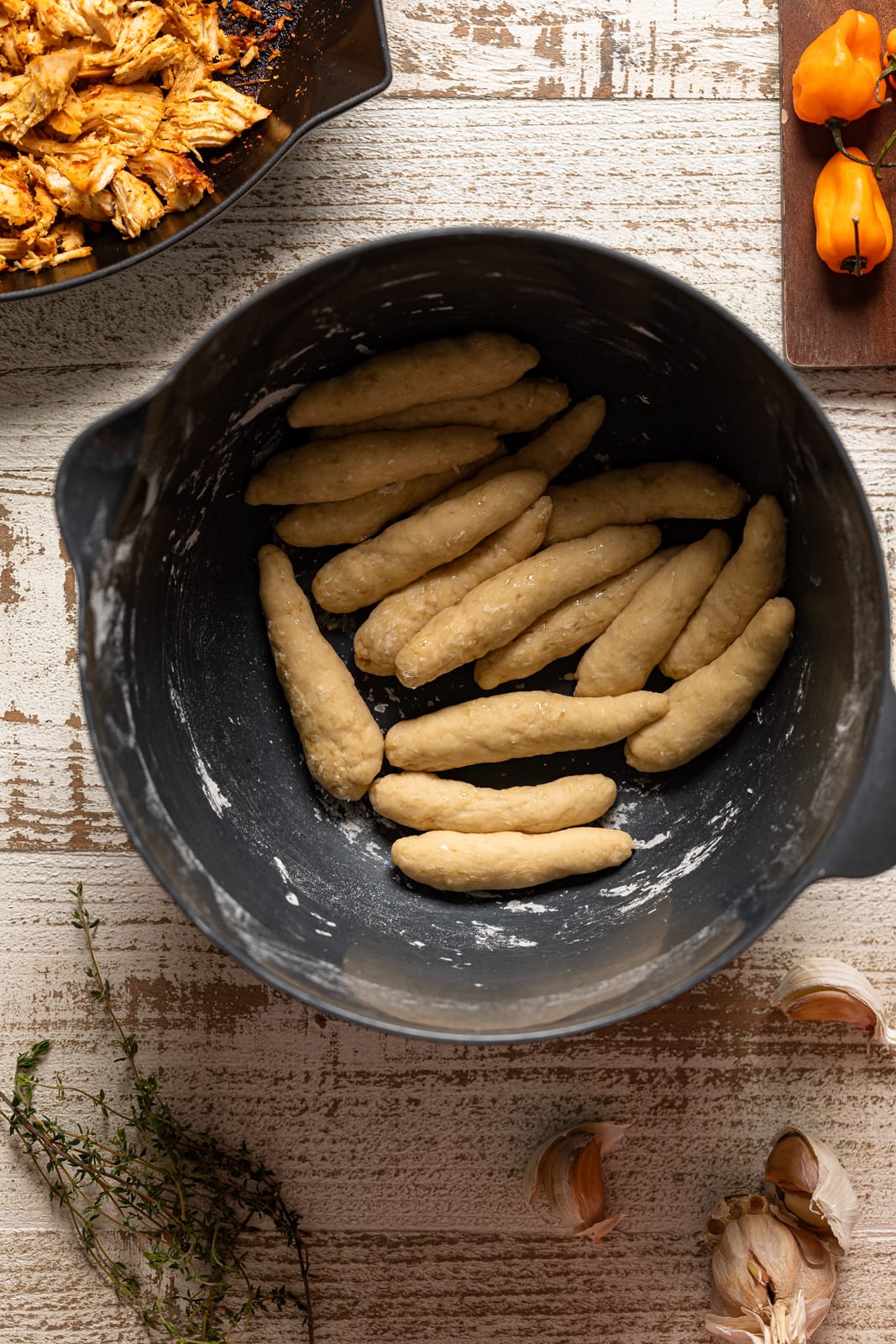 Soup Ingredients
To finish the soup, you'll need:
Chicken stock. If you're buying it from the store, use low-sodium. Or make your own!
Organic bone broth. This adds wonderful body and collagen to your soup. It's also full of nourishing vitamins and minerals to help you feel (and look) great.
Carrots, corn, onion and garlic. For flavor, color, and nutrition.
Scotch bonnet peppers. These pack some heat, so if you're sensitive to spice, you can use habaneros instead.
Turmeric powder. This adds a nice sunny color to the dish and an earthy flavor.
Garlic powder, dried basil and dried parsley. Feel free to use fresh aromatics if you like!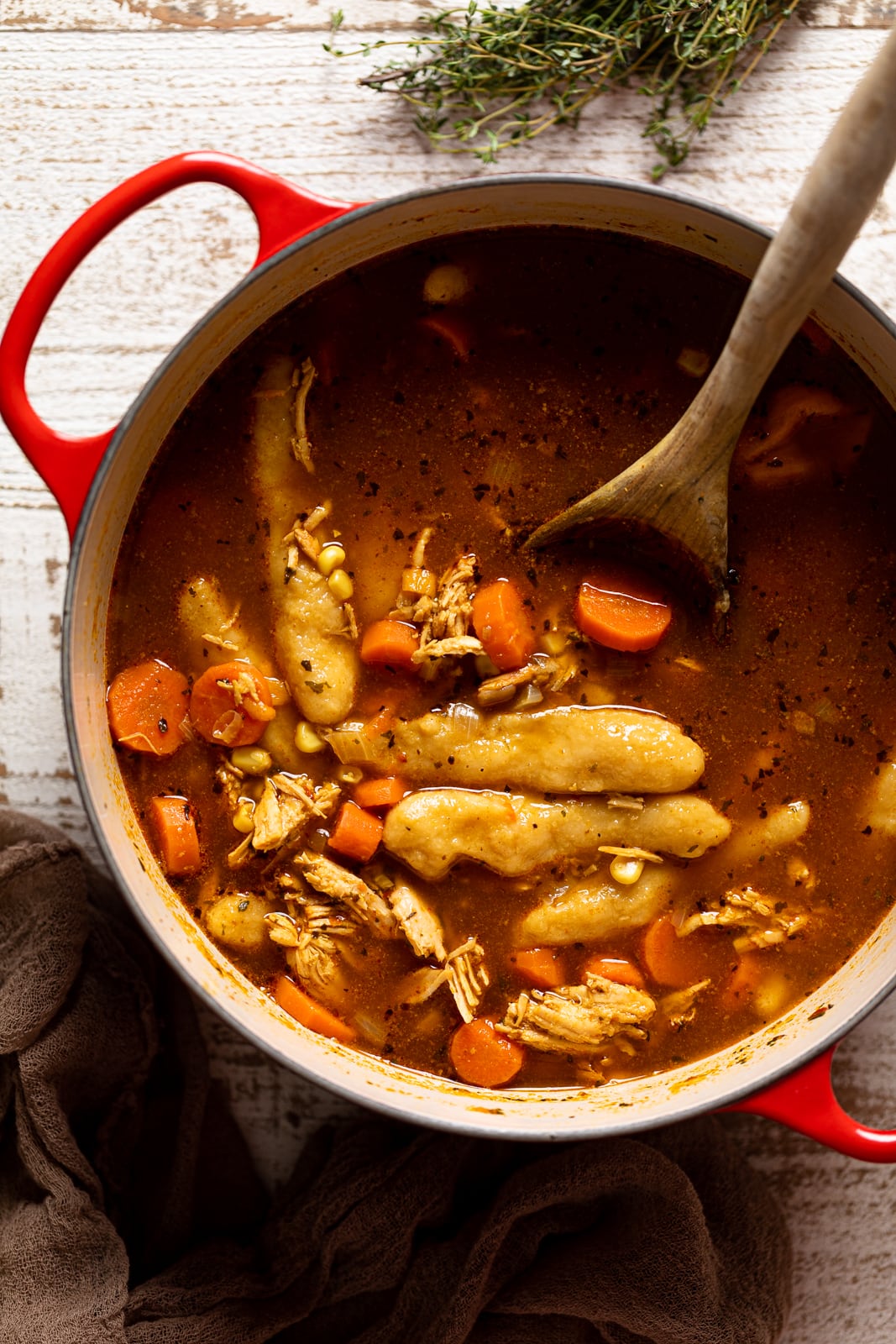 Jamaican Soup Dumplings
Instead of noodles, this Jamaican chicken soup is bulked up with tender and fluffy dumplings called spinners. They're made from:
Flour. I use organic all-purpose from Bob's Red Mill.
Sea salt
Water. Start with ¼ cup, then add more to bring your dumplings together.
The spinners are super easy to make and just use three ingredients. The one key is to not add all of your water at once. This will make a too-wet dough that will fall apart when you cook them. Making spinners is also a fun task for little ones to help with if you have kids in the kitchen.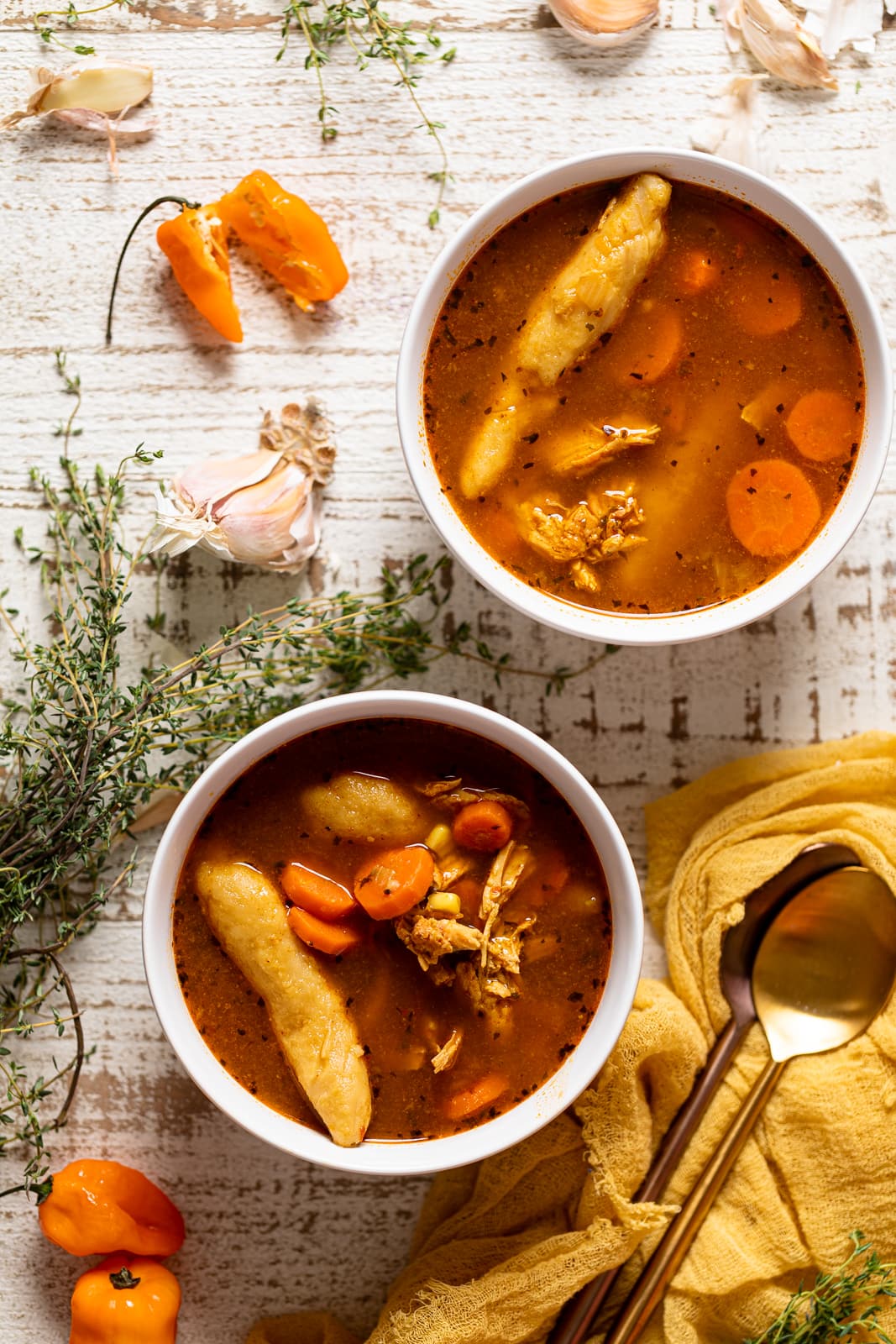 Storage Suggestions for Jamaican Chicken Soup
Store leftover chicken soup in an airtight container in the fridge for up to three days. For longer storage, keep it in the freezer for up to six months. When you're ready to serve, thaw the soup in the fridge overnight. Then reheat it on the stove.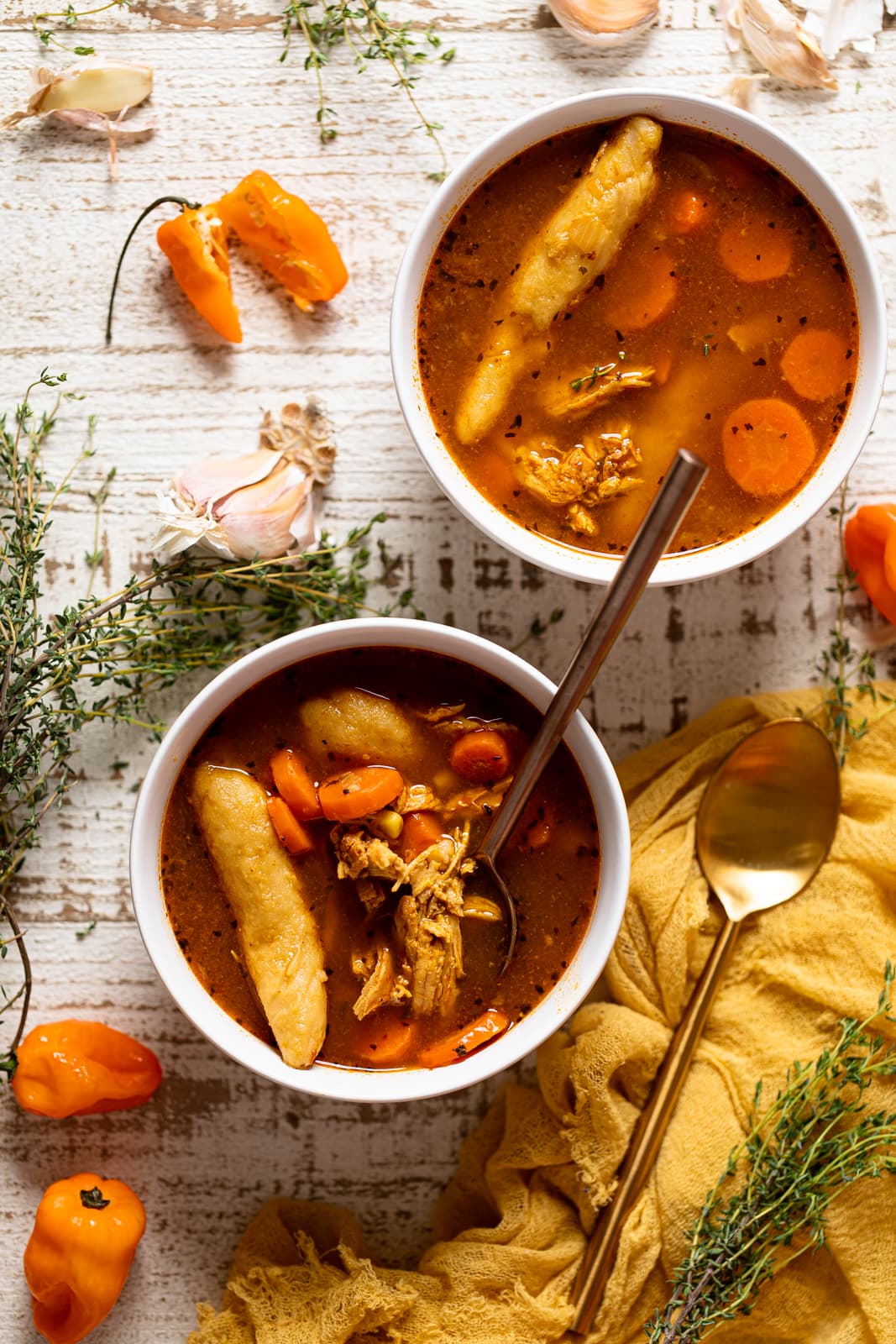 More Classic Jamaican Recipes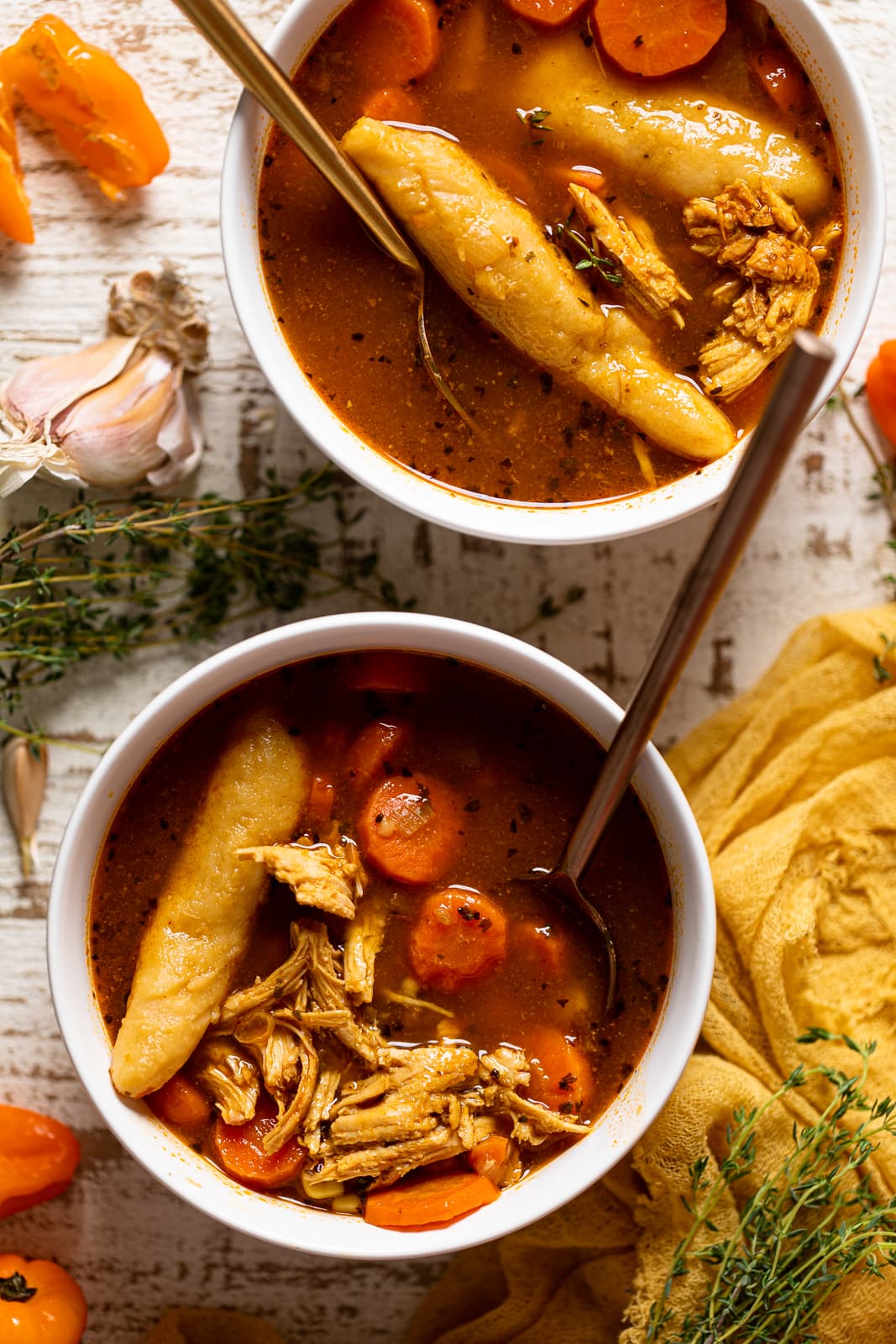 MADE OUR RECIPE(S)?
If you make this Jamaican Chicken Soup with Dumplings, tag @orchidsnsweettea_ on Instagram and hashtag it #orchidsandsweettea!
SOUP:
2

cups

organic chicken stock, low-sodium

2

(16 oz.) bags

organic bone broth 

2

large

carrots, peeled + chopped

1

cup

yellow corn kernels, frozen

½

onion, chopped

3

garlic cloves, minced

3-4

scotch bonnet peppers, whole with a slit

(You can also use habanero peppers)

2

tsps

turmeric powder

2

tsps

sea salt + black pepper, each

1

teaspoon

garlic powder

1

teaspoon

dried basil

1

teaspoon

dried parsley
JAMAICAN "SPINNERS" (DUMPLINGS):
1

cup

organic all-purpose flour

½

teaspoon

sea salt

¼

cup

filtered cold water (plus, more if needed!)
TO SEAR THE CHICKEN:
Rinse and season the chicken with salt, black pepper, smoked paprika, and garlic powder.

Add oil to a large Dutch oven over medium-high heat and once heated, add the season chicken, side by side and cook until one side has become golden. Flip unto their opposite sides and sear again until golden. Remove and set aside in a plate.

Add the onions and garlic, sautéing until fragrant and translucent, about 1-2 minutes.

Add the chopped carrots followed by: the salt, black pepper, parsley, basil, turmeric, and garlic powder, and stir together until combined and veggies are coated.

Add in the chicken stock, bone broth (if using), yellow corn, and scotch bonnet peppers, stirring everything together until combined. Bring everything to a boil.
MAKE THE JAMAICAN "SPINNERS" (DUMPLINGS):
Start by adding the flour, salt, and black pepper to a bowl and whisk everything together. Slowly add the cold water and gently knead together until a stiff dough is formed. NOTE: Do NOT ADD ALL THE WATER AT ONCE; DON'T MAKE THE DOUGH TOO MOIST!

Pinch off a small pieces of dough and gently roll dough into the palms of both of your hands together until a long, round-like dumpling is formed. Repeat until all dumplings are made.

Add in the made dumplings and stir to incorporate.

Once boiling, reduce the heat to a low and simmer for 20-25 minutes or until the chicken and dumplings are fully cooked through. Add additional salt, to taste if necessary.

Remove from heat and serve immediately into prepared bowl(s) and enjoy with a side of crackers, if desired.

Bon Appetit!
STORAGE: Leftovers can be stored in a tightly sealed container in the refrigerator for 2-3 days, for optimal freshness. Can also be frozen for 4-6 months. To defrost, simply place soup in the refrigerator overnight or at room temperature before re-heating on the stove top to serve.
BONE BROTH: Bone broth has incredible health benefits which include: immune boosting properties, good for digestion + gut health, joint health, etc.; However, if you'd like to make this soup vegan----be sure to omit the bone broth and sub with additional veggie stock.
GLUTEN-FREE DUMPLINGS: You can substitute flour with GF flour to make these dumplings gluten-free friendly.
Calories:
778
kcal
|
Carbohydrates:
45
g
|
Protein:
55
g
|
Fat:
42
g
|
Saturated Fat:
11
g
|
Polyunsaturated Fat:
9
g
|
Monounsaturated Fat:
18
g
|
Trans Fat:
0.2
g
|
Cholesterol:
174
mg
|
Sodium:
2547
mg
|
Potassium:
1075
mg
|
Fiber:
4
g
|
Sugar:
7
g
|
Vitamin A:
6678
IU
|
Vitamin C:
19
mg
|
Calcium:
78
mg
|
Iron:
6
mg
Jamaican Chicken Soup.