This Delicious Vegan Peanut Punch recipe is a healthy take on the delicious traditional Jamaican Peanut Punch, which include bold flavors of Peanuts and Rum (optional) and is beautifully textured to create a smooth drinking experience. This Vegan version boasts it's creaminess, thickness, and generous play on spices and peanut butter as well as banana flavors. The perfect drink to enjoy during family dinner or a great punch to kick start your morning.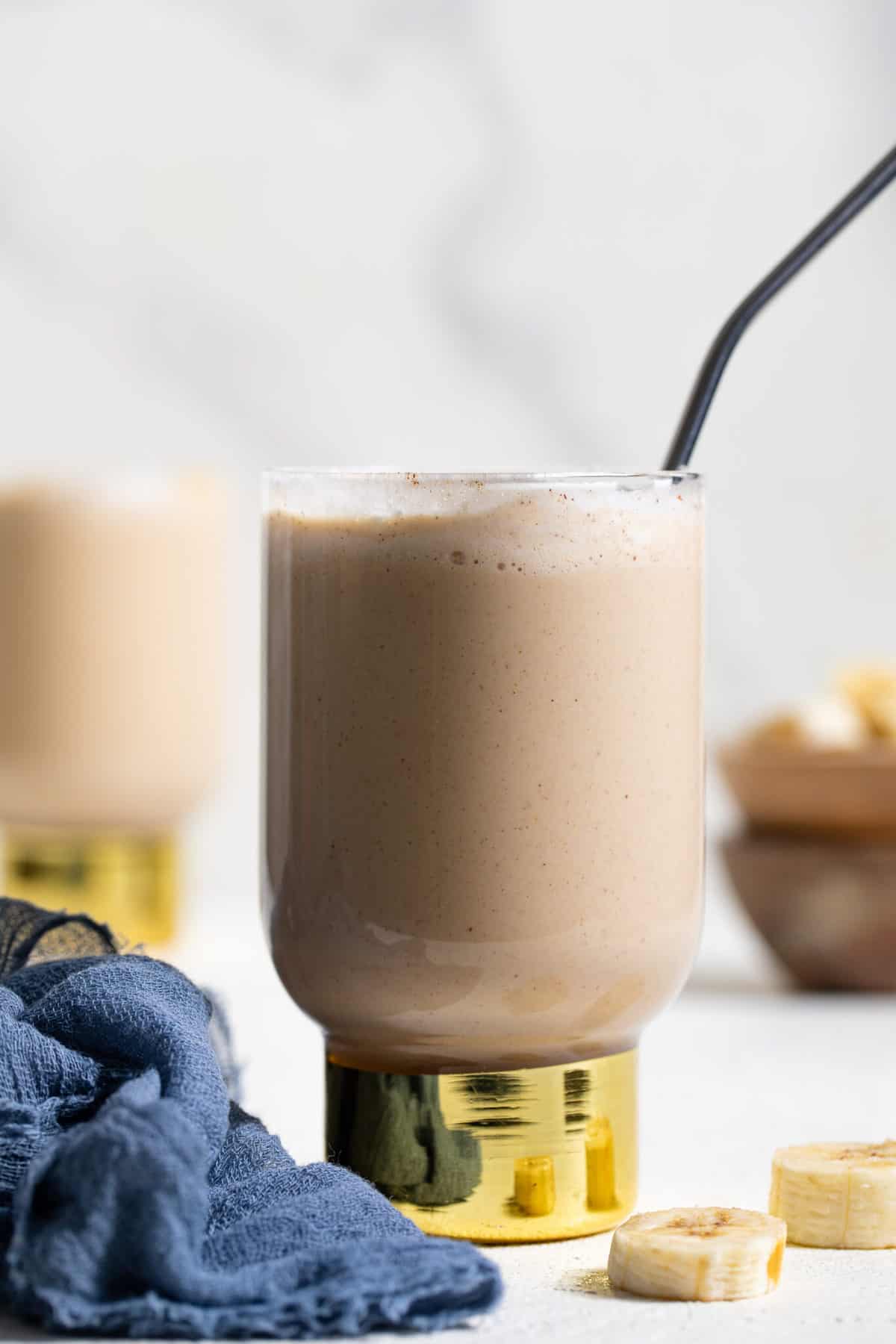 This Delicious Vegan Peanut Punch truly has a special place in my heart. If you've been following Orchids + Sweet Tea for sometime, then you're aware of how excited I get whenever I am able to showcase my Jamaican background in recipe form.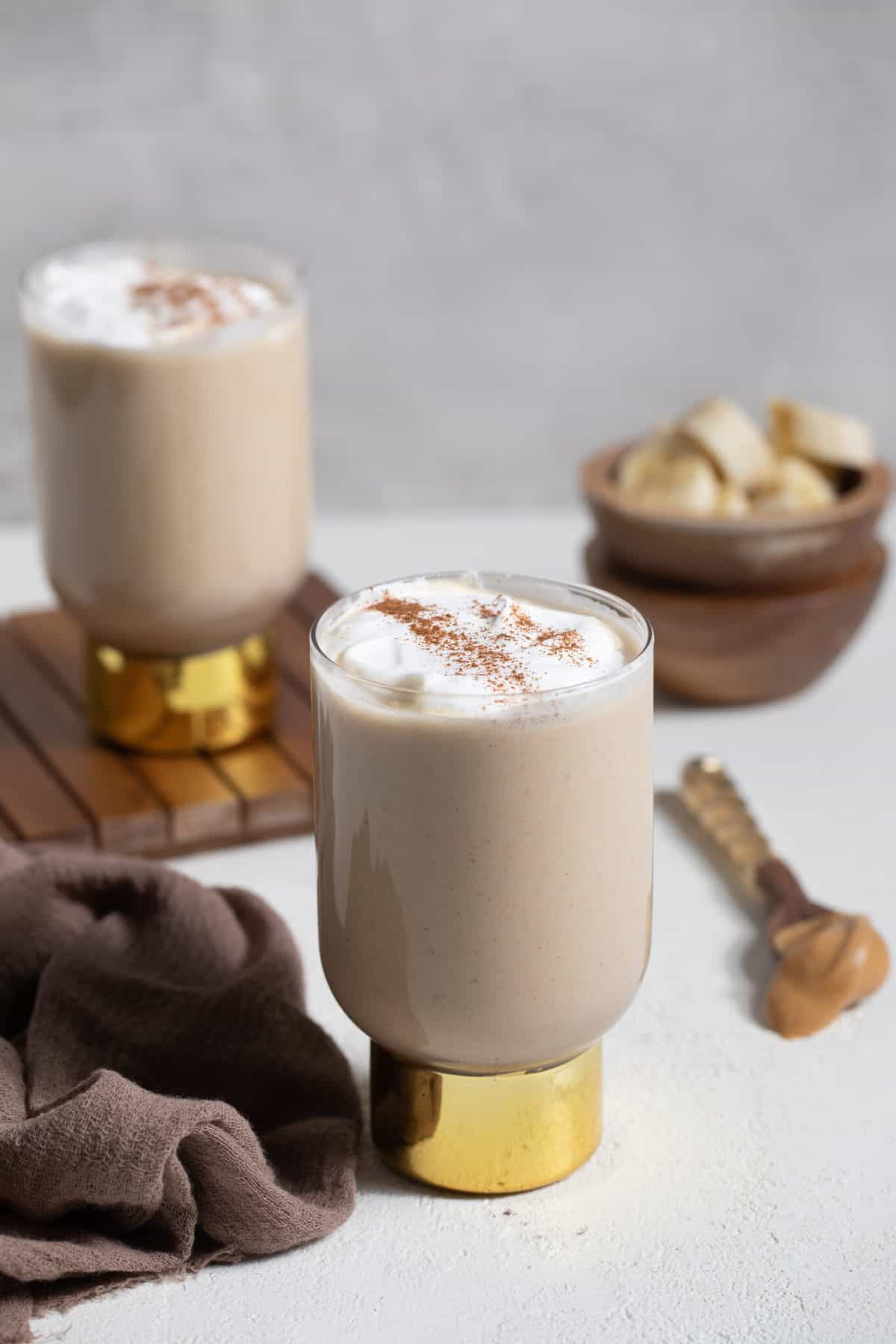 What is Peanut Punch Exactly?
OK, so in case you aren't too familiar with this drink, let's talk about it. Derived from the Jamaican culture, Peanut Punch is basically a very popular energy drink. Usually, it consists of warm spices such as cinnamon and nutmeg, in addition to peanuts, granulated sugar, evaporated milk, and rum.
Personally, I've never truly enjoyed it because it's laced with rum (I'm not a drinker! Haha). However, I've stumbled upon a new and healthy way to enjoy this drink and I couldn't be happier. It's just so good! The awesome thing about this drink is that it's so easy to make and it only requires one kitchen appliance---a blender! I know. You can thank me later!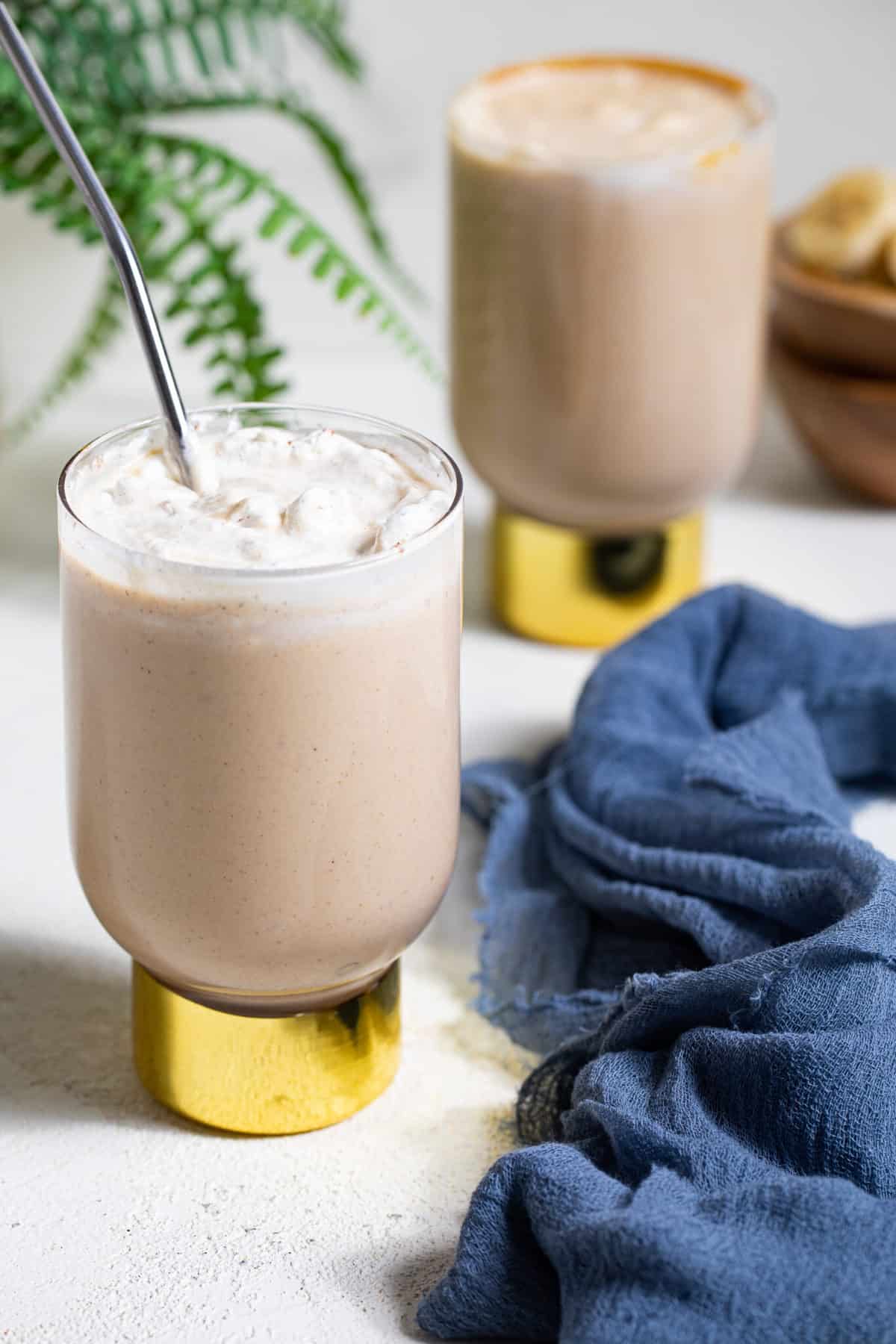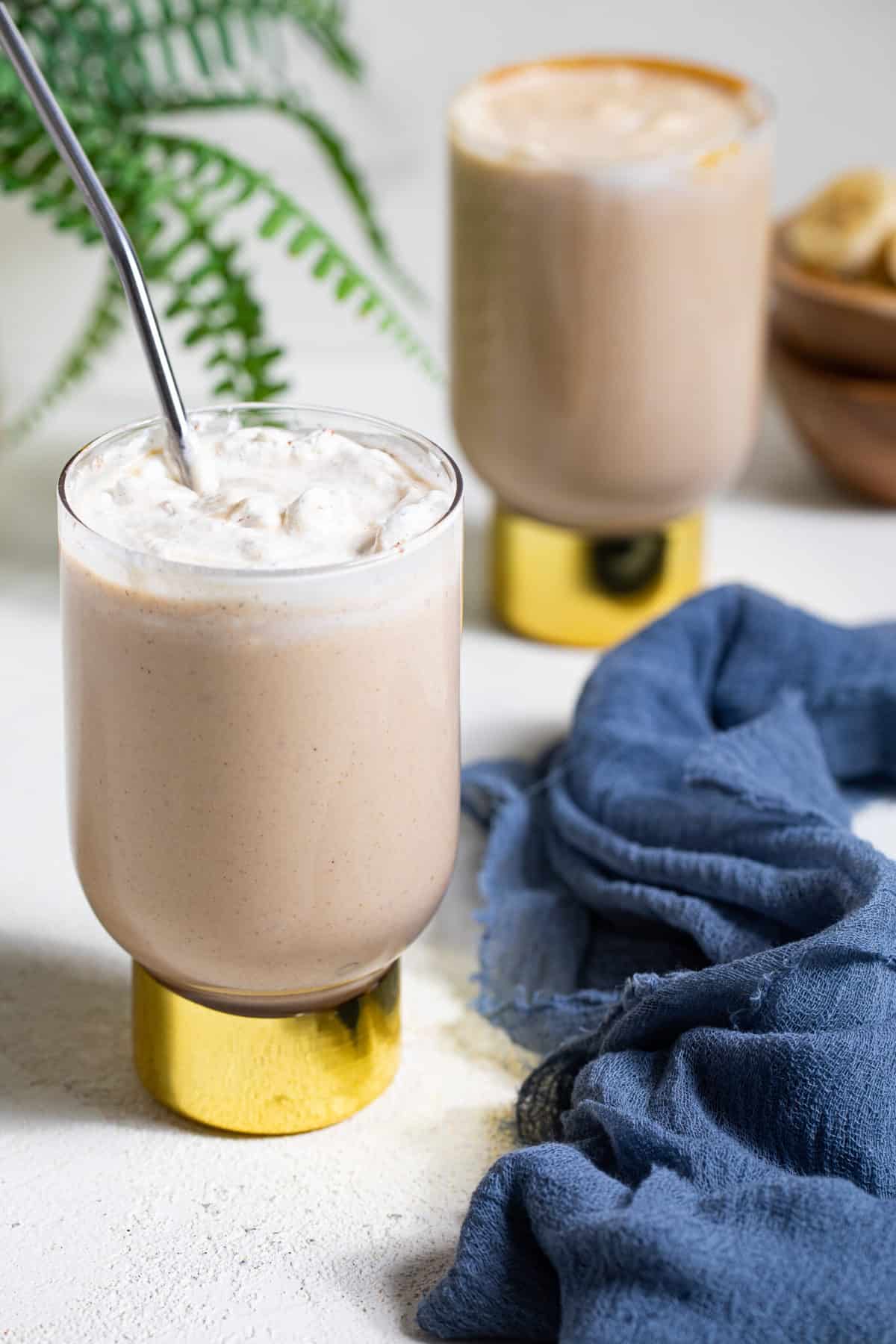 PEANUT BUTTER LOVER? HERE'S MY TOP 5!
This Peanut Butter Chia Seed Overnight Oats recipe is the perfect healthy meal to kick start your day or meal prep for the week ahead. These Oats boasts it's creaminess, thickness from the thickly cut oatmeal and chia seeds used, and generous nutty flavor from the delicious peanut butter; which all create quite the experience in just one bowl.
This Easy Peanut Butter Banana Oats Smoothie recipe is a delicious and simple way to enjoy a quick, easy breakfast while gaining awesome health benefits from the simple ingredients that marry so well together, creating a powerful kick of flavor. All Vegan ingredients. Nut-free and Gluten-free options available.
This Banana Peanut Butter Overnight Oats recipe is a healthy way to kick start your day and is beautifully textured. These Oats boasts it's creaminess, thickness from the thickly cut oatmeal used, and generous nutty flavor from the delicious peanut butter; which all create quite the experience in just one bowl. All vegan and Gluten-Free.
This Delicious Peanut Butter Banana Pudding is a version of a classic dessert that most Southerners can say has been a childhood favorite since the beginning of time.
These Easy Healthy Peanut Butter No-Bake Energy Bites are a super easy, quick way to enjoy a healthy snack or to kick start your mornings. These bites are an awesome option for naturally boosting energy, increasing fiber in take, a good source of protein and packed with healthy nutrients. Naturally sweetened and boasts of bold peanut butter flavor. Completely Gluten-Free and Vegan.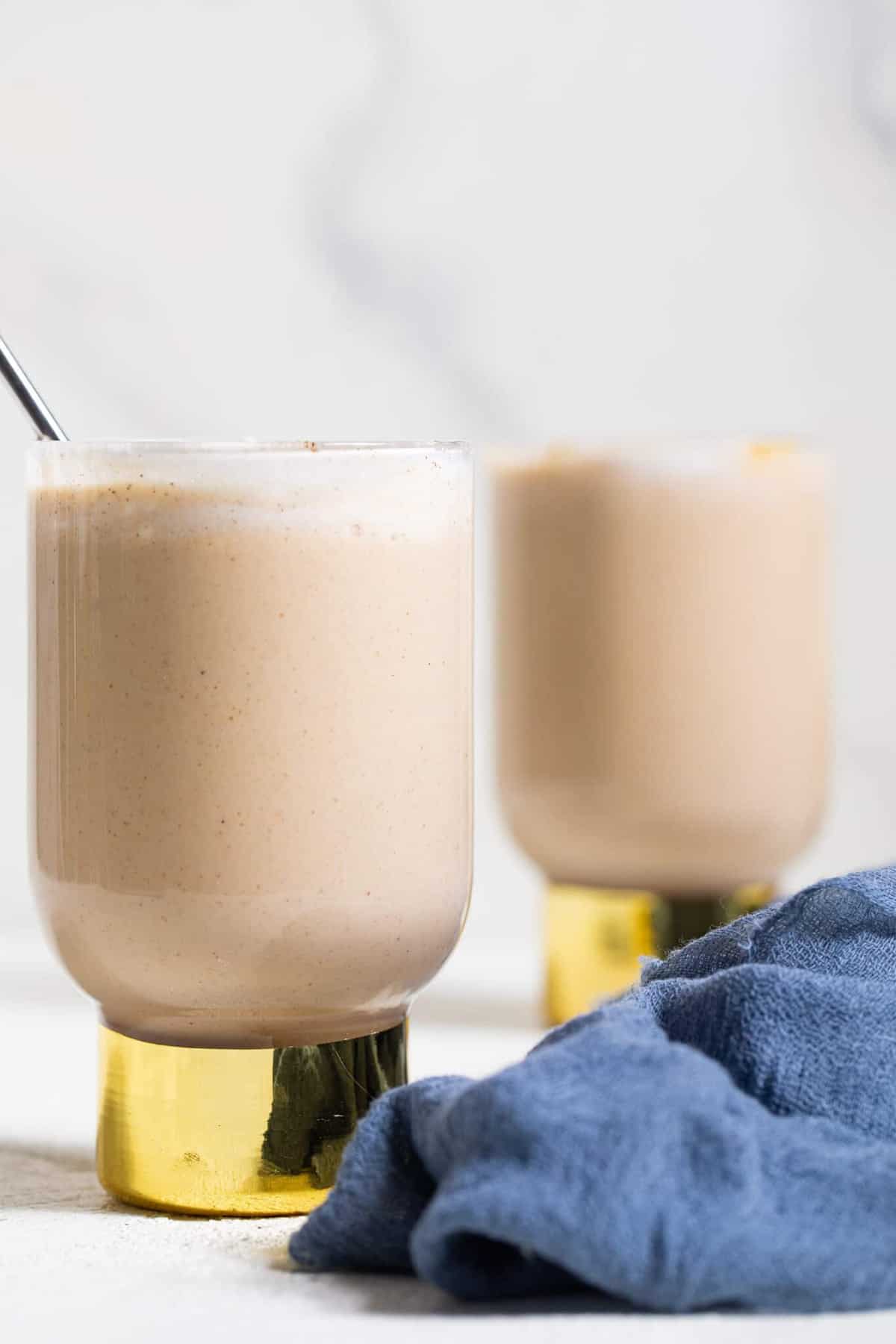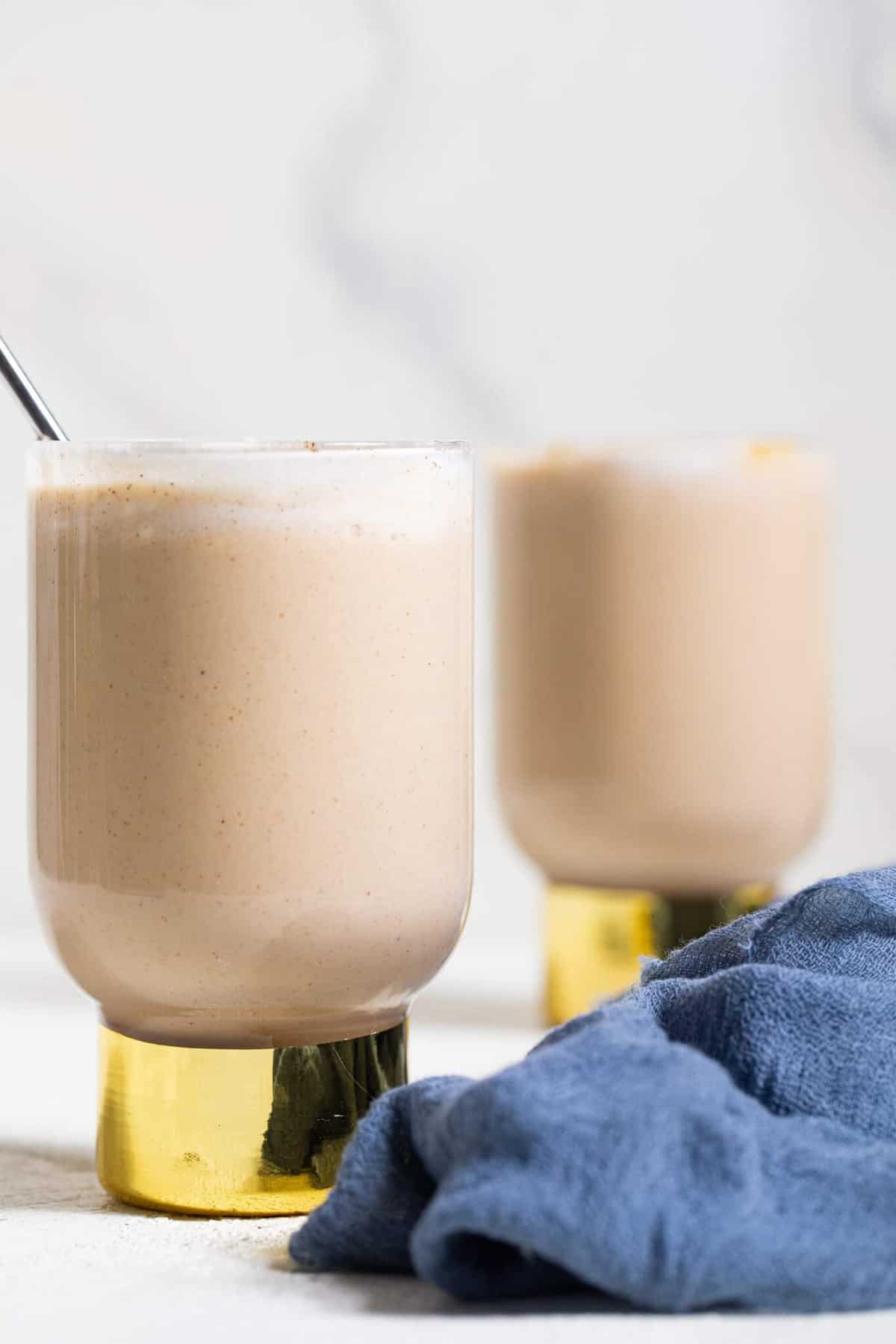 Why Peanut Butter?
Ok, now let's get back to this Peanut Punch! I love using Peanut Butter and have always been a HUGE fan since I was a kid growing up. Honestly, I can only eat chocolate (and truly enjoy it) when there's peanut butter involved. Anyone else can relate?
So, of course, having this drink mostly made of peanut butter was a WIN, WIN for me! Haha. Because I love it so much, I chose to add a few extra dollops of peanut butter to create a thicker consistency. Rest assured, you don't need to do this unless you're a lover of this stuff like I am.
Usually, I enjoy using Justin's Peanut Butter, but on my recent trip to the Organic Market, I came across Earth Balance's Peanut Butter with Flaxseed and I had to give it a try! Thank goodness I did! It's so tasty! Plus, it comes loaded with Omega-3, Sweetened with Agave, 0 grams of trans fat, and a host of other things that makes it a great Vegan option!
LOOKING FOR A HEALTHIER SWEETENER OPTION?
The Best Healthy Sugar Alternatives + Substitutes list is all about finding better ways to enjoy your favorite sweets without compromising your healthy lifestyle. For those who follow a vegetarian and/or vegan lifestyle, this lists offers a few great ideas to incorporate healthy sweeteners into your diet.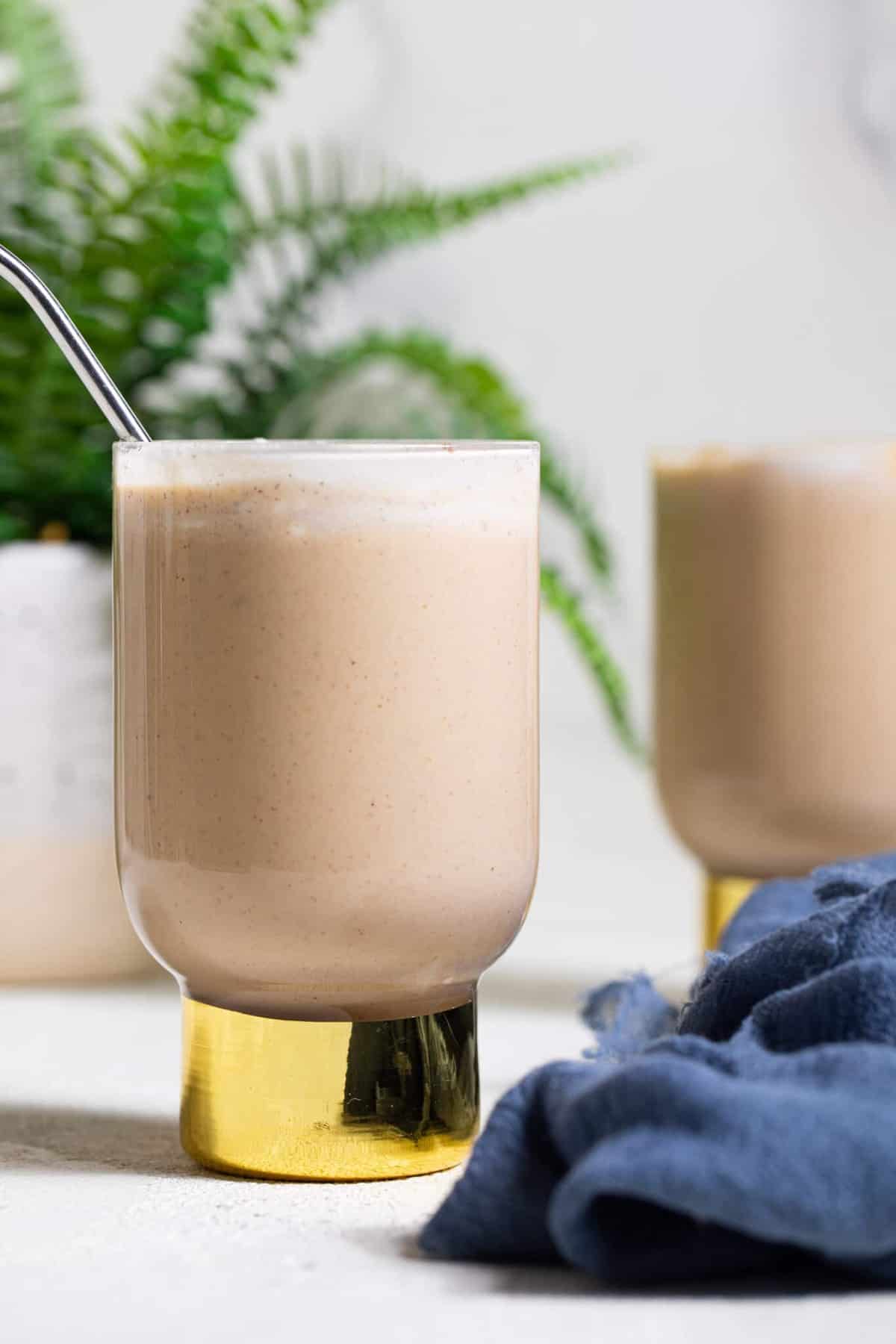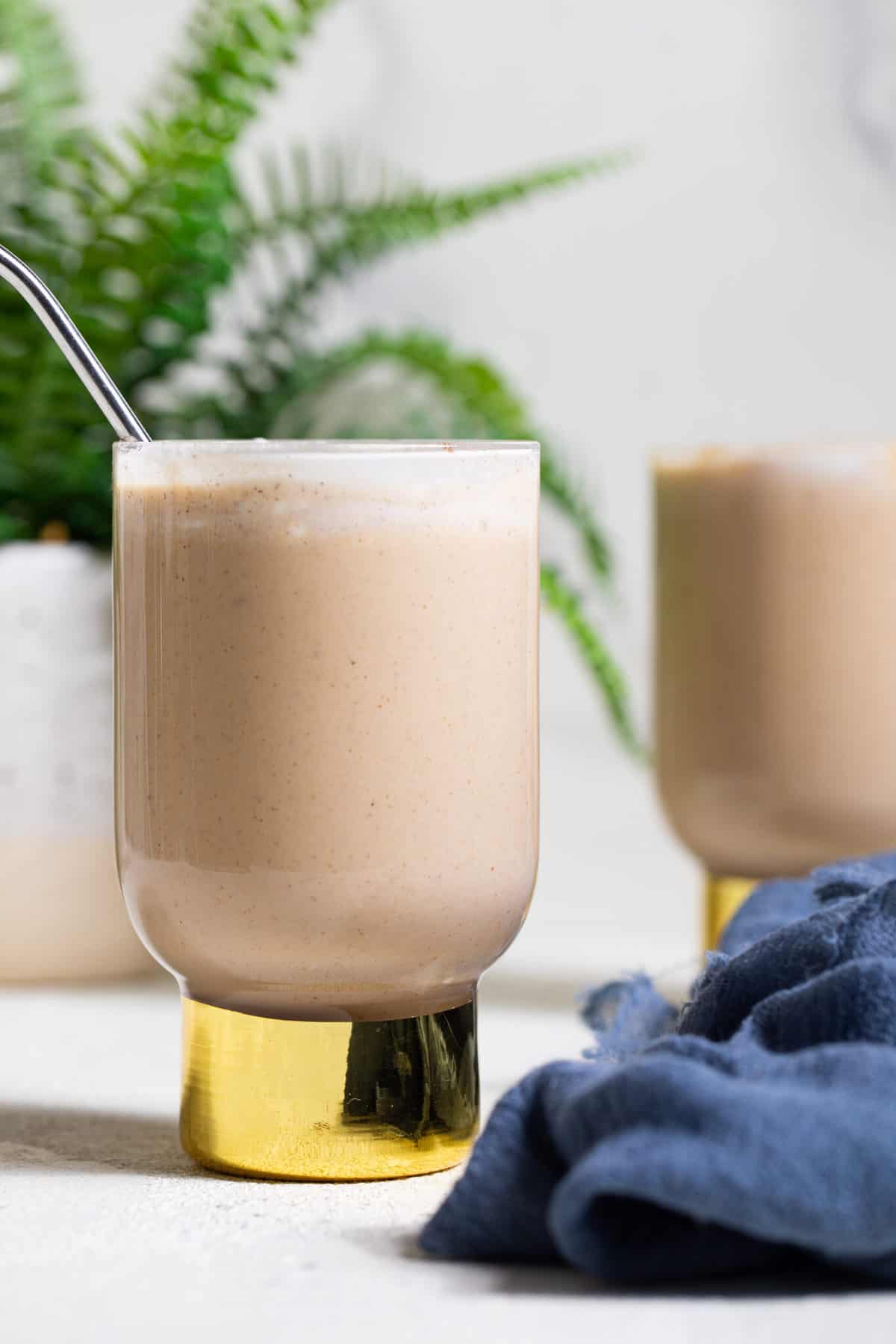 Add all ingredients to a high-powered blender (adding the wet ingredients first, followed by the remaining ingredients) and blend until smooth, about 1-2 minutes. NOTE: If punch is too thick, simply add an additional ¼ cup milk.

To serve, pour punch into prepared glass(es) and top with CocoWhip, sliced bananas, or melted peanut butter, if desired.

Sip and enjoy!
STORAGE: Store any leftovers in the refrigerator, tightly sealed or in a covered mason jar, ensuring that you drink it within the same day for best taste and consistency.
SOAKED CASHEWS:To best soak cashews, add 1 cup of cashews to a bowl or measuring cup and cover with cold water, sealing the top with plastic wrap and leaving it out (at room temp.) overnight. When ready to use, drain and rinse. If not able to soak overnight, simply cover cashews with boiling water and let sit for 30 minutes, drain, + rinse.
WHAT PLANT-BASED MILKS ARE GOOD FOR THIS RECIPE?My go-to plant-based milk is Almond milk from Califia Farms. However, you can always use your fave or one of the following: coconut milk, oat milk (froths/foams VERY WELL), flax milk, etc.
Calories:
1043
kcal
|
Carbohydrates:
69
g
|
Protein:
35
g
|
Fat:
77
g
|
Saturated Fat:
15
g
|
Polyunsaturated Fat:
19
g
|
Monounsaturated Fat:
38
g
|
Sodium:
882
mg
|
Potassium:
1075
mg
|
Fiber:
10
g
|
Sugar:
37
g
|
Vitamin A:
41
IU
|
Vitamin C:
9
mg
|
Calcium:
387
mg
|
Iron:
4
mg
Delicious Vegan Peanut Punch.