These Funfetti Oatmeal Vegan Waffles [Light + Fluffy] are the best easiest, fluffy, fun waffles for the entire family. Filled with simple delicious vanilla flavor, these oatmeal waffles will be on everyone's top list of must-creates all year-round, especially during the Holidays! They come naturally sweetened, soft, thick and airy and loaded with rainbow sprinkles. The perfect dairy-free and vegan breakfast or brunch dish with the perfect pick-me-up for your mornings! Gluten-free option.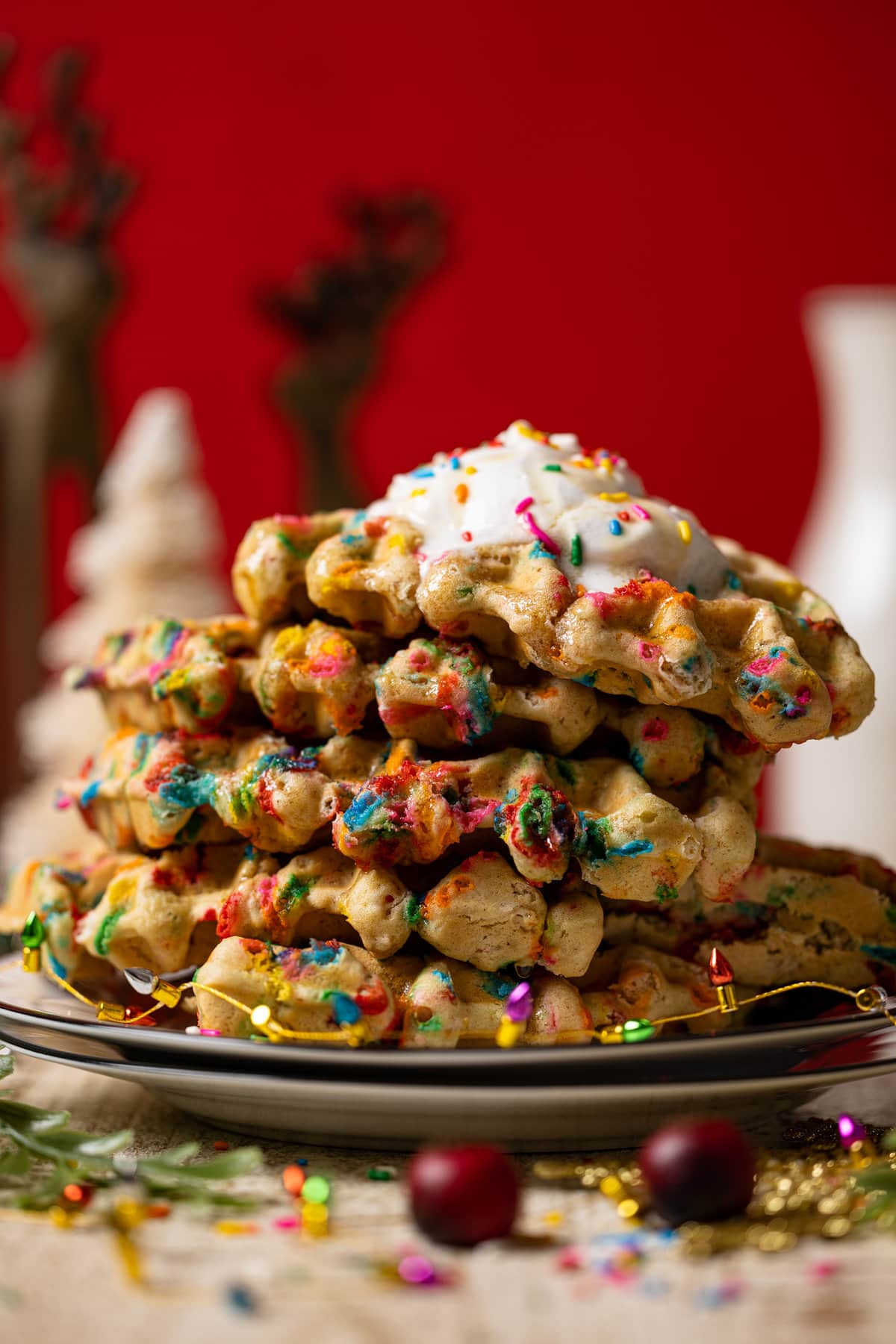 Disclaimer: This post contains affiliate links via Amazon for products that I wholeheartedly love.
When it comes to these Funfetti Oatmeal Vegan Waffles [Light + Fluffy], I can picture myself lying comfortably on the couch, wrapped in my faux fur throw, sipping tea or maybe a nice cold drink, and enjoying some TV for ONE WHOLE DAY along with a plate of these beauties. Haha. How about you? Well, that's what I' doing this Christmas and I hope that you get a chance to rest and enjoy the holiday also.
Honestly, I love waffles---even more than pancakes! I'm not sure if it's a Southern thing, but the Waffle House was my GO-TO growing up with my Grandpa and now that I create recipes on a daily basis, I get an opportunity to truly enjoy the essence of waffles beyond their classic flavor.
Granted, whenever I chose to make something over the top for breakfast (mostly on the weekends), I enjoy a good waffle, pancake, or french toast-----so I'm a lover of ALL! Haha.
But I must say that when I originally made these waffles a few years ago, I didn't appreciate them as much as I do now. They are just so fluffy, soft, and incredibly easy to whip together. Plus, these waffles are a fun, relaxing activity to do with the entire family.
You'll Love these Funfetti Oatmeal Vegan Waffles
Of course, if you're more into other breakfast things like french toast or pancakes, then I recommend trying this Apple Cider Pumpkin Pancakes + Cranberries or Pumpkin French Toast recipe. These waffles----Fluffy Cinnamon Vegan Belgian Waffles, Apple Spice Cornmeal Waffles or Easy Vegan Gluten-Free Gingerbread Waffles are truly the best options for all waffles lovers out there!
Much like these recipes, these Funfetti Oatmeal Vegan Waffles are delicious and boast of their bold vanilla and funfetti flavors. Plus, they are so versatile and can be enjoyed with an array of toppings, depending on your tastebuds and preference.
To understand what makes Fluffy + Light Vegan Waffles so incredible, we will need to examine what makes a Belgian waffle different from a traditional waffle. All Belgian waffles are waffles, but not all waffles are Belgian.
WHAT YOU'LL LOVE MOST ABOUT THESE WAFFLES.
Super easy to make.
Totally dairy-free + vegan. GF option available!
Whipped together in under 25 minutes—TOTAL!
Sweetness is adjustable based on tastebud preferences.
Everything made in ONE BOWL. Yup. How can it get any easier?
Super festive for the entire family----but can also be made Year-round!
Did I mention—THIS RECIPE IS AMAZING?!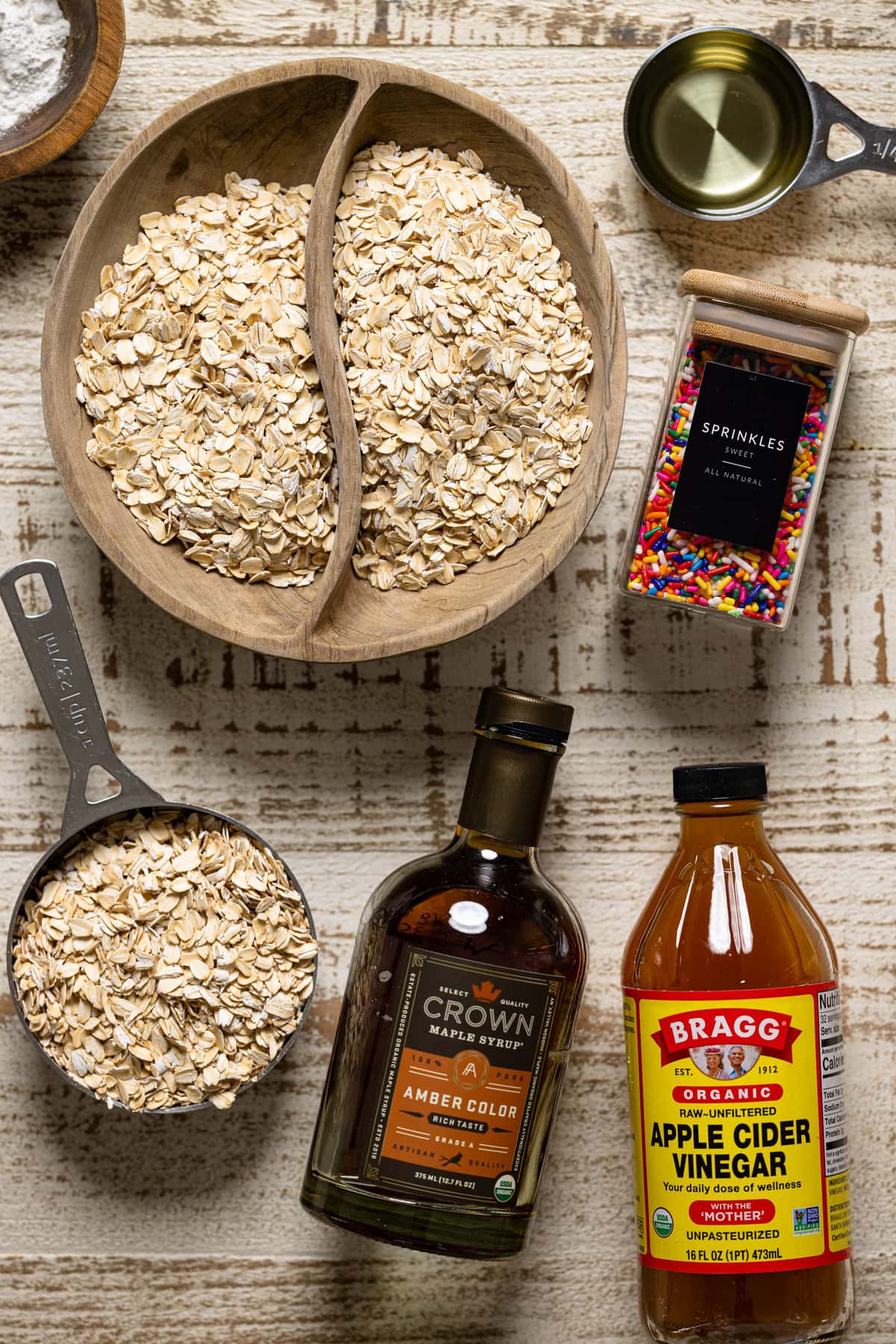 How To Make Funfetti Oatmeal Vegan Waffles [Light + Fluffy]
Ingredients
All-purpose flour. I recommend organic flour from Bob's Red Mill. You can also sub with their GF Baking flour for the gluten-free option.
Thick Cut Rolled Oats. Choose gluten-free if necessary. You can also use old fashioned if preferred.
Maple syrup. This vegan-friendly liquid sweetener is subtly sweet and won't overpower the vanilla flavor. You can also sub maple syrup with Agave, date syrup, coconut sugar, brown sugar, or pure cane sugar. If you're not vegan, honey also works.
Baking powder and baking soda. These leaveners will lighten your pancakes so they're fluffy and airy. Make sure your baking powder + baking soda are fresh (not expired!) for best results.
Rainbow sprinkles. Ensure that these are vegan-friendly.
Almond milk. You can use any dairy or dairy-free milk you have on hand.
Apple cider vinegar. Use this to make vegan "buttermilk".
Vanilla. Another important flavor boost to these waffles.
Coconut oil. I like to use a high-quality organic coconut oil, but you can also use an organic version of canola oil by

La Tourangelle

 or melted vegan butter, if preferred.
Belgian Waffles vs. Traditional Waffles
Waffles of any variety are excellent eats. There are quite a few differences between Belgian waffles and traditional waffles. Belgian waffles tend to have the following characteristics:
Thick
Fluffy
Golden
Round
Crisp
Cake-like
Belgian waffles are almost always thicker and fluffier than a regular waffle. That is the main difference. It often has to do with the thick and fluffy waffle batter, however, the size and shape of your waffle iron also make a big difference. Also, some recipes from Belgium are leavened with yeast for an even fluffier waffle.
Traditional waffles are thinner and crisper. They are leavened with baking soda/powder only. These waffles tend to look like this:
Crunchy
Square or round
Thin
Small
Less fluffy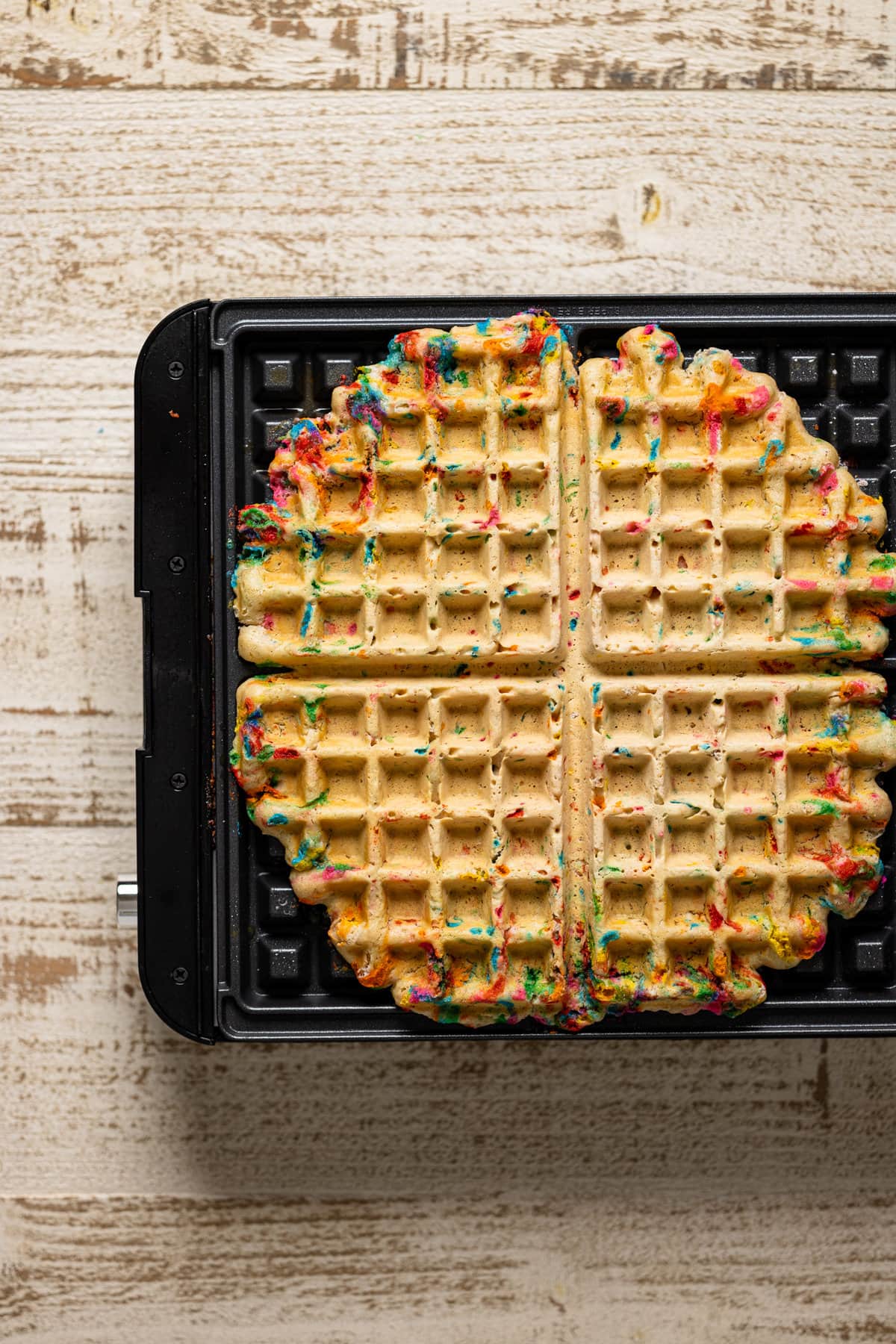 Health Benefits of Oats
Oats are another superfood that's great to start your day with. Rolled oats like the ones used in this recipe, are a healthy source of complex carbs, fiber (the soluble kind!), protein, and fat. In addition, they are loaded with important vitamins, minerals, and antioxidants.
Other great benefits of oats, according to studies:
They can help lower cholesterol.
Helps regulate blood sugar levels to avoid crashes and spikes
May help with losing weight.
Helps to relieve constipation.
How to Make Waffles Vegan and Gluten-Free
Turning traditional recipes plant-based or gluten-free is much easier than one might assume. For every regular ingredient, there is a plant-based alternative and a gluten-free alternative.
For example, to remove eggs from a recipe to make it vegan, you can use soaked flaxseeds, applesauce, egg replacer, or mung bean. All of these items are totally vegan and are a binding ingredient in cooking or baking, much like eggs.
Making foods gluten-free can be easy as well. There are many flour blends out there that are GF, yet mimic the ease and simplicity of regular wheat flour.
Some GF flours I like are:
Oat flour
Almond flour
1:1 all-purpose GF flour
Rice flour (brown or white)
Tapioca flour
Corn flour (cornstarch)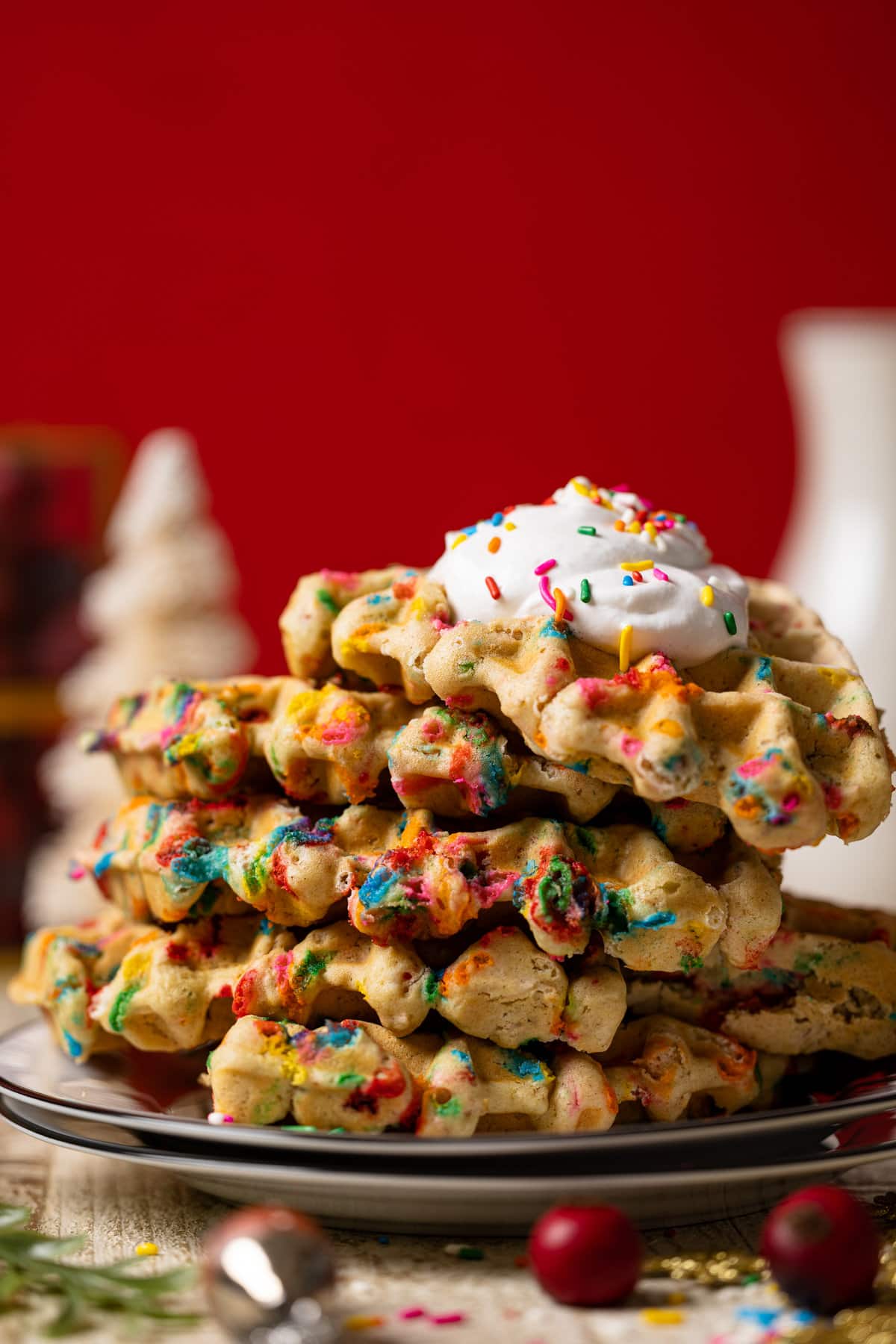 What Kind of Milk Works For Funfetti Oatmeal Vegan Waffles?
When it comes to dairy-free milk options, there are so many possibilities. From soy milk to nut milk to the newest trend, potato milk, you can find a delicious plant-based option you love. And what makes these milks even better? You can make them from scratch at home! All of these dairy-free milk recipes will work for this Funfetti Oatmeal Vegan Waffles recipe:
LOOKING FOR A HEALTHIER SWEETENER OPTION?
The Best Healthy Sugar Alternatives + Substitutes list is all about finding better ways to enjoy your favorite sweets without compromising your healthy lifestyle. For those who follow a vegetarian and/or vegan lifestyle, this lists offers a few great ideas to incorporate healthy sweeteners into your diet.
More Waffle Topping Ideas
You can pile these hot-off-the-press Funfetti Oatmeal Vegan Waffles [Light + Fluffy] high with your favorite toppings. Here are some of my favorites:
Maple syrup
Fresh berries (strawberries, blueberries, raspberries, blackberries)
Coconut whipped cream
Vegan yogurt
Powdered sugar, sifted
Rainbow sprinkles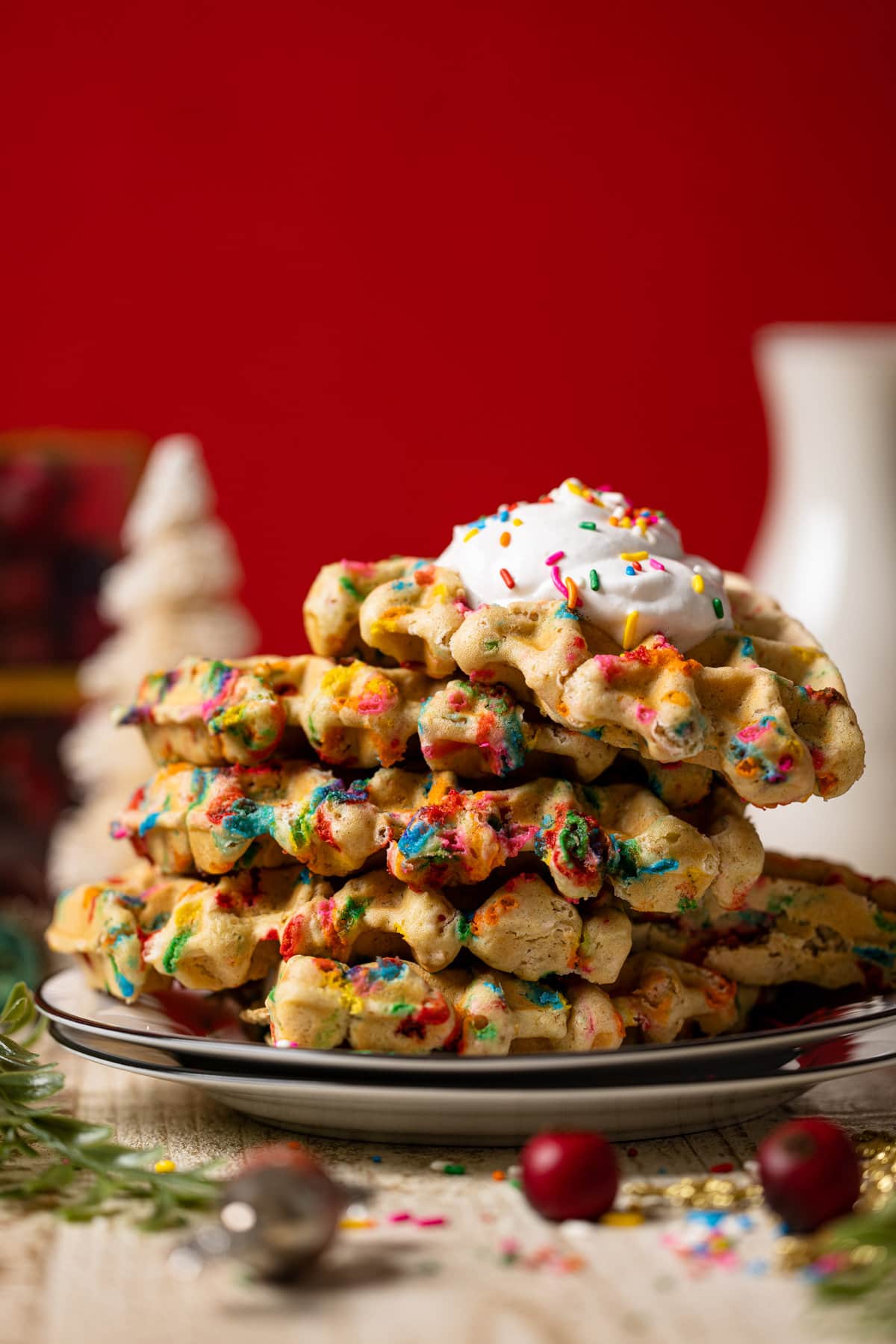 35 HEALTHIER KID-FAVORITE RECIPES TO MAKE.
When it comes to having your little ones away from school, this list of 35 Healthier Kid-Favorite Recipes to Make While At Home comes in handy to satisfy those little sweet teeth while keeping things on the healthier side. Everything from cupcakes to donuts to cinnamon rolls, milkshakes, + more; these recipes are all easy and can be whipped together using mostly common ingredients. Thank us later!
Common FAQs About these Vegan Funfetti Oatmeal Waffles.
Can I make these waffles with something other than coconut oil?
Yup, definitely! While I enjoy making some of my recipes with coconut oil, you can definitely use a high-quality organic canola oil or melted vegan butter, if preferred.
What Milk can I use for these waffles?
Almond milk is my go-to plant-based milk, however, if you don't have this type of milk or you just prefer to use something else, you can also use: Soy milk, Oat milk, Cashew milk, or another dairy-free milk of your choice (See post above for options)!
Do I need to use a Mixer?
Absolutely not! With this recipe, everything is made in just one bowl and using your hands and a spatula. The batter is pretty manageable, therefore, there is no need for a mixer! Plus, we don't want any over-mixing, so I highly suggest doing this manually, unless you absolutely have to, then of course a hand mixer will do!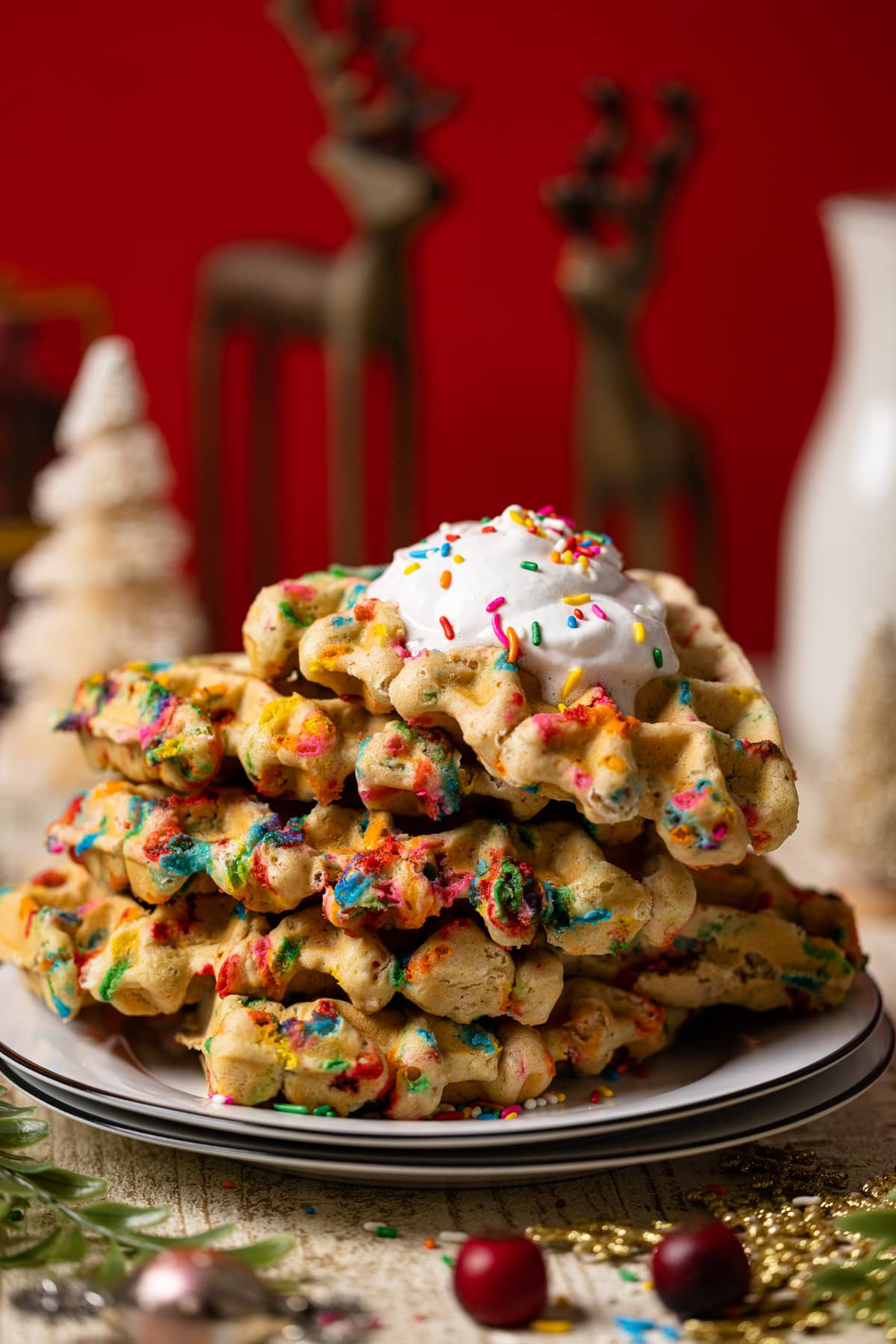 What is the best waffle maker?
Honestly, I use my Belgian waffle maker by Cuisinart, which is absolutely perfect and it allows for me to control the heat settings to avoid my waffles from getting too golden. However, you can always use any waffle maker that you love!
Can I make these waffles ahead of time?
Absolutely! Simply whip together your waffle batter and store it in an air-tight container in the refrigerator for up to 2 days. When ready to use, let it sit at room temp for 20-30 minutes and begin making!
How do I store leftovers?
So easy----simply add your leftover waffles to an air-tight container and refrigerate for up to 3 days. When ready to serve, simply heat them in a pre-heated oven at 350 Degrees Fahrenheit or a Toaster Oven! To store waffles for longer periods, simply add them unto a baking sheet lined with parchment paper and place in the freezer for 2 hours. Once fully frozen, remove and store them in a zip loc and freeze for up to 3 months.
More Recipes You'll Love!
If you love these Funfetti Oatmeal Vegan Waffles [Light + Fluffy], you will also love these tasty breakfast recipes!
Sweet + Spicy Cauliflower Bites + Maple Pecan Waffles
MADE OUR RECIPE(S)?
If you make these Funfetti Oatmeal Vegan Waffles [Light + Fluffy], tag @orchidsnsweettea_ on Instagram and hashtag it #orchidsandsweettea!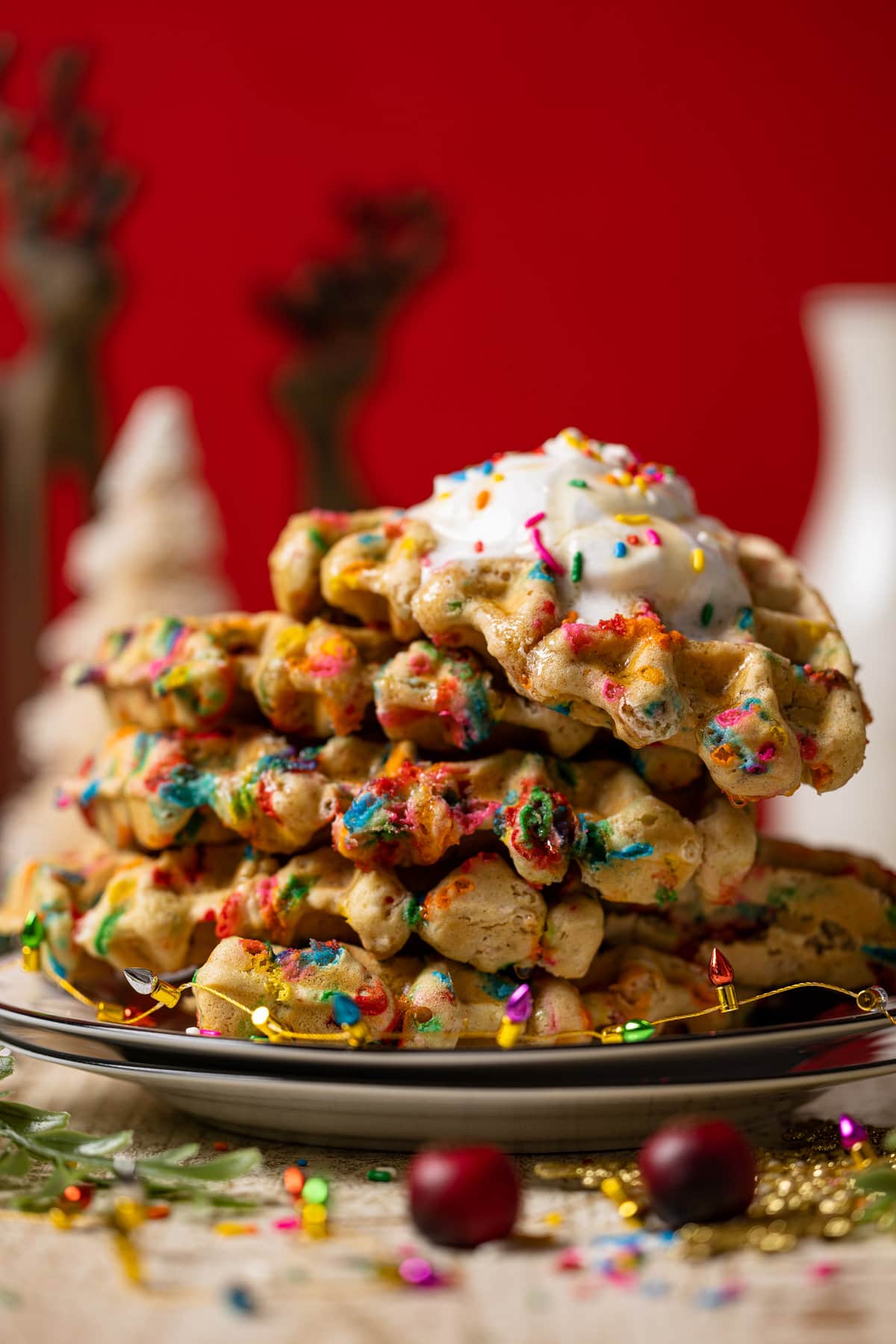 WAFFLES:
2

cups

organic all-purpose flour

1

cup

organic rolled oats

(See Notes!)

2

tsps

baking powder

1

teaspoon

baking soda

½

teaspoon

sea salt

2

cups

Almond milk

(You can use your fave plant-based milk!)

1

tablespoon

apple cider vinegar

2

tsps

vanilla extract

¼

cup

pure maple syrup

(See Notes!)

¼

cup

organic coconut oil

(See Notes!)

1 ½

cups

rainbow sprinkles, vegan-friendly
TO MAKE THE WAFFLES:
Preheat the waffle maker to desired setting–medium-high heat worked for me! 

In a measuring cup, add the milk and ACV together, stirring to combine and letting them sit for 5 minutes.

In a large bowl, whisk together the flour, oats, baking powder, baking soda, and sea salt. Create a well in the middle.

Add the milk-ACV mixture, coconut oil, maple syrup, and vanilla in the well of the dry ingredients and stir together well (using a rubber spatula) until fully incorporated and batter looks smooth. Fold in sprinkles.

Now, let the batter sit for 2-3 minutes while it slightly thickens and rises, which means that the ingredients have activated. NOTE: the batter should be pourable but not 'runny' at all. It should slightly stick when whisk is lifted up, as a test for thickness. NOTE: DO NOT OVER-MIX!

Next, spoon batter into your waffle maker (½ cup approximately) and cook according to your waffle iron's instructions. 

Once each waffle completes, add to a baking sheet and place them in the oven on the lowest setting (to keep them warm). Repeat until all waffles are made.

To serve–stack waffles (whole or cut), add toppings (coconut whipped cream, etc.), powdered sugar, rainbow sprinkles, and/or drizzle with maple syrup, if desired.

Bon Appetit!
STORAGE: Leftovers can be tightly sealed in a zip loc bag (once fully cooled) and either refrigerated for a few days or frozen.To serve, reheat waffles in the oven on 400 degrees for a few minutes until warmed through.
FREEZE WAFFLES: To store waffles for longer periods, simply add them unto a baking sheet lined with parchment paper and place in the freezer for 2 hours. Once fully frozen, remove and store them in a zip loc and freeze for up to 3 months.
GLUTEN-FREE VERSION: To make these waffles GF, I recommend using a GF Flour Blend (Bob's Red Mills has a great version!). **NOTE: If the batter mixture is too 'thin + runny', simply add additional GF flour, ¼ cup at a time.**
ACV SUBSTITUTE: If preferred, you can feel free to use lemon juice instead of apple cider vinegar. For substitution, use the same measurements.
OILS: You can always substitute coconut oil with organic canola oil or melted vegan butter. 
STANDARD WAFFLES (NON-BELGIAN): This recipe will make more than 6-8 waffles for this recipe.
Calories:
425
kcal
|
Carbohydrates:
88
g
|
Protein:
7
g
|
Fat:
4
g
|
Saturated Fat:
2
g
|
Polyunsaturated Fat:
1
g
|
Monounsaturated Fat:
1
g
|
Sodium:
629
mg
|
Potassium:
128
mg
|
Fiber:
3
g
|
Sugar:
45
g
|
Vitamin A:
1
IU
|
Calcium:
207
mg
|
Iron:
3
mg
Funfetti Oatmeal Vegan Waffles [Light + Fluffy].