This Fall Harvest Quinoa Breakfast Bowl is a healthy option for a quick breakfast or brunch and comes packed with nutrients and works perfectly for meal prep. This bowl consists of quinoa, chia seeds, fall spices, and topped with a creamy peanut butter, pumpkin seeds, chopped chocolate, + raisins . This breakfast bowl is a great vegan + gluten-free staple for the entire family. Make ahead + Overnight options.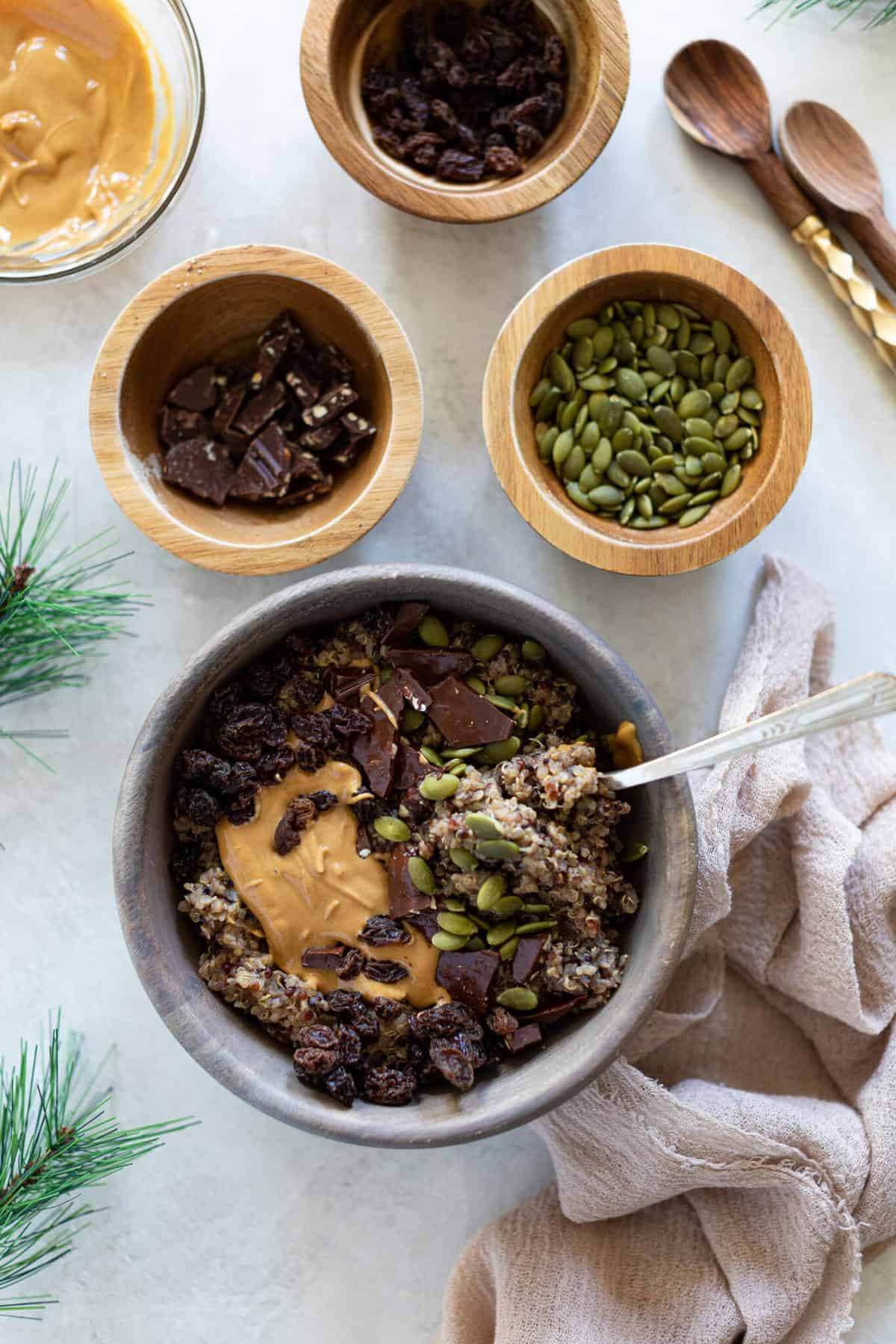 Fall Harvest Quinoa Breakfast Bowl----the epitome of Fall warmth and goodness in a bowl. So cozy and so comforting in every spoonful.
Honestly, when it comes to breakfast recipes, I often get excited about over the top dishes---waffles, pancakes, french toast---you name it.
However, when I get a chance to create something this nutrient-dense and delicious, I'm even more excited. Plus, this bowl is totally customizable and can be infused with amazing flavors (chai, cacao, pumpkin, etc.) and topped with even more amazing ingredients. Whatever your tastebuds desire, that's what you add! That easy!
What's a Quinoa Breakfast Bowl, Anyway?
Literally, think of quinoa bowls like oatmeal. These bowls are just as creamy, soft, flavorful, and customizable as I mentioned previously. In addition, quinoa bowls are just as quick and easy to make---literally 10 minutes or so (with cooked quinoa).
To make these, you simply add your cooked quinoa in a bowl and top it with your favorite ingredients. That's it!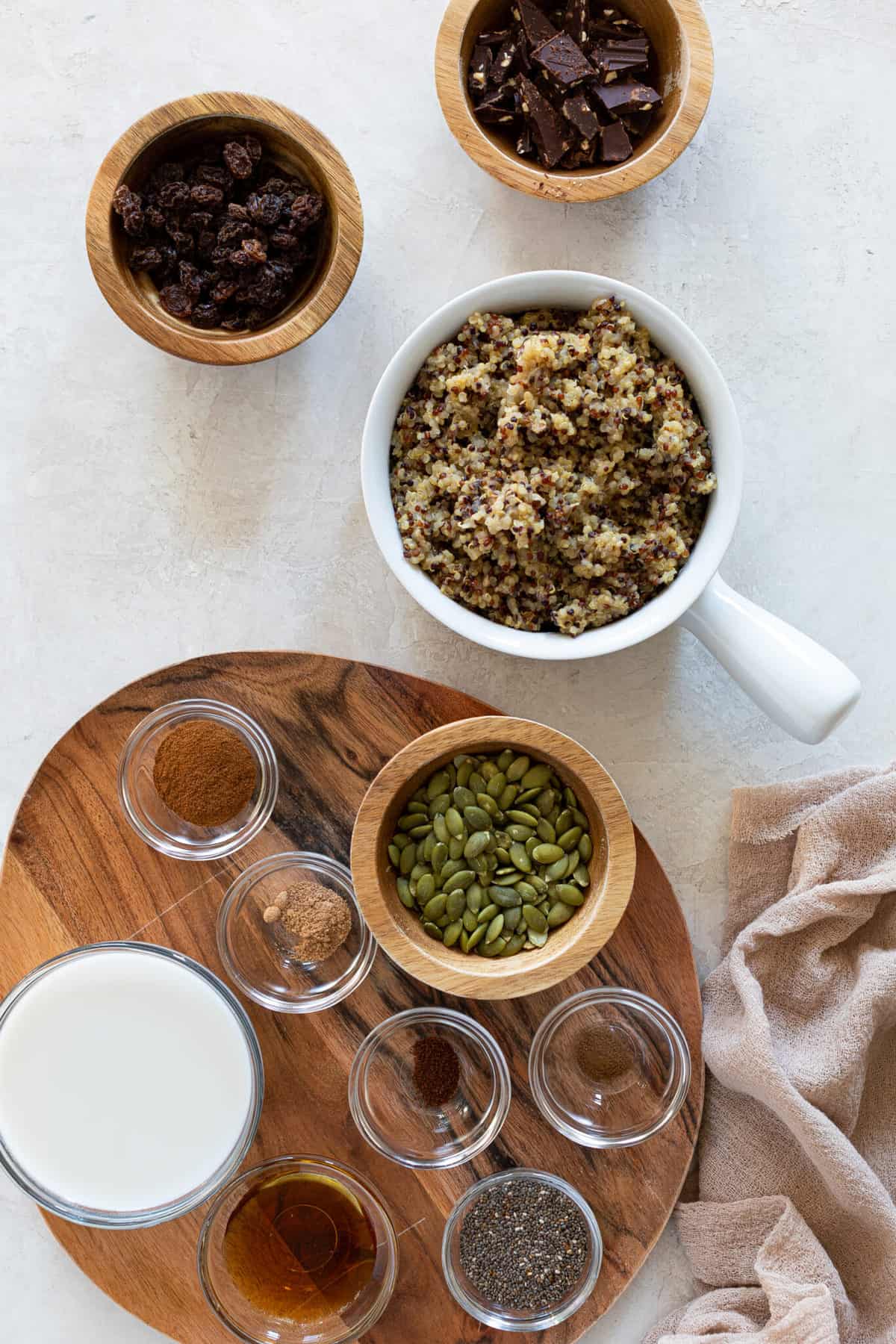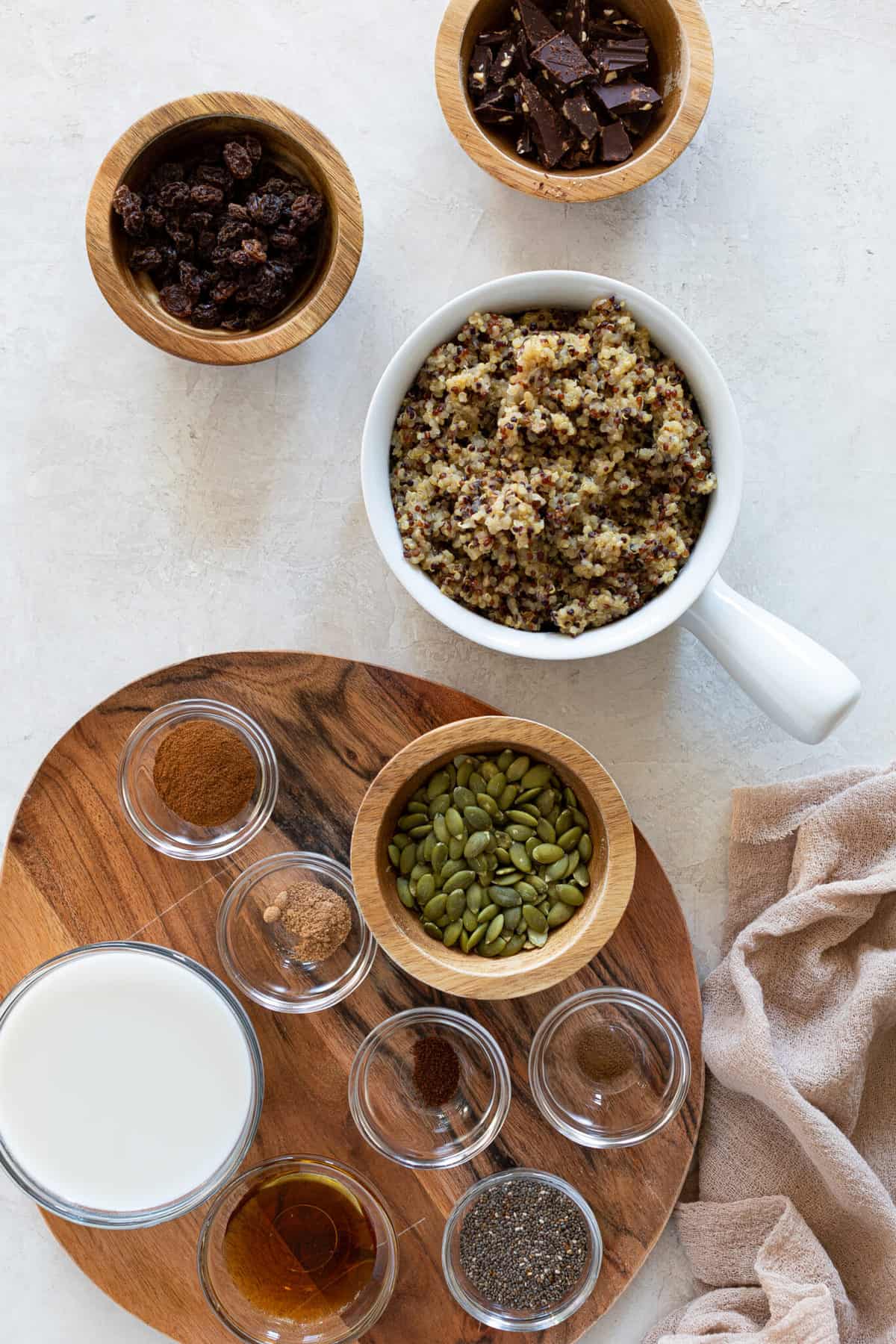 What Ingredients Are Used in this Bowl?
Here's what you'll need when making this delicious Quinoa Bowl:
Quinoa: This is a great ingredient for those who are on a gluten-free. Plus, it's one of the highest protein whole grains and is so easy to cook
Maple: A natural sweetener with bold sweet flavor
Spices: Cinnamon, Ground Cloves, Nutmeg, All spice – the best combo of Fall flavors that also brings a lot of comfort
Almond Milk: Makes things nice + soft; Sub with your fave plant-based milk
Peanut Butter: The nut butter that brings such bold flavor and nuttiness to everything
Chocolate: Adds such decadence to this bowl and pairs so well with the fall flavors
Chia Seeds: One of the best superfoods. They are generally rich in fiber, vegetarian protein, and heart-healthy fats
Pumpkin Seeds: A fresh fall addition that adds valuable nutrients. High in fiber and adds a beautiful crunch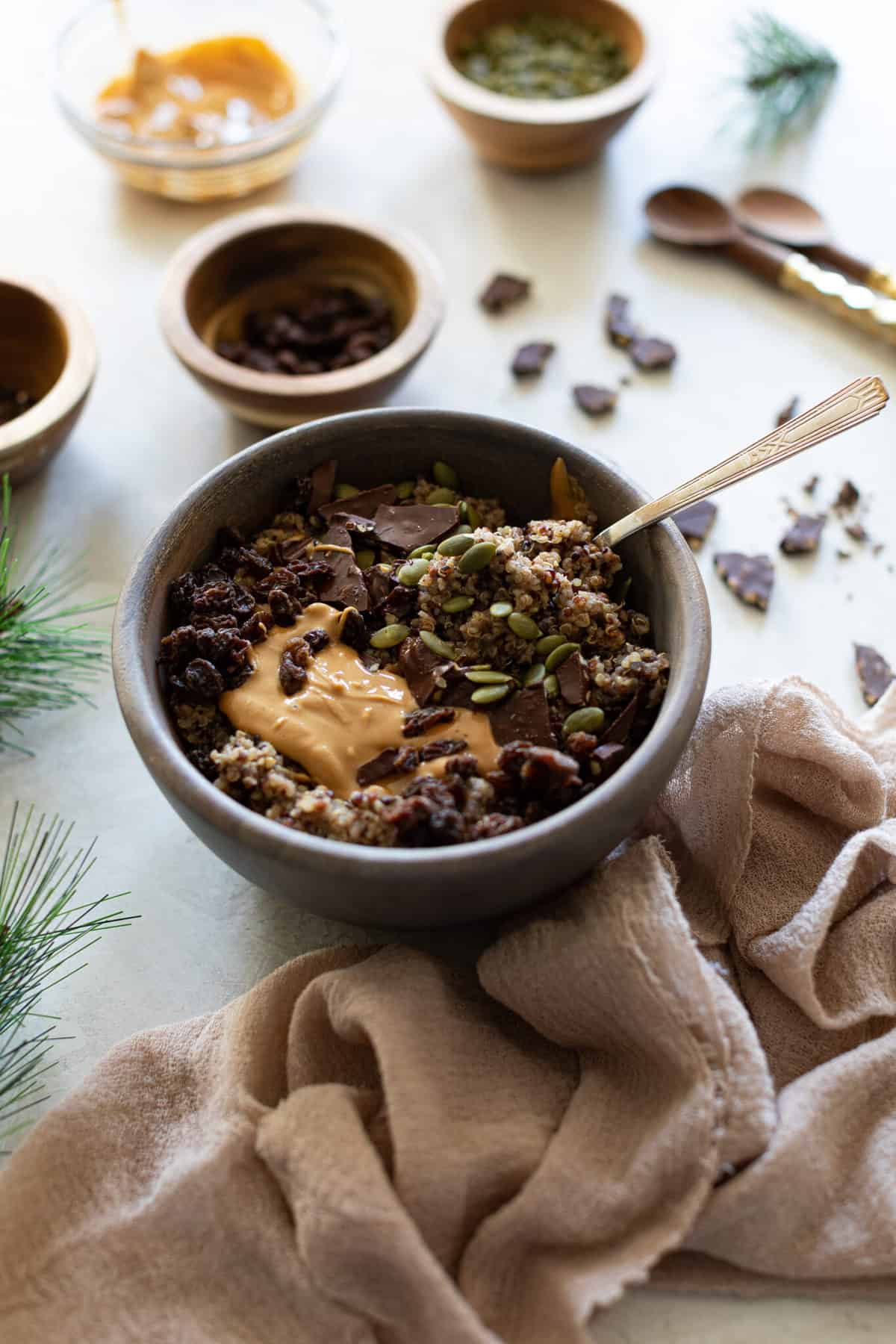 Why I Love using Maple Syrup or Agave as a Sweetener.
When it comes to both syrups, I often use them interchangeably, although I love to use pure maple syrup mostly. Agave is said to have a lower glycemic index, which makes it perfect for those with diabetes. On the other hand, pure Maple syrup has tons of antioxidants because it comes directly from a plant's sap.
LOOKING FOR A HEALTHIER SWEETENER OPTION?
The Best Healthy Sugar Alternatives + Substitutes list is all about finding better ways to enjoy your favorite sweets without compromising your healthy lifestyle. For those who follow a vegetarian and/or vegan lifestyle, this lists offers a few great ideas to incorporate healthy sweeteners into your diet.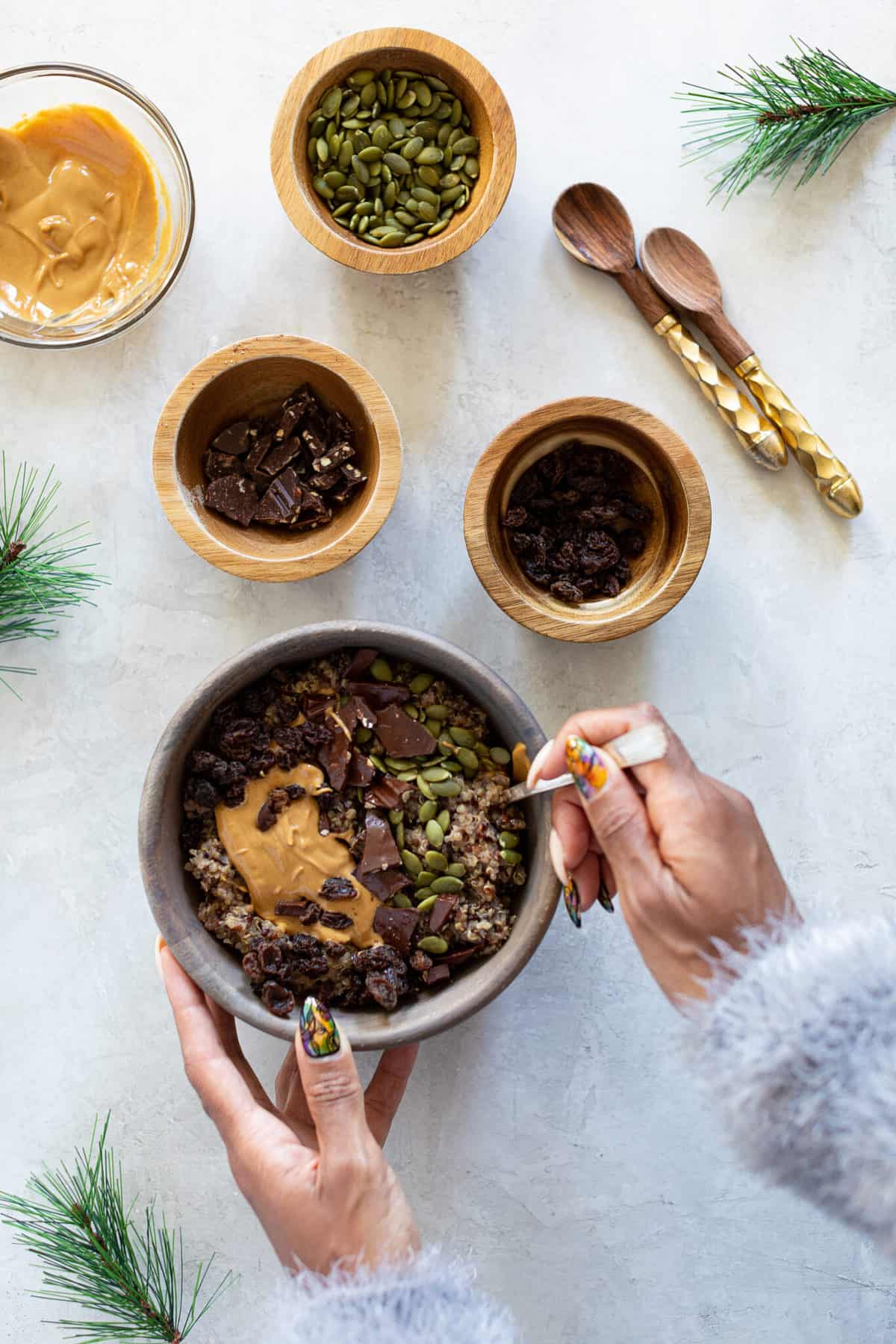 Tips to Making this Perfect + To Change Things Up.
To change things up, simply add other flavors such as juice of an orange, chai, pumpkin, vanilla, zest, or other extracts.
You can use any sweetener option you please—-Agave, maple syrup, honey, apple sauce, or another natural sweetener.
For additional nutrients, feel free to add flaxseed meal, chia seeds, etc.
Top with other caramelized fruit, dried fruit, nuts, cranberries, chocolate chips, or whatever you choose.
For Make-ahead meals or on-the-go, simply make this and store in a mason jar.
For a nice creaminess, add your favorite butters: peanut butter, almond butter, pecan butter, sunbutter, etc.
WHAT YOU'LL LOVE MOST ABOUT THIS RECIPE?
Super easy to make.
Totally vegan + gluten-free.
Whipped together in under 30 minutes—TOTAL!
Sweetness is adjustable based on tastebud preferences.
Everything made in ONE BOWL. Yup. How can it get any easier?
Delicious Fall flavors in every bite but also can be enjoyed during any season.
Completely customizable with the ingredients.
Did I mention that—THIS RECIPE IS AMAZING?!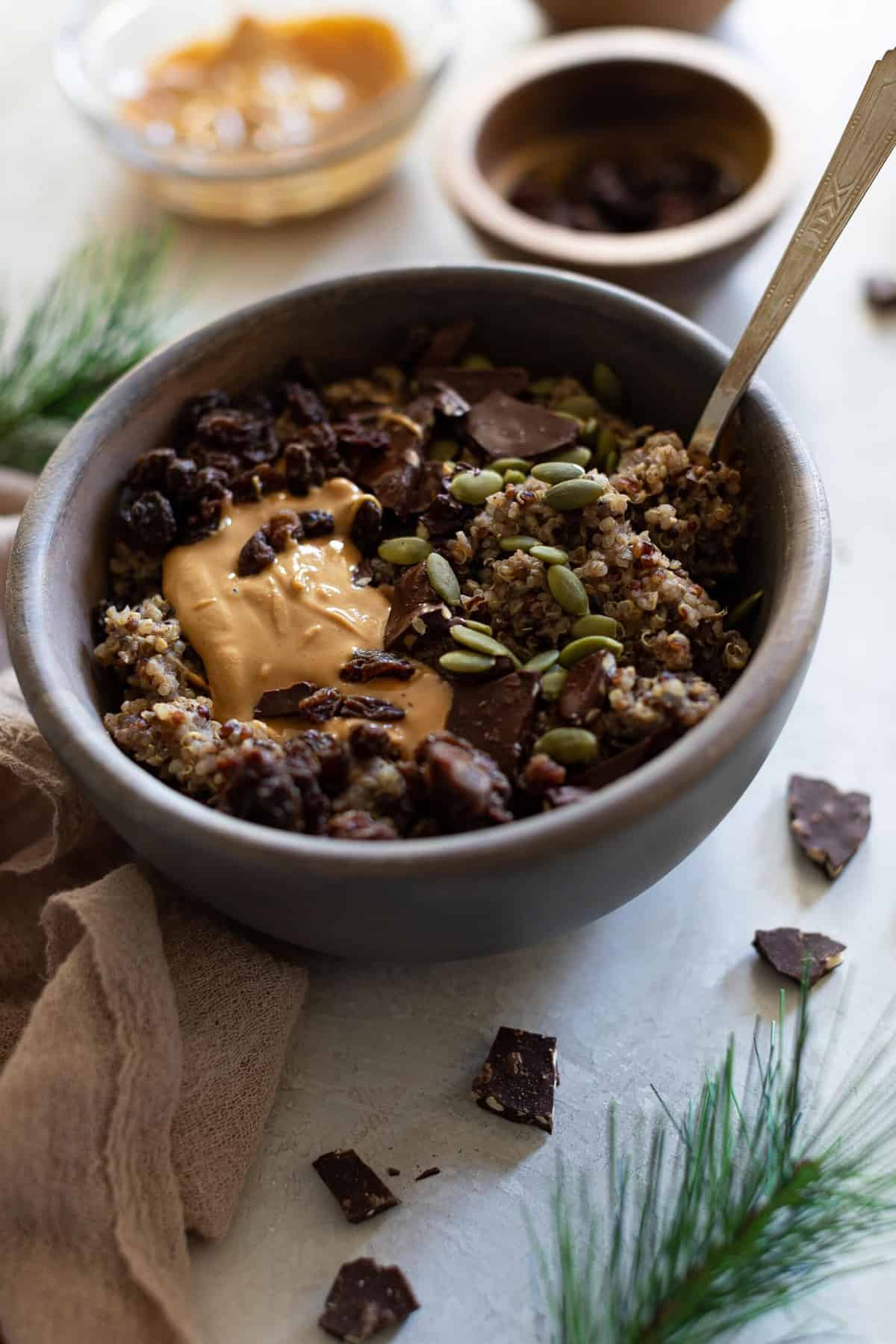 My Top Ways to Make Anything Quinoa.
These Fluffy Vegan Quinoa Pancakes + Cranberry are the best thing that you'll ever encounter for breakfast. In true Fall/Holiday fashion, these vegan pancakes come loaded with nutritious quinoa and topped with a sweet, tart cranberry sauce that adds a beautiful tasty combo. Completely easy to make and can be whipped together in just 30 minutes.
Black Bean + Quinoa Skillet Nachos — the perfect vegan + gluten-free meal for Meatless Mondays or Taco Tuesdays. This recipe comes loaded with crispy nacho chips, black beans, quinoa, onions, tomatoes, jalapeños—–all well seasoned with homemade taco seasoning and topped with a delicious vegan cashew-based queso sauce. Never spend another occasion or weeknight contemplating the best vegan dish that works for the entire family—-this is it! Easy to make and only a skillet is required!
This Savory Chickpea Quinoa Buddha Bowl is a healthy option for a quick lunch or dinner and comes packed with nutrients and works perfectly for meal prep. This bowl consists of quinoa, mashed sweet potatoes, carrots, broccolini, roasted chickpea, and drizzled with a creamy cashew sauce. This Buddha-styled meal is a great vegan + gluten-free staple for the entire family.
This Vegan Chickpea + Quinoa 'Meatballs' + Polenta recipe is truly something special. Loaded with savory, spicy and sweet flavors, these 'meatballs' made from veggies are moist, silky, and tender. This dish is the perfect meal for dinner for the family on any given day.
This Slow Cooker Quinoa Veggie Soup recipe is truly a delicious meal for those not so warm days. The warmth of great flavors and succulent taste of the individual veggies marrying together, makes this bowl of goodness completely irresistible. Loaded with quinoa, kale, tomatoes, carrots, onions, butter beans (great Northern beans); this recipe reminds you of the reason why eating your veggies (by themselves!) isn't such a bad idea after all.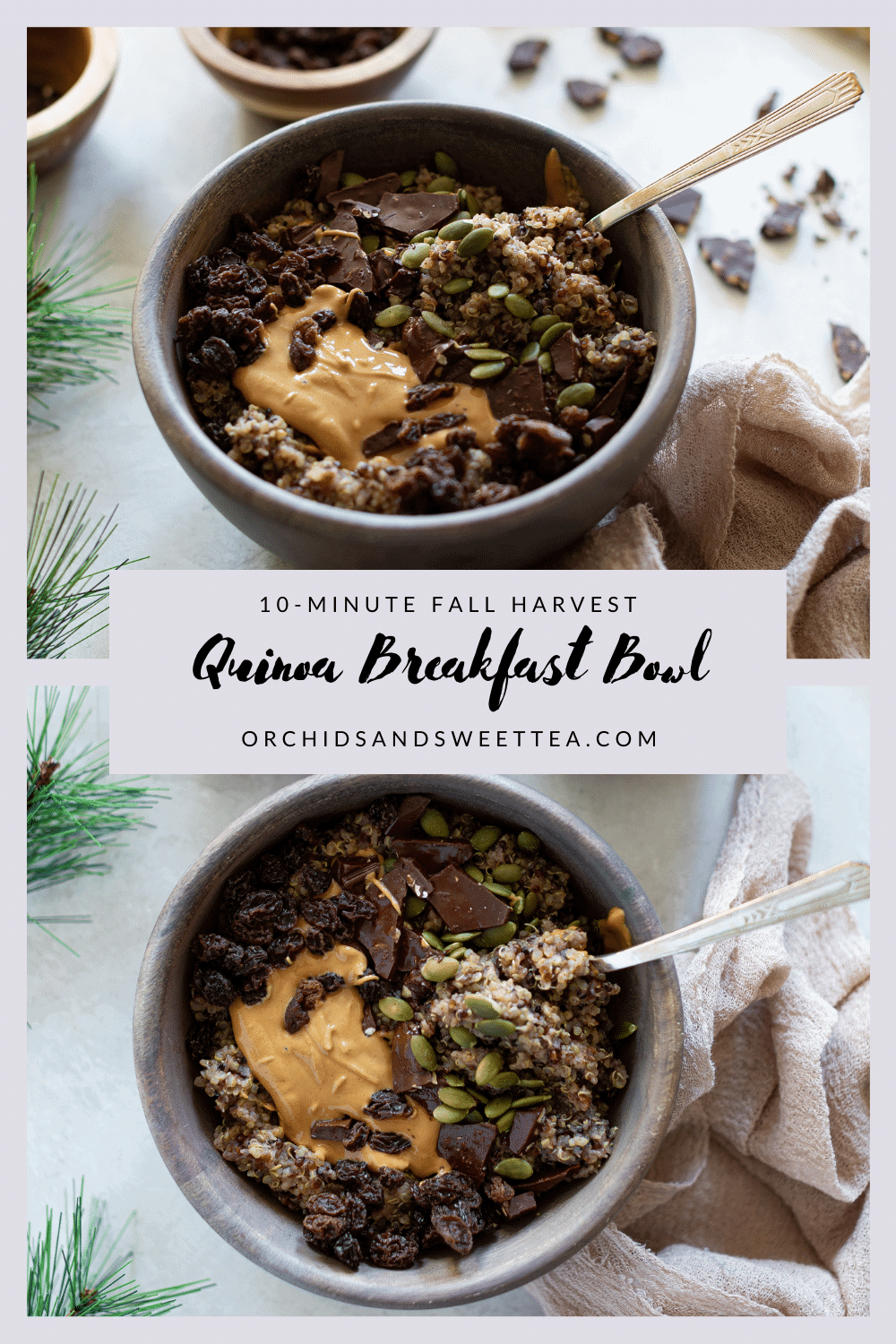 Toppings:
peanut butter, melted

pumpkin seeds

chopped chocolate

raisins
Add cooked quinoa, milk, maple syrup, chia seeds, spices to a medium pot on medium-high heat, stirring until well combined and everything begins to warm through.

Once quinoa has fully warmed through, remove from heat and portion quinoa into serving bowls and top with melted peanut butter, pumpkin seeds, chopped chocolate, raisins, etc.
STORAGE: Can be stored in the refrigerator for up to 5 days. Perfect for meal prep for the week! OVERNIGHT OPTION: Simply add all quinoa bowl ingredients (minus the toppings) to a bowl and mix together until combined. Tightly cover bowl with plastic wrap and refrigerate overnight (or at least 8 hours). Once ready to serve, heat everything together in a pot, serve in a bowl, and top with topping ingredients. MAKE AHEAD: All ingredients can be made and individually stored as meal prep  and assembled when ready to serve. SERVING: This recipe makes 2 servings. To make this for a bigger family, simply double all ingredients. QUINOA: Begin by cooking the quinoa in a medium pot of 3 cups boiling water OR veggie stock (for extra flavor), whisking continuously as it begins to boil. Add a pinch of sea salt and reduce heat to low and simmer (covering the pot with a lid) for 10-15 minutes, whisking every 3-4 minutes until fully cooked through, water has dried, and thickened. 
Calories:
368
kcal
|
Carbohydrates:
62
g
|
Protein:
11
g
|
Fat:
9
g
|
Saturated Fat:
1
g
|
Polyunsaturated Fat:
6
g
|
Monounsaturated Fat:
2
g
|
Trans Fat:
0.01
g
|
Sodium:
180
mg
|
Potassium:
437
mg
|
Fiber:
12
g
|
Sugar:
14
g
|
Vitamin A:
30
IU
|
Vitamin C:
0.5
mg
|
Calcium:
323
mg
|
Iron:
4
mg
10-Minute Fall Harvest Quinoa Breakfast Bowl.