This Baked Sticky Orange Cauliflower + Quinoa recipe is a deliciously healthy option for the entire family. At first glance, these beauties truly remind you of classic orange chicken (and trust me, they taste just as good, if not better!), however, they aren't! Just know that your taste buds won't be able to tell the difference either! Super easy to make and whipped together in under 45 minutes. Entirely Gluten-Free. Vegan option.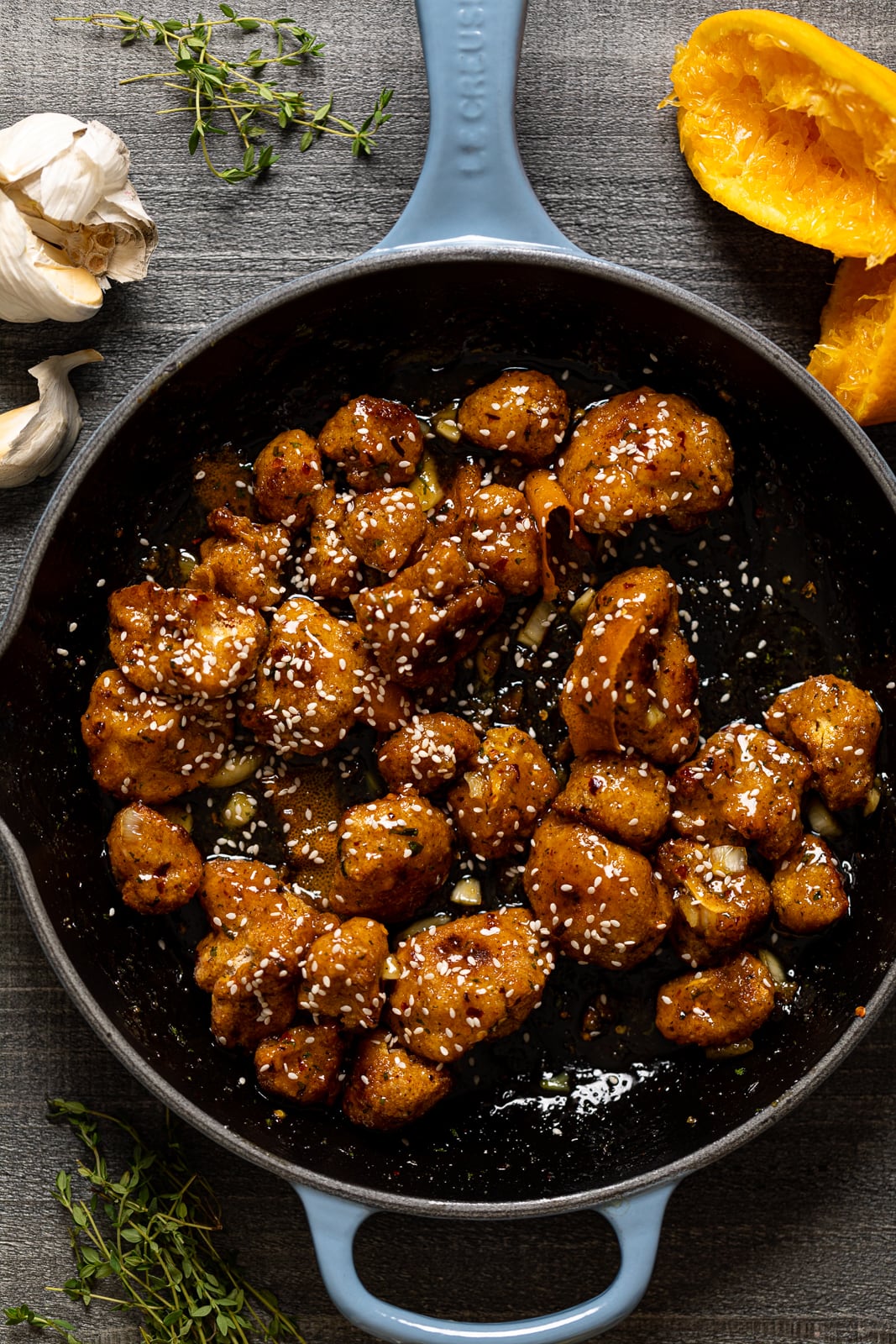 When it comes to this Baked Sticky Orange Cauliflower + Quinoa, I'm absolutely OBSESSED! They are just too good to not be, am I right?
Don't believe me? Let's take these Crispy Buffalo Cauliflower Bites for instance. They are a guaranteed showstopper! With a nice kick of spice coupled with a hint of sweetness from the BBQ sauce + Honey, these cauliflower bites are the perfect appetizer, snack, or addition to any entree. Vegan option available.
While this recipe showcases the same crispy deliciousness that is call cauliflower bites, the difference is in the amazing sauce----orange sauce. It's truly the most finger linking sauce I've made in awhile and if you're into sweet + savory flavor together---then this sauce is just the thing for you!
If you've been into orange chicken (EVER!), then you'll truly love this! It really does taste just as good as the classic thing!
Plus, I really enjoyed eating this with quinoa as opposed to rice. Granted, you can always use a healthier type of rice such as brown or wild, however, quinoa adds such a nice touch.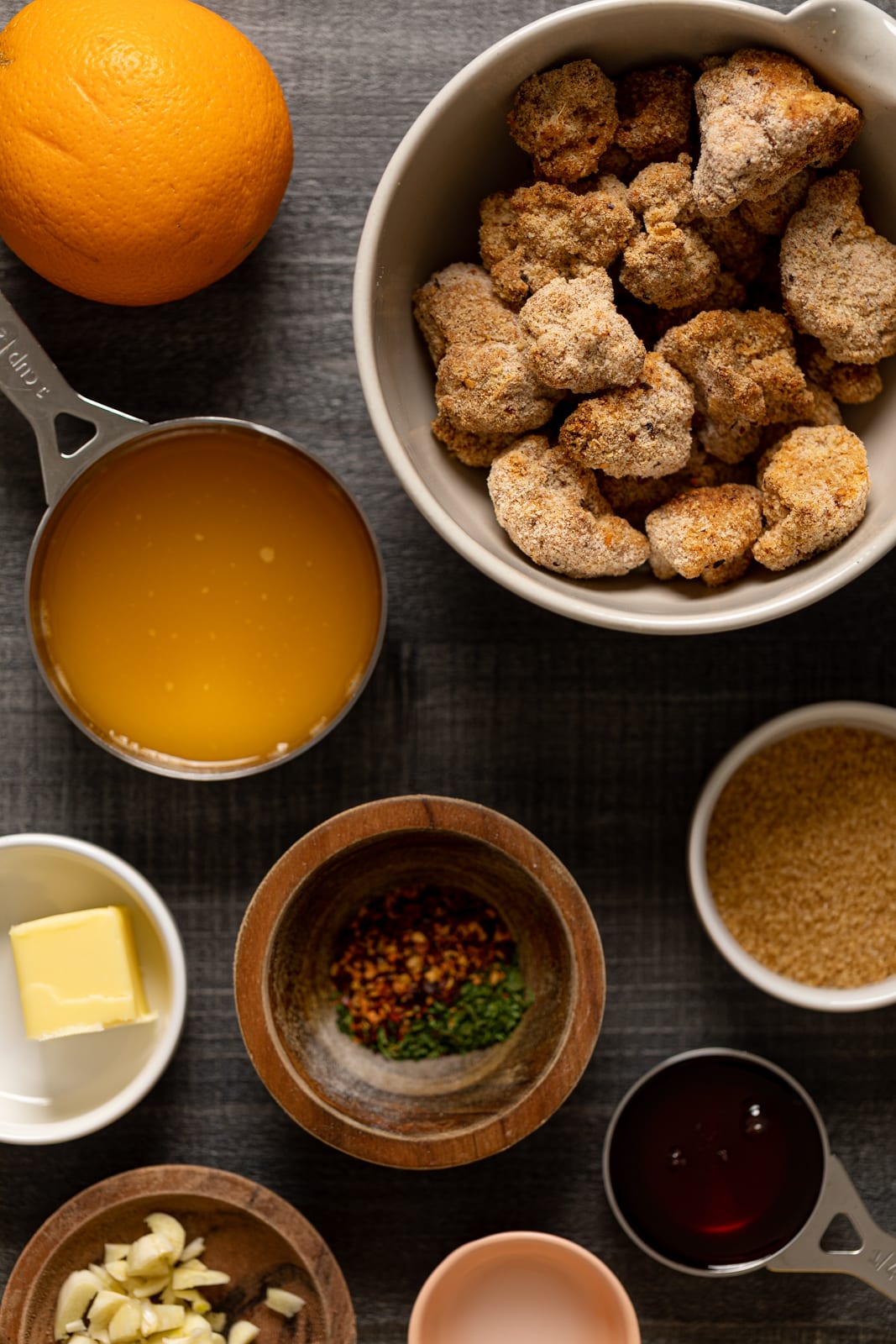 Why You'll Love this Orange Cauliflower + Quinoa
These cauliflower bites have a lot to love! 
They're super easy to make.
Extra crispy on the outside + soft on the inside.
They are completely dairy-free with a vegan option.
Super flavorful.
A nice balance of sweet + a pinch of spicy.
Perfect Spring, Summer, Fall or Winter vibes—–any season!
Bursting with orange flavor!
Great as an appetizer or side (cauliflower bites alone) or as a full meal like this recipe.
How to Make Orange Cauliflower + Quinoa
The best part about this dish is the crispy coating that is formed on these cauliflower bites. And these cauliflower bites do not disappoint. I talk more about tips to making these cauliflower bites nice and crispy, but let's talk about this delicious sauce. You'll need:
Filtered water. This gives the sauce additional liquid.
Unsalted butter. This adds additional flavor.
Brown sugar. This adds a nice glaze-like texture to the sauce. 
Freshly-squeezed orange juice. I love using actual oranges, but you can substitute with store-bought orange juice if needed.
Honey. For an alternate option, you can use agave or maple syrup.
Garlic. Fresh minced or grated garlic also works. 
Arrowroot starch. Works as a thickener for the sauce.
Red pepper flakes + fresh minced ginger. Use as much or as little spice as you like. 
Orange peels. For a nice burst of orange flavor. You can also use orange zest, if preferred.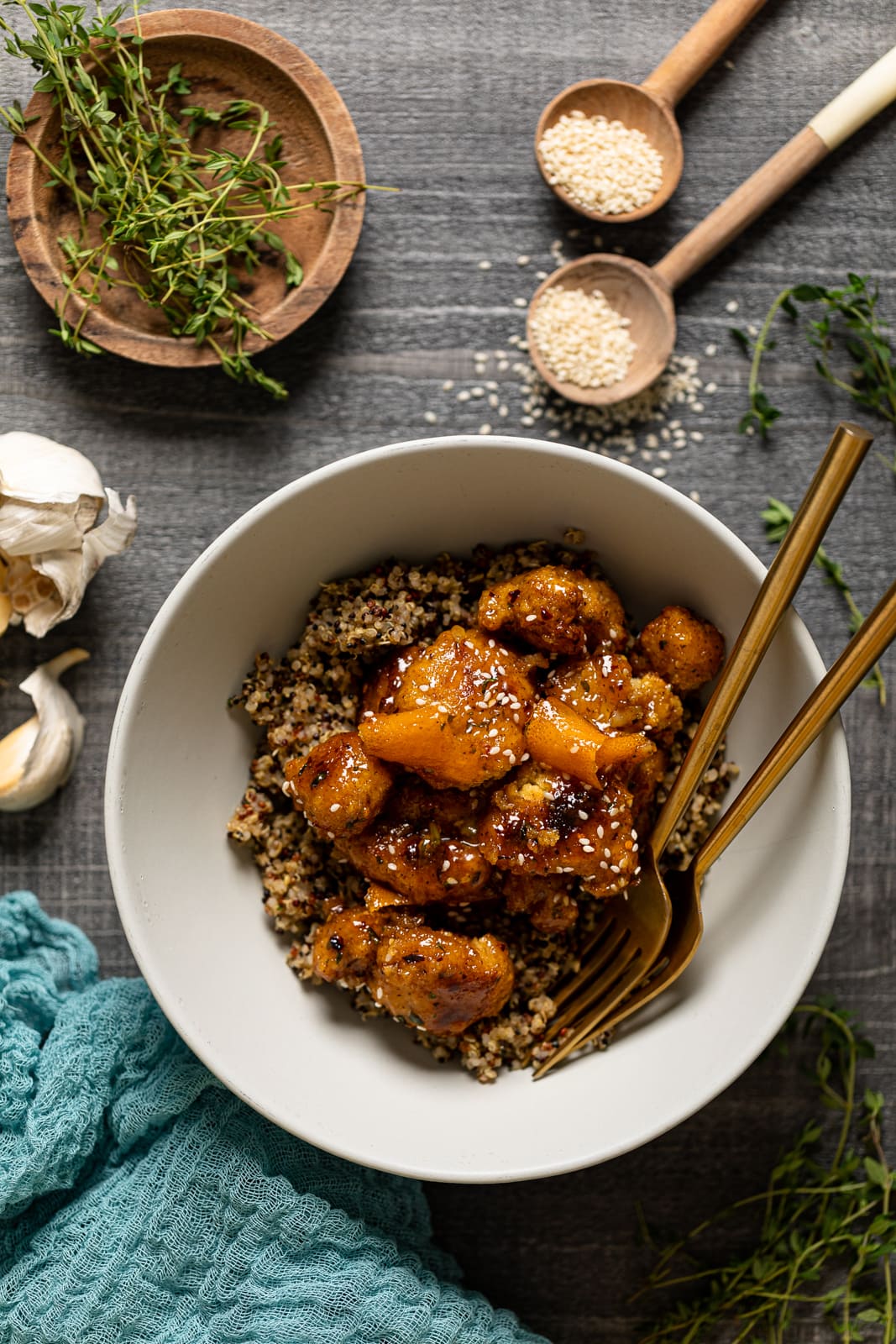 Orange Cauliflower Bites FAQs
HOW DO YOU THICKEN THE SAUCE?
It's important to thicken your orange sauce so it gets nice and sticky. Personally, I love using arrowroot starch. However, if you don't have this on hand, using other subs like all-purpose flour, regular cornstarch, or tapioca flour work just fine. Just be sure to always stir your thickener with warm water until it becomes a 'milky' liquid before adding it to the sauce.
CAN YOU ADD MORE ORANGE FLAVOR TO SAUCE?
Absolutely! If you're looking for an extreme burst of orange flavor, feel free to add orange peels into the sauce while it simmers. The fragrance and flavor of the orange peels will add more flavor. Just remove them before tossing in your bites if you don't want them to stay in.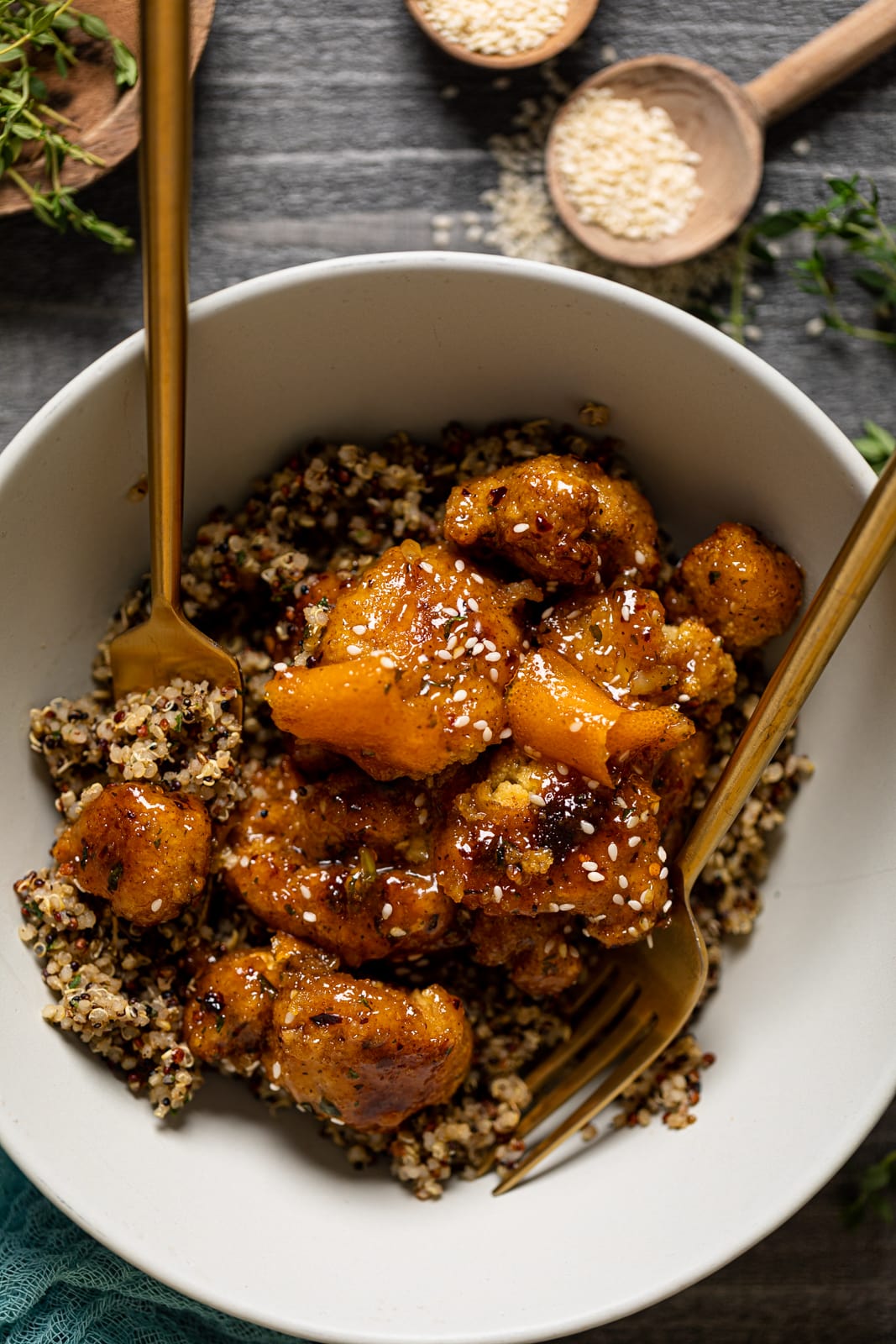 HOW DO YOU STORE LEFTOVERS?
Honestly, these little bites are best consumed the same day. However, you can always store them in a tightly sealed container in the refrigerator for up to 2 days. Simply reheat in the oven once ready to serve for best results.
HOW DO YOU GET THEM TO BE SO CRISPY?
OK, so this is often the #1 question that I get asked. My bites are crispy because of the flour batter that they are dipped in first followed by the breadcrumbs. Be sure to always shake off excess batter and use parchment paper on your baking sheet.
Once they are gently placed on your baking sheet, spray them lightly with oil spray before placing them in the oven and let them golden. They'll crisp up very nicely! And finally, for EXTRA crispness, add ground corn flakes to breadcrumbs.
DO I HAVE TO USE BROWN SUGAR?
Nope. It's easy to substitute brown sugar. For instance, try pure maple syrup. Although brown sugar caramelizes nicely, adding maple syrup will help with the stickiness.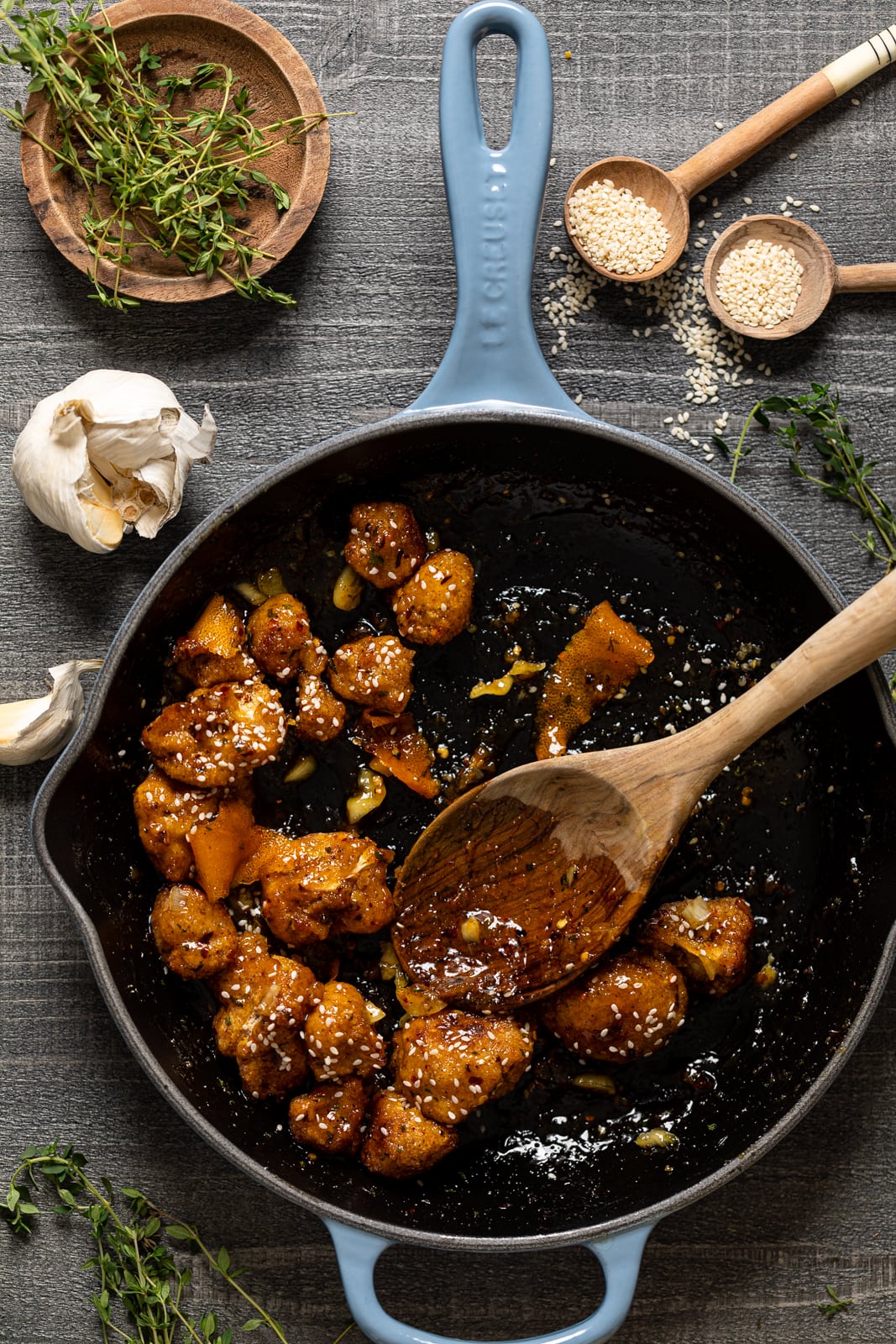 Hate Cooking Quinoa in Fears of it Being Bland in Flavor?
OK, so I've heard so many people talk about not really being a huge fan of quinoa because it has no taste or the taste is so bland.
Honestly, the KEY is to build flavor for every component of your dish so that together, the flavor is EXPLODING, including with your quinoa.
MY SECRET? Veggie stock or chicken stock (for non-vegan/vegetarian options). Yup. Instead of using water, I just substitute with some sort of stock, adding salt or whatever based on necessity. Trust me, your quinoa will NEVER BE THE SAME after this delicious trick.
Can I Make this Baked Sticky Orange Cauliflower + Quinoa Vegan?
Absolutely! To ensure that this recipe is fully vegan, substitute honey with pure maple syrup or Agave as well as butter with vegan butter.
More Easy Meatless Weeknight Meals
MADE OUR RECIPE(S)?
If you make this Baked Sticky Orange Cauliflower + Quinoa recipe or any other recipe from us, be sure to tag us on Instagram at #Orchidsandsweettea so that we can share the love!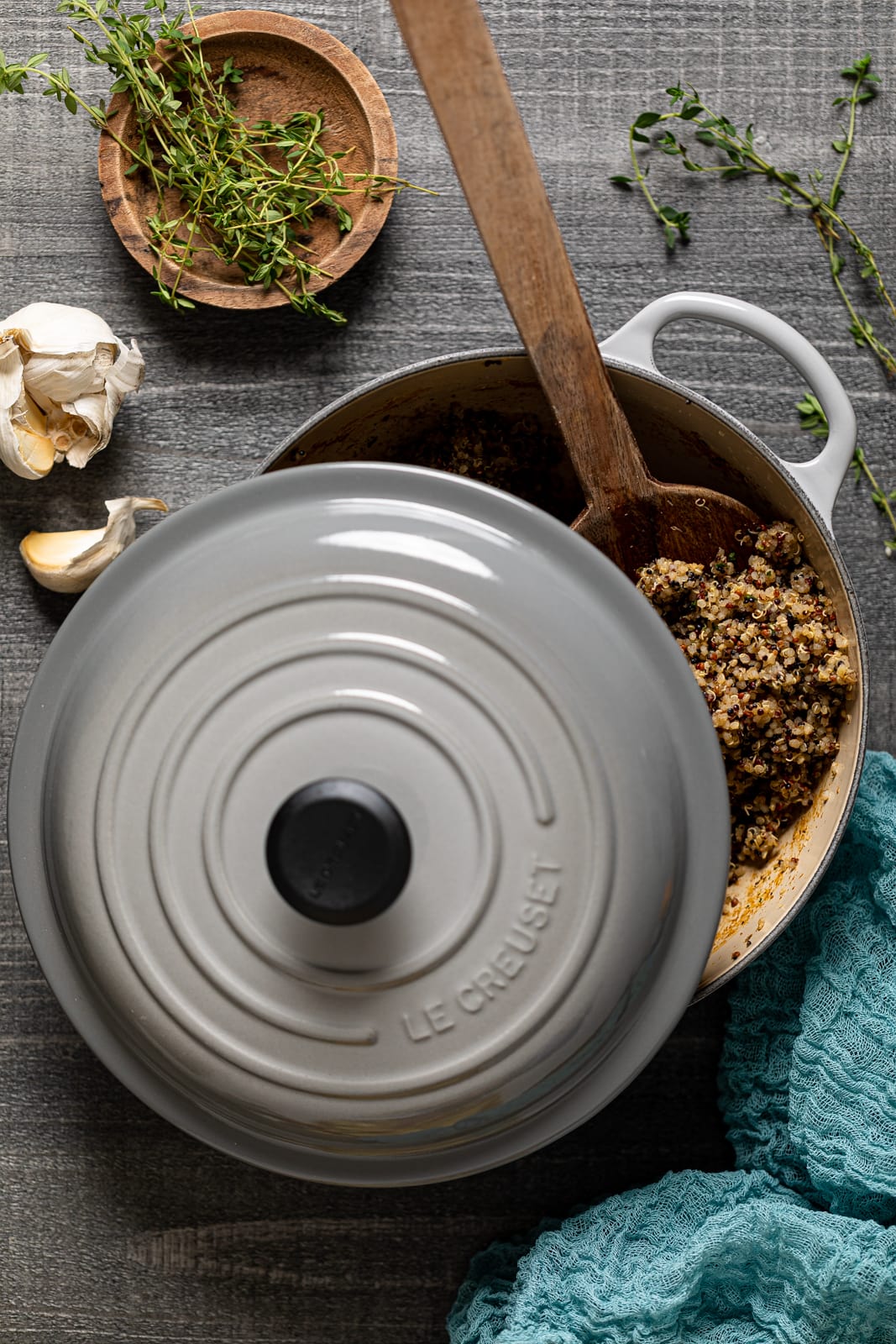 CAULIFLOWER BITES:
1

head of

Cauliflower, chopped in medium chunks

3

cups

bread crumbs, GF if needed!

(See Notes!)

¾

cup

organic all-purpose flour, GF-friendly

1

cup

Almond milk

¼

cup

raw honey

(See Notes for Vegan option!)

1

tablespoon

red pepper flakes

1

teaspoon

garlic powder

1

teaspoon

smoked paprika

½

teaspoon

sea salt + black pepper, each
ORANGE SAUCE:
2

Tbsps

 filtered water

1

tablespoon

unsalted butter

2

garlic cloves, minced

1

cup

freshly-squeezed orange juice 

(That's about 3-4 large oranges!)

¼

cup

raw honey

(See Notes!)

3

Tbsps

organic brown sugar

1

teaspoon

arrowroot starch + 2 Tbsps water

¼

teaspoon

minced fresh ginger

(See Notes!)

1

navel orange, peels only!
GARNISH:
Sesame seeds

Chopped green onions

(a.k.a. scallions)
TO MAKE THE CAULIFLOWER BITES:
Preheat your oven to 450 degrees Fahrenheit and line your baking sheet with parchment paper. NOTE: Doing this step is a MUST to prevent sticking.

In a medium bowl, add the milk, flour, honey, garlic powder, salt, black pepper, smoked paprika, and red pepper flakes, and whisk together until fully combined. Set aside.

In a separate bowl, add bread crumbs and set aside also. 

Now, dip each cauliflower into batter (shaking off any excess) and then toss into bread crumbs. Then lay each cauliflower side by side on the baking sheet (about an inch apart). Repeat until all cauliflower are coated.

Bake for 30-35 minutes or until golden brown and "crunchy" looking. NOTE: If not crispy enough, turn on broil and bake for another 5-10 minutes.
TO COOK THE QUINOA:
Begin by adding the veggie stock and salt to a medium saucepan over medium-high heat until it begins to boil. Add in the quinoa, whisking continuously while boiling for 1-2 minutes. Reduce heat to bring to a simmer for 10-15 minutes, whisking every 3-4 minutes until fully cooked through, and water has dried, and the quinoa has thickened and appear "fluffy". Stir in the garlic powder, dried oregano, parsley, and smoked paprika. Remove from heat.
TO MAKE THE ORANGE SAUCE:
In a saucepan over medium-high heat, combine the butter, garlic cloves, orange juice, honey, brown sugar, red pepper flakes, minced ginger, water, and orange peels and let it simmer for 2-3 minutes, until bubbly stirring occasionally. Reduce the heat to low and add the arrowroot mixture (mix both together until "milky" looking) stirring until the sauce begins to thicken. Remove from heat.

Spoon the sauce atop cauliflower bites and let them bake for another 5-6 minutes or until the sauce is "sticky" atop bites. Garnish with seseam seeds, if desired.

Remove the cauliflower bites from the oven.

To serve, spoon the cooked quinoa is a bowl or plate and top with orange cauliflower bites. Garnish with green onions or parsely.

Bon Appetit!
STORAGE: Best if consumed within the same day. Store leftovers in a tightly sealed container in the refrigerator for up to 2 days. Reheat in oven when ready to serve.
HOMEMADE GF BREADCRUMBS: To make your own breadcrumbs, simply grind 1-2 cups of cubed GF bread into a food processor until finely chopped. Place crumbs onto a parchment lined baking sheet and spread out evenly. Bake for 5-6 minutes in the oven set at 350 degrees Fahrenheit, stirring occasionally. Once brown + crisp, remove from oven and let cool. Continue recipe steps and store remaining breadcrumbs in a tightly sealed container. 
SWEETENER: Instead of brown sugar, you can always use maple syrup or agave as a sweetener.
GINGER: If you do not have actual ginger root,  you can substitute for ¼ teaspoon ground ginger instead.
EXTRA ORANGE FLAVOR: For a bolder flavor, you can add orange peels to sauce when bringing everything to a boil. Keep it in the sauce and remove them after tossing in cauliflower bites.
VEGAN OPTION: To ensure that this recipe is fully vegan, substitute honey with pure maple syrup or Agave as well as butter with vegan butter.
Calories:
839
kcal
|
Carbohydrates:
165
g
|
Protein:
24
g
|
Fat:
12
g
|
Saturated Fat:
3
g
|
Polyunsaturated Fat:
4
g
|
Monounsaturated Fat:
3
g
|
Trans Fat:
0.1
g
|
Cholesterol:
8
mg
|
Sodium:
1521
mg
|
Potassium:
1080
mg
|
Fiber:
14
g
|
Sugar:
59
g
|
Vitamin A:
1562
IU
|
Vitamin C:
101
mg
|
Calcium:
329
mg
|
Iron:
9
mg
Baked Sticky Orange Cauliflower + Quinoa.