Get ready to tantalize your taste buds with a finger-licking delight: Extra-crispy Spicy Orange Chicken Wings! These wings are the ultimate crowd-pleaser, combining a homemade orange sauce with the perfect balance of hot sauce and honey flavors that'll have you craving more after each bite. Plus, their juicy center will leave you wanting to savor every moment. Whether you're hosting a gathering with friends or simply treating yourself, these wings are the perfect appetizer or main meat that can be served with your favorite sides. Completely Gluten-free + Air Fryer Option.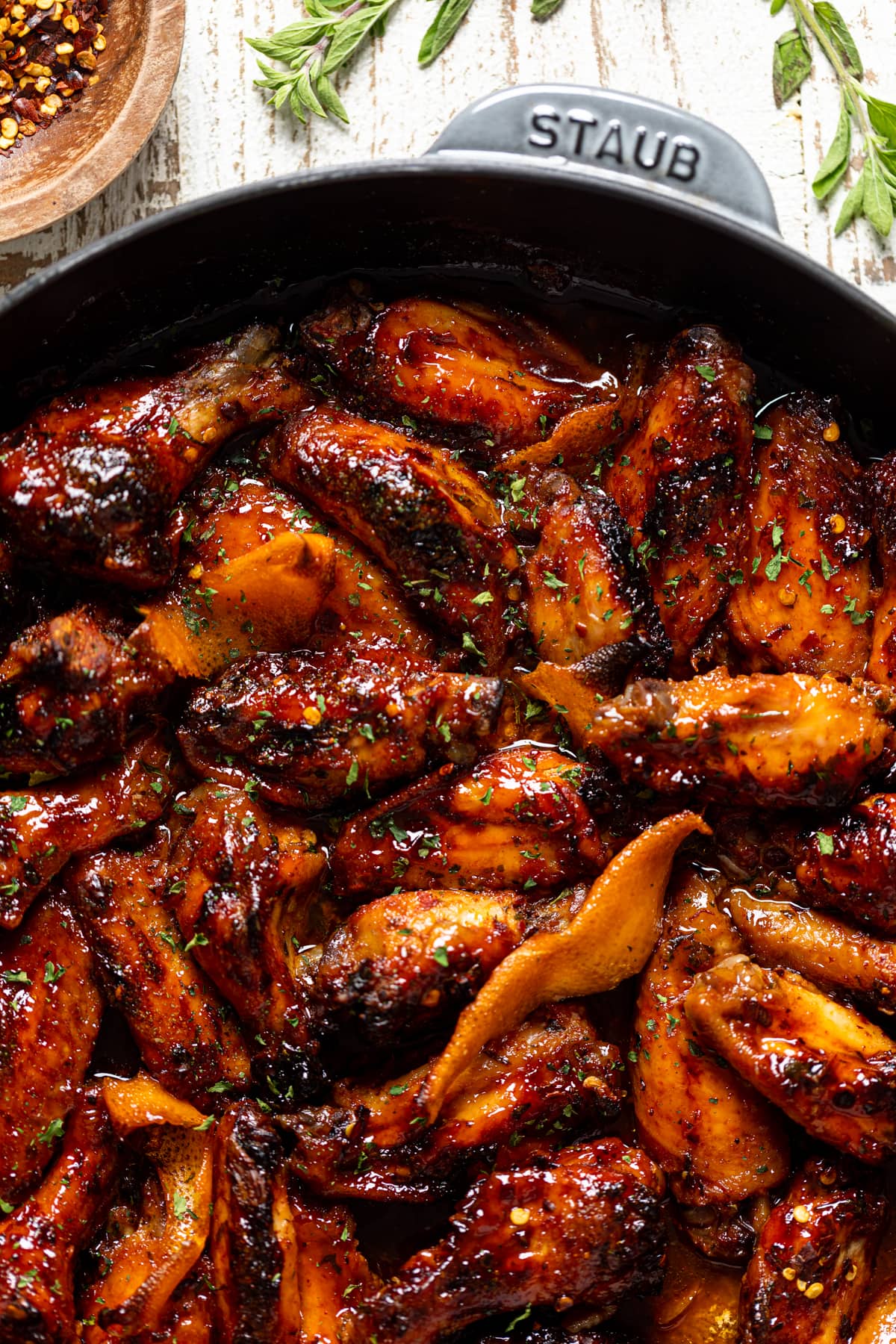 Why Spicy Orange Chicken Wings?
Can I be honest, ya'll? These Spicy Orange Chicken Wings are my latest obsession, and I truly love the citrus twist that comes with these savory bites. While traditional buffalo wings like these Classic Oven Baked Buffalo Wings or Crispy Buffalo Popcorn Chicken, are a crowd-pleaser, adding orange to the mix truly takes things to the next level.

I couldn't be more excited to share this recipe with you all and be rest assured that these Spicy Orange Chicken Wings are super easy to make, the perfect blend of sweet + savory with a citrus pop, and can be done in both the oven or air-fryer, and is the perfect addition to so many meals. You won't be disappointed, and I promise that everyone will be going for a round of seconds and thirds.

Plus, if you're a fan of chicken wings in general, then you must try these Baked Jamaican Jerk Chicken Wings, Sticky Gochujang Chicken Wings, and even these Lemon Pepper Cauliflower Wings and Crispy Buffalo Cauliflower Wings/Bites for all of my meatless-loving peeps!
Jump to: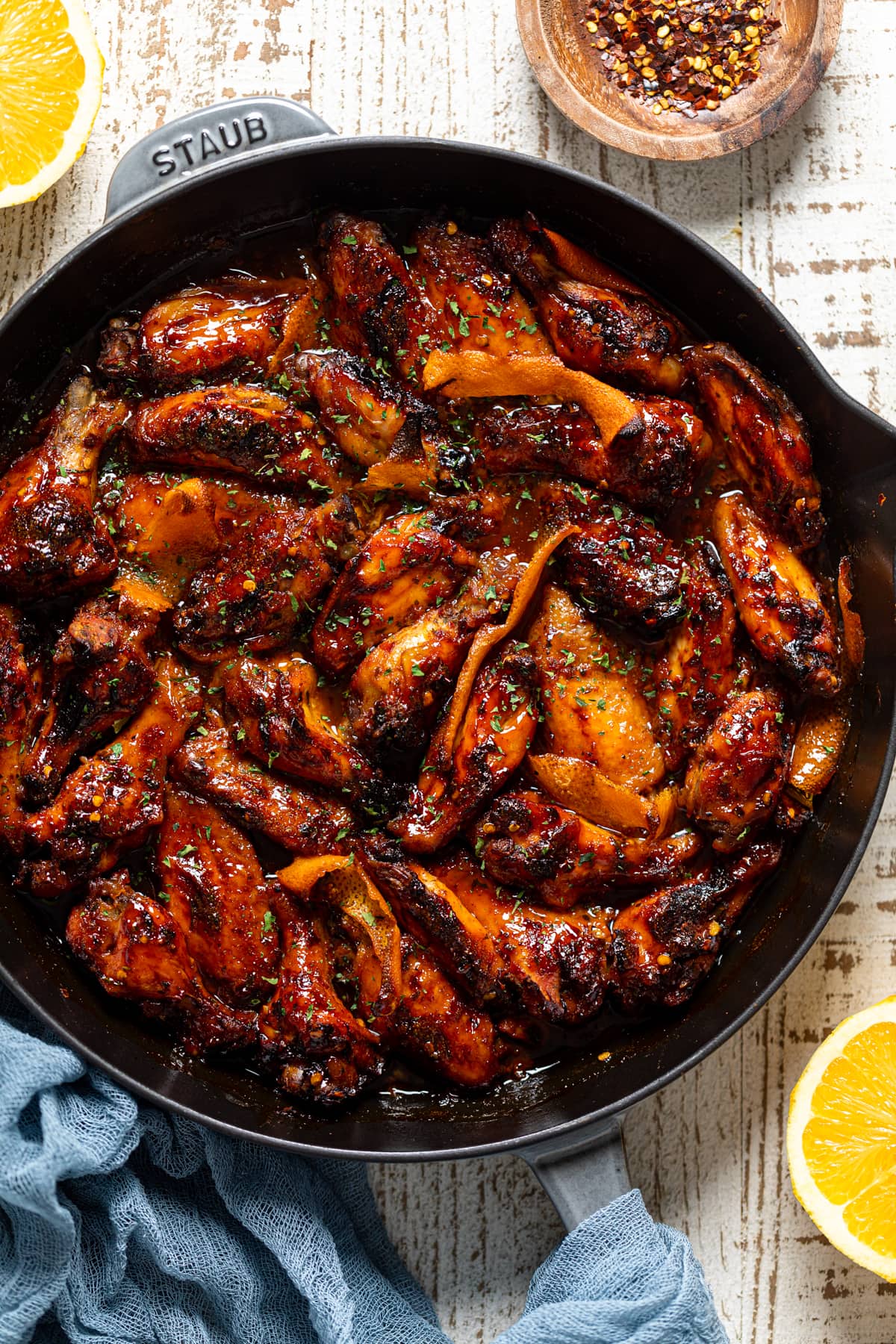 How to Make the Crispiest Spicy Orange Chicken Wings
The best part about any wings is the crispy coating that is formed without an "actual coating." And these wings do not disappoint. I talk more about tips for making these wings nice and crispy, but let's talk about this delicious sauce. You'll need:
Filtered water. This gives the sauce additional liquid.
Unsalted butter. This adds additional flavor.
Brown sugar. This adds a nice glaze-like texture to the sauce.
Freshly-squeezed orange juice. I love using actual oranges, but you can substitute with store-bought orange juice if needed.
Honey. For an alternate option, you can use agave or maple syrup.
Garlic. Fresh minced or grated garlic also works.
Arrowroot starch. Works as a thickener for the sauce.
Red pepper flakes + hot sauce. Use as much or as little spice as you like.
Orange peels. For a nice burst of orange flavor. You can also use orange zest, if preferred.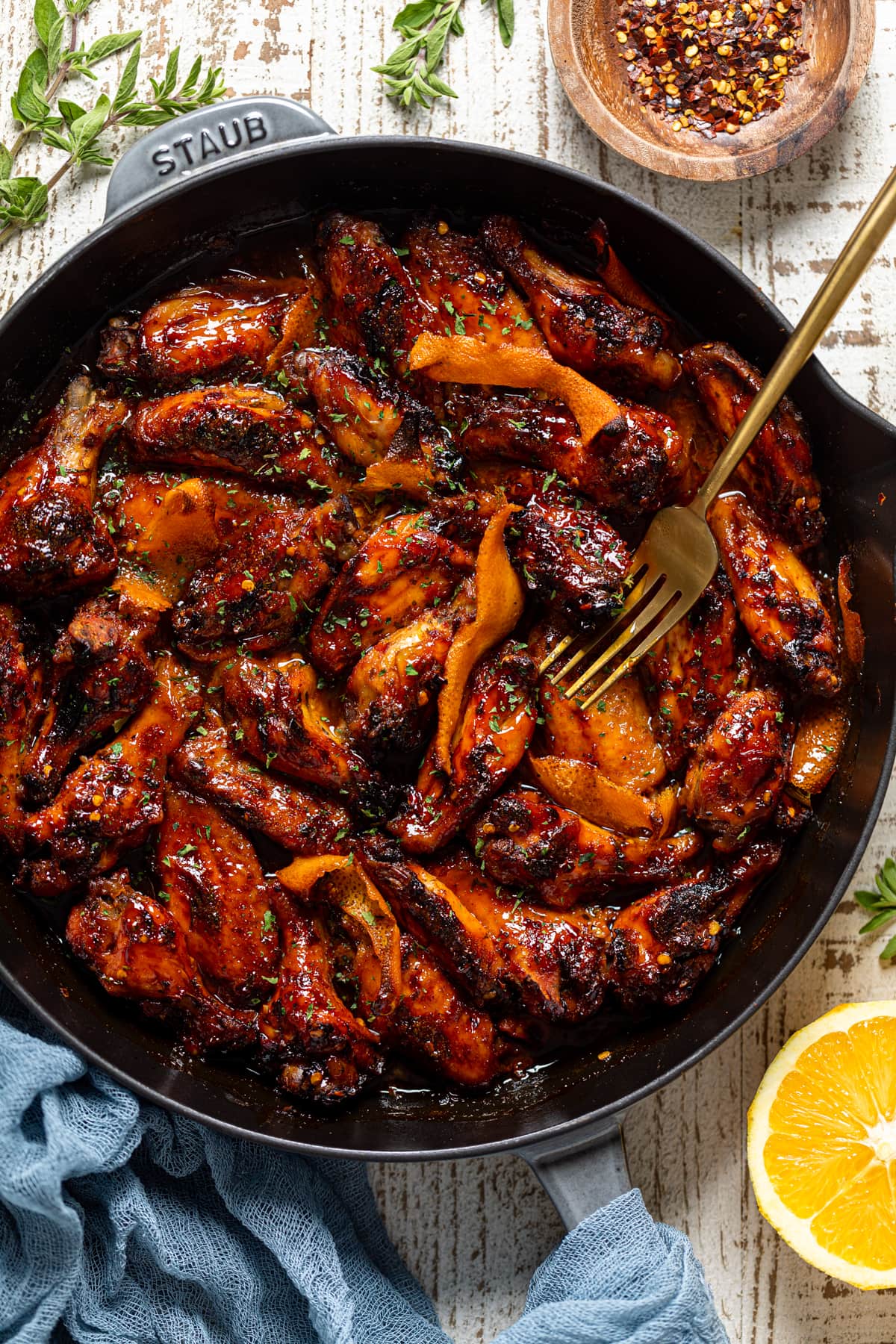 Using Fresh Oranges VS. Orange Juice For The Sauce
If you have the time and opportunity, using fresh oranges for the sauce is definitely the way to go. There's something magical about squeezing those juicy oranges and infusing the sauce with that natural sweetness and zesty goodness. It'll take your Spicy Orange Chicken Wings to a whole new level! But hey, life can be hectic, and sometimes we need shortcuts. If you're in a pinch, quality orange juice without any added sugars or weird stuff can still do the trick.
What Are The Two Types of Wings?
When it comes to wings, there are two types: Drums (a.k.a. drumettes) and flats (a.k.a. wingettes). The drums actually look like miniature chicken legs and have one single bone in the middle surrounded by meat, whereas the flats are "flat" and contain two smaller bones that runs the length of the wing.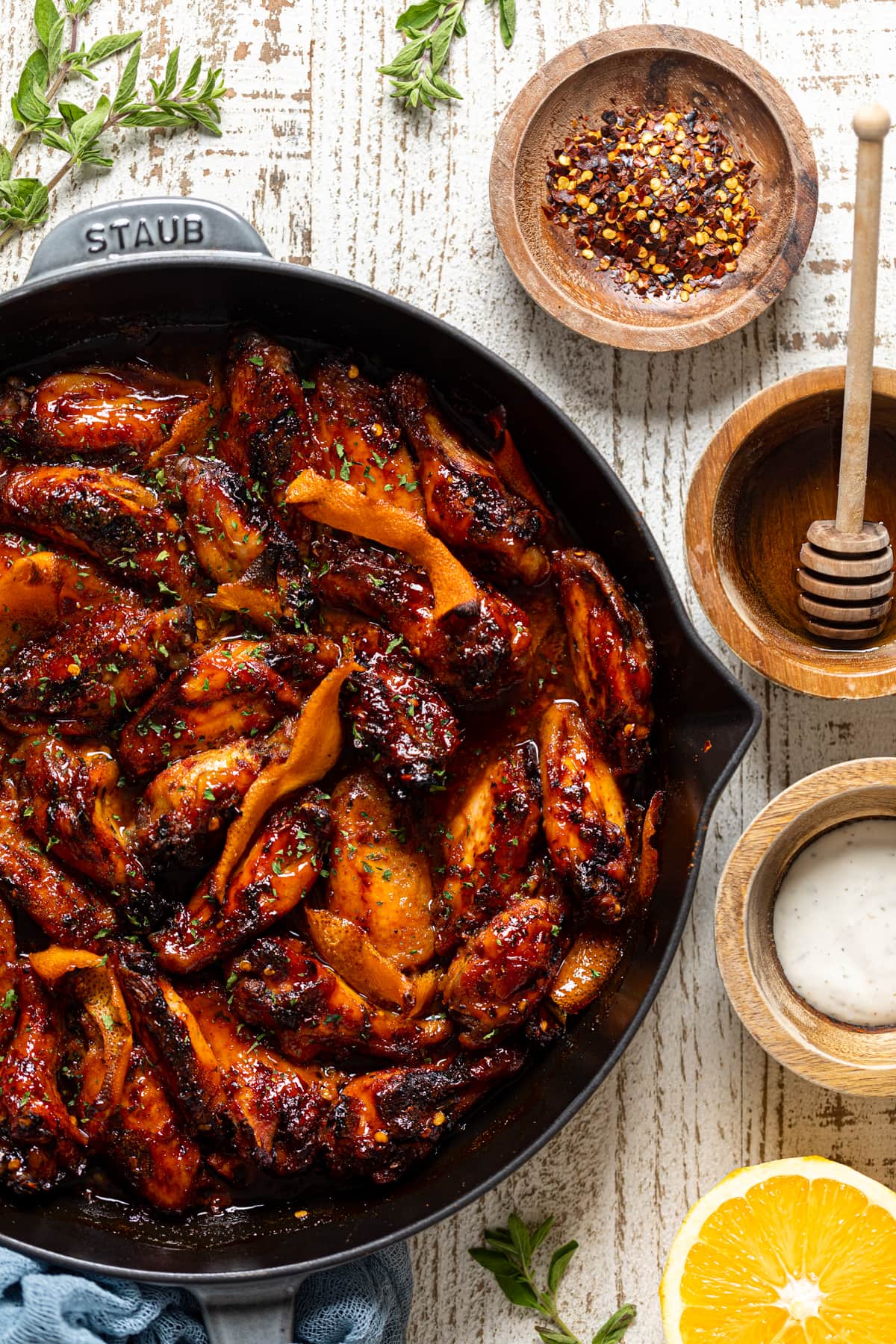 Why You Will LOVE These Spicy Orange Wings!
Versatile snack, appetizer, or side option.
Boasts of a great dairy-free + gluten-free option.
Zesty, spicy, and bold flavor combo.
The perfect crispiness on the outside + juiciness on the inside!
Addictively tasty + irresistible for the entire family.
What to Serve With Spicy Orange Chicken Wings
They're just perfect with anything, and I know that I might be biased because of my absolute LOVE for chicken wings as a whole. Haha. Although these wings make for the perfect handheld appetizer, I also love making these wings during the week along with my favorites like-

Grain/buddha bowls: Create a delicious Buddha bowl with all your favorites grains and vegetables, like this Easy Green Goddess Buffalo Chicken Bowl or this Healthy Pesto Buddha Bowl
Salads: Pair with a refreshing salad like Roasted Cauliflower Green Goddess Salad for a light and vibrant accompaniment.
Loaded Fries: Create a more indulgent treat by serving the wings with a side of loaded cheesy fries or sweet potato wedges. Try these BBQ Quinoa Taco Fries and Learn How To Make THE BEST crispy seasoned French fries
Coleslaw: Balance the heat with a side of creamy coleslaw, offering a delightful contrast of textures and flavors.
Garlic Bread: Elevate your wing experience with a plate of steaming hot garlic bread like this Cheesy Kale Garlic Bread or this Vegan Garlic Naan Bread, perfect for soaking up the delicious orange sauce.
Rice or Quinoa: Consider serving the spicy wings with a side of sticky jasmine rice or this Vegan Quinoa Fried Rice to absorb the flavors and provide a fulfilling base.
What Dips Go Well With Spicy Orange Chicken Wings?
These orange wings are full of flavor all on their own. But who doesn't love to dunk and dip?
Serve your wings with any (or all) of these tasty condiments:
Salsa verde
More hot sauce!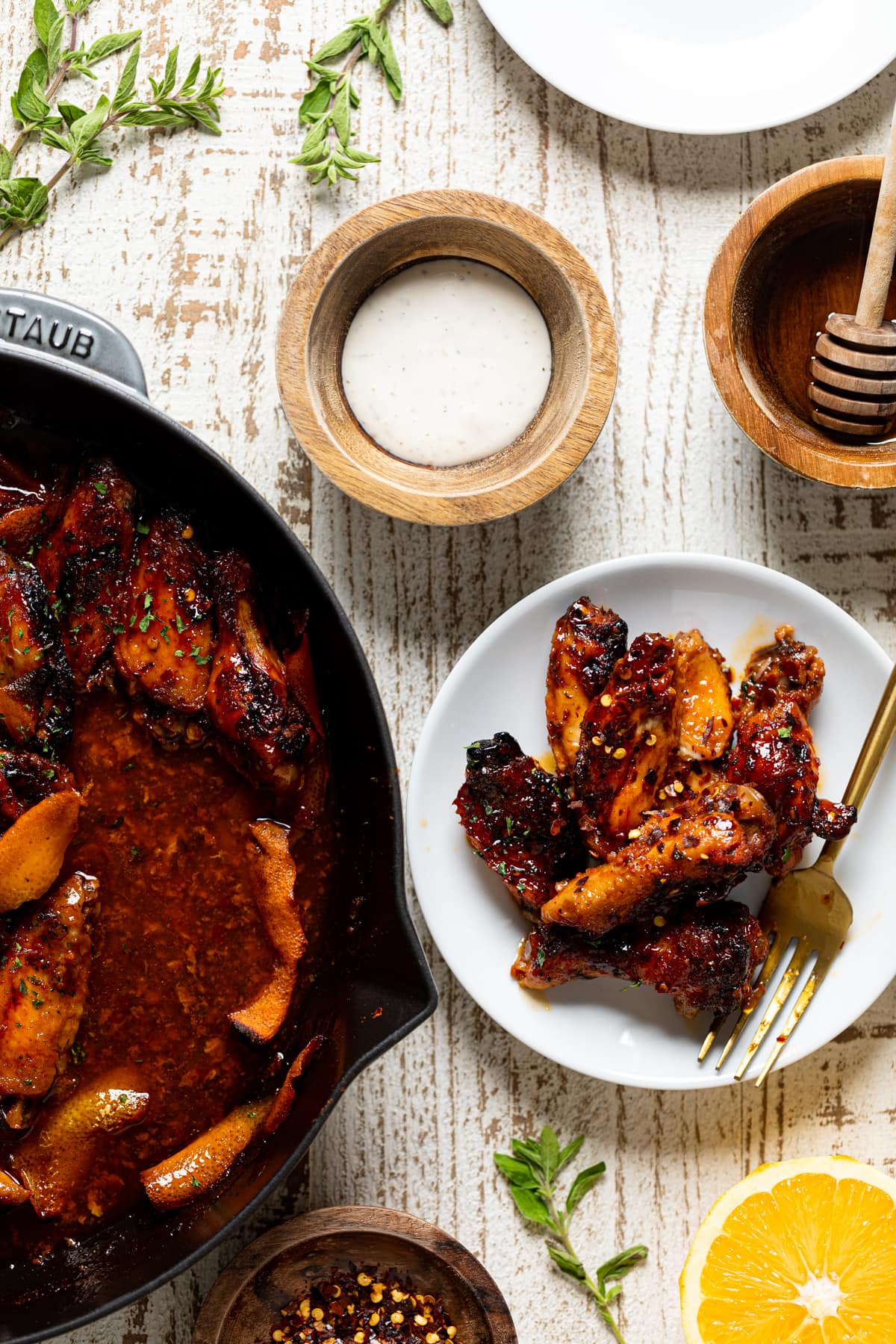 Tips + Tricks to The Crispiest Chicken Wings
To make sure your wings get as crispy as possible without needing an actual "coating", follow these simple tips:
Make sure each wing has plenty of space on the baking sheet. The airflow helps things crisp up.
When using a baking sheet, add a wire rack atop the parchment paper so that wings can crisp up nicely on all sides.
Cook wings until crisp prior to adding sauce so that they have minimal liquid.
After rinsing your wings, be sure to pat dry completely until they are as dry as possible.
Baked Buffalo Wings VS. Air-Fried
Of course, both methods of making these spicy orange chicken wings are effective. However, if you're wondering whether you'd be able also to make these wings in an air-fryer—-then yes! Absolutely!
Simply do all steps the same and cook them in your air-fryer for the amount of time needed and space them out. As you know, this recipe is for baked wings and honestly, they're just as crispy as using them in the air fryer (especially when you use a wire rack), so the choice is yours!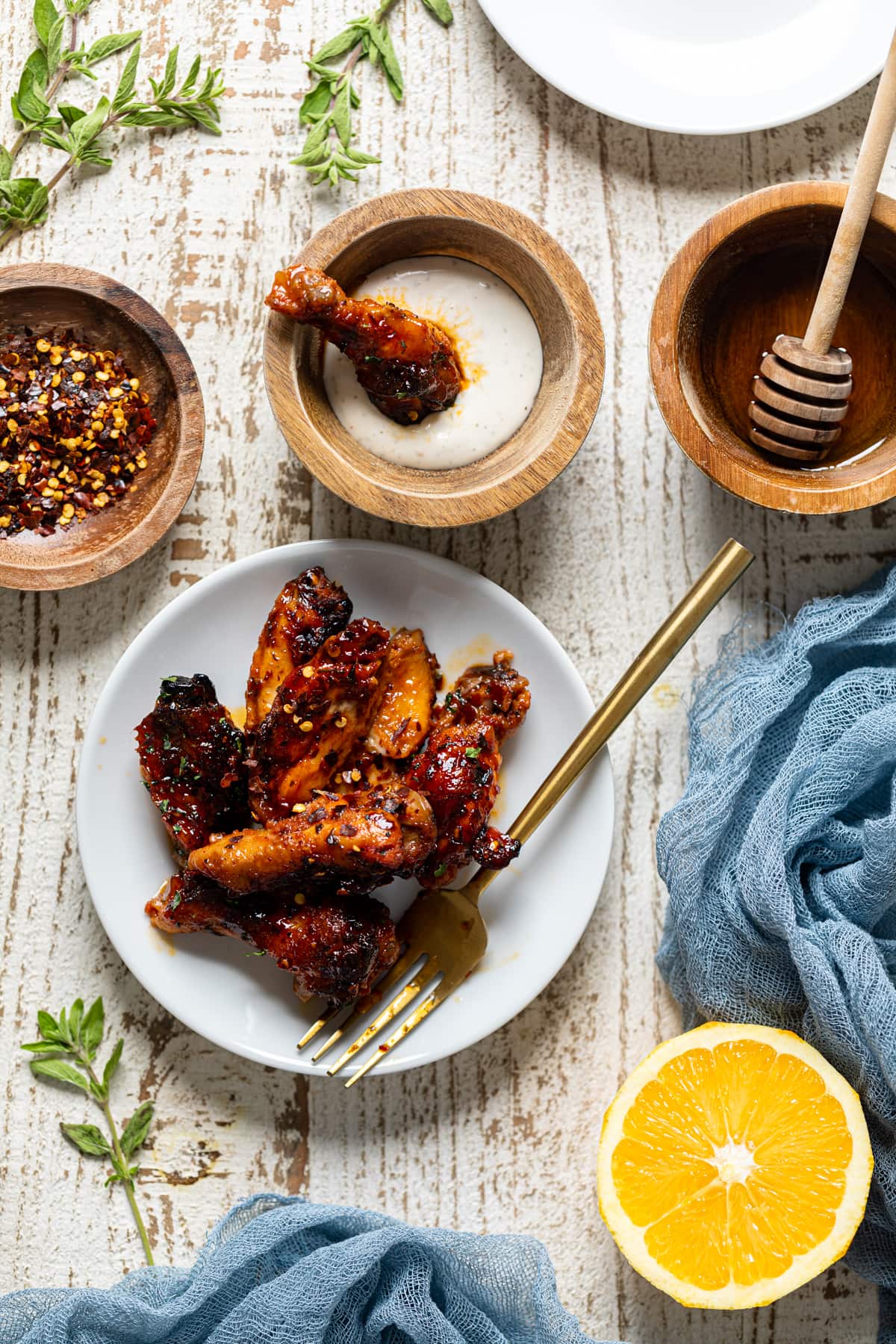 Spicy Orange Chicken Wings Q + A's
How Do You Store + Reheat These Spicy Wings?
Any leftovers can be kept in a tightly sealed container and refrigerated for up to 3-4 days. Reheat in the oven at 375 degrees Fahrenheit or microwave when ready to serve.
Are These Wings Too Spicy For Those Who Prefer Milder Flavors?
While they do have a spicy kick, the heat level can be adjusted to suit individual preferences. You can control the spiciness by reducing the amount of hot sauce used in the orange sauce or opting for a milder hot sauce variant.
Can I Make These Orange Wings Dairy-free?
Yes! To make these wings dairy-free, simply substitute the butter with vegan butter and opt for another sweetener option such as maple syrup or agave.

How Do You Make The Orange Sauce Stick To The Wings?

The most effective way to get the sauce to stick to your wings is by baking the sauce on. Once your wings are fully baked + crispy, simply make the sauce in the skillet, toss them in the sauce, and add them back to the baking sheet with the wire rack and broil them for 5 minutes or so, until the sauce sticks.
Why Add Butter To Spicy Orange Sauce?

Honestly, the butter gives a nice richness and smoothness to the orange sauce that you notice without it. It also cuts down the heat and adds additional flavor!
Why Are My Baked Wings Not Crispy?

After cleaning and rinsing your wings, if the chicken isn't dry by patting them dry then the chicken wings won't crisp up. As mentioned in my tips section of the post, using a baking sheet with a wire rack is key.
Can I Make The Orange Sauce Ahead Of Time?
Absolutely! The orange sauce can be prepared in advance and stored in the refrigerator in an airtight container for a few days. Just reheat it gently before tossing the wings in the sauce to serve.
More Appetizers + Handheld Recipes to Try Next!
Now that you're on a sweet + spicy kick with this Spicy Orange Chicken Wings recipe, give these recipes that your entire family will love a try next.
MADE OUR RECIPE(S)?
If you make these Spicy Orange Chicken Wings or any other recipe from us, be sure to tag us on Instagram at #Orchidsandsweettea so that we can share the love!
EASY SPICY ORANGE SAUCE:
2

Tbsps

filtered water

1

tablespoon

unsalted butter

2

garlic cloves, minced

1

cup

freshly-squeezed orange juice

(That's about 3-4 large oranges!)

¼

cup

raw honey

3

Tbsps

organic brown sugar

1

teaspoon

arrowroot starch + 2 Tbsps water

1

teaspoon

sriracha or hot sauce

½

teaspoon

red pepper flakes

¼

teaspoon

ground ginger

1

navel orange, peels only!
PREPARE THE WINGS:
Preheat the oven to 400 degrees Fahrenheit and line a baking sheet with parchment paper and then add a wire rack atop. NOTE: Doing this step is a MUST to prevent sticking and ensures that the wings crisp up evenly. OPTION 2: Prepare a 12-inch oven-safe iron cast skillet and grease with butter.

Rinse your chicken wings and pat dry well to remove as much excess liquid as possible. Once dry, add seasonings and rub everything together with your hands until wings are well coated.

Line each wing atop prepared wire rack on baking sheet side by side, about 1 inch apart.

Bake wings for about 20-25 minutes or until crisp and cooked through before adding the sauce.
TO MAKE THE SAUCE:
In a saucepan over medium-high heat, combine the butter, garlic cloves, orange juice, honey, brown sugar, red pepper flakes, ginger, hot sauce, water, and orange peels and let it simmer for 2-3 minutes, until bubbly stirring occasionally. Reduce the heat to low and add the arrowroot mixture (mix both together until "milky" looking) stirring until the sauce begins to thicken. Remove from heat.

Once the wings have become crispy, spoon the sauce atop wings and let them bake for another 5-6 minutes or until the sauce is "sticky" atop wings.

Remove the chicken wings from the oven and serve immediately with your favorite side.

Bon Appetit!
STORAGE: Best if consumed within the same day. Store leftovers in a tightly sealed container in the refrigerator for 3-4 days. Reheat in oven when ready to serve.
SWEETENER: You can always substitute honey with Agave or maple syrup if desired.
THICKENER: You can always use cornstarch or flour instead of arrowroot starch. Always be sure to stir your thickener in water before adding to sauce to avoid lumps.
Spicy Orange Chicken Wings.