Uncover the deliciousness of In-N-Out's iconic burger sauce flavor right in your own kitchen. This quick + easy dairy-free & vegan In-N-Out Sauce recipe lets you capture that creamy, tangy goodness without any fuss. Perfect for enhancing your homemade burgers, fries, and beyond. With just a few simple ingredients, you can whip up a batch in minutes that is every bit as delicious as the original. Completely Gluten-free + Vegan.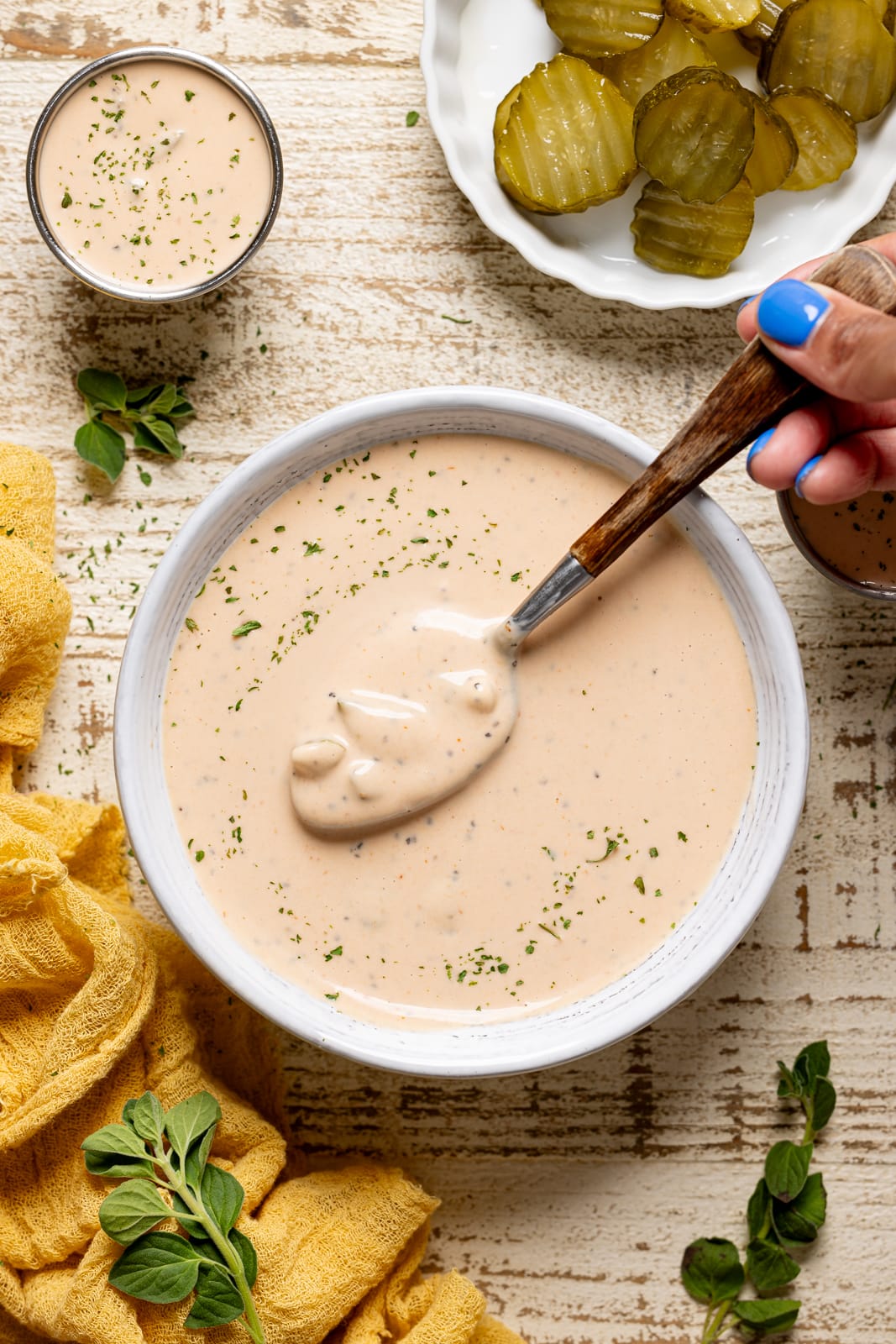 Why Dairy-free In-N-Out Sauce?
Y'all, I'm not exactly the biggest fast food fan, and I'm all about whipping up healthier twists on our guilty pleasures. So, of course, I had to whip up my very own vegan In-N-Out Sauce for slathering on burgers & sandwiches alongside some Crispy French Fries.
Whether you're in the mood to recreate the classics like In-N-Out Double Cheeseburgers and Animal Style Fries or looking for a vegan option like my Loaded Sheet Pan Dairy-Free Nacho Cheese Fries, this sauce is your flavor-packed sidekick. It hits that sweet, tangy, and creamy trifecta just right.
Whipping up this sauce is a breeze; it calls for basic ingredients, and it's entirely dairy-free & vegan. Whether you want to drizzle it over your go-to sandwich, generously spread it on a burger, or toss it into a salad, it's your new favorite secret sauce to elevate any meal to a whole new level!
Jump to: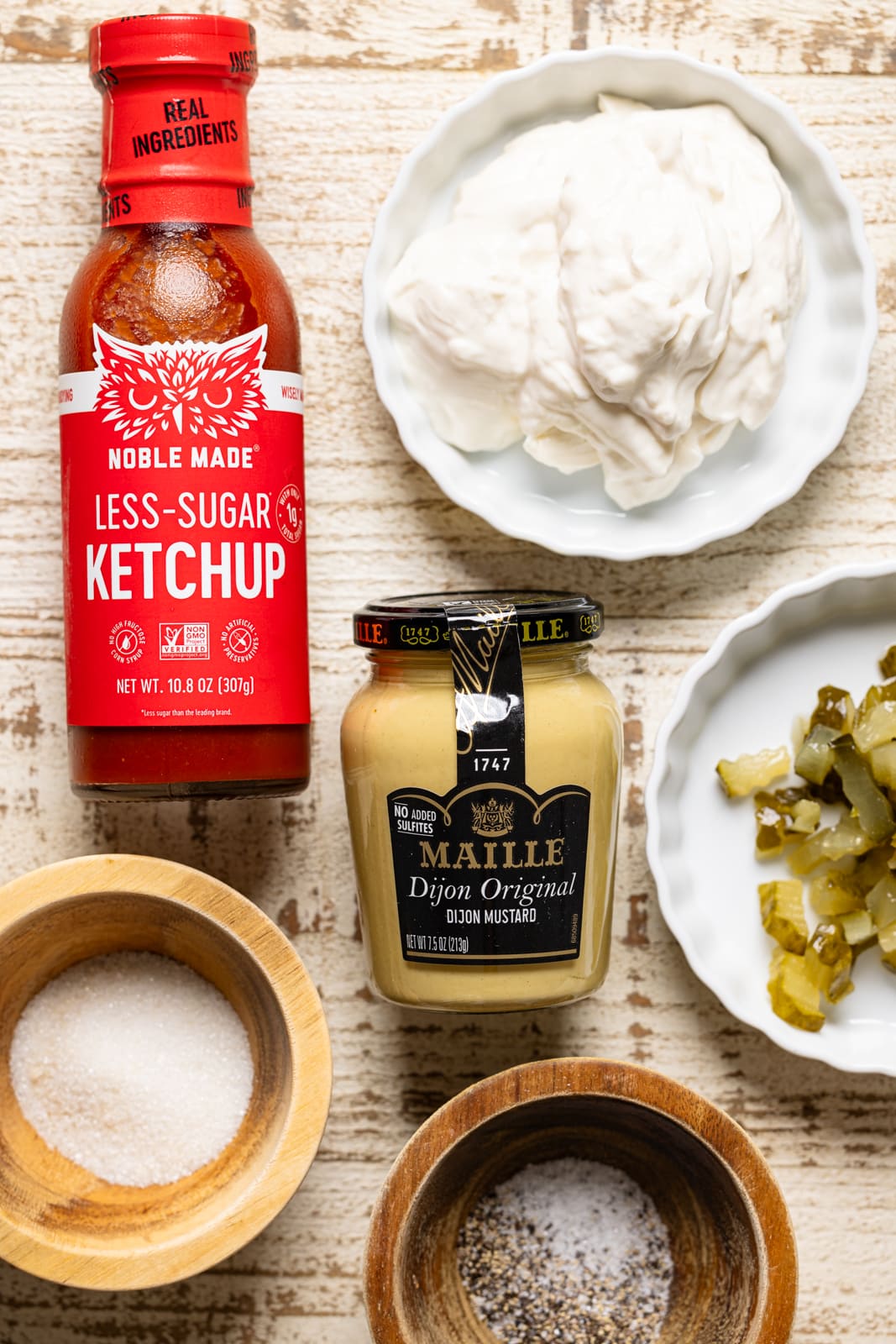 What Is In-N-Out Sauce?
In-N-Out Sauce is like the crown jewel of the beloved In-N-Out Burger chain. This legendary condiment boasts a creamy, tangy, and slightly sweet profile, elevating their burgers, fries, and various menu items to flavor nirvana.
While the exact recipe remains a closely guarded secret (which is why it's often called the secret sauce) I've even taken a shot at creating a dairy-free version of this sauce, aiming to preserve that legendary flavor while making it accessible to those with dietary preferences or restrictions. And I've got to say y'all it's a real winner, delivering the same mouthwatering experience!
What Is The Difference Between In-N-Out Sauce and Thousand Island Dressing?
In-N-Out Sauce and Thousand Island Dressing may seem alike in some ways, but they do have distinct characteristics. In-N-Out Spread boasts a creamy texture, prominently featuring the tang of ketchup and the sweetness of sweet pickle relish. On the flip side, Thousand Island dressing often incorporates extra elements like finely chopped onions, garlic, and Worcestershire sauce, resulting in a different savory flavor.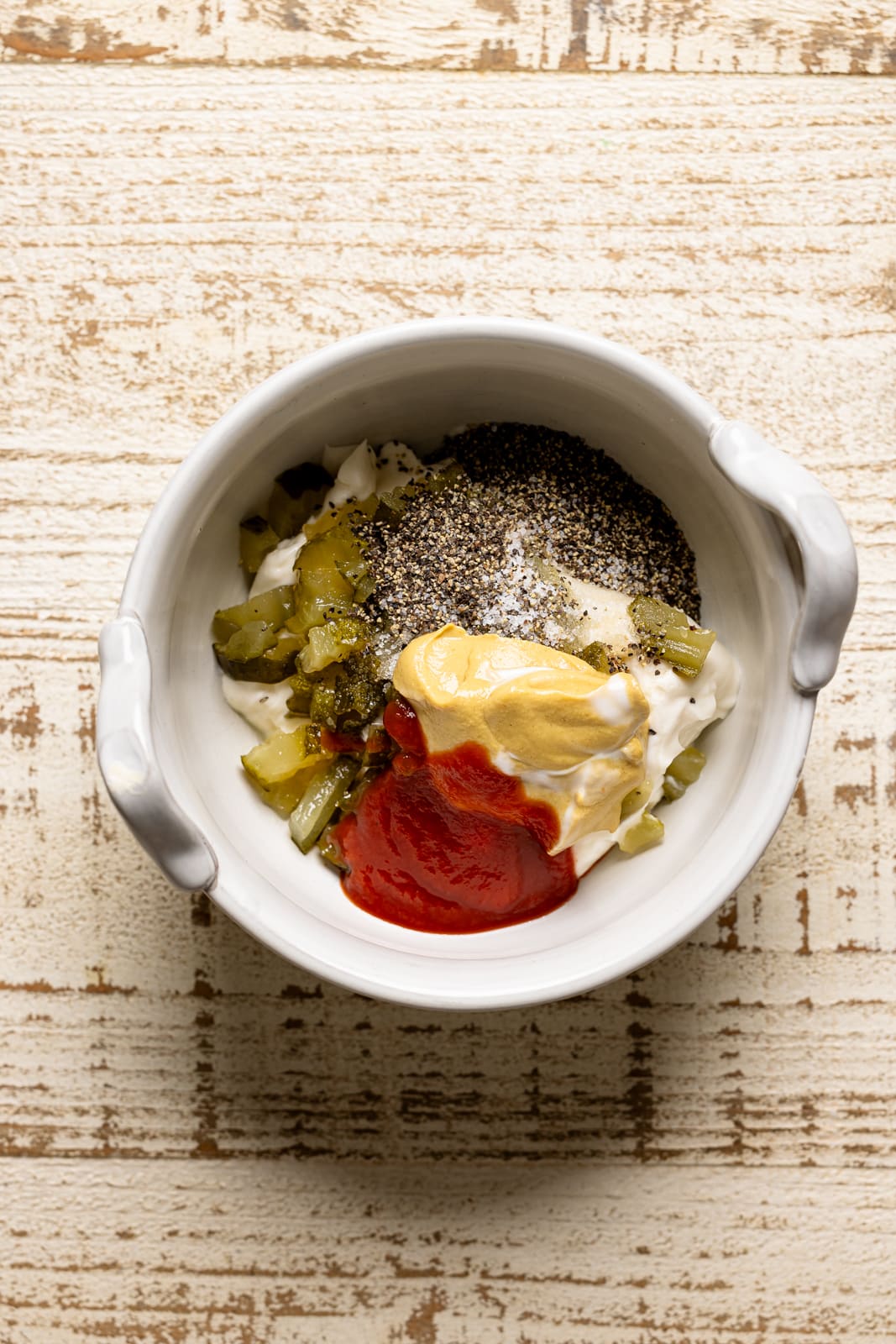 How To Make In-N-Out Sauce
This dairy-free burger sauce recipe is a breeze! Just whisk everything together and after that, all that's left to do is let it hang out in the fridge for a bit to get those flavors mingling. Here's what you will need for this Dairy-free In-N-Out Sauce recipe -
Ingredients
Vegan mayonnaise: Provides creaminess. I love using Follow Your Heart Veganaise But feel free to use your favorite!
Organic ketchup: Adds tangy notes.
Bread & butter pickles: Impart sweet crunch.
Dijon mustard: Infuses a zesty kick.
White vinegar: Introduces a tangy twist.
Organic cane sugar: Provides a subtle sweetness.
Black pepper: Brings a hint of heat.
Sea salt: Enhances overall flavor.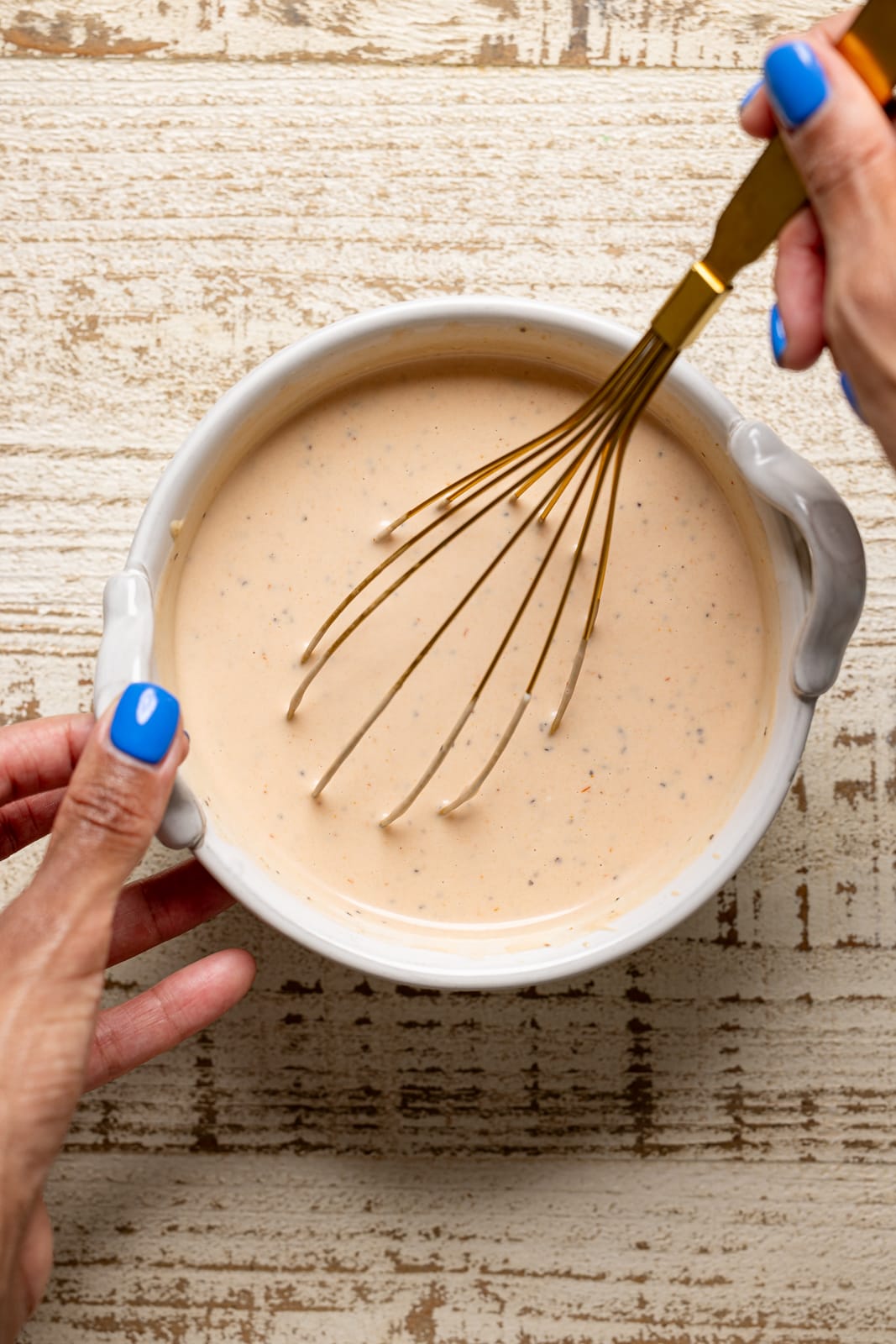 Why You'll Love This Creamy In-N-Out Sauce
Same delicious flavor as the classic without dairy products.
Simple, easy-to-find ingredients.
Strikes a perfect balance of sweet + tangy, and creamy.
Versatile - use it on salads, sandwiches, burgers, fries, and beyond!
You get to enjoy the legendary In-N-Out flavor without leaving your home!!
Options to Pair This Creamy In-N-Out Sauce With?
Sure, burgers are the obvious choice, but this sauce pairs wonderfully with a variety of dishes. Here are some tasty ideas to inspire you!
Fries: Dip your Seasoned Crinkle Cut Fries or Spicy Sweet Potato Wedges into this creamy delight for a tasty twist.
Sandwiches: Elevate your sandwiches and wraps with a generous drizzle of this sauce. Pair it with this Broccoli Pesto Grilled Cheese!
Buddha Bowls: If you're a fan of Buddha bowls, try this sauce as a zesty grain bowl dressing. It pairs wonderfully with this Vegan Jamaican Power Bowl and with grains like quinoa, rice, farro, or bulgur.
Tacos: Give your taco recipes a flavor boost with this sauce. It complements both vegetarian and meat-based fillings, adding a creamy and tangy kick.
Pizzas: It can even double as a unique pizza dip!
Finger Food: Enjoy it as a dip for Crispy Baked Chicken Tenders, onion rings, or mozzarella sticks for an appetizer with a twist.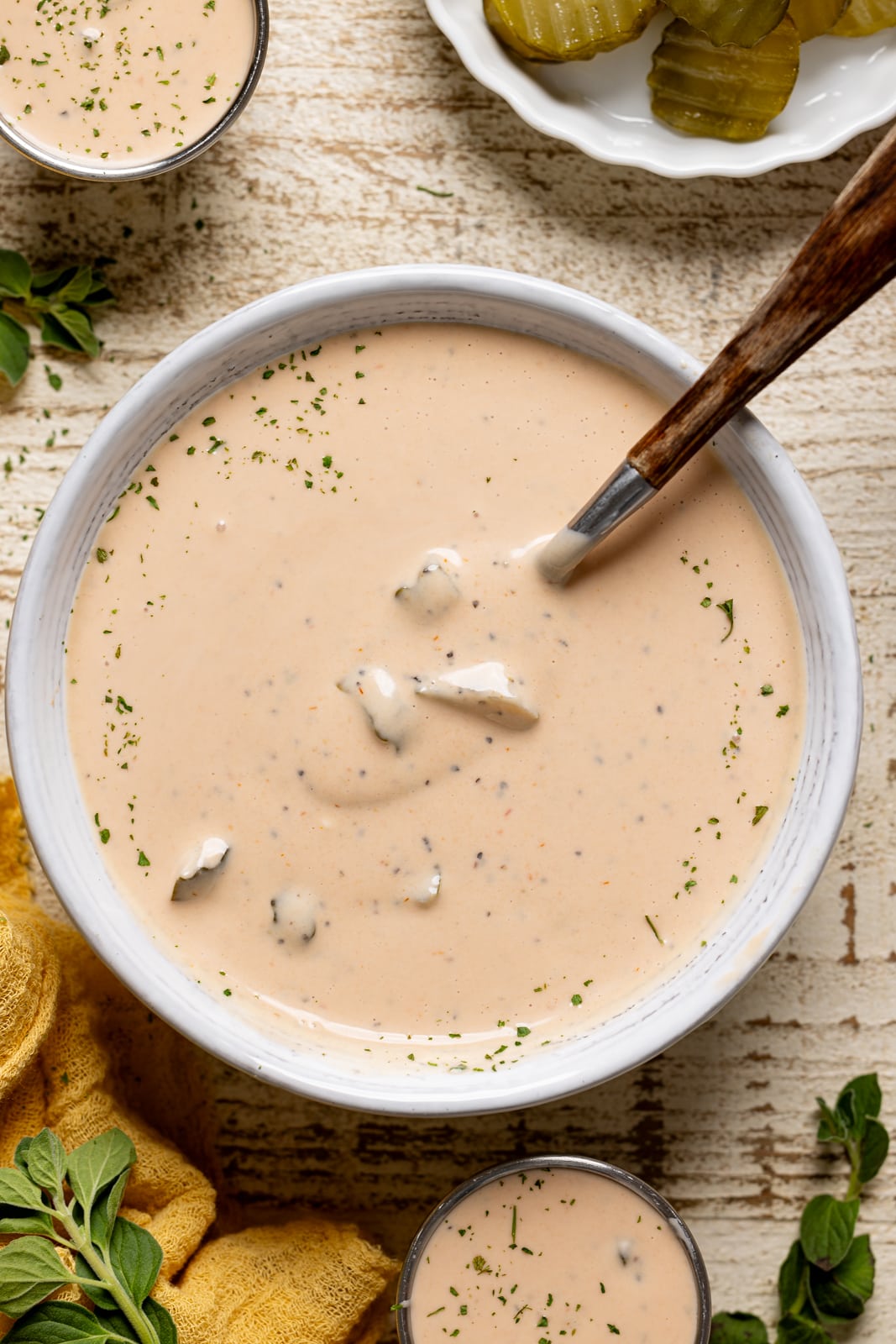 In-N-Out Sauce Q + A's
How Long Does This Dairy-free Secret Sauce last?
This sauce can last for up to two weeks in the refrigerator as long as it's stored in an airtight container.
Is This Vegan Sauce Recipe Gluten-free?
Yes, this recipe is gluten-free as long as you use Gluten-free mayo.
Can I Make This In-N-Out Sauce Ahead Of Time?
Yup! In fact, this secret sauce can benefit from some time in the fridge to allow the flavors to meld together. You can make it up to a day ahead of time and store it in the fridge until you're ready to use it. Just give it a good stir before serving.
Can I Use Regular Mayo If I'm Not Dairy-Free/Vegan?
Absolutely! If you're not following a vegan or dairy-free diet, you can use regular mayonnaise in your homemade In-N-Out Sauce recipe. Traditional mayonnaise works perfectly well and will give you that classic creamy texture and flavor.
Can I Adjust The Sweetness Of The Sauce?
Sure! You can easily adjust the sweetness by adding more or less organic cane sugar to suit your taste. Start with the suggested amount in the recipe and tweak it from there.
More Homemade Sauces + Dressings
Made Our Recipe(s)?
If you tried this In-N-Out Sauce [Dairy-Free] or any other recipe on my website, please please leave a 🌟 star rating and let me know how you go in the 📝 comments below. I love hearing from you.
SAUCE:
1

cup

vegan mayonnaise

¼

cup

organic ketchup

3

tablespoon

bread & butter pickles, diced

(You can also sub with sweet relish, dill pickle relish, pickled onions, capers, or olives)

2

tsps

dijon mustard

1

teaspoon

white vinegar

2

tsps

organic cane sugar

½

teaspoon

black pepper

½

teaspoon

sea salt
TO MAKE THE SAUCE:
In a bowl add the vegan mayo, ketchup, diced pickles, dijon mustard, white vinegar, sugar, black pepper, and salt, whisking everything together until smooth and combined.

Cover with plastic wrap or foil and chill the sauce in the refrigerator for at least 20-30 minutes.

Use on your fave burger, sandwich, or as a sauce on the side. Enjoy!

Bon Appetit!
STORAGE: Add leftover sauce to your favorite mason jar or tightly sealed container and refrigerate for up to two weeks for optimal freshness. 
Calories:
185
kcal
|
Carbohydrates:
3
g
|
Protein:
0.1
g
|
Fat:
18
g
|
Saturated Fat:
2
g
|
Polyunsaturated Fat:
0.01
g
|
Monounsaturated Fat:
0.03
g
|
Sodium:
319
mg
|
Potassium:
4
mg
|
Fiber:
0.1
g
|
Sugar:
1
g
|
Vitamin A:
2
IU
|
Vitamin C:
0.01
mg
|
Calcium:
1
mg
|
Iron:
0.04
mg