This Honey Lavender Sheet Cake is flavored with chamomile and fresh lavender and makes a delicious treat for celebrations or picnics.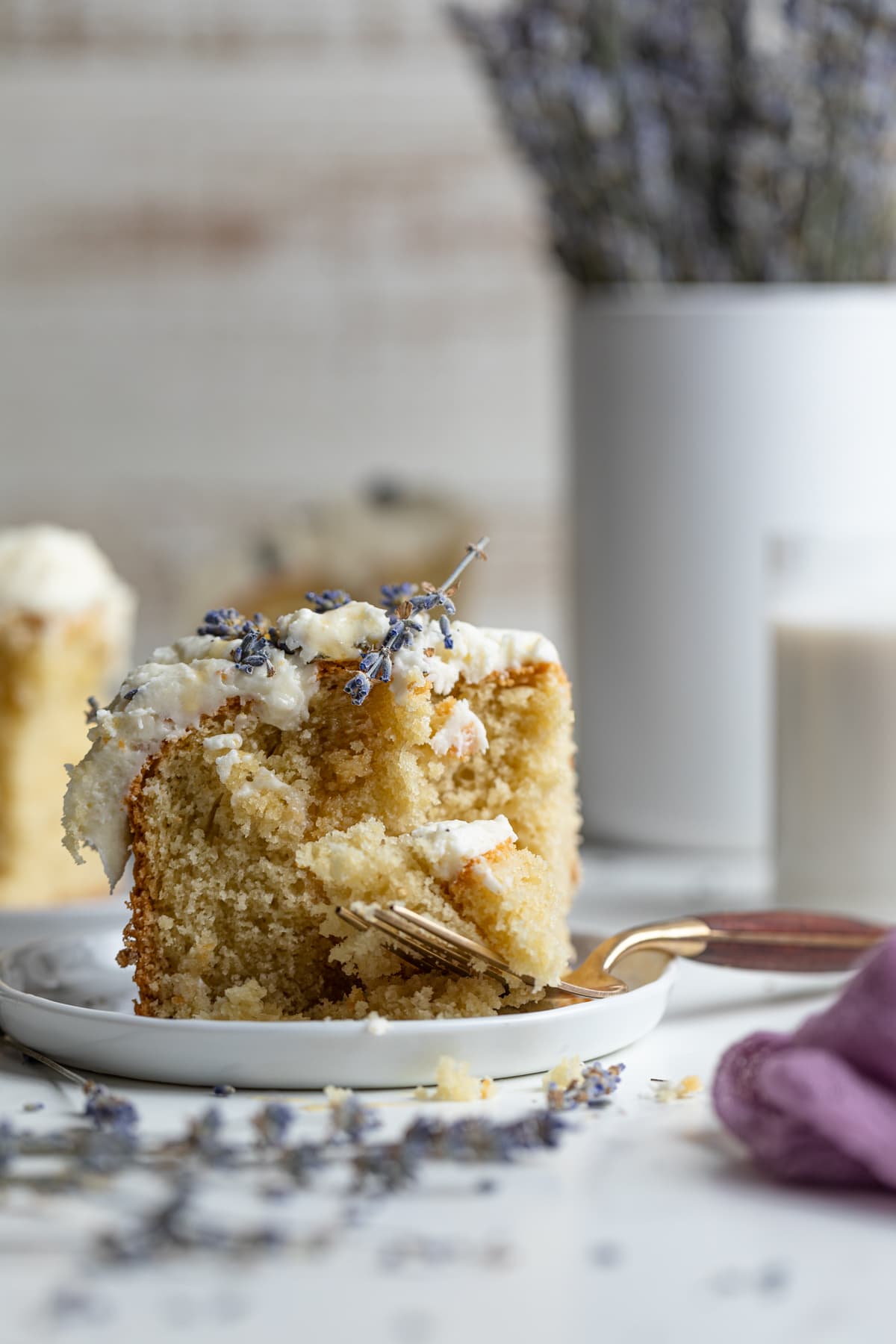 I love to celebrate birthdays and other occasions with a unique baked treat. Don't get me wrong, I love a Funfetti dessert more than anyone, but sometimes you want some more unique flavors that are just as celebratory and delicious.
I love chamomile tea, lavender and honey together as a drink. So why not make this classic trio into a sweet treat? This sheet cake is full of herby, floral and summery flavors. It's the perfect dessert to celebrate a summer birthday, a baby shower, or really any day of the week.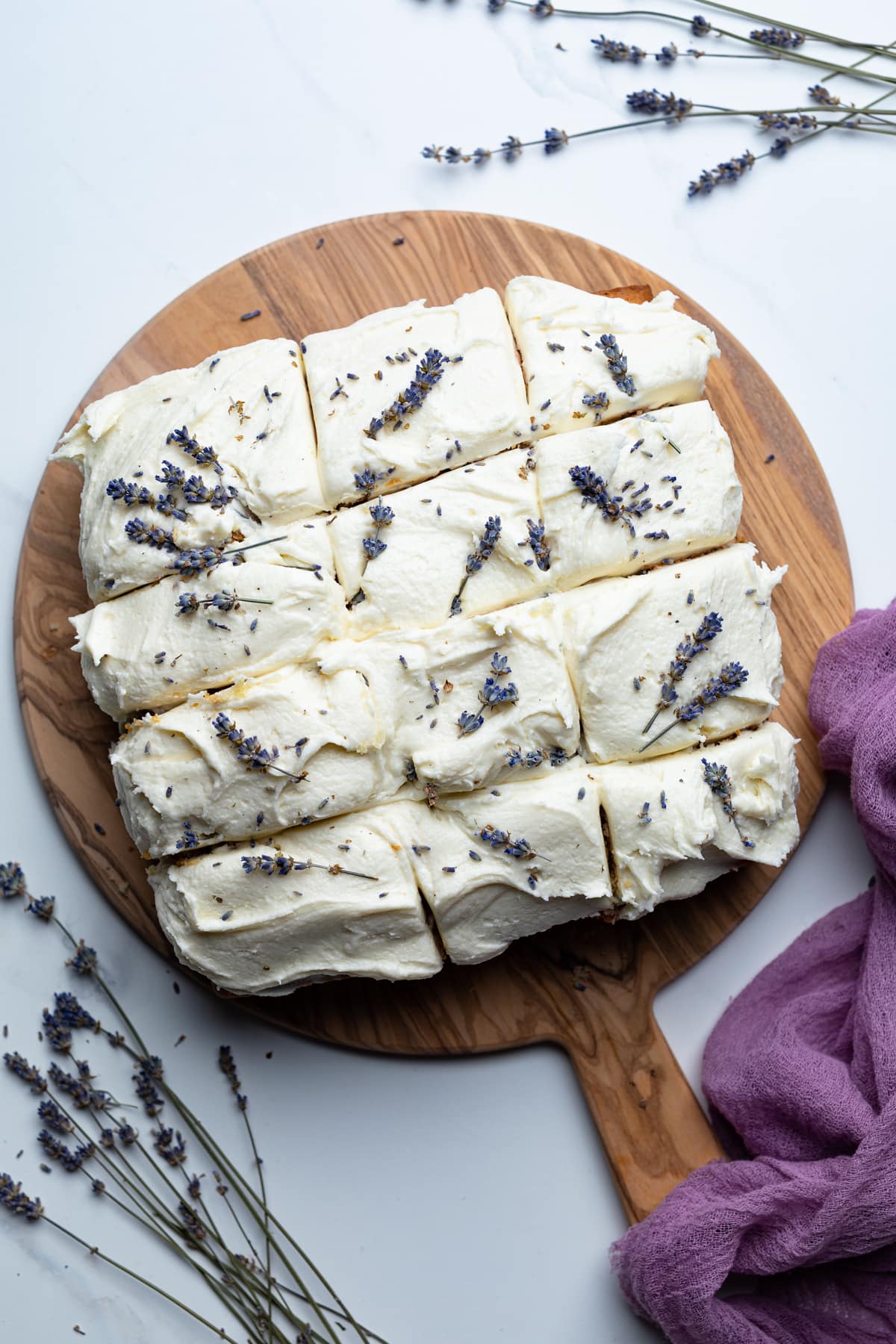 How to Make Lavender Honey Sheet Cake
This cake happens to be dairy-free, but it's incredibly moist and fluffy on the inside. And it's simple to make!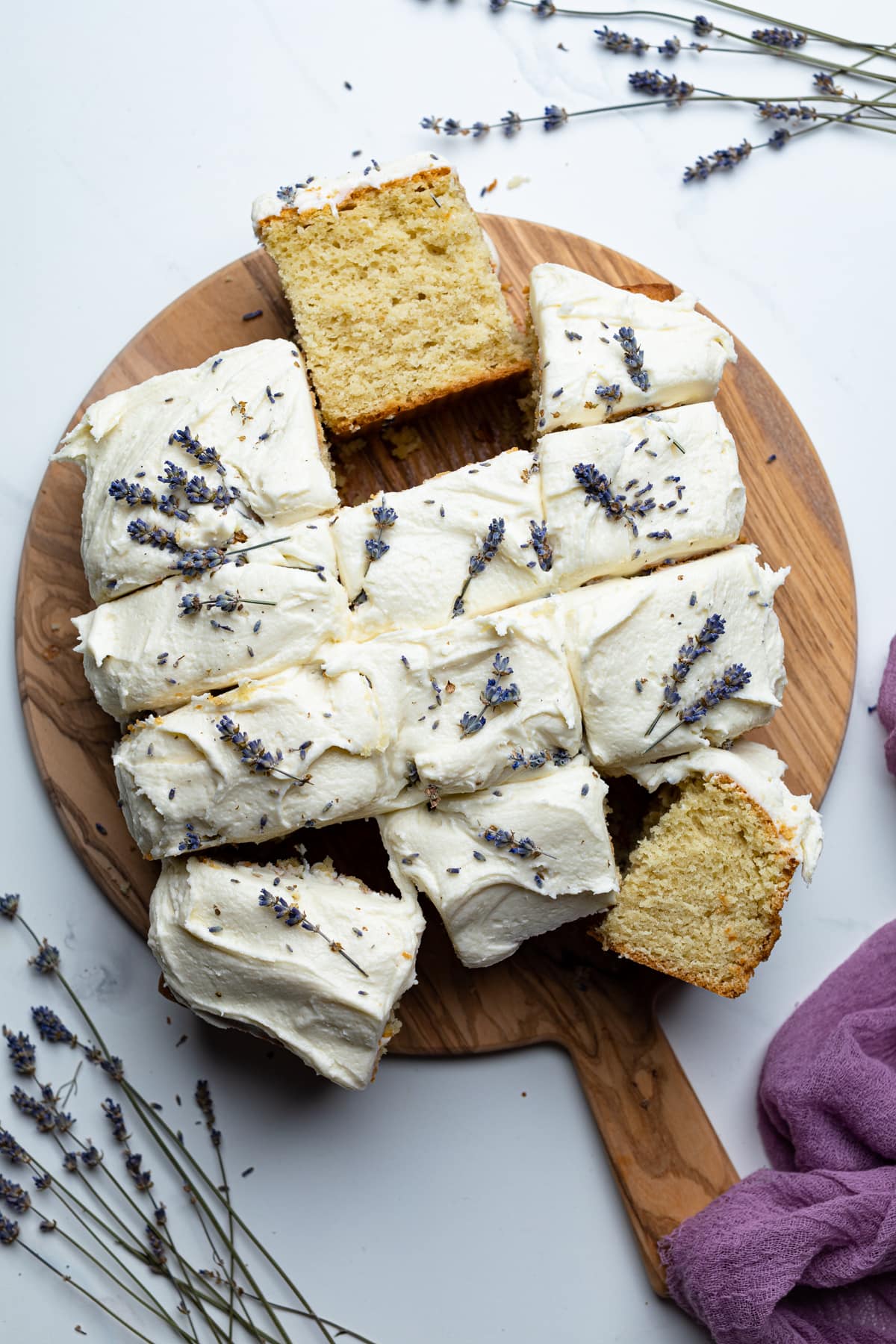 Ingredient Notes
Here's what you'll need for this cake recipe:
Organic cake flour. Cake flour is lighter, and more powdery than all-purpose flour. It makes pastries that are airy and less dense than other baked goods. You can find it in most grocery stores, however you can also use regular flour if you can't find pastry or cake flour.
Cane sugar. I like to use organic sugar because it's more sustainably harvested and grown.
Unsalted butter. Make sure your butter is softened before adding to the cake batter. You can place a hot bowl over the stick of butter to soften it in about 5 minutes.
Eggs. You'll also want your eggs to be at room temperature, so they easily mix into the cake batter. Run warm water over them for a few minutes if you forgot to take them out of the fridge.
Raw honey. Raw honey has better flavor, texture and is better for you (very high in antioxidants) than processed honey. It might be cloudy-looking, but that's totally normal.
Almond milk. You can use any plant-based milk you like. Or, if you're not dairy-free, regular cow's milk will also work.
Chamomile lavender tea bags. If you're not a fan of lavender, you can use regular chamomile tea, but the flavor of your cake may not be as strong.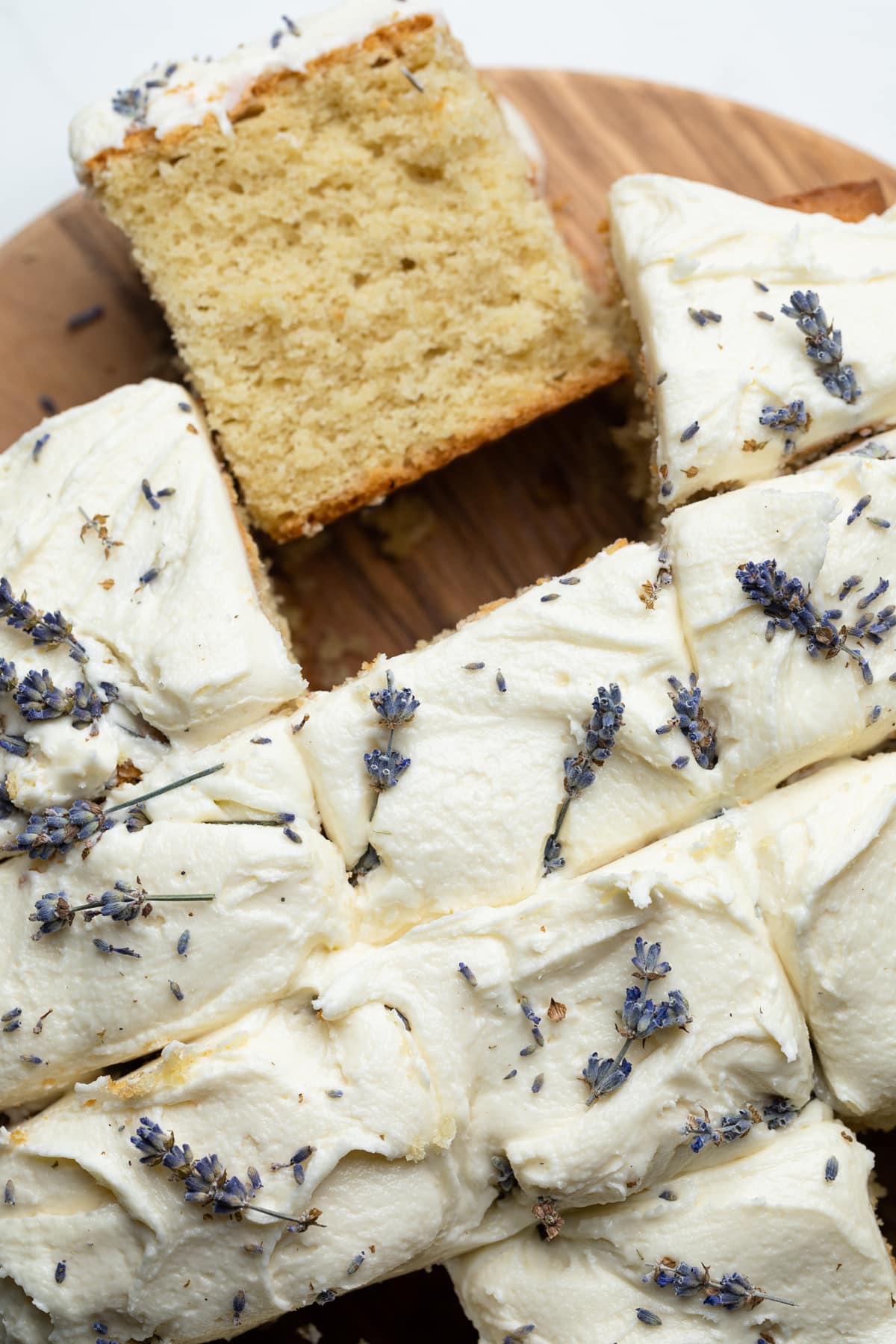 Chamomile Lavender Buttercream Frosting
While the cake cools, you can make a simple three-ingredient buttercream frosting infused with tea flavor.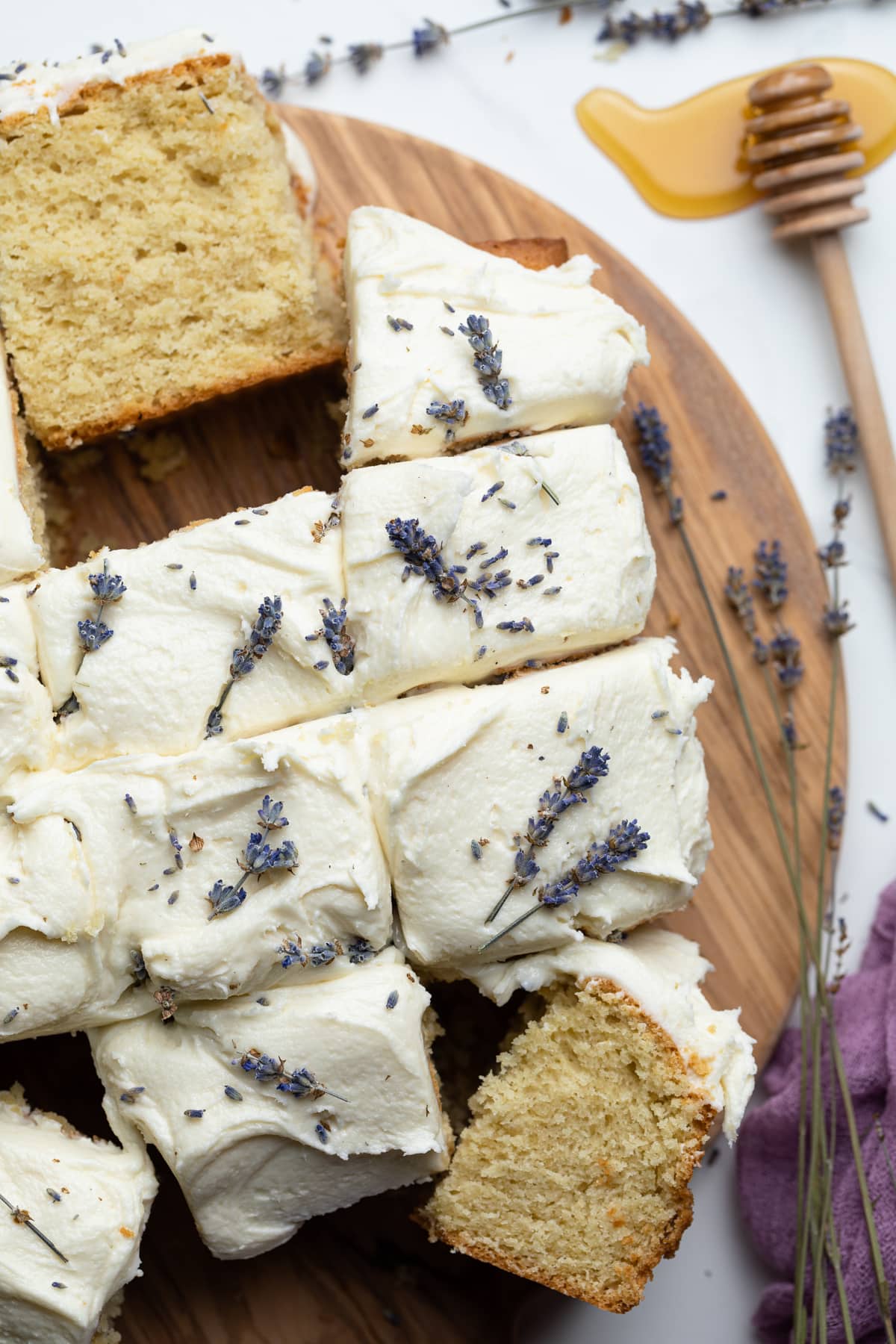 Frosting Ingredients
Powdered sugar. Make sure you're using powdered sugar, not granulated, for the frosting. Otherwise, you'll end up with grainy, dense frosting.
Unsalted butter. Again, make sure your butter is nice and soft.
Chamomile lavender tea. You can use loose leaf tea or tea bags.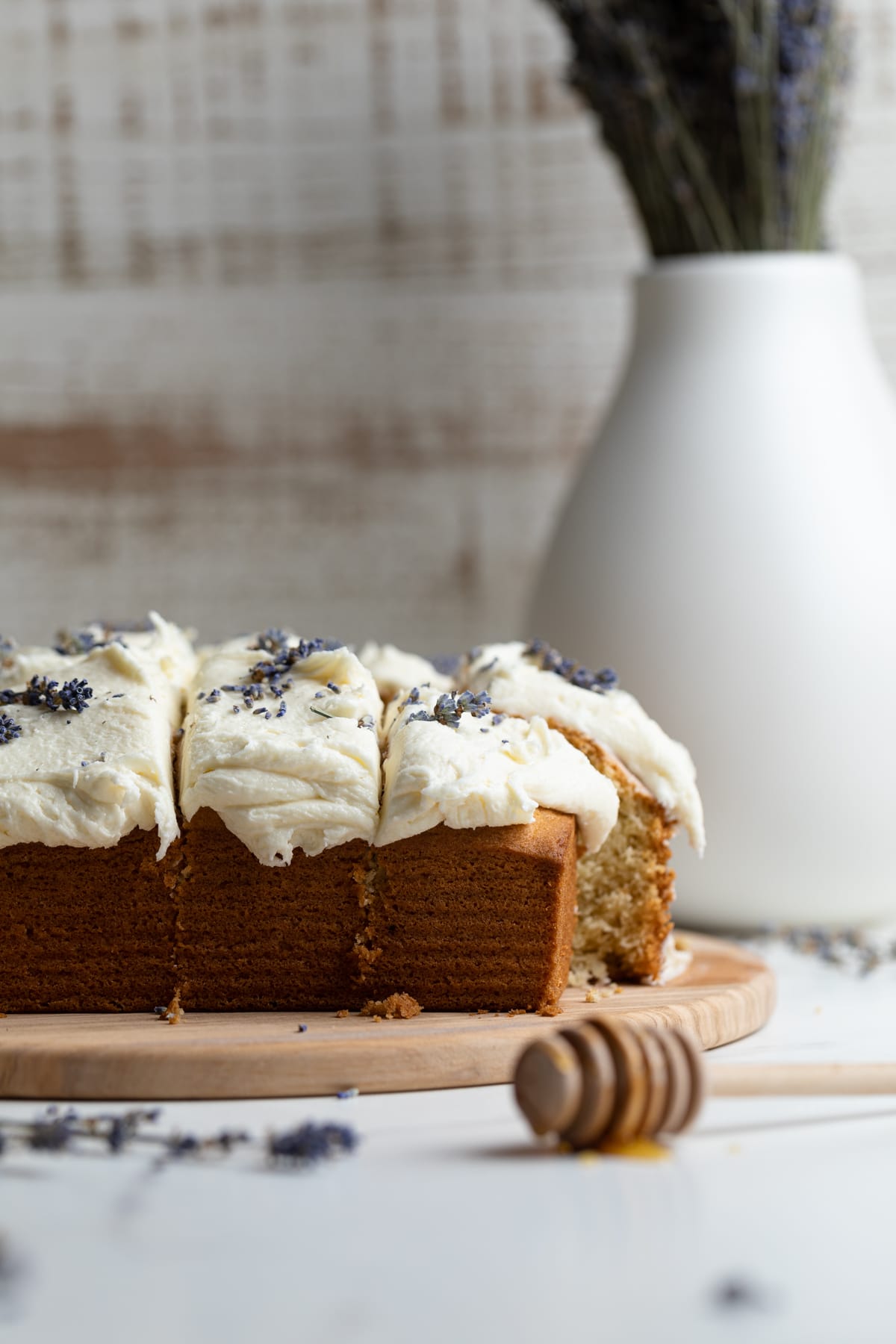 Can I Make Honey Lavender Cupcakes?
Yes! If you'd like to turn this sheet cake into individual cupcakes, it's easy.
This recipe will make about 30 standard-size cupcakes. Just line a cupcake pan with liners, divide the batter between them, and bake for 18 to 20 minutes. The cupcakes are done when a toothpick in the center comes out clean.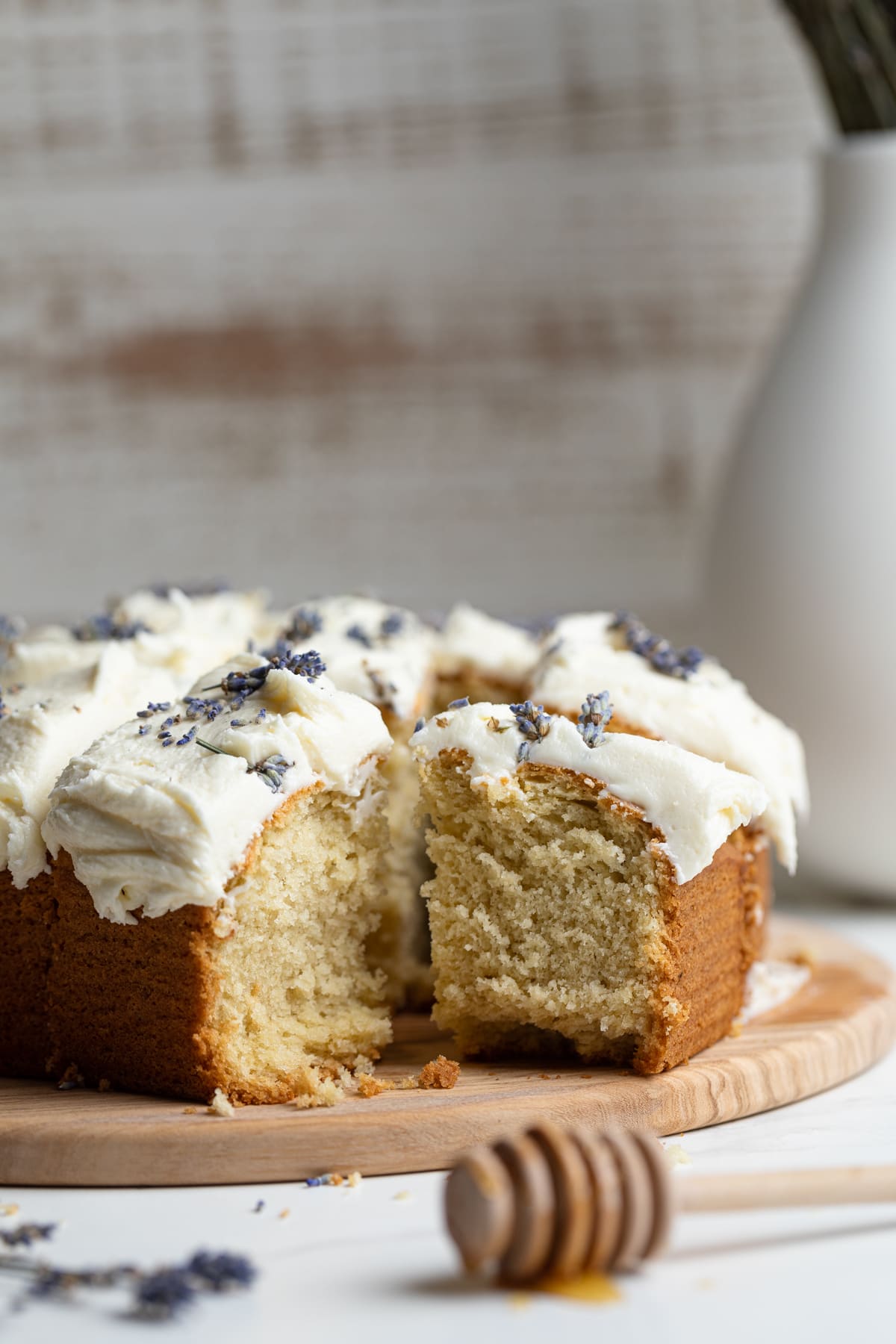 Vegan Honey Lavender Cake
If you'd like to make a vegan version of this cake (which is already dairy-free), you just need a few ingredient swaps:
Omit the eggs.
Substitute the butter with softened vegan butter (I like Earth Balance buttery sticks)
Add 1 tablespoon of apple cider vinegar into the almond milk to make a tangy vegan buttermilk
Add 1 tsp baking soda to the dry ingredients
Instead of using raw honey, use agave, maple syrup, or vegan honee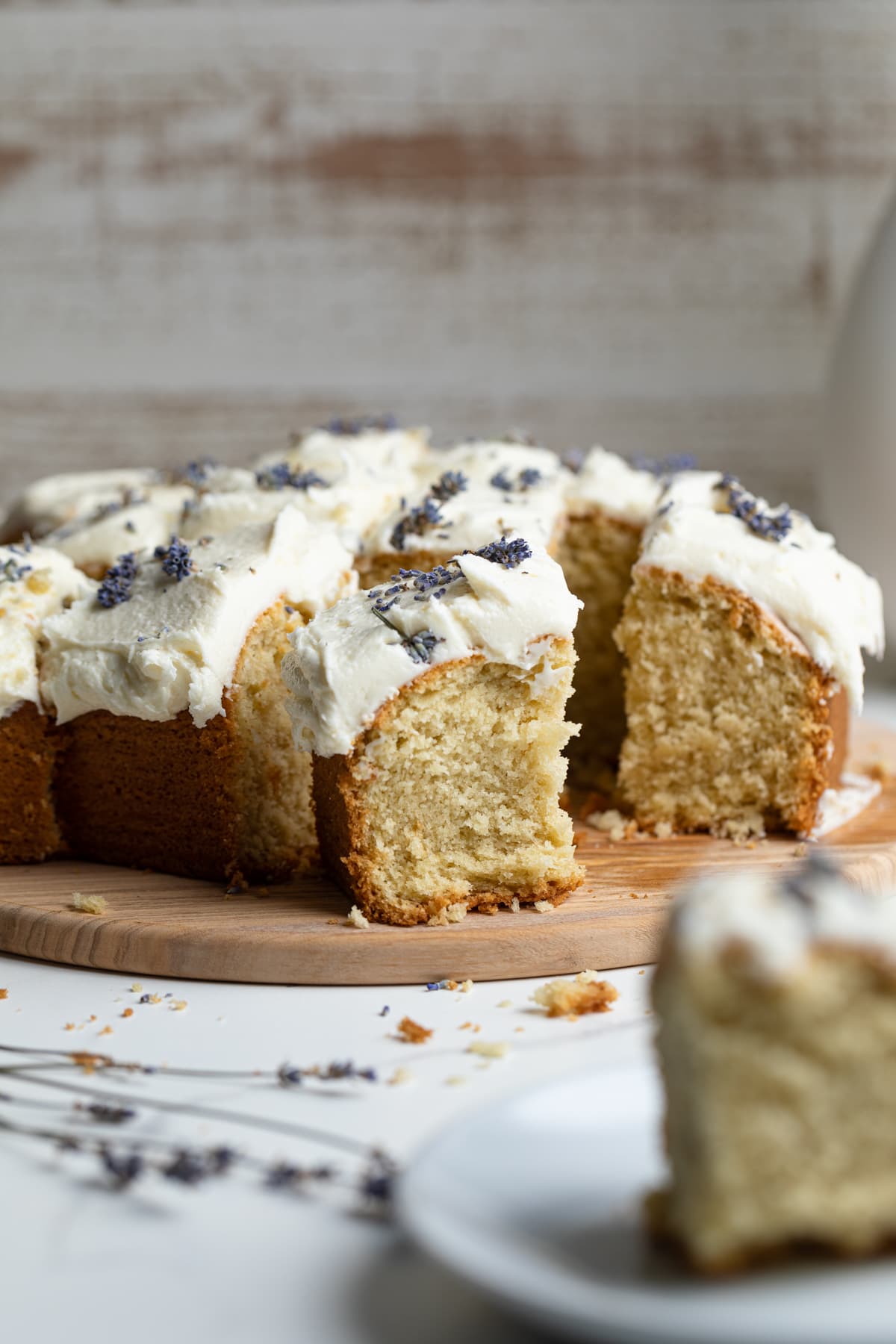 Make-Ahead Sheet Cake
You can bake the cake the day before you're going to serve it if you're planning ahead.
Let the cake cool fully, then wrap it tightly in plastic wrap and keep it in the fridge until you're ready to frost and serve it.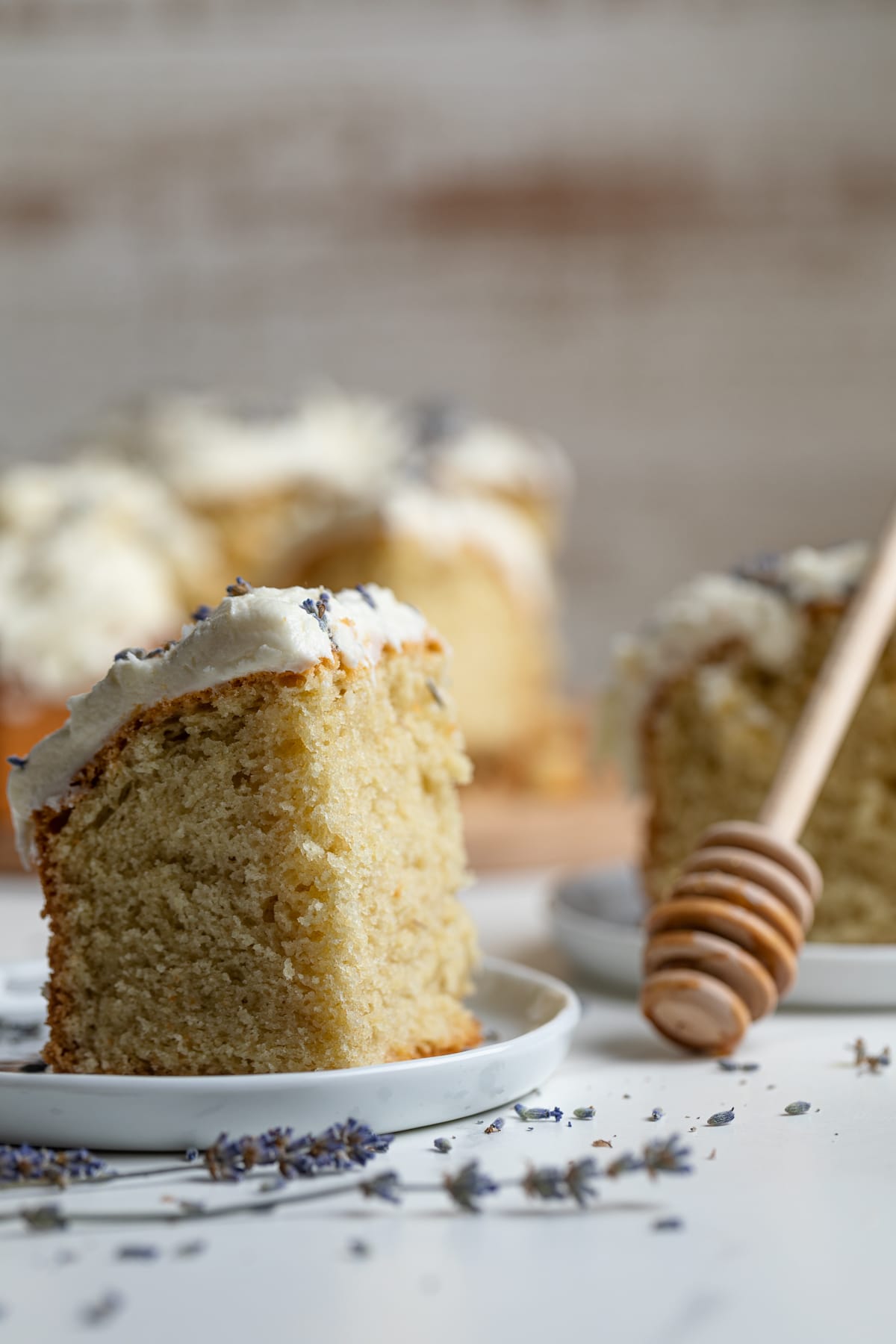 You can also make the frosting a day or two ahead of time, just keep it in an airtight container in the fridge.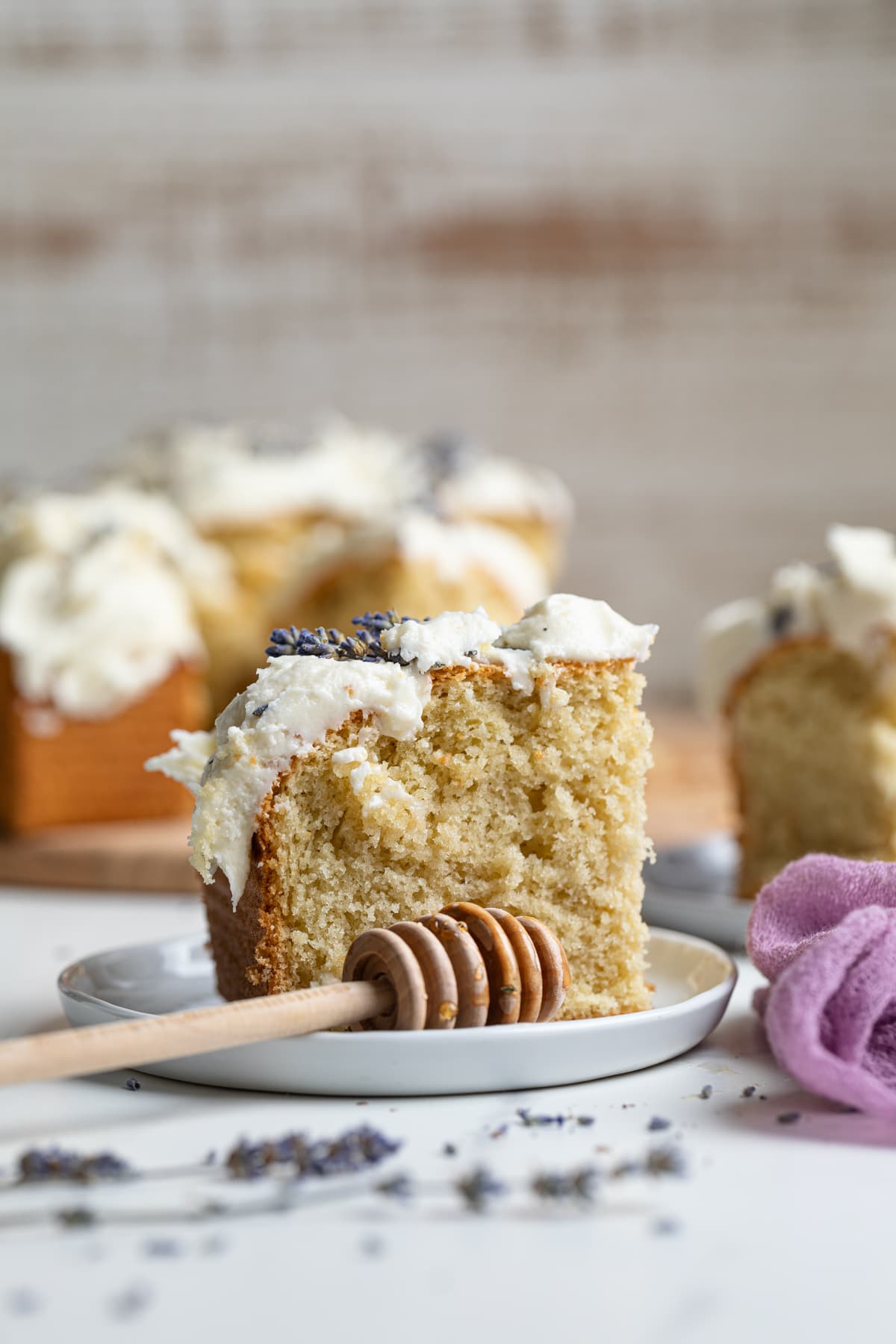 Decorating the Cake
I like to add natural decorations to the sheet cake. I think fresh lavender and a drizzle of raw honey is an elegant and pretty garnish on the pearly white frosting.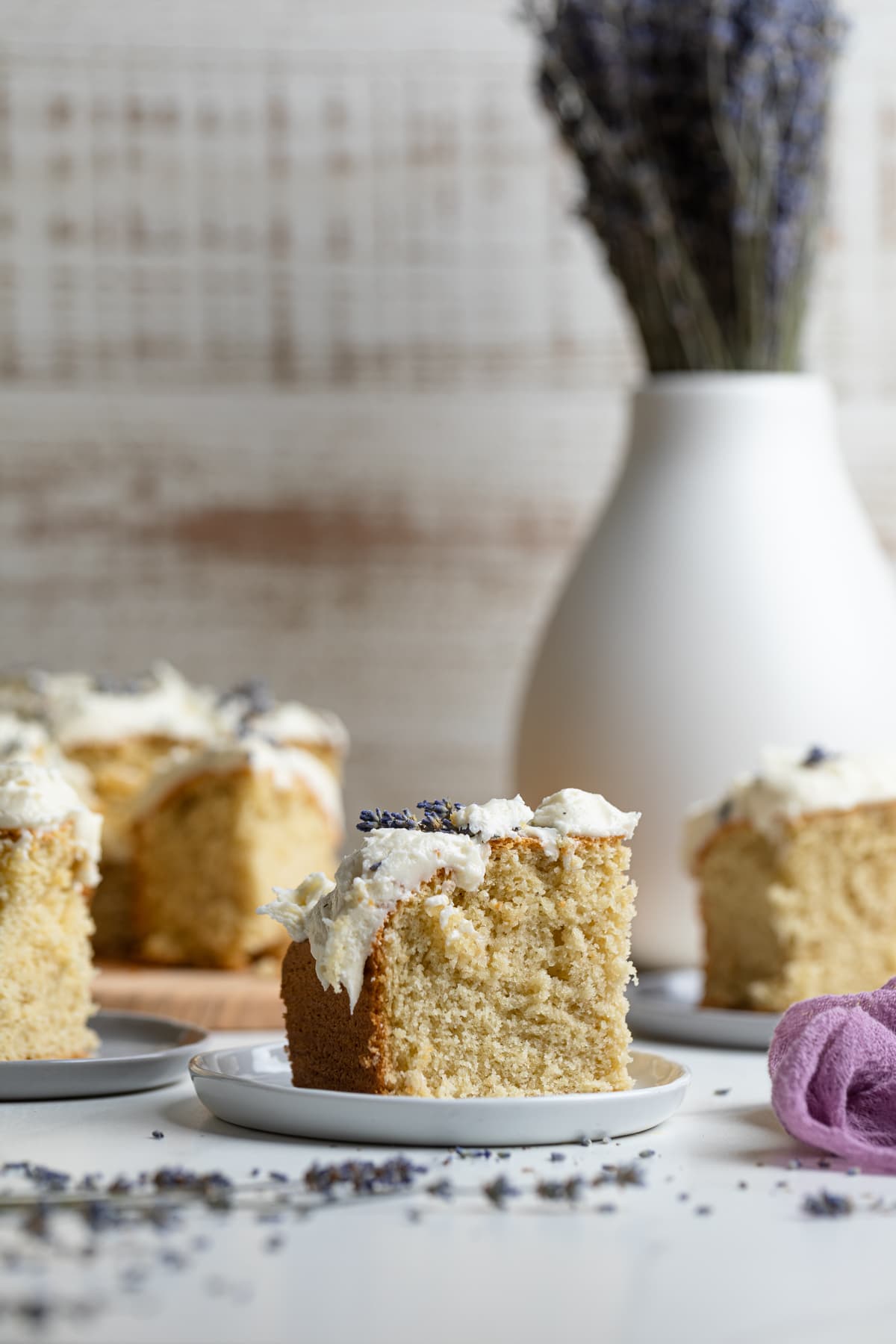 What to Serve with Chamomile Honey Cake
You can finish a lovely summertime dinner with this sophisticated dessert. Here is some recipe inspiration for your menu planning"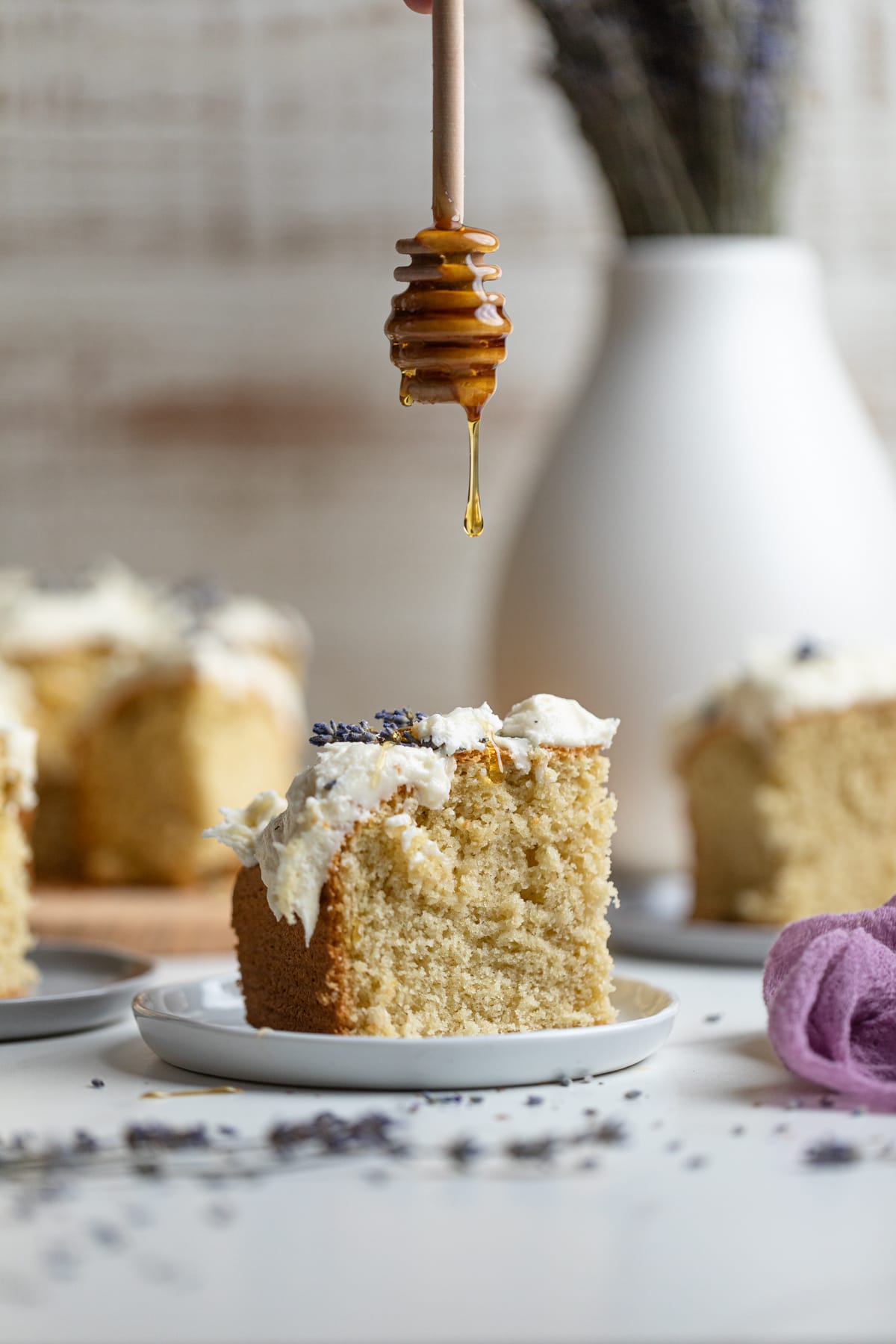 More Favorite Cake Recipes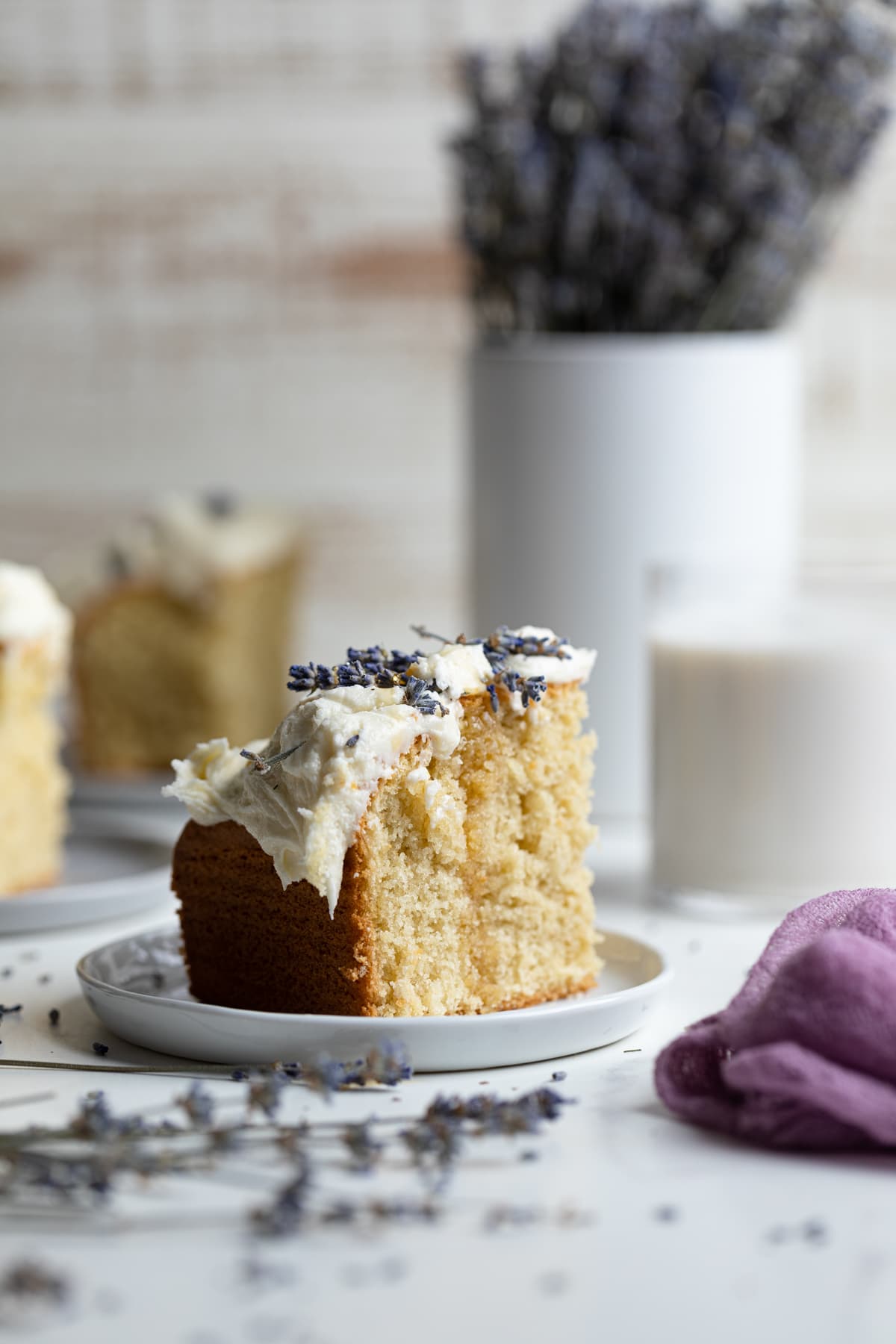 MADE OUR #RECIPE(S)?
If you make this Honey Lavender Sheet Cake or any other recipe from us, be sure to tag us on Instagram at #Orchidsandsweettea so that we can share the love!
SHEET CAKE:
3

cups

organic cake flour 

1

Tbsp

baking powder

1/2

tsp

sea salt

pinch of

ground cinnamon

1

cup

organic cane sugar

1

cup

unsalted butter, softened at room temp. 

(That's 2 sticks!)

3

large

organic eggs, room temp.

2

tsps

vanilla extract

1/2

cup

raw honey

1

cup

Almond milk

(You can use your fave plant-based milk)

3

Chamomile lavender tea bags
CHAMOMILE LAVENDER BUTTERCREAM FROSTING:
5

cups

organic powdered sugar, sifted

1

cup

unsalted butter, softened at room temp.

(That's 2 sticks!)

3

Tbsps

Chamomile lavender tea mixture
OPTIONAL TOPPINGS:
Dried lavender flowers

Honey, for drizzle
SHEET CAKE:
Begin by preheating your oven to 350 degrees Fahrenheit. Lightly grease and line with parchment paper (with two sides hanging out) an 8-inch square pan (for a thicker cake) or a 9 x 13 baking pan.

In a medium saucepan, add the milk and tea bags over medium-high heat until it comes to a boil. After it reaches a boil, turn off heat and let tea bags simmer (while covered with a lid) to allow everything to infuse together and milk to cool down, about 10-15 minutes.

In a medium-sized bowl, whisk together the flour, baking powder, cinnamon, and sea salt until combined. Set aside.

In a large bowl, add together the sugar and unsalted butter, mixing by using a hand-mixer on medium-high speed, until fluffy and airy, about 2-3 minutes.

Add in the eggs (one at a time), vanilla, honey, and the milk-tea bag mixture (saving 3 Tbsps for later), followed by the dry ingredients, mixing everything together until well combined, smooth, and lump-free, about 2-3 minutes.

Pour batter evenly into prepared pan, spreading everything around for a perfect evenness.

Bake for 20-25 minutes, or until the center of the cake comes out clean when tested with a toothpick or butter knife.

Once done, remove the cake from the oven and let cool for 30 minutes before carefully lifting it from the pan and unto a cooling rack to cool completely.
TO MAKE BUTTERCREAM FROSTING:
In a large bowl, add in the butter and beat using a hand-mixer on medium-high speed, until light, pale, and smooth. Add in the remaining 3 Tbsps of milk-tea bag mixture and continue to mix until incorporated.

Add in the powdered sugar and milk until completely smooth, thick, and fluffy, about 1-2 minutes. NOTE: If buttercream is too 'runny', add additional powdered sugar (1 Tbsp at a time); if too thick, add additional milk (1 Tbsp at a time).

Using a metal or rubber spatula, top cooled cake with buttercream frosting and evenly spread over the top until fully coated and smooth. Top with dried lavender flowers and/or drizzle of honey. Wallah!

Slice into medium-sized squares and enjoy!

Bon Appetit!
STORAGE: Keep leftover cake tightly wrapped using plastic wrap and refrigerated for up to 5 days. To store frozen (frosted or unfrosted), simply tightly wrap and cover cake and freeze for up to 2-3 months. To serve, thaw in the refrigerator overnight and bring to room temperature.
CUPCAKES: This recipe yields about 30 cupcakes. Simply bake for 18-20 minutes instead, until centers come out clean.
FLOUR: If you don't have cake flour, you can always just use all-purpose flour instead. 
VEGAN OPTION: To make this cake vegan, simply omit the eggs and substitute the unsalted butter with vegan butter (softened); Apple Cider Vinegar (1 Tbsp) to be mixed in with the milk and tea bag mixture; add 1 tsp baking soda to dry ingredients. Also, sweetened with Agave or vegan Honee in replace of raw honey.
MAKE AHEAD: You can always bake this cake the night or day before and let it cool, tightly wrap, and refrigerate until ready to use. The buttercream frosting can also be made prior and tightly wrapped and stored in the fridge as well. When ready to serve, let cake sit at room temperature for 30 minutes to an hour, frost, and enjoy!
Honey Lavender Sheet Cake