This beautiful Vegan Vanilla Oreo Cake is a soft, fluffy layer cake with homemade frosting and crushed oreo cookies. The perfect treat for a birthday party! Gluten-Free option available!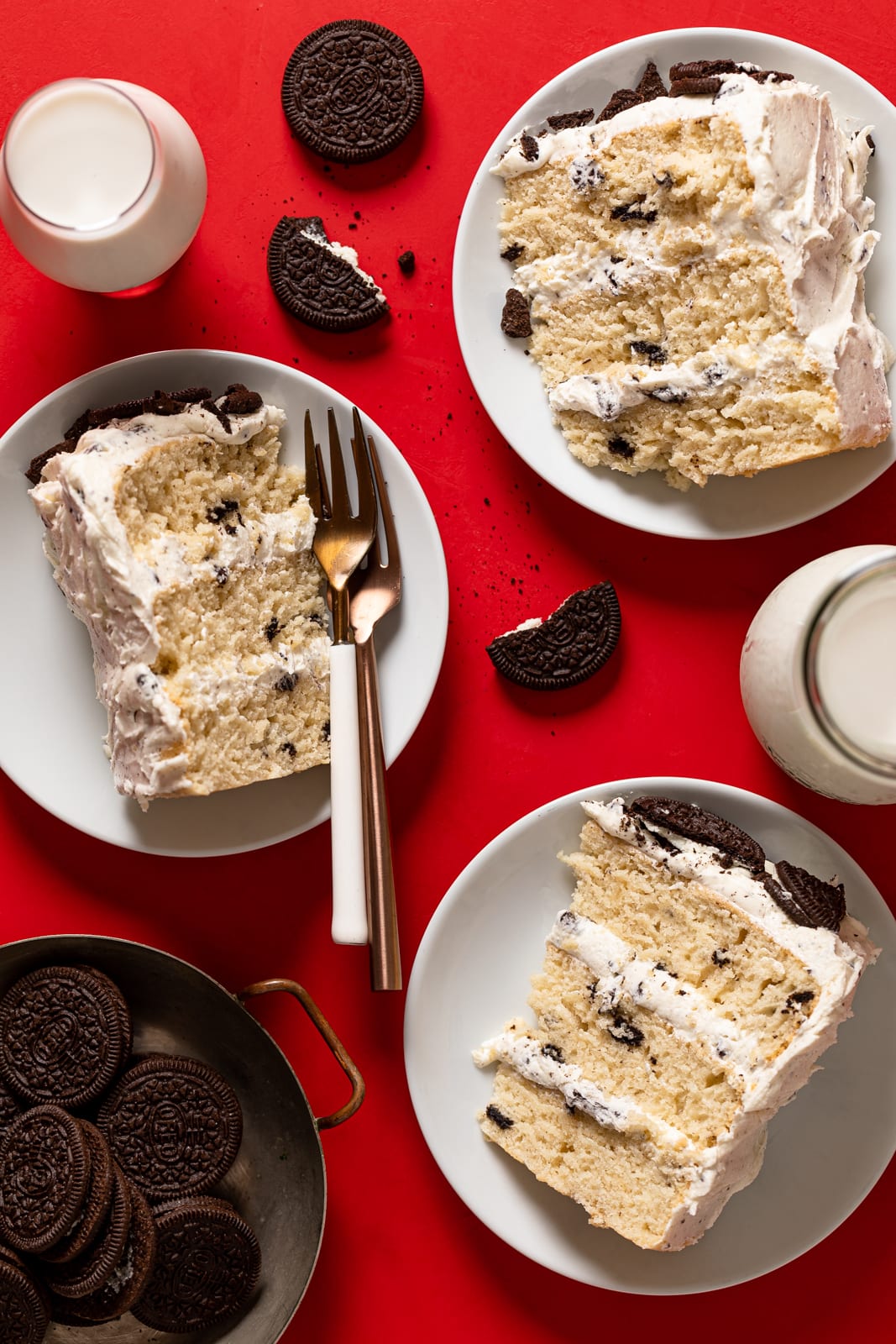 You may already know that Oreo cookies are naturally vegan. So it only makes sense to use them in a fluffy, moist, and dense vegan layer cake. This cake has a pure vanilla flavor with chunks of soft, sweet, and creamy Oreo cookies.
It's stacked three layers high, which makes this cake the perfect choice for a birthday party or really any celebration!
Plus, I've had the pleasure of making Vegan Oreo Pancakes and this decadent Vegan Oreo Brownie Skillet which is beyond amazing!
Why You'll Love This Vegan Vanilla Oreo Cake:
It's the perfect sweet treat for an after dinner treat that doesn't feel like a sugar overload.
It's jam-packed with Oreos from the inside, out.
Perfectly sweet, crunchy, and fluffy in the center, the perfect combination.
You can make it ahead of time for a party or occasion and freeze it for longer storage.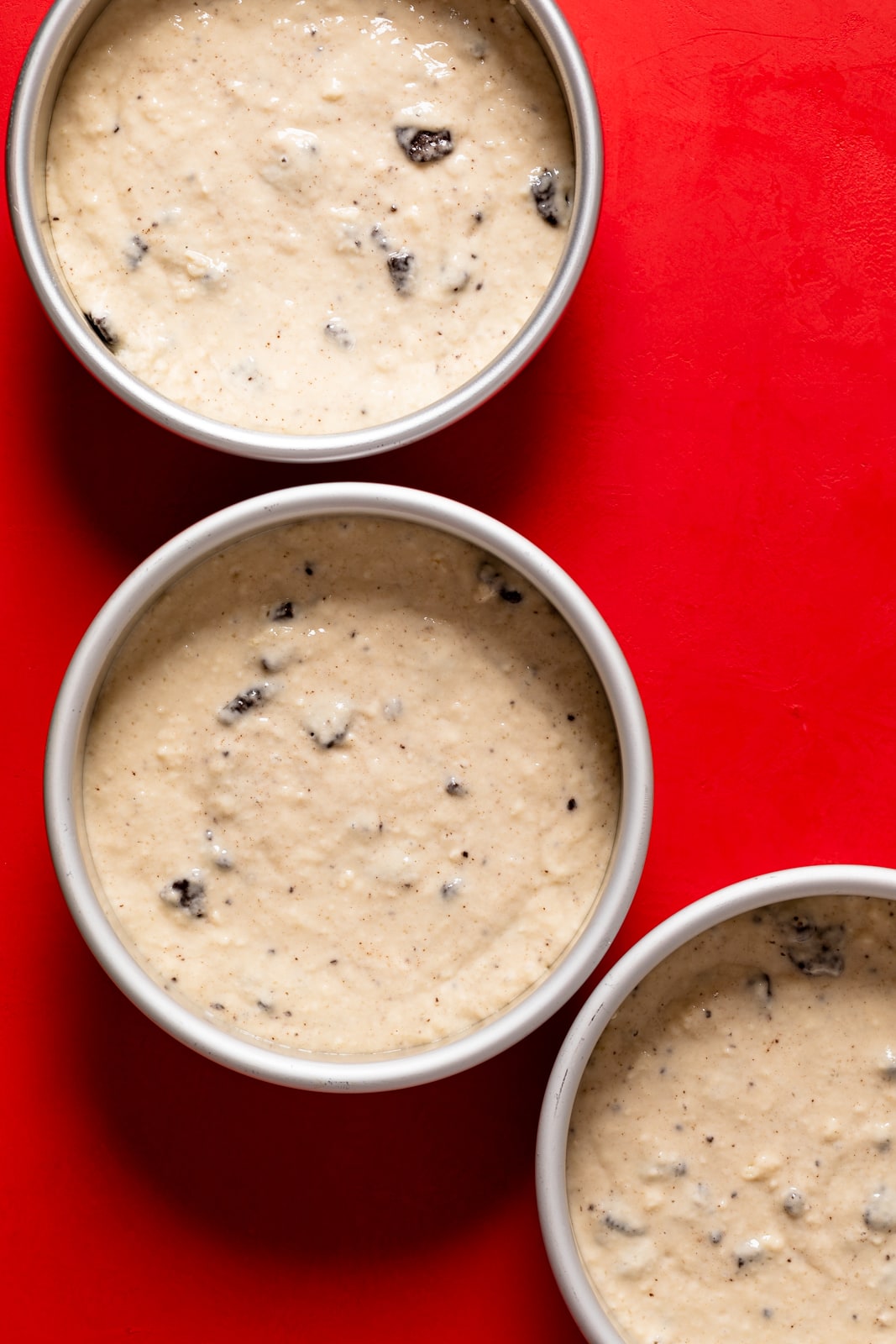 Are Oreos Vegan?
Yup! According to a bit research and the Oreo official website, they've been a dairy-free and vegan treat since they launched. Who knew---right? Despite the filling, most Oreos actually contain no form of milk or animal product, depending on the flavor which some might contain honey, etc.
As for which flavors are actually vegan, here's a list of them to keep things safe when picking:
The original Oreo cookie
The Double Stuffed Oreo
The Most Stuffed Oreo
Oreo Gluten-Free
Oreo Double Stuffed Gluten-Free
Chocolate Creme Oreo
Dark Chocolate Oreo
Jave Chip Oreo
Carrot Cake Oreo
Lemon Oreos
Golden + Golden Doubled Stuffed Oreos
And a few others.
Ingredients
Here's what you need to make this easy layer cake:
Cake flour. You can also use all-purpose flour if you prefer.
Cane sugar. Use organic to ensure it's vegan.
Vanilla. I highly recommend using pure vanilla for the best flavor.
Almond milk. You can easily make your own almond milk without soaking. Or use any plant-based milk you like.
Apple cider vinegar. This adds enough acid to make vegan "buttermilk".
Vegetable oil. You can use a different neutral oil or melted vegan butter if you prefer.
Oreo cookies. Yes, they're vegan!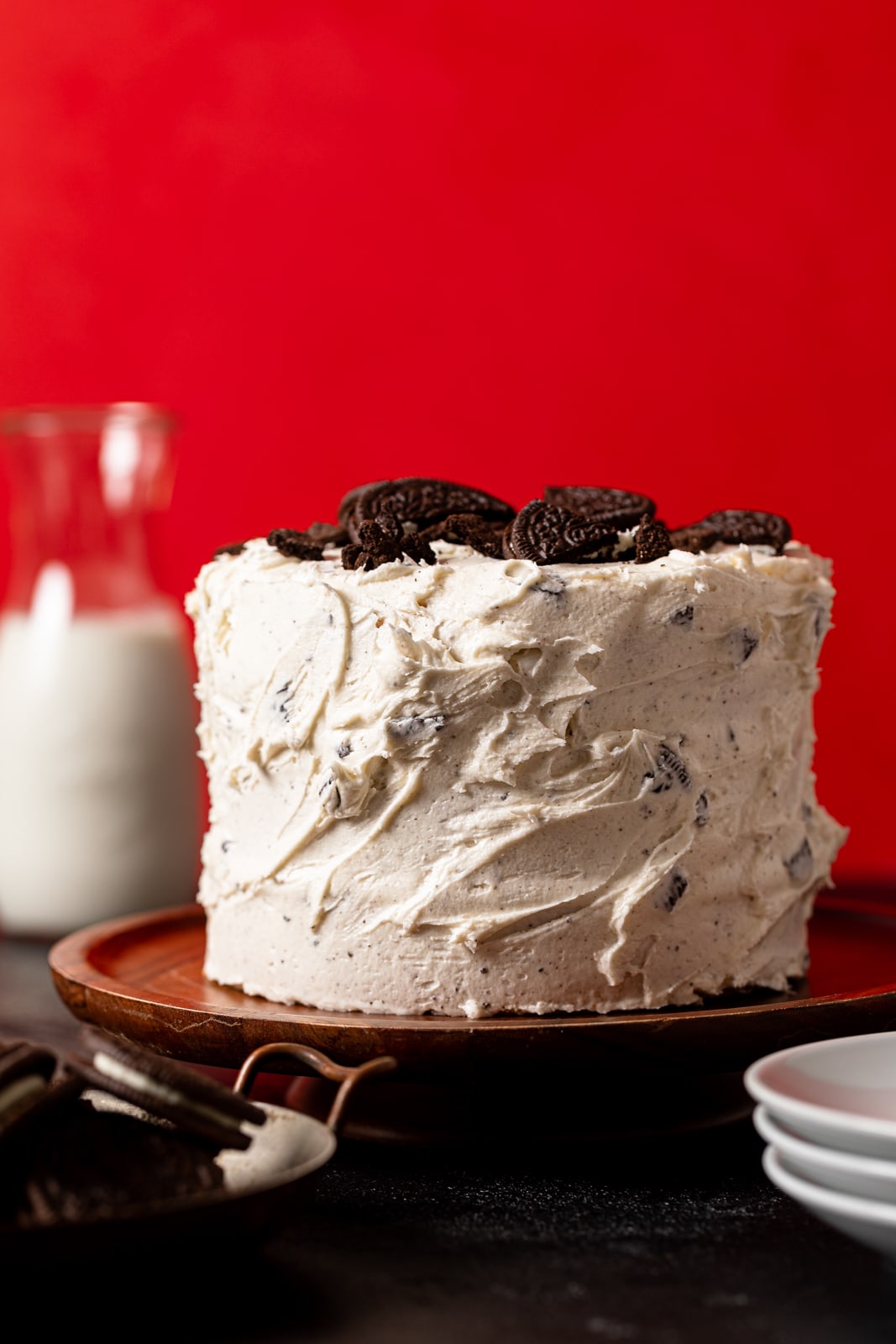 Oreo Buttercream Frosting
Top your fluffy vanilla Oreo cake with the best whipped buttercream frosting. Here's what you need to make it:
Powdered sugar. Choose organic sugar to make sure it's vegan.
Vegan butter. Make sure it's soften to room temperature for the fluffiest buttercream frosting.
Vanilla extract. For that classic vanilla flavor.
Almond milk. Any dairy-free milk will work.
Oreo Cookies for more texture on top!
Tips for Making The Best Vegan Oreo Cake Every Time
TIP #1: HAVE THE RIGHT TOOLS
To make and decorate this vanilla oreo cake, you'll need a cake stand (preferably one that has a turnstile table), spatulas (big + small), piping bags + tips, correct baking pans and parchment paper.
TIP #2: COMBINE BAKING SODA + ACID
The essential ingredient combos for a light, silky cake texture is baking soda and an acid (usually vinegar or buttermilk if the cake calls for it). When acid and baking soda reacts, it creates bubbles and helps to create a nice rise for your baked goods, leaving an airy texture.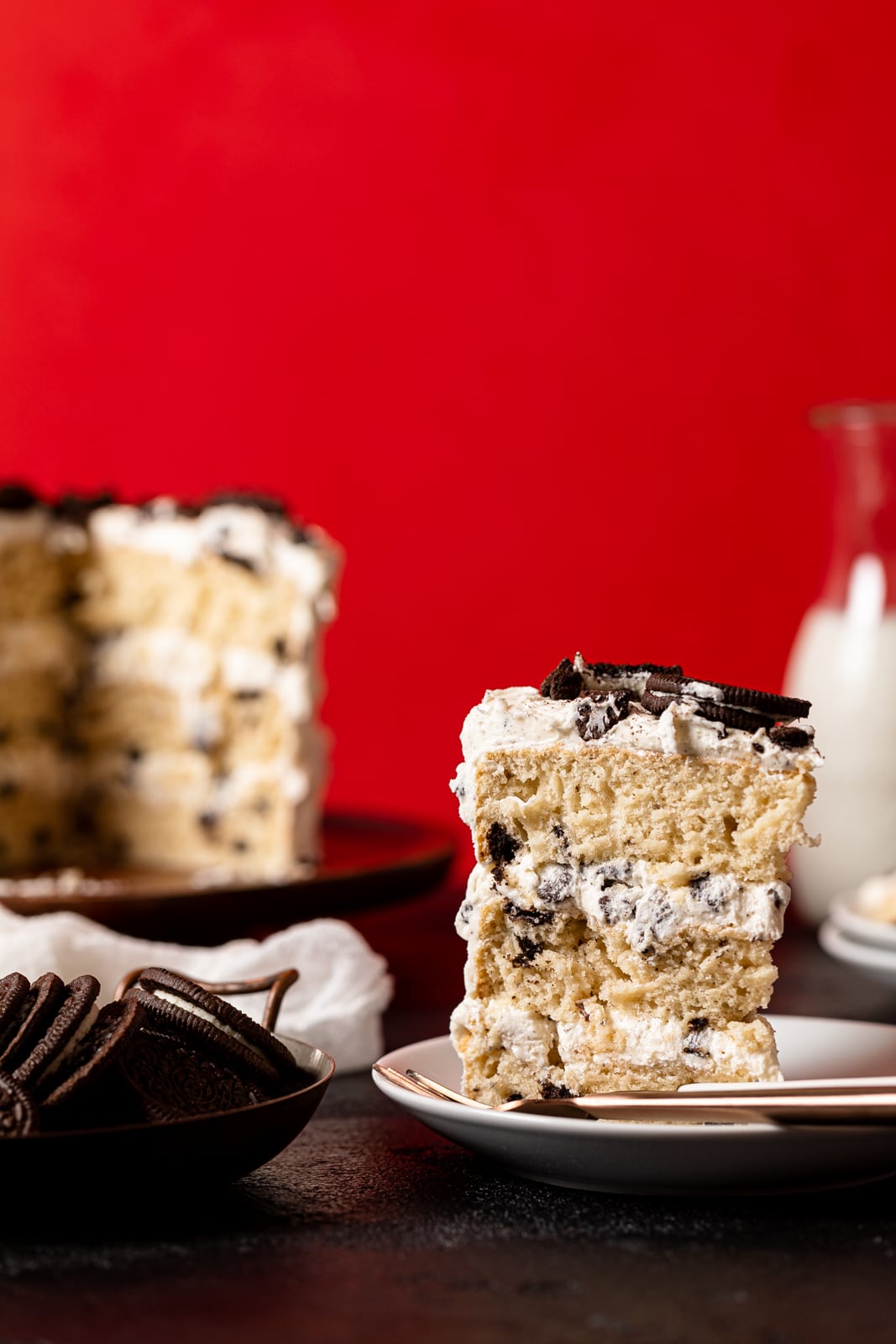 TIP #3: SIFT!
One of my favorite tricks to a perfect cake has been to ensure that ALL of my dry ingredients are sifted. It's an extra step, but the results are a light, fluffy, and fully combined cake batter.
TIP #4: AVOID OVER-MIXING
When mixing your cake batter, it's so important to add the dry ingredients and wet ingredients alternately. Then, as soon as everything is combined very well, STOP! Over-mixing creates a more dense cake.
Can I Make Gluten-Free Oreo Cake?
Yes, if you'd like to make this vegan vanilla Oreo cake gluten-free, simply swap the cake/all-purpose flour with gluten-free all-purpose. You may need to add up to ¾ of a cup more flour if the batter is too thin.
I like to use Bob's Red Mill 1-to-1 Baking Flour. IF you use a different brand, add 1 teaspoon xanthan gum if it doesn't contain xanthan already.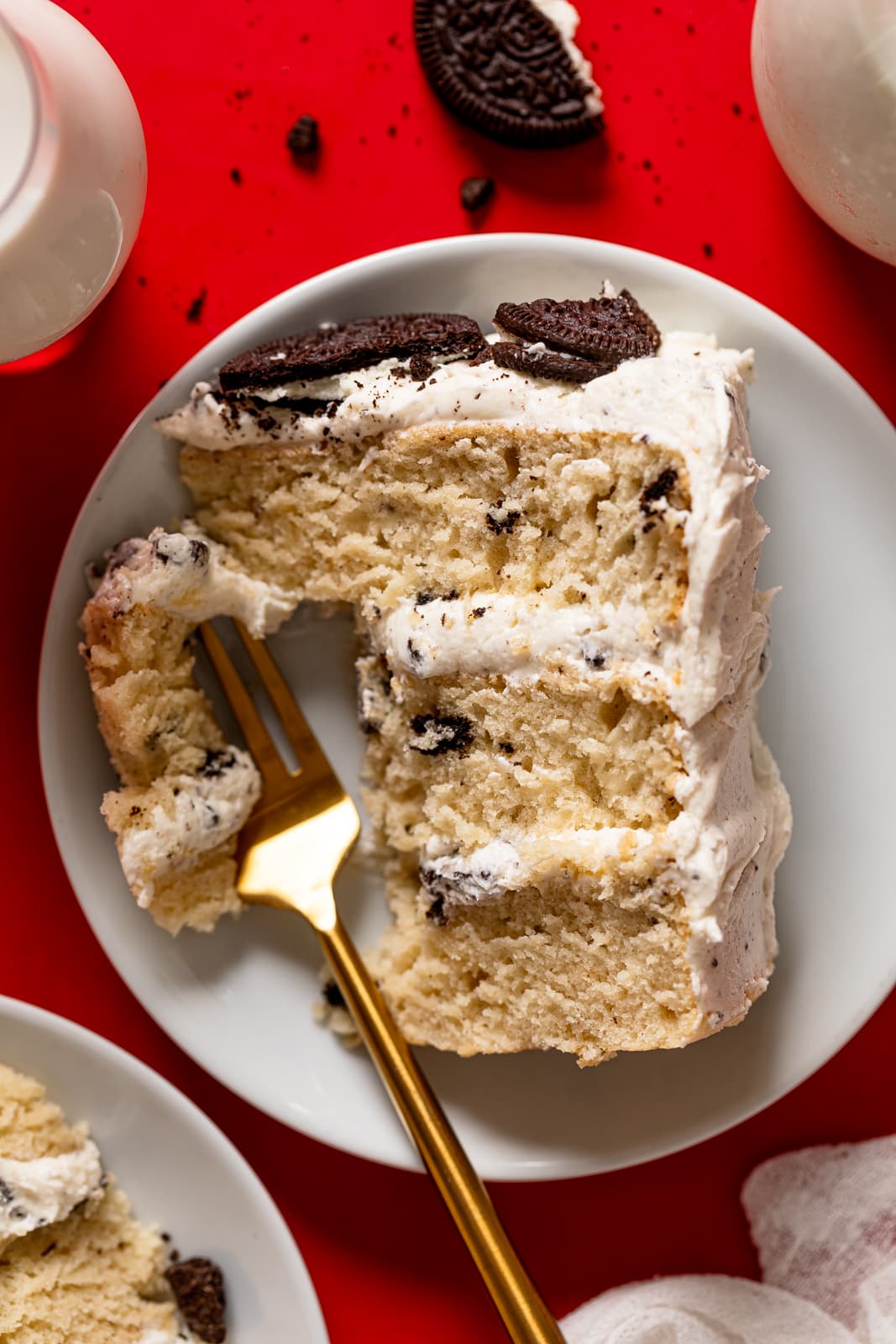 Can I Make Oreo Cupcakes?
Sure! You can actually check out my Vegan Chocolate Oreo Cupcakes recipe for a real treat or simply divide the batter of this Vegan Oreo cake between about 30 cupcake wells. Bake for 18 to 20 minutes, until the centers are set.
How to Store Leftovers
Store leftovers in the fridge tightly wrapped for up to four days. Or freeze for up to 3 months. Defrost on the counter to serve.
You can store unfrosted or frosted cake.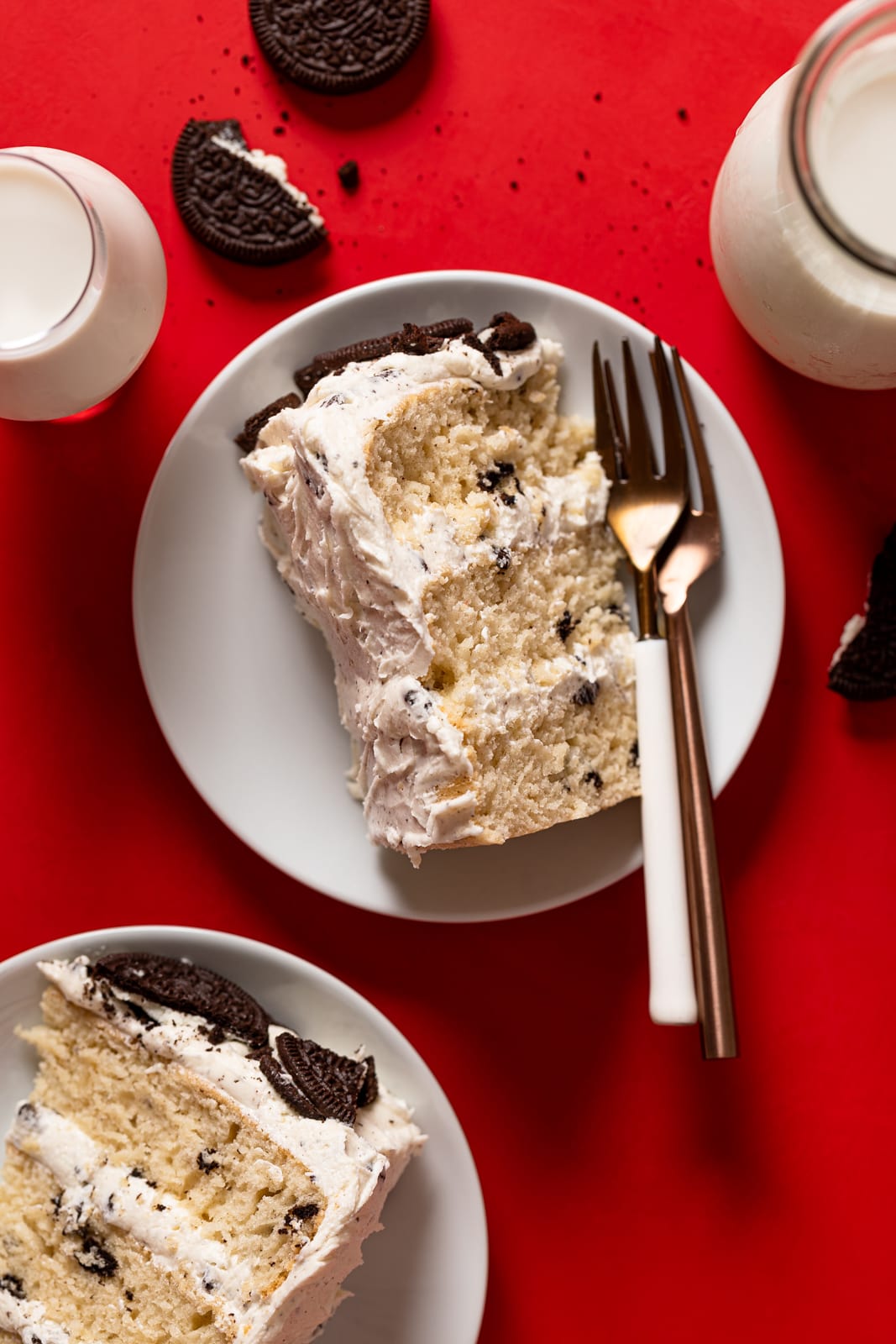 More Vegan Cake Recipes
Try these other easy vegan cake recipes next: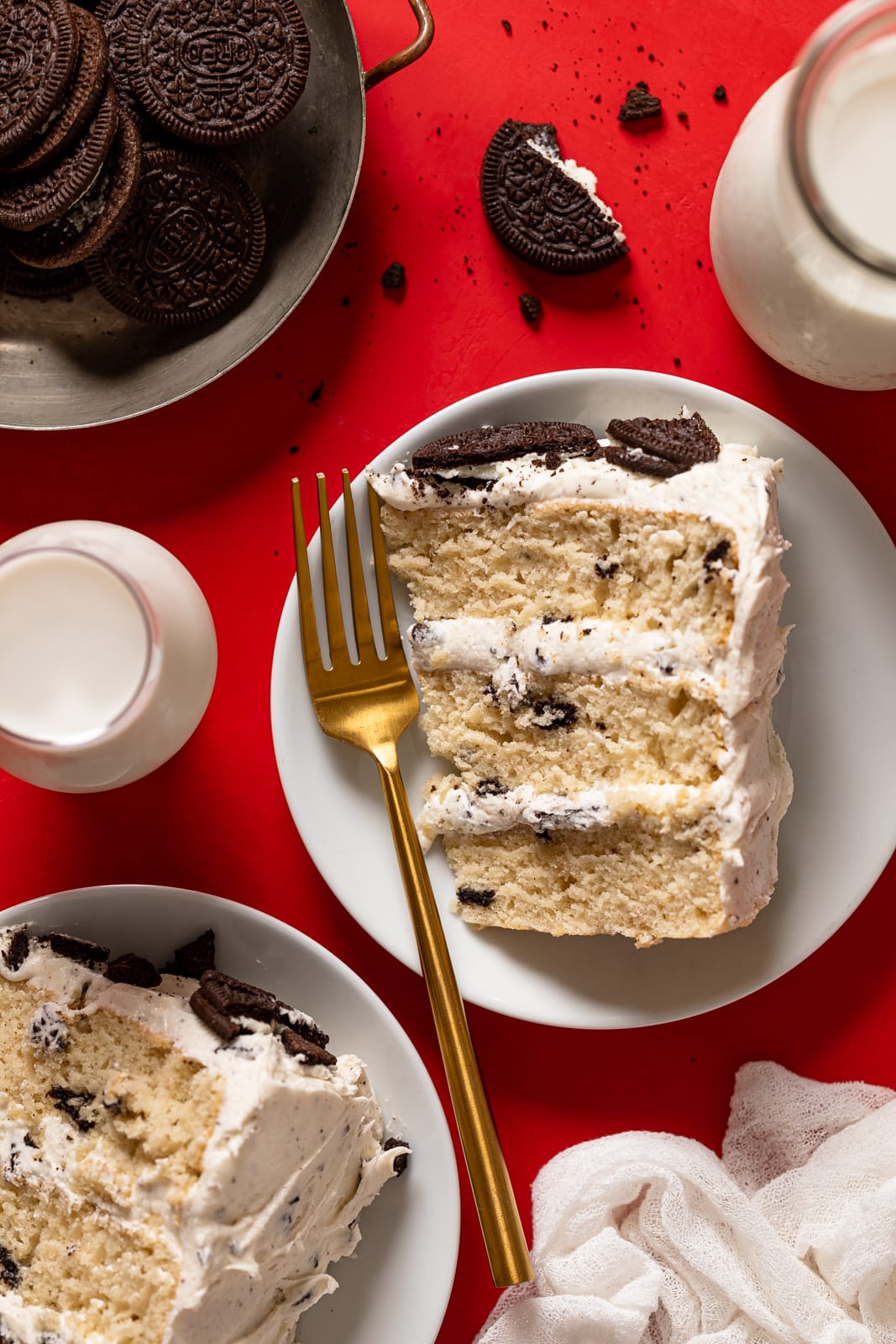 DID YOU MAKE OUR RECIPE(S)?
If you make this Vegan Vanilla Oreo Cake, be sure to tag me on Instagram @orchidsandsweettea!
OREO BUTTERCREAM:
5

cups

organic powdered sugar, sifted

1

cup

vegan butterm softened at room temp.

1

teaspoon

vanilla extract

1-2

Tbsps

Almond milk

6-8

oreo cookies, crushed
TO MAKE OREO VANILLA CAKE:
Begin by preheating your oven to 350 degrees Fahrenheit. Lightly grease (with butter) AND line with parchment paper the bottoms of TWO 8-inch cake pans or THREE 6-inch cake pans.

In a bowl, whisk together the milk and apple cider vinegar and set aside for 5-10 minutes until everything "activates".

In a large bowl, whisk together the flour, sugar, baking powder, baking soda, and salt until combined.

Add in the milk-ACV mixture, oil, vanilla, and mix (using a hand-mixer) until just combined and smooth.

NOTE: If the batter looks extremely thick, add extra milk, 1 tablespoon at a time until it's somewhat pourable but not runny or thin at all.

Fold in the crushed oreo cookies. NOTE: Ensure that you remove the cream from each cookie and crush only the chocolate cookie part.

Divide the batter evenly into each of the cake pan and bake for 20-25 minutes, or until a toothpick or butter knife comes out clean when tested in the centers.

Remove cakes from the oven and let them rest in the pan for 10 minutes or so before removing the cakes and placing them onto a cooling rack to fully cool. NOTE: Let them cool for at least 1-2 hours in a cool place.
TO MAKE OREO BUTTERCREAM:
Simply beat the butter in the bowl of an electric mixer (or using a hand-mixer) on medium-high speed, until smooth and pale. Add in the powdered sugar, vanilla, and milk, continuing to mix on medium-speed until you reach the desired consistency----smooth and fluffy. NOTE: Add more milk (1 tablespoon at a time if too thick) or powdered sugar (for more thickness).

Fold in the crushed oreo cookies.
ASSEMBLY:
Place the first cake layer on your cake stand and evenly cover the top with buttercream. Now, top with 2nd layer and add more buttercream atop that layer. Finally, top with final layer and top with remaining buttercream, spreading it over the tops and sides of cake, evenly and thinly.

Once fully frosted, add small little designs of the buttercream using a piping bag + tip and top with additional crushed Oreo cookies, if desired.  Chill for 5 minutes to ensure that buttercream sets.

When ready to serve, remove from the refrigerator. Slice and enjoy!
STORAGE: Keep cake leftovers stored for up to 4 days in the fridge. Keep it in an airtight container to keep the cake from drying out. You can also freeze the cake tightly wrapped in plastic wrap for up to 3 months. Before serving, defrost the cake on the counter.
FLOUR: If you don't have cake flour, you can always just use all-purpose flour entirely instead. 
GF OPTION: If you want to make this cake Gluten-Free, you can simply substitute flours with Bob's Red Mill's 1-to-1 Baking Flour. Just add an additional ¾ cup or so if needed; To use other GF flours such as coconut, almond, etc. just be sure to add 1 teaspoon of Xanthan gum. 
OIL VS. BUTTER: Instead of vegetable oil,  you can also use melted vegan butter or Coconut oil, if preferred.
CRUSHED OREO COOKIES: I simply separate (removing the cream inside) and grind the cookies in a food processor (whole) for about 30 seconds or so. Add more or less cookies based on preference and level of sweetness.
Calories:
594
kcal
|
Carbohydrates:
154
g
|
Protein:
11
g
|
Fat:
29
g
|
Saturated Fat:
6
g
|
Polyunsaturated Fat:
9
g
|
Monounsaturated Fat:
13
g
|
Trans Fat:
4
g
|
Cholesterol:
5
mg
|
Sodium:
960
mg
|
Potassium:
168
mg
|
Fiber:
2
g
|
Sugar:
35
g
|
Vitamin A:
4
IU
|
Calcium:
169
mg
|
Iron:
3
mg
Vegan Vanilla Oreo Cake.