This Vegan Vanilla Dinosaur Birthday Cake recipe is super moist, soft, buttery, and fluffy and comes loaded with a kid-favorite theme---dinosaurs! Whether you choose to make this cake simple without the colorful components or just as theatrical, this recipe is a definite crowd-pleasing cake for any occasion, especially for Birthdays. Three-layer + Gluten-free options.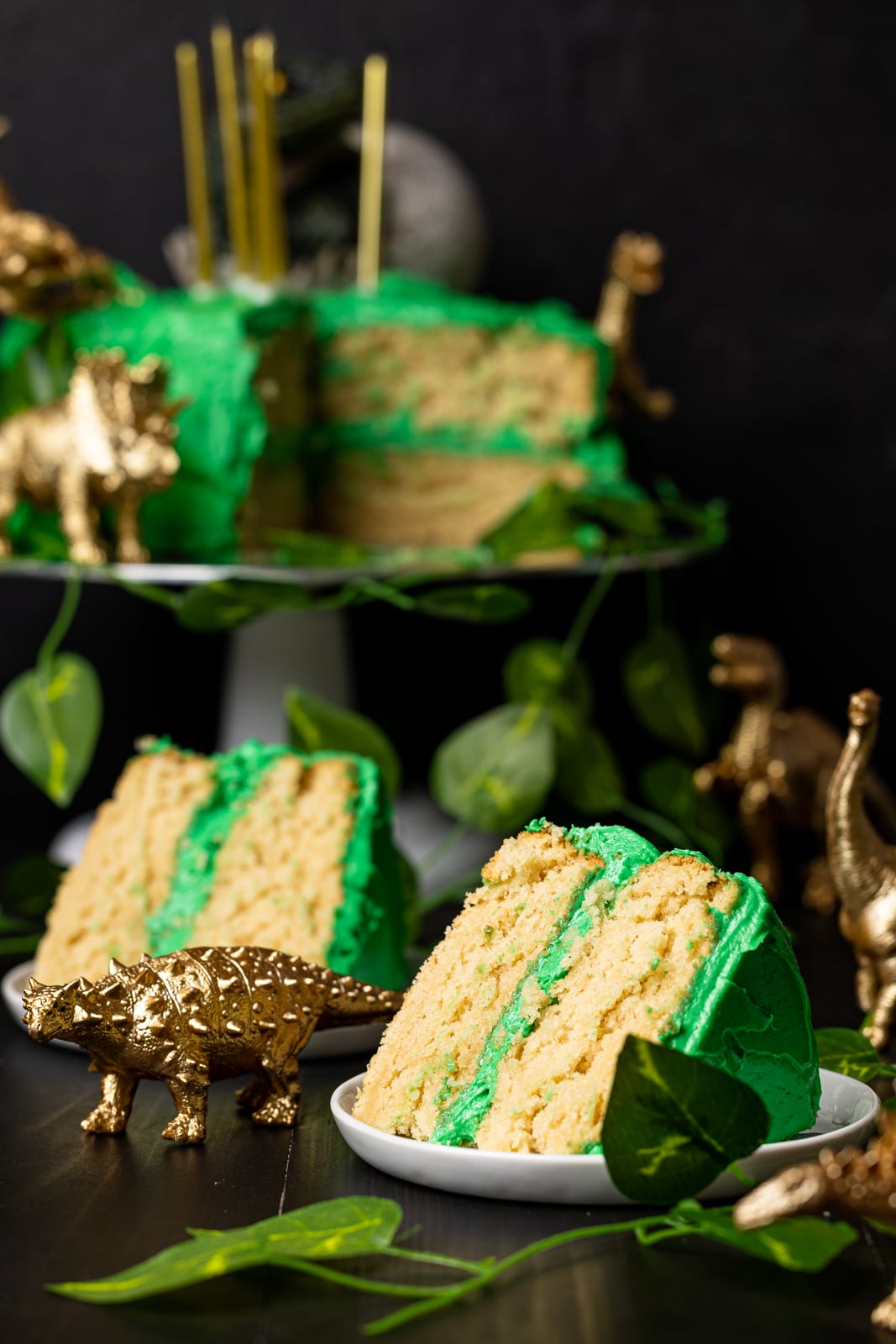 This Vegan Vanilla Dinosaur Birthday Cake is one of my favorite cakes that I made for my son when he turned 5 and I literally have to make it again whenever he wants another dinosaur themed celebration. Trust me, it's the best vegan cake you'll have and those that eat it won't even realize that it's vegan. Seriously! Honestly, I've always been intimidated by making cakes because they always seemed so complicated. However, I've gotten better with practice and this one in particular came out JUST PERFECT and it's not hard at all to make!
This vegan vanilla cake was long time coming, especially since most of you are such great fans of my Vegan Funfetti Cake and Vegan Vanilla Oreo Cake. They both are fun cakes to make for the entire family and can fit the bill for a birthday celebration, graduation, or just because. For a nice easy sheet cake option, you have to try this Perfect One-Bowl Lemon Birthday Sheet Cake----it's a guaranteed crowd-pleaser.
Why this Vegan Vanilla Cake is the Best Thing You'll Bake!
This vanilla cake recipe is just the right amount of sweetness, fluffiness, softness, buttery-ness (if that's even a word) and includes a ton of pure vanilla flavor, and is altogether easy to make—using simple ingredients like flour, baking powder, baking soda, arrowroot, sugar, etc. It's definitely a cake that you need to add to your baking list!
Plus, for this cake you can totally use a stand mixer or hand mixer, whichever is easiest! And if you have mixing bowls, a turnable cake stand, spatula, cake pan parchment paper, and piping bags, then you'll be pretty much prepared to master this cake.
You can use the classic vanilla buttercream frosting in this recipe, especially if you're using food coloring, but if you ever wanted to omit the dinosaur theme and design, then adding a nice twist with chocolate buttercream is just as delicious!
Jump to:
Why You'll Love this Vegan Vanilla Dinosaur Cake:
It's SUPER fluffy, buttery, + moist despite the absence of eggs and dairy.
So easy to whip together.
Only requires ONE bowl! No stand-mixer needed for cake unless you choose to use one, but a hand mixer works just fine!
Perfectly sweet.
Loaded with vanilla flavor.
Topped with a delicious fluffy, creamy vanilla buttercream and uses a healthier food coloring worth eating.
Entirely dairy-free + vegan. Gluten-free option available!
Make for the perfect Birthday, Graduation, or celebratory sweet treat.
WARNING: Highly Addictive!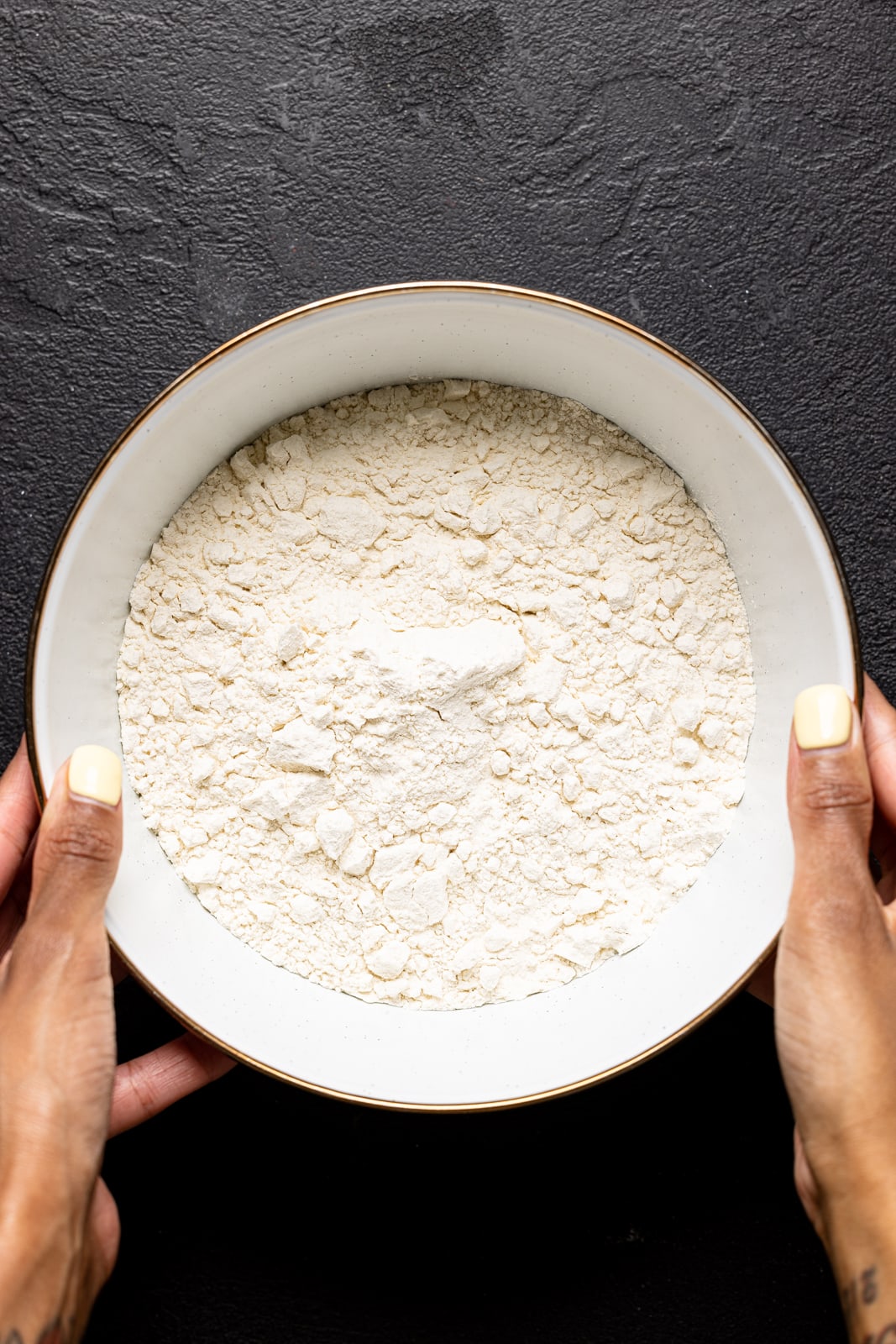 Ingredients for Vegan Vanilla Cake
This vegan vanilla cake recipe as mentioned before is super easy to whip together and doesn't require anything special when it comes to ingredients. All you need to whip up this delicious cake batter is:
All-purpose flour. I use organic flour from Bob's Red Mill. You can also use cake flour instead. For a GF option, I always recommend 1:1 GF Baking Flour.
Baking powder + Baking soda for leavening. Just ensure that both leaveners are ultimately fresh so that they can interact with the ingredients and do the job perfectly! See further below for more details.
Arrowroot starch. This starch is the perfect gluten-free option and it adds extra fluffiness to your cake when reacted with the flour. It actually helps to create the same texture as using cake flour if you don't have it handy. You can substitute with cornstarch, tapioca flour, potato starch, etc.
Cane or coconut sugar. Opt for organic sugar to ensure it's vegan. Coconut sugar is a great option if you're looking to reduced your refined sugar intake. It won't change the flavor of the cake.
Vegetable oil. You'll need to use a neutral oil to this cake for added moisture. You can always sub vegetable oil with melted coconut oil, melted vegan butter, olive oil, or organic canola oil, if preferred. Plant-based butter is usually made with coconut oil, so either one works well in this recipe. The butter might add a slightly more buttery flavor, but it's not very noticeable.
Vanilla. This adds a nice vanilla flavor. Always use pure vanilla and not the imitation flavor for the best results! You can also add ½ teaspoon almond extract for an incredible flavor combo!
Dairy-free Buttermilk. This is the secret to achieving the rich, moist tang of buttermilk without any dairy. Almond milk is naturally neutral (when using unsweetened) and perfect for vegan baking. And apple cider vinegar adds a punch of acid to bring the other flavors to life. It's also necessary to activate the baking powder. Feel free to use a different plant-based milk if you like. I recommend making easy homemade almond milk (my recipe doesn't require soaking!)
Food coloring. I generally don't like using food coloring in my baked treats because they often contain a ton of not so healthy ingredients. However, I've been using this vegan-friendly brand, Ann Clark and it's really been great! No horrible after taste and a little goes a long way.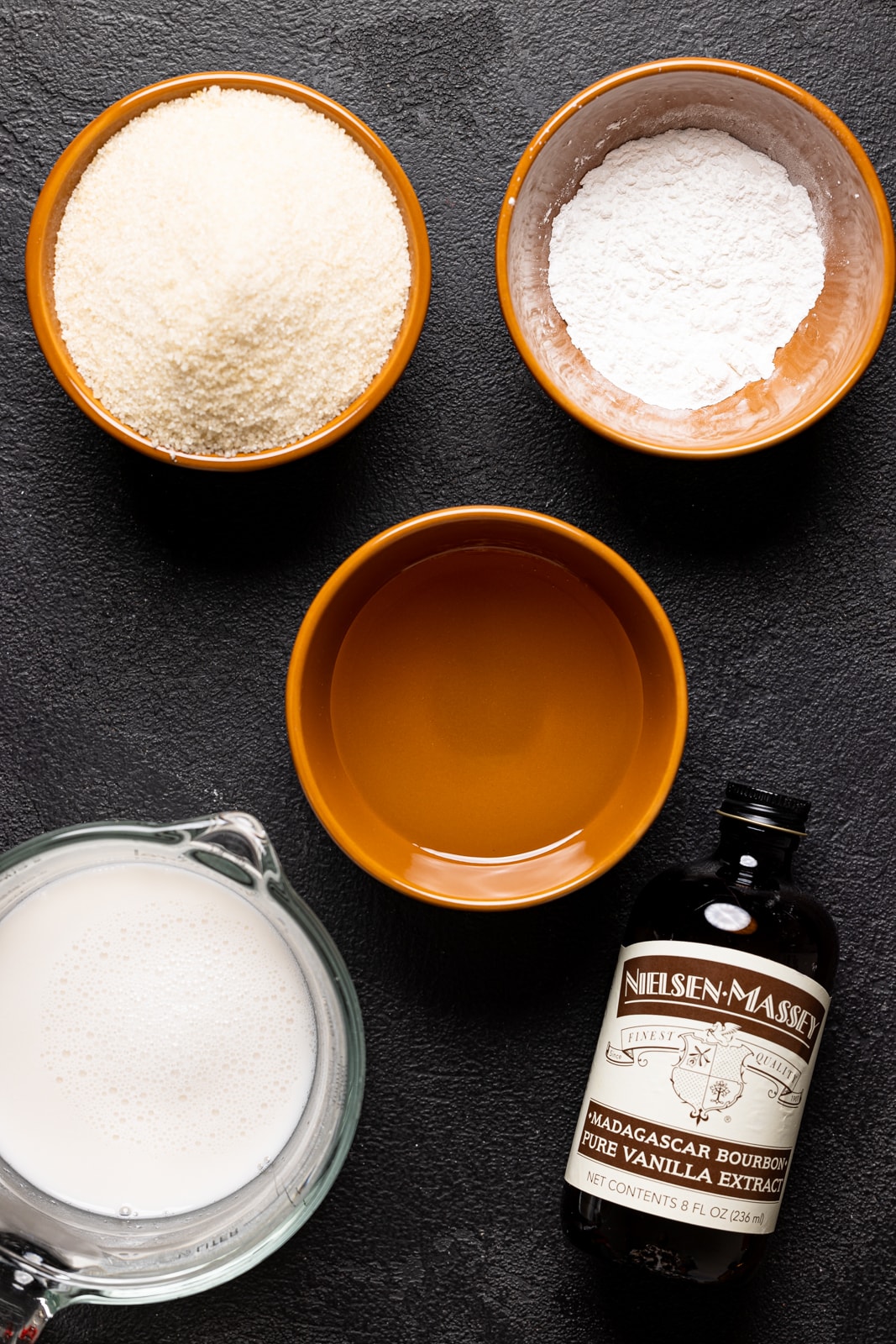 Ingredients For the Perfect Vegan Vanilla Buttercream
While the baked cakes cool, whip up the quick vegan vanilla buttercream frosting. You'll need:
Vegan butter. Be sure it's softened to room temperature, otherwise, it won't blend into a fluffy texture easily.
Powdered sugar. Also known as confectioner's sugar. This ensures your puree is totally smooth, with no grains of granulated sugar to ruin the texture.
Almond milk. Again, you can use your fave plant-based milk instead.
Vanilla extract. To add another note of vanilla to your vegan vanilla cake.
The easiest way to make vegan buttercream is with an electric mixer with a paddle attachment. First, beat the vegan butter until it's smooth and creamy. Then add the powdered sugar and vanilla, and keep mixing until the mixture is fluffy and smooth.
Tip: Your frosting should be a spreadable consistency. If it's too thick, add plant-based milk, 1 teaspoon at a time, until you reach that texture. If it's too thin, add powdered sugar, 1 tablespoon at a time, until you get there. 
Another note is to store the frosting in the fridge if you're not using it right away. If you do this, then you may need to let it thaw a bit on the counter to make it spreadable before frosting the vegan vanilla cake.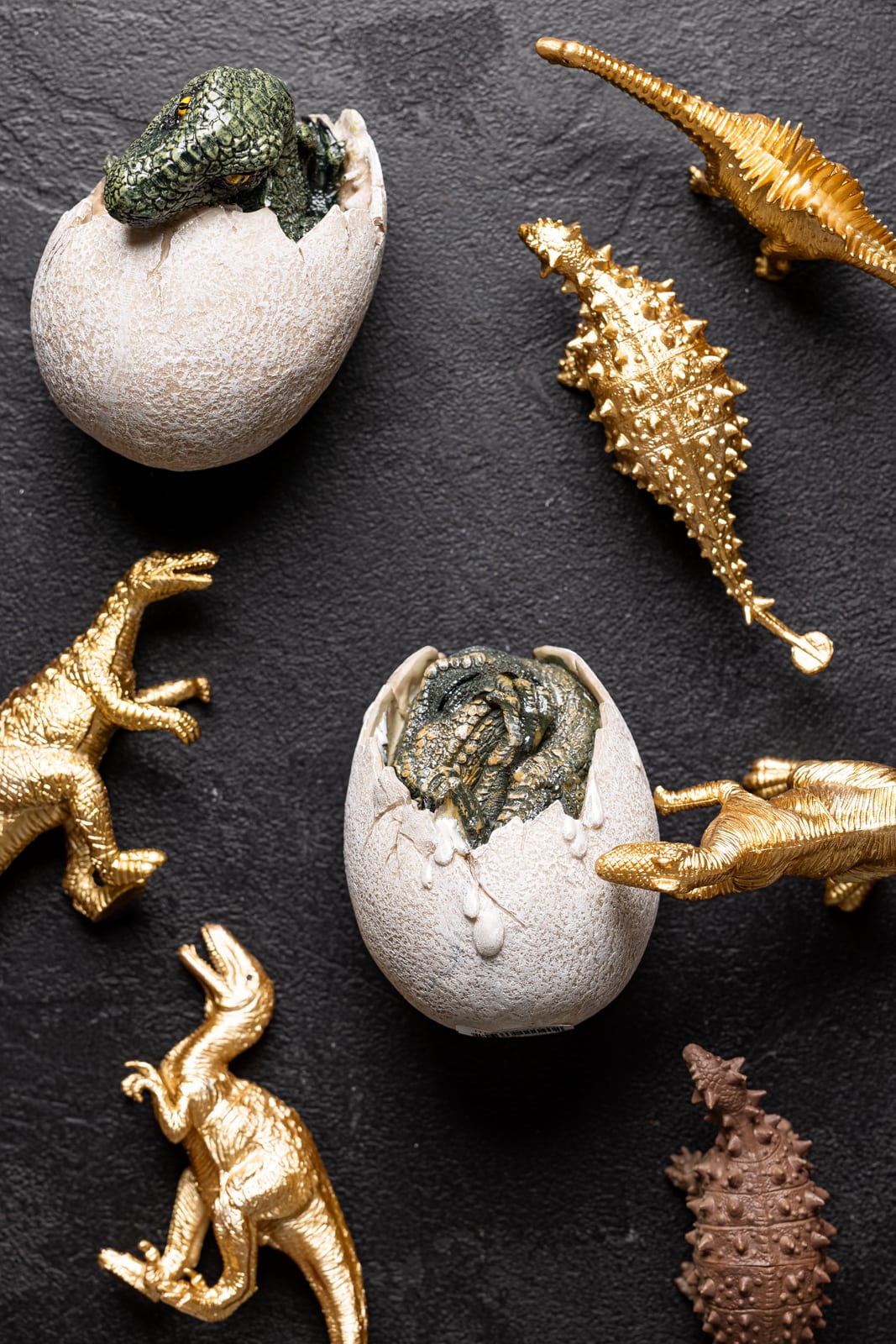 Cake Flour vs. All-Purpose Flour.
When it comes to the main ingredient of this entire vegan vanilla cake recipe—-the flour, I enjoy using Bob's Red Mill Unbleached White All-Purpose Flour, which is ideal for all kinds of baking, including this one.
Perfect Occasions For this Vegan Cake Recipe
These events are a great excuse to eat cake!
Birthdays
Anniversaries
Barbecues
Potlucks
Kids Sleepovers
Holiday Gatherings
Graduations
Baby Showers
Dinner Parties
Actually, any time is a good time for cake, right? Bake away for a little weekday pep-up!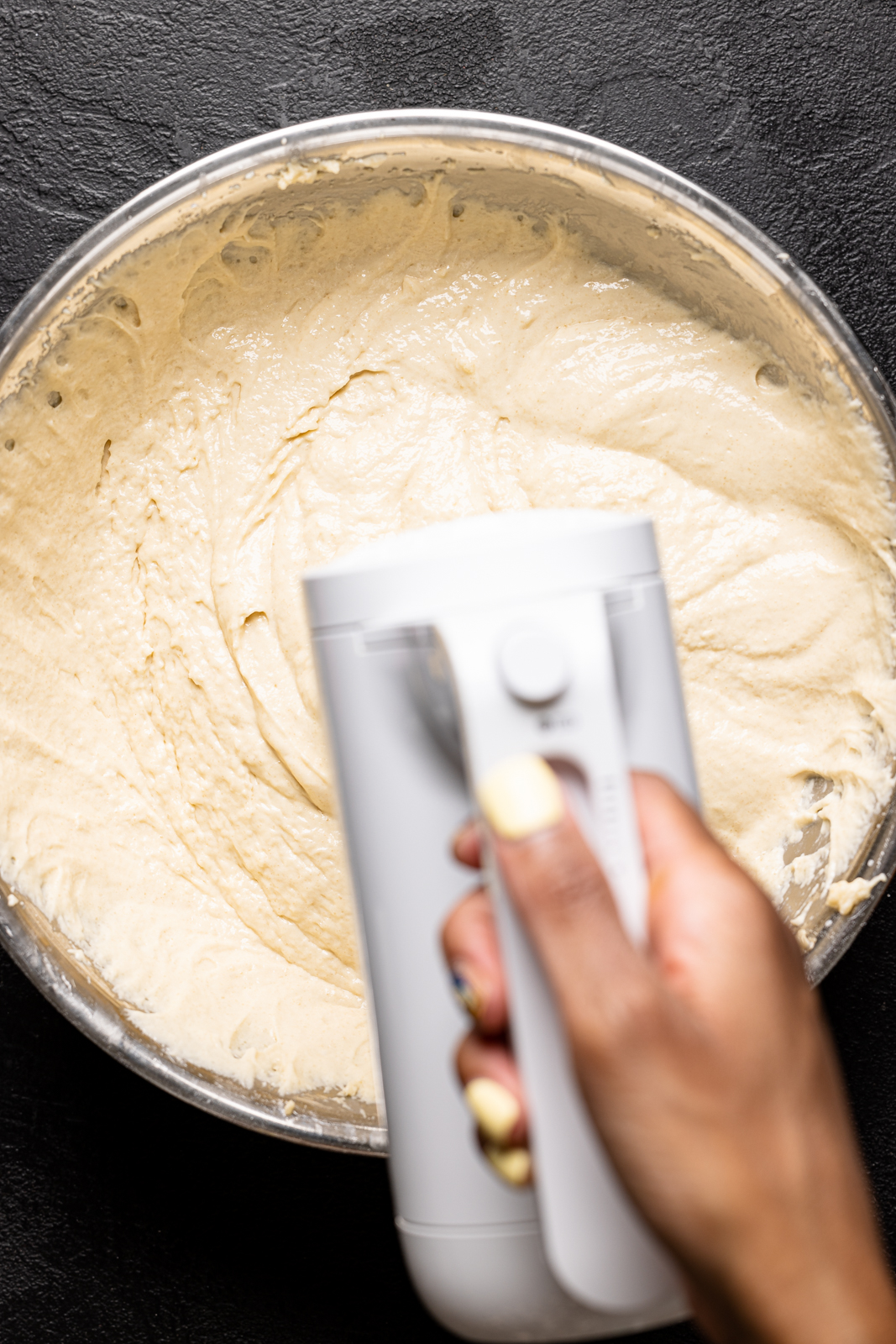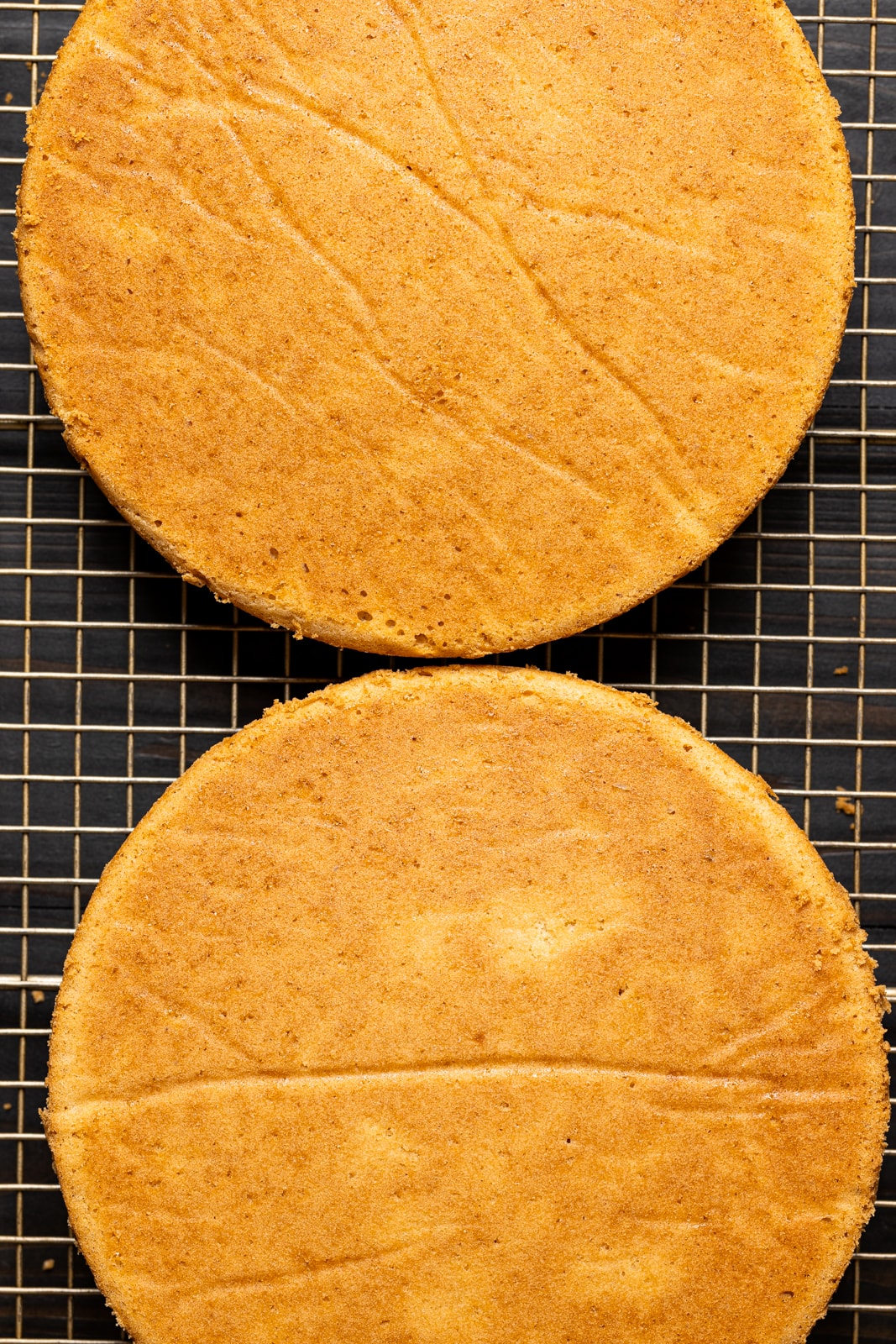 Common Q + A's for this Vegan Vanilla Dinosaur Birthday Cake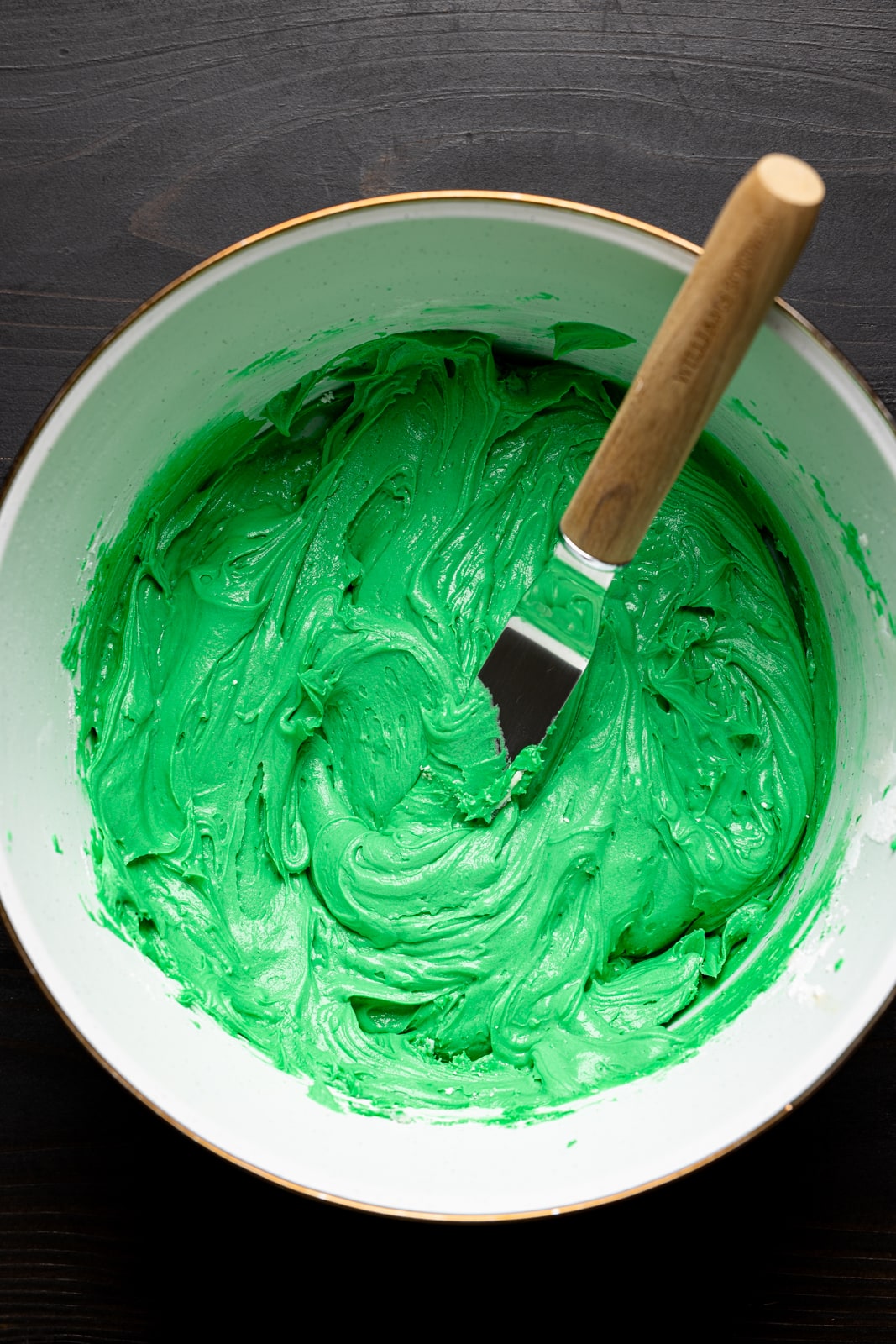 How Do You Make Vanilla Cake Recipe into Lemon Cake?
If you've made this vegan vanilla cake a few times and want to switch things up by making it lemon flavored---no worries at all! It's so easy to achieve this. To make this cake recipe a lemon cake, simply:
Reduce the amount of vanilla extract to 1 tsp.
Add 2 tsps of lemon zest
Create your buttermilk using lemon juice instead of apple cider vinegar.
Add 1 tablespoon of freshly-squeezed lemon juice to batter in place of remaining vanilla.
How to Turn Vanilla Cake Recipe into Chocolate
If you're a lover of baking vegan cakes and want to make this vegan vanilla cake into a deliciously decadent chocolate, you totally can do this! With just a few adjustments, you can have a nice slice of chocolate-y goodness ready for your celebration needs. Of course, you can simply follow my Best Vegan Chocolate Cake recipe or make the following tweaks:
Add ¾ cup of organic cocoa or cacao powder, sifted of course!
Add 1 1/s tsps of dissolvable espresso powder (optional if making this for kids).
Add a bit of ground cinnamon for an amplified chocolate flavor.
You'll need 1 cup of HOT water (boiled and slightly cooled).
You'll add ½ to ¾ cup of a binder that adds moisture (i.e. sweet potato puree, apple sauce, etc.)
Then of course, you'll substitute the vanilla buttercream with a velvety chocolate buttercream and wallah!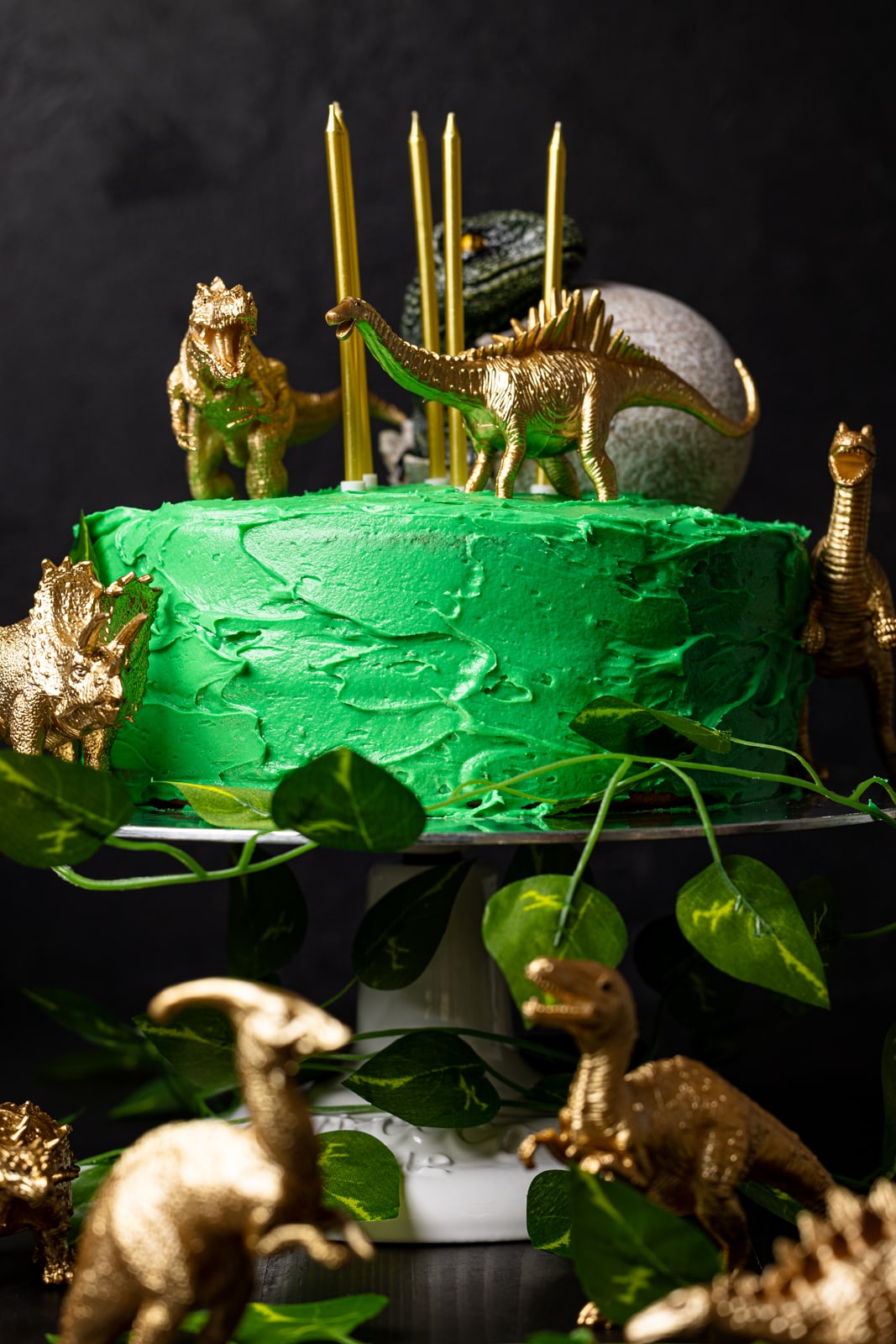 Tips for Making The Best Moist Vegan Vanilla Cake
Because this vanilla cake doesn't rely on eggs or dairy, there are a few steps that are slightly different from your typical cake-making process to ensure that this vegan vanilla cake comes out completely MOIST + SOFT:
Start by making vegan "buttermilk". Combine the dairy-free milk with the vinegar and let it sit for 5 to 10 minutes to sour a bit. 
Use melted butter for easier blending if not using oil. Otherwise, always use a high-quality vegetable oil or the other alternatives (coconut, olive oil, or organic canola oil).
Make sure you let the cakes cool fully before trying to frost them. Otherwise, the frosting will melt right off. 
Always use a high-quality vanilla for a rich flavor profile. You can also add a bit of almond extract for incredible flavor!
For extra softness + fluffiness, sift your dry ingredients together. Plus, the addition of arrowroot starch creates a fluffier textured cake just like using cake flour.
Using high-quality vegan-friendly food coloring is important! I've learned that this prevents that horrible after taste and also it gives you peace of mind that you're not consuming something totally unhealthy. Ann Clark Professional-Grade Food Coloring Gels are awesome!
Can I Make this Vanilla Cake Ahead of Time?
Absolutely! You can always bake this cake the night or day before and let it cool, tightly wrap, and refrigerate until ready to use. The frosting/buttercream can also be made prior and tightly wrapped and stored in the fridge as well. When ready to serve, let cake sit at room temperature for 30 minutes to an hour, frost, and enjoy!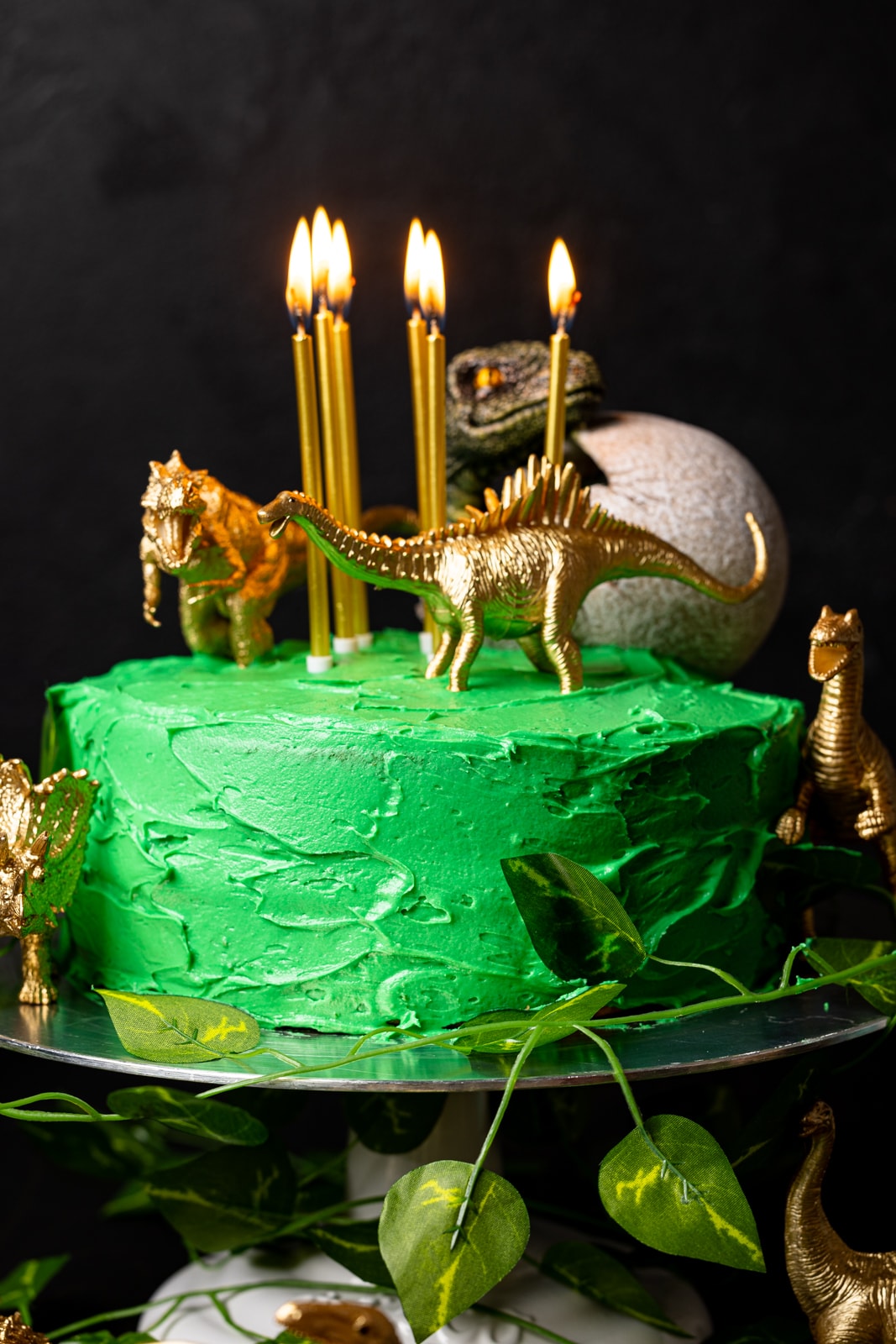 More Amazing Cake Recipes to Try!
Now that you're on a baking kick with this vegan vanilla cake recipe, give these recipes that your entire family will love a try next:
MADE OUR RECIPE(S)?
If you tried this Vegan Vanilla Dinosaur Birthday Cake or any other recipe on my website, please please leave a 🌟 star rating and let me know how you go in the 📝 comments below. I love hearing from you.